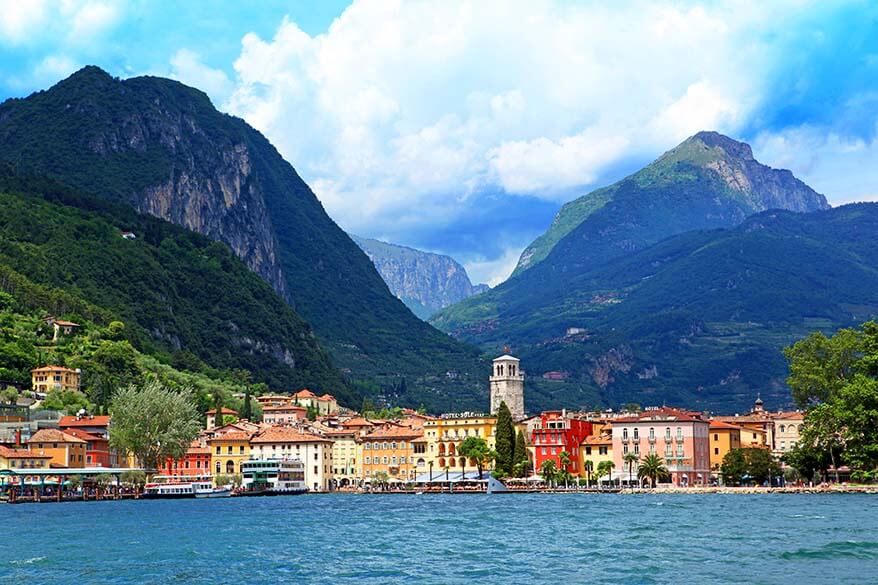 Lake Garda is one of the most beautiful regions of Northern Italy and has plenty to offer for everyone. But where do you go if you only have limited time and want to experience the very best that Lake Garda has to offer? In this Lake Garda guide, we cover all the most beautiful places, the best things to do in Lake Garda.
At the bottom of this post, you can also find some additional suggestions for things to do in Lake Garda and nearby. Find out!
You can spend a couple of days or a couple of weeks in Lake Garda in Italy and you will not get bored. Lake Garda has charming old towns, beautiful landscapes, plenty of sightseeing possibilities and accommodation in all price categories.
Water sports enthusiasts will find some of the best places for paragliding, windsurfing, and hang-gliding. You can go walking, mountain biking, visit a theme park, a water park, play golf, go sailing, or spend a couple of dolce far niente days by the pool or on the beach.
All of this in the most spectacular setting you can imagine…
Most beautiful places of Lake Garda
If you have a couple of days in Lake Garda Italy, don't miss the chance to drive around the whole lake and visit some of the charming old towns along the way. This can be done as a round trip or you can choose to stay at one central location and discover the lake from there.
Round trip around Lake Garda is about 150km (95 miles) and in principle, you can do it in one day. However, the roads are narrow and the traffic is very busy, so you won't have much time left to discover the villages along the way.
That being said, driving around the lake is still worth doing, as long as you don't expect to see the very best of Lake Garda in one day.
I advise that you choose one or two places to visit along Lake Garda each day. You can drive, take a ferry-boat, or, as we did, combine the two. It's simply not possible to see and do everything in Lake Garda in a day or two, so don't even try. It's better to explore fewer places than rush by and only see the lake through the window of your car.
Further below, you can find my list of the most beautiful towns, best things to do in Lake Garda. Read on!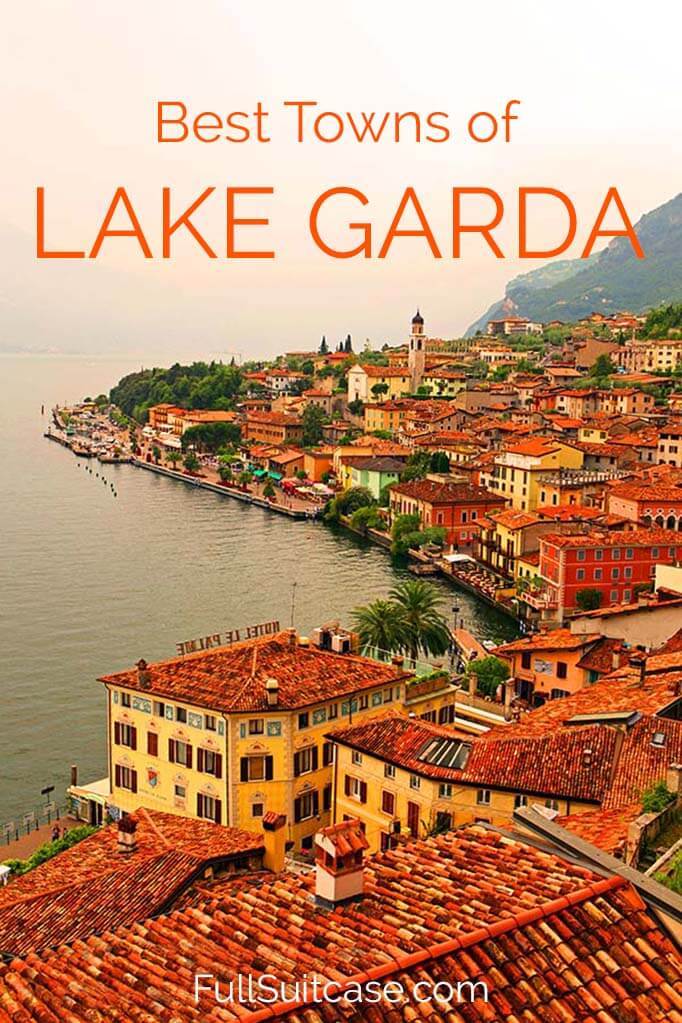 Best of Lake Garda – TOP 5 places you really shouldn't miss
Below is my list of the very best towns to see in Lake Garda Italy. This is in no way a complete list of things to do in Lake Garda, but if you visit these 5 towns, you have seen the best of Lake Garda!
So if you are wondering what to see and where to go in Lake Garda, this guide is all you need. Find out!
1. Sirmione
Located on the South shore of Lake Garda, Sirmione is probably the most popular tourist destination on the lake. It should stand high on every list of best things to do in Lake Garda!
Sirmione is a beautiful old town located at the end of a small peninsula that towers about 4 km into Lake Garda. If you want to discover this town to the fullest, you should count on spending the whole day here.
Sirmione is easily accessible and is right in the middle of the popular tourist route between Milan, Verona, and Venice. All the organized day trips to Lake Garda stop here as well. Let's just say, you will not be alone in town…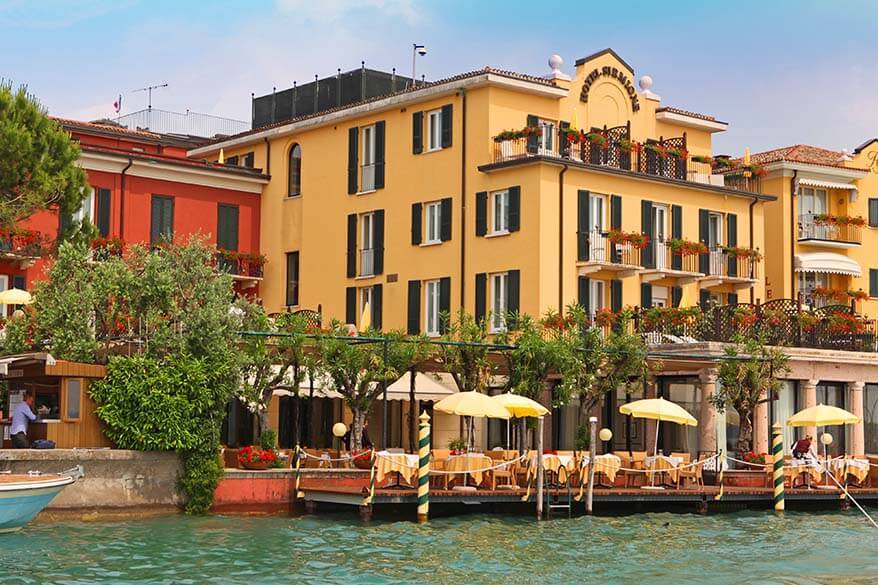 TIP: Try to get to Sirmione early in the morning or late in the afternoon as it gets really busy during the day. If you are staying at one of the bigger villages at the lake, you may want to consider taking a boat to Sirmione so that you can avoid the busy traffic altogether. Cars are not allowed in the historical city center. You have to leave your car at one of the designated parking areas and walk from there.
Main Sirmione attractions include:
Not to be missed: Grotte di Catulo – the excavated ruins (scavi) of the massive Roman villa at the headland on the tip of the peninsula
13th century Rocca Scaligera Castle
Church of San Pietro in Mavino
Church of Santa Maria Maggiore
Really worth it: if you have time take a short boat ride around the peninsula.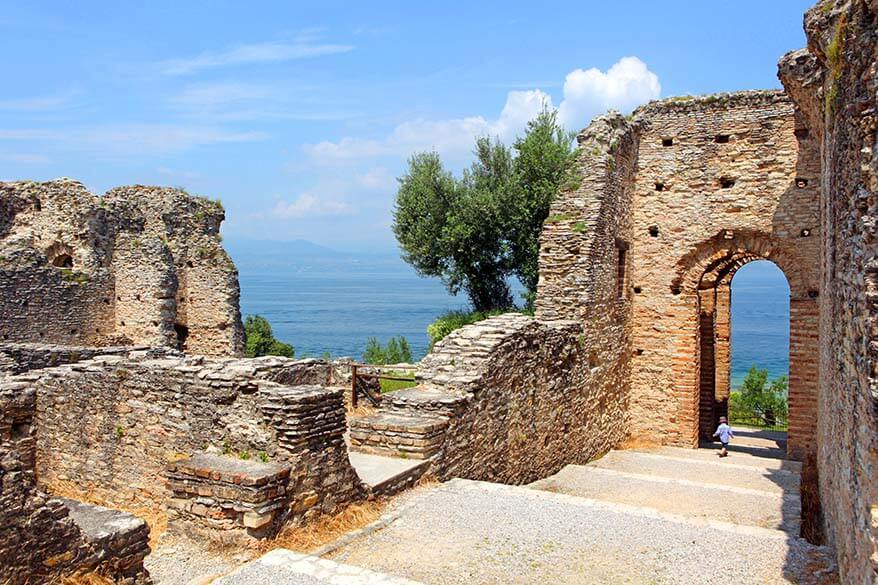 2. Malcesine
Malcesine, the pearl of Lake Garda, is located in a very picturesque setting. It's definitely one of the most beautiful towns of Lake Garda!
It's a charming old town with narrow medieval streets, a beautiful harbor, and lots of small shops, stores and cafes inviting visitors to stroll around and explore.
Just as most other places on Lake Garda, Malcesine is crowded in the summer months with thousands of visitors squeezing through the narrow streets. If you have a choice, try to visit in May-June or in September.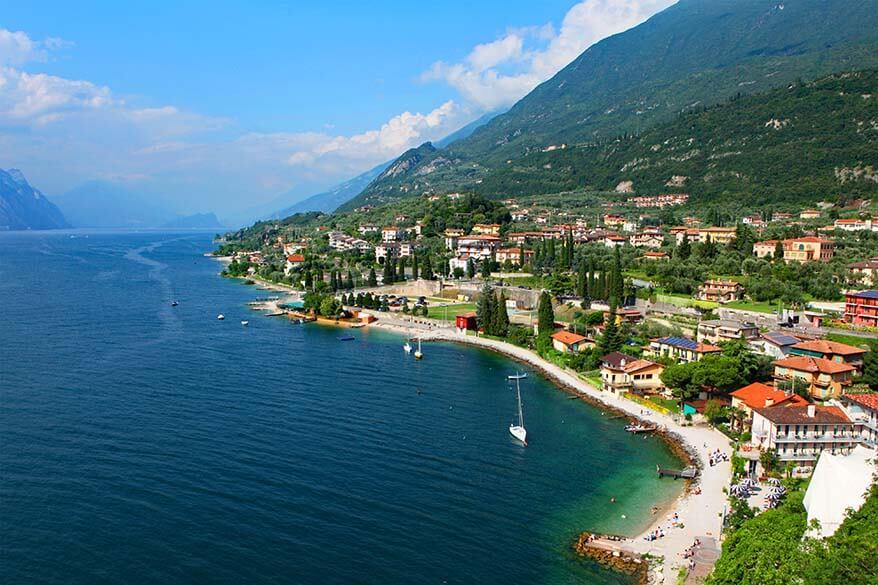 Main Malcesine attractions include:
Cable car (weather permitting) to the top of Monte Baldo with amazing views of the area
Castello Scaligero – climb the tower for magnificent views
Good to know: Note that Limone and Malcesine are built on very steep terrain. While in Limone you can still make a nice walk on the promenade near the lake, Malcesine may be difficult to visit for people with restricted mobility. Our kids were all traveling in strollers when we visited and we could get pretty much everywhere we wanted, but it was quite an exercise with moments and we were glad we had full-size strollers with big rubber wheels.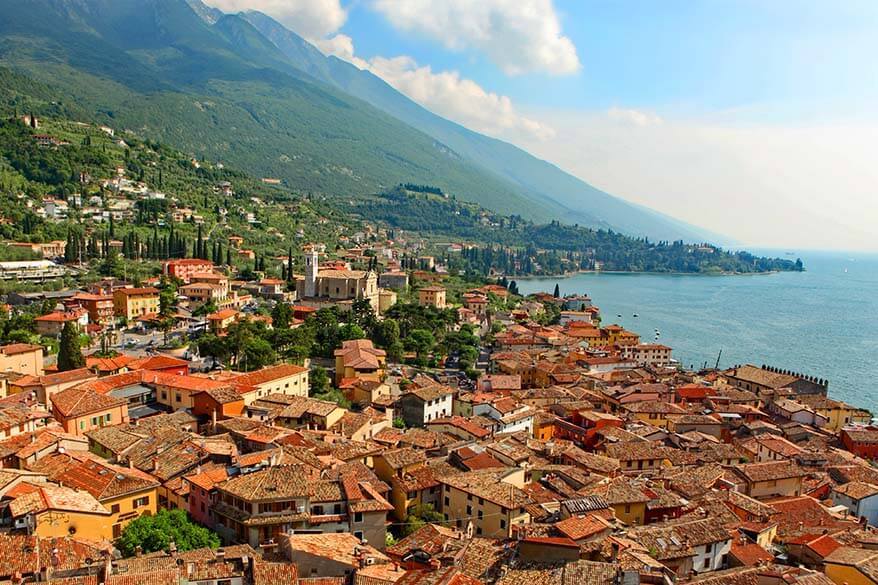 3. Limone Sul Garda
Probably one of the most picturesque towns of Lake Garda is Limone sul Garda, or simply Limone. Its colorful buildings and extremely picturesque waterfront area look like a real-life postcard.
The scenic road from Riva to Limone takes you through many tunnels and you have wonderful views over Limone just before you reach the town.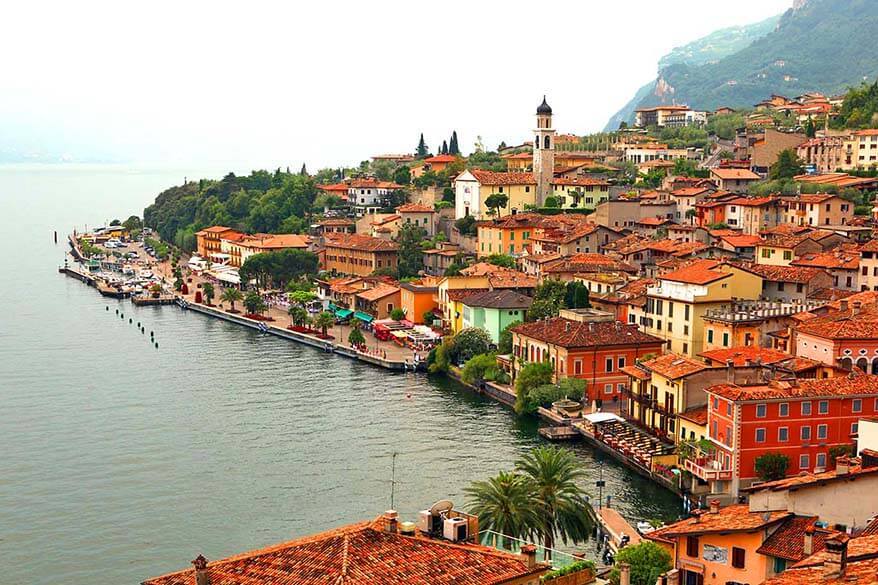 Limone has a nice waterfront promenade and a very cozy old town with lots of restaurants, cafes, and little shops.
You can easily combine a visit to Limone with that of Malcesine or Riva. You can leave your car at the paid parking area in Limone and take a ferry-boat from here. Since the distance is not very big, it doesn't take that long and the ferry fees are reasonable as well.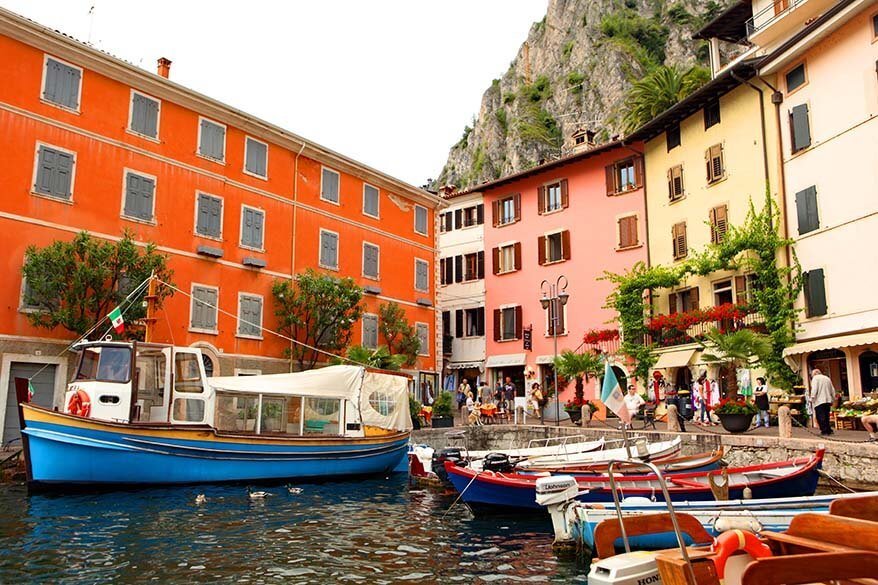 4. Riva del Garda
Riva del Garda is a nice little town surrounded by steep cliffs and high mountains on the Northern shore of Lake Garda. It's particularly impressive if you arrive there by boat.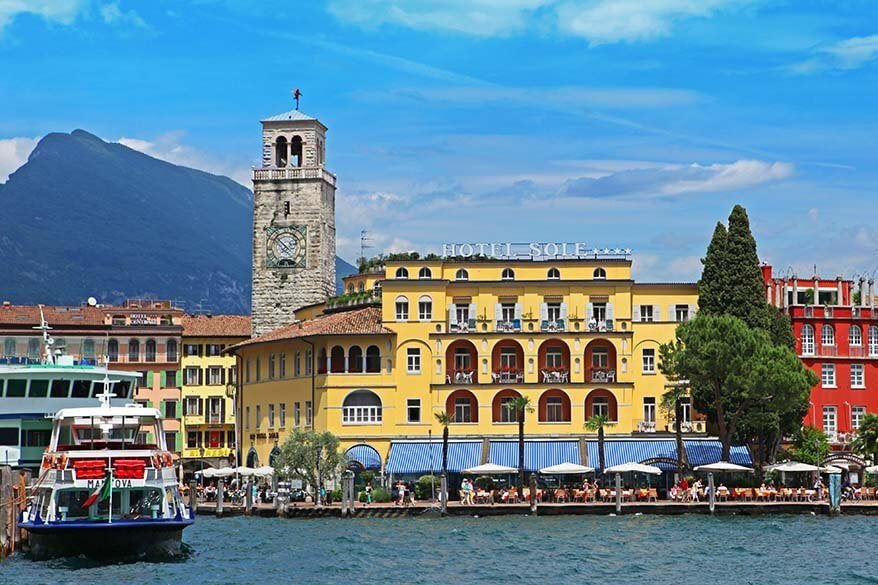 Riva has a nice little old town with picturesque narrow streets and plenty of shopping and dining options. You will have a tough time trying to resist buying at least some of the local specialties and all kinds of traditional Italian gifts.
Riva makes a nice day trip on Garda Lake, but it's also a good base to stay if you want to explore the surrounding mountains of Trentino region. If you have a day extra in this area in summer, I recommend Val di Fumo hike. It will take your breath away!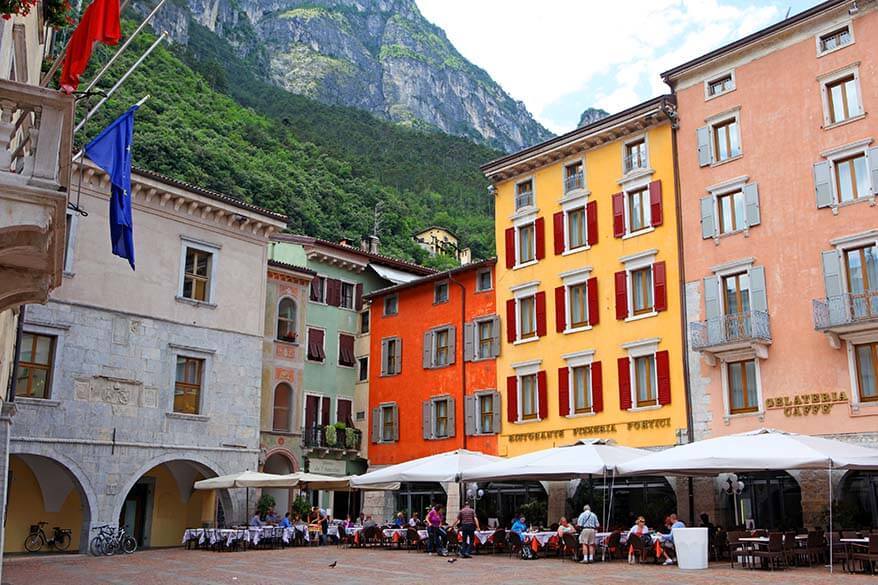 5. Boat Trip on the Northern Part of Lake Garda
You cannot truly appreciate how spectacular Lake Garda is if you don't see it from the water. If you don't have the time, the money, or the desire to spend the whole day touring the lake, I suggest doing at least a short ride.
If you take a boat from either Limone or Malcesine to Riva del Garda, you'll see the best scenery of the northern part of the lake.
The dramatic fjord-like Northern end of the lake is surrounded by towering mountains and the views are just spectacular!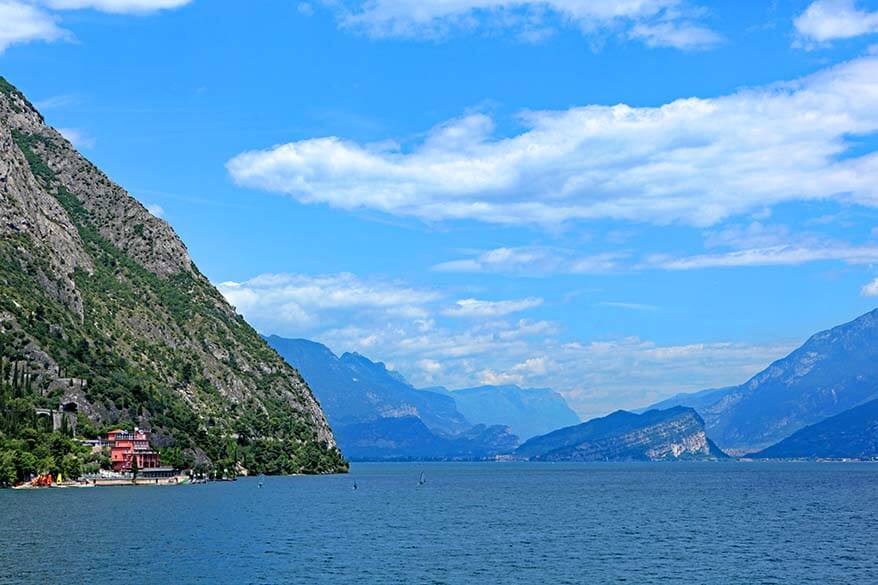 The northern side of Lake Garda is surrounded by high mountains and is probably the most impressive part of the lake. Seeing it from the water is really the best way to appreciate the stunning landscapes!
So, if you are visiting Lake Garda and want to see the best of the lake itself, take a boat trip to Riva. You will be really glad you did.
Several towns are close to each other here and you can use the ferry as a hop-on hop-off boat and visit a few of them. Riva del Garda and Torbole at the very end of the lake are well worth visiting. Limone is stunning. But if you stop at just one town, make it Malcesine!
Lake Garda places to visit if you have more time
The following places on Lake Garda might not be as spectacular as the Top-5, but are really nice to visit if you have more time. You can easily combine a couple of them in one day, or just go there for dinner after a day by the pool or at the theme park.
Gardone Riviera
Desenzano del Garda
Salò
Torbole
Garda
Bardolino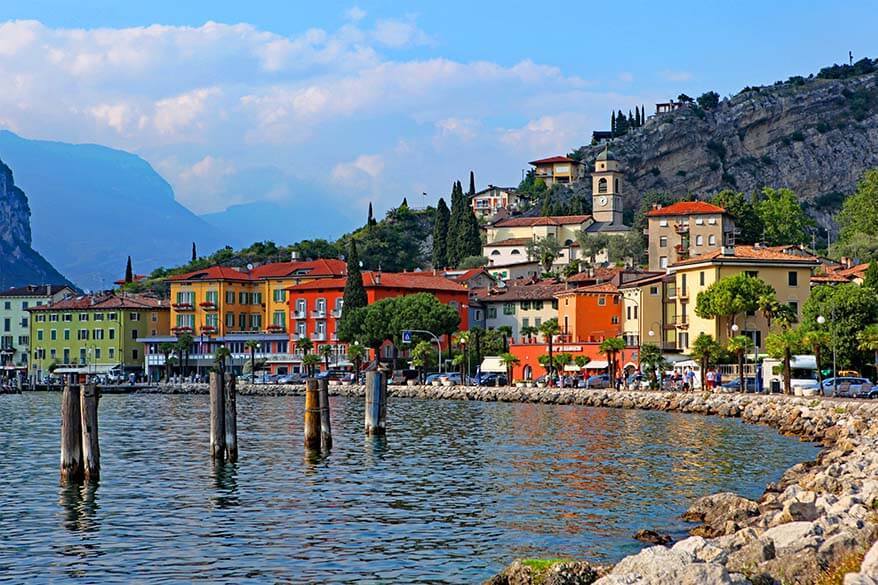 TIP: If you have more time and want to visit a more authentic part of Italy, I strongly suggest spending a few days in the Trentino region, North of Lake Garda. It's an amazing place for those looking for a big variety of more active outdoorsy things to do. One of the nicest places not too far from Lake Garda is Val di Fumo – the scenery along this easy hike is spectacular! You can find more recommendations for this area in our guide to the best things to do in Trentino in summer.
Lake Garda Markets
Lake Garda is also well-known for the traditional Italian markets. These markets aren't just food markets, you can buy Italian leather goods, pottery, tapestry, clothing and much more…
If you have the time, try to visit at least one local market during your Lake Garda holiday.
Below you can find a short list of Lake Garda markets per day. There are many more markets than this, but I'd choose from one of these because they are in the most beautiful towns you can visit at the same time. Note that most markets stop early in the afternoon so you have to visit in the morning.
Lake Garda market days
Monday: Peschiera del Garda, Colombare di Sirmione
Tuesday: Desenzano, Limone sul Garda, Torbole (April to October only).
Wednesday: Riva del Garda (2nd and 4th week of the month), Lazise
Thursday: Bardolino, Toscolano
Friday: Garda, Lugana di Sirmione
Saturday: Malcesine, Salò
Sunday is not really a market day in Italy. You can try Rivoltella or better wait a day and go to Peschiera on Monday.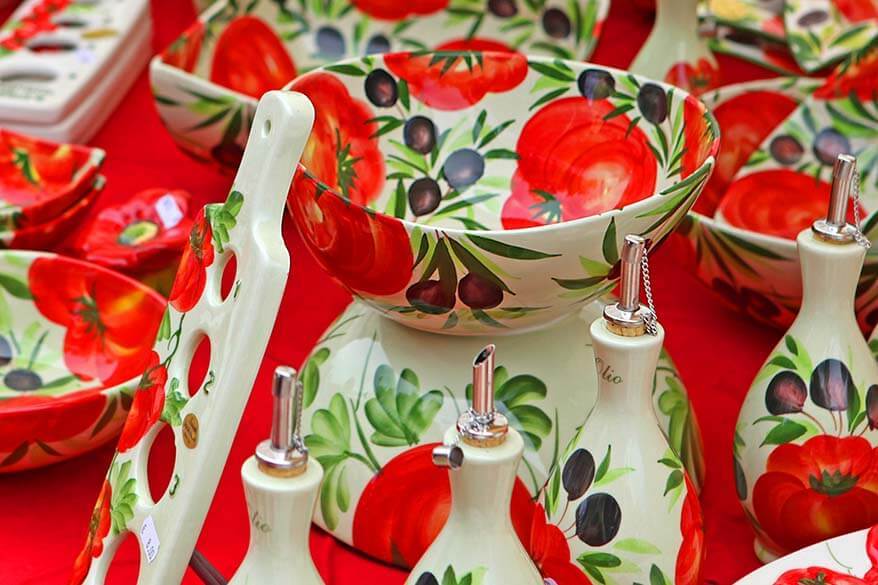 More things to do in Lake Garda and popular day trips nearby
As already mentioned, there is so much to see and do in Lake Garda than just visiting its most beautiful towns or taking a boat ride on the lake. Below is a selection of some of the best short tours and excursions that will make your visit to Lake Garda even more memorable. Take a look!
TIP: If you are visiting Lake Garda, make sure to also include Milan into your itinerary. It's such a surprisingly diverse city. Here you can find our suggested Milan one day itinerary – complete with highlights as well as hidden gems that most tourists never see.
Another place not to miss in the area is Lake Como. If you have just one day, you can take a day trip from Milan. If you have more time, I recommend staying in Bellagio and exploring the lake from there.
So, this is our guide to some of the best things to do in Lake Garda. You may also like to read our tips for the best Lake Garda itinerary – it should help you plan your trip to the area.
More tips for your trip to Italy:
If you found this post useful, don't forget to bookmark it and share it with your friends. Are you on Pinterest? Pin this image!