Thinking of a trip to Lake Garda in Italy and wondering how to best plan your time? This Lake Garda travel guide and itinerary should help you make the most of your trip. Take a look!
In our previous post, we talked about the most beautiful places of Lake Garda. In this article, we are sharing some ideas for a Lake Garda itinerary, from 1 to 3 days to a week and more. That way you can get the best of your visit, no matter how much time you have in this beautiful area.
How much time do you need in Lake Garda? You can drive around Lake Garda and get a quick impression in just a day or you can spend a week in the area and you'll find plenty to see and do… Ideally, I suggest at least 2-3 days at Lake Garda.
Good news for families traveling with children and for people who don't like packing suitcases every day is that you can easily explore Lake Garda from one single location. You will spend a bit more time in a car or on a boat, but it's perfectly doable.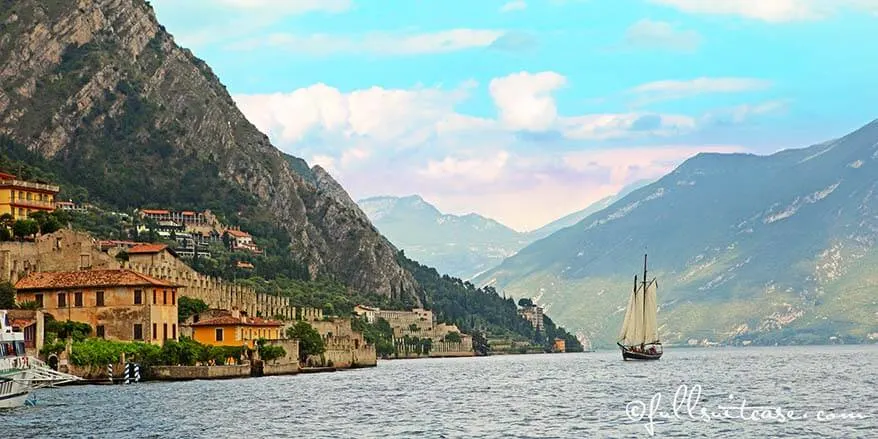 Below, you can find Lake Garda itinerary suggestions. The proposed itineraries are made assuming that you are staying at the Southern part of the lake, but can be adjusted as needed.
This Lake Garda travel guide should give you a good idea of what places are most worthwhile to visit and how much time you need to see them.
Use this as a guide, but don't forget that no two trips are ever the same. You might end up having more time for sightseeing on some days or you may not be able to see and do all that is suggested. It might depend on the weather, the traffic, but also on how much time you spend at each landmark, how many gift shops you visit, or how much time you take to enjoy Italian food and gelatos along the way…
All these itineraries and suggestions are based on what we actually did when we visited Lake Garda with our kids. We took our time and had long lunches and even longer dinners, stopped at the playgrounds, climbed every single tower we could, etc. And we still had plenty of time left to do quite some sightseeing and visit the most beautiful places along the lake.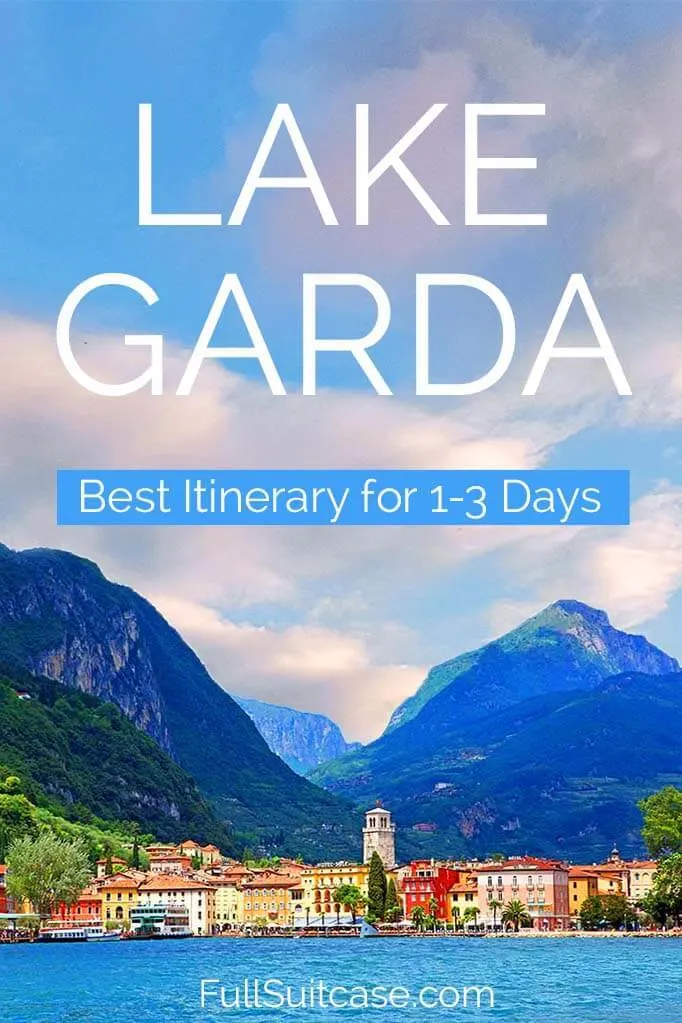 One Day in Lake Garda
Below are three suggestions for Lake Garda itinerary for one day.
Here's how you can spend one day at Lake Garda:
OPTION 1. If you only have a day in the area and you have a car, I suggest you drive around Lake Garda and visit at least two towns along the way.
Lake Garda road trip is not that long (approx. 150km – 95 miles). However, the roads are narrow and, depending on the traffic you may not have much time left to do a lot of sightseeing.
Try to visit Malcesine and count at least an hour for the visit. You will need 1,5-2 hours if you are there for lunch and even longer if you want to take a cable car to the top of Monte Baldo.
If you have the time for just one more town, pick either Limone sul Garda or Sirmione. While you don't need much time to visit Limone, in Sirmione you can easily spend a few hours or more. If you only have an hour to spare, pick Limone as Sirmione is much busier and you will probably lose a lot of time driving and looking for a parking spot.
OPTION 2. If you don't have a car or don't feel like driving, you should visit Sirmione. You can easily spend a day exploring this picturesque old town and/or you can combine a visit with a short boat ride on the lake.
OPTION 3. Take a full-day guided tour of Lake Garda. This popular tour has different itineraries depending on the day and covers most of the highlights along Lake Garda in one day. See more suggestions for Lake Garda tours here below.
Lake Garda 2 Days Itinerary
Day 1: Sirmione
If you have two days at Lake Garda, visit Sirmione on day one.
Stroll the picturesque streets of the old town, visit the castle, go all the way to the end of the peninsula and visit Grotte di Catulo. Have lunch at one of the many local restaurants, take a short boat ride around the old town and the peninsula.
If you feel like exploring a bit more, you can go for dinner in Desenzano del Garda. It's just a short drive from Sirmione and the old town is very picturesque, especially the area around Via Porto Vecchio.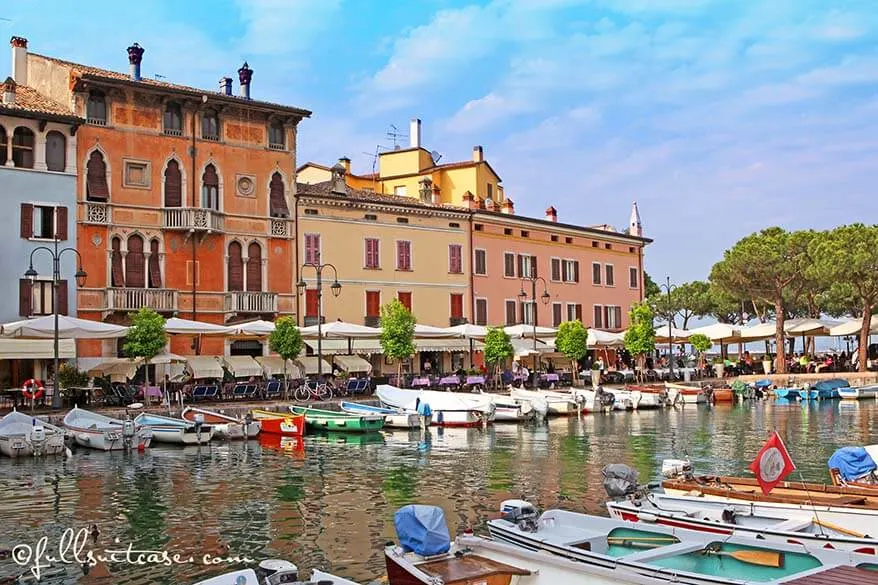 Day 2: Drive Around Lake Garda
Visit a local market in the morning. There are many markets that take place in different Lake Garda towns on different days. Here you can find more information regarding Lake Garda market days.
Continue your journey along the Eastern side of the lake all the way up to Malcesine. In Malcesine, you should visit the old town and the castle and/or take a cable car to the top of Monte Baldo.
Continue your trip around Lake Garda making a few stops to absorb the scenery. You can stop at Torbole, Riva del Garda, or Limone sul Garda. I recommend Limone. Explore the town and go for dinner at one of the many waterfront restaurants.
If it's too early for dinner and you feel like you are still fit to do some more sightseeing, continue to one of the other beautiful towns along the lake. The nicest ones are probably Gardone Riviera, Salò, or Desenzano.
READ ALSO: Best Towns of Lake Garda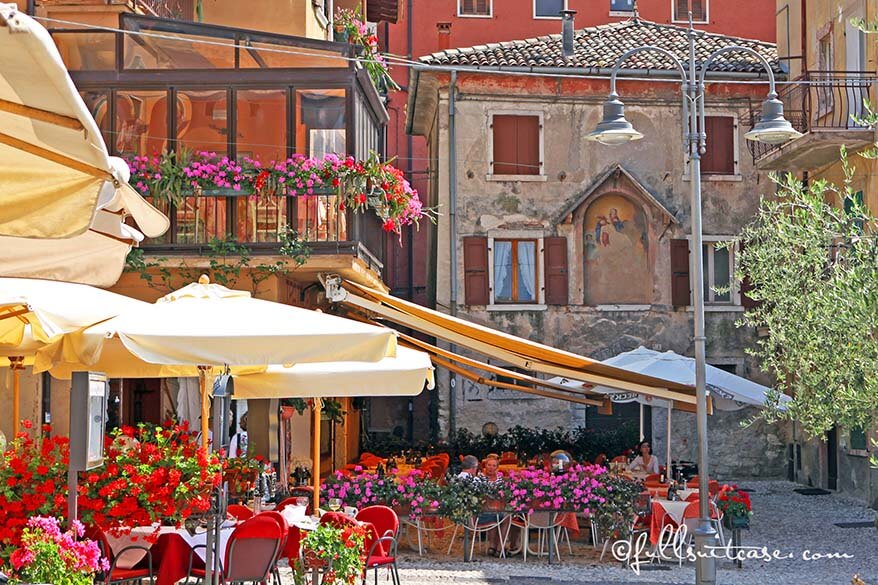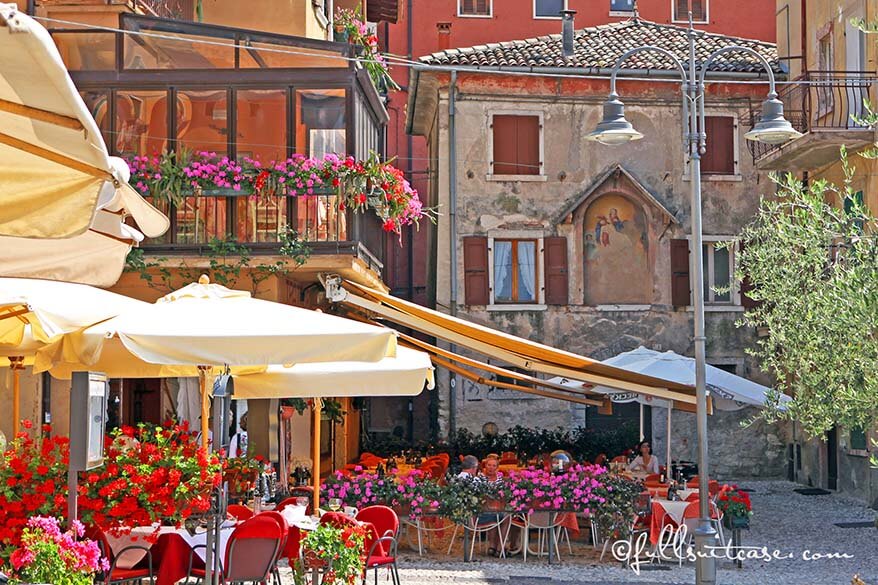 Lake Garda 3 Days Itinerary
Day 1: Sirmione
Visit Sirmione (see above).
Day 2: Explore the Eastern Side of Lake Garda
Same as above, except that you can spend more time exploring the Eastern side of Lake Garda and leave the other side of the lake for the next day.
Take more time at the market, stop at the Punta di San Vigilio viewpoint just outside Garda village, explore the beautiful old town of Malcesine to the fullest.
You can drive around the whole lake but focus on visiting the towns on the Eastern – North-Eastern side only since you can see the rest on day 3.
TIP: A nice thing to do is to take a boat tour to Punta San Vigilio and Isola del Garda from Bardolino. It's a nice part of the lake that you wouldn't see otherwise.
Day 3: Explore the Western Side of Lake Garda
If you haven't done it yet, visit Desenzano. Afterwards, drive along the Western side of Lake Garda all the way to Limone sul Garda. Leave your car at the parking in Limone. Explore the town and have lunch at one of the many restaurants.
After that, hop on the boat towards Riva sul Garda. This is a really spectacular boat trip and it's worth doing even if you don't have the time to visit any of the towns along the way.
If you do have an hour or two to spare, make sure to visit the old town of Riva. If you have even more time, you can hop off at Torbole before heading to Riva and visit them both. Just make sure you don't miss the (last) boat to Limone where you left your car.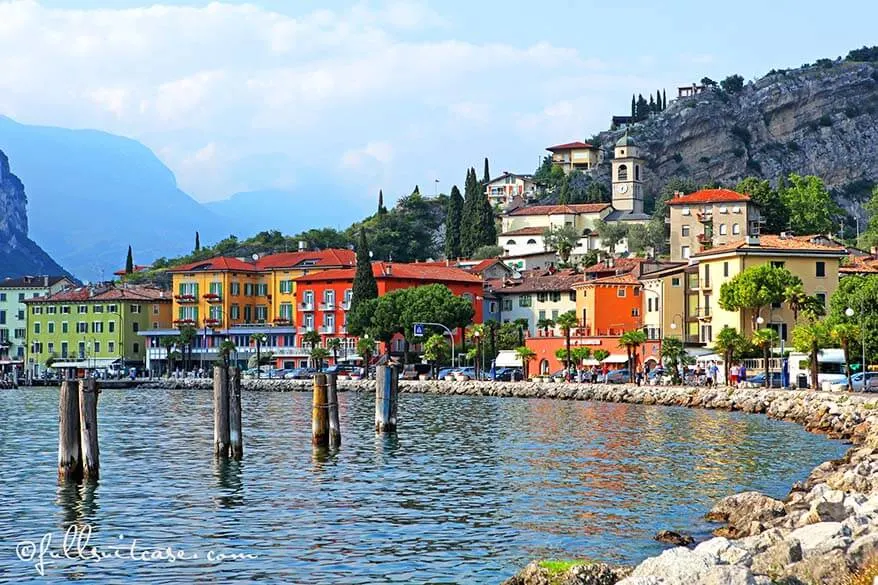 Where to Stay for Exploring Lake Garda
The charming town of Sirmione is a great place to stay for exploring Lake Garda. Its location is ideal for day trips around the lake, but also for exploring other towns in the area. Verona is just 45 minutes and Venice – 1h45min driving time from Sirmione. Here you can find accommodation in Sirmione.
Other popular options are the towns of Garda or Bardolino at the southeastern side of the lake. Also Riva del Garda is a nice place to stay if you prefer the beautiful mountainous northern side of Lake Garda.
If you don't have a car, make sure that you stay in a town that has good boat connections to the other places on the lake. If you also need a train station nearby, then Desenzano del Garda and Peschiera del Garda are the best towns to be.
What to See and Do in Lake Garda Area If You Have More Time
If you have more than three days in the area, you can visit other villages and towns at Lake Garda.
The nicer places are Garda, Torbole, Salò, Desenzano del Garda, Gardone Riviera, and Bardolino famous for its wines.
Lake Garda is also a good place for water sports enthusiasts. You can also play golf, visit Gardaland theme park or Caneva Aquapark. Or simply spend a couple of dolce far niente days by the pool.
If you are looking for day trips from Lake Garda, you can opt to visit other beautiful towns in the area. It's just a short ride to Verona or Trento or even Venice, which is less than 2 hours drive from Lake Garda.
Whatever you choose, Lake Garda has plenty to offer for everyone. Here you can find an organized day tour to Verona and also a day tour from Lake Garda to Venice.
If you like nature and the outdoors and want to experience Italy in a more authentic way, you could consider visiting the Trentino region, just north of Lake Garda. It is especially great for families with kids and teens as there are so many great activities for families in Trentino. Val di Fumo hike is wonderful as well and just a short drive from Riva.
READ ALSO: Best Places to Visit in the Italian Dolomites (just a few hours drive from Lake Garda!)
More tips for your trip to Italy:
If you found this post helpful, don't forget to bookmark it and share it with your friends. Are you on Pinterest? Pin this image!