I visited Iceland in winter, at the same time when I started this blog, and this is one of the first blog posts I have ever published. These are my favorite pictures from Iceland, but only from that one winter trip.
As I am updating this post several years later, we have been to Iceland many times again, in all seasons. But this winter trip still keeps a special place in my heart because it was so magical. And I think that these pictures do a great job in showing what a true winter wonderland Iceland is.
Since a picture is worth a thousand words, take a look at some of our favorite photos from Iceland and let them tell a story of this incredible place.
Here are some of my favorite pictures from Iceland:
1. Black sand beach in Vik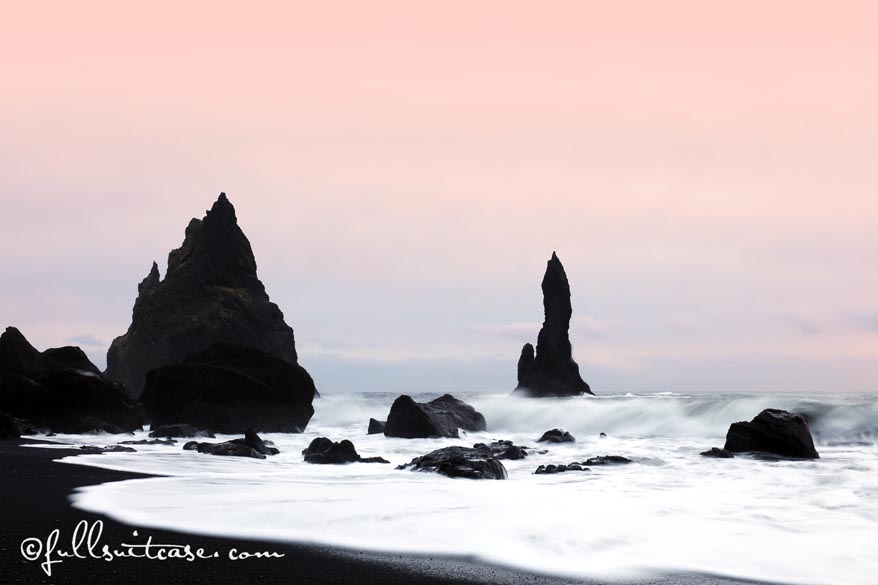 Black sand, rocky coast, strong winds and high tides are probably not the first things that come to mind when you think about the most beautiful beaches… When we think about a beach, we immediately see an image of white sand, palm trees, blue sea and eternal sunshine.
However, Vik beach in Iceland proves that it doesn't always have to be that way. This black sand beach is considered to be one of the most beautiful non-tropical beaches on Earth. And it's easy to see why!
If you visit this beach, you should know that the waves are really sneaky here. Without any warning, they go much further than you can anticipate, so you should never get very close to the water or you can get swept away… It's better to take a telelens for photography if you want some close-ups of the rocks.
2. Jökulsárlón Glacier Lagoon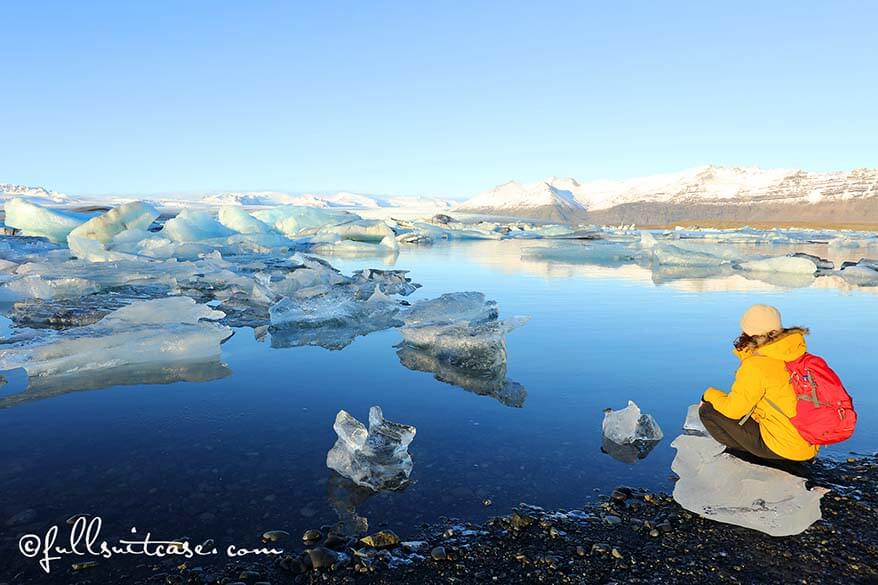 I probably took a couple of hundred pictures at Jökulsárlón Glacier Lagoon. It's just such a special place, one of the very best places to see in Iceland!
What makes it even more special is the fact that it's constantly changing and no two visits to Jökulsárlón will ever be the same. We were extremely lucky with the weather when we visited in November. Even our Icelandic guide who goes to the area on a regular basis was very impressed.
Why did I choose this picture? When I look at it, I feel like I'm actually back there again.
3. Oxararfoss waterfall in Thingvellir National Park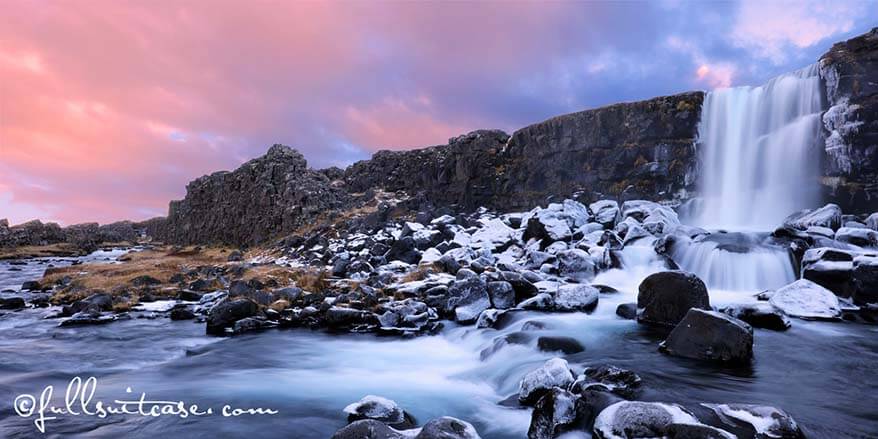 There is just something about the waterfalls that makes them so captivating. I just love this picture of Oxararfoss waterfall in Thingvellir National Park on a cold winter day.
Iceland has so many incredible waterfalls, one more impressive than another. What makes Oxararfoss special is that it's located in such a busy and popular area, but is usually rather quiet. Somehow most people don't take the trouble to walk to it.
Interesting to know: While this is absolutely subjective, many people consider Dynjandi waterfall as the most beautiful waterfall in Iceland. I have to say that it's indeed one of the most beautiful waterfalls we have ever seen.
4. Northern Lights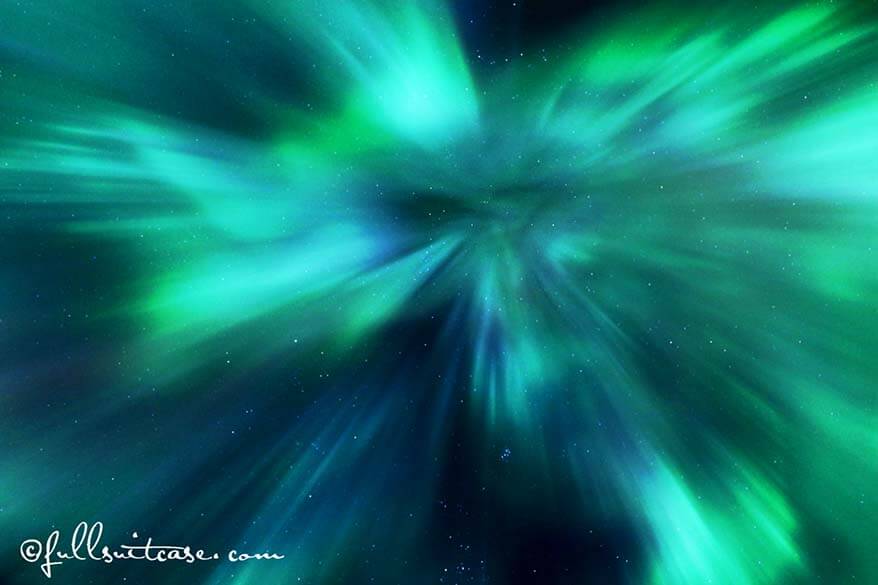 The possibility of seeing the Northern Lights in Iceland was one of the main reasons for my winter trip. It's been my long-time dream to see the Northern Lights and I can tell you now that it was absolutely worth it!
We spent many hours outside every night and we saw Northern Lights practically every night. But most of the time they were so vague that you could only tell it was an aurora by looking at the pictures (even a very vague aurora colors green in photos).
We didn't give up! We followed the aurora forecast on an almost hourly basis every evening and one night we were rewarded with the most spectacular Aurora display you can imagine.
The whole sky lit up in green, pink, and purple colors and auroras were moving in all directions. We saw straight vertical lines, swirls, bows, and amazing star-shaped aurora's like this one. No picture can do justice to how marvelous and grand this spectacle of nature is.
READ ALSO: How to photograph the Northern Lights
5. Skaftafell Glacier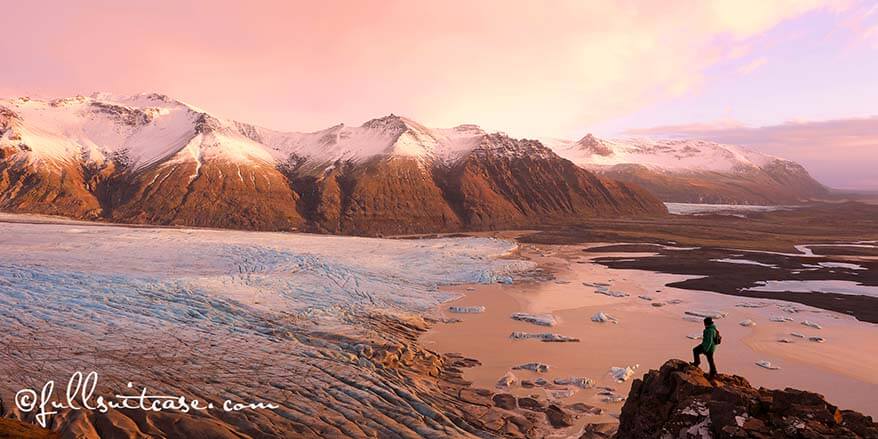 This picture was taken during the hike in Skaftafell National Park. We first hiked to a beautiful Svartifoss waterfall and then continued our walk through the lovely landscape. It was very enjoyable, but not really spectacular. Untill….
All of a sudden, completely unexpected, we found ourselves at this breathtaking viewpoint overlooking the Skaftafell glacier.
Thanks to a fellow hiker who stood at the viewpoint, you can better appreciate how truly majestic the landscape around Skaftafell glacier is. Without a doubt, one of the most spectacular places in Iceland.
Good to know: This area is also one of the best places to go for a glacier hike in Iceland!
6. Skogafoss Waterfall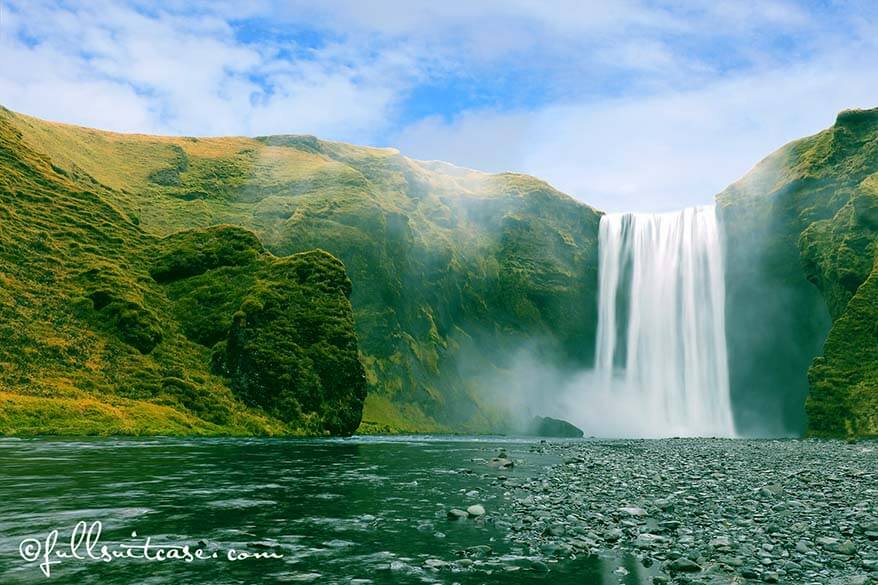 As I said, one can never have enough pictures of waterfalls. Another one of my favorite pictures from Iceland is this image of the Skogafoss waterfall along the South Coast of Iceland.
This is one of Iceland's most-visited waterfalls. All the south coast tours stop here and it's usually extremely busy. We were lucky to be here at a time when there were very few other people around and it was quite magical.
7. Jökulsárlón Beach, aka Diamond Beach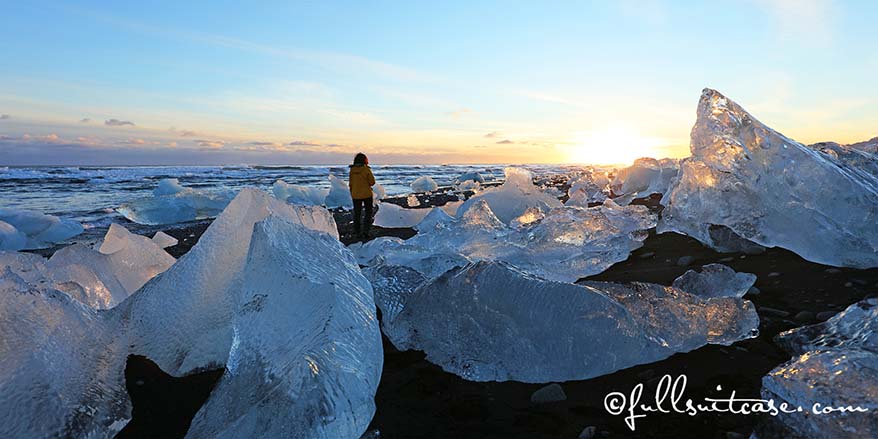 After all the years of traveling and so many unbelievable places we have seen, I'm every time amazed at how incredibly beautiful our world is. The very best moment of any trip is when you see something so special that you just cannot believe that a place like that exists.
Sometimes you have to pinch yourself to realize that it's not a dream. I had this feeling when we visited Jökulsárlón beach (aka Diamond Beach), just across the road from Jökulsárlón glacier lagoon.
We had been here years ago and it was nowhere this spectacular as on this cold winter evening in November. I chose this picture as it not only shows how amazing and majestic nature is, but also – once again – how small we are in comparison.
8. Iceland is about ice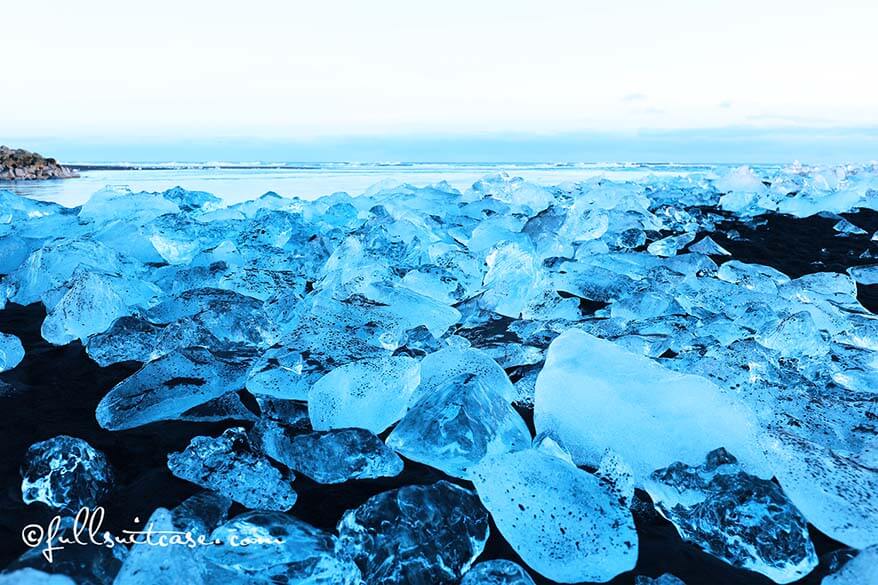 You probably heard the popular saying that Iceland in not all ice and Greenland isn't green at all. Well, in winter Iceland is all about the ice (and Greenland is indeed green in summer).
So here's one more picture of the incredible ice creations on Diamond Beach. I love love LOVE this place!
READ ALSO: Greenland vs Iceland
9. Gullfoss Golden Waterfall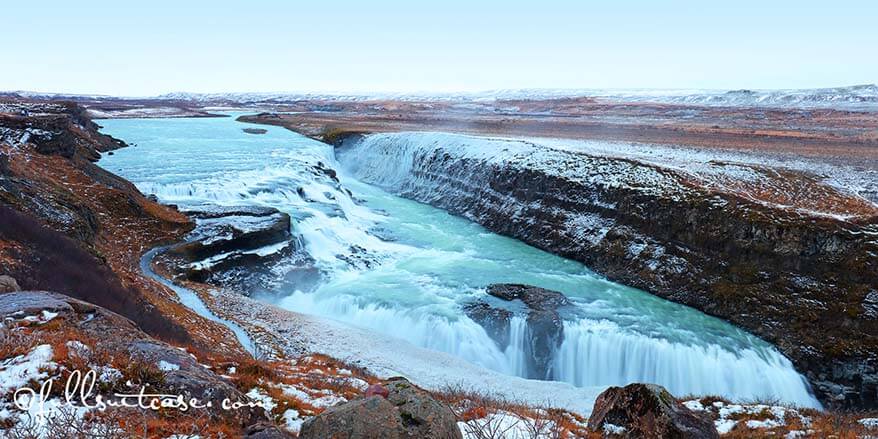 We visited the Golden Circle and Gullfoss waterfall on our very first day in Iceland. I cannot even try to describe how cold and windy it was that day. It was a real challenge to take a picture of the waterfall. The wind was blowing the cold water of the waterfall and I was freezing. My camera and tripod were blowing away and so was I.
Most people took a short glimpse of the waterfall and spent the rest of the time at a café, while I was facing the elements trying to get a somewhat decent shot.
This picture made it into my top-10 of the Iceland pictures for all the effort that it took me to get it.
10. Winter sunset in Vik, Iceland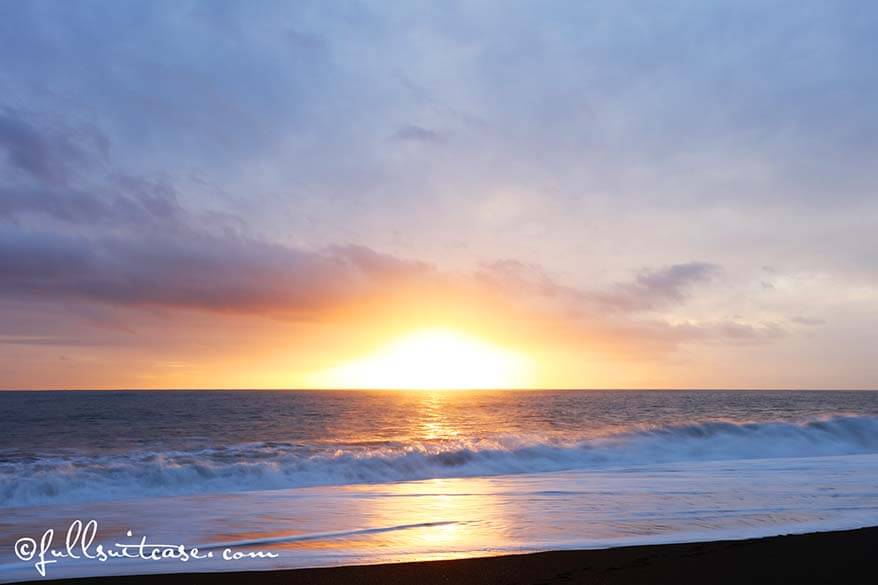 In winter, the sun is so low in Iceland that it provides great light for photography all day long. It's like you go straight from sunrise to sunset and miss the harsh daylight altogether. Photographer's paradise!
This picture was taken on the coast near Vik. And although it's just another sunset picture, I really like it. It reminds me of all the places I've been to and makes me dream about all those places still waiting to be discovered…
READ ALSO: Simple Photography Tips for Better Travel Pictures
So, these are just a few pictures from our winter trip to Iceland. As I said, we have been to Iceland many times after this trip.
If you are looking for travel tips, itineraries, or destination guides, check our Iceland guide. It contains links to all our articles about Iceland.
Alternatively, take a look at the few featured articles with some of our favorite places in Iceland: