Are you looking for ideas for places to visit near Luxembourg or nice day trips from Luxembourg city? In this selection, we feature the best excursions and day trips in Luxembourg country, but also places to visit near Luxembourg that are just over the border.
We lived in Luxembourg city for two years. And even though it's very green and family-friendly, we often found ourselves looking for ways to escape the city and discover some fun places nearby. And because Luxembourg country is so small, many of the best places to visit nearby are actually in the neighboring countries – in France, Belgium, and in Germany.
In this article, I share some ideas for the best Luxembourg excursions and day trips that you can easily make from Luxembourg city. This list has been recently updated to include more nice places near Luxembourg. We've visited most of them multiple times, and I can really recommend each and every one of them!
I didn't include the more 'local' places or places that require more than 2 hours to get to. So this list only contains those day trips from Luxembourg that are easily doable in a day and are worth your time the most. Many of these destinations are also perfect for weekend trips from Luxembourg.
Good to know: While you can get to most of these places by public transport, only a few of them are easy to reach without wasting too much time in the commute. The reality is that, despite the traffic jams around the city, Luxembourg and its surroundings are best explored by car. If you don't have a car, we recommend checking the RentalCars website for the best car rental deals.
To help you plan your excursions from Luxembourg, we created a map indicating all the main places mentioned in this article. Take a look!
How to use this map: Use your computer mouse (or fingers) to zoom in or out. Click on the icons to get more information about each place. Click the arrow on the top left corner for the index. Click the star next to the map's title to add it to your Google Maps account. To view the saved map on your smartphone or PC, open Google Maps, click the menu and go to 'Your Places'/'Maps'. If you want to print the map or see it in a bigger window, click on 'View larger map' in the top right corner.
These are our favorite day trips from Luxembourg:
1. Vianden Castle, Luxembourg
The most popular place to visit near Luxembourg is Vianden town and its main attraction – Vianden Castle. Constructed between the 11th and 14th centuries and recently restored, it is one of the most beautiful romanesque-gothic castles of Europe.
The interiors are worth seeing, but the exterior and the views overlooking the village of Vianden and the area are simply spectacular. This is one place that's considered a must-see for all tourists to Luxembourg.
Good to know: You can get to Vianden using public transport or by car, but parking can be challenging here. So try to come early in the morning. The castle is located high on the hill. You can either walk or take a chairlift to the top of the hill and walk down a bit – the castle is a bit below the upper chairlift station. We recommend taking a chairlift up and then walking down after your visit.
Practical information: Vianden Castle is open daily from 10 AM the whole year except on Christmas and on New Year's Day. In high season (April – September), it's open till 6 PM. For more information, please check the official website. Count about an hour for a visit to the castle itself.
The quaint picturesque village of Vianden is also worth a visit – count another hour or two if you also plan to have lunch here. In addition, if you like hiking, you can easily spend a weekend in Vianden and explore the area a bit more. If you decide to stay longer, this is one of the best price-quality hotels in Vianden.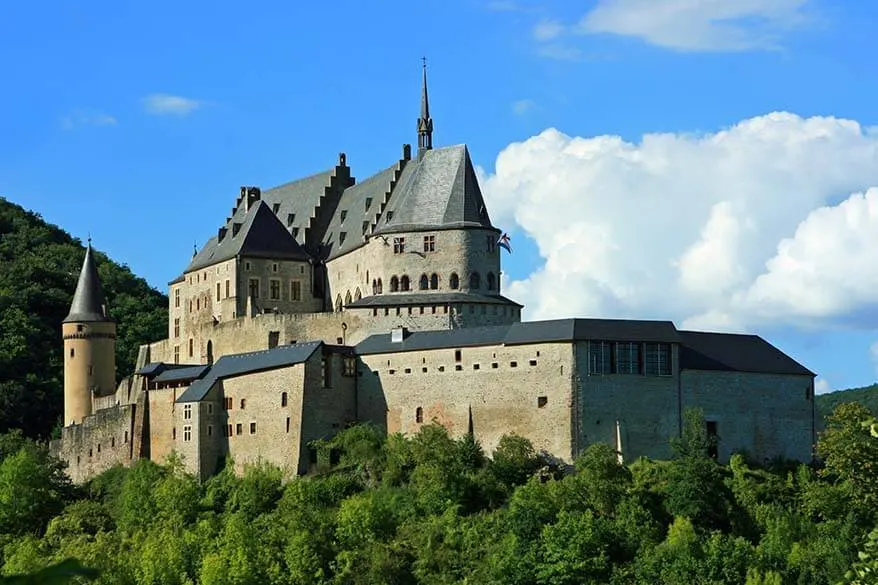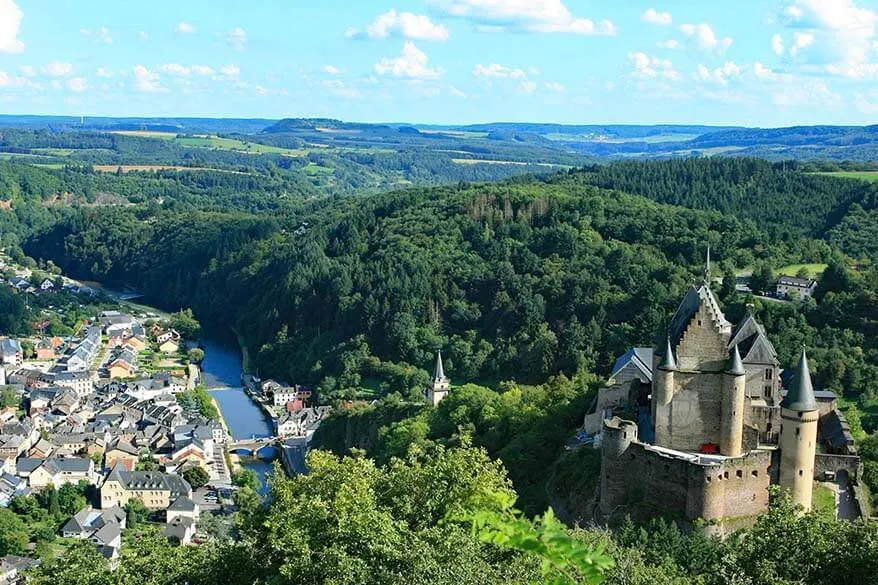 2. Echternach Town & Echternach Lake, Luxembourg
Just 30 minutes ride from the city of Luxembourg, you can find the beautiful little town of Echternach. Echternach is one of the nicest towns in Luxembourg. It has a nice medieval old-town center with narrow streets, ancient ramparts, old patrician houses, two impressive churches, and the 7th century Benedictine Abbey. Not to be missed is the Market Square and the 15th-century Town Hall.
Echternach is also known for its unique dancing procession (part of UNESCO world cultural heritage). It takes part every year on Whit Tuesday and attracts thousands of pilgrims.
Echternach is very compact and you don't need much time to visit the town itself. However, Echternach has more to offer! The artificial lake of Echternach, located outside the town, is a great destination for outdoor lovers and also for families with children.
You can find many leisure and sports facilities at the lake: pedal boats, fishing, miniature golf, playgrounds, also Bike Parc, Adventure Island, etc. You can make a nice walk, go biking or rollerblading around the lake. We used to visit Echternach Lake at least once a month and always enjoyed it.
TIP: While you can easily visit Echternach as a day trip from Luxembourg, you can also opt to stay in Echternach for a couple of days. It's a good base if you decide to do some hiking on the nearby Müllerthal trail – see below. Hotel Eden au Lac has an excellent location for exploring the city, the lake, and the surroundings.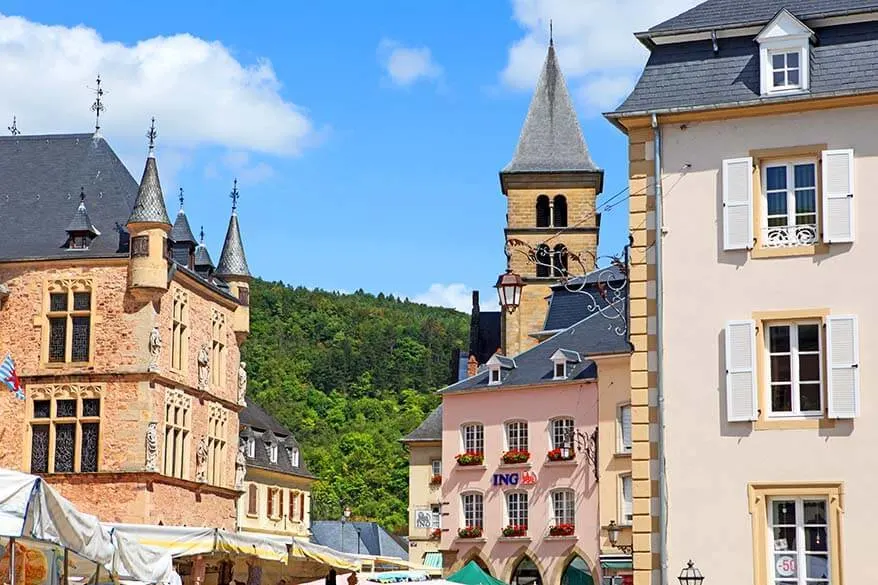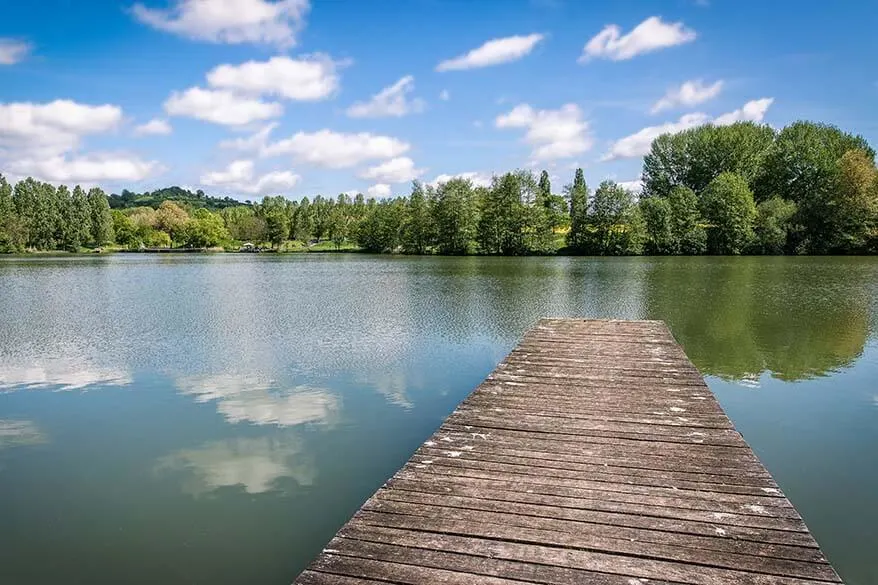 3. Müllerthal, Luxembourg
Müllerthal area also known as 'Little Switzerland' is the most beautiful nature destination in Luxembourg. Located just 25km/ 30min drive from the city, this is one of the best day trips for outdoor lovers. You can do some amazing hiking here, but even if you don't hike, you can see some stunning scenery.
Müllerthal trail is a 112 km (69 miles) walking trail in Luxembourg's 'Little Switzerland'. For experienced hikers, there are three loops of 37-38 km (23 miles) each, which would make a really nice multi-day hike. However, some of the nicest parts of the trail are very easily accessible by car, so you can simply make shorter walks on the nicest parts of the trail.
The best places to see in Mullerthal are: the little Schiessentümpel waterfall, Wolfsschlucht (the wolves' canyon), Siweschlëff (the labyrinth), the Hohllay Caves (the hollow rocks), the Breechkaul (amphitheater), and Perekop – the tall rocks that can be climbed using a narrow staircase perched between the rocks.
You can spend a couple of hours, a day, or even a week in the Mullerthal area. We used to go here quite often when we lived in Luxembourg city, even though our kids were very young and couldn't really hike much at that time. This is my personal favorite place in the whole of Luxembourg.
TIP: Combine a visit here to that of Echternach (see above).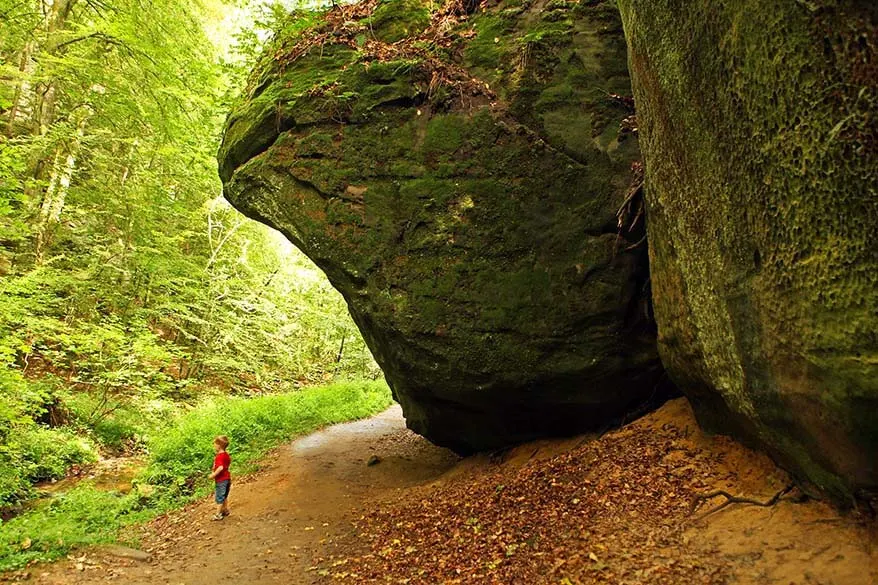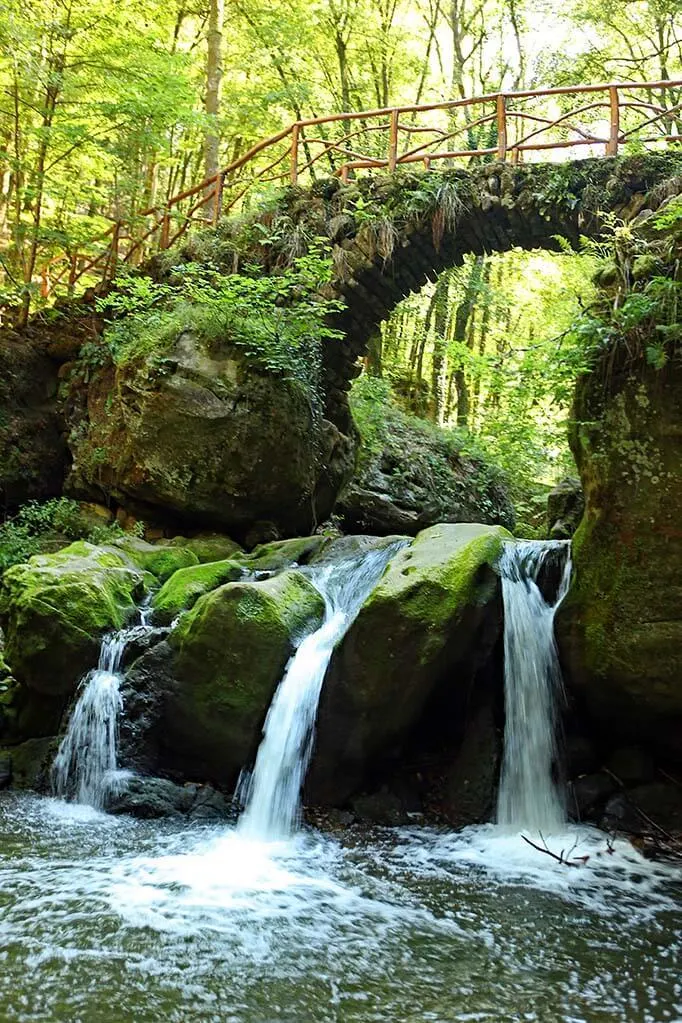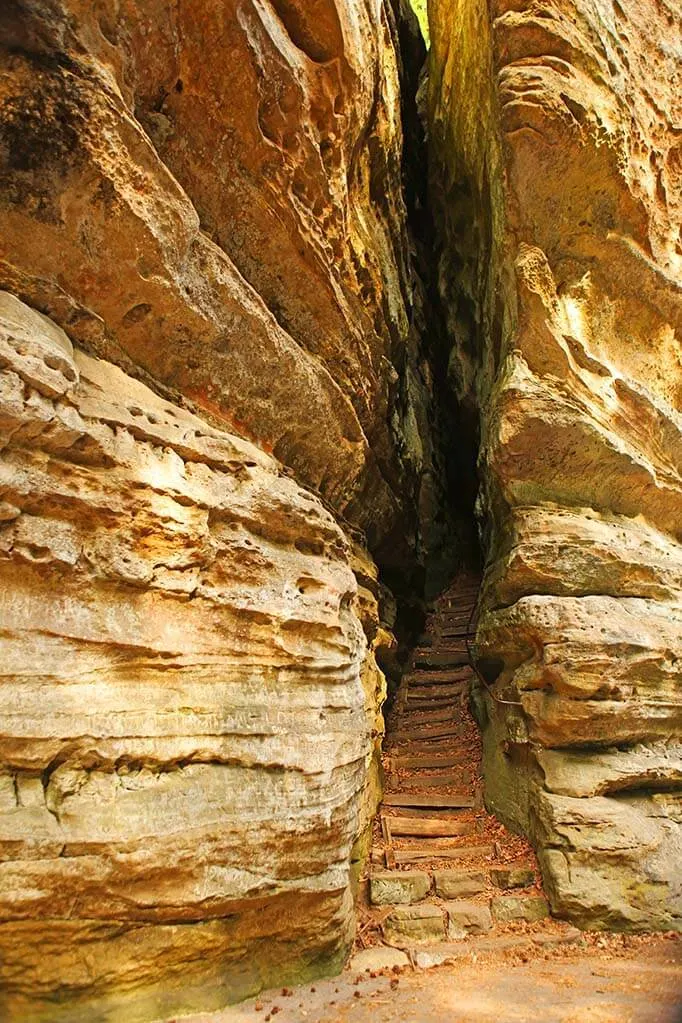 4. Trier, Germany
Trier is a beautiful town in Germany, less than 1-hour drive from Luxembourg city. It's a perfect day trip from Luxembourg – whether you are looking to visit some cultural sights or simply go shopping. We used to go to Trier all the time when we lived in Luxembourg.
Trier is known for the Roman structures, dating to about 180 B.C. The most famous is the Porta Nigra, which is also the best place to begin your sightseeing tour of Trier. The other UNESCO sites in Trier include the Cathedral, Amphitheater, Imperial Baths, and Roman Bridge.
Often, it's nice to simply walk around the old town center. Don't miss the Main Market Square (Hauptmarkt), Cathedral Square and the Cathedral itself, the Electoral Palace, and the Basilika. In summer, you can also take one of the family-friendly Mosel River boat trips.
Good to know: Trier is a big town with lots of history, so count the whole day to explore some of its famous sights. If you are not interested in historic sites, you can easily spend a day shopping and dining. Or you can combine the two and make it a fun day out or even a weekend getaway from Luxembourg. If you have even more time and are visiting in summer, there are nice boat tours from Trier to explore the beautiful valleys or the Moselle River (more about it below).
TIP: If you do stay in Trier, we recommend Hotel Porta Nigra or Mercure Hotel Trier Porta Nigra – they have the best location in town.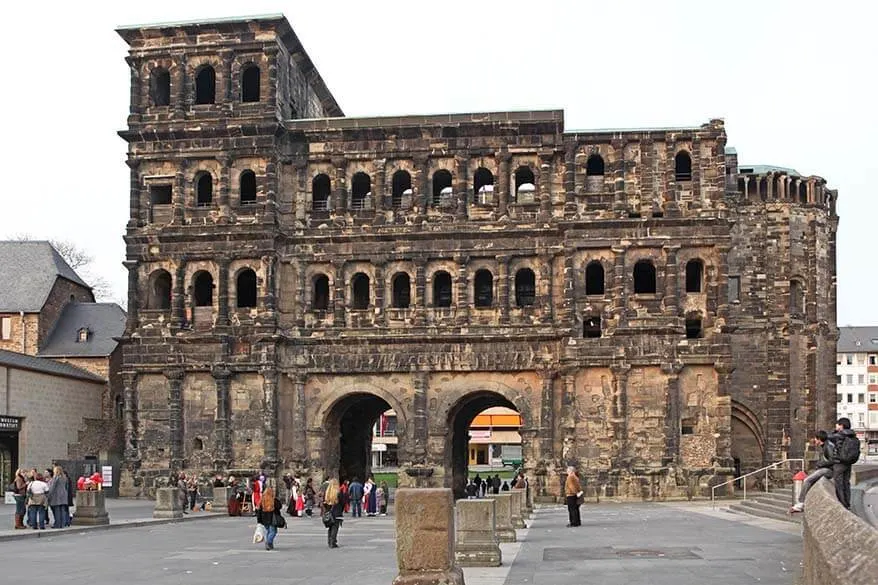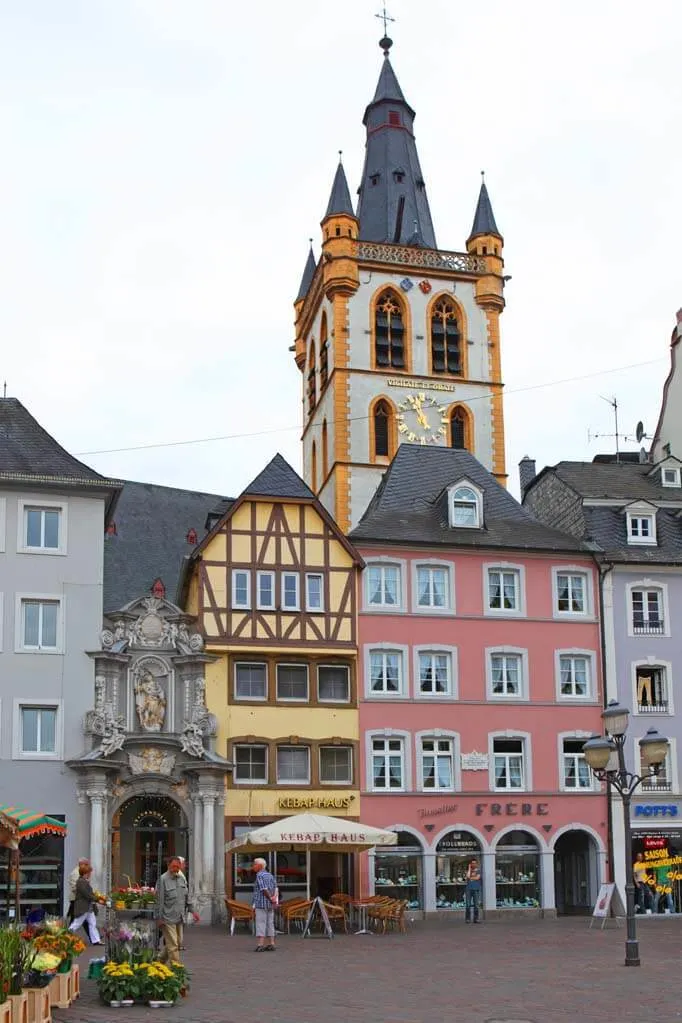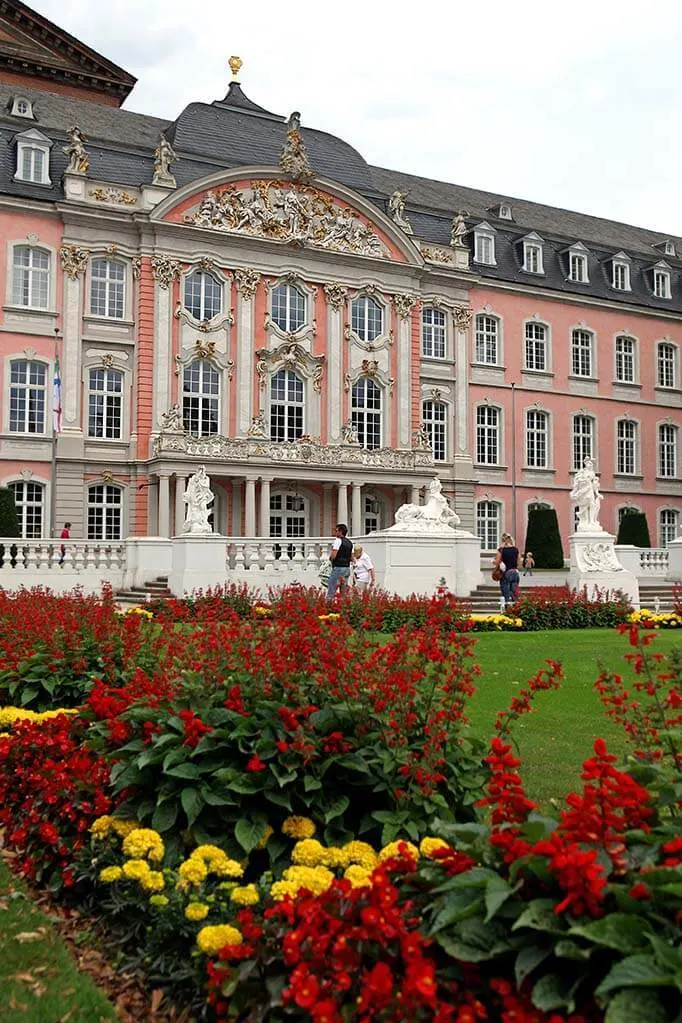 5. The Moselle, Luxembourg or Germany
Moselle Valley is the most beautiful river valley in Luxembourg, and also one of the nicest ones in Germany. It is best known for hilly landscapes dotted with vineyards, wineries, charming villages, medieval towns, and hiking routes.
The best towns to visit in the Moselle region in Luxembourg are Remich, Ahn, Grevenmarcher, Manternach, Remerchen, Mondorf-les-Bains, and the world-famous Schengen (where the Schengen treaty was signed in 1985). You could drive to each village and explore them, and you can also take one of the many hiking or biking routes in the area.
However, the very best way to explore the Moselle Valley as a day trip from Luxembourg is by going on a boat tour on the Moselle River. Boats usually run between March and September-October, from Remich or from Grevenmacher.
TIP: As already mentioned above, in high season, you can also take boat trips along the (different parts of) the Moselle River from Trier in Germany. There, you have a better chance to be able to get on the boat without booking it in advance. Alternatively, another really nice area to explore the Moselle Valley is in Ellenz-Poltersdorf in Germany. It's about 1h40 drive from Luxembourg or 1h15 from Trier. There, you can book a really nice vineyard tour with wine tasting.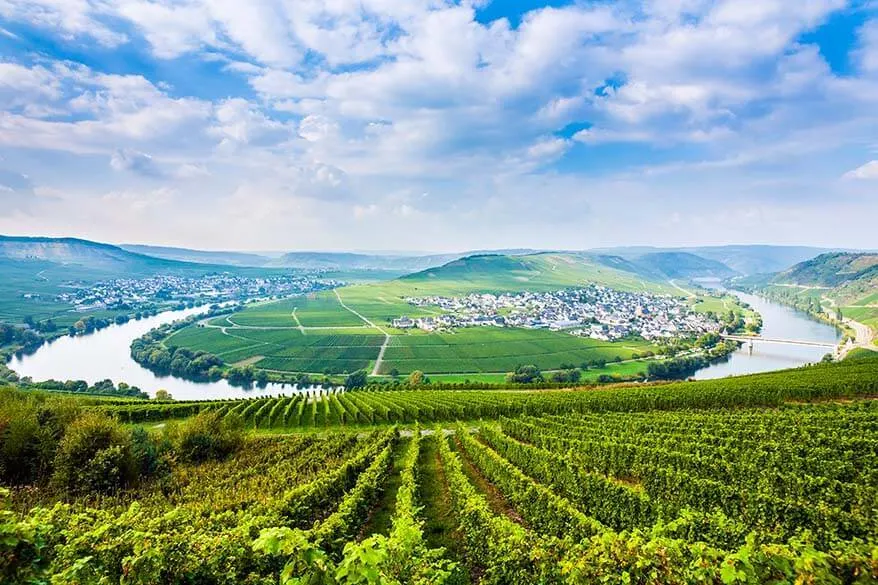 6. Bourscheid Castle, Luxembourg
Bourscheid Castle is the biggest castle in the region, but it's not as well known as the Vianden Castle that everyone flocks to. It's a really nice medieval castle to visit if you find yourself in Luxembourg.
Bourscheid is located in northern Luxembourg, about 50km, 45 minutes drive from the city. The drive itself is really beautiful and the area is worth a visit even if just for the scenery. Unless you are prepared to take three buses, you will need a car to get here.
The castle has been recently restored and it's really well done. Make sure to take an audio guide (also available in English) – it brings the place to life! The views from the castle and also from the road driving uphill towards the castle are amazing!
Practical information: The castle is open daily, year-round. Count about 1-2 hours for a visit. More information on their website.
TIP: If you are looking for a nice getaway from the city, stay at the nearby Sporthotel Leweck for a night. It's one of the nicest hotels in the region and our personal favorite in Luxembourg. You can see the castle in the distance from there too.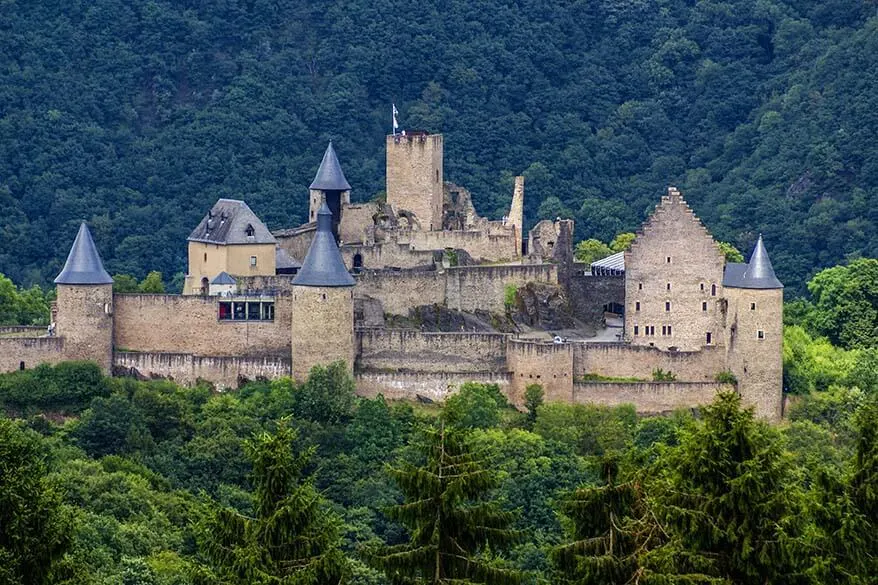 7. Bastogne, Belgium
Bastogne town in Belgium, about 1 hour drive from Luxembourg city, is another great day trip to take in this region. Bastogne is best known for its WWII history and the famous battles that changed the course of the Second World War.
The town itself is really nice, and there are lots of interesting war sites and museums. In addition, you'll also find charming cafés and food stores where you can try all kinds of typical local specialties of the Belgian Ardennes region. There is plenty to see in Bastogne to fill the entire day!
However, the main landmarks are the Bastogne War Museum and the Mardasson Memorial. So don't miss that! This is one of the best war sites to visit in Belgium and is definitely worth a trip.
Good to know: If you plan well, you can visit the town of Bastogne and at least one or maybe even two museums in a day. The best way to get to Bastogne from Luxembourg is by car.
LEARN MORE: Best Things to Do in Bastogne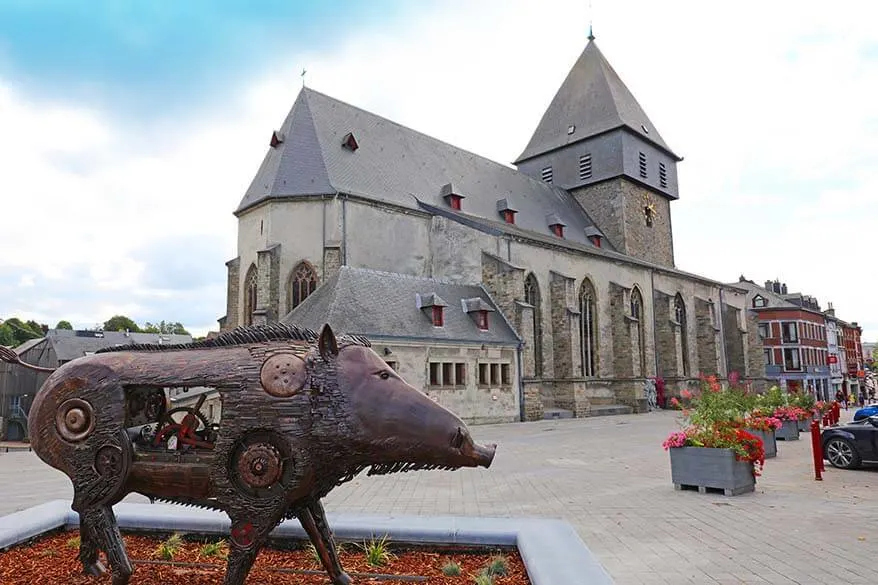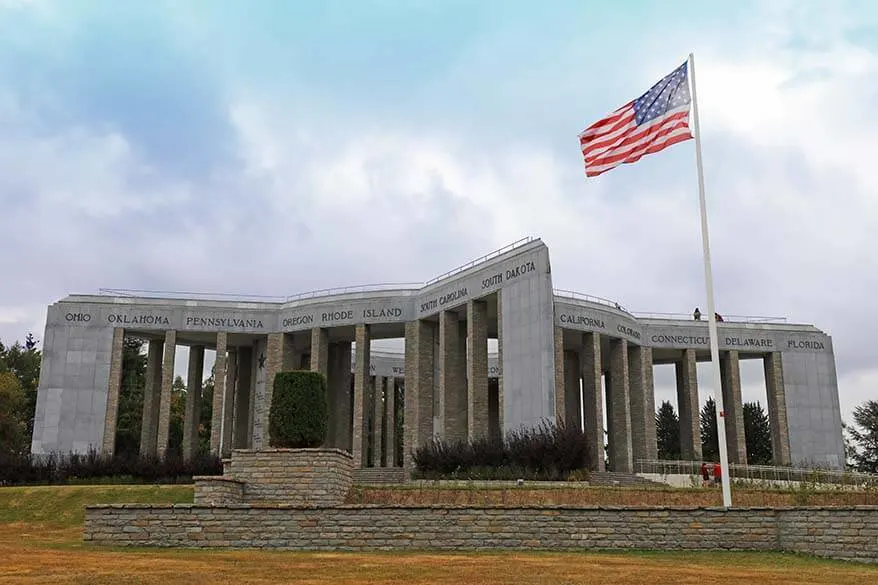 8. Metz, France
If you are looking for a bigger city to visit near Luxembourg, then Metz in France is a very good choice. It's about 1h drive by car, but there is also a direct train that also takes one hour. So this is one of the few Luxembourg excursions that you can easily do even if you don't have a car.
Metz is a 3000-year-old city, with lots of history. But it's also a very green and a very modern city that's one of the UNESCO Creative Cities of Music, Art & Tech.
Don't miss the 13th-century Saint-Etienne Cathedral, a contemporary art museum Centre Pompidou-Metz, and the Golden Court Museum. Also the medieval Porte des Allemands (German's Gate) is very impressive.
On the first visit to Metz, you can also take a mini tourist train that will bring you past the most important landmarks in the city center.
If you have more time, here you can also take a boat trip on (yet another part of) the Moselle River. Here you can find more information on things to see and do in Metz.
TIP: If you decide to make a weekend trip to Metz, check out the 3* Hôtel de la Cathédrale or the 4* Hotel La Citadelle Metz MGallery. These are both excellent choices in the city center.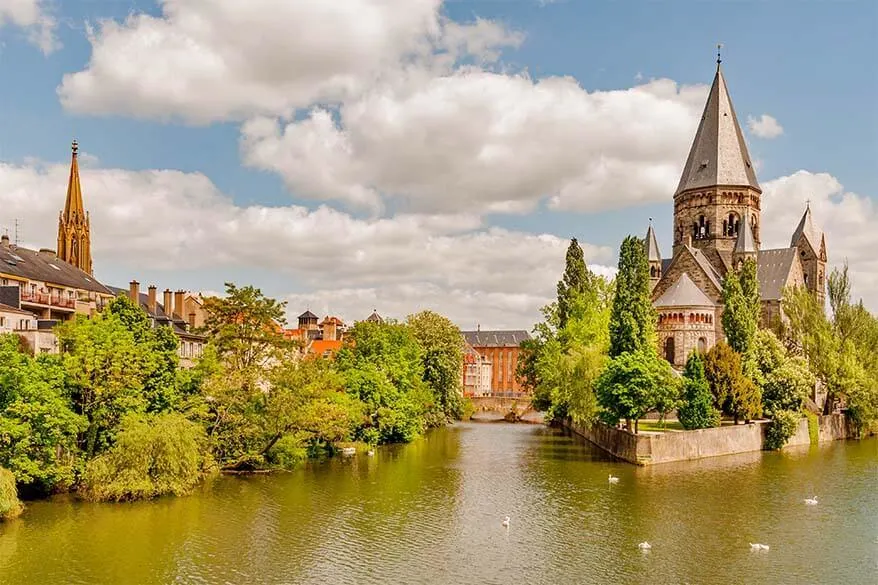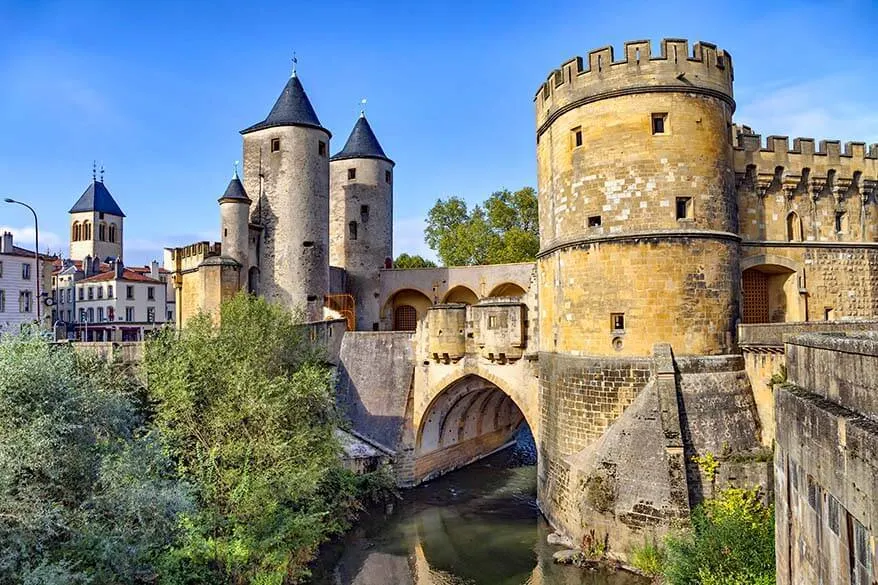 9. Dinant, Belgium
Dinant town in Belgium is another popular day trip from Luxembourg. Located half-way between Brussels and Luxembourg (about 1,5 hours drive from Luxembourg and a bit less from Brussels), it's sometimes even included in one-day tours from Brussels to Luxembourg.
The main highlight of Dinant is its impressive Citadel. This 19th-century fortress is now a museum. Another important landmark to see is the house of Adolphe Sax, the inventor of the saxophone.
If you have an hour to spare, I also highly recommend taking a 45-minute river cruise on the Meuse River. Normally, you don't have to book in advance and can just hop on one of the boats that – in high season – usually run on the hour every hour in the afternoon.
Good to know: You could get to Dinant from Luxembourg by train and bus, but it would take at least 3 hours one way, so it's best to come here by car.
LEARN MORE: Best Things to Do in Dinant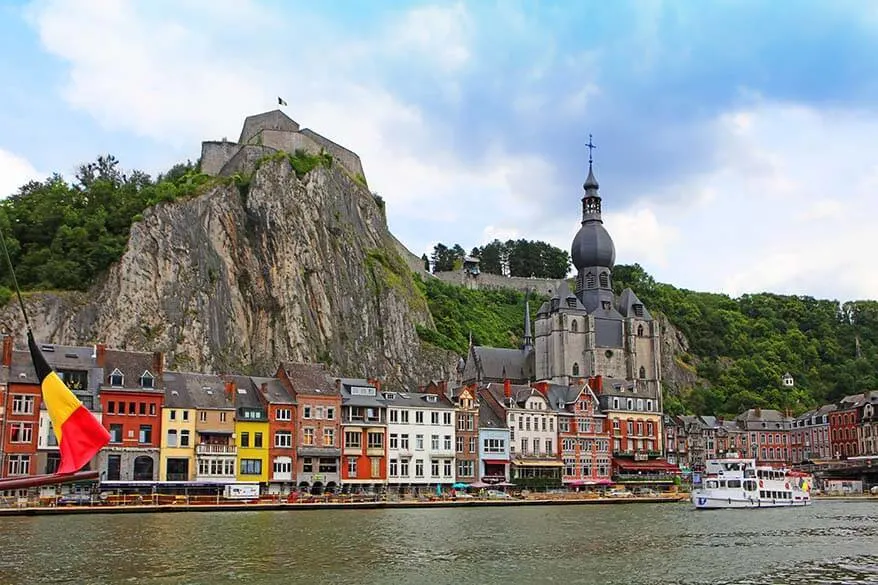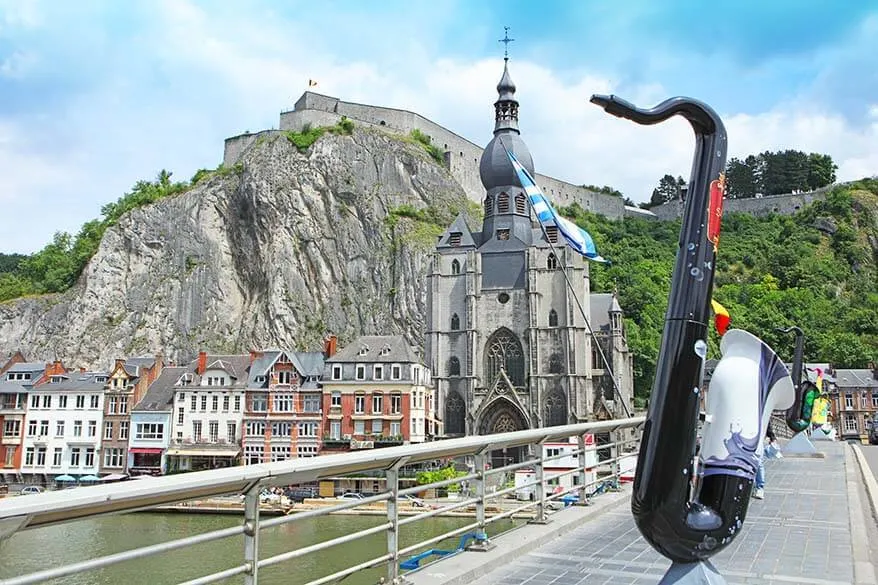 10. Amneville Zoo, France
Probably the best day trip from Luxembourg for families is Zoo d'Amnéville, about 45-50 minutes drive from the city center.
We have visited a lot of zoos all over the world, but the Amneville zoo in France remains my absolute favorite. It's a beautiful big zoo with lots of space for its 2,000 animals. There are 360 different species from 5 continents and it's a really nice park that the whole family will enjoy.
You can attend the animal feedings or see one of the many shows during the day. Most shows run daily from February to November.
TIP: Go early in the morning as you will need the whole day to visit the zoo (and still not see it all). If you want to see the shows as well, you may easily spend 2 days there. Hotel Golden Tulip Amneville is the nicest one in the area. This is a perfect place to spend a weekend for family travelers from Luxembourg.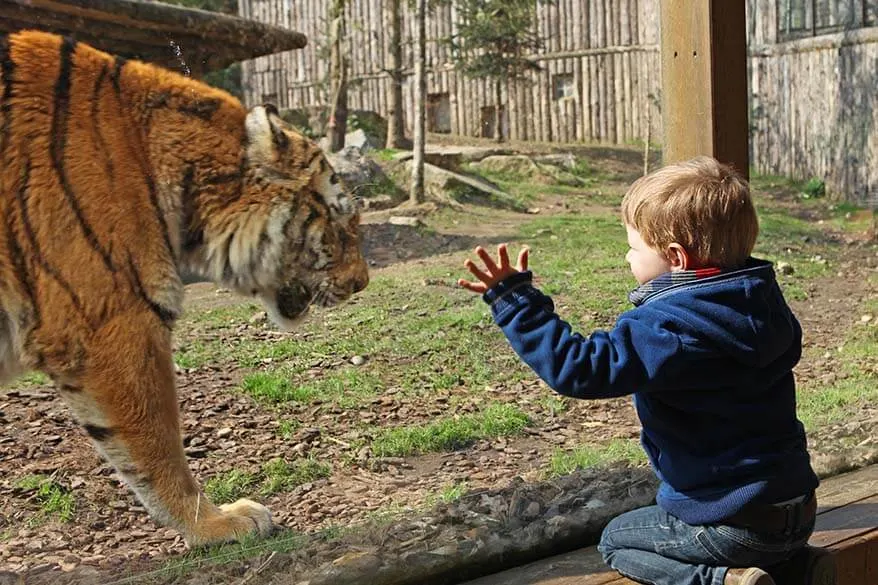 11. Bouillon Castle, Belgium
Bouillon town and more particularly Bouillon Castle in Belgium is another really nice place that you can easily visit from Luxembourg in a day. It's about 100 km, 1h15 drive from Luxembourg and can best be visited by car.
Bouillon Castle is one of the most impressive medieval castles of Belgium. Its origins date back to the 8th century, but its name and fame are related to the 1st crusade, led by Godfrey of Bouillon in the 11th century.
The castle visit is just as you'd expect from a medieval fortress: with drawbridges, a torture chamber, dungeons, treasure hunts, and even torch tours at night. From the top of the main tower, you also have great views of the town and the Semois River below.
The castle visit includes a falconry show and several permanent exhibitions, one of them dedicated to the history of writing from the Middle Ages until modern times. In summer, there are often various events, with actors dressed up in medieval costumes, etc.
Practical information: Bouillon Castle is open the whole year round; daily from February to November, with varying opening hours per season. You can find more information on their website.
Good to know: In addition to the castle, there are other things to do in Bouillon town. If you have some time, ask the tourism office for a map of the 3-km walk that passes 20 interesting buildings of Bouillon. If visiting with kids, you may want to check out the Bouillon Animal Park as well.
In summer, kayaking and water biking are possible, as well as many other activities nearby. You could easily spend a weekend in Bouillon. Here you can find hotels and accommodations in the region.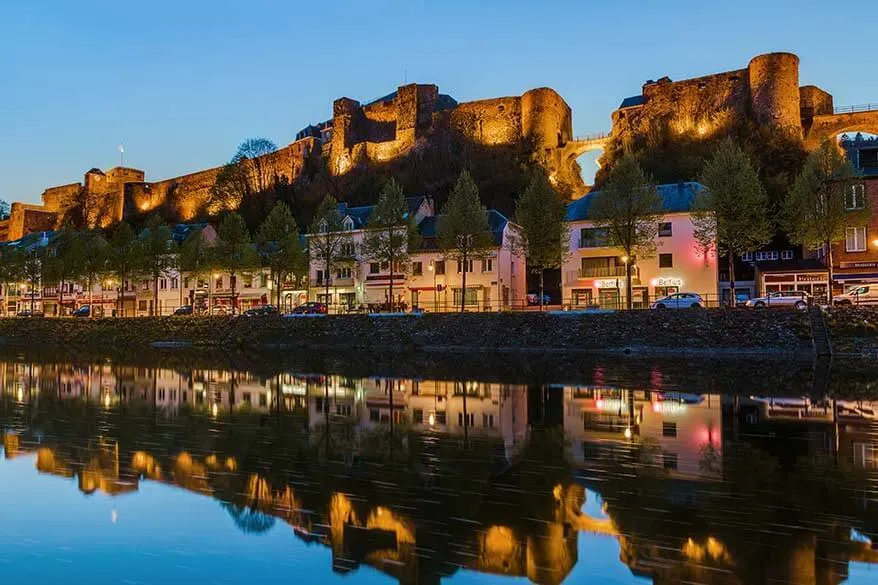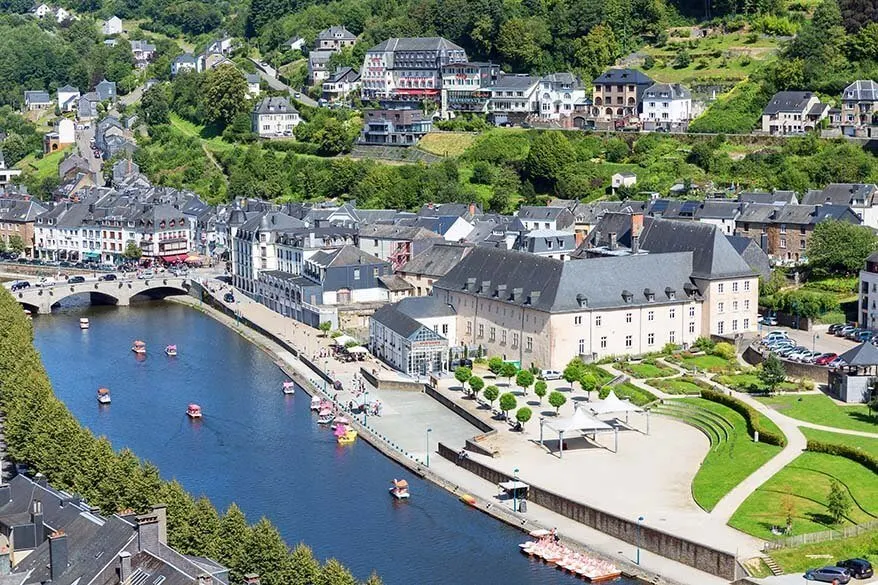 12. Eltz Castle, Germany
One of the most 'Instagrammable' castles in the world, Eltz Castle in Germany can also be visited on a day trip from Luxembourg. It's 150km, almost 2 hours drive, but if you love fairytale-like castles, it might be worth it even if you only have a day. Just prepare for the crowds, especially if you are visiting on a weekend or in the high season.
Eltz Castle is a privately-owned medieval castle a bit in the middle of nowhere between Koblenz and Trier. It dates from the 12th century and has been in the same family for over 30 generations. You can visit inside, but the most impressive is its exterior as seen from the bridge at the entrance to the castle. That's also where all the Instagram pictures are taken from.
However, for a chance to take a picture like that, you'll need to arrive very early in the morning, or in the offseason. We didn't go there for the pictures and we enjoyed the short visit, but we were there in July and it was a bit too busy for our liking.
Practical information: The castle is located a 20-minute walk from the car parking. In the high season, you can also take a shuttle if you don't want to walk. It's usually open daily, from the end of March until the end of October. More info on their website. However, if you don't care about going inside, you can visit in any season.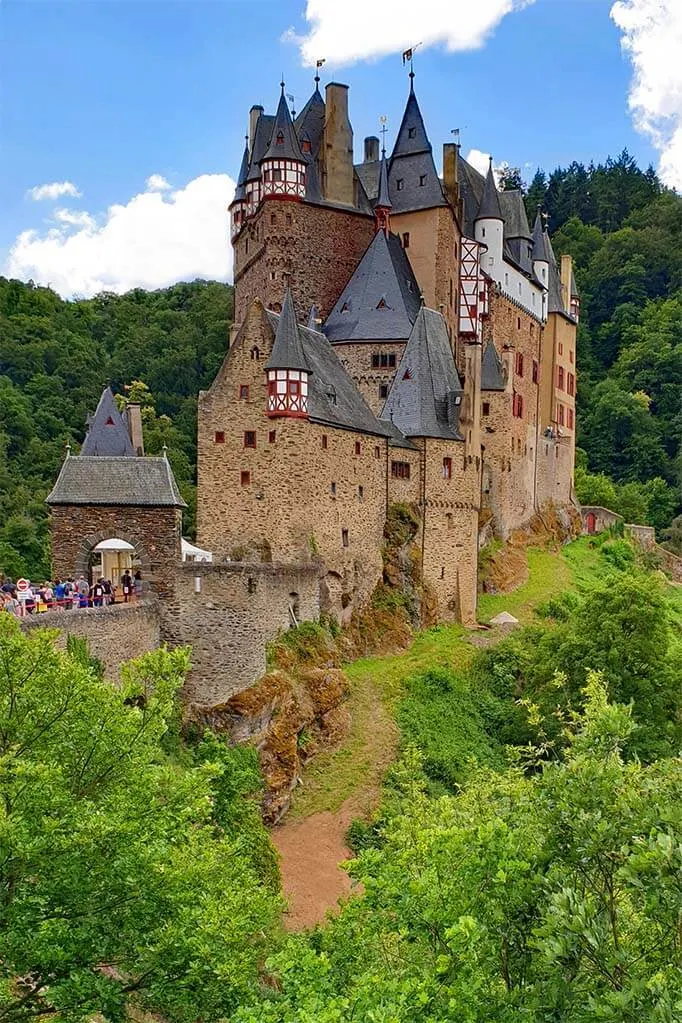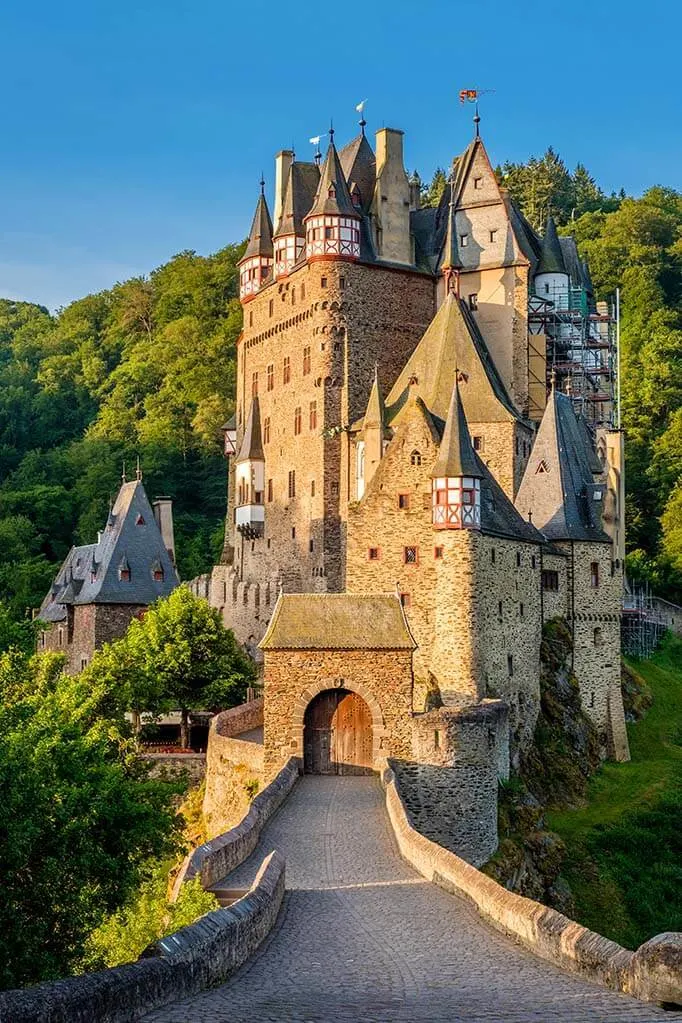 TIP: If you have the time, check out the nearby towns in the Moselle Valley. There are more castles in this area and some stunning viewpoints of the river, the vineyards, and the picturesque villages. Boat tours are also available here.
Here are just a few names of the villages that we passed and that looked very nice: Löf, Alken, Hatzenport, Treis-Karden, Heideküppchen, Moselkern, and many more. There are also lots of hiking trails in the area.
If you visit in the summer, I recommend staying in the area for at least one night. One of the most popular hotels in the area is Moselstern Parkhotel Krähennest, but there are also many others.
13. Beaufort Castles, Luxembourg
Beaufort is yet another place that's popular to visit in Luxembourg. There is not one, but two Beaufort Castles. One is a medieval castle that dates from the 11th-17th centuries and is more of a castle ruin. Whereas the other one is a renaissance castle built in the 17th century, well preserved, with nice gardens, and virtually unchanged over the last 360 years.
The Renaissance Castle is open for visits year-round. Whereas the Medieval Castle is only open from the end of March until mid-November. They both offer tours in various languages, including English. For more information, please check their website.
And while the castles are not as impressive as the others on this list, Beaufort is only about 35-40 minutes drive from the city, which makes it easy to visit from Luxembourg even if you only have a few hours. Furthermore, it's close to Echternach and Müllerthal (both mentioned above), and so you can combine several destinations in one trip.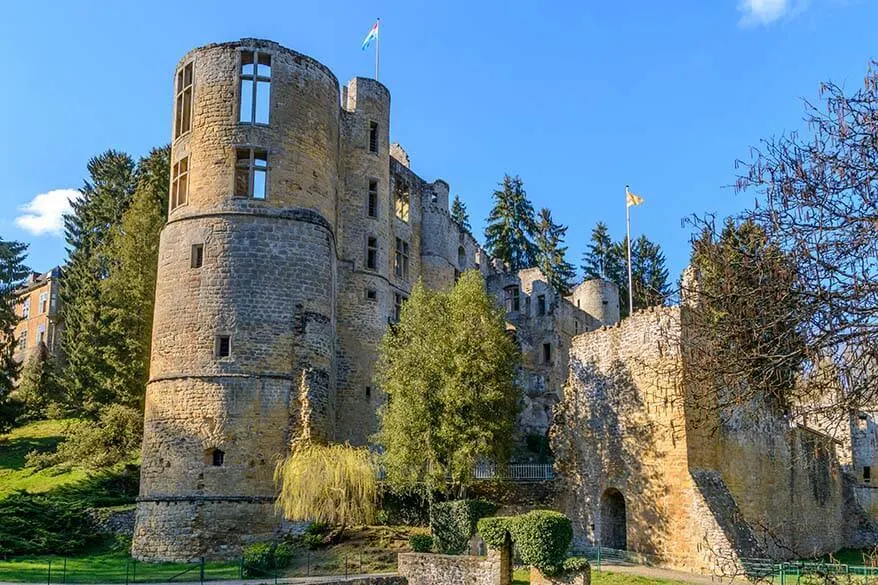 Additional suggestions for places to visit near Luxembourg
In addition to the Luxembourg day trips mentioned above, here are a few extra suggestions for expats who live in Luxembourg and are looking for even more ideas for places to visit nearby:
Parc Merveilleux, Luxembourg. This is a small theme park for families with young children. There are some playgrounds and some animals, but don't expect anything big. It's a very popular place to visit in Luxembourg with kids. We spent many weekends there. More info on their website (in French or German only).
Durbuy, Belgium. This so-called 'smallest city in the world' is a favorite among the Belgians and the Dutch. Wander the narrow streets, have lunch at one of the really good restaurants, do some shopping, or spend a summer weekend kayaking and climbing at the adventure park.
La Roche, Belgium. A small picturesque town with a medieval castle ruin that you can visit. Some nice shops and lots of restaurants, and also outdoor activities (kayaking, hiking, etc.).
Spa, Belgium. The resort that gave name to all the spas in the world. You can visit Thermes de Spa, go hiking, dining, etc.
Verdun, France. A small historic town with WWI sites, an underground citadel, and a beautiful cathedral.
Schengen, Luxembourg. Located along the earlier-mentioned Moselle River, Schengen town might be worth a visit for its historic and symbolic significance. Or to simply take a picture with the town name, Schengen.
Esch-sur-Alzette, Luxembourg. The second-largest 'city' of Luxembourg, it's a nice town to visit for a couple of hours, but don't expect much.
Arlon, Belgium. Arlon is the closest Belgian town just over the border from Luxembourg. The main highlight here is the St. Donatus Church and there are also a few minor museums. Not the most exciting place to see near Luxembourg, but if you live nearby, you may want to check it out. Just to say 'been there done that'.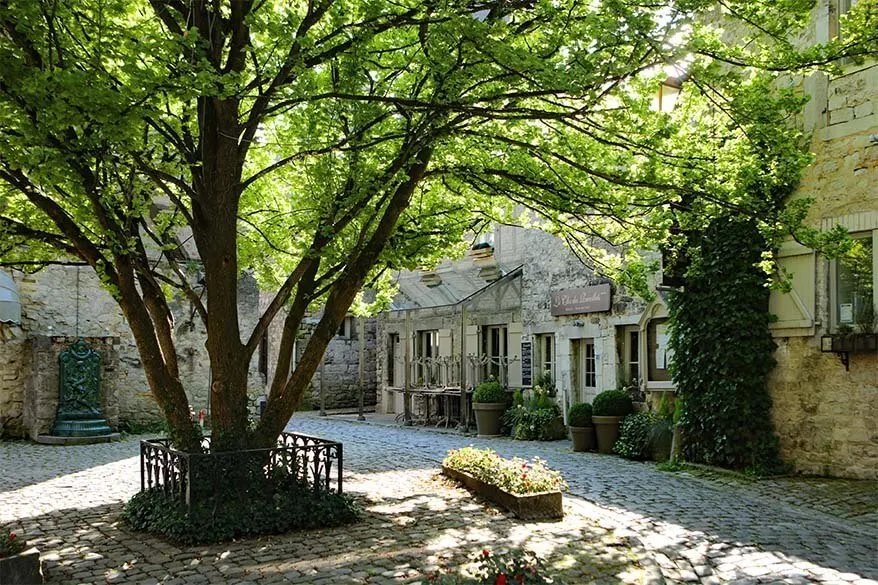 This list of Luxembourg day trips could be much longer. Furthermore, If you are prepared to drive more than 2 hours, you have countless choices of places to visit from Luxembourg. Here are some popular options: Brussels or Waterloo in Belgium, Cologne in Germany, Strasbourg and the beautiful towns of the Alsace Wine Route in France, and many, many more.
People living in Luxembourg often joke that the best thing about Luxembourg is its central location making it easy to get away from the city and visit many amazing places in the neighboring countries. If you drive just 3-4 hours in any direction, you can visit a different place every weekend for a few years and you'll never get bored.
So, this is our guide to the best places to visit from Luxembourg. We live in Belgium now and so if you are looking for more travel ideas for BeNeLux, please see our other articles for various destinations in Belgium and the Netherlands.
Travel inspiration for Belgium & The Netherlands:
If you found this post useful, don't forget to bookmark it and share it with your friends. Are you on Pinterest? Pin these images!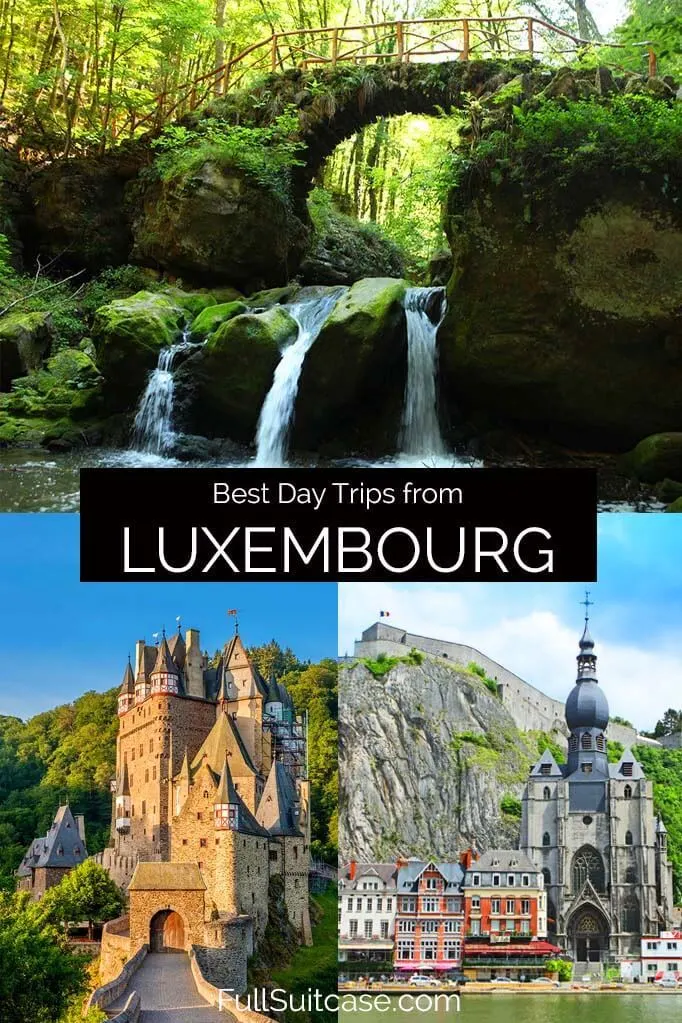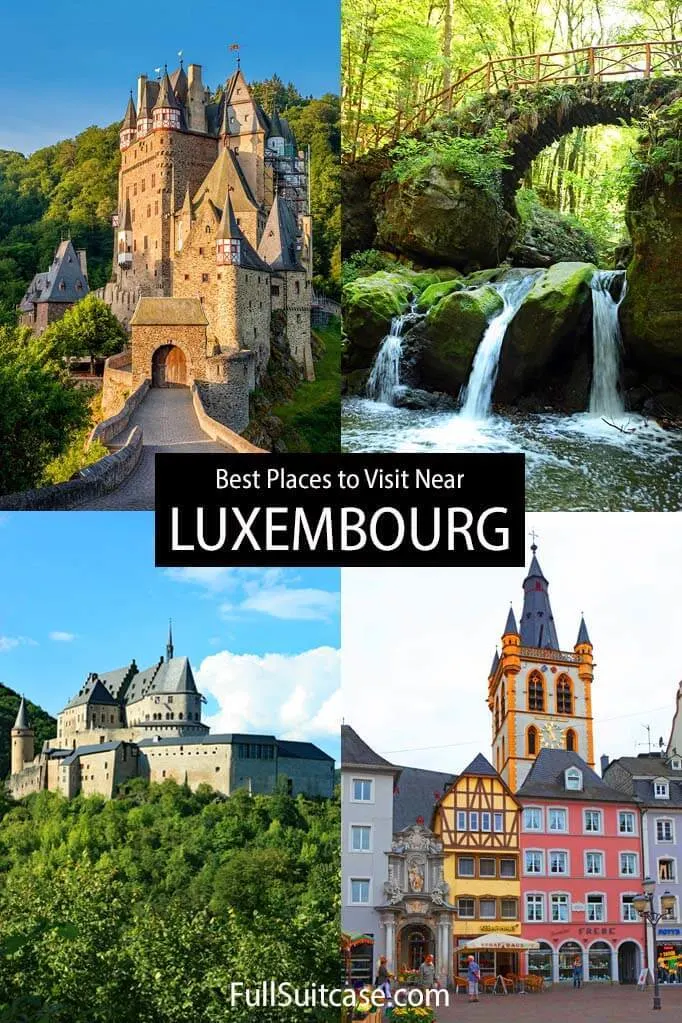 Photos: personal collection and Depositphotos.com