More than a hundred islands make up the Seychelles archipelago, but the vast majority of them are completely uninhabited. Only the selected few can call a private island their home, while most Seychellois live on one of the three biggest islands – Mahé, Praslin, and La Digue.
Needless to say that the biggest and the easiest accessible island – Mahé – is also the most popular amongst tourists. But there is so much more to Seychelles than Mahé! More than warm weather, white-sand beaches, and luxury holiday resorts which most tourists never leave.
In this article, you can find our selection of the best Seychelles islands to visit. You will learn not just about the three main islands of Seychelles, but also about some of the most spectacular, easily accessible Seychelles islands that most travelers never set a foot on.
Seychelles islands are more than a honeymoon destination. They have plenty to offer for those looking for a different travel experience. It's also a great destination for a family vacation because it has all you need to keep the kids happy and entertained: beautiful weather, amazing beaches with plenty of swimming opportunities, exotic wildlife, and good food.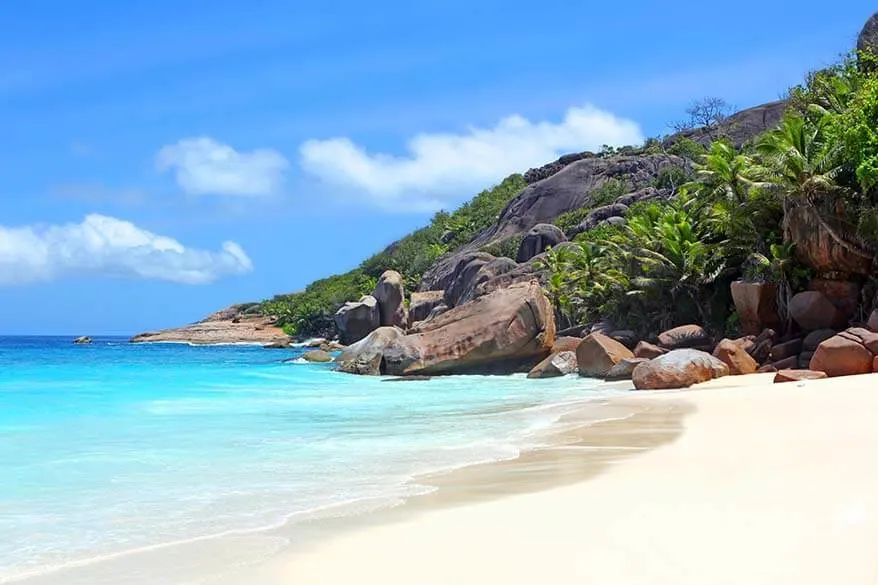 Of course, there are many more beautiful islands in Seychelles than featured in this guide. However, many of them are really too far from all the rest and require several days by boat to get there. Some other beautiful islands in the Seychelles are private resorts that you can only visit if staying there. So this selection only focuses on those islands that you can indeed visit without too much effort.
If you wonder how to visit Seychelles, you can find more information here – Island hopping in Seychelles – the best way to discover the islands.
Without further ado, these are the best Seychelles islands:
1. Mahé
The largest and main island of Seychelles, Mahé is also the most popular Seychelles destination. Mahé Island is the gateway to Seychelles, with an international airport and a great variety of big hotels and luxury resorts.
The island is 6 km (4 miles) wide and 26 km (16 miles) long. Its highest peak rises to 905 meters (almost 3,000 feet).
Mahé is home to more beaches than you can possibly visit during your holiday, but it has much more to offer than that! You can visit the capital of Seychelles – Victoria – with the bustling local market and the Botanical gardens. It's also a great place for hiking and exploring the jungle, viewing waterfalls, and stunning viewpoints.
No trip to Mahé would be complete without a visit to the most famous beaches, sea kayaking, snorkeling, or scuba diving. You can take private tours or simply rent a car and tour the island in search of a remote beach and a perfect Robinson Crusoe experience…
Enjoy a couple of days of luxury at one of the luxury resorts (we stayed at Constance Ephelia), explore Mahé, but don't limit your Seychelles vacation to this one island only!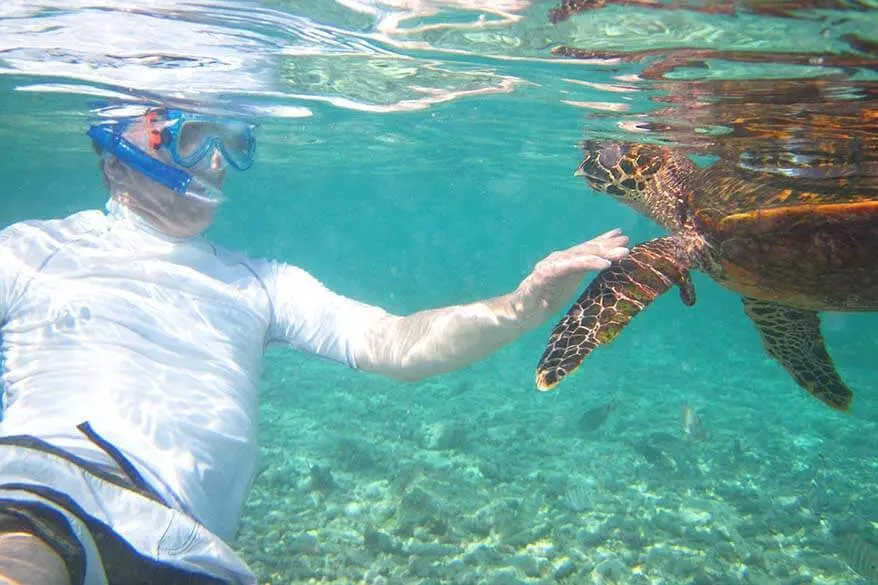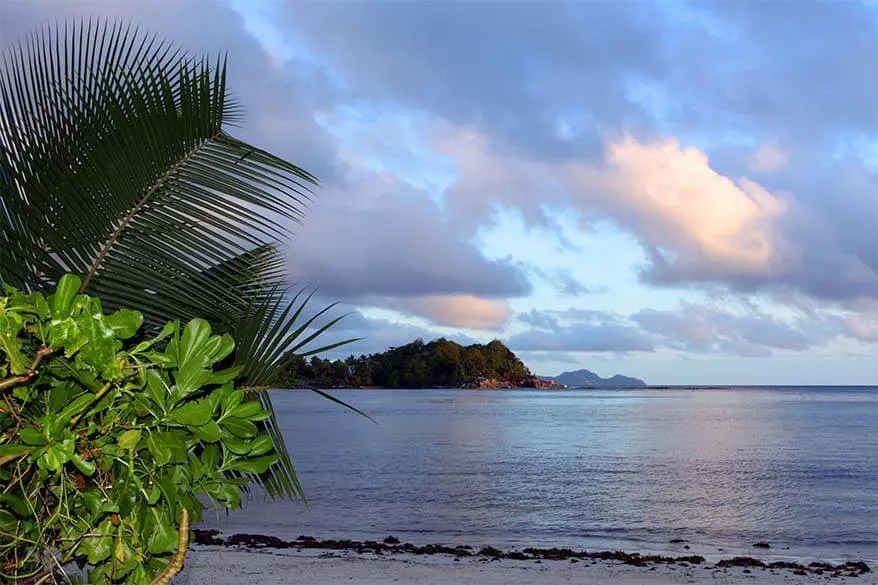 2. Praslin
Praslin is the second biggest island in Seychelles, but it cannot be compared to Mahé. While there are almost 80,000 people living on Mahé, only some 6,500 people live on Praslin. It's far less developed, scarcely populated, and much more laid back.
If you visit just one Seychelles island, you can't go wrong with Praslin! Also because you can see so many other amazing islands by taking day trips from here – more info below.
You will find some of the world's most beautiful beaches on Praslin, like Anse Lazio, Anse Georgette, or Cote d'Or. Don't miss the Vallée de Mai Nature Reserve UNESCO World Heritage Site, tropical rainforest and home to the world's biggest nut – coco-de-mer.
If you have just a day on Praslin, then book this highly-rated tour that brings you to all the best places on the island itself.
Praslin is also the best base in Seychelles for day trips and excursions to the neighboring islands. You can visit many of the Seychelles islands described below from Praslin.
Getting here: You can reach Praslin from Mahe by fast ferry boat. There are also day tours to Praslin & La Digue Islands from Mahe.
TIP: If you are looking for a more special experience, I can really recommend booking a longer boat tour and spending a few days exploring the islands by boat. Sailing is a great way to see more Seychelles islands that you wouldn't easily get to otherwise!
And no, you don't have to own a private yacht or win a lottery in order to do that. Sailing in Seychelles does not necessarily have to be more expensive than staying at a hotel! Our 8-day catamaran cruise cost less than 2.500 EUR, all in.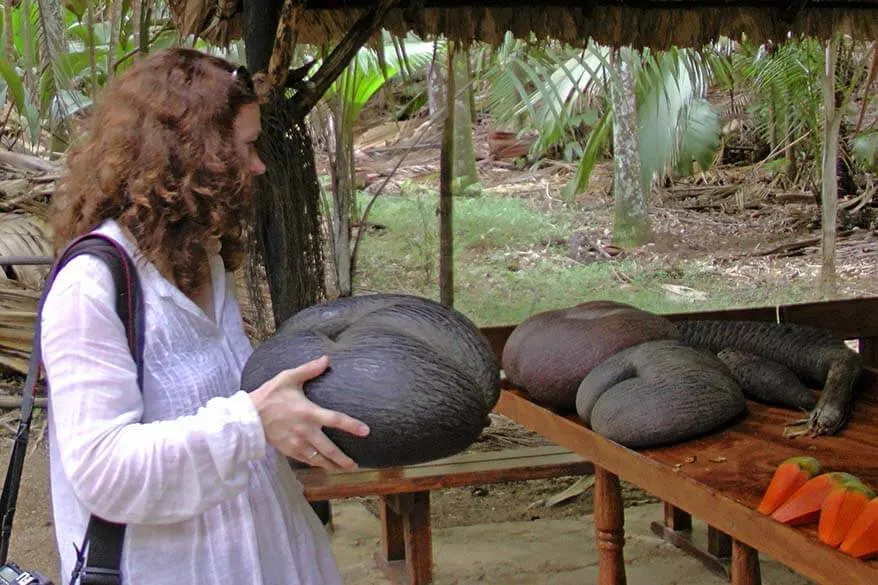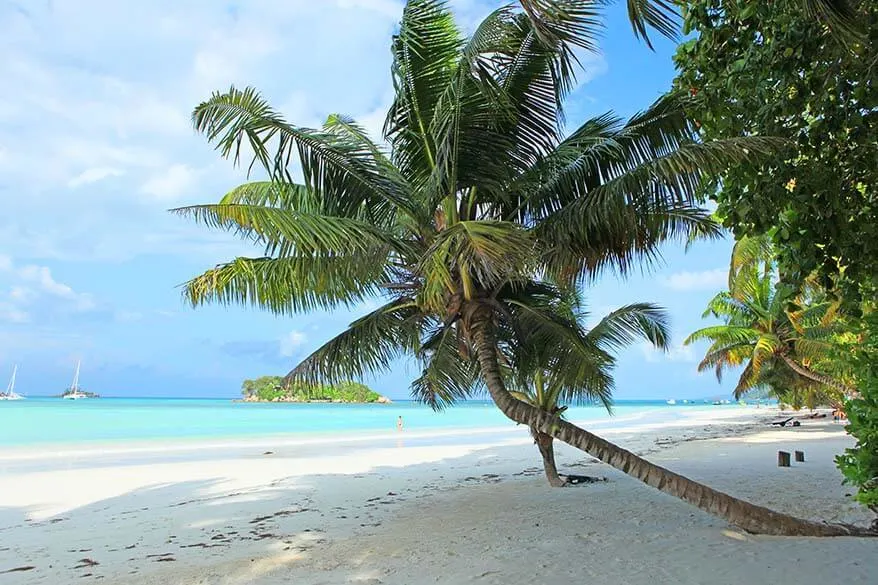 3. La Digue
La Digue is the smallest of the three main inhabited islands in Seychelles. With a population of around 3.000 people, La Digue is the perfect mix of local culture and beautiful white-sand beaches.
With an area of just 10 km2 (3.9 sq mi), La Digue is best discovered by bike or a traditional ox cart. Visiting this island will give you the most authentic travel experience in Seychelles.
We spent a day at La Digue and enjoyed exploring the island by bike. The things that left the biggest impression were the old Copra Mill where we witnessed the traditional method of milling the coconuts to produce coconut oil, an old cemetery, and the beaches.
We loved the quiet Anse Cocos Beach on the South side of the island. But if you visit just one beach in La Digue, make it the famous white-sand beach of Anse Source D'Argent. This picture-perfect beach with the giant granite boulders will take your breath away!
Getting there: La Digue can be reached by ferry from Praslin. Once on the island, you can rent a bike or join this highly-rated tour. There are also options to visit here with a private tour from Mahe or with tours from Praslin.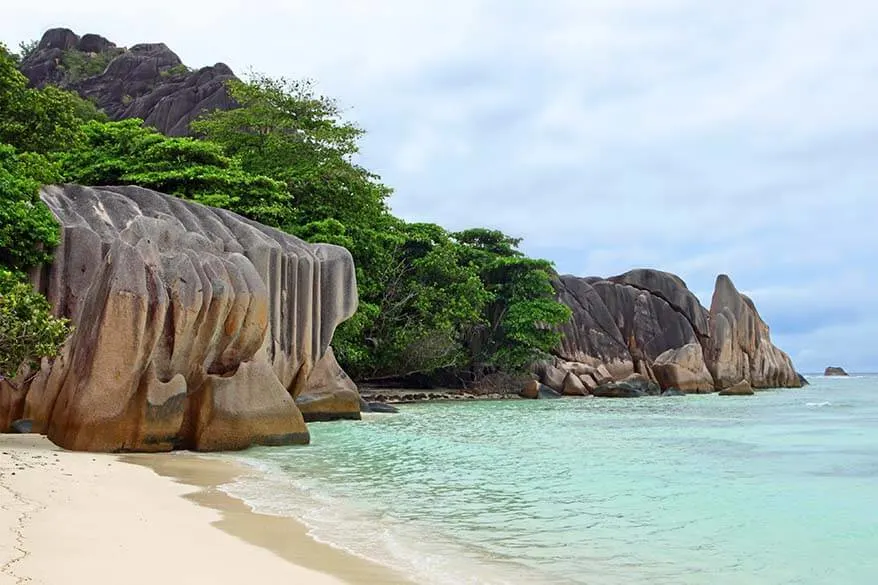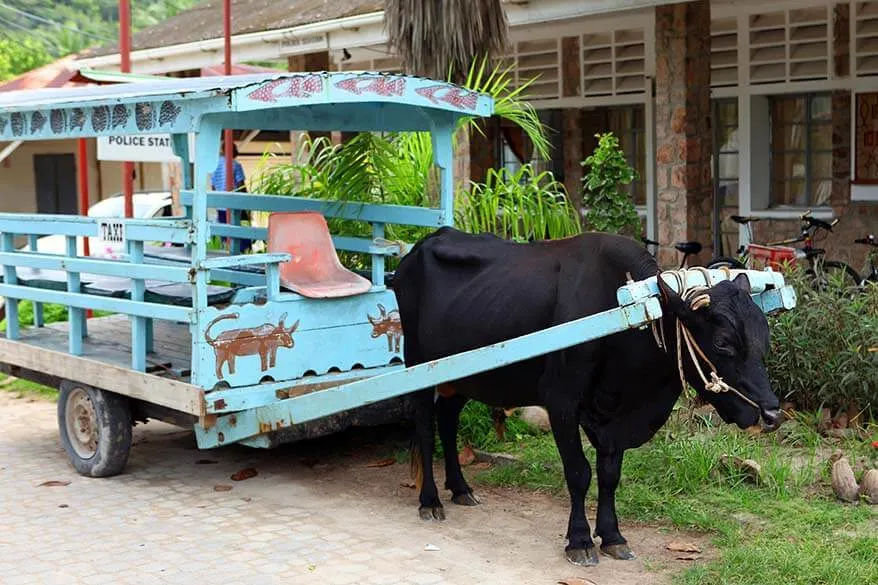 Now that we covered the three main Seychelles islands, I want to introduce you to five unique unspoiled Seychelles islands that are well worth visiting as well.
These islands are all within a pretty easy reach from Praslin and you will find plenty of local companies offering to bring you there. Despite that, the islands are not mass tourism destinations and you will have plenty of opportunities to see lots of wildlife, swim on desolate beaches, and enjoy a more authentic travel experience than on the main islands.
It's these smaller islands that made our trip to Seychelles so much more special! Take a look.
4 – 5. Grande Soeur and Petite Soeur
The sister islands Grande Soeur and Petite Soeur (Big Sister and Little Sister) are amongst the best-preserved and unspoiled islands in Seychelles. Both these islands escaped pretty much any form of development. The two islands are also home to a nesting sea turtle population.
Petite Soeur is surrounded by a reef and can only be accessed when the sea is particularly calm.
Grande Soeur is a private island (also known as Big Sisters Private Island). It's exclusively owned and managed by Le Château de Feuilles Hotel that is located on Praslin Island. They organize exclusive boat trips to Grande Soeur for their guests. In addition, the island allows a small number of day visitors and we could visit this exceptional place as part of our Seychelles sailing trip. If you want to be sure that you can visit here, simply book a stay at the Le Château de Feuilles Hotel for a few days!
It's an exceptional place with an amazing pristine beach, tall palm trees, impressive granite boulders, and giant turtles roaming around. The interior of the small island looks like it could be a set from a Jurassic Park movie. It's like taking a trip back to prehistoric times.
We spent a couple of hours on the Grande Soeur and had the best time ever. It's an island with the very best of Seychelles in one place. We went swimming on the beach that looked like a place that you only see in the travel brochures. We walked between giant tortoises in the most amazing landscape one can imagine, had a bbq lunch on the beach, sat on a palm tree watching boats in the distance, and paddled in the sea with hundreds of colorful fish swimming around our feet…
A once-in-a-lifetime experience, a day on Grande Soeur island was definitely the highlight of our trip to Seychelles.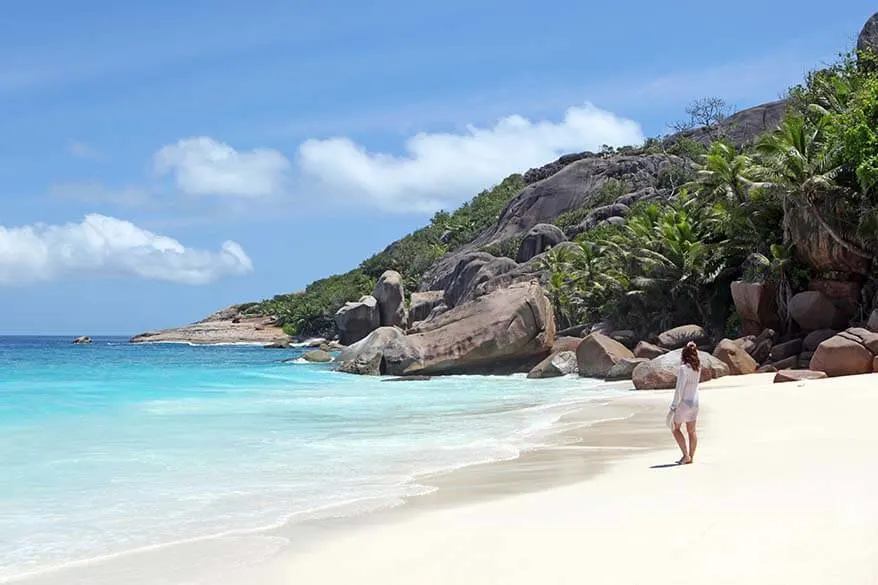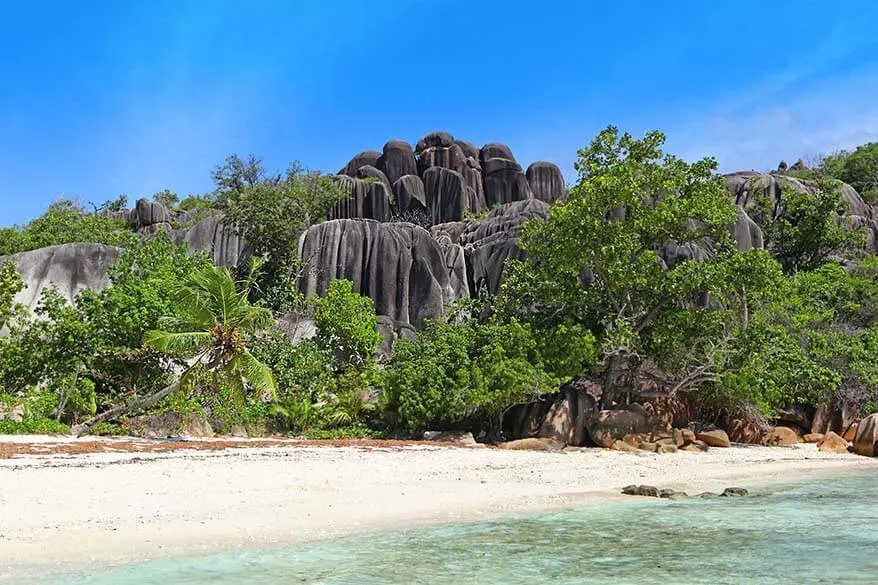 6. Curieuse
Curieuse is a small granite island. Even though it's just a few kilometers from Praslin, it has a very unique biodiversity. Curieuse Marine National Park is a sanctuary to a big variety of flora and fauna including hundreds of giant tortoises, endemic birds, and Coco de Mer – the biggest nut in the world.
The best way to discover this small island is by going for a short hike on the island. The trail is well indicated and easy to follow. One of the most interesting areas is the mangrove swamp which can be accessed by boardwalks. Look out for the giant crabs.
Getting here: Curieuse is a popular day trip from Praslin. You can visit here with an organized tour from Praslin.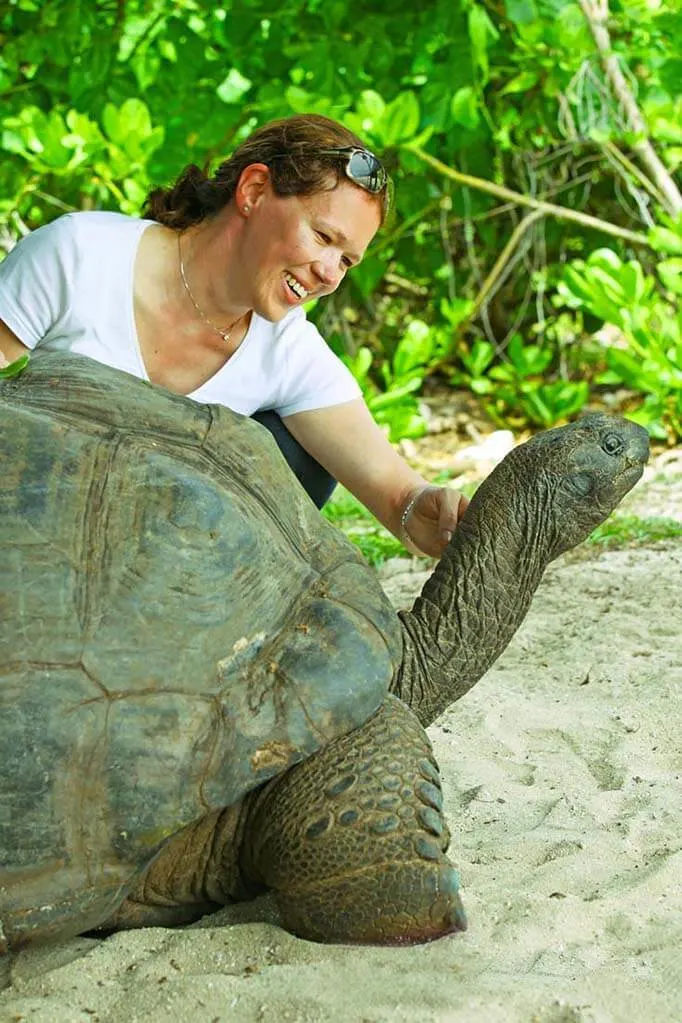 7. St. Pierre
St. Pierre is a tiny granite islet with a handful of coconut palm trees. It's a picture-perfect miniature island in the middle of the ocean. When you see it, you can hardly believe that this place is real!
St. Pierre is considered one of Seychelles' best snorkeling locations. Although – I have to be honest with you – if snorkeling is one of the main reasons to visit Seychelles, you will probably be disappointed as the coral is mostly dead. On the positive side, you will see a wide variety of colorful fish and sea turtles, and not too many sharks hopefully.
Getting there: As you can see in the picture below, St. Pierre is tiny and not really an island to walk around on. Boat tours that go here usually stop at a distance allowing you to take pictures and, if sea conditions are favorable, also to snorkel around the island.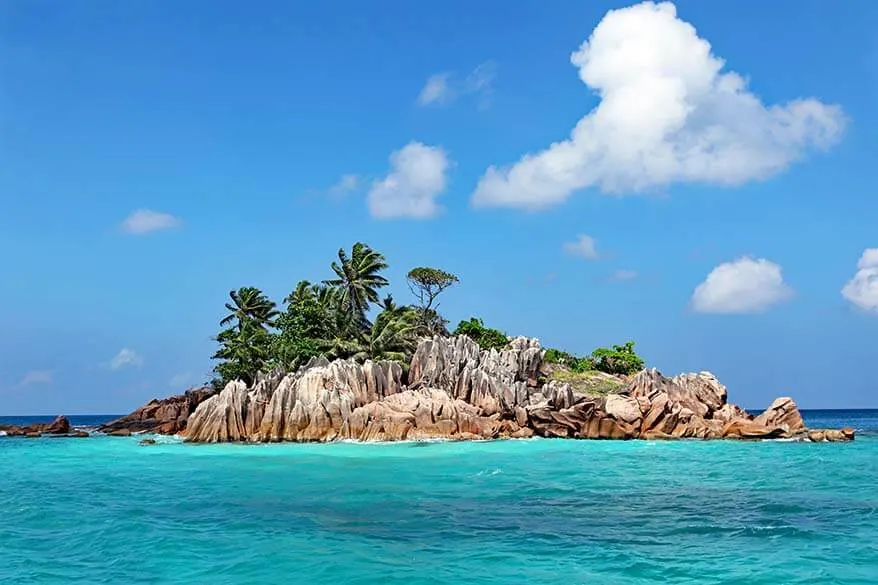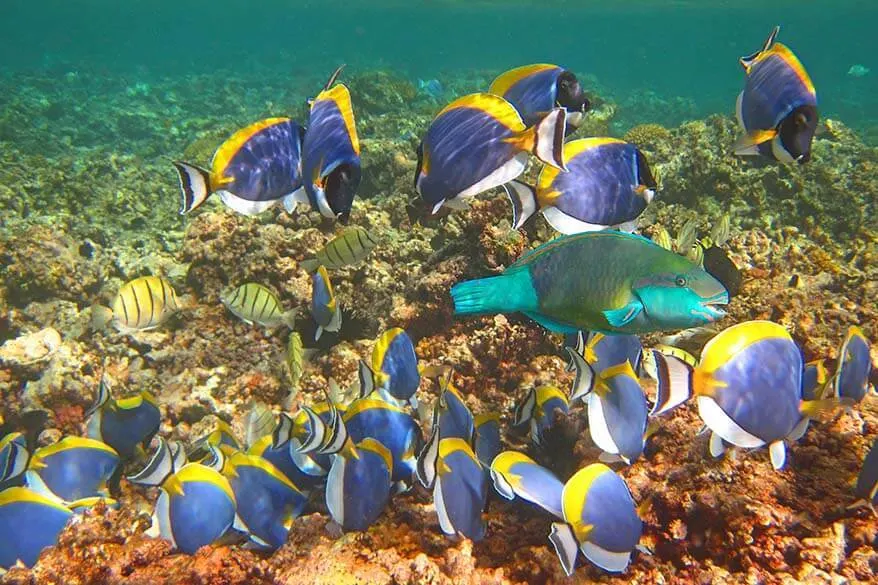 8. Cousin Island
Cousin Island Special Reserve is home to some of Seychelles' rarest endemic birds. It's a real birdwatcher's paradise! Cousin Island (aka Cousine Island) is also a nesting site for hawksbill turtles.
Since it's a protected nature reserve, you cannot visit this island on your own. Someone from the staff usually comes with you, helps you to spot the birds and other wildlife, and tells you more about the island and its flora and fauna.
This island is to be missed near Praslin, but be aware that this island is also a mosquito paradise…
Getting here: We visited as part of our 8-day sailing cruise. It's also possible to visit Cousin Island in combination with Praslin Island on this tour as a day trip from Mahe. I think you'll find other tour options from Praslin hotels as well.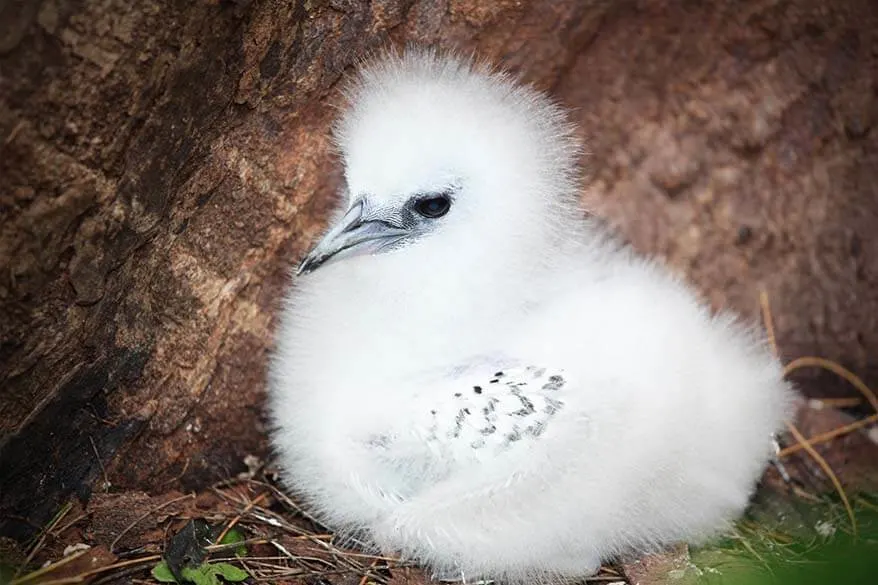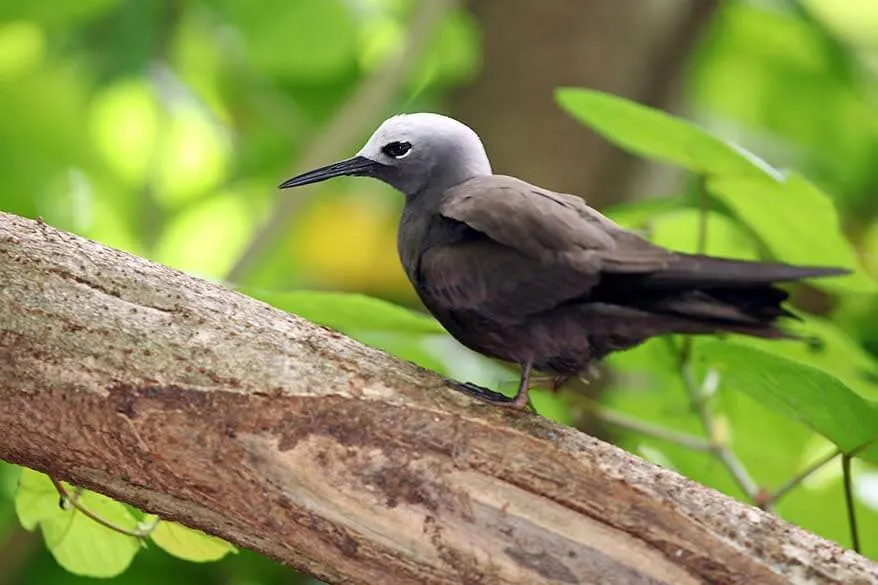 So, this is our guide to the Seychelles islands that you can visit quite easily. No trip to Seychelles would be complete without visiting the three main islands: Mahé, Praslin, and La Digue. But if you can, visit a few of the smaller islands as well. Your vacation will be so much more special!
Best Time to Visit Seychelles
Seychelles is a year-round destination with warm tropical temperatures the whole year round. However, Seychelles also experiences tropical storms and lots of wind. The best time to visit Seychelles is from late March to May and also in October – November. That's when the seas are calm and there's less rain.
For cooler and drier weather, visit Seychelles from June to August. However, this is the peak travel season and while the seas are perfect for surfing, it's often too windy for swimming or snorkeling.
The end of December and January aren't ideal weather-wise, but it's the peak travel season when accommodation prices soar.
Our experience: We visited Seychelles at the end of November – beginning of December. The weather couldn't have been better and the seas were calm enough for sailing, swimming, and snorkeling. We didn't experience any rain at all during our trip, but that same week, it rained daily on Mahé Island. Mahé is quite hilly and often clouds hang above the island for a while. From what we understood, it rains more in Mahé than on most other islands.
Practical Info for Your Visit
If you prefer to stay in one hotel and make day trips, the best base for exploring these islands is Praslin. You can find the best deals for Praslin accommodation here. Praslin can be easily reached from Mahé by speed ferry (it takes about an hour) and then you just book tours to the smaller islands like this popular day tour which brings you to Curieuse and St. Pierre islands and others mentioned earlier.
There is also a wonderful private day trip available from Mahé that allows you to easily visit La Digue, Curieuese, St. Pierre, and Anse Lazio in one day. If you are staying in Mahe and want to discover at least some of the incredibly beautiful Seychelles Islands, then definitely consider booking a day trip like this!
If you found this post useful, don't forget to bookmark it and share it with your friends. Are you on Pinterest? Pin these images!