If you are reading this because you searched for the best places to visit in South Africa, then it probably means that you already know that South Africa is one of the most remarkable countries in the world and that you are considering a trip there. Go for it! South Africa is one of the most beautiful destinations you'll ever visit!
South Africa is so special and unique that it's often called The World in One Country. And so it is! S-A is like a perfect mix of the very best of the entire world in one place. At the same time, it's like no other place on Earth…
In this article, you can find a list of the very best places to see in South Africa. 17 incredible destinations in South Africa that are worth a trip from the other side of the world. Find out!
Disclosure: This article is sponsored by South African Tourism. It's not a secret that South Africa is our absolute favorite country in the world, so we are really excited to be working with them to inspire you to discover this incredible country. All opinions and enthusiasm about South Africa are, of course, our own.
We fell in love with South Africa the first time we visited it many years ago and I'm sure you'll feel the same way too. It's a place that captures your heart forever.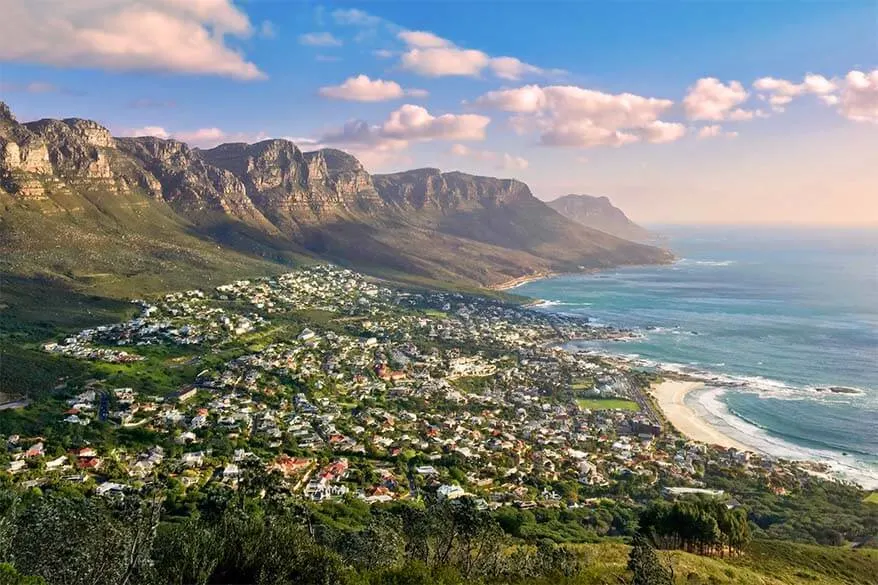 Below, you can find the list of the most amazing places you should visit in South Africa.
This is in no way a complete list, but it should give you a good idea of what to expect and where to go when visiting for the first time. It's the list of the very best things to do and places to see in South Africa.
I ranked this list by putting my own favorites on top. So if you are limited in time, I suggest that you start with the top of the list and work your way down. At the bottom of this article, you can also find the map indicating all the main tourist attractions in South Africa mentioned in this post. Find out!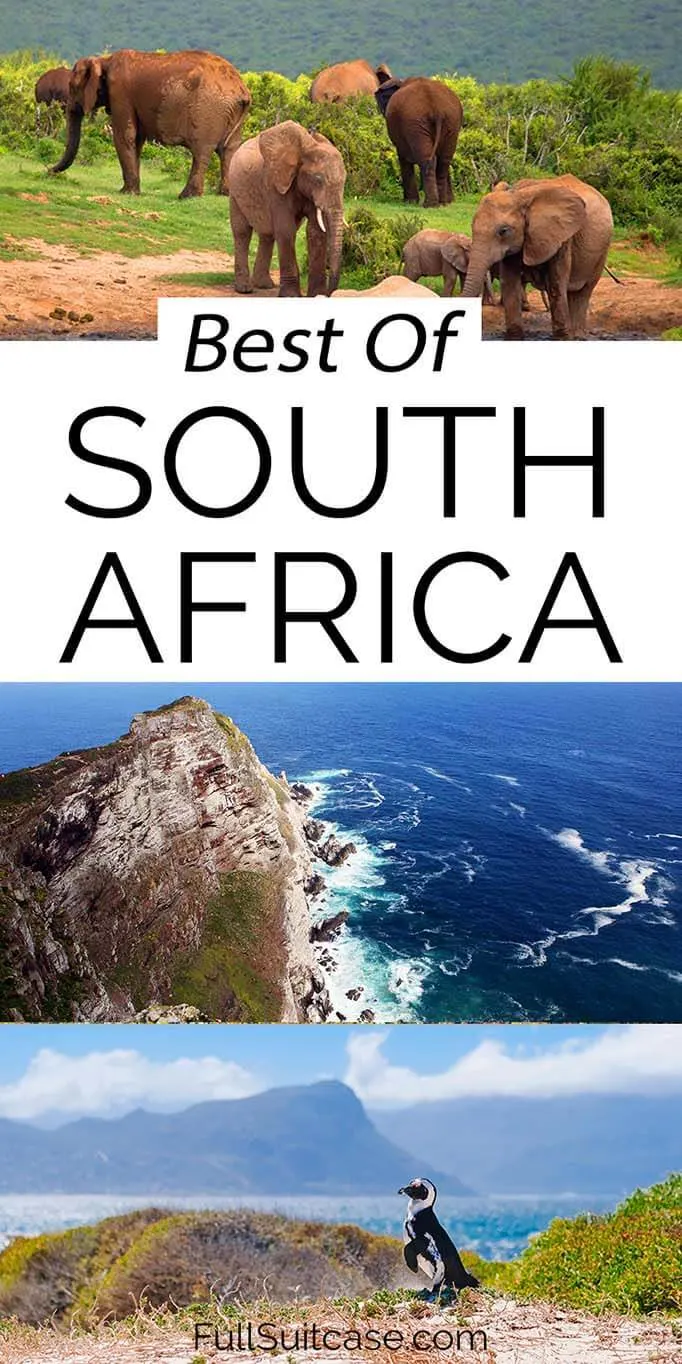 TIP: If you are not sure how to plan your trip, please check our South Africa 2 week itinerary that covers most of the must-see places in South Africa. Please note that it's a very complete itinerary, but it doesn't leave much extra time to explore deeper.
If you want to visit every place from this list, you'll need at least 3 weeks and it will be rushed. If you want to see all the best places in South Africa mentioned in this article AND have some time to explore somewhat deeper, you'll probably need at least a month…
These are the best places to visit in South Africa:
1. Cape Town
If there is one place you absolutely have to see in South Africa, it's Cape Town. It was the oldest European establishment in South Africa (1652) and is therefore often referred to as the Mother City.
It's difficult to describe in just a few words what Cape Town is all about. You really have to experience it in order to be able to appreciate the mingle of African and European cultures, a mix of tradition and modern, and the unique blend of city life and nature… If South Africa is the world in one country, then Cape Town is the world in one city. Absolutely not to be missed when visiting South Africa!
Here are some of the main places you have to see in Cape Town: Victoria and Alfred Waterfront, Table Mountain, Signal Hill & Lion's Head, Robben Island, Bo-Kaap area, Kirstenbosch National Botanical Garden, Two Oceans Aquarium, and also the city center with its local markets, shops, restaurants, and museums.
TIP: If the gondola to the top of Table Mountain is open, go there first. It often gets closed due to high winds, so don't leave it for the last day.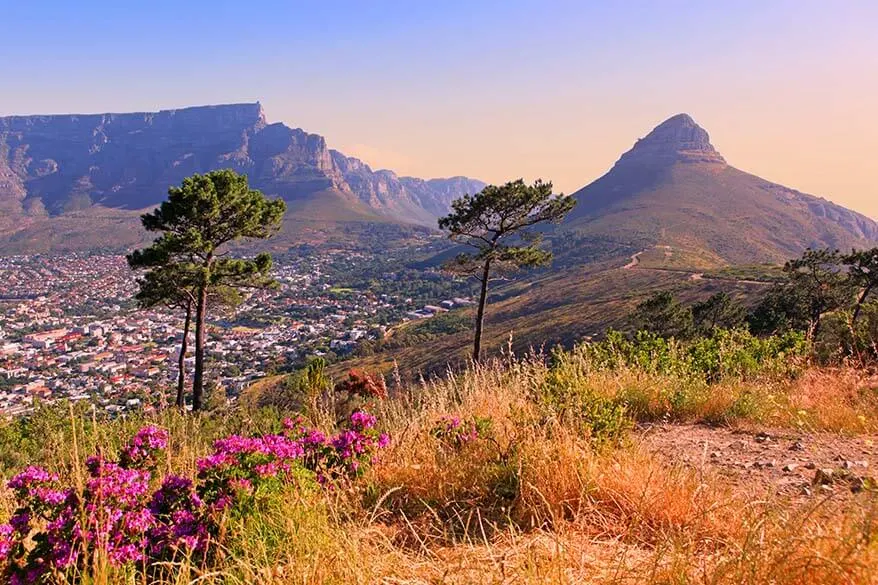 2. Cape Peninsula
Together with Cape Town, Cape Peninsula is one of the most impressive regions of South Africa. This is one of those places that you really don't want to miss!
The absolute highlights of the Cape Peninsula include Cape of Good Hope and Cape Point and the stunning 12 Apostles coastline from Camps Bay to Hout Bay and further south along the Chapman's Peak Drive.
Not to be missed is Simon's Town with Boulder's Beach penguin colony (yes, you can see wild penguins in South Africa!) and also an ocean walkway from Muizenberg to Kalk Bay via St. James beach is really nice. Groot Constantia wine region in Cape Peninsula has spectacular scenery and some of the best wines in South Africa.
Also, in Hout Bay you can take a boat to see a seal colony – it's called Duiker Island, but most people just refer to it as Hout Bay Seal Island. This is a very popular tourist attraction, so you may want to book in advance. For a more unique experience, you can even go snorkeling with the seals.
TIP: One day is hardly enough to see the highlights of Cape Peninsula. So if you can, try to spend at least a few days in this area. I recommend at least a week for Cape Town and Cape Peninsula, with 3-4 days being an absolute minimum.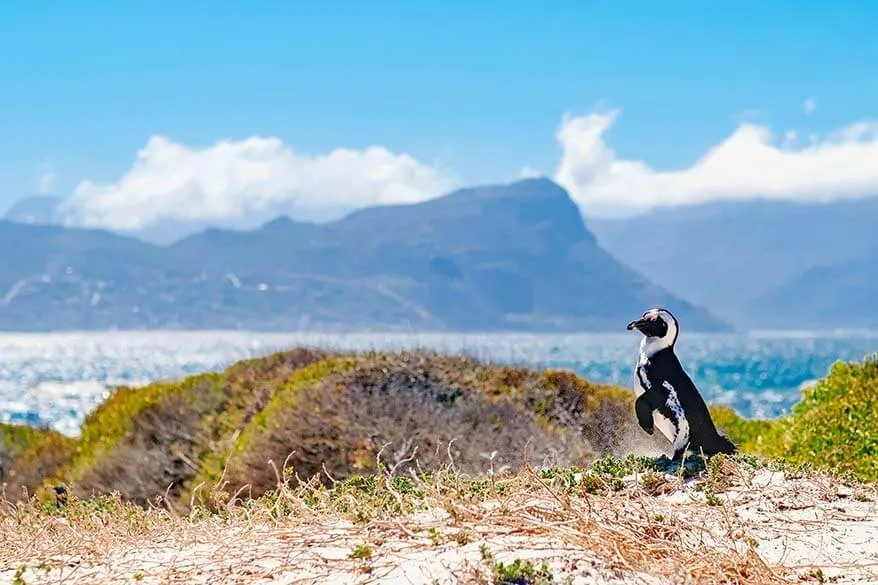 3. The Garden Route
Another absolutely amazing region, the Garden Route is one of those places you really have to see in South Africa as well. This +-200km stretch between Mossel Bay and Stormsrivier is one of the most scenic routes in the world, but you have to take the time in order to truly appreciate it.
You could drive the Garden Route in just half a day, but you won't see much just by sitting in the car. So ideally you take at least a couple of days to explore this area. Some of the nicest places along the Garden Route are Storms River and Tsitsikamma National Park, Robberg Nature Reserve, Plettenberg Bay, the whole area around Knysna (don't miss the Heads and the Featherbed Private Nature Reserve!), Wilderness, and the beautiful coastline along the entire route.
Oudtshoorn, famous for its ostrich farms and Cango Caves, is a bit out of the way from the rest, but it's also considered as part of the Garden Route. Well worth a visit.
TIP: If you are traveling with kids or if you just love wildlife, don't miss Monkeyland and Birds of Eden (both just next to each other). Plettenberg Bay Game Reserve is a great place for a family-friendly safari along the Garden Route and Knysna Elephant Park is one of the best ethical places to interact with elephants in South Africa.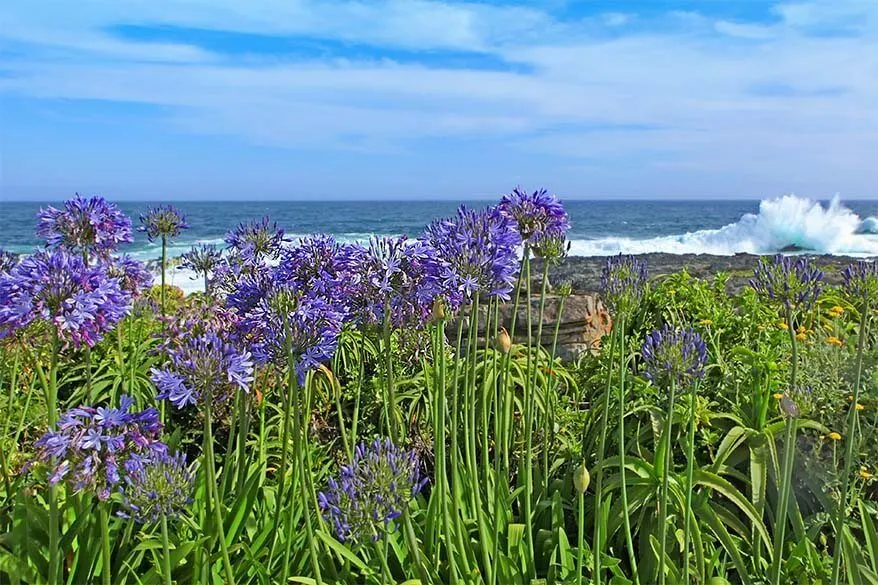 4. Kruger National Park
Without any doubt, Kruger National Park is one of the best-known places to visit in South Africa. If you want the best wildlife safari experience in South Africa, then Kruger NP is definitely the place to be.
Kruger is the oldest and also the biggest National Park in South Africa. To give you an idea, with 2,000,000 hectares (20,000 km2), it's about the size of Israel or the state of New Jersey. In other words, Kruger NP is huge! Ideally, you plan to spend at least 2-3 days in Kruger NP and make several game drives.
Hundreds of animal species call Kruger home and it's also the best place to see the Big 5 in South Africa. The Big 5 refers to five most difficult African animals to hunt on foot: lion, leopard, elephant, rhino, and Cape buffalo. Hunting is really not cool anymore, but this term is widely used as a sort of '5 must-see African animals' list.
There are 101 ways to explore Kruger National Park. You can opt for one of the many luxury lodges and private safari rides, organized day tours, or you can drive and explore Kruger NP with your own car. No matter which way you choose to explore Kruger National Park, it's a place that you really must see in South Africa!
If you have never been on a safari before, please check our ultimate guide to safari in Africa.
TIP: Combine a visit to Kruger National Park with the nearby Panorama Route and Blyde River Canyon (see below).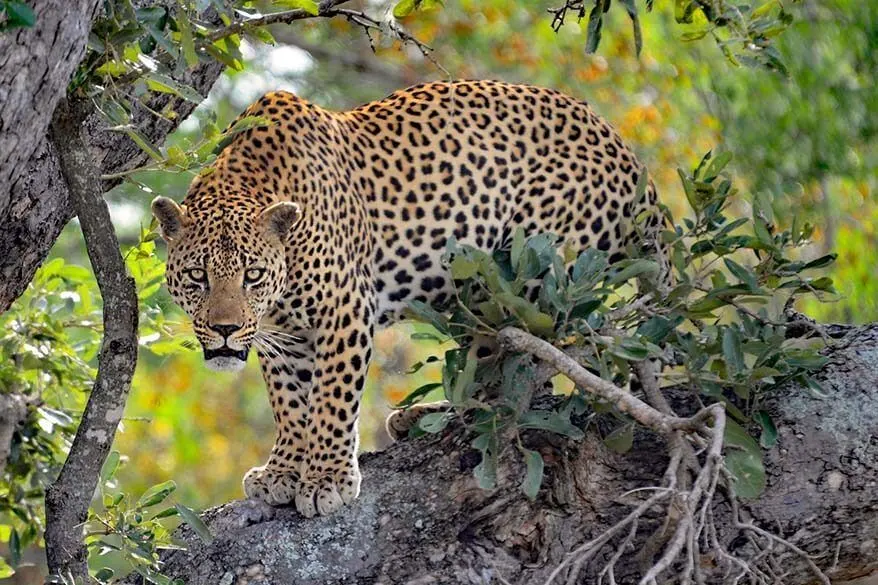 5. Blyde River Canyon & Panorama Route
Blyde River Canyon is one of the most beautiful natural landmarks of South Africa. It's also one of the largest canyons in the world. Due to its proximity to several main entrances of Kruger National Park, Blyde River Canyon Nature Reserve and the whole Panorama Route make a very popular day trip in the area.
Together with Kruger NP, Blyde River Canyon is one of the most popular tourist attractions in northern South Africa.
Start your day with breakfast at the famous Harrie's Pancakes in Graskop. Then head north to the Pinnacle, God's Window, and Wonder View. Further highlights of the Panorama Route include Lisbon Falls and Berlin Falls, also Bourke's Luck Potholes, and Lowveld viewpoint. But the most impressive of them all is the Three Rondavels viewpoint. The scenery here is simply spectacular!
Three Rondavels was one of the first places we visited just after arrival in South Africa and that image stayed with us forever. It was here that we fell in love with this amazingly diverse country and realized that it has so much more to offer than we ever imagined… Don't miss if you are visiting Kruger NP and have a day to spare!
If you have more time, you can also consider a visit to the Echo Caves or a small museum-town called Pilgrim's Rest.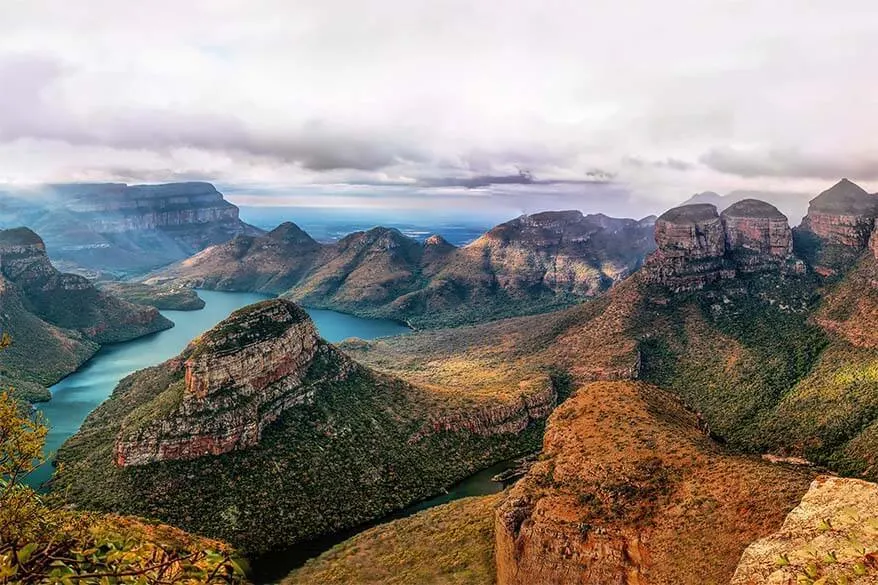 6. Hermanus
Hermanus is my husband's favorite place in South Africa, one we always wish we had stayed longer at…
The town itself isn't that special, but its coastline is second to none! Grab a picnic and explore the beautiful coastal walking path. The bay near Hermanus is known as the best place to see whales and dolphins in South Africa and it definitely lives up to its reputation!
You can take a whale watching boat tour and get really close to these majestic animals, but you can usually also see them from ashore. Both experiences are very different and each special in their own way. I really recommend both – taking the boat tour and also walking the coastal route in Hermanus and watching whales and dolphins from the shore.
Please note that whales are not always around. The best time to see whales in Hermanus is between June and December, but some years they arrive earlier or leave later, so you just never know.
We have been on many whale-watching tours all over the world, but nowhere did we see so many whales from so close by as in Hermanus. There were tens of whales just meters away from our boat… We also saw hundreds of dolphins while walking along the coast. It sure is one of the best places to go whale – and dolphin-watching in the world.
TIP: Nearby Gansbaai is also a beautiful place with a stunning coastline and a good chance to see the whales. It's not as well known and therefore much less visited than Hermanus, but it's a perfect place to visit for those who have more time in the area and looking to discover some off-beat hidden gems.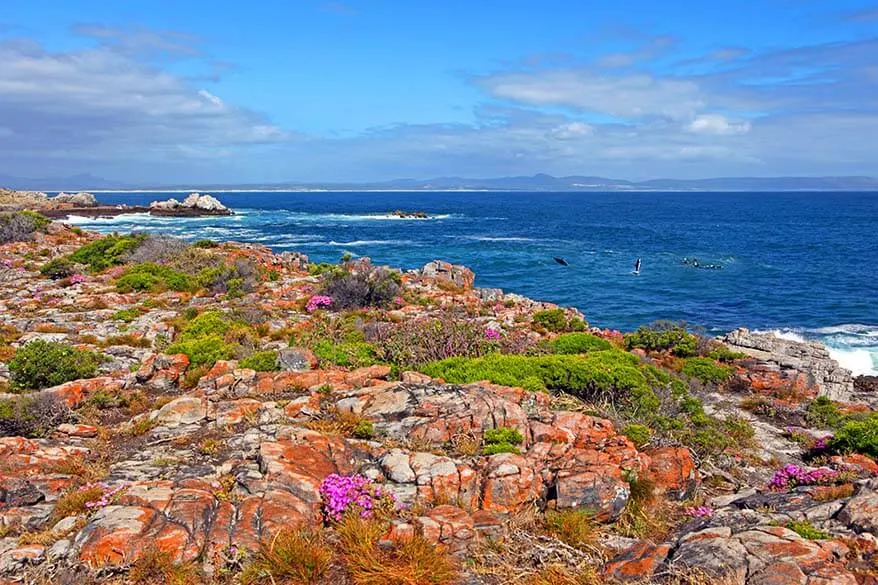 7. South Africa Wine Region: Stellenbosch and Franschhoek
South Africa has become world-famous for its wines and the best region to see the wineries and taste some wines is the beautiful area between Stellenbosch, Paarl, and Franschhoek. It's just a short drive from Cape Town and is therefore really easy to visit, even if you only have limited time in South Africa.
Stellenbosch and Paarl are bigger towns and I'm not sure if they are worth a visit, but the nearby wineries and the surrounding scenery is a must. We loved the quaint little Franschhoek town with its white buildings, hilly landscapes, and a very cozy atmosphere. Such a beautiful region – a place you have to see in South Africa!
TIP: Don't drink and drive! If you are staying in Cape Town, you can visit the wine region with an organized day tour. Here is one of the best-rated and most complete wine region tours from Cape Town that I was able to find.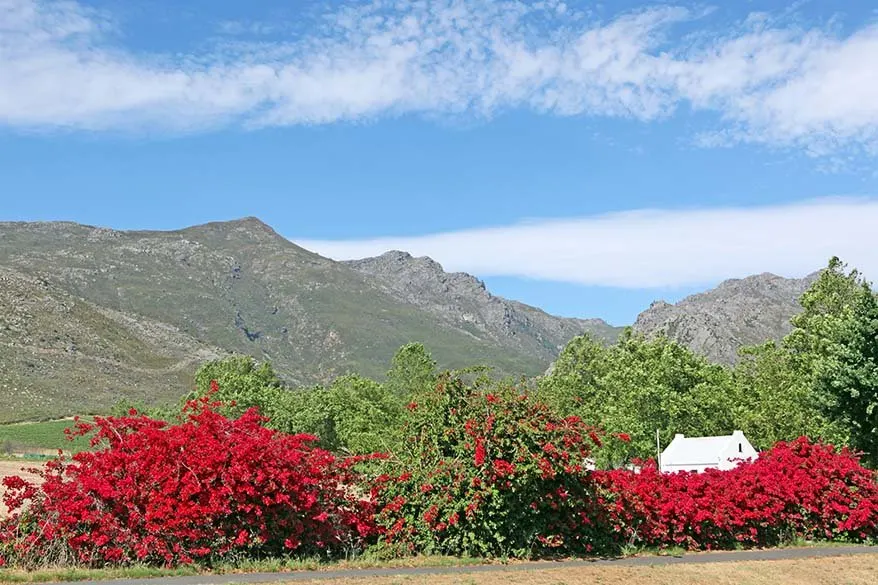 8. Cape Agulhas – Southernmost Tip Of Africa
Cape Agulhas, the Southernmost place in Africa, is so far from every other landmark in South Africa and main tourist routes that it doesn't get the attention it deserves. But what a beautiful and unique place it is! Standing at this point where two oceans meet you truly feel like you've reached the end of the world…
The best way to visit Cape Agulhas is by making a stop there on your way from Cape Town to the Garden Route (or vice versa). We once did it in a day, just stopping there when driving from Knysna to Cape Town, but it was a really long drive.
TIP: I suggest that you break the drive and either stay in Cape Agulhas or in the area around Hermanus or Gansbaai for one night.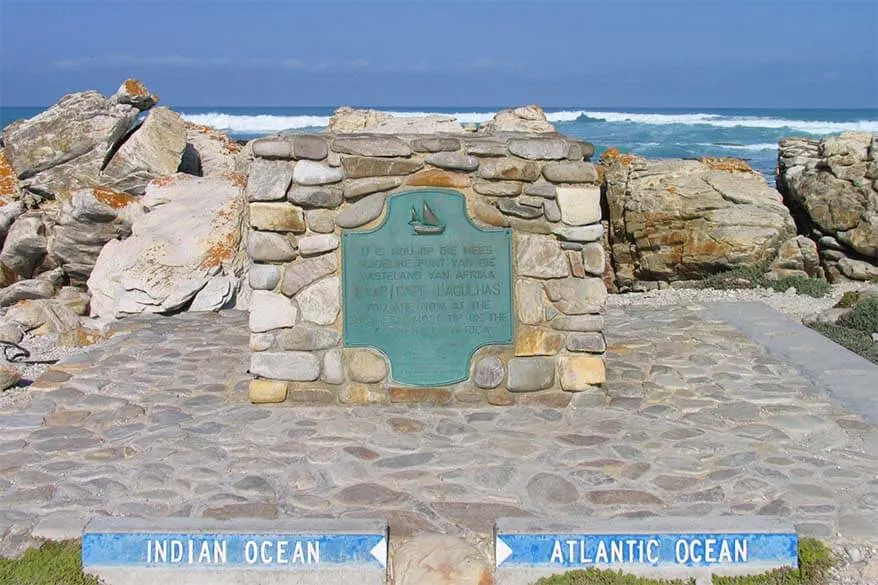 9. Drakensberg
Another wonderful region a bit off the beaten tourist path in South Africa is the Drakensberg mountains. The Dragon Mountain is a +-200km mountain range between the Kingdom of Lesotho and KwaZulu Natal province in South Africa, a few hours drive from Durban.
The region is known for its incredible vistas, countless waterfalls, mountain streams, rock pools, caves, and tranquil scenery pretty much undisturbed by human development. The Drakensberg is the highest mountain range in South Africa and if you visit here in the winter (July) as we did, be prepared for the freezing cold temperatures at night.
Theoretically, you could visit the Drakensberg region just for a day, but ideally, you spend at least a couple of days here. There is a wide range of outdoor activities available, such as hiking or golf to mention just a few…
TIP: If you stay close to the Underberg area (we stayed at this hotel), you can pop over the border and visit Lesotho for a day (day tours are available too).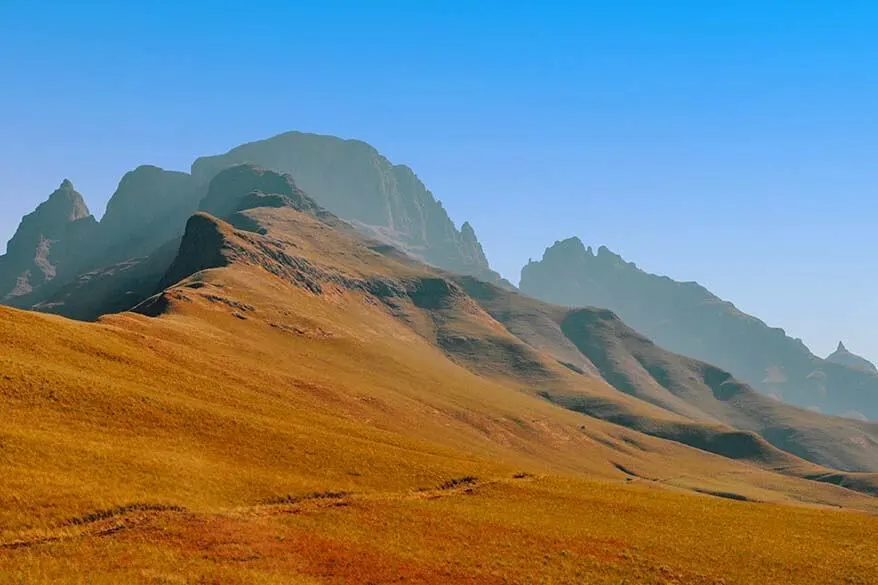 10. Addo Elephant National Park
If you are looking for a malaria-free family-friendly safari experience in Africa, Addo Elephant National Park is one of the very best places to do that. South Africa's third-largest National Park is located in the southern part of the country, close to Port Elizabeth and just a few hours drive from the Garden Route.
As the name suggests, Addo Elephant NP is a perfect place to see wild elephants. This park is home to over 600 elephants and they are all around. Many other African animals live here as well and if you are really lucky, you may even get to spot The Big 5…
TIP: You can easily explore the park on a self-drive safari. But – as always – a guided open-jeep safari tour will give you a very different experience. If you come here for a few days and have your own car, I suggest you do both – visit the park on your own but also book at least one safari ride.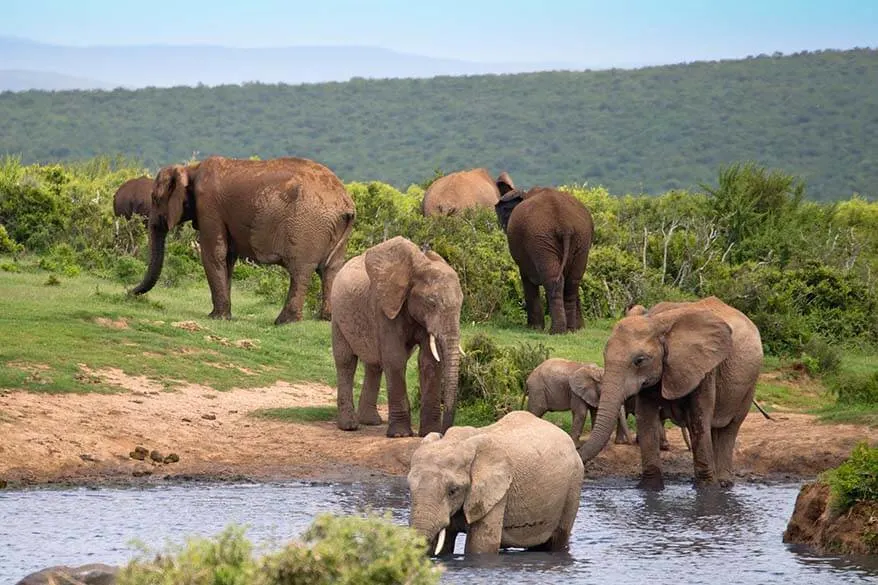 11. iSimangaliso Wetland Park
Listed as a UNESCO World Heritage Site, iSimangaliso Wetland Park has a lot to more to offer than it looks at first sight. It's not that widely known and definitely not one of the main tourist attractions in South Africa, but it's well worth a trip.
iSimangaliso Wetland Park has it all: beautiful scenery, unique landscapes, white-sand beaches, snorkeling, diving, and lots of wildlife. You can expect to see rhino, zebra, buffalo, troop baboons, wildebeest, and even elephants, to name just a few…
One of the main reasons tourists visit this area is to see hippos in the wild. iSimangaliso Wetland Park is a paradise for water-loving animals and is, therefore, one of the best places to see hippos and crocodiles in South Africa.
TIP: You can visit the park by car, but if you really want to get close to the hippos and the crocodiles in a safe way, it's best to book St. Lucia estuary boat tour. The boat tour takes just two hours, so you can spend the rest of the time self-driving and exploring the park.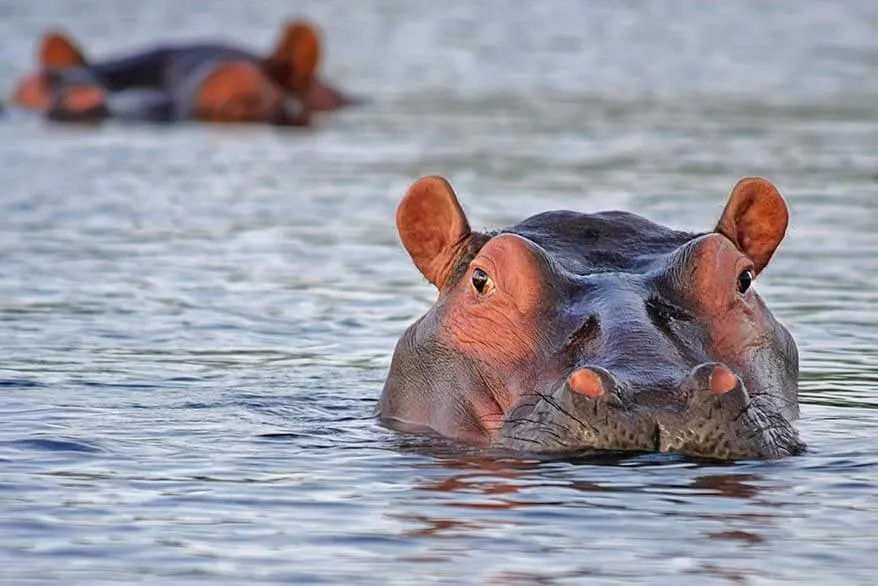 12. Pilanesberg National Park
Just over 2 hours drive from Johannesburg, Pilanesberg National Park is probably one of the easiest and best-accessible places for a wildlife safari in South Africa.
Pilanesberg Game Reserve is set in an extinct volcanic crater, where the soil is rich with grasslands, perfect for wildlife. A man-made lake, Mankwe Dam, is used as a drinking waterhole – a perfect place to see African animals. Wildlife here includes zebras, lions, elephants, rhinos, leopards, and many other species. Because the park is rather small, it's quite easy to find the animals, even if you come here just for a few hours.
TIP: You can visit Pilanesberg National Park as a day trip from Johannesburg, but if you have some time to spare, stay a few days. If you like places like Las Vegas in the US, don't miss the nearby Sun City with entertainment for young and old.
From luxury resorts and casinos, waterparks and golfing, to outdoor activities, wildlife viewing, and even hot air balloon safari – this area truly has it all.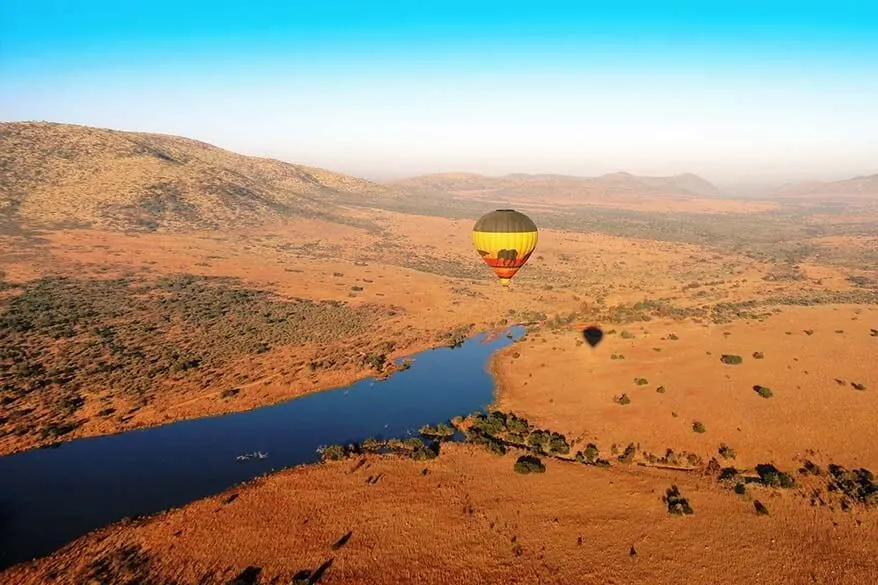 13. Hluhluwe-iMfolozi Park
One can never have too many safari experiences in Africa, right? So if you are visiting St.Lucia/Durban area, then I really recommend a day trip to Hluhluwe-iMfolozi Park.
This park is not as well known as Kruger and the other National Parks mentioned above, but it's just as beautiful and offers amazing wildlife viewing. Africa's Big 5 live here and, of course, many other animals.
TIP: You can visit this park on a self-drive safari or take a guided safari tour from Durban. If you want to make the best of your short time, you can also opt for a tour that combines Hluhluwe and iSimangaliso Wetlands, mentioned above.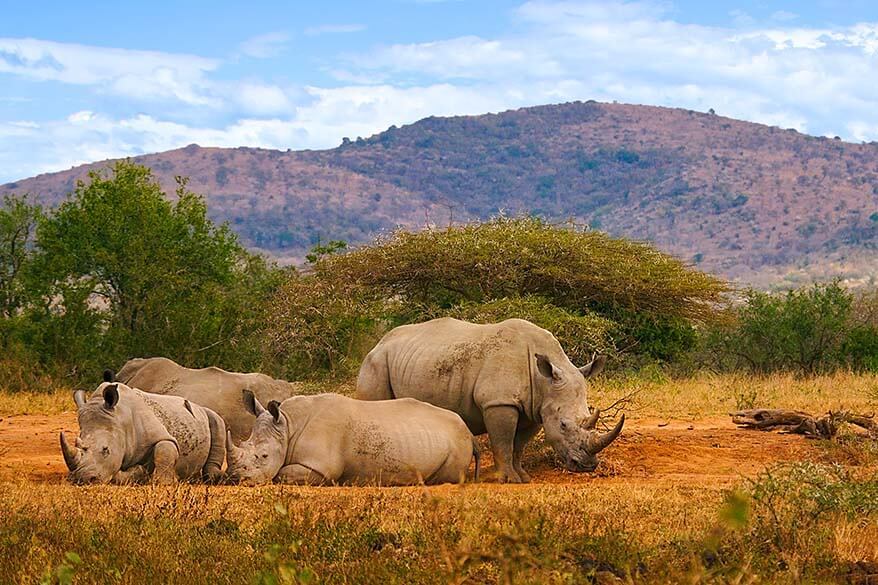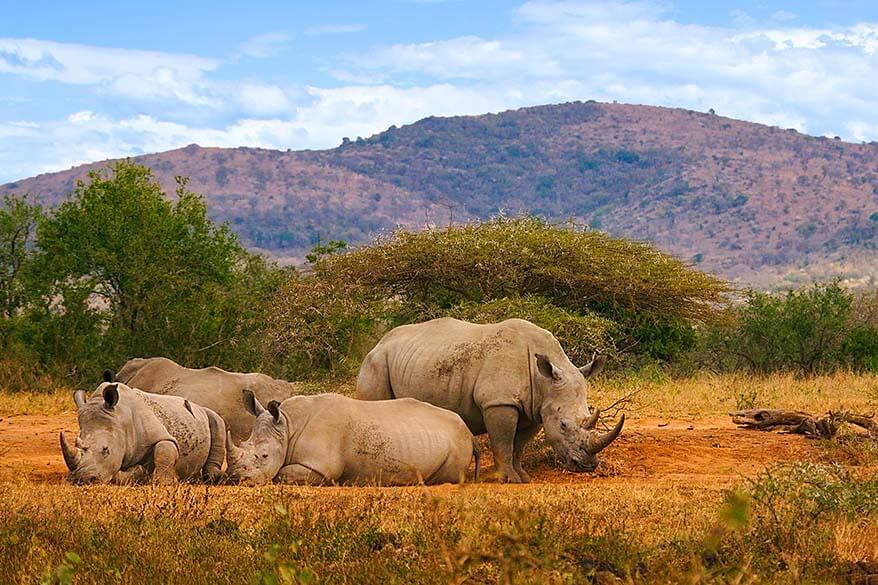 14. West Coast National Park
Just an hour drive north of Cape Town, West Coast National Park is the locals' favorite, so if you come in a warm season, expect it to be busy. This park has beautiful beaches, stunning coastlines, scenic hiking trails, wildlife, and lots of wildflowers. Springtime (August – September) is the best time to see the flowers and the park might be even busier than usual.
West Coast National Park is considered a real jewel. It's not a must-see in South Africa if you are short on time, but if you are staying in Cape Town and have a day to spare, definitely check it out!
TIP: There aren't many facilities here; it's all about nature. So if you come for a day, make sure to bring some food and plenty of water.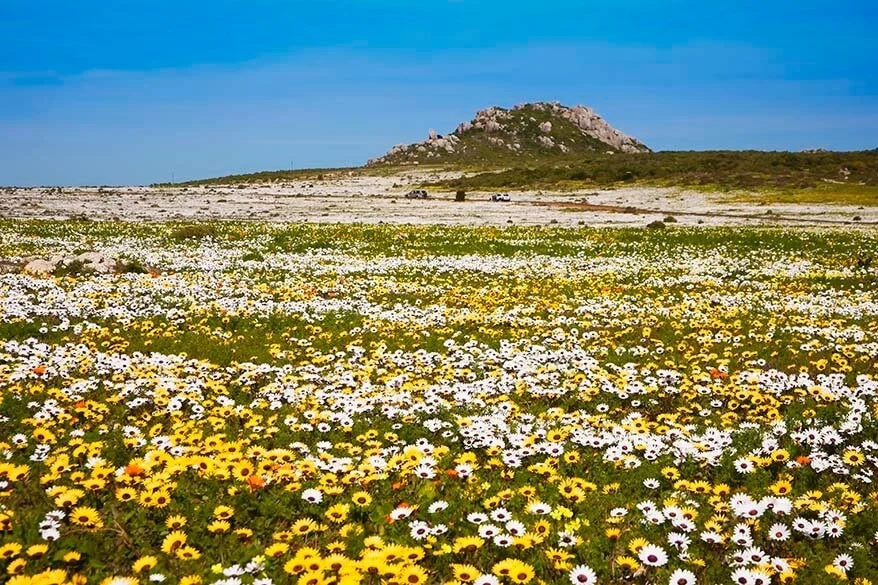 15. Durban
Durban is considered one of the cities that you should see in South Africa. We found that there were better ways to spend our time in South Africa than visiting its cities… so we didn't stay in Durban longer than necessary. Just in case you wonder, Cape Town is a whole other story, one city you have to see.
Nevertheless, if you are traveling in this area, you shouldn't miss Durban. One of the best things to do here is go to the beach and stroll the Golden Mile, visit UShaka Marine World or Durban Botanic Gardens.
Durban is also a good base for a day trip to the earlier mentioned Hluhluwe-iMfolozi NP and iSimangaliso Wetland Park, and also to the Drakensberg mountains. A really interesting thing to do in Durban is also this Shakaland and Zulu culture day trip.
TIP: If you are short on time, fly from Durban to Port Elizabeth or Cape Town – it will save you lots of driving.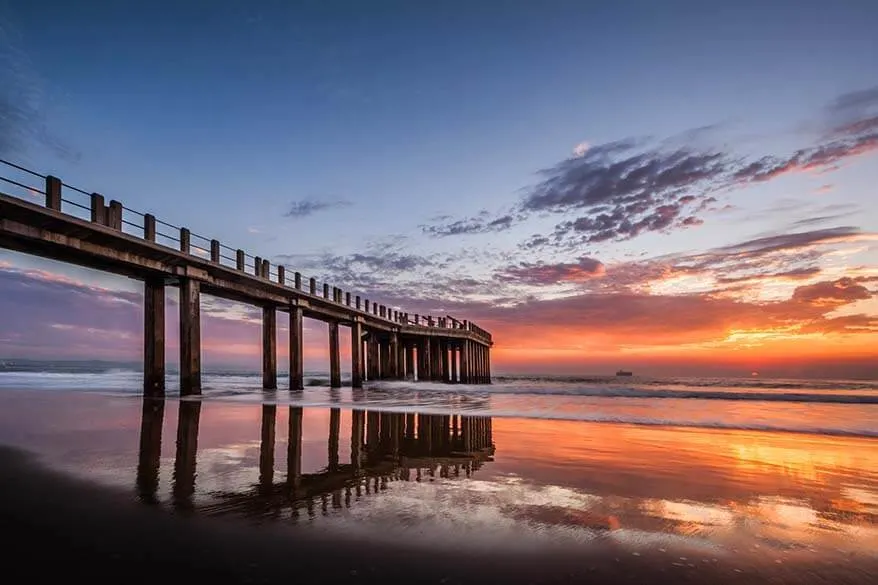 16. Johannesburg
The largest city in South Africa, Johannesburg's history goes back to the 19th century. It's hard to believe that this bustling city with a population of 1 million started as a gold-mining settlement.
If you want to learn about South Africa's long part to democracy, then don't miss Soweto township (go with a guide!) which was once home to Nelson Mandela and also Desmond Tutu.
Must-see in Johannesburg is the Apartheid Museum and Constitution Hill, a former prison complex. Mahatma Gandhi, Nelson Mandela, and tens of thousands of others were imprisoned here at some point in South Africa's turbulent history…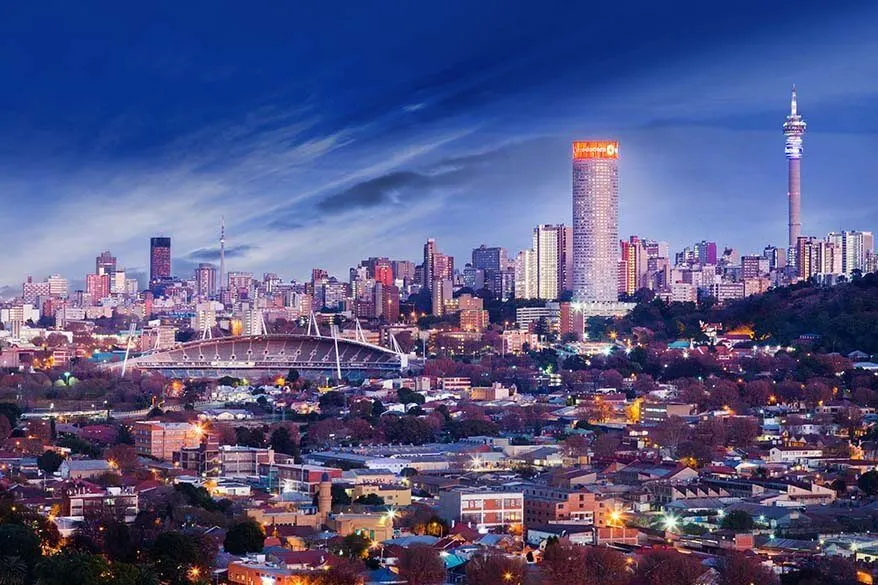 17. Namaqua National Park & Namaqualand
Namaqualand and Namaqua National Park, close to the Namibian border, are so far from all the other tourist attractions in South Africa that you'll hardly ever see it mentioned as one of the best places to visit in the country. It's actually more of a hidden gem of South Africa.
Come spring and the dusty valleys are transformed into a magical wildflower wonderland. The whole area is covered in colorful flower carpet, attracting local visitors and international tourists alike.
If you are visiting South Africa in August-September and feel like getting off the beaten path, you may want to include this unique region in your itinerary.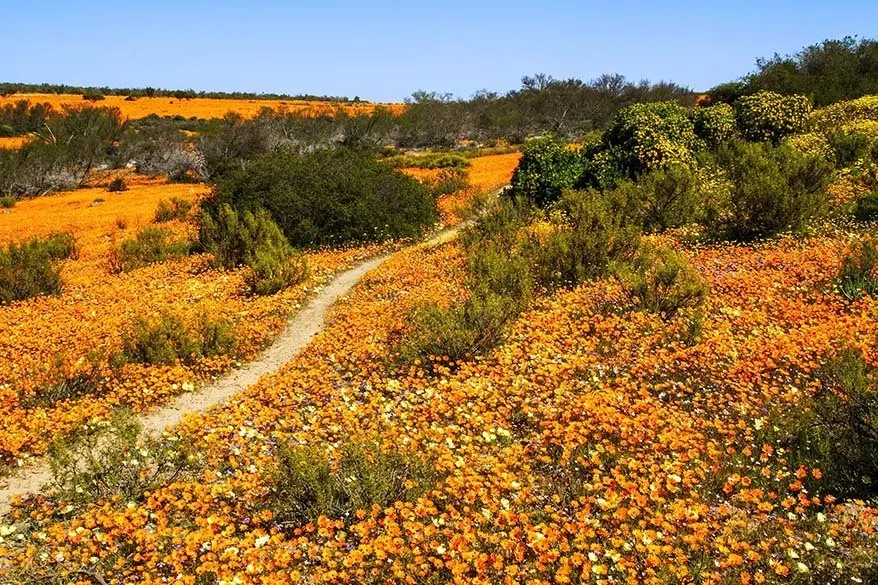 Best places to visit in South Africa on the map
In order to help you plan your trip to South Africa and visit as many of the highlands as possible, I created this map indicating all the places mentioned in this article. This way you can get a better idea of where everything is located and plan accordingly.
How to use this map: Use your computer mouse (or fingers) to zoom in or out. Click on the icons to get more information about each place. Click the arrow on the top left corner for the index. Click the star next to the map's title to add it to your Google Maps account. To view the saved map on your smartphone or PC, open Google Maps, click the menu and go to 'Your Places'/'Maps'. If you want to print the map or see it in a bigger window, click on 'View larger map' in the top right corner.
So, this is our list of the most beautiful and trip-worthy places to visit in South Africa. If you are wondering where to go and what to see in South Africa, now you should have a much better idea.
South Africa Travel FAQ
Here are some of the popular questions our readers ask about visiting South Africa:
When is the best time to visit South Africa?
South Africa is a year-round destination and every season has something to offer. The best time to see wildlife in Kruger National Park is the dry season between May and October. Whereas the best time to visit Cape Town and the Garden Route is between September – November and from March to May.
What is the most beautiful place in South Africa?
South Africa is huge and there are so many beautiful places to see. But if you have to choose just one area to visit, we recommend Cape Town and Cape Peninsula.
Is South Africa safe for tourists?
South Africa is not the safest place to visit in the world and the crime rate is quite high. That being said, if you are cautious, aware of your surroundings, and do not take unnecessary risks, crime against tourists is really not that common. We visited South Africa several times, also with kids, and we never experienced any problems.
Is South Africa expensive?
No, South Africa is not an expensive destination. The biggest cost or the trip is the flight to get there. Accommodation, food, and activities are quite cheap in South Africa. But – as everywhere in the world – a lot depends on the choices you make and mostly on the accommodations that you choose.
How much time do you need in South Africa?
2 weeks is the minimum time if you want to see the most beautiful places of South Africa. If you have about 10 days, spend 3 days in Kruger NP and fly to the south of the country for the rest of the trip. If you have 1 week or less, it's best to concentrate on just one area – either Kruger NP and surroundings or Cape Peninsula and the Garden Route.
TIP: When planning a trip to South Africa, make sure to also check our South Africa itinerary. It contains most of the highlights of South Africa from this list and shows you how to see all the best places in just two weeks. Check it out – it will help you plan a trip of a lifetime!
And if you are traveling with a family, check out this guide for more info on what to expect and where to go when visiting South Africa with kids.
If you found this post useful, don't forget to bookmark it and share it with your friends. Are you on Pinterest? Pin these images!