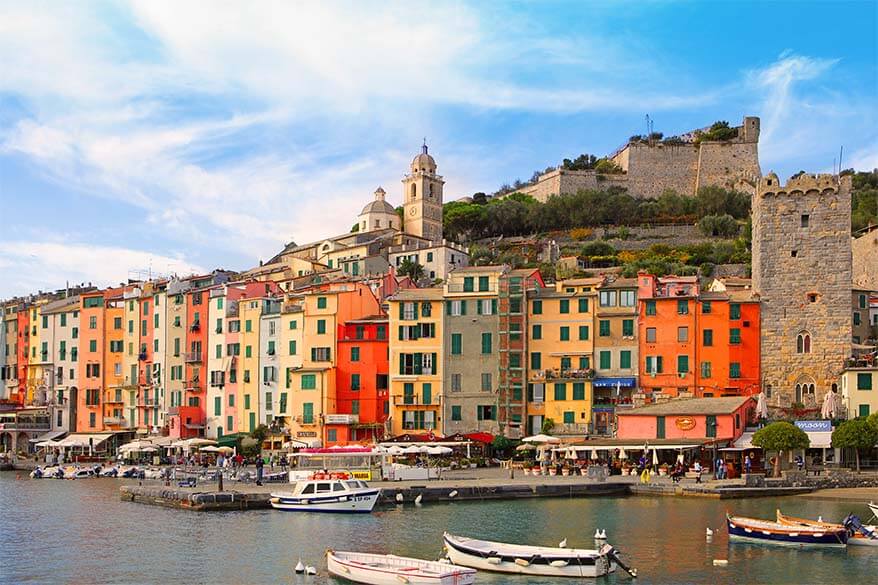 Portovenere is a little medieval town in Liguria Italy just a stone's throw away from the famous Cinque Terre. Despite its status as UNESCO World Heritage site and the most beautiful location on the Gulf of The Poets, this picturesque town is still under the radar of millions of international visitors flocking to Cinque Terre.
Yes, Cinque Terre is beautiful and it's definitely worth a visit. But there are so many places nearby that are just as beautiful (if not more), yet many tourists never even consider them.
In my previous post I highlighted some of the most beautiful towns along the Ligurian Coast. Today I want to talk more about one of our favorites – Portovenere (or Porto Venere). If you want to escape the huge crowds of Cinque Terre and are looking to explore the area a bit deeper, then don't miss this lesser-known gem in the Bay of Poets.
We visited Portovenere at the end of October. Since it was a low season, we were a bit uncertain if we would find enough to see and do in Porto Venere to fill a day. Certainly with three kids who always need to be entertained… It turned out that this little town had so much more to offer than it looked at first sight.
We visited all the main landmarks, climbed countless staircases, explored the narrow streets of this medieval town, walked along the cliffs, enjoyed the most spectacular sceneries and local food…
One day in Porto Venere flew by. It was a truly enjoyable visit and the town was pleasantly quiet compared to the crazy busy Cinque Terre we visited the previous day.
We spent the whole day in this historic town and below you can find some suggestions for the best things to do in Portovenere. At the bottom of the post you can also find some practical information for your visit. Find out!
READ ALSO: One Day in Cinque Terre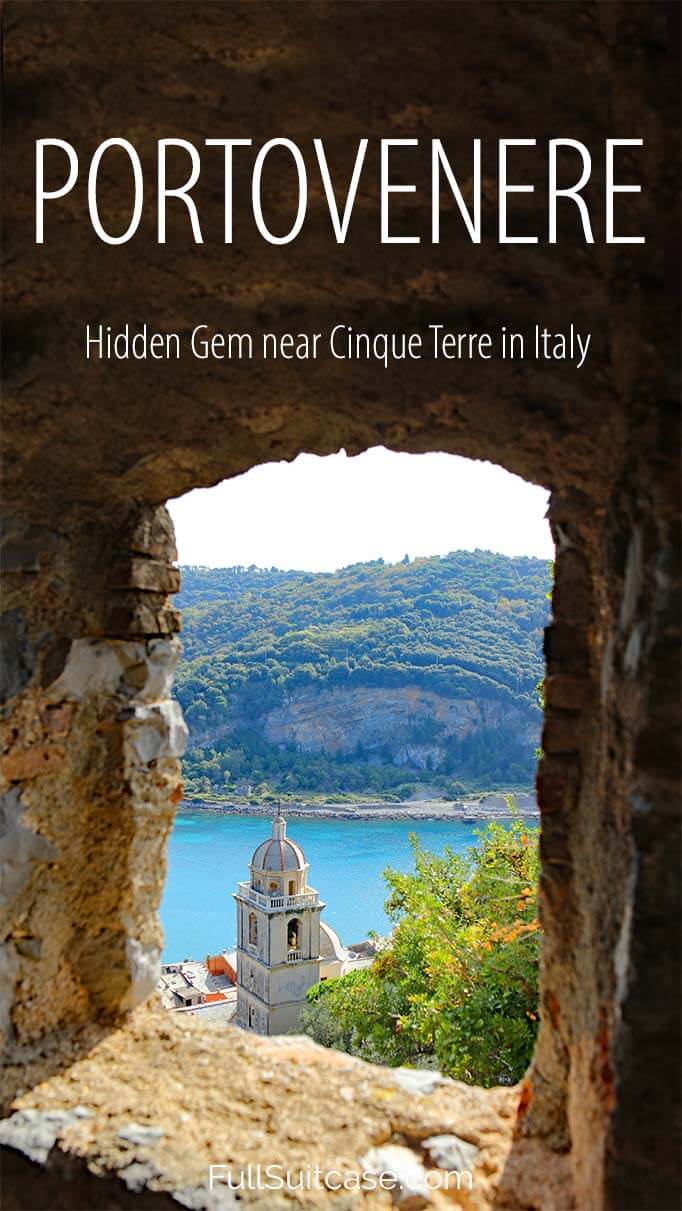 Best things to do in Porto Venere:
Visit the picturesque harbor of Portovenere
Chances are big that you will arrive in Porto Venere by boat. The moment you catch your first glimpse on the picturesque harbor surrounded by a wall of colorful buildings you will fall in love with this old fishermen's village.
The little harbor has a beautiful location overlooking the nearby Palmaria Island. This is a great place to have lunch or just grab a drink at one of the many cafes. Sit back and relax enjoying the ever-changing view of the boats passing the narrow Le Bocche channel on their way to Cinque Terre.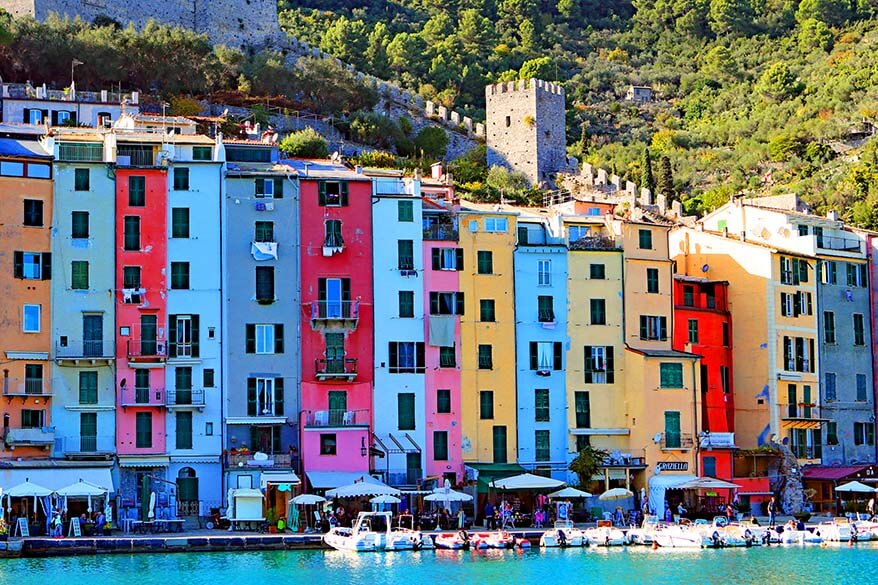 Porta del Borgo and the narrow medieval streets
The old town of Portovenere is hidden behind the facade of the buildings that you see from the harbor. You can enter the medieval town through Porta del Borgo – the old city gate.
Adjacent to the city gate is the Capitolare Tower. Just like most of the other buildings in town, it dates from the 12th century.
Once inside, you will find a labyrinth of narrow streets, stairways, and tiny passageways that is well worth getting lost in. The main street, Via Capellini is full of artisanal and souvenir shops and can get quite busy. But the moment you leave it, you often have the whole place to yourselves.
Take your time to explore the old town and slowly make your way up towards the castle.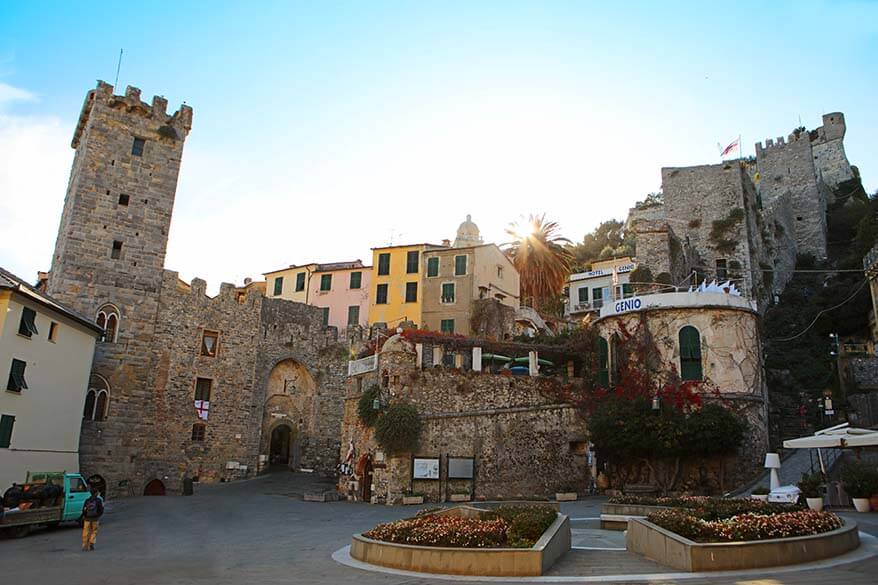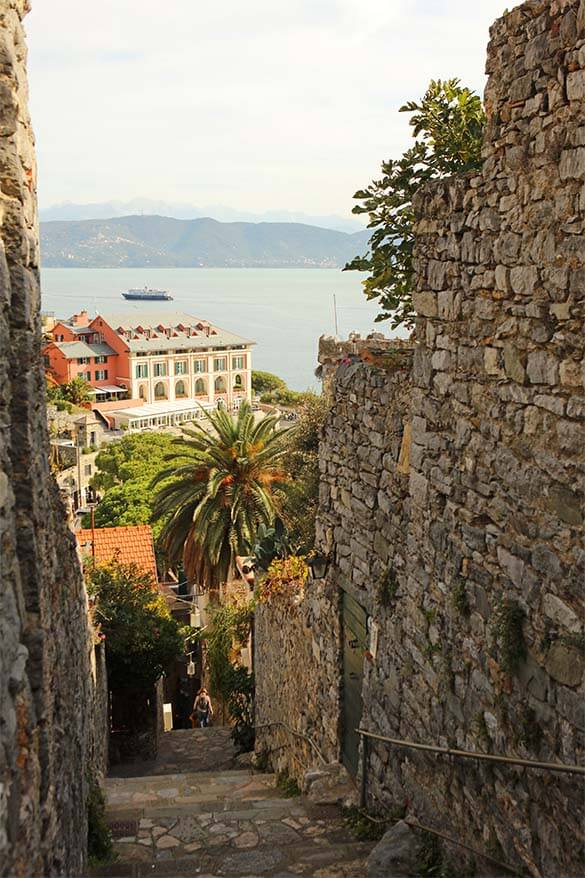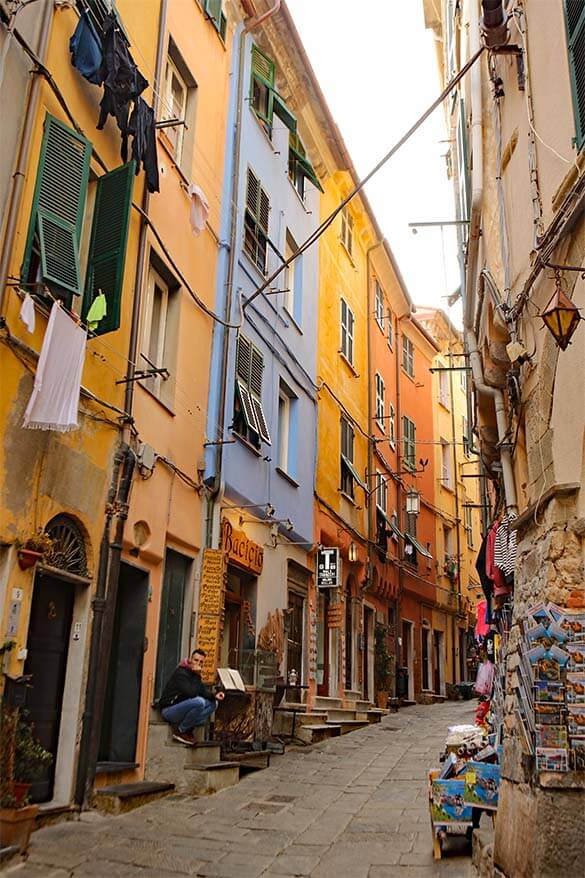 Doria Castle
Situated high on the hill and overlooking the Bay of Poets on one side and the Ligurian Sea on the other side, Castello Doria is a must in Portovenere.
This military fortress dates from the 12th-14th centuries and was of big significance due to its strategic location.
It's quite a steep climb to get there, but it's well worth the effort. The views from the gardens are phenomenal and justify the small entrance fee. Don't miss it!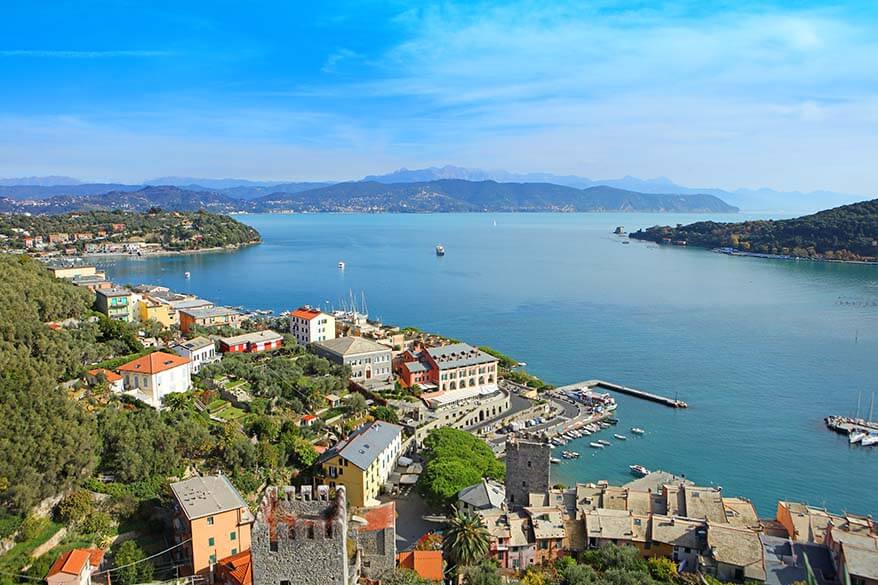 Church of San Lorenzo
Right next to the castle you can find the Santuario della Madonna Bianca, also called the Church of San Lorenzo. Every year in August the White Madonna, patron saint of Porto Venere, is celebrated here.
The interior of this church is well worth a quick look, but if you are short on time, the view from outside is beautiful too.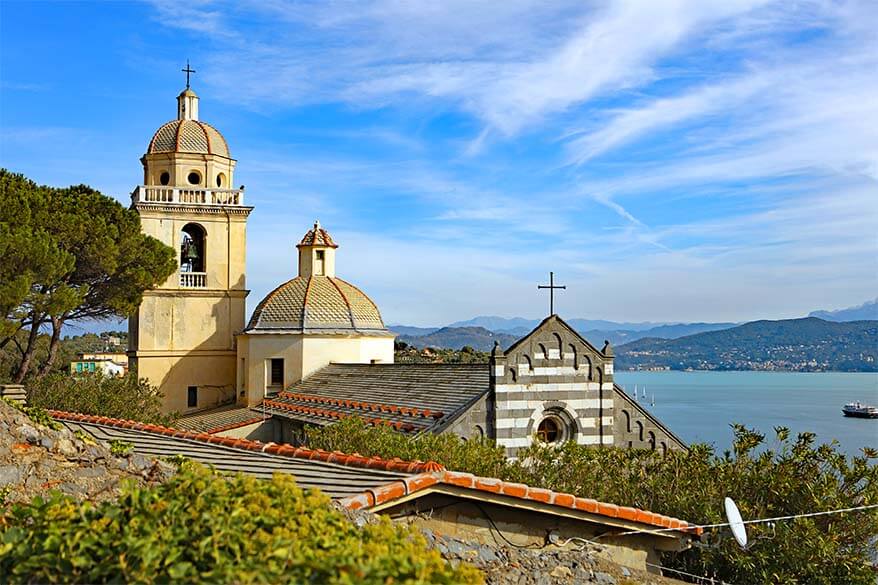 Church of Saint Peter
San Pietro Church (Chiesa di San Pietro) has the best location in town. Standing on top of the rock and surrounded by the azure blue water from three sides it almost looks like a fortified castle.
Its 'striped' exterior is quite remarkable. But make sure to take a look inside as well. We loved its simple interior and a very special medieval atmosphere.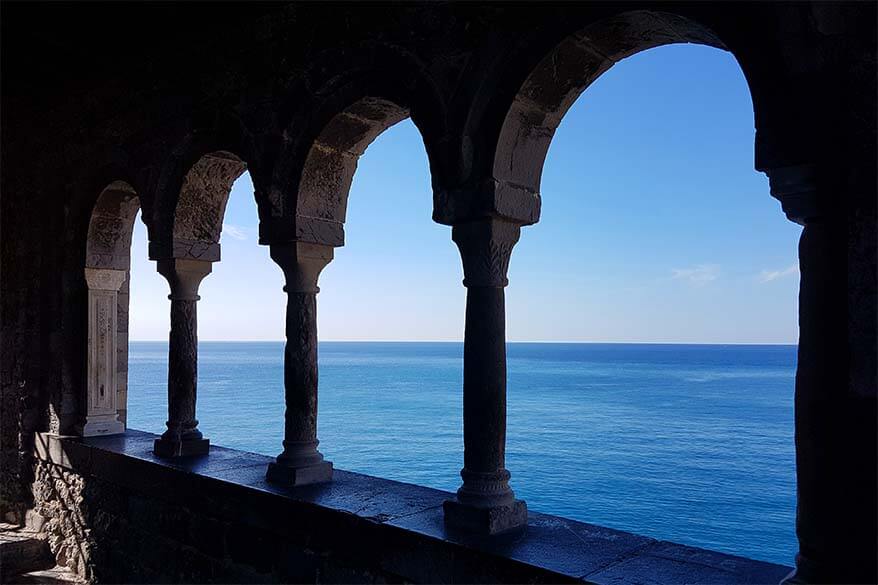 Lord Byron's Grotto
Just next to St. Peter Church you can see an observation deck next to Lord Byron's Grotto (previously Grotta Arpaia).
The Bay of Poets gets its name because the area was so beloved by the English poets. Lord Byron often stayed here and he used to swim across the bay to visit his fellow poet Shelley. Hence the name of the grotto.
Nowadays it's a nice place to swim, dive, or sail. Just be careful with the currents.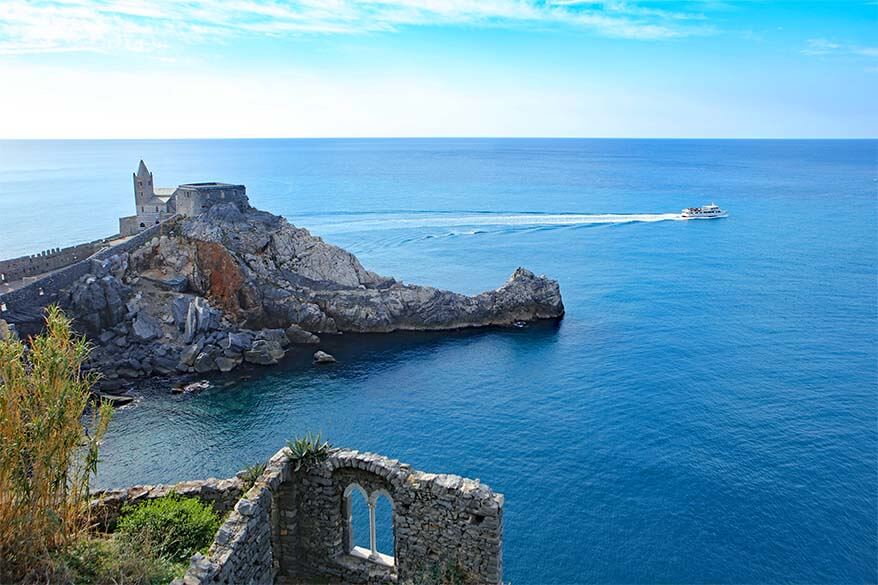 Porto Venere Regional Natural Park
Porto Venere Regional Natural Park has several hiking trails. We didn't go hiking here, but if you have more time it might be well worth it to explore the area on foot.
It's even possible to hike from Portovenere to Riomaggiore. It's said to be a very scenic coastal walk. I am not sure which direction would be less challenging, so you may want to inquire at the tourist office first. You can hike one way and take a boat back (or vice versa).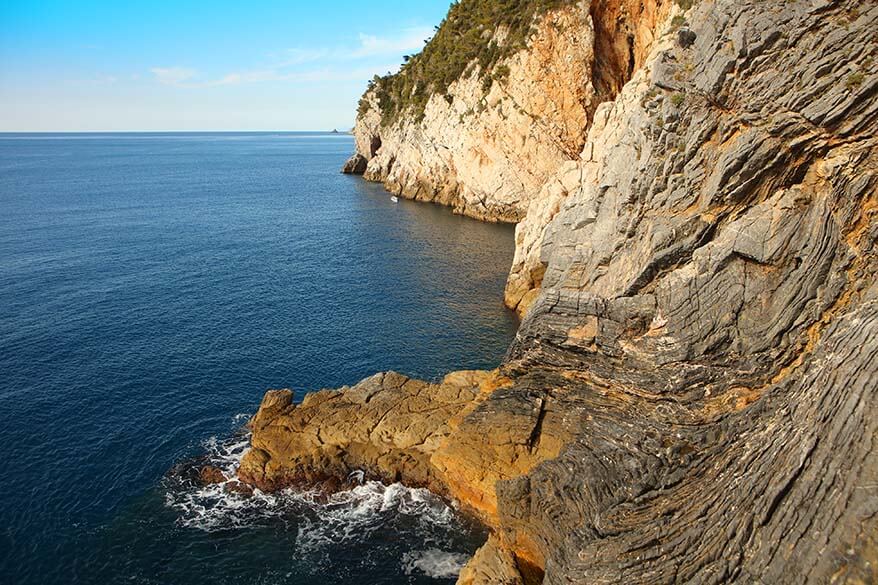 Visit the nearby islands: Palmaria, Tino, and Tinetto
In summer you can take a scenic boat tour or a taxi boat to the nearby islands Palmaria, Tino, and Tinetto.
Tino is a military island and Tinetto is just a tiny rock with some ancient ruins, so both islands can usually be only seen from a boat.
Isola Palmaria is the biggest island of the three. It's dotted with caves, beaches, and walking paths and is a popular day trip from Portovenere. It's a great place to go swimming, snorkeling or diving.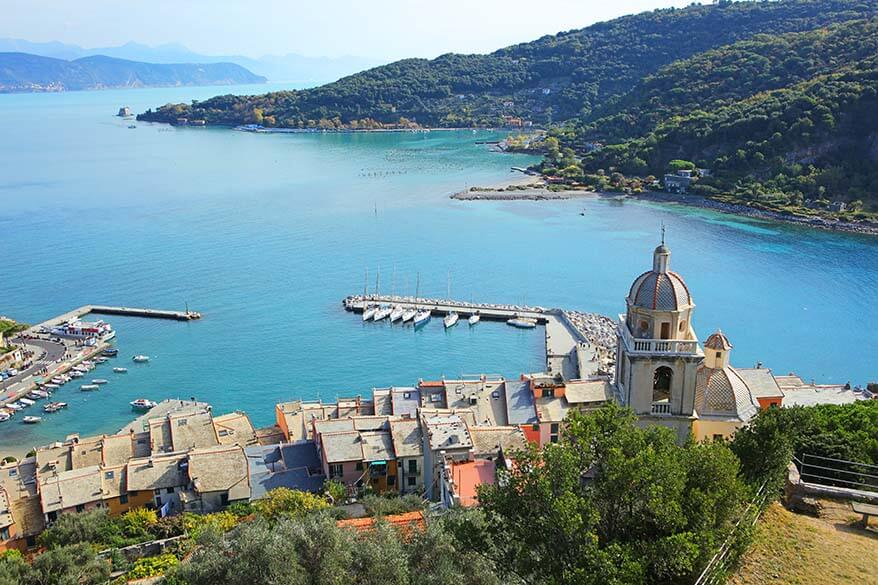 So these are the main highlights that you shouldn't miss in Portovenere. You can see the town in just a few hours and continue your journey to Cinque Terre. But if you have more time, consider spending at least a day in Portovenere – you'll love it here!
Porto Venere is also a great place to stay a few days longer and it makes a good base location for exploring the villages of Cinque Terre and some other nearby towns (La Spezia, Lerici, Tellaro) as well.
Practical information for visiting Portovenere
How to get to Portovenere? One of the reasons why Portovenere is less visited than the nearby towns is its more remote location. There is no train station here, but you can reach Portovenere by car, bus, taxi, or ferry boat from La Spezia. There are also Cinque Terre tours that briefly stop in Portovenere. Here's the best tour I was able to find.
La Spezia is a nearby town that is easily accessible by car or train and is a good base to explore Cinque Terre and the Bay of Poets. Driving here is not easy and parking spots are limited. So I would only advise coming to Portovenere by car if you are staying for a night and can book a hotel with car parking.
Where to stay? There aren't that many hotels in Portovenere, so it's advisable to book well in advance. The best hotel in town is the beautiful Grand Hotel Portovenere overlooking the small port and Palmaria island. You can find more Portovenere accommodation options here. The alternative is to stay in Cinque Terre or in La Spezia and visit Porto Venere for a day.
LEARN MORE: Where to Stay in Cinque Terre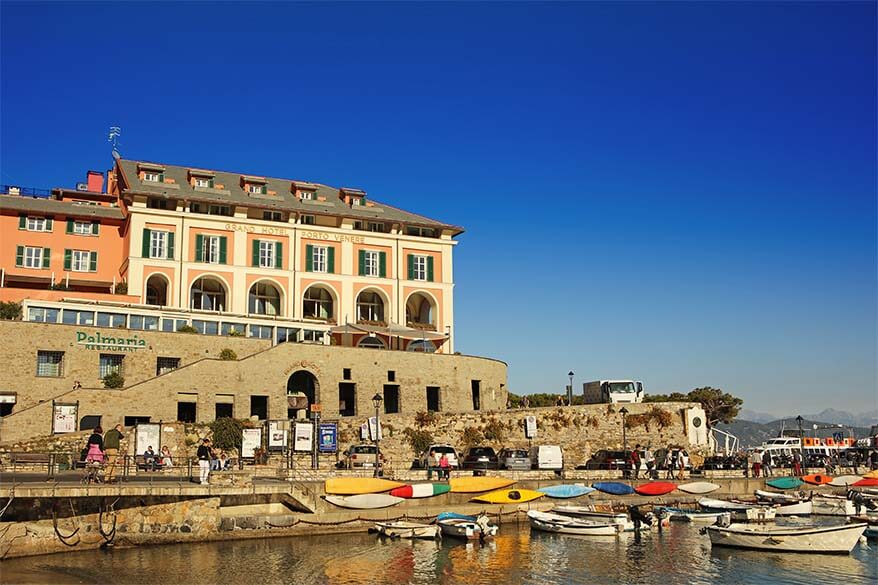 Can you see Portovenere and Cinque Terre in one day?
It is possible to visit Portovenere and the villages of Cinque Terre in just one day. Take the first boat from La Spezia to Cinque Terre. The full-day ticket allows you to hop off and on in 4 Cinque Terre villages (excluding Corniglia which has no harbor) and also in Porto Venere.
If you don't need much time in the villages and are happy with just a short glimpse of each place, then yes, it is possible to see Cinque Terre and Porto Venere on the same day.
However, I would advise to do this in two separate days. Here you can find our suggested itinerary for one day in Cinque Terre.
If you are planning a trip to this area, make sure to read this post for more practical information for visiting Cinque Terre.
More tips for your trip to Italy:
If you found this post useful, don't forget to bookmark it and share it with your friends. Are you on Pinterest? Pin this image!