Visiting Siena town in Italy and wondering what there is to see and do on a quick first trip? In this guide, we share all the top places to see in Siena that you can visit in about half a day to a day. Find out!
The medieval city of Siena sits on a hilltop overlooking the beautiful Chianti countryside in one of the most beautiful regions in Italy, Tuscany. Siena is famous for its spectacular architecture, the mind-blowing Cathedral, its legendary Palio horse race, and also wine.
Siena is so unique that the entire historic center is listed as a UNESCO World Heritage Site. It definitely deserves a place on any list of the most beautiful cities to visit in Italy. And it's also an absolute must-see if you are exploring Tuscany!
The good thing is that Siena's historic center is quite compact and so you can see the best of the city in about half a day. And because it's located so close to Florence and some of the nicest towns in Tuscany, Siena is an easy (half) day trip destination that can be combined with one or several other places nearby.
The city has a compelling history and unique traditions associated with its 17 districts, or contrade. It has some interesting culinary traditions, too, offering some of the finest gelatos in the country. Siena is also well known for its delicious ricciarelli (chewy almond cookies, a bit like macaroons).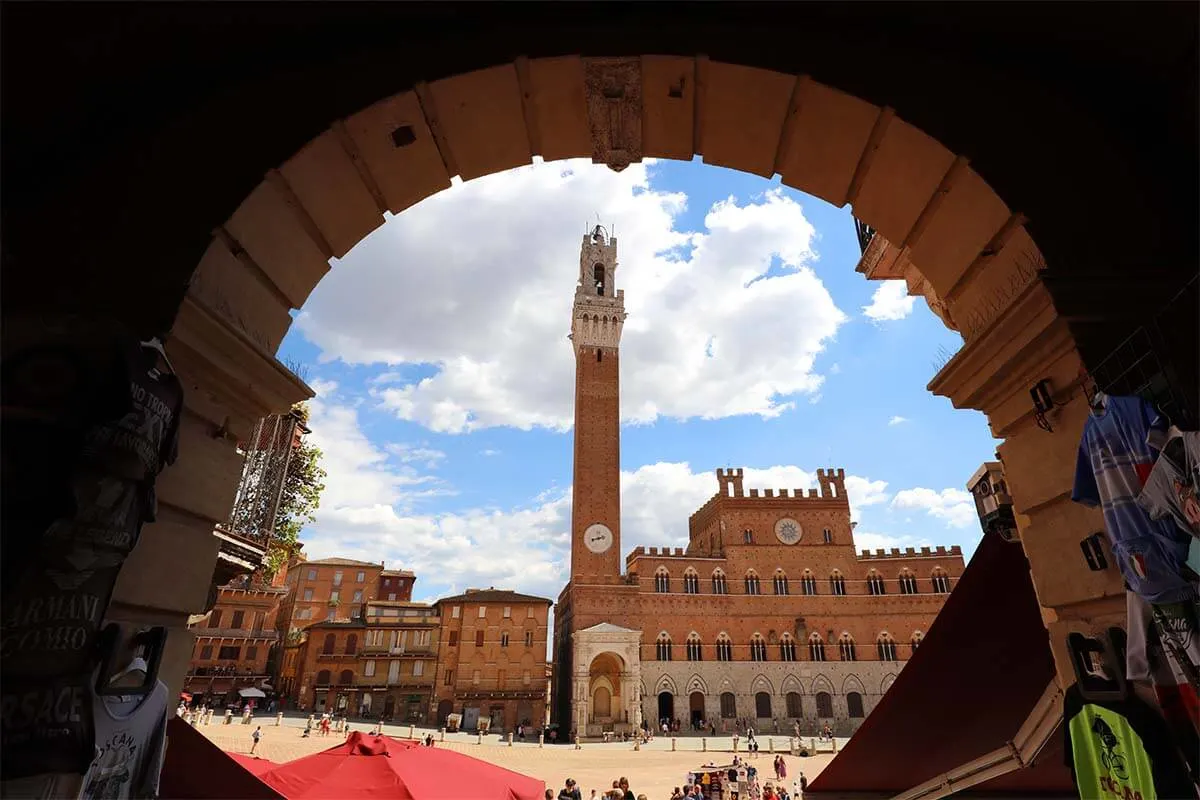 In this article, we share some of the VERY BEST things to do in Siena. These are the must-sees that you will not want to miss if you're visiting the city for the first time. We also include a few additional suggestions for what to see if you have a bit more time.
For each place, you'll also find some useful tips to help you make the most out of your first visit. To help you plan your time, you'll also find a map indicating all the main landmarks and sights in Siena. We also share a brief itinerary that allows you to see all the musts in about half a day.
At the end of this post, we finally include some practical info for visiting Siena, as well as some of the best tours to, from, and also in Siena.
Take a look!
Best of Siena – OVERVIEW:
Here are the best places to see in Siena:
1. Piazza del Campo
The best place to get a real feel for any new city is its main square. The same goes for Siena, where the splendid Piazza del Campo sits at the heart of the action.
This 14th-century plaza has an eye-catching layout, with nine segments of red-travertine stone fanning out in a shell shape towards Palazzo Pubblico, the civic headquarters. These nine sections represent The Council of Nine, which governed the city during the medieval period.
The architecture of the medieval buildings surrounding it is spectacular, with the Palazzo Pubblico and Torre del Mangia both located here. You can also see the Fonte Gaia, the largest fountain in the city. It was originally built in the 14th century from a weak local marble then replaced in 1869 with a durable Carrara marble copy.
Piazza del Campo was originally intended as a meeting place for the entire city. It was where residents could come to play games, sell their merchandise, and hold political discussions. And not much has changed since this lively spot is still where locals and visitors come to socialize or attend important events.
Interesting to know: Twice a year – in July and August – the Piazza del Campo plays host to the Palio horse race, where representatives from each of the 17 contrade (city districts) compete with passion. February is another busy month when the plaza holds many events connected to the city's Carnival.
But even without activities to entertain you, this is a lovely spot to do some people-watching, grab a gelato, and just enjoy your surroundings.
TIP: If you don't mind an early start, visit Piazza del Campo at sunrise. Lit by the rising sun, the square comes alive in fiery and unforgettable shades of orange and red.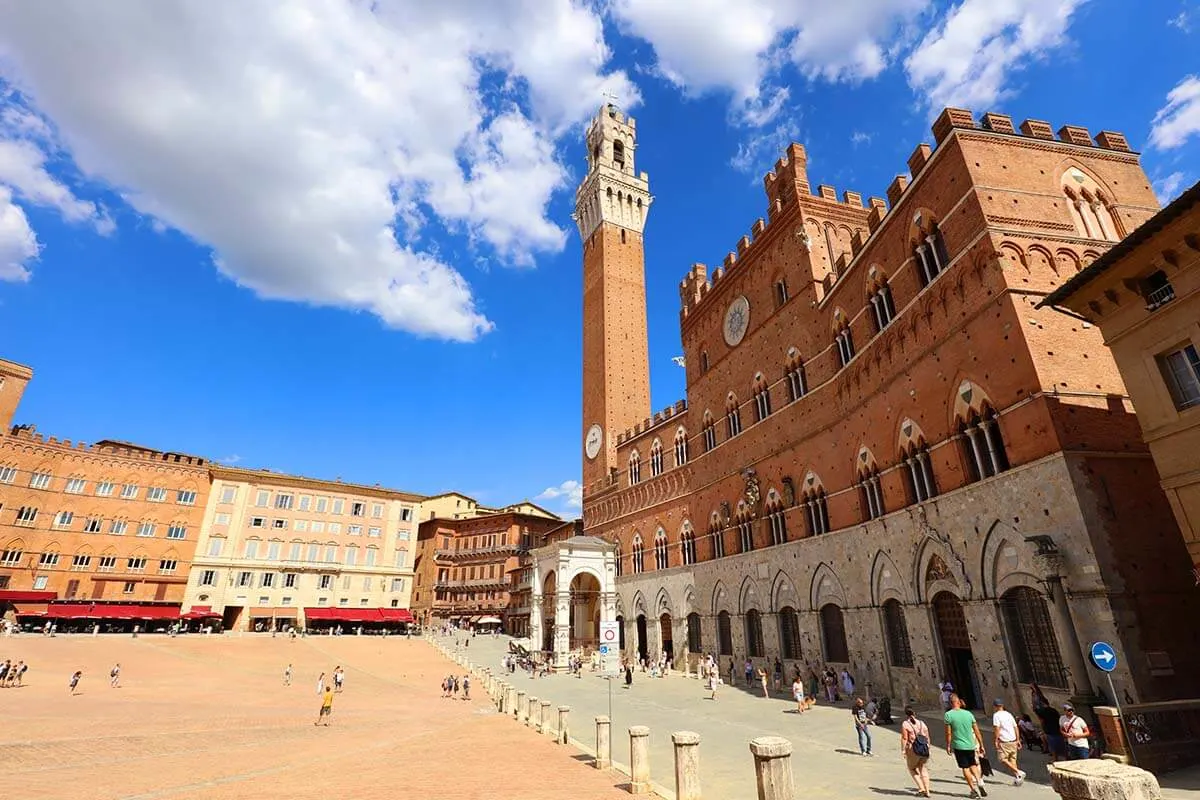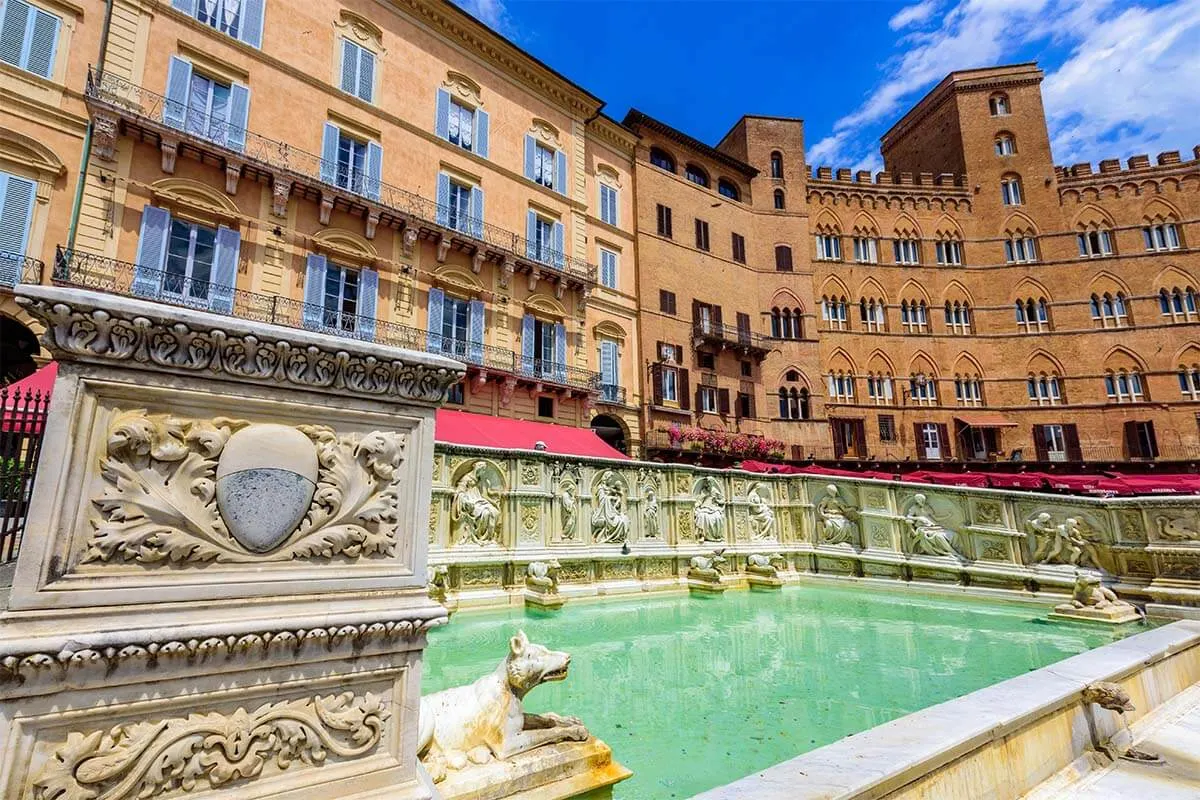 2. Pubblico Palace
The Pubblico Palace (Palazzo Pubblico) is one of the most impressive buildings in Siena! Built upon the orders of The Council of Nine, this 13th-century town hall is one of Siena's most famous landmarks.
The Palace is impressive enough from the outside, with its arched windows, imposing tower, and contrasting stone trim and brickwork. But the interior is a must-see too, for the detailed decoration that covers almost every surface.
The highlight is the series of frescoes entitled 'Allegory and Effects of Good and Bad Government'. Commissioned for the three walls where the Council of Nine would meet, they depict the effects of a fair government (symbolized by female figures), compared to what can happen when a government is unjust or corrupt (symbolized by a cross-eyed figure with horns and fangs).
The condition of the latter frescoes is not as good, as they are located on what used to be an exterior wall and have suffered the effects of dampness.
Aside from the incredible detail, these frescoes are interesting because their focus is on a civic subject rather than a religious one. This was very unusual at the time they were created.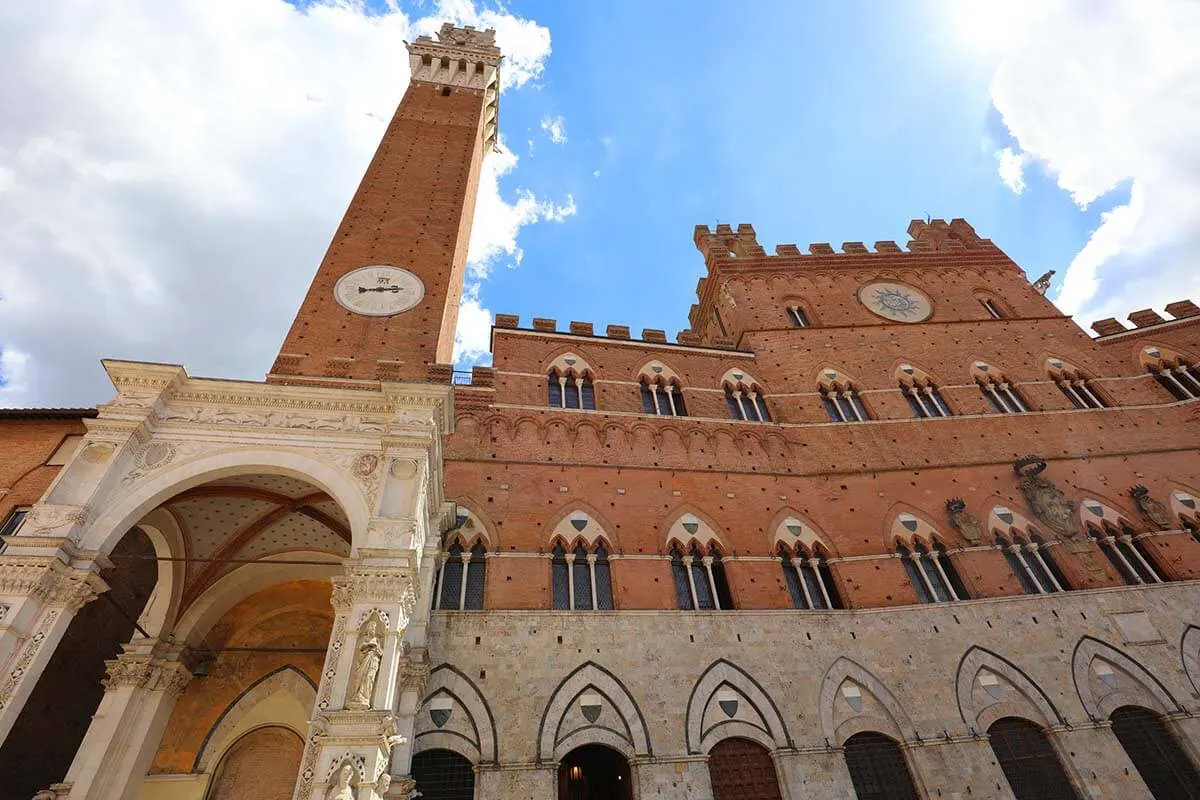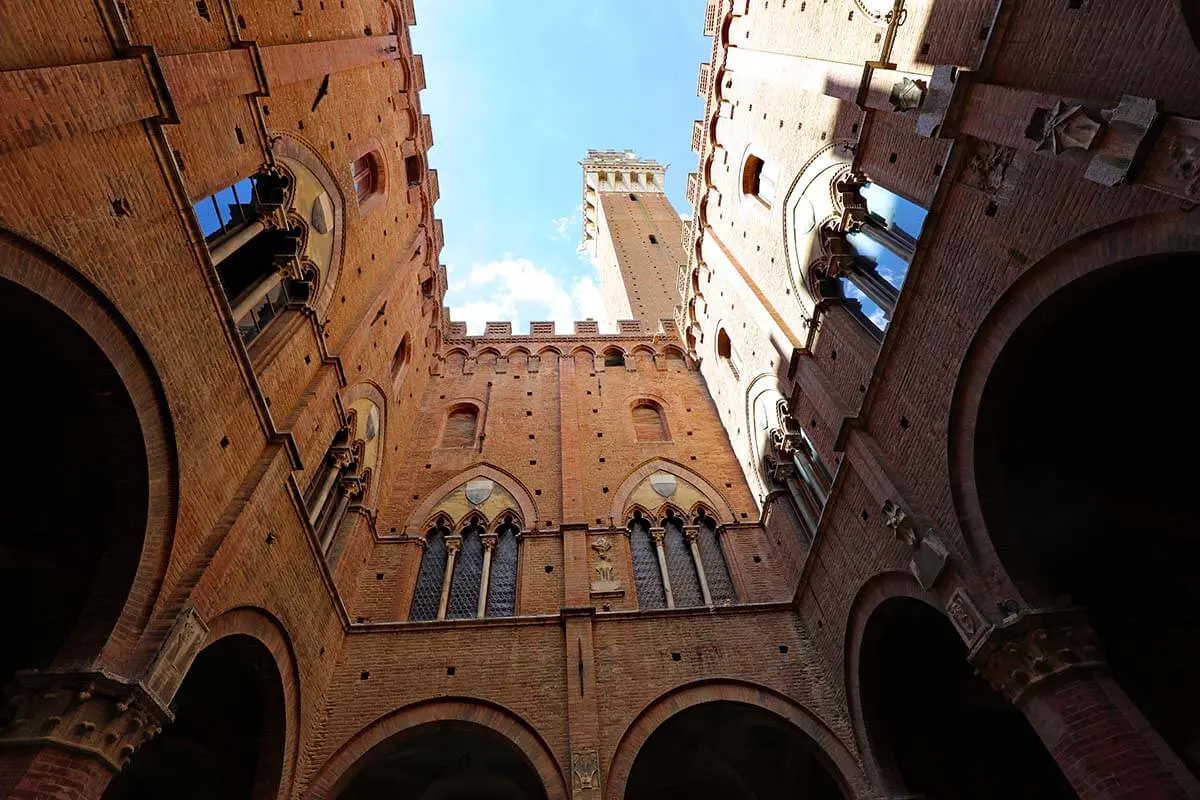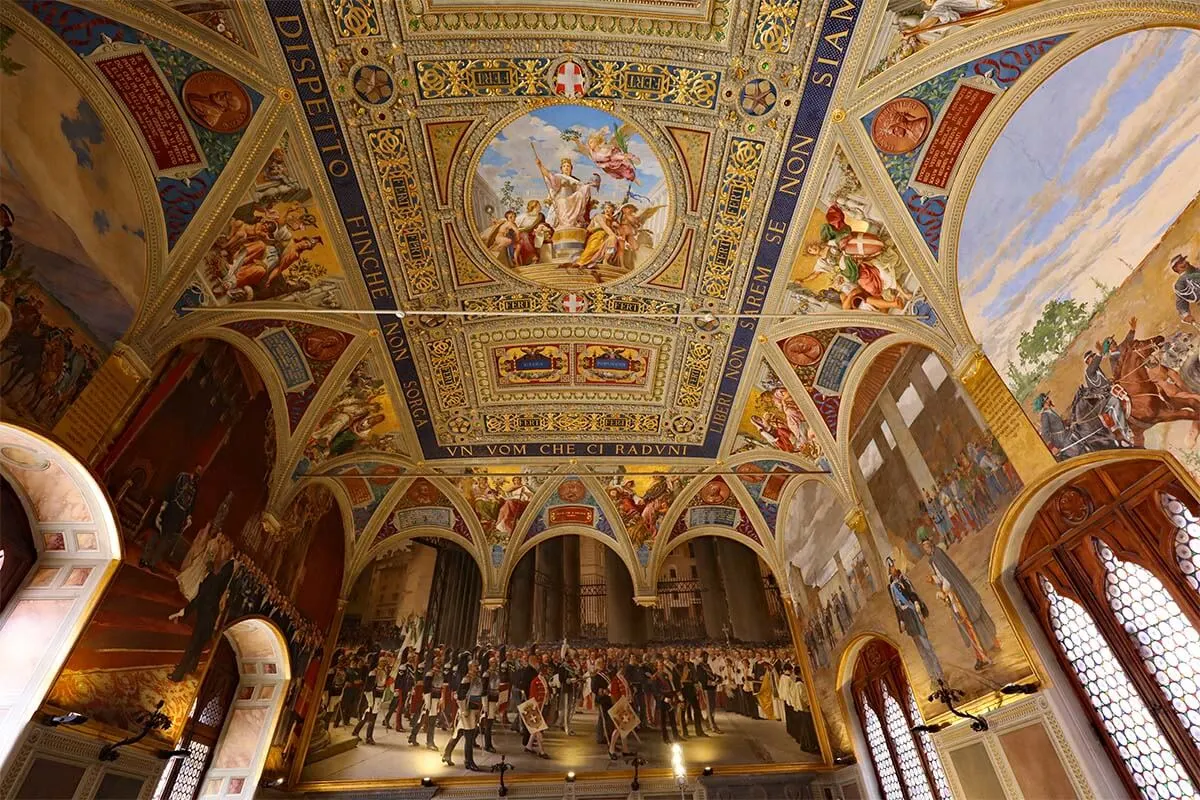 TIP: Most of the museum is located on one floor, but you can also climb the stairs one floor up and visit the outdoor terrace. The view from here is really nice, and it only takes a few minutes, so check it out!
Good to know: You can enter the courtyard of Palazzo Pubblico free of charge, and most tourists seem to stop here. Big mistake! If you have half an hour to spare, it's well worth a quick look inside. It's one of the very best things you can do in Siena, so don't miss it!
Practical info: The Pubblico Palace is open daily from 10 am to 7 pm, with the ticket office closing about an hour before the closing time. You can get a ticket online, or at the Palace. If you want to climb the tower, you need a separate (or a combi) ticket that you can only buy on the day itself (more info below).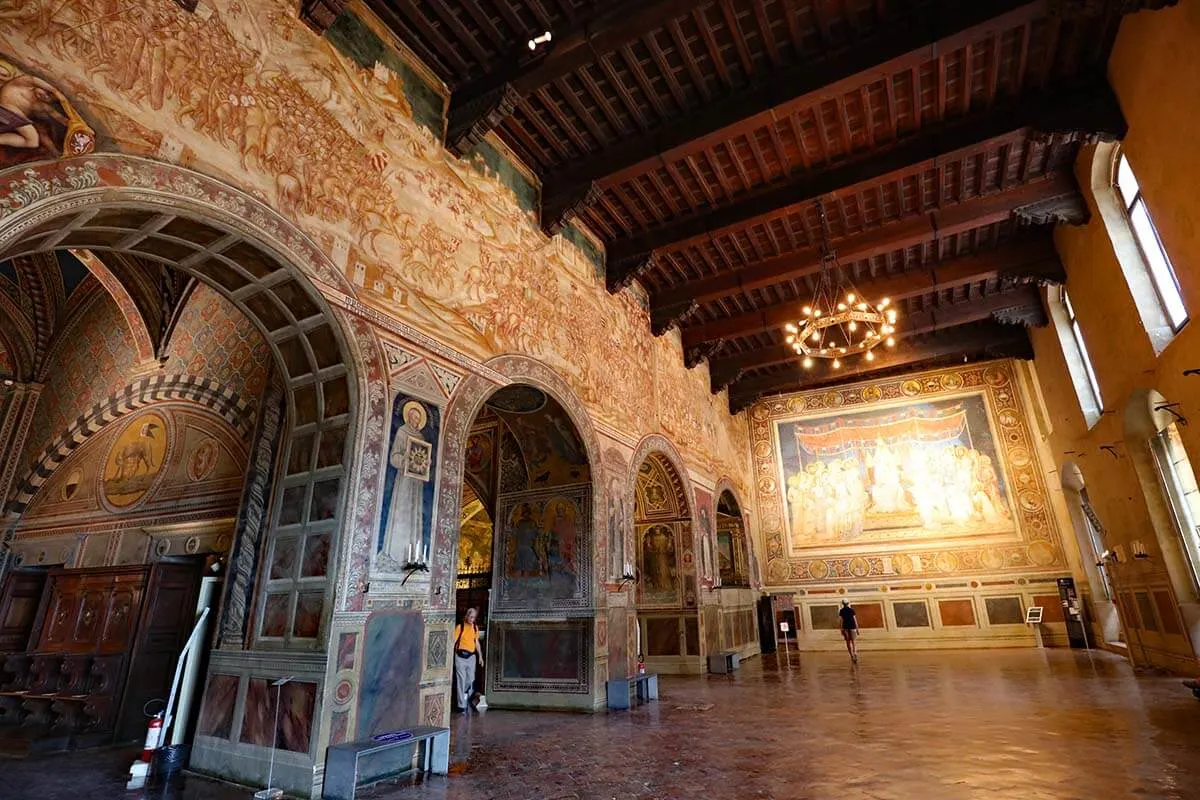 3. Tower of Mangia
The impressive tower of Palazzo Pubblico – Torre del Mangia stands proudly overlooking the main town square. This medieval tower is the most photographed landmark in the city and one of Siena's most popular attractions.
At 88 meters tall (102 including the lightning rod), it is the highest point in the city. Mangia Tower is also the second-tallest secular tower in Italy, lower only than the tower of the Cremona Cathedral. And even though it might not look like that, it's actually higher than the famous Asinelli Tower in Bologna.
Interesting to know: In order to stress the equality between Church and State, the height of the Tower of Mangia was intended to be equal to that of the bell tower of the Siena Cathedral. However, in reality, the Duomo bell tower is about 10 meters lower, but because it stands on a small hill, from a distance the two towers seem equally tall.
Originally, the bell of the Mangia Tower was used to notify people of special events or impending danger, or simply to mark the time.
These days, Mangia Tower is a popular viewpoint in the city. Indeed, you can see across Siena and right out into the Chianti countryside from the top. But make sure you're feeling energetic before you buy your ticket, as there are more than 400 steps to climb before you get there!
The stairways are narrow and the height varies from one section to another. Luckily, there are several openings in the walls on the way up where you can get a preview of the breathtaking views to come.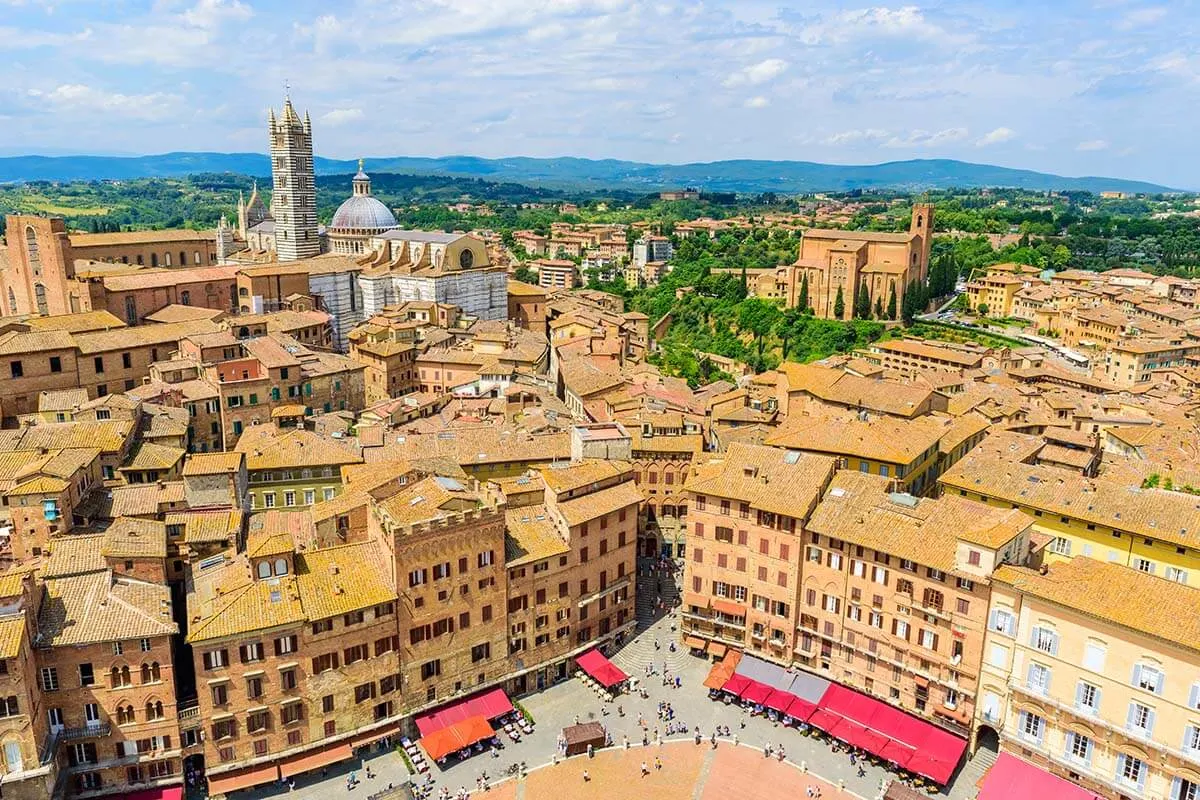 What's in the name? 'Tower of Mangia' means 'Tower of the Eater'. So how did it get its name? Well, it actually refers to the first bellringer, Giovanni di Balduccio, who had the nickname 'eater of earnings'. Whether this is because he was a glutton or preferred to hoard his money is unclear, but the name has stuck to this day.
Practical info: The Tower of Mangia is open daily, and visitors are allowed up in small groups every 45 minutes. You need a timed-entry ticket in order to visit the tower. However, at the moment, it's not possible to reserve tickets in advance, and they are only available at the Palazzo Pubblico ticket office on the day itself.
If you are visiting Siena in the summer months, you have to come and get your tower tickets first thing in the morning, before visiting other Siena attractions. If you arrive in the afternoon, the chances of getting a ticket for the tower are very slim. But you can always give it a try, especially if you are traveling in the quieter months. For more information, opening hours, and prices, see the official website of the commune.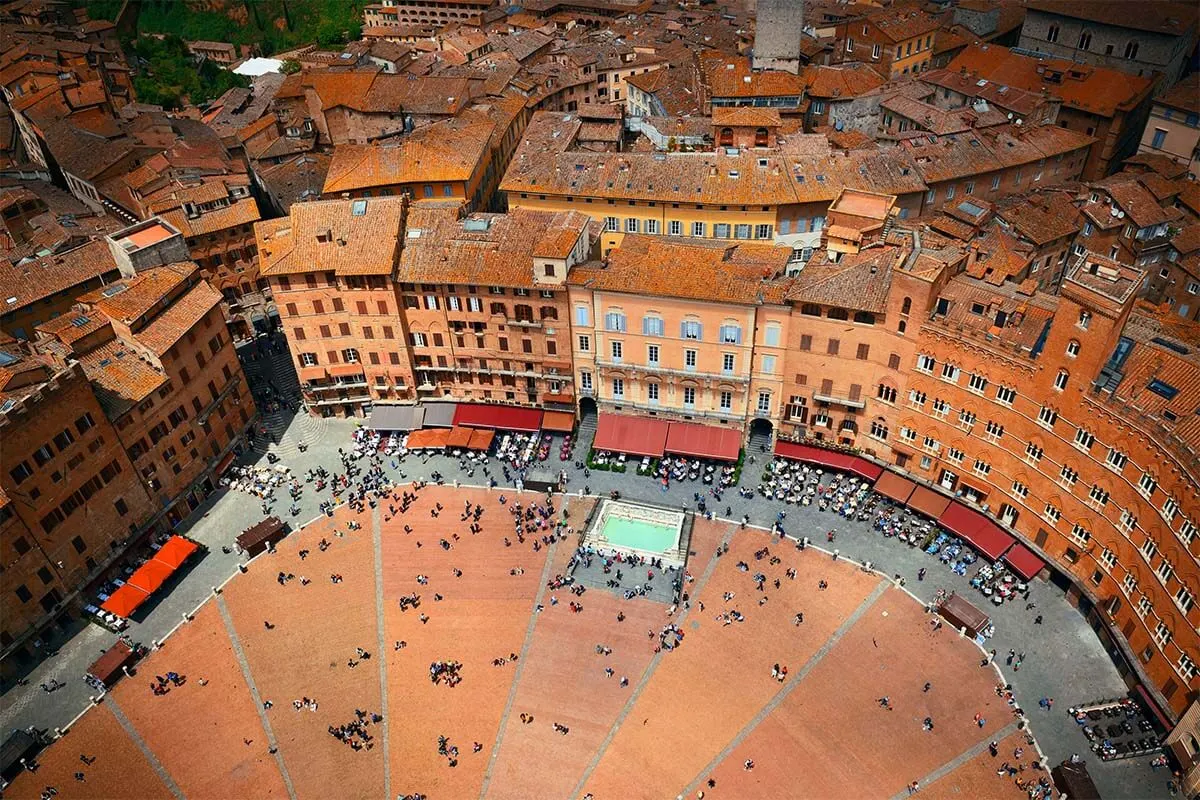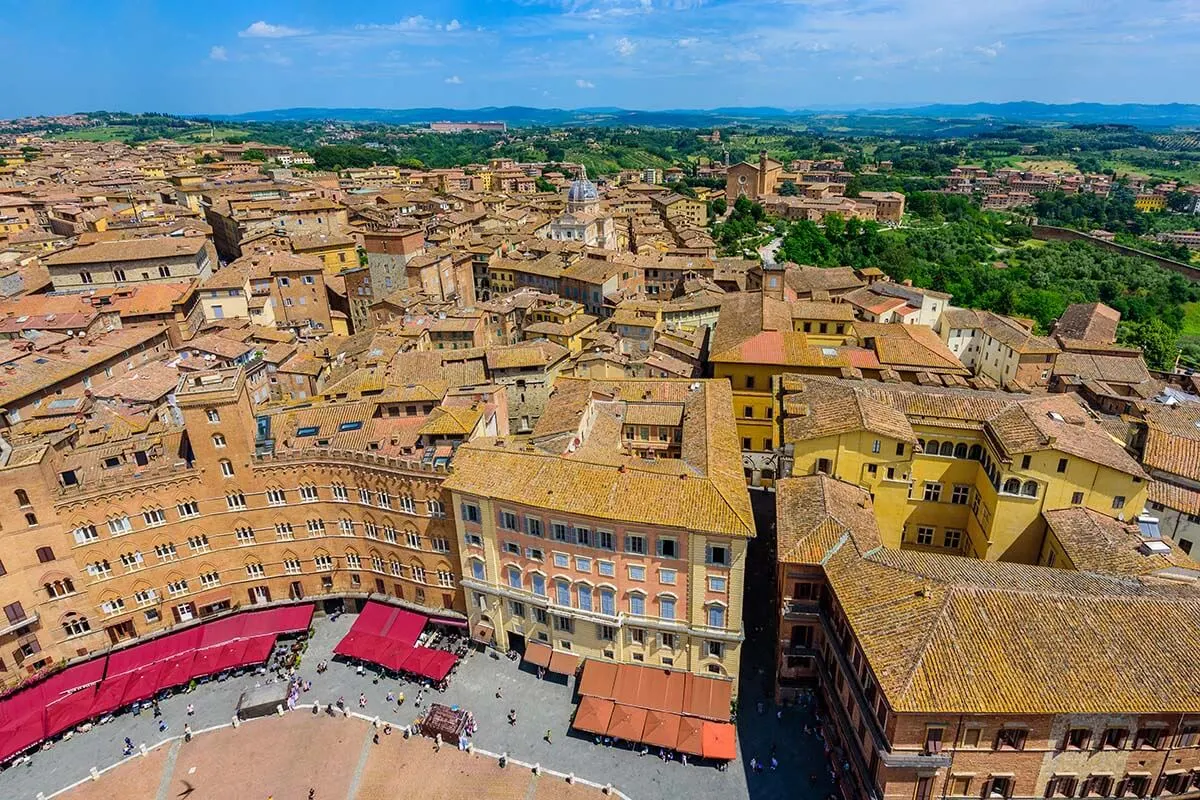 4. Duomo di Siena Complex
One of the most beautiful churches in the world, Siena Cathedral is an absolute must-see. Even if religious buildings are not your thing, you really must see this one! We've seen dozens if not hundreds of churches in Italy, and I can tell you that there are just a handful that could compete with Siena Duomo.
Located in the heart of the old town on Piazza del Duomo, the impressive 13th-century Cathedral will be the highlight of any visit to Tuscany. With its distinctive light and dark marble stripes, this is one of the best examples of Romanesque-Gothic architecture.
However, there is so much more to do here than just visiting the main church. In fact, the Siena Duomo Complex is made up of several attractions. In addition to the main Cathedral, you can visit the Piccolomini Library, the Baptistery, the Opera Museum, the Panorama and New Duomo (Facciatone), the Crypt, and the attic of the Cathedral (Gate of Heaven).
As an absolute minimum, don't miss the Cathedral and Piccolomini Library. We also highly recommend the panorama views from Facciatone, the roof terrace of the never-finished part of the New Duomo church. But if you have a few hours to spare in Siena, everything is really worth a look. Also, places like the Baptistery or the Crypt can be seen in just a few minutes.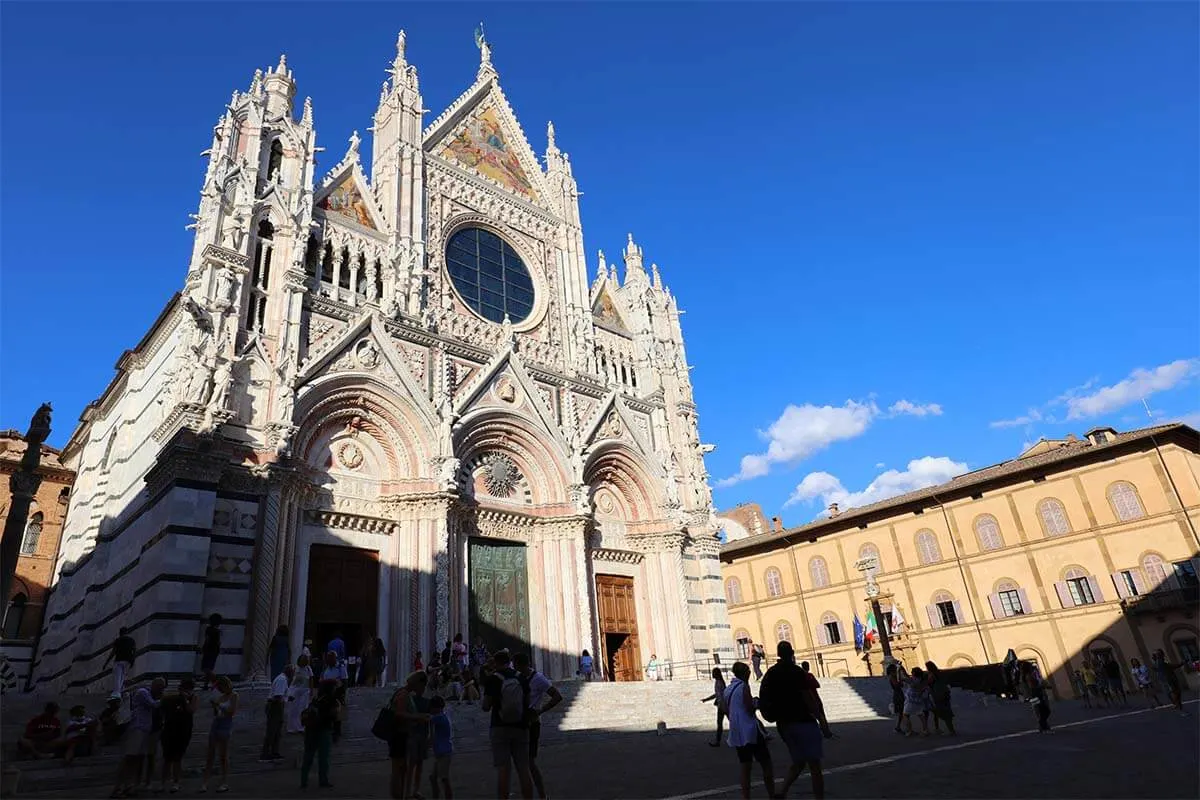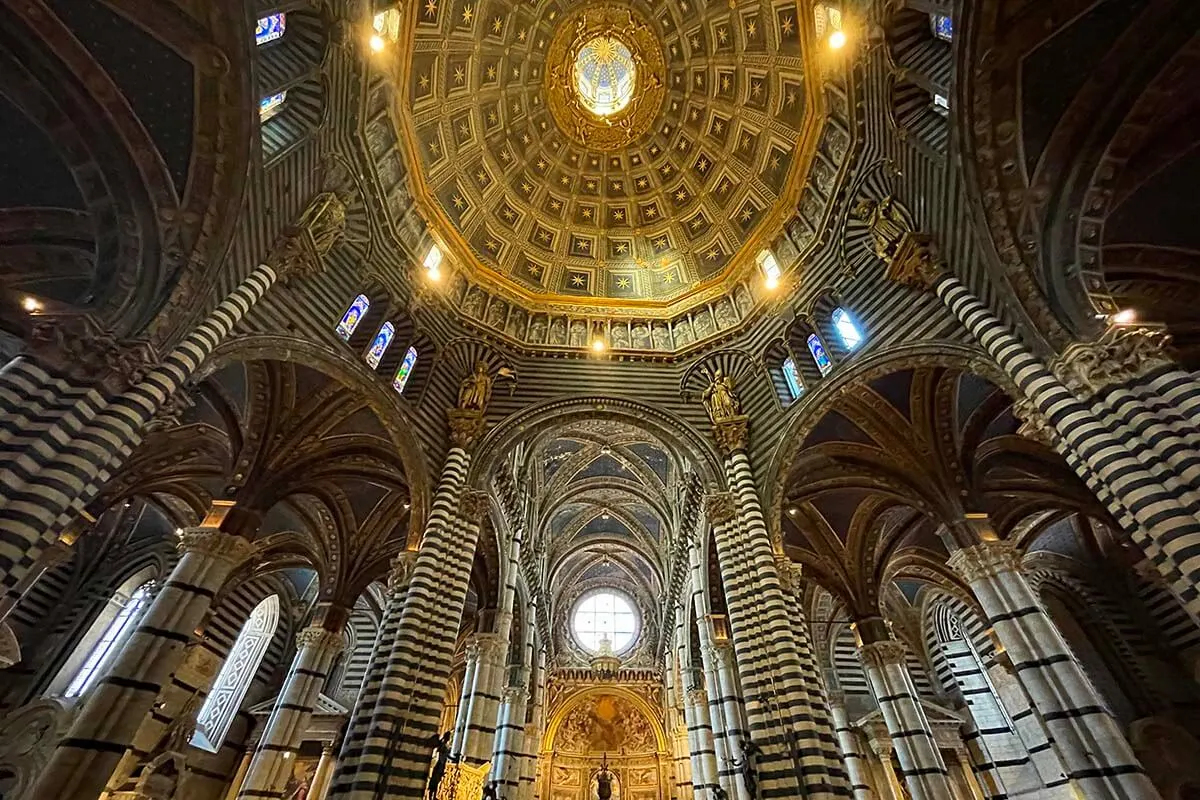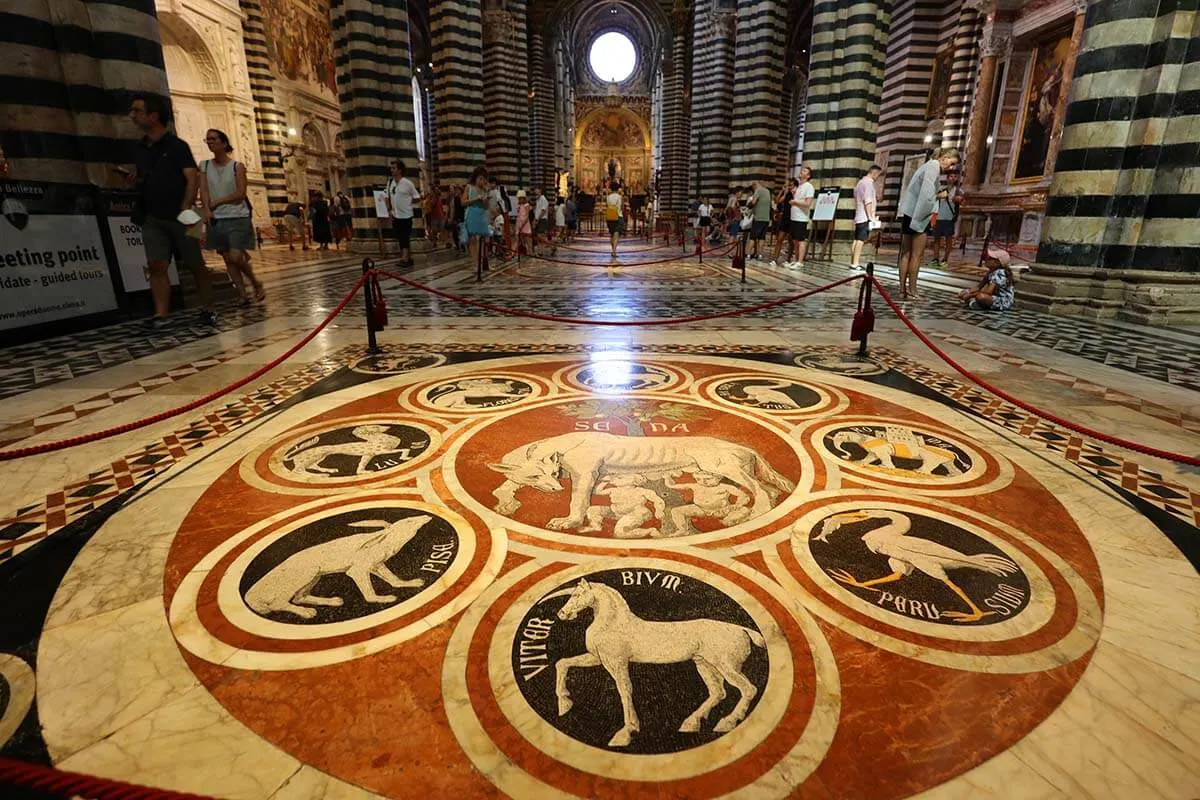 Practical Information for Visiting the Cathedral
How much time do you need? You only need about 2-3 hours to visit everything at the Duomo Complex, so it's something you can do even if you only have half a day in Siena. All the sights are located adjacent to the Cathedral; they just have different entrances.
Practical info and tickets. Opening times vary for the different sites and can be found on the official Cathedral website. There are several different ticket options. Here are the best choices:
Cathedral & Piccolomini Library. This ticket gives you access only to the main Cathedral and its library which can be accessed directly from the church.
OPA Si Pass. Recommended – the most popular option. This pass gives you access to all the main sites of the Duomo Complex excluding the Cathedral roofs.
Porta del Cielo Pass includes a guided tour of the 'Gate of Heaven' (the Cathedral rafters or 'rooftop' as they call it), plus all the other sites of the Duomo Complex.
Good to know: The passes are valid for 3 days and the only part that requires a (timed) tour is the Gate of Heaven. You can only visit each place once.
The pass also includes the Oratory of San Bernardino, but it's located on the other side of the town center, some 10-15 minutes walk from the Duomo. I'd only recommend going there if you have an entire day in Siena and are highly interested in religious art.
Dress code. Just like most churches in Italy, Siena Cathedral asks you to dress modestly, which – in principle – means that your knees and shoulders should be covered. That being said, if you are wearing decent-length shorts and sandals in the summer, normally, nobody will say anything. Just don't show up in mini shorts or spaghetti straps. They also have some covers available to borrow.
LEARN MORE: Complete Guide to Visiting Siena Cathedral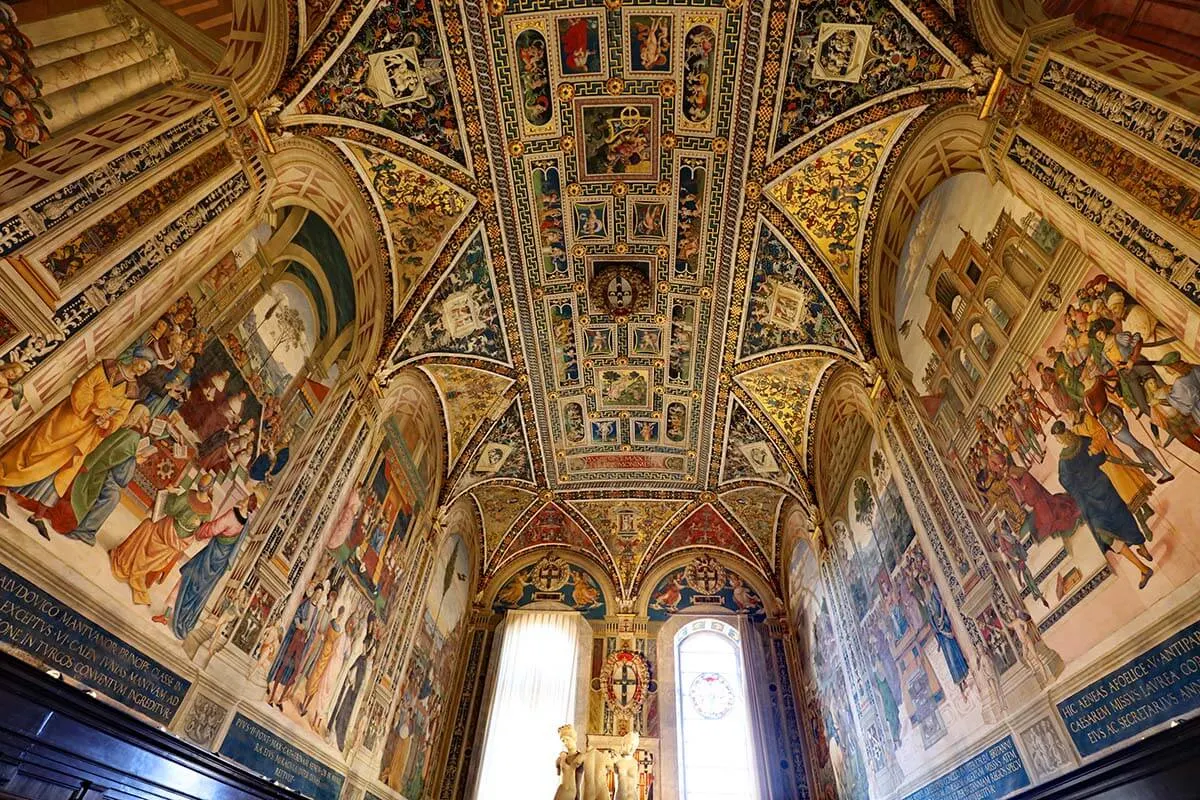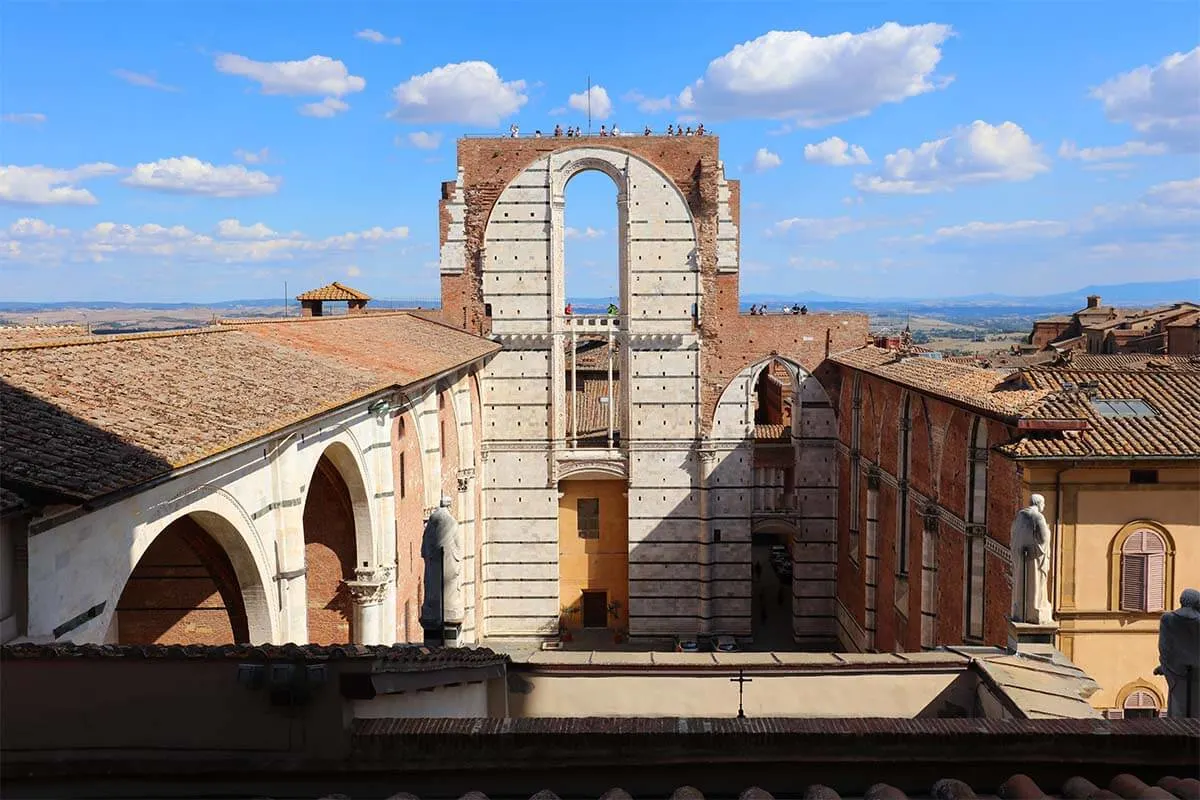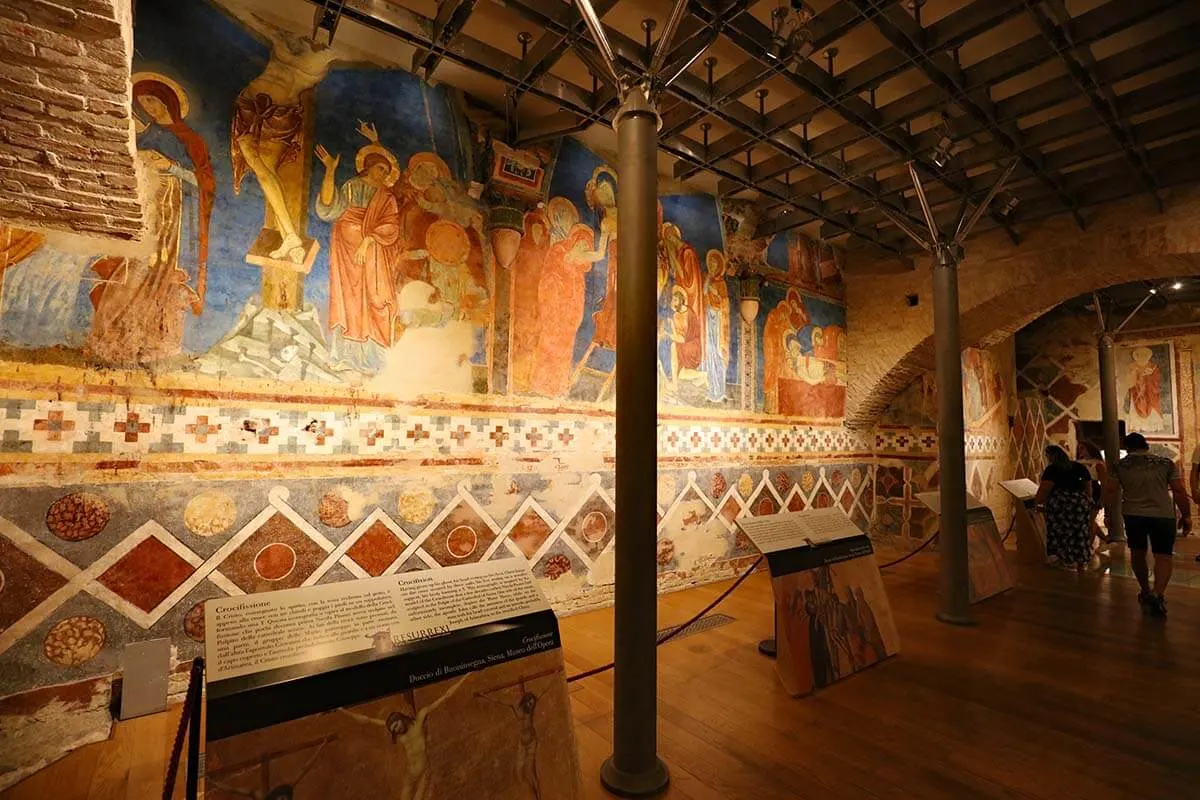 5. Historic Old Town of Siena
Siena's historic center was named a UNESCO World Heritage Site in 1995. Filled with cobbled alleys, tiny boutiques, and artists' studios, it is a fascinating place to explore, especially since much of it is pedestrianized.
There are several streets in particular that you really must see in the old town. Via di Citta, Via dei Montanini, Via Banchi di Sopra, and Via Camollia are all lined with historic buildings and offer unlimited shopping and dining opportunities.
The sloping Via di Citta (City Road) circles around Piazza del Campo and all the way towards the Duomo. Along its length, you can see important buildings like the historic Loggia della Mercanzia, Palazzo Patrizi, Palazzo Chigi-Saracini, and the Palazzo delle Papesse (with Salvador Dali exhibition).
Via Banchi di Sopra is home to the 13th-century Palazzo Tolomei, one of Siena's oldest buildings, and the old headquarters of Monte Dei Paschi, which is the oldest bank in the world. This street is also lined with clothing stores.
A bit further to the north, Via dei Montanini which turns into Via Camollia is another noteworthy street to check out in Siena. You can't miss the impressive palazzos on Piazza Salimbeni. In fact, if you arrive in Siena by train, its' best to enter the city via the Porta Camollia city gate and walk the entire length of this street all the way to the heart of the old town.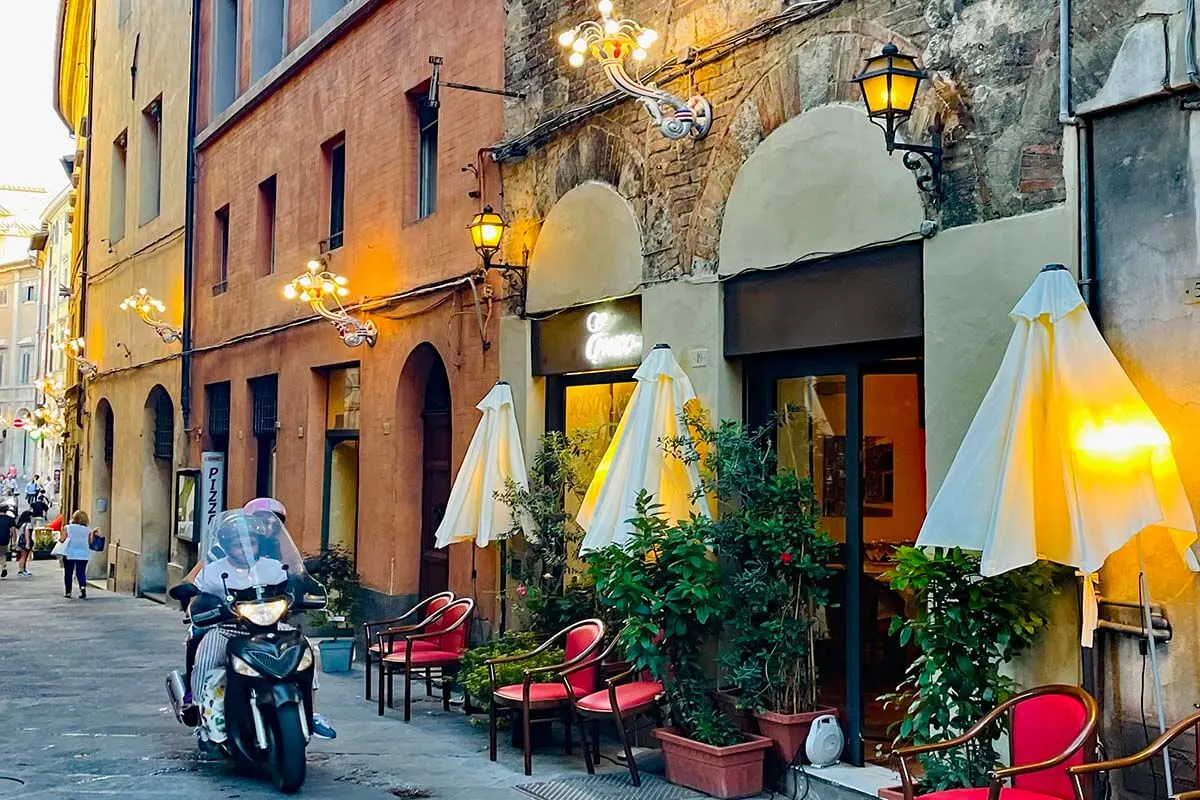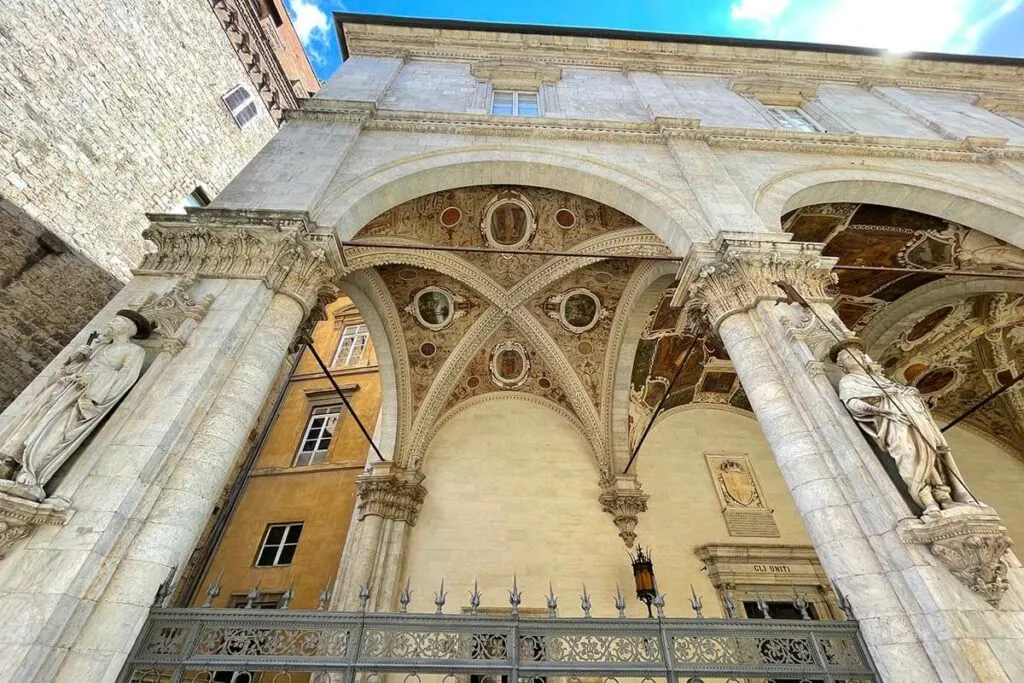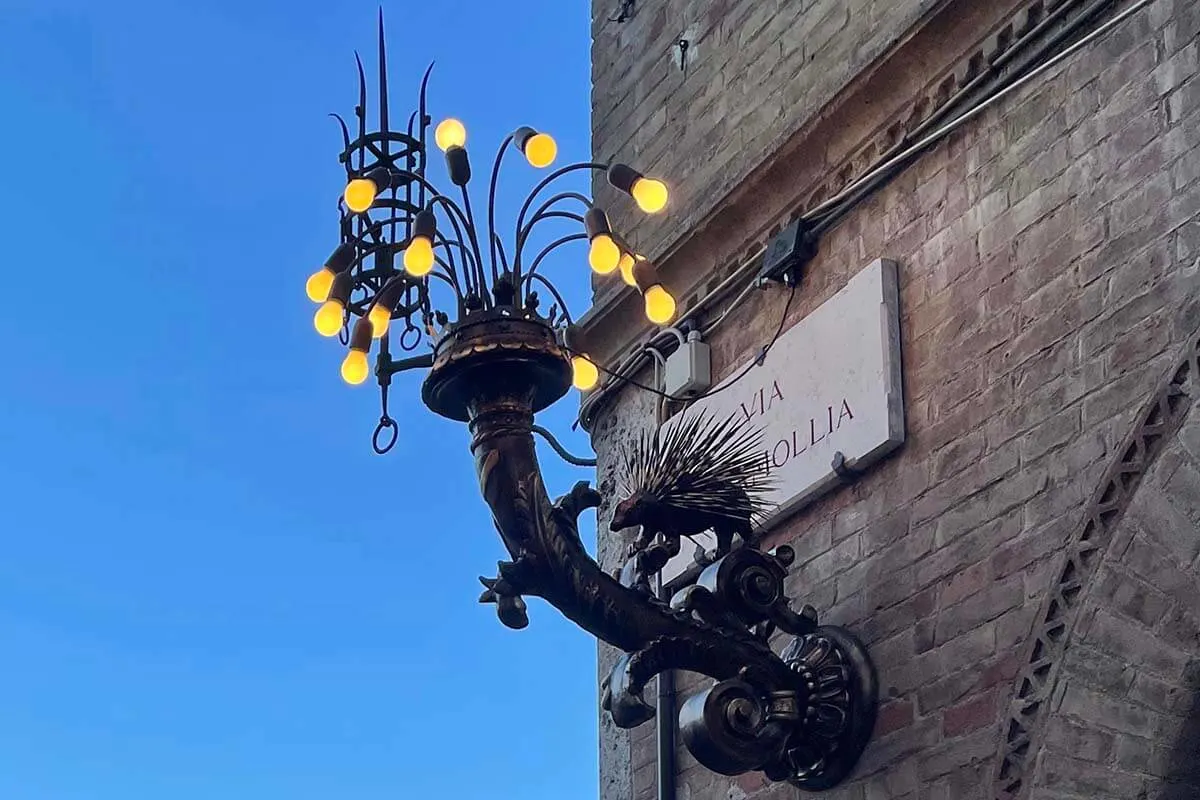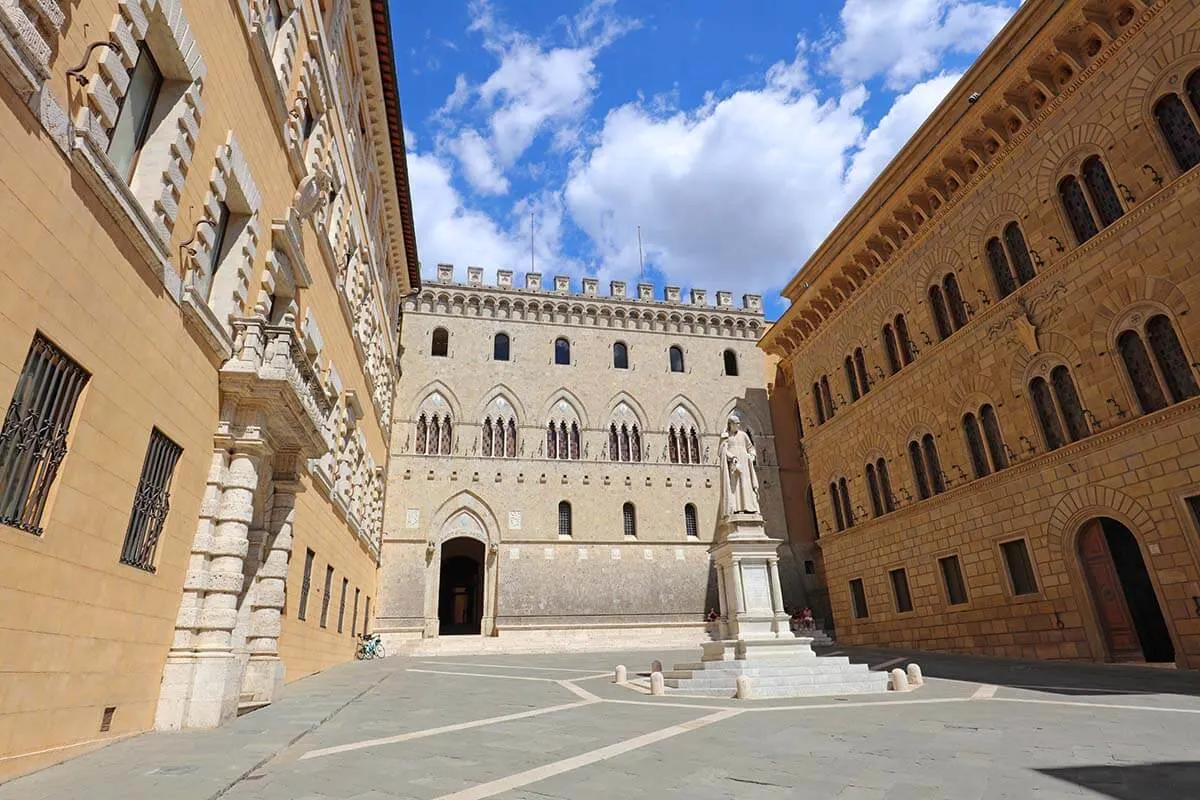 Now that we covered the must-sees in Siena, here are a few additional suggestions of what to see if you have a bit more time:
6. Siena City Gates
Siena was well protected from attack during the Middle ages and you can still see some of the gates that formed part of the city's defenses. Whilst some of these are little more than rounded arches between buildings, most still stand and are easy to spot.
Porta Romana (aka Porta Nuova) on Via Roma, southeast of the historic center is one of the most impressive city gates in Siena. Built early in the 14th century, it has a crenelated roofline and travertine marble arches. This gate is monumental, with two facades and even an inner courtyard. In the past, it was even more ornate with frescoes and statues, but those have been moved to a church and a museum.
Porta Camollia on Via Camollia to the north of the city dates back to 1604 and would once have been used by pilgrims entering Siena from other parts of Italy. As already mentioned, if you are visiting Siena by train, this is the best place to enter the city when coming from the railway station.
Also worth seeing is Porta Pispini in the east of the city. It has a large stone double doorway and an inner gate with old wooden doors still attached. Also Porta Tufi on Strada di Tufi with three arched openings is noteworthy. If you are visiting Siena by car and are coming from the south, you could park at Parcheggio Il Campo, just nearby.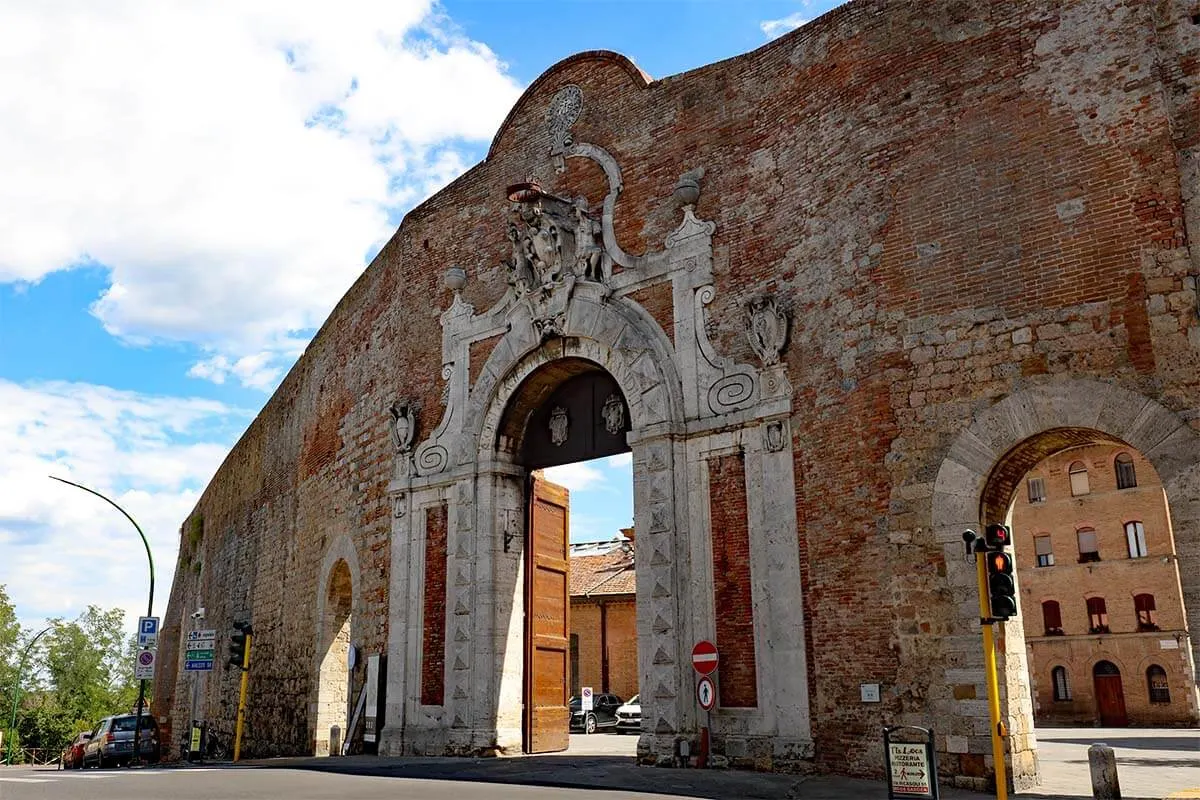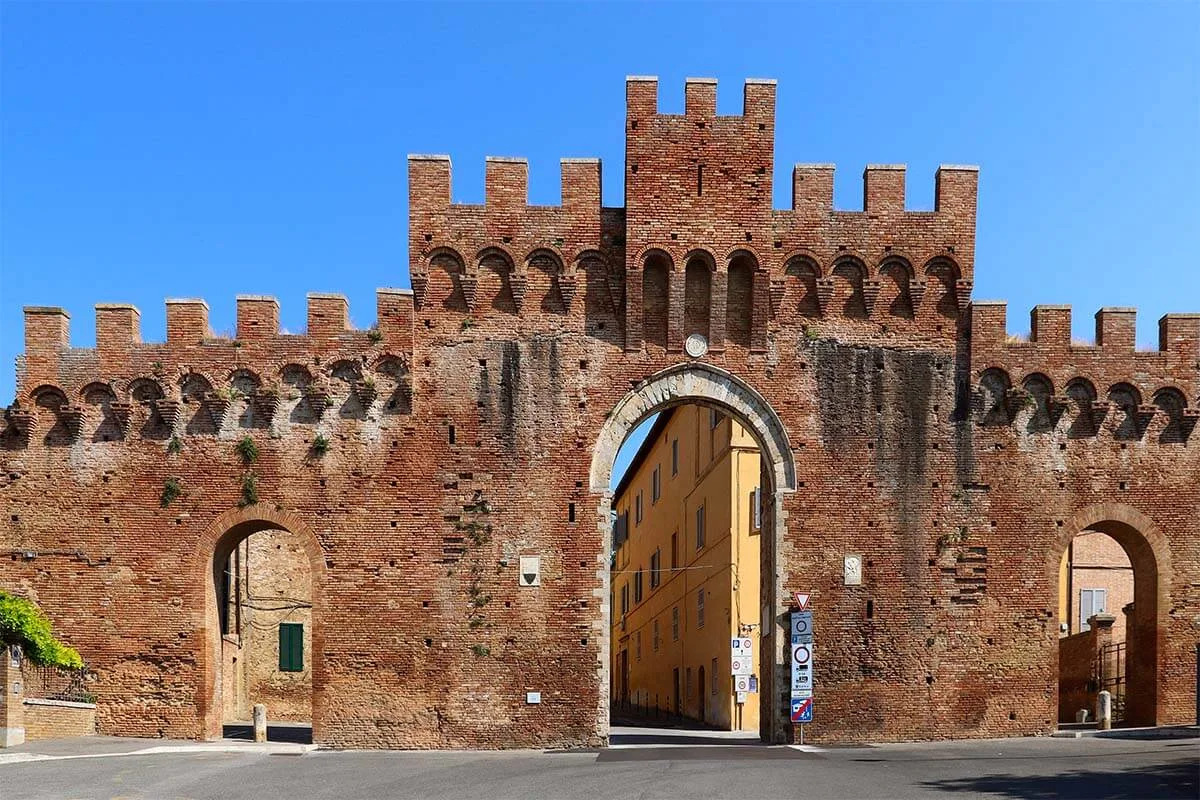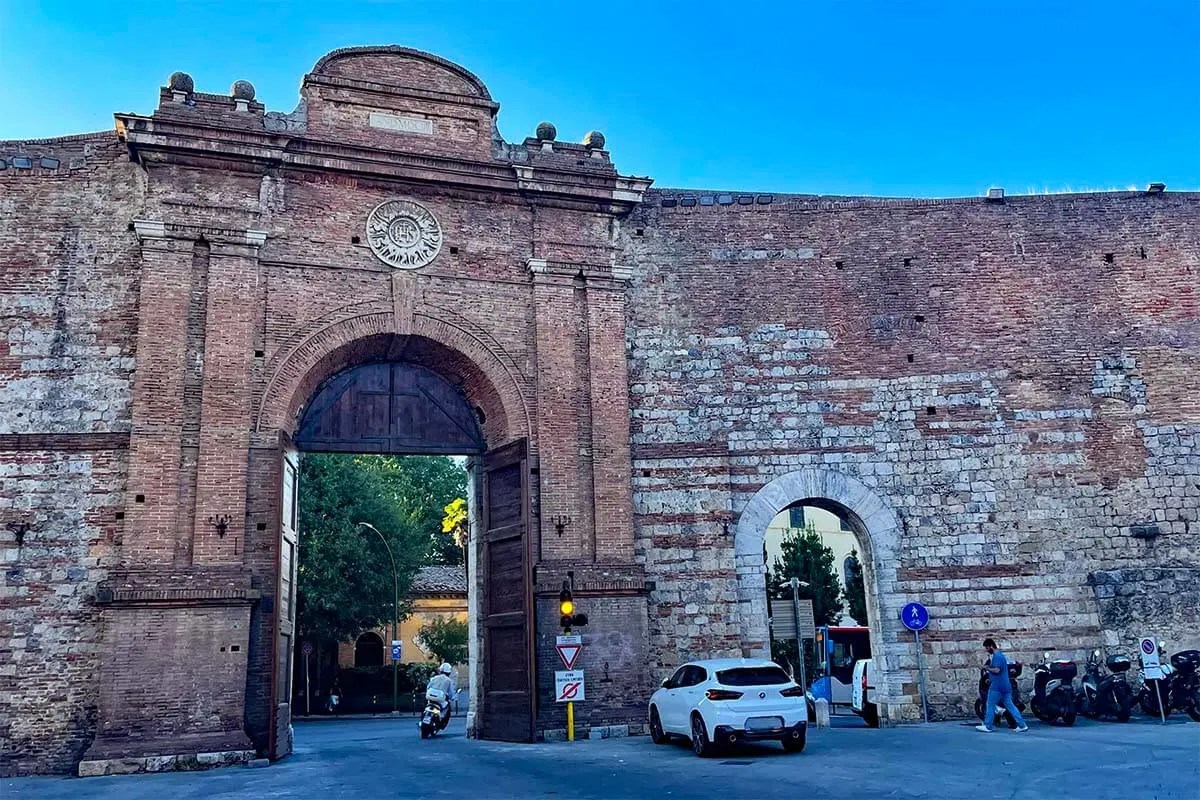 7. Basilica Cateriniana San Domenico
The Church of San Domenico is located on the western side of the city center, about 10 minutes walk from Piazza del Campo, but quite off the main tourist routes.
It is referred to as St. Catherine's church in honor of the saint who was born in the city in 1347 and canonized in 1461. Bizarrely, the building contains her mummified head and thumb, both of which are enclosed in a gilt case.
The church itself has quite a strange appearance, having been added to and altered many times over the years. But there are some interesting features to see inside, including the beautifully decorated Chapel of Santa Caterina, paintings of the Madonna and Child, and ornate golden candelabras.
TIP: It's well worth coming over here not only for the church (which is free to visit), but also for the amazing views of the historic center of Siena.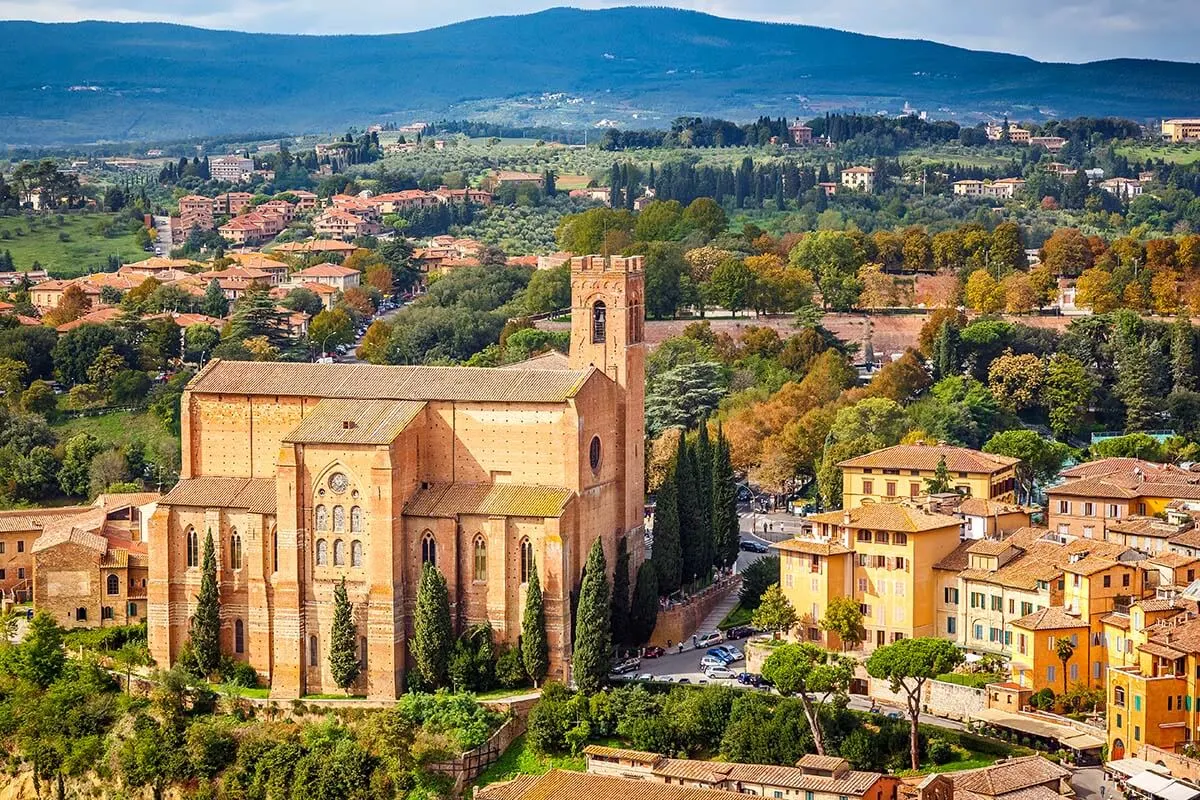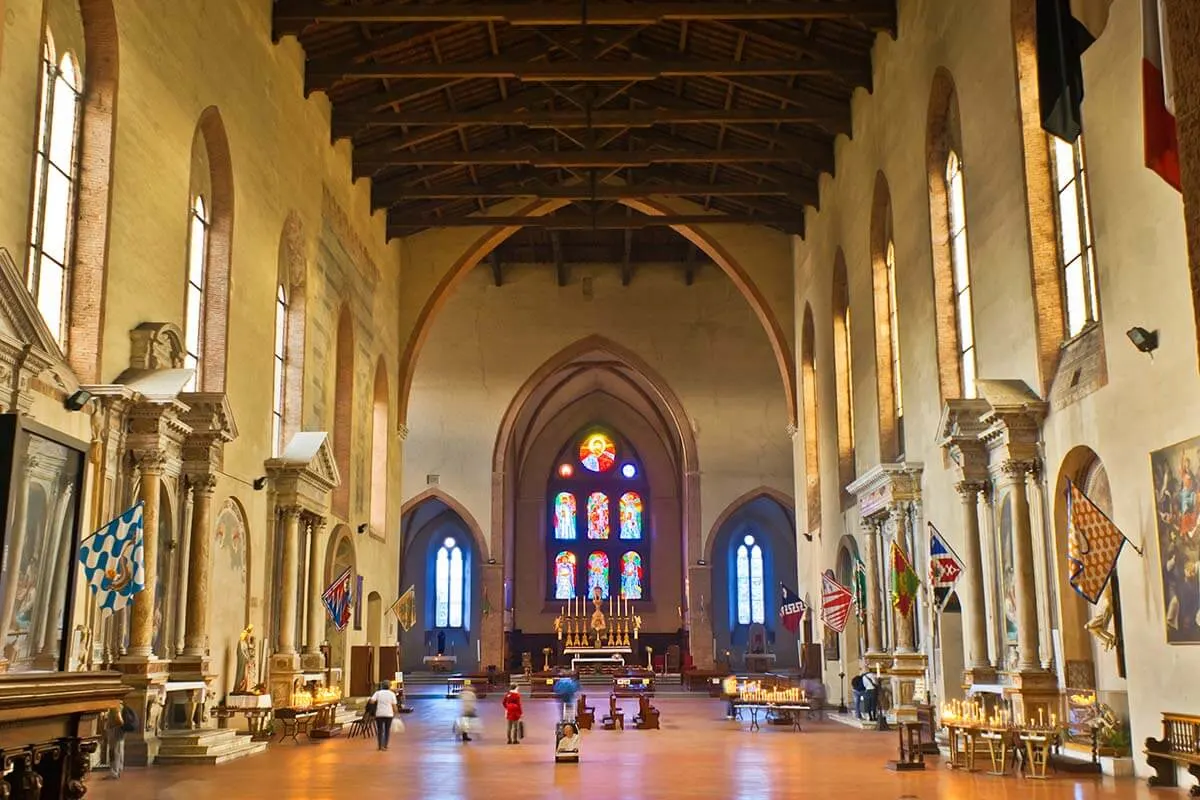 8. Fontebranda
Fontebranda is an impressive medieval fountain located just below the Church of San Domenico at Porta di Fontebranda, another one of the city's remaining gates.
Featuring three large arches, it has a row of 4 lion-shaped heads at the top and an emblem of Siena in the middle. Fed by aqueducts, these days the fountain is filled with crystal clear water in which you can see fish swimming. In the past, however, it had three tanks that would have been used for drinking, for animals, and for washing clothes.
It's pretty cool to stand in the spot where women in medieval times would have gathered to chat and do the family laundry!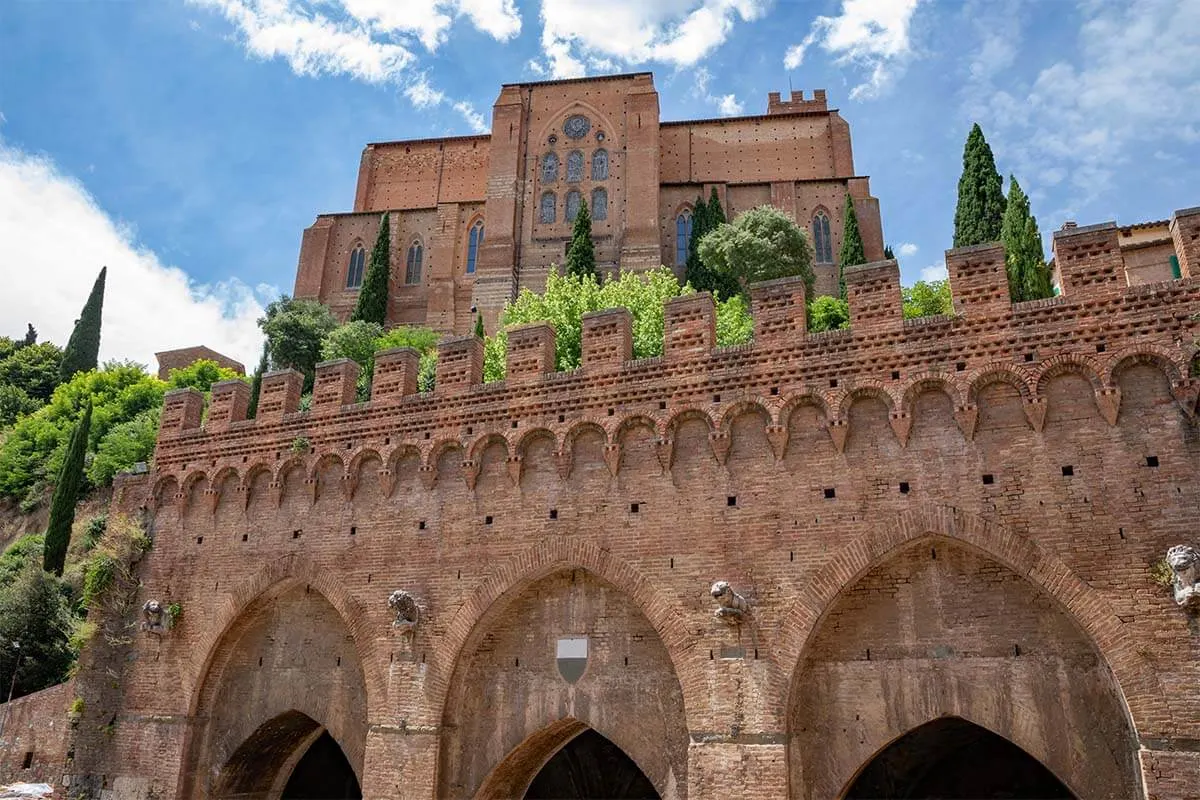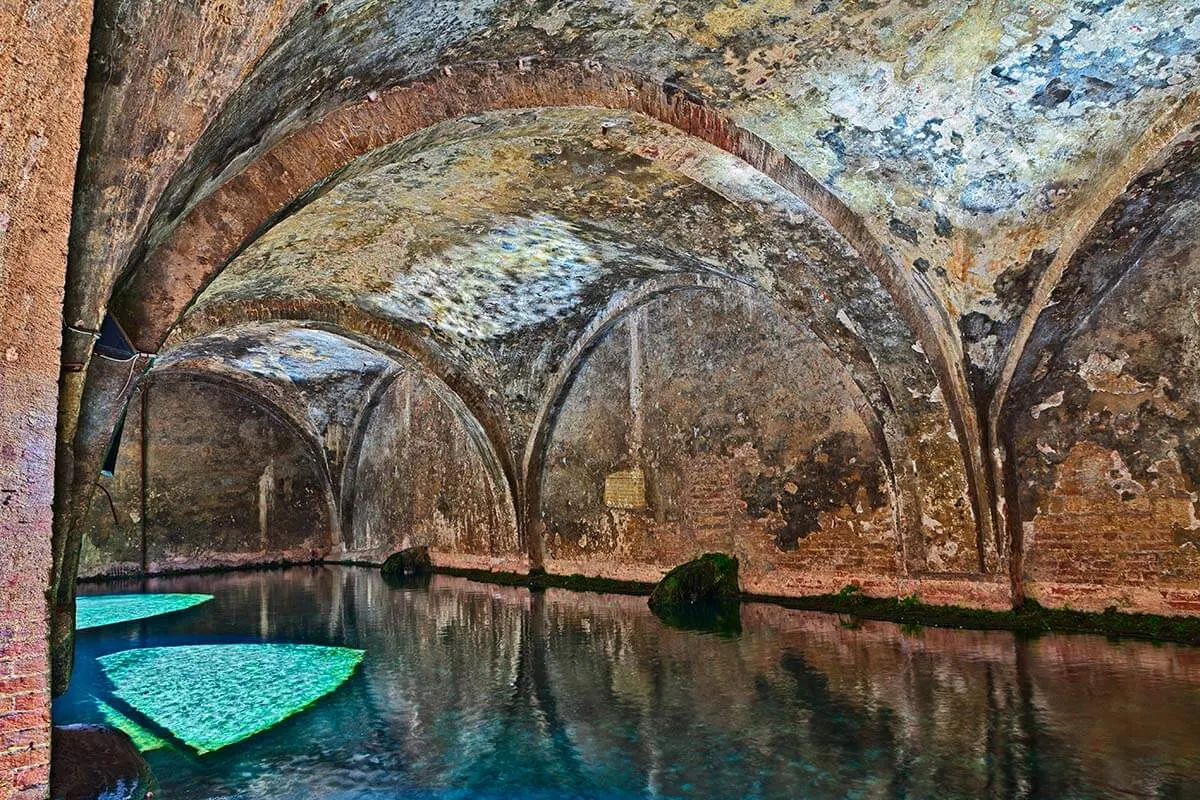 Siena Tours
Here is our hand-picked selection of some of the best tours to consider when visiting Siena:
Historic city walking tours IN SIENA:
Visit SIENA FROM FLORENCE:
READ ALSO: Complete Guide to Visiting Montepulciano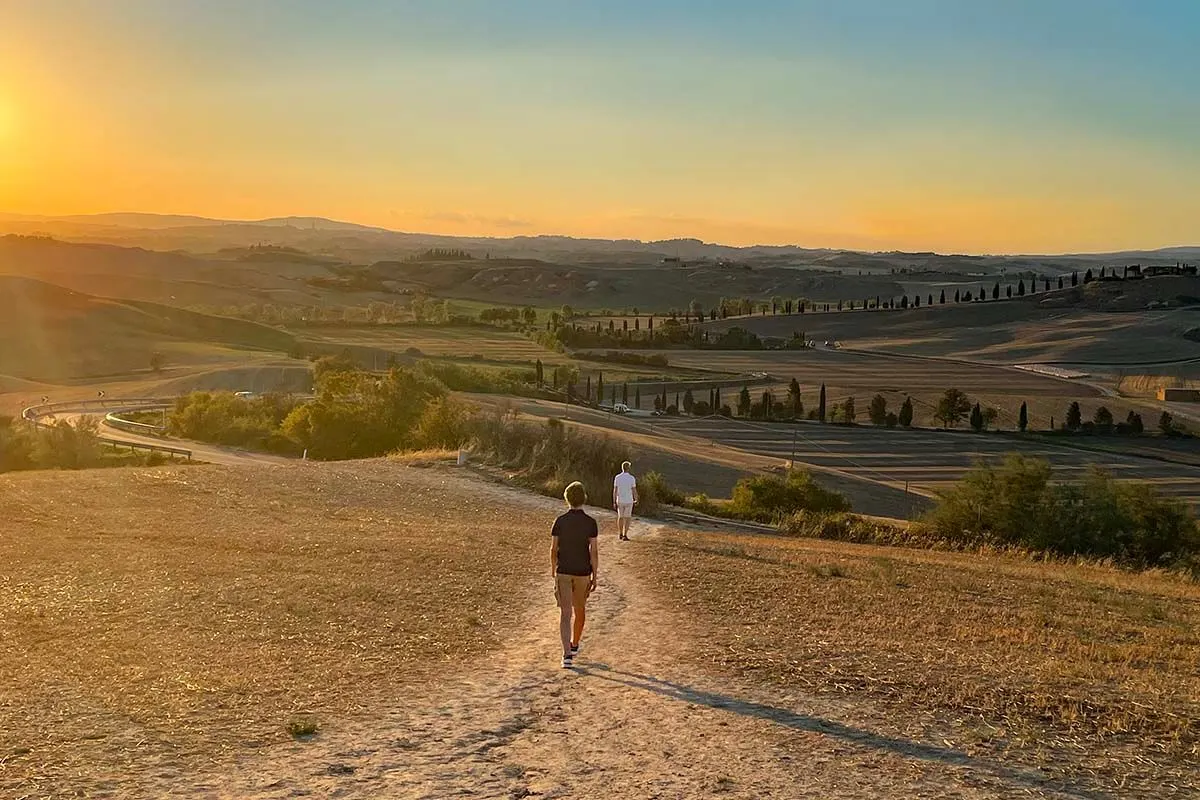 Map of the main Siena attractions
To help you plan your time, we created a map indicating all the best places to visit in Siena mentioned in this guide.
We also indicated several really nice local restaurants. Although, it's really hard to find a bad meal in Tuscany anyway.
You'll also see a few car parkings on our map. Depending on where you are coming from, these are all good options not far from the historic old town. Keep in mind that parking in Siena can be challenging, especially if you are visiting later in the day or on a weekend. Patience is key!
Good to know: Siena is a very hilly town and many places are interconnected by escalators. This is the case at a few of the best car parks too, and also at the railway station. Be sure to locate those escalators and you'll reach the center much faster.
Itinerary
Here's a brief sample itinerary for the best of Siena in half a day to a day:
Arrival at the railway station (you can also start here if visiting by car).
Enter the city at Porta Camollia and walk the entire length of Via Camollia, Via dei Montanini, and Via Banchi di Sopra all the way to the main town square.
Stop for coffee and traditional pastries at Pasticceria Nannini Conca D'Oro.
Piazza del Campo:

Palazzo Pubblico (visit inside!),
Torre del Mangia (climb the tower if you can get tickets, or buy the tickets for later),
Fonte Gaia.

Walk on Via di Città to Piazza del Duomo.
Duomo Complex:

Cathedral + Piccolomini Library (a must-see).
Opera Museum + Faciattone terrace (highly recommended).
Baptistery.
The Crypt.
Gate to Heaven (recommended, but do book in advance if you want to do this).

OPTIONAL. Visit one or a few of the city gates. If you have little time, Fontebranda and the Church of San Domenico are probably the easiest to see (closest to the center).
Have lunch/dinner in the city center or on the way back towards the station (see our map for some restaurant recommendations).
Good to know: Depending on where you arrive and what exactly you choose to see and do, you could see the best of Siena in about 4-5 hours. Needless to say, you can easily adjust this itinerary and start at any other point in the city, depending on where you arrive (or where your accommodation is located).
If you have an entire day in the city, spend more time exploring the main attractions, doing some shopping, or walking to the city gates that are located somewhat further away. Also, be sure to have at least one good meal at a traditional Tuscan restaurant.
TIP: With more time and for something a bit more local, visit the community garden Orto de' Pecci. Comprising a public garden, small farm, and pizzeria, it is maintained by a local co-operative and uses home-grown ingredients on its delicious wood-fired pizzas. It feels like a little piece of countryside in the heart of the city and makes a great place to stop for lunch.
READ ALSO: Traditional Italian Food (dishes by region)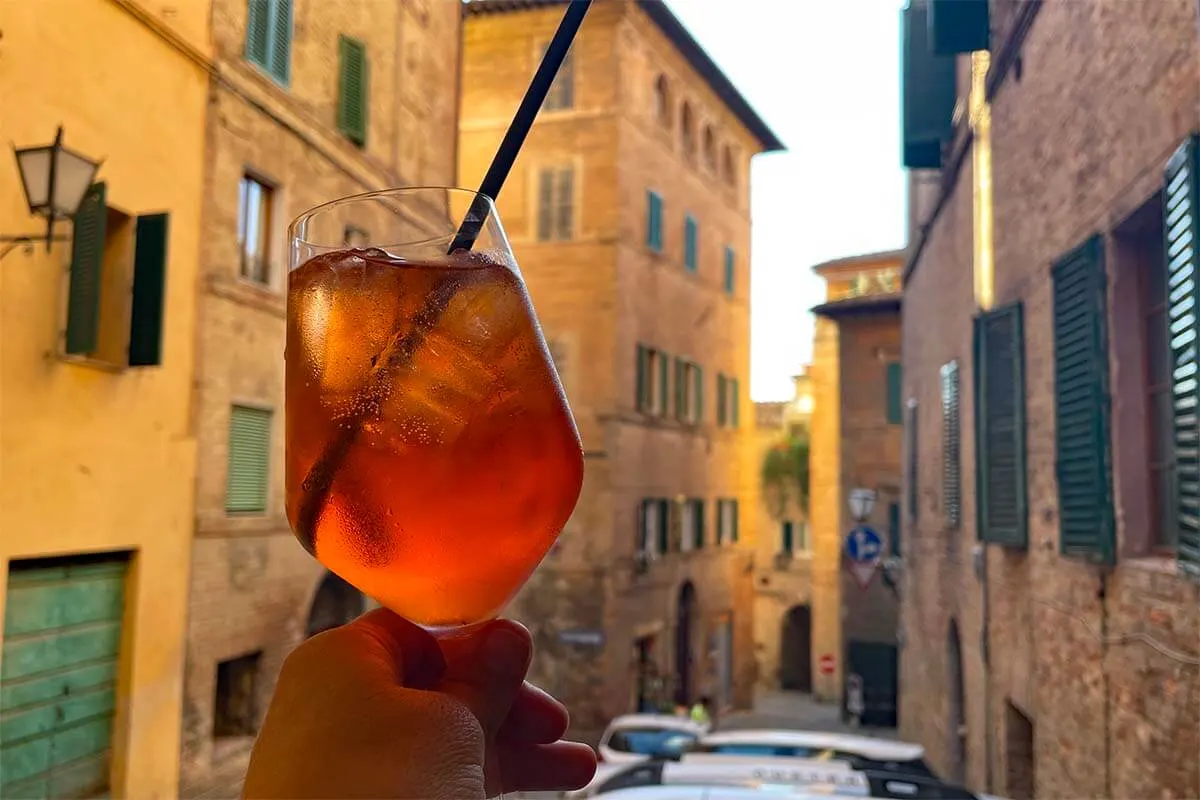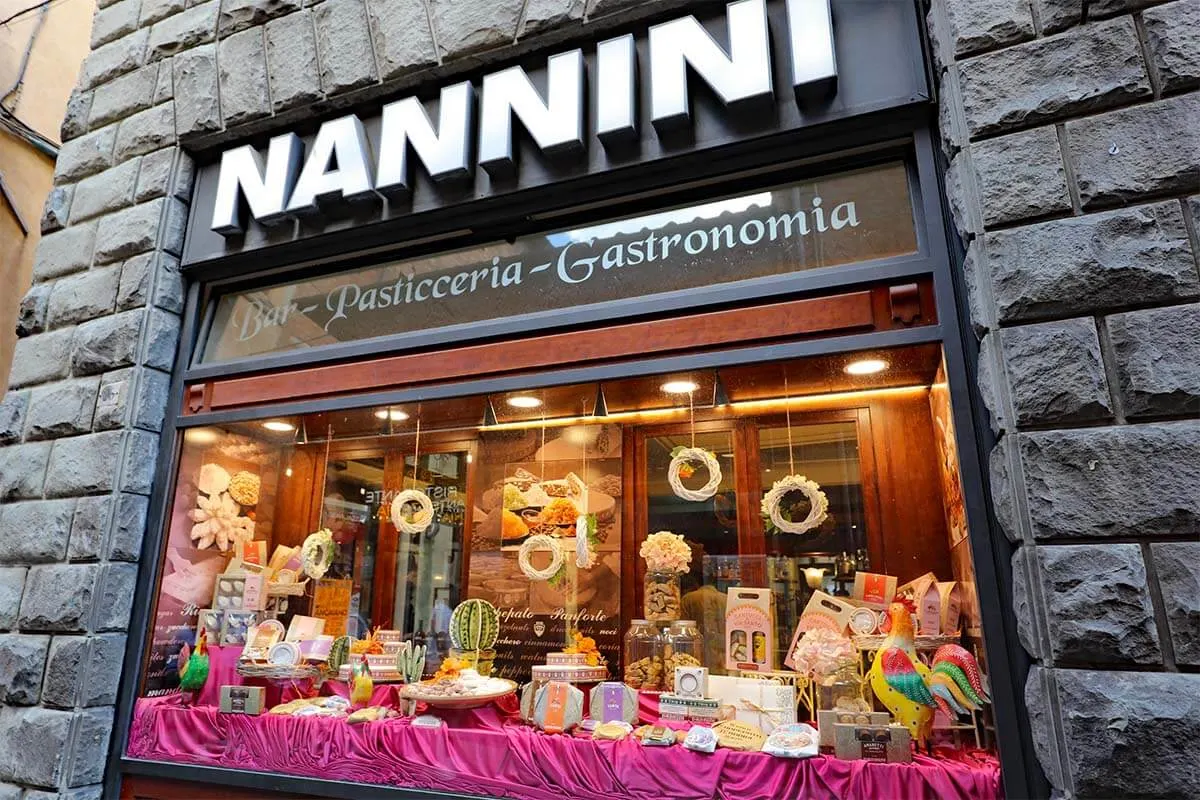 Practical info & tips
Getting to Siena. You can easily reach Siena by train from Florence or other bigger cities in Italy. If you have a car, you can easily drive to Siena, just don't attempt to drive in the historic old town. We indicated several suggested car parks on our map.
Where to stay. While most tourists just visit Siena for (half) a day, it's a beautiful place to spend a night or even a few. For the most unique experience, stay in the historic city center. Here are some recommended hotels for all budgets:
Where to eat. As already mentioned, it's difficult to have a bad meal in Tuscany, and Siena is not an exception. You'll find some really nice (and not expensive) restaurants in the historic old town. Try to check customer reviews on the internet before you enter, especially for the places right at the main tourist hot spots. We indicated quite a few good traditional Tuscan restaurants on our map above.
Good to know: Siena is a hilly town, so depending on where you are coming from/going to, you may have to do some uphill walking. Luckily, the historic city center itself is relatively flat and the tall buildings offer quite some shade in the narrow streets. Because of that, it's surprisingly comfortable to explore Siena even on the warmest summer days. That being said, be sure to pack sun protection and always carry a refillable water bottle if visiting Tuscany in the summer!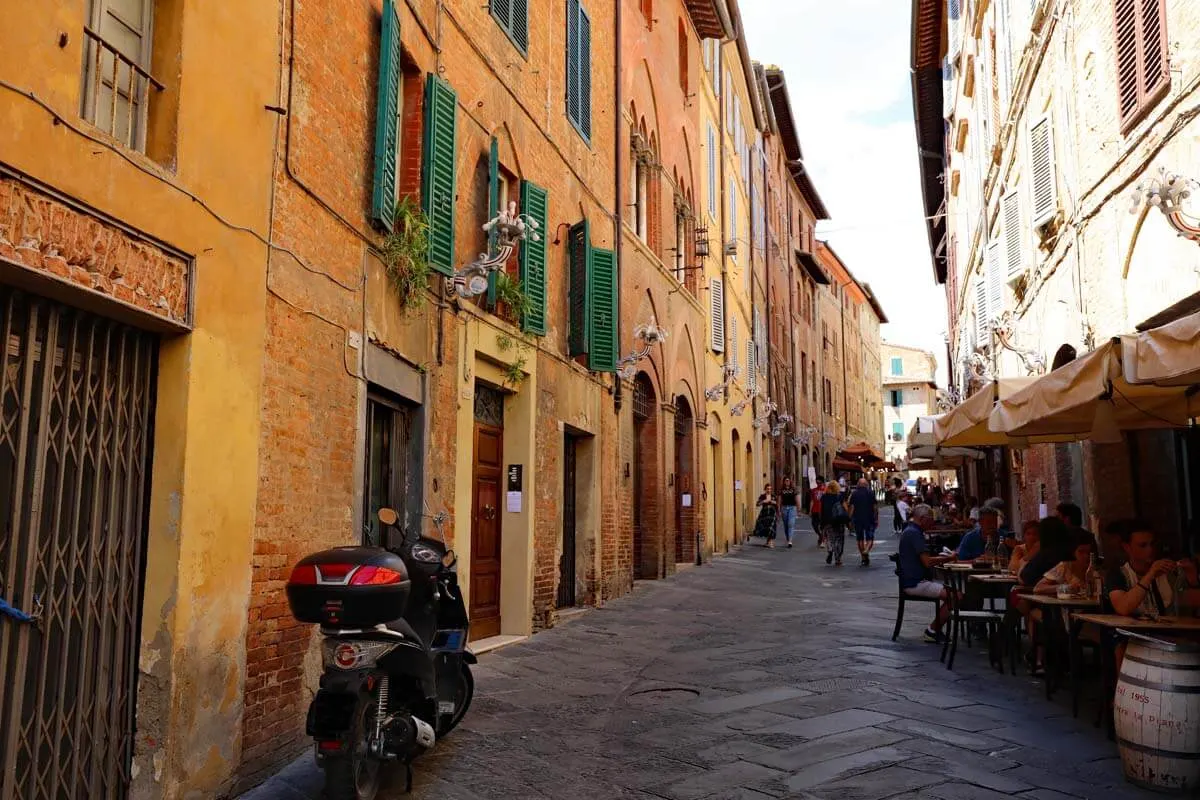 Siena FAQ
What are the must-see places in Siena?
The must-sees in Siena are Piazza del Campo with Palazzo Pubblico and Mangia Tower, the historic old town, as well as the Duomo Complex.
Is Siena worth visiting?
With the entire historic old town designated as a UNESCO World Heritage Site, Siena is absolutely worth visiting. It's not just one of the most beautiful cities in Tuscany, but also in the whole of Italy.
How much time do you need in Siena?
If you want to quickly see the main sights and landmarks in Siena, you need at least 1-2 hours. If you also want to visit the Duomo Complex and Palazzo Pubblico inside and explore the old town a bit more, we recommend planning at least 4-5 hours for Siena. But the city is also well located for exploring more of Tuscany, and so you can easily spend a few days in Siena and its surroundings.
Is Siena a walkable city?
Despite being located in a very hilly area, the historic old town of Siena is relatively flat. It's located on a hill and offers some nice views of the surrounding city and the countryside. Keep in mind that Siena has lots of cobbled streets and so sensible footwear is recommended. You can bring a stroller too, but we recommend all-terrain strollers with large wheels.
Which is better: Florence or Siena?
Both Siena and Florence are beautiful historic cities that are worth visiting. However, they are also quite different – Siena is smaller and has a very cozy medieval old town, while Florence is a much bigger city with some of the best renaissance art and architecture. In terms of sightseeing, Florence has incomparably more to offer than Siena. While you can see the best of Siena in a few hours, you can easily spend several days exploring Florence.
What do you have to prebook in Siena?
It's best to pre-book Siena Cathedral tickets in advance. If you are staying in the city, be sure to reserve your accommodation in advance as well!
READ ALSO: Best Things to Do in Florence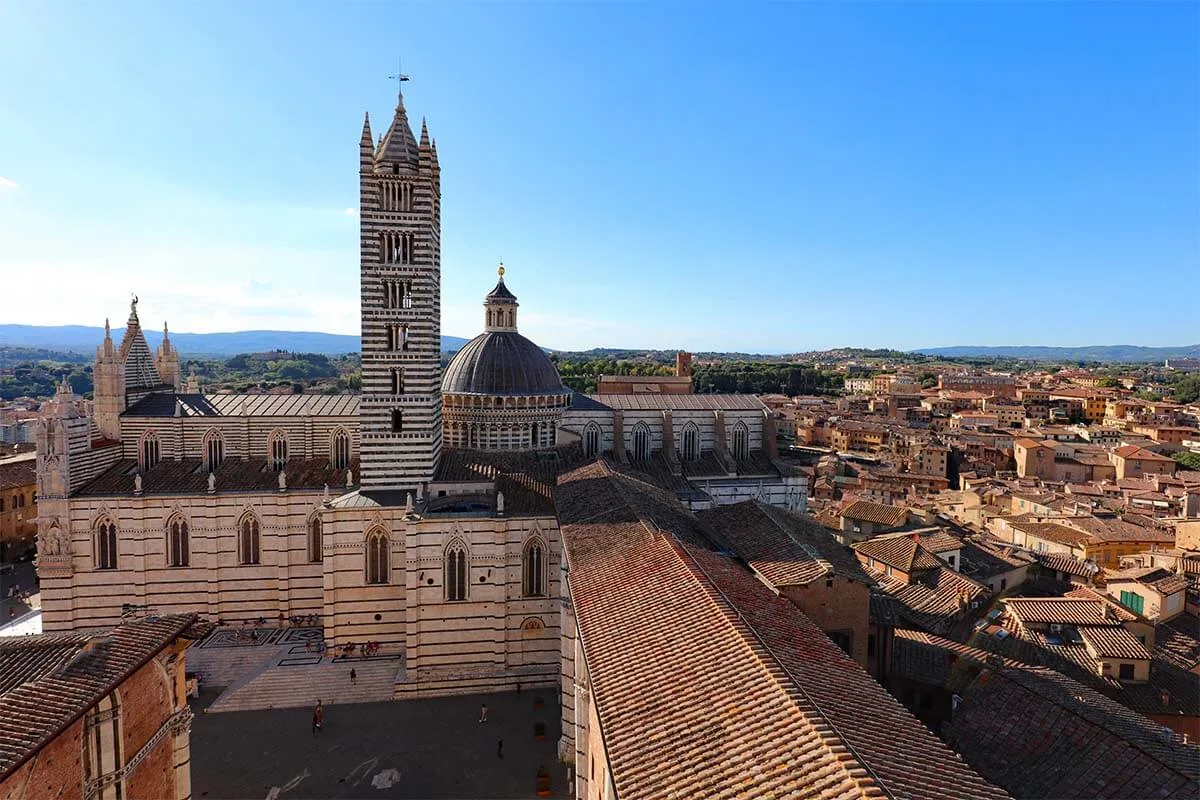 So, this is our guide to the best of Siena for your first visit.
Visiting Siena is like taking a step back in time to medieval Tuscany. I hope you have found this guide to the city's main attractions helpful and that you have the most wonderful time in Siena!
TIP: You may also like to take a look at our other guides for this beautiful part of Italy:
Florence:
More of Tuscany:
Emilia Romagna:
San Marino:
If you found this post useful, don't forget to bookmark it and share it with your friends. Are you on Pinterest? Pin these images!