Thinking of visiting Ravenna in Italy and wondering what there's to see and do in Ravenna and whether it's worth a trip? This guide should give you a good idea of what to expect and help you plan your visit.
The beautiful city of Ravenna is located on Italy's eastern coast. One of the larger cities in the Emilia-Romagna region, it was once the capital city of the Western Roman Empire and later became the capital of the Ostrogothic Kingdom.
Its impressive past has certainly left its mark; Ravenna is packed with sites of cultural and historical importance. Its architecture – and the incredible mosaics for which the city is famous – are beautifully preserved and Ravenna boasts 8 UNESCO World Heritage Sites. Ravenna is also known as the city of Dante Alighieri.
Furthermore, Ravenna is in easy reach of scenic coastal areas and the area also has several fun attractions, also for families with kids…
Despite being located close to Bologna, Siena, and Florence, Ravenna is the lesser-known of Italy's most beautiful cities, which makes it far quieter to visit and with a more authentic atmosphere.
In this guide, you can read about the VERY BEST things to see and do in Ravenna. We cover all the musts for first-time visitors, but also a few of the most popular attractions for those of you who have a bit more time in the area.
We also created a map of the main landmarks of Ravenna and included some helpful tips for visiting each attraction. You can find all this information at the bottom of this article.
Take a look!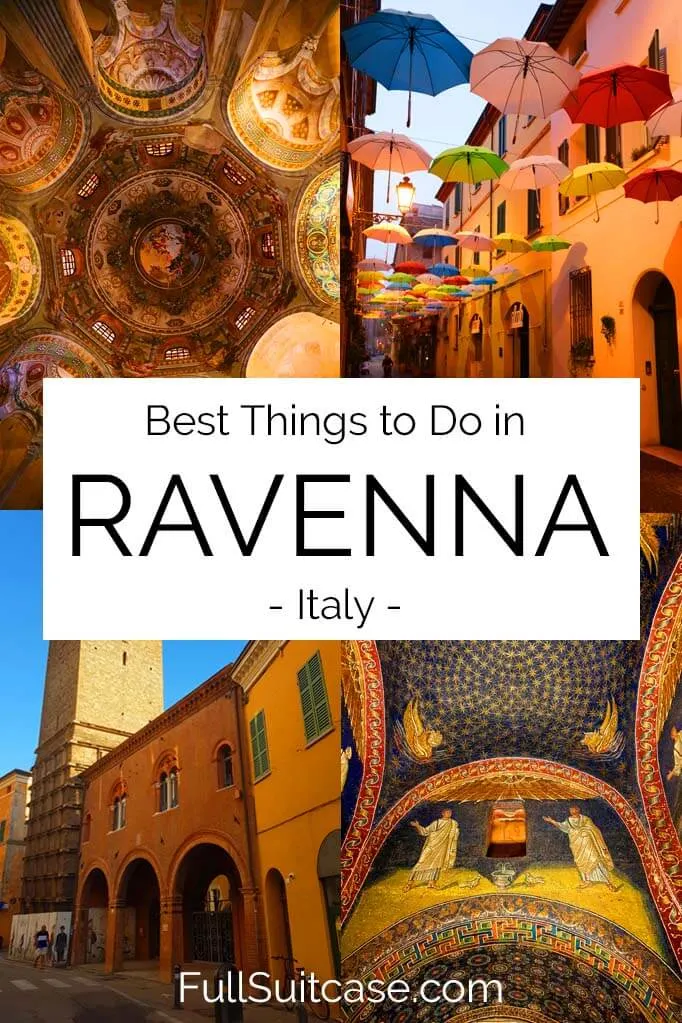 These are the best places to see and things to do in Ravenna:
1. Basilica di San Vitale
Basilica di San Vitale is a UNESCO World Heritage Site and one of Ravenna's most popular attractions. This 6th-century domed octagonal church might look rather simple from the outside, but once you step inside, you'll see that this place alone makes a visit to Ravenna more than worth it. The mosaics here are among the most beautiful in the world!
Even if religious sites are not typically your thing, you cannot fail to be impressed by the Christian Byzantine art, frescos, and the incredibly detailed mosaics of Basilica di San Vitale! It's one of the most beautiful churches in Italy (and that really says it all)!
Indeed, every surface of the church is adorned with intricate decoration and you'll see images of religious figures and scenes on every wall and arch. Pictures really cannot do it justice and the Basilica is absolutely a must-see for anyone visiting Ravenna.
The building also has incredible acoustics, making it the perfect venue for regular concerts. If you are lucky enough to be visiting in June, you may be able to catch one as part of the Ravenna Festival.
Practical information: Basilica di San Vitale is open daily except on Christmas and New Year. The same ticket also gives you access to the Basilica of Sant'Apollinare Nuovo and the Archiepiscopal Museum. At an additional charge, you can also visit the Neonian Baptistery and Mausoleum of Galla Placidia. For more information, opening times, and online tickets see the official website.
Good to know: Be sure that your knees and shoulders are covered when visiting any religious sites in Ravenna (or anywhere in Italy for that matter).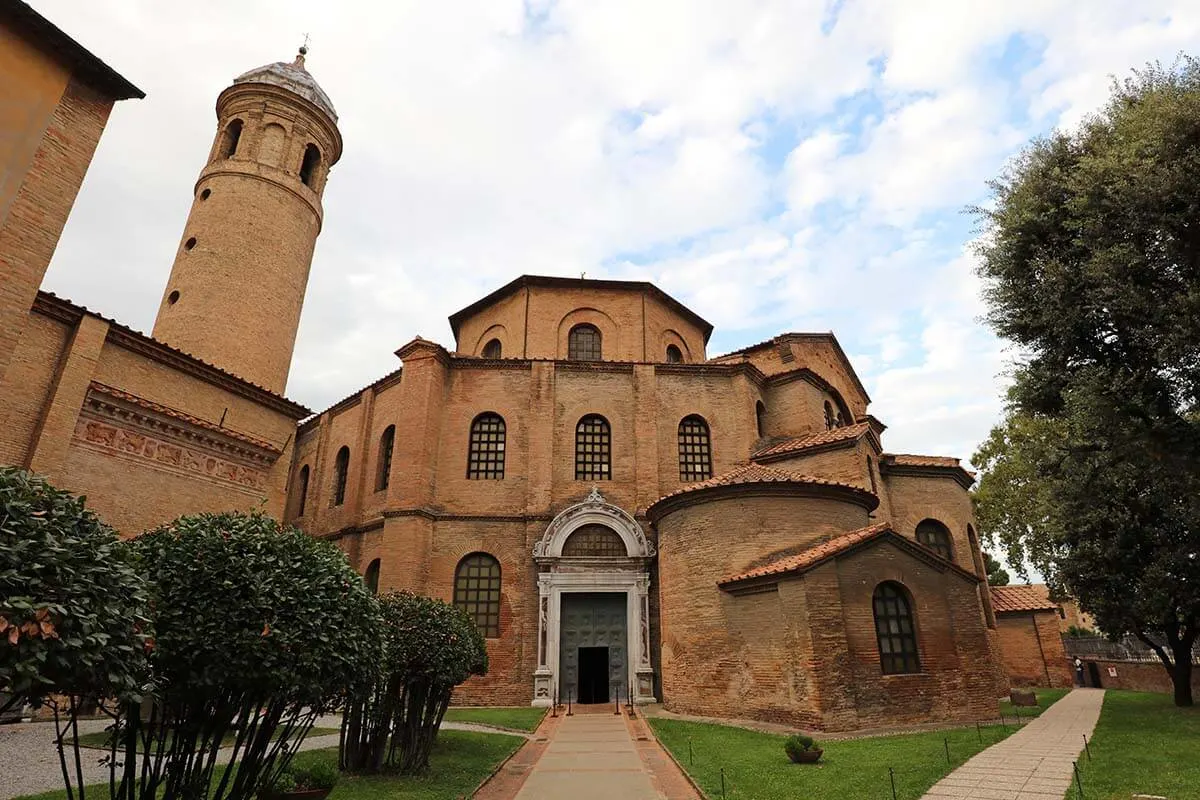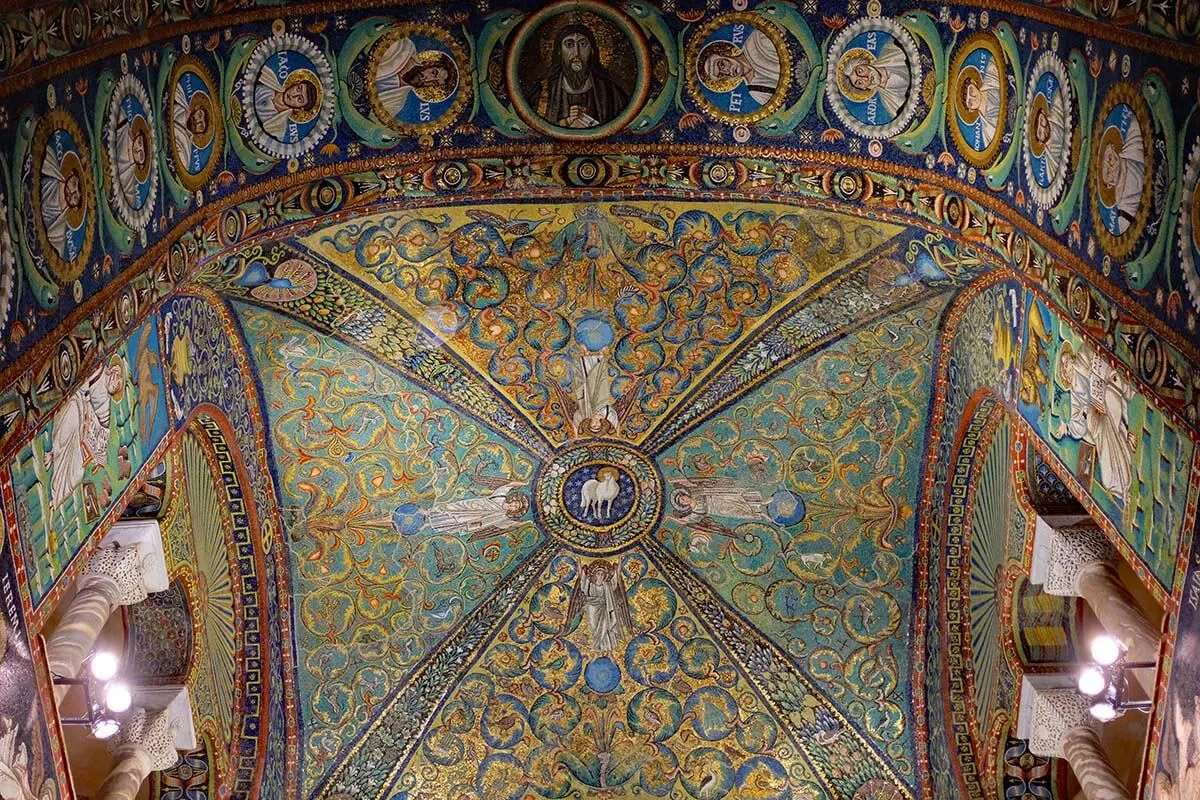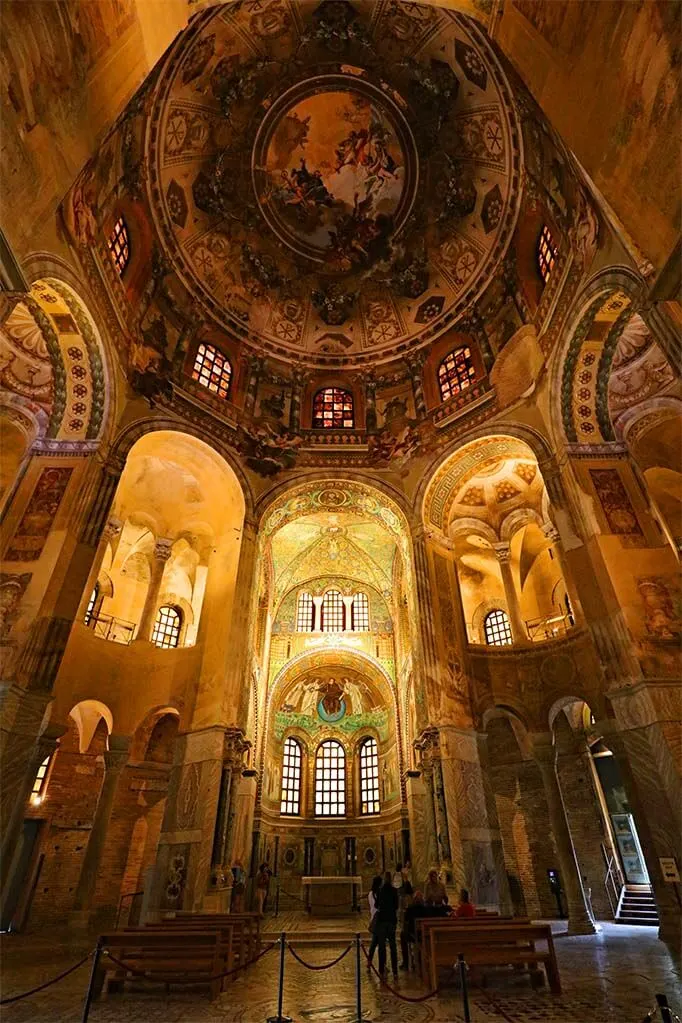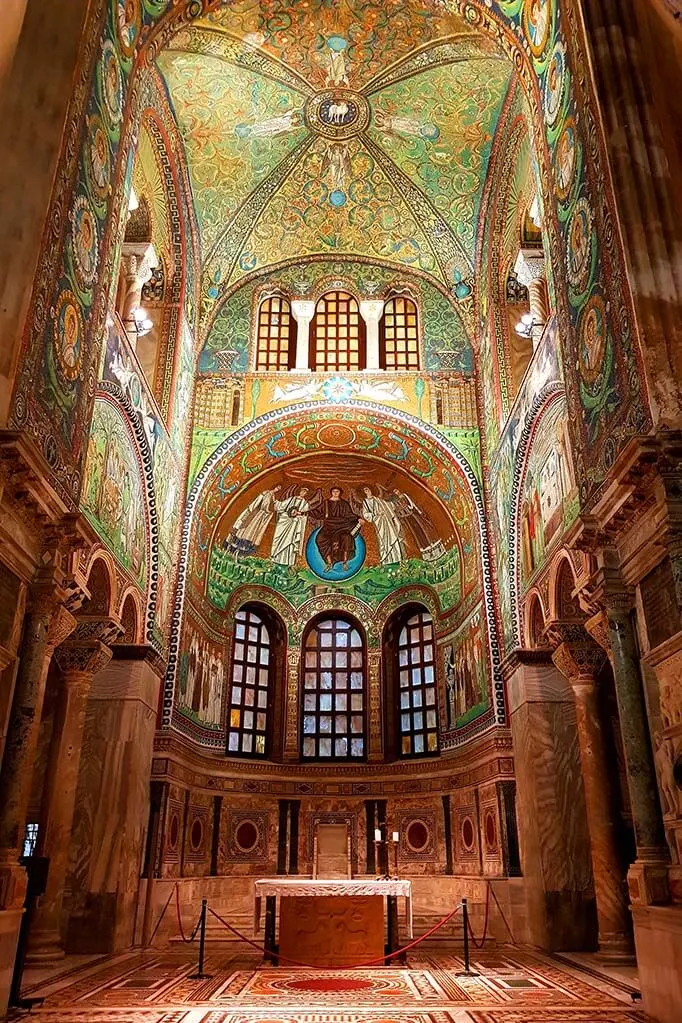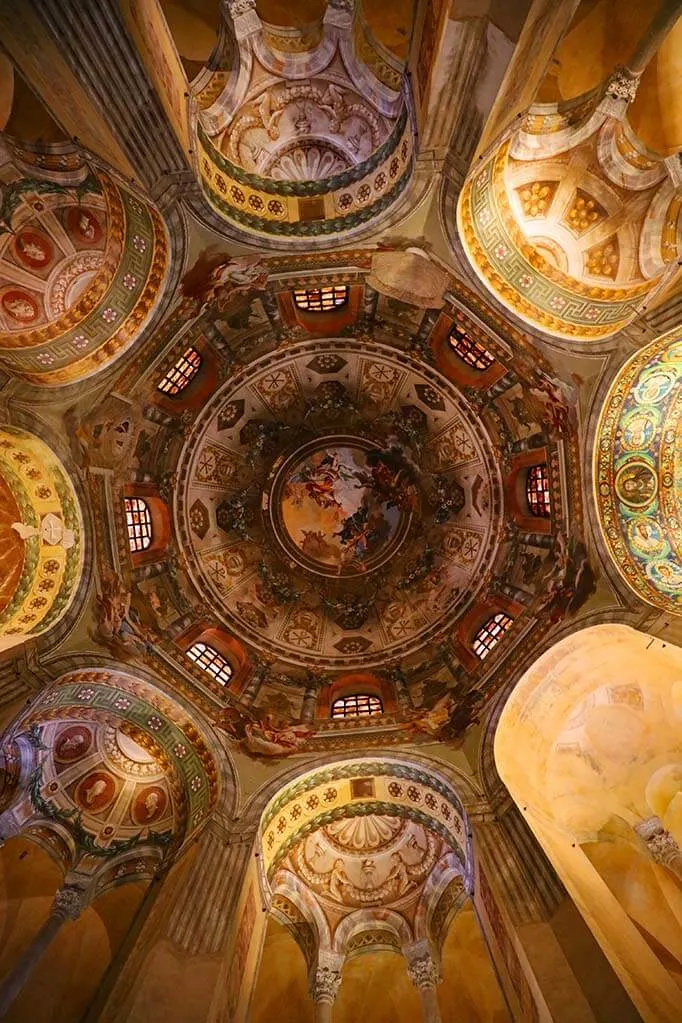 2. Mausoleo di Galla Placidia
Located on the grounds of the Basilica di San Vitale, this 5th-century mausoleum is dedicated to Galla Placidia, the daughter of the Roman Emperor Theodosius I. At one point, she was the regent of the Western Roman Empire.
A simple red-brick structure, Mausoleo di Galla Placidia is artistically perfect. And considering that it was constructed some 1500 years ago, it is in almost immaculate condition. The mosaics inside this tiny mausoleum will take your breath away! And because the Mausoleum is so small, the mosaics are very close to you allowing you to admire their incredible details!
The Mausoleum of Galla Placidia achieved UNESCO World Heritage status because of the exceptional beauty of its 5th-century mosaics. The citation at the time described them as 'the earliest and best-preserved of all mosaic monuments'. Indeed, their colors remain incredibly vivid and the ceilings and walls seem almost to glow with their vibrancy.
One of the highlights is the image of Christ as the Good Shepherd surrounded by a herd of mosaic sheep. You can also see the animals representing the four Evangelists – the lion, eagle, ox, and angel.
The mausoleum contains three marble sarcophagi, which are believed to be those of Galla Placidia, her husband, and her son.
Good to know: Because of its small size, the number of visitors to the mausoleum is limited. Nowadays, if you want to be sure to visit inside, it's best to book a time slot in advance, especially if traveling to Ravenna in the high season.
TIP: If you are short on time and want to see the best mosaics of Ravenna and learn the history behind them, join this highly-rated tour with a local guide and let them take care of all the tickets to some of the main landmarks in Ravenna. This tour is amazing and offers very good value for not much money.
Alternatively, you can also opt for this highly-rated private tour which gives you more flexibility.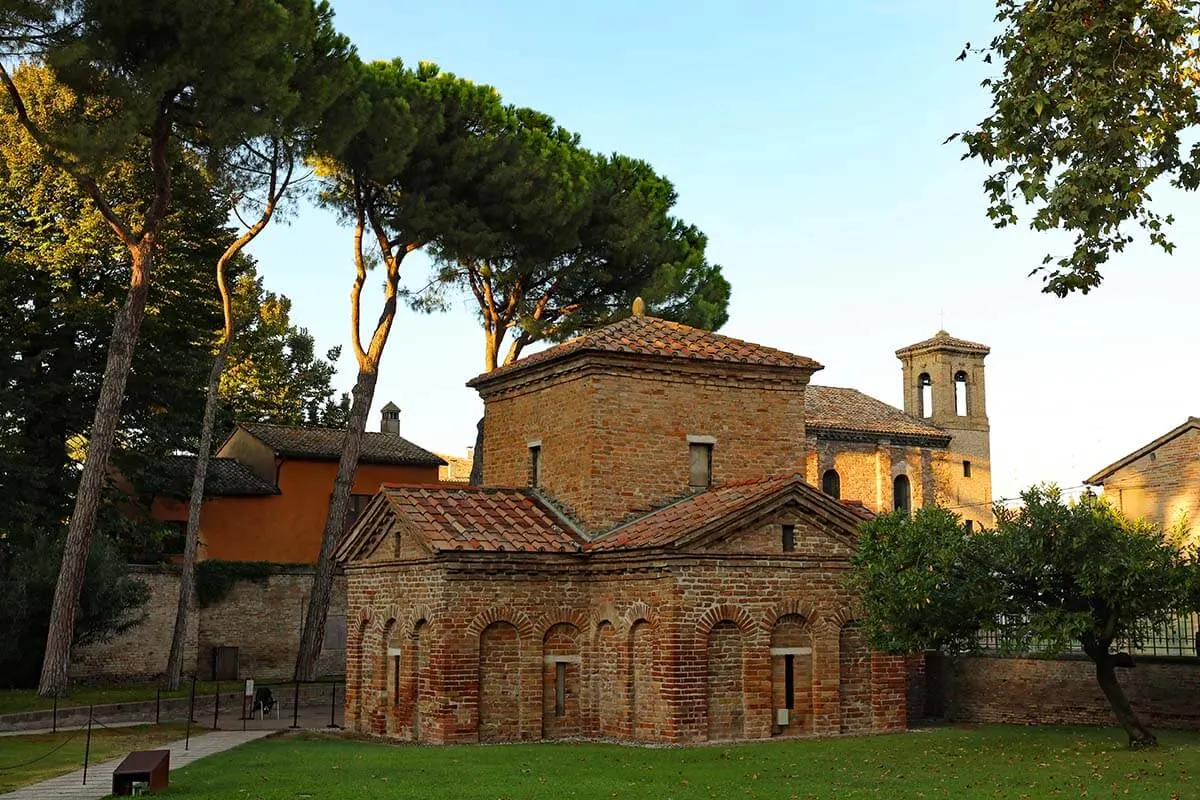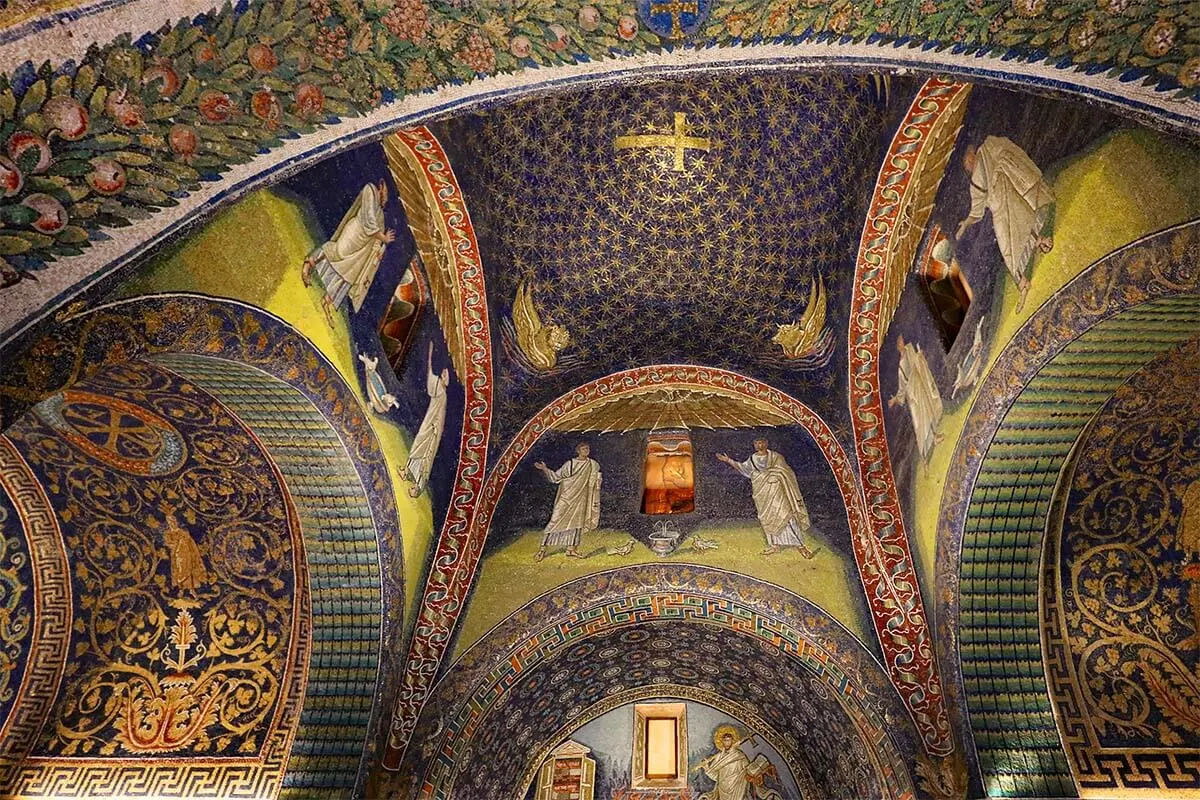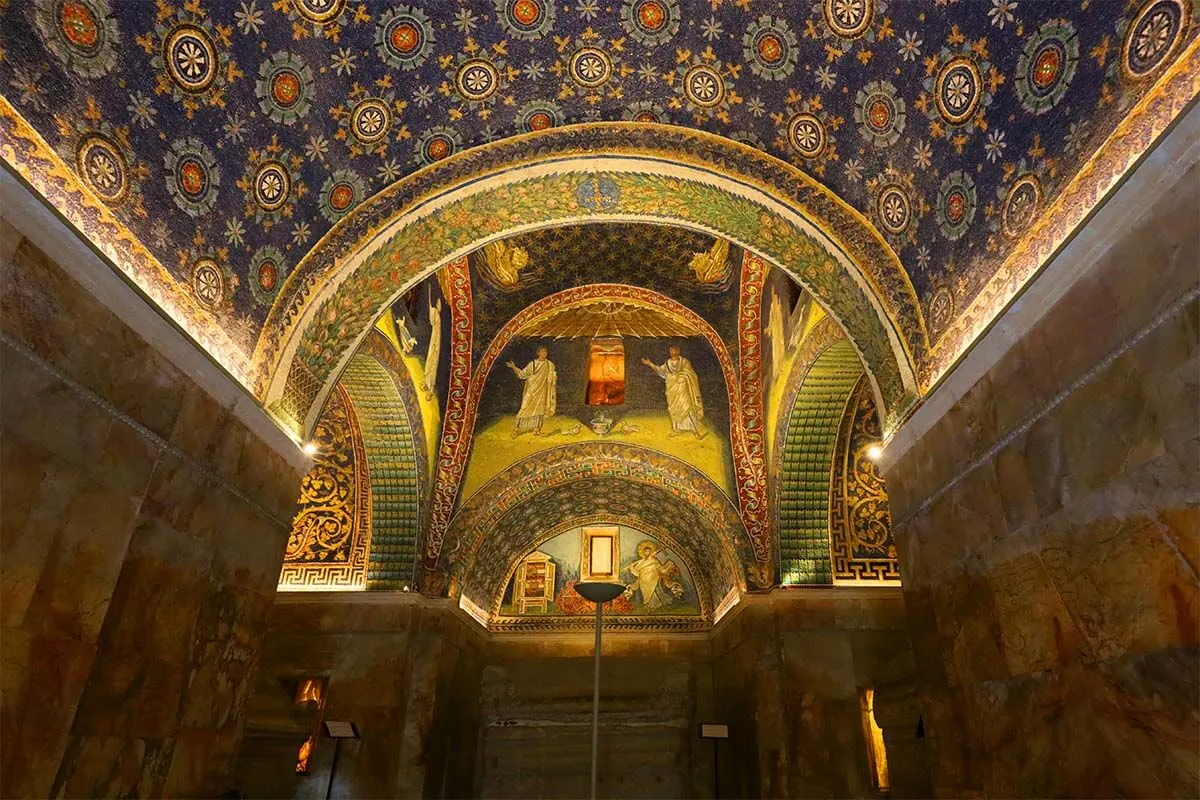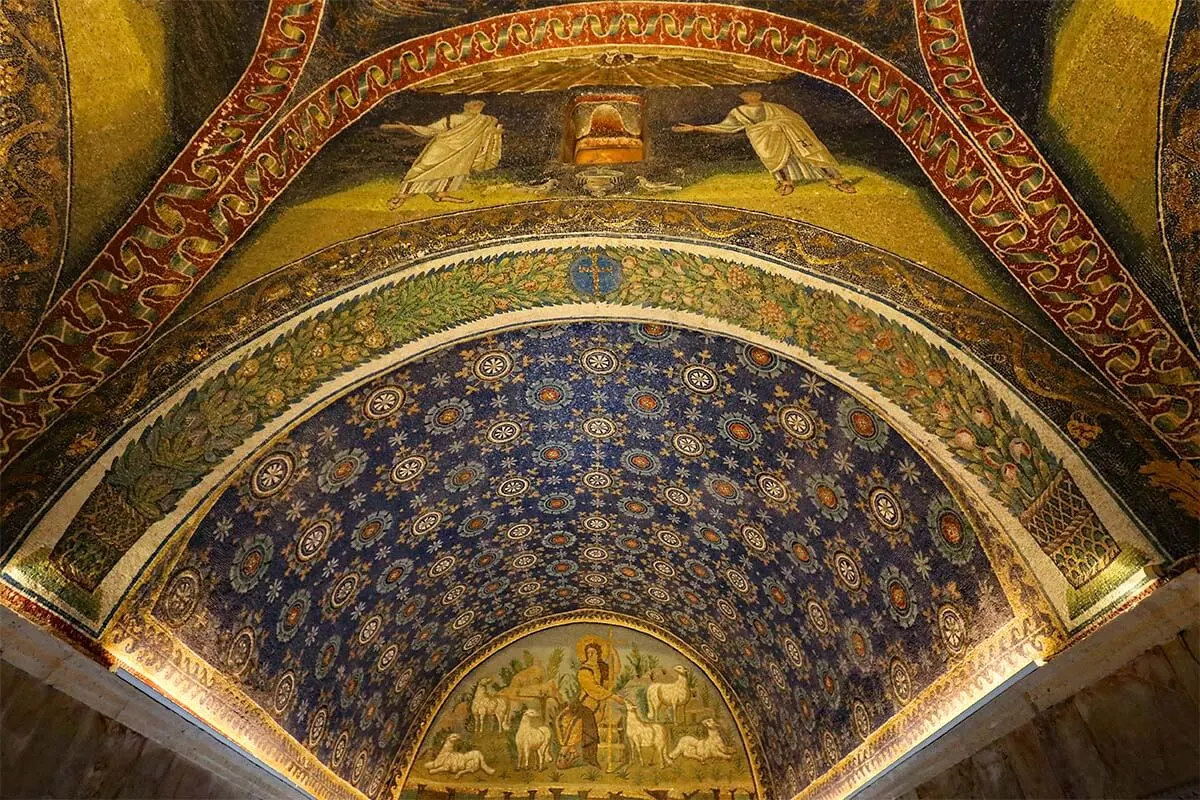 3. Basilica di Sant'Apollinare Nuovo
Basilica of St Apollinare Nuovo is an ancient palace-church located in the eastern part of Ravenna's historic old town. It was built by King Theodoric the Great at the beginning of the 6th century and dedicated to Christ the Redeemer.
The first thing you will notice is its rather unusual bell tower (which cannot be visited). Added in the 10th century, it is tall and thin, with many rows of windows.
As you walk inside the Basilica through the front entrance decorated with stone arches, you'll find more of Ravenna's precious mosaics, many depicting Biblical miracles. The walls on both sides of the long nave are beautifully decorated too, with mosaics of ships in the Roman port of Classis on one side, and scenes from Ravenna on the other.
TIP: Be sure to visit the cloisters where there are exhibits showing how mosaics are created. Along with seeing the different materials and techniques used, there are also samples of the many of the gradations of color with which artists work.
Practical information: Just like the other main 'mosaic-landmarks' in Ravenna, the Basilica of St Apollinare Nuovo is open daily except for Christmas and New Year's Day.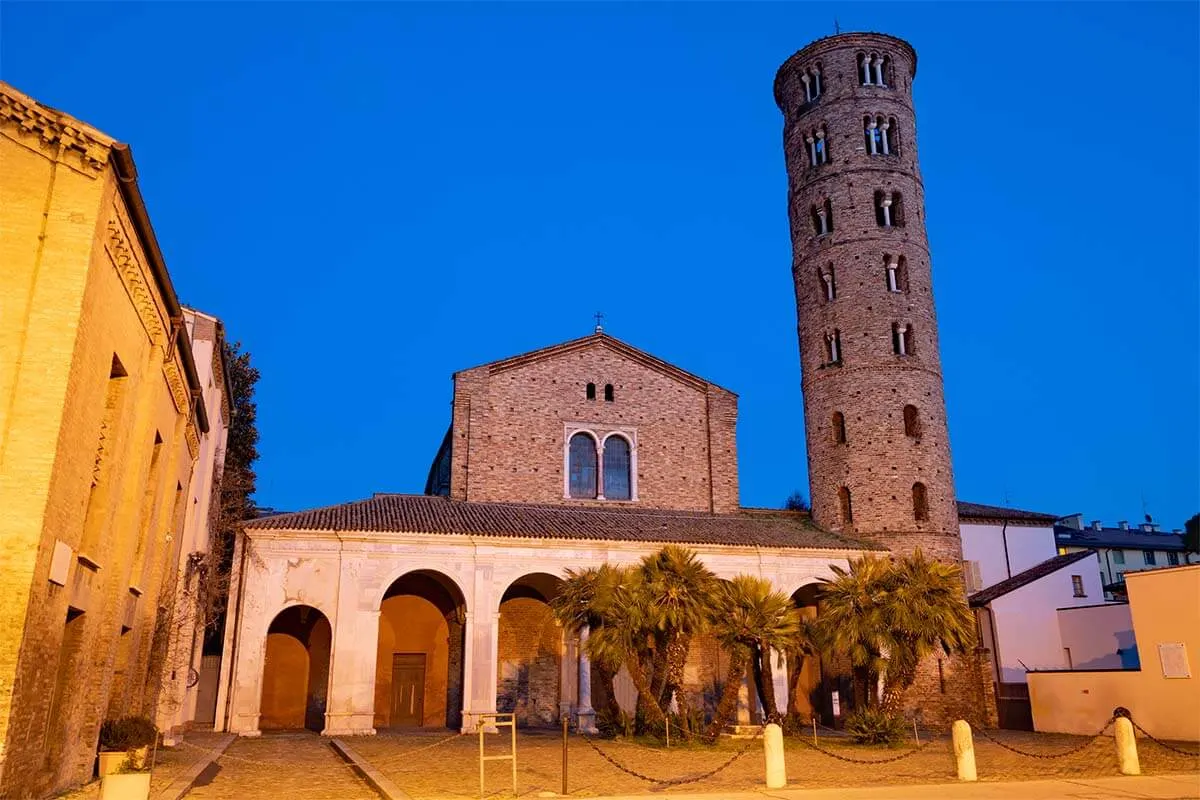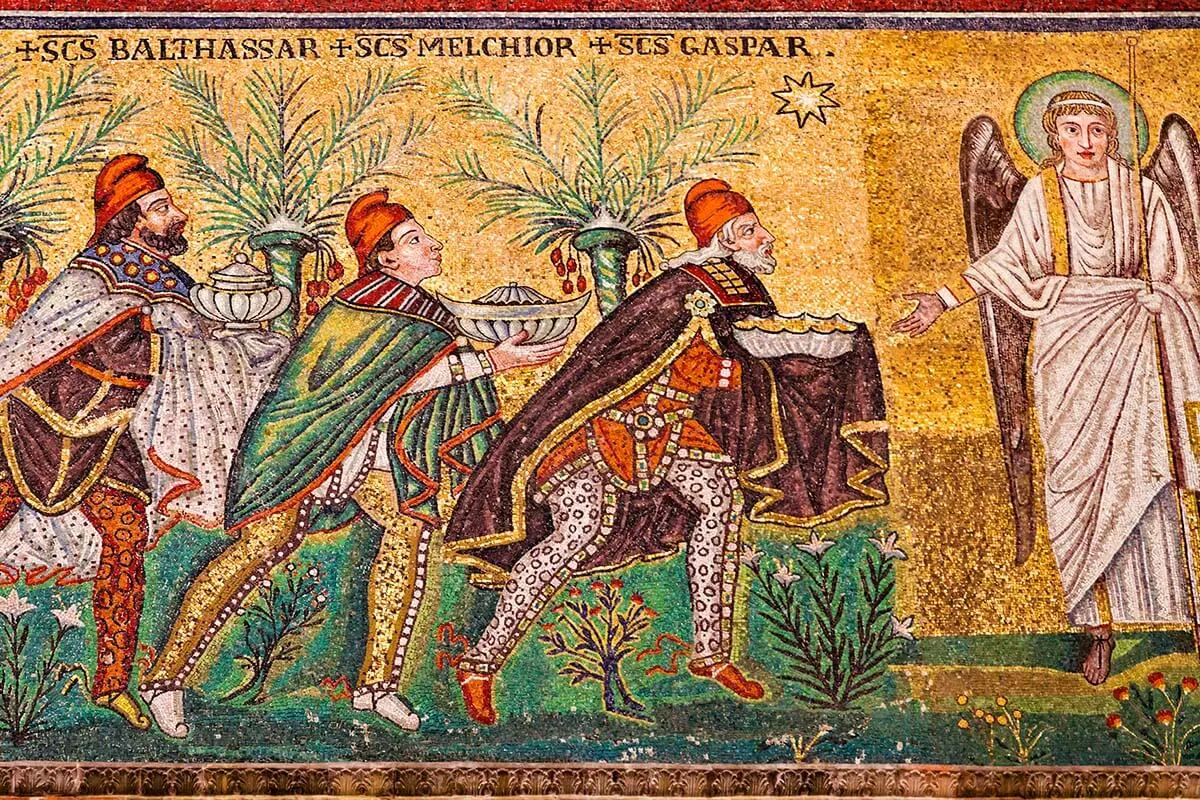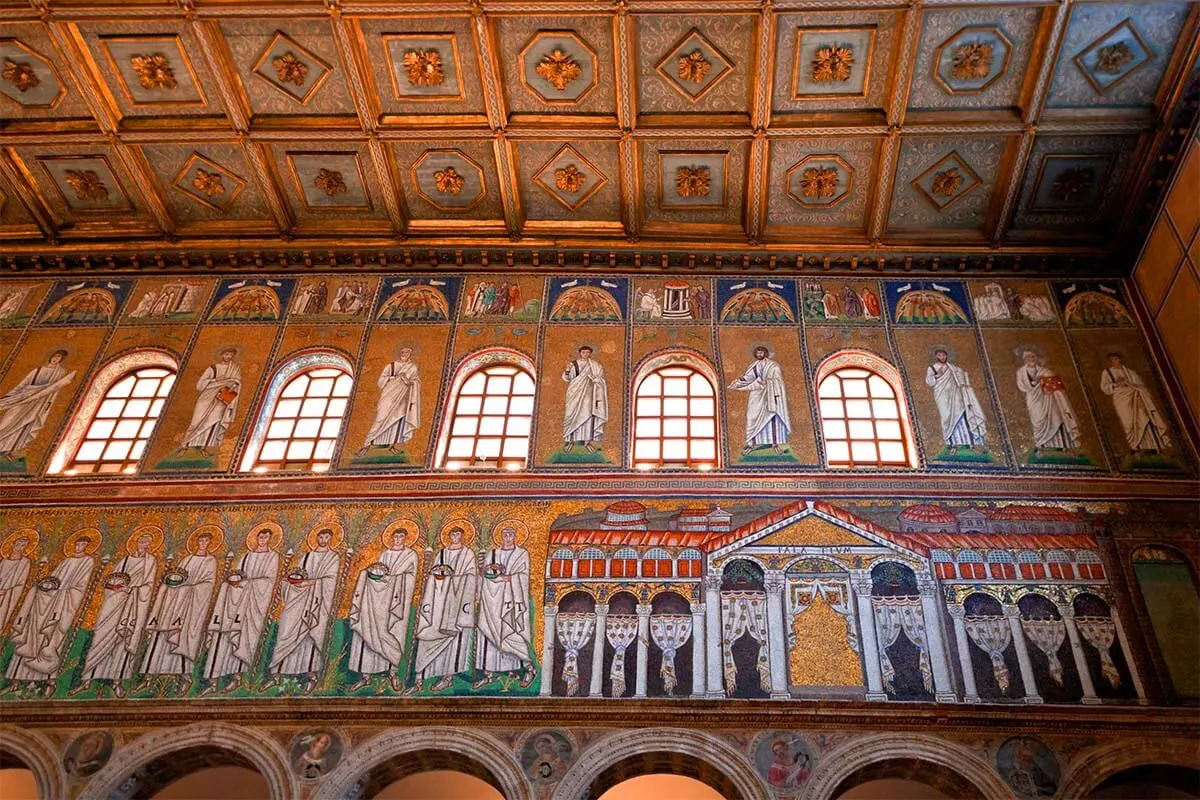 4. Basilica di Sant'Apollinare in Classe
Not to be confused with the above-mentioned Basilica di Sant'Apollinare Nuovo in the city center, Basilica di Sant'Apollinare in Classe is located around 6 km south of the city center. And yes, it's worth the extra effort of getting there!
Basilica di Sant'Apollinare in Classe was constructed in the 6th century, so also at around the same time as most of Ravenna's most famous landmarks. Its interior is decorated with the last examples of Ravenna's mosaics.
If you are sharp-eyed you might notice that the panel in the apse showing the bishop Reparatus with Emperor Constantine IV seems familiar. That's because it is an imitation of the one of Emperor Justinian found in Basilica San Vitale.
Here, you can also see marble sarcophagi of various bishops spanning several centuries. It is interesting to note the changes in styles over the years.
Good to know: Because of its location outside the center of Ravenna, this Basilica tends to be less crowded than the others. This makes it one of the best places to really admire the mosaics at your leisure.
Practical information: Basilica di Sant'Apolinnare in Classe is open daily from early morning until evening, except on Sundays and some religious holidays when it's only open in the afternoon. For more info, see this website (in Italian).
Getting there: You can get to Classe by car, by taxi, or by bus (line #4) from the train station in the city center. The bus takes about 20 minutes and costs around 2 EUR/pp one way, tickets are a bit more expensive if you buy them from the driver. A taxi will likely cost you about 10 EUR one way.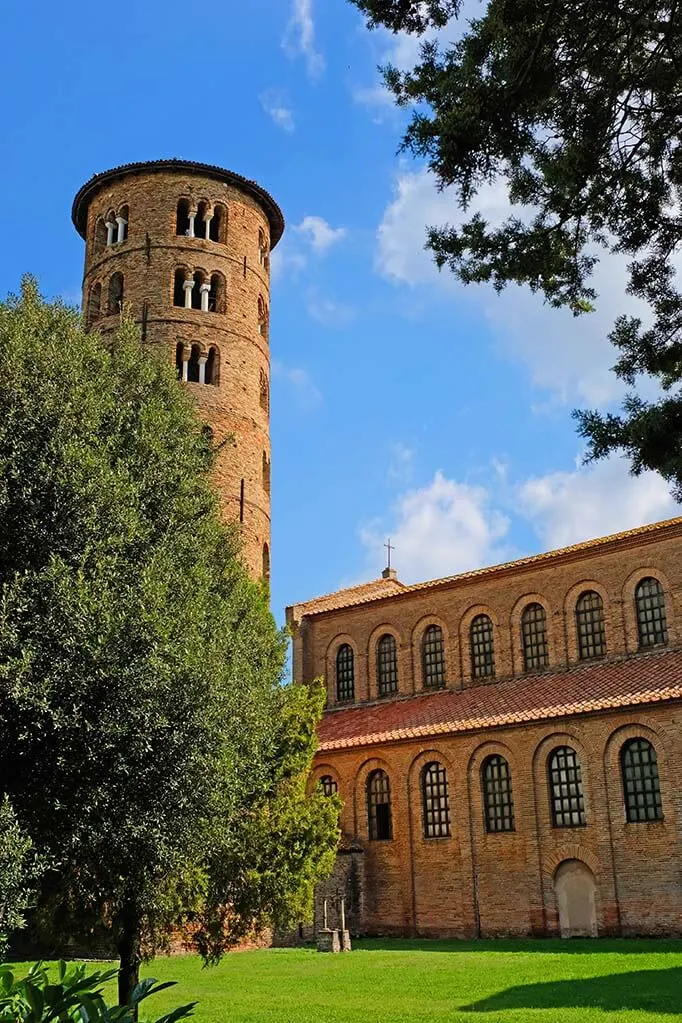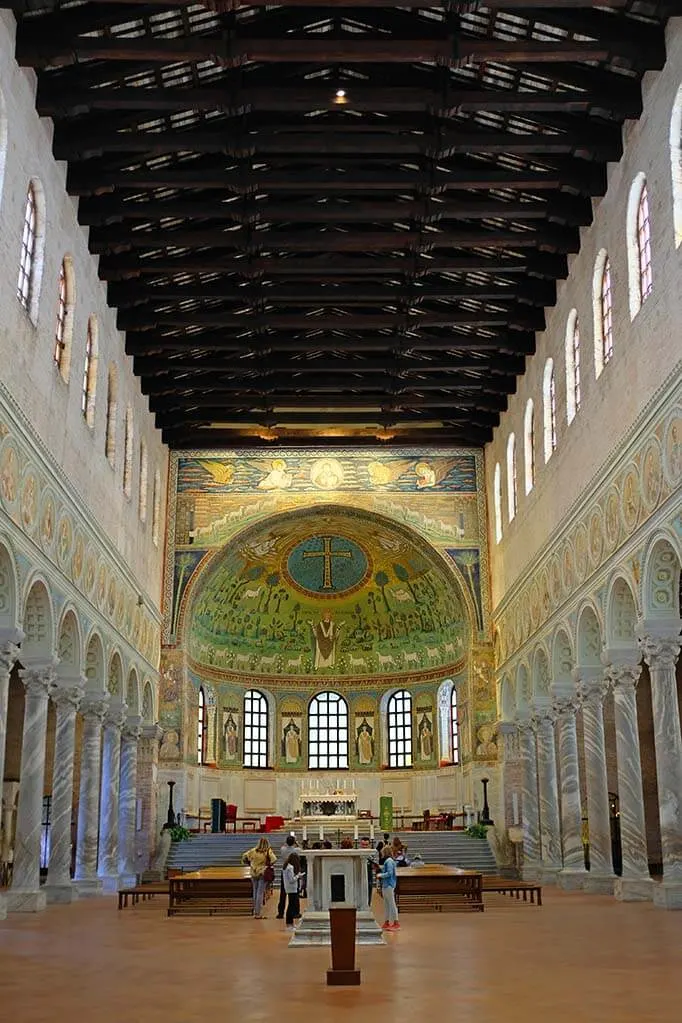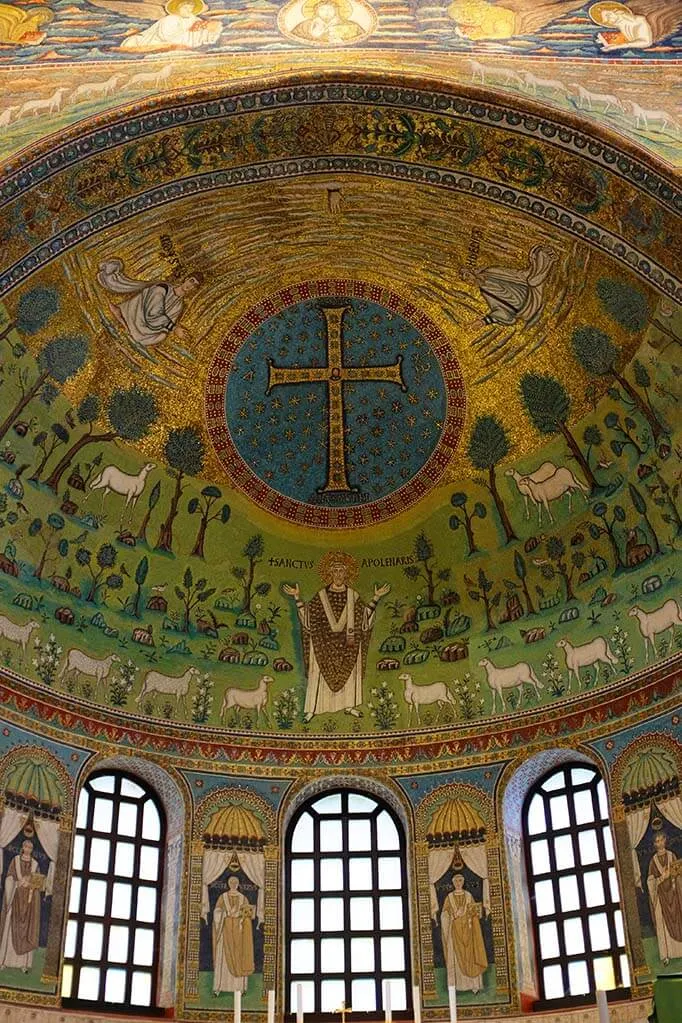 TIP: If you have some time after visiting the Basilica, it's worth seeing the nearby Classis Ravenna – Museo della Città e del Territorio as well. Set within the former sugar refinery, the Classis museum focuses on the history of Ravenna and the nearby port of Classe. See their website for more info.
However, if you have just a day in Ravenna and want to focus on the must-see places, you can also skip this one.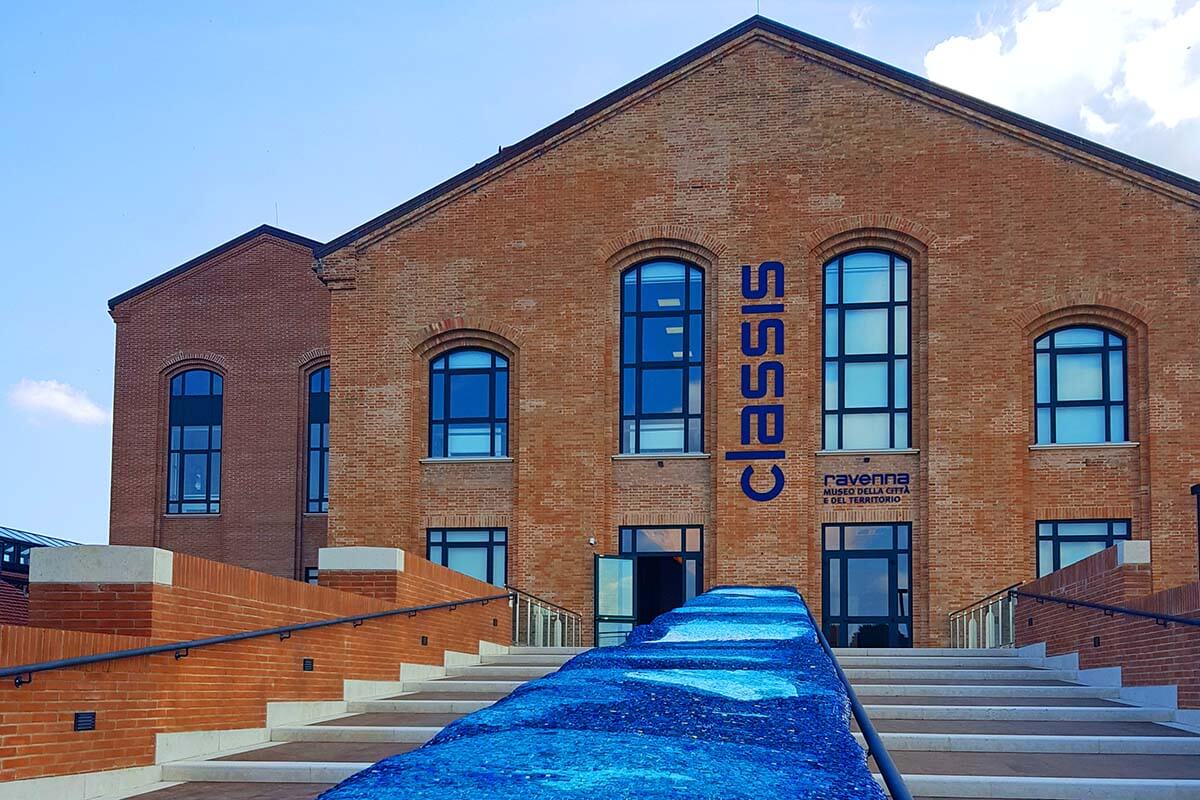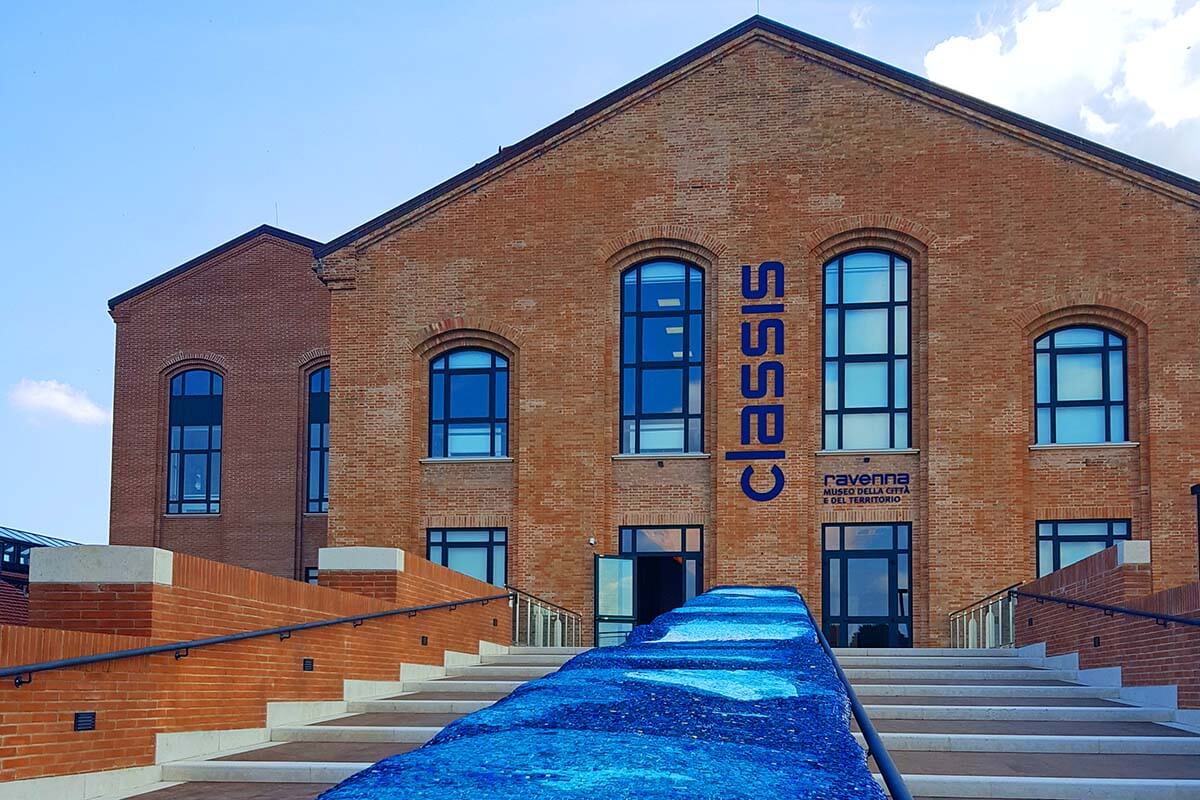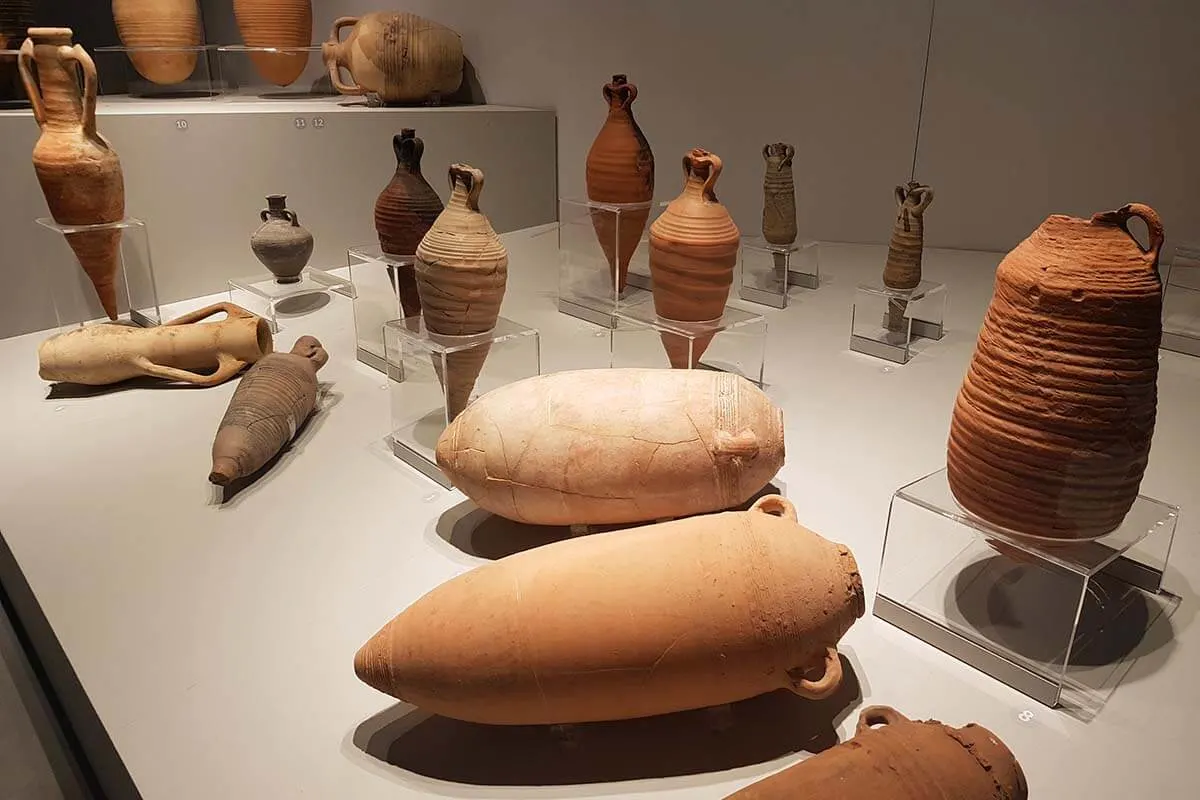 5. Piazza del Popolo
Piazza del Popolo is Ravenna's main square. It's located in the very heart of the city, surrounded by shopping streets, and within a short walking distance of all the main landmarks in Ravenna old town.
Although 'Piazza del Popolo' translates to 'People's Square', the name actually came from the poplars surrounding it. It was formed in the latter half of the 15th century when the city was reconstructed by Venetian architects.
There are also some interesting buildings to admire around the piazza, including the Comune di Ravenna and the Ravenna territorial government building. Towering above everything are two columns, one bearing a statue of Apollinaris and the other a statue of Saint Vitalis.
Bordered with restaurants and cafes offering outdoor seating, Piazza del Popolo is the perfect place to take a break from sightseeing and watch the world go by.
Good to know: The very best cafes/restaurants are to be found in the side streets leading off the square rather than on the piazza itself. They tend to be more authentic and a little cheaper, too!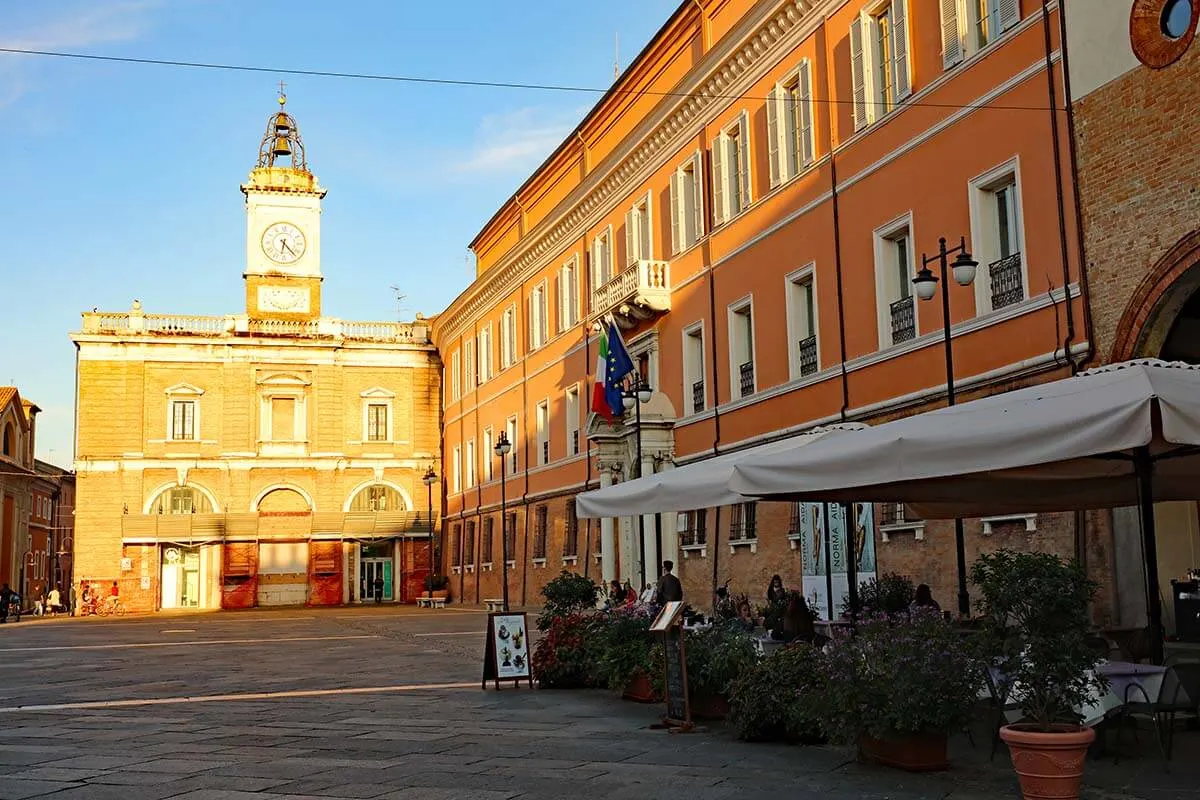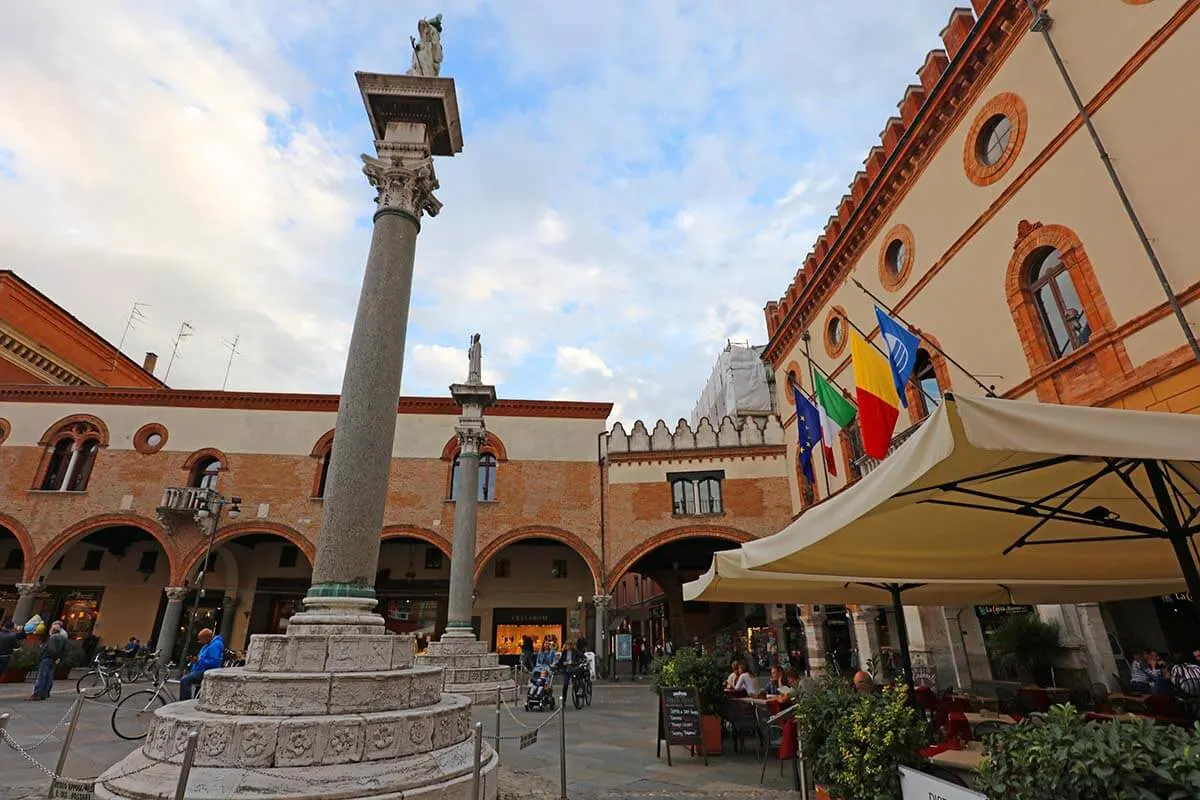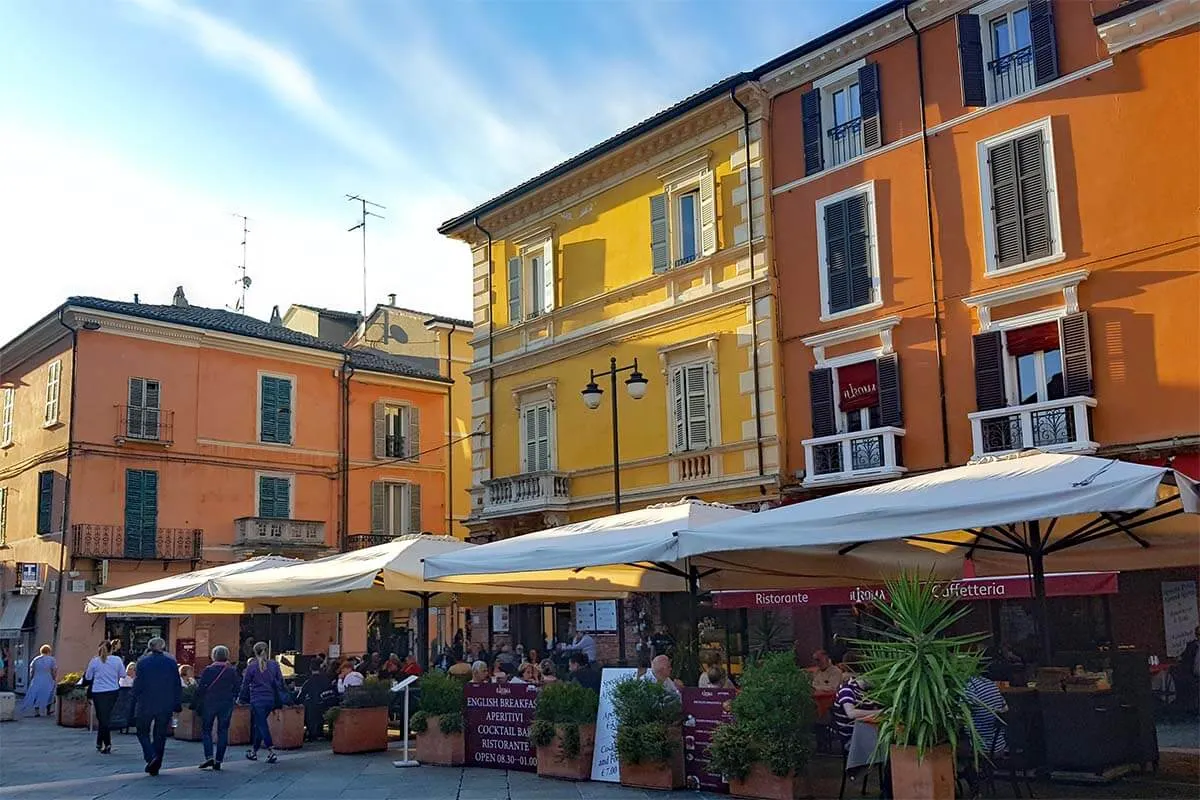 6. Old Town
In addition to the Piazza del Popolo, there are many other nice streets and squares to see in Ravenna's old town.
Check out the shopping area around Via Camillo Benso Cavour, Ravenna's 'umbrella street' Via Mentana, Piazza J.F. Kennedy, Piazza XX Settembre, or the leaning Civic Tower, etc.
Since the city center is quite compact, you'll pass most of the nicest areas while walking from one landmark to another anyway. But be sure to also take the time to explore just a bit deeper, and you might find some amazing hidden gems.
Cobbled streets, colorful buildings, and picturesque town squares make Ravenna's old town really cozy. There are lots of nice stores, gelaterias, and plenty of cafes and restaurants as well.
The Emilia Romagna region is known as the foodie destination in Italy, so be sure to try some local specialties, even if you are only in Ravenna for a day.
And while you're at it, why not indulge in an aperitif as well – a very Italian tradition! This involves enjoying a pre-dinner drink, accompanied by trays of bite-sized snacks like bruschetta, raw fish, or local cured meats. Indeed, it is a more sophisticated version of the 'happy hour' found elsewhere in the world.
READ ALSO: Traditional Italian Food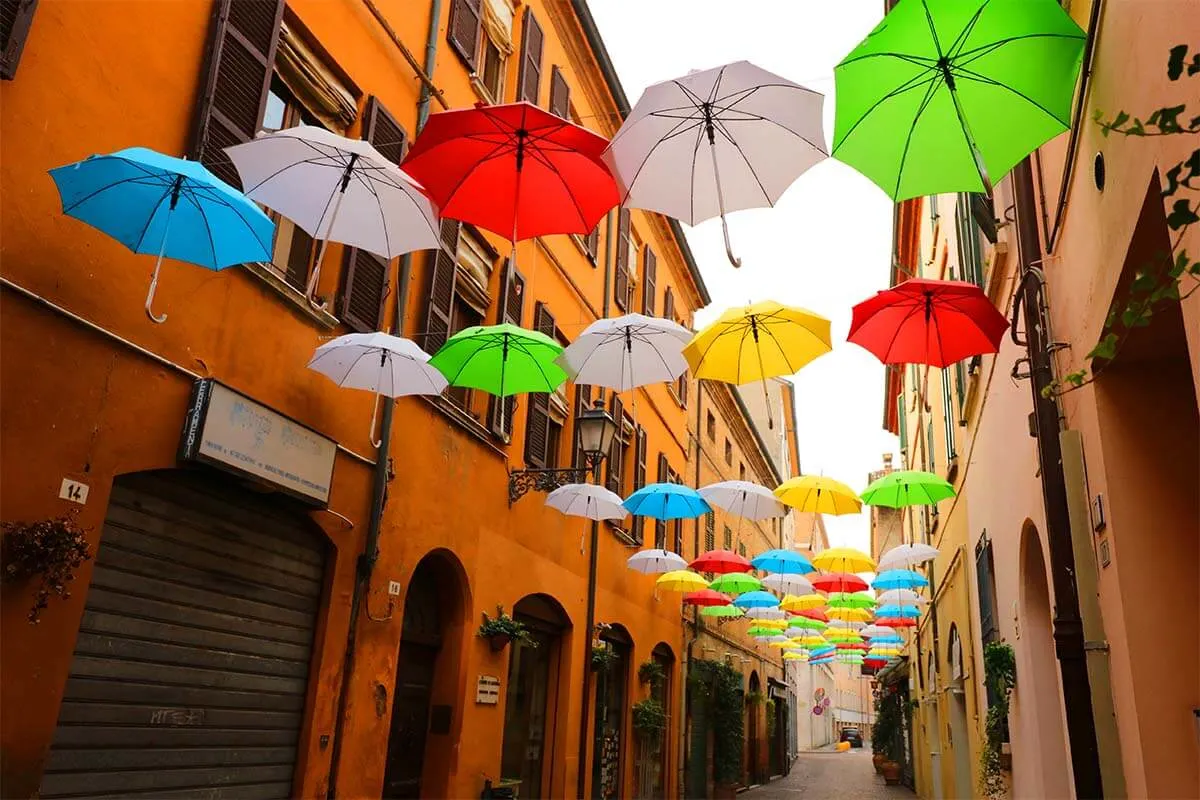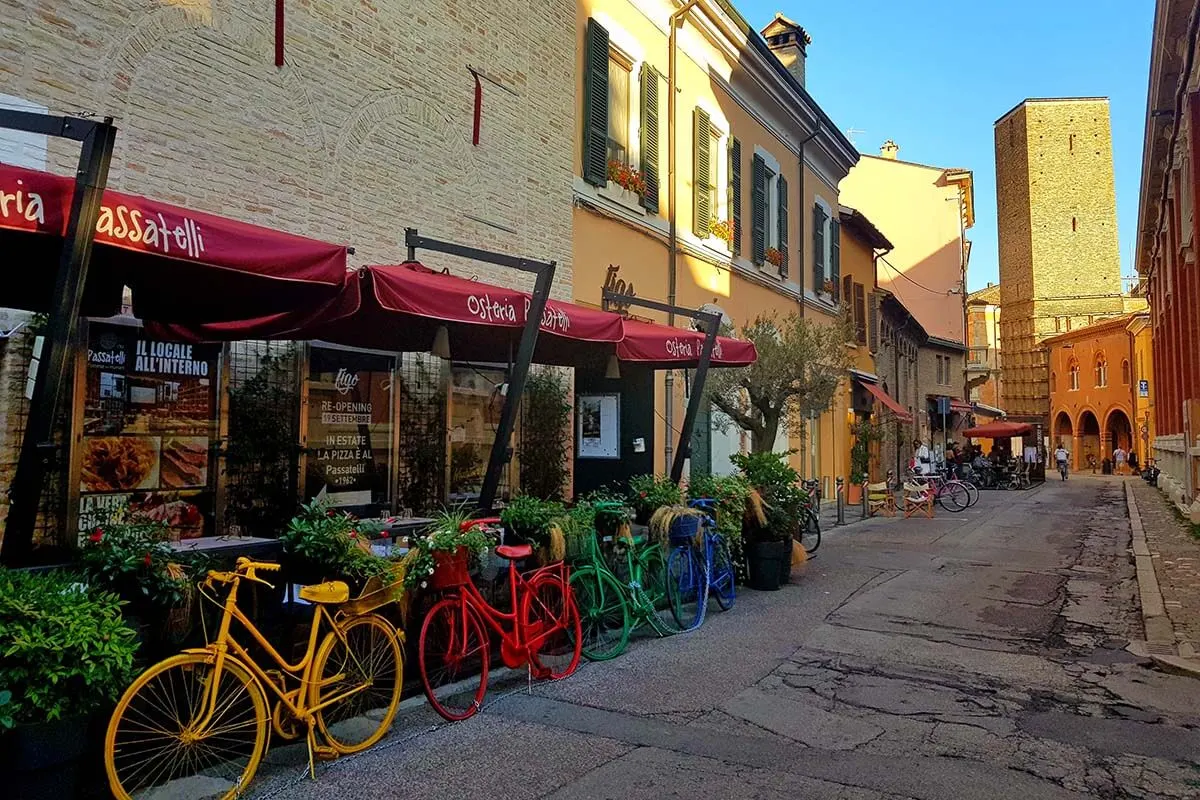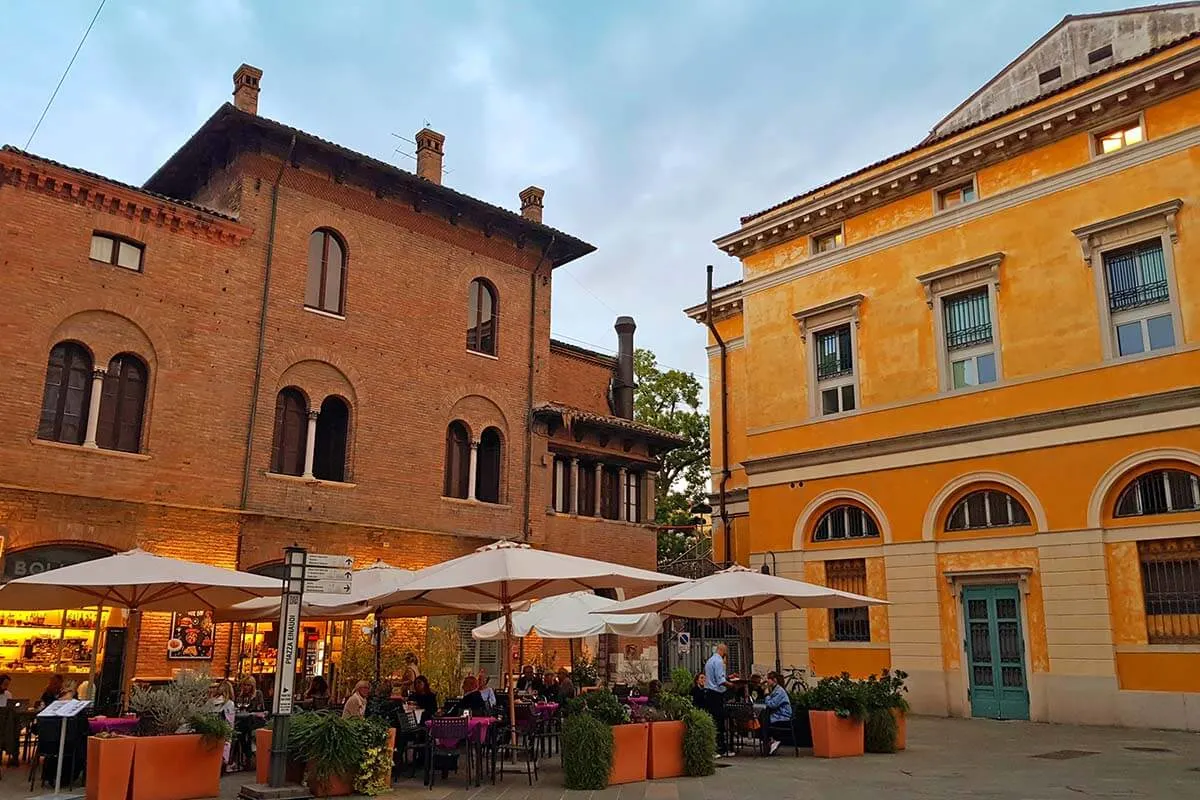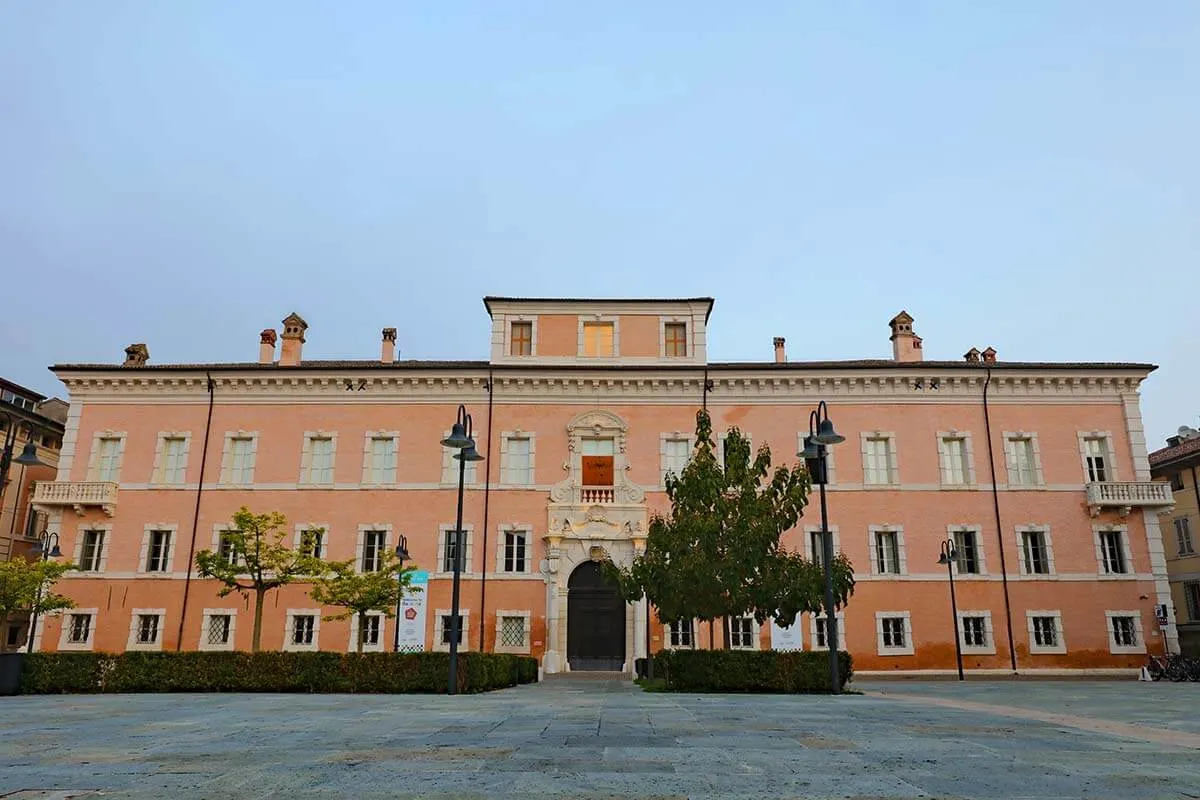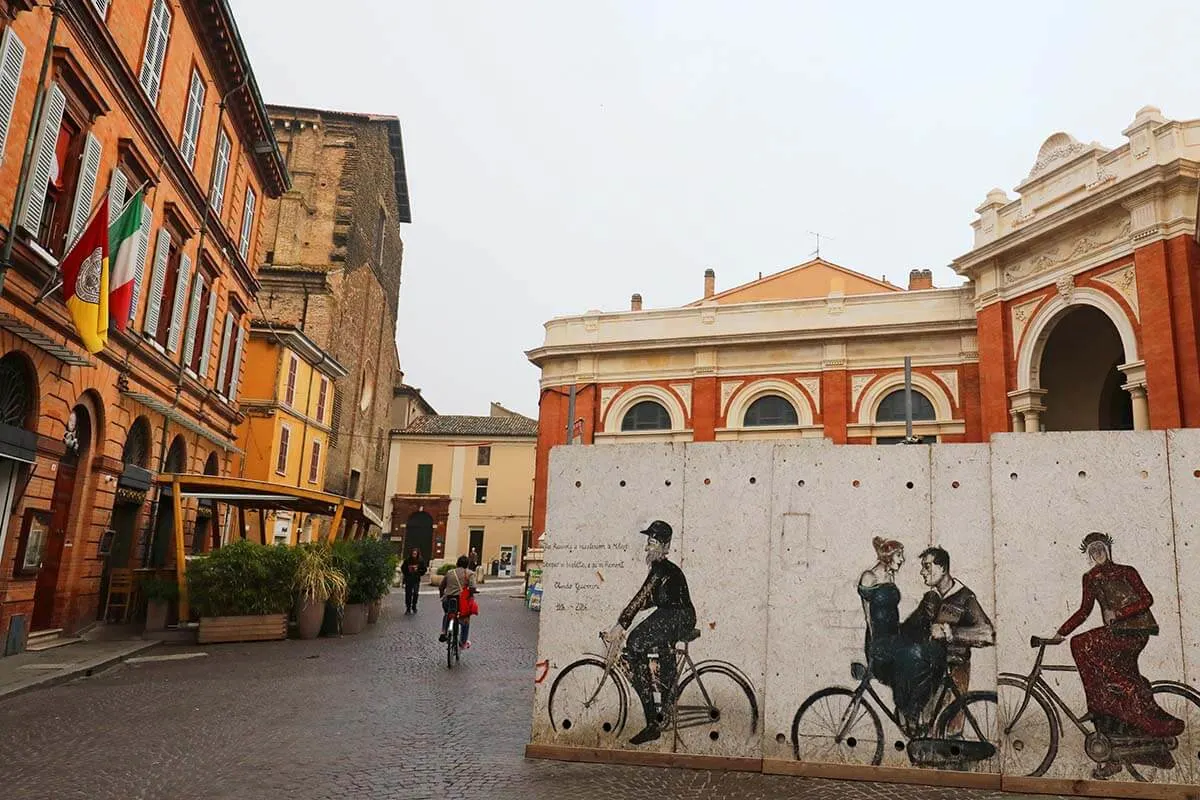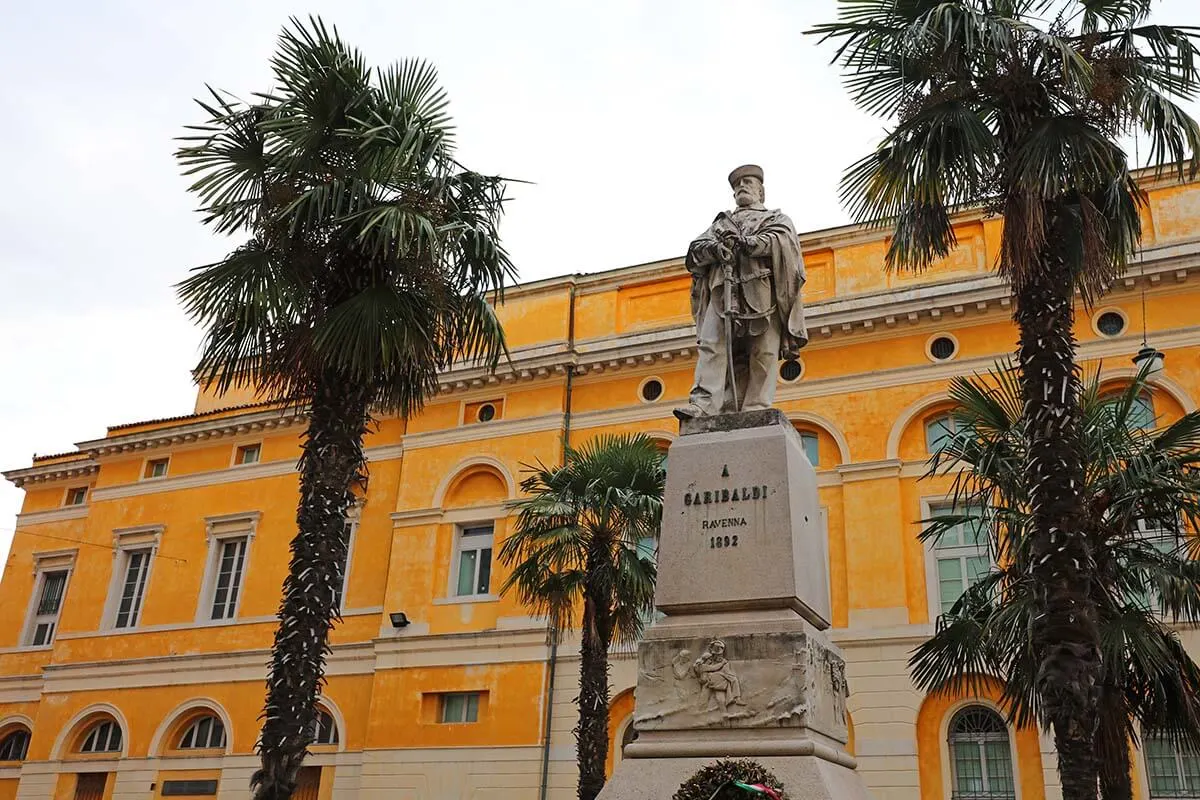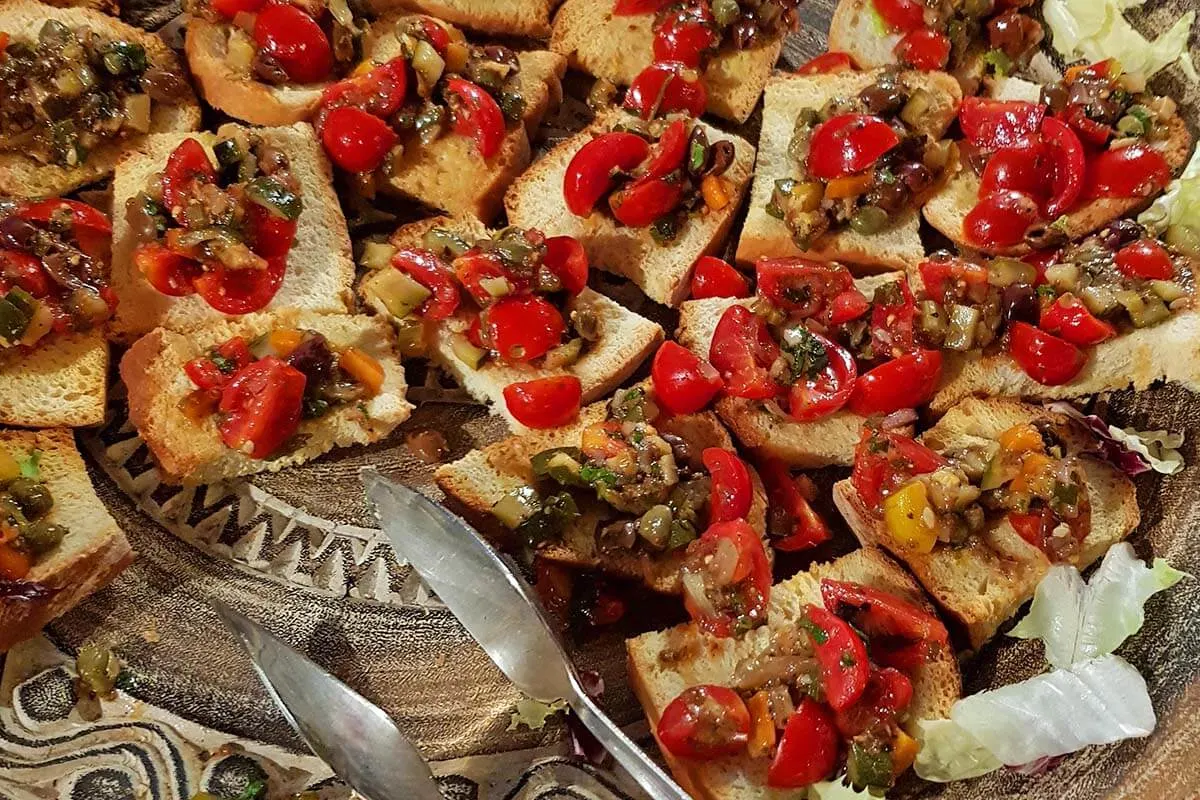 7. Basilica di San Pietro Maggiore in San Francesco
Basilica di San Pietro Maggiore in San Francesco (or simply Basilica San Francis) is another popular place to visit in Ravenna. While it's not an absolute must, it's an interesting experience.
Located beside Dante's tomb, the Basilica di San Francesco was built by Archbishop Neon in the 5th century, then extended between the 9th and 10th centuries when it was renamed San Pietro Maggiore. In the mid 13th century the Franciscans reclaimed it and named it after their founder.
The Basilica is famous for the fact that Dante's funeral was held here. It also has a few interesting features, particularly its tall 10th-century Romanesque tower, 16th-century stone columns carved by Tullio Lombardo, and frescoes by the early 14th-century painter Pietro da Rimini.
Despite being another of Ravenna's UNESCO World Heritage Sites, the church itself is not nearly as impressive as the others in Ravenna. The main reason to visit here is its sunken crypt with a mosaic floor and… fish.
The Basilica stands below sea level and its basement is often flooded. The water also brings some fish that swim around in this submerged burial crypt. Together with the vaulted ceiling, the mosaics, coins thrown in by tourists, and giant goldfish swimming around, it creates a fascinating effect.
TIP: For a small fee, you can illuminate the crypt – it's well worth it!
For years, efforts have been made to keep the water out, but it seems that everyone has now made peace with it. And so the Basilica of San Francesco is now best known for its submerged crypt with fish…
Good to know: The Basilica is open daily and there's no entrance fee. The crypt can get quite busy when there are lots of groups of day-visitors.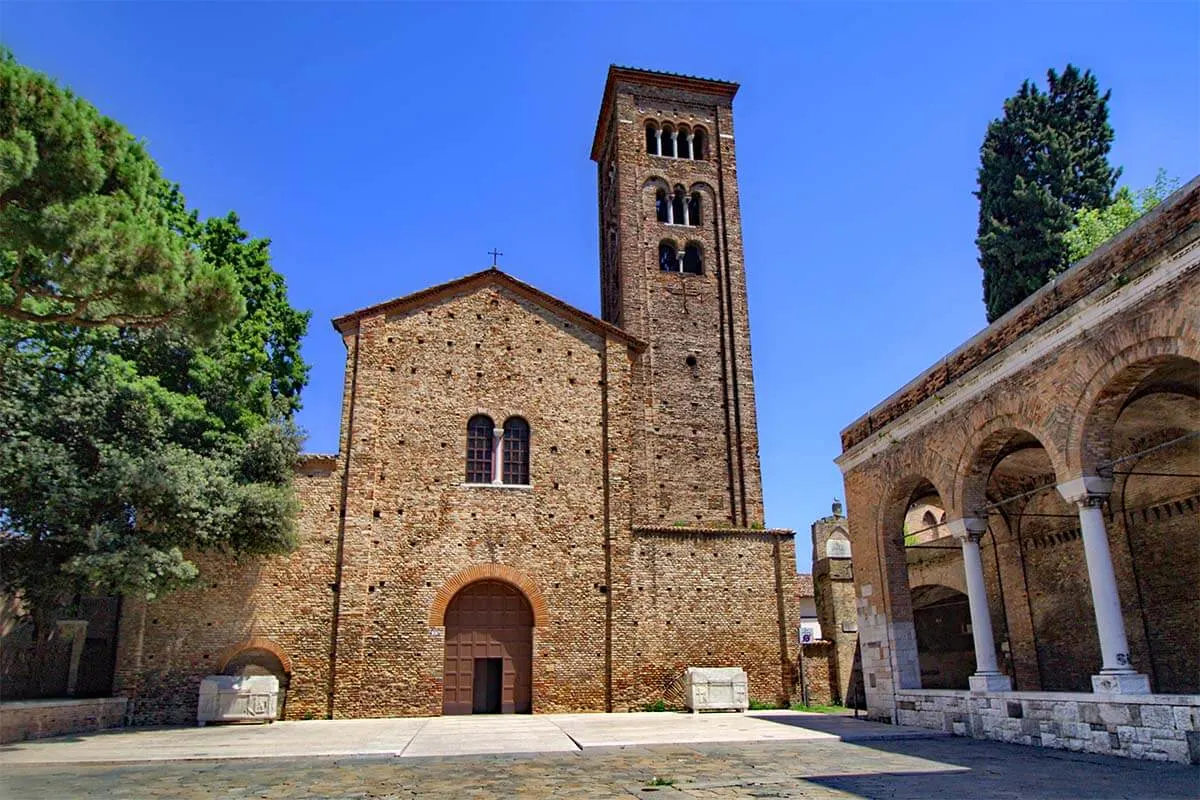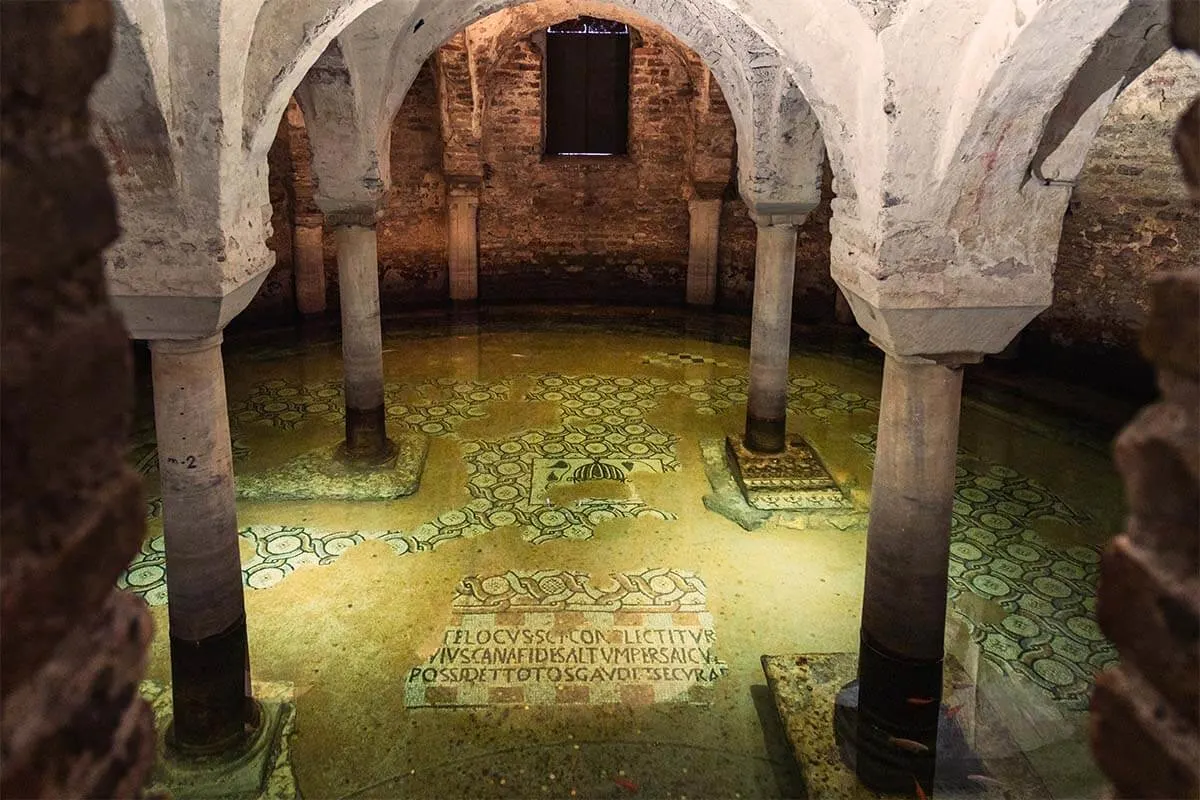 8. Dante's Tomb
Located on Via Dante Alighieri, Dante's Tomb is just near the Basilica di San Francesco, where his funeral was held.
Despite being born in Florence, the poet and author Dante Alighieri chose Ravenna as his home, where he also spent the final years of his life. The story behind his tomb is very interesting!
Pope Leo X requested that Dante's remains be returned to Florence after his death in 1321. The locals, however, were not happy with this and decided to remove Dante's bones and hide them in the city. They were finally discovered during renovation work in 1865 and moved to this understated tomb, where they rest to this day.
Above the tomb, you can see a lamp where olive oil from the Tuscan hills is burned, an annual offering from the local government.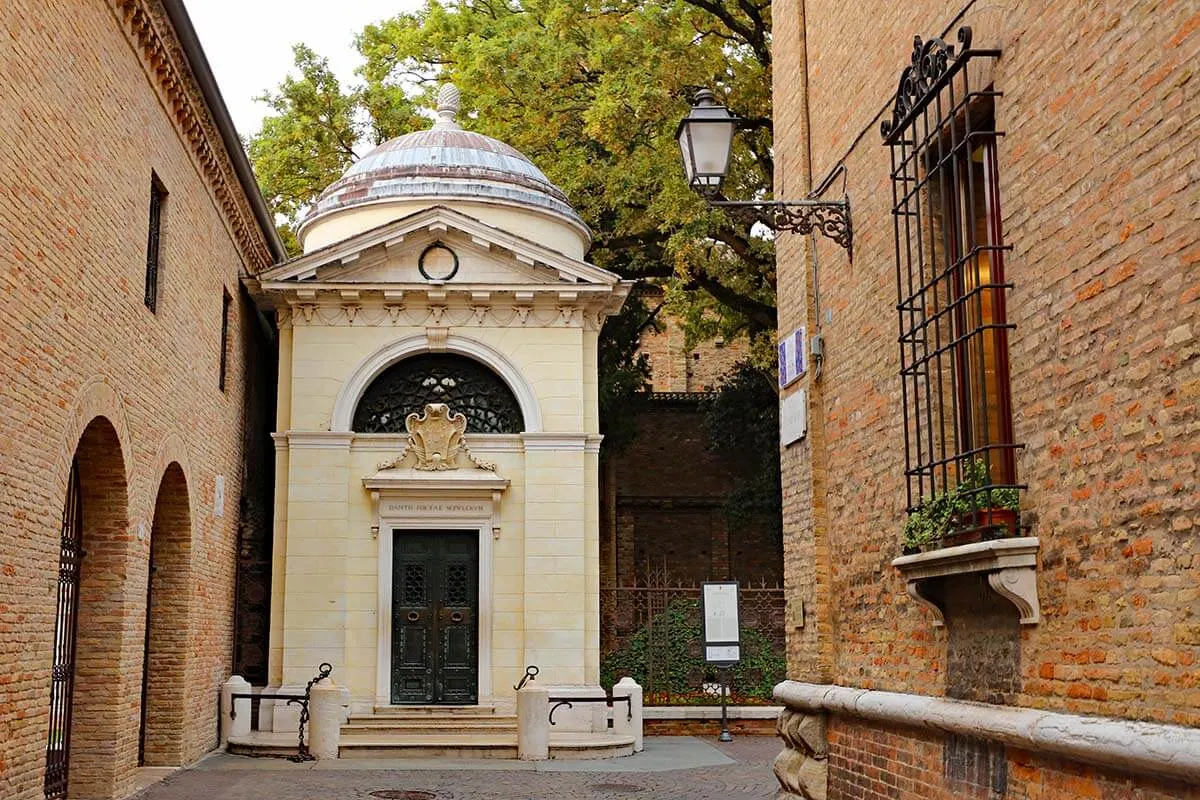 9. Dante Museum
Near Dante's Tomb and San Francis Basilica, you'll find Museo Dantesco. It's located on the first floor of a former Franciscan convent.
This museum is a great place to learn more about Dante's personal life and artistic experiences, and you can actually see the box in which his remains were hidden! There are several rooms to explore, each explaining a different aspect of Dante's life or work via drawings, artifacts, sculptures, and multi-media presentations.
TIP: There is an introductory film about Dante when you arrive at the museum. It's usually shown in Italian but you can ask for it to be changed to English.
Be sure to also visit the gated garden – Chiostro Dante, where you will see a big vine-covered mound. This was used to keep Dante's bones safe during World War Two.
Good to know: The ground-floor cloisters can be visited free of charge, and the museum located on the top floor requires a ticket. It's just a few euros and well worth it if you have an hour to spare when sightseeing in Ravenna.
Practical information: Dante Museum is open from 10 AM to 5.30 PM daily, except Mondays. Keep in mind that the ticket office closes 1 hour before the official closing time and the cloisters can also only be visited during the opening hours of the museum.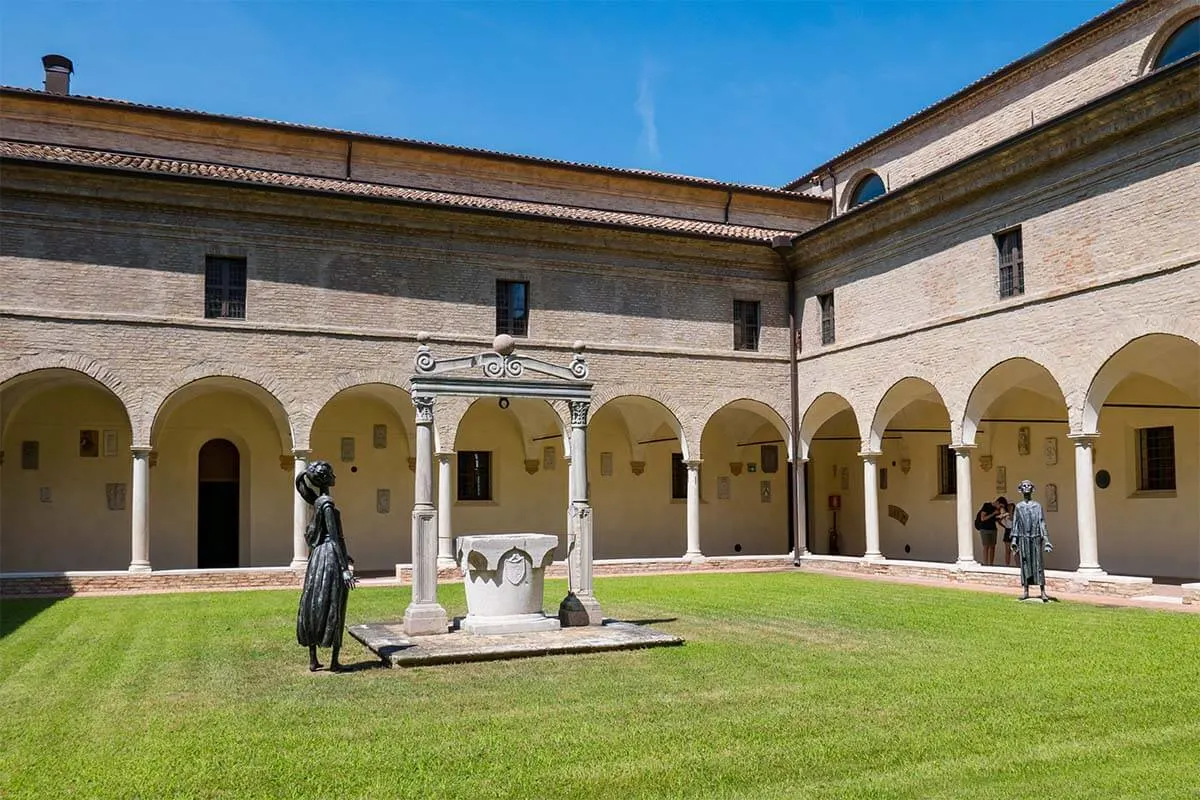 10. Battistero Neoniano
The Neonian Baptistery of Degli Ortodossi – located next to the Cathedral of the Resurrection of Jesus Christ – is Ravenna's most ancient building.
Listed as a UNESCO World Heritage Site, it was constructed around the 5th century AD by the order of Bishop Urso on the site of a Roman Bath complex. The dome and interior, however, were not added until later, commissioned by Bishop Neon (from whom its name was derived).
Octagonal in shape, it is nevertheless quite plain from the outside and you may wonder whether it's even worth visiting. The answer becomes clear, however, as soon as you see the interior!
The mosaics of the Baptistery of Neon are simply stunning, lining every inch of its dome. They depict important religious scenes, the most impressive being the medallion mosaic of the baptism of Jesus by John the Baptist.
TIP: Due to its small size it is important to book a time slot to visit the Neonian Baptistery online (tickets are usually bookable up to 30 days in advance). This is one of the main Ravenna sights that can be visited with the same ticket as many of the 'mosaic landmarks' listed earlier. It's open every day.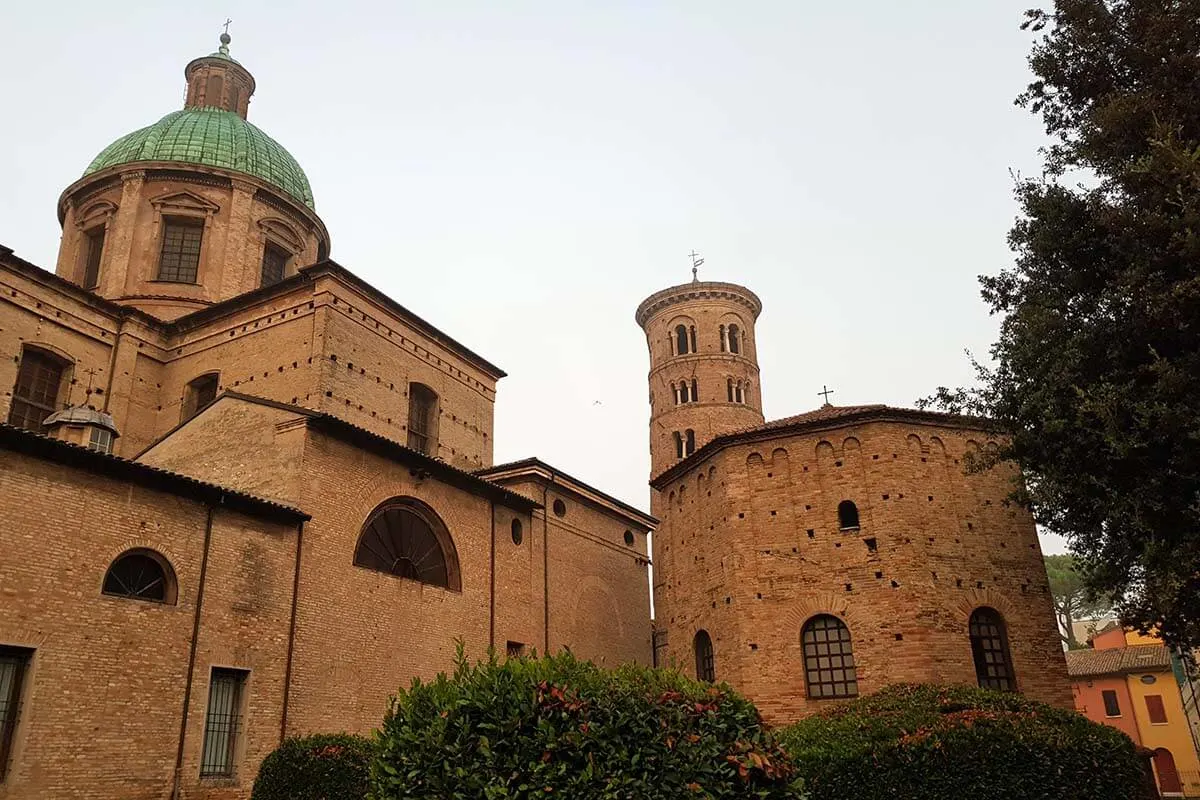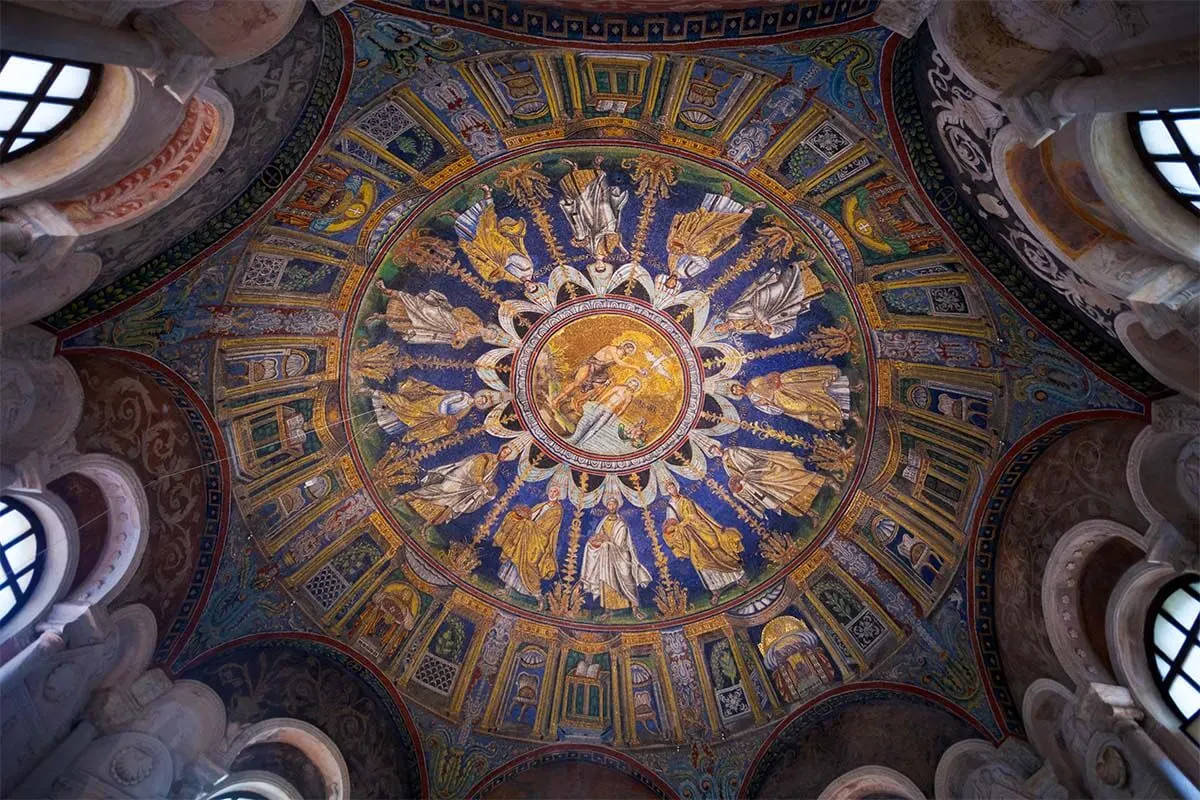 11. Battistero degli Ariani
The Arian Baptistery was built by Theodoric the Great in the 6th century. It's located next to the Basilica of Holy Ghost, just a short walk from the Piazza del Popolo and other main places of interest in Ravenna.
The Battistero degli Ariani features an octagonal design common to many of Ravenna's historic buildings. It is very small and less famous than other religious sites in the city, but it has a well-preserved domed mosaic depicting Christ being baptized by John the Baptist. Around it, you can also see mosaic images of the Twelve Apostles, along with a throne with a cross.
The mosaics here are not as spectacular as at San Vitale, Mausoleo di Galla Placidia or other places mentioned earlier, but if you are on a quest of seeing all the best mosaics of Ravenna, definitely check it out!
Good to know: The Baptistery isn't included in the combination ticket, but the cost of admission is just about 2 Euro so it is worth a visit if it's not too busy. You can buy your ticket from a vending machine next to the entrance.
Practical information: The Battistero degli Ariani is open daily in the mornings from 9 to 12. On Saturday and Sunday, it's also open in the afternoon (2 to 5 PM). More info here.
12. National Museum of Ravenna
Museo Nazionale Di Ravenna is located within the cloisters of the old Benedictine Monastery adjoining San Vitale Basilica. But while the Basilica is a place that everyone visits in Ravenna, this museum is much less known.
While it's not a must if you are short on time, it's definitely a nice place to see in Ravenna if you are here on a longer visit.
The National Museum has an enormous collection of ancient exhibits collected from the 18th century onwards, including carved ivories, historic weaponry, textiles, and decorated tombs.
It also contains a variety of artifacts from Ravenna's UNESCO World Heritage sites. These include the original drawing for the mosaic of Sant'Apollinare in Classe and a collection of 14th-century frescoes of Santa Chiara preserved from the convent church of the Poor Clares in Ravenna.
Practical information: National Museum of Ravenna is open daily except for Mondays, with opening hours varying per day. They also have a combination ticket that includes a visit to Basilica di Sant'Apollinare in Classe as well as Mausoleo di Teodorico. For more practical info, please see here.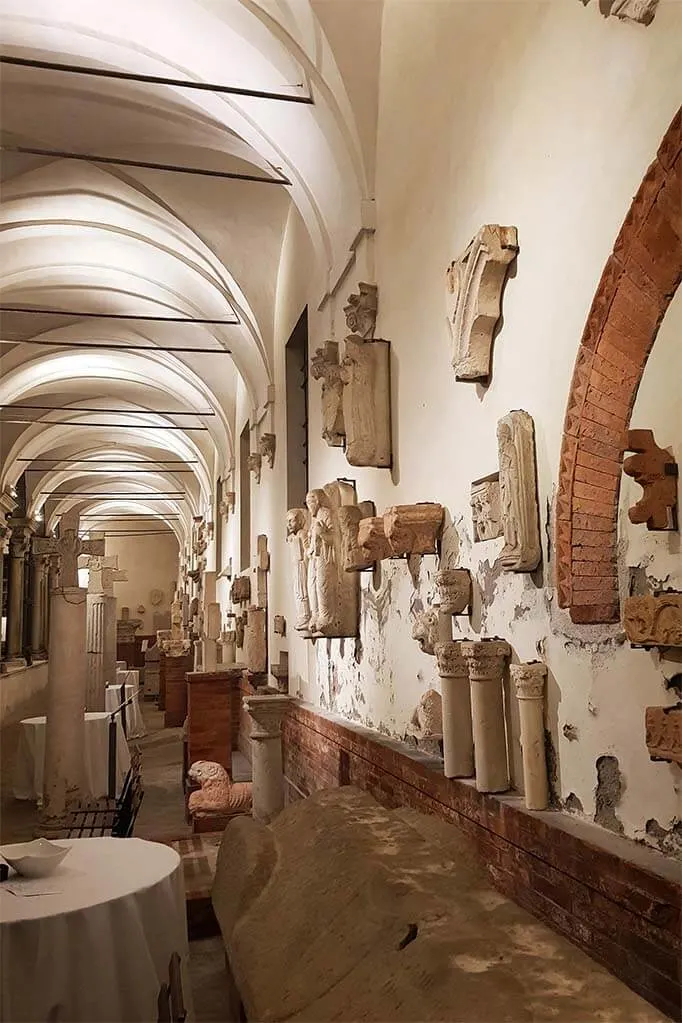 13. Mausoleo di Teodorico
The grand mausoleum to Theodoric – King of the Ostrogoths during the 6th century – is located at the Parco di Teodorico. It's another nice place to see in Ravenna, also because it brings you to a different part of town that you wouldn't visit otherwise.
The Mausoleum dates from around 520 AD and has stood here for 1500 years!
Made from Istrian stone, this two-story rotunda is topped with an immense monolithic dome with twelve square arches. It is quite simply and plainly decorated inside but remains a poignant place to visit nonetheless.
TIP: The park surrounding the mausoleum is quite lovely and it's nice to enjoy some natural beauty after viewing the city's many mosaics. However, it is located at quite a distance from Ravenna's other main sites and also has a separate fee. So if your schedule is tight, you may want to give it a miss.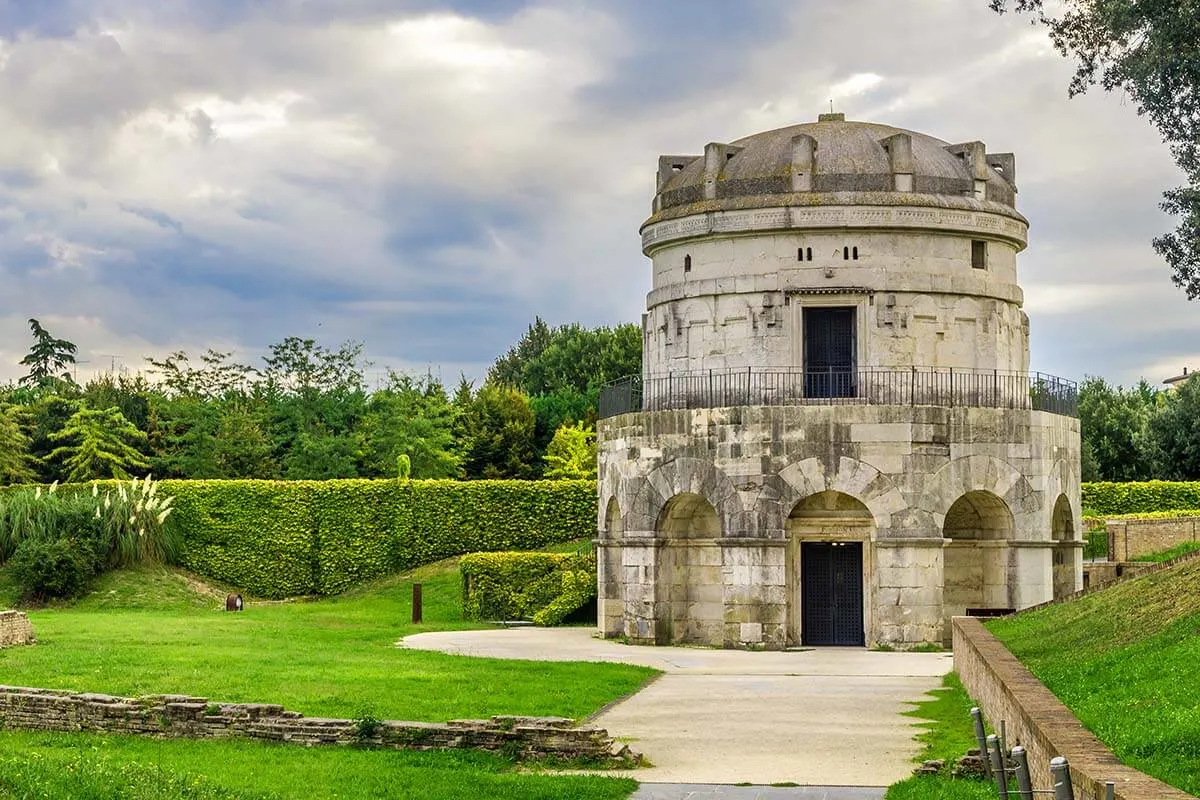 Now that we covered some of the best places to see in Ravenna for tourists who are mostly interested in sightseeing, let's take a look at the other nice things to do near Ravenna for those of you who are spending a longer vacation in the region and have more time.
14. Beaches near Ravenna
As already mentioned, Ravenna is located very close to the sea, the so-called Adriatic coast. The entire coastline nearby is lined with beautiful beaches and nature reserves. This makes the Ravenna area a popular summer vacation destination as well.
If you have a few days in Ravenna, take some time to explore the seaside as well. Some of the closest beaches are located in the area between Marina di Ravenna and Lido di Classe, just a 15-30 minutes drive from the city center. If you don't have a car, you can take a taxi, public transport, or even rent a bike.
The most popular stretches of coastline are lined with beach bars and restaurants, so you'll find plenty to do here day or night. I attended an event at one of the beach restaurants here once and the food and the atmosphere were great. Even in a lower season and also if you aren't interested in beach activities, it's a really nice area to come for a walk on the beach or a nice dinner.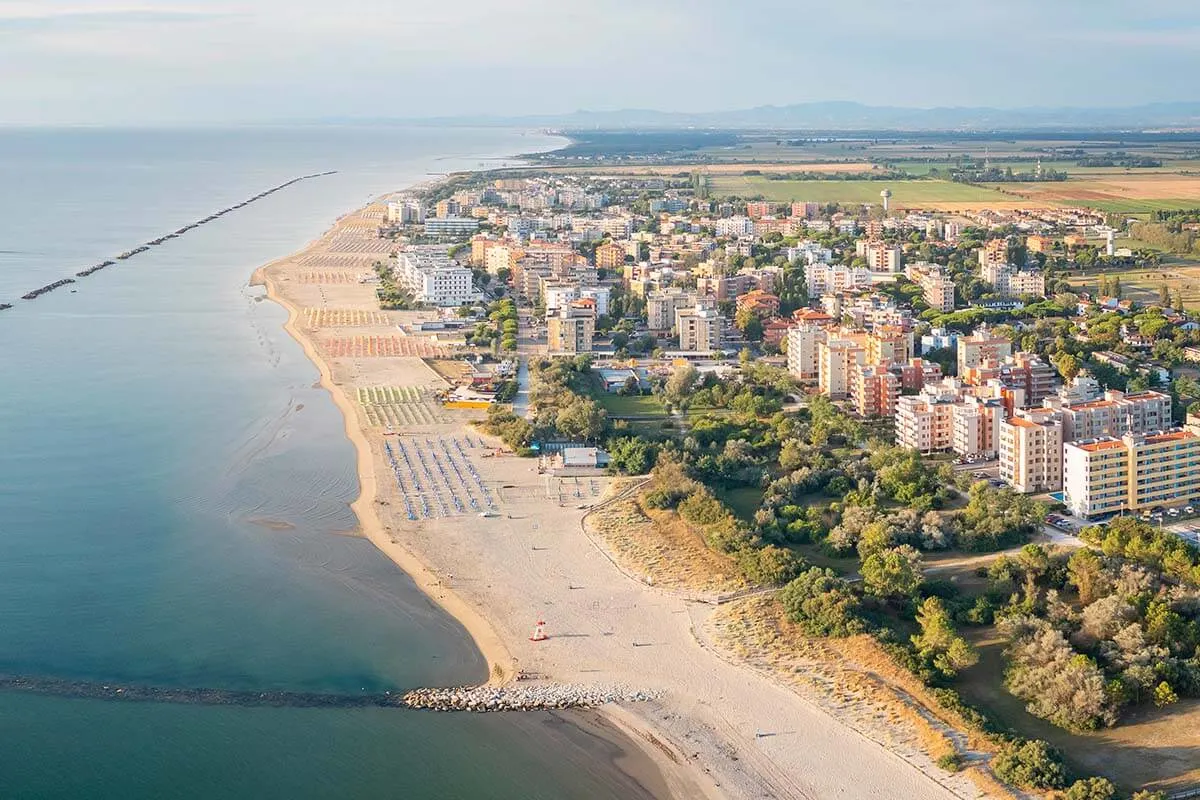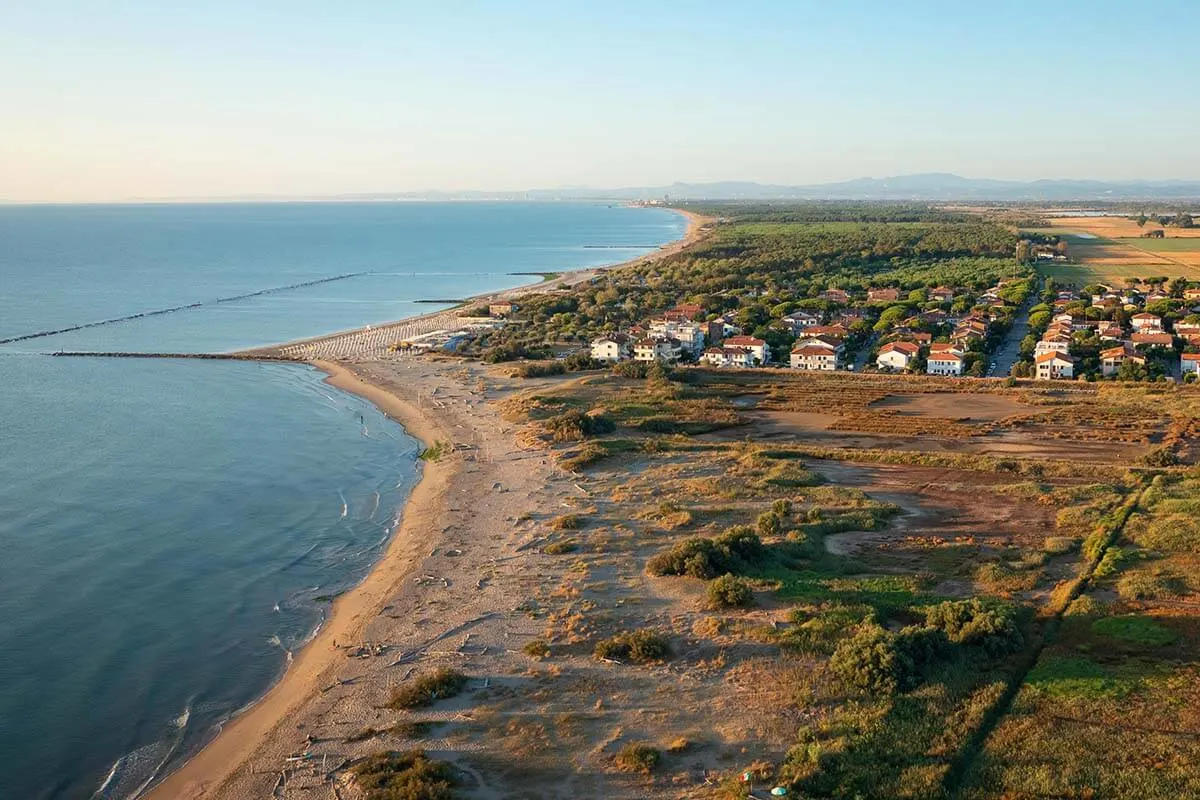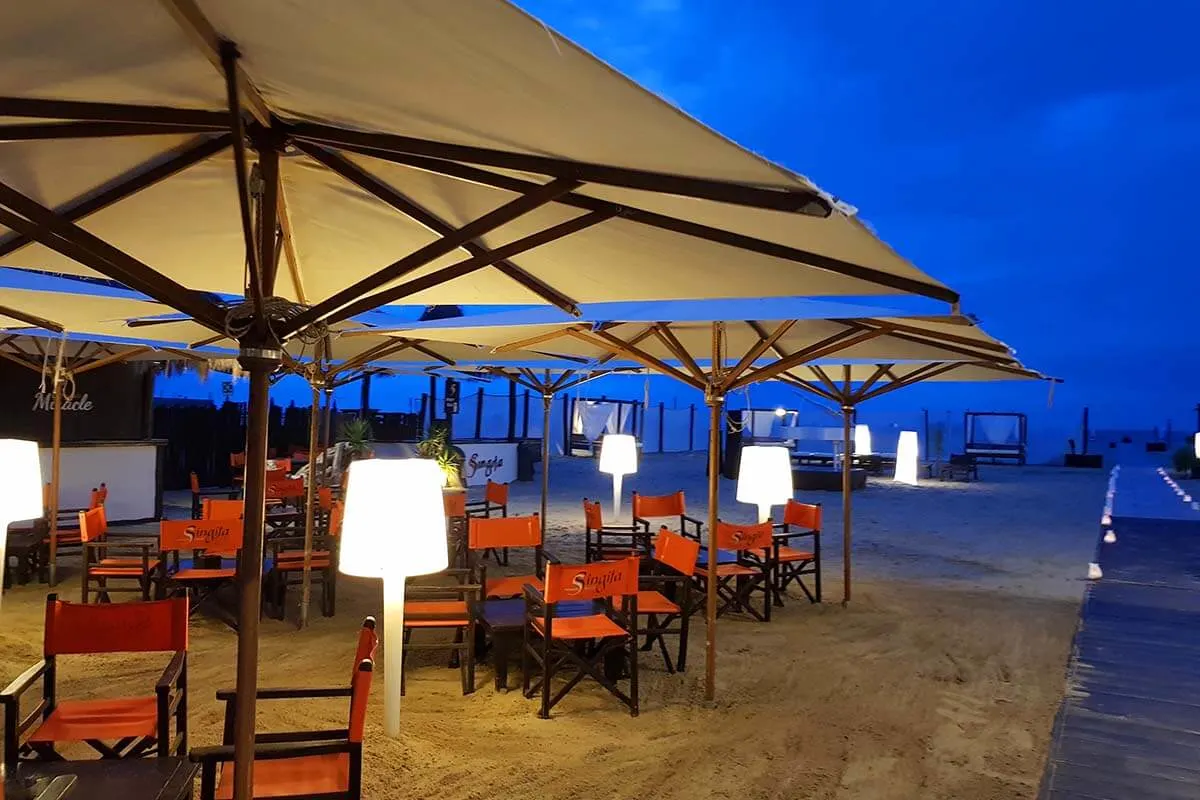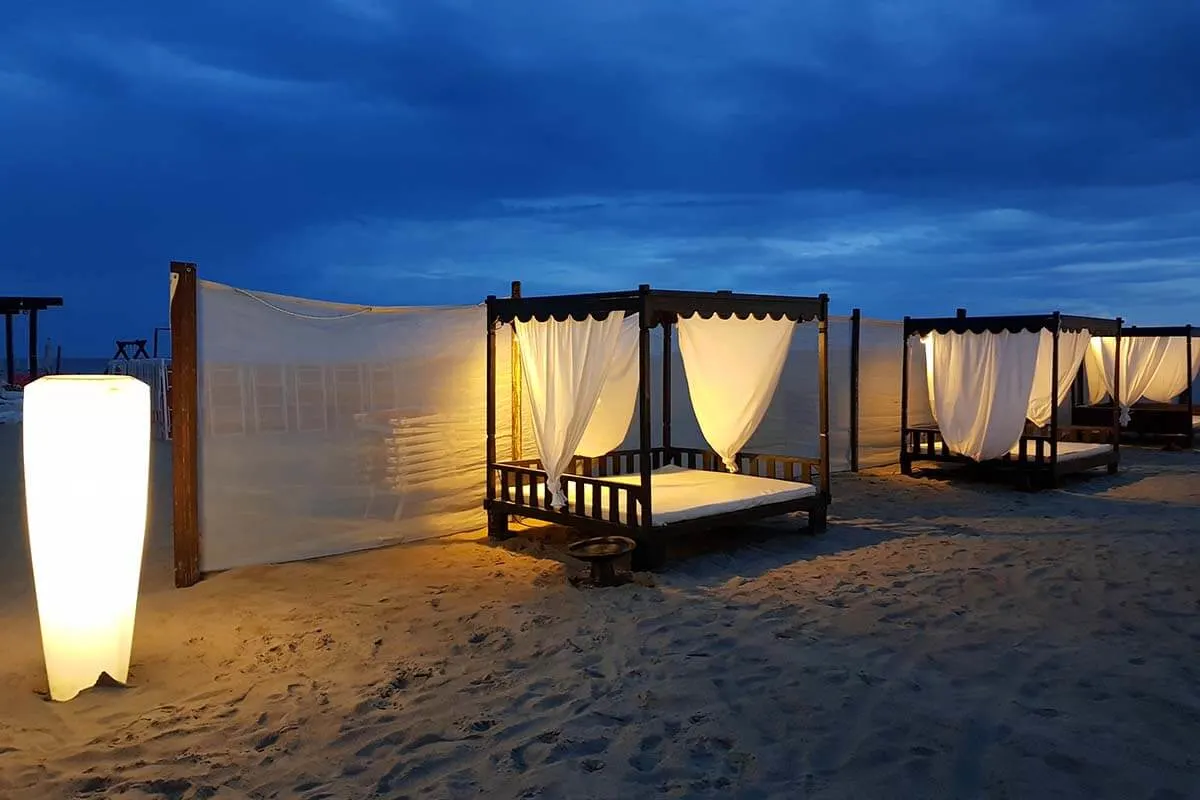 15. Mirabilandia & Mirabeach
Located to the southeast of Ravenna next to Lago Standiana, Mirabilandia is one of Italy's most popular amusement parks. It is also the largest, covering more than 850,000 square meters.
Ideal for the whole family, Mirabilandia has everything from small rides to white-knuckle rollercoasters. Among its highlights are the 90-meter-high 'Eurowheel' – Europe's second tallest Ferris wheel – and the inverted rollercoaster 'Katun'.
Adjacent to the theme park is the Mirabeach Water Park. Featuring swimming pools, water slides, a lazy river, and artificial beaches, it is ideal for visitors of all ages.
If you are visiting Ravenna with kids in the summer you may want to plan a day or two extra here.
Good to know: You can buy tickets for Mirabilandia and Mirabeach Water Park separately, or buy a combination ticket that gives you access to both. Both parks also have a '2nd-day' offer where you can get substantial discounts if you choose to visit on a second consecutive day.
Practical information: Mirabilandia and Mirabeach water park are open daily in summer. The amusement park is also open during some holidays/ weekends in the shoulder season. For up-to-date info, see their website.
16. Safari Ravenna
Located near Mirablandia Safari Ravenna is a family-friendly safari park and zoo. Covering more than 340.000 square meters, it has a traditional zoo area with reptiles, primates, and domestic animals. In the second section – which can only be accessed by car or train – you can see larger mammals and birds roaming freely.
Good to know: There is a large play area outside the zoo with even more to do (for a fee), including trampolining, go-karts, and water zorbing.
Practical information: Safari Ravenna is open daily in the summer and during the school holidays. In the lower season, it has rather limited opening hours. See their website for more info.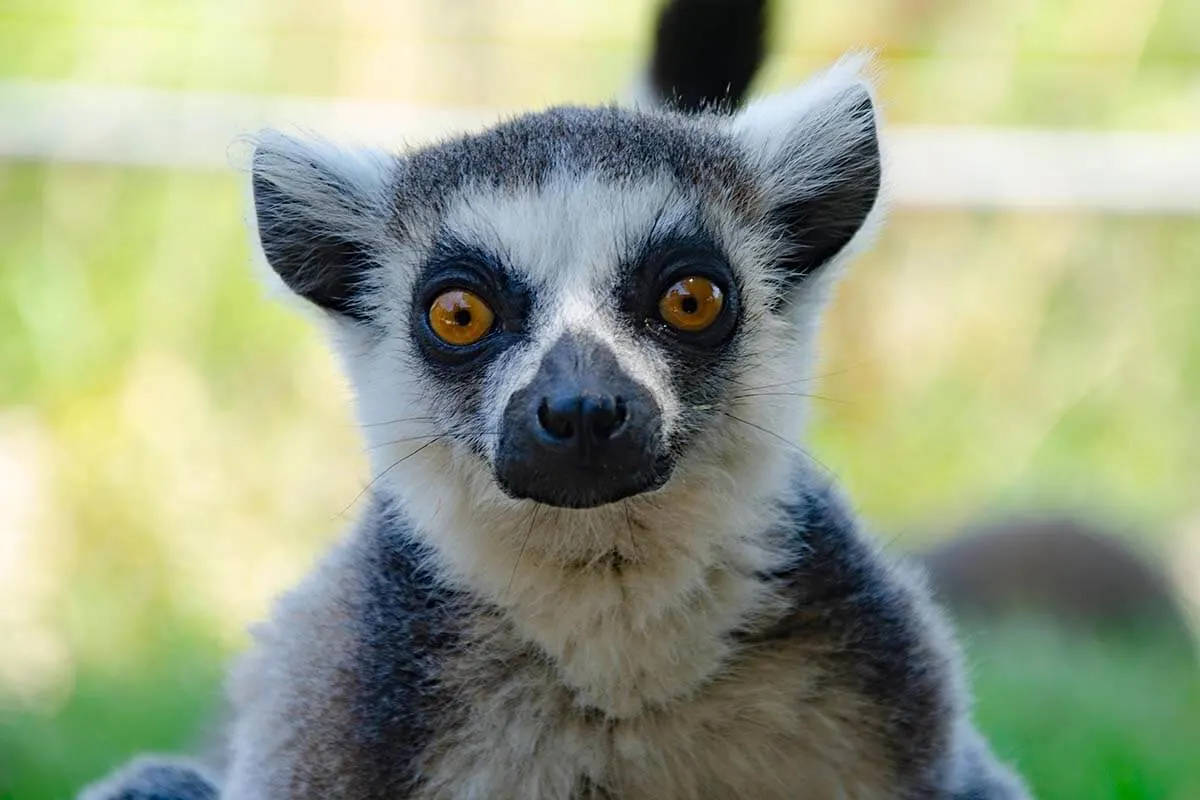 Map of Ravenna attractions
To help you plan your time in Ravenna, we created this map indicating all the best places to see in and near Ravenna.
Be sure to also read our practical tips and info for your visit below!
How to use this map: Use your computer mouse (or fingers) to zoom in or out. Click on the icons to get more information about each place. Click the arrow on the top left corner for the index. Click the star next to the map's title to add it to your Google Maps account. To view the saved map on your smartphone or PC, open Google Maps, click the menu and go to 'Your Places'/'Maps'. If you want to print the map or see it in a bigger window, click on 'View larger map' in the top right corner.
Practical info & tips for visiting Ravenna
How much time do you need
We recommend planning at least one full day for Ravenna. This will give you the chance to see the main landmarks and get the feel of this beautiful town. With two days, you should be able to visit all the top places of interest mentioned in this guide. If you also want to spend some time at the beach and or visit one of the amusement/ water/ animal parks, plan at least 3-4 days in Ravenna.
Getting there
If you don't have a car, Ravenna can be best reached by train from Bologna or from Rimini. The train journey takes about 1 hour – 1 hour and 10 minutes. You can also visit Ravenna from Florence, but keep in mind that it will take over 2 hours each way by train.
Getting around
Ravenna's old town is best explored on foot. Most of the main sights are located really close to each other, only Basilica di Sant'Apollinare in Classe, beaches, or amusement parks are somewhat further away. As already mentioned, the Basilica in Classe and some of the beaches can be easily reached by taxi or by bus as well.
TIP: There are various city tours available in Ravenna and it's well worth considering visiting some of the main sights with a local guide. Especially if you have limited time in the city!
We visited all the best mosaics of Ravenna with a local guide and it was absolutely worth it. The mosaics are very pretty and yes, you can just walk around admiring all these amazing places by yourself… But the stories and the explanation behind it make you appreciate it all so much more.
Where to stay
Depending on where you are traveling to/from and on your overall itinerary, you may want to stay in Ravenna for at least one or two nights. There are some really lovely boutique hotels in the heart of the old town, which is the nicest area to stay in Ravenna.
It's also great to be able to explore the city when there are hardly any tourists in the morning or in the evening.
We stayed at Chez Papa, which was really nice and with spacious rooms and a beautiful inner garden. Some of my friends stayed at Palazzo Galletti Abbiosi, which is very popular and a wonderful choice as well (some rooms even have frescoes!). Staying at these smaller, charming local hotels will likely make your visit to Ravenna even more special.
TIP: If you're visiting Ravenna by car, you may want to opt for hotels that are located a bit outside of the old town and have parking (nearby). For example, Hotel Astoria or Palazzo Bezzi Hotel are really nice choices.
If you are visiting Ravenna in summer and want to spend a few days at the beach too, check out the seaside resorts in Lido Adriano or other coastal areas near Ravenna.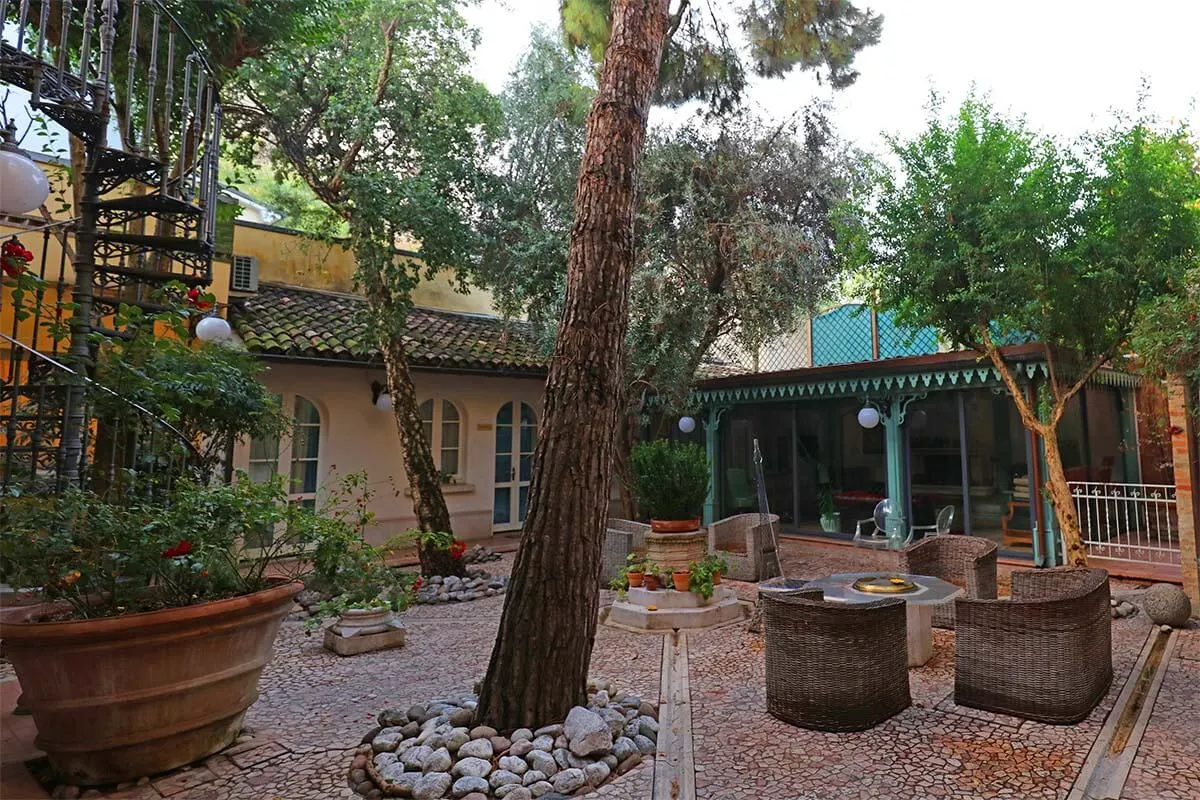 So, this is our guide to some of the very best things to do in Ravenna and its immediate surroundings. I hope that it gives you a better idea of what to expect and how to plan your time. Traditional, stylish, and relaxed, Ravenna is an enchanting town, well worth a trip.
TIP: If you have more time in the area, I highly recommend that you visit Rimini, just an hour by train from Ravenna. The nearby Republic of San Marino is a real bucket-list place as well. It's just a short drive from either Ravenna or Rimini and your chance to visit one of the smallest countries in the world. Don't miss it!
LEARN MORE: San Marino Travel Guide & Best Things to Do in Rimini
More travel inspiration for Italy:
If you found this post useful, don't forget to bookmark it and share it with your friends. Are you on Pinterest? Pin these images!