Italy has tens of thousands of churches, one more beautiful than the other. In fact, the big majority of the world's most remarkable churches can be found in Italy. When looking for the most beautiful churches in Italy, you'll quickly realize that – most of the time – Italian Cathedrals (Duomo) are the place to be, no matter which city you visit.
But while most of the Italian Duomo Cathedrals are interesting to see, some are so special and unique that it's a totally different league! Surprisingly enough, however, sometimes the Duomo is not the most impressive place of worship in the city and there are others that are worth seeing even more!
So which major churches and cathedrals in Italy are the most beautiful and most interesting to visit?
In this guide, we list the most important and most remarkable churches and cathedrals in Italy that are worth visiting even if you are traveling from the other side of the world. We also include lots of pictures to give you a better idea of what makes them so special as well as some practical tips if you decide to visit. Take a look!
Good to know: At the end of this guide, you can find some practical information that's good to know if you plan to visit any of the major Catholic churches in Italy.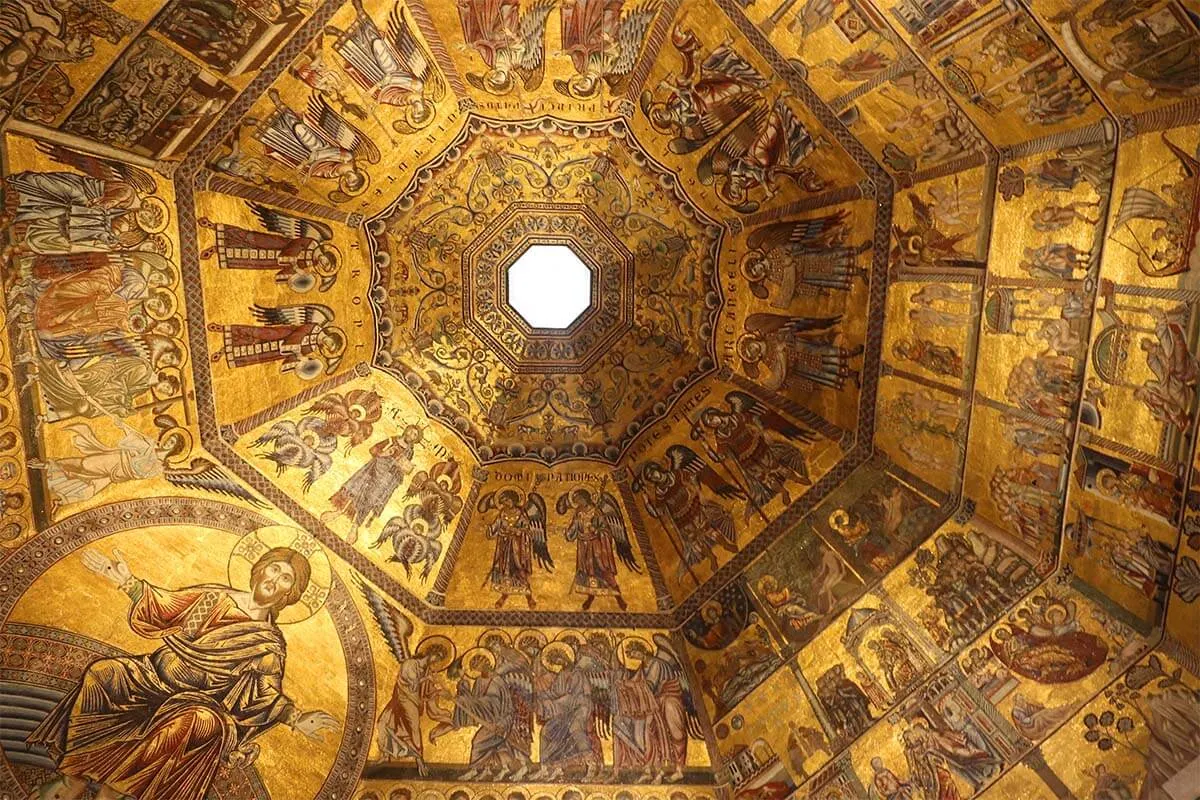 These are the most beautiful churches and cathedrals in Italy:
1. St. Peter's Basilica, Vatican City
The largest and most important Catholic church in the world, the Papal Basilica of Saint Peter in the Vatican, is also one of the most impressive churches in Italy.
Ok, it's located inside the Vatican, which is a separate country, but it's in the heart of Rome, so let's not get political. Also, you might not know it, but St. Peter's Basilica is actually not a cathedral. The pope is also the Bishop of Rome and the bishop's throne is in the Basilica di San Giovanni in Laterano, which is the actual cathedral of Rome (more info about it further below).
Anyway, no list of the most important Italian churches would be complete without mentioning St. Peter's Basilica. And if you ever visit Rome, you absolutely have to come and see it!
Built above the (alleged) tomb of Saint Peter, the current St. Peters' Basilica was constructed in the 16-17th centuries. It was built to impress, that's for sure! This church is absolutely massive and you really have to see it from the inside to even try to comprehend how gigantic it is.
But it's really not just about the size! St. Peter's Basilica is lavishly decorated and the interior is breathtaking. You can see some stunning pieces of art here, including Michelangelo's Pietà or Bernini's Canopy. In addition, you can also visit the underground crypt where many Popes are buried. If you absolutely want to, it's even possible to visit the tomb of St. Peter, but that part requires booking a special tour that is run by the Vatican itself and is quite limited in numbers.
TIP: One of the most unique experiences is climbing to the top of St. Peter's Dome. Not only are the 360° views of the city absolutely amazing, but you also get to see the church itself from the inside gallery at the top of the dome. The people below look like little ants from here! It gives you a yet better appreciation of how unique and enormous this landmark really is.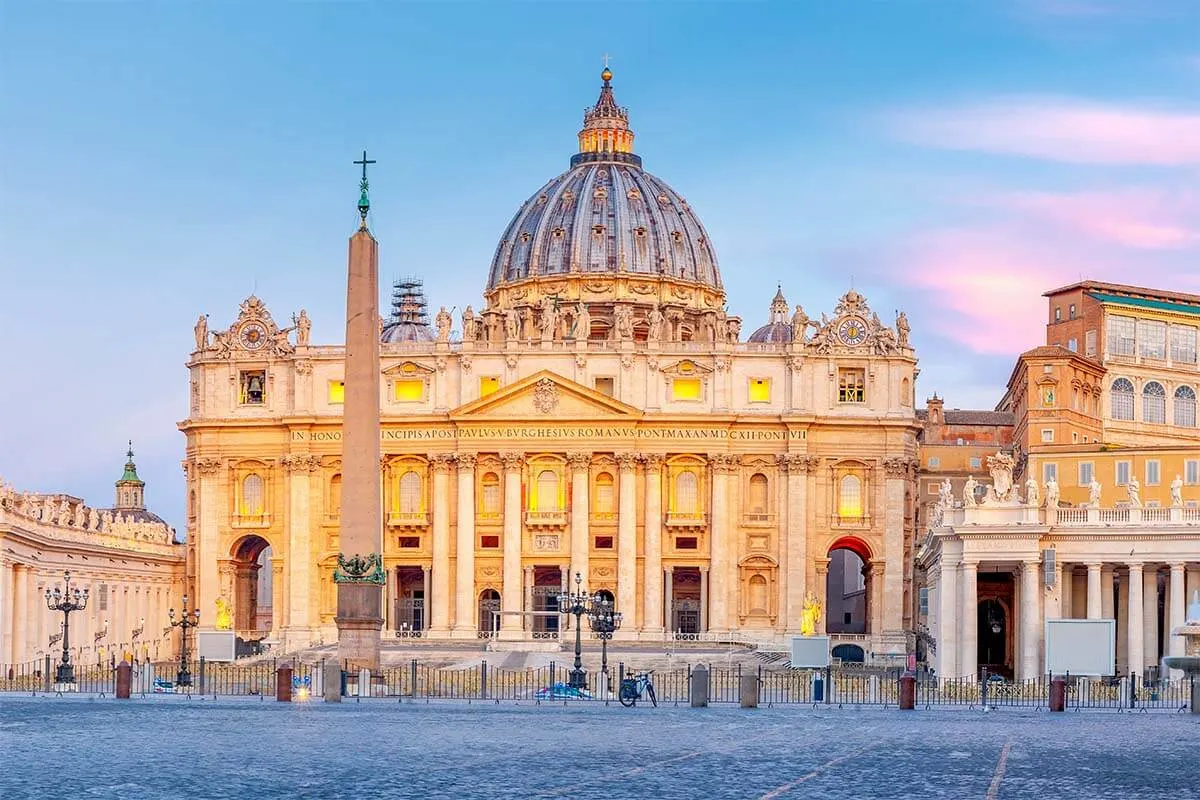 Visiting St. Peter's Basilica
St. Peter's Basilica can be visited free of charge and you don't need tickets or reservations (donations are welcome). However, you have to go through a security check and so the queues can be quite long.
Climbing the Dome requires a ticket, which you can only get on the spot. There are also lots of tours that visit St. Peter's Basilica, and some of them also include the Dome tickets. Joining a guided tour can be really worth it if you want to learn more about this extraordinary church.
TIP: If you are here anyway, you really have to see the Sistine Chapel at the Vatican too. Together with the Colosseum, this is one of the most-visited places in Rome, so you have to reserve a timed-entry ticket.
READ ALSO: Tips for Visiting Rome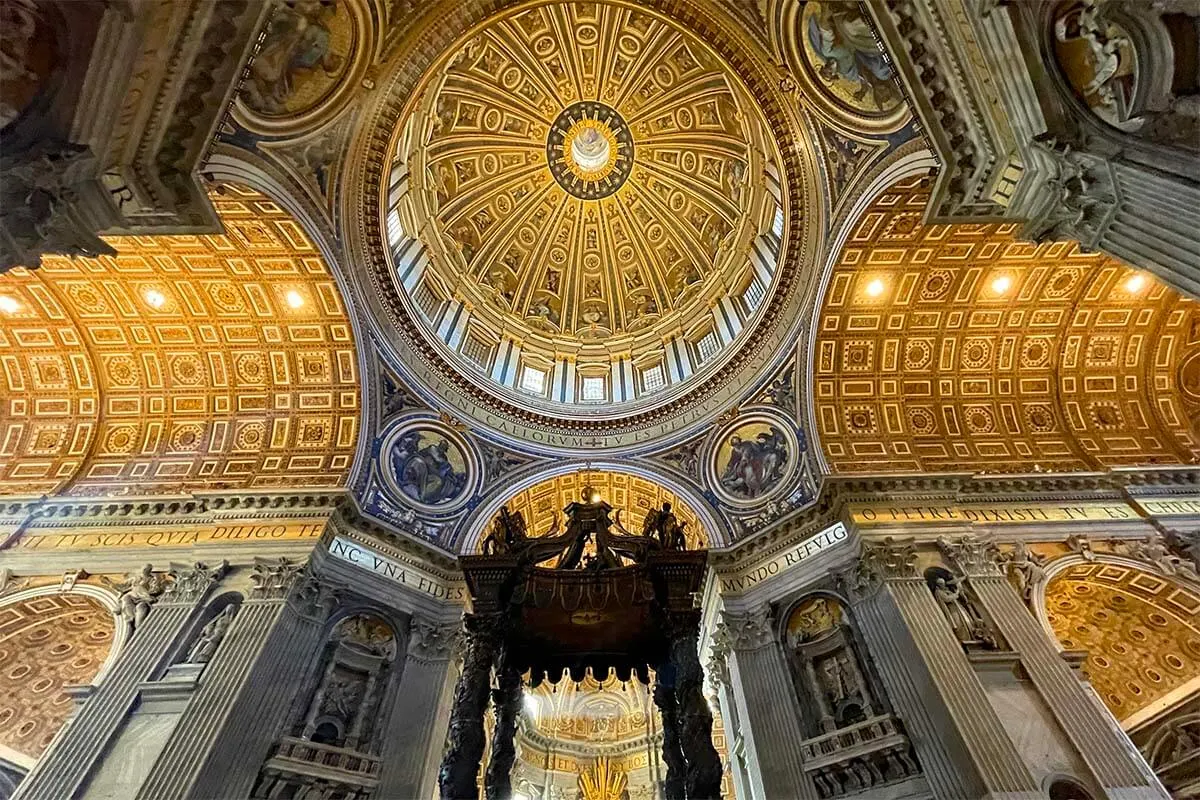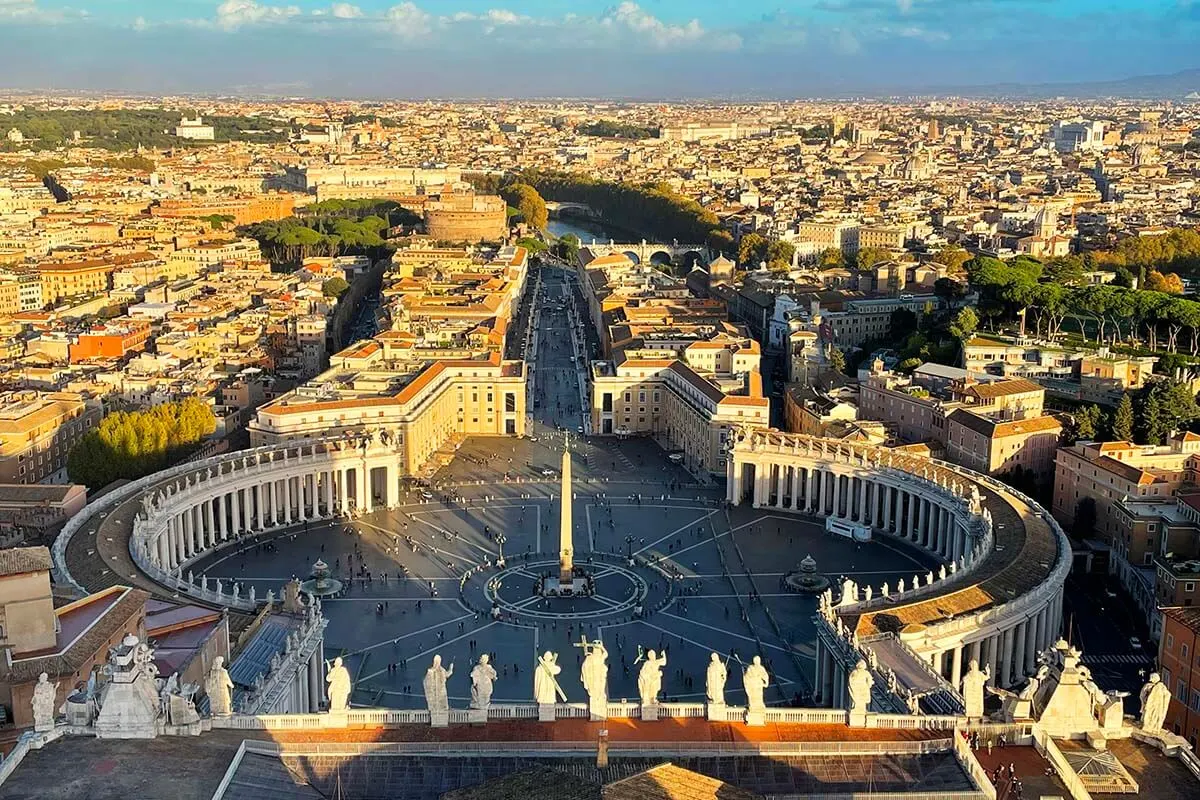 2. St. Mark's Basilica, Venice
Saint Mark's Basilica (Basilica di San Marco) in Venice is among Italy's most visited Cathedrals. It's popular for a reason – this church is absolutely impressive, both on the outside as well as on the inside.
Constructed in the 9th century as a chapel of the Doge's Palace, it was only in the early 19th century that St. Mark's Basilica was given cathedral status.
With its unique Italo-Byzantine architecture, St. Mark's Basilica is quite different from other major churches in Italy. Its interior is astonishing too, with more than 85,000 square feet of mosaics – mainly in gold – that took over 8 centuries to complete.
Some of the must-sees include St. Mark's Tomb and the Transept Chapels. But the absolute highlight is Pala d'Oro, a gold Byzantine altar screen studded with hundreds of gems.
In addition to the church itself, you can also visit the adjacent Saint Mark Museum which gives you access to a beautiful terrace overlooking St. Mark's Square and the Campanile.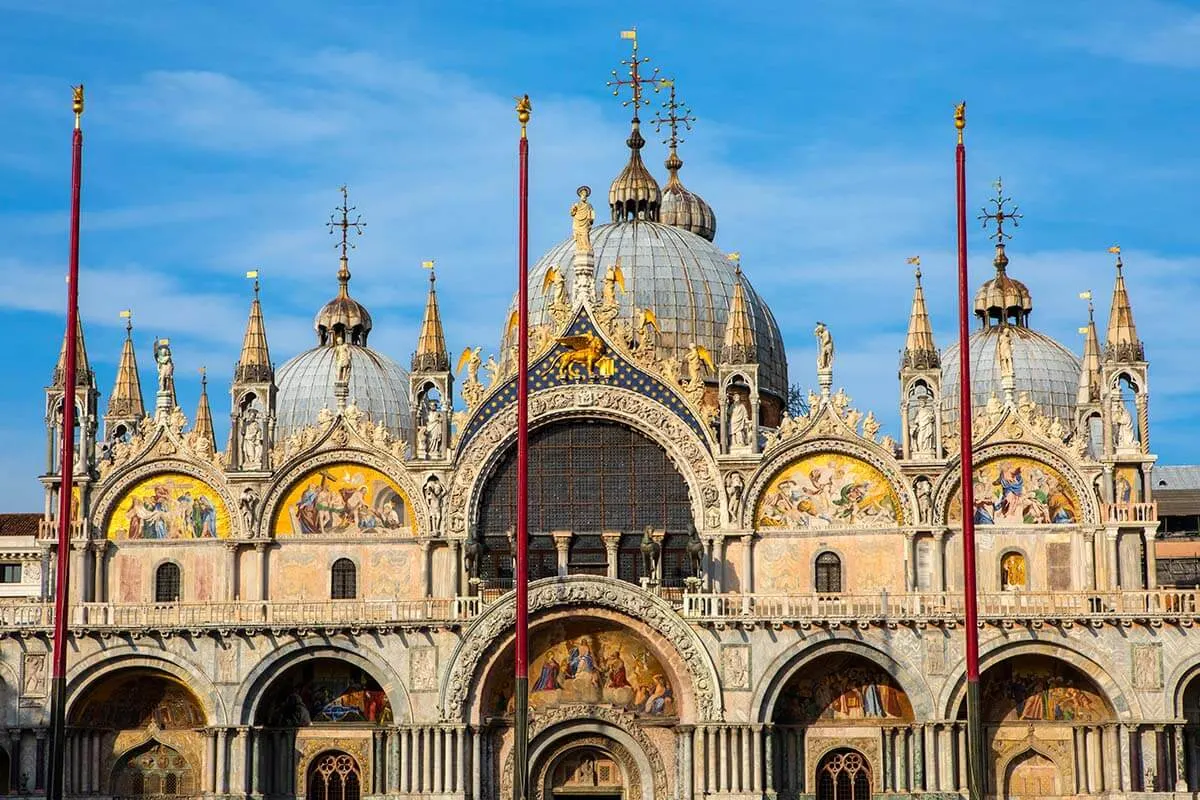 Visiting St. Mark's Basilica
Recently, St. Mark's Basilica introduced an entry fee, so you now need to buy a ticket in order to visit the church. In addition, the queues can be very long here. There's a security check and you can't take any large bags or backpacks inside, so make sure to locate the lockers and leave your bags before you start queuing.
We recommend either getting a skip-the-line ticket or going with a guided tour. Otherwise, you can waste hours waiting in lines. Pala d'Oro and St. Mark's Museum have an extra fee, but many tours include these already.
TIP: For the most unique experience, check out this amazing after-hours tour. It gives you exclusive access to St. Mark's Basilica before or after the official opening times. This is something to add to your Italian bucket list!
READ ALSO: Best Things to Do in Venice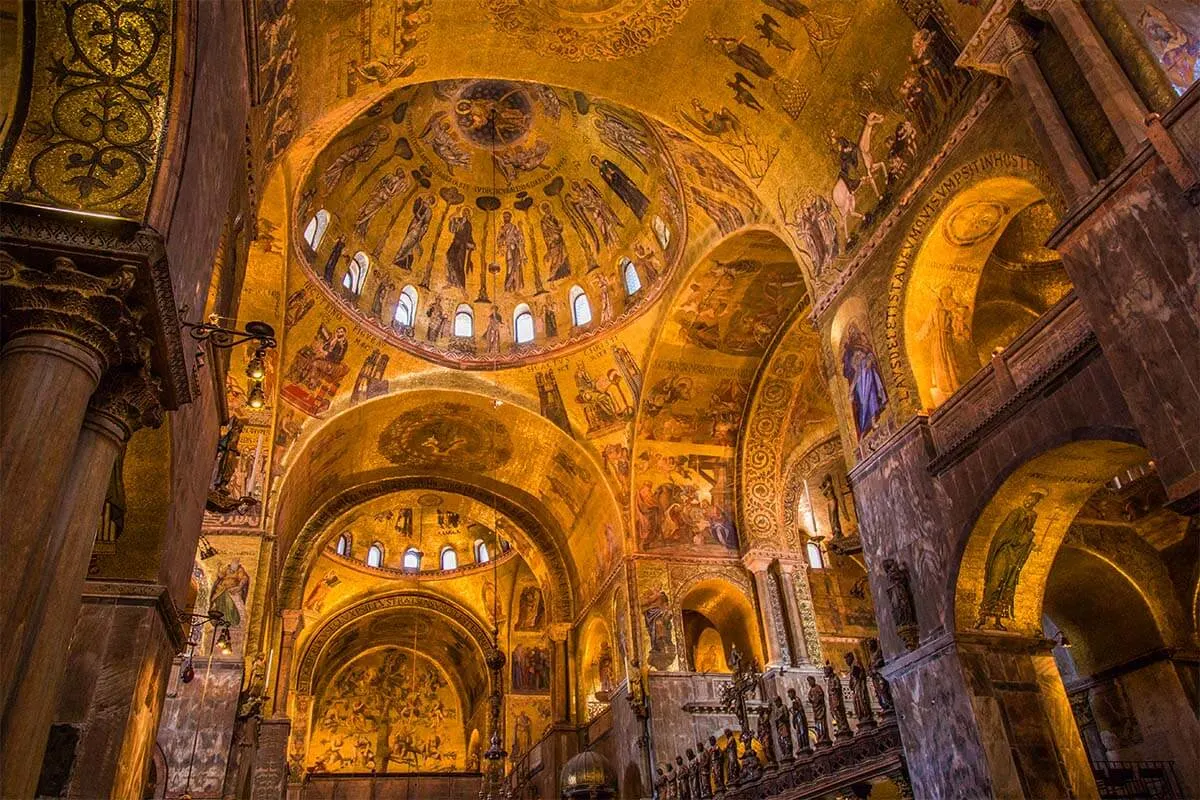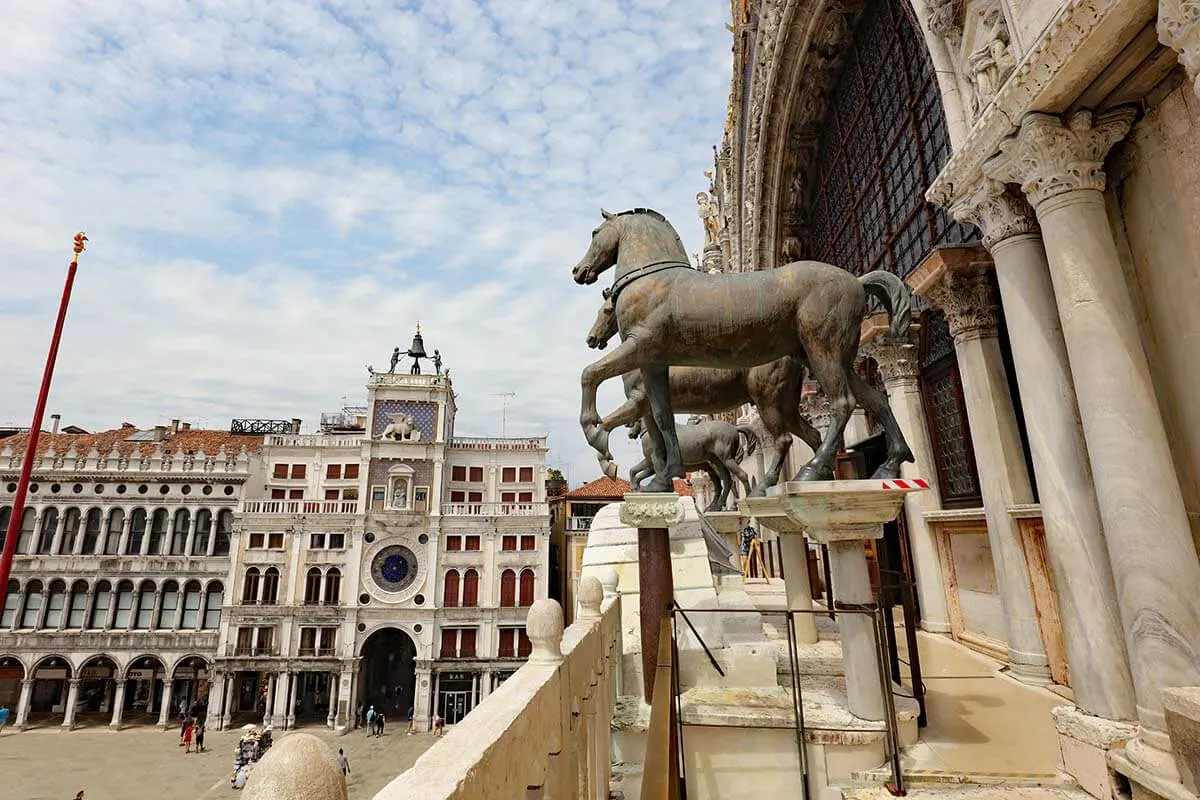 3. Milan Cathedral
Metropolitan Cathedral-Basilica of the Nativity of Saint Mary, or simply Milan Cathedral (Duomo di Milano), is among the most significant and spectacular cathedrals in Italy. In fact, if you simply google 'Duomo Cathedral', it's quite likely that you'll see Duomo di Milano dominating the search results.
This is one of the Italian cathedrals that took the longest to build – almost 600 years! The construction started in 1386, but the cathedral was only completed to the last detail in 1965. And the result was more than worth the wait – the Duomo is absolutely stunning!
Because it took so long to build, numerous architects, artists, and ever-changing trends have influenced the process. So it comes as no surprise that Duomo di Milano has very unique, contrasting styles, and is totally different from all other cathedrals in Italy.
With 135 spires and pinnacles, Milan Cathedral looks a bit like a mix between a sandcastle and a fairytale palace, but then again – not quite. It's truly one of a kind.
Inside, you can admire the stunning marble floors and huge impressive columns that are said to be the highest Gothic vaults of any complete church. However, the Duomo is quite dark inside, so sometimes it's difficult to appreciate its interior.
One of the nails from Jesus' crucifixion is kept at the Duomo too. You can also see the underground Baptistery of San Giovanni alle Fonti which dates from 335. Back in the time of the Western Roman Empire, this baptistery was part of the first Milan cathedral that stood at this spot.
TIP: One of the most impressive places to see here is the rooftop, aka Duomo Terraces. Walking between the spires of the Cathedral and enjoying the unique views of the city is a truly unique experience!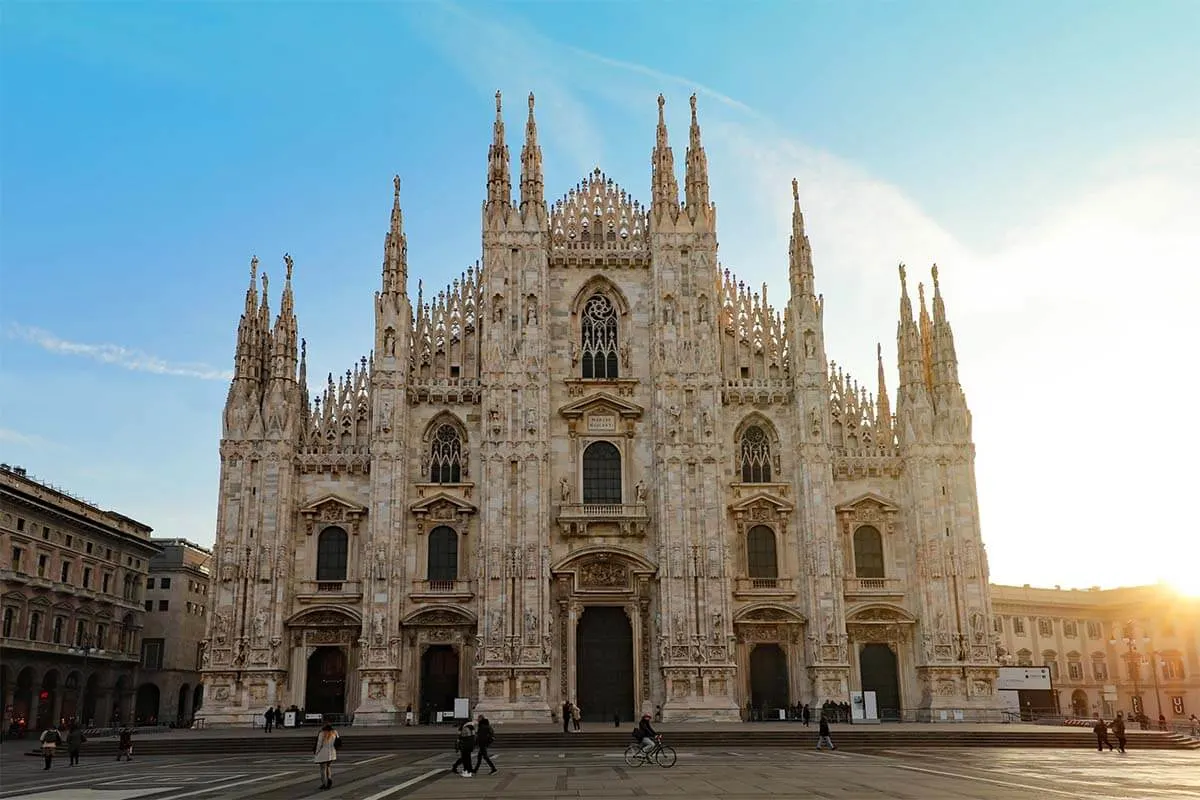 Visiting the Duomo of Milan
Visiting any part of Duomo di Milano requires a ticket, and there are separate tickets and fees depending on which places you decide to see.
You can opt to visit the Cathedral and the Rooftops, or just one of the two, some tickets also include the museum entrance, etc. There are also guided tours if you want to learn more about this spectacular building and its history. You can find all the best ticket and tour options here.
Good to know: If you are visiting the rooftops, you should know that high-heeled shoes are not allowed.
READ ALSO: Best things to do in Milan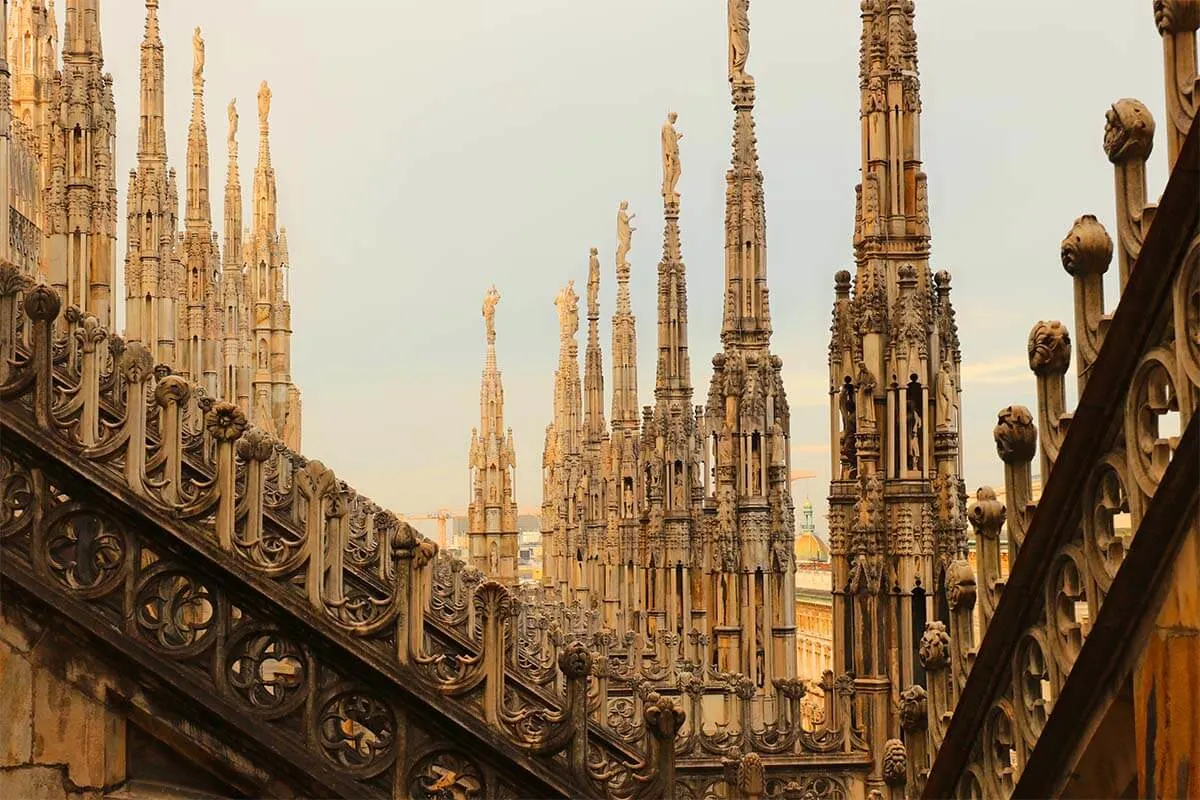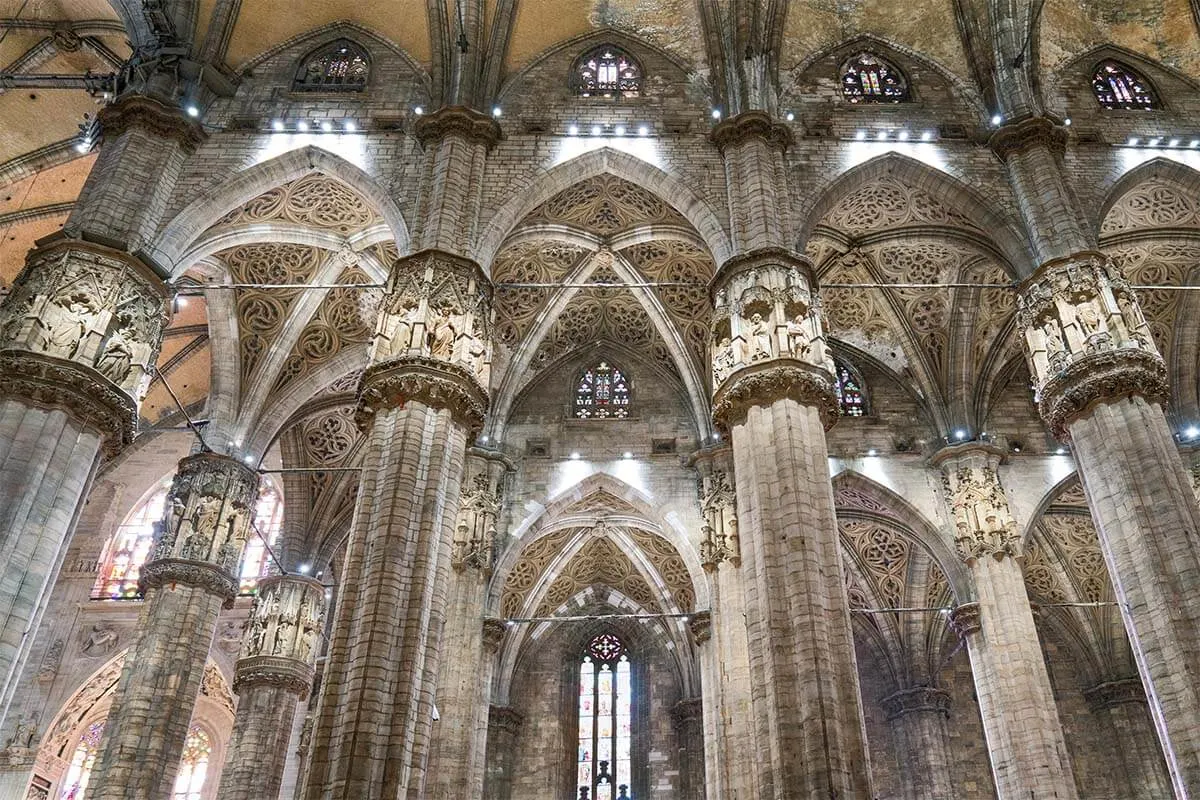 4. Basilica of Saint Francis of Assisi
The Basilica of St. Francis of Assisi (Basilica San Francesco d'Assisi) is one more example of the most remarkable churches in Italy. This is also one of the most visited Catholic pilgrimage sites in Italy, attracting pilgrims from all over the world.
Just in case the name isn't familiar to you, St. Francis of Assisi (Francesco d'Assisi) was one of the most respected Christian figures and the founder of the Franciscans. Assisi town in the Umbria region is the place where St. Francis was born and is buried.
While the main church in Asssisi is the Cathedral of San Rufino, it's the Basilica of Saint Francis that gets all the attention. And rightly so, – it's incomparably more special and worthy of your time than the main cathedral.
The Basilica of St. Francis of Assisi is not just worth visiting because St. Francis is buried here, but also for its awe-inspiring interior. While the church looks pretty simple on the outside, the moment you step inside, it will take your breath away. This is truly one of the most beautiful churches to see in the world, not just in Italy!
The Basilica also has very distinctive architecture and is comprised of two churches – the Lower Basilica and the Upper Basilica. The Lower Basilica strikes with its ribbed vaults and stunning frescoes. It's also here that you find the staircase leading down to the crypt and the tomb of St. Francis. The Upper Basilica is also really impressive with colorful stained windows and every inch of the walls and the ceilings painted.
In addition, as you walk between the lower and the upper levels, you can also see the courtyard of the friary. It's not open to the public, but you can admire the architecture from the outside terrace between the two levels of the Basilica.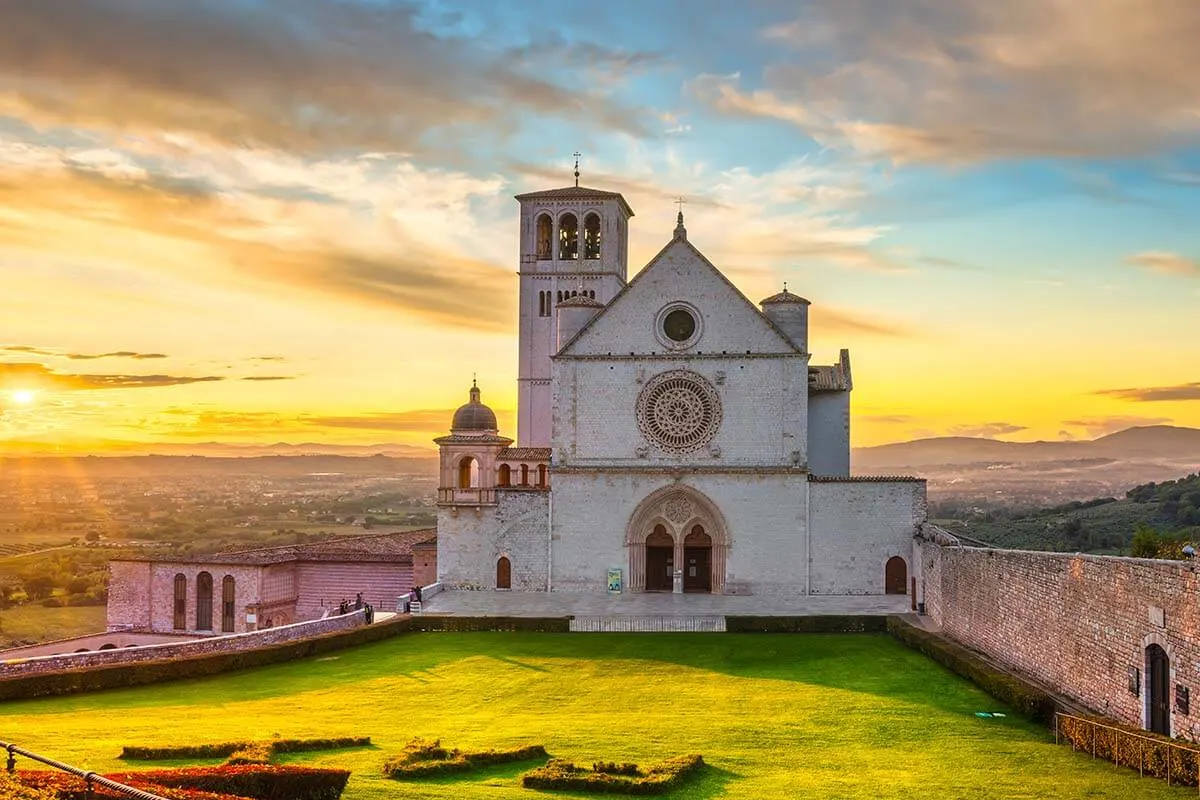 Visiting the Basilica of St Francis of Assisi
The Basilica of Saint Francis in Assisi is open to the public and – at the moment of writing – is free to visit for individual travelers (donations are welcome). Groups have to pay a small fee.
Because of that, you don't need to plan much in order to see this church. Everything is easily accessible and is open to the public without any tickets or advance reservations. However, also here, if you want to learn more about this interesting place, it might be worthwhile to look for a nice guided tour.
The main challenge here is getting to Assisi itself because it's located a bit further away from any of the nicest and most-visited cities in Italy. So you'll have to plan a separate excursion if you want to visit this church. Luckily, there are some day tours, mostly from Florence or Rome, so it doesn't require a total change to your itinerary and it's absolutely worth it.
I cannot even try to describe how impressive this church really is and I find that no words or pictures do it justice. Assisi is really worth a trip, and most of all for its stunning Basilica!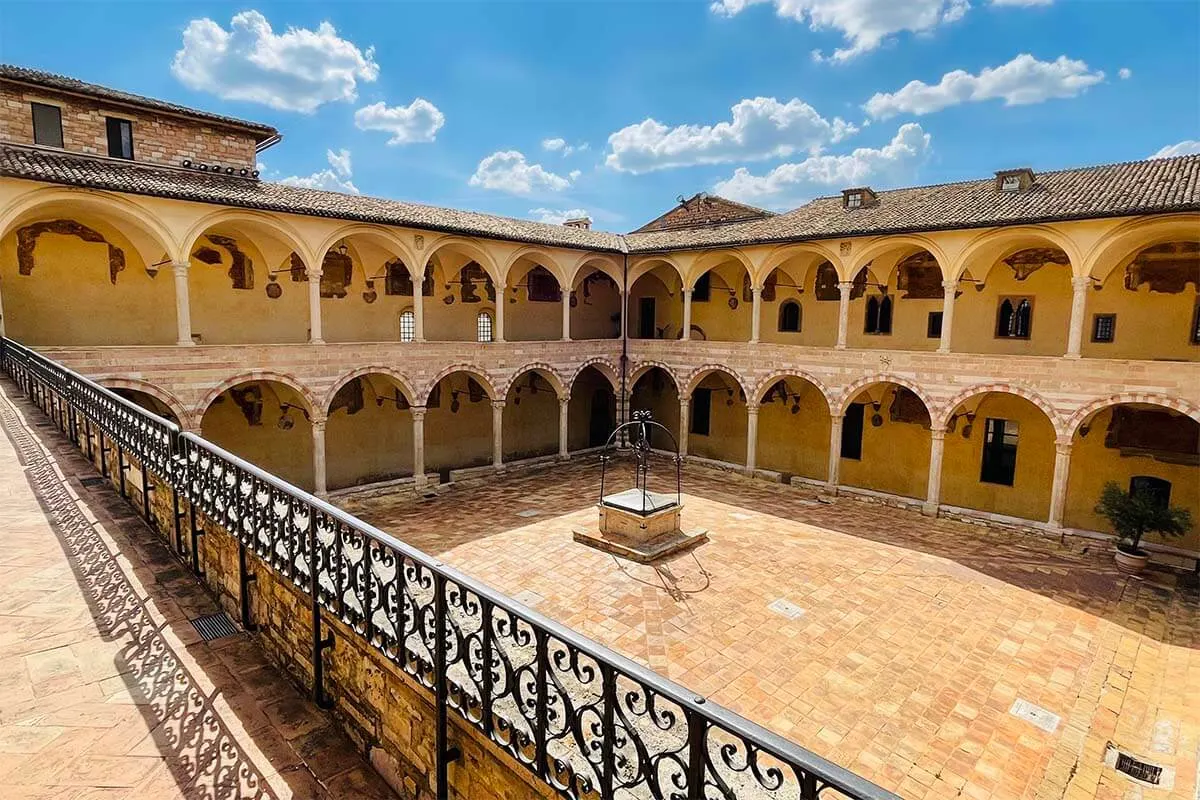 5. Siena Cathedral
Siena Cathedral (Duomo di Siena) is one more exquisite example of the very best cathedrals to see in Italy! Considered the finest example of Romanesque-Gothic architecture, this 13th-century church is impressive on the outside as well as on the inside.
The exterior is striking and the interior is out of this world, with every inch of the surface decorated with exquisite marble, stunning frescoes, sculptures, paintings, etc. You can see some beautiful works of art by Donatello and Michelangelo, to mention just a few.
In addition, there is so much more to see here than just the church itself! In fact, the Siena Duomo Complex comprises of seven different places. The highlights include the Piccolomini Library, the Cathedral Museum, the Crypt, and the Baptistery of St. John.
And be sure to also plan some time to visit the rooftops of the old and/or 'new' cathedrals for stunning views of the city and its surroundings.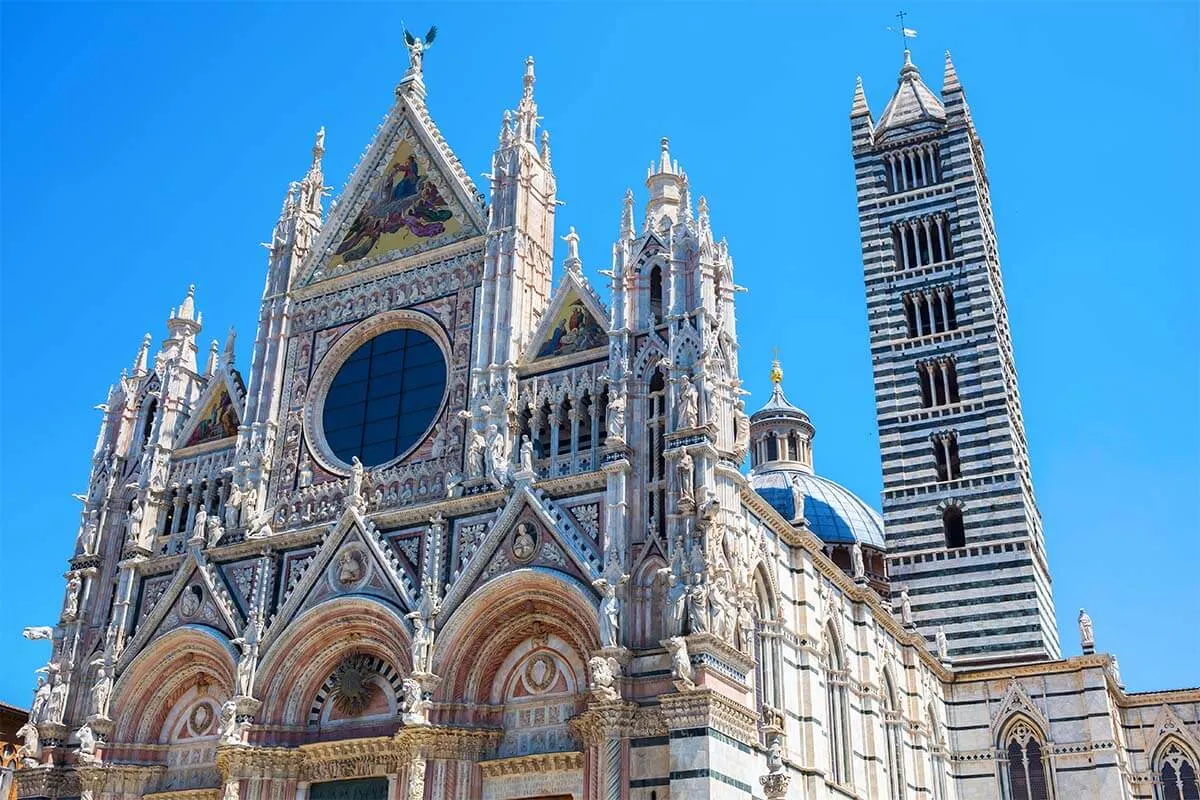 Visiting Siena Cathedral
Just like most of the major cathedrals in Italy, also Siena Duomo now has an entrance fee. The regular tickets include the Cathedral and Piccolomini Library.
If you want to experience the other places, you'll need an all-in pass. Plus, there is one area – the Gate of Heaven – that can only be visited with a guided tour.
Siena Duomo has so much to offer that it's like a destination in itself. For more information, please see our detailed guide to visiting the Siena Cathedral.
READ ALSO: Best Things to Do in Siena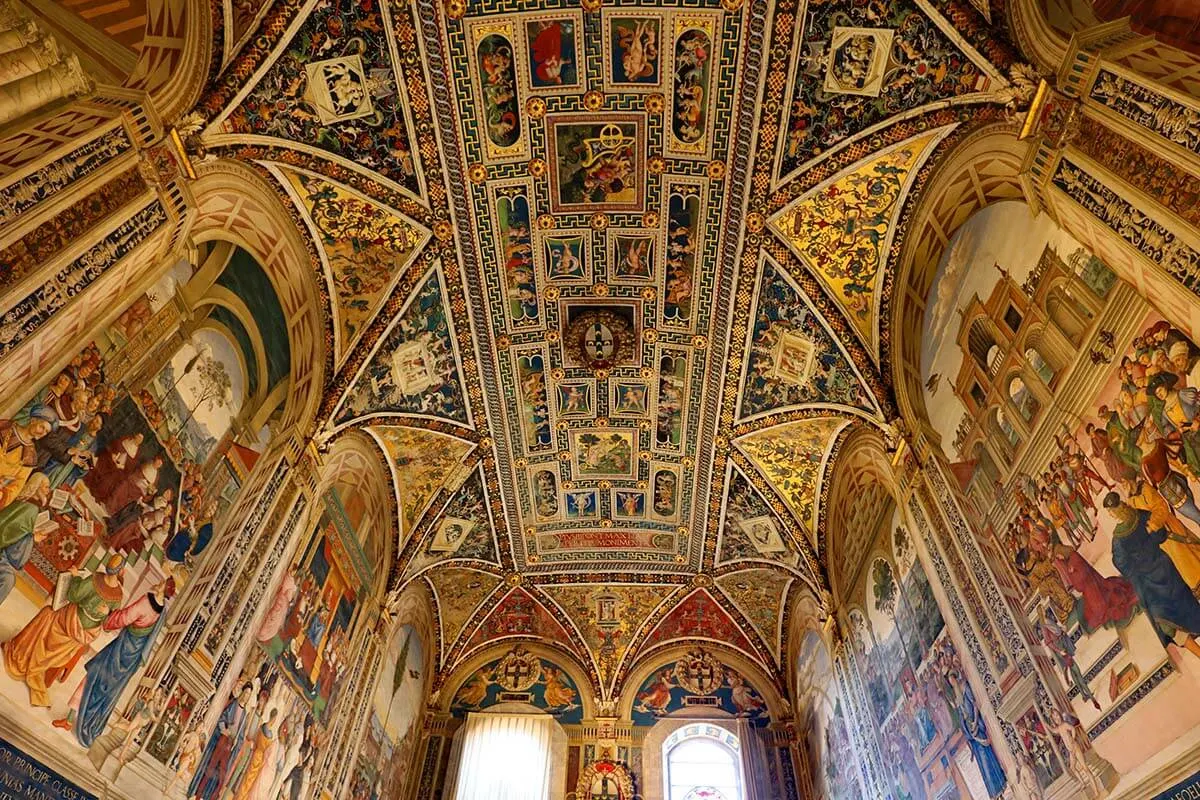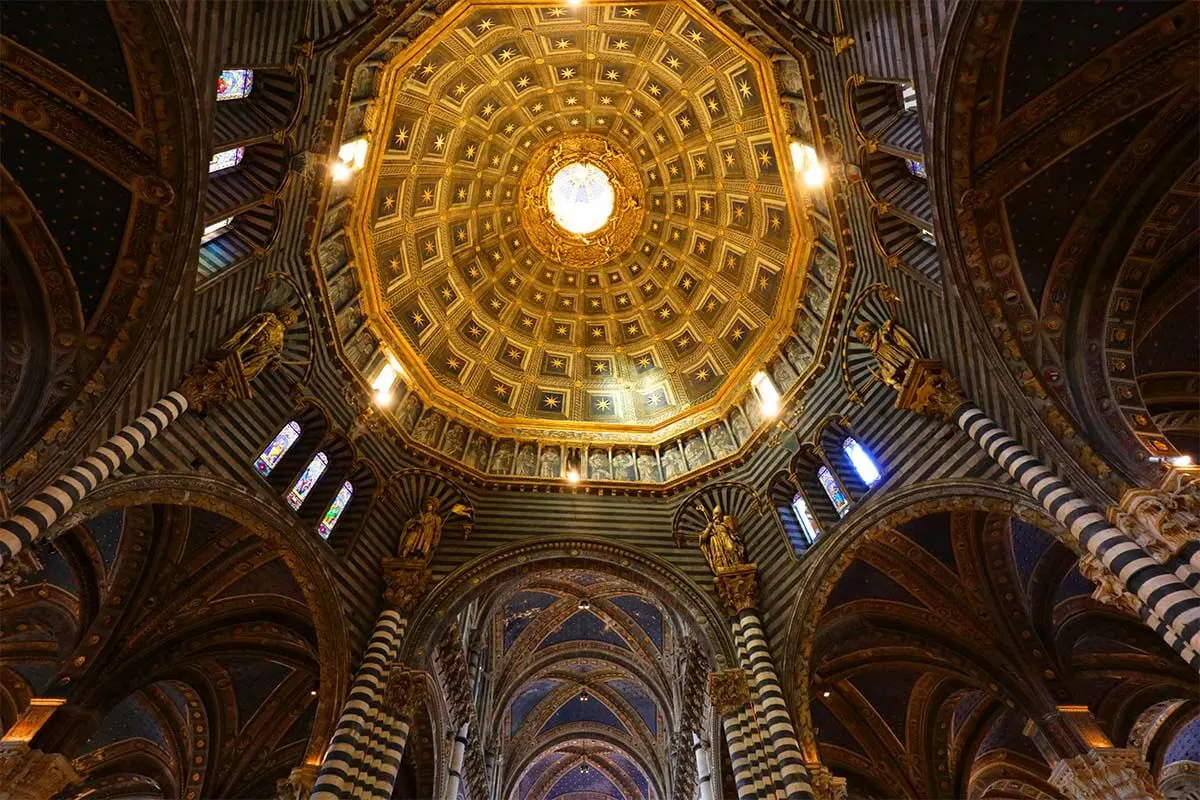 6. Florence Cathedral
The world-famous Florence Cathedral (Duomo di Firenze) needs no introduction. Dominating the city's skyline, this is probably one of the most photographed churches in Italy. Even if you haven't been to Italy yet, the chances are high that you have seen pictures of Florence Duomo.
However, not many people know that the interior of Florence Duomo is surprisingly simple and somber. If I'm completely honest, it's so simple and uninspiring that you can't even start to compare it to the interiors of any other church mentioned in this list!
The good thing is that the awe-inspiring exterior and the remarkable Brunelleschi's Dome more than make up for the lack of decorations in the rest of the church. Plus, there is so much more to experience at the monumental complex of Santa Maria del Fiore than just the cathedral itself, and all of this together makes Florence Duomo one of the most interesting cathedrals to visit in Italy.
You can visit the Cathedral Museum, and the Baptistery, go all the way to the top of the Giotto's bell tower, or climb the dome of Duomo for an incredible experience and stunning views. If you are looking for something unique, it's also possible to visit the rooftop terraces, albeit only with selected tours.
TIP: We recently visited the Duomo with this amazing tour that – among others – includes the Dome climb and exclusive access to the Duomo terraces. It's definitely worth it if you want to explore this unique building to the fullest.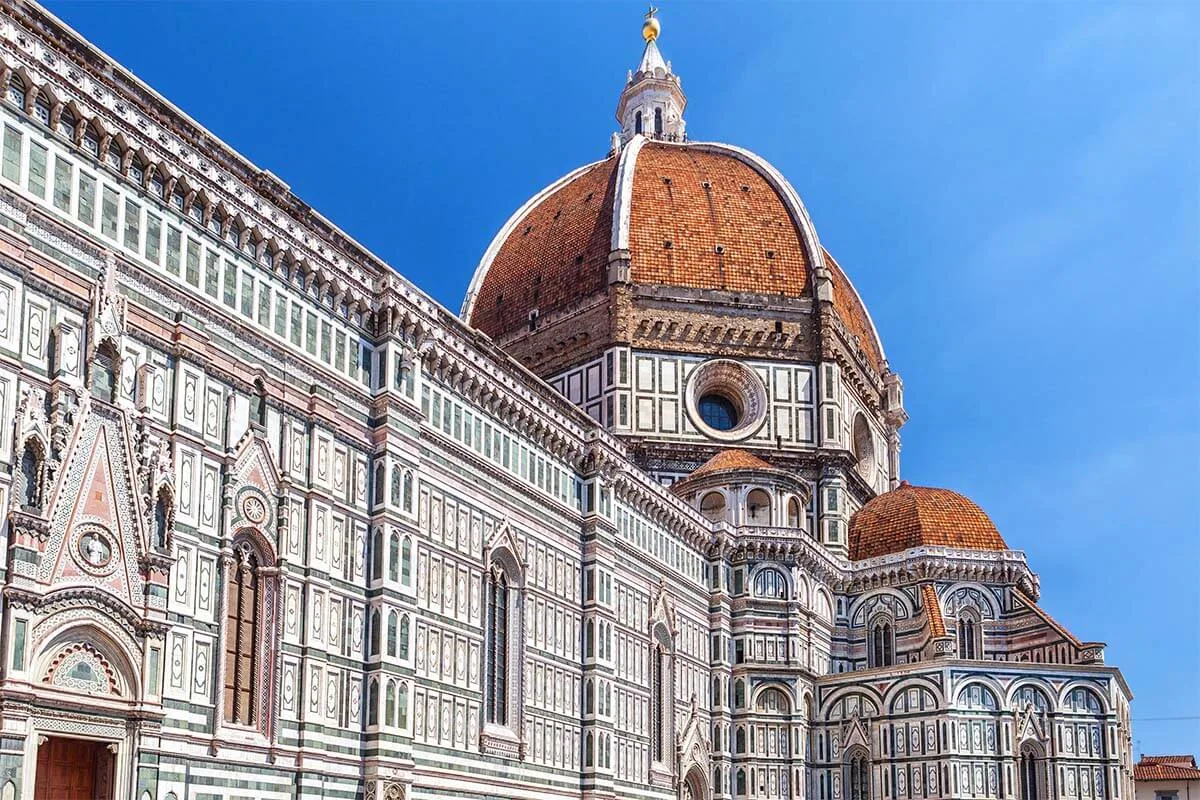 Visiting the Duomo of Florence
At the moment, the entrance to the Florence Cathedral is free of charge. However, all the other parts of the Duomo Complex require a ticket (see all options here).
The most popular is the Duomo Dome climb and you really need to book a timed-entry all-in ticket in advance if you want to be able to do this during your visit. This ticket includes all the other sites that you can visit at the Duomo, but only the Dome climb is timed.
TIP: There is usually an enormous queue to get inside the cathedral. The best way to skip that line is to visit the cathedral after doing the Dome climb (it ends inside the church). Or – if you are not planning to climb the Dome – by visiting the Crypt of Santa Reparata. Entering the crypt requires a ticket and so it has a separate entrance at the side of the cathedral, with hardly any queues at all. After you visit the crypt, you can explore the rest of the cathedral.
READ ALSO: Best Things to Do in Florence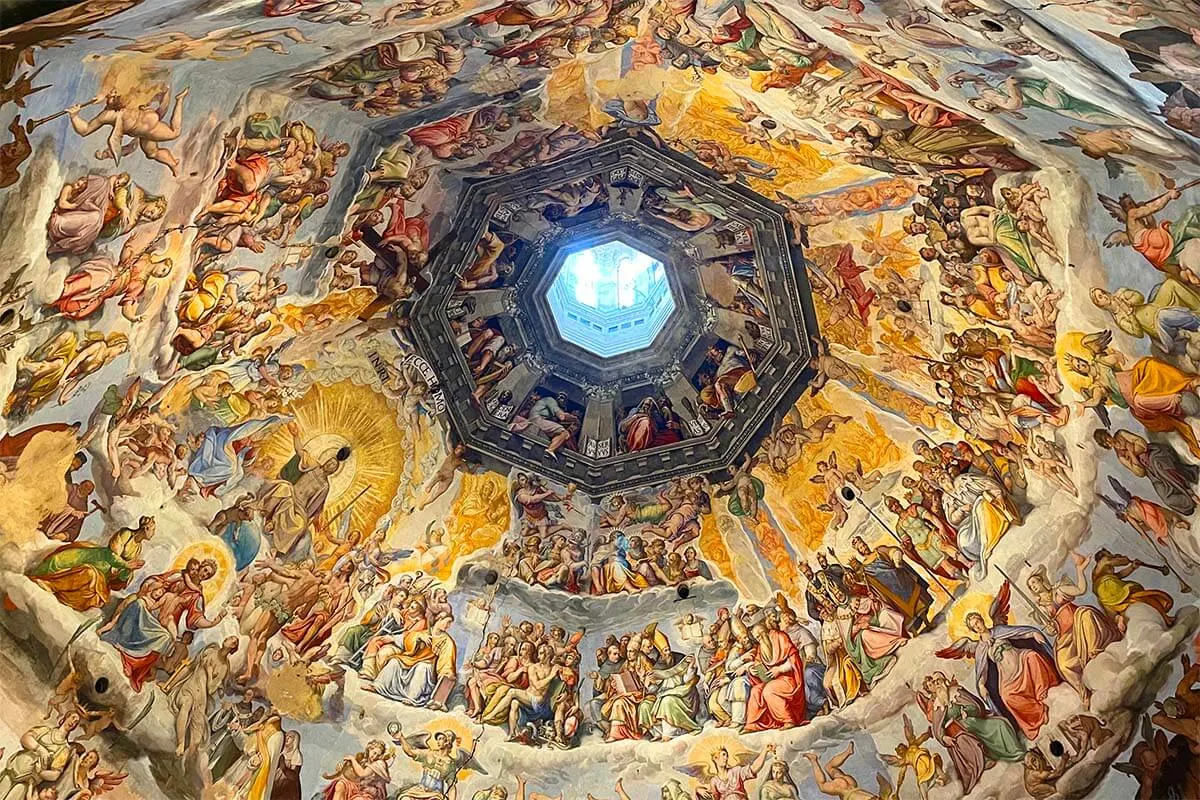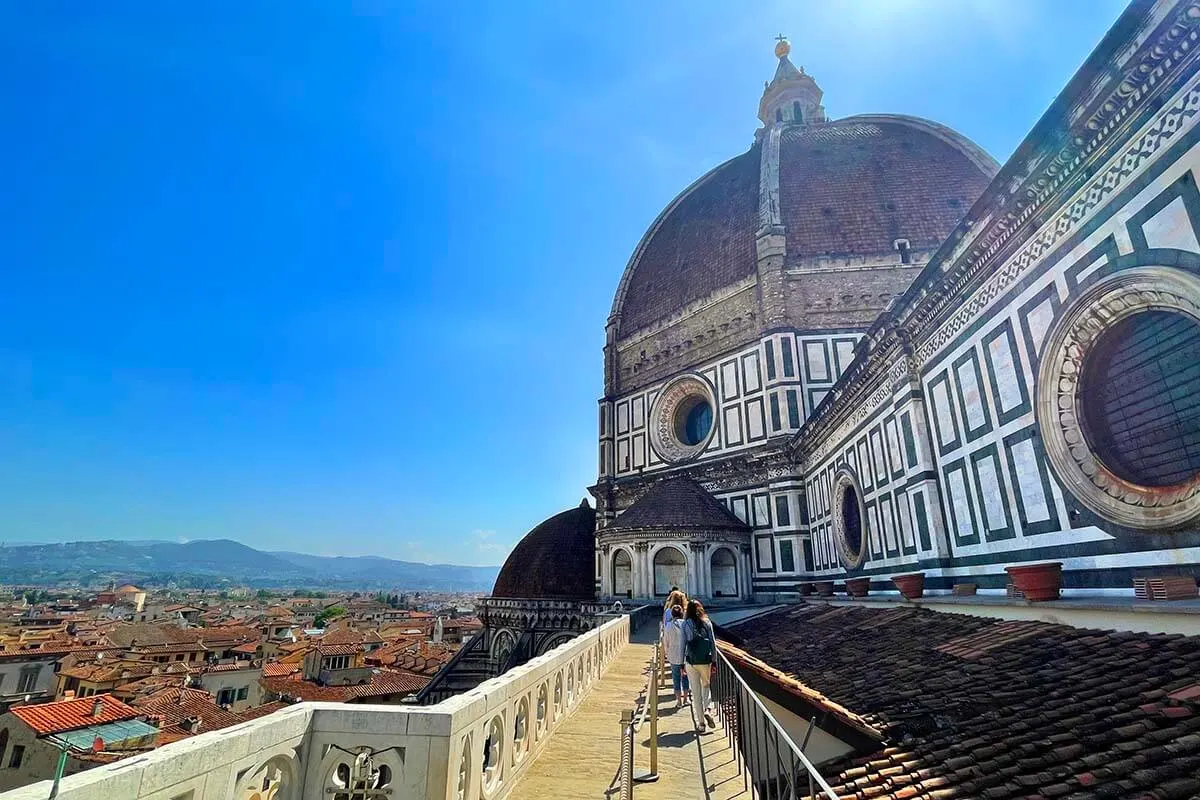 7. Basilica of St. John Lateran in Rome
Not many people know that the Archbasilica of Saint John Lateran (Basilica di San Giovanni in Laterano) and not St. Peter's Basilica is the actual Cathedral of Rome. The Pope is the reigning bishop of the city of Rome and this cathedral is considered the 'Cathedral of Rome and of the World'.
But all the politics aside, the Basilica di San Giovanni in Laterano is absolutely impressive! It definitely deserves a mention on any list of the best cathedrals in Italy. In a way, it's even more special than most other churches on this list because there are usually very few tourists here. So you can admire its stunning interior in all serenity.
This Cathedral is huge and is very richly decorated with marble mosaic floors and gold-plated ceilings. Some of the things to look out for are the incredible statues of the Twelve Apostles along the central nave, plus the papal tombs. Also, the adjacent 13th-century cloister is really worth seeing.
TIP: On the other side of the street opposite the Basilica, you can visit the Holly Stairs (Scala Sancta). It is believed that Jesus climbed these stairs before his crucifixion. These stairs have been brought from Jerusalem to Rome in the 4th century and are a popular pilgrimage site in Rome.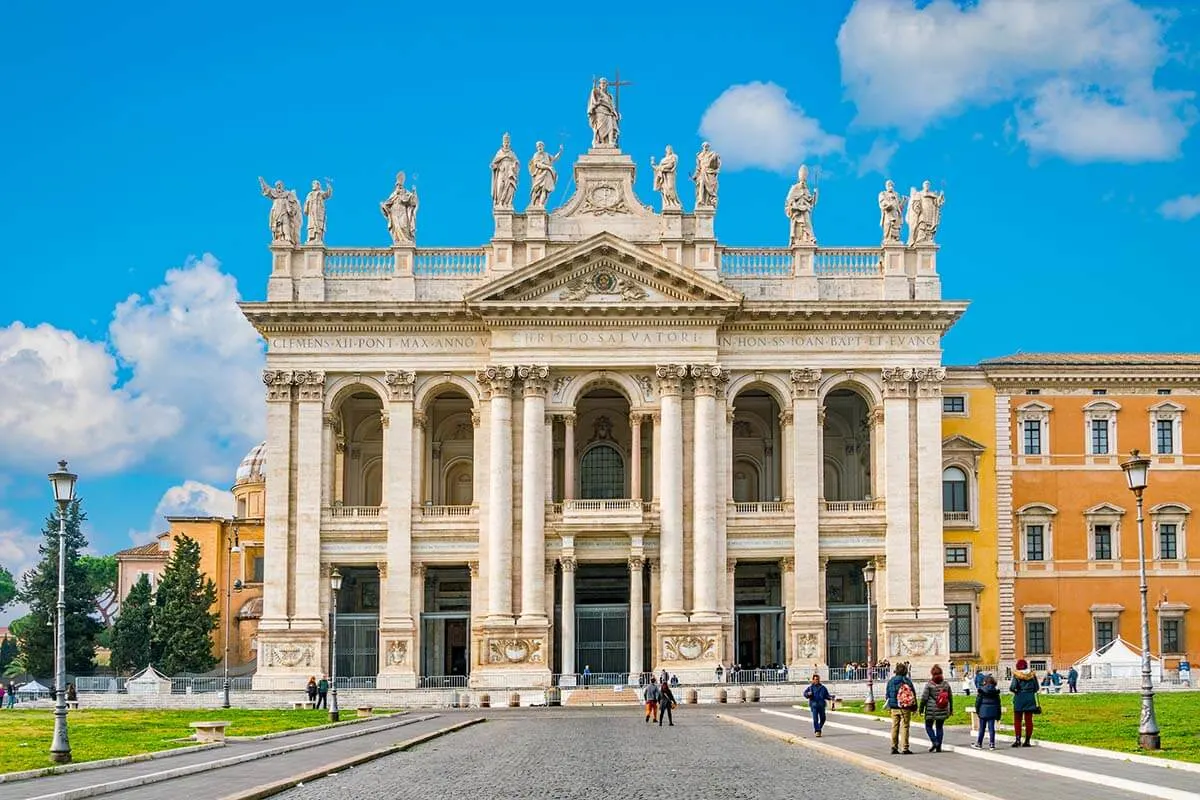 Visiting Rome Cathedral
You can visit the Basilica di San Giovanni in Laterano free of charge. You'll have to pay a small fee if you want to see the cloister.
There is a security check at the entrance of the cathedral, but usually no queue.
Despite this being the main cathedral of Rome, it's unbelievably quiet here. Probably because the city has so many other popular landmarks and attractions that most people never find the time to come here…
READ ALSO: Best Things to Do in Rome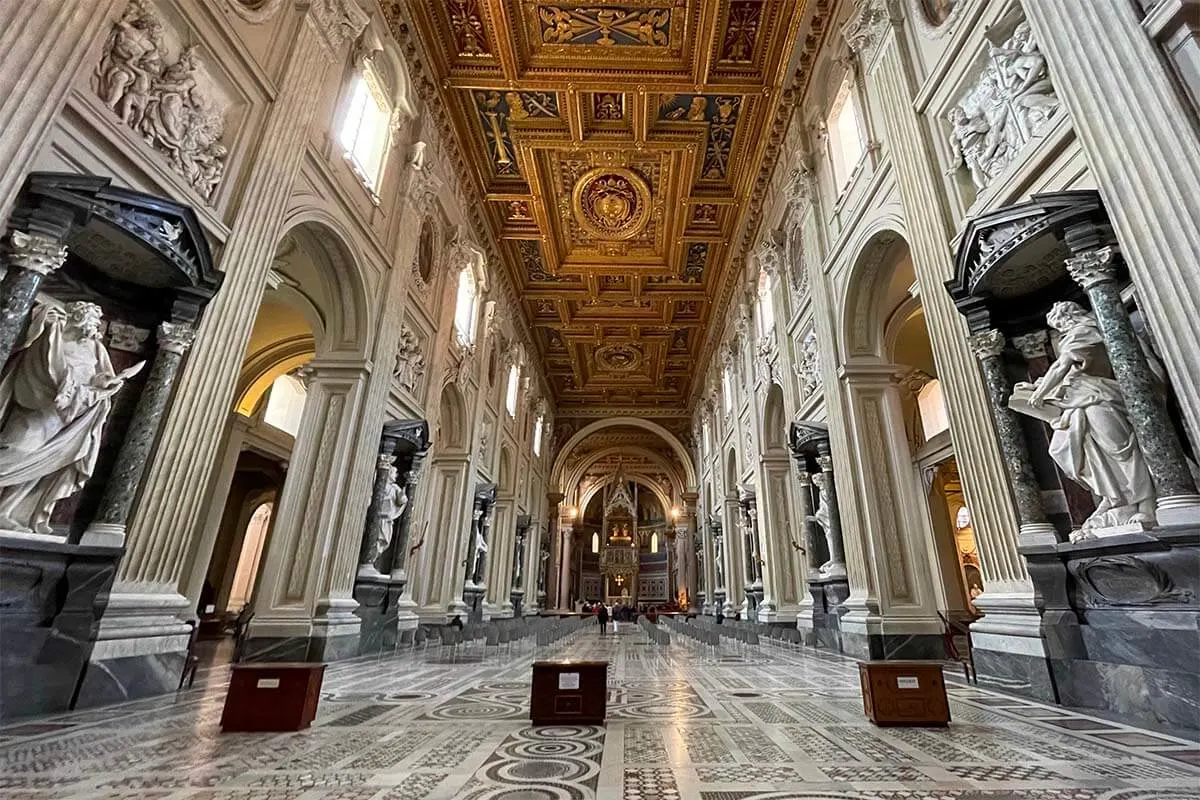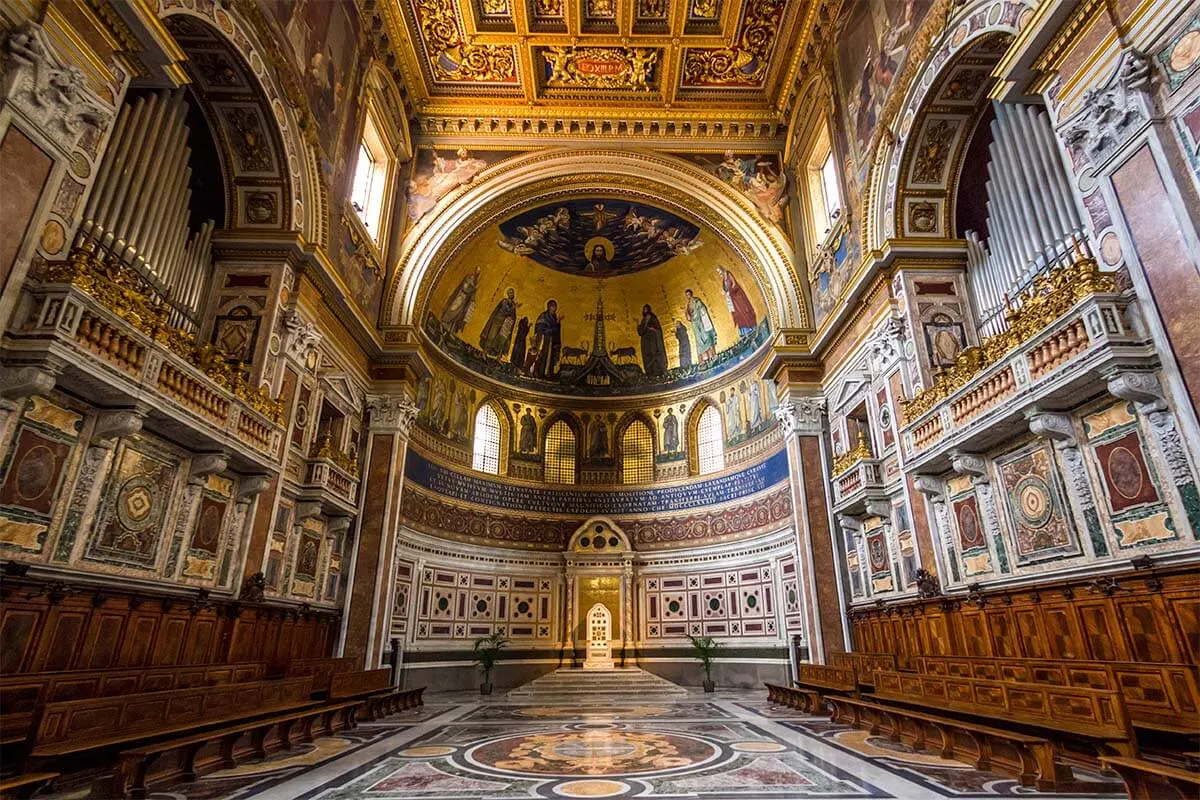 8. Basilica of San Vitale in Ravenna
You may not even have heard of Ravenna before, but as far as the most impressive churches in Italy are concerned, this small town in the Emilia Romagna region in Northern Italy should definitely be on your radar.
In fact, Ravenna has so many stunning churches, some of which are more than worth a visit even if you are traveling from the other side of the globe.
But if you only visit one church in Ravenna, make it the Basilica of San Vitale (Basilica di San Vitale). This 6th-century church is so special that it's been listed as a UNESCO World Heritage Site.
The domed octagonal church looks quite simple on the outside, but its interior is one of the finest examples of Christian Byzantine art, with stunning frescos and incredibly detailed mosaics that will take your breath away. The mosaics of Basilica San Vitale are among the most exquisite in the world! Take a look also at the featured image at the very top of this article – it's from this church.
In the garden just next to the church, you also have to see the 5th-century Mausoleum of Galla Placidia. Step inside and you are surrounded by some incredibly detailed and amazingly well-preserved 1500-year-old mosaics. No pictures can do these places justice – it's something you have to experience!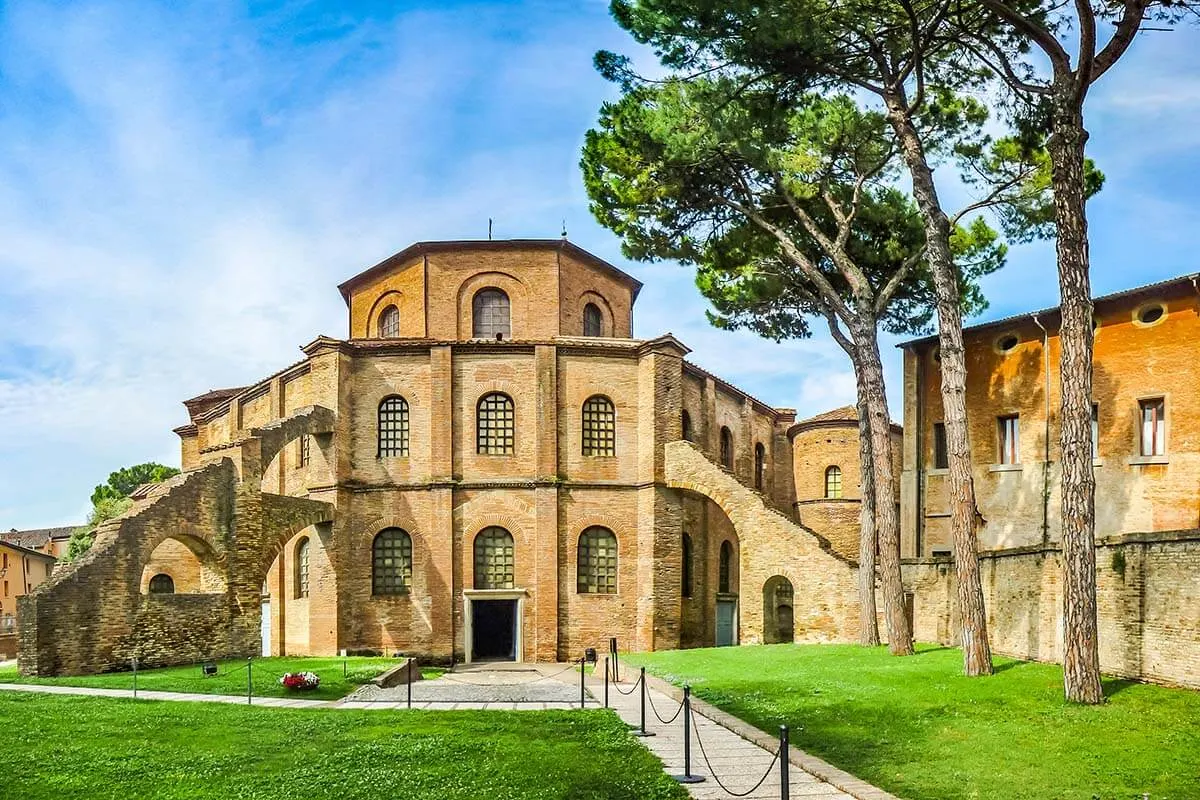 Visiting Basilica San Vitale
Basilica di San Vitale requires a ticket which also gives you access to several other places in Ravenna. There is an additional charge for the Mausoleum of Galla Placidia and there, they usually work with timed tickets.
For more information, opening times, and online tickets see their website.
TIP: Most people only spend a day or even just a few hours in Ravenna. But there's so much to see, especially when it comes to mosaics! If you want to make the most of your short visit, opt for a city tour that – among others – includes a visit to Basilica San Vitale.
READ ALSO: Best Things to Do in Ravenna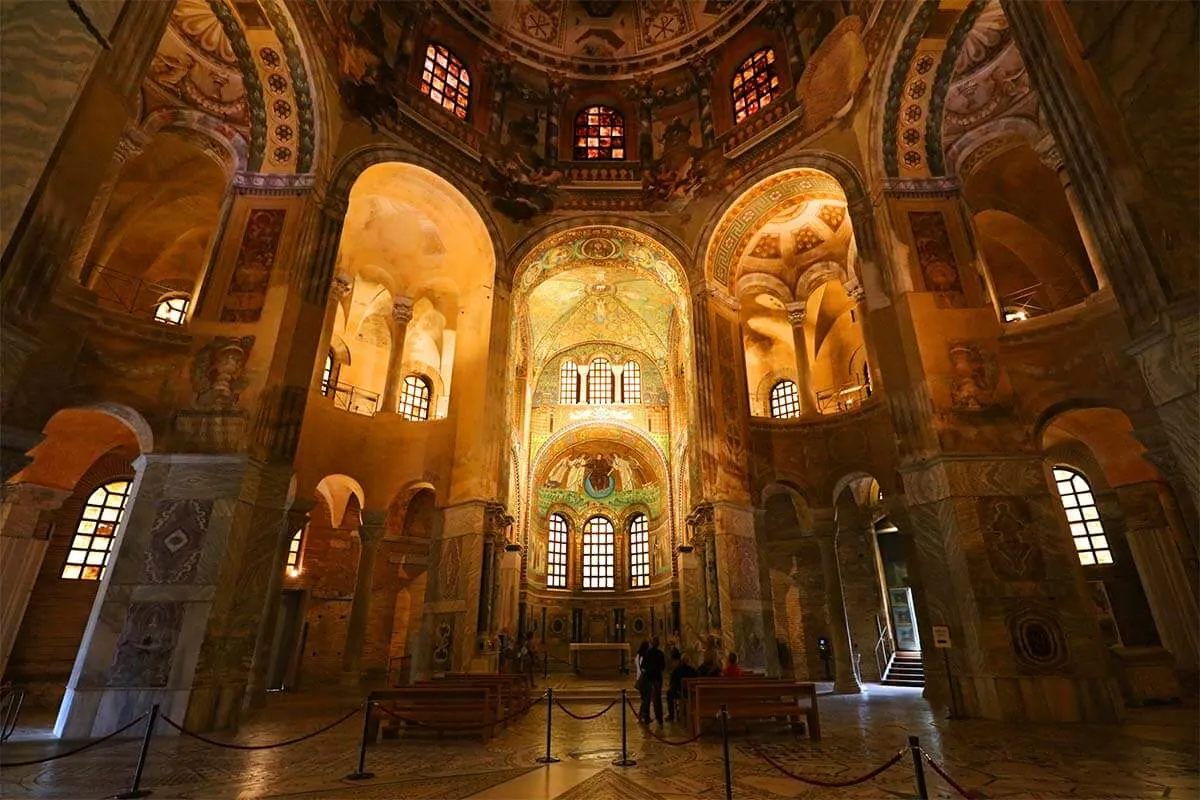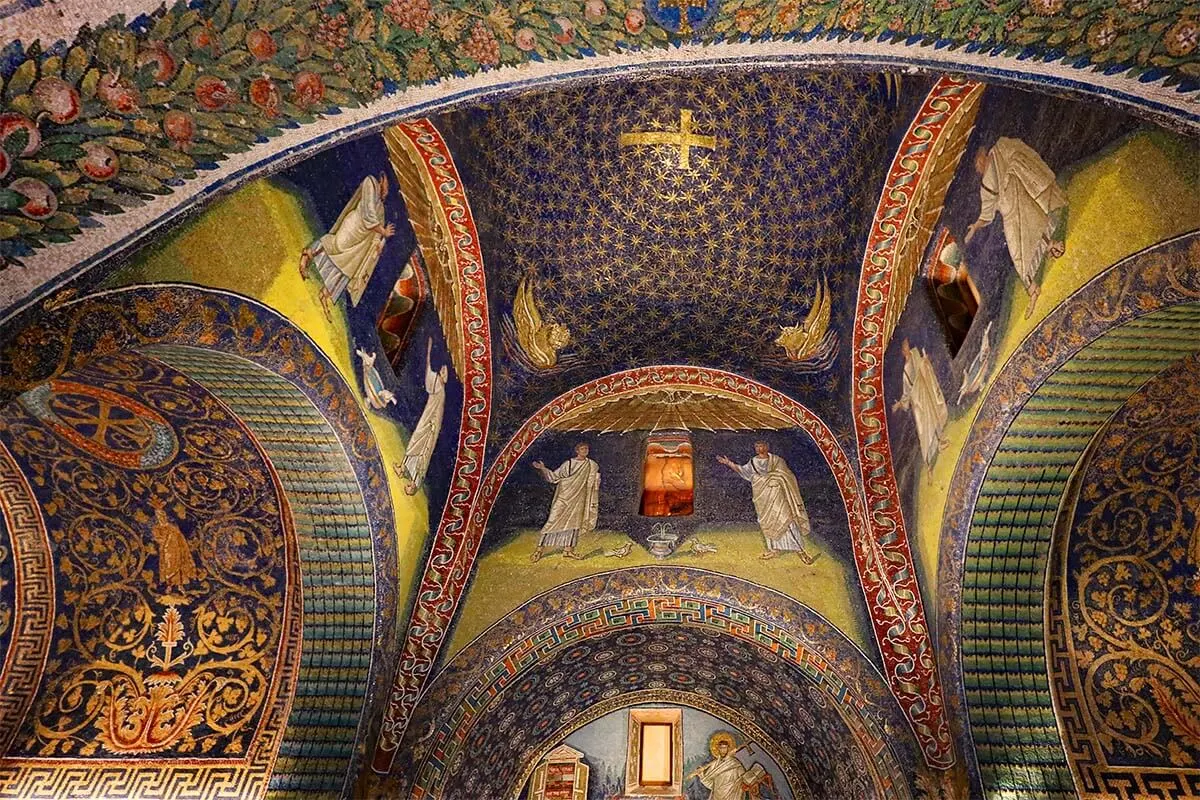 9. New Jesus Church in Naples
The New Jesus Church (Chiesa del Gesù Nuovo) located in the heart of the old town of Naples is one of the most beautiful churches in Italy! And while it's also not the main cathedral in the city, if you visit just one church in Naples, this one is a must-see.
The facade of this church is quite unique and a bit quirky. In fact, this church is very unique because it was originally built in the 15th century as an aristocratic palace. This explains its unusual exterior and why it appears squeezed in between other buildings on the square. But don't let that put you off – behind these grey walls, you'll find a true gem!
In contrast to its simple exterior, the interior of the New Jesus Church is very opulent. Every inch is decorated in a Neapolitan Baroque style, with some of the most impressive colored-marble mosaic floors we had ever seen. Locals compare this church to St. Peter's Basilica in Rome. And while not nearly as big, it's probably even more ornate.
This is truly one of the most beautiful churches in Italy, so if your travels bring you to the south of the country, don't miss it!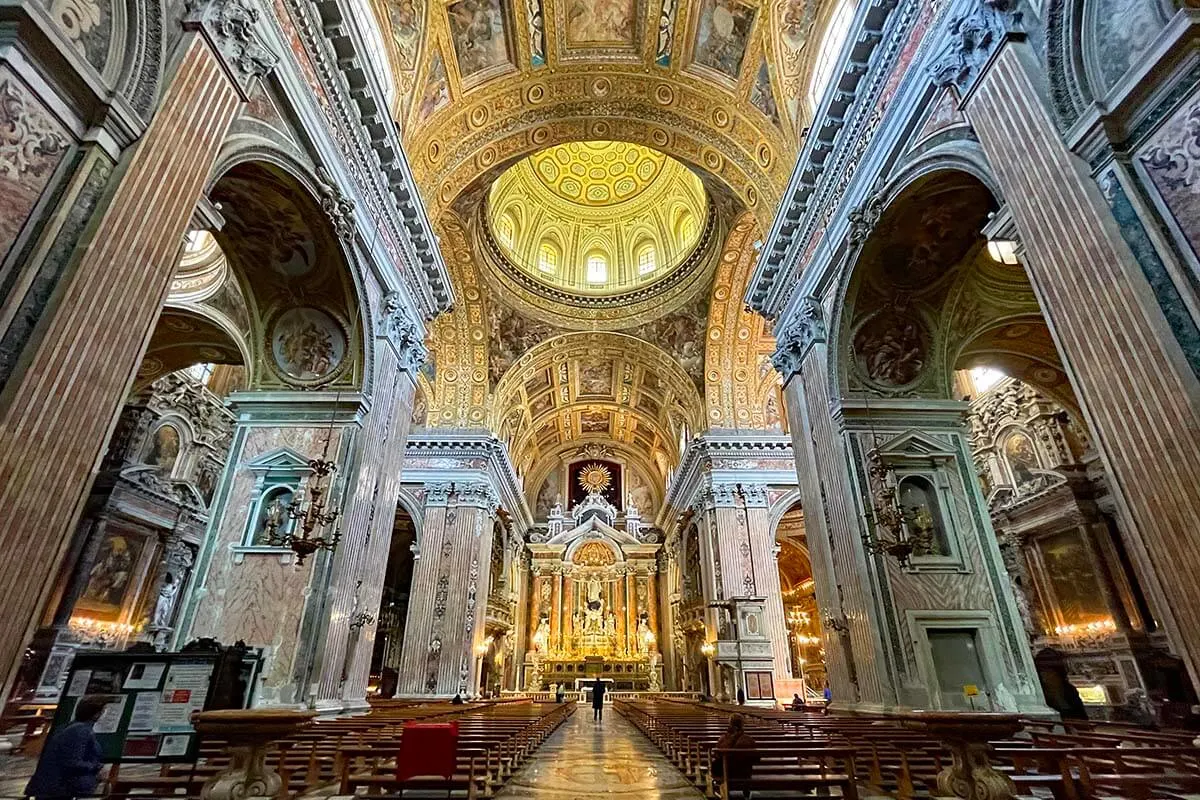 Visiting the Gesù Nuovo Church
The Gesu Nuovo Church is one of those traditional churches in Italy where you can still simply walk inside and look around. There are no queues, no tickets, and you don't need to plan or reserve anything. And that in itself has its charm too.
However, this also means that this church still has very traditional opening hours, and closes for about 3(!) hours every afternoon. It's usually open from 8 am to 1 pm, and then again from 4 pm to 7.30 pm. This is the case for most other churches in Naples, so plan your sightseeing in such a way that you can be here when it's open.
READ ALSO: Best Things to Do in Naples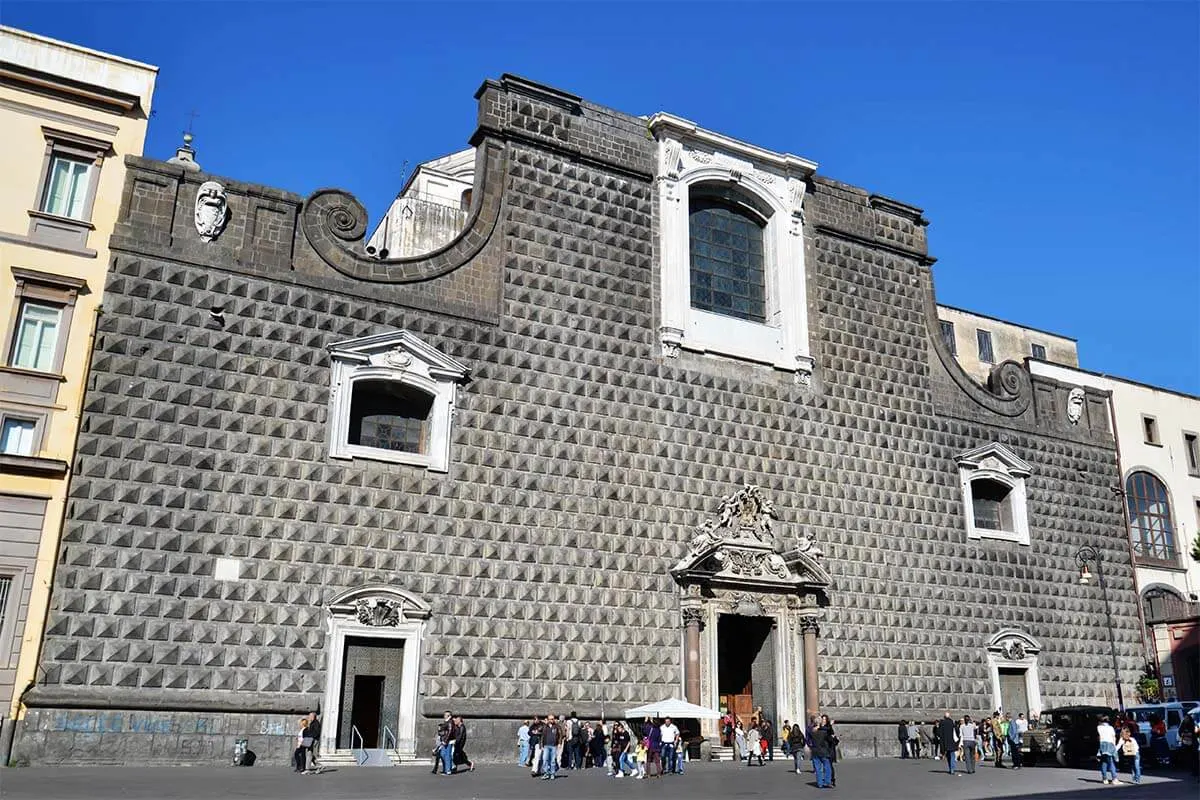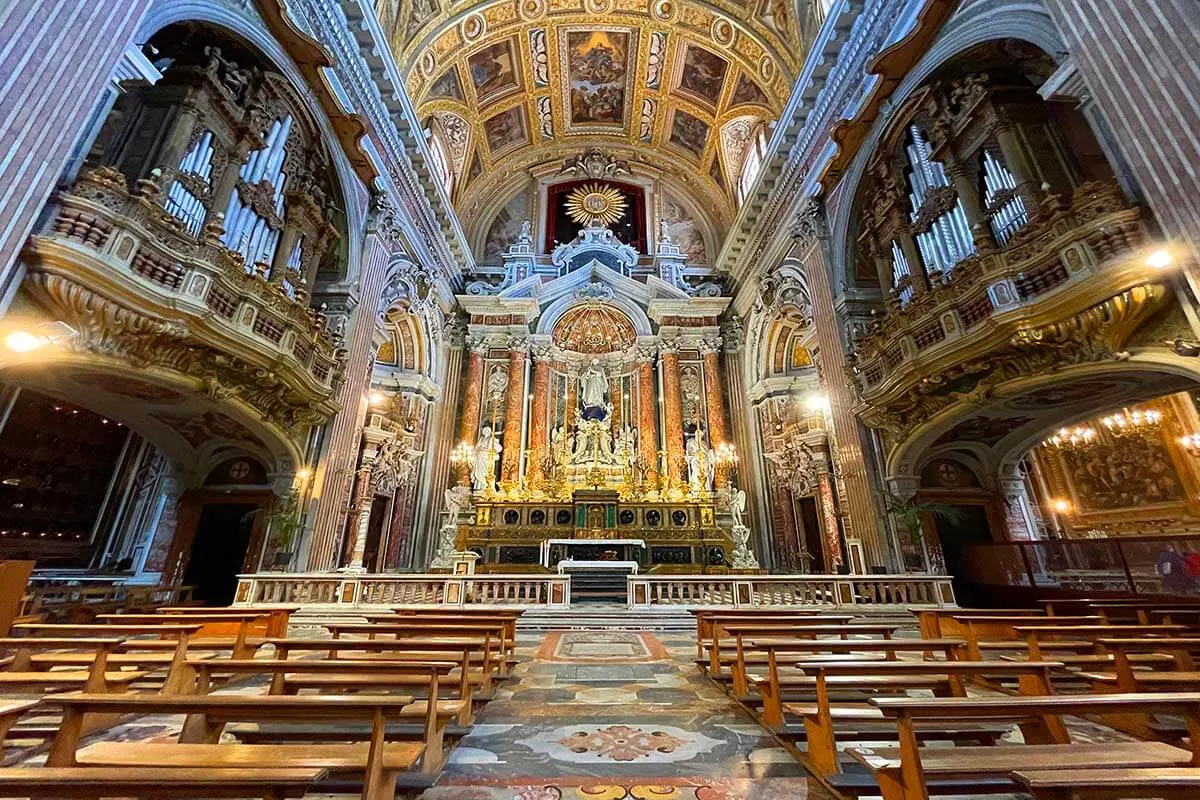 Useful Info for Visiting Most Famous Churches and Cathedrals in Italy
Here are some things to know if you are planning to visit some of the most important churches in Italy:
Italian Churches Dress Code
All Italian cathedrals and major churches have a requirement that your knees and shoulders are covered. Also, hats are not allowed. However, every place applies these rules somewhat differently and some are much more flexible than others.
In any case, it's always better to dress respectfully. In the summer months, you may want to bring a light shawl to cover up if necessary. Some places have a possibility to borrow or buy a cover for a small fee, but it's always better to have your own.
Security Check
Many of the most important Italian cathedrals and also some bigger churches have an airport-style security check. Many don't allow backpacks or large bags, knives, scissors, etc.
Opening Hours
Traditionally, churches in Italy close for a few hours in the early afternoon. Luckily, this is not the case for many of the most-visited cathedrals anymore, but some of them still hold on to this riposo (siesta) tradition.
This can be a bit annoying if you just bought tickets that include access to the church and some other places like, for example, a rooftop visit. If you don't realize that the church closes while you are visiting a roof or a museum, you may end up using only a part of the ticket and will have to return a few hours later in order to see the main church.
So be sure to always check up-to-date information for the opening hours, so that you don't arrive there to find a closed door!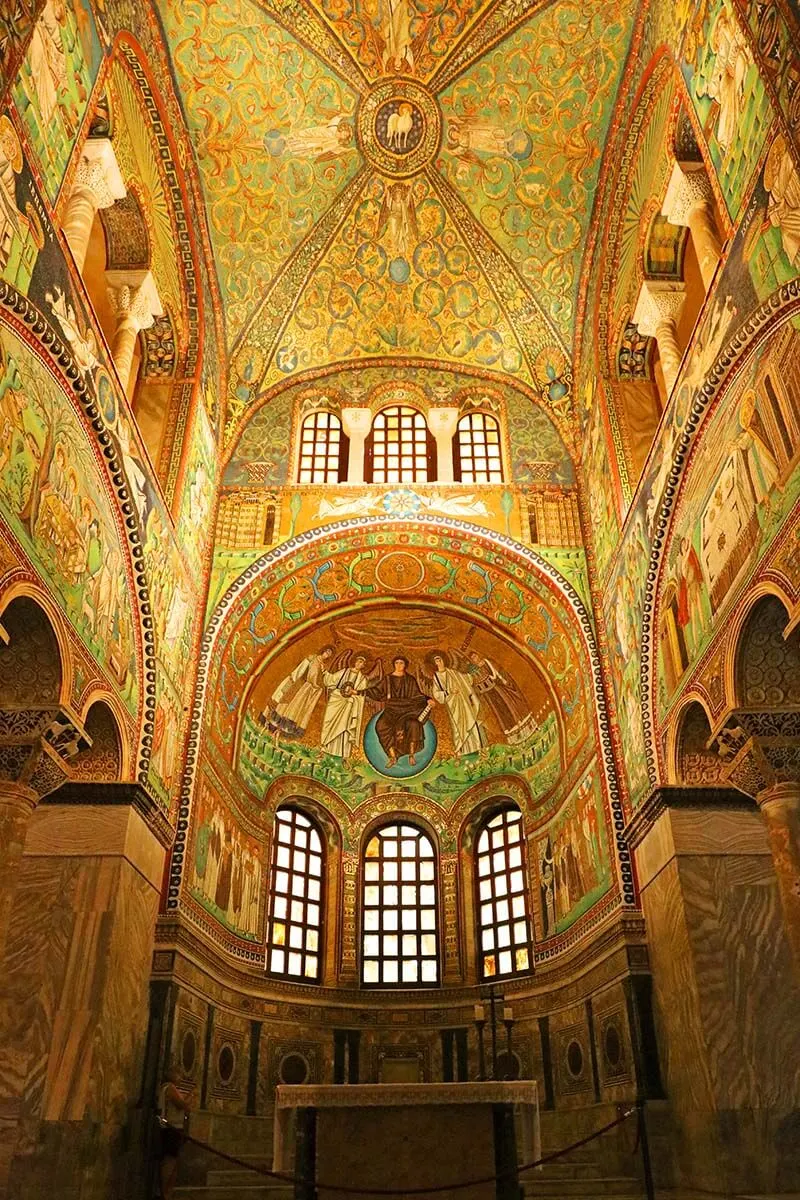 So, this is our guide to some of the most impressive Italian churches we have come across during our travels. Yes, there are many (many!) more. But the ones we feature in this selection are truly among the most impressive churches you can see in Italy!
TIP: If you wonder how to plan a trip to Italy and see most of these places, take a look at our recommended 2-week Italy itinerary. It includes almost all the places mentioned in this selection, plus so much more. Because – no matter how interesting and beautiful Italian churches are – there's so much more to see in this amazing country!
We also have lots of articles and detailed guides for visiting all the most popular destinations all over Italy. You can find an overview in our Italy travel guide. Check it out!
What's your favorite church in Italy? Feel free to leave a reply below and share your experience!
If you found this post useful, don't forget to bookmark it and share it with your friends. Are you on Pinterest? Pin these images!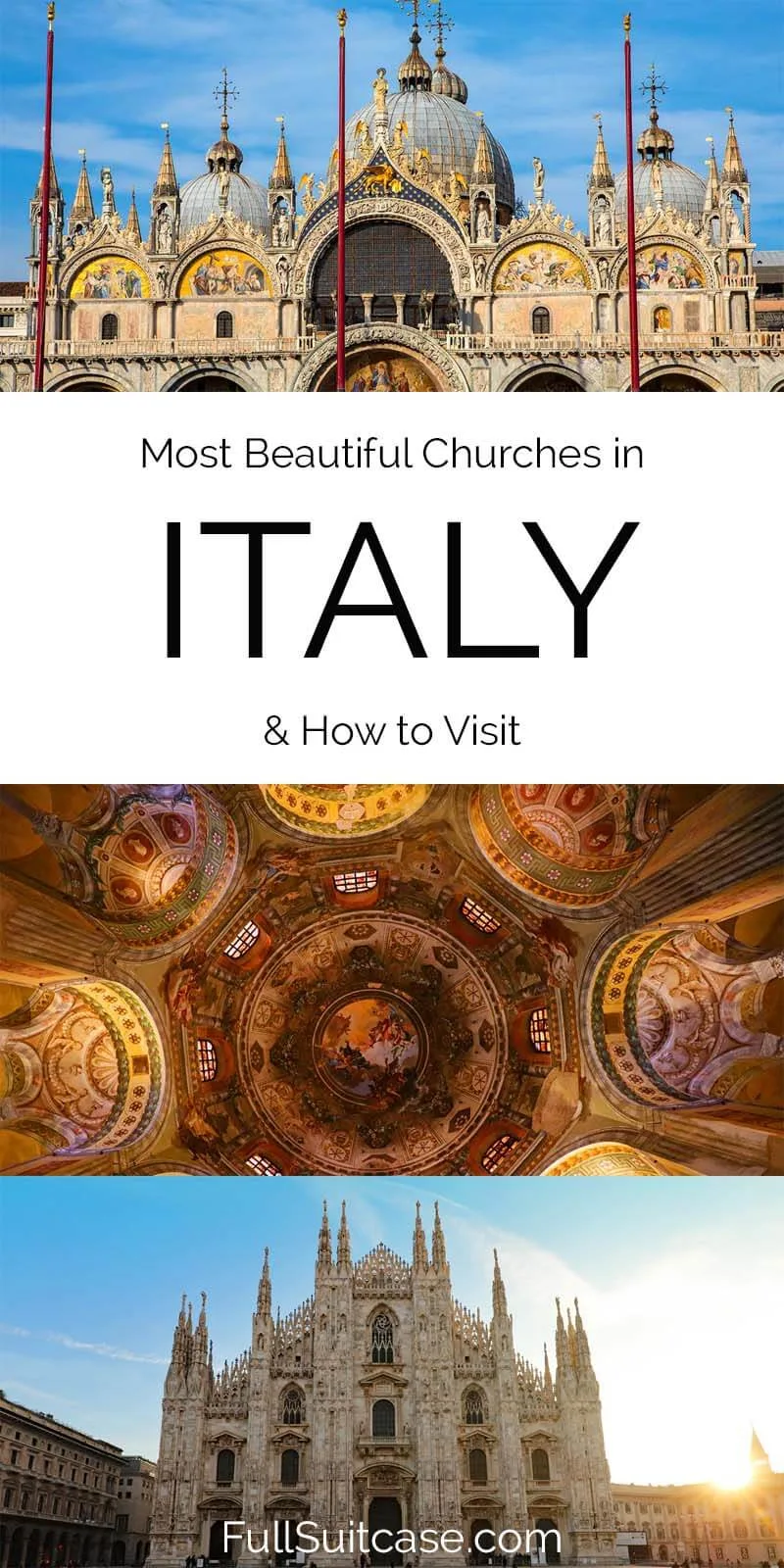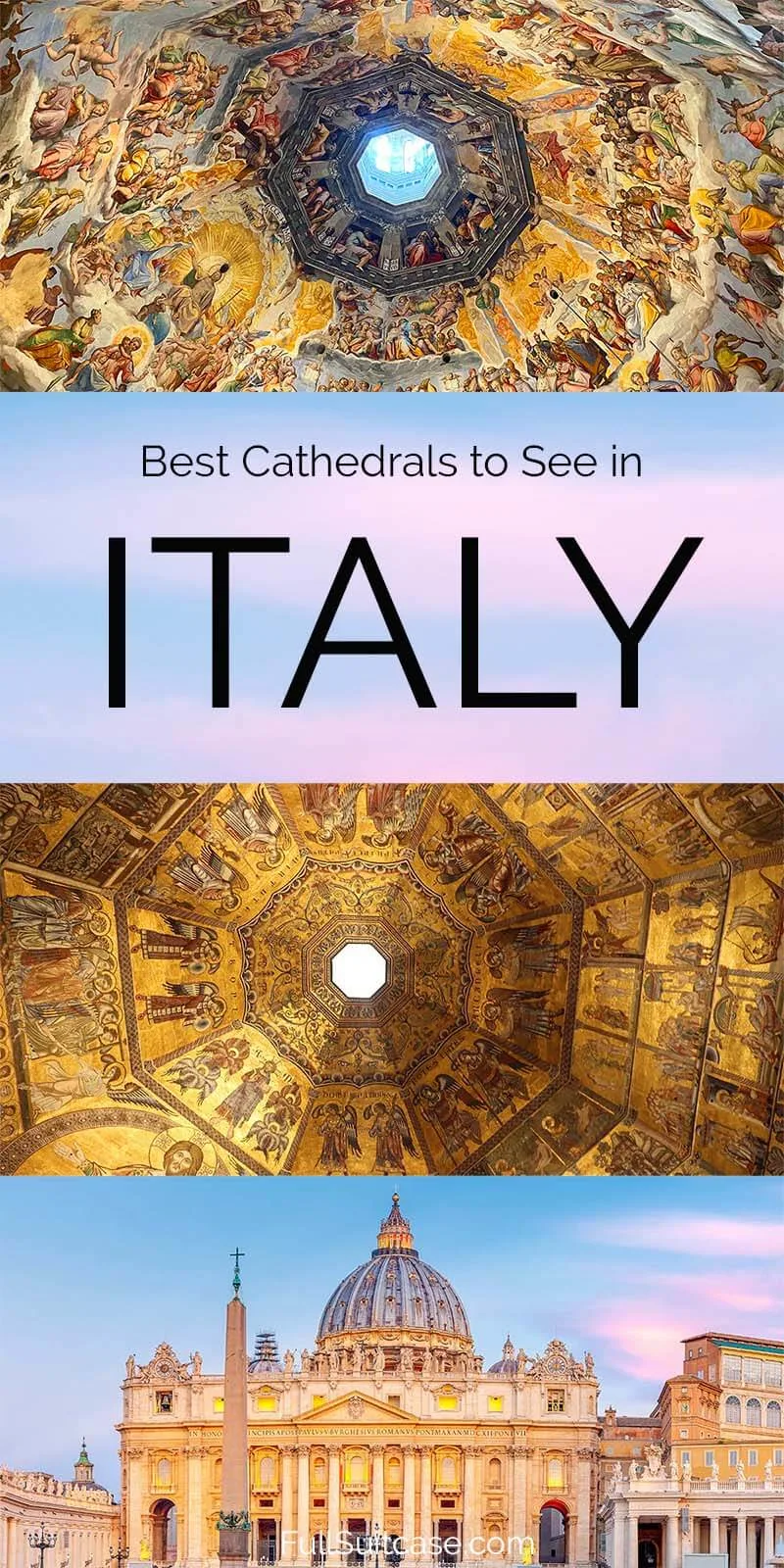 More travel inspiration for Italy: