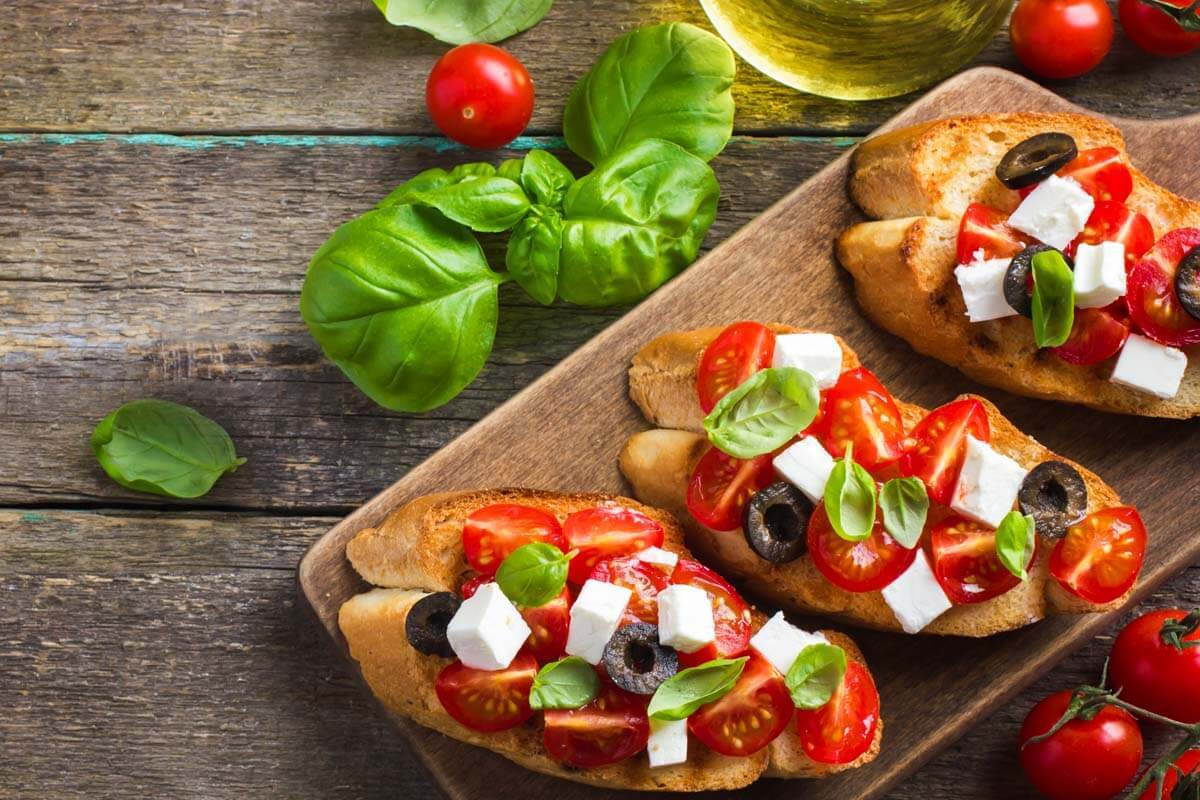 A trip to Italy is just as much about Italian food as it is about its historic sights, spectacular cities, charming towns, or stunning landscapes. But what to eat in Italy and what are the best authentic Italian dishes that you should try when traveling in different regions throughout the country?
In this article, we take you on a virtual foodie trip through Italy, covering all 20 regions. From the Alps of Valle d'Aosta down through the Tyrrhenian coast to the most southern tip of Sicily.
For every region, we included an overview of the best traditional Italian food and authentic dishes that you should try. In addition, we also share tips for the very best wines produced in each region.
Good to know: This article came to life with the help of Italian chef Daniele who has 25 years of experience in authentic Italian food and his wife Marina. They run a food blog Italian Food Fast where they share simple Italian recipes that you can easily cook at home. Their insider knowledge and passion for Italian food helped us to create this extensive guide to the best traditional Italian food by region. Enjoy!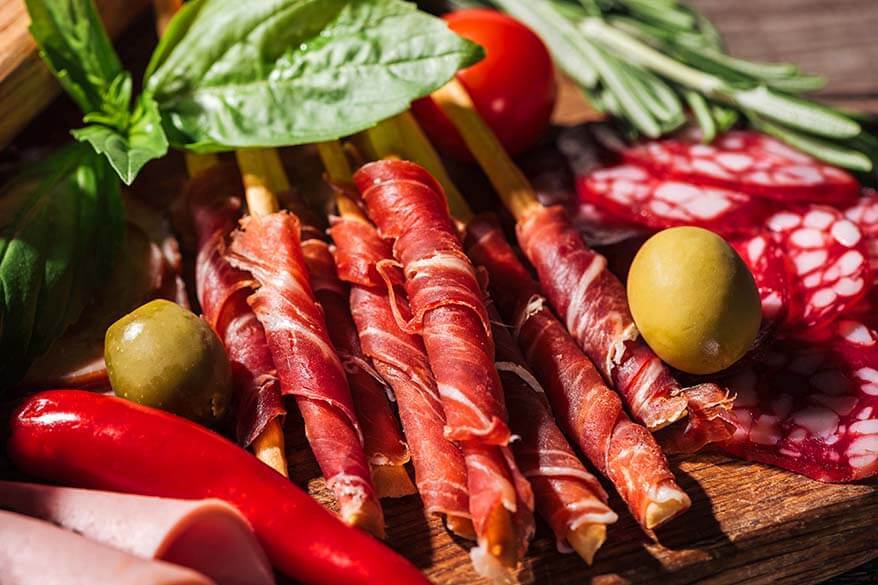 Before we look at the different food regions in Italy, here's a short intro to Italian cuisine.
Because of its unique geographical situation, Italy has very diverse landscapes and climates throughout the country. This means that there is a huge variety of typical regional products coming from the flats, the hills, the mountains, and of course, from the sea. These natural and geographical elements are the main reason for the richness of traditional Italian cuisine.
This idyllic and fertile land, as well as Italy's strategic position, has attracted countless invasions from other countries. This influence has also left a print on the food culture in the different regions of Italy.
Based on the Mediterranean diet, Italian food is designed to reinforce the consumption of cereals, vegetables and fruits, legumes, oils, milk, fish, and meat in moderation. Many regions also have meat dishes as their main specialty. This is not because of the quantity eaten, but on the contrary, because these dishes were cooked for special occasions. Their recipes have been passed from one generation to the other.
However, there are significant differences between the food in the North of Italy and the dishes you'll find in the South. Often, local dishes vary not only from region to region but also from town to town.
Without further ado, let's take a look at the regional Italian cuisine, with the best traditional dishes of various Italian regions. We sorted this list alphabetically and also included the Italian region's map to help you orient. Read on!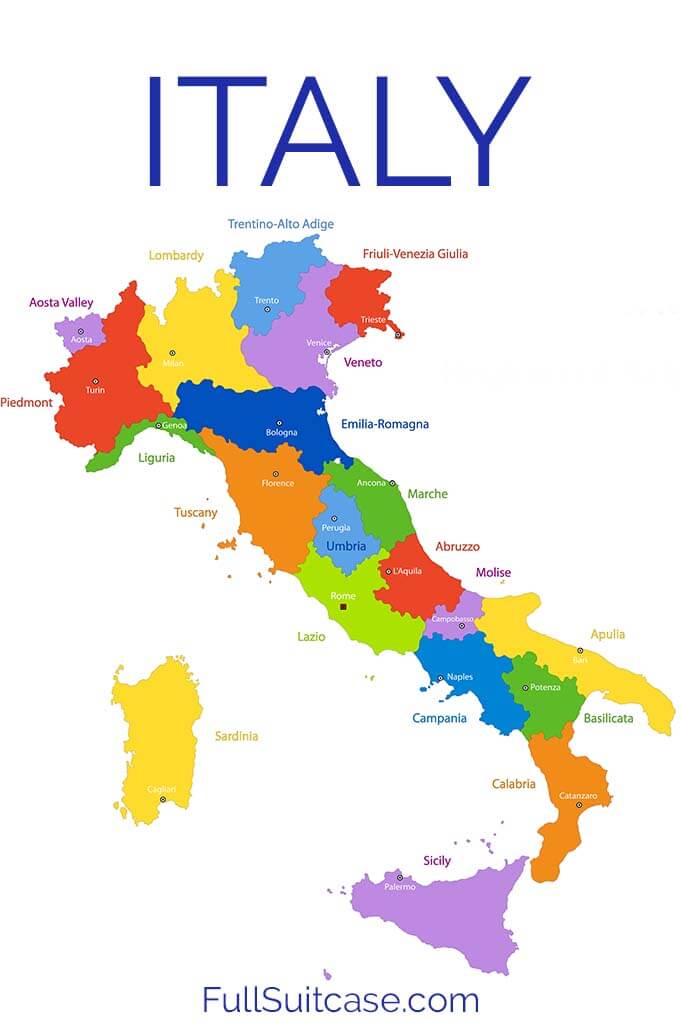 Abruzzo
Abruzzo is a hidden gem of Italy. This region is located east of Rome and has the tallest Apennine mountains as well as a beautiful coastline. Its capital city is L'Aquila and there are many beautiful hilltop towns.
This is a very green region with 38 protected natural areas. Most of its rugged interior is designated as nature reserves, regional and national parks. The most famous is the National Park of Abruzzo.
Because of the high mountains, this region has been quite isolated from the surrounding areas. Therefore, it managed to maintain most of its culinary traditions from the past. Its gastronomy is a mix of pastoral, mountain, and coastal cuisine.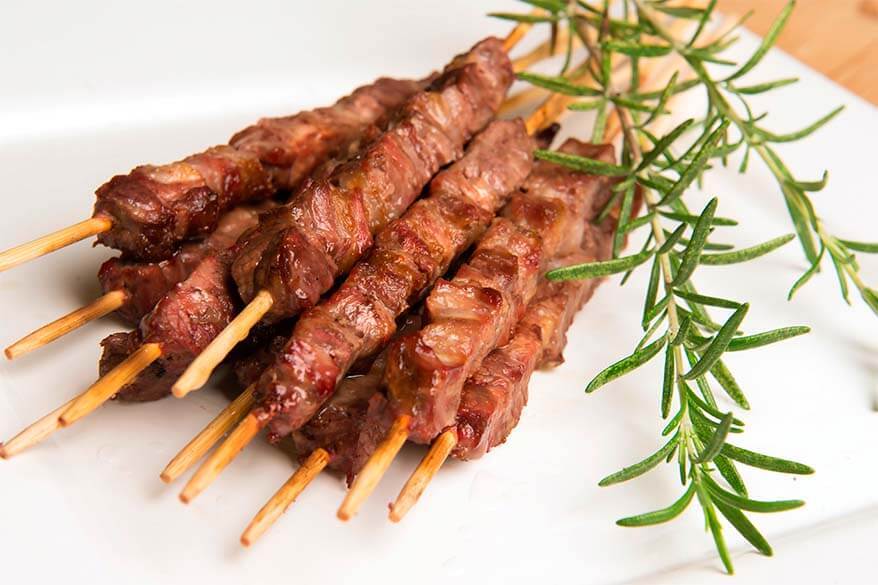 Regional food of Abruzzo
Diavolicchio (red chili) is widely used in many traditional recipes throughout Abruzzo. The regional pride is Zafferano dell'Aquila (L'Aquila saffron), a supreme quality spice that is grown exclusively in the valley of Navelli near L'Aquila. It was introduced in the region in the 14th century
A regional specialty is a Scrippelle (aka Scrippelle 'Mbusse), tasty little omelets/crepes with chili and smoked pancetta.
Another typical dish is Minestrone delle Virtù, a sort of soup that is made of all the garden veggies (broad beans, peas, beans, chickpeas, lentils), but also lard and pork meat as well as mint and marjoram herb. A must-try specialty is Arrosticini Abruzzesi. These bbq skewer sticks with sheep or lamb meat are part of traditional Abruzzese cuisine. Alternatively, try lamb cutlets Scottadito.
Mortadella di Campotosto pork salami with a stick of lard placed in the middle is another specialty of the Abruzzo region.
The locals will tell you that an absolute must-try in Abruzzo is the Panarda. Panarda in Abruzzo is not a dish but a selection of 35 to 40 local specialties served in a single meal.
If you are looking for a traditional dessert, make sure to ask for Soffioni Abruzzesi, sort of muffins filled with sweet ricotta cream.
Abruzzo wine & drinks
This region produces the world-famous Montepulciano d'Abruzzo and also Cerasuolo del Morrone wine. It also has many digestif drinks made of mountain herbs. Make sure to try the Centerbe liqueur (100 herbs).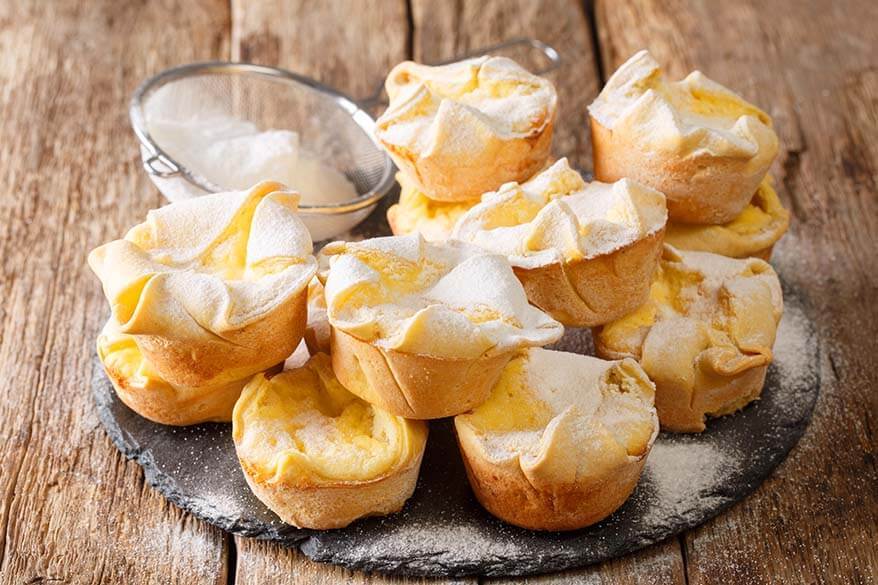 Aosta Valley
Aosta Valley (Valle d'Aosta) is a tiny region in the northwest of Italy, bordering France and Switzerland. Aosta Valley has a traditional mountain cuisine, with hearty and robust dishes.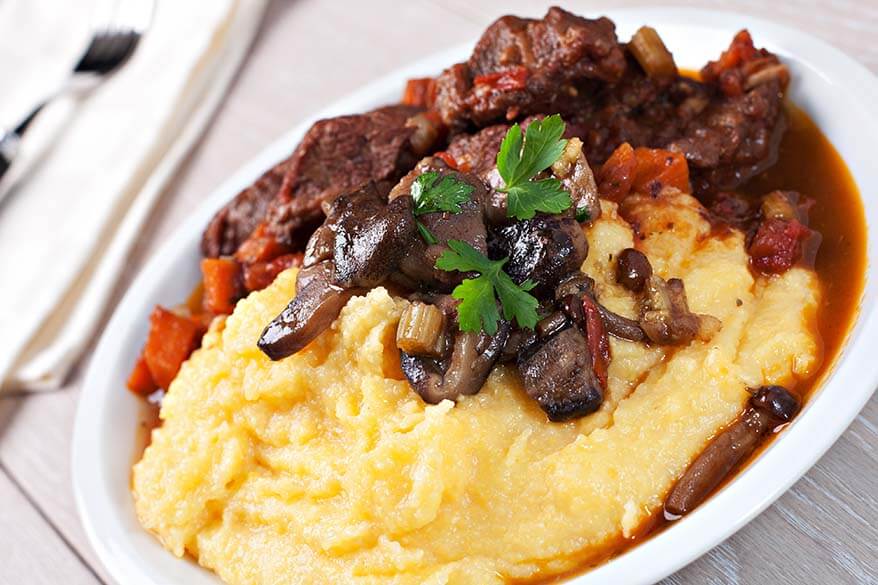 Traditional food of Aosta Valley
The most characteristic ingredient of the Aosta Valley is probably fontina cheese. It's a very tasty cheese, slightly bitter, and with a unique smell. It's somewhat comparable with provolone, gruyere, or gouda cheeses.
Fontina cheese is used in many of the typical regional recipes, including the famous Fonduta Valdostana, a pot of melted cheese with croutons or bread for dipping (a bit like the cheese fondue in neighboring Switzerland). Another typical fontina dish is Polenta Concia, a shell of cooked polenta flour with an oozy cheesy filling. It's is usually served with a beef or venison stew.
If you prefer some meat on your plate, then try Costoletta alla Valdostana, a breaded and shallow fried veal cutlet topped with fontina cheese and ham.
Soups are very popular in this region and rice and polenta are more common than pasta. Valle d'Aosta is also known for its charcuterie meats, outstanding cured sausages, and Mocetta, a cured muscle from the leg of the chamois or a goat.
Drinks and wines
You should try the caffè alla valdostana! This strong coffee with lots of sugar is mixed with grappa, lemon zest, and spices like cinnamon or juniper berry. It is served in a 'Grolla', a wooden cup with a lid and several beaks from which different people can drink. Grolla is also called Coppa dell'Amicizia, cup of friendship. It's a must-try specialty when visiting this region!
Valle d'Aosta is producing rich, full-body wines such as Donnaz and Enfer d'Arvier.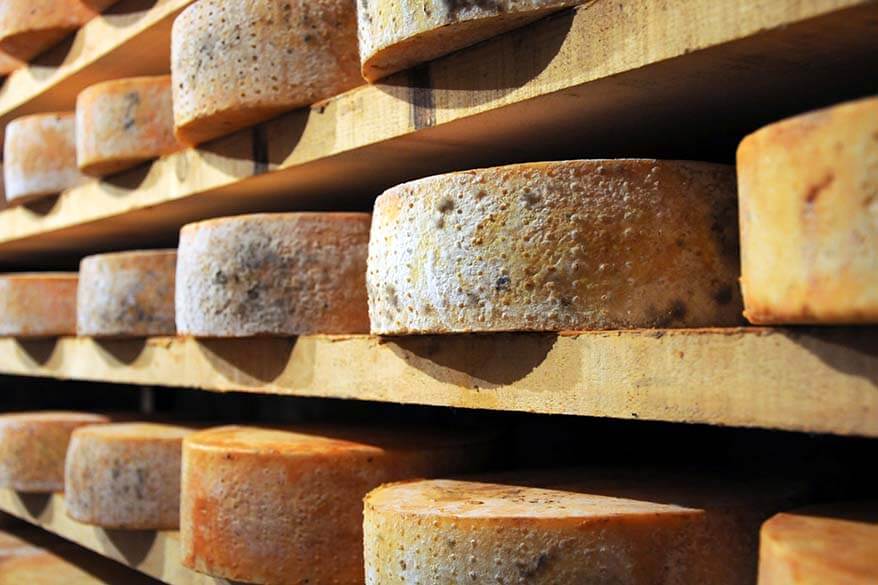 Apulia
Apulia (Puglia) region with the capital city Bari is located along the south-eastern coast of Italy. You'll know this region from the white Trulli houses (you can read more about here).
The gastronomy of Apulia (Puglia) is linked to the Mediterranean climate conditions and varies within the region. In the flat areas known as Tavoliere delle Puglie, there are lots of cereals and vegetables.
At the coast, there is a great emphasis on fish and crustaceans, as well as olives, almonds, grapes, and figs. Whereas on the higher-located Muraglia and Gargano the main culture is farming of sheep and goats.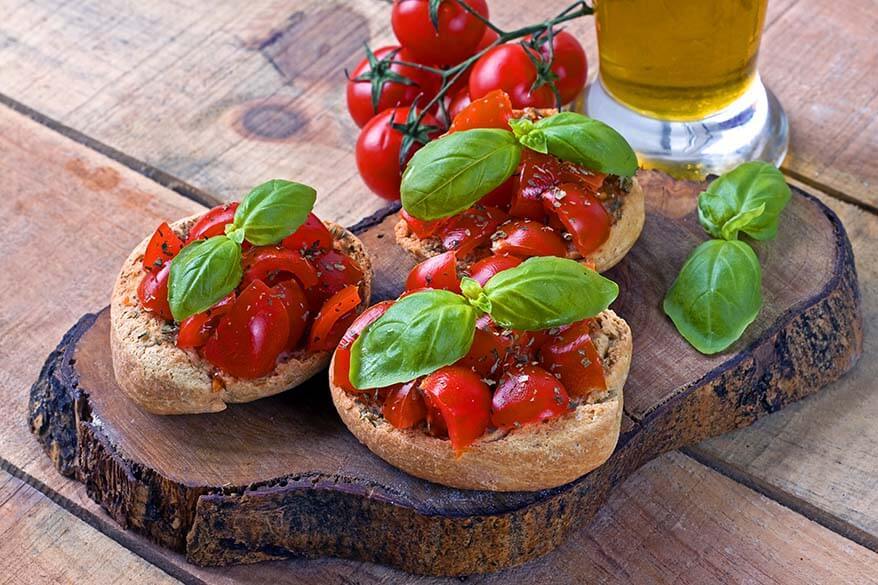 Apulia food
Typical Puglia dishes are 'Cucina Povera' – simple, peasant food. Make sure to try Orecchiette con Cime di Rapa (homemade pasta with turnip leaves sauce), Incapriata (soup of broad beans and bitter Cicoria salad), or homemade vermicelli, Pasta ca' Muddica (breadcrumbs fried in olive oil and herbs).
Friselle (or Friselle Pugliese) is a typical Italian snack bread very popular in Apulia. It's a biscuit bread softened with water and topped with fresh tomato, oregano, and olive oil.
Tielle of Puglia (Le Tielle) is a popular local oven-dish that is made using a mix of ingredients that are available at hand. This oven casserole includes potatoes, various vegetables, and grated cheese. Vegetables are dipped in olive oil and seasoned with mint, basil, and rosemary.
Wines of Puglia
The wines of Puglia are strong in alcohol and highly aromatic. Try Castel del Monte – both white and red, San Severo, Gioia del Colle, Moscato del Salento, and Trani.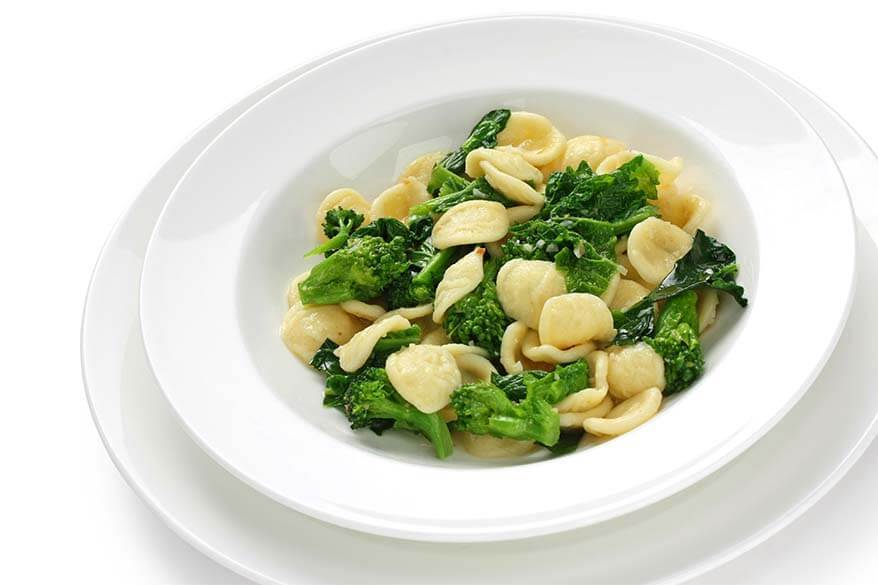 Basilicata
Basilicata is a southern Italian region. It has mountains and forests, but also coastlines on both – the Tyrrhenian Sea and the Ionic Sea.
Its capital city is Potenza. But most international tourists will probably know it as home to the historic city of Matera with hillside stone-carved caves dating back thousands of years.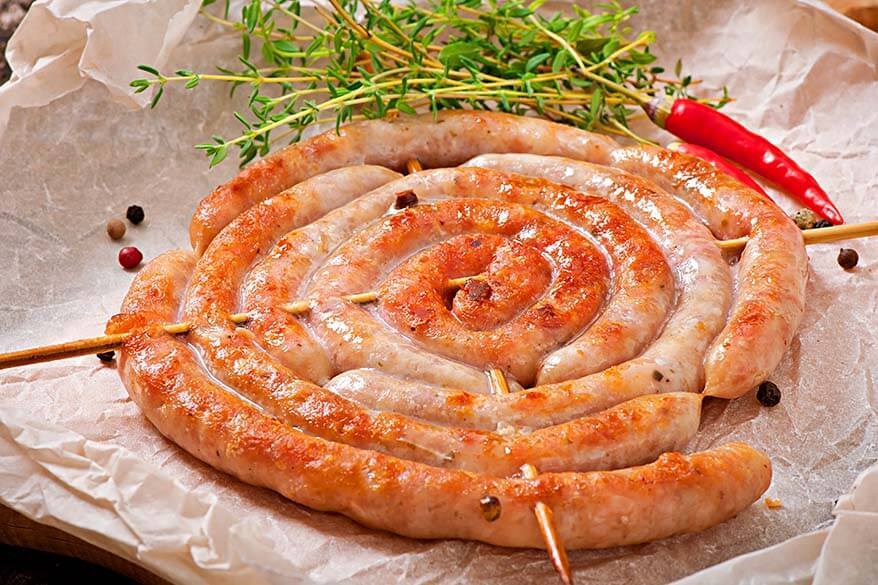 Regional food of Basilicata
Pork meat and lamb are the pillars of this region's gastronomy. Make sure to try Spezzatino di Agnello (lamb stew). The slim pigs of the mountains are producing lean meat, great for cured ham, and especially Lucanica Salsiccia, or Luganega (long and thin fresh sausages).
The other main food source is agriculture and you'll find lots of locally -grown vegetables in this region. Veggies are usually cooked in the oven, aromatized with herbs, chili, and oil. It's a great substitution for meat. Treasured are the broad beans of Lavello and the small but tasty Potenza lentils.
The main pastas of this region are Lagane (wide pasta) and Strangolapreti (short, hand-rolled pasta, a bit like gnocchi).
A typical cake in this region is the Scardetta (shortcrust pastry filled with ricotta cheese and hard-boiled eggs). It's traditionally eaten at Easter. The legend has it that, whoever gets the slice with the egg, will have luck secured for the year to come.
Wines of Basilicata
The wines produced in Basilicata are strong. Try the red Aglianico wine or the whites Malvasia, Moscato, and Asprinio.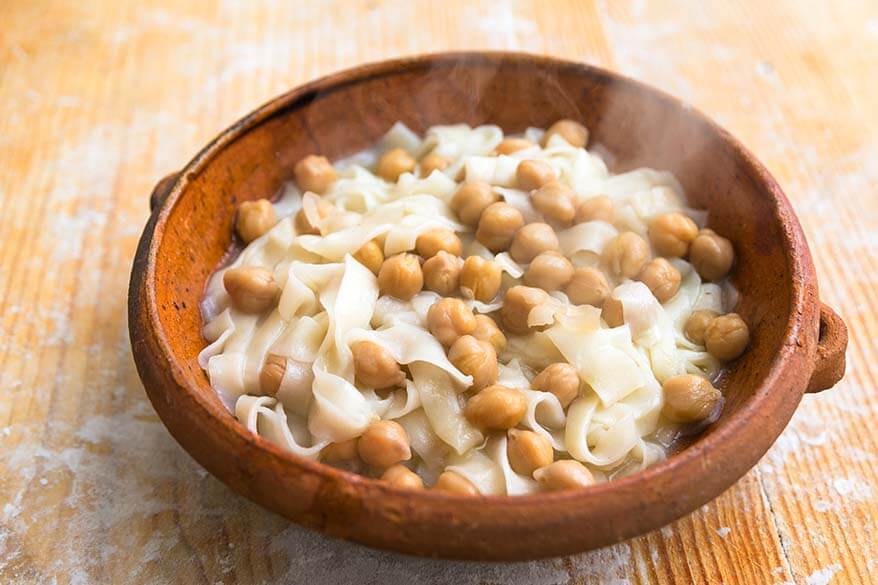 Calabria
Calabria region is located at the southern end of the Italian mainland, surrounded by two seas of the Mediterannean – the Ionian Sea to the east and the Tyrrhenian Sea on the west. Its capital city is Catanzaro.
Even though the region has a long coastline, it's very mountainous, because of the huge Sila mountain plateau. Calabrian gastronomy reflects its geographic characteristics with robust and rich dishes.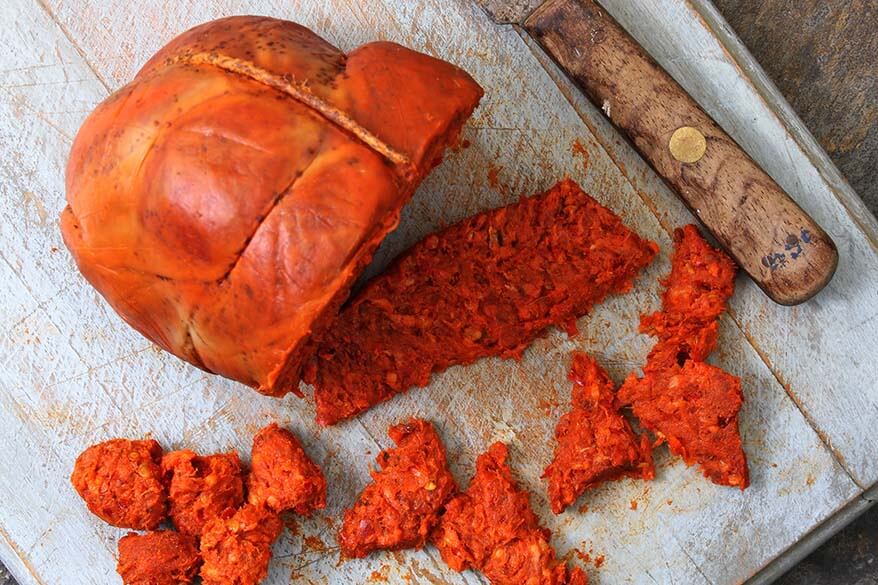 Regional food of Calabria
The main ingredient of the Calabria region is pork. Its most typical dish is Soffritto di maiale (rich stew with liver, tripe, cuts of pork, tomato, and chili, served on crusty bread). It's eaten in the mountains as well as on the coast. This traditional meat dish used to be eaten by farmers for breakfast.
Another famous food from Calabria is 'Nduja, originating from the small town of Spilinga. It's a very spicy, spreadable pork sausage.
Fish is also used a lot and you'll find dishes with both – trout from the mountain lakes as well as tuna, swordfish, and sardines from the sea. A typical dish is Sarde a Scapece (sardines dusted with breadcrumb, fried, and served with mint, vinegar, and olive oil).
The vegetables here are often grilled or pickled. Typical to the region are lampascioni onions, a cross between onions and garlic with a slightly bitter taste.
The sweets from the Calabria region are quite special and very sweet indeed. Traditional Calabrese sweets Scalille (sweet pasta dough with anise covered with honey) are always present on the table during the festivities.
Wines of Calabria
The most known wine of Calabrian is Ciro. You can find it in white, red, and rose. Other popular wines are: Pollino, Savuto, Melissa, Melitino, and Lamezia.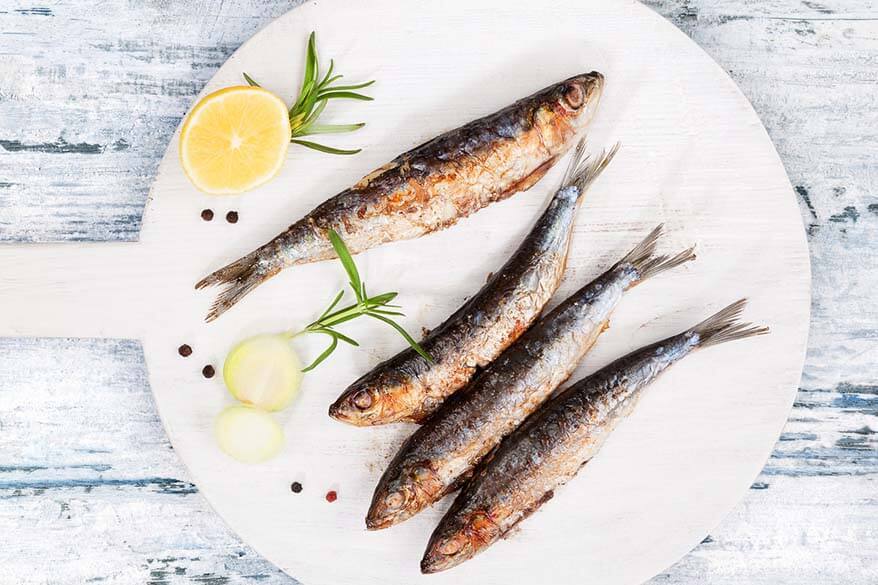 Campania
Campania is the loud, full of life region in southern Italy. Its capital city is Naples (Napoli), home to the best pizza in the world!
One of the best-known sites is the ancient city of Pompeii and Vesuvius volcano. This region is also world-known for its beautiful coastline with the Amalfi Coast and Capri Island attracting huge crowds of tourists in high season.
The inhabitants of the Campania region are very inventive with their food and they can bring the best out of the products available to them.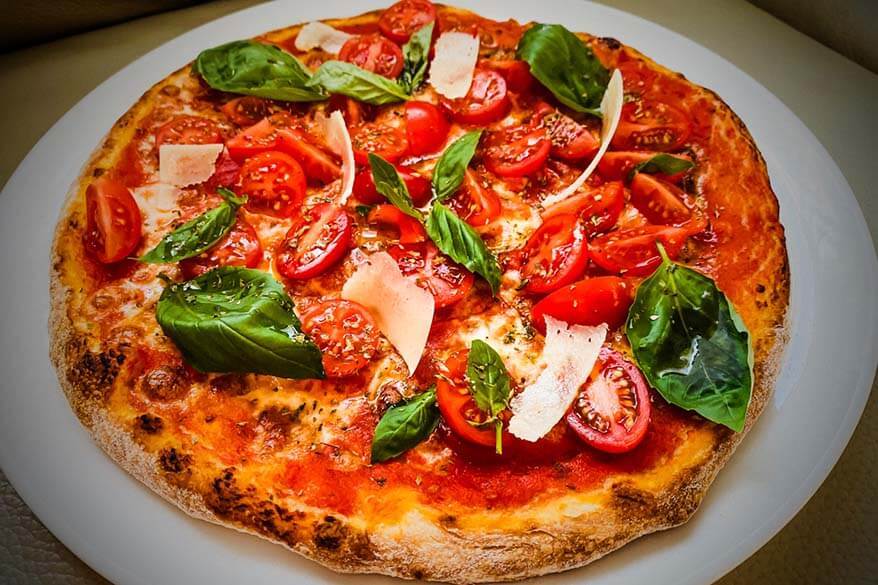 Traditional food in Campania
The gastronomy of Campania is founded on the products of the land and the sea, and are sometimes referred to as 'celebrating the Cucina Povera' (peasant food).
Of course, no trip to Campania would be complete without tasting its pizza. But there is a lot more to its food than pizza!
Make sure to also try some simple regional pastas. Spaghetti aglio e olio (spaghetti with chili, garlic, and olive oil – recipe) and Spaghetti alla puttanesca (spaghetti with tomato, capers, anchovies, basil, chili and basil sauce) are typical pastas found in Napoli and the surroundings.
Campania also has some amazing street food, such as Mozzarella in carrozza (deep-fried sandwich filled with mozzarella, tomato, and basil) or Pasta Frittata (pan-fried cooked pasta with beaten eggs and cheese – recipe).
Fish and seafood are also very important in the regional cuisine in Campania. Make sure to try Impepata di cozze (mussels simply cooked with parsley, pepper, and lemon) or Polpo alla Luciana (octopus cooked in tomato sauce, garlic, and parsley).
Wines of Campania
The best wines to try in Campania are Falanghina, Lacryma Christi del Vesuvio, Piedirosso, and Greco di Tufo.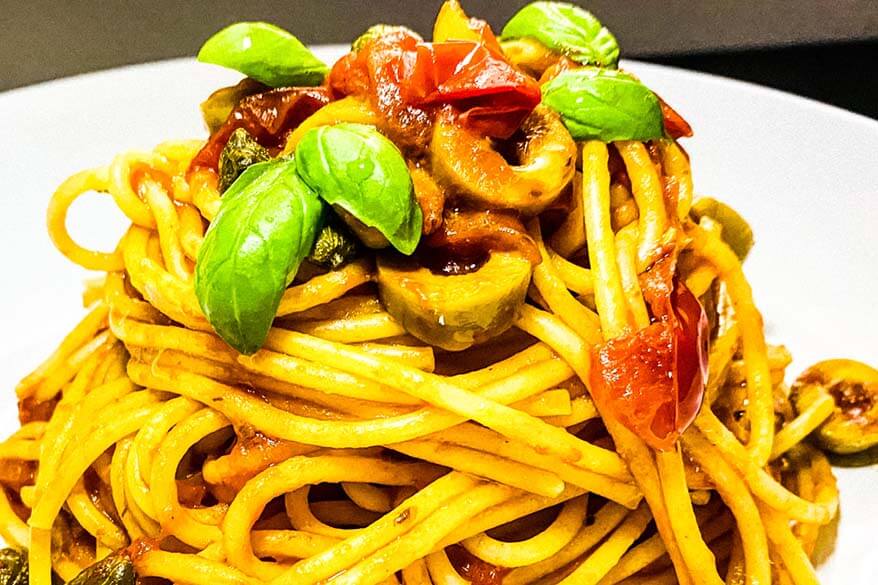 Emilia-Romagna
Formally separate regions, Emilia Romagna is comprised of two parts. Emilia which name comes from the Latin 'Aemilia' (street), the Roman road from Rome to north Italy. And Romagna, the name of the eastern Roman Empire (Ravenna).
This beautiful part of Italy along the Adriatic coast is a true hidden gem! Emilia-Romagna (capital city Bologna) is located between Venice, Milan, and Florence, yet somehow overlooked by many international tourists.
This is also the food region of Italy and the home of the godfather of modern Italian cuisine, Pellegrino Artusi. His book 'Science in the Kitchen and the Art of Eating Well' published in 1891 (and expanded during the years) is considered the bible of Italian gastronomy.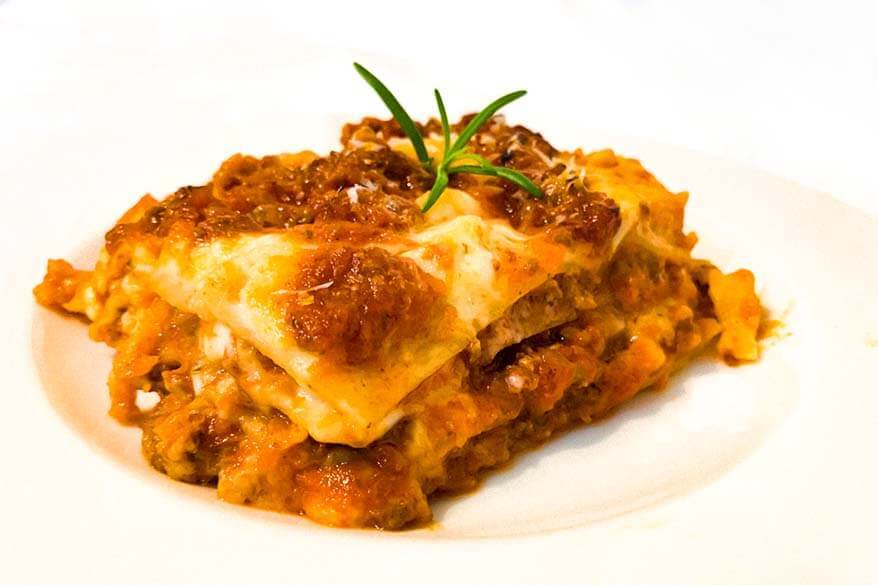 Specialties of Emilia Romagna
In this region, the majority of the flatland is dedicated to raising cattle that is mainly grown for the milk that makes the famous Parmigiano Reggiano cheese.
Pork is used to make the famous Prosciutto di Parma (Parma ham), but also Culatello ham and large Mortadella sausage (Mortadella Bologna).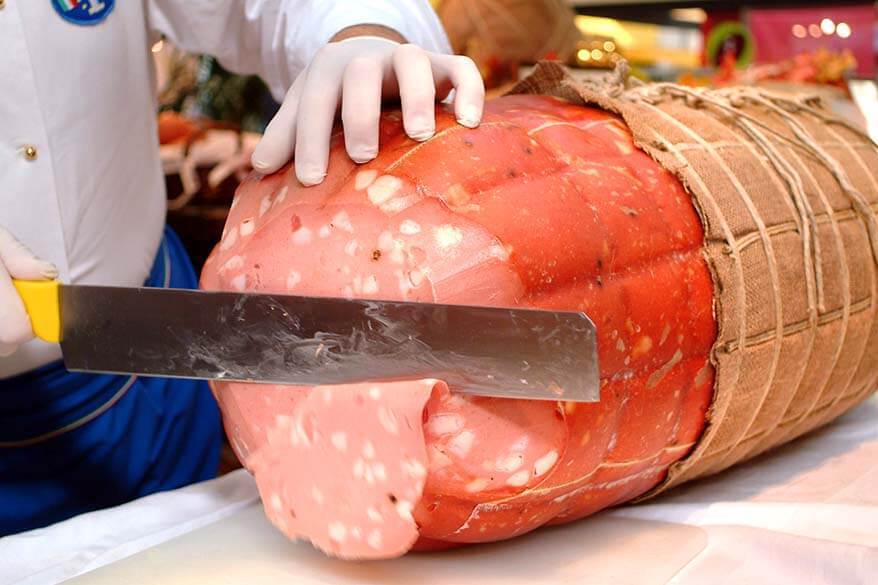 Pasta is very popular in this region. The most popular is the fresh egg pasta, from which very thin pasta sheets are rolled. They're then filled with ricotta and herbs, wild meat, chicken, pork, ham, cheese, or even pumpkin. This is the place where you'll find the world's best tortelli, tortelloni, tortellini, and anolini.
The world-famous Lasagna Bolognese also originated from here. Other regional specialties include tagliatelle Bolognese (and pretty much any pasta in the classic Bolognese sauce) and pasta Maltagliati.
The other pearl of this region is the Aceto Balsamico (balsamic vinegar). Especially in the Modena region, this is more than just a dressing. Aceto Balsamico di Modena is a precious essence, the secret of which is passed through generations for centuries. The vinegar is obtained from cooked wine, aged for at least 14 years in little wooden barrows called Caratelli.
Wines
Emilia Romania produces lighter wines. Try Sangiovese for the reds and Lambrusco, Malvasia, or Albana for the whites.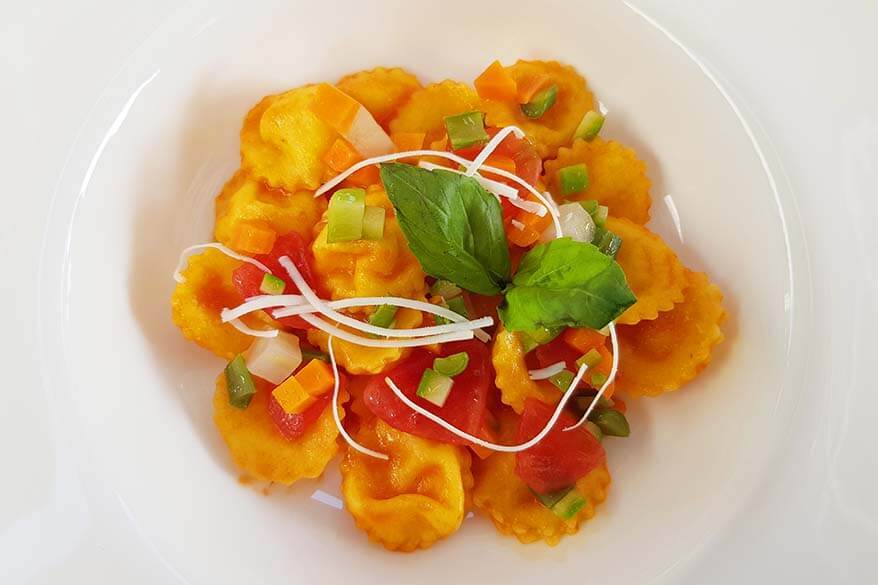 Friuli-Venezia Giulia
Friuli Venezia Giulia is a mountainous region in the northeast of Italy, but with access to the Adriatic Sea. Trieste is the capital city of the region.
This region borders Austria and Slovenia, and Croatia is just nearby too. So the cuisine of this region is largely influenced by the neighboring countries.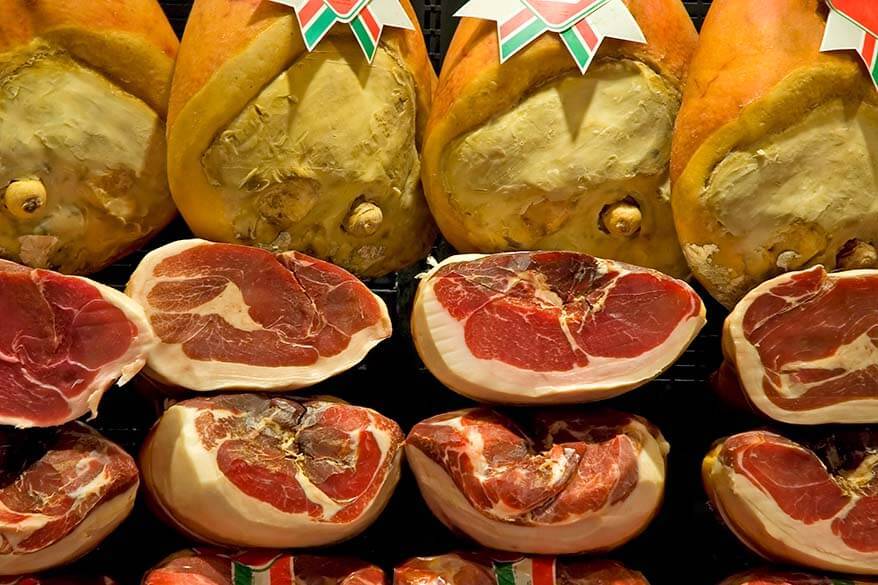 Traditional food
The gastronomy of Friuli Venezia Giulia is simple and uses lots of homemade and locally grown ingredients. Robust polenta, pork meat, beans, and soups are the most popular daily meals.
Pork is the main meat in this region that is famous for its best ham in Italy Prosciutto di San Daniele. This ham is sweeter than any other and popular all over the world. Less salt is used during the curing process because the breeze from the Adriatic and the Alps helps to dry the meat naturally.
Must-try is Montasio cheese that originated in the 13th century at the Moggio Udinese Abbey.
The influence from the bordering countries is evident through traditional dishes like Strudel or Sachertorte chocolate cake from Austria and Goulash Triestino, a clear influence from the Austro-Hungarian empire. Another specialty of the region is Gubana cake, filled with nuts, dried fruit, and spices, influenced by Slavic cakes of the nearby countries.
Whereas, on the coast, the common dishes are inspired by the nearby Veneto region. Therefore, fish and shellfish are cooked in a similar way and served with grilled or roasted polenta. Veneto tiramisu is popular here too.
Wine
Chardonnay, Merlot, Cabernet Sauvignon, Friulano, Verbuzzo, Terrano.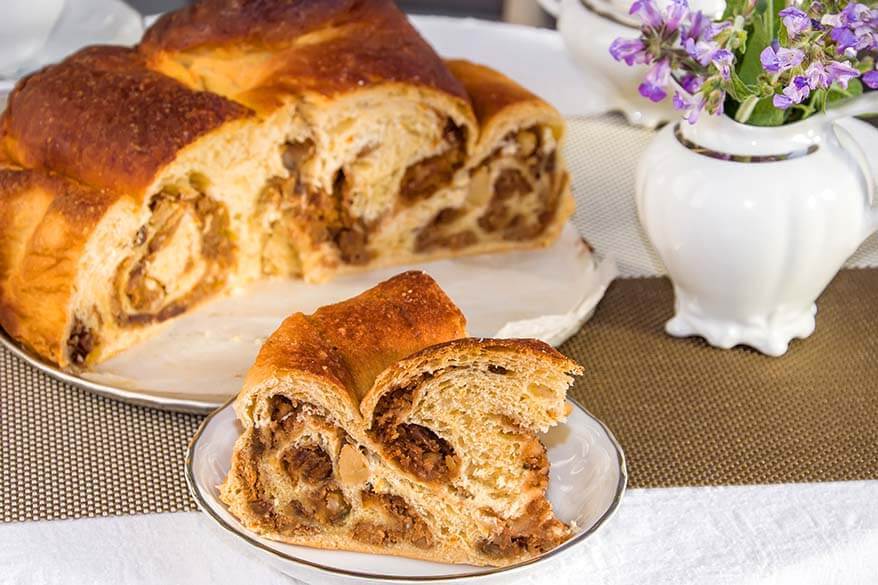 Lazio
Lazio with the capital city of Rome is probably the most historical region of Italy. It's home to the Colosseum, Pantheon, the Fori Romani, and unaccountable other sites.
For thousands of years, this part of Italy has attracted people from all over the world, but unfortunately, that has impoverished the gastronomic history of the region.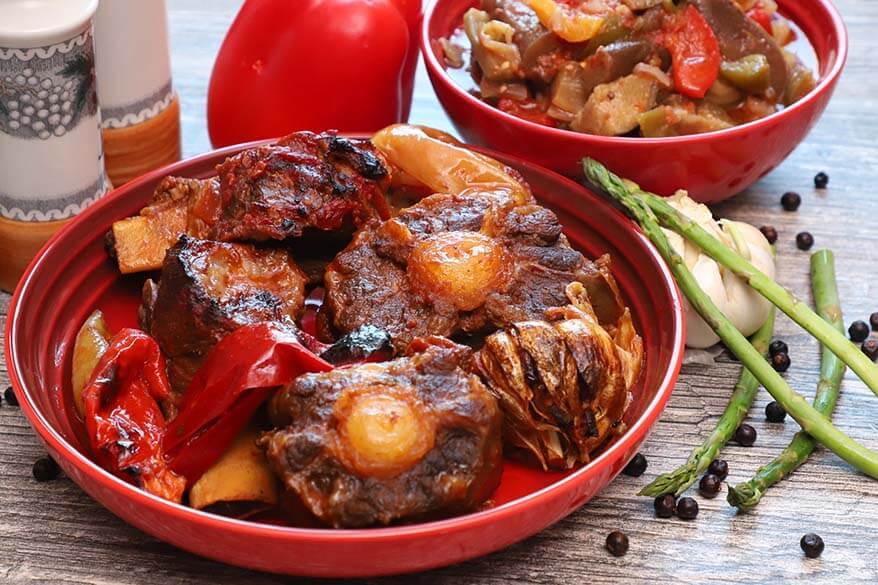 Regional food in Lazio
Today, there are just traces of the authentic dishes of the Lazio region, predecessors of the popular pasta sauces that are now found in supermarkets all over the world.
Cured pork cooked with olive oil is used to make pasta sauces like Carbonara (guanciale meat, egg yolk, parmesan) and Amatriciana (guanciale cooked off with onion, chili, tomato sauce).
The amazing Pecorino Romano cheese is used in Cacio e pepe, spaghetti dressed with grated pecorino cheese and black pepper.
Other Lazio dishes that survived the test of time are: Coda alla vaccinara (a slow-cooked oxtail stew) and Saltimbocca alla Romana (thin slices of veal topped with sage and prosciutto in a white wine sauce).
When in Lazio, you should also try Supplì al Telefono (recipe). These breaded rice croquettes cooked in meat sauce get their name from the mozzarella cheese filling. Mozarella cheese stretches as the old-fashioned phone lines every time you take a bite.
READ ALSO: Where to Eat in Rome
Wines of Lazio
Lazio region is best-known for its white wine such as Trebbiano and Malvasia. You can also find some well-known types of red wines in this region: Shiraz, Cabernet Sauvignon, Petit Verdot, and Merlot.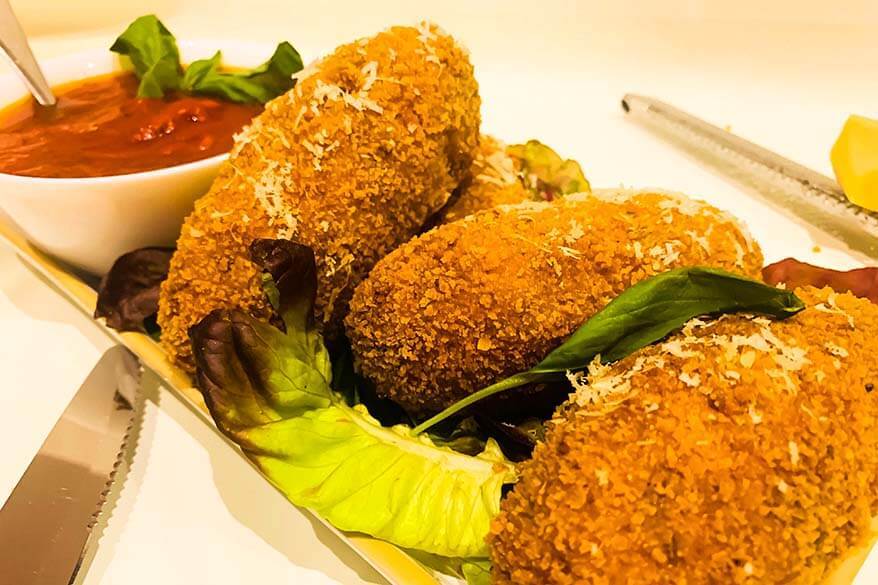 Liguria
Liguria is a narrow and long region that stretches along the coast of the Italian Riviera. Its capital city is Genoa and one of the best-known tourist destinations of this region is Cinque Terre.
Liguria is a hilly coastal region that enjoys a mild climate and rich vegetation. From many maritime pines, pine nuts are harvested, and several wild herbs are used in daily cooking.
Fish is abundant and widely used in the regional cuisine. More inland, you'll find olives, wild mushrooms, nuts, and garden vegetables. Rabbit meat is popular too.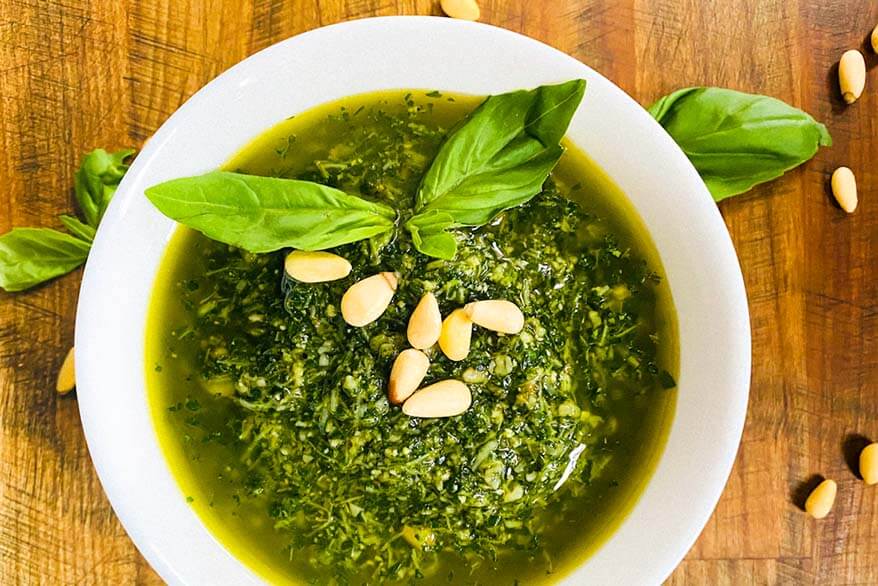 Traditional food in Liguria
Liguria is known for the best basil in the world. Bright green small sweet leaves of Genovese basil have an unmistakable aroma. This amazing herb is used to produce Pesto alla Genovese (recipe), with the addition of local olive oil, pine nuts, garlic, and pecorino cheese.
Pine nuts are also used for another local recipe, Coniglio alla Ligure (rabbit Ligurian style). The rabbit is cooked with pine nuts, olives, and white wine.
When visiting coastal towns of the Italian Riviera, make sure to try traditional fish stew, Ciuppin. This fish soup is usually served with crusty grilled bread.
Porcini fritti is another popular dish in Liguria, but more inland than on the coast. Slices of Cep mushrooms are breaded and fried until crispy. It's a yummy snack that you can also make at home (recipe).
Another favorite of Liguria is the Focaccia Ligure bread that is served as a light meal, a starter or a snack. Its dough is made with local olive oil and onion or filled with fresh cheeses like stracchino or crescenza.
My personal favorite Ligurian dish is Farinata. It's a thin oven-baked pancake made from chickpea flour and served with a sprinkle of black pepper.
Wines of Liguria
Liguria is predominately producing white wines like Vermentino and Pigato. Rossese is the main red wine produced in this region.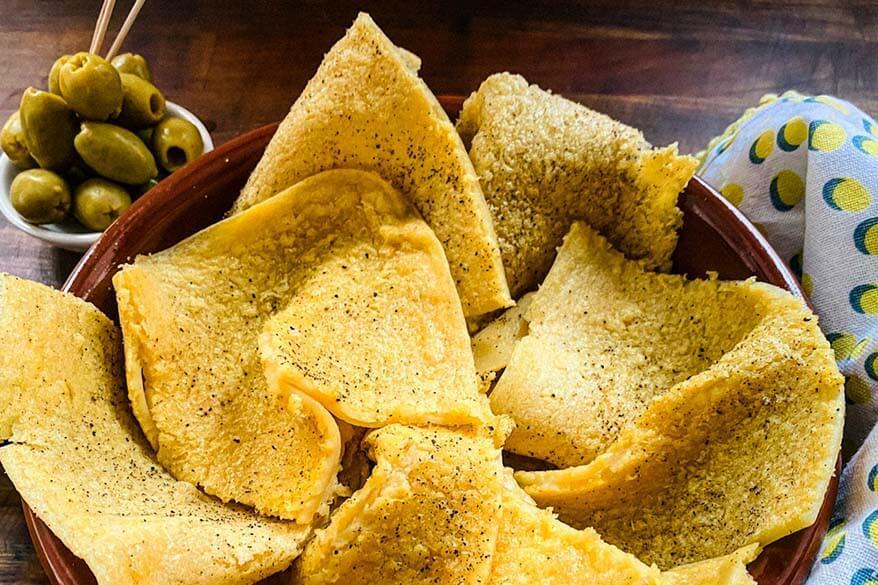 Lombardy
Lombardy (Lombardia) is a vast, rich, and industrial region in the north of Italy. Its capital city is Milan and the region is crossed by rivers and has some of the most picturesque lakes in the world (you just have to see Lake Como and Lake Garda when you visit Italy!).
Lombardia has the biggest number of inhabitants (over 10 million) and the biggest number of towns (1527), but it's not the largest region. In fact, the island of Sicily is the largest Italian region, followed by Piedmont, Sardinia, and then Lombardy.
Nowadays, the people of Lombardy are very busy and work orientated, always in a rush and during the working week almost neglecting their food. But on the weekends and holidays, they are enjoying their traditional gastronomy.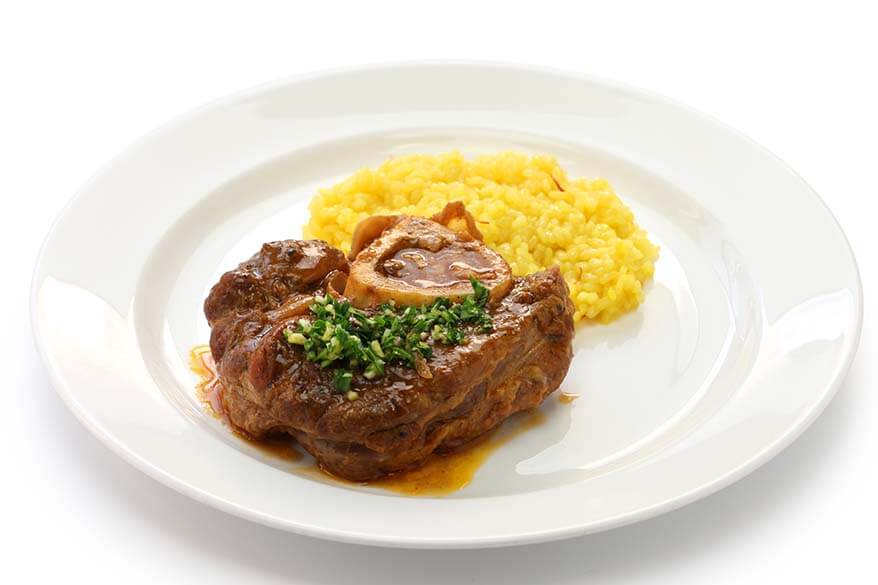 Regional specialties of Lombardy
Lombardy is famous for its cheeses, like Grana Padano, Robiola, Taleggio, Gorgonzola, and Tipico Lodigiano. They also use lots of butter and cream. In fact, olive oil is rarely used in the regional cuisine; butter or lard is preferred.
Rice is much more popular here than pasta. The most characteristic dish is Risotto alla Milanese (risotto cooked in saffron stock and topped with bone marrow}.
Meat is also popular in regional dishes and lots of them use farm animal meat (chicken, rabbits, ducks, and geese). However, veal and beef are the most sought after. Some popular dishes include Cotoletta alla Milanese (veal rib chop, breaded and fried in butter) or Ossobuco (cross-cut veal shanks braised with vegetables, white wine and broth; served with risotto or polenta).
Valtellina town in the north of this region is well known for Bresaola della Valtellina (salted beef fillet aged for several months).
Typical cake in Lombardy is Panettone. This sweet bread that is now a popular Christmas-New Year's cake all over the world, has originated in Milan. Another must-try dessert is Panna cotta, a sweetened cream thickened with gelatin and molded.
Wines
The popular wines of Lombardia are Lugana, Bonarda, Malvasia, Lambrusco, and also Franciacorta (the Italian contender to the French Champagne).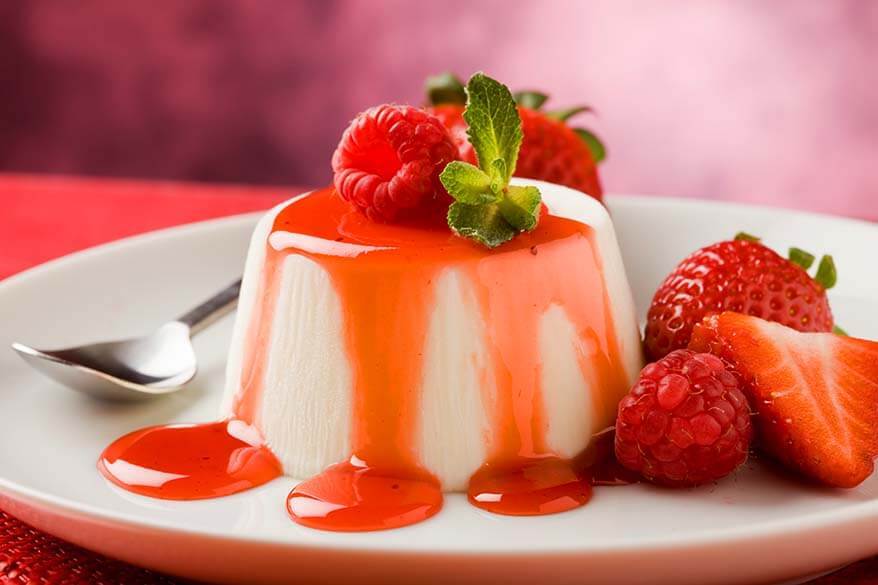 Marche
The Marches (Le Marche) region is located east of Tuscany and is formed by four big valleys that are descending from the Apennine mountains to the sea. This is the land of Gioacchino Rossini and Giacomo Leopardi. Marche has sandy coves, limestone cliffs, and medieval villages. Its capital city is Ancona.
Food specialties of Marche
One of the typical dishes of Marche is the Brodetto di Pesce di Ancona. It's a fish or seafood soup with different variations of fish, but also shrimp or octopus, adding tomato sauce in the north of the region or saffron in the south.
Another traditional dish is Vincigrassi. It's a thin, square pasta layered with chicken giblets, mushroom, white sauce, and truffles. It looks a bit like lasagna but tastes very different.
Must-try in Marche are Olive all'ascolana – big olives filled with pork meat, breaded and fried. A well-kept secret is Ciauscolo di Fabriano, a soft salami which is spread on the bread like paté.
Wines
Some of the best wines of Marche are Vedicchio di Jesi, Piceno (white and red), and Vernaccia.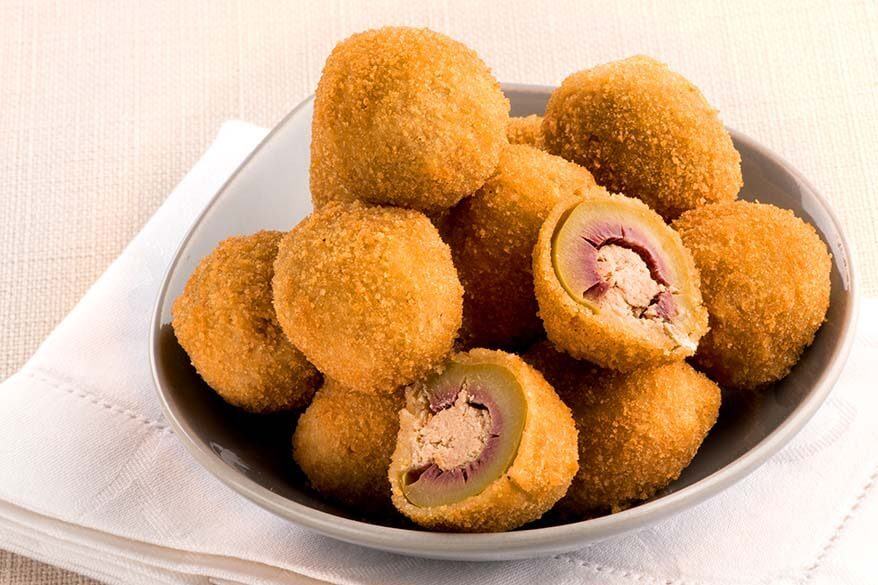 Molise
Molise is one of the smallest regions of Italy, north of Naples and east of Rome. Its capital city is Campobasso. Molise is a mountainous region (the Apennine mountains) with a small stretch of coastline along the Adriatic Sea. This region has simple gastronomy typically based on farming, fishing, and pastures.
Specialties of Molise
Dishes like homemade pasta, meats (especially lamb and sheep), and fish are dominant in Molise. The most characteristic pastas are Creoli (spaghetti-type pasta cut with a metal tool that looks like a guitar) and Cavatelli (small cubes of pasta shells in the shape of tiny hot dog buns).
One of the specialties of Molise is a dish called Pezzata. It's a stew of grilled lamb and sheep meat slow-cooked in tomato sauce with parsley, rosemary, onions, chili, and oil.
Wines
The wines produced in Molise are Ramitello (white and red), L'Aglianico, and Moli (white, red, or rosé).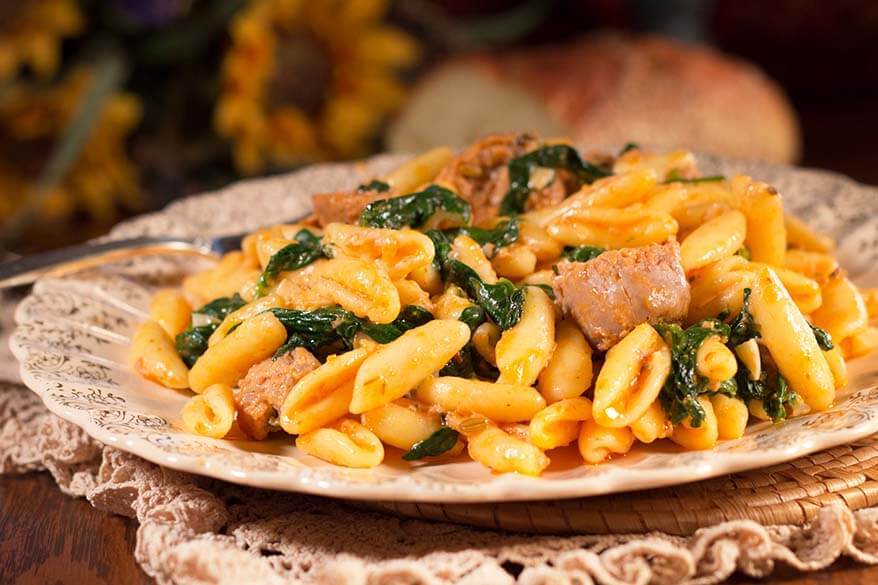 Piedmont
Piedmont (Piemonte) region in northwestern Italy borders France and Switzerland. Its capital city is Turin.
The region stretches from the Alps to the super fertile Padana flats and crossed by the river Po that's used for irrigation of the vast agricultural land. This area is perfect for rice cultivation.
Piedmont is probably one of the most culinary-rich regions of Italy. This is due to the abundance of cereals, milk and cheeses, fruits and vegetables, wild mushrooms, white and black truffles, as well as beef and game meats.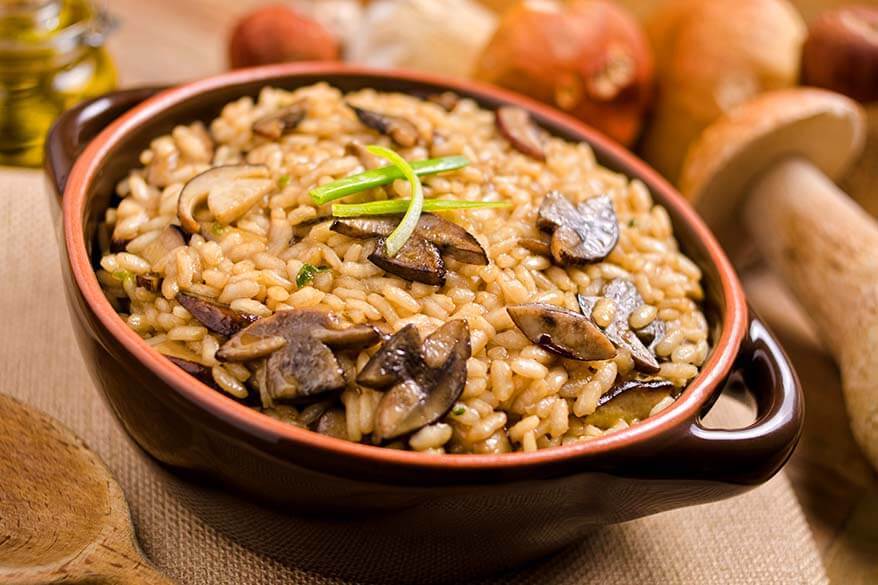 Regional food of Piedmont
Piedmont is home to the best beef of Italy, the Fassone Piemontese.
Rice is very popular in this region. A classic example of a local dish to try in Piedmont is Risotto ai porcini (or you can cook it at home with this mushroom risotto recipe).
Pasta is common here as well. The most typical fresh pasta types are Ravioli, Agnolotti, and Taglierini (Tajarin). Tajarin is hand-cut spaghetti-type pasta that is usually served in a sauce of butter and white truffle.
Here are three typical dishes to try in the Piemonte region. Bagna càuda is a hot sauce made with anchovies and garlic. It is served as a dip for raw vegetables. Finanziera is a rich stew made with offal and entrails from different animals. This ancient Piedmontese dish used to be a poor men's dish, but is now considered a delicacy. Bollito misto is another stew typical to this region, made of chicken, beef, pork, and pork sausage and served with Bagnet Piemontese (green sauce) and Bagnet Ross (red sauce).
Polenta (corn semolina) is also used a lot, both in savory as well as sweet dishes. Make sure to try Polenta Biscuits when visiting Piemonte or try this polenta biscuit recipe.
Piedmont Wines
A wide range of wines are produced in Piedmont. The most known reds are: Nebbiolo, Barbaresco, Barolo, Barbera, Dolcetto, Brachetto and Grignolino. The best regional white wines are: Cortese, Gavi, Moscato, and Asti Spumante.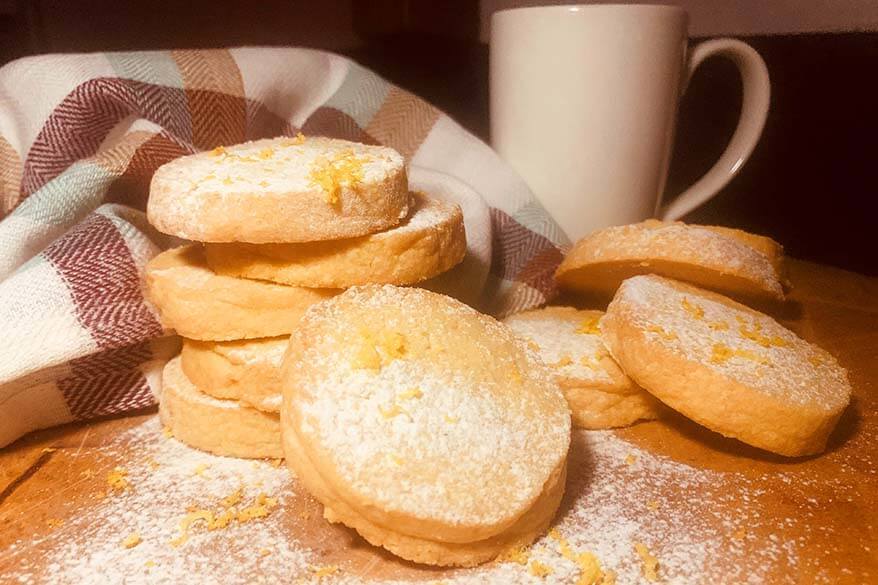 Sardinia
Sardinia (Sardegna) is often described as a micro-continent due to its ecosystem variety. It has mountains, sandy beaches, woodlands, green hills, and large uninhabited territories inland.
It is quite different from the rest of Italy, with its own unique culture and also somewhat different food.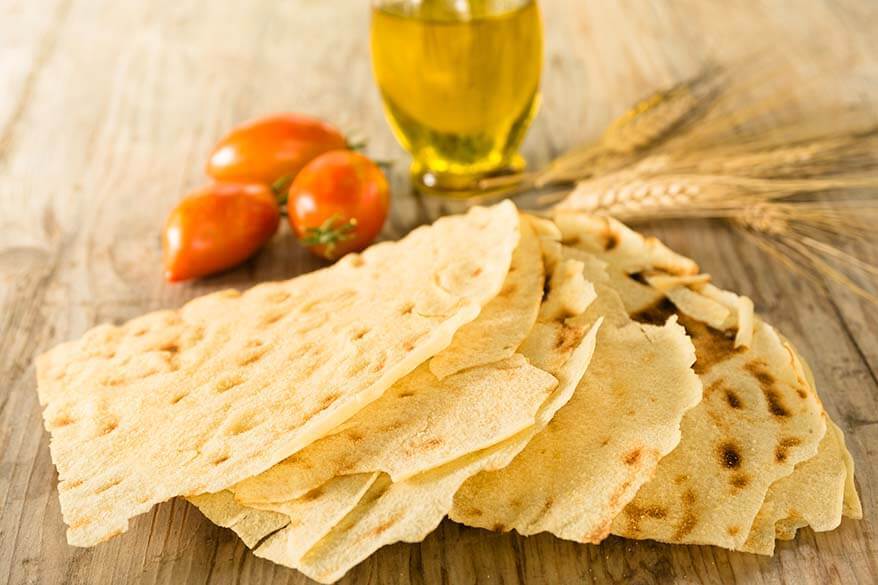 Traditional food in Sardinia
The cuisine of this island, further away from the mainland, is mainly pastoral, with a focus on livestock rather than growing crops. Sardinia produces some of the most exquisite cheeses in Italy, such as Fiore Sardo. It's a Sardinian pecorino cheese, made with sheep's milk, and eaten fresh or hard.
Many dishes on the island are also based on fish and other seafood. But the most characteristic dish of Sardinia is Porcheddu, a roast suckling pig, slow-cooked on a spit using aromatic wood and myrtle leaves to enhance its taste.
In Sardinia bread is an important part of the diet and it's often baked at home. Pane Carasau (or Carta da Musica) is the most typical flatbread you'll find in Sardinia. It can be kept for a long time and is popular among local shepherds who are often away from home for many days in a row.
Another pillar of the Sardinian gastronomy is pasta. Most typical are the Malloreddus (small gnocchi made with semolina and saffron) and the Culurgiones (filled pasta with potatoes, pecorino cheese, and mint).
Wines of Sardinia
Sardinia is producing some excellent white wines, such as Nuragus, Vermentino, Torbato, Vernaccia, and Malvasia. If you prefer red wines, make sure to try red Cannonau di Sardegna that is unique to this island.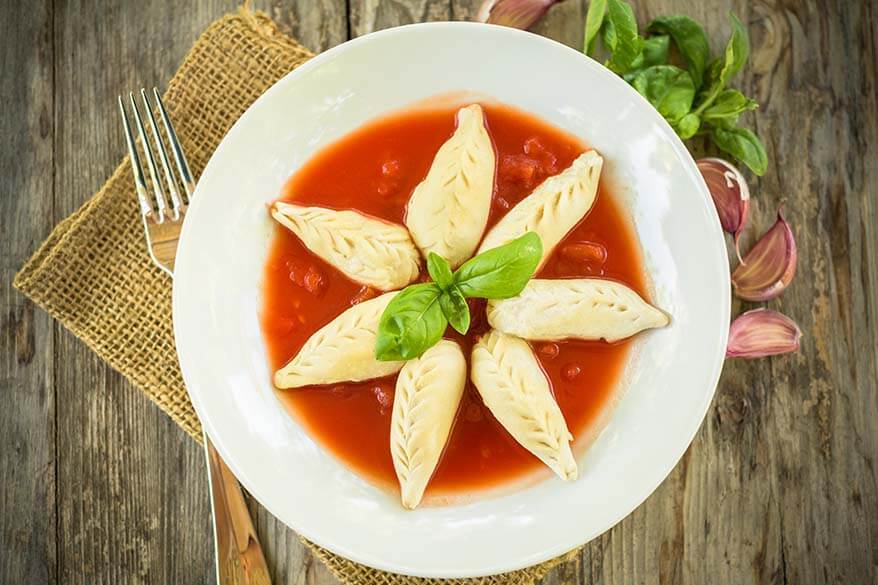 Sicily
Sicily (Sicilia), the biggest island of the Mediterranean, has seen many invasions by different civilizations in its history. All this left traces and influenced its gastronomy. With the perfume of herbs, silverfish, crusty bread, extraordinary vegetables, ricotta, cheeses, and citrus, the Sicilians kept the very best recipes and food preparation methods.
Traditional food of Sicily
The famous Sicilian durum wheat is widely used for bread and pasta in the region. Durum wheat pasta is the pillar of this region's gastronomy and there are many amazing pasta dishes that you have to try in Sicily!
Pasta alla Norma (tomato, fried aubergines basil, and oven-baked ricotta) that you can find all over Italy, has actually originated in Sicily.
Other local favorites are Pasta 'ncasciata (a pasta-bake with various ingredients and lots of cheese; in Sicily, with sardines, wild fennel, pine nuts, and sultanas) and Spaghetti alla siracusana (with cured fish roe, smoked herrings, olive oil, and herbs).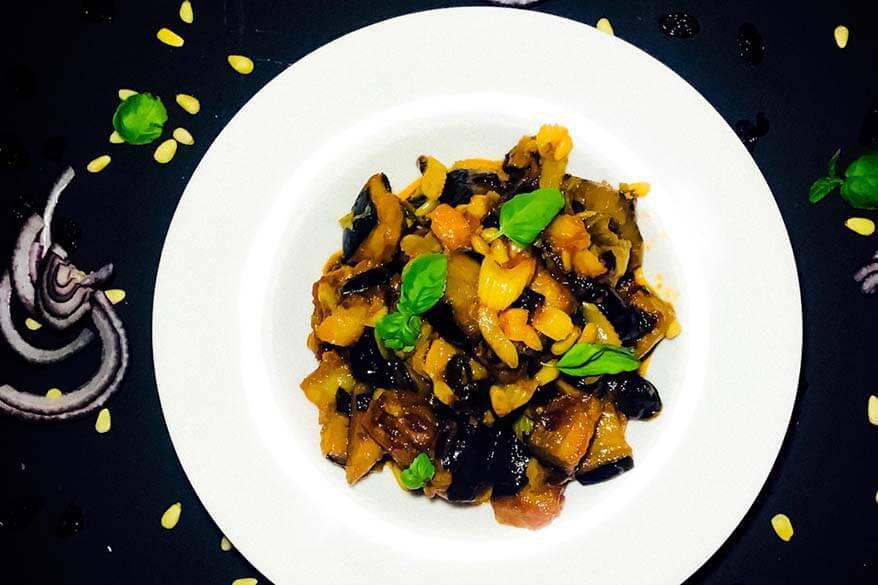 Another regional specialty from Sicily is Caponata (recipe). This sweet and tangy aubergine stew, with celery, pine nuts, olives, and capers is served as a side or as a starter, even on top of crostini bread.
Deep-fried rice balls arancini are typical Sicilian snacks that you should definitely try as a starter.
Tuna and swordfish are the most prestigious fish from the waters around the island. They are used in many recipes, one of which is the Involtini di pesce spada (grilled thin slices of swordfish in aromatic breadcrumbs – recipe).
But the highlight of the Sicilian gastronomy is its desserts: gelatos, granitas (semi-frozen slush), Cannoli Siciliani (fried shells filled with sweetened ship ricotta), Pasta Reale (almond flour paste shaped like fruit), and the Cassata (sponge cake layered with ricotta and candied fruit).
Wines of Sicily
Marsala wine is the most famous of the Sicilian wines, other are: Zibibbo, Grillo, Nero d'Avola, Primitivo, Malvasia, Cataratto, Frappato, Grecanico.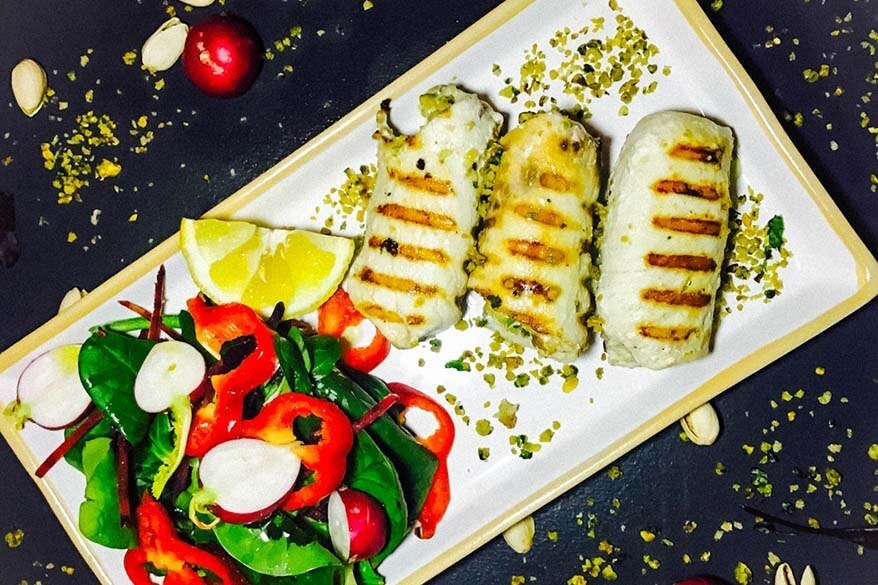 Trentino-South Tyrol
Trentino-South Tyrol (Trentino Alto Adige) region is home to the most beautiful mountains in Italy (the Dolomites and Trentino). It has a cold climate compared to the rest of the country and its cuisine is quite rich and heavy.
The food of South Tyrol is largely influenced by the gastronomy of Germany and also by neighboring Austria.
Trentino on the other hand still has a big influence of cucina povera (poor cuisine) that is based on polenta, corn, and sauerkraut, as well as some meat of local farm animals. Meat was traditionally rich men's food and served mostly on special occasions.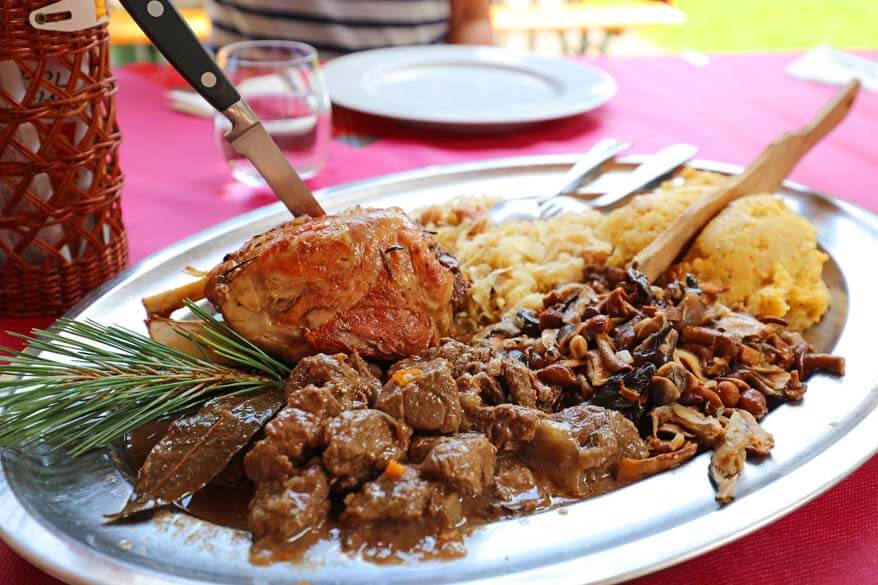 Specialties of Trentino Alto Adige
In this region, everything gets smoked: pork, veal, beef, sausages, horse and donkey meat. This is to preserve the food for the long winters. Smoked meat is boiled and served with sauerkraut or other pickled vegetables and dark bread with nuts.
Potatoes are the staple food of the region and Trentino was the first region in growing them. Grapes and apples are the main summer fruits, whilst during the winter chestnuts are used for desserts and even in soups which are eaten daily.
A traditional cured meat coming from this region is Speck (a peppered, smoked pork belly) which is typically served with black toasted bread as a starter.
Popular are Canederli (bread balls with speck, cold cuts, milk, eggs and cheese) usually served in broth. Strangolapreti, potato-spinach gnocchi from Trentino are also very popular. They are usually served with parmesan cheese and melted butter.
For dessert, try Strudel or Kaiserschmarren – both influenced by Austrian cuisine.
Wines
Trentino Alto Adige has some great wines. The most popular whites of the region are Pinot Grigio, Chardonnay, Sauvignon Blanc, Riesling, and Moscato. The red wines to try are Lagrein, Pinot Noir, Cabernet Sauvignon, Schiava, and Teroldego.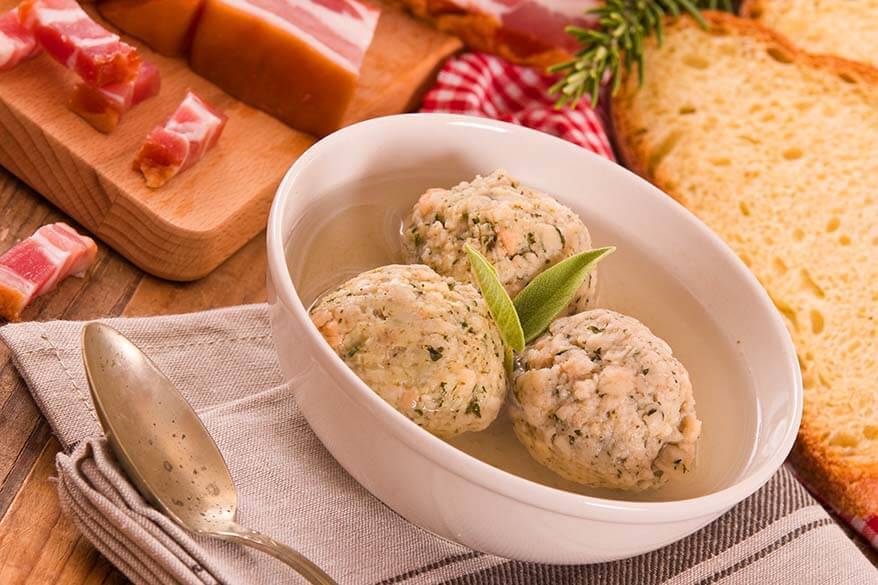 Tuscany
Tuscany is one of the most picturesque regions in Italy, with rolling hills, overlooked by medieval castles and a Tyrrhenian coastline. Most international visitors come here for the beautiful Tuscan towns, such as Florence, Siena, Pisa, or Lucca to mention just a few.
Tuscan cuisine is very simple and comes in contrast to the luxury of art and science of the capital Florence. Tuscan dishes are based solely on the quality of the product available, the soil, and the climate.
Regional food in Tuscany
Tuscany is the BBQ region of Italy. Only the wood of old vines or olive tree charcoal is used for the fire. This is how they prepare skewers of garden vegetables, mushrooms, and the famous Bistecca alla Fiorentina (Fiorentina steak). If you try just one dish in Tuscany, make it this one!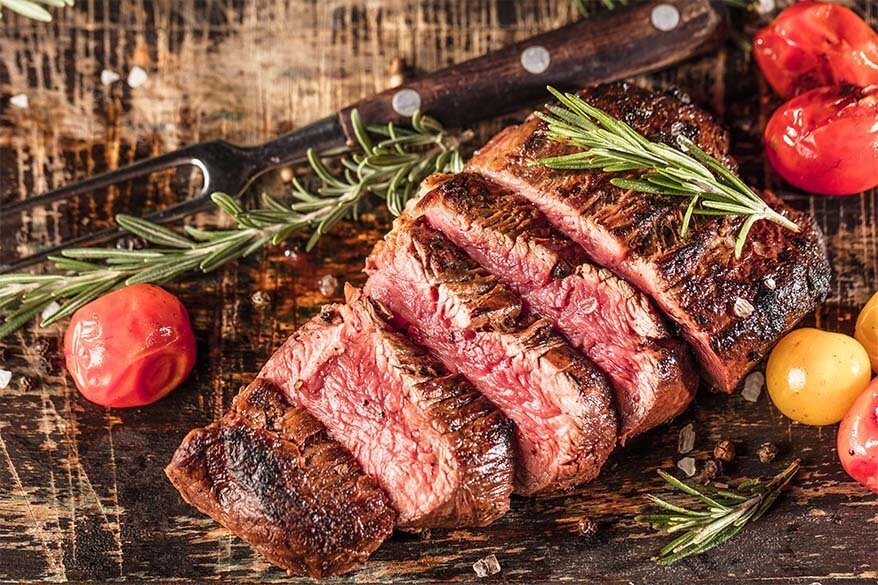 Tuscan cuisine also has many fish dishes. The most iconic is the Cacciucco fish stew with several types of fish, shrimp, mussels, octopus, and other seafood. Tradition has it that there should be five different types of fish in the soup.
The Toscano bread is crusty and prepared without salt. It is used to make Bruschetta – a slice of Toscano bread, grilled before rubbing with garlic and drizzled with extra virgin olive oil. It is served with soups, antipasti, and also to prepare Panzanella Salad (recipe), another typical local dish you should try in Tuscany.
The typical example of the humble Tuscan cuisine are Gnudi. These gnocchi-like dumplings are made of ricotta coated in semolina and served with butter and sage.
Wines of Tuscany
Tuscany region is world-known for its wines. The best ones are Chianti, Brunello di Montalcino, Vino Nobile di Montepulciano, Sangiovese, Vernaccia, and Vin Santo.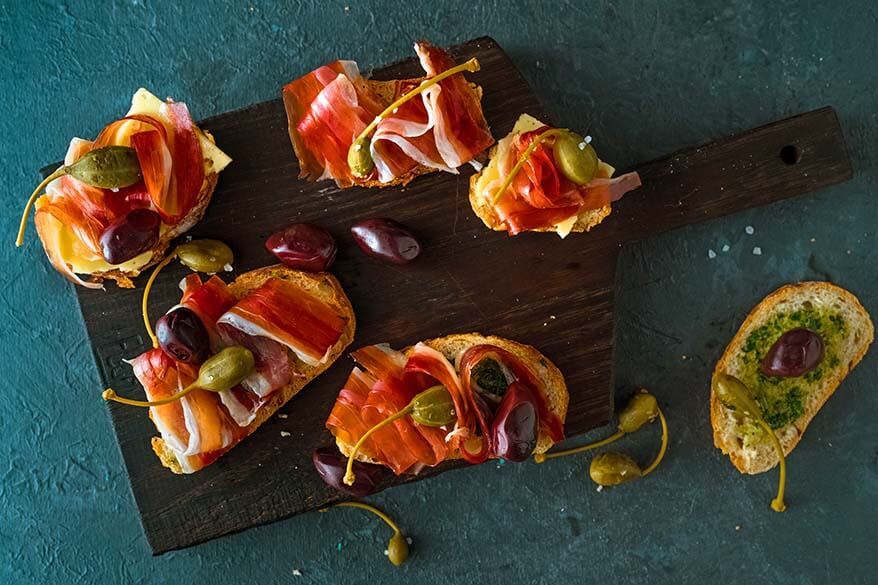 Umbria
Umbria is a hilly green region in the heart of Italy. It borders Tuscany and Lazio (Rome). The capital city of Umbria is Perugia.
Pork, black truffles, and olive oil are the main ingredients of the Umbrian cuisine.
In the plains of Castelluccio di Norcia, a little village in the Apennine Mountains, you'll find the best lentils, smaller in size, and with a distinct flavor.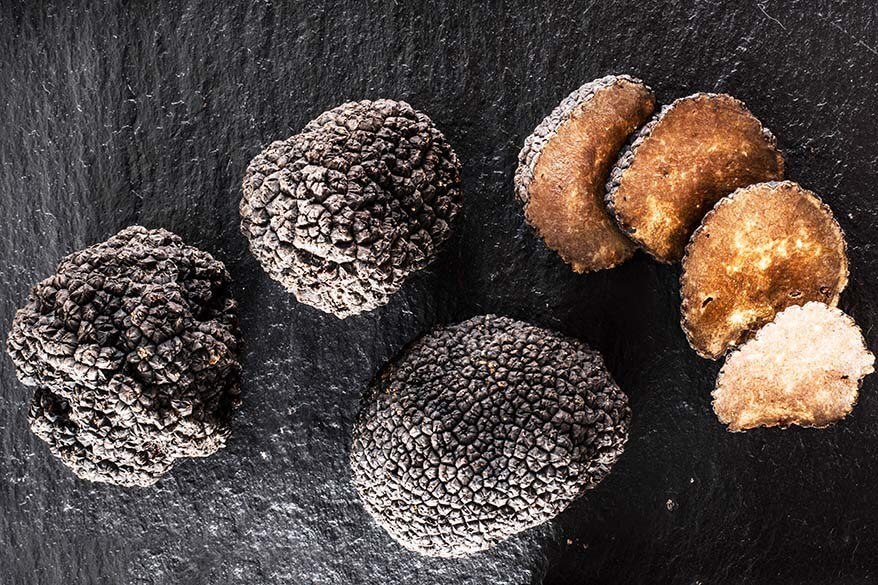 Traditional food in Umbria
Umbria is known for its love of meat. The region produces prestigious prosciutto hams (cured ham), capocollo (pork neck), and salami. When in Umbria, you have to try Mazzafegato dried-cured salami sausage made of pork liver, orange zest, pine nuts, and sultanas.
But the most popular meat in Umbria is Porchetta that is now known around the world. This pork roast is slow-cooked on an open fire for at least 8 hours.
Black truffles are abundant in Umbria and widely used in local dishes. They are not grated or shaven on a dish, but chopped in chunks and cooked with, for example, pasta. If you like truffles, make sure to try Pasta alla norcina, a typical dish in Umbria. Pasta is dressed with truffle, garlic, anchovies, and olive oil.
Nuts are also a popular ingredient in the traditional cuisine in Umbria. Nuts are used a lot, in sweet dishes as well as savory. If you like fish, make sure to try Trote alle nocciole, a pan-cooked river trout with hazelnuts and white wine. Trout is breaded in panperato, a bread made with walnuts, hazelnuts, almonds as well as chocolate and honey.
Wines of Umbria
Umbria is a large producer of Orvieto, Trebbiano and the rarer Montefranco Segrantino.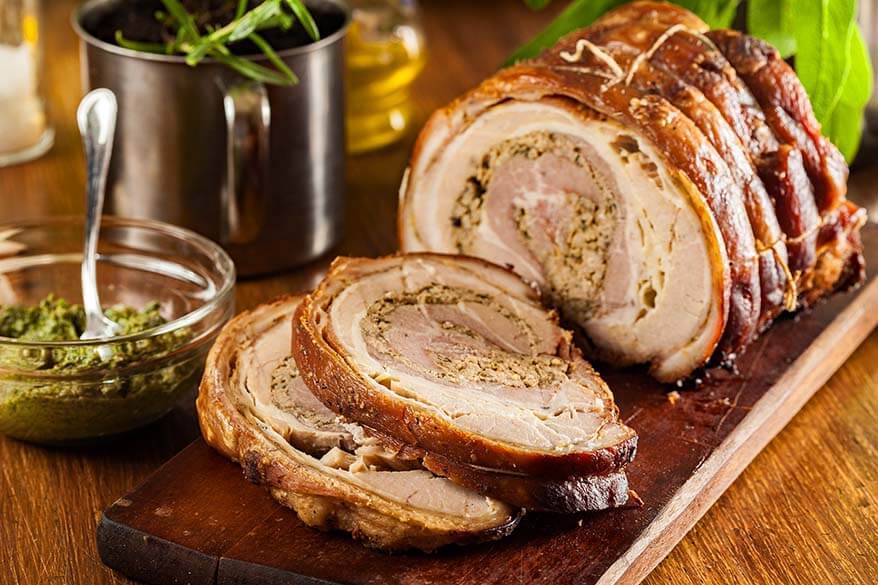 Veneto
Veneto region, best known for its capital city Venice, stretches from the Dolomite mountains to the Adriatic sea. This region was part of the powerful Venetian Republic for many centuries.
The gastronomy of this rich and vast region varies a bit per region; the coast and laguna, inland, and mountains all have something in common but also their own typical dishes.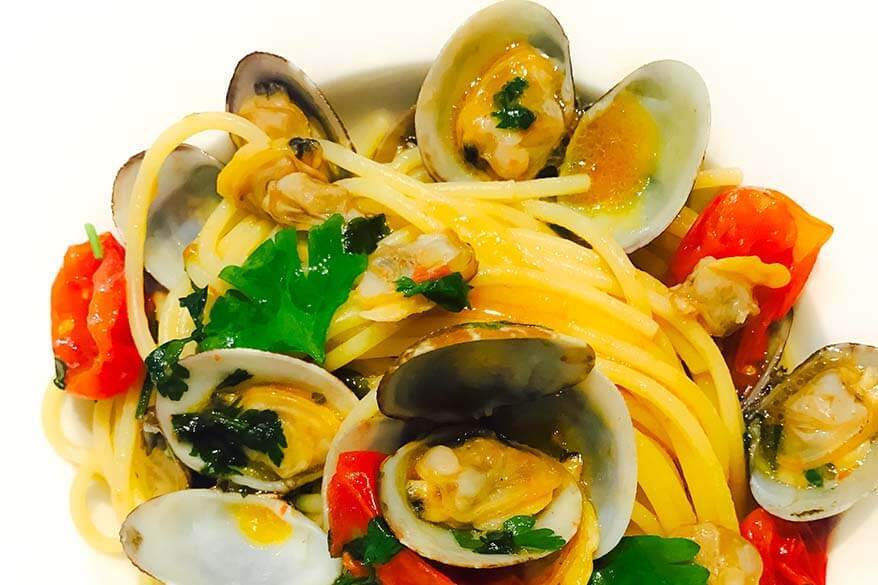 Food specialties of Veneto
There are common ingredients used all over Veneto and that's polenta (corn flour), yellow and white rice, and beans. A traditional dish is Risi e Bisi (rice and peas). It is not quite a risotto, but rather a thick rice soup with super fresh peas, flavored by pea pods stock.
Risotto is very popular and is cooked with vegetables, beans, meats, fish, seafood, frogs, wood pigeon, and quale. It's usually a very rich and nutritious complete dish.
The delicious beans of Venetto are cooked in many ways. Pasta e Fagioli (pasta and beans) is a rich soup with pasta, beans, onions, and herbs. It's served lukewarm, with olive oil.
Venetian cuisine uses lots of fish and shellfish from the 'Laguna'. You'll find eel, mullet, red mullet, seabass in many dishes. Small cuttlefish is used for black ink risotto, whereas mussels, crabs, and clams (smaller variety with amazing flavor) are used in Spaghetti alle Vongole. This is a popular dish in Veneto, but also in any other parts of Italy.
A very typical dish is Fegato alla Veneziana (Venetian style liver), typically cooked with cow liver and onions. It might not be for everyone's taste, but if you're looking for a traditional Venetian dish, you may want to give this a try.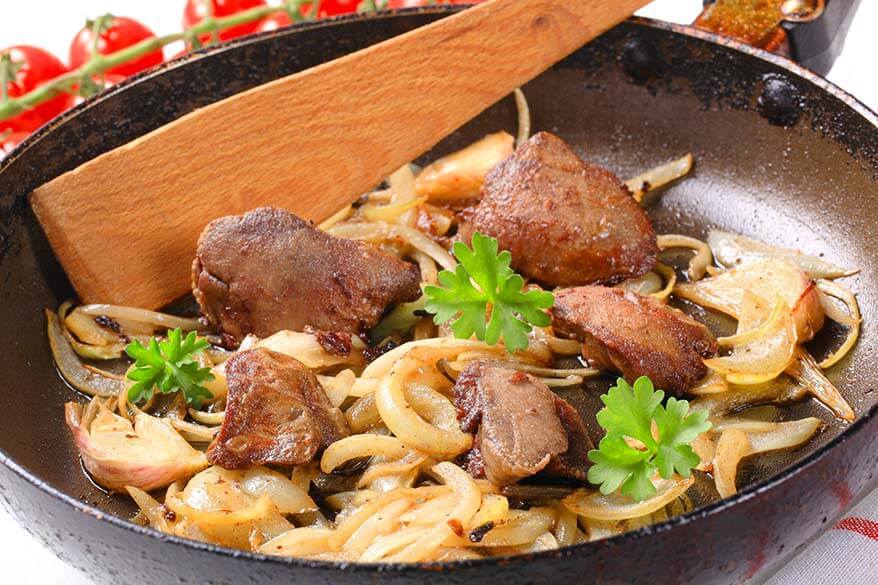 Veneto region is also known for its desserts. Make sure to try the Pandoro cake, which is the specialty of Verona and traditionally baked around Christmas and New Year. It's similar to Panettone but with a double butter dough, simply dusted with icing sugar.
But the most famous deserts of them all is, of course, the Tiramisu. Who doesn't know this mouthwatering classic made with coffee and almond liquor, mascarpone cheese, and savoiardi biscuits (tiramisu recipe). Still, no matter how many times you have eaten a tiramisu at home, you just have to try the original tiramisu in Veneto!
Wines
Veneto, like Piedmont and Toscany is a well-known region for wine production. Try Valpollicella, Valpollicella Ripasso, Amarone, Reciotto, Soave, Bardolino, or Cabernet.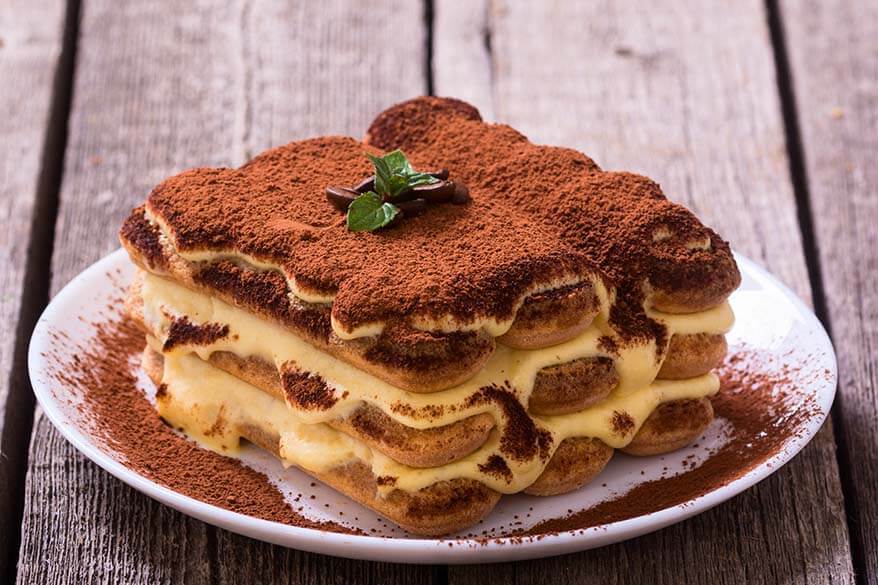 So, this is a 'brief' guide to the best authentic Italian food by region. As you can imagine, every region in itself could fill an article like this… But if you are traveling through Italy and want to taste some of its best traditional food, now you know what to expect and which dishes to try in each region.
READ ALSO: Best Places to Visit in Italy
More tips for your trip to Italy:
More food guides:
If you found this post useful, don't forget to bookmark it and share it with your friends. Are you on Pinterest? Pin these images!