Mount Vesuvius volcano is one of the most iconic natural landmarks in southern Italy. Whether you are traveling to Naples, Sorrento, or the Amalfi Coast, a visit to Vesuvius is really a must. But how to get to Mt Vesuvius and what to expect?
In this guide, we share all the best ways to get to the Vesuvius crater – by car, bus, and organized tours. In addition, we include all the practical information and useful tips for your visit.
Whether you are looking for the best tour to Vesuvius from Naples or Sorrento, want to take a bus to Vesuvius from Pompeii or Ercolano, or rather visit the volcano on your own, this guide should answer all your questions and help you plan a fun, memorable visit. Find out!
TIP: If you have no time to read the entire guide and find the planning overwhelming, this bus + ticket combo from Ercolano is the cheapest way to visit Mt Vesuvius. If you don't want to worry about transport and see more in a day, this is one of the best day tours that visit Vesuvius volcano as well as the Pompeii archeological site from Naples or Sorrento.
This tour is one of the best-rated options for those looking to visit Mount Vesuvius from Amalfi Coast. Further below, you can find more details about all the available bus transfers and tours.
READ ALSO: Best Day Trips from Naples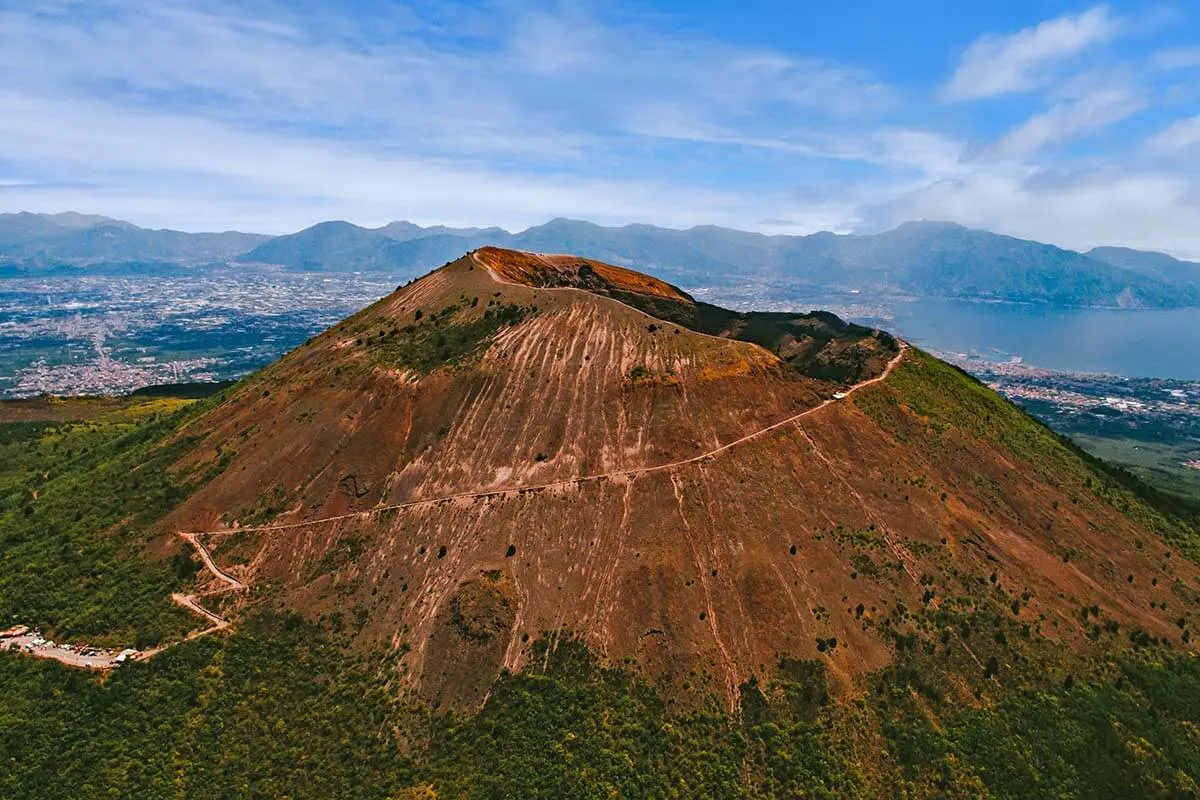 Where is Mount Vesuvius + Map
Mt Vesuvius is located near the city of Naples in southern Italy. The nearest town is Ercolano, from where it's just 13 km to the top of Mt Vesuvius (about 30 minutes drive). The official entrance to the Vesuvius site is at Piazzale di Quota 1000, Ercolano.
The driving distance from Naples or from Pompeii to the top of Mt Vesuvius is about 23-25 km and the drive takes about 40 minutes.
Below, you can see the map indicating driving times and distances to Mt Vesuvius. Here you can see the exact location of the parking and the entrance to the volcano site.
How to use this map: Use your computer mouse (or fingers) to zoom in or out. Click on the icons to get more information about each place. Click the arrow on the top left corner for the index. Click the star next to the map's title to add it to your Google Maps account. To view the saved map on your smartphone or PC, open Google Maps, click the menu and go to 'Your Places'/'Maps'. If you want to print the map or see it in a bigger window, click on 'View larger map' in the top right corner.
What to see and do at Mount Vesuvius
Mt Vesuvius is one of the largest volcanos in Italy and the only recently-active volcano on the European mainland. Its last eruption dates from 1944, and it wasn't nearly as bad as the one in 79 AD which was responsible for the destruction of Pompeii and Herculaneum.
Nowadays, Mount Vesuvius and the area around it is a protected national park. You can get very close to the crater and it's a really impressive sight! You'll quickly realize why this is one of the most popular places to see in southern Italy.
Visiting Mt Vesuvius involves a short climb from the entrance to the crater rim, which takes about 10 minutes. Once you reach the top, you can follow a wide path on the southern rim of the crater. This is an easy hiking trail that has some flat sections, but also a few stairs.
All in all, the climb and the hike aren't too strenuous, but it sure helps to wear closed shoes with a good grip.
There are various lookout points along the caldera where you can get quite close to the crater and get a good look inside. The colors here are so vivid, and often, you can also see some steam coming out from the depths of the volcano. On the other side, you have far views of the Bay of Naples.
TIP: If you are looking for more things to do near Mt Vesuvius, you may want to consider visiting some wineries nearby. Some tours (see here) also include a lunch stop at the vineyards on the slopes of the volcano.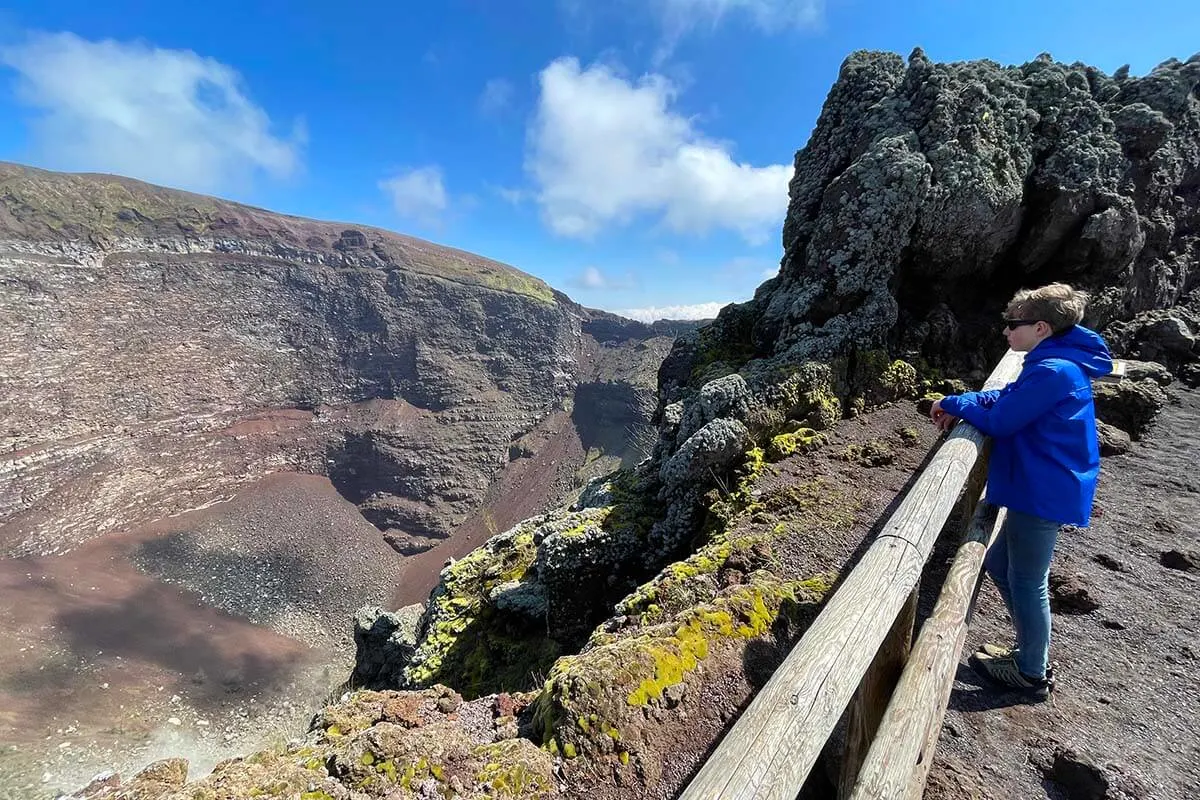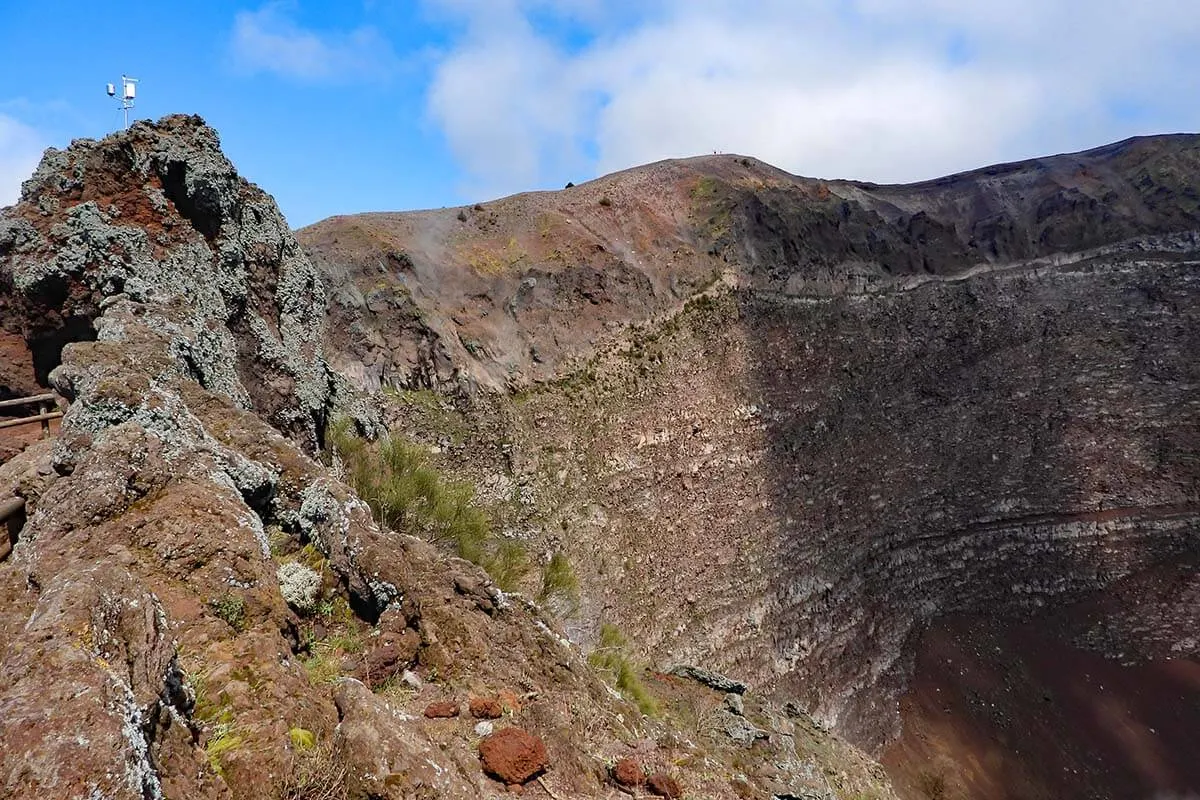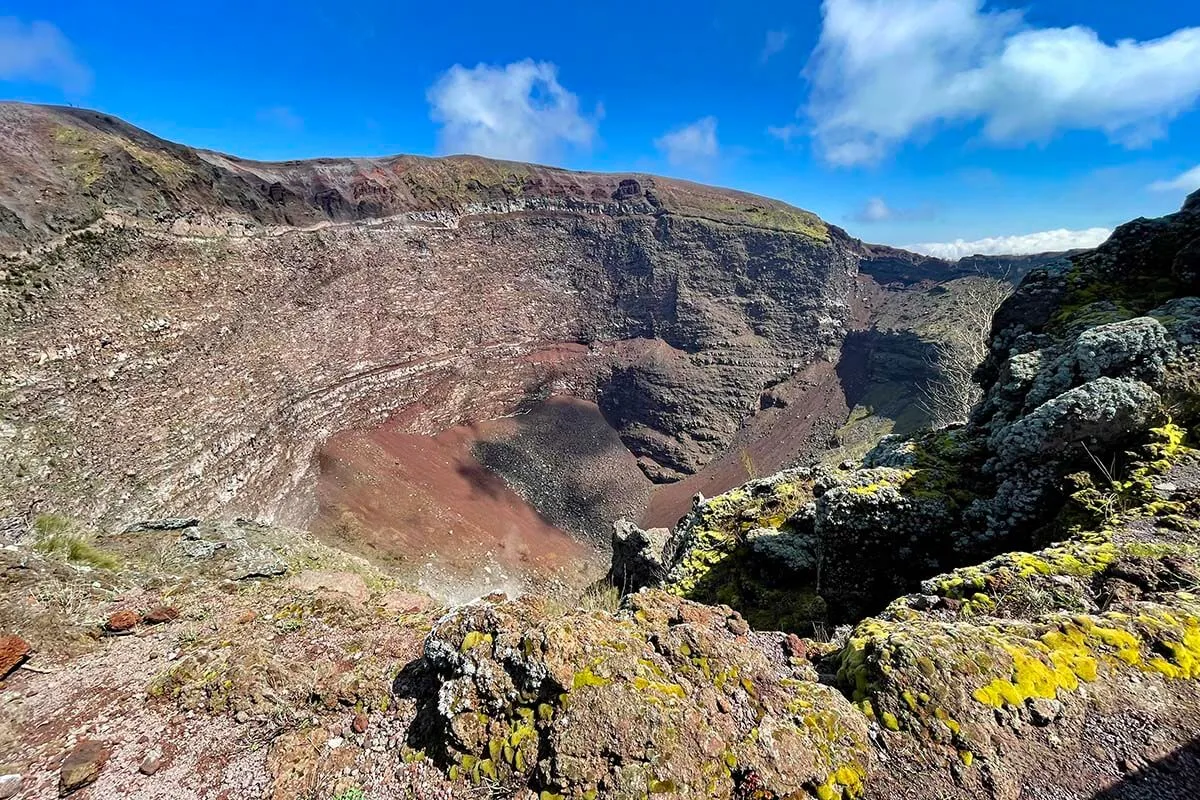 The Great Cono hiking trail
The hiking trail around Mount Vesuvius crater – the Great Cono – is indicated on local maps as nature trail n.5 "Il Gran Cono". It's a 4 km (2.5 mi) loop hike that takes about 3 hours.
In the past, it was possible to hike the entire perimeter of the crater. However, a big part of that trail has been closed for quite a while now. For some reason, they still have the signs showing the entire loop hike at the entrance of Mt Vesuvio National Park, but locals told us that it's not at all clear if or when it will reopen.
At the moment, you can only do part of this trail – from the entrance at Piazzale di Quota 1000 along the south side of the caldera and back the same way. But no need to worry that you are missing anything – the scenery is impressive and you get a good view of the volcano crater.
Either way, the entire loop hike around the Vesuvius crater rim would take over 3 hours. So even if the trail would be open, you could only do it if you are visiting Mt Vesuvius with your own car since most tours foresee only an hour at the top (more info below).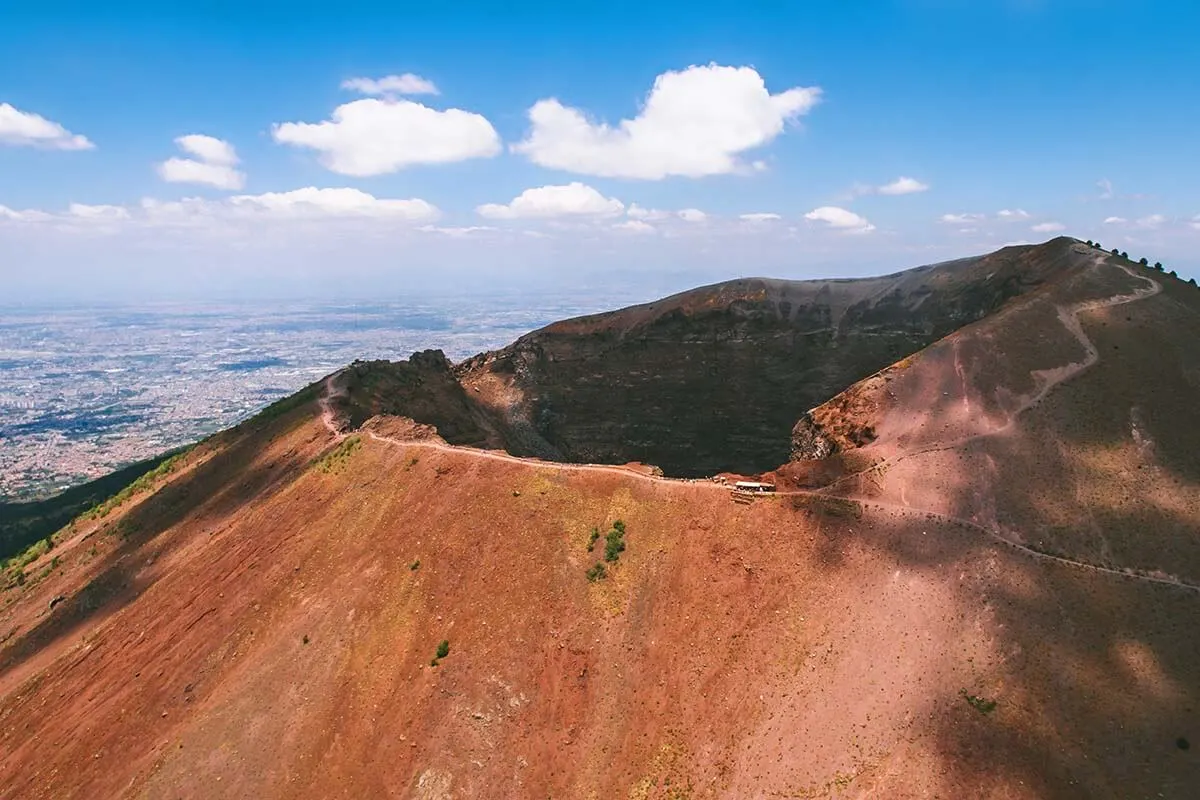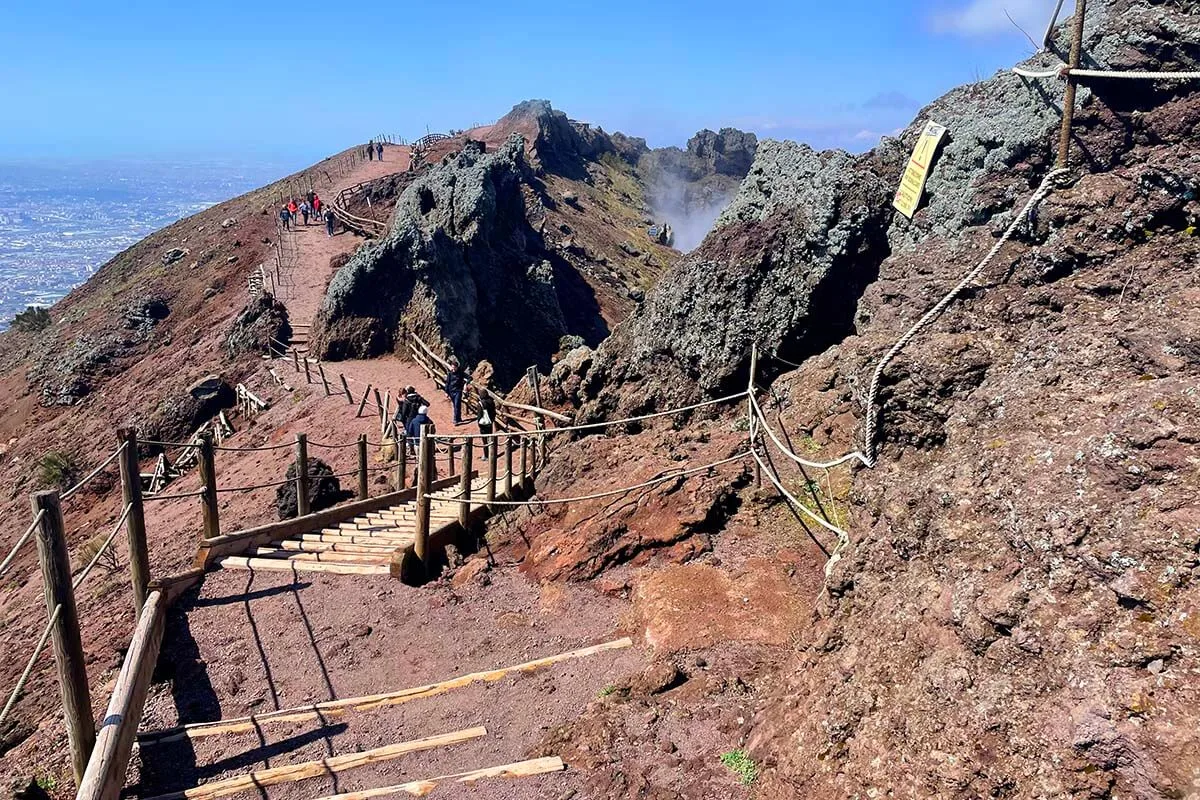 Facilities at Mt Vesuvius
There aren't many facilities at Mount Vesuvius. There is a small 'shop' at the entrance where you can buy souvenirs. They also sell sandwiches, drinks, and ice cream.
You'll also see a few kiosks at the top next to the crater rim where you can get some souvenirs or get a drink. We saw several groups tasting limoncello here.
You'll also find a few picnic tables at the top.
There are no public bathrooms at Mt Vesuvius.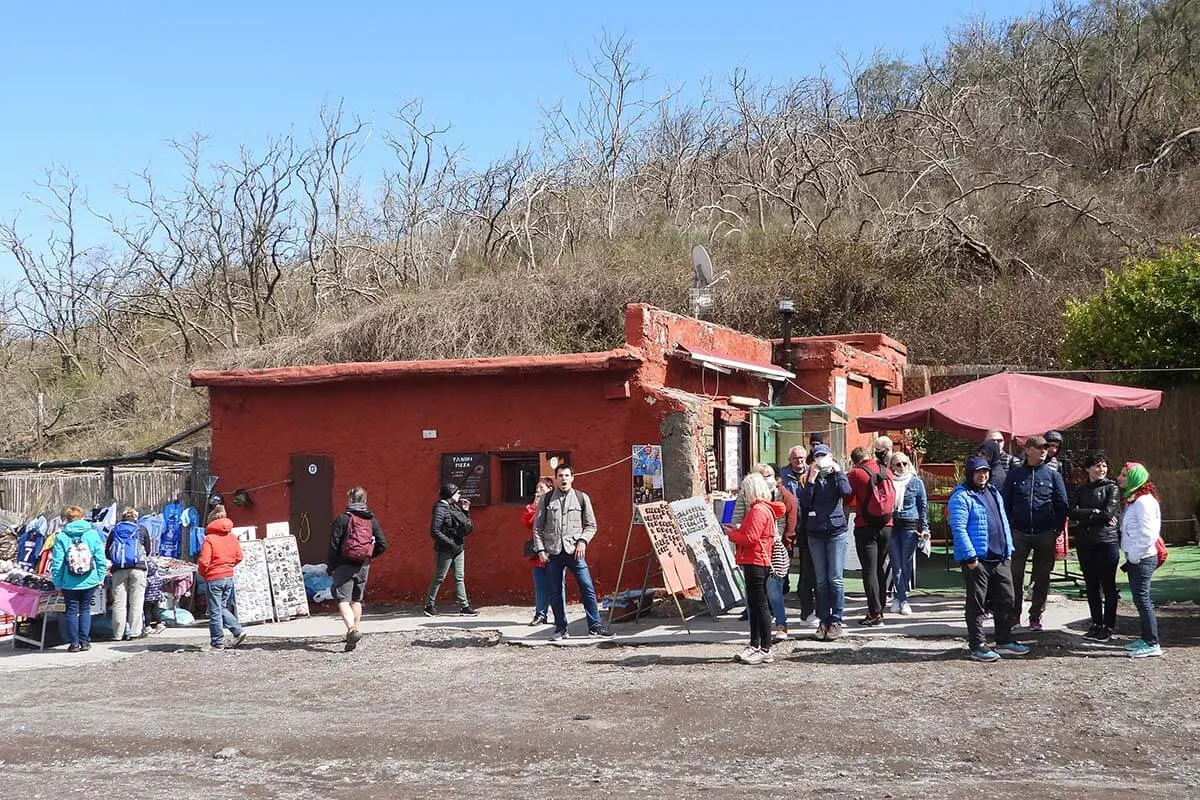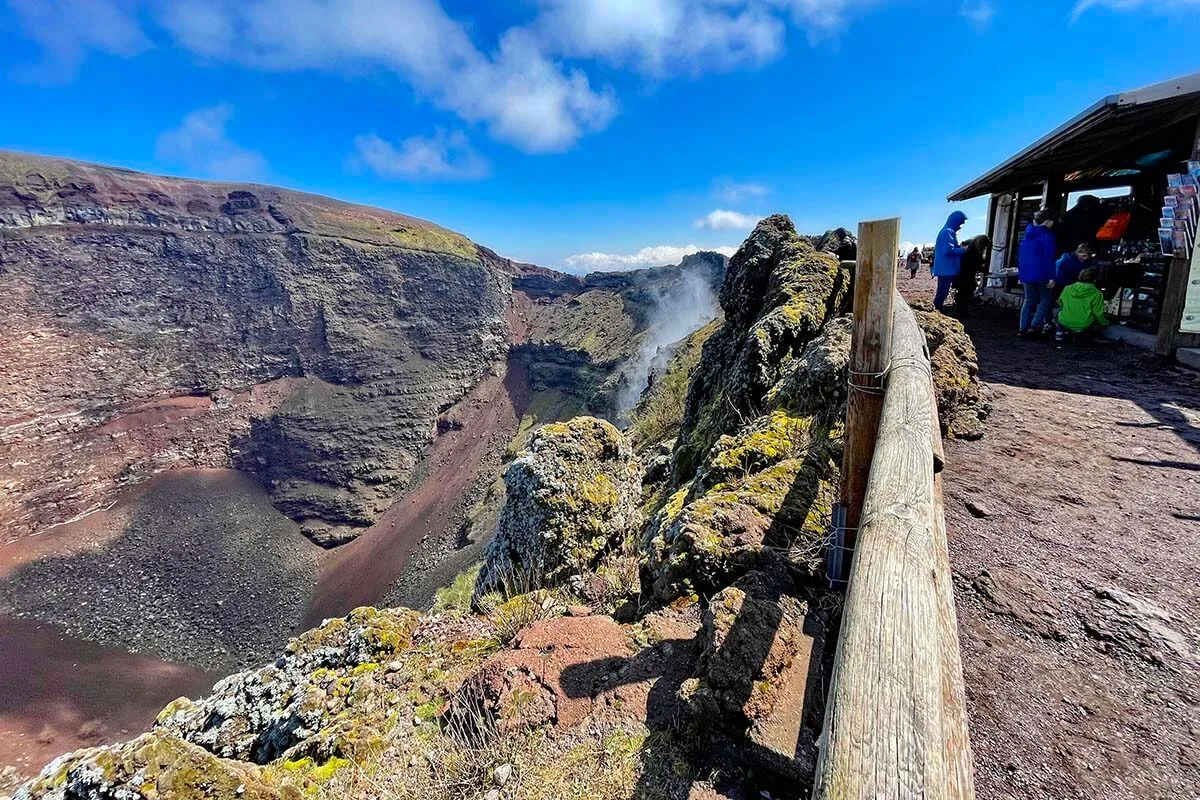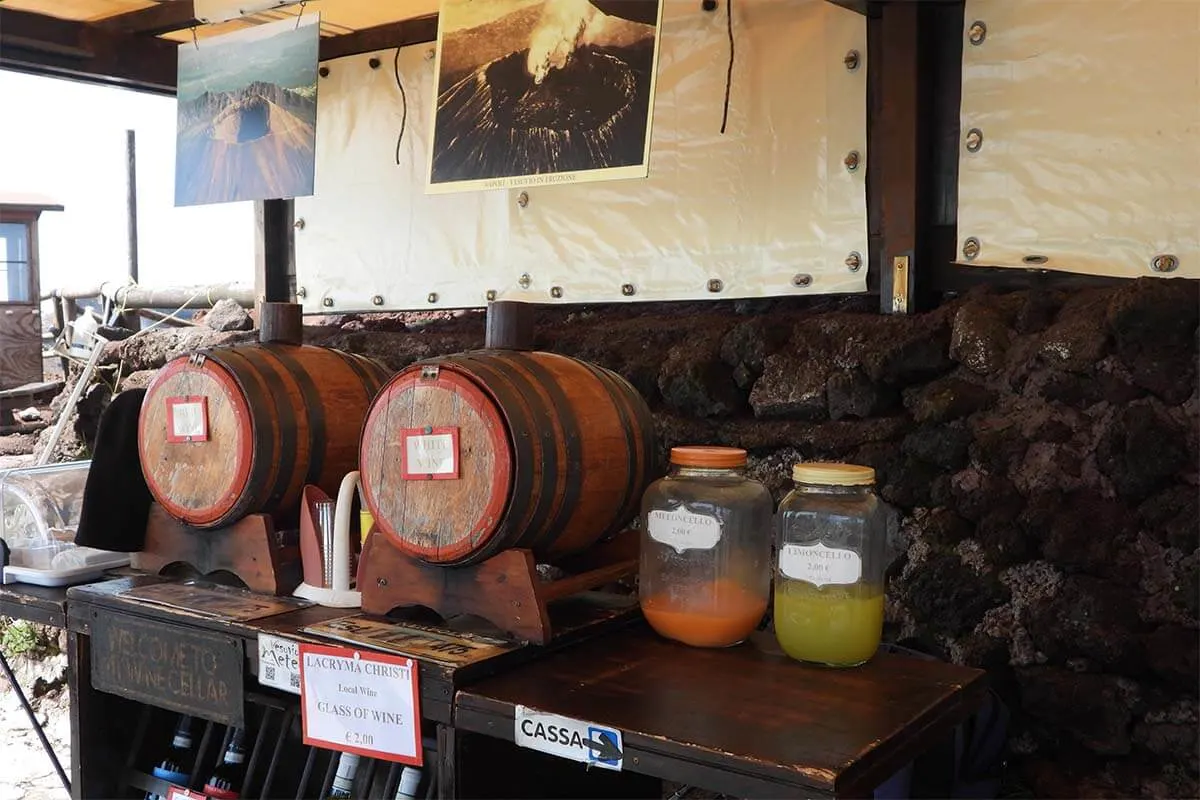 How much time do you need to visit Mt Vesuvius
Not including the travel time, you need about 1 hour to visit Mt Vesuvius from the moment you enter the site. This gives you sufficient time to walk to the top and explore all the viewpoints along the crater rim, but without lingering around too much.
If you want to take it easy, hike all the way to the last accessible viewpoint (and back), count about 1.5 hours for a visit. This would give you plenty of time for photo stops and maybe even a quick drink at one of the shops at the top.
If you also add the travel time, you need about 3-4 hours to visit Mt Vesuvius. This will depend on where you are coming from – Naples, Ercolano, or Pompeii, and how you travel – by car, bus, or with a tour.
If you opt for a Mount Vesuvius tour that also includes a visit to Pompeii or Herculaneum, you should count about 8 hours for a visit.
TIP: If you visit Mt Vesuvius by car, you can also stop for lunch/ wine tasting at one of the vineyards on the slopes of the volcano (see here). This would add 1.5-2 hours to your visit. However, it's best to do any wine-tasting tours with a guided tour, so that no one has to drive and you can actually enjoy the wine. There are quite a few Mt Vesuvius tours that also include a visit to one of the vineyards (see here). Depending on what else your tour visits, it can take anywhere from 4 to 8 hours.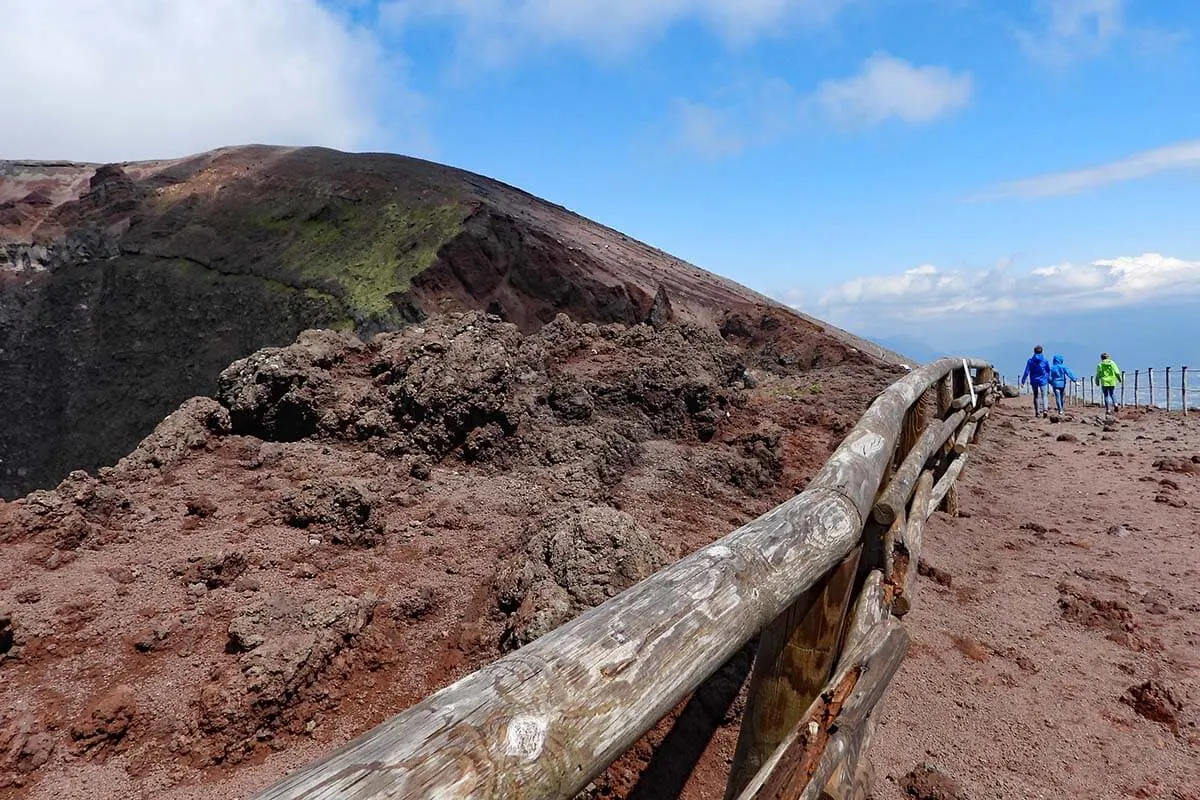 When is Mt Vesuvius open
Mt Vesuvius crater can be visited daily the whole year round. At the moment of the last update, the opening hours are as follows:
January – February: 9 am – 3 pm.
March: 9 am – 4 pm.
April, May & June: 9 am – 5 pm.
July – August: 9 am – 6 pm.
September: 9 am – 5 pm.
October: 9 am – 4 pm.
November – December: 9 am – 3 pm.
Good to know: The 'closing' times are actually the last scheduled entry times. You have to exit no later than 1 hour after the official closing time. So for example in summer, you can enter at no later than 6 pm and stay until 7 pm.
Mt Vesuvius Tickets
Unless you are visiting Mt Vesuvius with a guided tour or opt for this bus + ticket option from Ercolano or from Pompeii, you will need to reserve a ticket in order to enter the site around the volcano crater. They work with timed entrance tickets and you can only book them online.
Luckily, the rules when you can actually enter have recently been loosened. You can now enter the site 30 minutes before and up to 90 minutes after your scheduled time (so, for example, if you book a ticket for 10 am, you can enter anywhere between 9.30 am and 11.30 am). But be sure to check the official site in case anything changes again!
You can reserve Mt Vesuvius entrance tickets on the official website. The tickets often sell out for specific time spots, especially in the afternoon, so if your schedule isn't flexible, it's best to book at least a few days in advance.
Good to know: You have to reserve Mt Vesuvius tickets online in advance – there is no ticket office at the top. And there is also no Internet connection here. If you didn't book upfront, the best way to visit is by an organized tour since they seem to have access to a separate booking system.
When driving to the top, we saw some signs at the local restaurants advertising Mt Vesuvius tickets. So it might be possible to get them last-minute as well. But if you want to pay a fair price and not have to stress about it, it's best to simply book your tickets online in advance.
PRO TIP: When you book your tickets online, print them out. If you don't have access to a printer, be sure to take screenshots of every single ticket. Since the Internet doesn't work at the entrance, you won't be able to retrieve your online booking on the phone.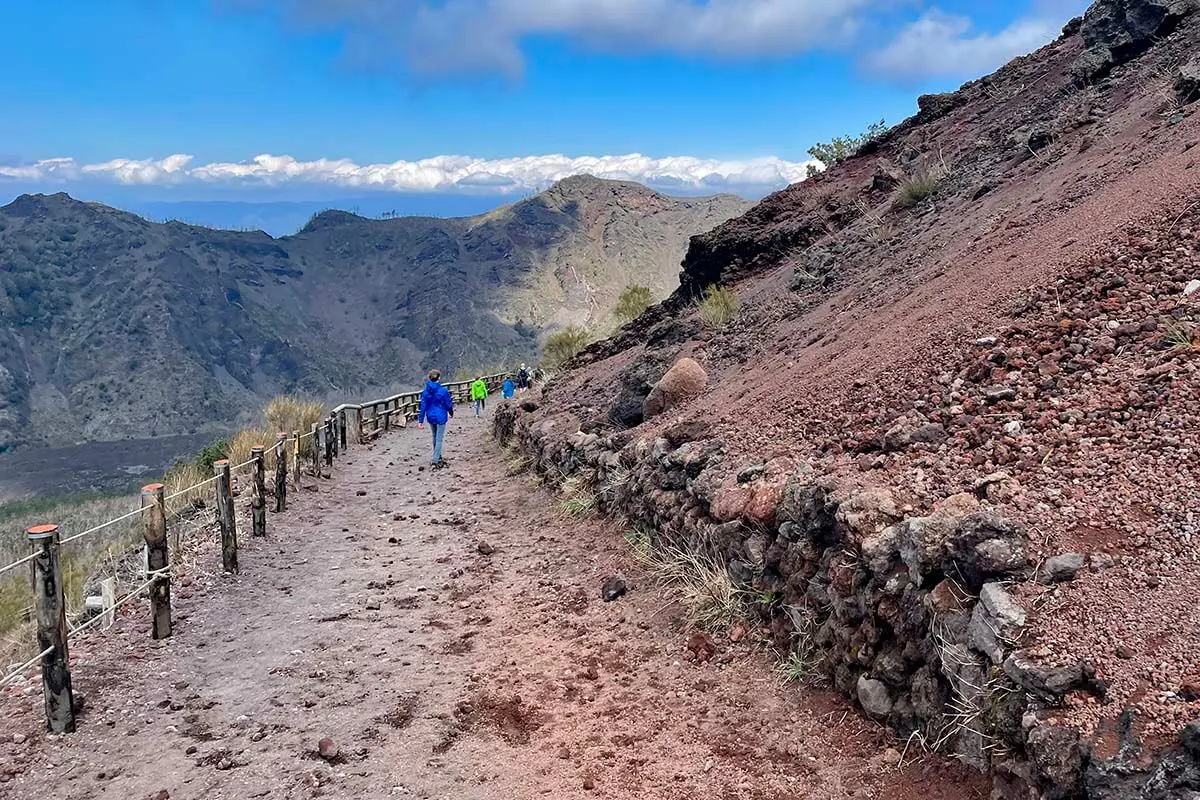 Visiting Mt Vesuvius by Car & Parking Info
If you have a car, the easiest way to visit Mount Vesuvius is by simply driving there. The road is rather narrow and winding, but it's not too bad. However, you can expect to meet lots of big tour buses along this narrow road, so be prepared for some stressful driving. The views along the way are quite nice, but if you want to enjoy them, it's best to stop at the parking areas of a few restaurants on the way to the top.
However, visiting Vesuvius by car is not as straightforward as it looks. And it becomes even more complicated if you are planning on driving here with a rental car.
This is because parking at the top is very limited. In fact, you cannot park your car at the very top where the entrance to the crater site is. This is a drop-off zone for tour buses and shuttles, and no parking for private vehicles is allowed here. So you'll have to park at a dedicated car park further down the mountain – see below for more information.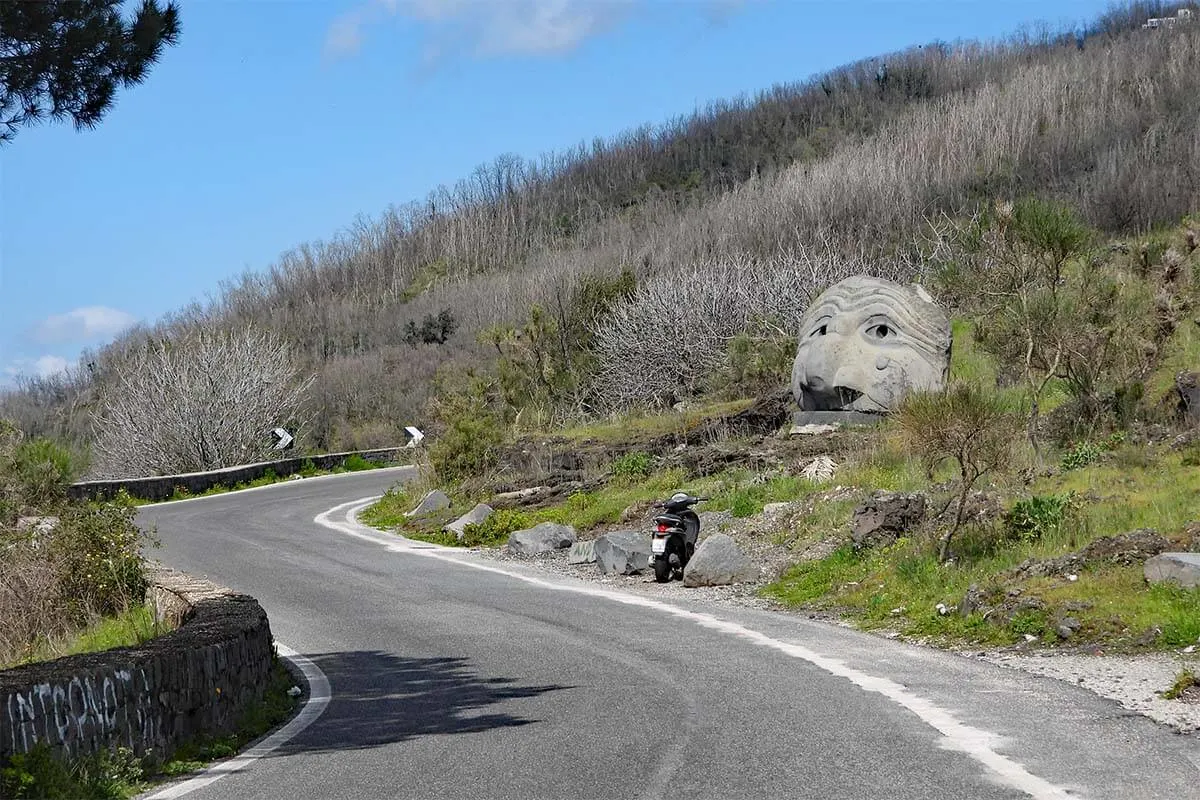 Parking at Mt Vesuvius
There's a dedicated roadside parking about 2km down the road before you get to the volcano crater. However, parking space here is also limited and you have to reserve in advance. Furthermore, once you park your car here, remember that you will have to make your way to the top (more about it further below).
Good to know: There is no way to pay for parking at the top. In fact, the situation is similar to the Mt Vesuvius tickets. There is no Internet connection and so you cannot just drive there hoping to book a spot upon arrival. And they do check! So you really have to book everything in advance and print or screenshot all your bookings.
It is essential to book your Vesuvius parking in advance and you have to do it on this website.
This is where it becomes interesting. First, you have to create an account, which is rather easy. But then, in order to reserve a spot, you have to provide the license plate of your car. So if you are renting a car and don't have this information, you won't be able to reserve parking at Mt Vesuvius until you actually have a car. And by then, the timed slots for the volcano visit and/or parking might be fully booked. This shouldn't be an issue if you have at least a few days before your visit.
If you succeed in securing your reservations for the parking and the Mt Vesuvius visit at around the same time, you're good to go. Except that when you arrive at the parking, you realize that nobody respects the parking spots allocated by the booking system. So your reserved parking place will likely be taken by someone else.
Just ignore this and park at any of the free spots – it's what everyone does, and we did it too. The only thing that really matters is that you have a reservation and can prove that you have paid for parking.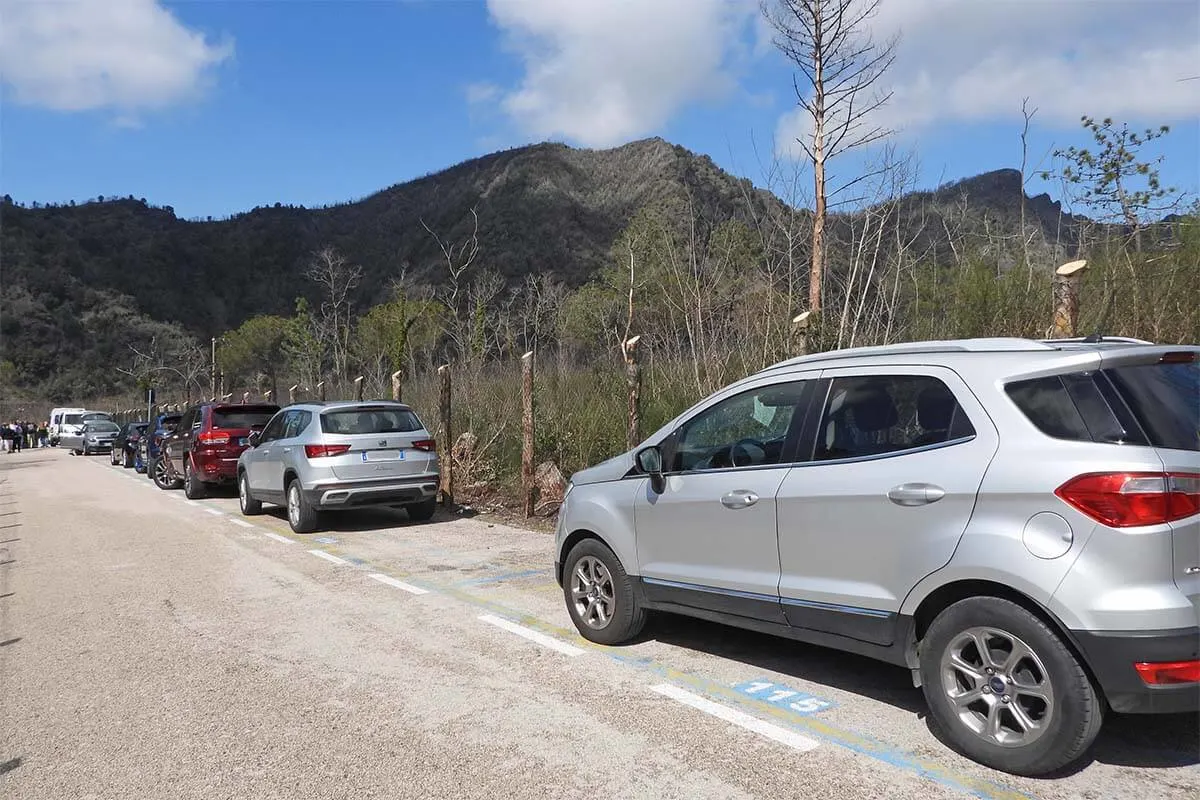 Getting from the parking to the volcano crater
After parking your car, you still have to get to the top where the entrance of Mt Vesuvius crater site is located. As already mentioned, the entrance is located about 2 km (1.25 mi) uphill from the parking.
While you can walk to the top, I really do not recommend it. It's a long uphill walk of about half an hour one way. You have to walk on the main road which is also used by tour buses passing by all the time. And the scenery is not really spectacular enough to justify it.
Instead, you can pay a few euros extra and take a shuttle bus from the parking to Mt Vesuvius (and back). When you come back after your visit, you can just hop on the shuttle bus that will take you back down to the car parking.
Good to know: There was a big wildfire at Mt Vesuvius in 2017 (nothing to do with the volcano itself). It destroyed lots of trees and other vegetation on the slopes of the volcano. So the scenery along the road to the top now looks quite barren.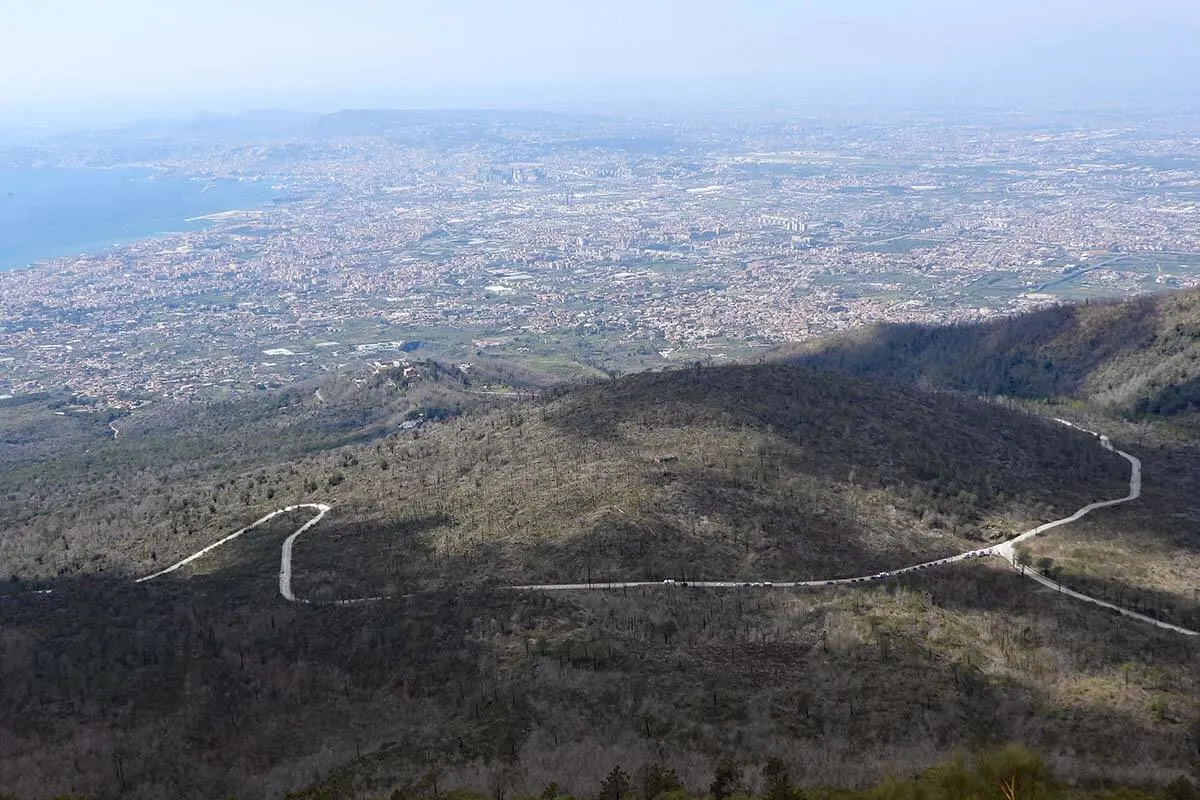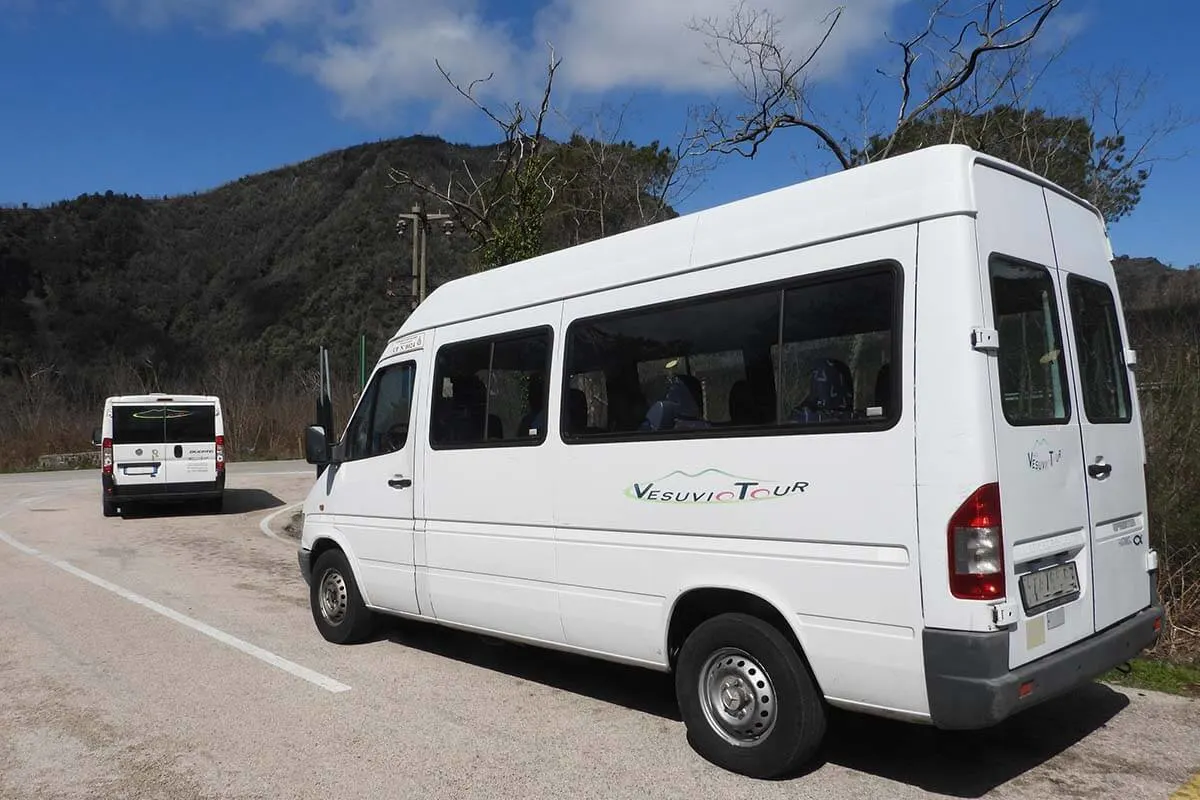 How to Get to Mt Vesuvius by Bus
It's also possible to get to Mt Vesuvius by bus. However, this is not public transport, but shuttle buses that are organized by private companies.
Because there are regular shuttle transfers, it is easily possible to combine a visit to Herculaneum with that of Mt Vesuvius or Pompeii and Mt Vesuvius on the same day. So even if you don't have a car, you can take a train to either Pompeii or Herculaneum, visit the archeological site, have lunch, and then take a shuttle bus to Vesuvius Volcano. Or – depending on the available departure times – you can visit Mt Vesuvius first and the archeological site later on the same day.
Bus from Ercolano to Mt Vesuvius
The closest place from where you can take a bus to Vesuvius Volcano is Ercolano (known for the archeological site of Herculaneum). Buses depart from Ercolano Scavi railway station every 40 minutes starting from 9.30 am. The driver will instruct you on when to be back at the bus, but generally, they give you more than sufficient time to explore the volcano site.
You can book a bus ticket for Vesuvio Express in advance. However, keep in mind that this ticket is just for transportation, so you still need to book the Mt Vesuvius ticket as well. Instead, it's better to just get this bus transfer that already includes a Vesuvius ticket.
Even people who have a car sometimes decide to take this bus to Vesuvius since parking in Ercolano is easier (and if you visit Herculaneum anyway, you can just leave your car at the car parking there until you are back).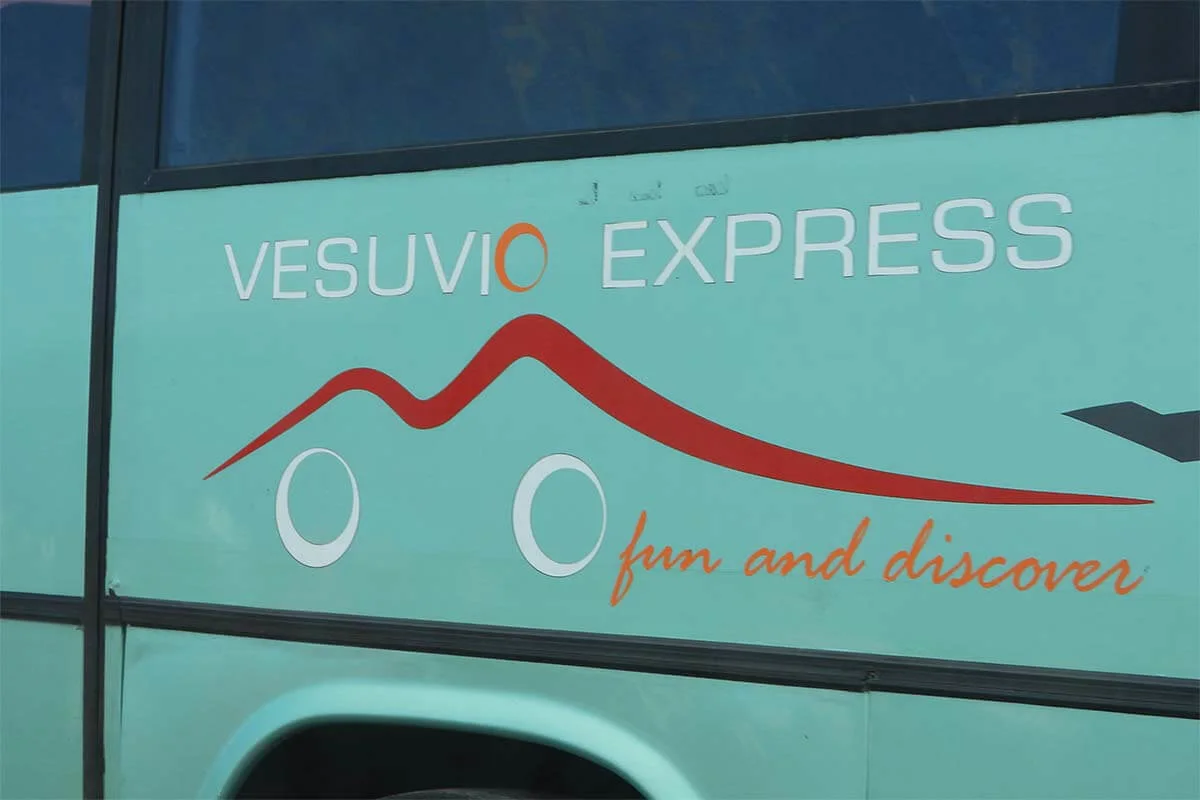 Bus from Naples to Vesuvius
It is also possible to visit Mt Vesuvius from Naples by bus. Buses depart from Piazza Garibaldi in Naples (central station) and you can book a ticket here. These buses give you about 2 hours of free time at the top of the volcano.
Note that this is just a bus ride, so it also doesn't include Mt Vesuvius tickets! If you are looking for an all-in option, you can book a tour. This 4-hour tour departs from Naples and includes transportation as well as entrance tickets to Mount Vesuvius.
Bus from Pompeii to Vesuvius
Another option is to take a bus from Pompeii to Mt Vesuvius. Also here, you have several options.
You can simply book a bus transfer that includes Vesusvius tickets. Or you can joing this small-group tour from Pompeii that includes a bus transfer, Mt Vesuvius tickets, and a guided tour.
Buses to Mount Vesuvius from Pompeii depart from the Scavi Porta Marina Superiore entrance, which is right next to the railway station as well.
Visiting Mt Vesuvius with a Tour
One of the easiest ways to visit the Vesuvius volcano is by joining an organized tour. The main advantage of coming with a tour is that you have nothing to worry about – driving, parking, or reserving the timed entrance tickets.
The main disadvantage of going with a tour is that – depending on the tour – your time at the top can be a bit more limited. However, most tours are usually well-organized giving you the right amount of time to walk along the crater and enjoy the best views.
Good to know: Since you don't need that much time to visit the site of Mount Vesuvius, most tours that come here also include a visit to some other popular sites nearby. The most popular tours are those that start in Naples and combine Pompeii and Mt Vesuvius on the same tour, but there are other options as well. Below, you can see our hand-picked selection of the best Mt Vesuvius tours.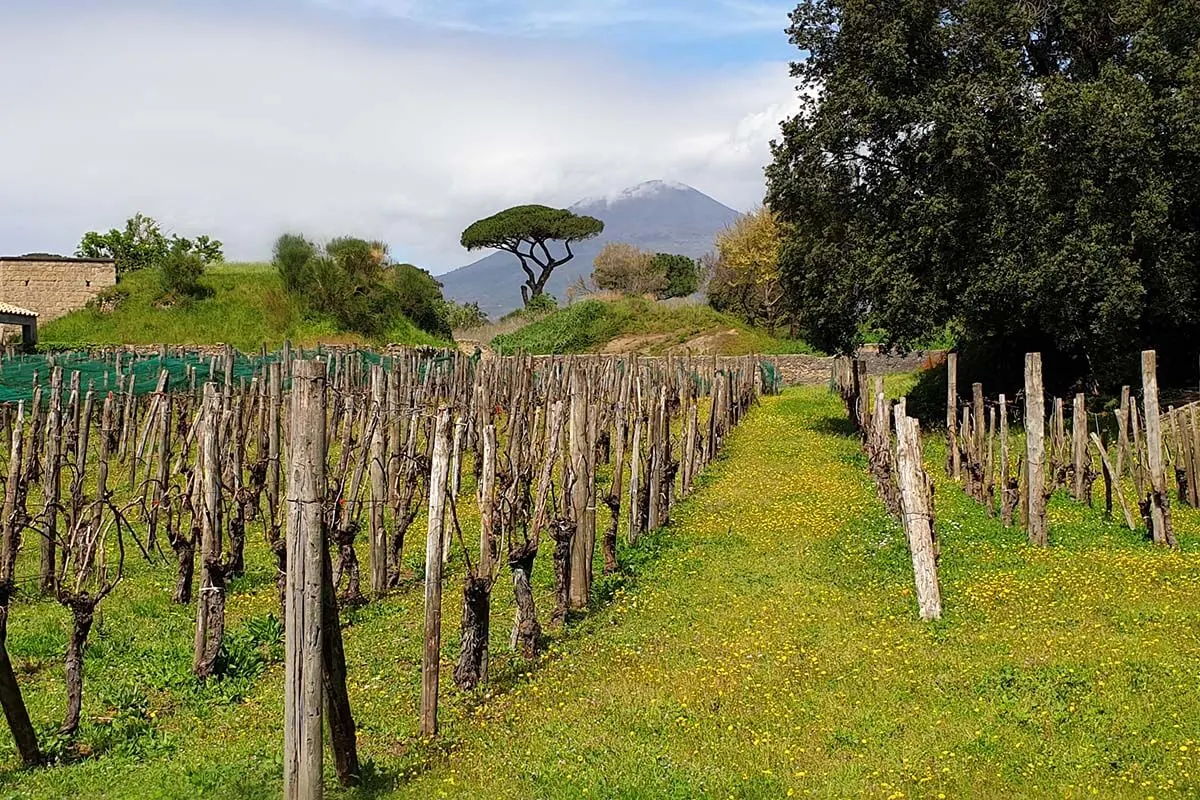 Best Mt Vesuvius Tours
There are so many tours that can bring you to Mount Vesuvius that it can be really overwhelming to figure out which one is best for you. Some tours bring you to a place but don't include a visit inside, whereas some others include transport and tickets, but no guided visit, and there are tours that include everything.
Before you book, be sure to double-check detailed descriptions of what these tours actually include and pick one that best suits your interests.
Here are a few of the best-rated Mt Vesuvius tours from Naples:
Here are the best-rated Mt Vesuvius tours from Sorrento:
Here is one of the best tours that visit Mt Vesuvius from Amalfi Coast:
Here is the best-rated Mt Vesuvius tour from Rome: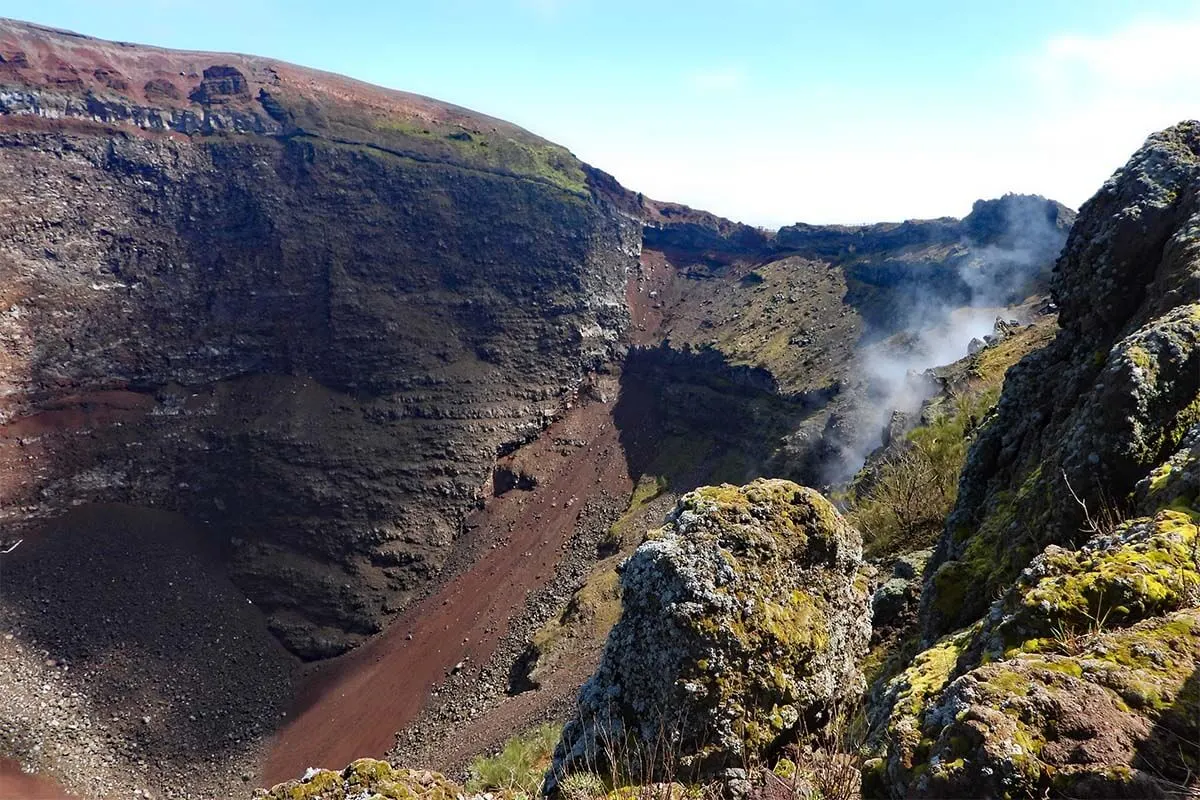 Visiting Mount Vesuvius with kids
If you wonder if you can visit Mt Vesuvius with kids, the answer is yes, of course. However, you should know that the trail is not accessible to strollers, and parts of the hike are a bit steep.
So your kids will have to walk, or – with babies and toddlers – you'll have to carry them.
Visiting Vesuvius with children is not difficult, but you need some patience with the little ones and you'll have to help them on the steeper parts of the trail and also on the stairs. Also, be sure that your children stay with you at all times because going off the official trail could be very dangerous!
All in all, I think that kids from about 4-5 years old should be able to do the walk next to the rim without too much help. The most challenging part is actually at the beginning – the 10-min uphill walk from the entrance to the crater rim. Once you reach the crater, the trail is more or less flat, with a few stairs here and there.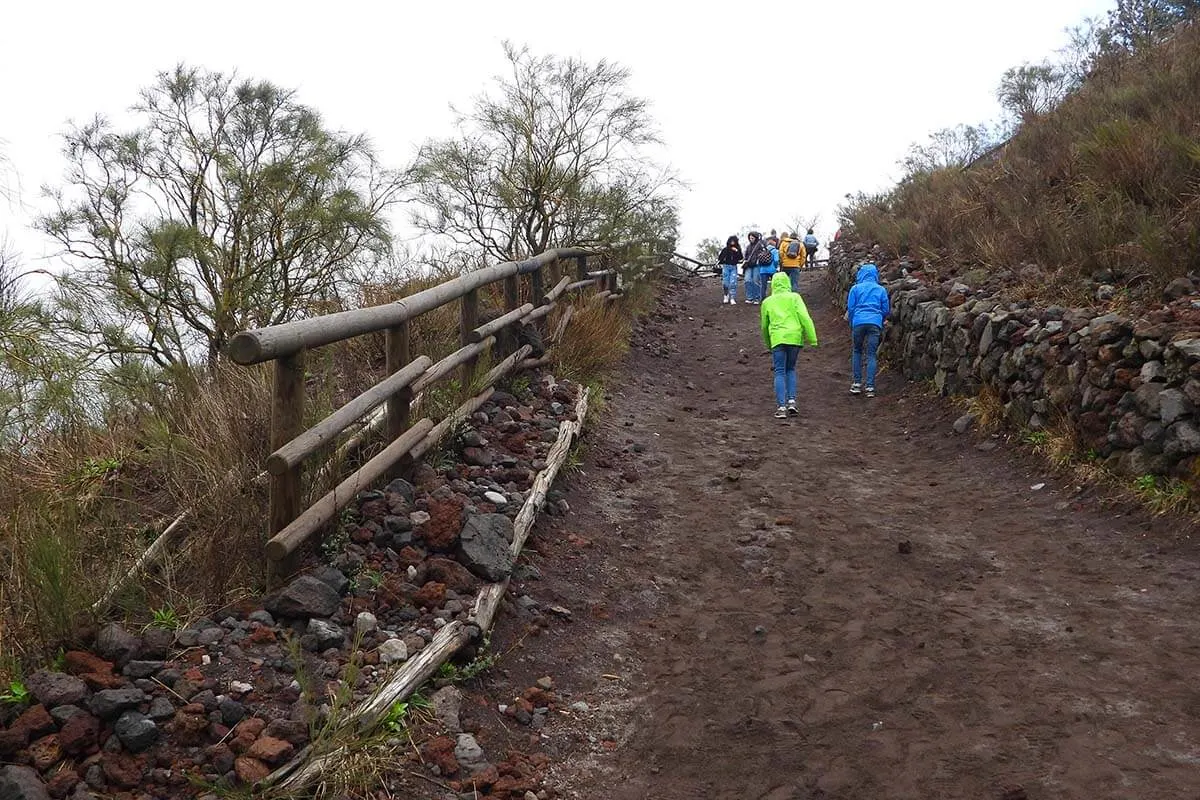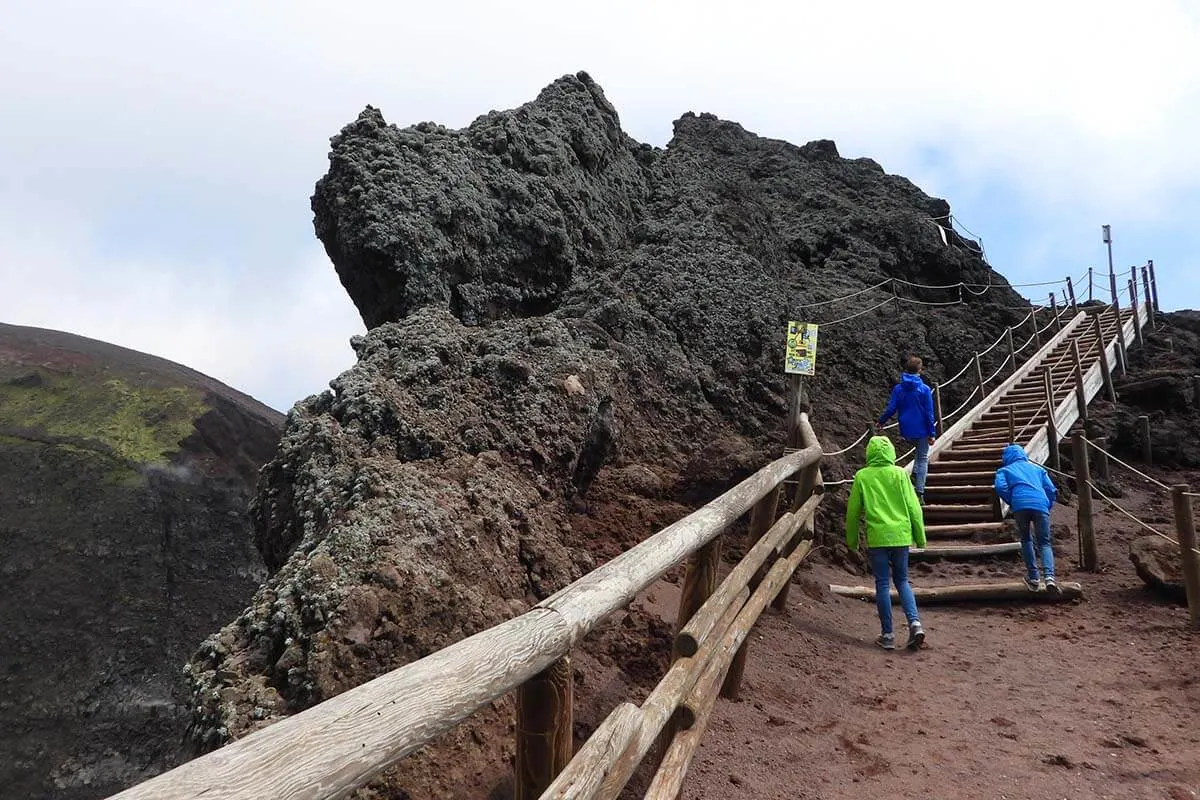 Tips for visiting Vesuvius Volcano
Book in advance! The volcano site can only be visited with a timed-slot online reservation and the same counts for the parking. The lack of an Internet connection makes it impossible to book anything once you are already at the top.
Be sure to use bathroom facilities before going to Vesuvius. At the moment, there are no public bathrooms at the top.
There are a couple of souvenir stands at Mt Vesuvius. Some of them also sell drinks. But that's pretty much it as far as facilities go.
Bring some drinking water. If you are visiting Vesuvius with a tour, see if they include lunch. Otherwise, and depending on your overall itinerary, you may want to also pack some snacks.
Wear comfortable closed shoes. When you visit the Mount Vesuvius crater site, you'll have to do some uphill/downhill walking on a dirt track. Sensible shoes are a must.
Take a jacket/ sweater with you as it can be quite cold and windy at the top. In spring, or in the fall, you'll often need a jacket here, and in winter, you might also want to pack gloves and a warm hat. In summer, you'll often be ok in shorts and T-shirts, but – depending on the weather – it might be smart to take a light sweater with you as well.
If you can, try to plan a visit on a clear cloudless day, but don't worry too much about the weather and just make the best of what you get. We couldn't even see the volcano from a distance on the day of our visit. Yet, the crater itself was perfectly visible when we arrived at the top and we could even enjoy some nice views of the surroundings as the clouds were moving all the time.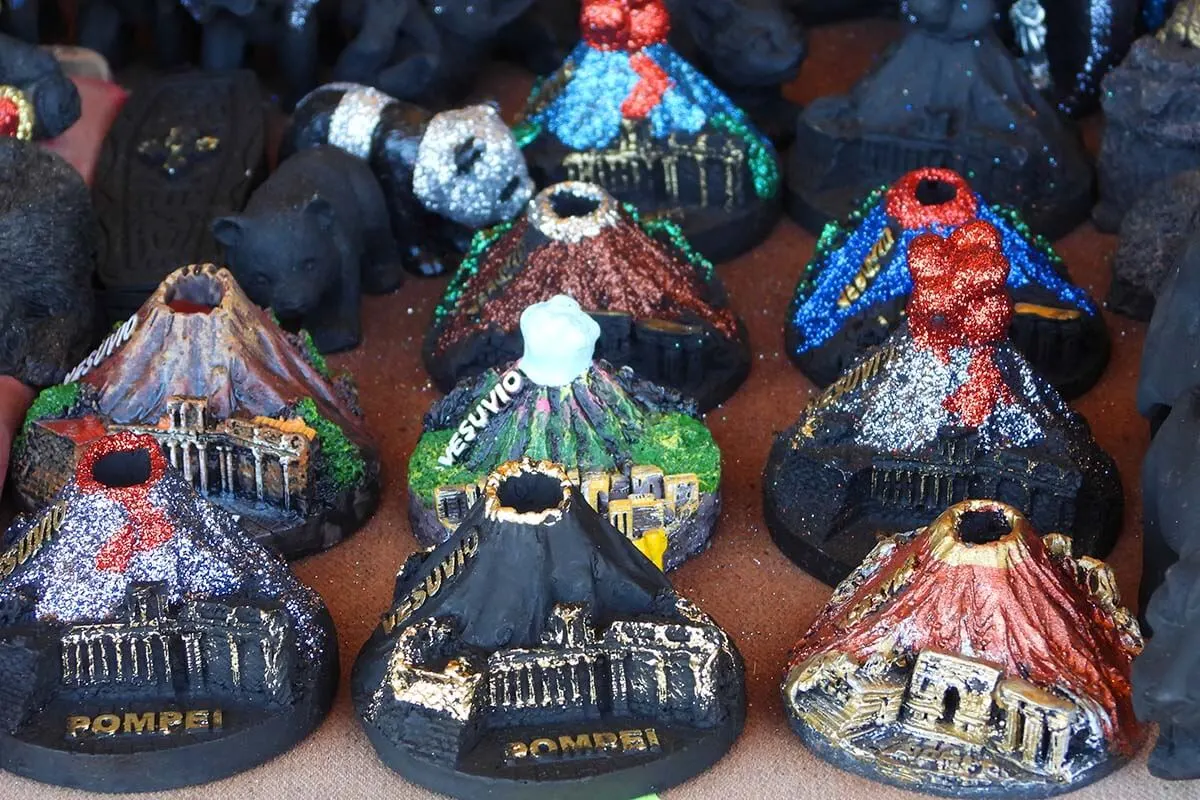 So, this is our guide to visiting Mount Vesuvius. I hope that it gives you a better idea of what to expect and helps you plan a nice visit!
If you are looking for more information about the Naples – Amalfi Coast area, be sure to check our other guides to this part of Italy – see below!
More travel inspiration for Naples, the Amalfi Coast, and Capri
Naples:
Amalfi Coast:
Capri:
If you found this post useful, don't forget to bookmark it and share it with your friends. Are you on Pinterest? Pin this image!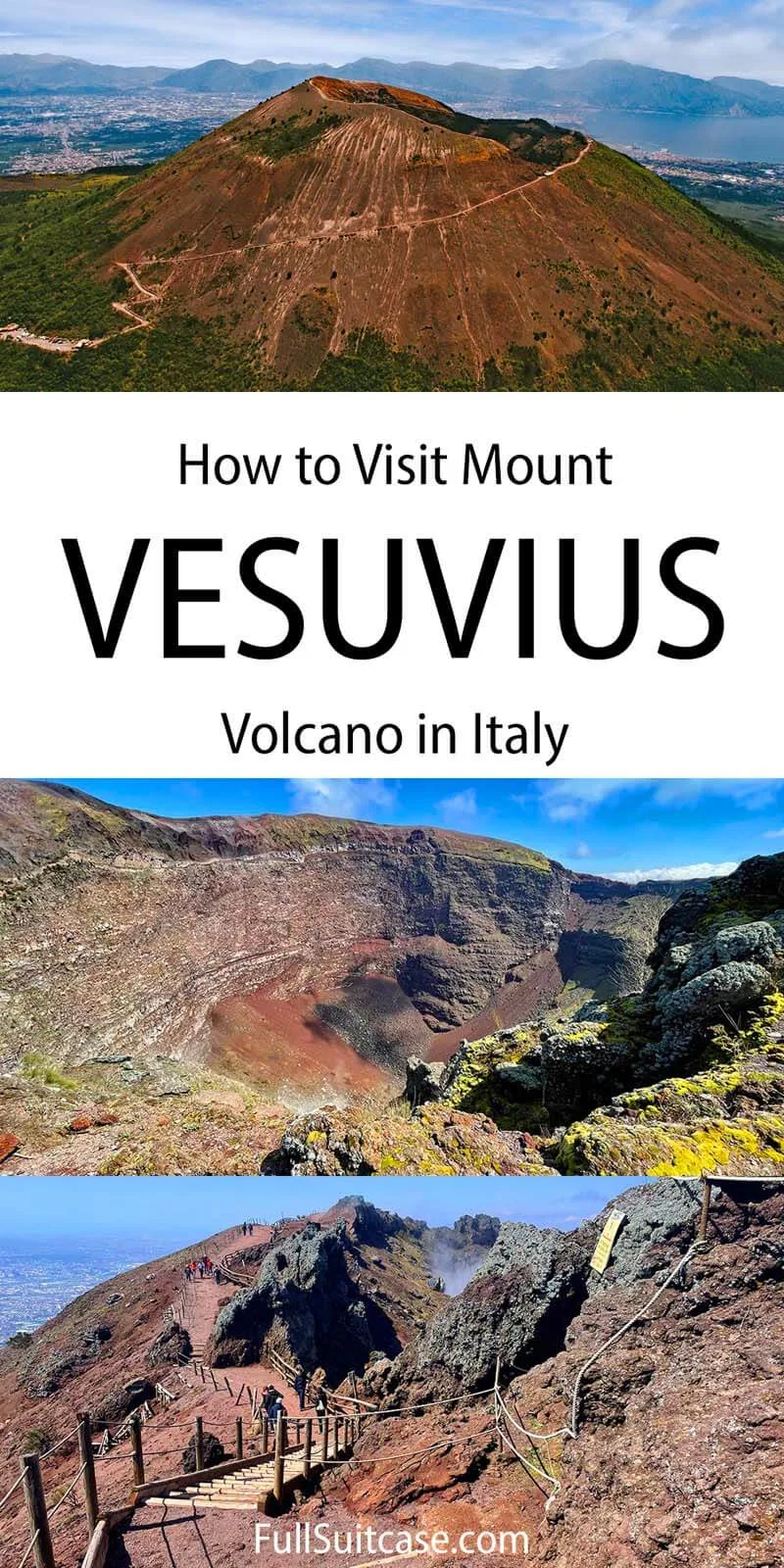 Some travel inspiration for Italy: