Naples is one of the oldest and largest cities in Italy. With centuries-old history, there is so much to see and do here that you could easily spend a week in the city and never get bored… However, if you only have one day in Naples and want to make the most of your visit, it's definitely possible to see some of the best and most interesting places in a day.
In this guide, we share a detailed 1-day Naples itinerary focusing on the most important landmarks and top sights that you really shouldn't miss. To help you plan your day trip, we also include a map and sightseeing tips based on our personal experience.
Good to know: This Naples 1-day itinerary takes into account the regular opening hours of the main landmarks allowing you to make the most of your day in the city. However, some museums are closed on certain days, some churches – in the middle of the day, and some others require advance bookings. So be sure to read our tips and practical information and book the places we recommend booking in advance (or you won't be able to get in, especially if traveling in the high season).
To help you make the most of your Naples day trip no matter when you visit, we also include alternative suggestions if the main landmark appears to be closed on the day of your visit.
Also, keep in mind that if you want to see everything from this list in Naples in a day, you will not have much time to explore deeper. If you want to spend more time at a certain attraction, you will have to shorten this itinerary by skipping the sights that interest you less or are located further away.
Top Experiences in Naples: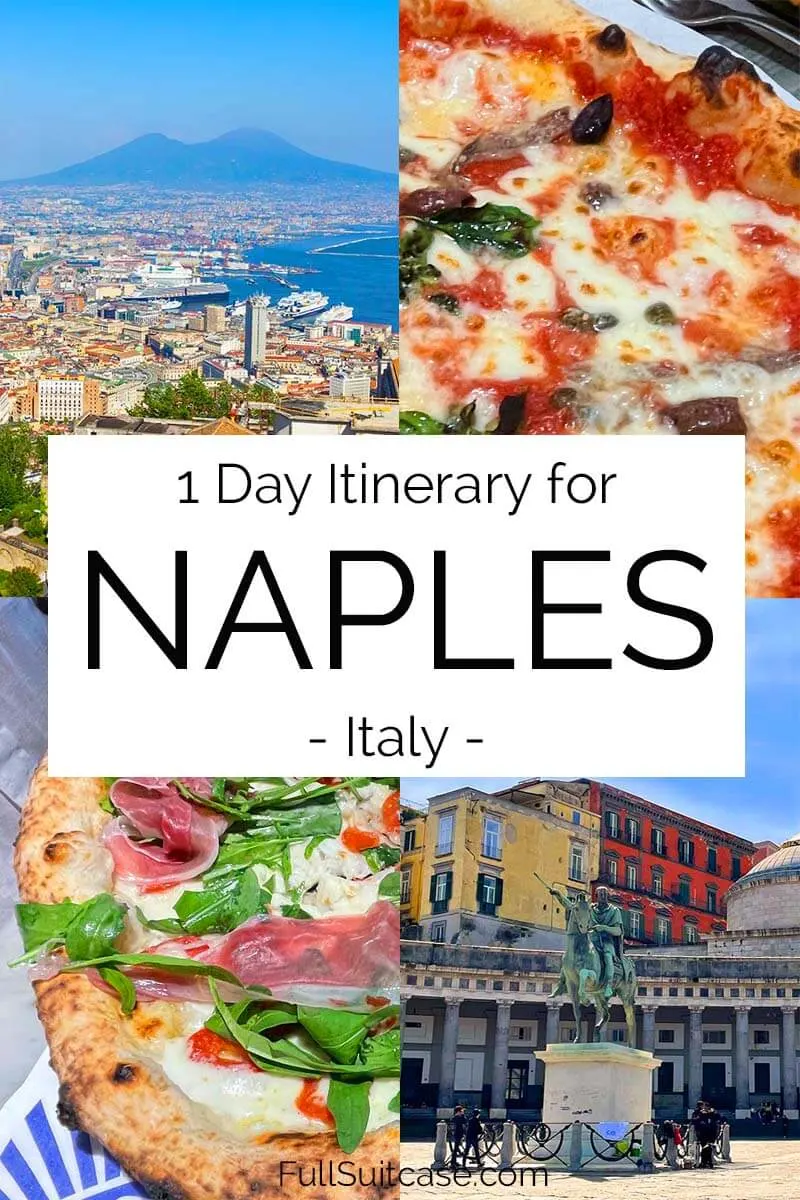 Info: Below, you can read detailed information on all the sights we recommend seeing in Naples in one day. At the bottom of this article, you can find a short overview of our suggested itinerary as well as the map.
Here's how you could spend one day in Naples:
Gesù Nuovo Church & Square
Time needed: 15-20 minutes.
Piazza del Gesù Nuovo is one of the nicest squares in the old historic city center of Naples. The main attraction here is Chiesa del Gesù Nuovo (New Jesus Church), probably the most beautiful church in the city.
Since this area is in the heart of Naples and many of the sights we recommend visiting are located nearby, start your sightseeing here. There is also another reason for this – this church (just like many others in Naples) is only open for a few hours in the morning and in the evening and is closed in the middle of the day. So it's simpler to start with the churches first.
Good to know: You can visit the Gesu Nuovo Church for free and it's normally open daily from early morning. When we visited, it was open from 9 am, but some websites say it opens at 7 am already, so maybe it depends on the season. Anway, 9-ish would be a good time to start your sightseeing if you want to make the most of your day in Naples.
TIP: If you are here earlier and the church isn't open yet, explore Spaccanapli (see below). You can also enjoy some Neapolitan coffee and/or pastries in one of the many cafés in this area. I indicated a good café in this area on our map below.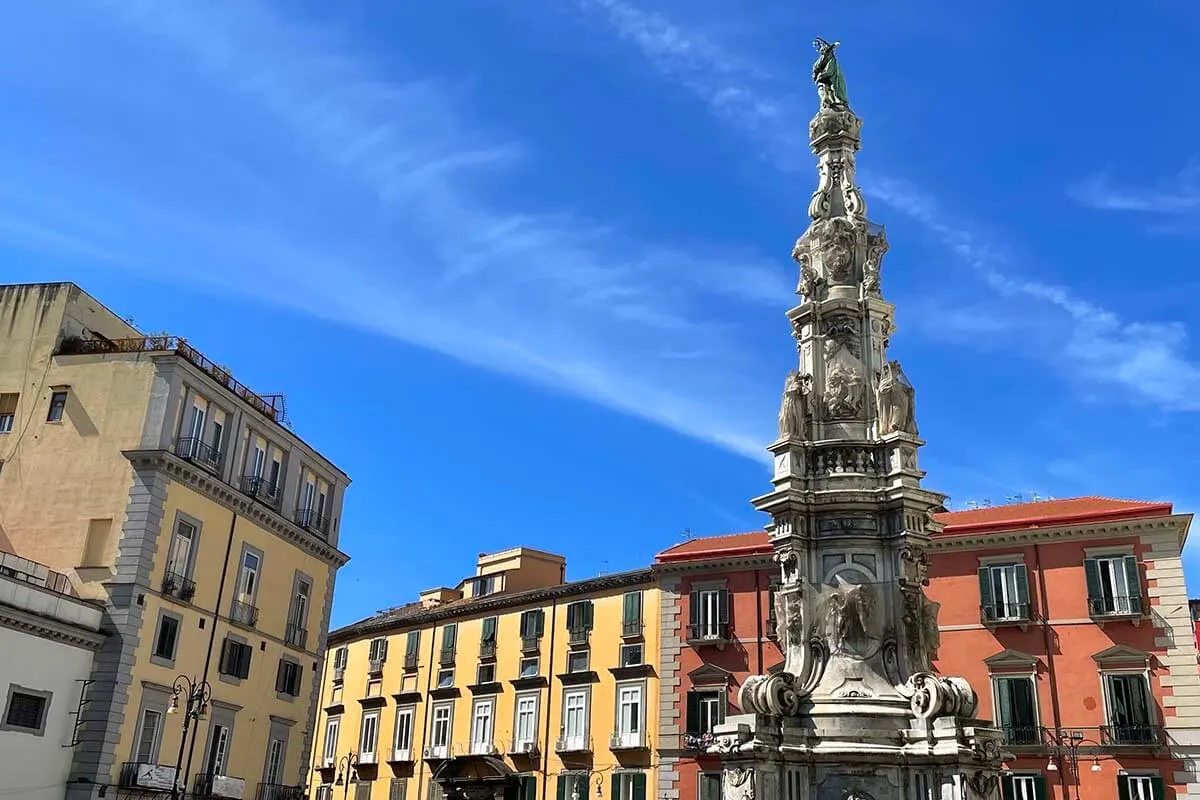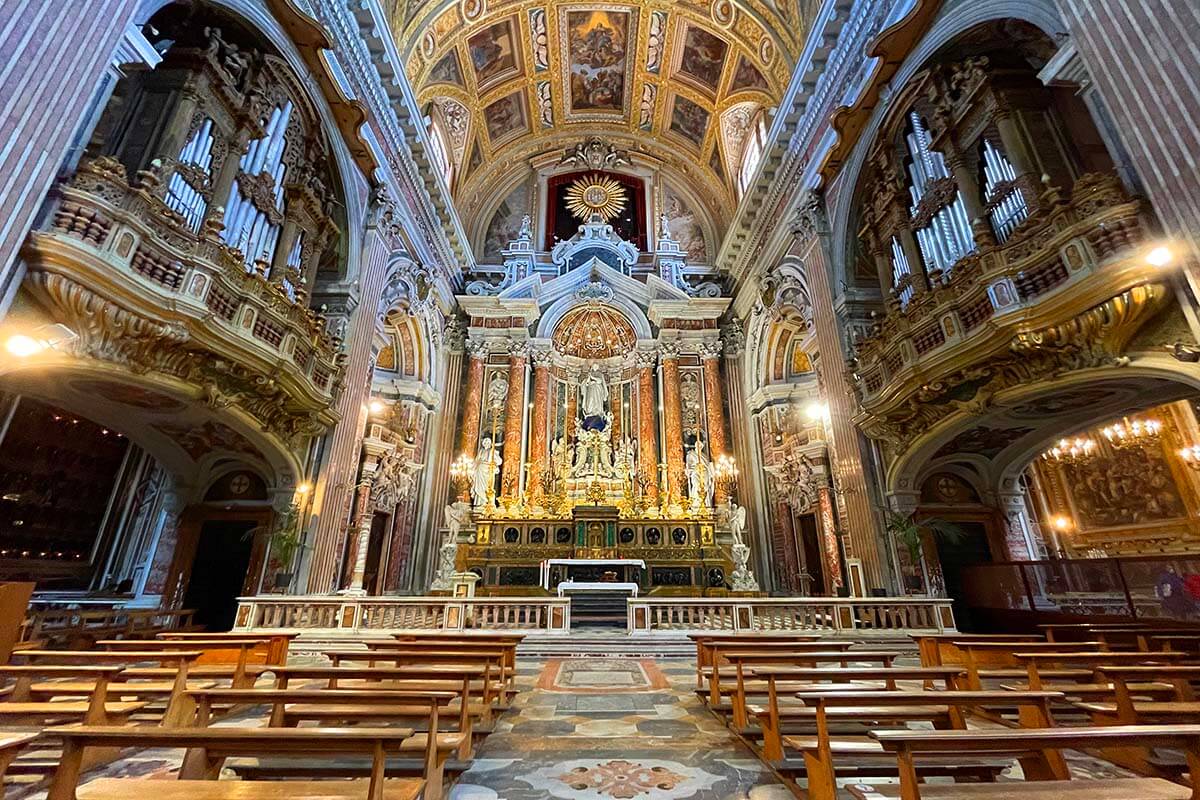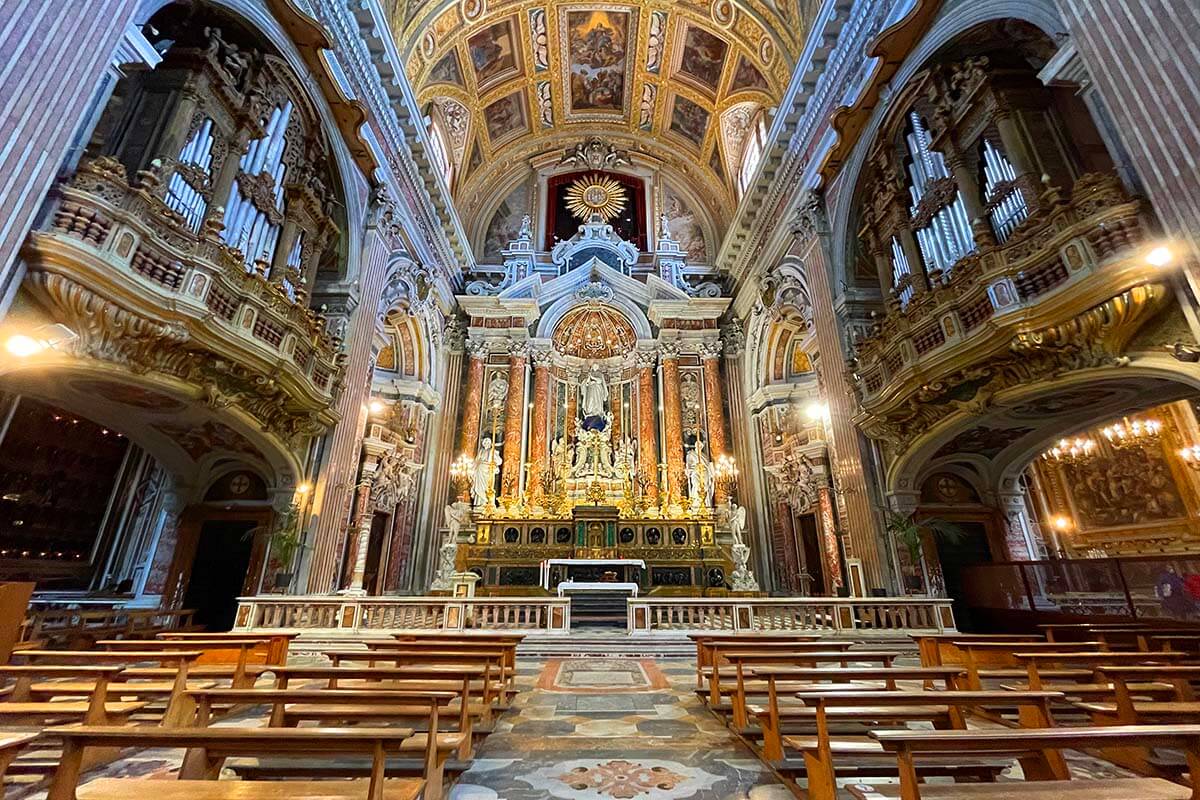 Monumental Complex of Santa Chiara
Time needed: 45-60 minutes.
Just across the street from Gesu Nuovo, you will find a big monastery complex – Complesso Monumentale di Santa Chiara, dating to the early 14th century.
Here, you will see a really interesting Gothic church – Chiesa Santa Chiara. It's huge and its interior is very different than Gesu Nuovo, so it's interesting to see both of these churches.
However, the main highlight here is not the church, but the adjacent Santa Chiara Monastery. The impressive cloisters are lined with stunning 17th-century frescoes depicting scenes from the Old Testament and colorful tiles. The inner garden of the monastery is even more picturesque, with lemon trees and multicolored tiled columns and benches. It's also an oasis of calm in the busy city.
Somehow I thought that the Santa Chiara Monastery was a hidden gem in Naples, but it's not really the case anymore. It's quite a popular tourist attraction and it can get busy here. But to us, this is one of the most beautiful places we saw in Naples and I think it's worth your time even if you have to be very selective about which places to visit inside.
Good to know: The monastery is open daily from 9.30 am (10 am on Sundays) and there's a small fee to visit here. The church is open from 8 am (9 am on Sundays) and is free of charge. For more up-to-date info, please check their website.
TIP: Try to be at the entrance of the monastery just before it opens. Not only it's the best way to avoid the crowds, but you can also see the beautiful gardens without too many people around. Also, this will help you make the most out of your day in Naples. You can see the church before or after you visit the monastery, so if it's already open, head to the monastery first.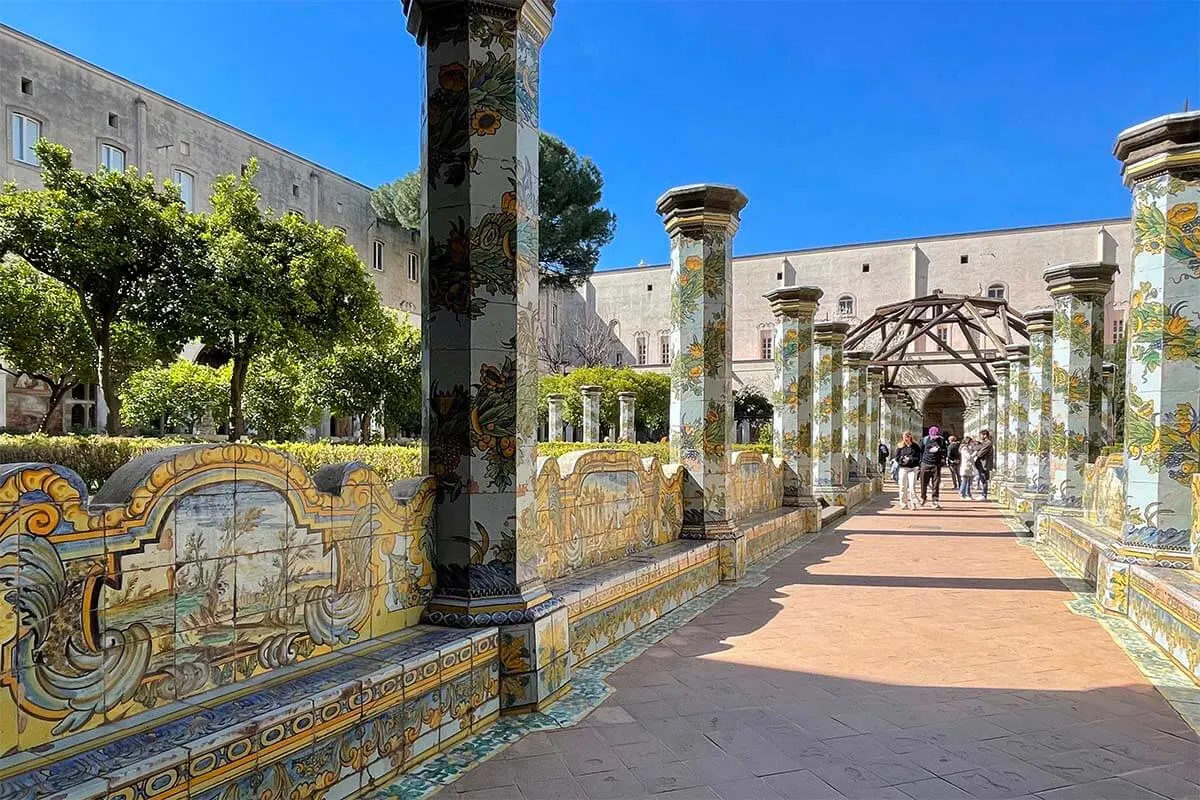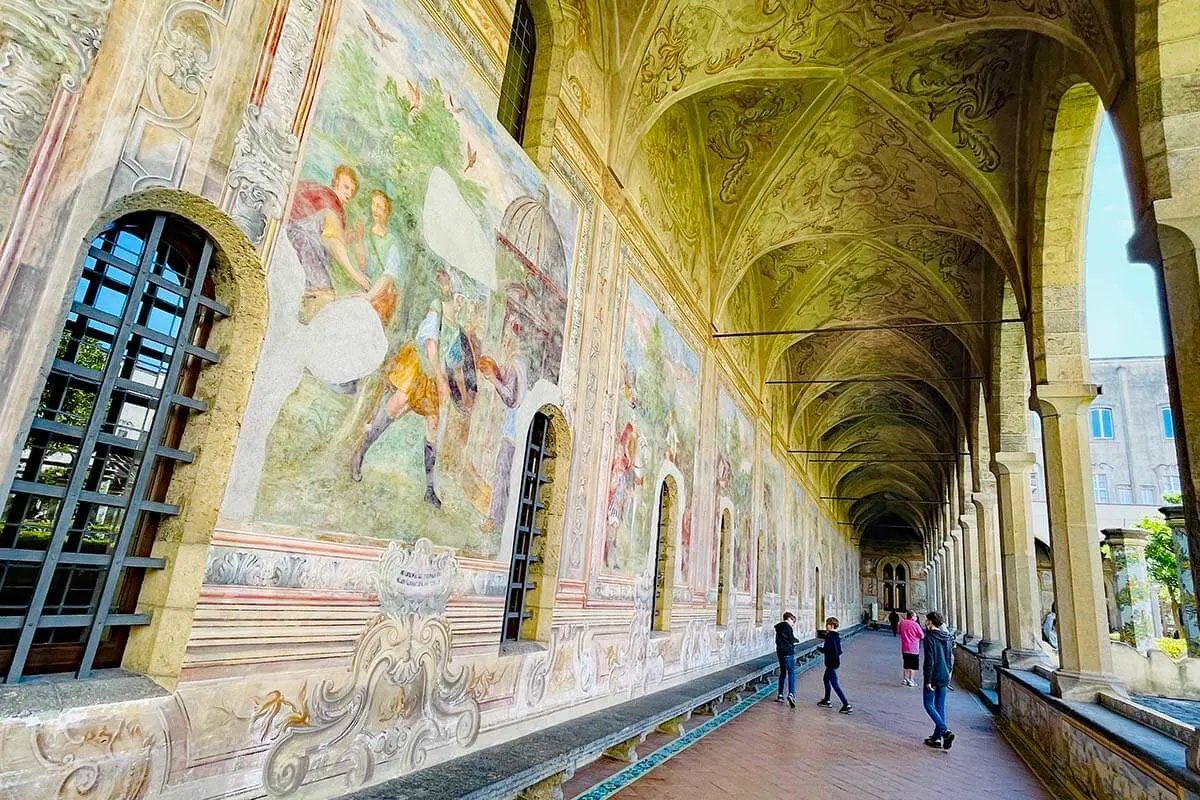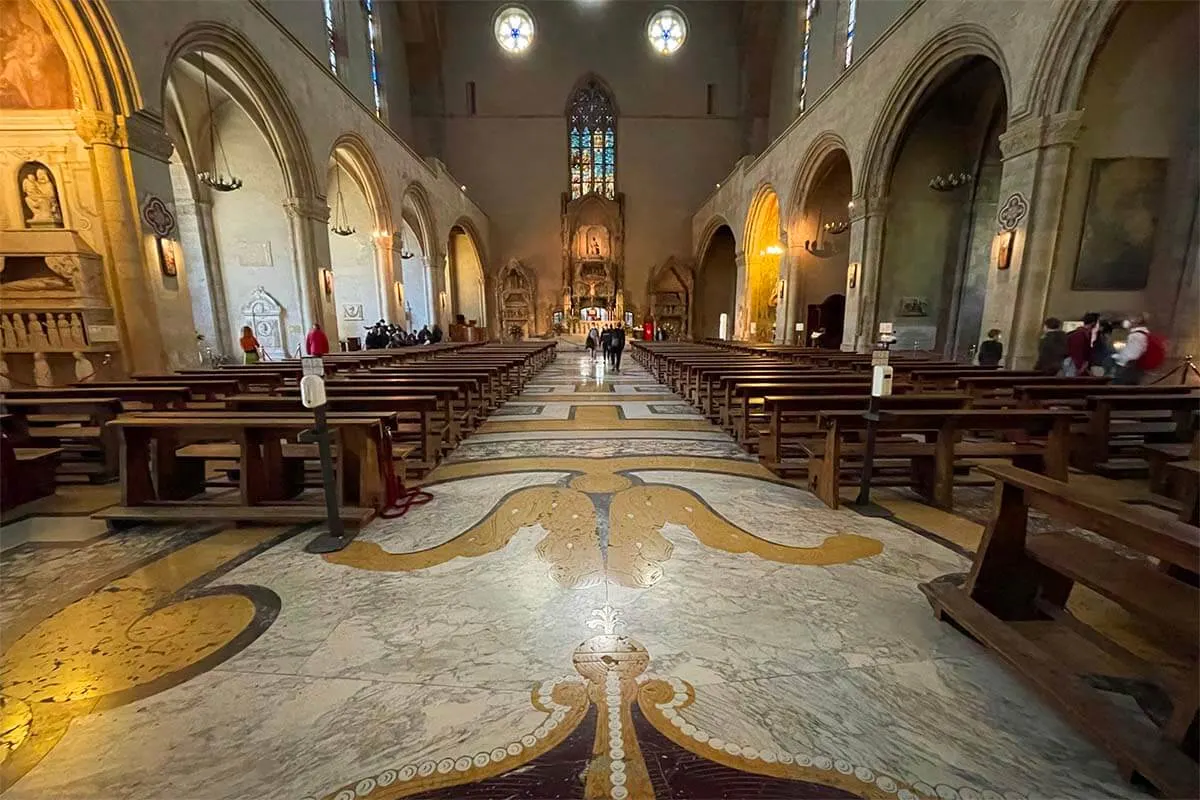 Spaccanapoli
Time needed 5-15 minutes.
Spaccanapoli is the most famous street of Naples – the famous 'Naples splitter'. You should see it from above in order to appreciate how special it is and how it indeed looks like this street cuts the city center in two… But it's probably even more impressive to simply walk around here.
In addition to the many historic landmarks in this area, Spaccanapoli is also one of the liveliest parts of the old town of Naples. It's definitely one of the best places to experience a true Neapolitan atmosphere. So be sure to walk a few blocks in one or the other direction, just for the experience.
If you are here early in the morning, Spaccanapoli will likely be rather 'quiet' (for Naples standards). The later in the day you come, the more crowded it gets.
Good to know: Before you start looking for Spaccanapoli on the map, you should know that this is actually a collective name of several streets: Via Pasquale Scura, Via Maddaloni, Via Domenico Capitelli, Via Benedetto Croce, Piazzetta Nilo, and Via San Biagio Dei Librai. The above-mentioned Gesu Nuovo and Santa Chiara churches are both located on Spaccanapoli (Via Benedetto Croce).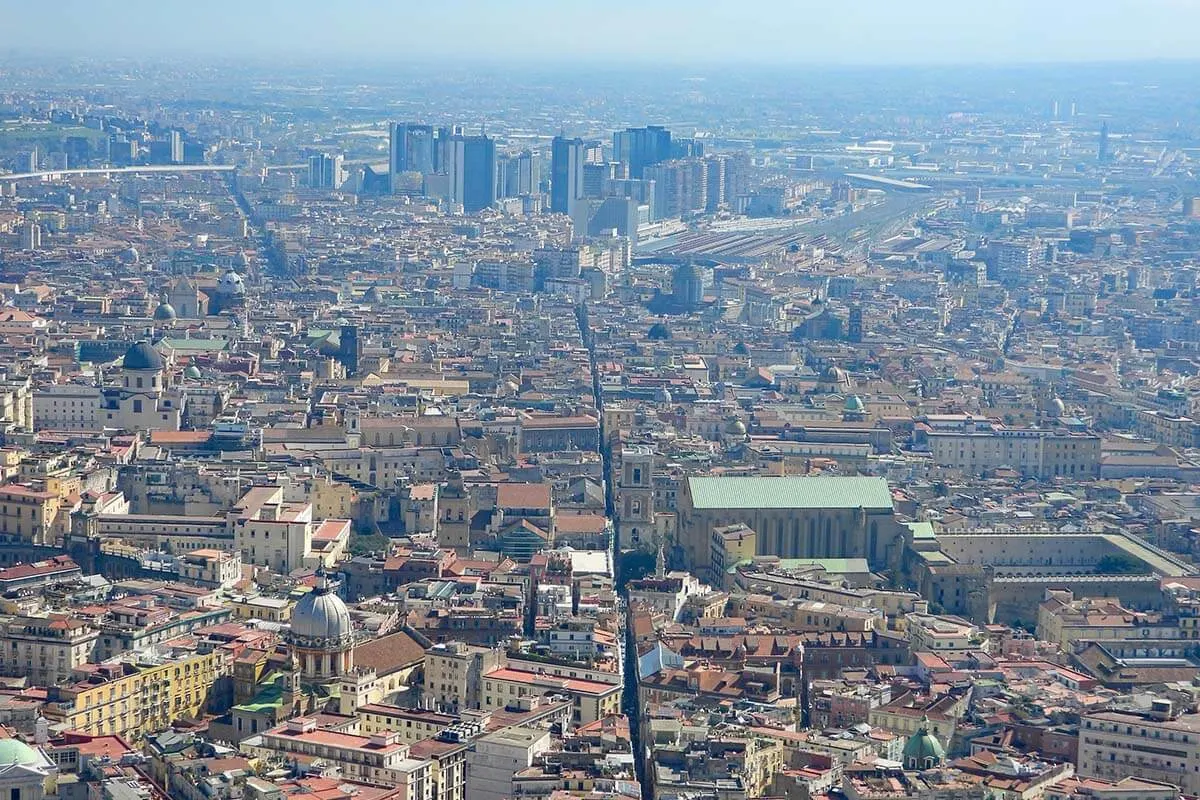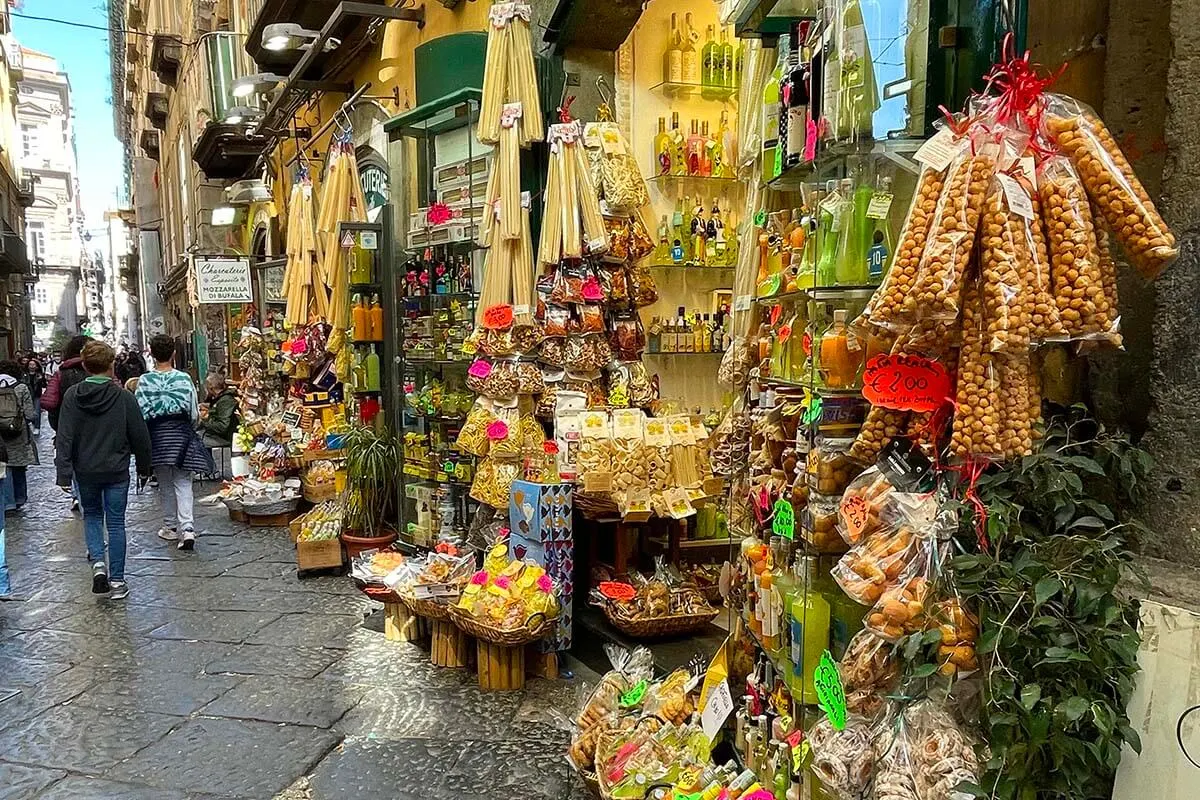 Via San Gregorio Armeno
Time needed 5-10 minutes.
Via San Gregorio Armeno is one of the side streets of Spaccanapoli. It's probably the most famous alleyway in Naples, also known as 'Christmas Street'.
Here you'll find all kinds of presepe figurines. Presepe is a typical Neapolitan Nativity scene, with the tradition going back for 1000 years. You can see amazing Nativity scene displays in different places all over Naples – churches, museums, etc.
Anyway, Via San Gregorio Armeno is where locals and tourists come to buy all the materials needed to make a presepe of their own. But even if you don't plan on buying anything, a quick walk through this street is a must when visiting Naples. And the best time to visit here is in the morning, when all the shops are open.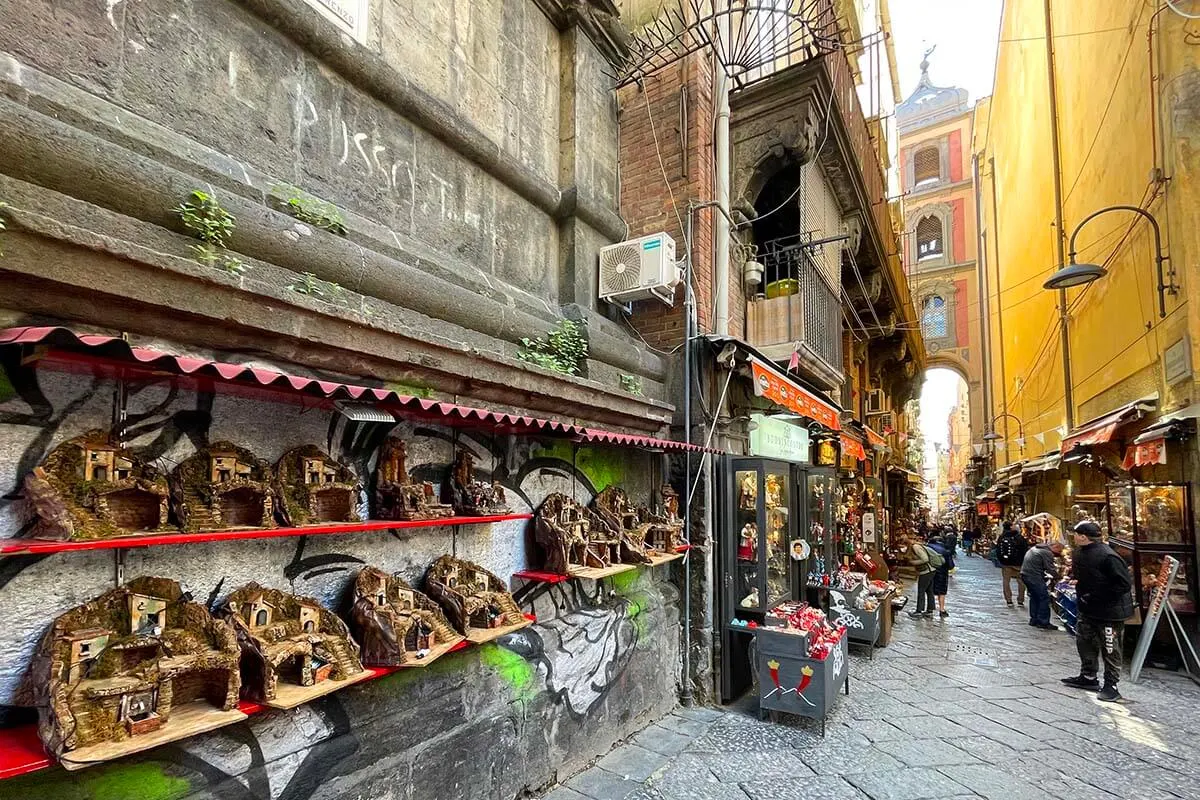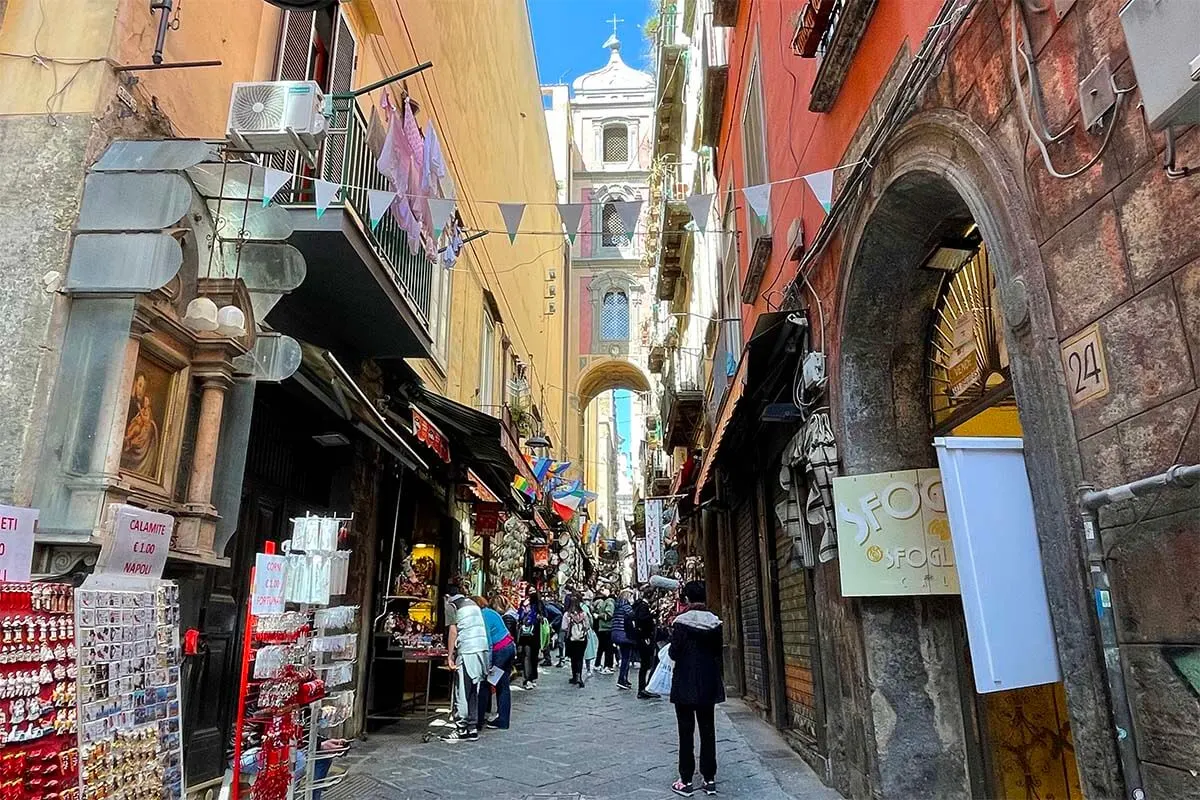 Sansevero Chapel
Time needed 20-30 minutes (pre-book tickets!). Closed on Tuesdays.
Best known for the impressive marble sculpture 'Veiled Christ' (Il Cristo velato) by Giuseppe Sanmartino, Museo Capela Sansevero is regarded as one of the must-sees in Naples.
The Veiled Christ and several other sculptures here are real masterpieces, with incredible craftsmanship and attention to detail. It's difficult to believe something so delicate-looking can be made of stone…
Good to know: The chapel is rather small and you can see it in just 10-20 minutes. So – if you plan ahead – you can easily add it to your sightseeing itinerary. However, this is one of the most visited tourist attractions in Naples and you really should pre-book a timed ticket if you want to see it. The chances of being able to get inside without a prior reservation are very small, especially if you are traveling between March and November.
In a way, this makes it easy to plan since you can be sure to enter at the specified time. But you have to make sure the time fits in your overall itinerary and all the other places you are planning to visit nearby.
I think that you could book an entrance from 10.30-11 am. If you start with the earlier-mentioned places at around 9 am or a bit earlier, you can easily be here by that time. As you can see on the map below, all these sights are located very close to each other.
TIP: There's a very popular city walking tour that includes a visit to the Sansevero Chapel as well. If you want to see some of the main landmarks in Naples city center in just a few hours (and coupled with a commentary by a local guide), this is a really nice tour to include in your itinerary. It covers the main sights mentioned higher above except the Santa Chiara Monastery, but you could also see the monastery before the tour.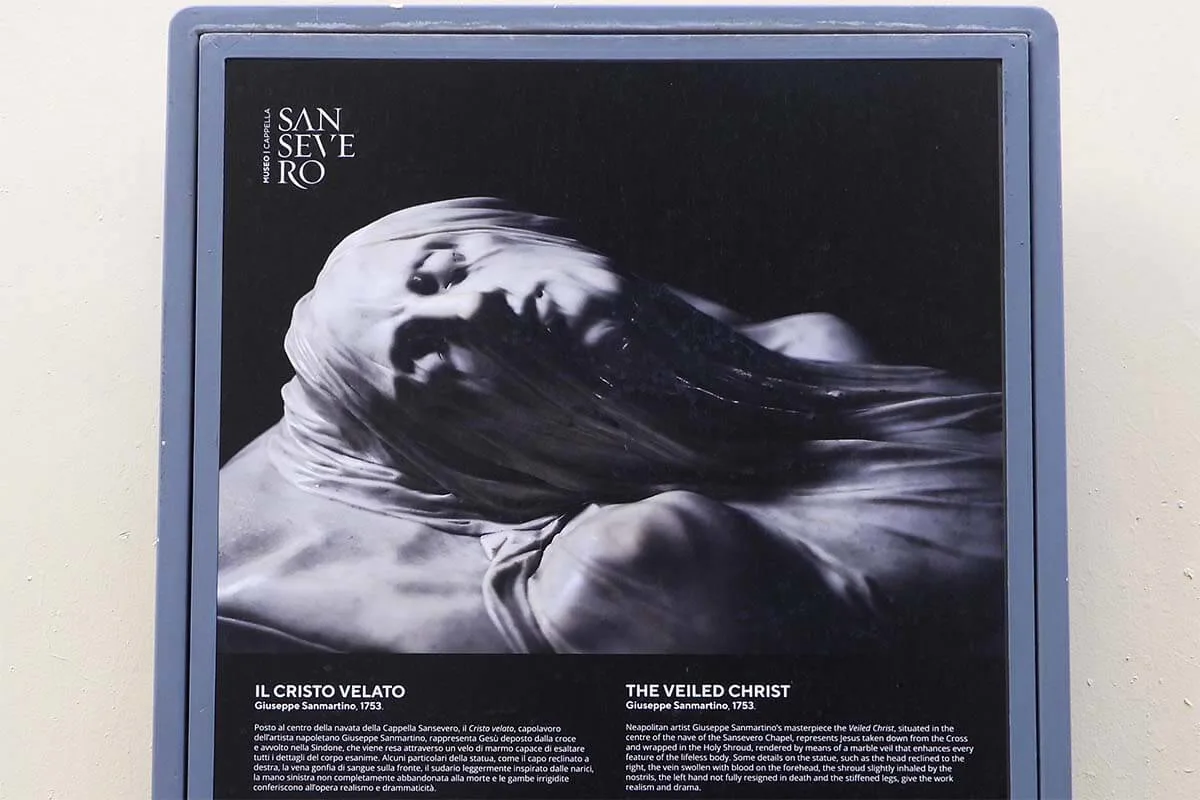 Naples Cathedral
Time needed 20-40 minutes.
The next place we recommend visiting is the Duomo of Naples, aka Cattedrale di Santa Maria Assunta. It's located about a 10-minute walk from the Sansevero Chapel. On the way, you'll pass Via dei Tribunali, the following place on this itinerary. However, since the Cathedral closes for a few hours in the early afternoon, it's best to come here before lunch.
The origins of Naples Duomo date from the 13th century, but the building you see today is a mix of Baroque, Renaissance, and Gothic styles. Just as Gesu Nuovo Church, it's really impressive – the floors, the central nave, the smaller chapels, the paintings, the mosaics, etc…
Be sure to check out the Chapel of San Gennaro, the patron saint of Naples. Legend has it that a terrible event will strike the city if the saint's dried blood stored here liquifies, so the residents keep an eye on it…
Good to know: The Cathedral is open daily until around 1 pm (and then again late in the afternoon). The entrance is free of charge, but there's a small extra fee to visit some of the most interesting chapels.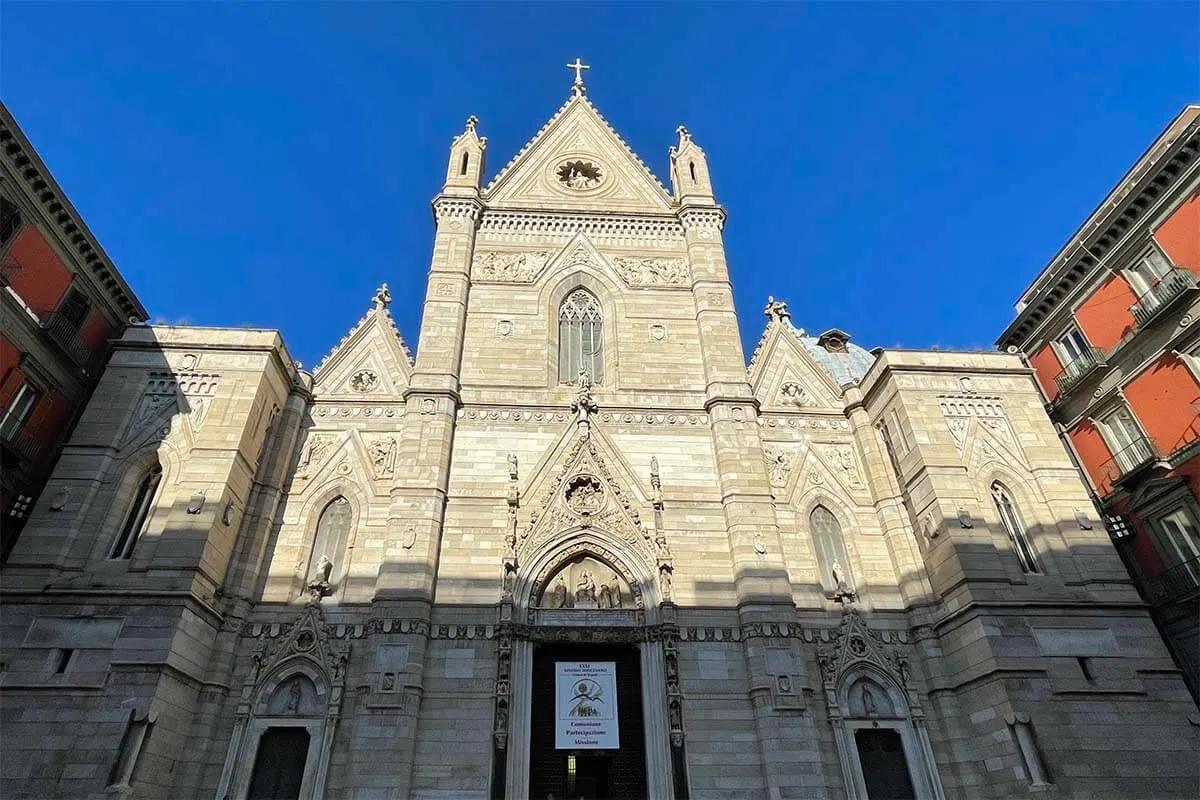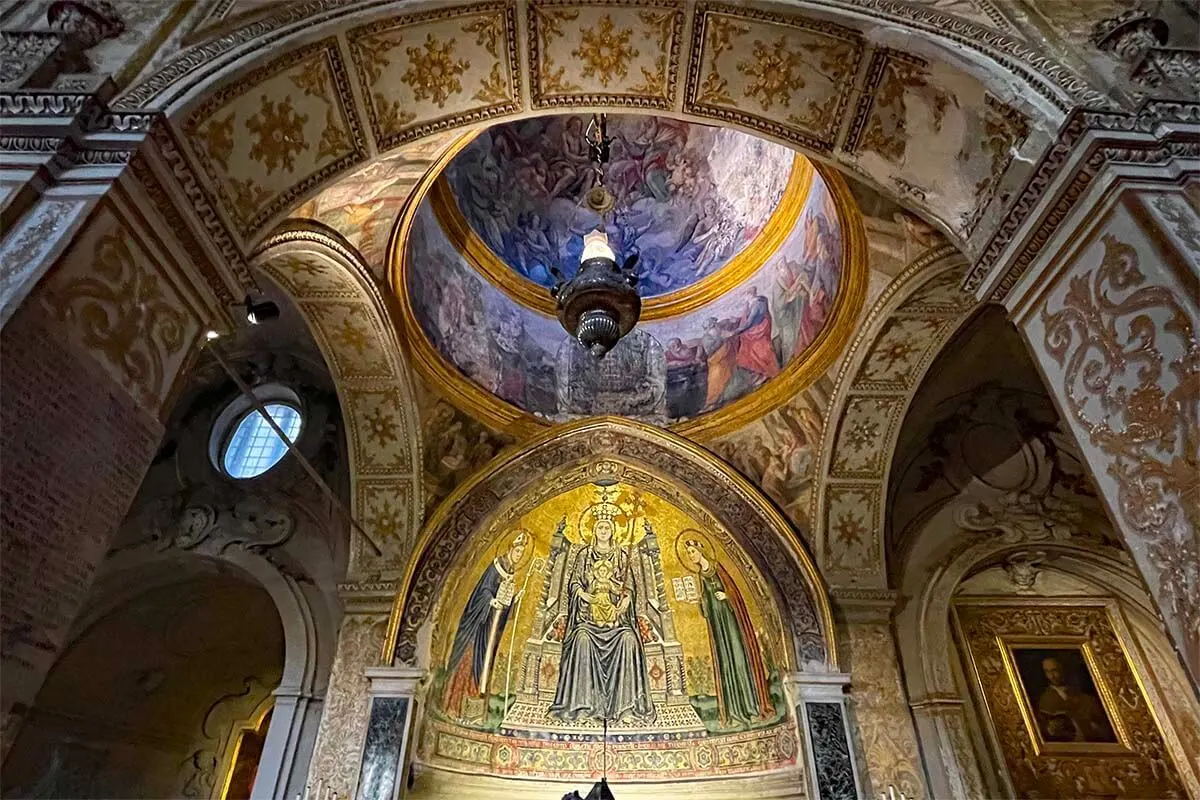 Lunch on Via dei Tribunali
Via dei Tribunali is one of the oldest streets in Naples, also known as Decumanus Maggiore. During the ancient Greek and later Roman times, this was one of the main east-west roads (Decumani) in the city of Neapolis.
Nowadays, it's mostly known as the 'pizza street' of Naples. Indeed, this is the place where you will find lots of really good pizza restaurants.
If you follow our itinerary, you will likely be here around noon. Perfect time for pizza since most restaurants open for lunch at around this time.
TIP: One of the most famous pizza restaurants here is Gino e Toto Sorbillo, and the locals we talked to all agreed that the pizza here is exceptionally good. However, it's such a popular place that there is always a queue here. They open for lunch at 12, but it's likely that you'll have to wait in a long line even if you arrive a bit before that. So if you absolutely want to eat here without wasting too much time, you'll have to rush through the morning itinerary just a bit more and try to get here at least 10-15 minutes before the opening time.
Alternatively, you'll find plenty of other restaurants and eateries nearby. Check the reviews on Google Maps to avoid tourist traps, but in all honesty, I don't think you can have a bad pizza anywhere in Naples. I indicated a few of the better pizza restaurants on Via dei Tribunali on our map as well.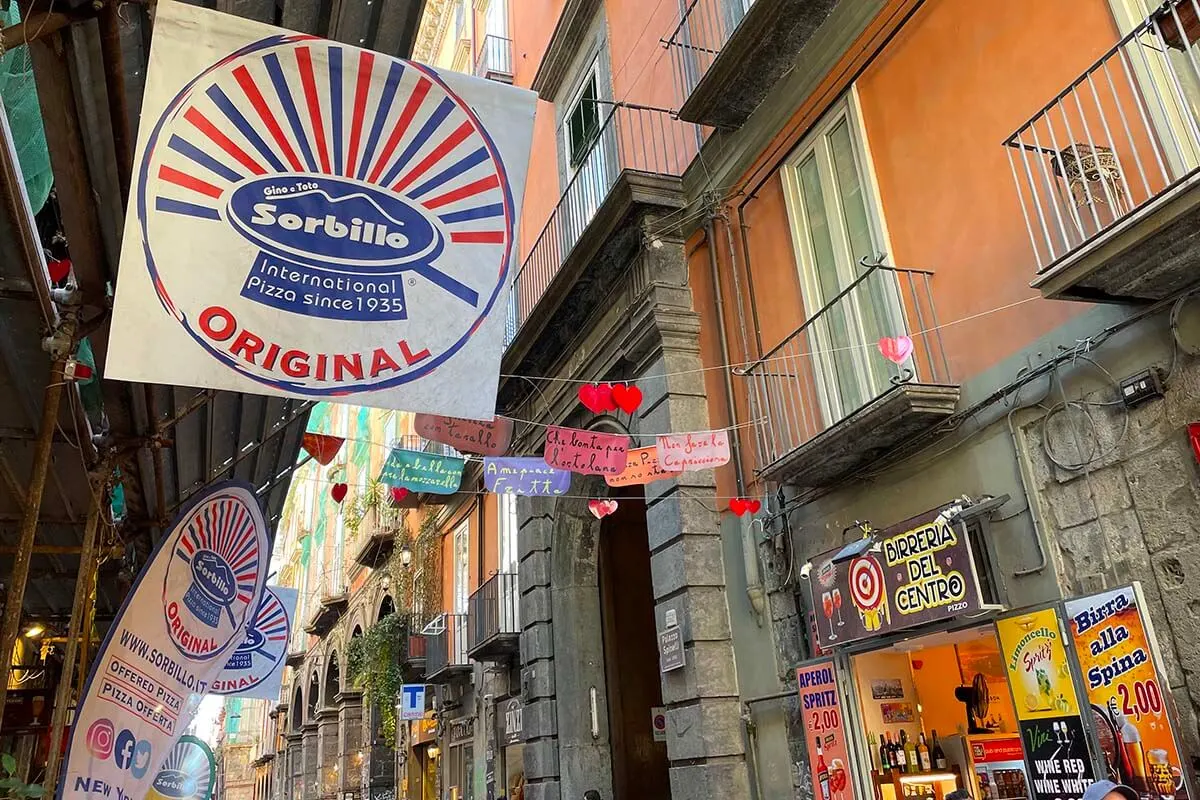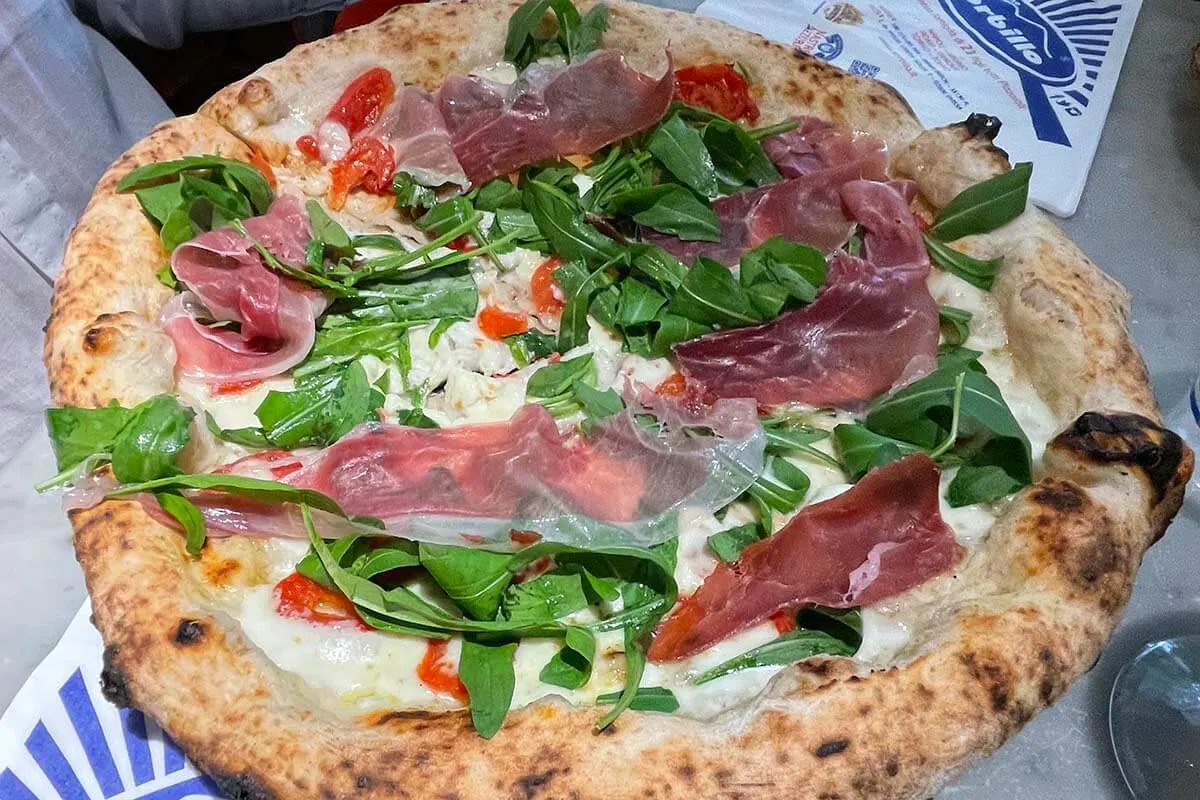 National Archaeological Museum
Time needed: 1-2 hours. Closed on Tuesdays (see below for alternative suggestions if you happen to visit Naples on a Tuesday).
Naples National Archaeological Museum (NNAM) is another must-see in the city. The museum is huge and we recommend 1.5 – 2 hours here. But even if you can only dedicate an hour of your time, it's still absolutely worth it.
The National Archaeological Museum of Naples is regarded as one of the best museums in the country. It houses a very impressive collection of some of the finest ancient art in the whole of Italy.
It's here that you can see the best-preserved pieces of art found in Pompeii and Herculaneum. In addition, they also have a very impressive collection of ancient mosaics and Egyptian hieroglyphs and mummies. The classical sculptures of the Farnese collection are amongst the most impressive pieces of art we had ever seen – anywhere in the world.
Good to know: NNAM is open daily except on Tuesdays, from 9 am. You don't need advance reservations here and can just get a ticket at the entrance. Count at least an hour for the main highlights.
TIP: If you are particularly interested in ancient art and want to get the most out of your visit here, it's worth considering going with a guided tour (the museum is big and quite overwhelming). There are several options when it comes to guided tours. With just a day in Naples and trying to maximize your time, this highly-rated private tour would probably be the best option (book at around 2 pm if you follow our itinerary as recommended here).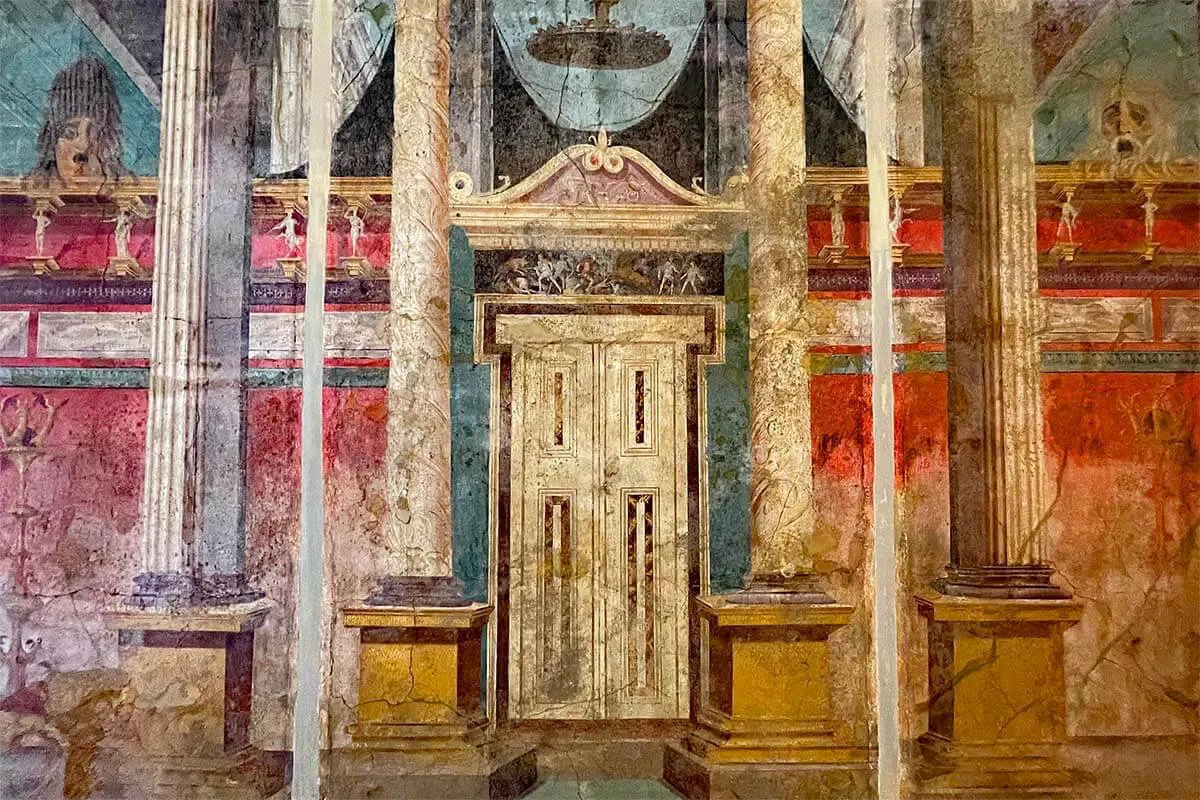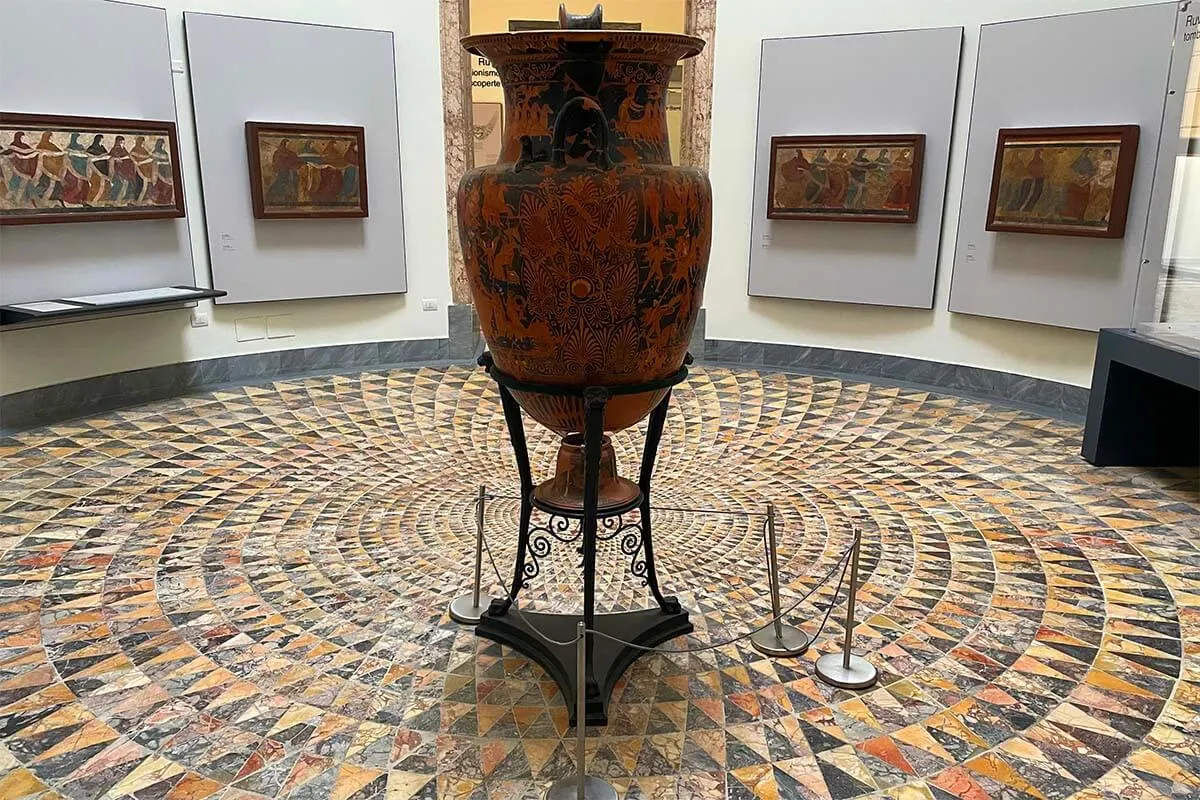 Alternative: Naples Underground or Naples Catacombs
Time needed: Depending on what you choose, at least 1.5 -2 hours.
If you are visiting Naples on a Tuesday when the Archaeological Museum is closed, or if this museum really doesn't interest you, there are a few other nice options.
One possibility is to visit Naples Underground (Napoli Sotterranea), located in the heart of the old town. A tour here takes 1.5 hours. However, this is one of the most popular tourist attractions in Naples and you really have to book the tickets at least a few days in advance! Be sure to pay attention to the language of the tour when you book.
Another option is to visit Naples Catacombs. There are two different sites – the Catacombs of San Gennaro and the Catacombs of San Gaudioso, and you can also only visit them with a guide. Also here, booking timed tickets in advance is essential.
However, with just a day in Naples, it might be difficult to visit both of these, so maybe just pick one. San Gennaro Catacombs are bigger and most famous. Whereas San Gaudioso Catacombs are more unique and are a bit closer to the city center.
With just 1 day in Naples, I think that the National Archaeological Museum should be your first choice. But both – Naples Underground as well as Catacombs – are very interesting alternatives. Just be sure to check the times of the tours to be sure you can fit them in your 1-day itinerary.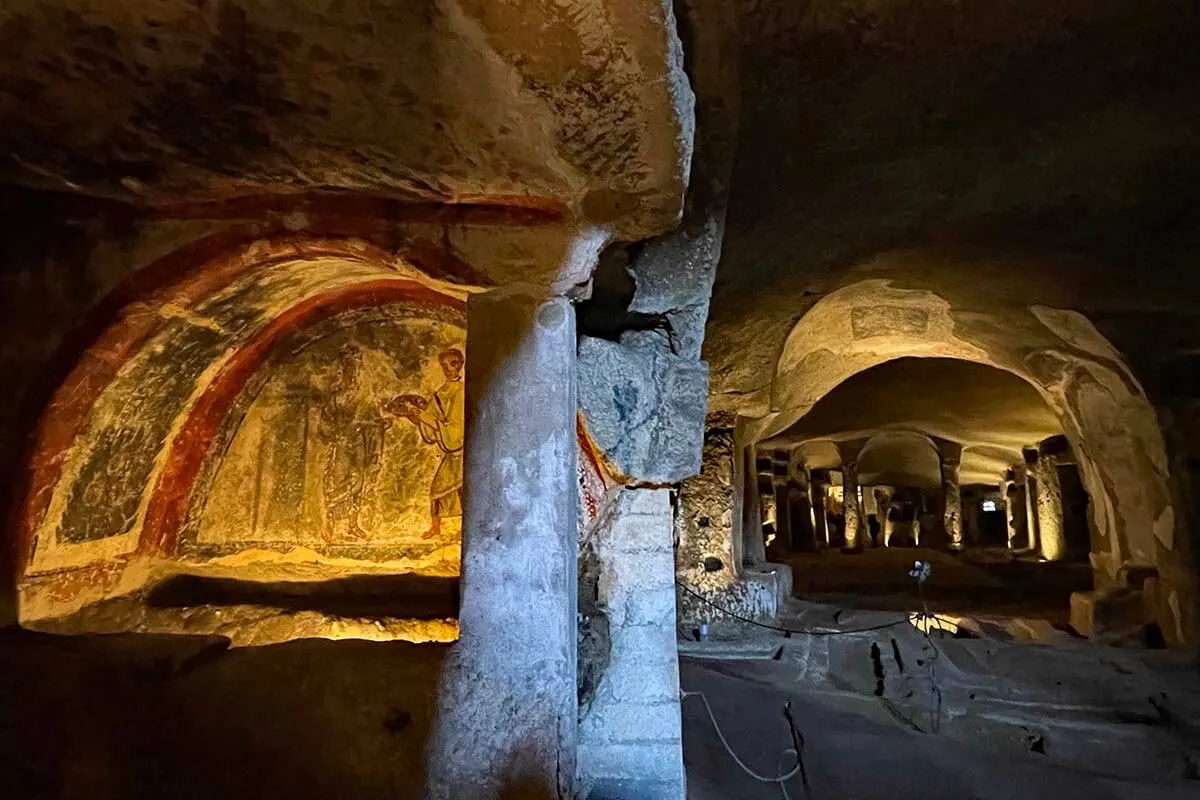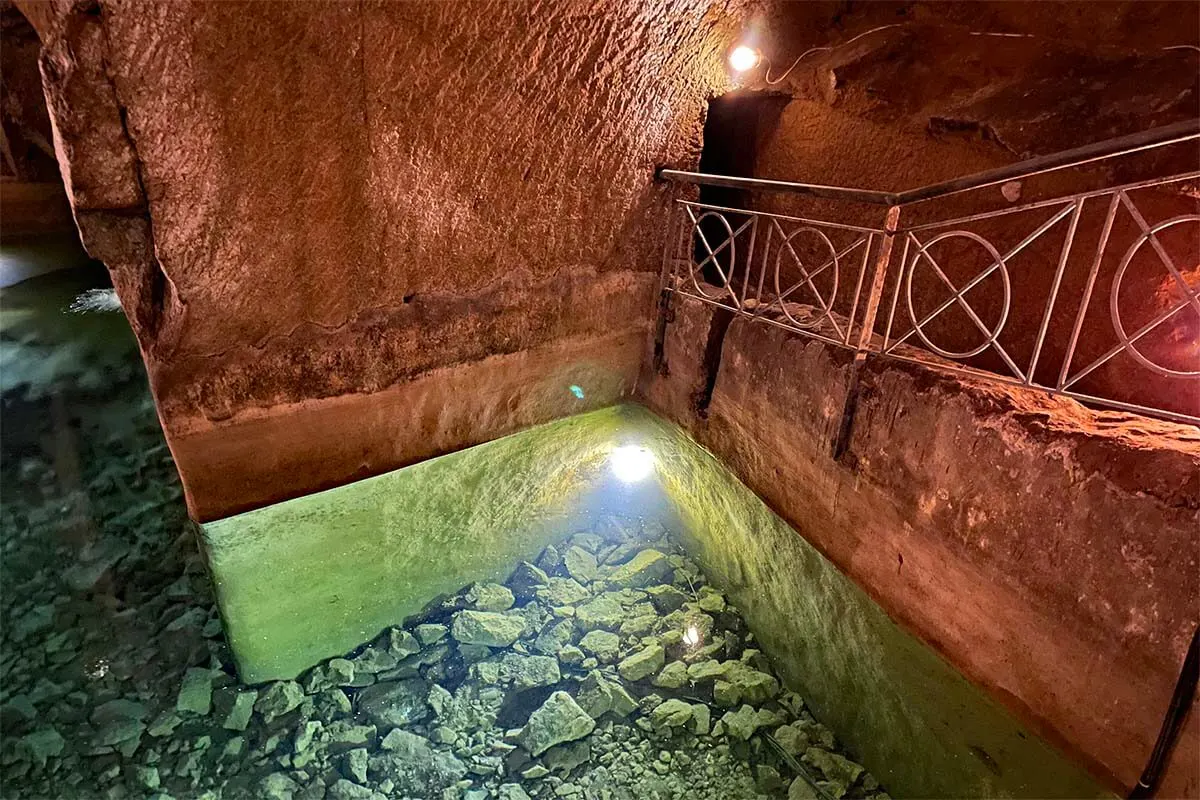 Castel Sant'Elmo
Time needed: You need at least 30-45 minutes for the castle itself. But you also have to count at least 15-20 minutes in order to get there from the city center, plus the time to get back down. All in all, I'd count at least 1.5 hours for a visit here.
Next, take a funicular to the Vomero neighborhood which is located on top of the hill overlooking the city center. For this itinerary, the easiest way to get there is by taking a funicular from Montesanto station. The ride to the top takes just a few minutes.
There are several nice places to see here, but with just a day in Naples, I recommend that you visit Sant'Elmo Castle. The 360° views of the city, the Bay of Naples, Mt Vesuvius, and the wide surroundings are unparalleled. The castle itself is huge and quite impressive too, but the main reason to come here is the amazing panorama.
Good to know: Just under the castle, you'll see the buildings of the San Martino Monastery. It's another really interesting place to see when visiting Naples. However, it's so big that you could easily spend a few hours inside. So with just one day in Naples, I'd probably skip it (unless you would decide to cut some of the other places mentioned earlier).
Also, right at the entrance of the castle, close to the San Martino Monastery, there's a nice viewpoint, Belvedere San Martino. The city view from here is really good, but it can't compare to what you see from the top of the castle itself. So I highly recommend you make a small effort and walk to the top of the castle.
Practical info: Sant'Elmo Castle is usually open daily until 7.30 pm. However, keep in mind that the last admission is at 6.30 pm. Either way, if you follow our itinerary, you'll likely be here at around 4.30 – 5 pm. If visiting Naples in winter, this would mean that you can probably enjoy sunset views from here.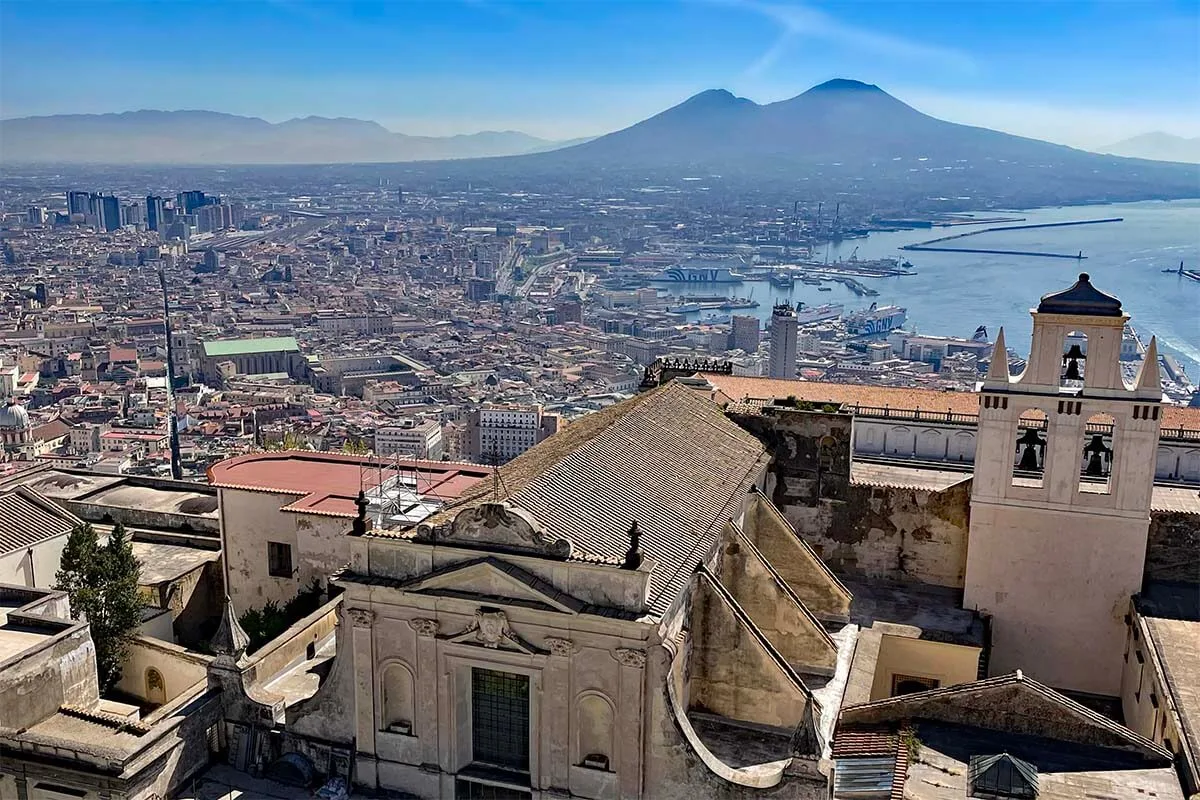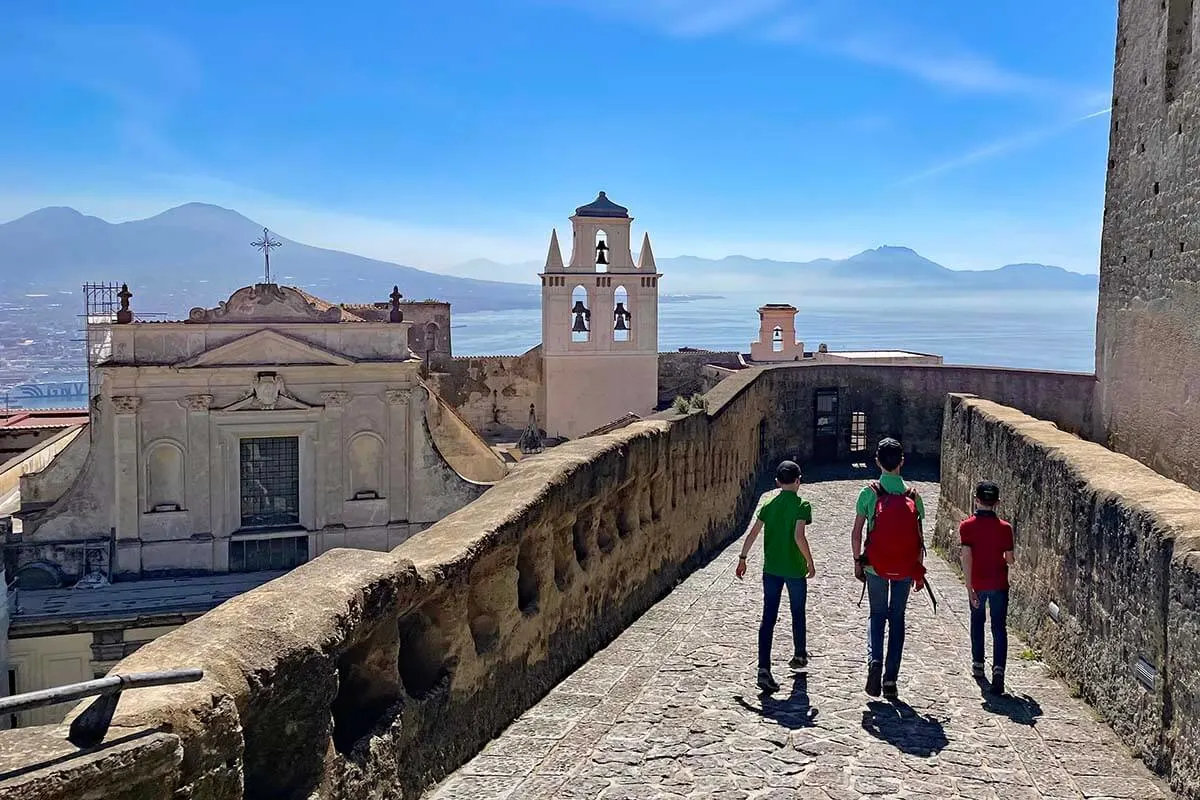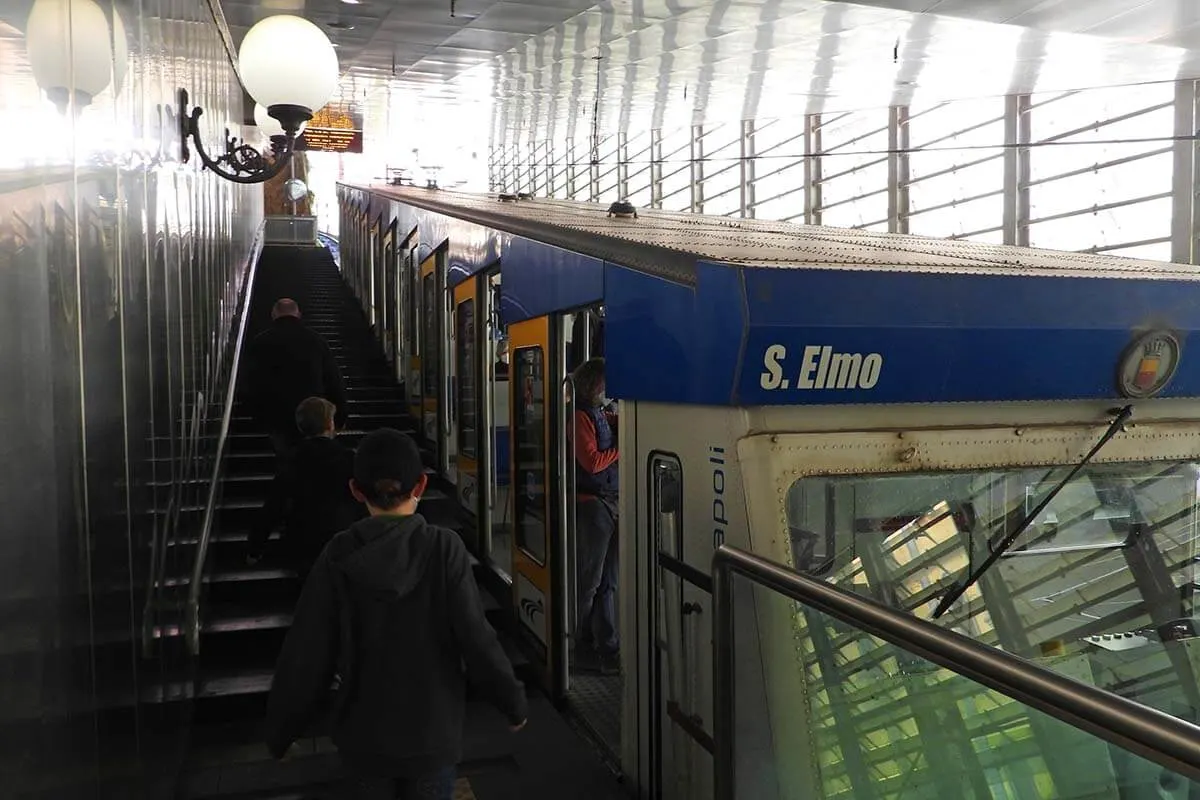 Via Toledo & Spanish Quarter
Time needed: 20-30 minutes.
After visiting the castle, you could take the funicular back to the city center. Or – if you have some energy and some extra time to spare – you can also take the stairs down. For both – stairs and funiculars – there are a few options. I indicated them on our map below.
One of the best options for this itinerary would be to take Funicolare Centrale down to Augusteo station close to Via Toledo in the city center. Alternatively, you can take the same funicular as the one you used to go up.
Via Toledo is one of the main shopping streets in Naples city center. A big section of this long street is reserved for pedestrians. Here, you'll find all kinds of shops, cafes, street food and souvenir stalls, street artists, etc. It's a real beehive, especially in the afternoon.
To the west of Via Toledo, you can check out the Spanish Quarter. It's a very local neighborhood where you can get a good feeling of authentic Naples. One of the places to check out is Largo Maradona, where you'll find huge murals and other memorabilia dedicated to this famous Argentinian football player. He's regarded as one of the patron saints in Naples (yes, locals still absolutely adore him, decennia after he played here and years after his death).
There are also lots of really nice restaurants in this area, so you could also decide to come (back) here for dinner. Or leave this area for later tonight indeed and head straight to the places described further below. What makes more sense, will also depend on which funicular/ staircase you take from Sant Elmo Castle to the city center.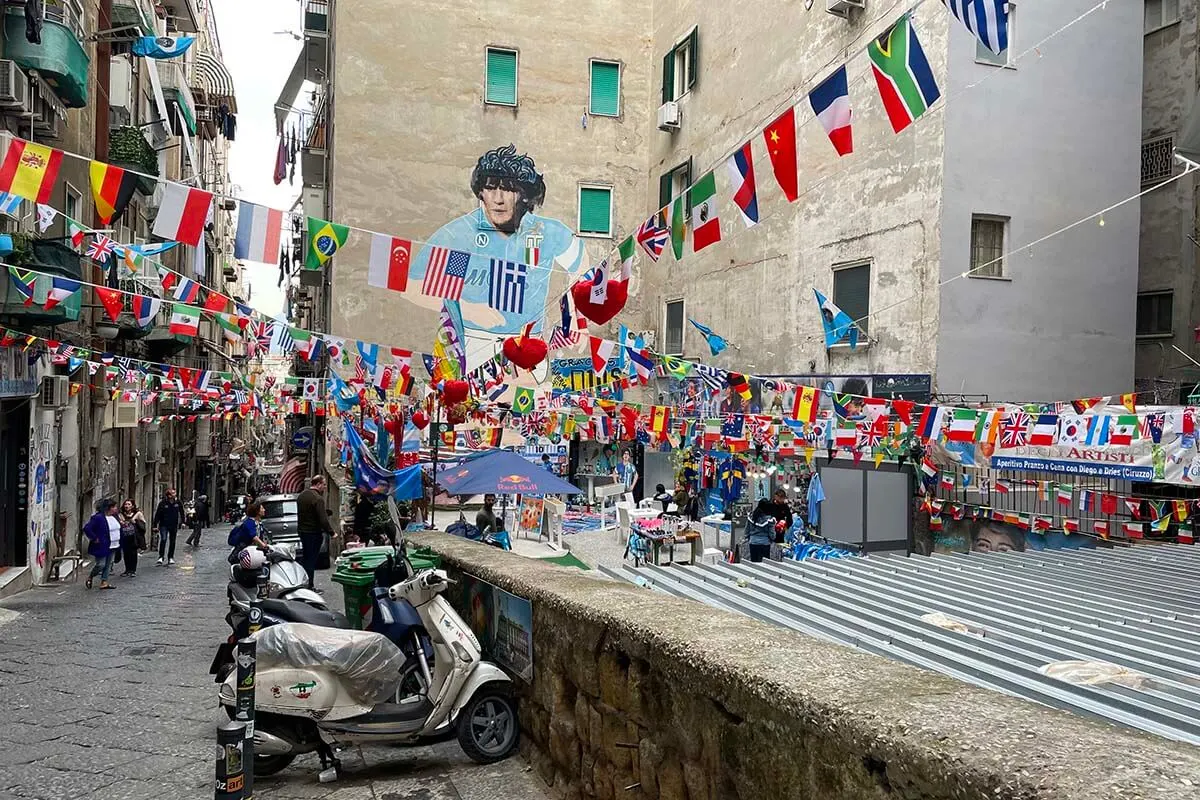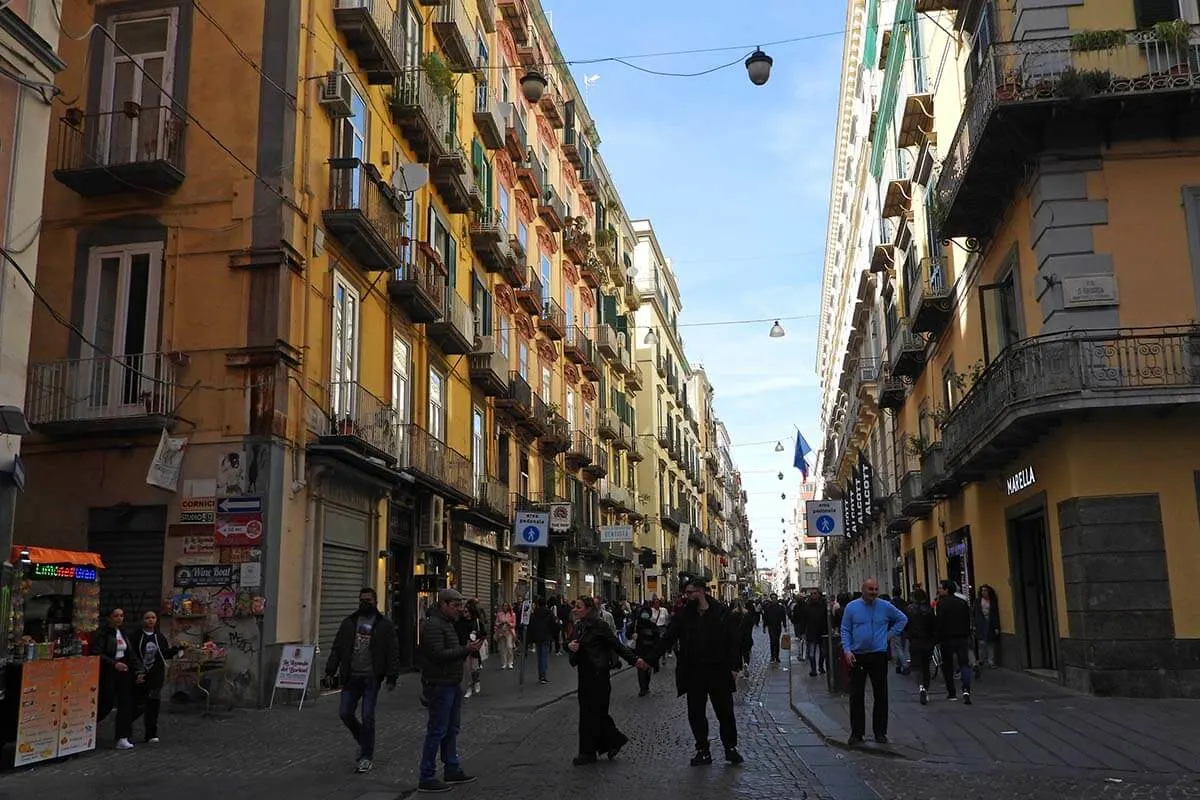 Galleria Umberto I & Castel Nuovo
Time needed: 10-15 minutes.
Next, take a few minutes to walk through the Galleria Umberto I. This covered shopping gallery is absolutely impressive and well worth a few minutes of your time!
Built at the end of the 19th century, the Gallery is beautifully designed, with a steel and glass roof and impressive mosaic floors. It looks a bit like Galleria Emmanuelle II in Milan.
As you exit the gallery, you can see Castel Nuovo just nearby. With a day in Naples, I'd certainly not plan on visiting this castle inside, but the exterior is quite impressive, so you can check it out if you don't mind a small detour.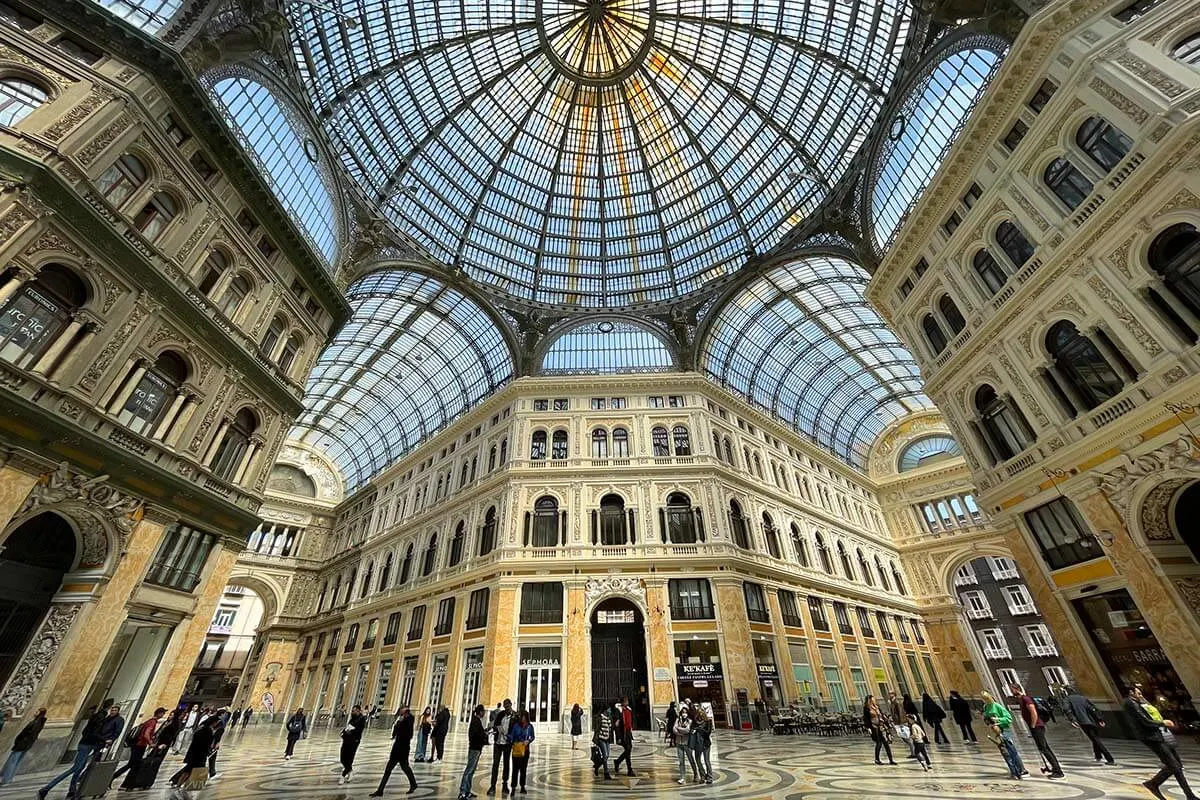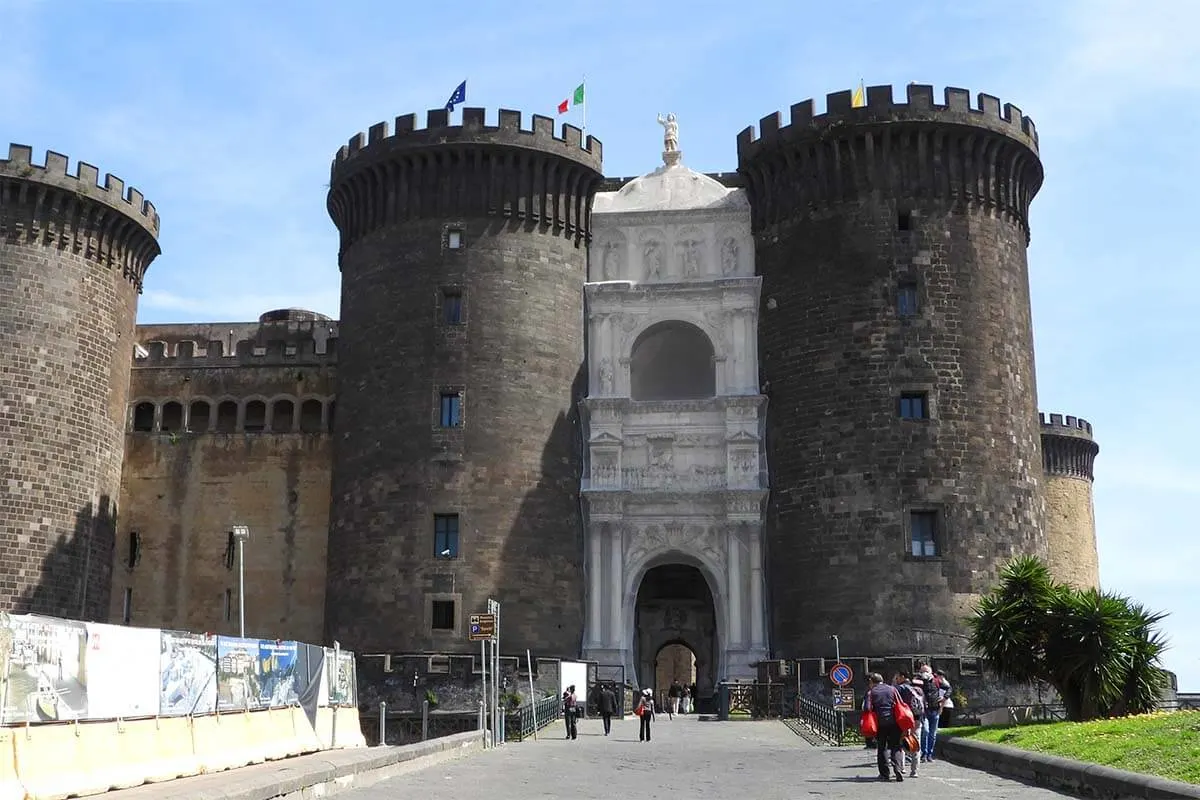 Time for gelato
At this time of the day, you might feel like you walked so much that you definitely deserve a little break and a gelato.
There are a few good gelaterias nearby (I indicated two on our map below). You could get some ice cream here and enjoy it at Piazza del Plebiscito. Based on the reviews (and what was open at that time), we opted for Cento gelato artigianale Italiano and the ice cream here was very good indeed.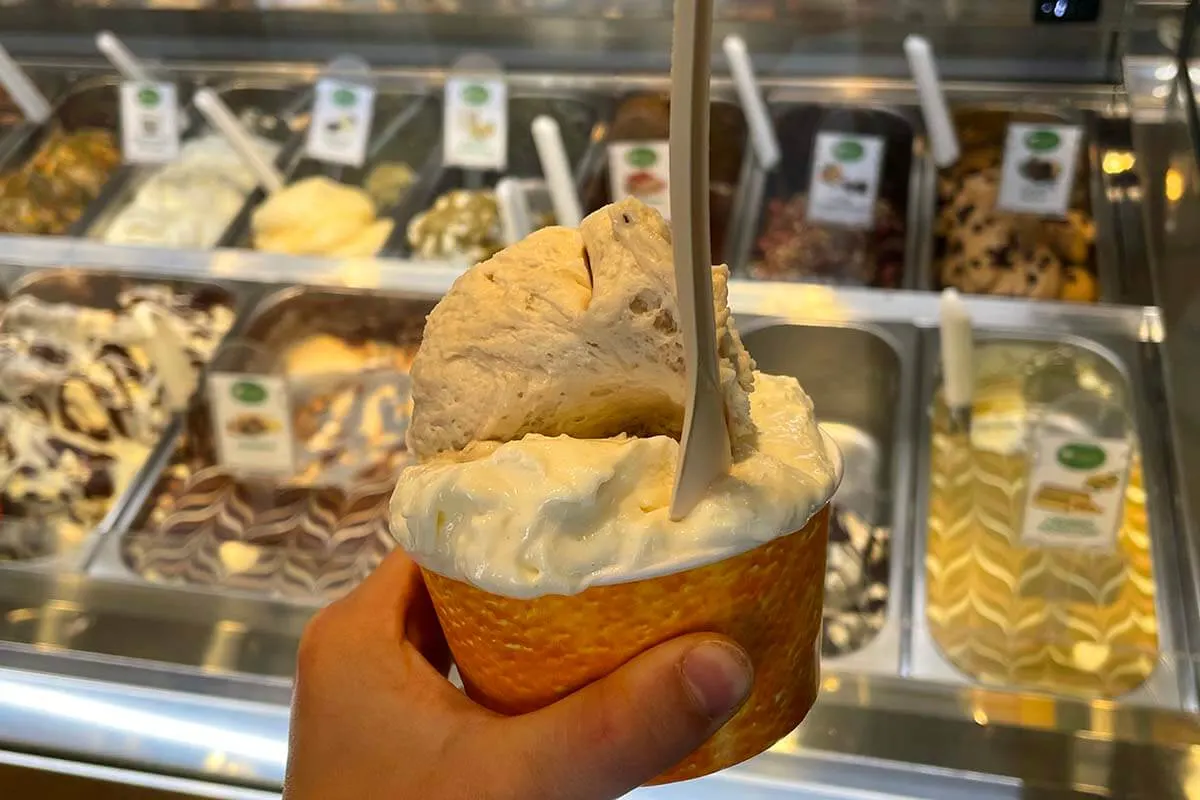 Piazza del Plebiscito & Royal Palace of Naples
Time needed: 15-20 minutes to just look around; 1-1.5 hours if you also visit the palace.
Next, head to the nearby Piazza del Plebiscito. This is the largest square in Naples. Here, you can see the Royal Basilica and the impressive Royal Palace of Naples.
If you still have energy, you could consider visiting the Royal Palace inside. It's now a museum, with well-preserved decorations showcasing the history of Naples from the 17th to 19th centuries. The majestic hallway and staircase are particularly breathtaking, and you can admire many opulent rooms as well.
Good to know: The Royal Palace of Naples is open daily except for Wednesdays, usually until 8 pm. Even if you only have an hour, you can see the beautiful interior and the small gardens. You can just get the tickets on the spot, so you don't have to decide in advance if you want to visit – just see how you feel on the day itself.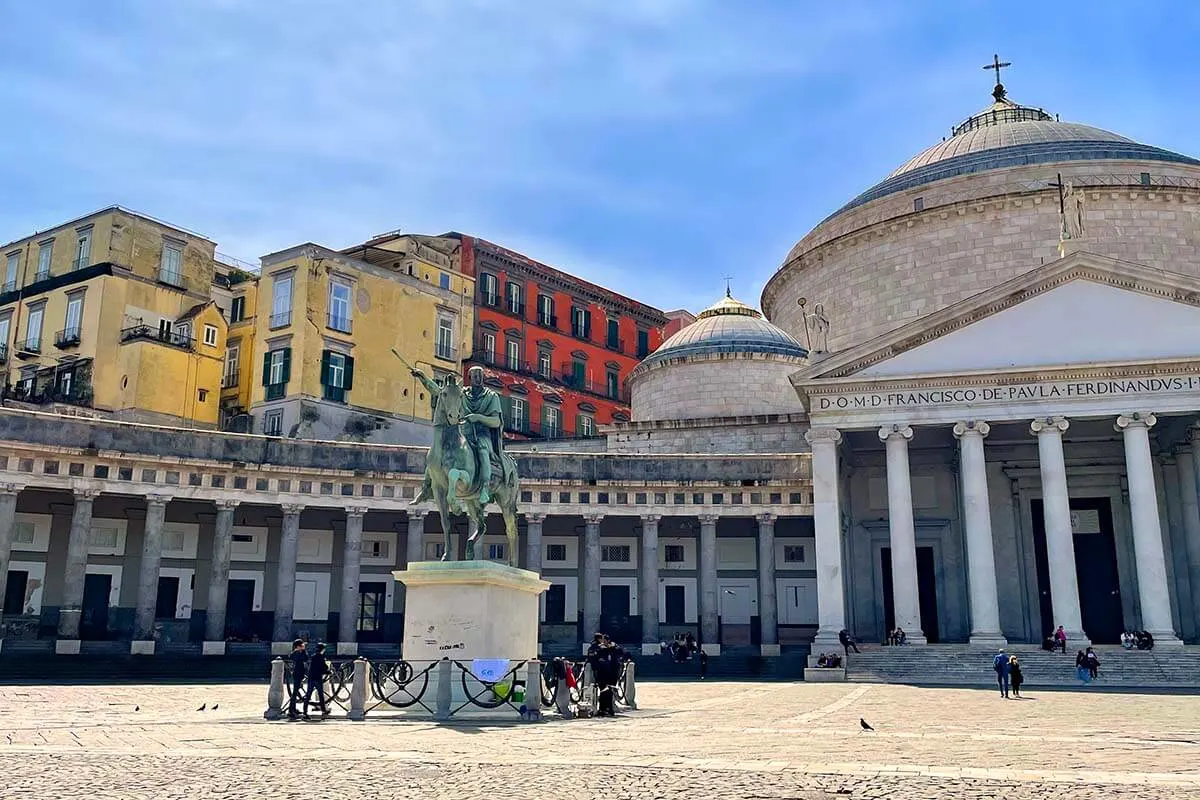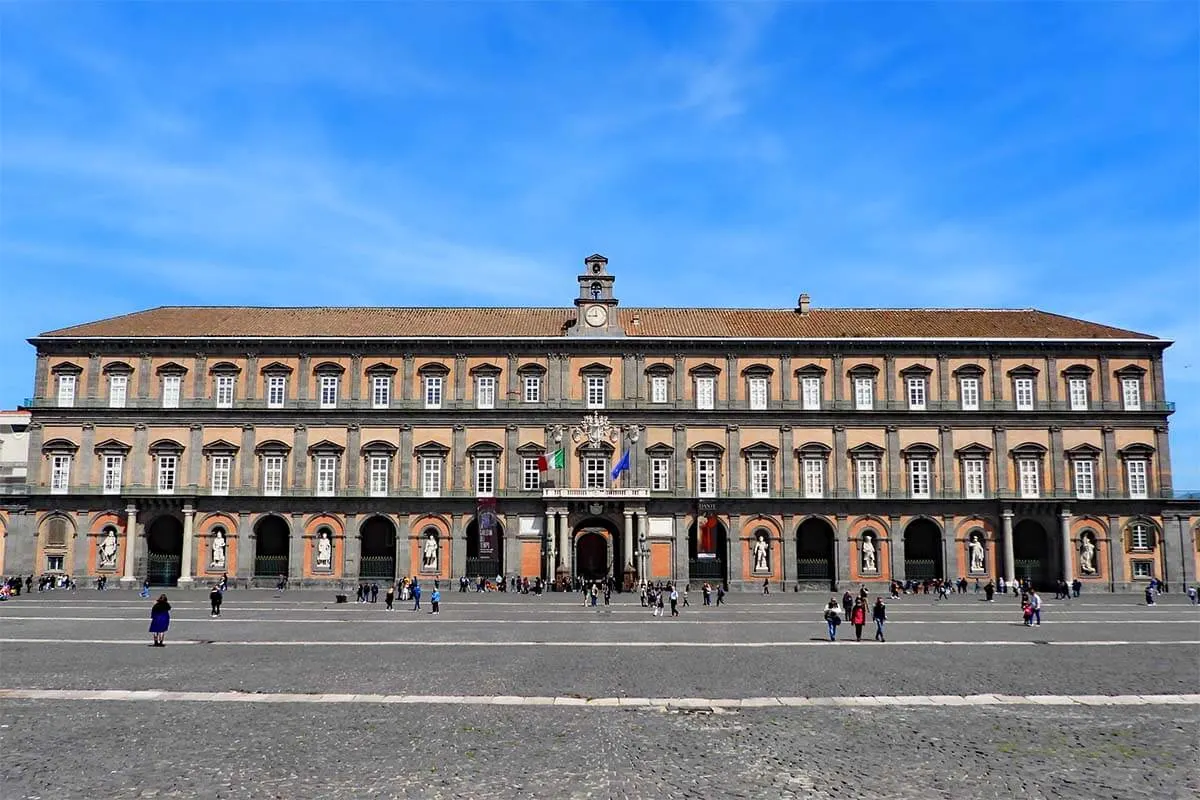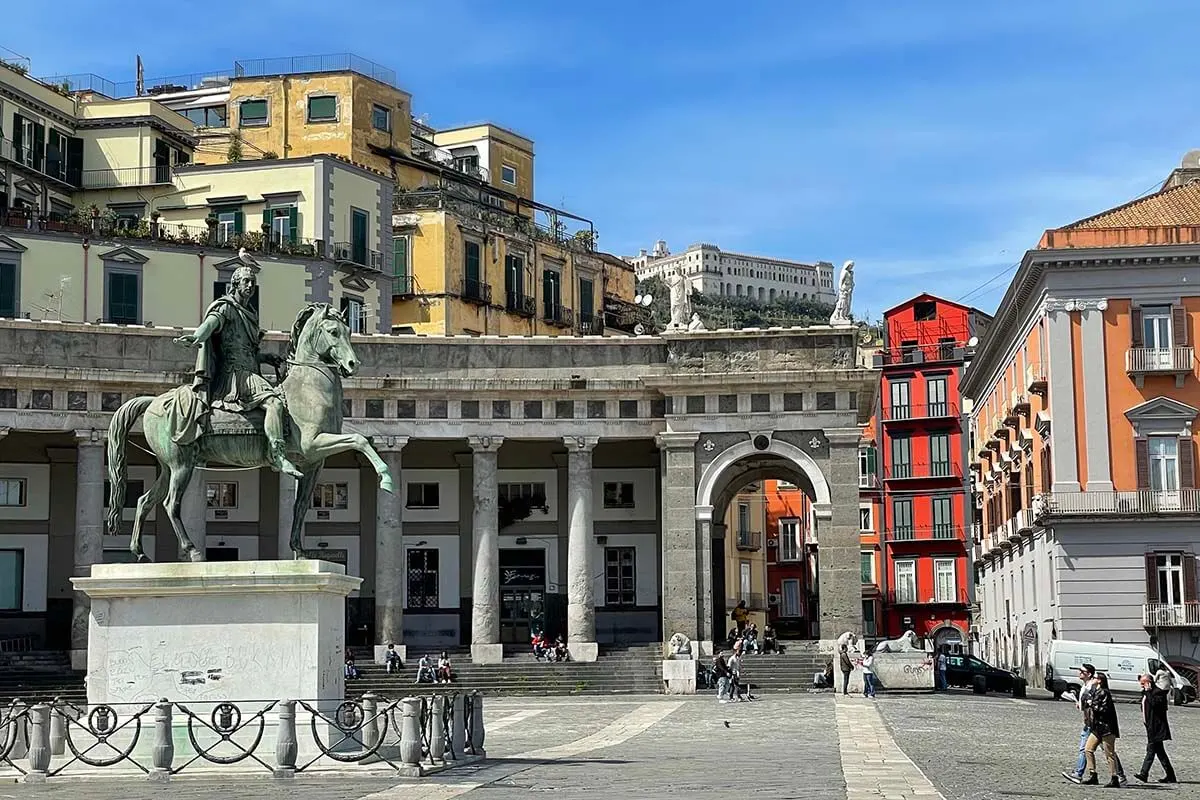 Naples Waterfront, Ovo Castle & Dinner
End your day in Naples with a stroll along the beautiful waterfront. The nicest part is probably the area close to Castel dell'Ovo. The sunsets here can be really nice.
Normally, it's possible to visit the Ovo Castle for nice views of the bay and the entrance is free of charge. However, it usually closes quite early. Either way, you aren't really missing much – the views from the waterfront promenade are just as nice.
Borgo Marinari, a small 'island' where the castle is located could be a nice place for dinner. There are several restaurants here. Just be sure to check the reviews online since some of them are really good and others are a bit of a tourist trap.
Alternatively, you could walk a bit further by the sea towards the Villa Comunale park. There are lots of nice restaurants and pizzerias in that area as well. Or go back to the Spanish Quarter. There are plenty of good restaurants everywhere in Naples, so see which area suits your itinerary best and you'll definitely find something nice. However, if you want to be sure to have a table at a specific restaurant, be sure to book in advance.
Good to know: Italians dine late. Most restaurants don't even open before 7.30 pm. Locals usually start to arrive around 8.30 pm.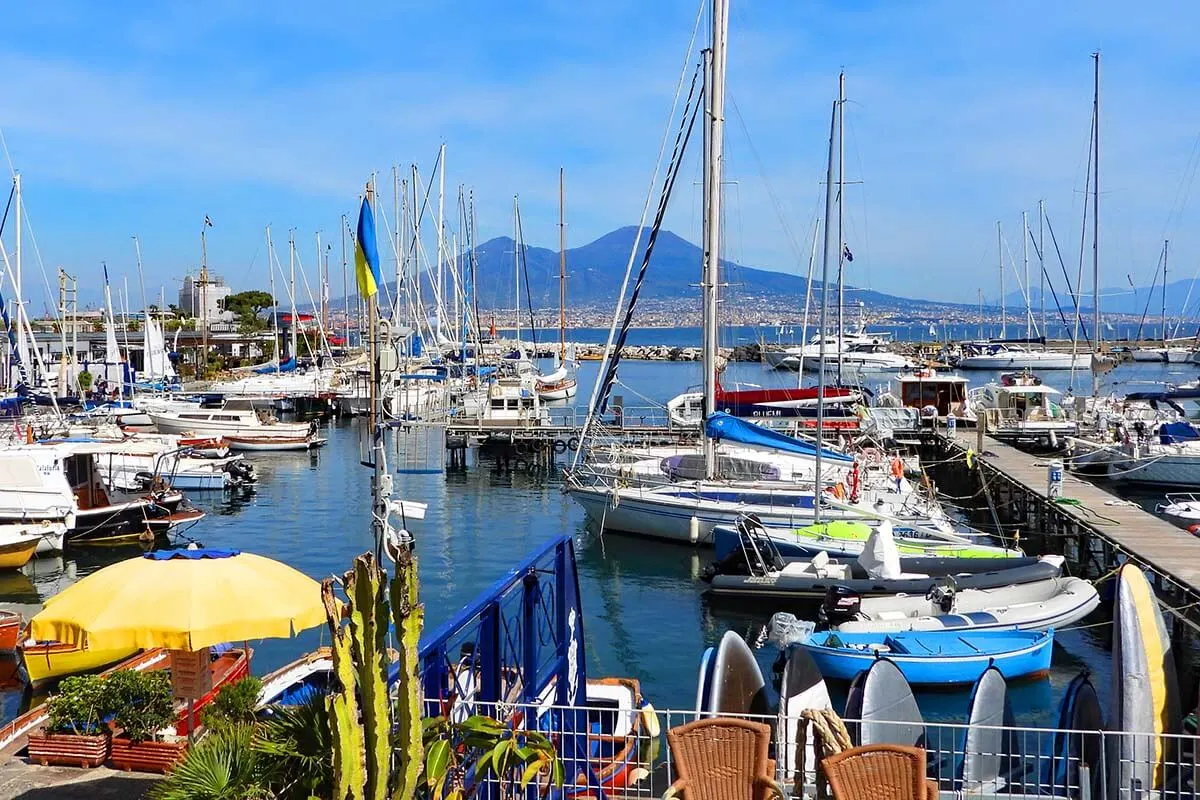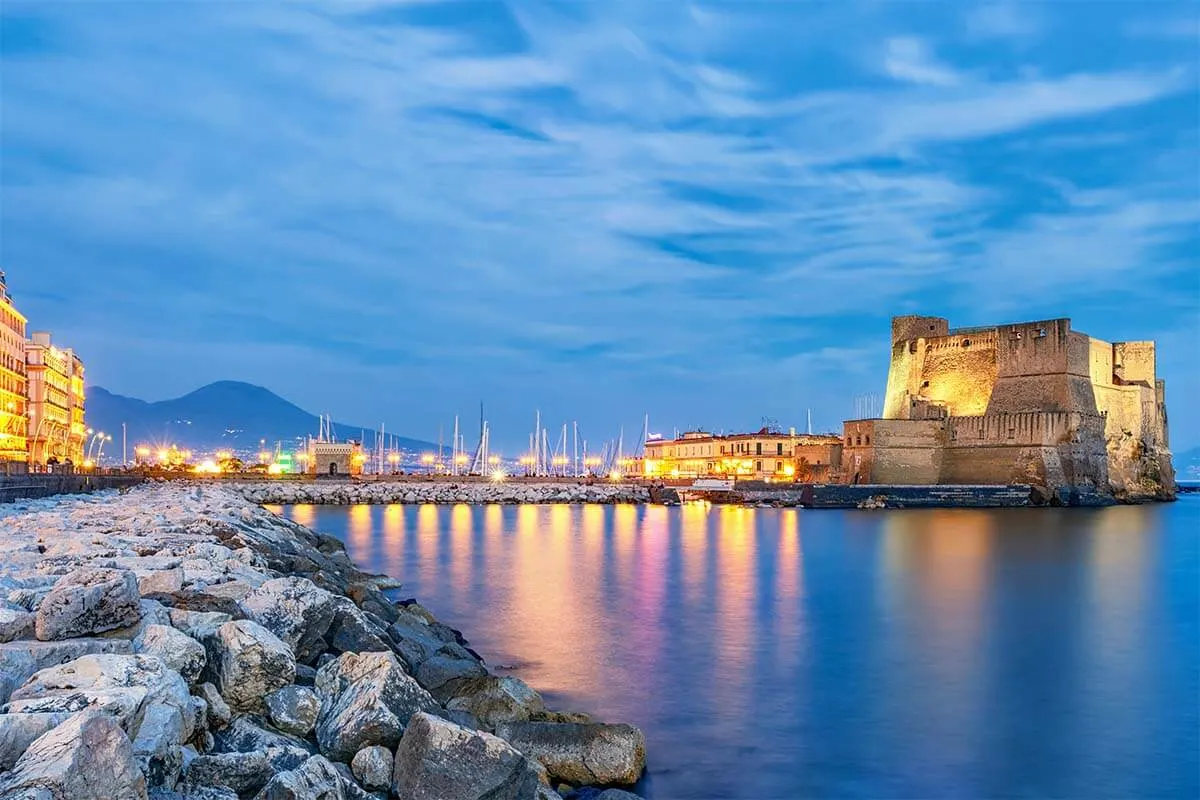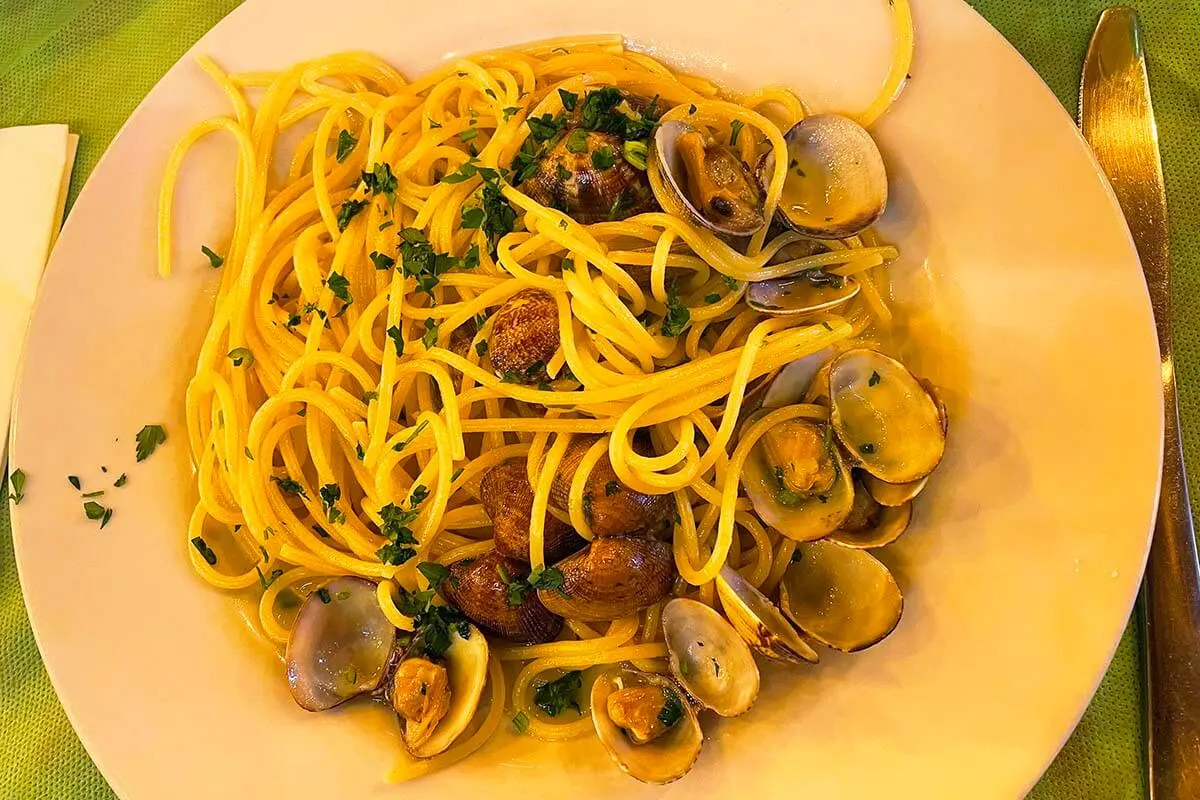 Naples 1 Day Itinerary & Map
Below, is a short overview of what your day in Naples could look like. The hours are only indicated for your reference, to give you a better idea of how it all fits in.
Here's how to see the best of Naples in one day:
9 am Gesu Nuovo Church.
9.30 am Santa Chiara Church & Monastery.
10.30 am Spaccanapoli, Via San Gregorio Armeno.
10.45 am Sansevero Chapel.
11.15 am Naples Cathedral.
Lunch on Via dei Tribunali.
2 pm National Archaeological Museum (alternative: Naples Catacombs or Naples Underground).
4.30 pm Funicular to Vomero and Castel Sant'Elmo.
6 pm Toledo & Spanish Quarter.
7 pm Piazza del Plebiscito & Royal Palace of Naples.
Naples Waterfront area and dinner.
To give you a better idea of where everything is located and help you plan your time, we also created this map indicating all the places mentioned in our Naples 1-day itinerary.
Further below, you can also find some practical information for planning your visit and tips.
How to use this map: Use your computer mouse (or fingers) to zoom in or out. Click on the icons to get more information about each place. Click the arrow on the top left corner for the index. Click the star next to the map's title to add it to your Google Maps account. To view the saved map on your smartphone or PC, open Google Maps, click the menu and go to 'Your Places'/'Maps'. If you want to print the map or see it in a bigger window, click on 'View larger map' in the top right corner.
Practical Information & Tips
Getting around. For this itinerary, you can walk to most places. To get to Castel Sant'Elmo, take a funicular. If you'd also decide to visit the San Gennaro Catacombs, it's best to take a bus or a taxi to get there.
Clothing. Be sure to wear comfortable shoes – you'll be walking a lot. Also, keep in mind that the churches require that your knees and shoulders are covered. If you visit the Catacombs or Naples Underground, take a sweater as it can be chilly inside.
Tickets. Many sights on this itinerary require a ticket. Some of them can be purchased on the spot, but for the places where we say you should book in advance, you really better do that or you risk not being able to visit. Also, booking timed tickets in advance is the best way to be sure that you make the most out of your day in Naples.
Where to stay. Even if you are reading this one-day Naples itinerary, it's quite likely you'll actually be in the city longer and visit places like Pompeii, Capri, or the Amalfi Coast as well. Naples is a good base for the area – transport connections are good and there are many organized tours to all the most popular places. If you are planning on taking many day trips from Naples, you may want to stay not too far from the railway station. A good mid-budget option close to the station is Hotel San Pietro. On a bit lower budget – check out the popular UNAHOTELS Napoli.
LEARN MORE: Where to Stay in Naples: Best Areas & Hotels for All Budgets
So, this is our guide to the best of Naples in a day. I hope that this helps you plan a fun and memorable visit to this unique city!
TIP: In addition to this guide, we have many other articles with information and inspiration for some of the nicest places near Naples. Check them out via the links below!
More travel inspiration for southern Italy:
Naples:
Amalfi Coast:
Capri:
If you found this post useful, don't forget to bookmark it and share it with your friends. Are you on Pinterest? Pin this image!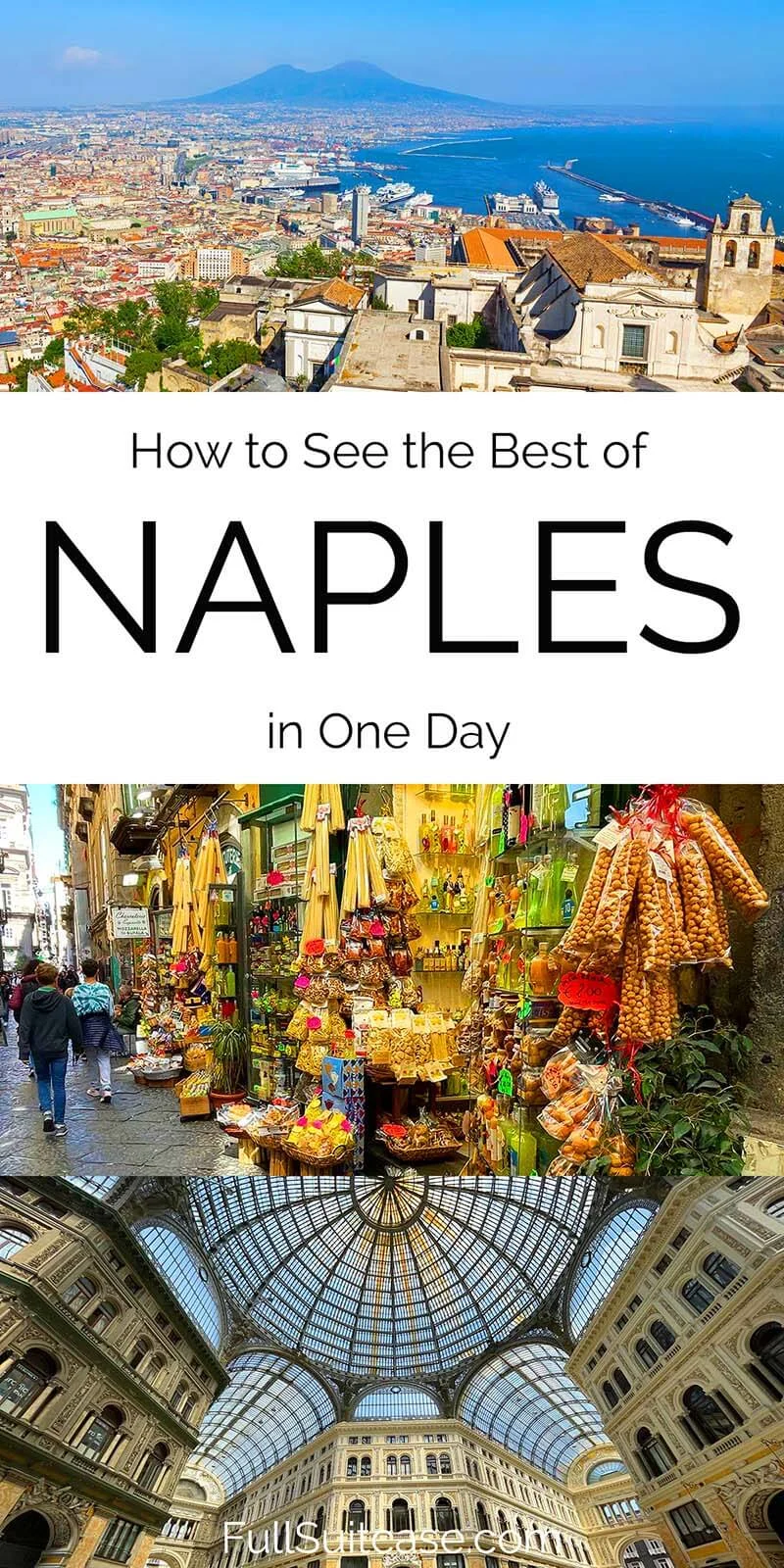 More travel inspiration for Italian cities: