Naples is one of the most interesting cities to visit in Italy. But what makes it an even more attractive destination for tourists is that there are just as many fascinating sights and beautiful places to see near Naples as in the city itself.
So in addition to the main sights and attractions in Naples, you really should consider at least a few day trips nearby.
But with so many beautiful places to see near Naples how do you decide what is worth your time the most? What are the best day trips from Naples? And how to visit these places from Naples (on your own or with a tour)?
In this article, you can read about the best places to see near Naples that can be visited as a (half) day trip. These are one-by-one top destinations that are worth a trip even if you are traveling from the other side of the world.
In this selection, we focus only on the VERY BEST places to see near Naples. The challenge is that – if you don't have the time for all of them – deciding which ones to see and which ones to skip will not be easy…
I hope that this guide will give you a better idea of what to expect and help you plan a truly memorable trip to the Naples area. Take a look!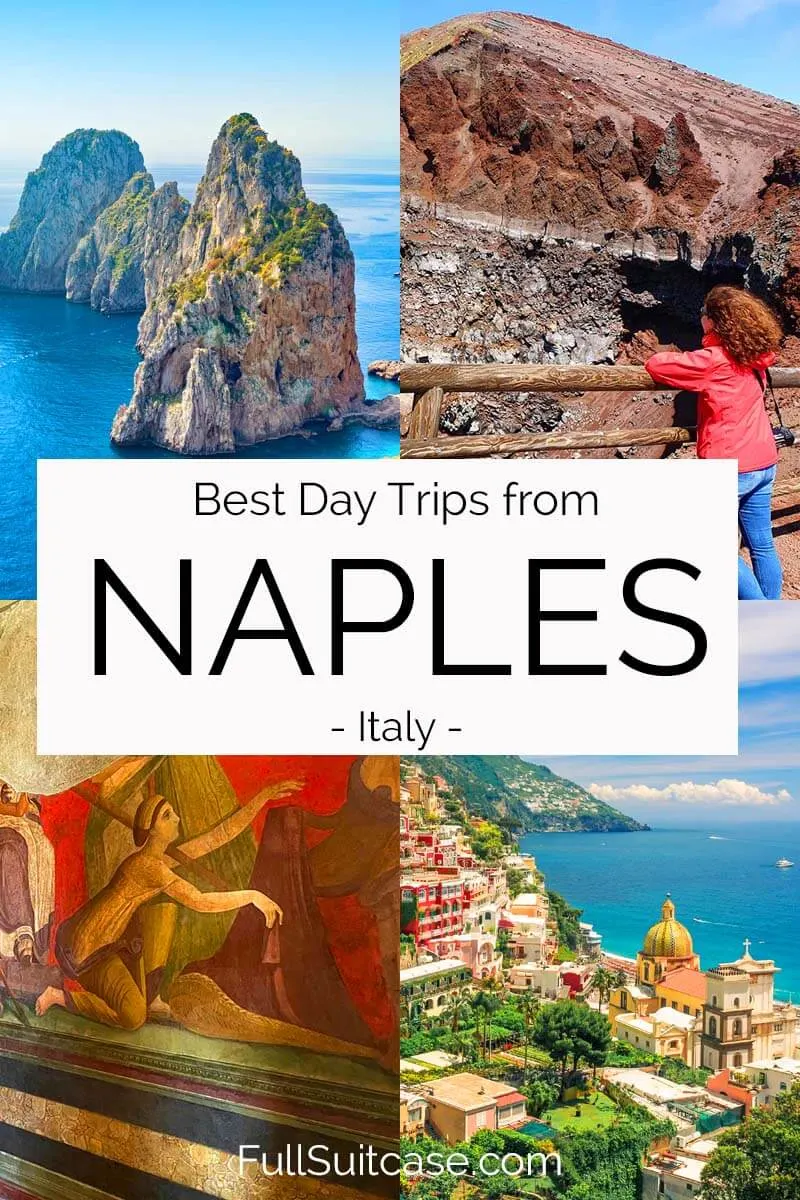 These are the best day trips from Naples:
1. Pompeii
Probably the most popular place to visit near Naples is the archeological site of Pompeii. Pompeii was an ancient Roman city that was completely destroyed by the eruption of Mount Vesuvius in 79 A.D.
The city has been buried by lava and frozen in time for many centuries until it was rediscovered in the 18th century.
A working archeological site (and a big part of the city still under the ground), Pompeii now functions as an open-air museum. The remains of this ancient city are incredibly well preserved, with streets, houses, shops, and theaters where time seems to have stood still…
Some of the richest villas have incredible mosaics and beautiful frescoes that give you an idea of what life was like in this part of the world almost 2000 years ago.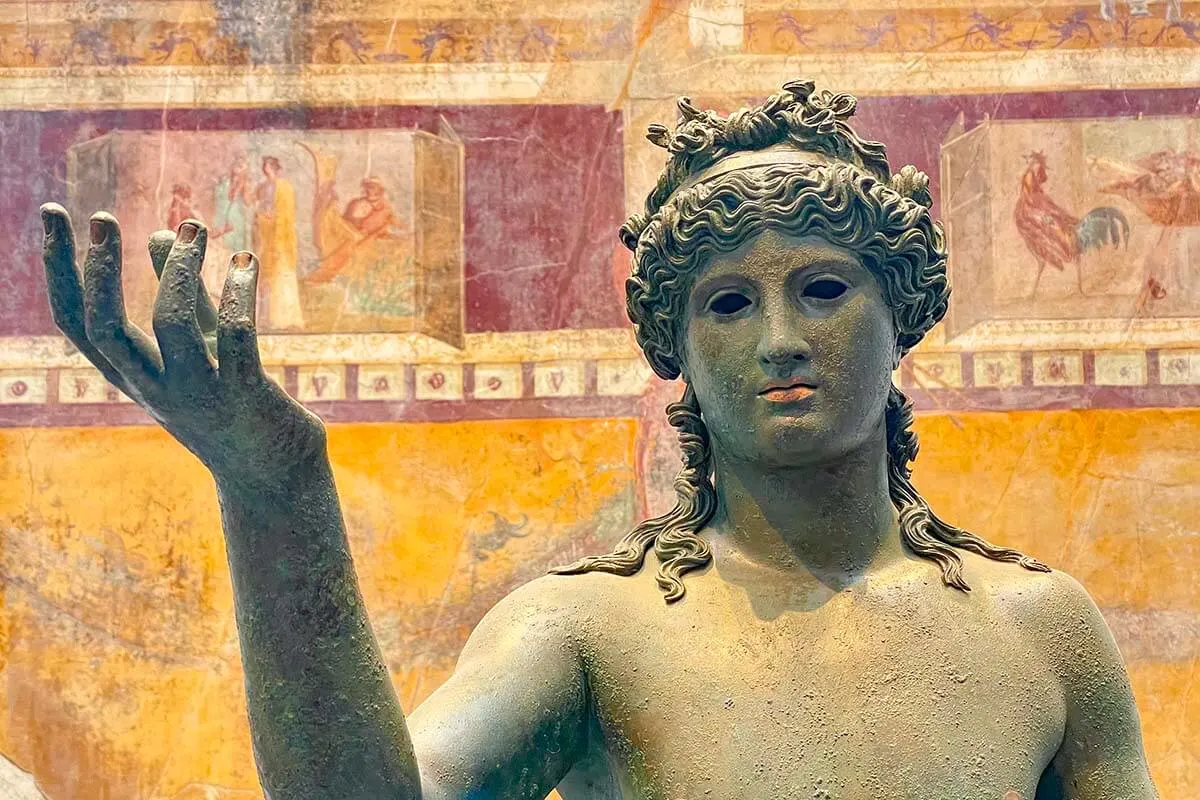 Getting there: Pompeii can be easily reached by train from Naples. The direct train takes about 37 minutes, so this could be doable as a half-day trip as well. The entrance to the archeological site is just near a railway station. You can also drive to Pompeii, but parking nearby is very expensive. If you decide to go on your own, book your Pompeii entrance tickets online (you'll still have to exchange the voucher for the actual ticket, but the 'online' line should be much shorter than the regular one).
Good to know: Pompeii is huge and even though you receive a map at the entrance, a visit here can be absolutely overwhelming. Where do you even start? What are the must-sees? And when you finally get to some villa, it appears to be closed for restorations… Also, when exploring on your own, often you don't really know what you are seeing. As some of the reviews online say 'it's all just ruins'.
So to avoid disappointment and to appreciate this unique place better, we highly recommend visiting Pompeii with a local guide. They will give you a much better understanding of what you see and how special this place really is.
You can visit Pompeii with a guided tour from Naples or arrive by train/car and only join a guided tour at Pompeii itself. I highly recommend this small-group tour with an archeologist. We visited Pompeii with a guide and it was absolutely worth it. You can also ask your guide for additional recommendations and stay longer after the 2-hour tour is finished to explore further.
TIP: To make the most of your time, you can combine Pompeii with a visit to Mt Vesuvius. There are various 2-in-1 day tours from Naples that allow you to make the most of your time. This popular tour is one of the best day tours from Naples that includes a visit to Pompeii as well as Mt Vesuvius. You can find countless Pompeii tour options here.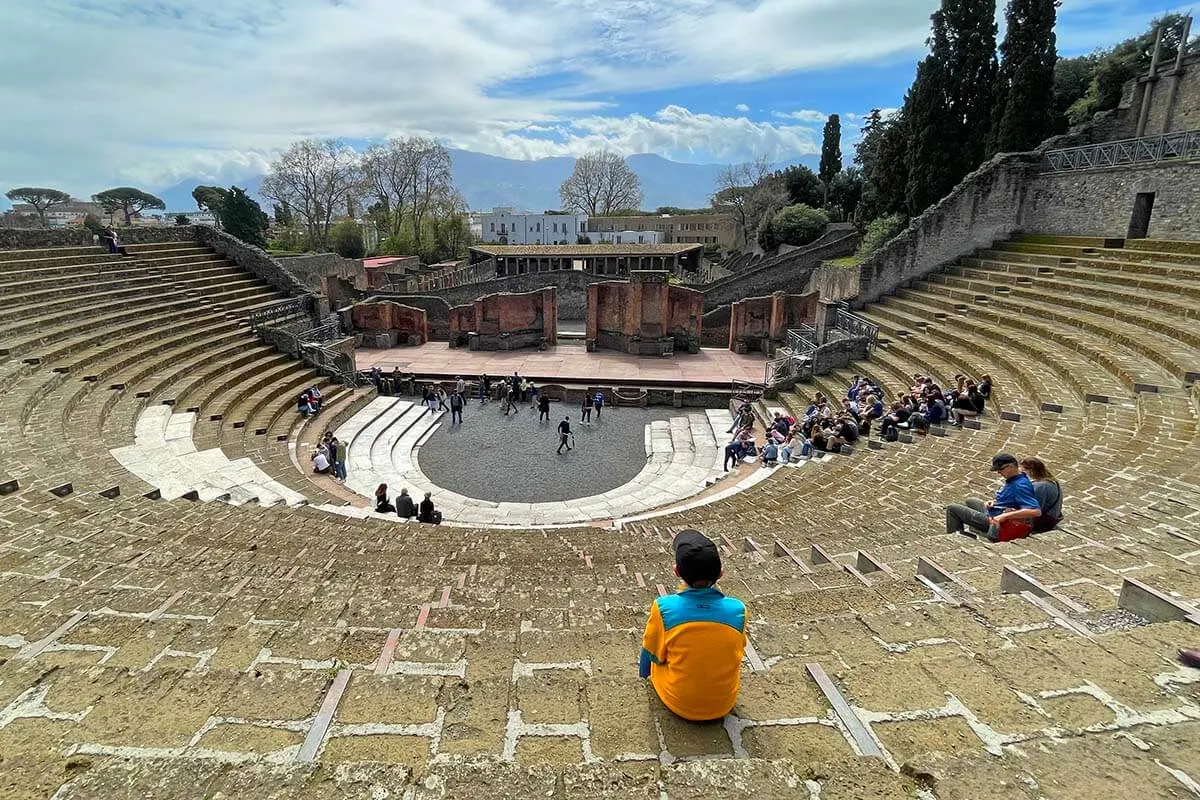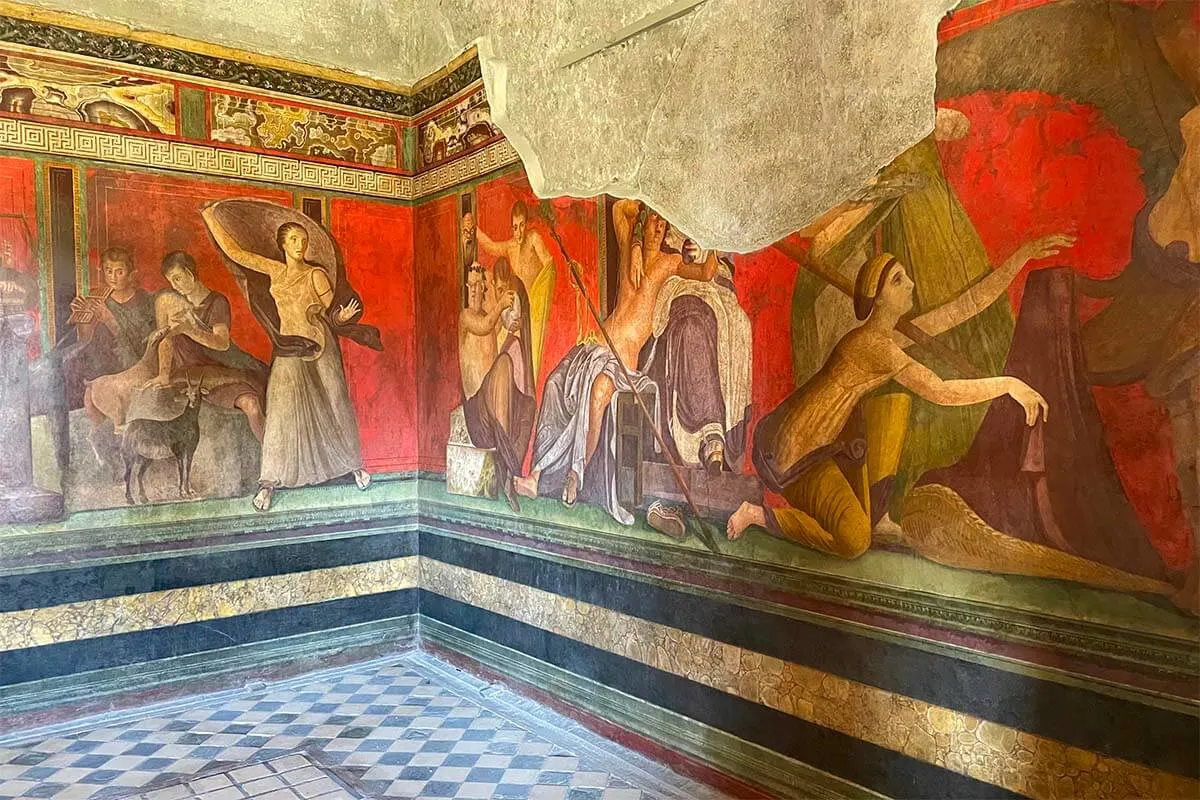 2. Mt Vesuvius
The iconic Mount Vesuvius is one of the most recognizable natural landmarks of Naples, featured in so many pictures of the city. It's also a volcano that was responsible for the destruction of Pompeii and Herculaneum.
Nowadays, you can get really close to the crater of Mount Vesuvius, and it's a fascinating sight! It's impossible to imagine how big this volcano really is until you stand there (hoping that it will remain dormant…). We've seen quite a few volcanoes and their craters in other parts of the world, but none of them comes even close to Mt Vesuvius…
In addition to the impressive crater, the views over the Gulf of Naples from the top are absolutely stunning. To us, coming here was one of the most special experiences that exceeded all expectations (to tell the truth, we were wondering whether it was even worth going).
So if you have half a day to spare when visiting Naples and are wondering if Mt Vesuvius is worth a visit, I highly recommend it. We found that it's more than worth the hype!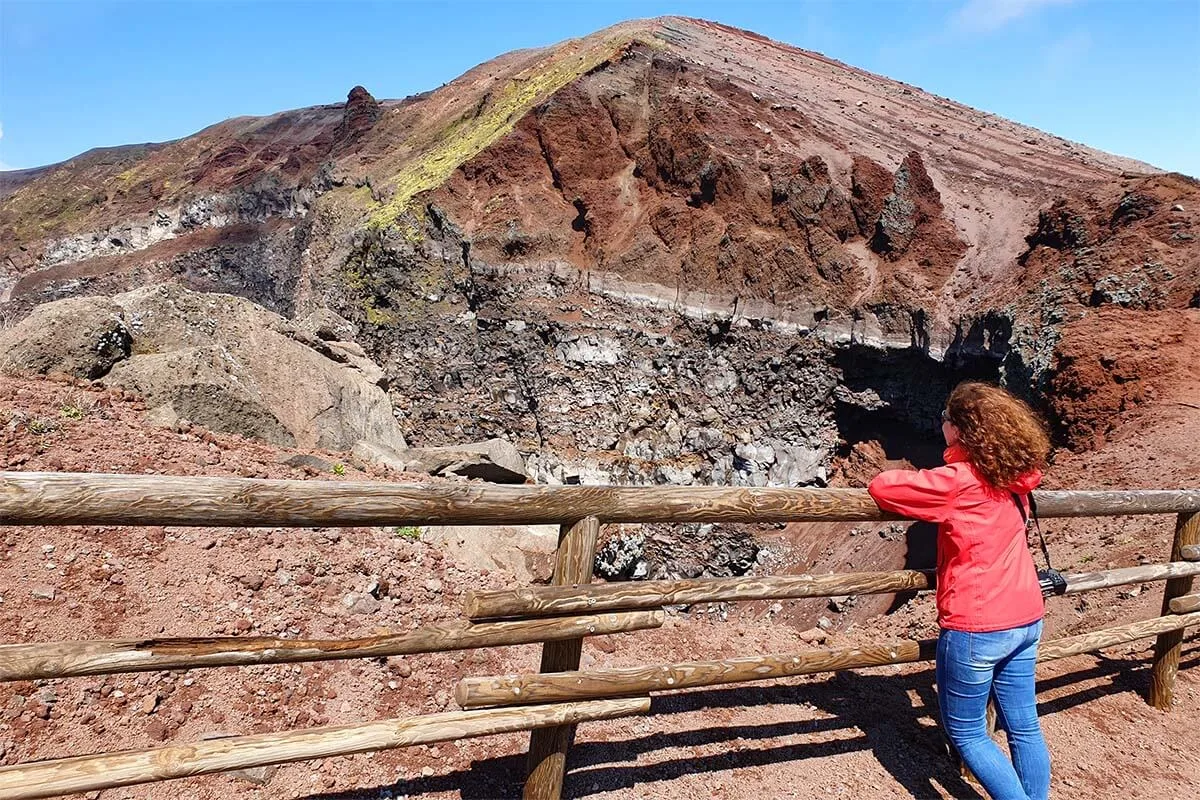 Good to know: If you're looking for a break from all the busy archeological and historical sites, Mt Vesuvius is a great nature destination to visit near Naples. And since you don't need more than a few hours, it can be visited as a day trip in combination with Pompeii or Herculaneum. Most organized tours that come here spend about an hour at the top, which is a bit rushed but gives you enough time to see the crater.
Practical information: Visiting Mt Vesuvius requires a timed ticket which – if you come on your own – you have to reserve here in advance. In addition, if you come by car, you have to reserve parking (by creating an account here) and provide the number plate of your car. As you can imagine, this is really difficult with a rental car – by the time you know the number plate, there are hardly any parking spots left (or Mt Vesuvius tickets for that time are sold out)…
The easiest way to visit Mt Vesuvius is with organized tours. Most of the tours combine a visit here with Pompeii, but there's also a half-day tour from Naples that only visits Mt Vesuvius (see here). So if you have just 4-5 hours to spare, this could be a nice short excursion from Naples.
Alternatively, you can also opt for a bus transfer from Ercolano (near Herculaneum) or from Pompeii. You'll usually see buses to Mt Vesuvius near the entrance of Pompeii, just be sure they actually include the entrance to the site and not just the bus transfer (or book this Mt Vesuvius tour from Pompeii)!
In Ercolano, you'll find the Vesuvio Express bus transfer service near the Ercolano Scavi railway station. You have to get a ticket for the bus, but keep in mind that you still need to book the Mt Vesuvius entrance ticket as well (and be sure that the times correspond). TIP: You can simply book a bus transfer and a ticket together (it costs a bit more, but it's so much easier).
LEARN MORE: Complete Guide to Visiting Mount Vesuvius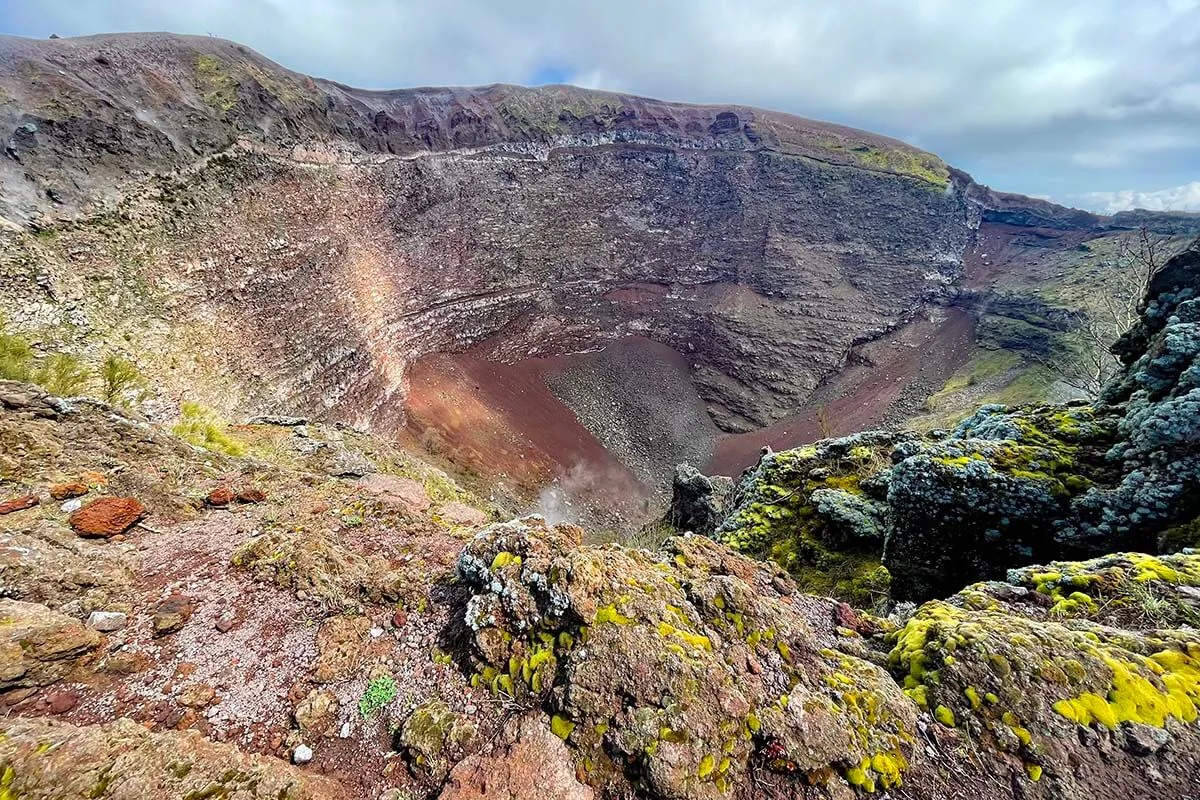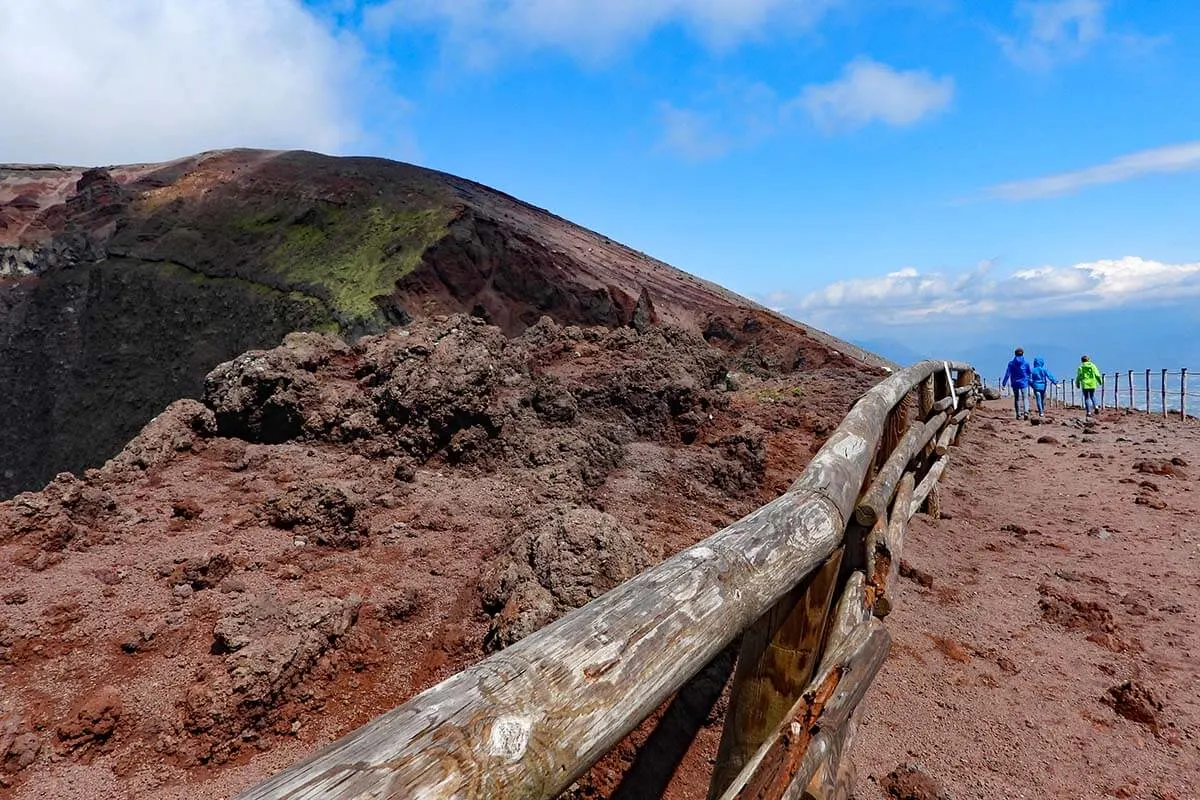 3. Capri
The beautiful Capri is probably the most famous island in Italy. It's so pretty that the scenery here will take your breath away! It's even more beautiful in summer when there are flowers everywhere and the color of the sky and the sea is picture-perfect.
While Capri absolutely deserves a longer visit, it can be easily visited on a day trip from Naples as well (see below for practical info). If you plan well, you can see some of the most beautiful and iconic places on Capri in just a day.
One of the most popular things to do in Capri is taking a boat tour around the island, plus a stop at the famous Blue Grotto. In addition, visit Monte Solaro in Anacapri, Capri town center, and check out at least one or two viewpoints in Capri (we recommend Giardini do Augusto).
READ ALSO: Best Things to Do in Capri
Good to know: Capri isn't a place to visit with a car. In the high season, tourists can't bring a car to the island at all. You'll need to take a boat/ferry to get here from Naples. Once on the island, you can use public buses or taxis.
Capri is a very popular day trip from Naples. Depending on which boat you opt for, the journey from Naples to Capri by boat takes 1-1.5 hours. Everyone goes in the morning and comes back in the evening, which means that the boats to/from Capri will be crowded and often fully booked for the peak times.
TIP: If you're visiting Capri as a day trip from Naples in high season, try to book your tickets well in advance and opt for one of the first/last boats of the day. Or – if you are feeling overwhelmed trying to organize everything yourself – take an organized tour. Often, it's the most convenient way and fastest to visit Capri in just a day, especially during the peak season.
READ ALSO: How to Visit Capri from Sorrento (lots of the info in this article applies if you're traveling from Naples as well, and it includes a sample 1-day itinerary)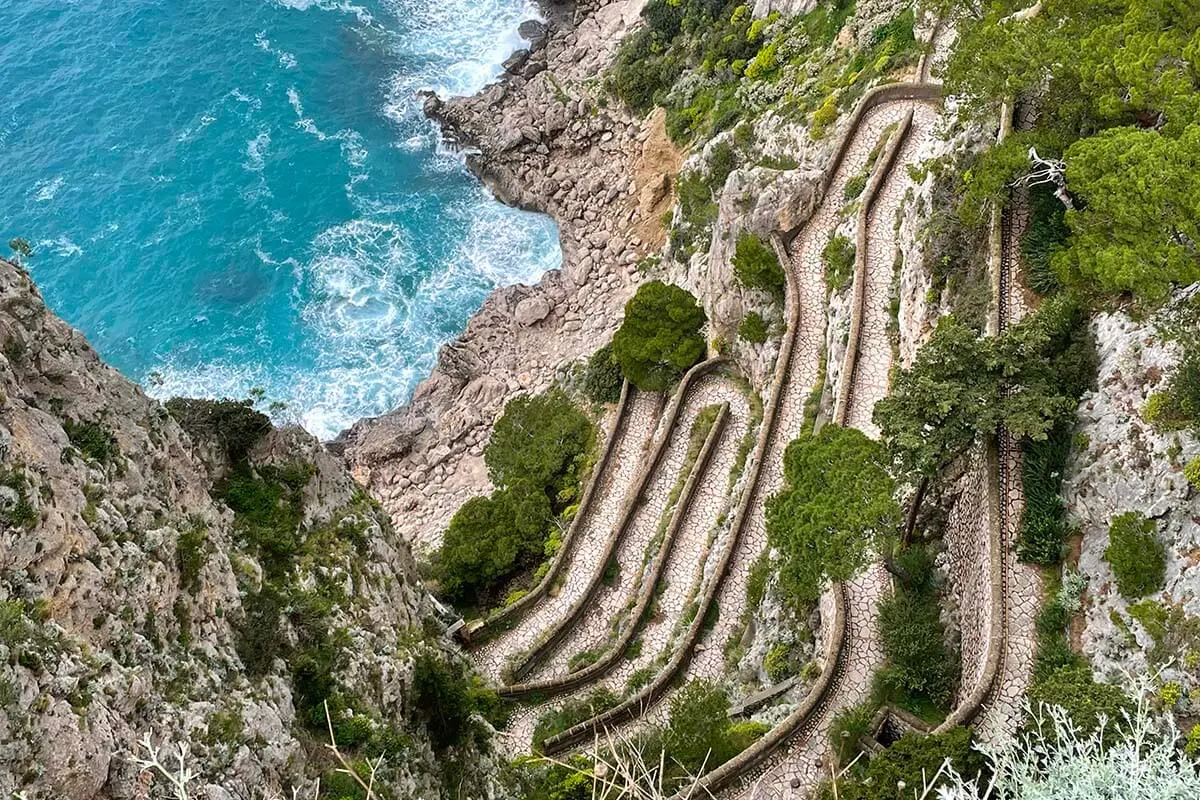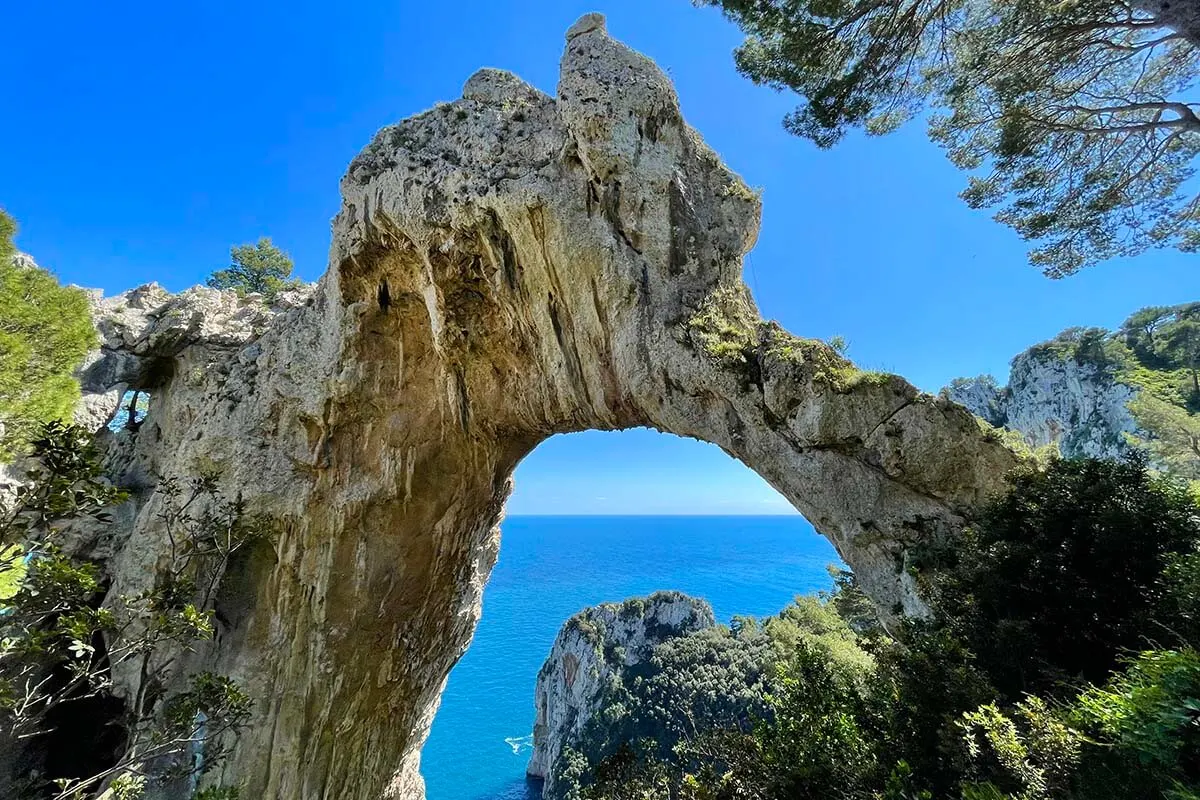 4. Amalfi Coast
The picture-perfect Amalfi Coast is one of the most beautiful places in Italy and you could easily spend a week here. But since it's relatively close to Naples (close enough to quickly visit on a day trip), many people also visit the Amalfi Coast for a day.
If a day is all you have and this is your only chance to see this stunning area, then definitely consider a day trip to the Amalfi Coast from Naples!
With a day on the Amalfi Coast, you can see 2 or 3 main towns – Positano, Amalfi, and possibly Ravello. In addition – depending on the season – you might also be able to do a boat trip along the coast. Many Amalfi Coast day tours also stop in Sorrento, which is a very nice town to see as well.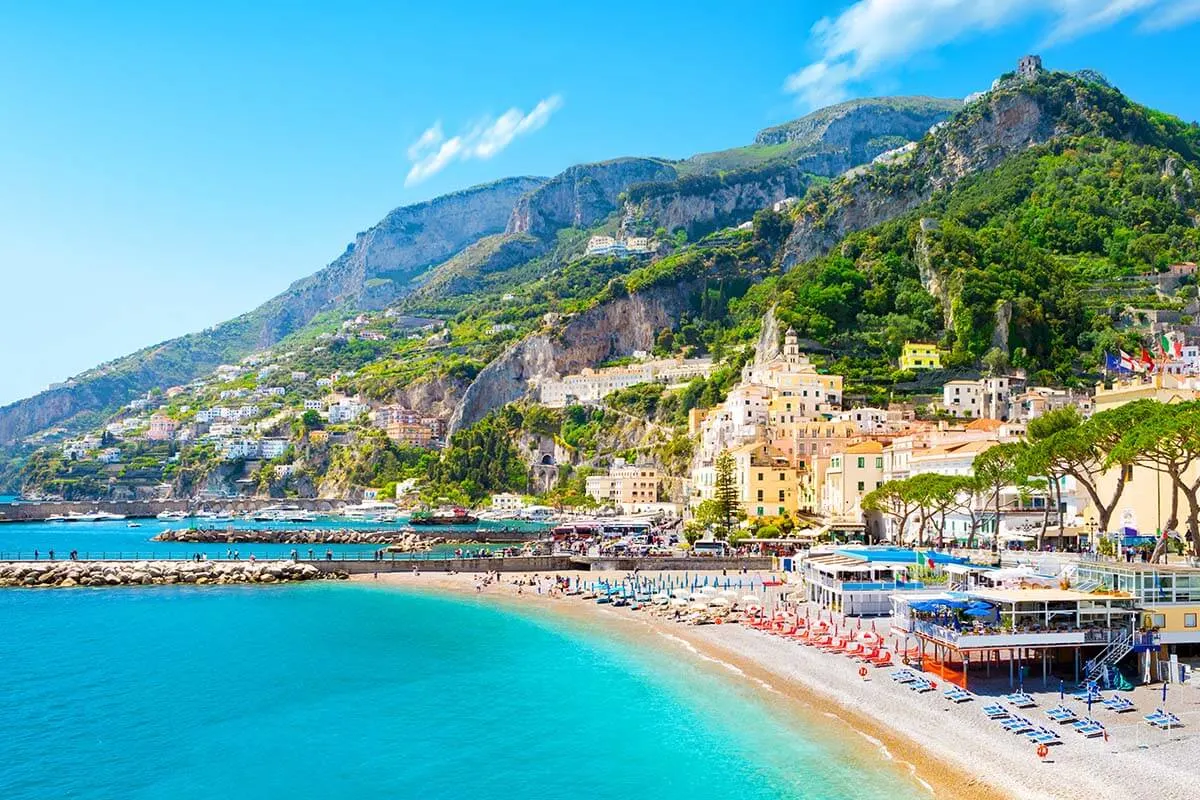 Getting there: If there's one place in this selection that I really wouldn't recommend visiting on your own by car, it's the Amalfi Coast. The traffic is crazy and parking is even worse. Instead, book a guided tour by bus, or take a boat tour (which is probably the best option in the high season).
Alternatively, you can also take a train from Naples to Sorrento and then a bus or a boat tour from Sorrento to the Amalfi Coast. However, this will require more planning, and I wouldn't recommend this if you only have a day and are coming from Naples.
TIP: If you have more time in the area, stay in Sorrento instead of Naples. It's easier to visit the Amalfi Coast and Capri from here, and Pompeii is just nearby too. In that case, check out our Amalfi Coast itinerary suggestions and Amalfi Coast travel tips.
READ ALSO: How to Get to the Amalfi Coast from Naples (includes all the transport options + the best day tours from Napoli)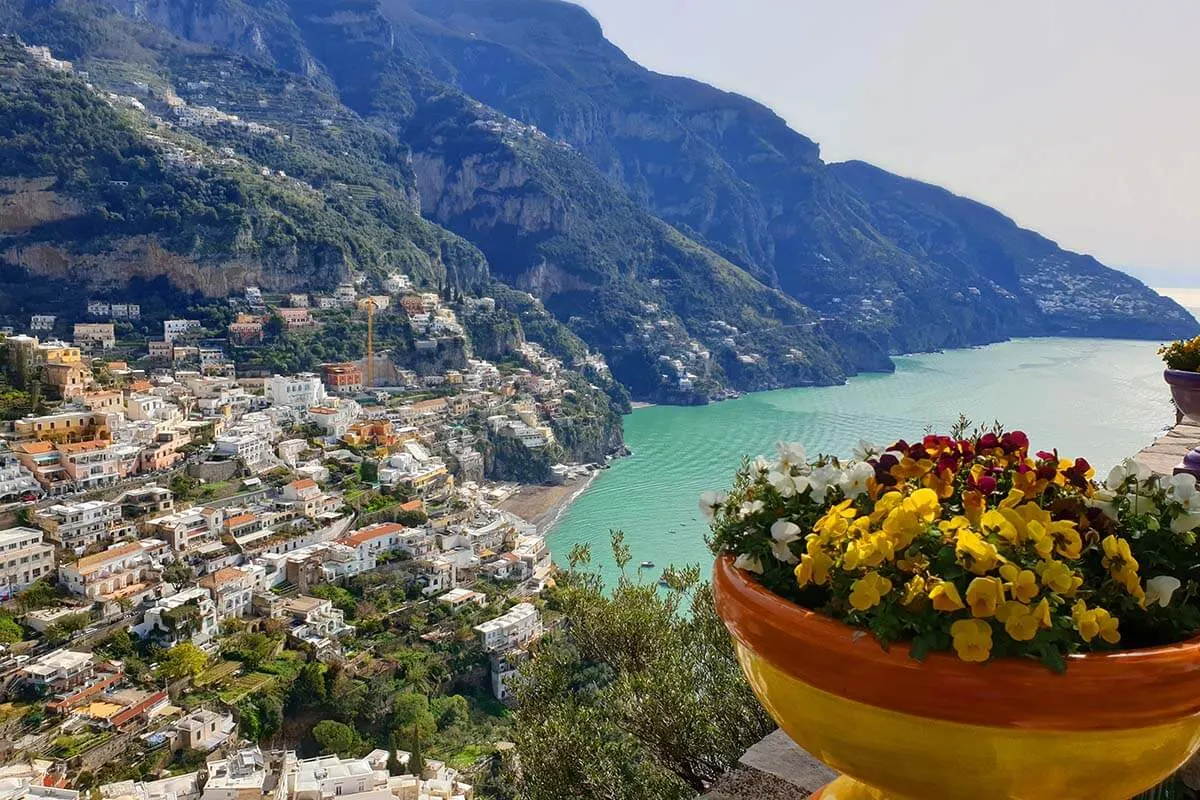 5. Herculaneum
Herculaneum is an ancient archeological site near Naples. Just like Pompeii, this old Roman town was destroyed after the eruption of the Vesuvius volcano in 79 AD.
What makes Herculaneum worth visiting is that the town is extremely well preserved, better than Pompeii actually. It's also a much smaller site so you can see everything in just a few hours (whereas with 2-3 hours in Pompeii, you just scratch the surface).
Furthermore, Herculaneum is just near the city and there's an easy train connection. So it's another destination that is doable as a half-day trip from Naples.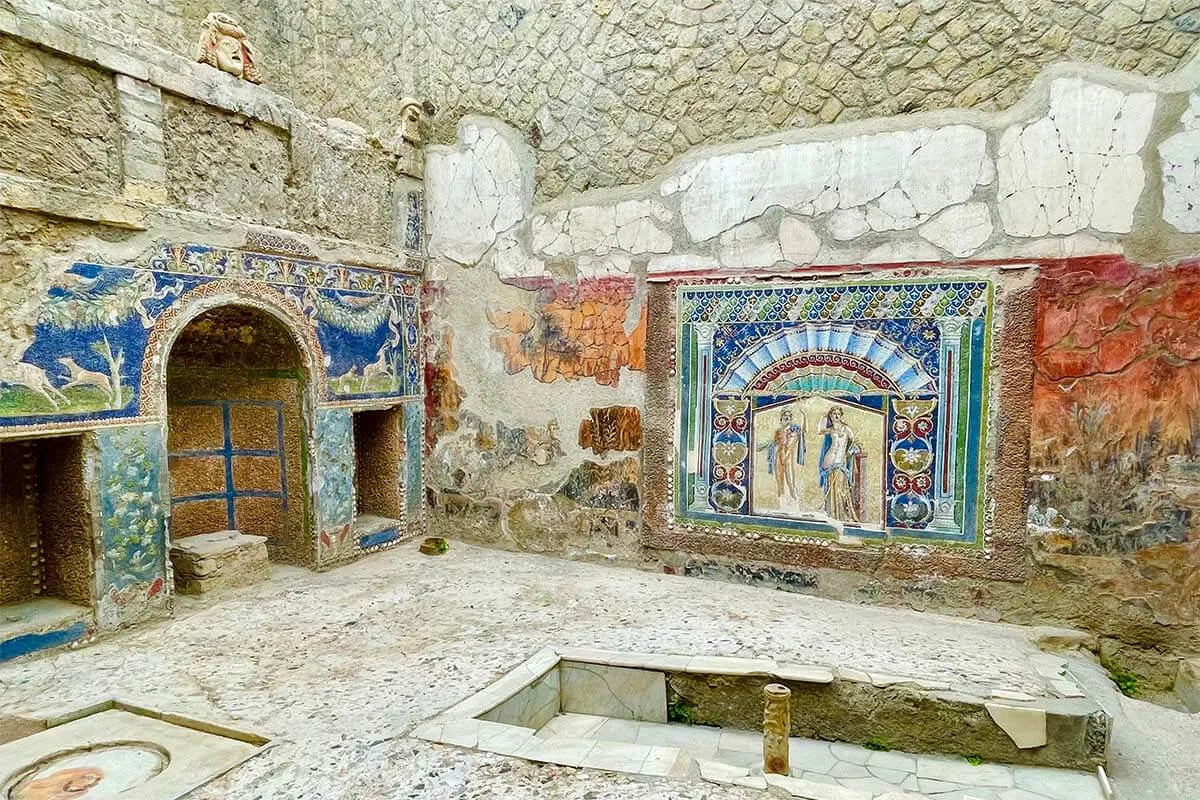 Good to know: Herculaneum is open daily except on Wednesdays. The archeological site is located just a short walk from the Ercolano Scavi railway station which has direct and frequent connections to Naples. The train ride from Naples to Ercolano takes just about 20 minutes. The walk from the station to the archeological site is just 5 minutes. This makes Herculaneum a popular excursion from Naples, also for people who prefer to travel without guided tours.
TIP: Book your tickets for Herculaneum online in advance. We didn't think to do this and ended up in a long line waiting for the tickets, whereas the 'online' ticket desk was totally empty and people with reservations could just walk in without any wait. Online tickets are valid the whole day and aren't timed, so it's really simple.
While Herculaneum is not as big or overwhelming as Pompeii, it's also a site that you'll appreciate better if you have a bit more background information. If you want to make the most of your visit here, opt for an audio guide (it's an extra option when you book entrance tickets) or book a guided tour.
Combination tours: Because Herculaneum doesn't require more than a few hours, you can easily combine a visit to the nearby Mt Vesuvius (see the Mt Vesuvius section for more information). There is also a highly-rated day tour from Naples that visits Pompeii and Herculaneum in one day. And I also found a tour that visits all three sites – Pompeii, Herculaneum, and Mt Vesuvius from Naples in one day.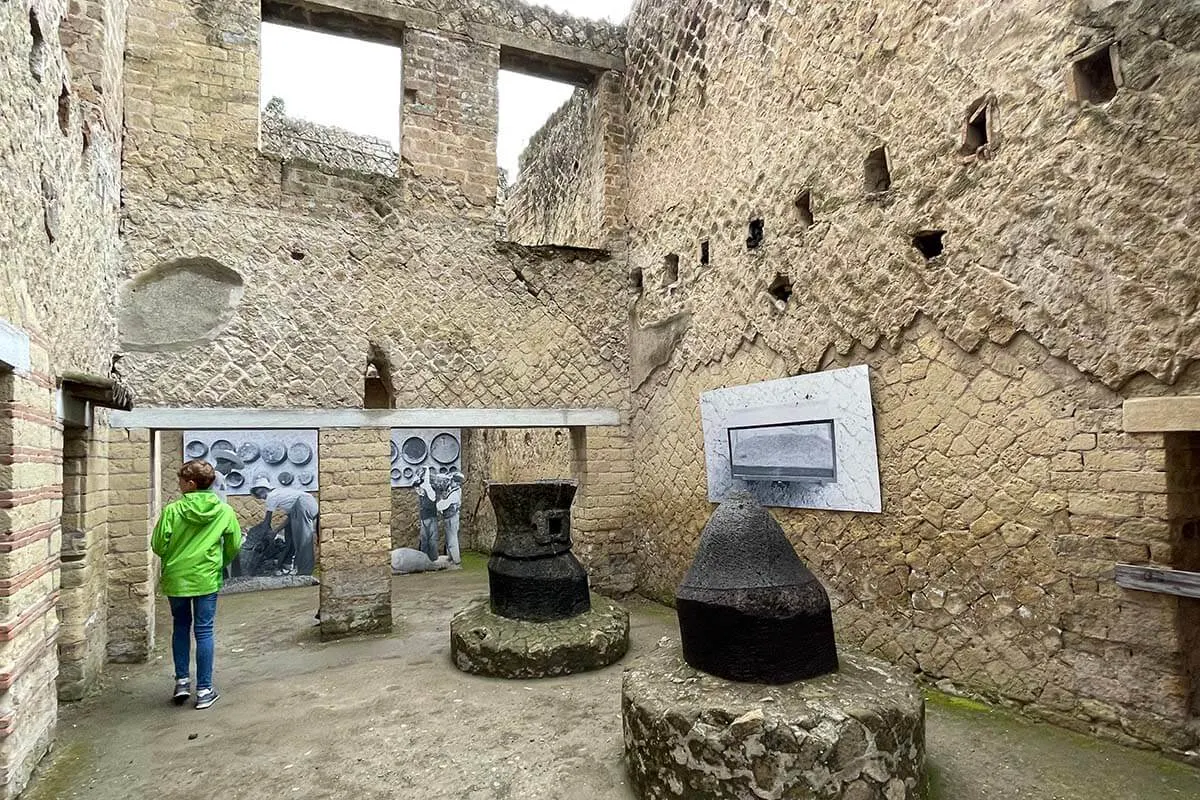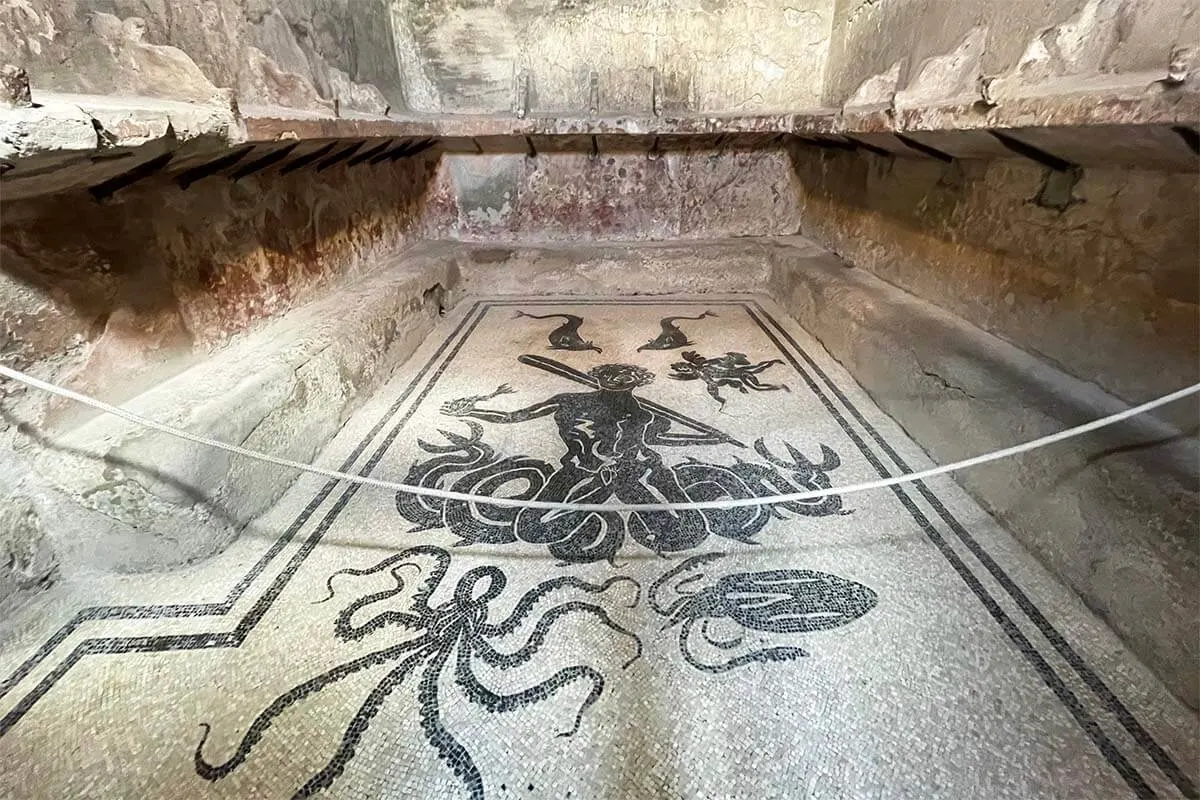 6. Royal Palace of Caserta
Often overlooked by first-time visitors, the Royal Palace of Caserta is another extremely interesting place to visit near Naples. The only reason this place is not as popular with international tourists as Pompeii or the Amalfi Coast is that there are so many amazing places to see near Naples that the competition is fierce. So most people don't have the time to visit that many sights…
However, if you have a few hours to spare in Naples, a visit to the Royal Palace of Caserta is totally worth it. And because it's not that far away from the city, it's doable as a half day trip from Naples as well.
The Royal Palace of Caserta is the largest royal palace in the world. It was inspired by the Palace of Versailles near Paris and built in the 18th century by the Bourbons who ruled over Naples and Sicily at that time.
There are three stunning royal palaces in Naples dating from the same period; the one in Caserta is by far the most impressive of them all. In addition to the opulent rooms of the palace itself, you can also visit the vast landscaped gardens with impressive fountains, sculptures, and some amazing hidden gems.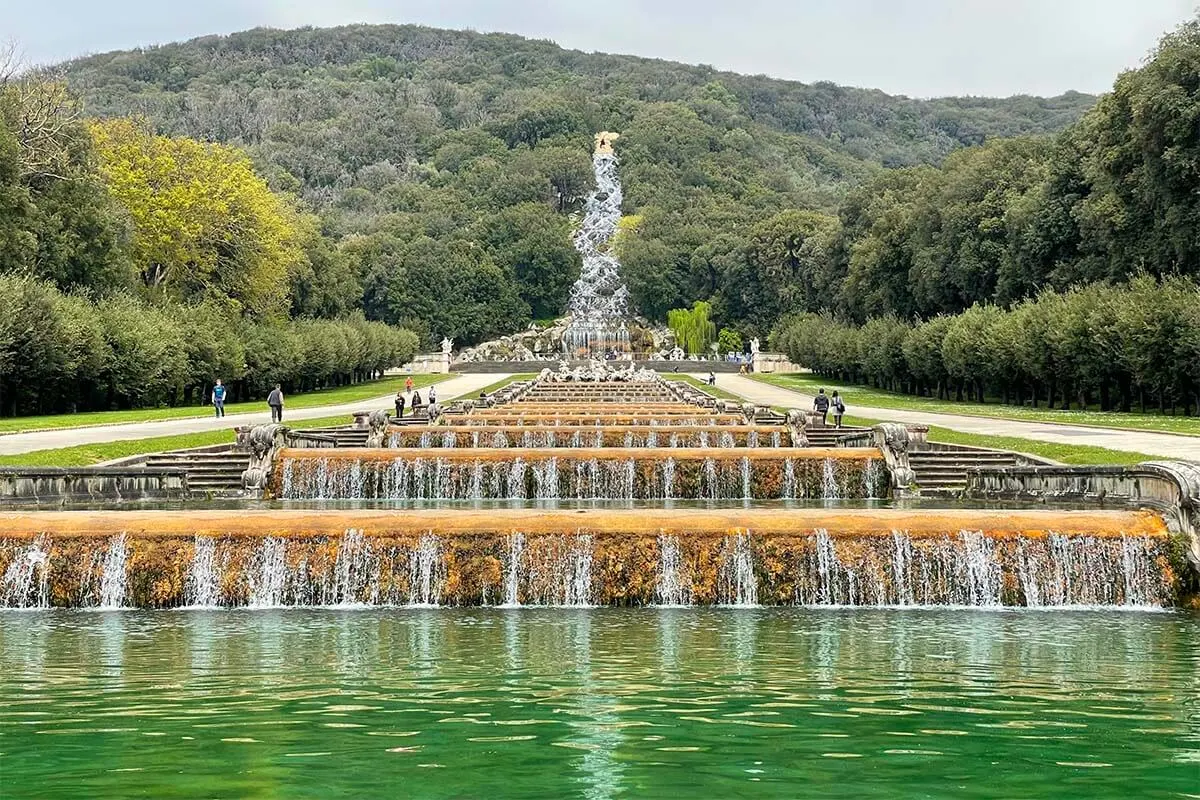 Good to know: Caserta is just 45 minutes by train from Naples and the railway station is right next to the Royal Palace. You can easily come here on your own, but there is also a 4-hour guided tour from Naples.
Keep in mind that the grounds are huge, so take advantage of the shuttle bus (a small extra fee) that can bring you to the far end of the gardens. You can then visit the nicest features and also the English Garden and take the shuttle back, or walk back. Either way, don't walk both ways or you'll lose too much time. Renting a bike is also a very nice option, but bikes aren't allowed inside the English Garden.
TIP: If you arrive by train/car, you could also opt for a guided tour of the palace. It's not cheap, but we did this and found that it was totally worth it. We wouldn't have seen half of the best places in the gardens without a guide. Also, the palace itself has so much to offer; going with a guide, you get a much better understanding of everything you see.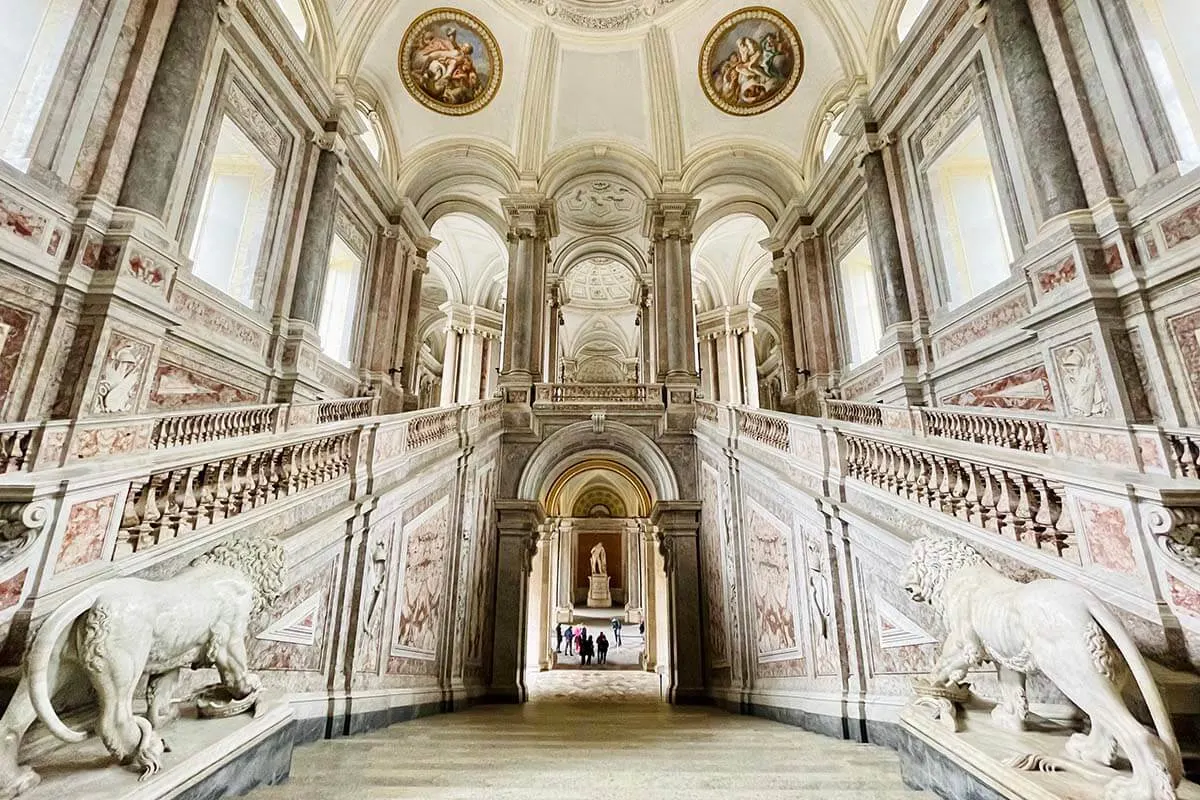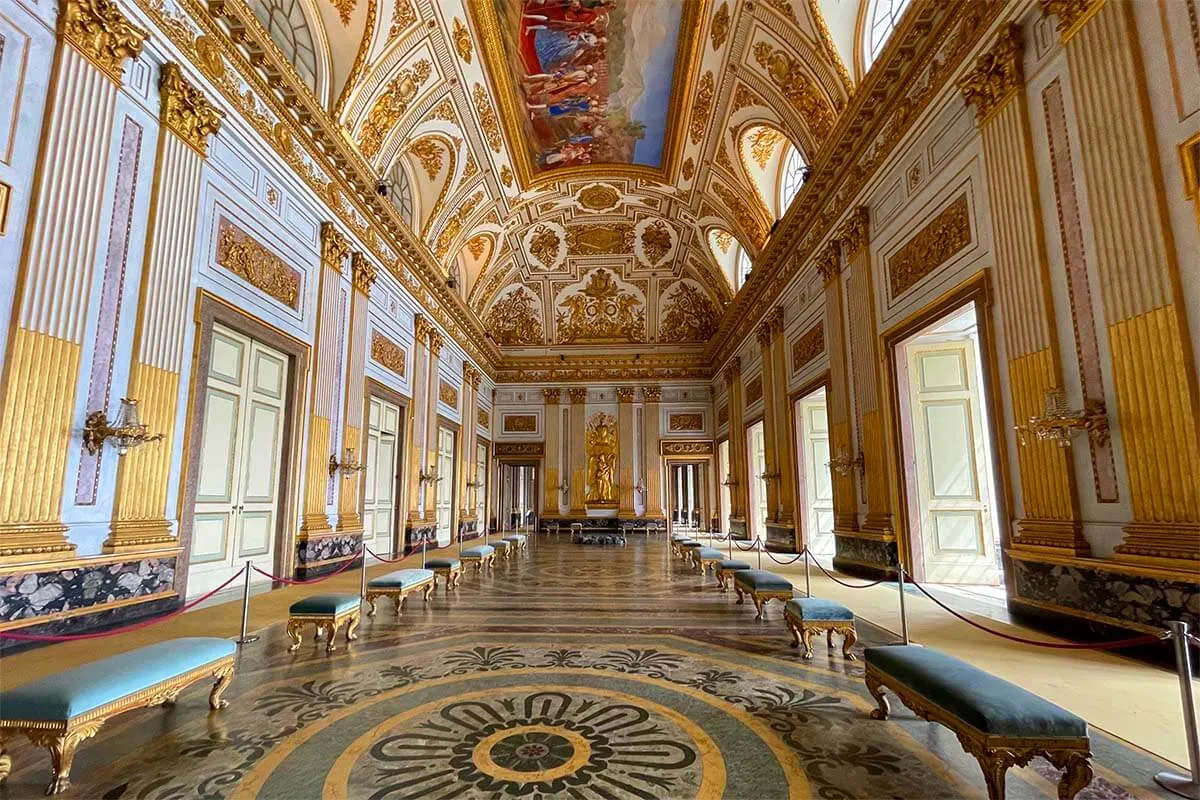 Naples day trips & tours – additional recommendations
If you have even more time in the Naples area (lucky you!), here are several additional suggestions for really nice day trip destinations near Naples: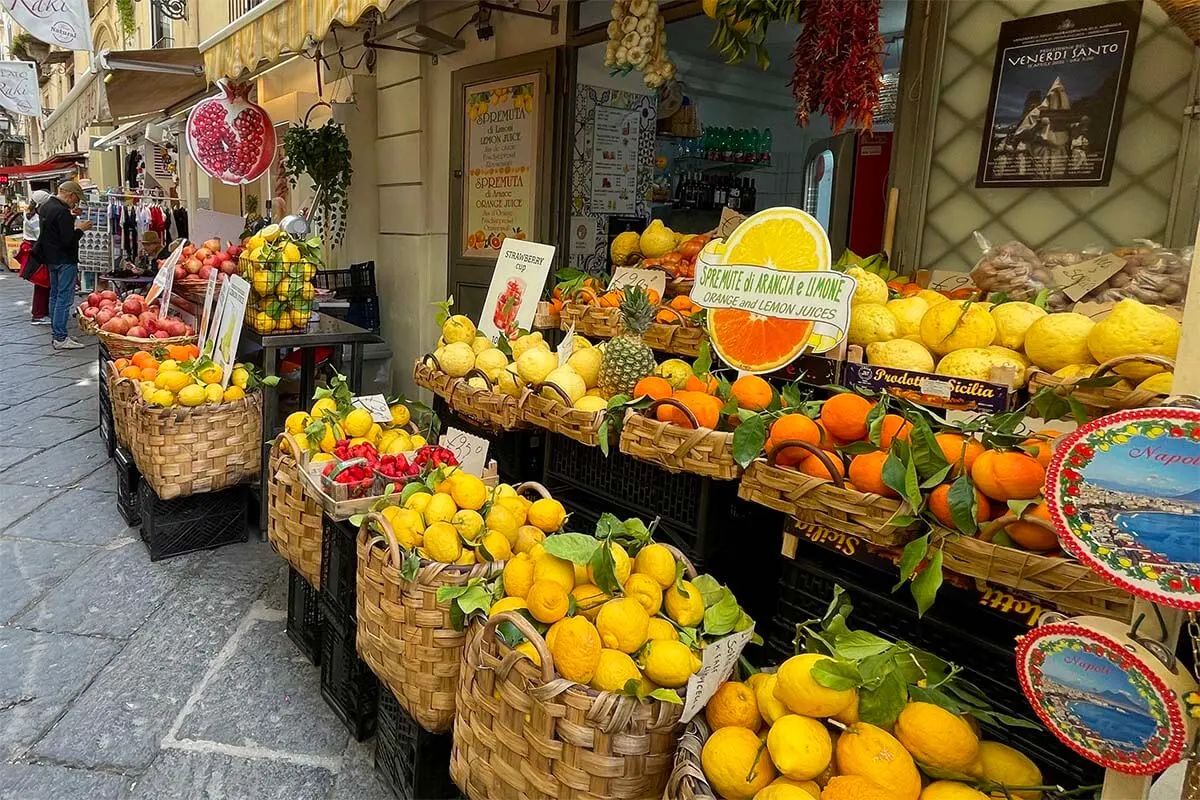 So, this is our short guide to just the very best places to visit near Naples as a day trip. There's a lot more to see and do in the area, but if you have limited time, these beautiful places near Naples are really worth your time the most.
More travel inspiration for southern Italy:
If you found this post useful, don't forget to bookmark it and share it with your friends. Are you on Pinterest? Pin this image!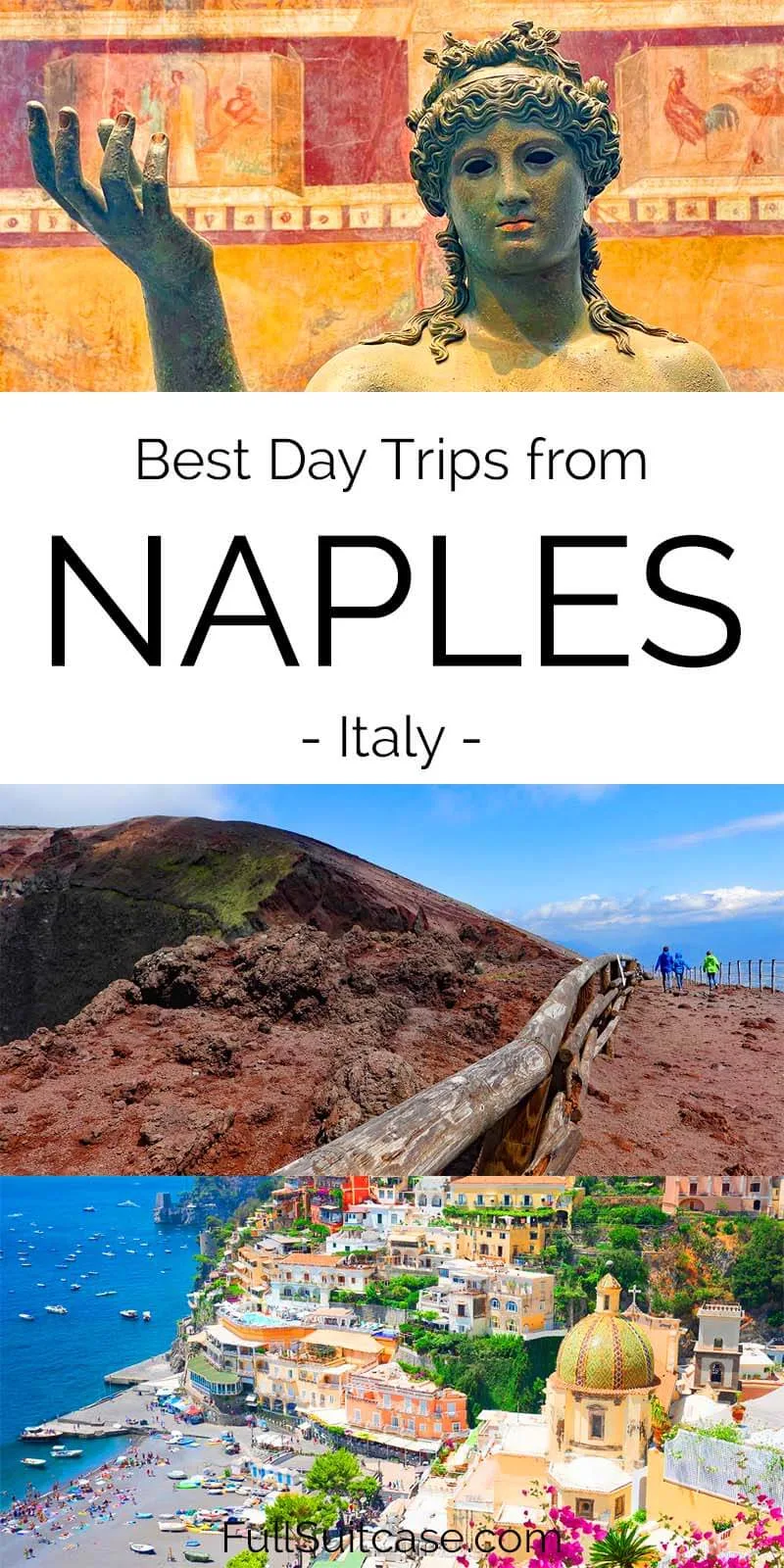 More travel inspiration for Italian cities: