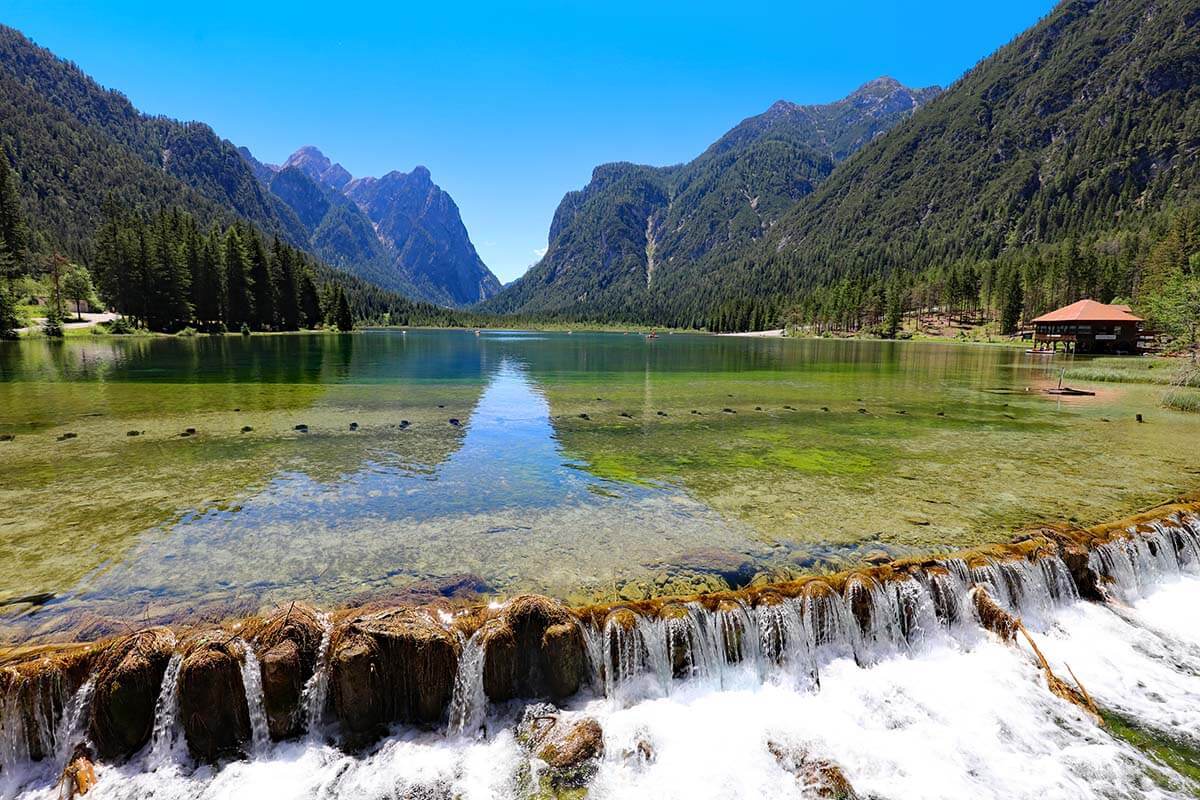 The Italian Dolomites have so many stunning mountain lakes, each more beautiful than another. Without a doubt, one of the most beautiful lakes in the Dolomites is the popular Lago di Braies (Pragser Wildsee). However, if you are looking for similar scenery, but without the crowds, the nearby Lago di Dobbiaco (Toblacher See) is well worth a visit as well!
Lago di Dobbiaco is located in Alta Pusteria in South Tyrol, Italy. It's just next to the main road and is therefore extremely easy to reach and simple to visit. Furthermore, the landscape here is absolutely stunning as well.
In this article, we share our experience visiting Lago di Dobbiaco (Toblacher See) and useful tips for your visit. Why visit, what to expect, and what to do at Lago di Dobbiaco. Take a look!
Good to know: Several languages are spoken in the South Tyrol region in Italy. Therefore, most places have two different names – one in German and one in Italian. So Toblacher See (in German) is the same as Lago di Dobbiaco (in Italian).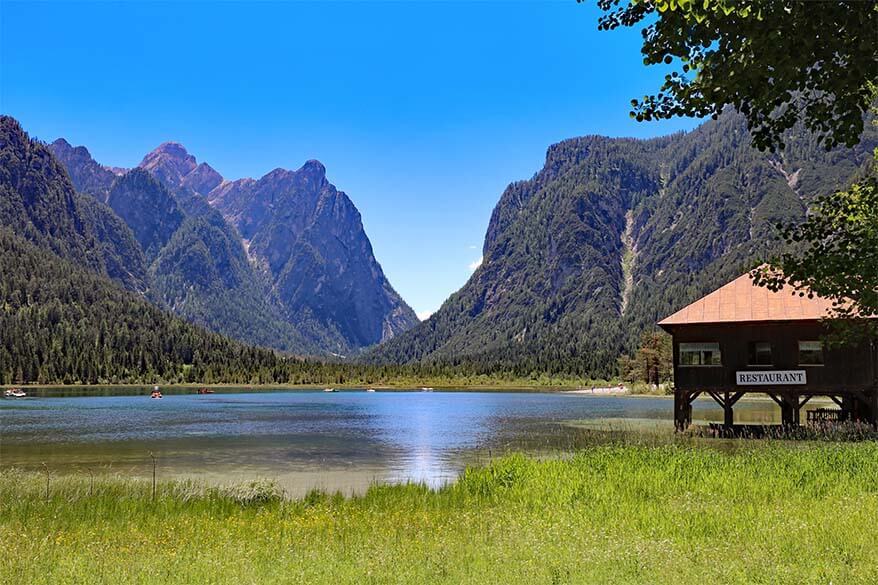 Lago di Dobbiaco – Intro & Facts
Lago di Dobbiaco is one of the many stunning mountain lakes in the Italian Dolomite mountains. It's a picture-perfect lake with turquoise waters, a green forest around it, and towering mountain peaks in the distance.
It's a small and very shallow lake with the deepest areas hardly reaching a few meters. The shore length is about 4.5 kilometers and you can walk all around the lake in less than an hour.
Elevation: 1,259 m (4,130 ft)
Surface: 14.3 hectares (35 acres)
Shoreline: 4.5 km (2.8 miles)
Maximum depth: 3.5 meters (11 ft)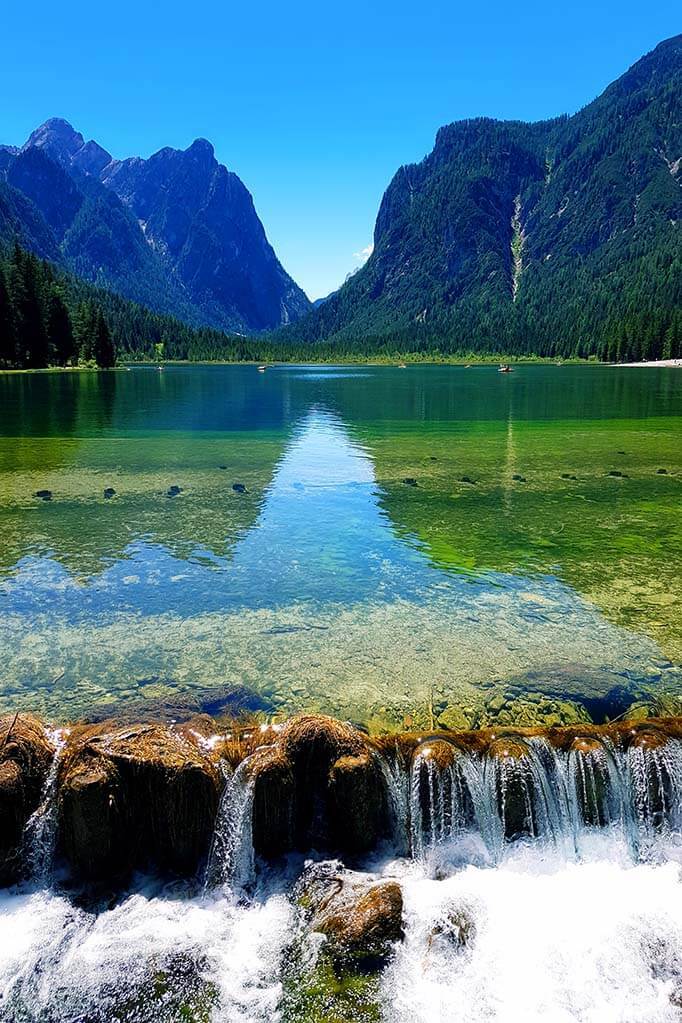 Things to Do at Lago di Dobbiaco
There are several things to do at Lago di Dobbiaco. Here's a short overview of what to expect:
Admire the scenery
The main reason to visit Toblacher See is to enjoy the stunning scenery of the lake and its surroundings! The turquoise and dark green waters of the lake in combination with a stunning mountain backdrop, make it a picture-perfect landscape.
The good thing is that you don't have to go far in order to enjoy the best views. The nicest views can be found at the northern side of the lake, just a very short walk from the car parking.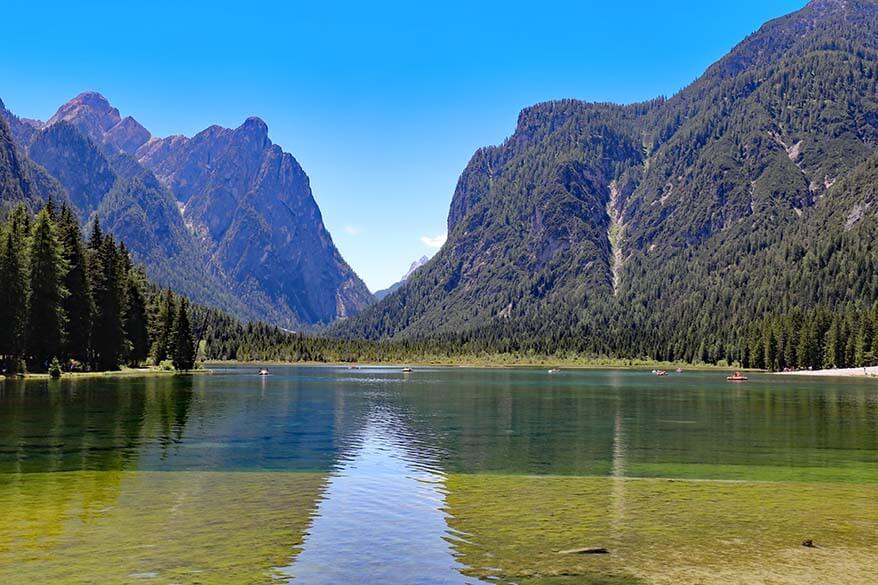 Rent a paddle boat
In summer, you can rent pedal boats (pedalo's) at Lago di Dobbiacco. Going for a boat ride is the best way to enjoy the lake, its surroundings, and admire the stunning views!
There are pedal boats of various sizes, also for bigger families. And it's really a must-do if visiting the lake. Our kids loved it too!
We also saw one rowing boat here, but nobody was using it, so I'm not sure if you can rent it. Anyway, if you have a choice, opt for a pedal boat – it's so much easier and more relaxing than the rowing boats.
Price: When we visited, the rental price of a pedal boat was 8 EUR for half an hour, or 15 EUR for an hour. You should bring cash for the payment.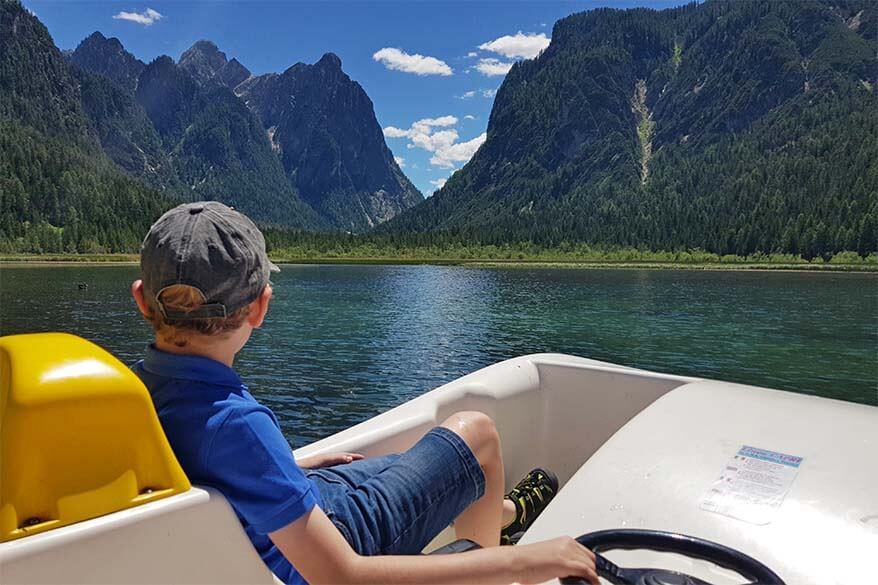 Walk around the lake
Since Toblacher See is not that big and there are nice pathways, you can also walk around the entire lake. Compared to the most beautiful Dolomites hiking trails, this is such an easy and short walk, with hardly any elevation change. It took us about 45 minutes to go all the way around it, many photo stops included.
As already mentioned, the shoreline of Lake Dobbiaco is about 4.5 km, but because the lake is so shallow, you actually 'cut' a part of it by taking some boardwalks and bridges. We forgot to measure the distance for this walk, but it was so short and so easy that the exact distance is really nothing to worry about.
This hike is also a Nature Trail here with informational panels (in Italian and in German) that provide more details about the lake, the surrounding region, as well as flora and fauna of the area. If you want to read all these informational panels, you should count 1-1.5 hours for the entire loop. The first panel can be found at the northwestern side of the lake and the walk goes anticlockwise.
Good to know: There are also biking paths close to the lake and several longer hiking trails nearby. The walking paths around the lake are quite flat, but they are not paved. That being said, if you have a wheelchair or a stroller, you can still see a lot. Part of the road at the northern side of the lake is paved and easily accessible.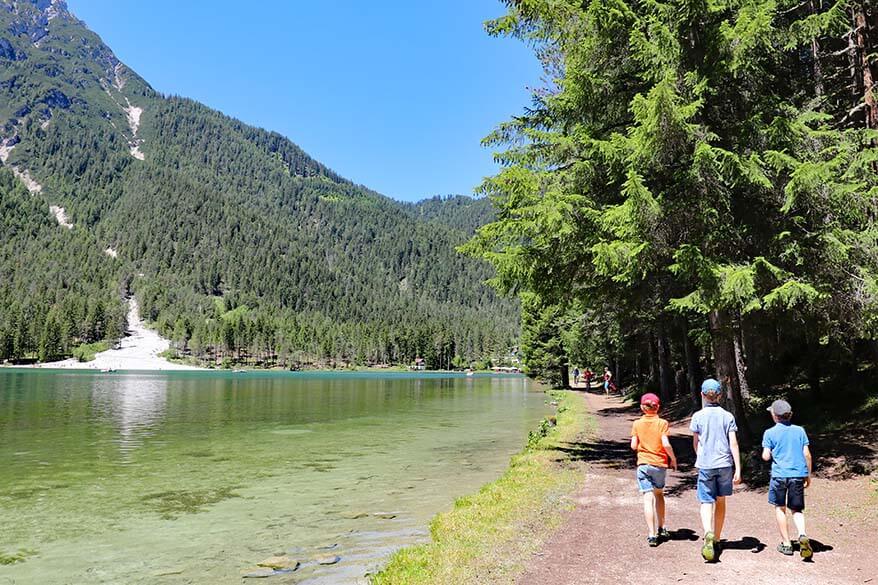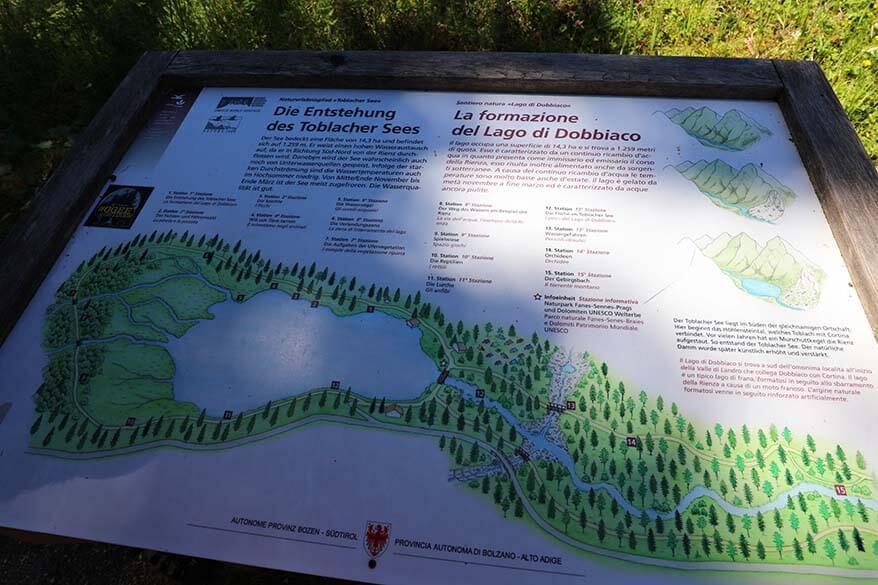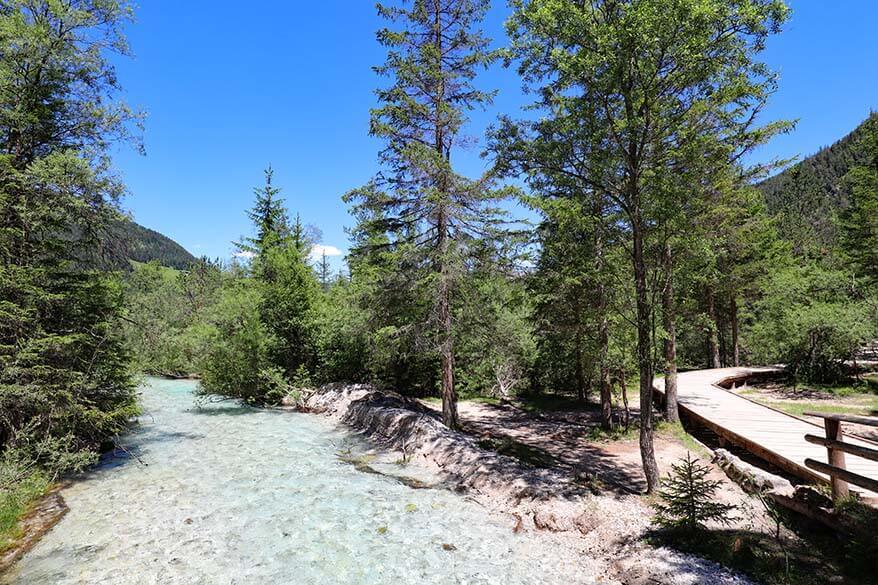 Sunbathing and swimming
At the northwestern side of the lake, there is a small rocky 'beach'. It was a nice sunny summer day when we visited and we saw several people sunbathing there.
Swimming is allowed at Lago di Dobbiaco, but the water temperature never gets warmer than 16°C (60°F). You could probably jump in the water to cool off for a few seconds, but not more than that.
Even on a sunny day in July and temperatures of over 25°C (77°F), the water here felt very cold. After our previous experience with kids going for a swim at Lago di Braies, we decided to pass on swimming at Lago di Dobbiacco…
TIP: If you are visiting this beautiful part of the Dolomites in summer and your hotel has no swimming pool, you could go swimming at the Natural Swimming pool of Dobbiaco (see their website (in Italian and German only)). Alternatively, check out the Aquafun pools and sauna world in San Candido (see their website for more info).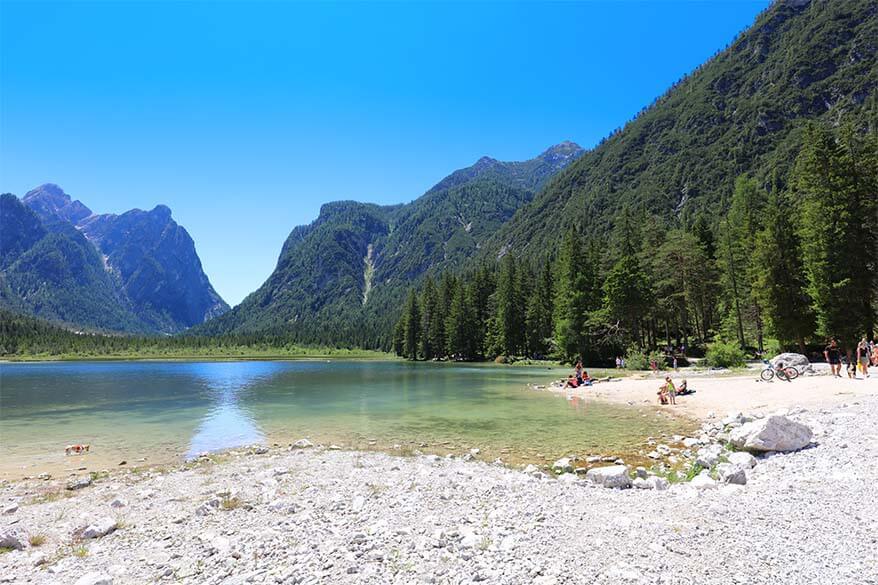 Restaurants or picnic
There are several restaurants on the northern side of Lake Dobbiaco. And there are also picnic tables along the shores of the lake.
It's a nice place for a picnic or for lunch, especially if you are not in a hurry. Just sit down and enjoy a slow Italian lunch with an amazing view.
Good to know: If you are visiting here at around lunchtime, restaurants will not seat you if you only want to have a drink. So it's either lunch or nothing at all. It's not the first place in Italy where we encounter this…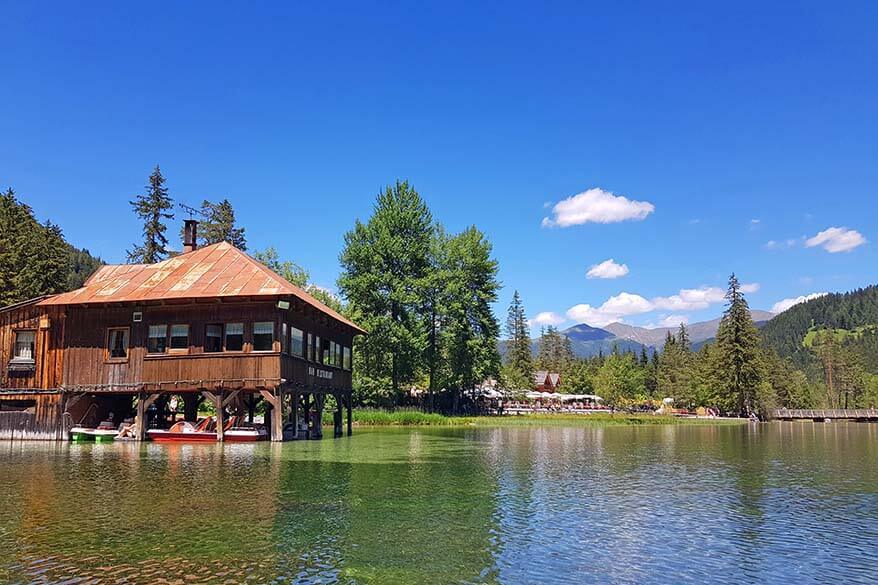 How much time do you need?
You can see Lago di Dobbiaco and take a couple of pictures of the best views in 10-20 minutes.
Count an hour if you also want to walk all around the lake at a steady pace. Add another half an hour to an hour if you want to rent a pedal boat. Add at least another hour if you are planning to have lunch at one of the restaurants. The restaurants here aren't as touristy and so it's a slow-food experience, as it should be in Italy.
We recommend planning about 1.5 hours for a visit to Lago di Dobbiaco.
Our experience: We spent 1 hour 40 minutes at Toblacher See. In that time, we walked around the lake, took way too many pictures, and spent half an hour in a pedal boat on the water.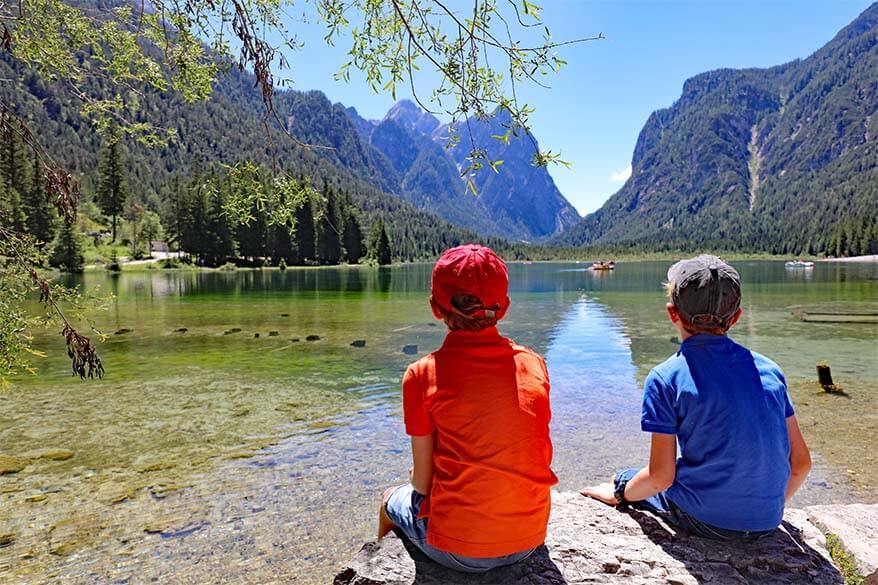 When to Visit
You can visit Lake Dobbiaco in any season. The best time to visit Lago di Dobbiaco is in summer, from June to September. The lake is very popular with the locals, so try to avoid summer weekends and the peak season from mid-July to mid-September.
You can also visit Lago di Dobbiaco in winter. The lake will likely be frozen and covered with snow between the end of November and the end of March, but it's beautiful. And since the lake is so close to the main road, it's really easy to visit in any season.
Since the area is very flat, you can also go cross-country skiing here in winter. The 30-km long cross-country skiing slope connects Dobbiaco to Cortina. In Dobbiaco town, there is also an ice skating rink.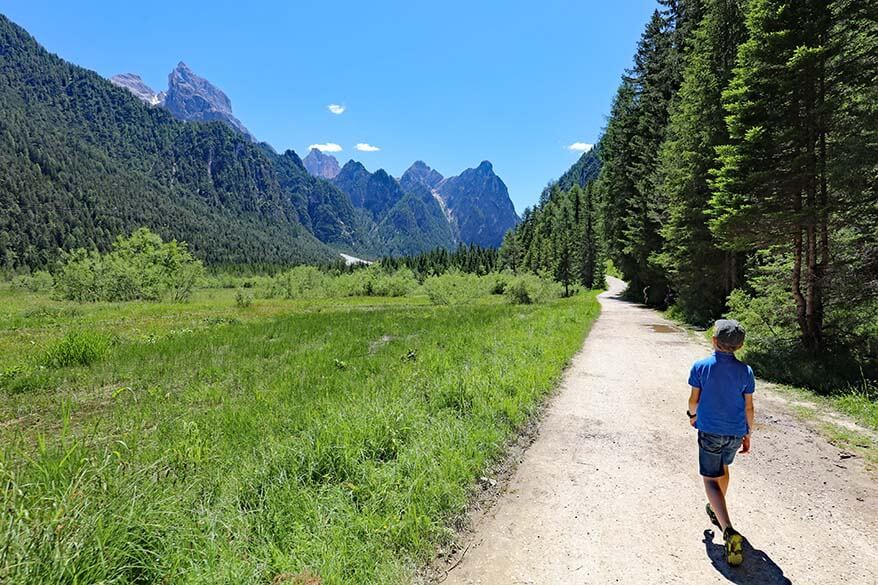 Lago di Dobbiaco with Kids
Toblacher See (Lago di Dobbiaco) is a wonderful family-friendly destination to visit with kids. Most pathways are accessible even with a stroller, so you could easily come here with a baby or a toddler as well.
The easy hike around the lake and pedal boats are great activities that you can do with kids of any age. Also the easy accessibility and good facilities make Lago di Dobbiaco a perfect place to spend a couple of hours with children.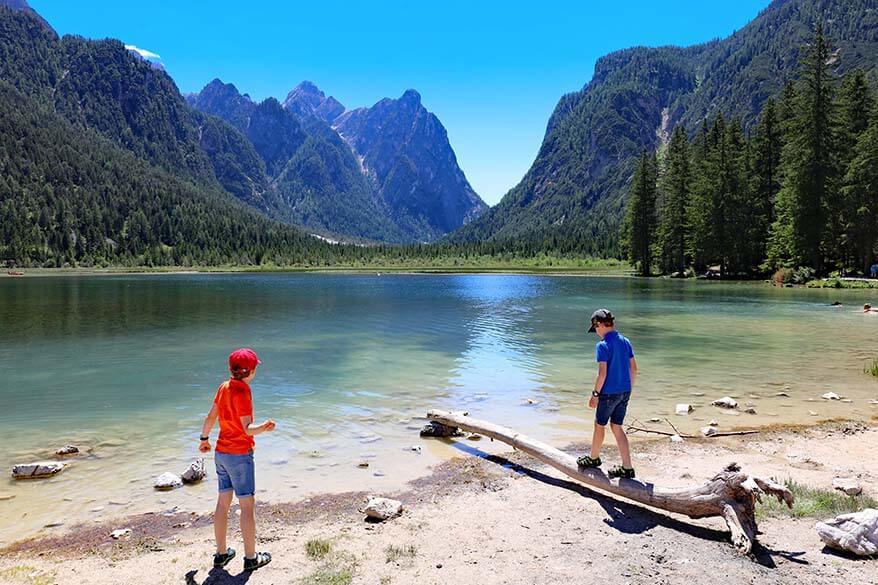 Practical Information
Lago di Dobbiaco is located south of Dobbiaco town (Toblach) in the South Tyrol region in northern Italy (see map). The lake is just next to the road SS51 and can best be reached by car. Lago di Dobbiaco is about 30 km/ 30 minutes drive from Cortina d'Ampezzo or about 18 km / 20 minutes drive from Lago di Braies.
There are several parking areas right next to the road, near Hotel Baur Al Lago. At the time of our visit, the parking fee was 2 EUR per hour. Please note that parking spots here are really limited, but because it doesn't take long to visit the lake, you usually don't have to wait long for a spot.
There are bathroom facilities in between the car parking and the lake. There are also several restaurants and camping at the northern end of the lake.
Where to Stay
You don't have to stay at Lago di Dobbiaco in order to visit it. For most people, it's just a very short stop on the way between Lago di Braies and Cortina d'Ampezzo.
However, if you do want to stay within walking distance from the lake, you can either stay at the Skyview Chalets & Camping on the northern side of the lake (they also have some amazing chalets with the most beautiful views!) or at the Hotel Baur Al Lago.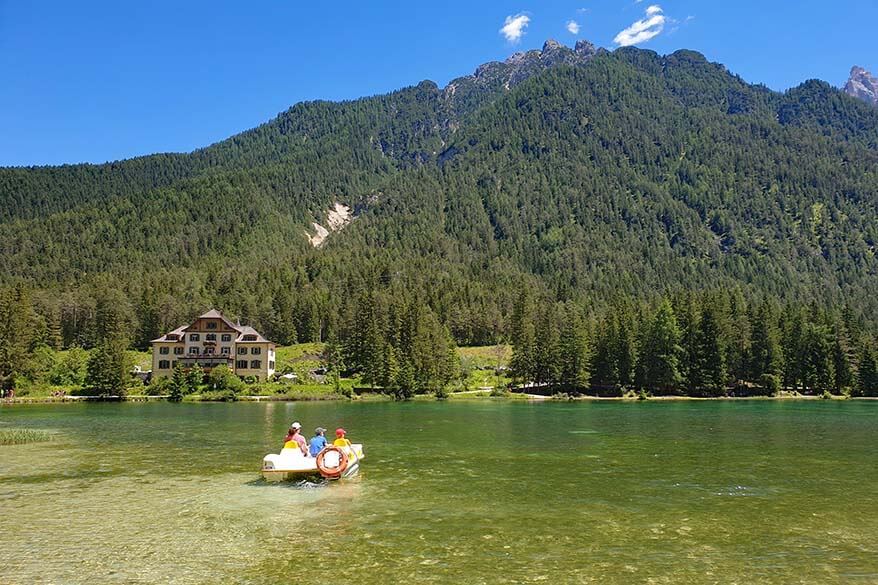 Lago di Braies vs. Lago di Dobbiaco
If you are wondering which one to visit – Lago di Braies (Pragser Wildsee) or Lago di Dobbiaco (Toblacher See) – we recommend going to both lakes. They are so beautiful and so close to each other that both are worth a visit. Furthermore, you can easily visit both lakes (and more) on the same day.
While the scenery at both lakes is very nice, Lago di Braies is definitely more impressive than Lago di Dobbiaco. But it's also extremely touristy and very busy, whereas Lago di Dobbiaco has a much more local feel. You also need more time for a visit to Lago di Braies because it's further from the main road. In addition, in high season, the road gets closed and you have to take a shuttle.
A visit to Lake Braies is also more expensive. While you can visit both lakes free of charge, the car parking and boat rental is twice as expensive at Lago di Braies than at Lago di Dobbiaco.
If you only come for a couple of pictures and are not planning to do any activities, you can visit Lago di Braies in about 30 minutes, and Lago di Dobbiaco in just 10-15 minutes.
For a proper visit to Lago di Braies (hiking around the lake, hiring a rowing boat, and just enjoying your visit), count 2-3 hours. For a relaxing visit to Lago di Dobbiaco (including hiking and hiring a pedal boat), you'll need about 1.5 hours.
LEARN MORE: Complete guide to visiting Lago di Braies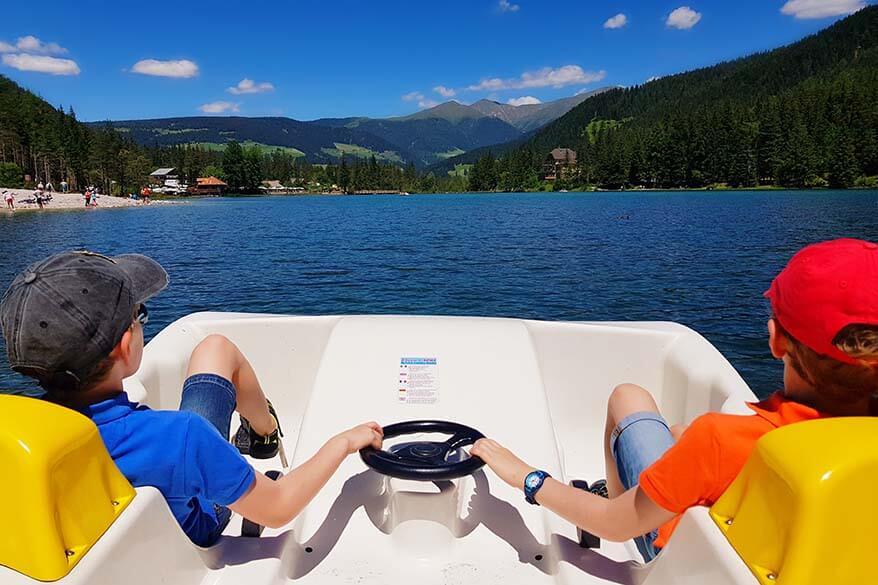 TIP: If you are visiting the region in summer, be sure to check our guide to the best hikes in the Dolomites. If you are not sure how to plan a trip and make the most of your time, check our Dolomites itinerary suggestions.
In addition, see our detailed guides to some of the nicest places in the Italian mountains:
READ ALSO: Best Places to Visit in the Dolomites
If you found this post useful, don't forget to bookmark it and share it with your friends. Are you on Pinterest? Pin this image!