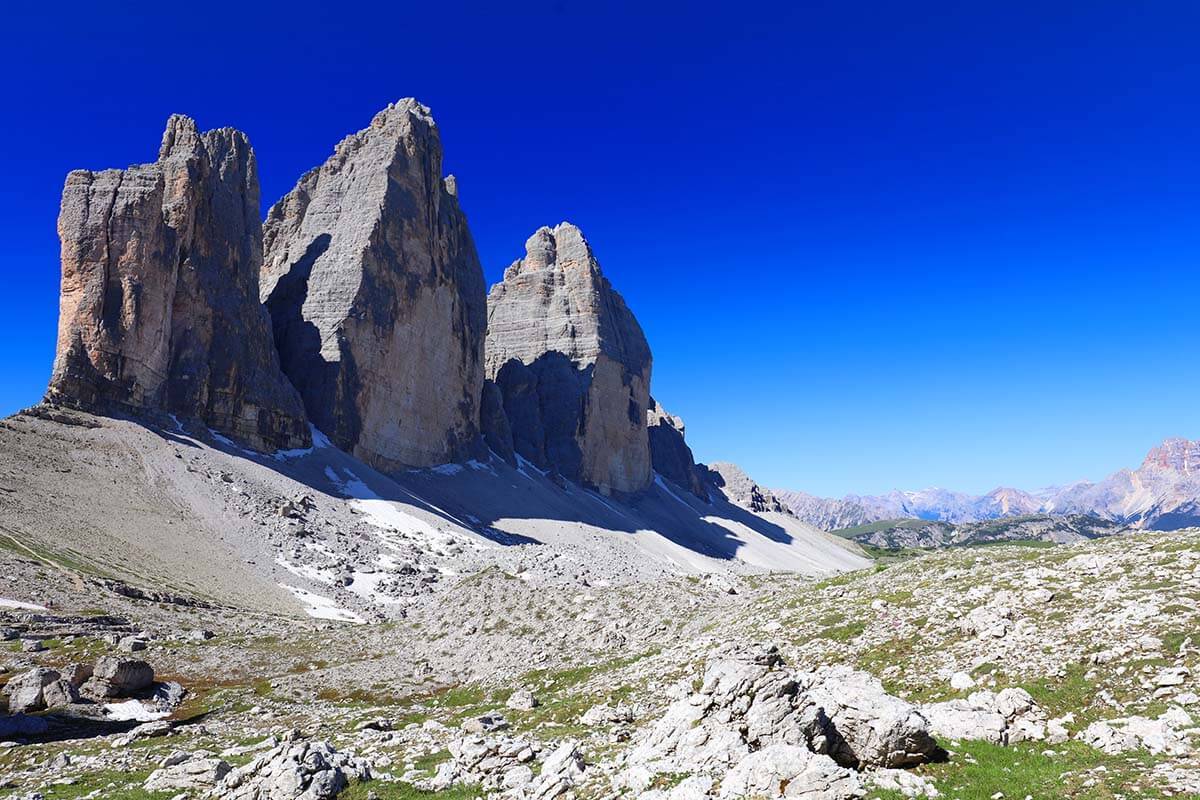 Tre Cime di Lavaredo (Drei Zinnen) is the symbol of the Italian Dolomites UNESCO World Heritage Site and probably the most iconic hike in the Dolomites. It seems that if people do just one hike in the Dolomites, they always choose this one. And quite rightly so – the views here are phenomenal!
If you are looking for practical information for the Tre Cime hike, if you are wondering what to expect, where exactly to hike, and where to find the very best viewpoints, then read on!
In this article, we share our experience with hiking Tre Cime di Lavaredo loop trail. We did this hike twice, with kids, and in very different circumstances. So all the tips in this article are based on our first-hand experience and a bit deeper research that will bring you to the places not mentioned in most other guides describing the Tre Cime hike.
Good to know: In this post, you can find all the little details that you may want to know when planning to hike the Tre Cime loop. From where to find the hike trailhead and in which direction to hike, to every step and turn along the way. Furthermore, we included our top tips for a few very easy detours that will make your hike so much more special and even more memorable. Find out!
READ ALSO: Best Hikes in the Dolomites
Tre Cime Hike Overview
Distance: +-10 km / 6 miles
Difficulty: Moderate
Duration: 3 hours (hiking time only)
Elevation change: 340-400 meters (1,100 – 1,300 ft)
Overview of the Tre Cime de Lavaredo hike: Start at Rifugio Auronzo (2.320 m). Hike to Rifugio Lavaredo (2.344 m) and to Forcella Lavaredo (2.454 m). Continue in the direction of Rifugio A. Locatelli (2.405 m) and make sure to actually go up to the hut for amazing views! Afterwards, continue to Malga Langalm (2.232 m) and via Forcella del Col de Mezzo (2.254 m) back to Rifugio Auronzo (2.320 m).
Good to know: Based on the numbers above, it might look as if there is hardly any altitude change on the Tre Cime hike. However, it is an uphill/ downhill hike so there is some climbing to do. Depending on where exactly you hike, the total elevation gain of the Tre Cime loop is about 340 – 400 meters (over 1,000 ft).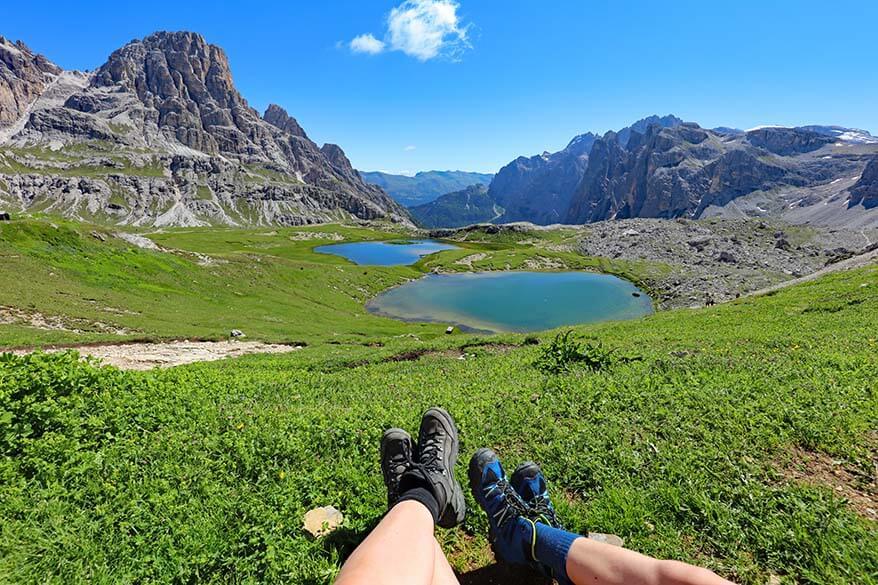 Practical Info
How long is Tre Cime di Lavaredo hike?
Tre Cime di Lavaredo hike is about 10 km (6 miles). In addition, there are a few very nice short detours. We hiked about 11 km (6.8 miles) in total. Hiking the entire Tre Cime circular trail takes about 3 – 3,5 hours. This is walking time only. Realistically, you should count 3,5 to 5 hours for this hike.
Where does Tre Cime hike start and end?
Tre Cime di Lavaredo hike is a circular trail that starts and ends at the large car parking area at Rifugio Auronzo (see map below).
Is Tre Cime hike difficult?
Tre Cime hike is a moderate hike with a total elevation change of about 340-400 meters (1.100 – 1.300 ft). Some parts of the trail are very easy and flat, whereas some others require a bit of uphill walking and are more challenging. That being said, you can do this hike even with kids.
Are there facilities along the Tre Cime loop hike?
Tre Cime hike passes several mountain huts with restaurants and bathroom facilities. So yes, there are plenty of facilities along the Tre Cime di Lavaredo trail.
Can you get to Tre Cime by public transport?
Tre Cime is the most popular hike and, in order to limit traffic, there are frequent buses between Cortina d'Ampezzo via Misurina to Rifugio Auronzo where Tre Cime hike starts. Buses only run in high season. More info at the bottom of the article.
Is there an entrance fee at Tre Cime?
There is no fee to hike at Tre Cime, but you have to pay 30 EUR entrance fee in order to drive up to Rifugio Auronzo by car. The fee is per car and there is no extra fee for parking.
When is the best time to hike at Tre Cime?
Hiking season at Tre Cime di Lavaredo is between June and September. In June, there might still be quite some snow on the trail. Therefore, the very best time for the Tre Cime di Lavaredo hike is between July and the beginning of September.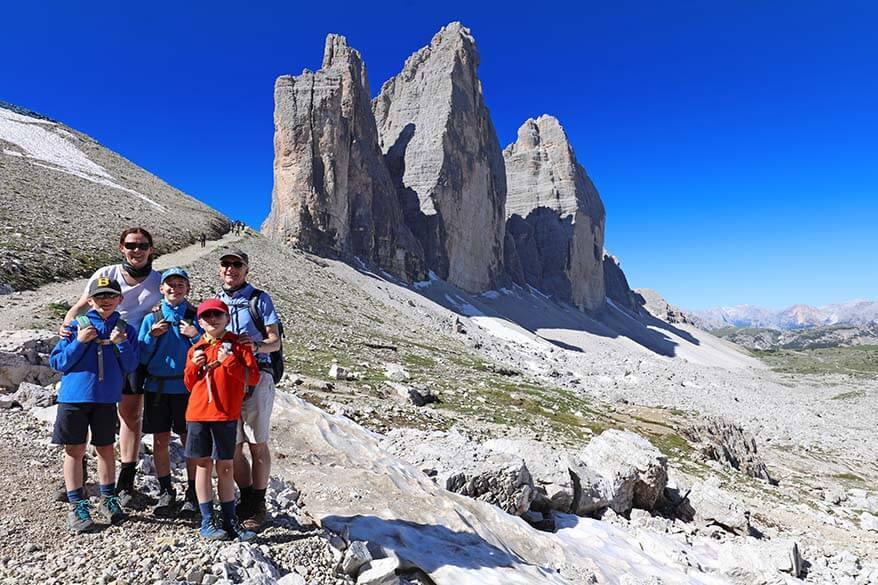 Map of Tre Cime Loop Trail
To help you get a better idea of where exactly to hike, I created a map indicating the exact Tre Cime hiking route as described in this article.
Make sure to also read our explanation below so that you don't miss the best views! The short detours indicated in purple, red, and yellow are well worth it if you want to experience the best views of the area.
How to Use This Map: Use your computer mouse (or fingers) to zoom in or out. Click on the icons to get more information about each place. Click the arrow on the left top corner for the index. Click the star next to the title of the map to add this map to your Google Maps account. To view the saved map on your smartphone or PC, open Google Maps, click the menu button, and go to 'Your Places'/'Maps'.
What to Expect
When visiting Tre Cime, expect phenomenal scenery and lots of people. This is one of the top places in the Dolomites!
Tre Cime di Lavaredo hike is so popular because the three iconic mountain peaks are considered the symbol of the Dolomites. In addition to these impressive rocks, you can also enjoy some of the best far views in the Dolomites from this hike. Furthermore, this hike offers more variety than it looks at first sight. This area is stunning and well worth a visit!
The good news is that you don't have to hike the entire loop around the Tre Cime peaks in order to enjoy the views. You can just hike to Rifugio Lavaredo or to Forcella Lavaredo and be rewarded with the most spectacular scenery. The negative side is the crowds. Tre Cime is a popular place with locals, international visitors, and also big bus tours. If you can, try to avoid coming here on weekends!
Good to know: If you are prepared to hike the entire loop, you'll be glad to know that most visitors don't go further than Forcella Lavaredo. So while the first part of the hike is really busy, it gets quieter after that.
TIP: If traveling in high season (July or August), you should try to arrive at the Tre Cime car parking before 8 – 8.30 AM. It gets really busy here and even though the parking area is huge, it usually fills up by 9 AM. It's even worse on the weekends… Or – weather permitting – come later in the afternoon when people are starting to leave.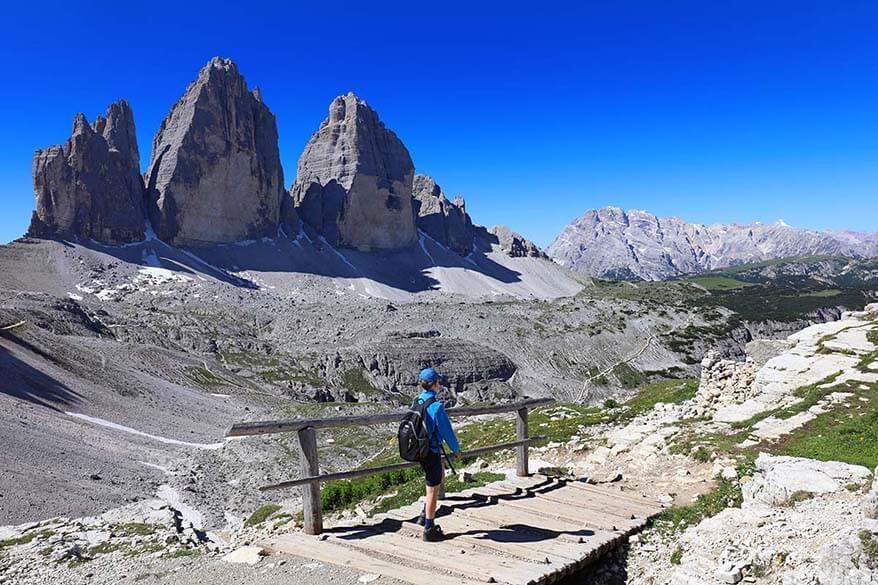 Hiking Tre Cime di Lavaredo Loop
Below, you can find detailed instructions for separate sections of the entire Tre Cime hike. I also included a few small detours that we highly recommend. Take a look!
Tre Cime Loop Trailhead
Tre Cime di Lavaredo loop trail starts at Rifugio Auronzo.There is a huge car parking area here, over several levels, and it might look overwhelming to find the start of the hike when you arrive.
The Tre Cime hike starts right behind Rifugio Auronzo, on the left back side of the restaurant. If you are parked on one of the upper parking areas, just walk to the east and you can join the wide gravel path above Rifugio Auronzo, without necessarily having to walk down to the mountain hut first.
We recommend hiking Tre Cime loop anticlockwise. But if you want to go in the opposite direction, you can find the trailhead on the western side of the upper parking area.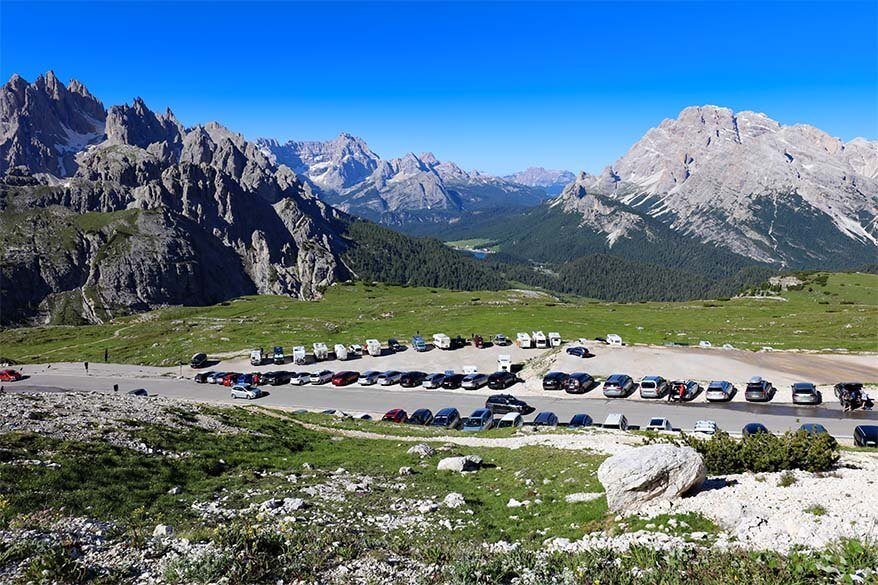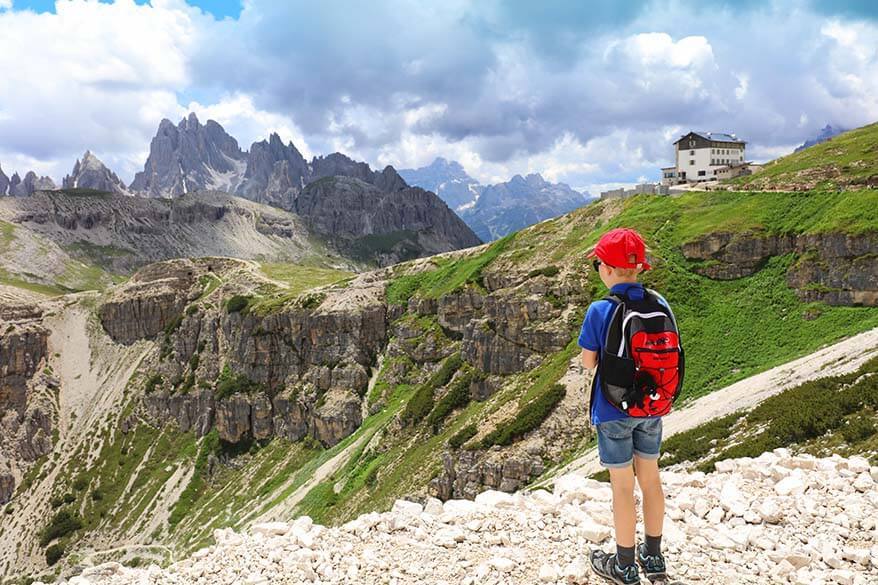 Rifugio Auronzo to Rifugio Lavaredo
Once you find the wide gravel road behind Rifugio Auronzo, just walk east in the direction of Rifugio Lavaredo. About halfway, you'll see a small chapel, Cappella degli Alpini. Don't forget to stop once in a while and also look at the view behind you. The scenery in the other direction is spectacular so don't miss it!
The first part of the hike is flat and very easy. This is also by far the busiest section of the entire trail. You'll see families with young kids (the path is accessible for strollers) and groups of tourists walking here. Rifugio Auronzo – Rifugio Lavaredo walk is 1.7km one way and takes about 30 minutes.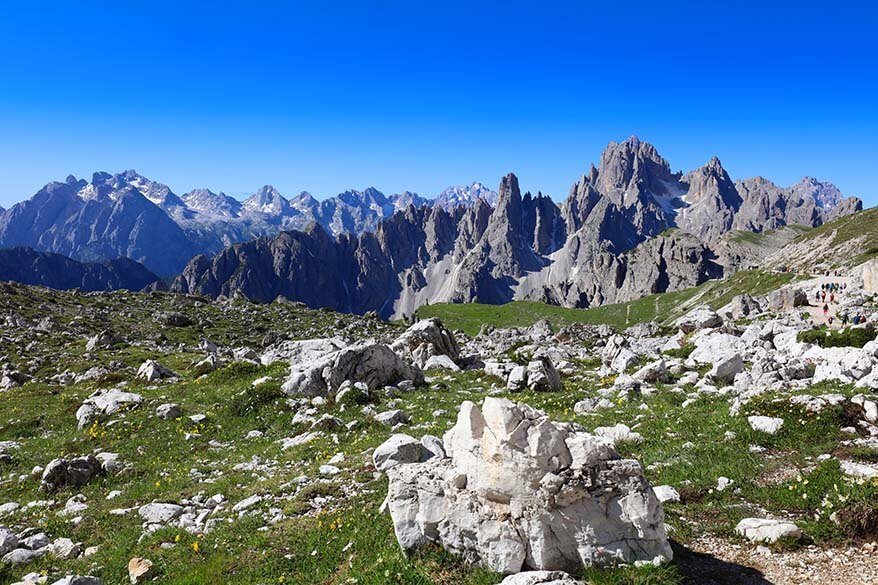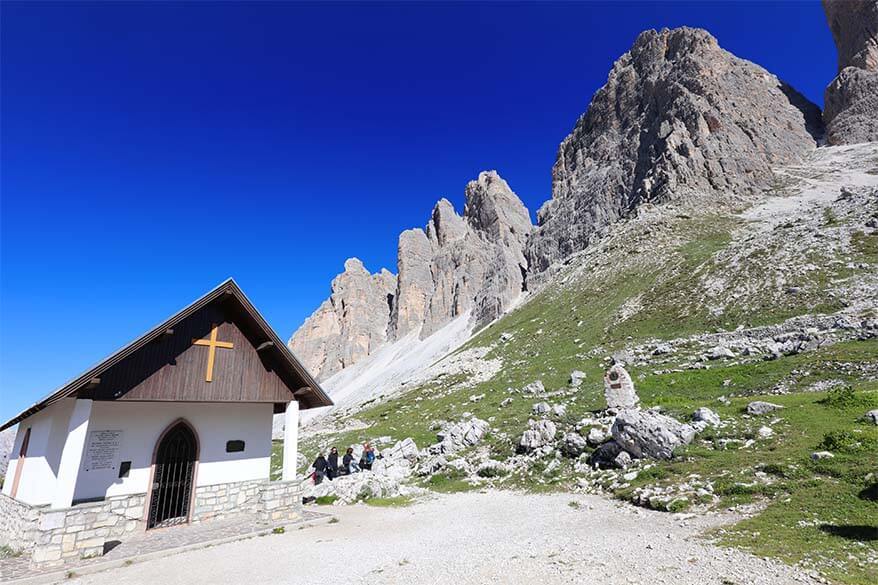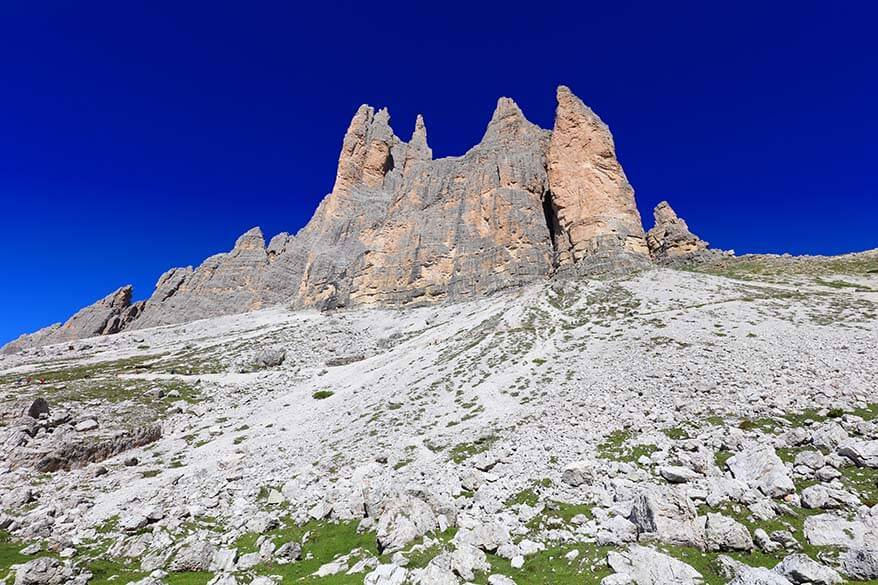 Rifugio Lavaredo to Forcella Lavaredo
At Rifugio Lavaredo, you have 2 options (!) on how to reach Forcella Lavaredo (Patternsatel). This is the first place from which you can see the famous Three Peaks of Lavaredo. Most visitors and especially tour groups don't go further than this point.
The first trail to Forcella Lavaredo can be found just before you reach the Rifugio Lavaredo mountain hut. It's a narrow path to the left, following the edge of the mountain and leading straight to the Forcella Lavaredo viewpoint. This trail is quite steep, but it's also shorter. Count about 20 minutes to get here from Rifugio Lavaredo (+-1km).
Alternatively, you can also continue walking past Rifugio Lavaredo and follow the wide gravel road all the way to Forcella Lavaredo (I indicated this detour in purple on the map above). This trail is longer and will take you about 30 minutes, it's a bit less steep than the first one.
We did both of these trails – one the first time we hiked Tre Cime and the other one – the second time. I find that the wide road that leads past Rifugio Lavaredo offers better views. You are walking a bit further away from the Tre Cime peaks and have a better overview of the area. It takes a bit longer, but I think it's worth it.
No matter which trail you take, it's quite steep. However, you'll quickly forget the tiring climb once you see the views at Forcella Lavaredo. On your left, you can see the famous three peaks Tre Cime. On the right side, in the distance, you can see your next destination, Rifugio Locatelli (Dreizinnenhütte).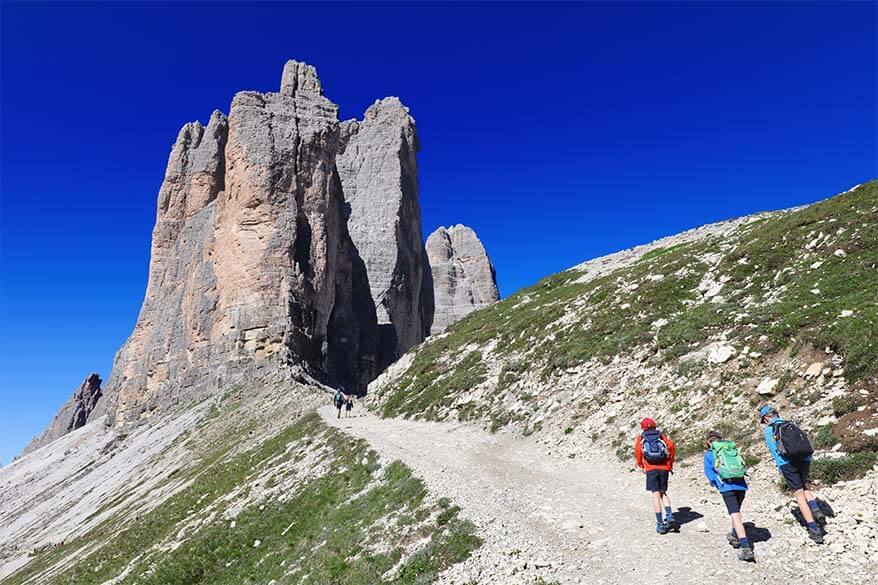 Forcella Lavaredo to Rifugio Locatelli
The trail from Forcella Lavaredo to Rifugio A. Locatelli (trail 101) is very easy. You follow a wide gravel road and go downhill most of the time. This is a road that is also used for supplies to the hut and a small truck passed us on this road. This part of the hike is about 2 km and will take approximately 40 minutes.
Please note that you do not have to go all the way to Rifugio Locatelli if you are just planning to hike the Tre Cime trail as it splits to the left just before the turn-off to the mountain hut (to the right). Because this mountain hut is located on the hill and requires a short climb, many people hiking Tre Cime loop don't seem to take this detour. But you definitely should!
Good to know: Do not turn off to the left earlier; only once you reach the Rifugio Locatelli intersection. Otherwise, you'll be hiking at the base of the Tre Cime peaks on a narrow stone track that's not half as nice. You don't really have to worry about doing this by coincidence though – the wide gravel road to Rifugio Locatelli is very clear, so just follow it to the hut.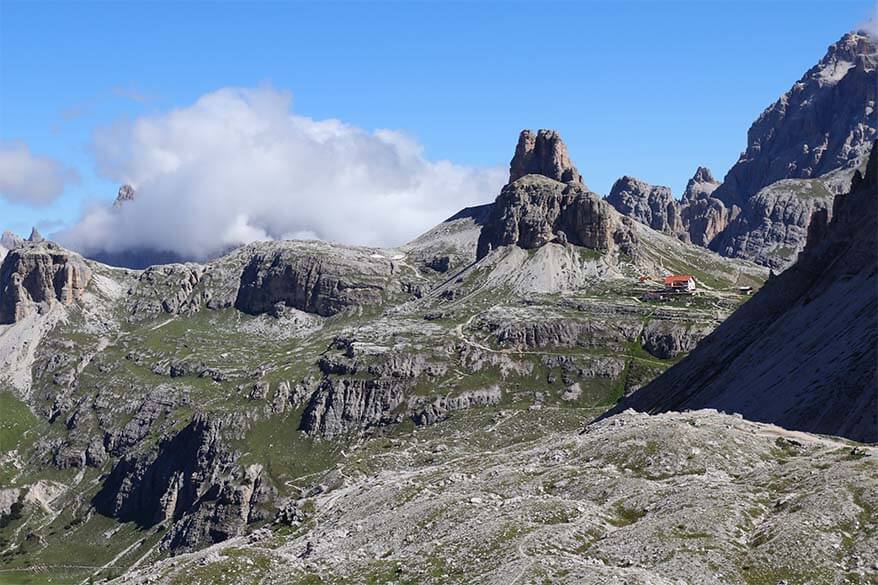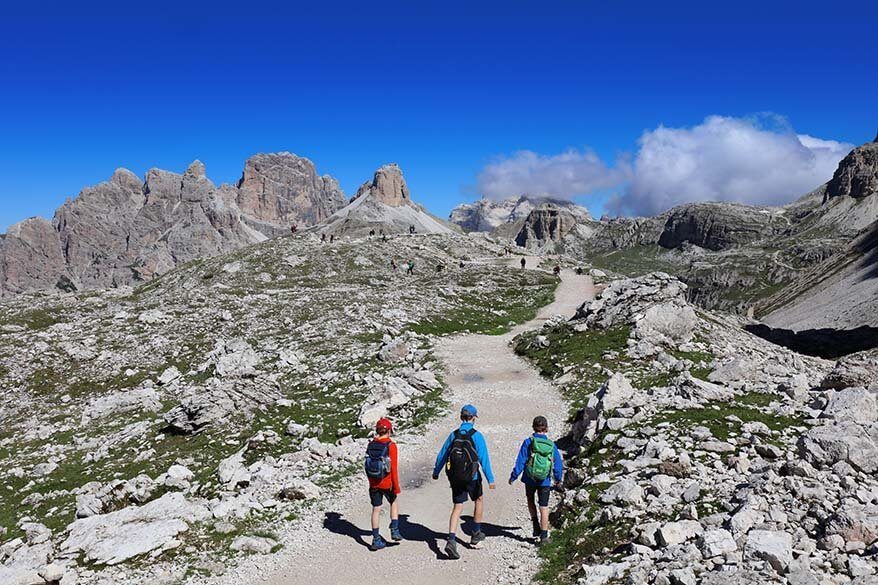 This is about half-way of the Tre Cime loop. If you choose not to go up to Rifugio Locatelli, follow signs to Malga Langalm/ Lange Alm to your left (trail 105). If you hike fast, you can get back to the Rifugio Auronzo parking area in about 1.5 hours from here.
However, I recommend making a short detour to Rifugio Locatelli and see the beautiful lakes there – more info below. See also the picture with the suggested hiking route indicated in yellow.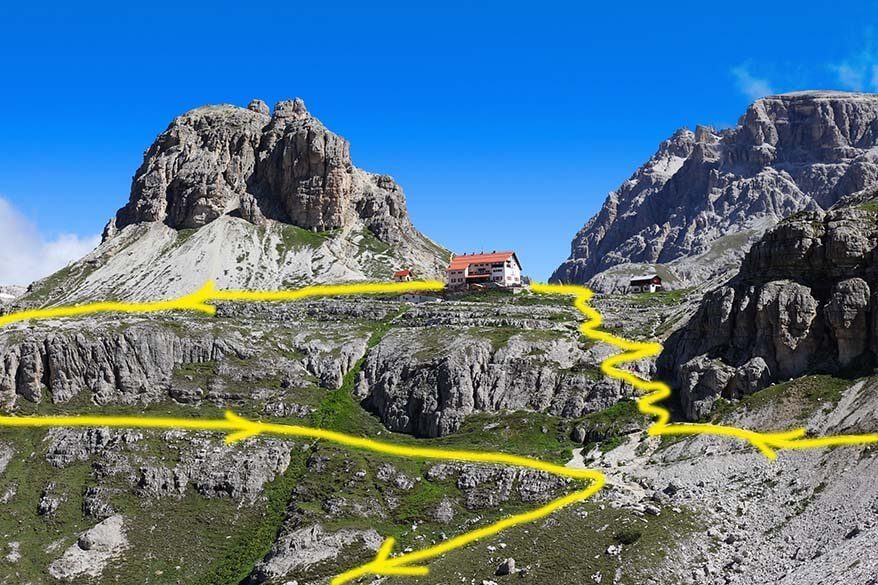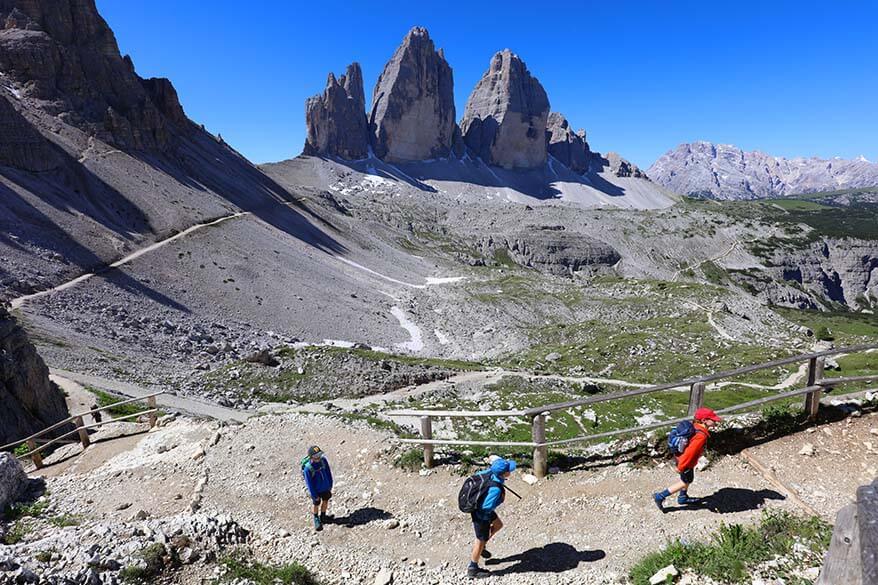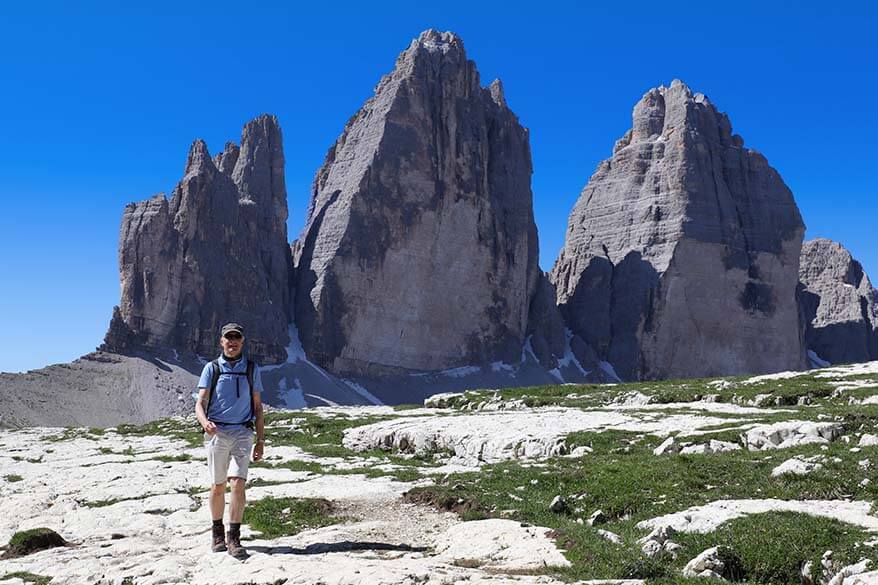 Rifugio Locatelli & Piani Lakes
A short detour to Rifugio Locatelli (indicated in yellow on the trail map at the top of this post) is well worth it because it will give you an opportunity to see a very picturesque scenery that you would completely miss otherwise.
However, I couldn't find any information about this when I was doing research for our hike. It's as if most people just hike the Tre Cime loop as quickly as possible to tick the box… Anyway, now that you are here and reading this, you know better than that!
Insider TIP: At the top of the hill, right behind a small hut next to Rifugio Locatelli, you can see two mountain lakes – Laghi dei Piani – in the most beautiful setting. This is one of the very best viewpoints of this area and it's definitely worth a short climb of 5-10 minutes.
This is also a great place for a picnic! Alternatively, you can have lunch or a drink at the restaurant of the Rifugio Locatelli.
If you have more time and energy, you can also walk down to the lakes or even make a longer detour and explore the area further. There's one more small lake in this area, but it would require at least a 15-20 minutes hike one way and I'm not really sure if it's worth it.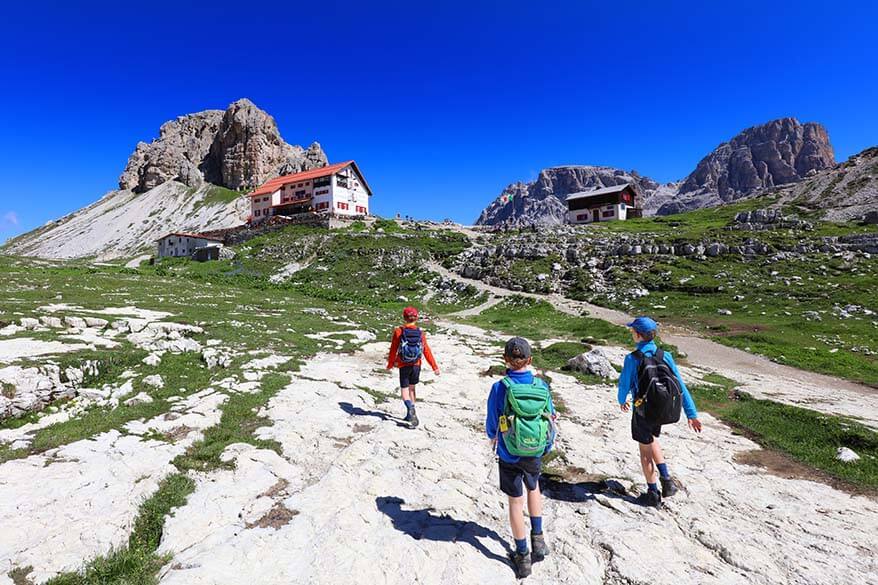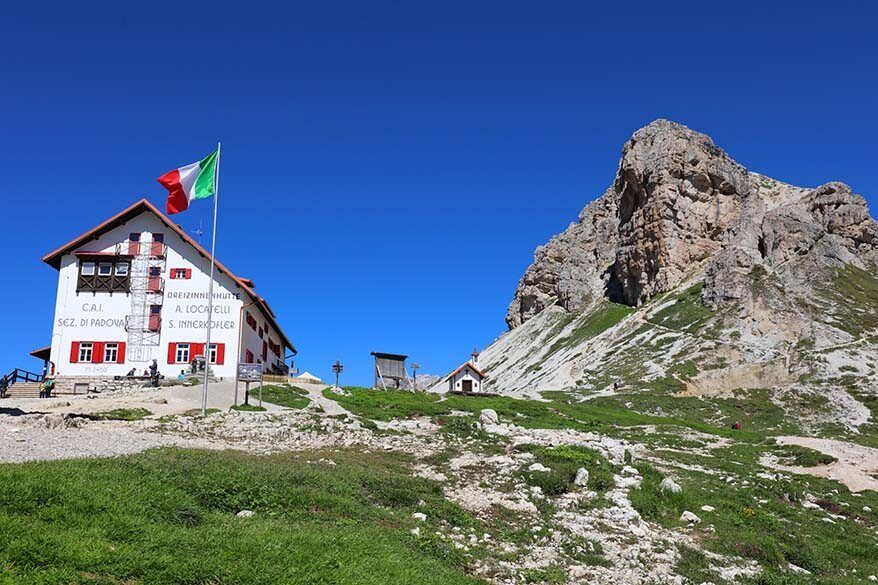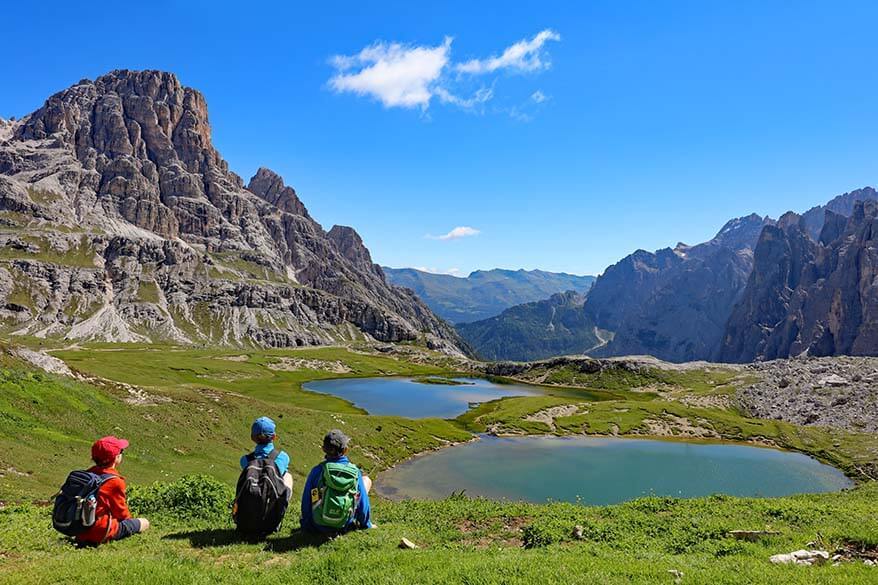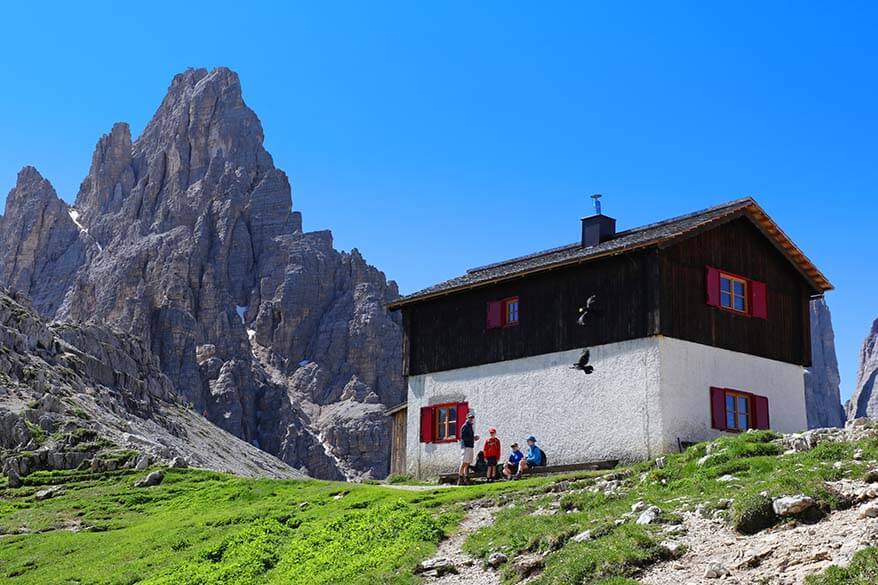 Good to know: After visiting the lakes at Rifugio Locatelli, do no take the same steep path down again, but continue walking behind the Rifugio Locatelli and past a small chapel Chiesetta Alpina. There is a wide gravel road here that goes a bit downhill. It will soon turn back in the direction of the three peaks, offering yet another stunning angle of these iconic mountains.
This track will bring you to the same intersection where you turned off to Rifugio Locatelli. From there, you join the narrow alpine trail in the direction of Malga Langalm (trail 105), just as you would have done without this detour.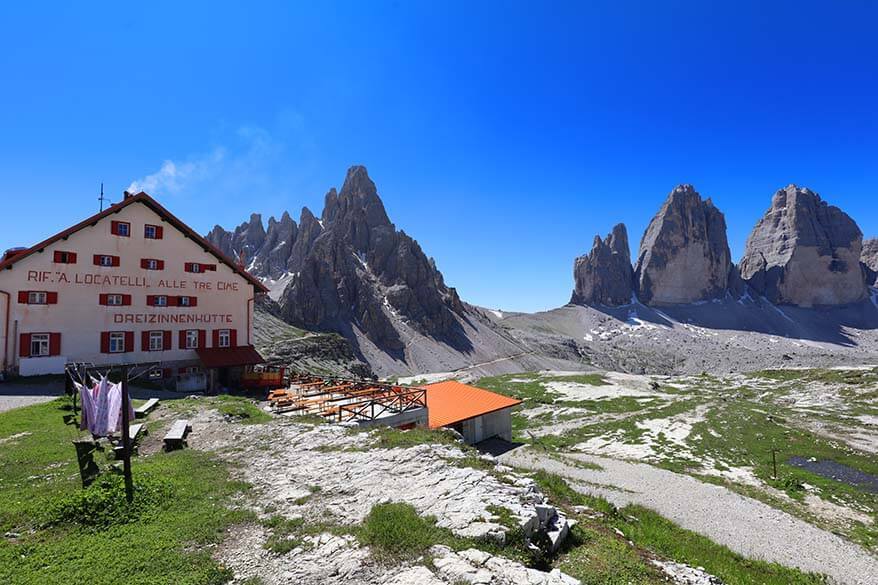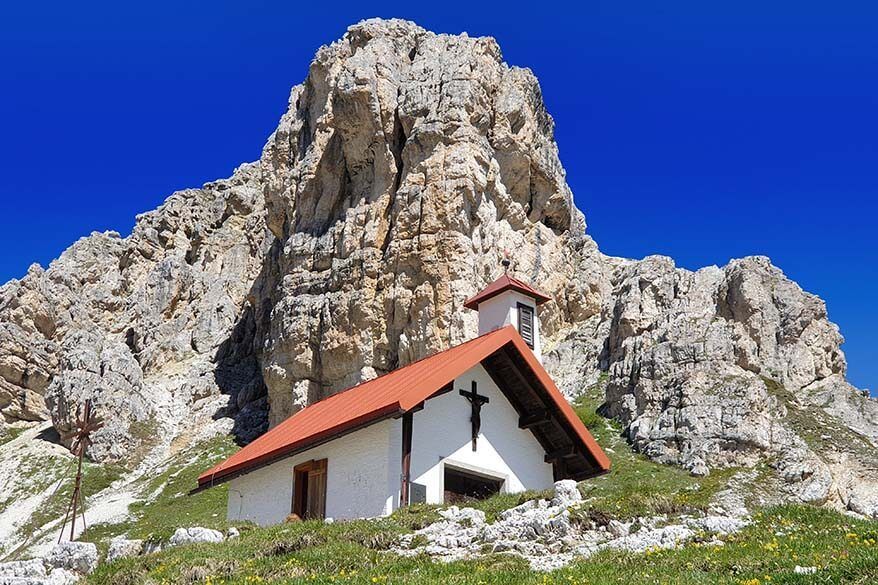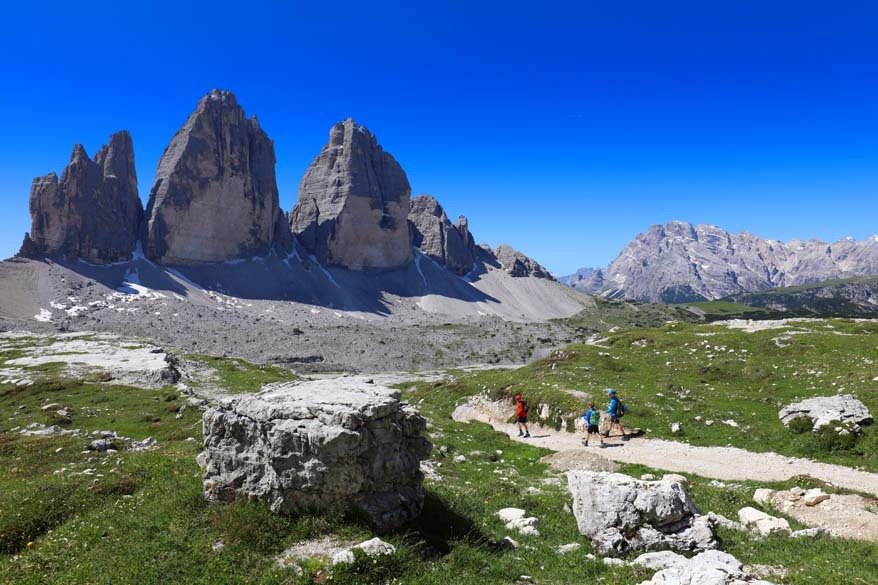 TIP: As you walk down from Rifugio Locatelli and before joining trail 105 to Malga Alm, you'll pass an intersection of trail 105 with arrows pointing in the direction of Rifugio Tre Scarperi (Dreischusterhütte).
I recommend turning off to the right and walking just 100-200 meters along this path (indicated in red on our map). The views here are absolutely worth a few minutes of your time! After that, turn around and get back to your original trail in the direction of Tre Cime.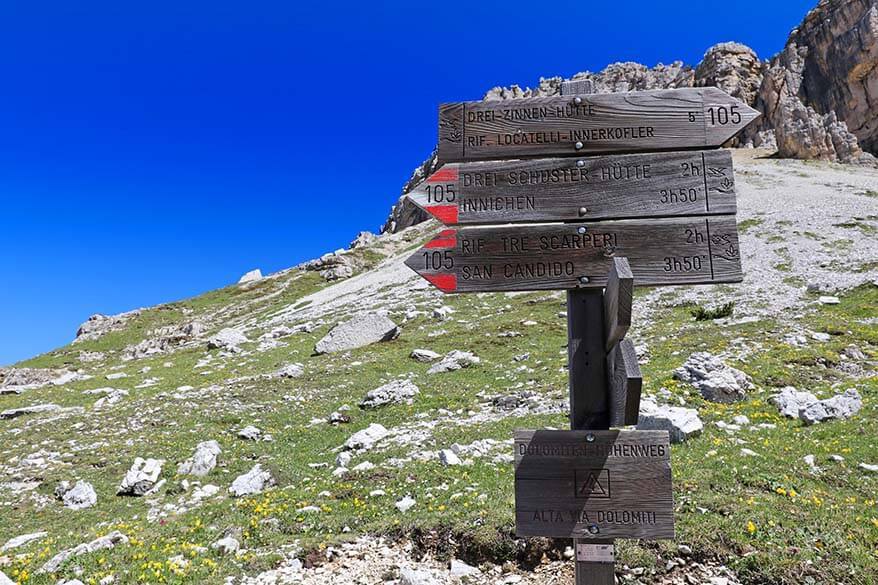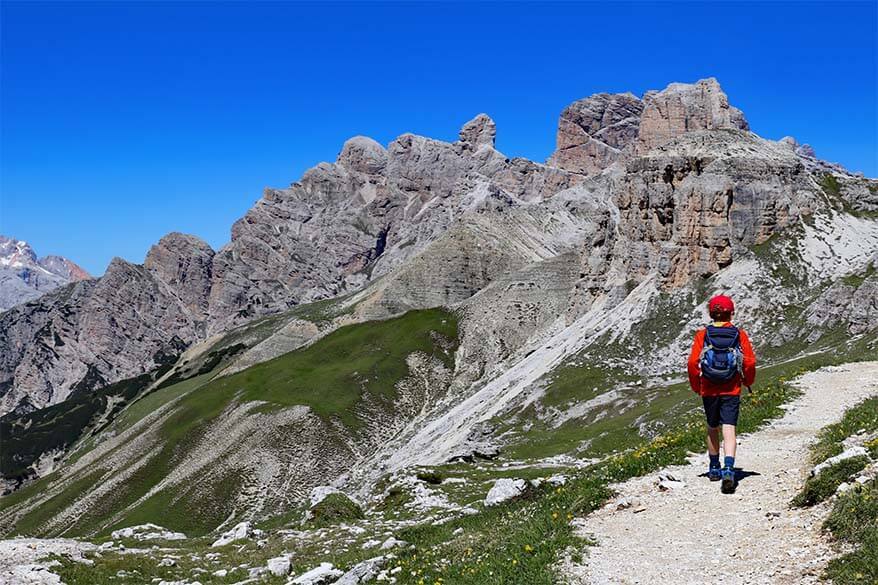 Rifugio Locatelli – Malga Langalm
The 40-minute hike from Rifugio Locatelli to Malga Langalm mountain hut is probably the most challenging part of the Tre Cime hike. It's not a difficult trail, but it does go down quite a bit, which means that you have to climb back up after that. If you have hiking poles, you may want to use them here, especially if it's wet.
Luckily, this is a very beautiful part of the hike as well. At first, you walk in the direction of the Tre Cime peaks and just can't get enough of those views. Once you descend down into the valley, the three peaks disappear, but you'll find stunning alpine scenery and green lush meadows with an incredible variety of mountain flowers.
As you hike uphill again, the absolute-best views are on your right side. Take a moment to stop and enjoy the stunning scenery and the incredible colors of the mountain formations in the distance.
Once at the top of the hill, the three peaks of Tre Cime emerge again. This is such a beautiful area with the very best views of Tre Cime di Lavaredo and endless fields of wildflowers…
Shortly, you'll see a small wooden chalet in the distance. That's Malga Langalm, your next point of reference along this hike. By this point, you have hiked about three-quarters of the Tre Cime loop.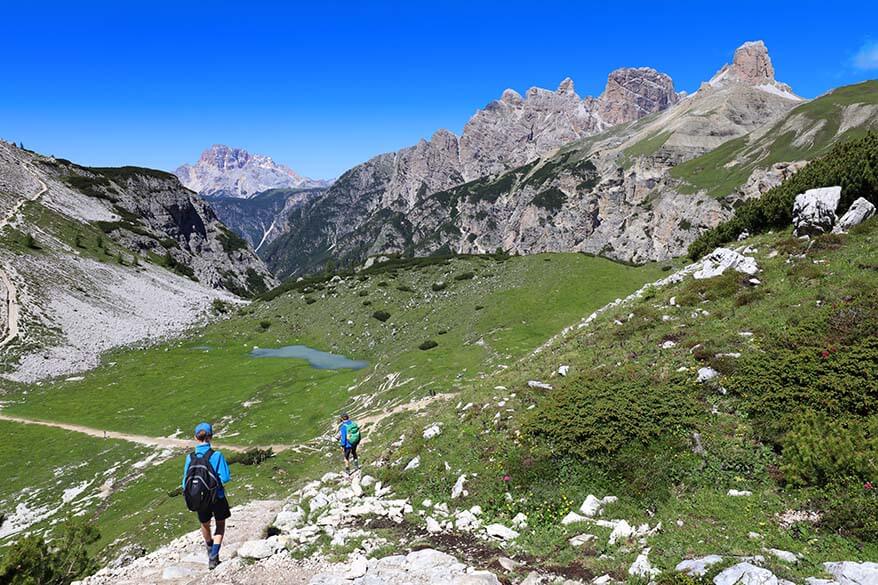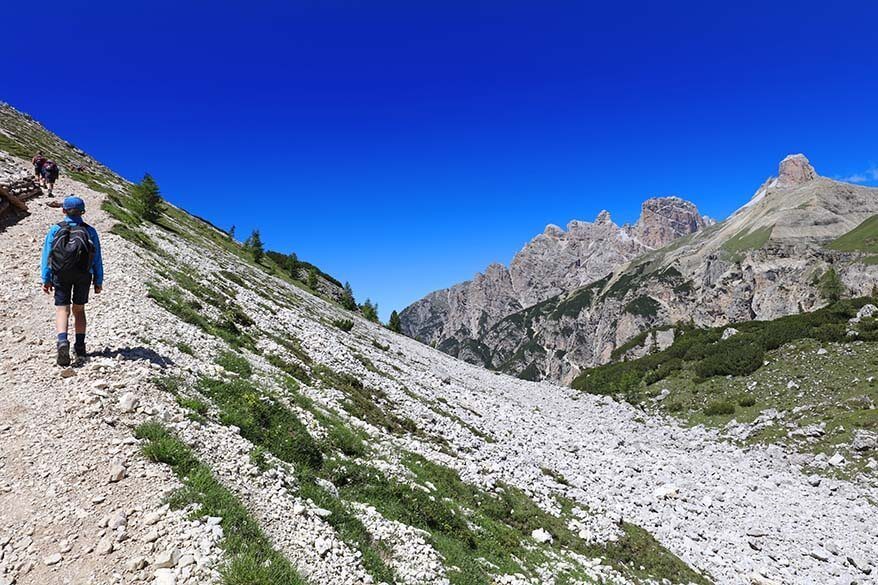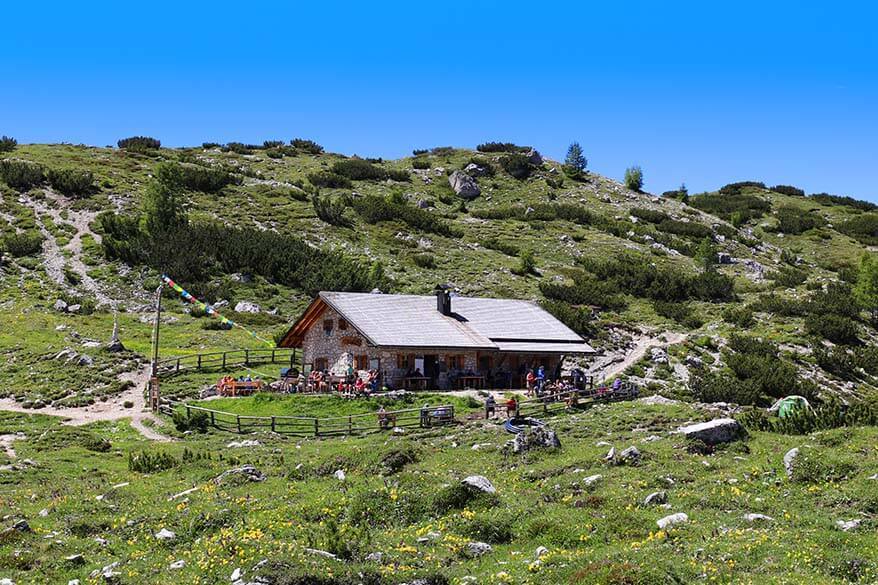 Malga Langalm – Forcella del Col di Mezzo
Malga Langalm is a small mountain hut with a restaurant. This is your last chance to get some apple strudel or Kaiserschmarrn before heading back to Rifugio Auronzo (40 minutes) where you left your car.
Even now, when your hike around Tre Cime is almost over, there are still several surprises along this beautiful trail. So don't rush back to the car just yet!
This part of the Tre Cime loop has the greenest landscapes. Mountain streams, lakes, flowers – it's really pretty.
TIP: Soon after you pass Malga Langalm, you'll see a mountain river on your left side. Just a bit further, you'll be walking next to a small lake (there are actually three small lakes here). If you have a few minutes to spare, take a short detour here as well and walk a bit to the left so that you get a better view of the lake.
If there is no wind and the water is still, you could be rewarded with some amazing reflections of Tre Cime peaks here. But even if there are no reflections (as in our case), this is still a very nice place to linger a bit longer.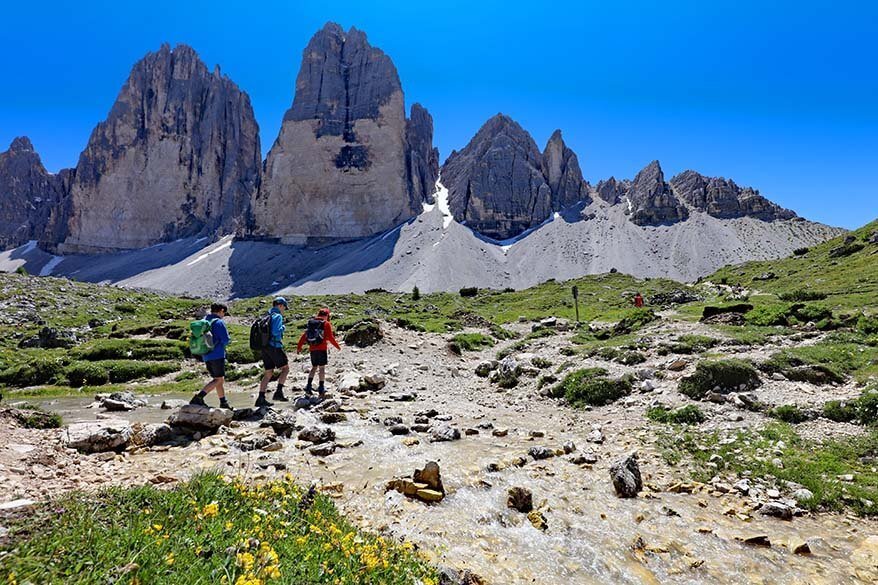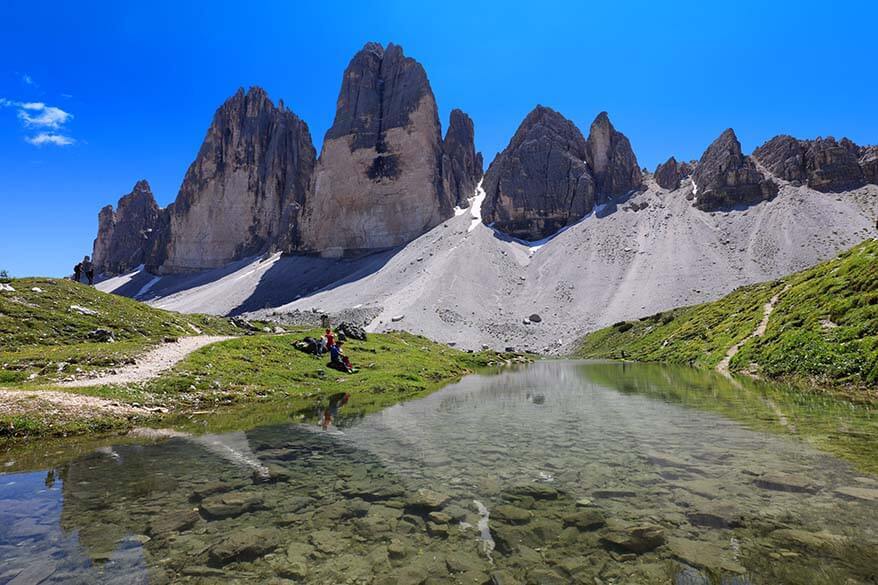 The last part of the trail just before Forcella del Col di Mezzo is probably the most 'dangerous' section of the entire loop. It follows the rocky mountain edge and the path is quite narrow. So if you are hiking with younger kids, you may want to hold on to their hands here.
The views are stunning, however, but you better stop to admire them because this is really not a place you want to misstep off the trail by accident.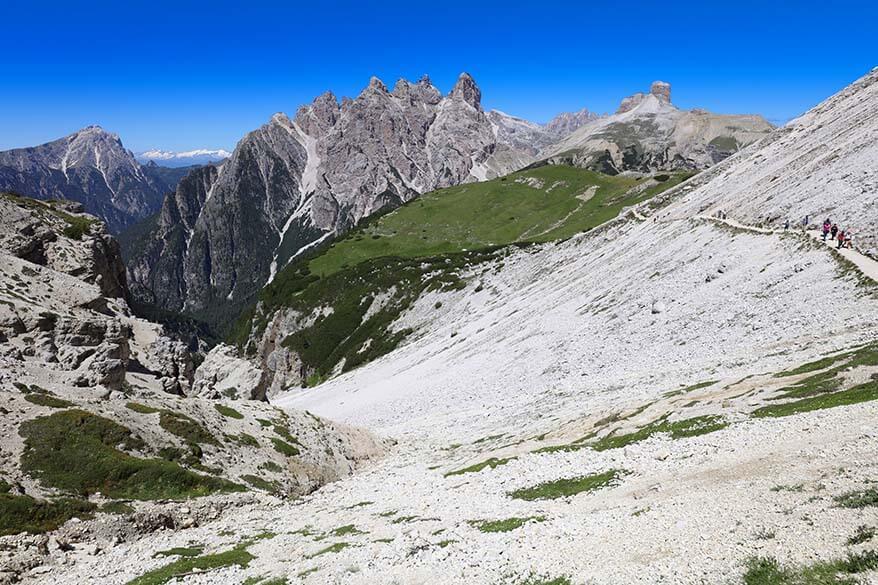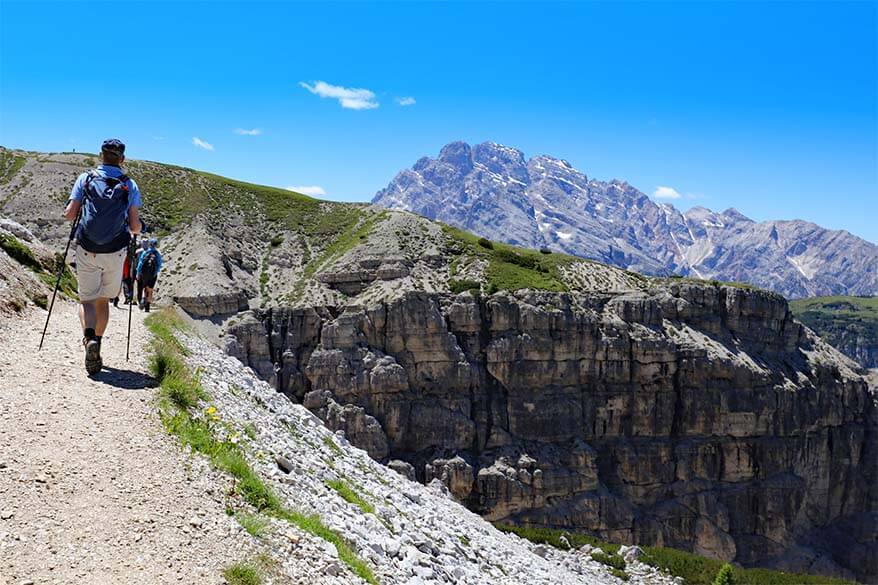 Forcella del Col de Mezzo – Rifugio Auronzo
The very last part of the hiking trail is also extremely picturesque. After you reach Forcella del Col de Mezzo, the track gets somewhat wider. From here, you can see Lake Misurina and its historic hotel far in the distance.
The views remain spectacular until the very last moment. Even back at the parking lot, the scenery is absolutely stunning.
That's the beauty of the Tre Cime loop trail – it's incredibly diverse and extremely rewarding. Every single part of this hike is worth it in itself. But add them all together and you'll understand why this iconic hike is so popular.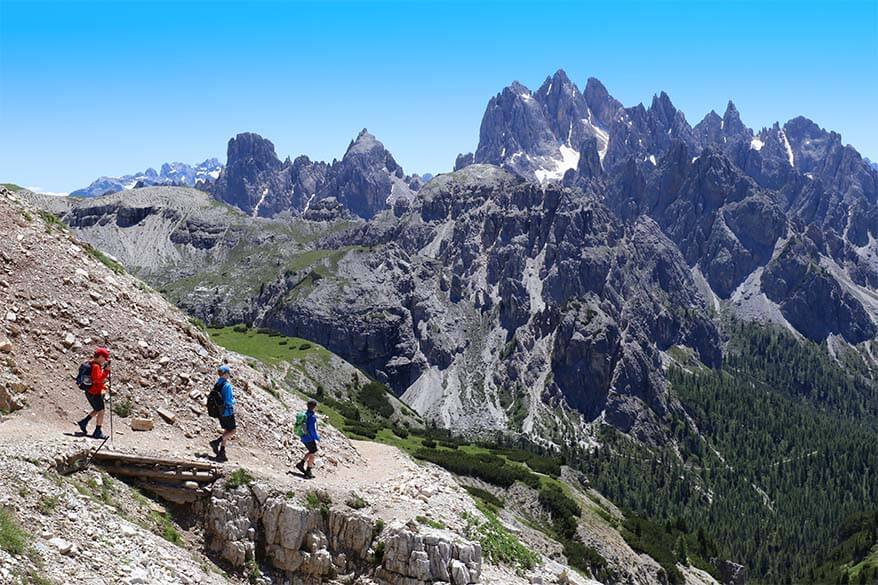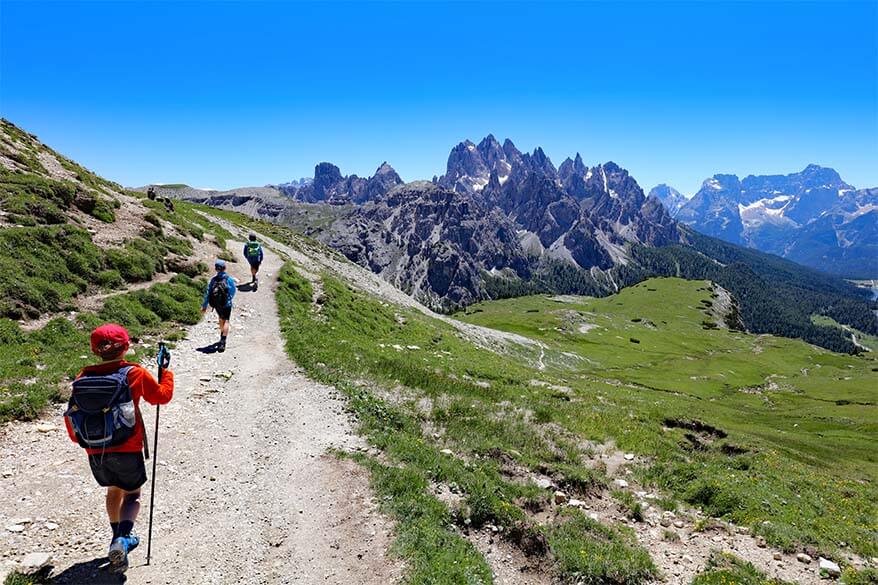 Hiking Tre Cime with Kids
Tre Cime hike is a very popular hike, also for families. We hiked this trail with our kids and we saw lots of other people hiking here with children. That being said, it's quite a long hike that requires some uphill climbing, so keep that in mind when planning to hike Tre Cime with kids.
I think that school-aged kids who are somewhat used to hiking could probably complete this trail without too many issues. I'd be reluctant to do the entire loop with kids younger than 6, but it depends on what your child is used to, how many you kids you have, whether you are prepared to carry them if needed, etc.
TIP: If you have younger kids, you could just hike to Forcella Lavaredo or maybe even to Rifugio Locatelli and the lakes and then back.
Our experience: We did the entire loop with our three kids age 9, 9, and 11 and could hardly keep up with them. Two years earlier, we hiked part of this trail when the kids were 7, 7, and 9 and they also managed just fine. At that time, we couldn't complete the trail because of the weather and not because of the kids…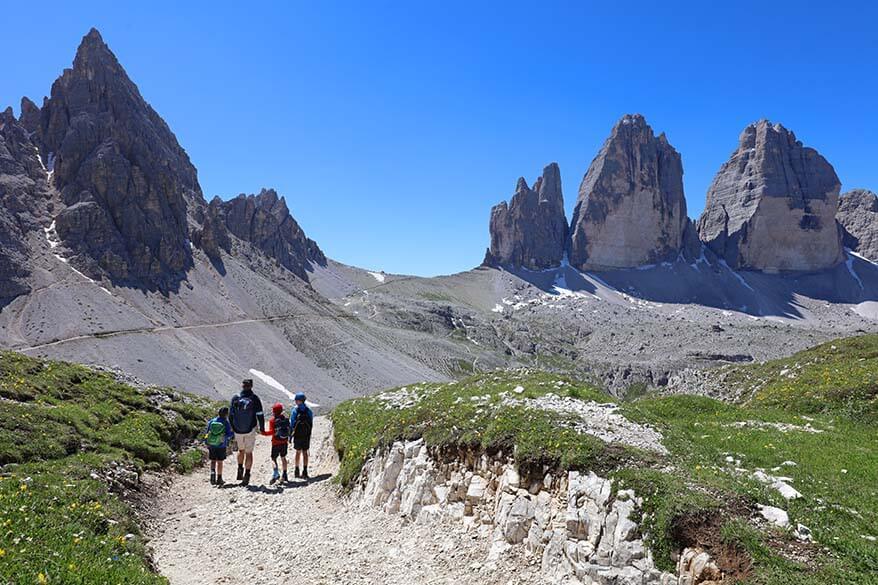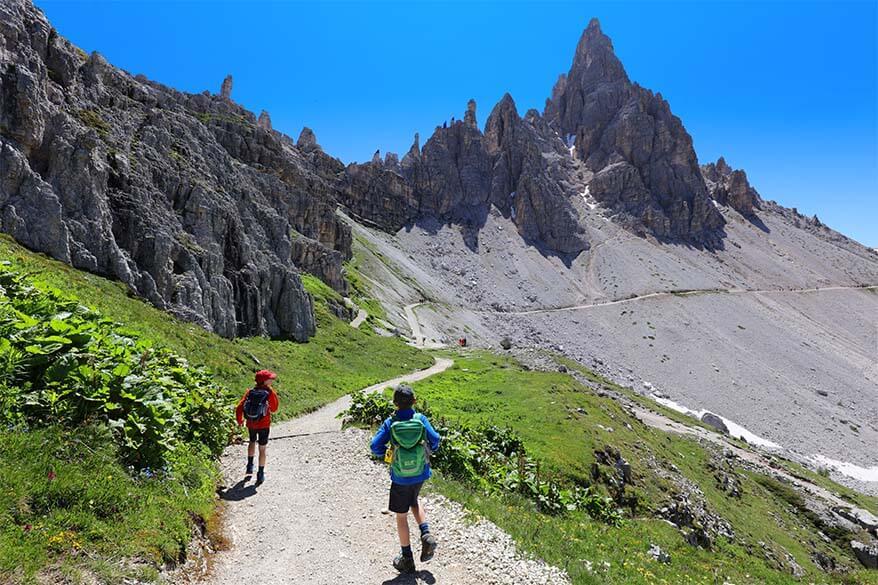 Getting to Tre Cime di Lavaredo
Tre Cime di Lavaredo hike trailhead – Rifugio Auronzo – can be reached by car or public transport.
By Bus
If you are staying in Cortina d'Ampezzo or in Misurina, you can also take a bus to Tre Cime. This would save you high parking fees and you don't have to worry about finding a parking spot. However, as we learned, the bus schedules in Italy aren't always reliable, so make sure to check in advance if the bus operates on the day of your visit.
Buses only run in high season. You can find more up-to-date information for the Tre Cime bus on the Dolomiti Bus website.
By Car
If you are driving, you'll need to get to Misurina first. From there, it's a 7.5 km (15 min) drive to Rifugio Auronzo.
If coming to Misurina from the south along road SP49, take the first turn to the right after you pass Misurina Lake. So not the parking area at the north side of the lake, but the road a few hundred meters further north. Tre Cime is clearly indicated here.
If coming from the north, you'll have to turn left just before you reach Misurina. If you are at the lake, you already drove too far. Once again, Tre Cime is clearly signposted.
Once you are on this road (see map), you just drive all the way up until it ends at a huge parking area near Rifugio Auronzo. On your way, you'll have to stop at the toll booth and pay for driving this scenic road, Strada Panoramica delle Tre Cime di Lavaredo. The first time we visited, the fee for a regular car was 25 EUR, last time it was already 30 EUR, and it's very likely they'll increase it even more in the future.
Unless you are prepared to hike the last 5 km uphill (not recommended), there is no way around it. However, just before the toll booth, there is a small parking area. So if you want to leave your car here, you can. We saw a couple of people hitchhiking from here, but you also have to do it on your way back.
Alternatively, you could also opt to leave your car at the parking area a bit lower down the road, just before Lago d'Antorno. There is a bus stop by the lake and you could take a bus from there.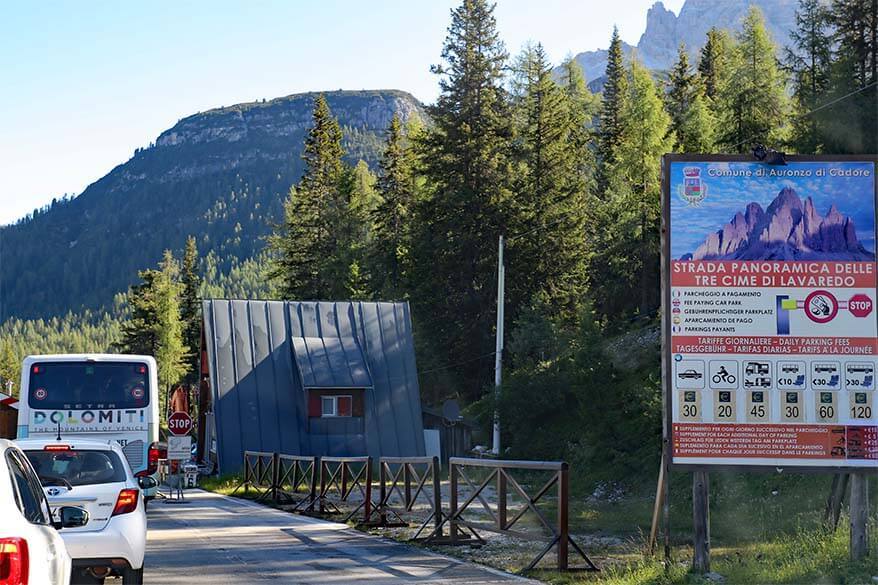 Practical Tips for Visiting Tre Cime di Lavaredo
Check the weather forecast and don't attempt this hike if there's a chance of lightning! This area is well above the treeline. The first time we hiked here, we had to run back for shelter because of lightning and heavy rain.
Arrive early in the morning and avoid summer weekends. To give you an idea, last time we visited, we were here on a Tuesday in the first week of July and the giant parking area was almost full at 8.45 AM.
If the weather forecast is extremely good and you are sure there will be no afternoon storm, you could also opt to come here in the afternoon and start your hike later. That way you could avoid the biggest crowds.
The best time to hike Tre Cime is at the end of August – beginning of September, on a sunny weekday.
Wear good hiking shoes and always carry a sweater and a rain jacket with you. It can be very windy and cold here, about 10°C colder than in the lower areas nearby. We started our hike with sweaters and jackets and were hiking in t-shirts for the biggest part of the day. Kids wore their sweaters almost the entire time and this was on a very warm sunny day in July.
Sun protection is a must in summer as there is hardly any shade on this trail.
Pack enough drinking water. But there are also several restaurants along the way, so you can always get some food and drinks there too.
Count at least 4 hours if you want to enjoy this hike and not just run from one point to another. We arrived at Tre Cime at 9 AM and were back in our car at 2 PM. So we spent 5 hours here in total (picnic and lots of photo/ rest stops included) and it felt like a very leisurely experience.
Stay in Misurina if you want to start this hike as early as possible. There are several nice hotels here. Albergo Chalet Lago Antorno set at the beautiful Antorno Lake is the accommodation that is closest to Tre Cime (apart from the mountain huts).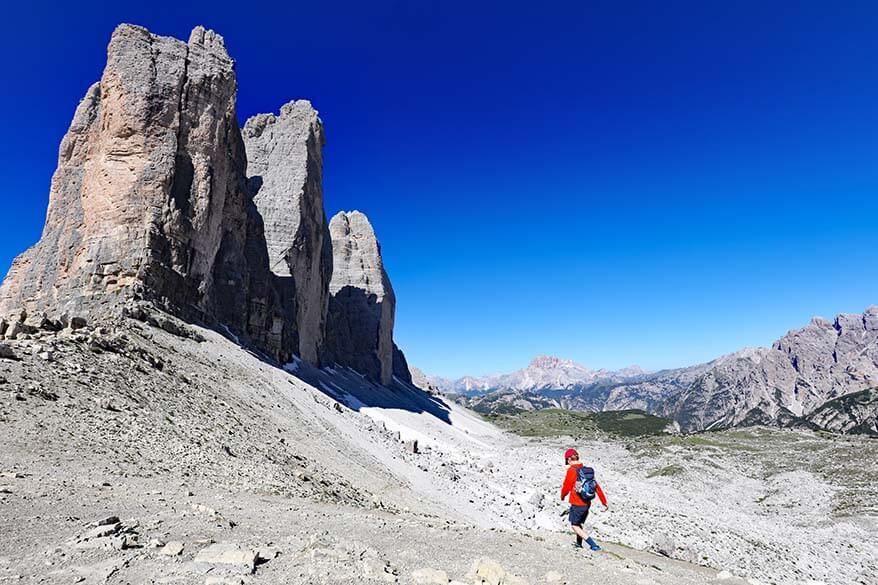 So, this is our guide for hiking the famous Tre Cime di Lavaredo loop. I tried to cover all the details, but if I forgot something and you have any additional questions, feel free to leave a reply below and I'll try to help. Enjoy your hike!
READ ALSO: Lago di Sorapis Hike (another must-do hike in the Dolomites!)
More travel inspiration for the Dolomites:
Detailed guides for visiting some of the best places in the Dolomites:
More travel inspiration for Northern Italy:
If you found this post useful, don't forget to bookmark it and share it with your friends. Are you on Pinterest? Pin these images!