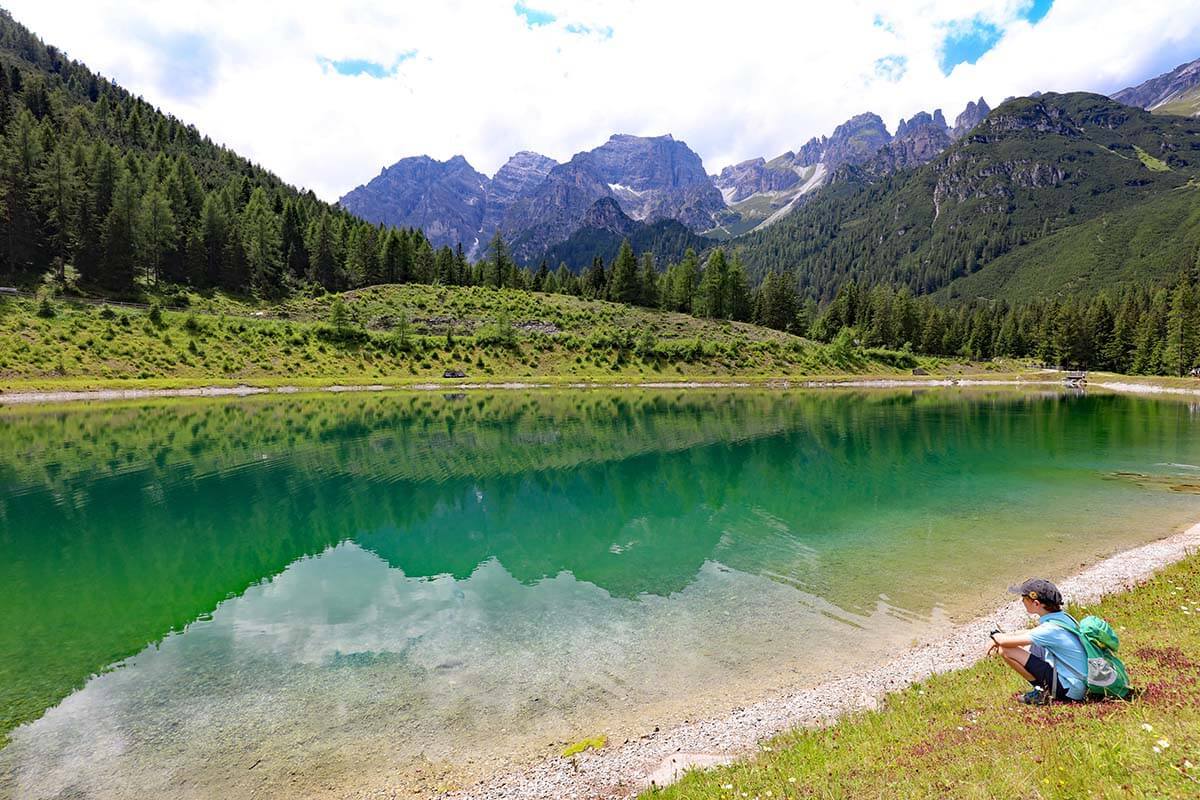 Stubai Valley just south of Innsbruck in Austrian Tyrol is a beautiful region that has a lot to offer in any season. Before our trip, we knew nothing about this place, except that people from Innsbruck love to go skiing here… But we visited Stubai in summer and so we came with zero expectations. And wow – Stubai completely blew us away! It's so beautiful and there is so much to see and do here!
From the most exciting adventurous activities to the biggest choice of family-friendly things to do… Stubai truly has it all! Furthermore, this area feels really authentic and typically Tyrolean. It's a place where you can still expect traffic jams caused by cows or goats on the road. 🙂
If you are wondering whether it's worth visiting Stubai Valley and what there is to see and do in Stubai in summer, this article should give you a good idea of what to expect.
It's in no way a complete guide to things to do in Stubai in summer (you'd need a few weeks if not a few months for that!). In this article, we focus only on the very best places to see and things to do in Stubai – experiences that are worth it the most even if you are traveling from the other side of the world.
Disclosure: We visited Stubai by invitation of the Stubai tourism board and Visit Tirol. However, we liked the place so much that we booked a few more nights extra so that we could explore deeper. All opinions are, as always, our own and based on our first-hand experience.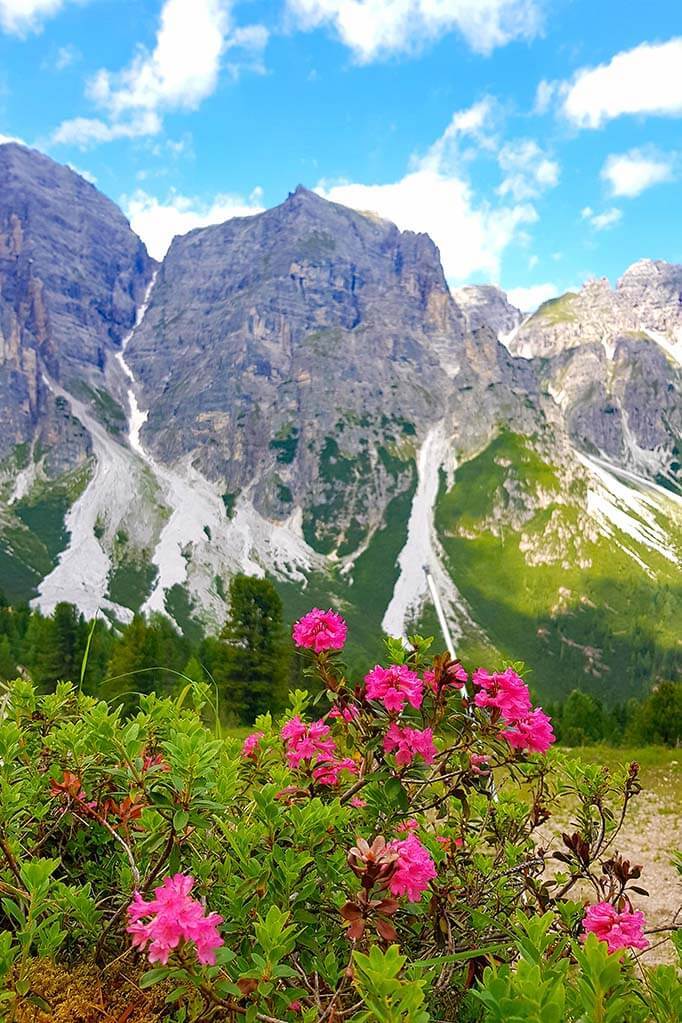 TIP: Stay at local hotels and accommodations that offer free Stubai Super Card. This card has amazing value as it includes all the cable car rides, public transportation, and so many local attractions. Further below, you can find our suggestions on where to stay in Stubai, based on our experience. But first, let's take a look at all the great things that you can do in Stubai in summer.
Good to know: Stubai Valley has many villages and several separate areas that can all be visited by taking different cable cars. The main areas of Stubai Valley are Stubai Glacier, Schlick 2000, Elfer, and Serles. This article is structured in such a way that it gives you an overview of what to see and do in each of these areas. Take a look!
Here are the best places to visit in Stubai:
Stubai Glacier
Stubai Glacier (Stubaier Gletscher) is not to be missed when visiting Stubai Valley. In summer or in winter, you can find eternal snow and fun adventures here. This is one of the most iconic destinations in Austrian Tyrol. If you have just one day in Stubai and have to choose just one place to visit, then make it this one!
Below, you can find more details on what to see and do at the Stubai Glacier. For more information, please check our detailed guide to visiting Stubai Glacier – Top of Tyrol. Take a look!
Top of Tyrol
From the viewing platform at the Top of Tyrol summit (3.210 m – 10.530 ft), you have the most incredible 360° views of the Alps. The views here are breathtaking. On a sunny day, you can see 109 mountain peaks of Austrian and Italian mountains from here.
In addition to the viewing platform, you can also visit the nearby Schaufeljoch Chapel, or have lunch or go for a drink at the highest mountain restaurant in Austria, the Jochdolohle (3.150 m – 10.334 m). Glacier hiking is also possible and you can walk down to the Eisgrat mountain station from here if you have proper clothing and footwear.
TIP: Plan your visit here on a sunny day or check the Stubai Glacier webcam on the day before you go. It's also possible that you'll be above the clouds here even if the weather isn't that good in the valley.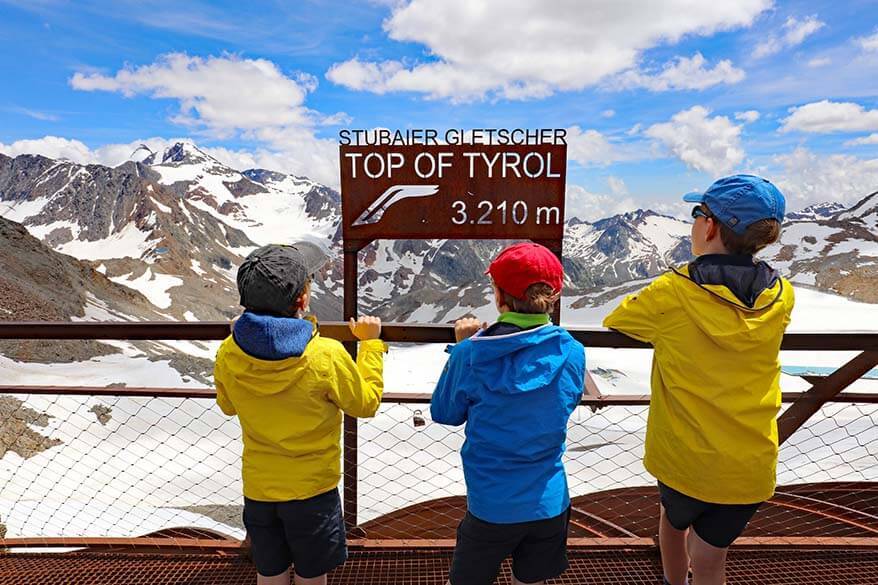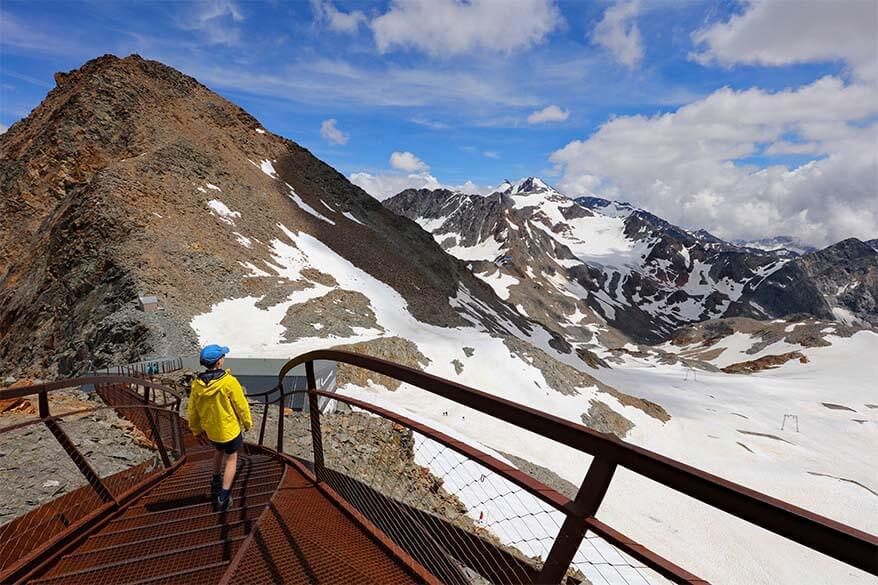 Stubai Glacier Ice Grotto
Another highlight of any visit to Stubai Glacier is the Ice Grotto. This man-made ice tunnel is located under the glacier and can be reached via a short walk from the Eisgrat Summit Station. It's open the whole year-round and the temperature inside is always around 0°C (32°F), so take a jacket.
If you have never visited an ice tunnel before, then this is an absolute must! But even if you have, this is one of the better experiences we have had in the Alps. The ice tunnel is about 200 meters (220 yards) long and is really well done. There are also lots of informational panels explaining more about glaciers and ice.
I find that visiting glaciers and ice tunnels is even more impressive in summer than in winter. You start your journey by taking a cable car in green summer landscapes and warm temperatures and a few minutes later, you are surrounded by snow and ice. It's an amazing experience, both – for kids and for adults.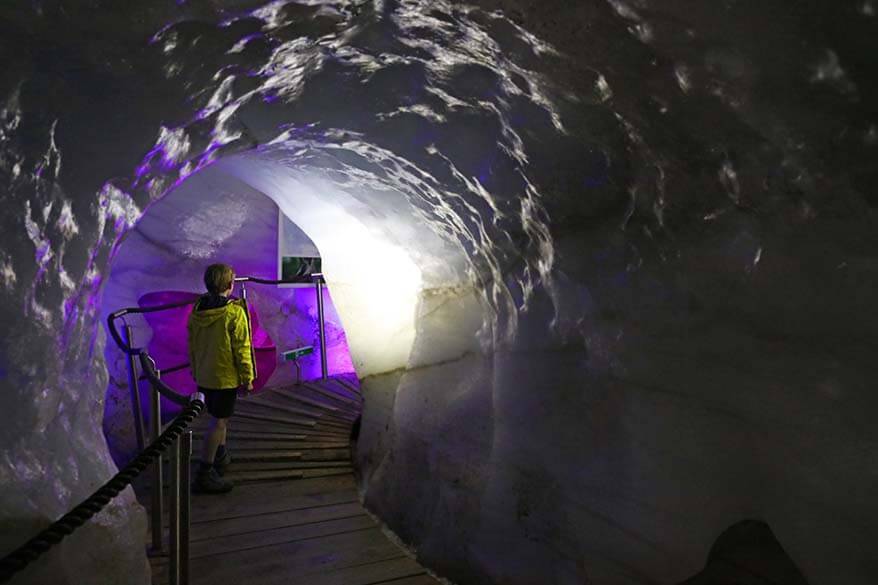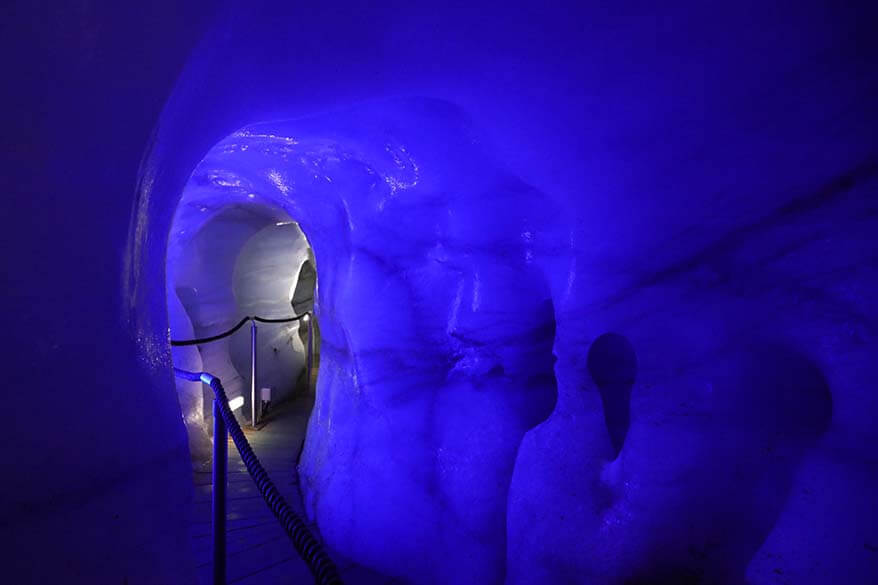 Hiking, Playgrounds & Waterfalls
In summer, Stubai Glacier area has a lot more to offer than ice and snow! The area is home to countless waterfalls (see also the Wild Water Trail info below). As you take a series of cable cars to the top of the glacier, you'll see many beautiful waterfalls beneath. Many hiking trails in this area pass some stunning waterfalls as well.
Upon arrival at the cable car, you can get a map of the area with hiking trails and hiking times indicated on it. There are trails of all durations and difficulty levels, so if you have a few hours to spare, definitely explore the area on foot!
At the intermediate cable car station Bergstation Eisgrat, you'll also find a beautiful playground for kids. Since recently, there is a huge mammoth – slide here. Not to be missed!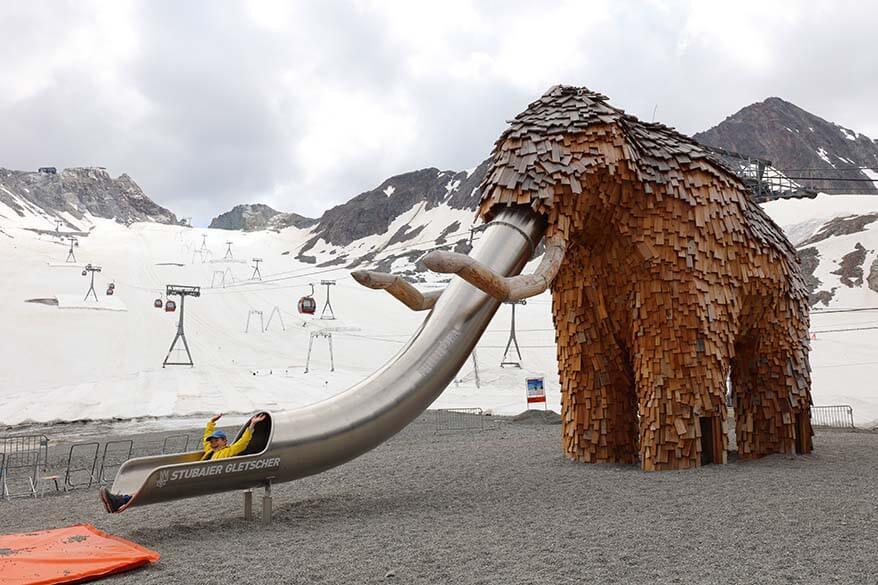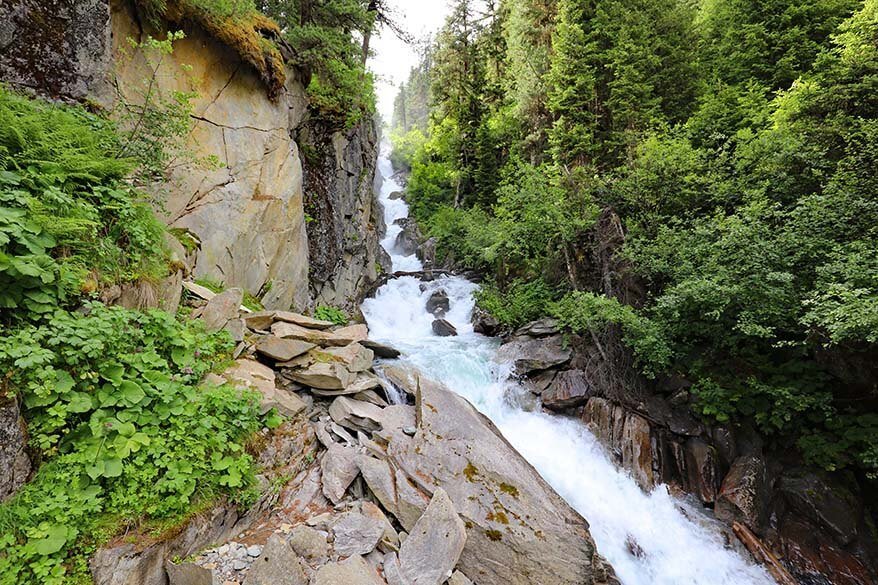 Schlick 2000
If you have a bit more time in Stubai in summer and can visit one more area, make it Schlick 2000! Here you will find completely different (green) sceneries than at Stubai Glacier, but equally impressive! If you are looking for green summer landscapes with the best Alpine scenery in Stubai Valley, this is the place to be!
Below is a short overview of what to expect.
Stubaiblick Viewing Platform
Who said you have to make much effort to find the best views? The 'Stubaiblick' viewing platform, just a short walk from the Kreuzjoch cable car station, proves that you can find the most stunning mountain scenery without having to go on a long hike.
This is also not your usual viewing platform. Its design is quite unique and there are 3 walkways 'sticking-out' at 2.160 m height offering unparalleled views over the Stubai Valley. I never knew that this area was so absolutely beautiful until we visited Schlick 2000!
There are many nice hikes in this area (see more info below), but even if you only walk to this viewing platform and back, Schlick 2000 is definitely worth a visit!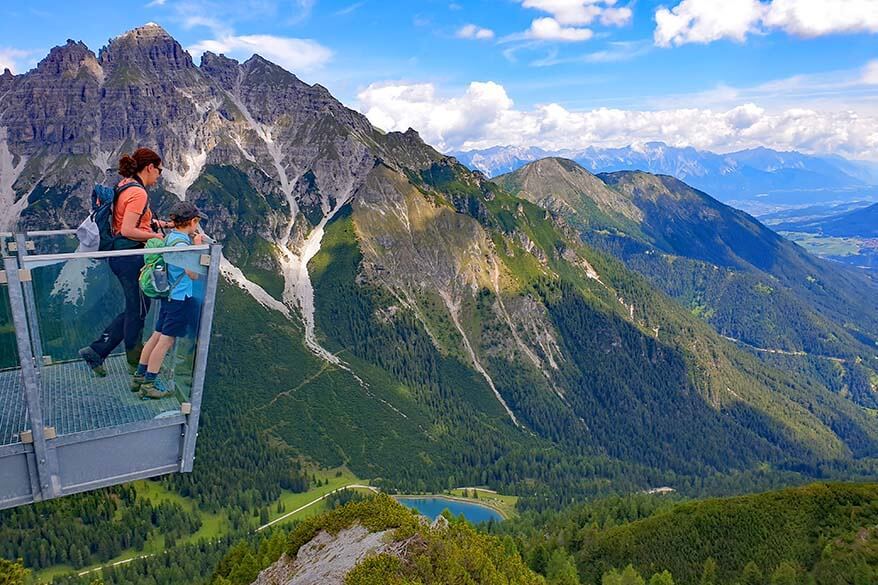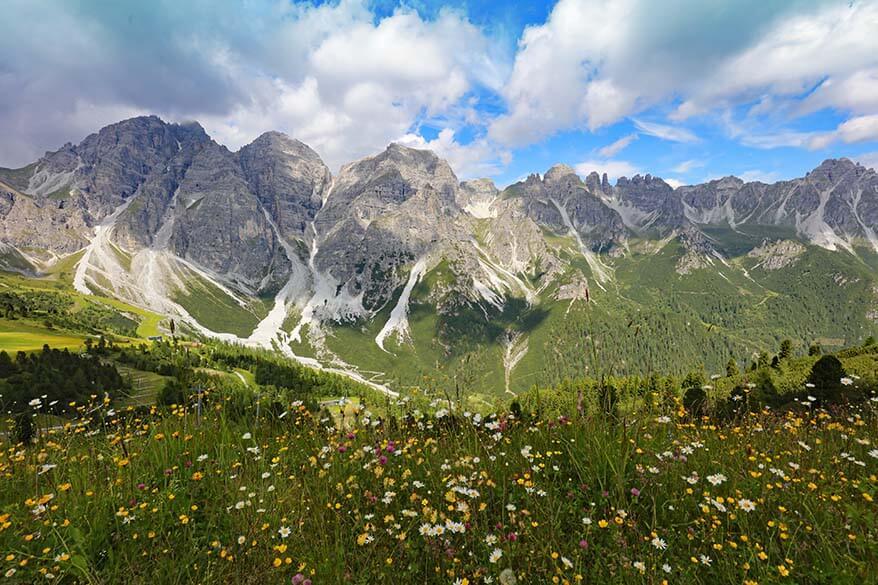 Educational Nature Trail
As already mentioned, there are many hiking possibilities at the Kreuzjoch summit station. Most of them are uphill hikes. A short circular summit trail with the cross at the very top looked really nice, but we opted for the easy family-friendly downhill hike called 'Educational Nature Trail'.
This is an easy but very rewarding hike that leads you past the most beautiful Alpine sceneries and to a tiny mountain lake Panorama Lake (Panoramasee). Afterwards, follow the Scheibenweg down to the middle cable car station Froneben. Count 3-4 hours for this entire trail. There is a lot to see along the way, so you can easily make a day trip of visiting the Schlick 2000 area alone.
This hike offers so much variety and distraction that you'll never get bored. There are lots of educational info panels, playgrounds for kids, and other fun things to do along the way. There are also lots of benches to rest and you'll find several mountain huts with restaurants and other facilities as well. But the best part is that you have stunning scenery around you all the time. If you do just one hike in Stubai Valley in summer, make it this one!
LEARN MORE: Schlick 2000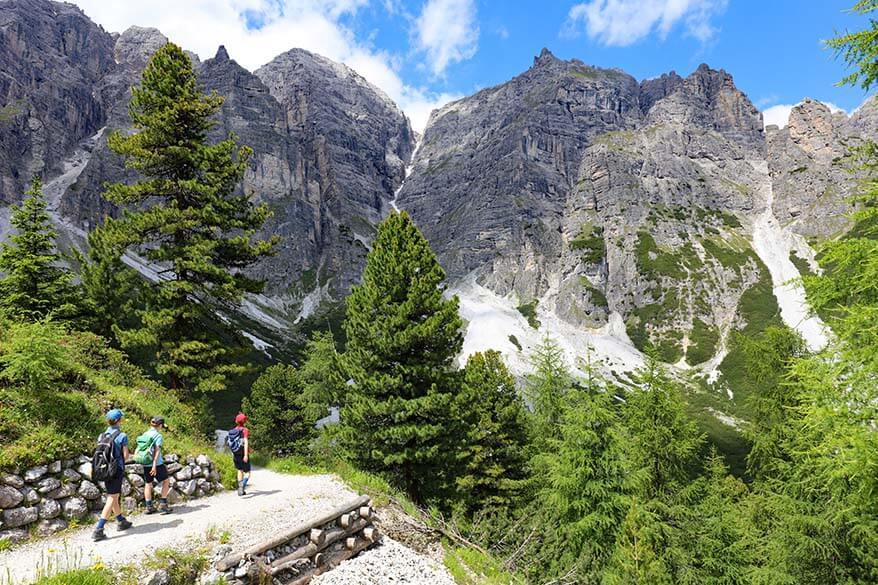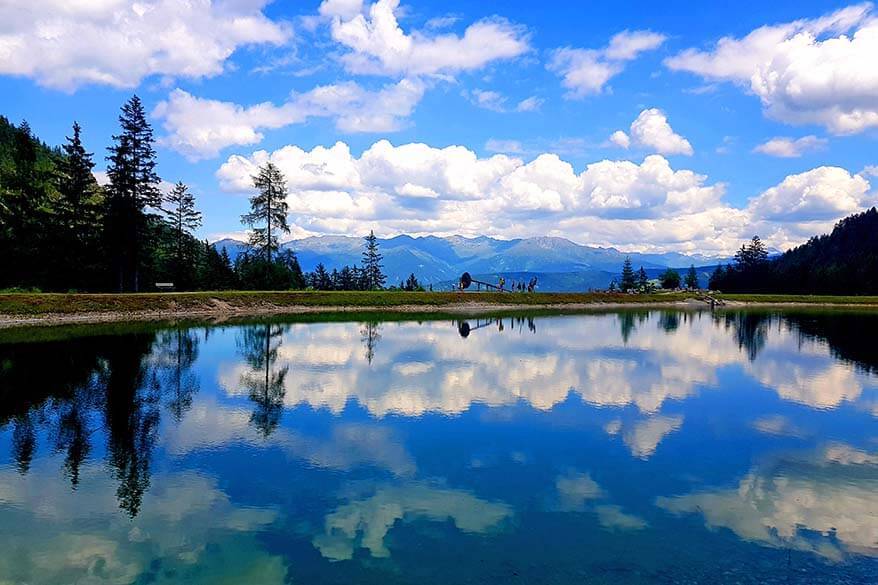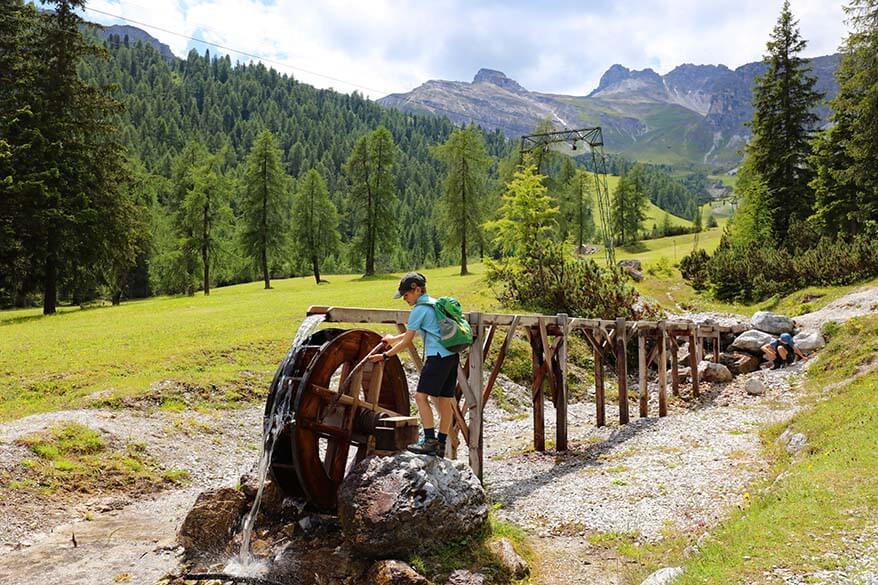 Serles
Serles area can be reached by the Serlesbahnen cable car from Mieders and it is a paradise for families! There is a lot to do here and you can easily spend a day here as well. But even if you only have a few hours or less, it's still worth coming. Take a look below at what to expect.
Serles Summer Toboggan
I have to start with my kids' favorite thing we did in Stubai – summer toboggan in Serles.
With a total distance of 2.8 km (1.7 miles) and an altitude difference of 640 m (2.100 ft), this is one of the most exciting summer toboggan runs we've ever done. You're in total control of how fast you go and they say that the maximum speed allowed is 42km/h. We definitely didn't go that fast (although our youngest probably came close to it :)), but it was so much fun!
Good to know: One ride is included in the earlier-mentioned Stubai Super Card. If you want to go a few times, you can get extra tickets once you get there.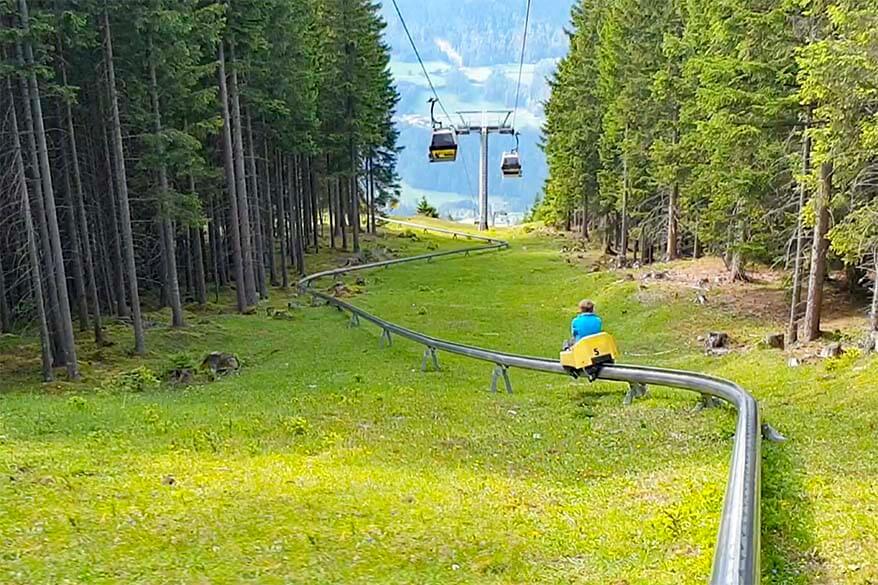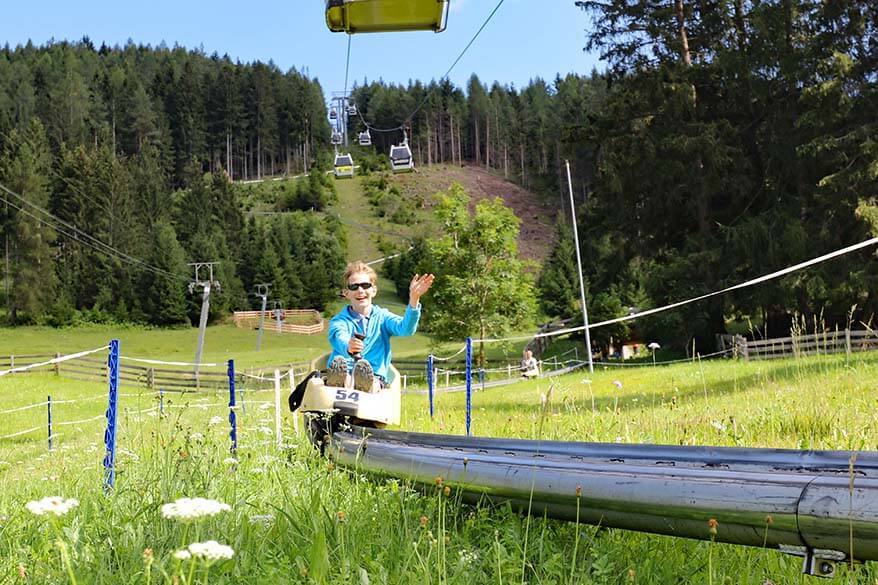 Serles Park
Serles Park, also known as Serles Water World, is a leisure area set right at the top cable car station. It's centered around the new Serles reservoir lakes and offers great views and lots of fun for kids. You will find a restaurant and a big water playground here where you can spend a few hours, especially if visiting with kids on a sunny summer's day.
There are also many hiking trails in this area. Don't miss the easy circular hike around the Serles lakes to the Koppeneck viewing platform. It only takes half an hour and the views are great.
You can also hike or take a little tourist train to the nearby Maria Waldrast monastery. Located at 1.641m (5.384 ft) altitude, this is Europe's highest monastery. Alternatively, you can take the train one way and come back on foot. This tourist train runs from the top cable car station and operates daily from the end of May to the end of October. You can find more practical info with prices and schedules here.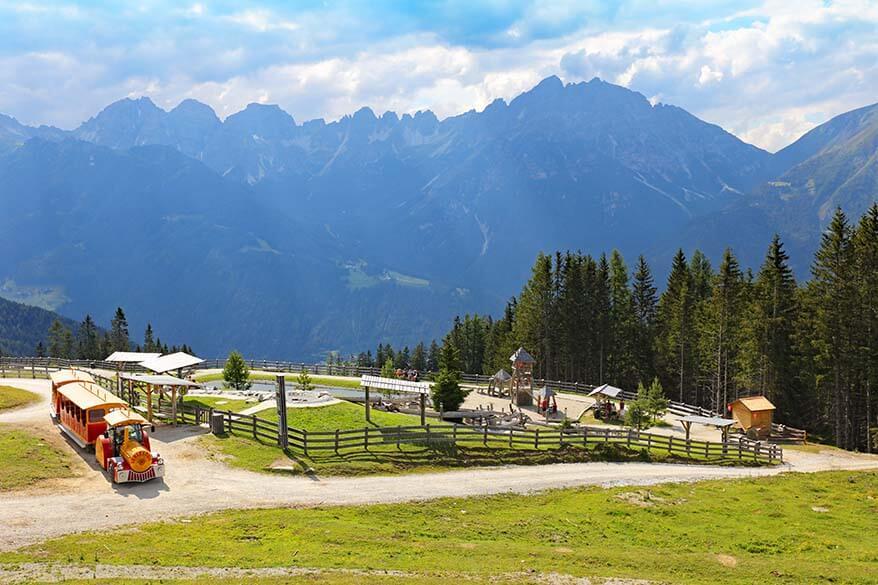 Elfer
Elfer area in Stubai Valley can be easily reached by cable car from Neustift, the main town of Stubai. We had a feeling that this was the least busy of all the areas we visited in Stubai. It seems that it's more a place for those who are staying in Stubai longer and want to explore deeper.
The hiking paths here are steeper than at the other areas in Stubai, there are several great via ferratas, nice mountain-bike trails, and this area is also popular for paragliding tours.
But also if you don't want to do any hiking or adventurous activities, it's still worth taking the Elfer cable car. Even if just to see the scenery here and to visit the Sundial. This huge wooden sundial has a diameter of 8 meters and is the biggest walk-in sundial in the Alps. It's not just a sun clock where you can read the time, but also a viewing platform offering great views of the surroundings.
If you have a few hours for a hike here, check out the hiking trails to Karalm and/or Pinnisalm. They are quite short and offer the best views of this area.
We were here on a rainy overcast afternoon, so we only visited the Sundial and explored the immediate surroundings. We ended up spending some relaxing time at the Panorama restaurant next to the cable car station, while our kids had a blast at the playground (that also has rabbits!).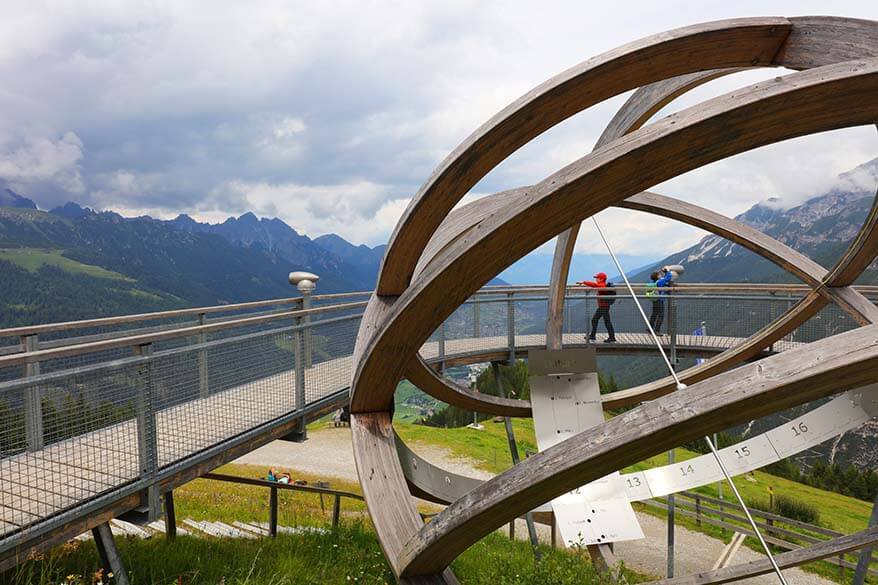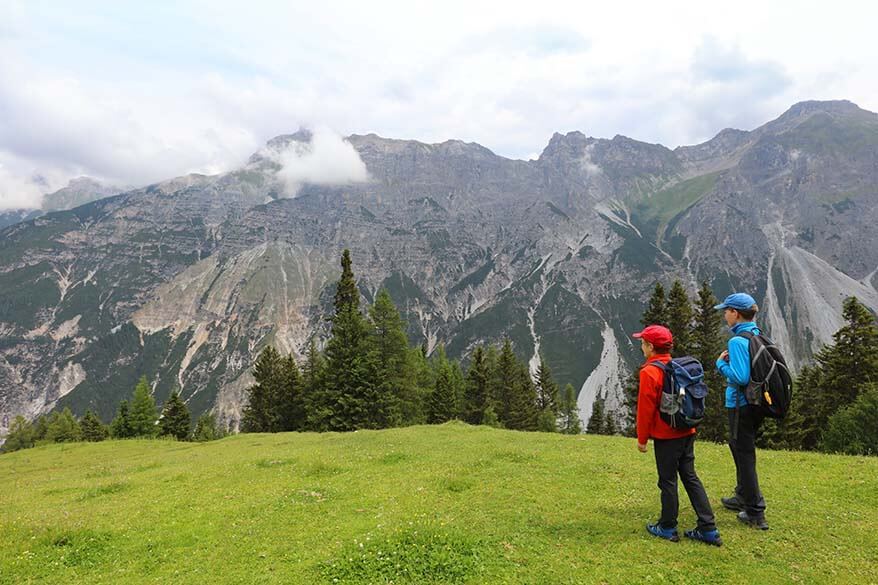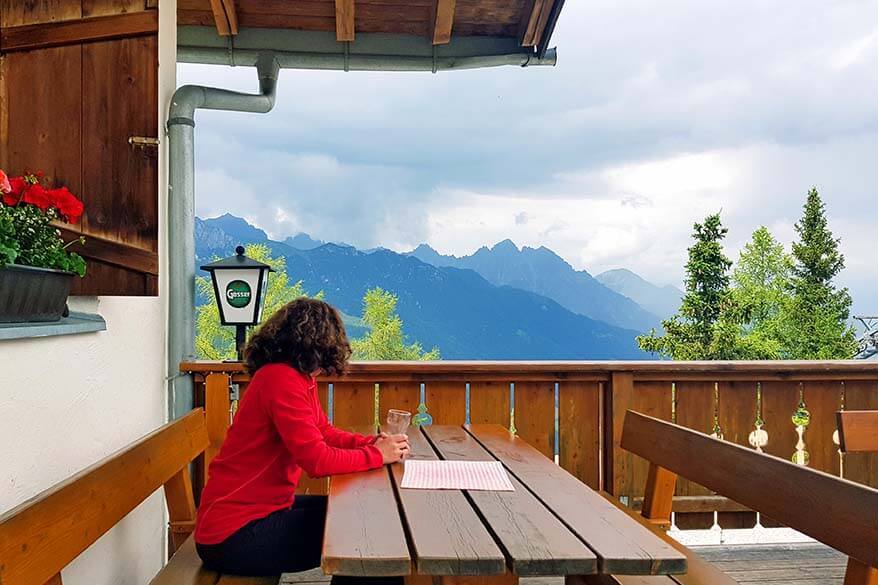 Wild Water Trail
Wild Water Trail (Wilde Wasser Weg) is a multi-section hiking trail that follows the Ruetz River and passes some really impressive waterfalls of the Stubai Valley along the way. The entire trail is about 10km (6.2 miles) long, but you don't have to do it all in order to experience the nicest places.
In fact, you can easily visit some of the best parts just by driving there and taking a short walk from your car. Unless you have lots of time and want to devote half a day to this trail, I recommend that you visit the Grawa Waterfall. It's the widest waterfall in the Eastern Alps and is truly impressive!
Grawa Waterfall is located just 5 minutes from the main road and is absolutely worth a short hike! There is a big viewing platform with comfortable benches right in front of it. Alternatively, you can climb uphill to the two upper viewing platforms (about 10 minutes each way), but it's really not a must as the view below can't be beaten.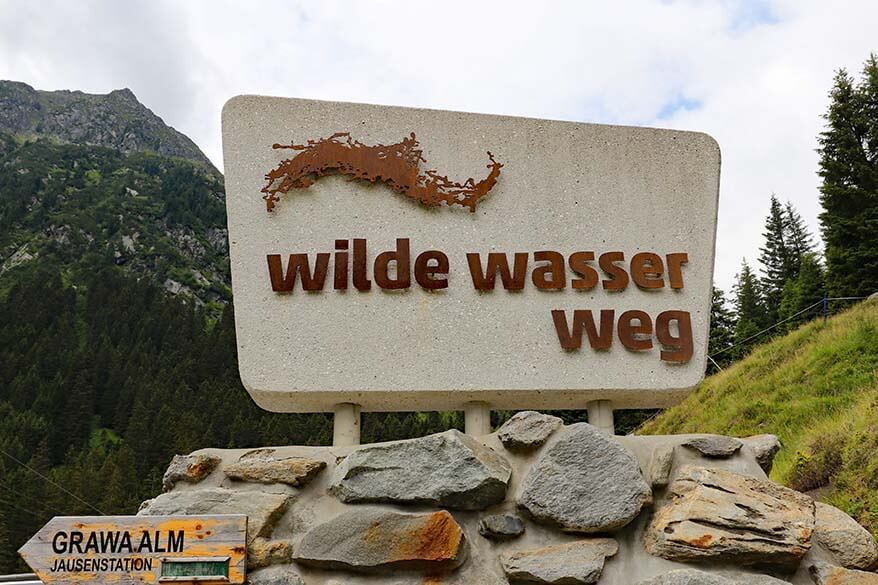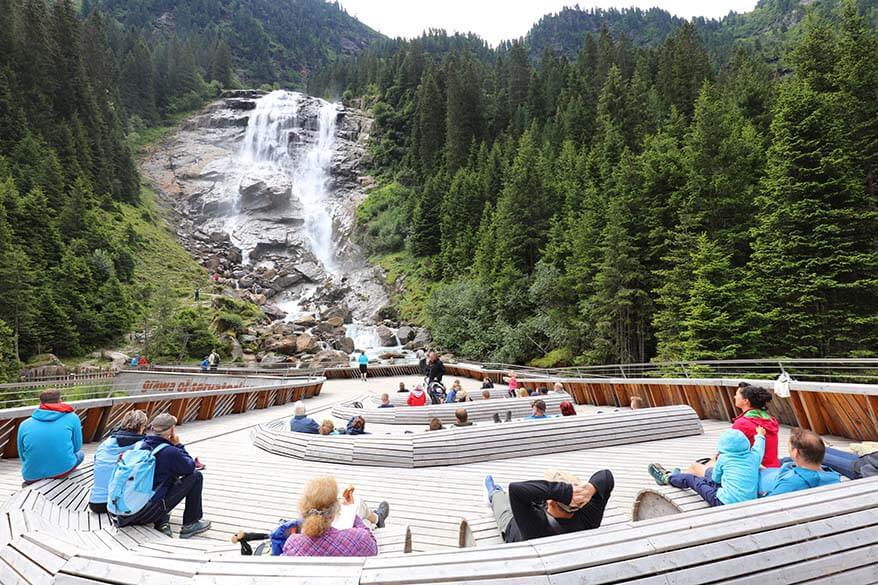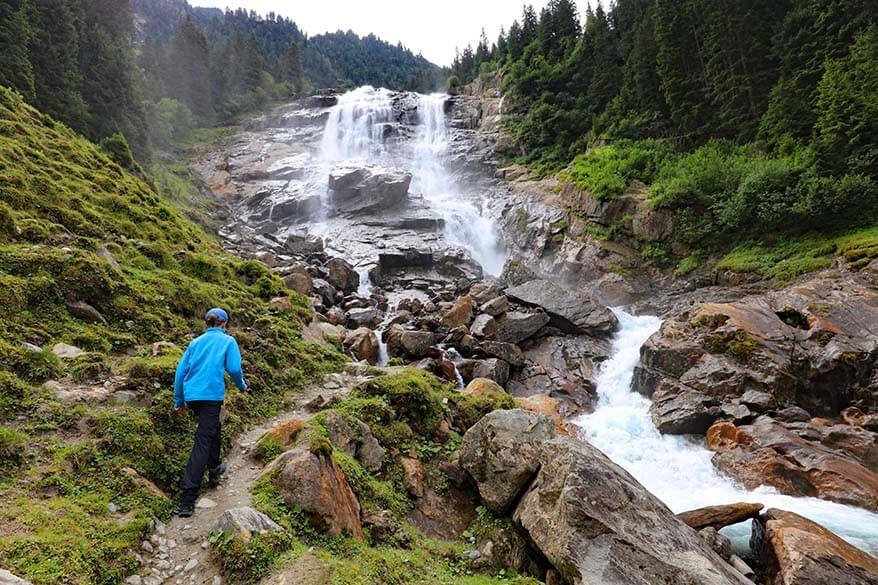 If you have a bit more time, you can drive to Tschangelier Alm and hike to Langetaler Waterfall and/or Ruetzkatarakt (creek). Count about 30 minutes for each place.
Good to know: If you want to hike a part of the Wild Water Trail, you can do it one way, starting at either Tschangelair Alm or at Grawa Alm. You can then take a bus back to where you left your car. We hiked this trail from Grawa Alm all the way back to Tschangelair Alm and while it was nice, it wasn't as impressive as all the other Stubai attractions mentioned earlier. So I'd only do this if you have seen everything else and have some extra time left.
If the weather is nice and you are visiting Stubai with children, you may want to stop by at the Kids Park Klaus Äuele. There are two small lakes here and a great water-playground. On a nice summer day, you can easily spend half a day here with kids! Endless splash-fun guaranteed.
TIP: Even if you don't visit any of the Wild Water Trail attractions, don't miss the Grawa Waterfall! You can easily stop here on your way to/from the Stubai Glacier.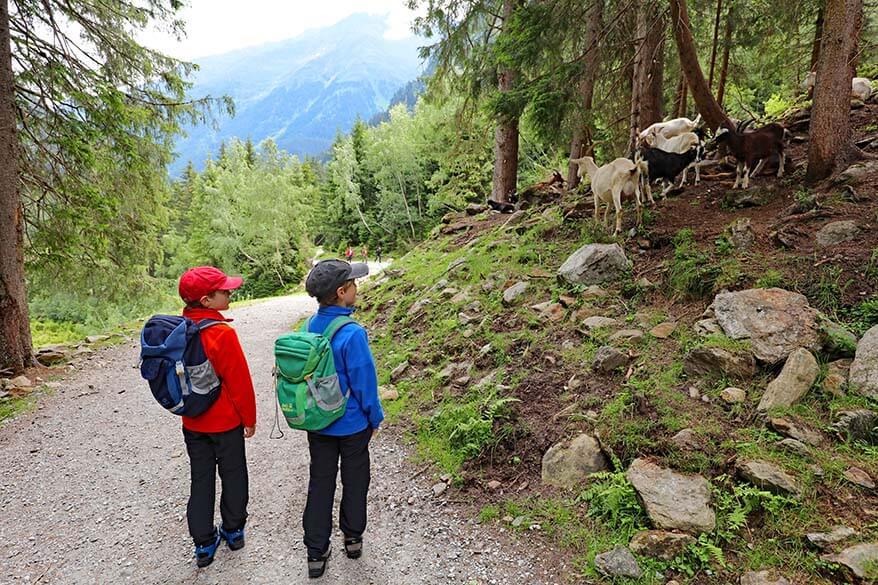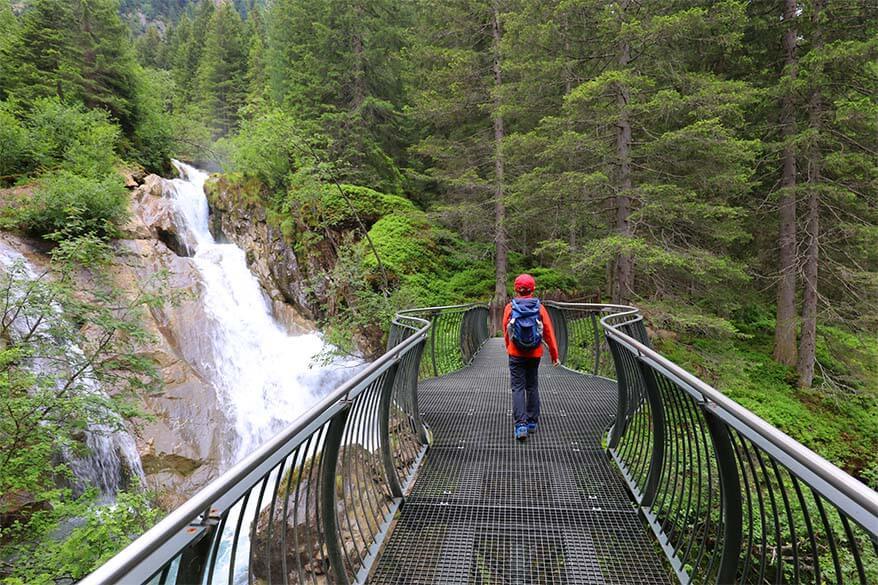 Where to Stay in Stubai
Stubai Valley is quite compact and you can easily stay at any of the villages and explore the entire valley from one base location. You can drive or take a bus (included in your Stubai Super Card) that runs every half an hour and connects all the main areas of interest.
We stayed at two different hotels in Stubai. Both these accommodations offered the free Stubai Super Card which means that we saved hundreds of euros on all the cable car rides and some attractions.
You can read about our experience and accommodations where we stayed below. In addition, you can compare hotels, apartments, and short-term rental accommodations in Stubai Valley using the map below. Simply insert your travel dates and group size, and you'll see the best deals for your stay. Check it out!
Our experience. One of the places we stayed at was the luxury apartment complex Sepp & Hannis Suiten im Dorf that belongs to Hotel Stubaierhof where you can have (amazing) breakfast and use the pool/spa facilities. It's located right in the center of Neustift im Stubaital, the main town of the valley. If your budget allows it, both – the hotel and the apartments – are amazing.
There are also plenty of restaurants and shops just around the corner. We highly recommend the Restaurant Tyrol Cafe for lunch and/or dinner – the food is top and the service – super friendly. We dined there every evening.
The other place we stayed at in Stubai was Apart-Pension Wasserfall. It's a nice, but more simple family-run accommodation a bit further down the valley, in the direction of Stubai Glacier with super-friendly hosts and a very nice playground for kids. There is a nice waterfall just next door, there are several restaurants within walking distance and a bus stops right in front of the apartment. But it's a few kilometers from town and so you'll need a car for most things.
And, of course, there are countless other options. If you want to have all the facilities within easy reach, I recommend staying in Neustift im Stubaital. As already said, this is the main town of the valley and it's also very centrally located for visiting all the places mentioned in this article.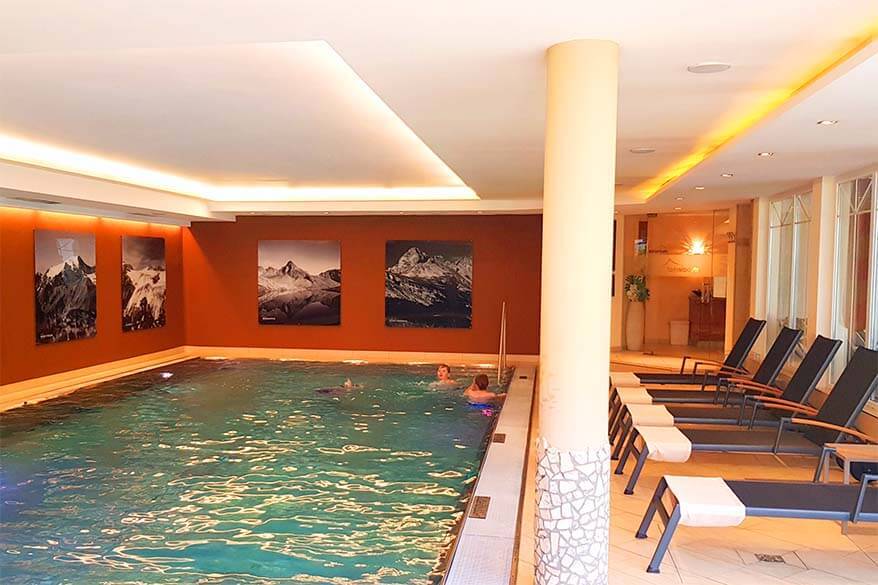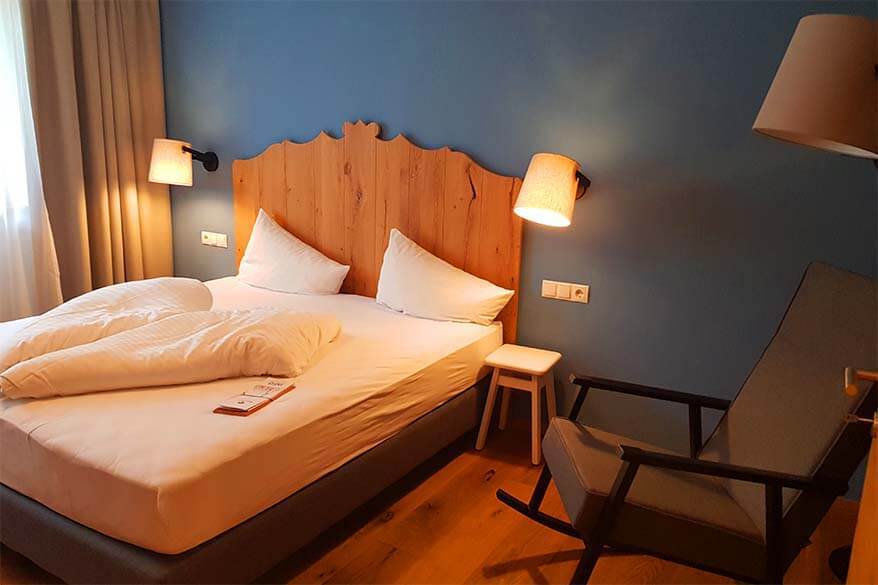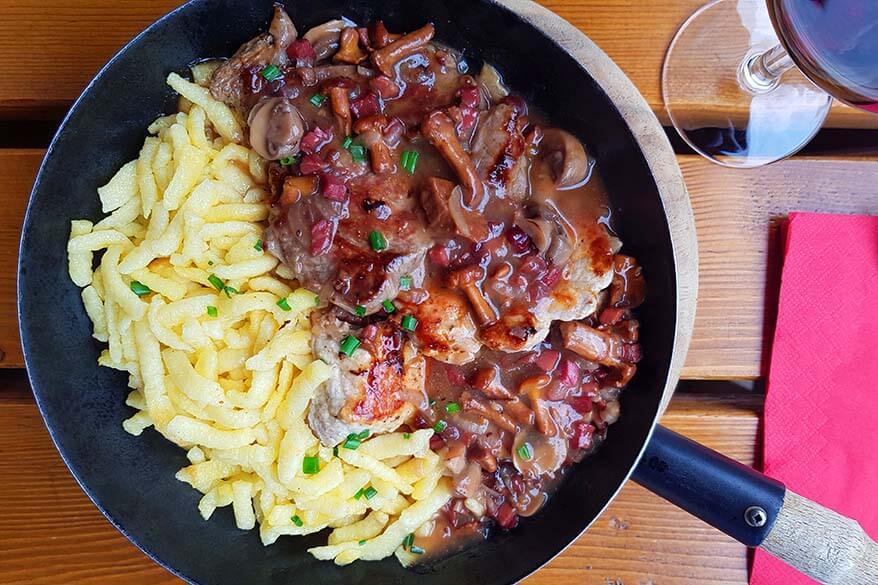 So, this is our short guide to visiting Stubai in summer. If you have any questions, feel free to leave a reply below. If you are looking for more inspiration for places to visit in Tyrol, make sure to check our other articles below.
More travel inspiration for Tyrol:
If you found this post useful, don't forget to bookmark it and share it with your friends. Are you on Pinterest? Pin these images!