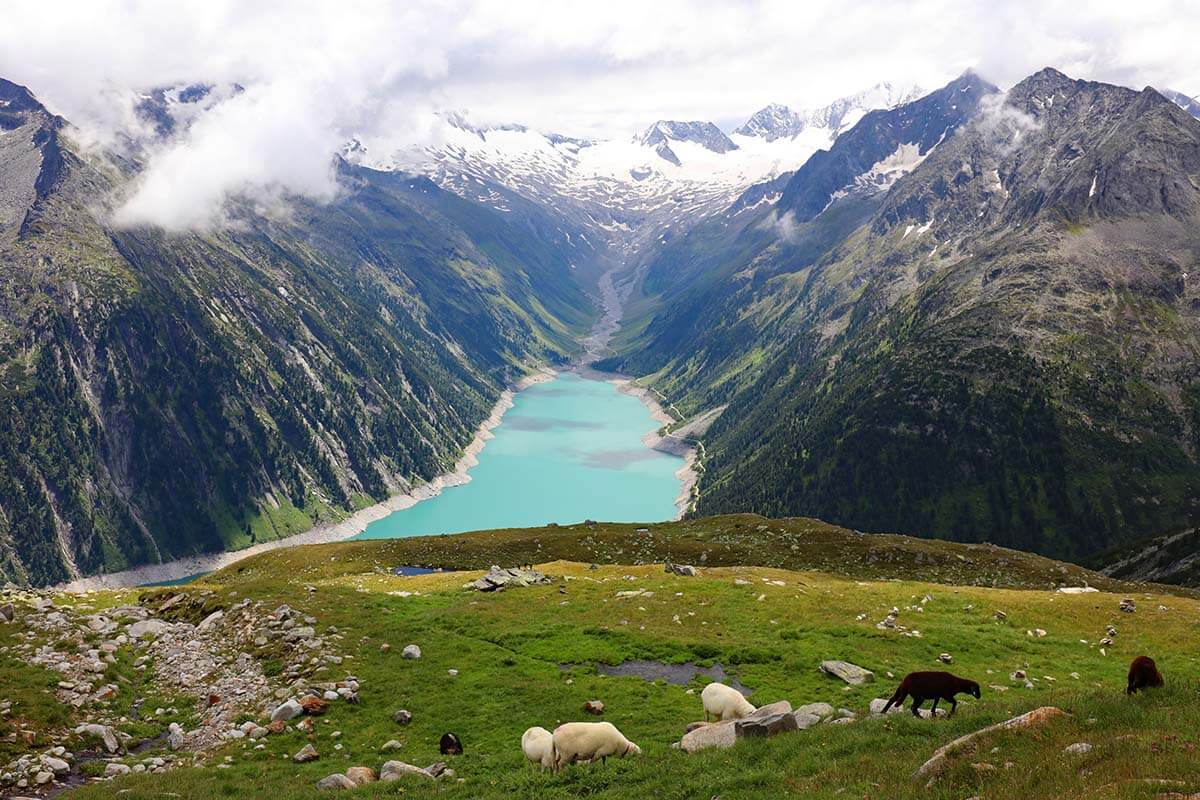 Zillertal in Austrian Tyrol became world-famous after Ed Sheeran chose this destination for the romantic winter video of his hit 'Perfect'. However, there is so much to see and experience in Zillertal in summer as well! In this article, we share just a few great things to do in Zillertal in summer.
We only spent a few days in Zillertal with kids and could just scratch the surface of everything that the beautiful Ziller Valley has to offer. Nevertheless, I hope that our experiences will inspire you to visit this beautiful part of Tyrol and design your own perfect summer vacation using some of our tips below. Take a look!
Disclosure: We visited Zillertal in cooperation with Zillertal Tourism and Visit Tirol. As always, all opinions are our own and based on our first-hand experiences.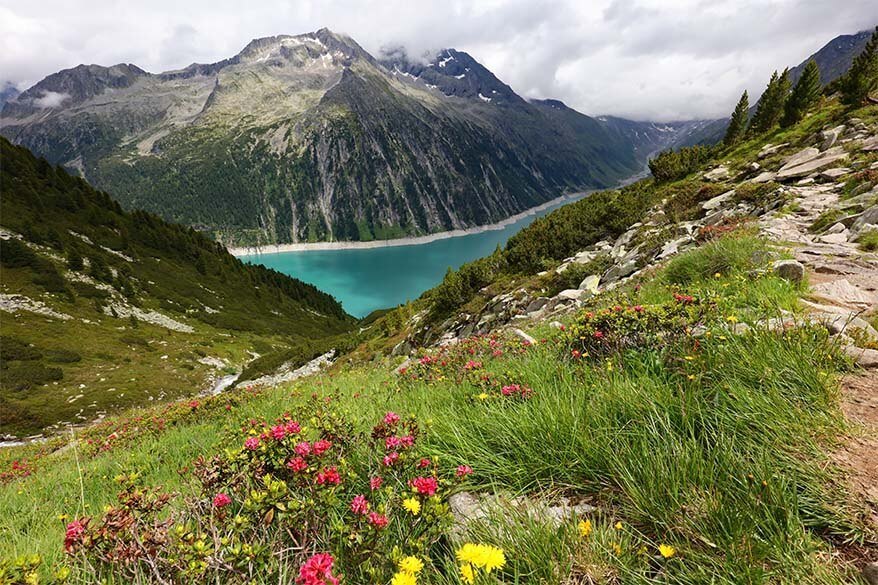 Here are some of the best things to do in Zillertal in summer:
1. Take a Hike
Without a doubt, one of the nicest ways to experience the mountains in summer is to go hiking. With 1,400 km (870 miles) of signed trails at different altitudes and for all difficulty levels, Zillertal is a real hiker's paradise. Hiking is also a great way to see all kinds of animals – from sheep, goats, and cows to Alpine wildlife.
If you are looking for a beautiful day hike, check out the Olpererhütte hike. This moderate hike of 3-4 hours truly has it all: spectacular sceneries, snow-capped mountain peaks, an azure-blue lake, waterfalls, mountain flowers, Alpine animals, and a mountain hut in a jaw-dropping location serving excellent traditional food.
The drawback is that this hike also has an Instagram-famous suspension bridge that attracts big crowds. A good thing is that there are other (longer) alternative hikes nearby that have almost no people yet offer similar sceneries.
LEARN MORE: Olpererhütte Hike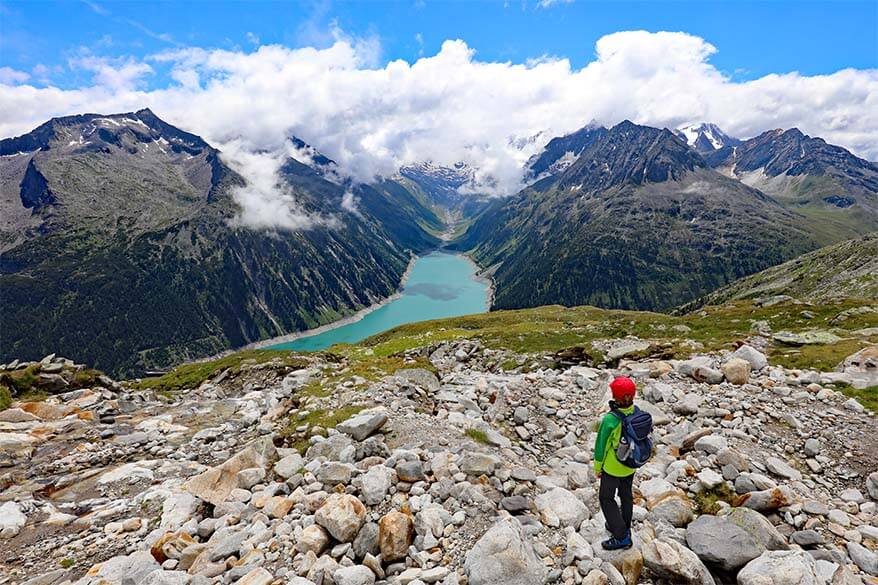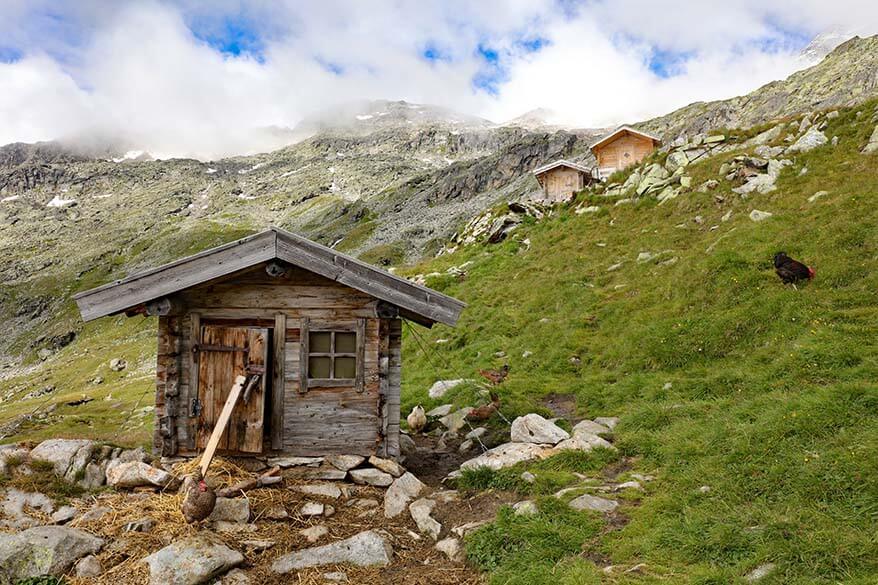 Another really nice short hike we did is a family hike at Sommerberg in Hintertux (aka GletscherFlohSafari). The landscapes here are very beautiful and this hike is really easy. Furthermore, there are lots of activities for the kids along the way.
TIP: The above are just a few examples of hiking possibilities in Zillertal. If you don't know which hike to choose, check out the overview of all the hiking trails in Zillertal on the official website. There, you can use various filters to find the best hikes for your vacation.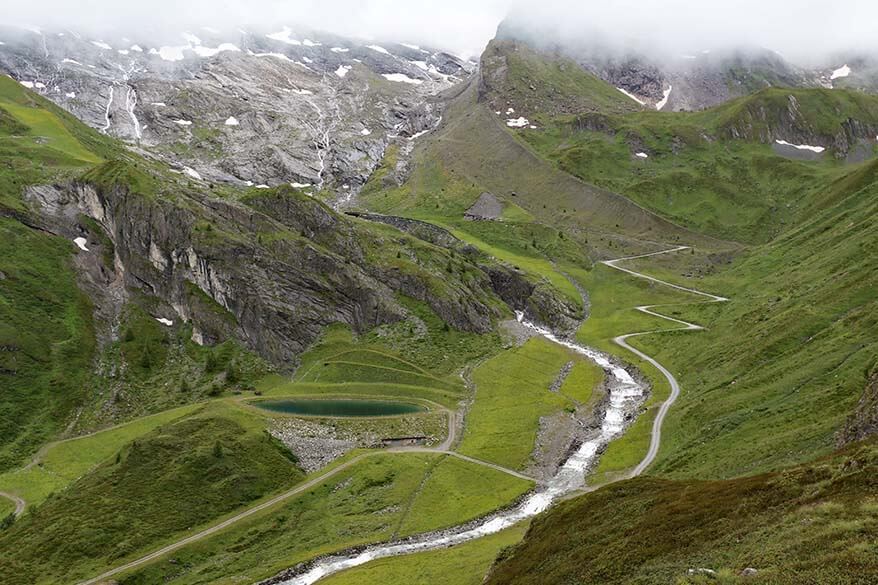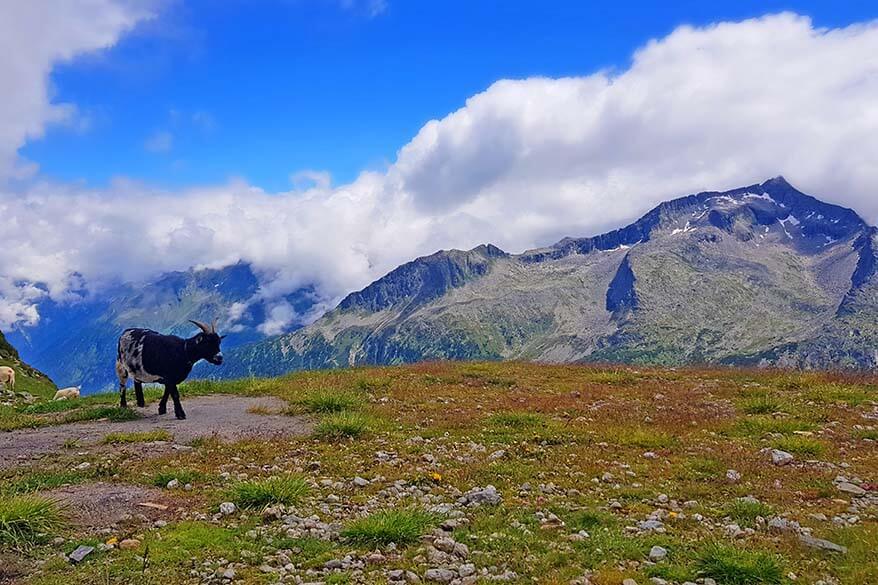 2. Experience Winter at Hintertux Glacier
If you want to experience real winter in summer, there is no better place to do that than at Hintertux Glacier. At 3.250m (10.663 ft), you have snow-certainty the whole year-round.
We weren't flexible with our schedule, so we visited Hintertux Glacier on a cloudy rainy day and it was snowing on top of the mountain. This was mid-July and it was about 18°C (64°F) down in the valley. It was -2°C (28°F) on top of the mountain.
When we stepped out of the Gletscherbus 3 cable car, it was like entering a totally different world. In a matter of several minutes, we left green summer landscapes below and arrived in a white winter wonderland. The effect would be even more impressive if you visit here on a sunny summer's day. So if you have several days in Zillertal, pick the very best-weather day to come here.
You can ski at Hintertux Glacier 365 days a year and indeed, we saw many people skiing and snowboarding here in July. At the top cable car station, you'll also find the 'Lui's Glacier Bug Park' where you can go snow tubing in summer (it's free for kids). There is also a snow-tire carousel for the youngest members of the family.
Guided glacier tours are also available here. Everyone can participate, including kids from 6 years and older. Tours run on weekdays in summer and you don't need to reserve in advance. The price is very reasonable and all you need are good hiking boots and weather-appropriate clothing. So you can always decide to do this once you are there.
At the very top of the mountain, just at the cable car station, you'll also find a panorama terrace. On a clear day, you should be able to see magnificent panoramas here. However, when we visited, all we could see were white clouds… But that didn't bother us much, because we came here for a winter wonderland and we found it not only outside, but also inside Nature's Ice Palace (more info below).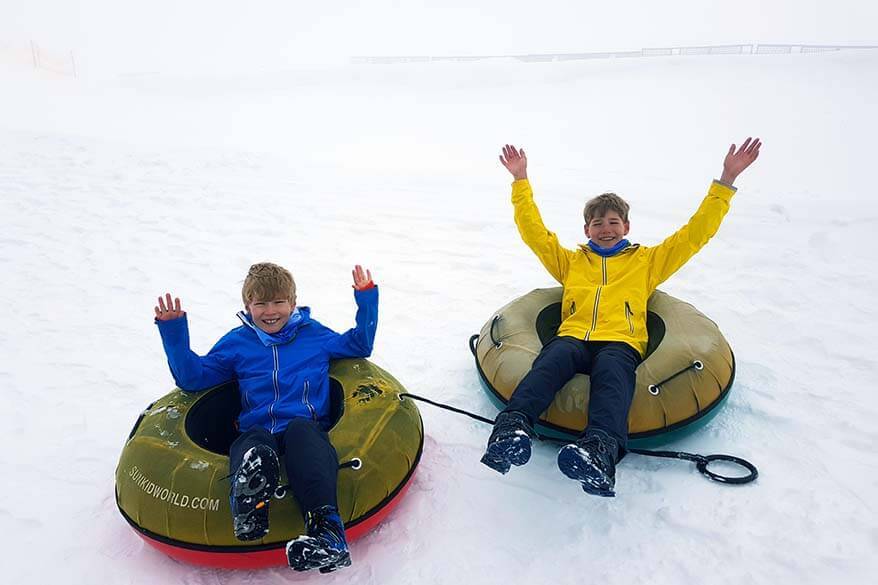 3. Step Inside a Real Ice Palace
One of the absolute highlights of any trip to Zillertal is a visit to Nature's Ice Palace at Hintertux Glacier. This is a natural underground ice world located 30 meters (100 ft) beneath the ski slopes that was discovered by coincidence. It has been adapted and made more accessible and nowadays it's quite easy to visit for everyone, also kids from 6 years and older.
Note, however, that you'll be walking on slippery surfaces and will have to climb quite a few ladders. Sturdy hiking boots are absolutely necessary but if you didn't bring your own, you can rent a pair at the sports shop. If you're skiing, you can also visit here in ski boots.
I have visited many (man-made) ice tunnels and also natural ice caves before, but I have to say that Nature's Ice Palace at Hintertux tops them all. It's a very unique experience with ice chambers, giant icicles, and even an underground river inside a glacier. Our tour included a short boat ride on the river and it's as cool as it sounds!
If you reserve in advance, you can also book special tours such as kayaking or stand-up paddling on the river, or a photo tour. However, the standard tour is more than impressive enough and it doesn't require any special preparation or advance booking.
Nature's Ice Palace is open daily, 365 days a year, and it has a constant temperature of about 0°C (32 °F). So make sure to bring a jacket! Please note that the entrance ticket is not included in your cable car ticket. You can get it at the 'container-office' located at the top cable car station. For more up-to-date information, opening times, and prices, please check the official website.
LEARN MORE: Nature's Ice Palace & Hintertux Glacier in Summer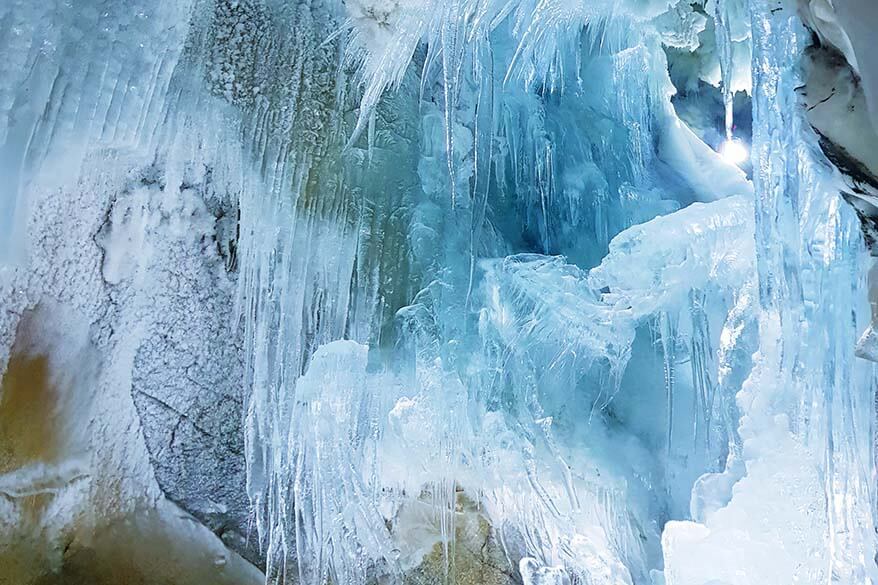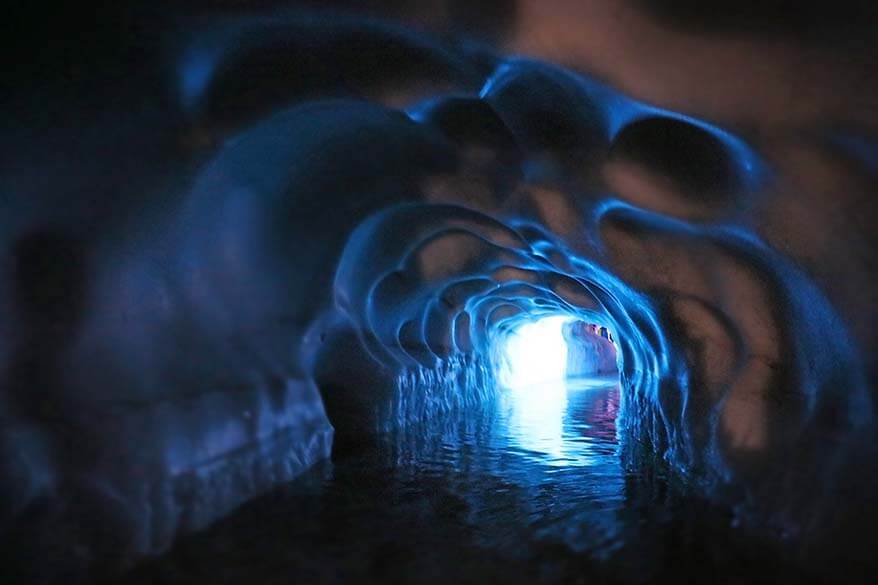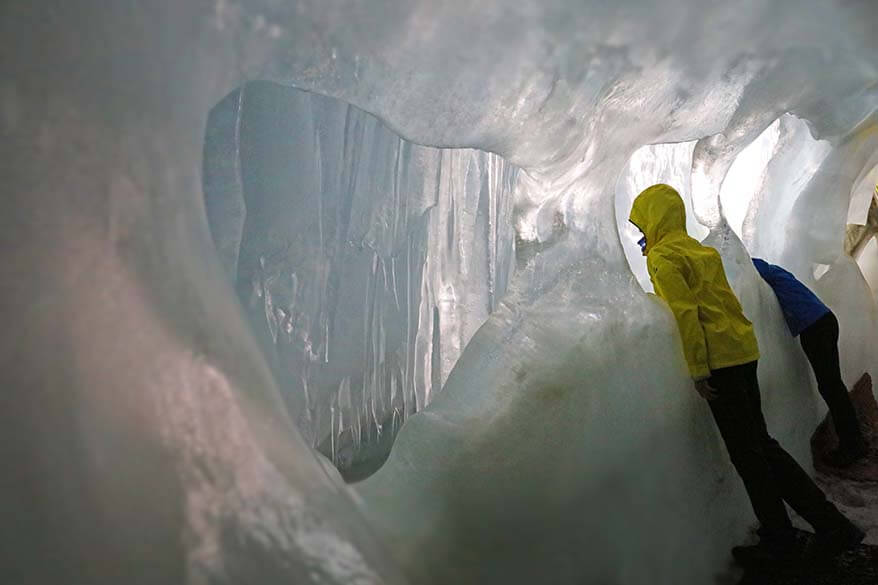 4. Visit Lakes & Waterfalls
No trip to the mountains would be complete without seeing at least a few mountain lakes and waterfalls. Zillertal is no exception! There are many beautiful waterfalls and mountain lakes in Zillertal and you're likely to encounter quite a few of them if you go hiking.
If you want to see some impressive waterfalls the easy way, check out Hintertux Falls. You can see this waterfall from the cable car on your way to Hintertux Glacier and it's also very easy to reach on foot from the valley cable car station. It's just a short walk of 5-10 minutes and well worth it.
The waterfall is truly beautiful and proves that you don't always need a big effort to see the most spectacular sights. Just be careful if it rains – the area is extremely slippery.
One of the nicest lakes we saw in Zillertal is Schlegeis Stausee. Stillup Lake is also beautiful, just as Speicher Zillergründl. You can also hike around the Speicher Durlaßboden reservoir.
And while not technically in Zillertal, the nearby Krimml Waterfalls are also well worth a visit if you find yourself in this area. With a total height of 380m (1.246 ft), this is the highest waterfall in Austria. You can reach the first waterfall after a short walk of 10-15 minutes. The second one requires a bit more effort and a longer hike, but there will also be fewer people.
Note, however, that this is a very popular place attracting big groups. So if you want a more tranquil experience, you may want to visit other lesser-known waterfalls in Zillertal instead. Rumor has it that Talbach Waterfall is a real hidden gem.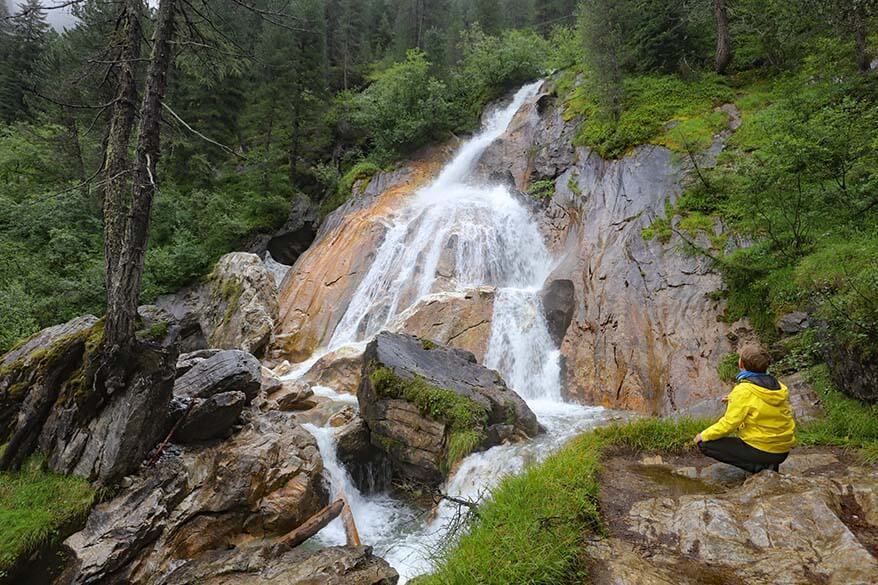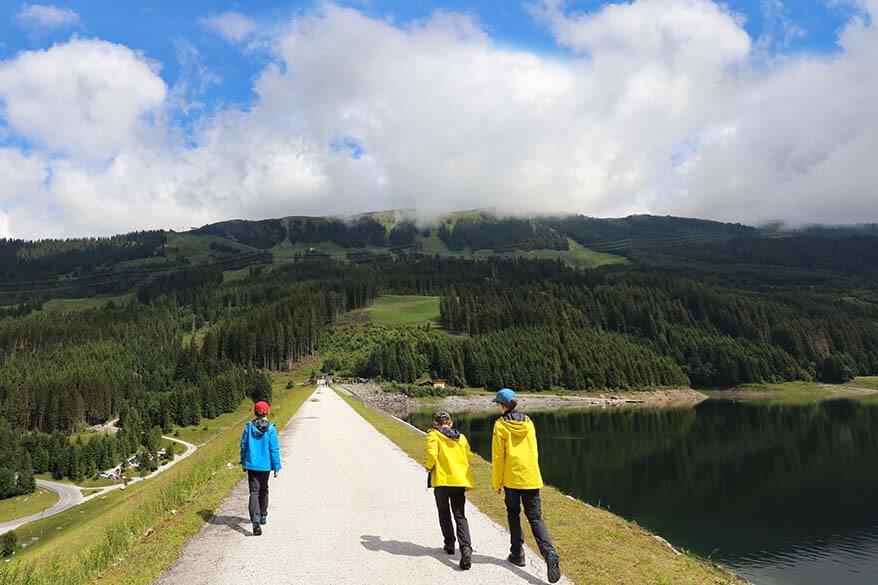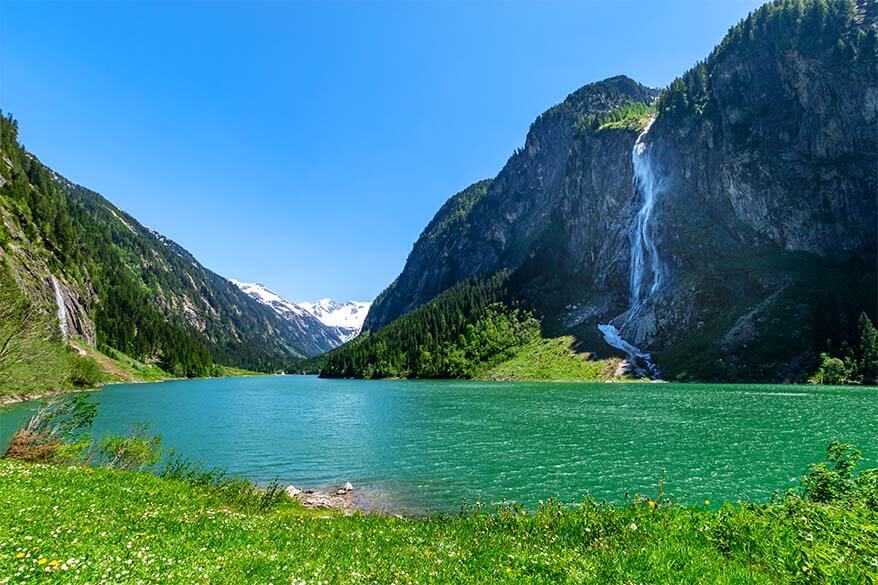 5. Try Adrenaline-Rushing Activities
Tyrol to us is a synonym of fun activities for the whole family. Zillertal is not an exception. There's so much to do for thrill-seekers, including the soft adventure activities that are safe and fun for the whole family.
Don't miss the Arena Coaster – an Alpine toboggan run of almost 1,5 km with a 360° loop and a 540° loop. It's located at the Zillertal Arena Valley Station in Zell and you can just take the coaster here without having to go on the cable car first, as is the case in most other locations. This is a great attraction for the whole family, not just for the kids! More info here.
Another popular summer activity is ziplining and flying-fox experiences and there are several places in Zillertal where you can do this. Check out the flying fox at Spieljochbahn in Fügen, the Arena Skyliner Almflieger in Gerlosstein, GipfelLiner in Königsleiten, and several others.
And, of course, there are countless via ferrata trails, paragliding, and lots of other great options for adrenaline-junkies.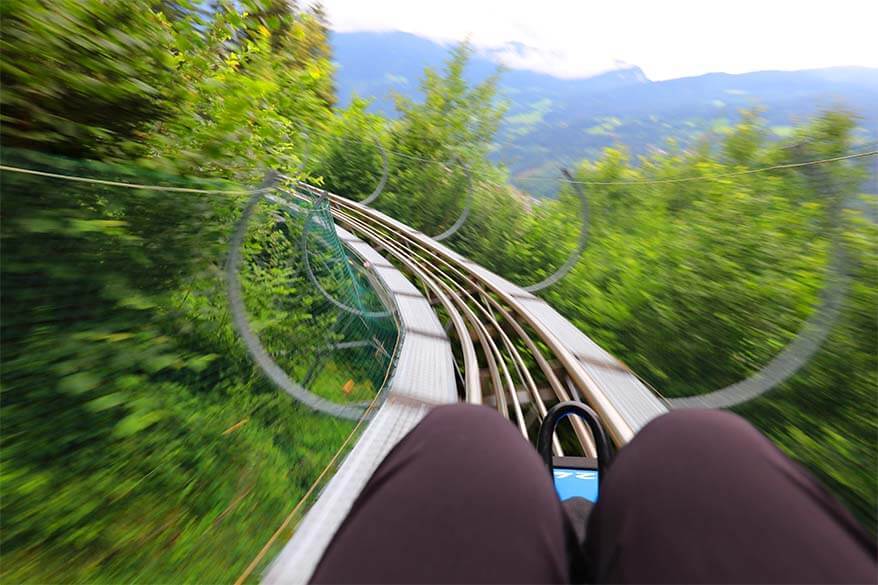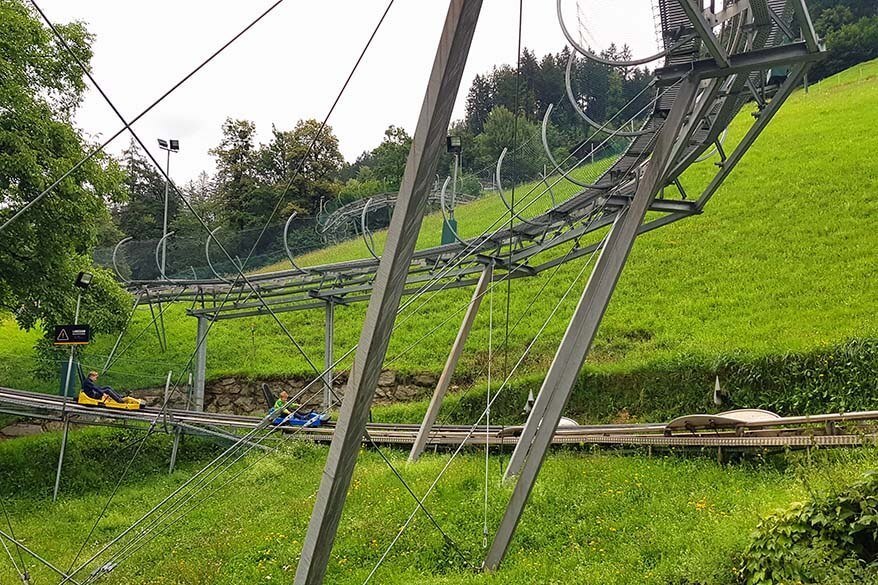 6. Take Your Kids to a Playground
If there is one thing that sets Tyrol apart from any other mountain destination we have ever been to, is its unparalleled focus on family-friendly activities. No matter where you go, there are playgrounds for children EVERYWHERE. Really, everywhere.
And I'm not just talking about regular playgrounds with a couple of swings, a see-saw, and a slide. Tyrol takes the definition of a playground to a whole other level!
Also in Zillertal, there are countless options for endless family fun. Check out the water fun park in Spieljoch, Spruce Tree Castle and Spruce Lake in Rosenalm, Funsportstation on Action Mountain in Penken, wooden ball tracks at the top Isskogel cable car station, and many other great playgrounds for kids of all ages.
There are also several public swimming pools in Zillertal. The biggest and most popular swimming pool is Erlebnistherme Zillertal in Fügen. But also Mayerhofn adventure pool, Zell Leisure Park, and quite a few others. Many pools have indoor and outdoor areas and are perfect for any weather.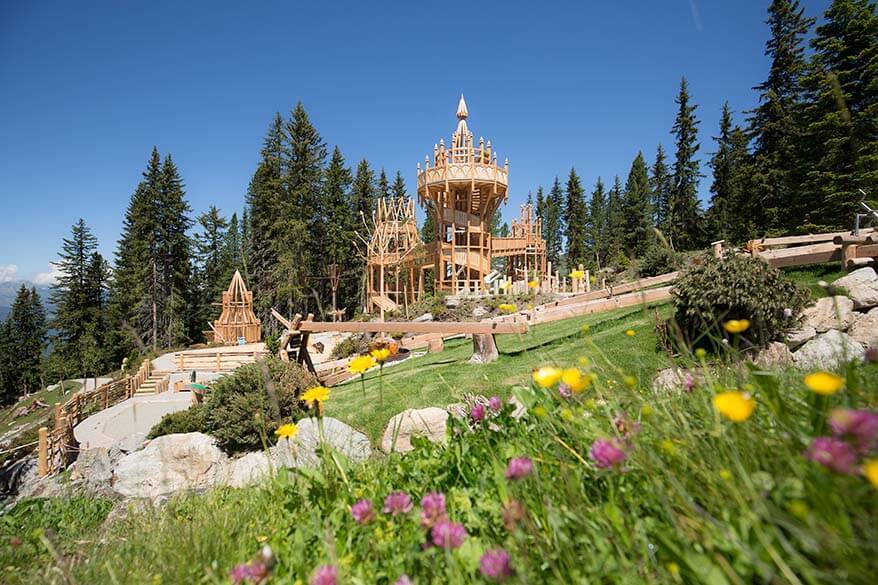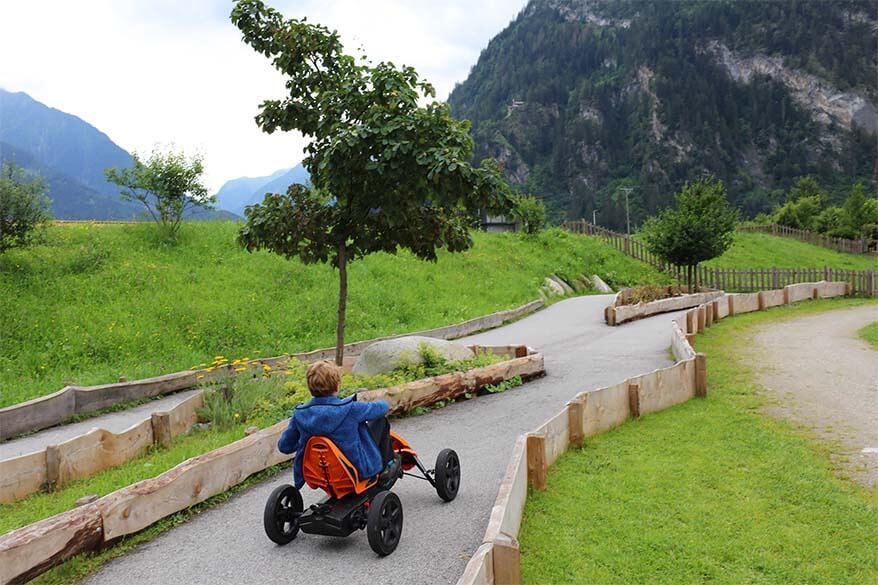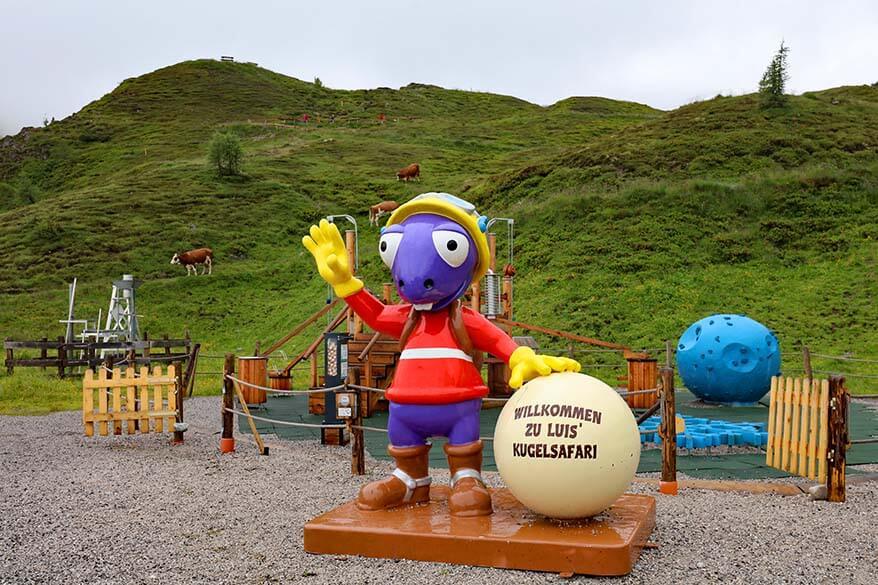 7. Visit a Local Dairy Farm
If you are looking for something nice to do in Zillertal when it rains or simply want to take a break from all the outdoor activities, you'll be glad to know that there are many great indoor and easy-going activities as well.
Once again, there are many possibilities and I can't even start to sum up all of them. So here is just one suggestion based on what locals recommended to us – a visit to ErlebnisSennerei Zillertal in Mayrhofen.
ErlebnisSennerei Zillertal is a working dairy where you can learn all about making cheese, butter, or yogurt. You can also see the actual process and observe the workers through big glass windows inside the factory. At the end of the tour, you can taste milk and many different kinds of yogurt produced here. Our kids never ate this much yogurt ever before. It was absolutely delicious!
Furthermore, they also have a show farm where you can visit cows, goats, sheep, and even see several beehives. There is also a great playground for kids and a restaurant and a shop where you can taste and buy local produce.
We didn't expect much of our visit here and thought it was just a good way to spend a few hours on a rainy day, but we really enjoyed our visit here. If you are looking for a more local experience in Zillertal, why not give this a try.
TIP: The dairy is open daily from 9 AM to 5 PM, but it's best to visit on weekdays. That's when the factory is working at its full capacity and you get to see more 'action'.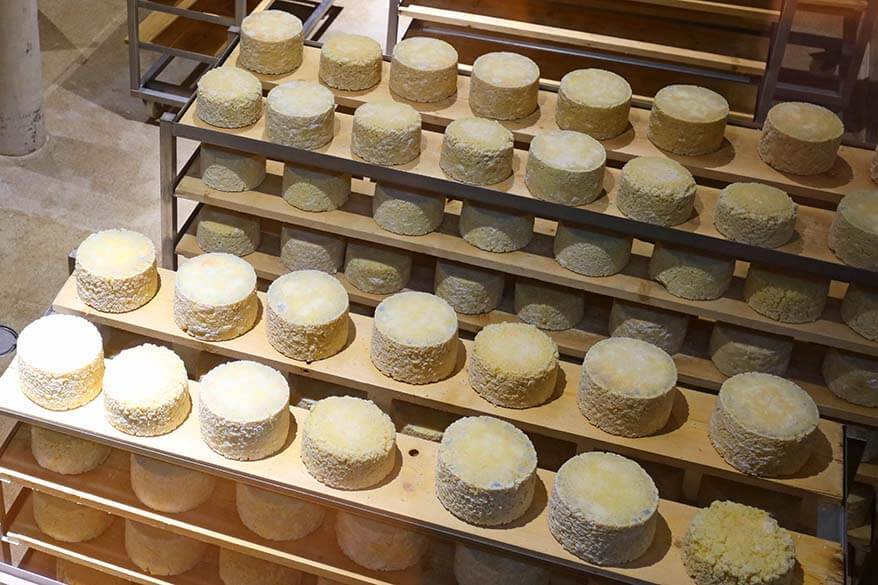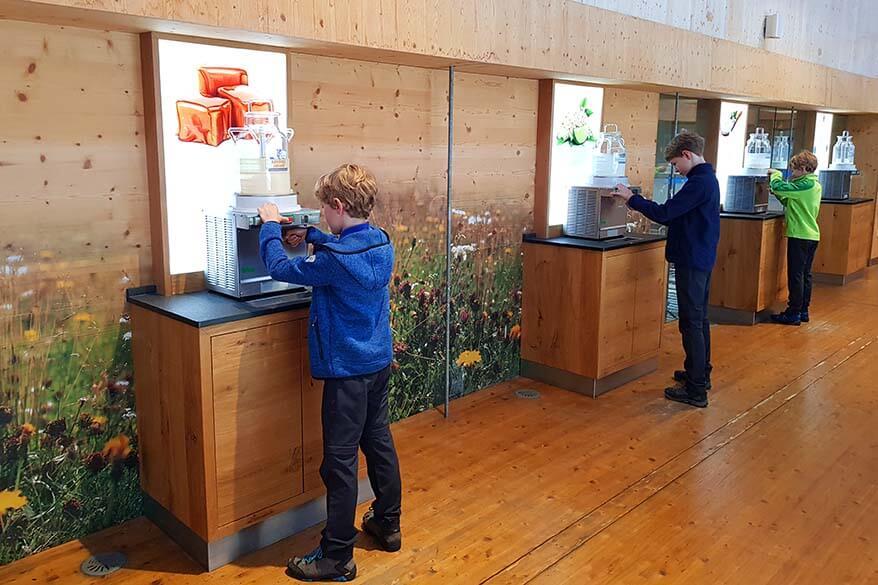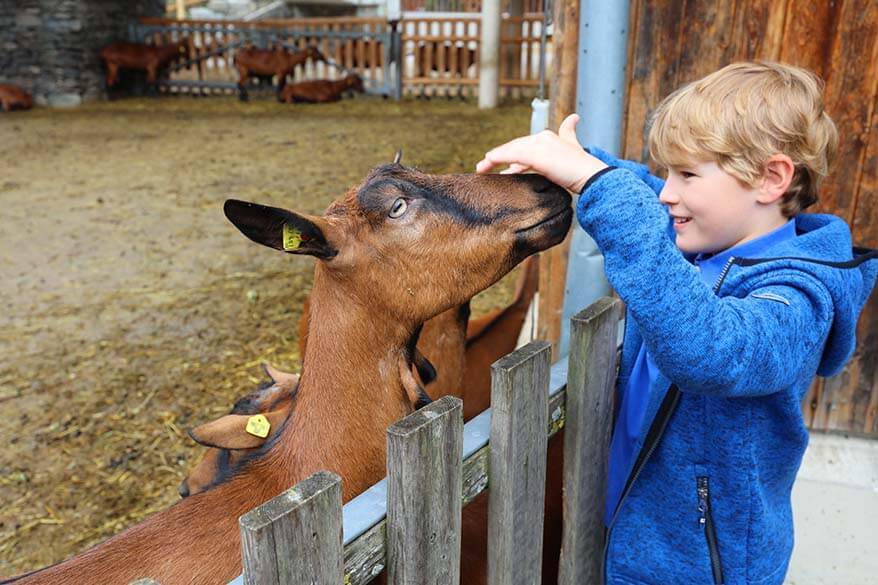 Where to Stay in Zillertal
The Ziller Valley is quite big and comprises of many different towns and villages. There are hotels and accommodations everywhere!
Depending on what you are planning to see and do, you may want to pick a specific area to stay. However, if you are like us and want to get a good idea of the whole area and visit all the main sights, then it might be wiser to stay at a more central location down in the valley. That way, you can easily make day trips without having to drive too much.
There is also a train and public buses that make sightseeing in Zillertal easy enough even if you don't have a car. Also for that, it's best to stay in one of the villages in the valley. See our suggestions below!
When visiting Zillertal in summer, I suggest staying in one of the three main towns right in the center of the Ziller Valley: Mayrhofen, Zell am Ziller, or Aschau im Zillertal. They are all on the railway route and have lots of hotels, restaurants, and also grocery stores. Because they are located right in the center of the valley, it's really easy to get to any places you want to see.
TIP: Using the map below, you can compare hotels and short-term rentals in the area. It's now showing Mayrhofen accommodation, but you can choose another place or simply zoom out for the other areas. Just don't forget to insert your travel dates and group size to see the best deals!
We stayed at Landhaus Klausnerhof – a family-run self-catering accommodation in Aschau (breakfast available). It's just near a railway stop and the towns of Aschau as well as Zell am Ziller are both very close by. However, there is nothing nearby, so you have to take a car (or a train) for everything.
If you rather stay closer to shops and restaurants, here are just a few suggestions on where to stay in Mayrhofen: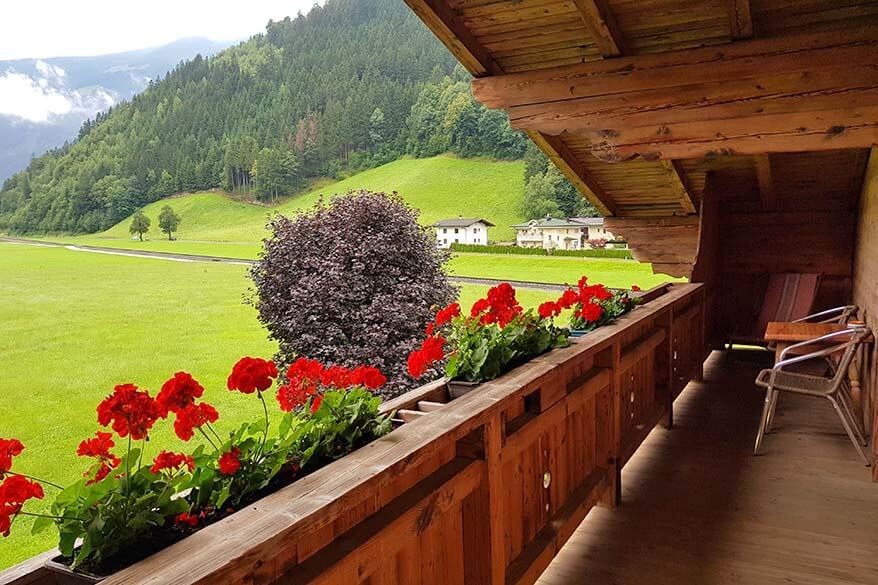 So, this is our short guide to visiting Zillertal in summer. If you have any questions, feel free to leave a reply below. If you are looking for more inspiration for places to visit in Tyrol, make sure to check our other articles below.
More travel inspiration for Tyrol:
Some of the nicest hikes in Tyrol:
If you found this post useful, don't forget to bookmark it and share it with your friends. Are you on Pinterest? Pin these images!