Are you planning to visit Kangaroo Island in Australia and wondering what there is to see and do there? Or maybe you're looking for a sample Kangaroo Island itinerary that brings you to all the best places on the island? This article should answer all your questions. Take a look!
I had heard so many great things about Kangaroo Island in Southern Australia, so it was one of the must-see places for me when preparing our Australia trip itinerary. We spent four days on Kangaroo Island with kids and it didn't disappoint. Kangaroo Island has all the ingredients for a perfect family trip: beautiful nature, lots of wildlife, and plenty of space for kids to play and explore.
Kangaroo Island is not a place most people choose to visit if they only have a few weeks in Australia. However, if you can, add it to your Australia trip itinerary, even if only for a day or two. Kangaroo Island is one of the most authentic places you can visit in Australia. If you love pristine untouched nature and wildlife, you'll love it here!
This Kangaroo Island guide gives you a short overview of the best things to do on Kangaroo Island, our detailed 4-day Kangaroo Island itinerary, and accommodation advice.
Here you can find more information about planning a trip to Australia: where to start, when to go, what to see. Here you can read more about traveling to Australia with kids.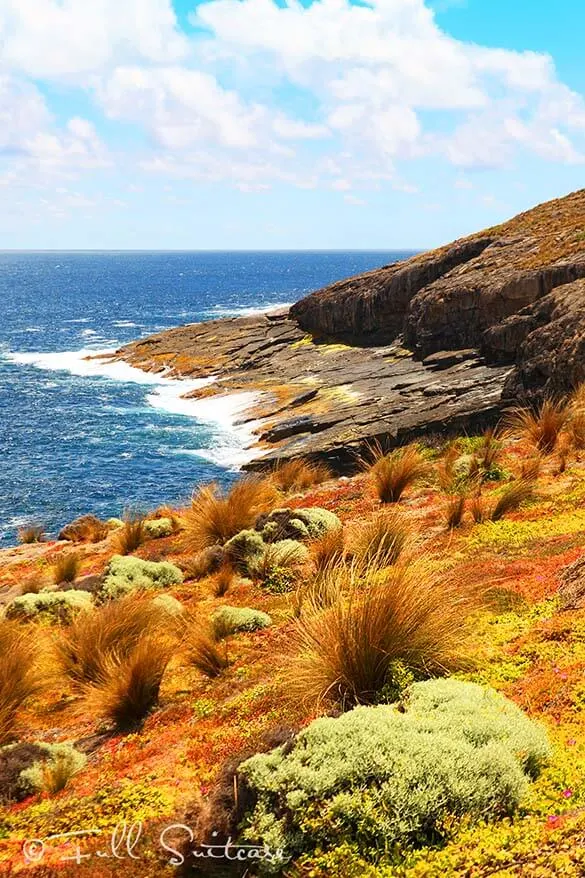 How Long to Spend on Kangaroo Island
There is so much to see on Kangaroo Island that you could easily spend a week here and not get bored. Visiting for 2 – 3 days will allow you to see the main highlights of the island. If you stay for 4 – 5 days, you will be able to visit all the best places and some lesser-known attractions, as well as take the time to see some wildlife.
TIP: Even if you only have just one day, you can visit Kangaroo Island and see the main highlights. In that case, going with an organized day tour is probably better. Not only will you save a lot of money for the ferry, but you will also not have to worry about the practical side of planning the trip and making sure that you do indeed see all the best places in just one day.
Our experience: We had 4 days on Kangaroo Island and covered pretty much all the best places that we had on our list. Below, you can find our detailed itinerary for Kangaroo Island.
Because we visited with young kids, we traveled slower. We chose to explore fewer places rather than try to see everything – that's just the small price you have to pay when traveling with young kids.
If you visit Kangaroo Island without children, in principle, you can see a lot more in the same period of time than we did. Or, if you travel really fast, you can probably cover our itinerary and see most of the best places on Kangaroo Island in two or three days.
Top Places to See & Things to Do on Kangaroo Island
Kangaroo Island has a lot to offer for young and old. Since we only had a few days on the island and we were visiting with three young kids (3, 3, and 5 at that time), we obviously couldn't see and do everything.
However, for the sake of providing you with the most complete guide for visiting Kangaroo Island, I created a list containing all the best places to see on Kangaroo Island.
This list covers all the places which we visited during our trip to Kangaroo Island (and which you'll find mentioned in our itinerary below). In addition, it also contains some other places that are well worth a visit, but for which we didn't have the time. I did a lot of research before our trip and all these places are well worth a visit on Kangaroo Island. Take a look!
Flinders Chase National Park:

Remarkable Rocks
Admirals Arch
Cape Du Couedic Lighthouse

Seal Bay Conservation Park
Little Sahara
Vivonne Bay
Stokes Bay
Kelly Hill Caves
Prospect Hill
The lighthouses of Kangaroo Island: Cape Borda, Cape Willoughby
Kingscote Pelicans
The colorful cliffs of Red Banks
Raptor Domain
Kangaroo Island Wildlife Park
Emu Ridge Eucalyptus Distillery
Clifford's Honey Farm
In addition, there are some fun tours as well. Here are some of the most popular options: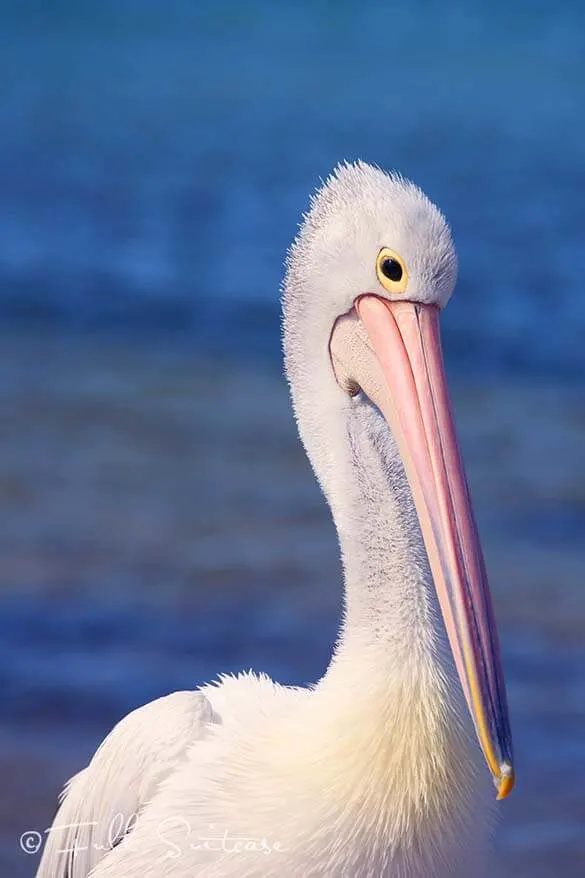 Kangaroo Island Itinerary
As already mentioned, we visited Kangaroo Island with kids. Young kids. So our itinerary is quite easy-going with lots of relaxing time to explore and enjoy the area.
If you are short on time, you can probably see all the same places in three, or maybe even two days. Take a look at how we planned our time.
Day 1: Fleurieu Peninsula. Cape Jervis – Kangaroo Island. Prospect Hill. Seal Bay.
Fleurieu Peninsula
In the morning, we left Adelaide for the Cape Jervis ferry that would bring us to Kangaroo Island. We took the scenic road through the incredibly picturesque Fleurieu Peninsula. Green rolling hills landscapes reminded us of New Zealand. As it often goes on a road trip, we felt sorry about not having the time to explore the area a bit more.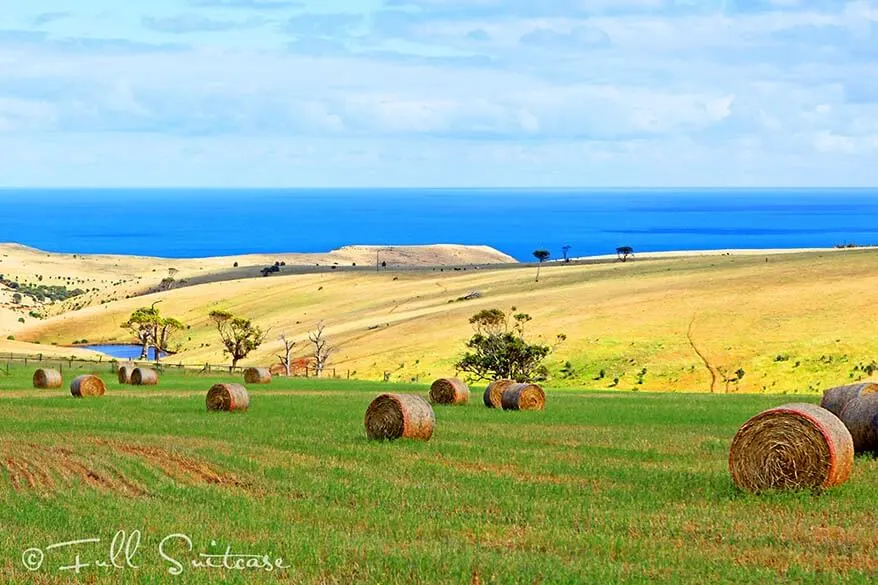 Kangaroo Island Ferry: Cape Jervis – Penneshaw
We had booked the Kangaroo Island ferry in advance and in no time we were on the boat and on our way to Kangaroo Island. The trip took some 45 minutes, but it was a bit choppy, so we spent most of the time on the upper deck enjoying the beautiful views.
You can find the Kangaroo Island ferry timetable and other practical information on the SeaLink website.
Penneshaw, where the Kangaroo Island ferry arrives, is a tiny little town with not much to see. We stopped at the petrol station and a small supermarket to stock up on some provisions for the next couple of days and headed straight to Seal Bay.
Prospect Hill
Prospect Hill was the very first place we visited on Kangaroo Island. We climbed the 512 steps to the top of the highest point on Kangaroo Island, with rewarding views of the island and mainland. At first, we were not sure if our 3-year-olds could do this climb, but they loved the stairs and hardly needed any help to reach the top.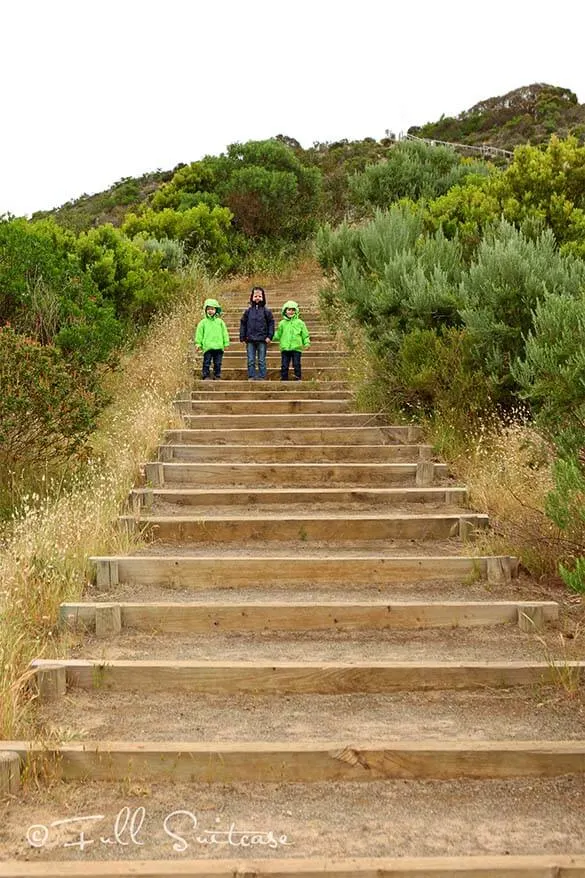 Seal Bay
No family trip to Kangaroo Island would be complete without a visit to Seal Bay. Seal Bay is the home to a colony of Australian sea lions. You can visit the beach where the seals live (with the guide only), or you can opt to explore the place from a boardwalk with several viewing platforms.
We did both and, at least on the day we were there, there was not much you could see from the boardwalk. All the seals were close to the water, and the only way to get somewhat close to them was with a guide.
It was a nice experience, especially for the children, who loved seeing these wild animals in their natural environment. There were baby seals as well and so there was plenty of action around us to keep even the 3-year-olds interested.
But the guide we had was really not suitable for the job (or she had a bad day), as she spent more time telling the people what (not) to do rather than telling us about the seals. All in all, we were glad we did the tour, as that was the best way to see the animals up close.
Several months later we visited Cape Cross Seal Colony in Namibia and that was a completely different experience. Tens of thousands of seals, some so close that you could touch them, and no guides to yell at people who walk too fast, too slow, or too close to the animals.
If we had been to Namibia first, then I'm sure we would have found Seal Bay not as impressive. But it was the first time we and the kids could see the seals from close by, and so at that time, it was worth the visit for us.
Seal Bay is located on the Southern Part of Kangaroo Island, it's about a 1h30 drive from Penneshaw and 45min from Kingscote. For further practical information, please refer to the Seal Bay website.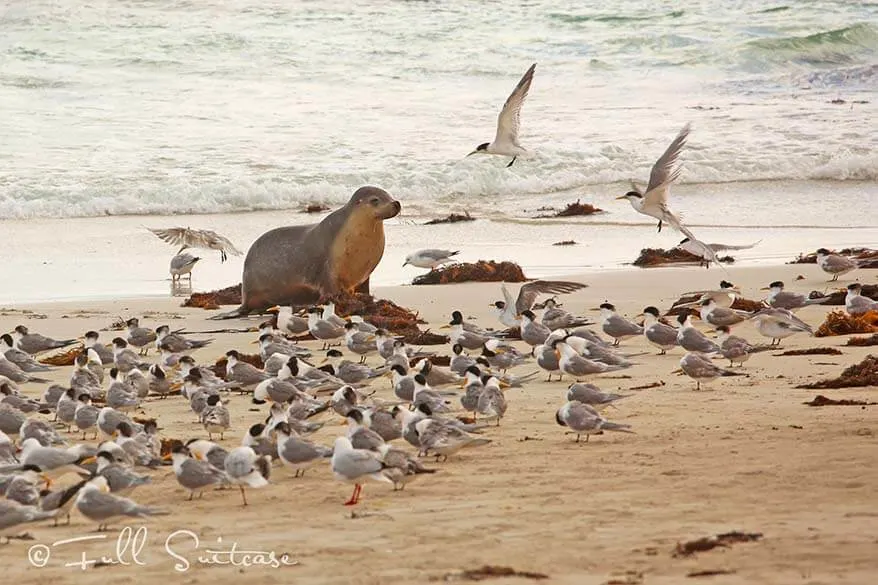 Day 2: Flinders Chase National Park Area
The second day of our Kangaroo Island itinerary was dedicated to one of its most extraordinary places – Flinders Chase National Park. If you have just one day on Kangaroo Island, this is the best area to visit. Read on!
Remarkable Rocks
We started our second day on Kangaroo Island with a visit to the most 'remarkable' landmark of Kangaroo Island – Remarkable Rocks. They don't look that impressive from a distance, but once you get closer you cannot help but admire this natural wonder. Remarkable rocks are truly… remarkable. The featured image of this post is also one from Remarkable Rocks.
This was a paradise for the kids! They were climbing on the rocks and playing hide and seek in the hollow spaces underneath. They didn't want to leave!
TIP: If you can, try to visit Remarkable Rocks early in the morning or late in the afternoon. Since most people stay on the other side of Kangaroo Island and the drive is long, the place is so much quieter in the morning or in the evening than during the day.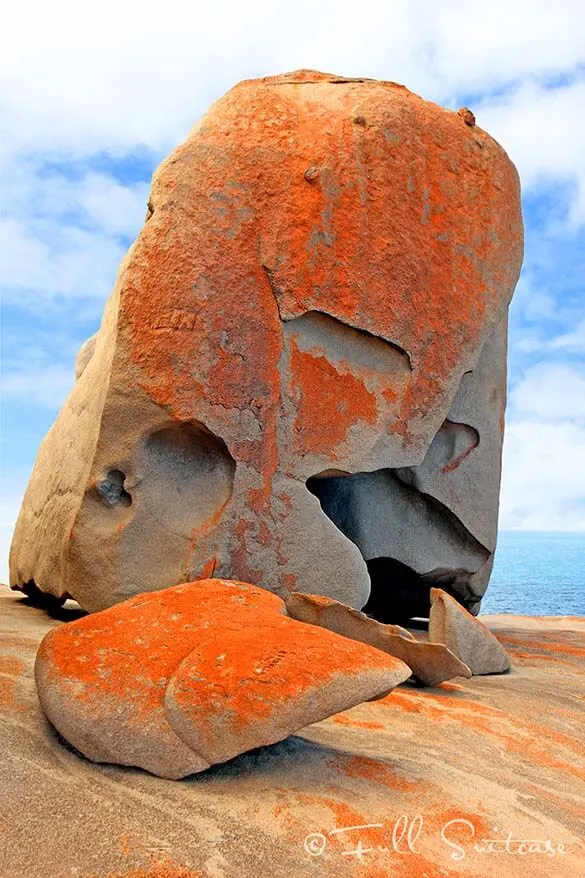 Cape Du Couedic Lighthouse
Our second stop for the day was at Cape Du Couedic Lightstation. There were some hiking paths in the area, but our kids were a bit too young to do a serious hike, so we limited our visit to a short walk and a picnic with a beautiful view.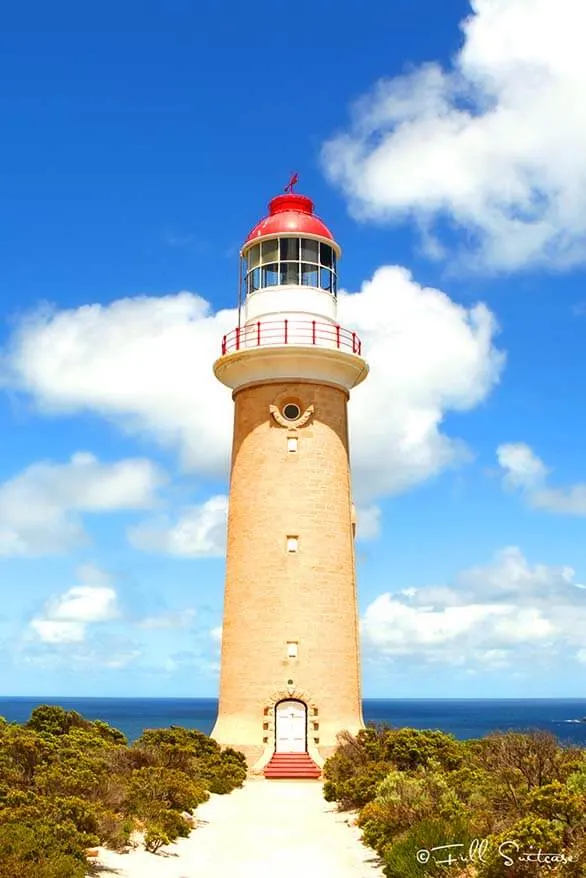 Admirals Arch
Another highlight of our visit to Kangaroo Island was the area around Admirals Arch. A beautiful coastal landscape can be enjoyed from the well-maintained boardwalks all the way to the Arch itself. It's perfect for families visiting Kangaroo Island with kids.
Admirals Arch area is home to a big colony of New Zealand seals. You cannot get as close to them as to the ones in Seal Bay, but the whole environment feels more natural.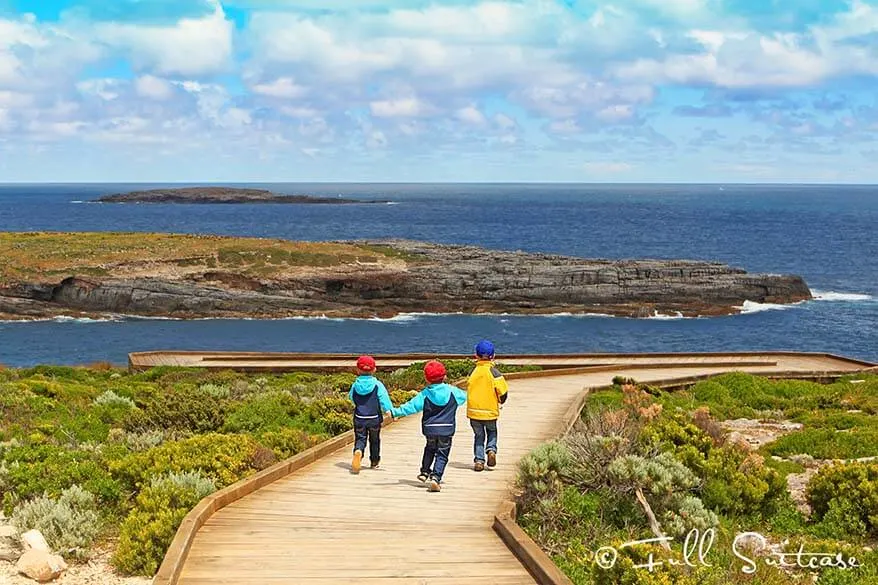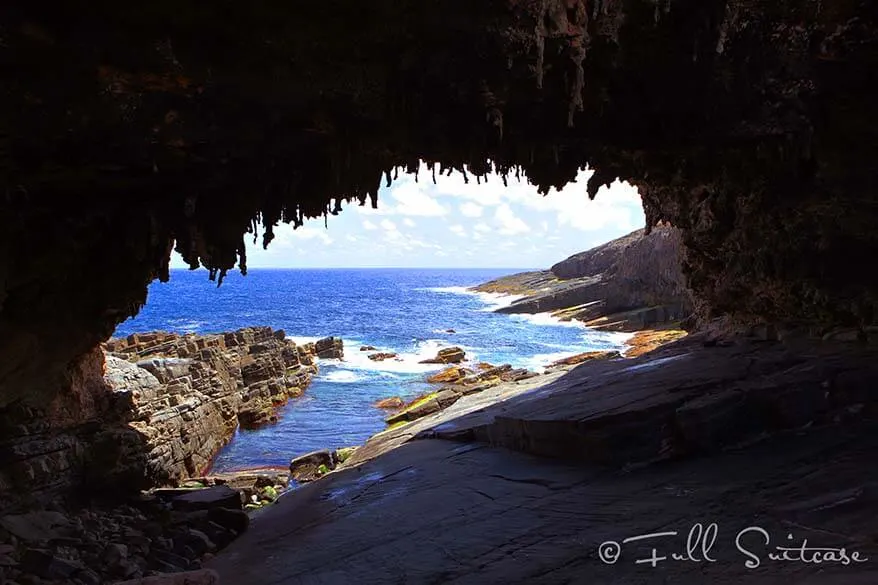 Flinders Chase National Park
We ended our day with two short walks at the Flinders Chase National Park: Woodlands Walk and Platypus Walk. Both were short and easy walks that our 3-year-old twins could do without any help. In fact, we had difficulties keeping up with them.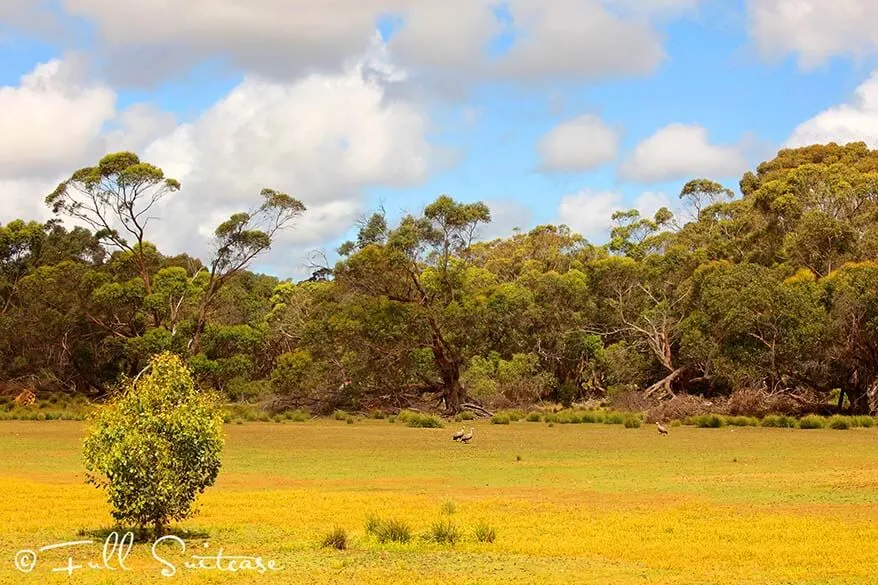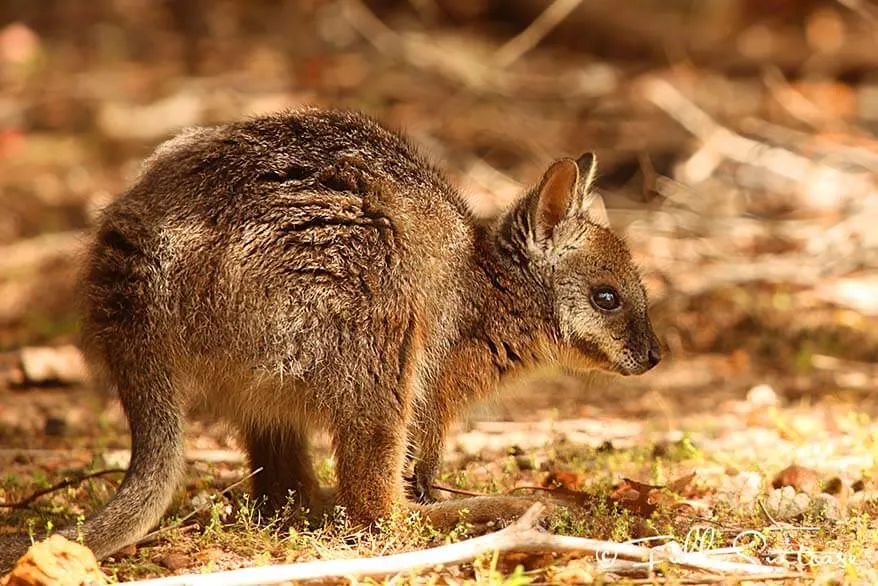 Day 3: Hanson Bay – Vivonne Bay
This third day of our Kangaroo Island itinerary was quite relaxed. The places we visited might not be an absolute must, but they sure make your trip to Kangaroo Island more special and give you a better picture of how much this nature wonderland has to offer.
It was another relaxing day on Kangaroo Island, perfect with young kids. We saw koalas, kangaroos, incredible white-sand beaches, and amazing sand dunes… We ended the day with a real Australian dinner and some new finds, including a sparkling ale from the Coopers Brewery. Take a look!
Hanson Bay Wildlife Sanctuary
We started our third day on Kangaroo Island with kids with a visit to Hanson Bay Wildlife Sanctuary. This place is famous as the best place to see koalas on Kangaroo Island.
There were supposedly 20 of them when we visited, but we only saw six or seven. The staff made it easier to spot koalas by marking the trees where some of them were sitting. I understood that they do this every morning. It's not the usual wildlife spotting, but still kind of fun.
First, look for a marked tree and then try to find the koala. Luckily, many of them were not too high in the trees and we could see them pretty well. We spent much too much time watching a koala with her baby. They are just so cute!
There were also several wild kangaroos running around at Hanson Bay and we could get really close to them. Fascinating animals!
TIP: You may also want to read this post for another great spot to see wild koalas in Australia.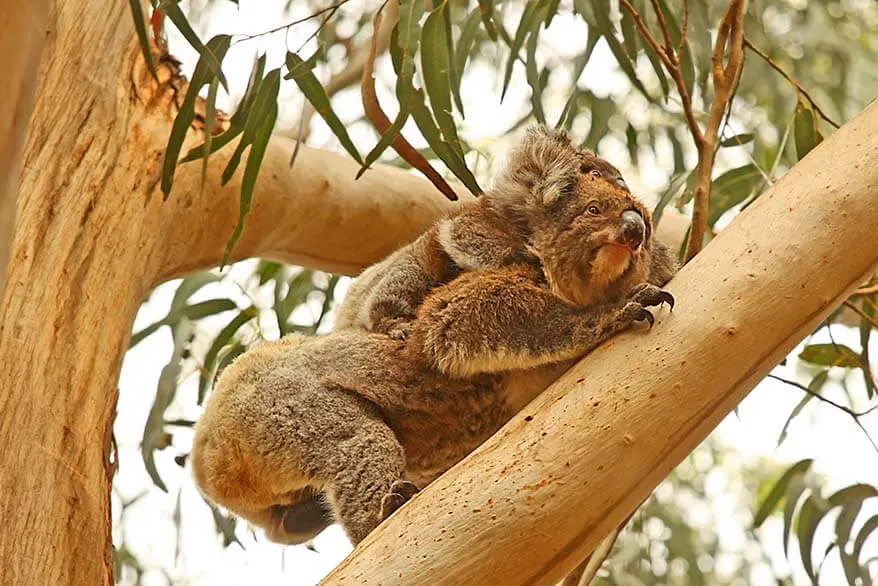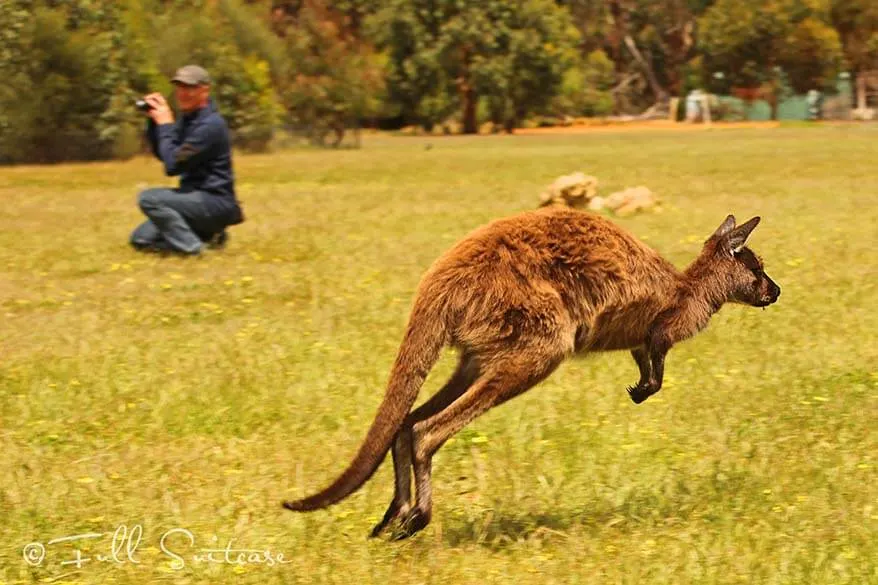 Vivonne Bay
Vivonne Bay is one of those places that are literally in the middle of nowhere. We stopped at the local cafe/ supermarket/ bottle shop/ post office/ ATM/ petrol station / sports equipment store. A fascinating little place, that was for sale when we visited. Wonder what became of it now…
After lunch, we visited the beach that can be reached by taking the road just past the Vivonne Bay store.
Vivonne Bay on Kangaroo Island is known as one of Australia's best beaches. The long, sandy beach sounded like an ideal location for family picnics, sunbathing, fishing and surfing. But on the day we were there, it was completely deserted.
We loved walking around and the kids couldn't get enough of the amazing variety of seashells they found there. They wanted to take them all home!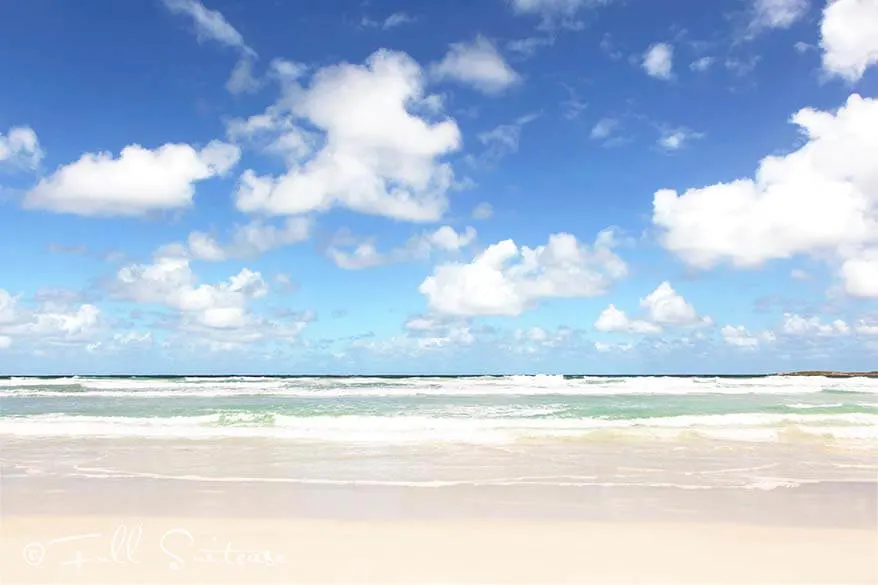 Little Sahara
Our last stop for the day was a place known as Little Sahara. White sand dunes looked like they didn't completely belong there – the landscape is so different from all the rest on Kangaroo Island…
Little Sahara is well known and appears to be quite popular for sandboarding, with locals and tourists alike. You could rent a sandboard at the Vivone Bay store, but we didn't think it was such a good idea with the kids and didn't bring a board with us.
Some people seem to have really mastered the art of sandboarding, but most others made for a fun spectacle. We limited our sand experience to climbing the dunes and rolling/ gliding/ running down again.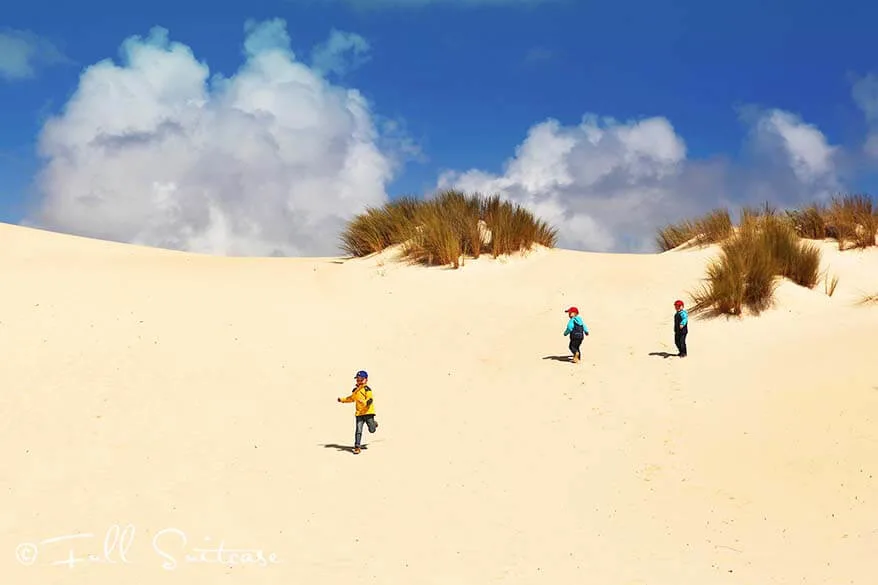 Day 4: Stokes Bay – Kingscote
Day four was our last day on Kangaroo Island. We would take the ferry back to the mainland the next morning. So we slowly made our way back towards Kingscote… We spent the last night in a hotel close to the ferry and left early in the morning.
Stokes Bay
On our last day on Kangaroo island, we visited Stokes Bay. It's a hidden beach that is not visible from the parking area and you have to negotiate a very narrow passage under the rocks in order to get there. It's an amazing experience!
Don't miss this place if visiting Kangaroo island, and definitely with kids. They'll love it! It's also a great place for a family picnic on the beach.
TIP: Don't miss Stokes Bay when visiting Kangaroo Island. It's an amazing experience, one that will stay with you forever!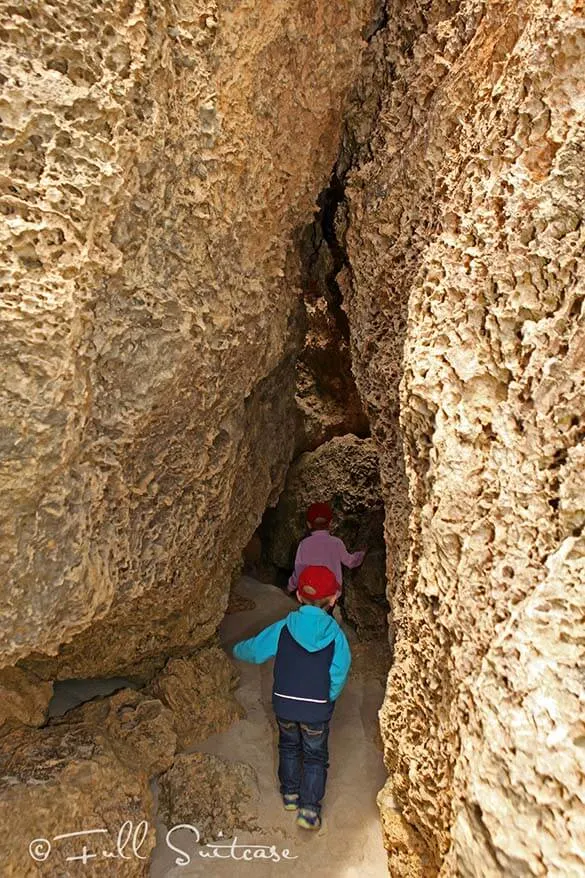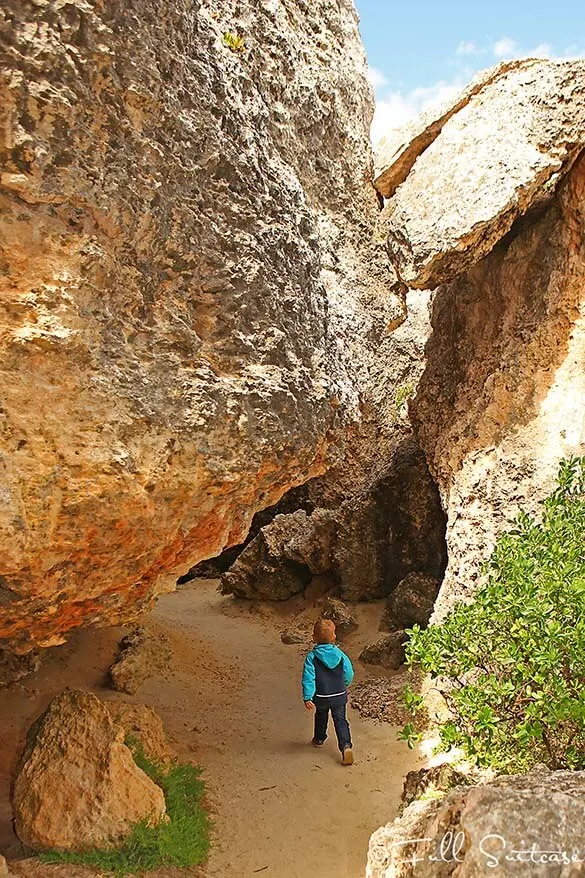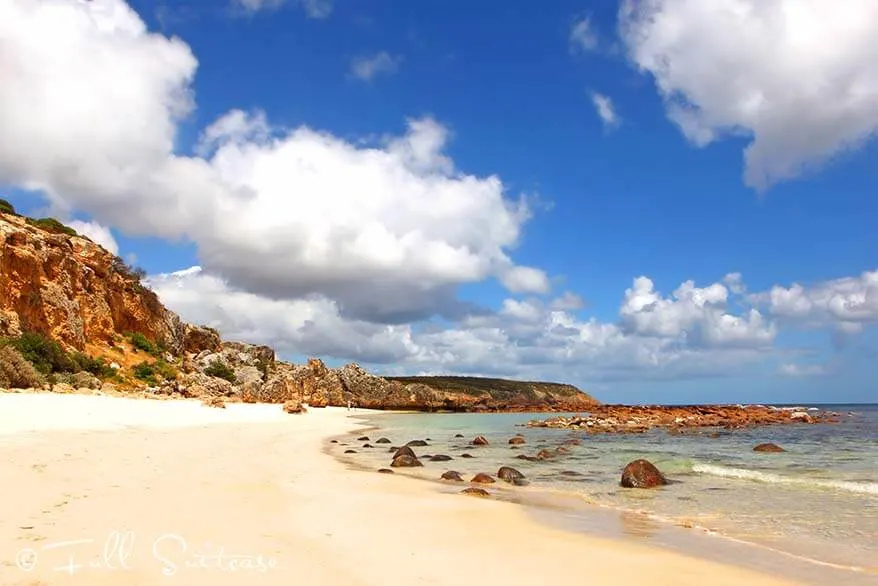 Kingscote Pelicans
In the late afternoon, we visited Kingscote, the biggest town on Kangaroo Island. But don't let that mislead you. It's a small place with just a few shops and restaurants and you don't need that much time to visit it.
We had read about the daily pelican feeding at Kingscote Wharf at 5 PM. We were there about an hour before that and the pelicans were already waiting. No other people, no show, but plenty of birds to watch and photograph. We didn't stay for the feeding, watching the birds before the crowds arrived was sufficient.
Update: One of our readers informed us that Pelican feeding has now been stopped. However, the birds are usually still around.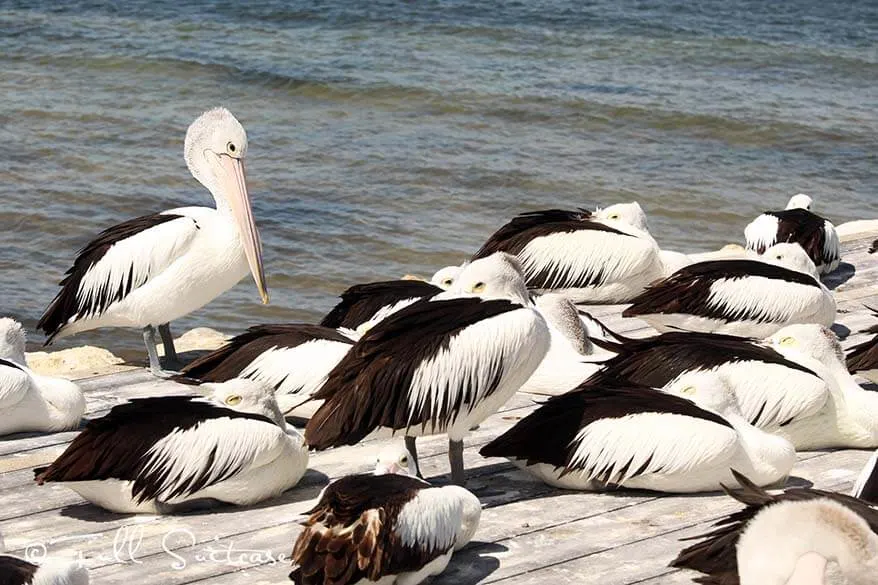 Where to Stay for Exploring Kangaroo Island
Kangaroo Island is rather big and if you don't want to spend too much time in the car, the best option is to stay close to Flinders Chase National Park for at least 2 nights and book the rest of your stay in or close to Kingscote or Penneshaw.
TIP: Kangaroo Island accommodation is scarce, so book well in advance!
Accommodation near Flinders Chase National Park
There are not that many hotels close to Flinders Chase, so your choices are limited. But the location makes it really worthwhile. Here you can see what's available on the South-Western side of Kangaroo Island and you may be able to find a few more options online.
We stayed at Kangaroo Island Wilderness Retreat for 3 nights. This was one of the best price/quality accommodations close to Flinders Chase NP. The location is great, we had a nice big family room, and they have a really good restaurant.
Alternatively, check out Western KI Caravan Park & Wildlife Reserve. This is budget accommodation not too far from Flinders Chase NP.
Kingscote Accommodation
You have much more choice of accommodations on the Eastern side of Kangaroo Island. Kingscote, the American River area, and Penneshaw are the best choices with the most facilities.
We also spent one night at Mercure Kangaroo Island Lodge – its location was good for visiting Kingscote one day and taking the ferry back to the mainland the next day.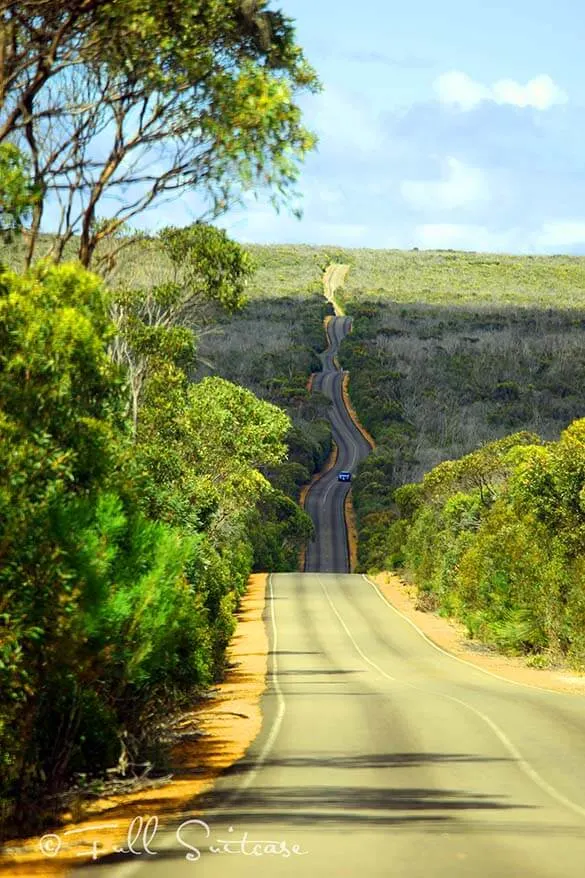 So, this is our self-drive itinerary and guide to Kangaroo Island, a true nature lover's paradise in Australia. It's one of those places that made our whole Australia trip so much more special and I wouldn't have wanted to miss it.
If you have a few days to spare when planning a trip to the southern part of Australia, I really recommend visiting Kangaroo Island.
Kangaroo Island FAQ
How do you get to Kangaroo Island?
The best way to get to Kangaroo Island is by car- and passenger ferry from Cape Jervis, 107km south of Adelaide. The journey by ferry between Cape Jervis and Penneshaw takes 45 minutes. You have to book this ferry in advance, definitely if traveling in high season.
Do you need a car on Kangaroo Island?
Unless you visit with an organized tour, you will need a car in order to explore Kangaroo Island. It's a big island with lots to see and do and public transport is not really an option.
Can you take a rental car to Kangaroo Island?
You can visit Kangaroo Island with a rental car from the Australian mainland. However, if you rent a car on Kangaroo Island, normally, you cannot take it outside of the island.
Can you do a day trip to Kangaroo Island?
It is possible to visit Kangaroo Island as a day trip from Adelaide. However, it will be a very long day and you'll only visit a few of the main landmarks. If you decide to go for a day, it's best to do it with an organized tour, because it's often cheaper than paying for the car ferry, not even to mention fuel, lunch, etc.
How much time do you need on Kangaroo Island?
While you can see the main attractions of Kangaroo Island in a day, we recommend at least 2-3 days here. This will allow you to visit all the main landmarks. If you want to explore the island deeper, plan at least 4-5 days.
More tips for your trip to Australia:
If you found this post helpful, don't forget to bookmark it and share it with your friends. Are you on Pinterest? Pin this image!