If you haven't seen the Red Centre, you haven't seen Australia! If you think that Central Australia is nothing but a red desert with Uluru right in the middle, you are only partially right. In this article, you can read about the less-known region of the Red Centre of Australia – West MacDonnell Ranges.
West MacDonnell mountain ranges is a stunning region that you really should include in your Australia Red Center itinerary. Sadly enough, most visitors seem to head straight to the famous Uluru without realizing what they're missing. I hope that this article will inspire you to spend at least a day exploring the most beautiful parts of West MacDonnell National Park!
The West MacDonnell mountain ranges are simply gorgeous! There are many gorges, one more beautiful than the other; waterholes where you can swim (yes, swim in the desert!), hiking trails, and a great variety of flora and fauna. It's a real oasis in the desert!
However, the West MacDonnell Mountain Ranges is a pretty big area with lots to see. And if you are like us and only have one day to see the best of it, you have to be quite selective in where you decide to go. That's why we did a lot of research before our trip, to make sure that we wouldn't miss the most beautiful places. And it was a great day indeed!
If you also want to see the very best of West MacDonnell ranges in a short time, you'll find an overview in this article. Below, you can read about the places we suggest visiting with tips for each of them. Further below, you can find an overview of what our West MacDonnell road trip itinerary looked like. Find out!
TIP: This is a self-drive West MacDonnell itinerary. If you don't have a car, it is possible to book an organized West MacDonnell day tour from Alice Springs. It brings you to all the most beautiful gorges of West MacDonnell ranges mentioned in this post.
Best places to see in West MacDonnell Ranges:
Simpsons Gap
Our first stop was at Simpsons Gap, just half an hour's drive from Alice Springs. This is one of the must-see places in the MacDonnell Ranges!
It was still early in the morning and there was just one other car there when we arrived at the parking area near Simpsons Gap. We made a nice short walk to the gorge between the mountains and all the way to the waterhole. It was already 32°C (we visited in November) and we were very glad the walk was easy and took just a few minutes.
Kids didn't seem to mind the heat. They were running around, jumping over the rocks and looking for wildlife. We saw just one rock-wallaby in the distance and that's also the only wildlife we got to see in West MacDonnell NP.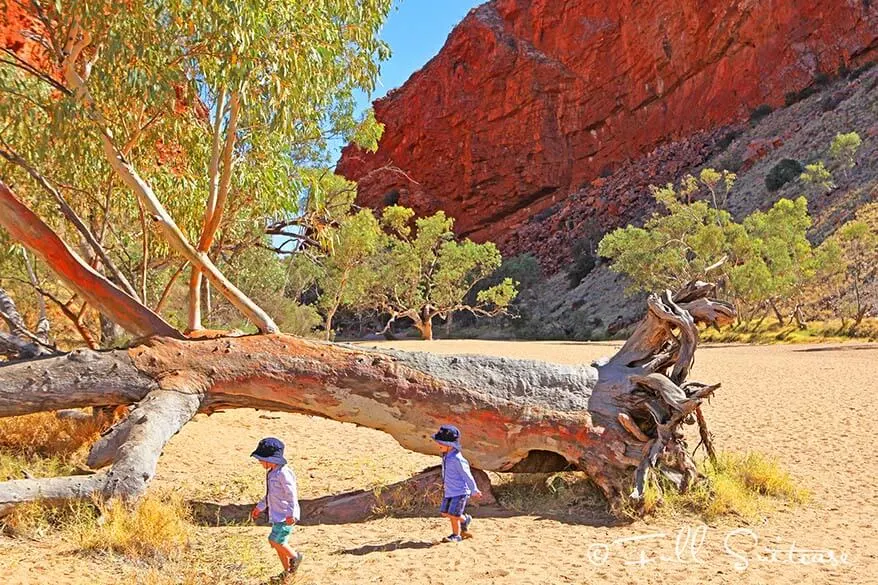 Standley Chasm
Our next stop was the famous Standley Chasm. It is considered one of the most impressive places in Central Australia. If there is one place you should definitely not miss, it's this one.
You have to pay a small entrance fee in order to visit Standley Chasm. It's aboriginal sacred land and there are many rules of dos and don'ts.
Standley Chasm is a very special place, indeed, with some 3000-year-old trees and a fascinating landscape.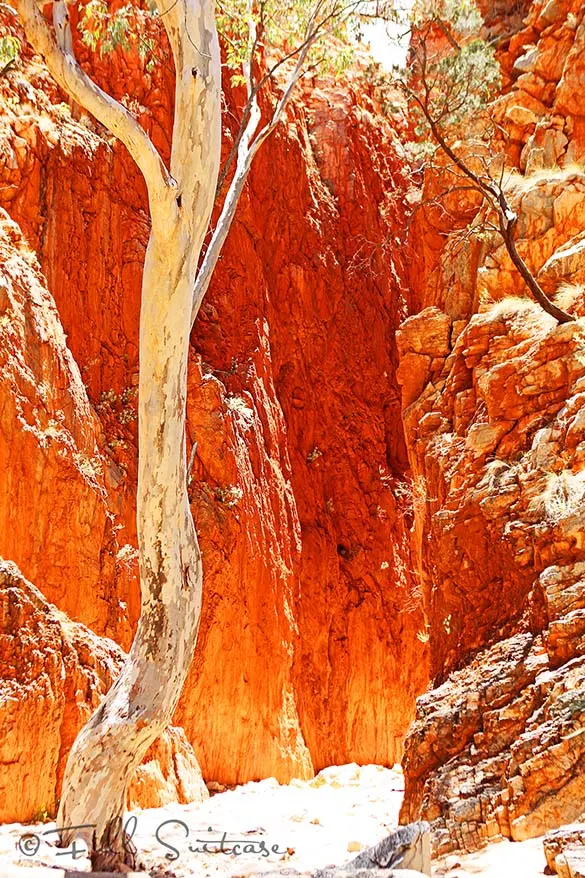 You leave your car at the car parking/ café and have to hike a bit in order to get to the gorge. It's a short walk, in principle, just about 30 minutes return. However, with young kids and high temperatures, it took us a bit longer.
For families: If you are wondering if you can hike to Standley Chasm with young kids, yes, it's definitely possible. All our boys could do this walk just fine. We had to carry the 3-year-olds for a short while on the way back, but the 5-year-old could do it all by himself.
Just make sure you wear closed shoes as the terrain is pretty rough with lots of loose stones.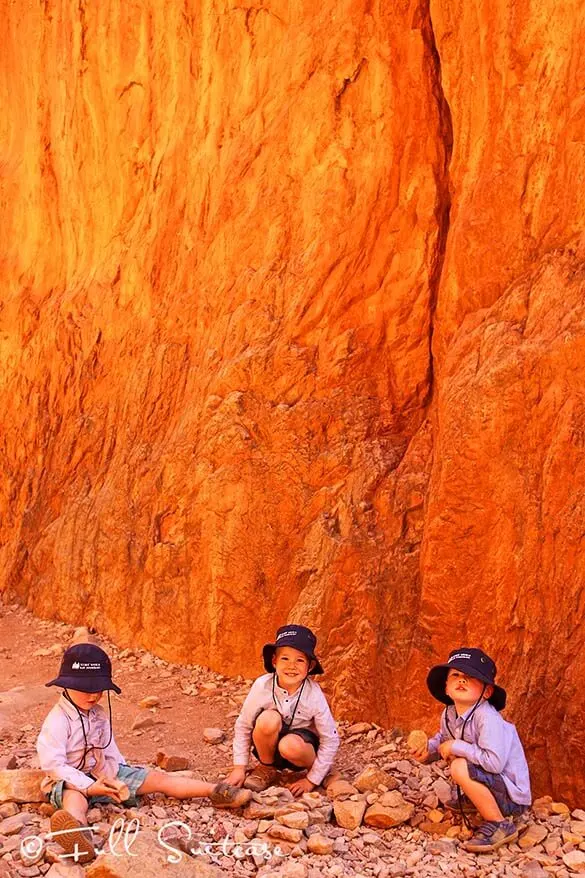 We had read that the best time to visit the Standley Chasm is at around noon. That's when the sun lights up the gorge and paints it in bright orange color. So we got there before noon and stayed for a while in order to see this spectacle.
We found that the gorge was very impressive all the time we were there. To tell you the truth, we couldn't tell much difference when the sun lit it completely, but it was definitely amazing! The kids found plenty to keep themselves busy with – they were playing with the stones and seemed to be oblivious to the beauty of the place.
Back from the walk, we had a picnic and then bought some delicious local ice cream at the small café at the entrance of the Standley Chasm. Mango swirl aboriginal style in the middle of outback Australia – incredible!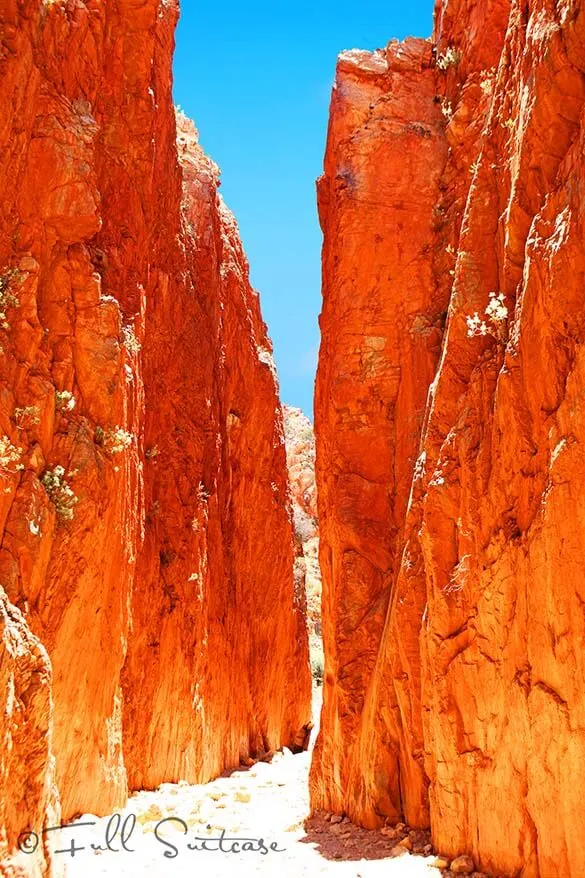 Ormiston Gorge
Our next stop for the day was Ormiston Gorge. This was also the busiest place we visited in West MacDonnell.
There are lots of facilities here, a camping, and a paved path all the way to the gorge. We could even use a stroller for the little ones!
Ormiston Gorge has a big waterhole and quite some people were sunbathing and swimming here. When I say lots of people, I mean a lot for the area – some 20-30 people in total. The rest of the day, we hardly saw anyone…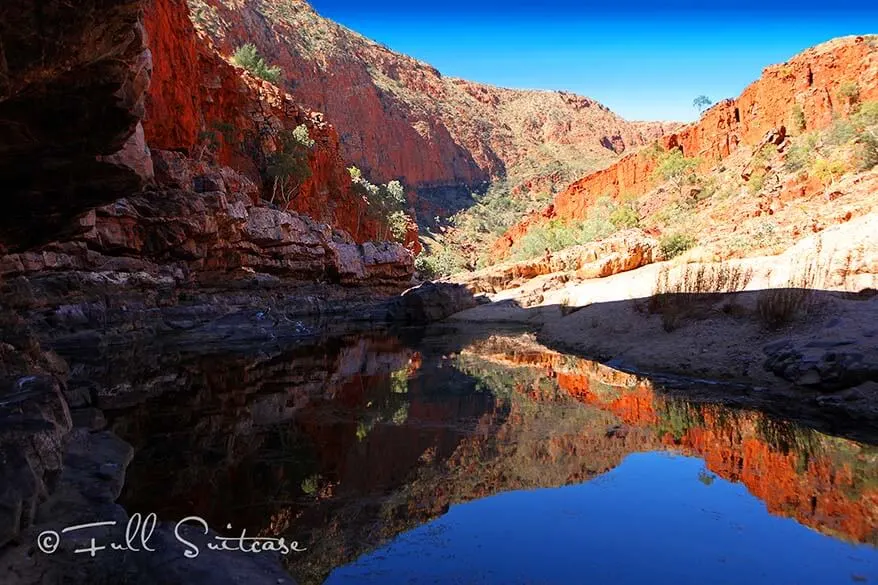 You really have to go swimming here! Ormiston Gorge is a perfect place to relax after a whole day of sightseeing in the heat of the Australian desert. We spent quite some time at this waterhole and didn't want to leave. The kids just couldn't get enough and kept on going back into the water. It's better than any swimming pool! What a view!
In case you wonder, there are no crocodiles here and it's perfectly safe to swim at Ormiston Gorge. I wouldn't go jumping off the rocks as some local teenagers were doing though…
We also took a short walk further down the gorge and the views were simply amazing!
However, it was really hot by now and the kids were tired, so we decided not to do any more hiking with them today. We called it a day and headed to our hotel at Glen Helen.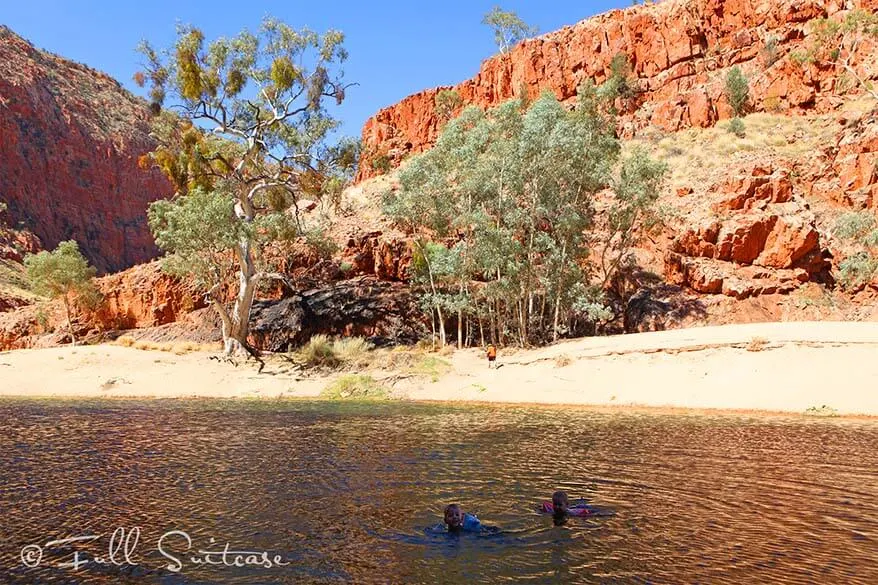 Glen Helen Gorge and Glen Helen Lodge
The Glen Helen Lodge and camping is the only accommodation in this area. So if you are exploring West MacDonnell Ranges on a self-drive trip, you'll either have to stay here or head back to Alice Springs.
The hotel is located in a very picturesque setting, but the facilities and the rooms are rather basic. However, there is really no other accommodation option anywhere around, so you just have to take it the way it is. I have to add that the food was very good and the atmosphere was nice too!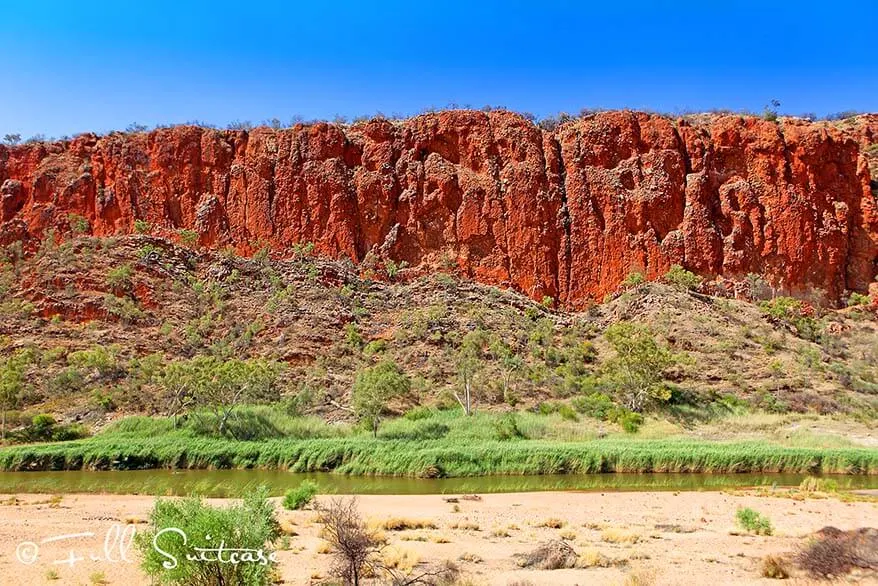 After the whole day of sightseeing in the heat, my family decided to stay by the pool of the hotel. But I was still fit and took a short walk (10-15 minutes) to the nearby Glen Helen Gorge. It was so beautiful and very tranquil here, definitely worth the effort.
Even if you are not staying at the hotel here, it's worth a visit to this beautiful place. Another highlight of our day in MacDonnell Ranges!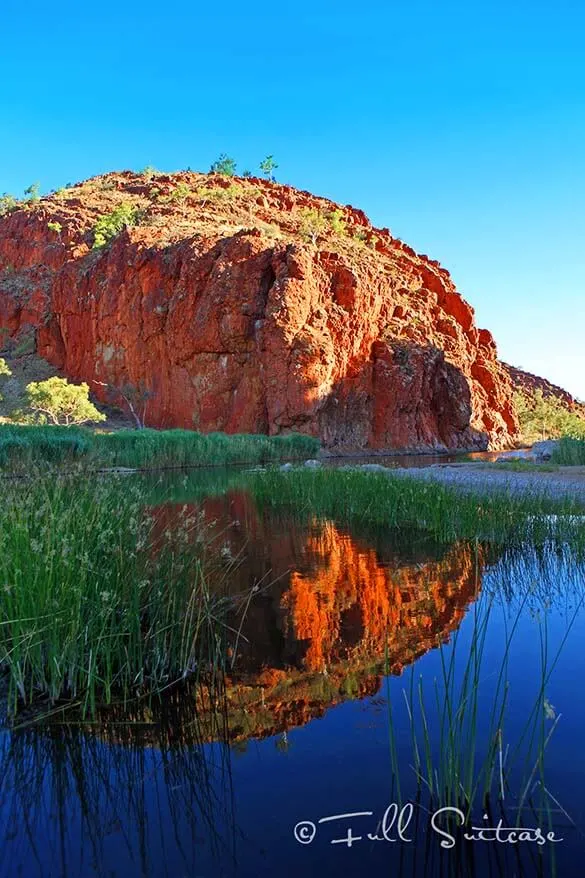 Redbank Gorge
The next morning, before we left the West MacDonnell Ranges, we decided to visit one more place – the Redbank Gorge. We went there first thing in the morning before it got too warm. But it was still a challenge to visit – it was so hot!
Good to know: If you are road-tripping in West MacDonnell in a cooler season and don't have young kids who slow you down, you could easily visit this gorge on the same day as all the other places mentioned above.
The Redbank Gorge hike is supposedly an easy family-friendly walk of 20 minutes one way. Based on what we experienced, it has to be a very fast family to do this walk in 20 minutes!
The track is very badly indicated and not really well maintained. We were the only ones here and were somewhat worried about getting lost in the desert in the heat. It was terribly hot with temperatures over 36°C in the morning already. In the end, we gave up looking for a marked path and just followed the dry river bed towards the gorge.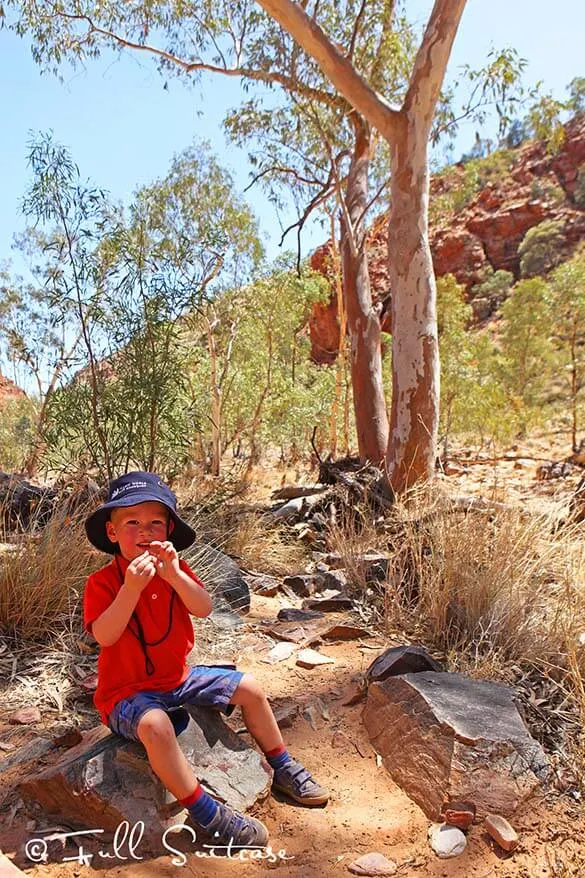 The kids were doing their best and we were all determined to reach the gorge, but after more than half an hour walking, we decided to turn around. It's a really tiring walk for the little kids and the heat was getting unbearable!
My husband went back to the car with the kids and I continued to the gorge alone. It took me another 10 minutes to get there, and I walked really fast. The Redbank Gorge was nice to see, but I found that the walk to get there was just not worth it.
I would definitely recommend visiting the Redbank Gorge on a colder day. But the day we visited, it was simply torturing! If you go there, take a picnic and your swimming gear – it's nice to be able to cool off after a walk in the desert.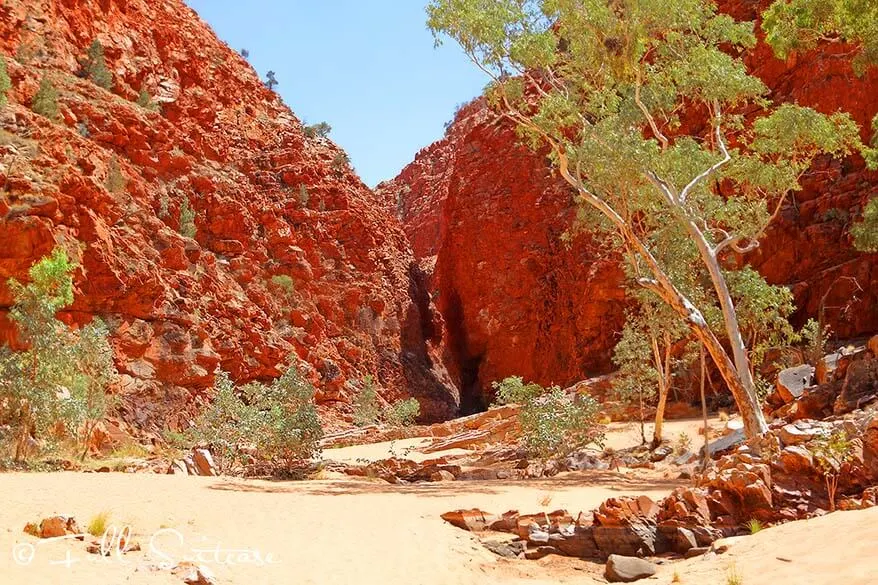 Ellery Creek Big Hole, Serpentine Gorge, the Ochre Pits
In addition to the most beautiful places of the MacDonnell ranges mentioned above, there are many other places to see in this area. The following gorges are also worth a visit if you have more time in the West MacDonnell Ranges: Ellery Creek Big Hole, Serpentine Gorge, the Ochre Pits.
The famous Ellery Creek Big Hole is one of Central Australia's most pristine waterholes, another great place to go for a swim.
When traveling with children, we always choose to see more at fewer places rather than try to see everything. But if you are traveling without kids or are visiting West MacDonnell Ranges in a colder season, you can definitely visit a couple of more gorges in one day. You might not have much time left to do all the hiking and swimming, but it's definitely possible.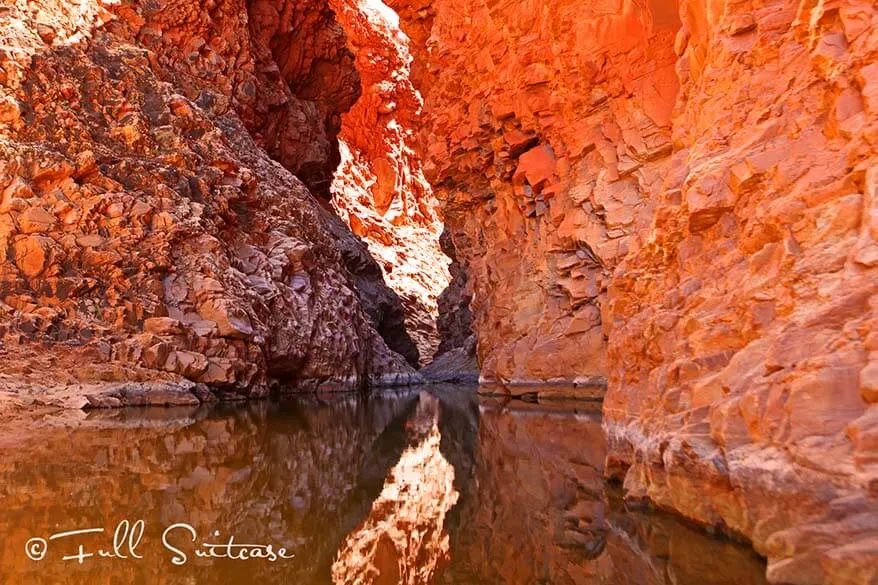 Palm Valley at Finke Gorge National Park
Palm Valley is another beautiful place and definitely worth a visit if you are in West MacDonnell NP. However, it requires a separate day trip. Please also note that while all the previously mentioned places can easily be reached by a regular car, you definitely need a 4×4 vehicle and a good map of the area if you plan to drive to Palm Valley.
Palm Valley is located quite a bit off the main road, between Glen Helen and the Kings Canyon. If you want to visit Palm Valley on your way from Glen Helen to Kings Canyon, you should count the whole (very long) day for it.
TIP: Palm Valley can also be visited with an organized 4WD day tour from Alice Springs. Due to its remote location, I would definitely recommend this option rather than driving there with your own vehicle, especially if you have no experience driving in the outback.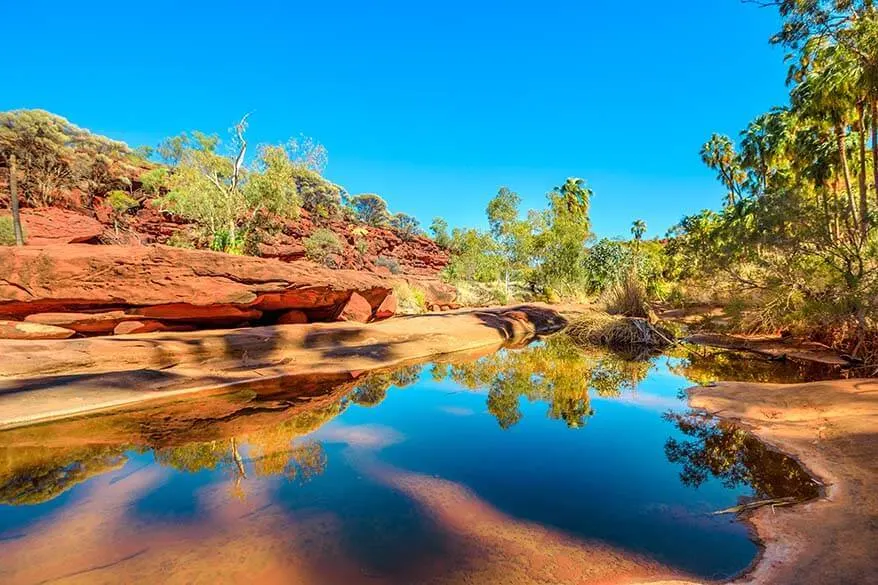 West MacDonnell Ranges Itinerary & Map of the Most Beautiful Gorges
Below you can see our map, indicating each of the most beautiful gorges of West MacDonnell Ranges.
Start your day in with a short walk at Simpsons Gap (easy to reach, nice place for families).
Then head to Standley Chasm for the sun-lit rocks at noon.
Ellery Creek Big Hole is the best place for swimming.
If you have the time, visit Serpentine Gorge where you can climb the hill for great views of the area.
Ochre Pits is a sacred aboriginal site and is also worth a short stop.
Ormiston Gorge is probably the most picturesque gorge and also a great place to swim.
Glen Helen Gorge is really beautiful at sunset and is within a short walking distance from the hotel or camping.
Redbank Gorge is the most secluded gorge and is more difficult to reach. So if you only have one day in West MacDonnell NP, I would skip this one.
Practical Information
Below you can find practical information and some tips for visiting West MacDonnell Mountain Ranges.
Accessibility and driving
As already said, the gorges of West MacDonnell Ranges are easily accessible and can be done as part of a road trip between Alice Springs and Glen Helen or even as a day trip from Alice Springs.
The road between Glen Helen and Alice Springs is sealed. The total distance, without the turn-offs to the gorges, is about 130 km (80 miles).
You need a 4×4 and a pass in order to drive the Mereenie Drive – the road between Glen Helen and Watarrka National Park (Kings Canyon). This road goes through aboriginal lands and requires a permit.
The permit can be acquired at Glen Helen. I would strongly discourage anyone from driving this road in a regular car – we saw one and they were driving at 20-30 km/h. I still wonder whether they reached the sealed road by dark…
How much time do you need to visit the gorges of West MacDonnell Ranges
One full day is the minimum time you need to visit the West MacDonnell Mountain Ranges. I would have liked to stay a day longer! If you like hiking and want to explore the area more, you can easily spend a week in the area.
Facilities
There is a petrol station at Glen Helen and you should definitely fill up the car before heading further towards the Kings Canyon.
TIP: Make sure you pack some food and lots of water with you before leaving Alice Springs or Glen Helen. You are in the Australian Outback, so travel well prepared.
Where to stay
If you are visiting West MacDonnell Ranges just for one day, you can stay in Alice Springs and make a day trip to the area. We stayed one night at Alice on Todd Apartments in Alice Springs and then the following night at the earlier mentioned Glen Helen Lodge. Since this is the only accommodation option in this area, you really have to reserve long in advance.
The other alternative is camping. If you are camping, you can also opt for one of the other campings in the area. The camping area at Ormiston Gorge looked pretty nice too, although I would go to Glen Helen for the views and for the restaurant. The food was absolutely delicious!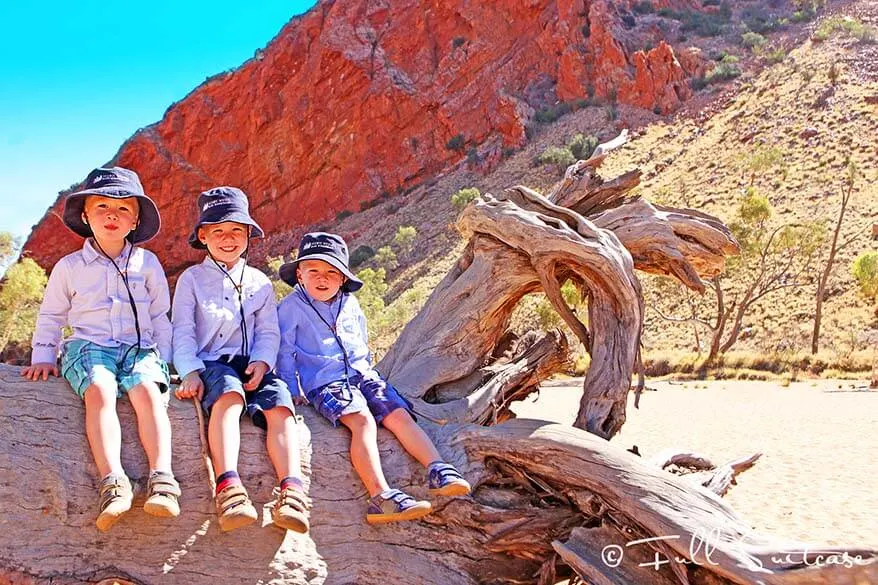 So, this was our experience visiting West MacDonnell Ranges in Australia's Red Centre. Do you have any questions? Feel free to leave a reply below.
READ ALSO: Alice Springs to Uluru – Red Center Itinerary
More travel tips and inspiration for Australia:
If you found this post helpful, don't forget to bookmark it and share it with your friends. Are you on Pinterest? Pin this image!