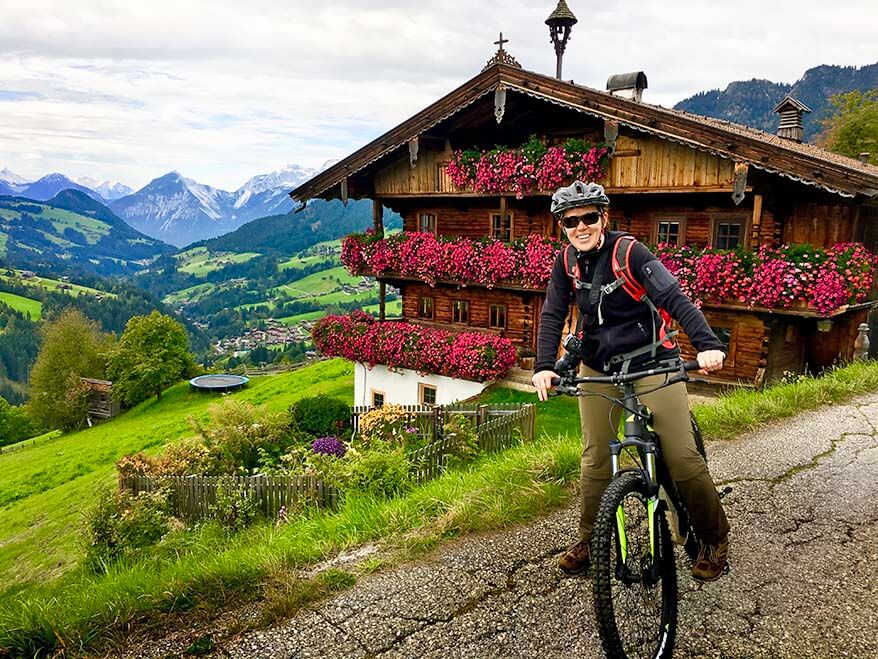 Have you ever been on an e-bike mountain tour before? I always thought this kind of activity was only for the most sportive people who train every day…
So when I first heard that we were going on an electric bike tour in Alpbachtal, Tyrol (Austria), I was not really excited, rather a bit worried.
As I am writing this article just hours after the trip, my legs are still trembling and my palms are sore, but it was such an exhilarating experience! It's something I would love to do again and would recommend to everyone who loves the outdoors, beautiful scenery, and some thrills.
And if you are looking for a nice place to do an E-bike tour in Austria, Alpbach village in Tyrol is as good as it gets!
In this article, you can read all about our experience on a guided e-bike tour in Alpbachtal: what to expect and useful tips. Find out!
Disclaimer: I visited Tirol in partnership with Visit Tirol and Alpbachtal Seenland region. As always, all opinions are my own.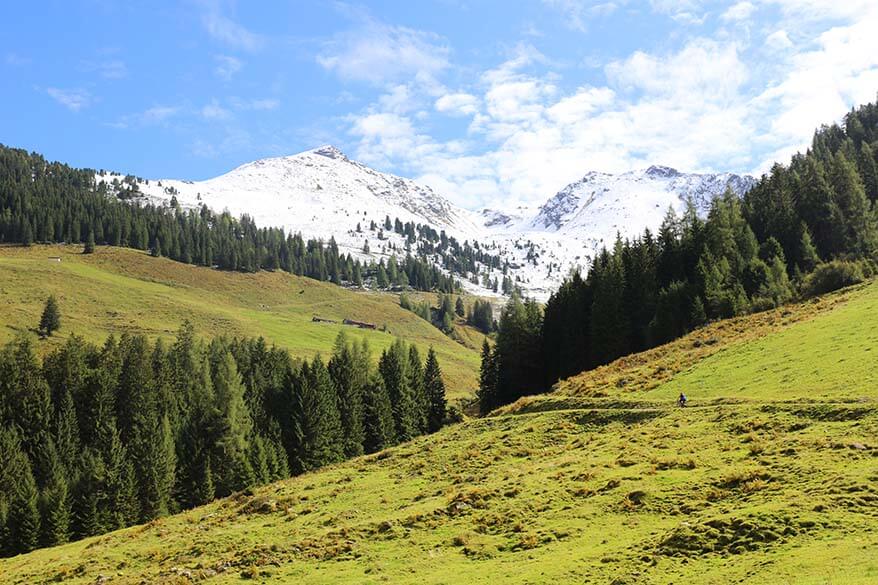 Electric bike tour in Alpbach
We booked a guided e-bike tour in Tyrol in the little town called Alpbach (you can find e-bike tour options for this region here). Alpbach is a real jewel, a 'chocolate box-like village' as our guide described it.
This is the only place in the Alpbachtal Seenland region where it's not allowed to build houses in any other style than the traditional way, in wood. So the whole town looks incredibly picturesque. And the mountain scenery around it is simply stunning!
After a short introduction to our electric bikes, and equipped with helmets, we set for the 22km ride with an elevation gain of 1055 meters (3462 feet – data from the phone). It's a good thing I didn't know any of these numbers before we left, or I would never have dared to start. I mean, I do make short bike trips at home and we also hike a lot, but bicycling in the mountains is a whole other league. Or so I thought.
The first downhill section in town caught me by surprise. I really needed those brakes because the e-bike just flew down the hill. But then we started climbing up and it felt like my e-bike was flying up the hill too. Can't believe the power these bikes have. I just loved it!
After just two minutes we were surrounded by such a beautiful scenery that we asked our guide if we could stop for some pictures. Alpbach must be one of the most picturesque mountain villages I have ever seen!
We made at least three more photo stops in the first few kilometers. Every time we turned the corner you could hear wows and excitement from everyone in our group. We passed centuries-old farms that looked like fairytale houses, valleys with snowcapped mountains, forests with mountain streams, and many many cows with their cute little bells along the way.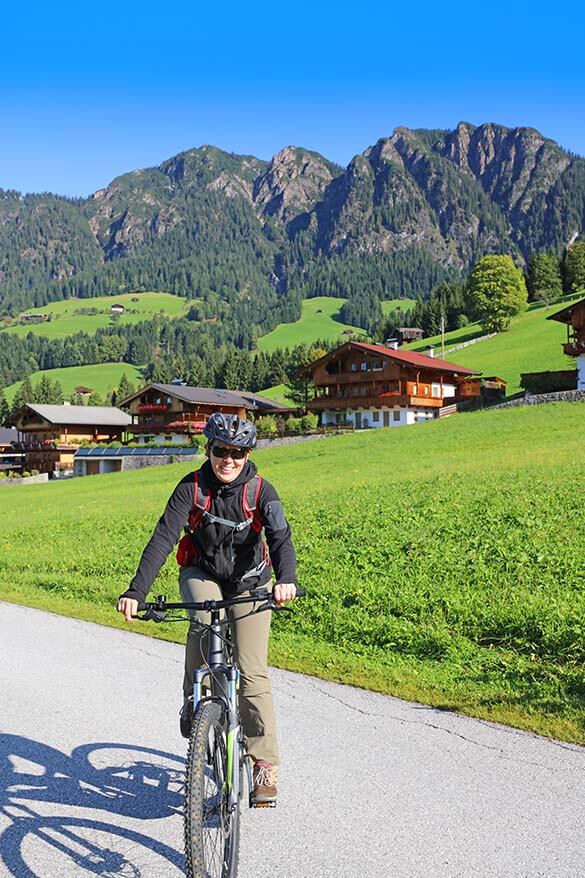 The e-bike ride itself was thrilling and exciting at the same time. It required a lot of concentration, and on the steep parts you had to work really hard, but most of us found the downhill ride the most challenging part.
You are basically flying down the hill, and have to stay really concentrated and constantly hold the brakes. I was braking so hard that my palms hurt. We stopped several times just to let our hands rest.
On our way, we passed Inneralpbach, another beautiful little village in the Alpbachtal Seenland region. If I am not mistaken, the shorter e-bike rides turn around here and head back to Alpbach. We were doing the long tour so we set for Farmkehralm – a little mountain chalet/ restaurant high up in the mountains.
That's where the real climb started. We passed many hikers and I was wondering what was easier – hiking this trail or biking. In any case, biking got us to the top much faster.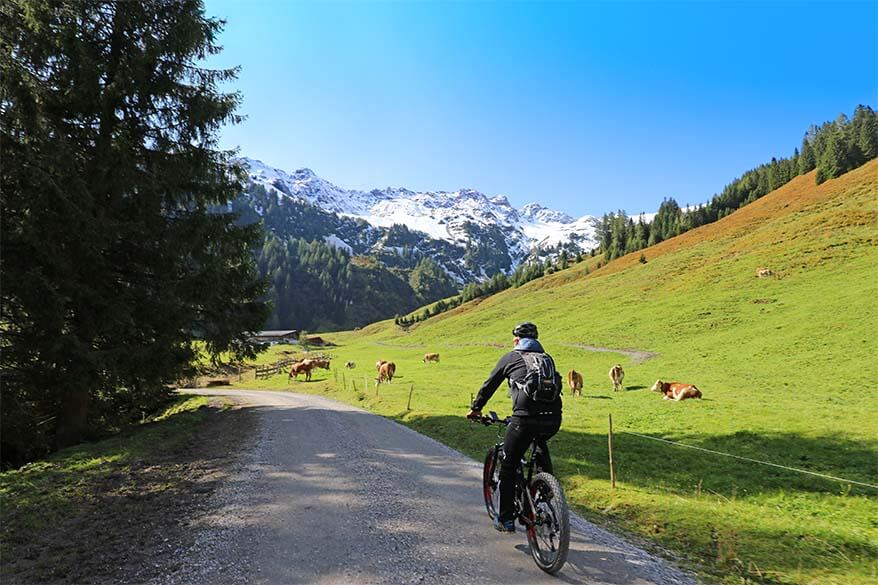 Farmkehralm
We had lunch on a sunny terrace at Farmkehralm. The food here is all local specialties from Austria and the prices are really good. You can have a main course for 6-8 EUR, and the drinks, including beer, cost just 3 EUR. And that for a place so high up in the mountains.
In general, Austria is so much cheaper than our favorite mountain destination Switzerland. And now that I have seen how beautiful and family-friendly Tyrol actually is, I cannot wait to return here with my husband and kids.
Update: I returned to Tirol later, several times. With the whole family. Here you can find lots of inspiration for the best things to do in Tyrol with kids in summer.
After lunch, we drove back down the hill, climbed one more hill, went down again, made at least ten more photo stops along the way, and finally reached the beautiful Alpbach. Including lunch, we spent around 4 hours on this Alpbachtal electric bike tour.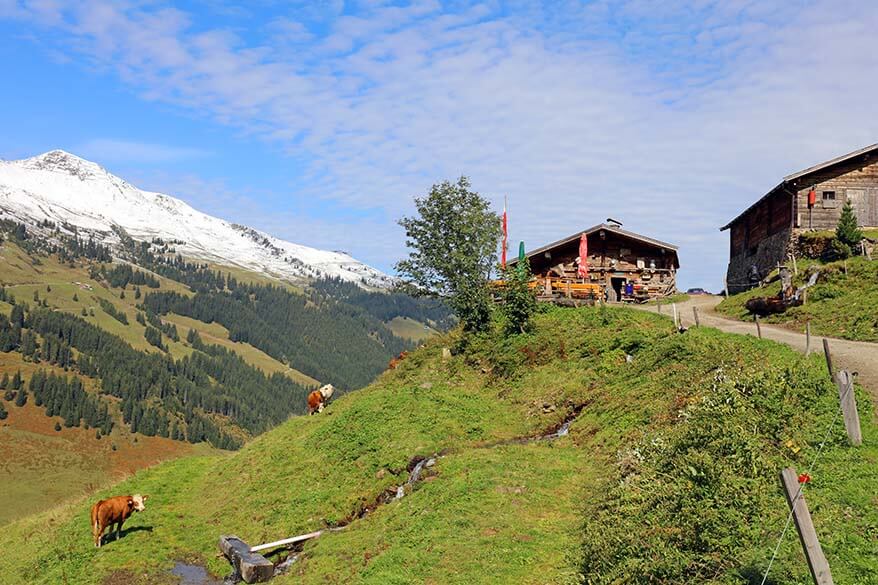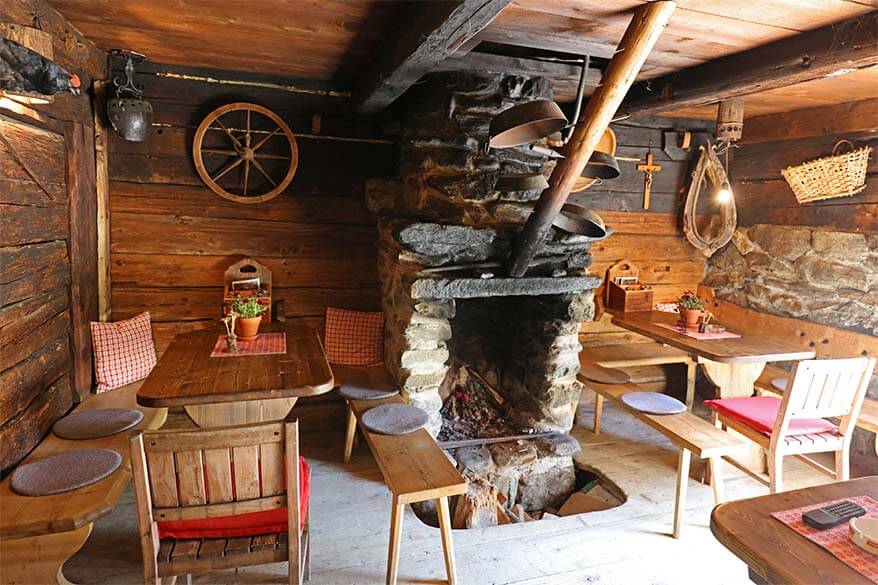 My experience on a mountain e-bike for the first time
As I said to my colleagues in the evening, I am so happy that I went on this mountain e-bike tour in Tirol!
I have seen so many images of people discovering mountains on an electric bike, but I never thought it was something for me. However, it turned out to be such an incredible experience that I would love to do it again whenever I get the chance.
If you are hesitant whether you should do a mountain e-bike tour, go for it. You will have an unforgettable day, and definitely if you go biking in such a scenic location like we did.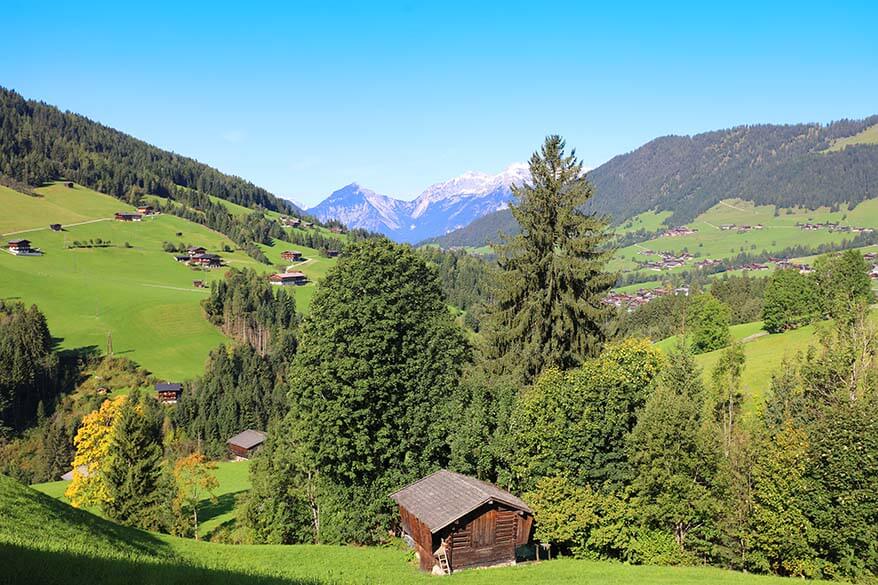 Practical Tips for E-biking in the Mountains
Everyone in a reasonable physical condition can do a mountain e-bike tour. If you are not sure if you can do it, talk to the guides for advice, and start with a short tour for the first time.
There are no e-bikes for kids, so enquire about the minimum age/ height requirements if you are considering an electric bike tour with kids. Some countries in Europe also have minimum age restrictions for e-biking. I think it's 10 or 12 years in Austria.
Wear a helmet, it's a must. Normally, you get a helmet with an e-bike.
If you can, pack biking gloves. It should help to ease the pain from pushing on the brakes all the time.
Wear loose or sportive pants that don't restrict your movements.
Never stop half-way when going up the steep hill. Starting to ride a heavy e-bike on a steep section is really difficult.
Play with the gears of your electric bike to see what works best for you. I found that the lowest gear didn't go well together with the electric motor. Most often I used the 3rd or even the 4th gear for the steep parts together with the maximum electric support, and it worked really well.
Pack a backpack and a reusable water bottle. You may even be able to fill it up with fresh mountain water along the way.
Don't forget sunscreen lotion and sunglasses if biking in the mountains.
Don't just rent a mountain e-bike if you have never done it before or if you are not familiar with the area. Book an e-bike tour instead. The electric bike tour in Alpbach is actually very affordable. The prices start from 15 EUR. On top of that, you get an additional discount with the Alpbachtal Seenland region card that is provided free of charge at all accommodations in the region. This card has many more benefits; you can find more information here.
TIP: If you are looking for more ideas on what to do in this part of Tyrol in the summer, I also recommend visiting Kaiserklamm and Kaiserhaus. It's a beautiful area with a great variety of activities for everyone. And if you are traveling in September, don't miss the annual cattle drive in Reith im Alpbachtal.
Read also our other guides to the most beautiful places in Tirol:
If you found this post useful, please bookmark it for future reference and share with your friends. Are you on Pinterest? Pin this image!