Are you thinking of visiting Namibia and wondering what to see and do in Namibia? Or maybe you're looking for inspiration for the best things to do in Namibia? Read on!
How much do we all really know about Namibia? It's a beautiful African country that has so much to offer, yet very few people even consider a trip to Namibia. In this article, we are sharing 13 incredible destinations, places that you should see in Namibia.
From the main landmarks, the most beautiful places, most famous tourist attractions in Namibia to the less known fascinating stops that should be on your Namibia road trip itinerary, this list has all the 'musts'.
Check it out and discover this hidden gem of Africa!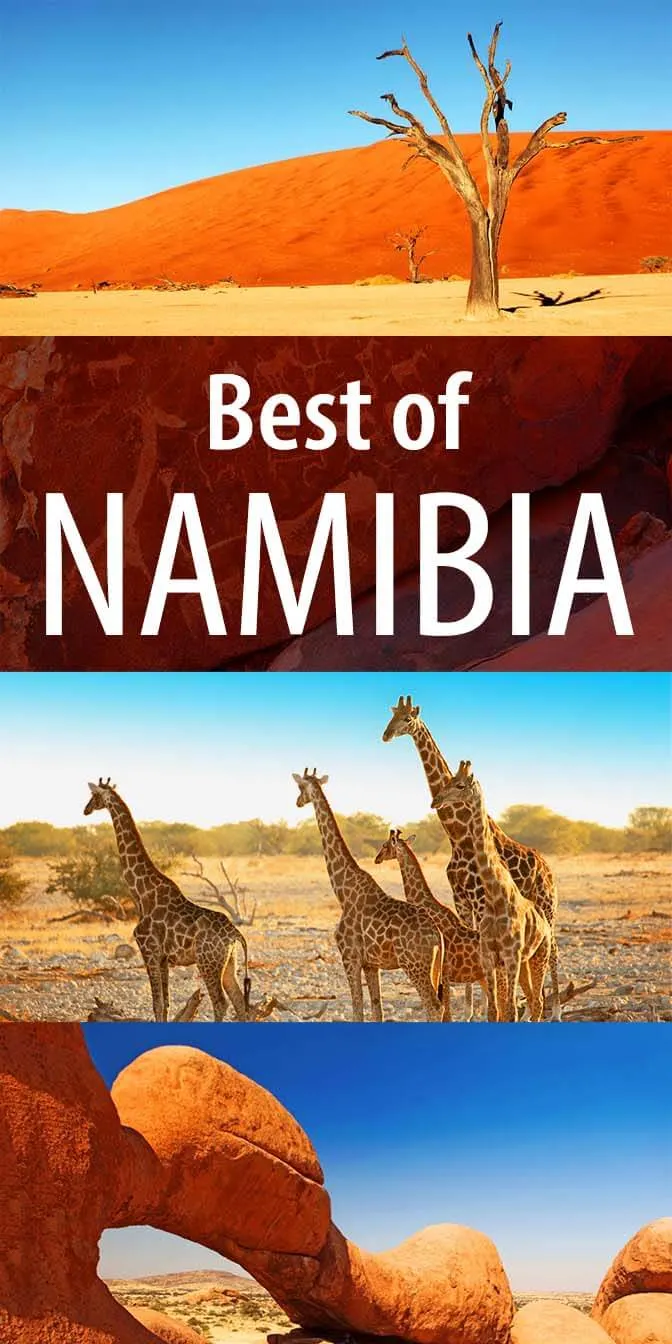 Best Places to Visit in Namibia – Favorite Things to Do
This list of our favorite places in Namibia will not only introduce you to all of the must-see places of Namibia, but it will also show you a couple of hidden gems as well.
I want to show you that Namibia is so much more diverse than you ever imagined; it's very different from the rest of Africa too.
To make your trip planning easier, I also included some practical tips for each of Namibia's must-visit destinations. That way you can make the most of your trip. Find out!
Good to know: I sorted this list of best things to do in Namibia in such a way that the main tourist attractions, the best places are listed as last. That way you can also learn about some lesser-known places in Namibia that you won't find in all tourist guides. Places that will make your trip even more memorable. Find out!
These are the best places to visit and best things to do in Namibia:
13. Canyon Roadhouse
Located just a few miles from the Fish River Canyon (see further below), the Canyon Roadhouse is an attraction in itself. It's a hotel and a restaurant with the most incredible collection of old cars. A definite must for any family visiting Namibia with kids!
TIP: Plan to visit at lunch as they have a great little restaurant with…. you guessed it.. even more cars inside.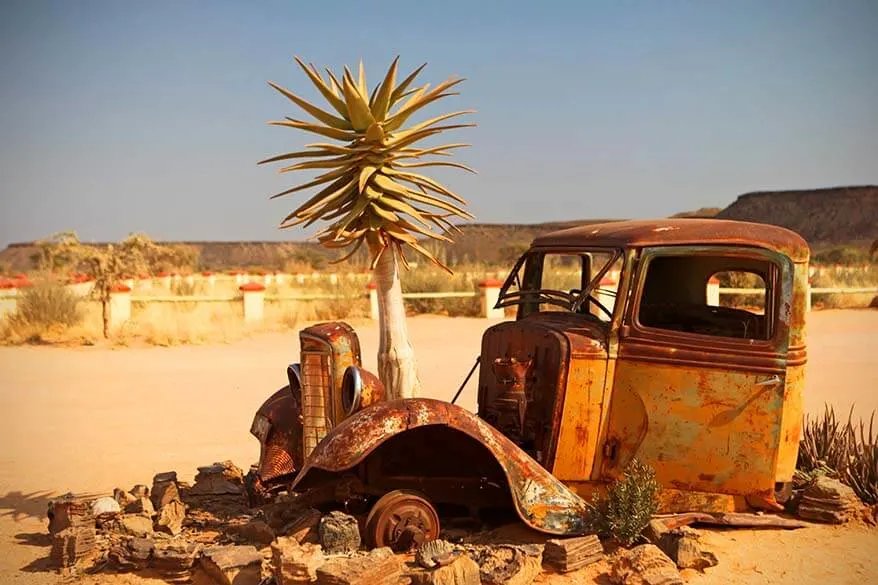 12. Solitaire
Solitaire is a small settlement with a permanent population of less than 100 people. It's not really a town, but it has all kinds of facilities and since it's in the middle of nowhere everyone passing by stops here for gas.
Solitaire became famous because of the book by Dutch author Ton van der Lee dealing with his stay in this place.
To me, it's a place that has a true Namibian feel. Remote, quirky, and so different from anywhere else in Namibia. One of those places that would be difficult to imagine anywhere else and definitely a great place to visit in Namibia.
TIP: Try a piece of the world-famous apple pie at the Moose McGregor bakery.
11. Tropic of Capricorn
There is not much to see at the Tropic of Capricorn, except for the sign. But it' not every day you cross the southernmost latitude where the sun can be directly overhead.
So, as far as must-visit places in Namibia go, Tropic of Capricorn is one of those symbolic attractions that deserve a short photo stop.
TIP: You can find the Tropic of Capricorn sign on road C14 between Sossusvlei and Swakopmund.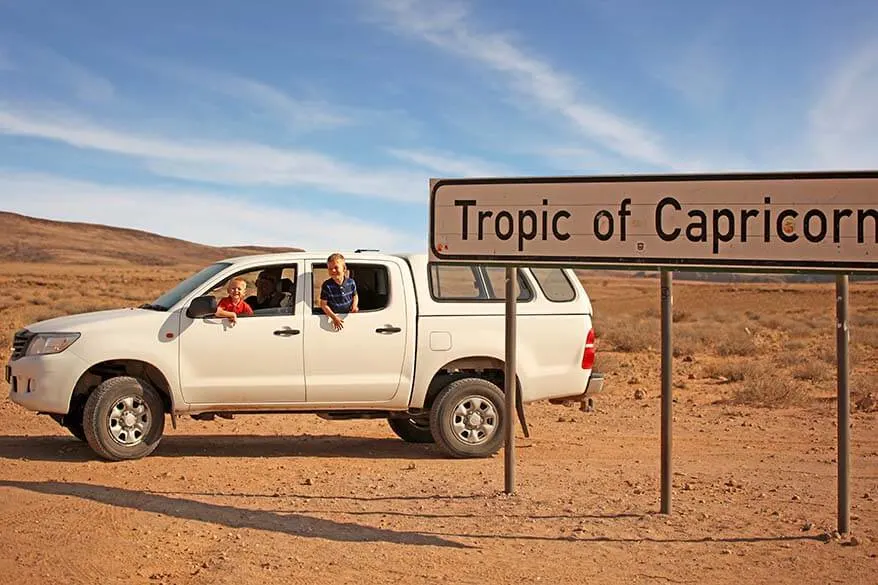 10. Quiver Tree Forest
Quiver Tree forest is a nice place to break the long drive when driving through Southern Namibia. It's become one of the most popular tourist attractions in Namibia.
Quiver trees are quite peculiar and make for some nice photos. Bushmen traditionally used the branches of these aloe trees to make quivers, thus the name – quiver tree.
TIP: Visit the nearby Giant's Playground as well, just make sure you don't get lost in this maze of large dolerite rocks.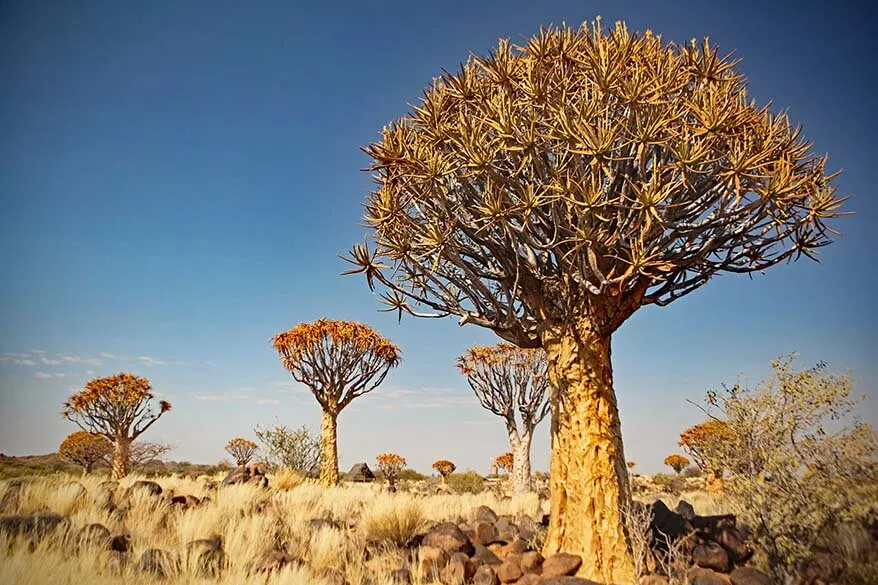 9. Swakopmund
If you visit just one town in Namibia, Swakopmund is the place to be. It's by far the most lively and touristy town in Namibia, but in a good way.
A beautiful coastal location, charming colonial architecture, lots of hotels, shops, restaurants… Swakopmund is a real oasis in the Namibian desert. It's one of the best places to visit in Namibia and, in my opinion, should be included in any Namibia itinerary.
TIP: Plan to spend at least 2-3 days in Swakopmund as there are so many activities and day trips you can do in the area.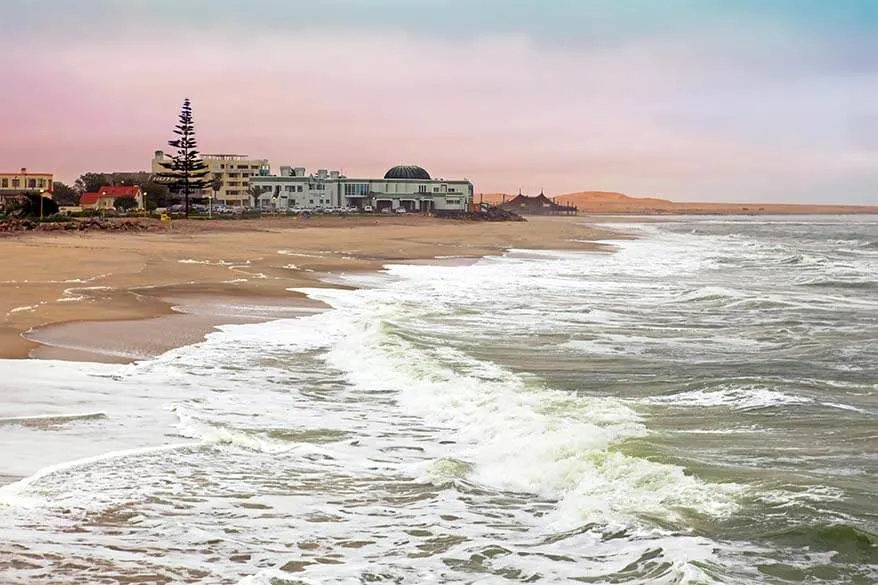 8. Kolmanskop Ghost Town
Once a prosperous German diamond mining town, Kolmanskop is now an abandoned ghost town, slowly sinking in the sand dunes of the Namib Desert.
Located just outside the colonial town of Lüderitz, Kolmanskop is one of the few places where you can learn more about Namibia's history. It's also a real photographers' paradise.
TIP: Early morning offers the best light for photography. You can also obtain a photo permit and get access from sunrise to sunset (non-commercial photography only).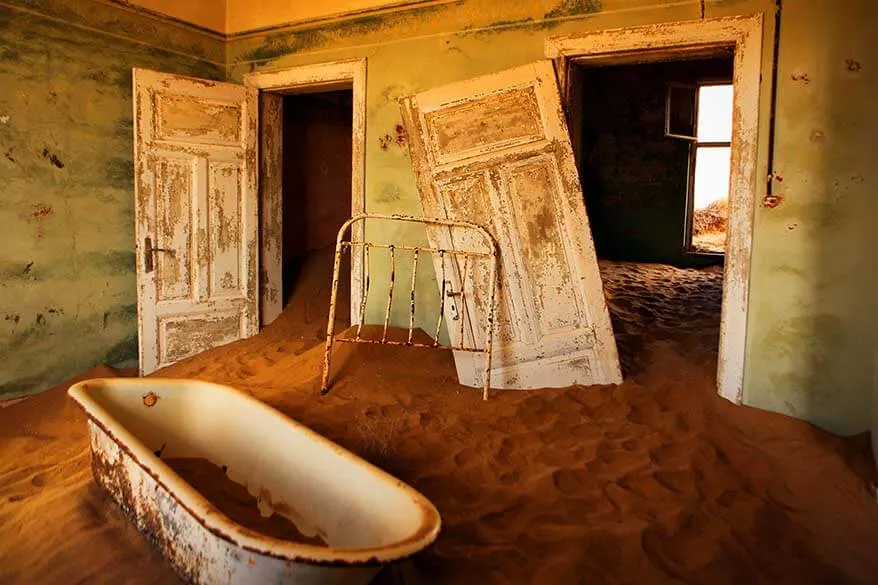 7. Twyfelfontein
Twyfelfontein is the largest site of ancient Bushman rock engravings in Africa. It's also a UNESCO World Heritage Site, and another must-see place in Namibia.
There are several routes that you can choose and a local guide will take you on a tour. If you can't decide, we recommend choosing The Lion Man route – it's said to be the best option.
TIP: Go early in the morning for fewer crowds and better light for the pictures.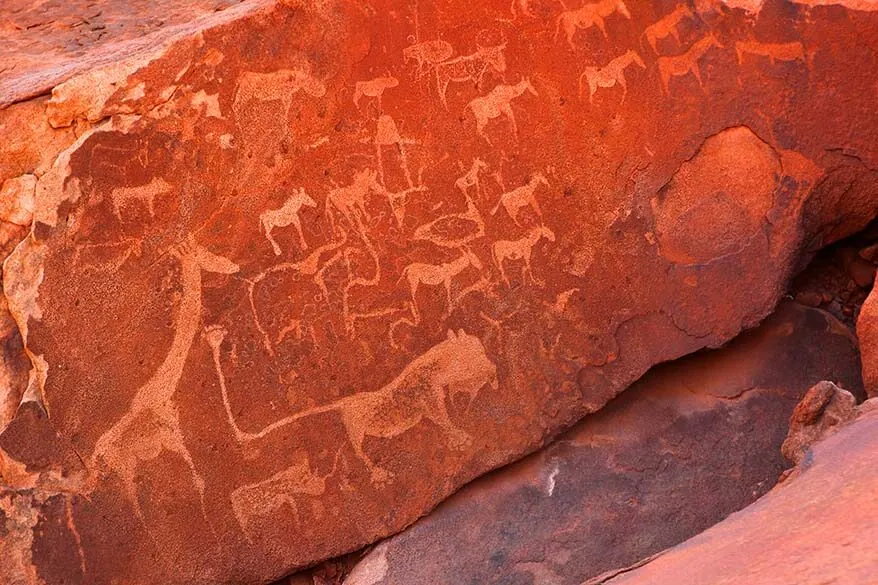 6. Walvis Bay Flamingos
Walvis Bay waterfront is home to a big colony of wild flamingos. Expect to see thousands of pink flamingos, as well as pelicans and other birds.
Don't miss Walvis Bay flamingos when traveling in this part of the country. It's definitely one of the places to visit in Namibia.
TIP: Book a Walvis Bay boat trip to see dolphins and other sea life.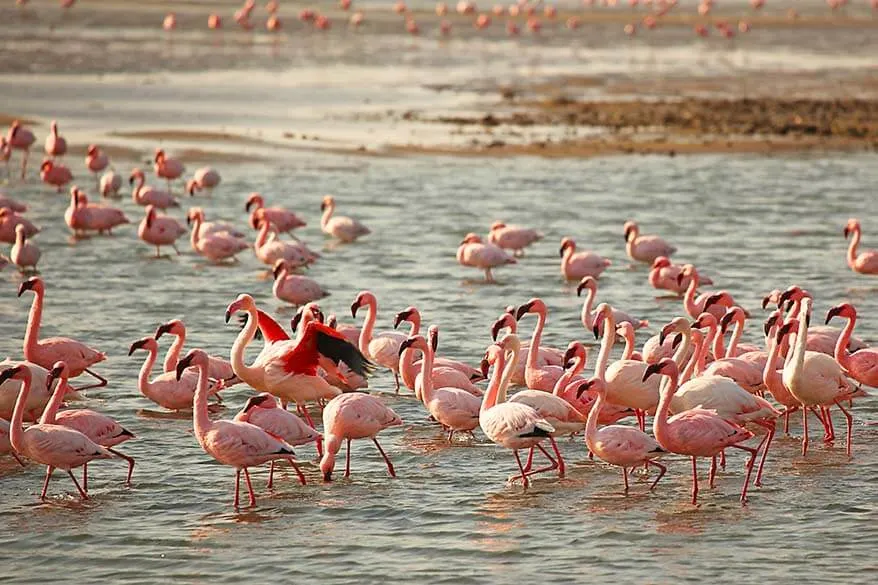 5. Cape Cross Seals
I cannot even try to describe this place, Cape Cross Seal Reserve is another absolute favorite from our Namibia trip.
Hundreds of thousands of seals, as far as the eye can see. It's one of those places that you have to see to believe it, and an experience you'll never forget.
TIP: Go early in the morning (access from 8 AM), and ideally on a windy day to avoid the smell.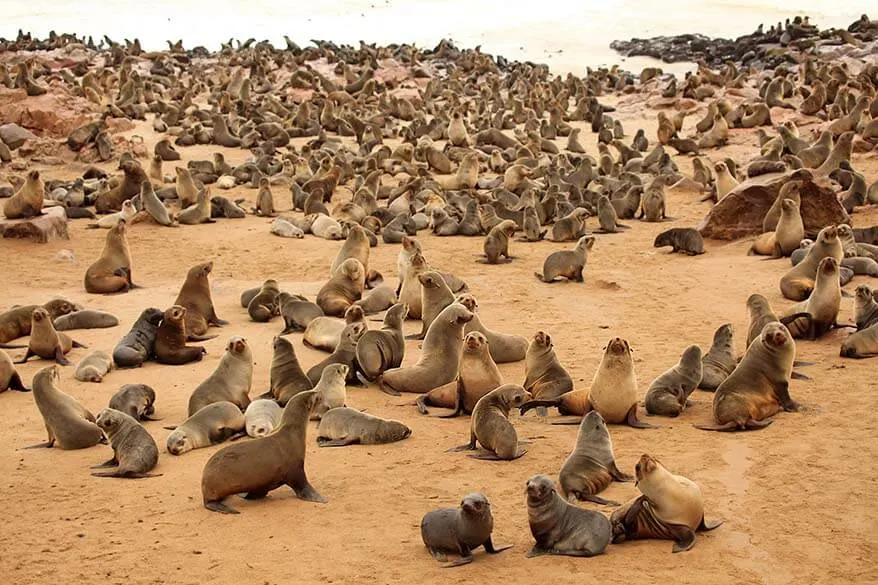 4. Spitzkoppe
Very little known and somehow left out of the main tourist routes, Spitzkoppe was one of the most breathtaking places we visited in Namibia.
Most spectacular landscapes and practically no people at all. Don't miss this hidden gem that, in my opinion, is one of the most beautiful destinations in Namibia!
If you can, stay for the sunset. However, don't drive at night. There is a campground at Spitzkoppe and it's one of the most beautiful places to camp in Namibia!
TIP: You can also visit Spitzkoppe with this day tour from Swakopmund or from Walvis Bay. It also visits a few other nice places in the area.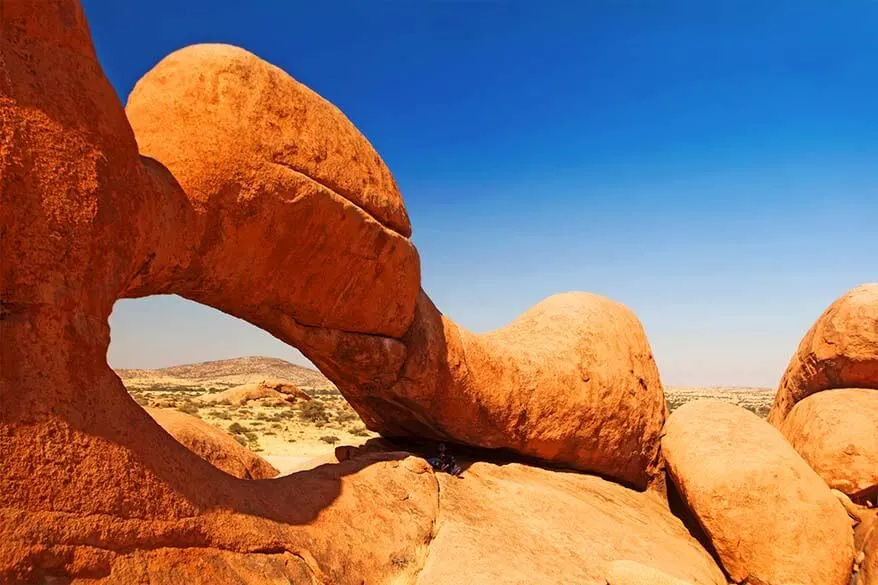 3. Fish River Canyon
The second-largest canyon in the world, Fish River Canyon in southern Namibia is one of the most visited tourist attractions in the country. It's a long drive to get there, but definitely worth it.
Visit Fish River Canyon at sunrise for the best views. You don't have to hike in order to see the canyon, as there are plenty of great viewpoints. However, hikes and multi-day treks are available too.
TIP: Stay at Gondwana Canyon Lodge and take a free sundowner tour to the top of the hill adjacent to the lodge – it offers some of the most spectacular scenery you can imagine!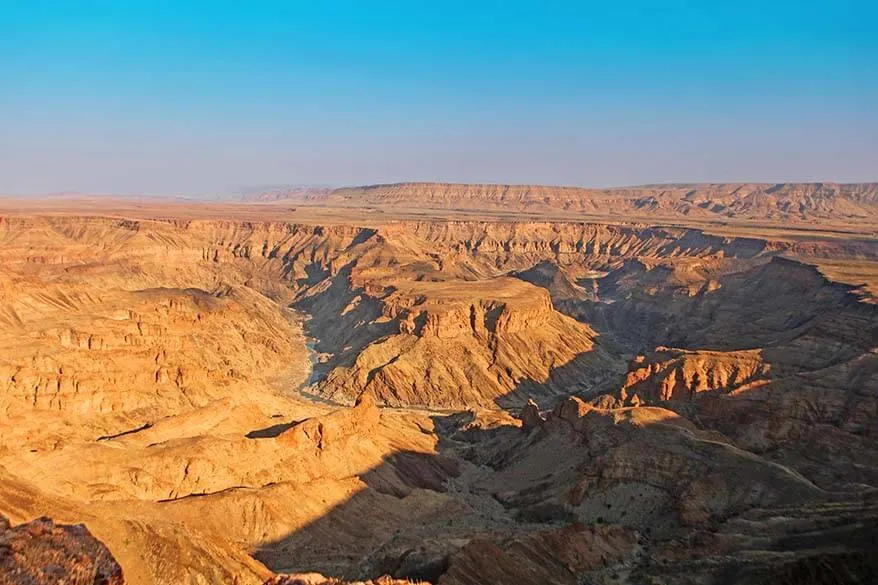 2. Etosha National Park
Etosha is a large salt pan in Northern Namibia. It's also the biggest wildlife sanctuary in Namibia, with guaranteed animal sightings. You can see pretty much all African animals here and in big numbers.
Furthermore, Etosha National Park is one of the most accessible wildlife reserves in Africa and can easily be visited individually. Plan at least 2 days/ 3 nights for Etosha National Park. Don't miss the Okaukuejo waterhole! Read why Okaukuejo is the best place to stay in Etosha.
TIP: If you are staying in the Okaukuejo area (inside or just outside the park), you can also opt for this guided half-day or full-day game drive (the more people share the jeep, the cheaper it gets per person). Most lodges in the area will also offer guided tours, but – depending on the lodge and the number of travelers in your group – they might be a lot more expensive.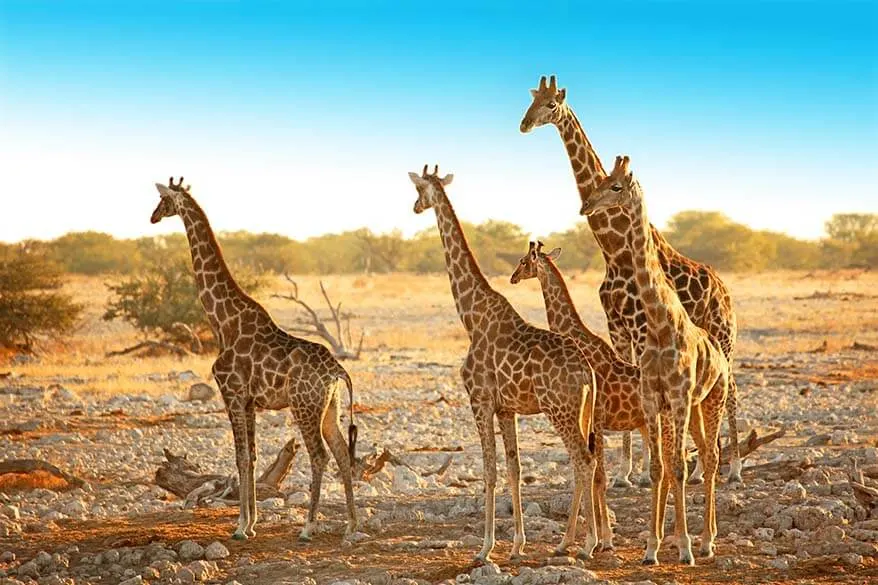 1. Sossusvlei and Deadvlei
My number one on the list of must-see places in Namibia is Sossusvlei. This place should be number one of any 'best things to do in Namibia' list!
Sossusvlei is a desert that is home to the world's largest sand dunes. Don't miss Deadvlei too – the white salt pan with ancient acacia trees that you see in all Namibia travel guides. Make sure you climb at least one of the higher sand dunes. I recommend Big Daddy, Big Mama, or Dune 45.
Stay at the accommodation inside the park and try to catch the sunrise from the top of Big Daddy Dune. But beware that driving all the way to Sossusvlei on your own might not be a good idea since the last few kilometers are on sand and many vehicles get stuck in it… There are tours from most accommodations in the area, and often, you can also hire a 4×4 vehicle for the last part, but they won't be there before sunset yet.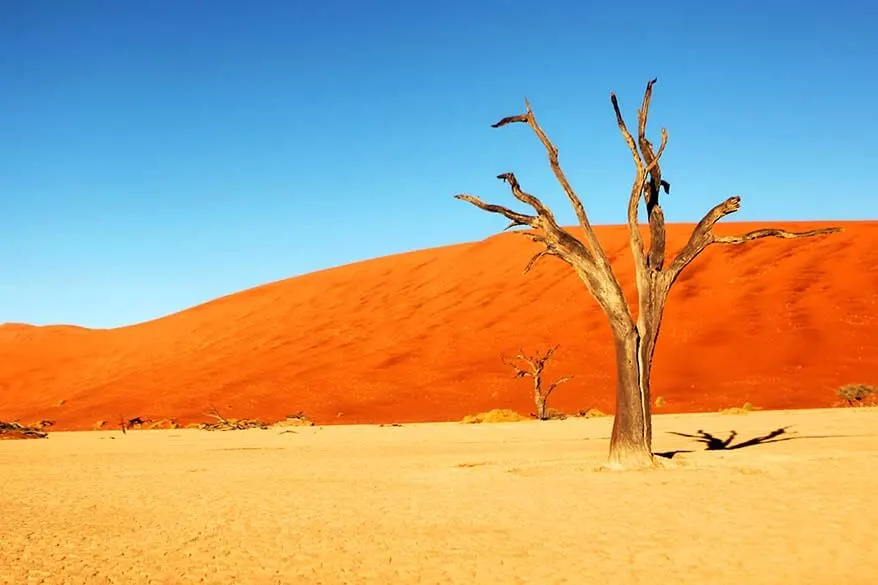 So, this is our list of the best places to visit in Namibia. I hope that it has inspired you to visit this beautiful African country and explore it a bit deeper, beyond the main tourist attractions.
Are you looking for more practical information for visiting Namibia? Make sure to check these articles as well:
If you found this post helpful, don't forget to bookmark it and share it with your friends. Are you on Pinterest? Pin this image!