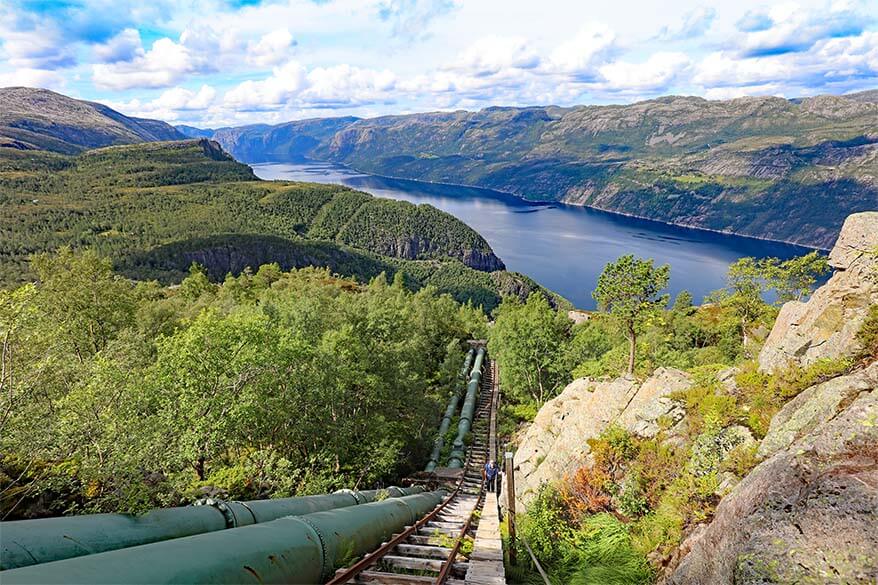 Stavanger – Ryfylke region in Norway offers a lot of hiking possibilities, including the world-famous Pulpit Rock and Kjerag. But there are many more spectacular hikes in the Stavanger region that are a bit less known to tourists, but just as impressive!
In this article, you can read all about the Flørli 4444 hike.
Florli stairs is one of the best, most unique hikes in Norway and the most memorable hike we ever made. Find out!
READ ALSO: Best Things to Do in Stavanger
Florli
Flørli is a tiny little village along the Lysefjord. There are only 4 people living in the village year-round, but it's a charming and quite lively place in summer. You won't find huge crowds in Florli (unless on the day when they organize the 4444 stairs run – can you imagine that?!).
Flørli village is a nice little place that is only visited by those familiar with the area, or those looking to explore the region deeper. I have a feeling that it's one of those charming places that locals prefer to keep to themselves. It's a true hidden gem of Lysefjord, and well worth a visit!
Florli is home to a hydroelectric power station and the world's longest wooden staircase with 4444 steps. The stairway follows an old pipeline that was built from 1917 – 1921 and used by the old Florli Power Station. The old power station has been long replaced by the new one and the Florli staircase has now become a tourist attraction.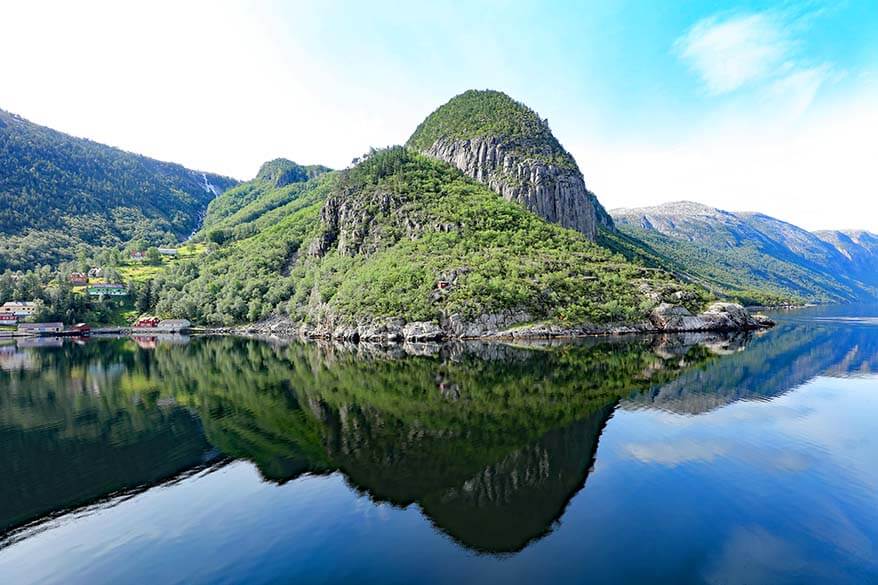 Florli 4444 Hike
Florli 4444 hike follows the staircase that was built to maintain the pipes of the Florli Power Plant.
I don't think that you can truly appreciate how strenuous this hike is until you arrive at Florli by boat and see the endless staircase leading to the top of that huge mountain in front of you.
And then the reality hits you – 4444 steps! That's some 270 floors! It's the world's longest wooden staircase.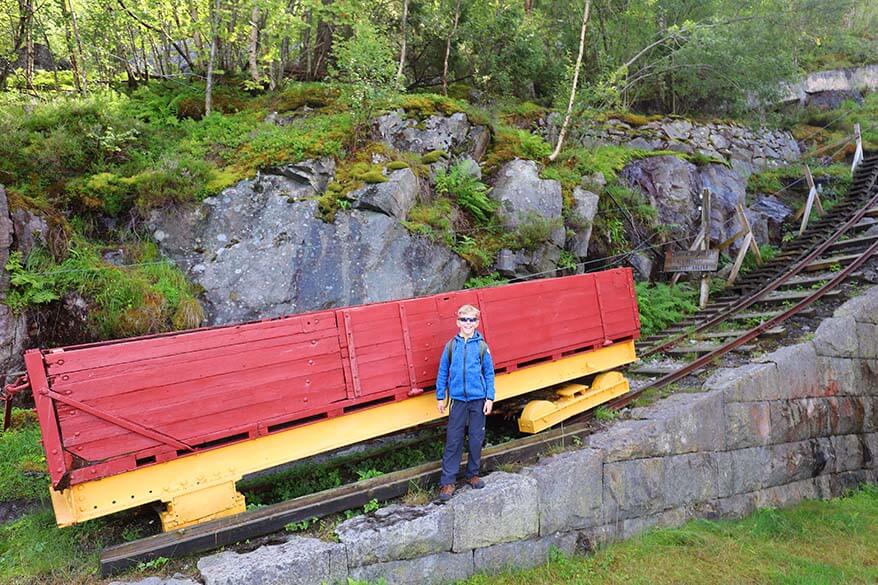 If we would have thought this through, I would have probably never dared to embark on this hike, and certainly with kids.
But somehow we found the strength to do it and Florli 4444 stairs in Norway have become one of the most memorable hiking experiences ever.
And I should not have worried about the kids at all. As our guide said, for them, this hike was like a walk in the park… Not so much for us though. 🙂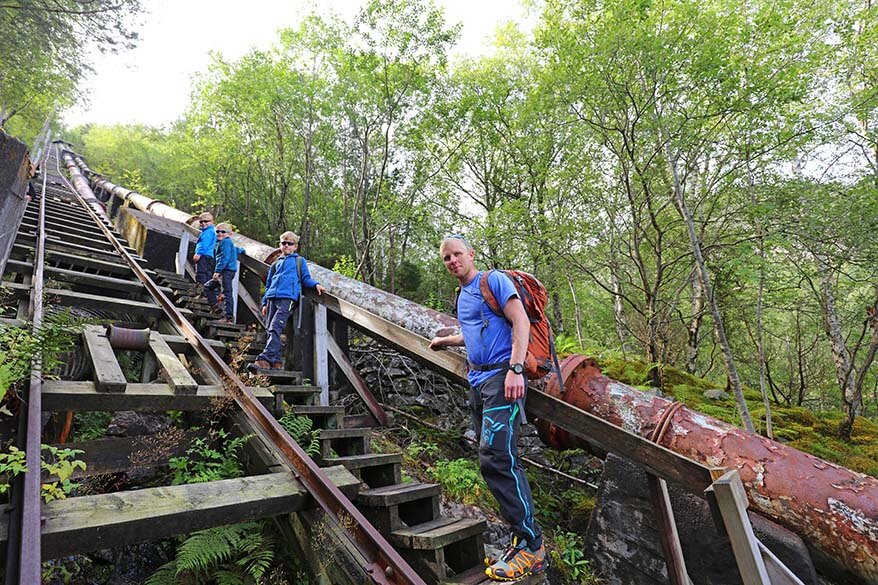 Florli 4444 stairs climb is long and steep. It's not a hike for those who have a fear of heights or have problems with their heart.
There is also very little encouragement along the way. Every 500 stairs, there is a number showing the slow progress you made.
By the time you reach the first sign, 500, you already wish it was 4000… But then you turn around to see where you came from, and you are mesmerized by the incredible views. And somehow you find some more energy to go on. And on, and on.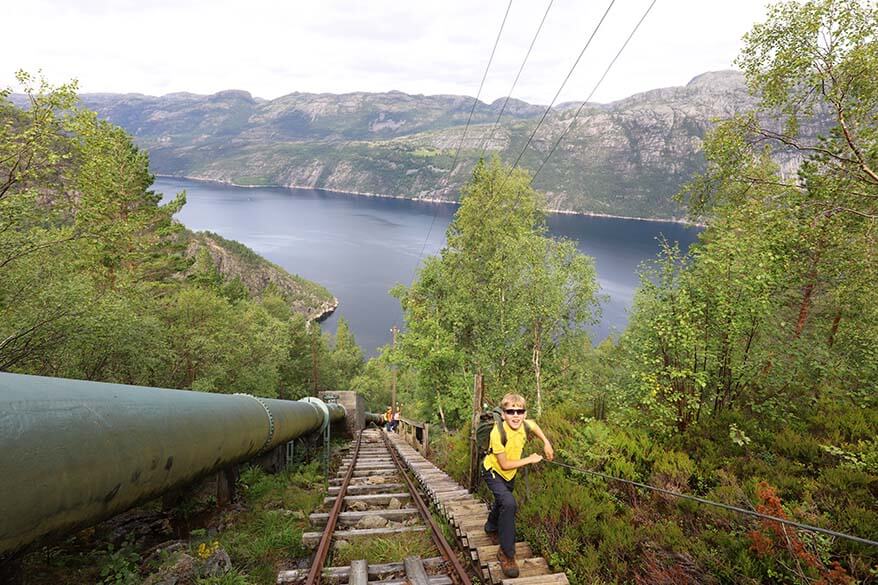 The stairs follow the water pipelines and the rails where a trolley used to transport people and materials up the mountain. Kids asked several times if we could just take the trolley instead. I wish!
There are many lookout points along the way, also some tiny benches right next to the staircase. We took our time and stopped to catch our breath and to admire the stunning panorama of the Lysefjord stretching below us.
There are several picnic tables too, and we had a picnic lunch somewhere between stairs 2000 and 2500. Good excuse to rest a bit and recover before continuing further.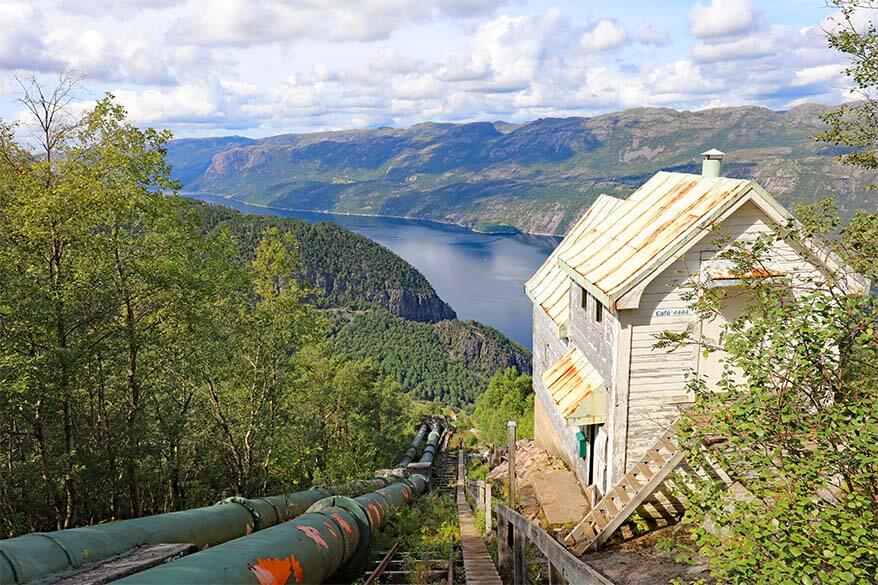 You don't have to do the whole 4444 steps of this hike. If climbing all the way to the top is too much, you can always turn around and head back to the village.
It's not advisable to hike the whole 4444 stairs down, as the staircase is narrow, so you will have difficulties passing the people who are going up. There is a hiking path leading back down to the village – more info below.
However, don't give up too quickly. The higher you go, the more spectacular the views. And it just gets better and better. If you are fit enough, it's well worth it to make an effort and climb all the way to the top.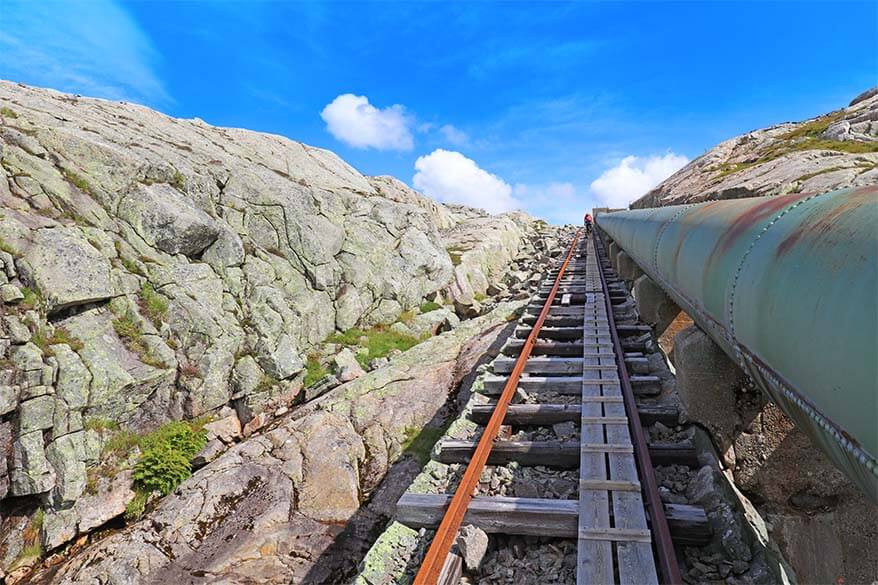 After about 2,5 hours of climbing (including lunch along the way), we finally heard the kids shout that they found the 4444th stair.
Once you get there, you will see that there are actually about 30 stairs more after the 4444th stair. But by this point, it will not matter anymore.
I guess 4444 simply sounds better than 4476 or so, thus the name of the hike.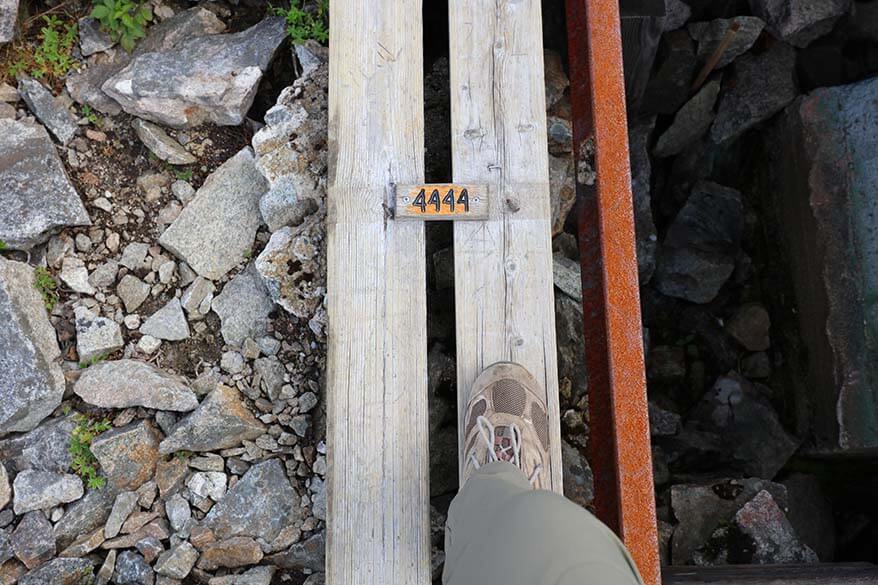 At the top
On top of the mountain, there is a small lake, Ternevatnet. The water is so pristine here that our guide told us we could refill our drinking bottles.
The views from the top are also phenomenal, so make sure to take your time here before heading down.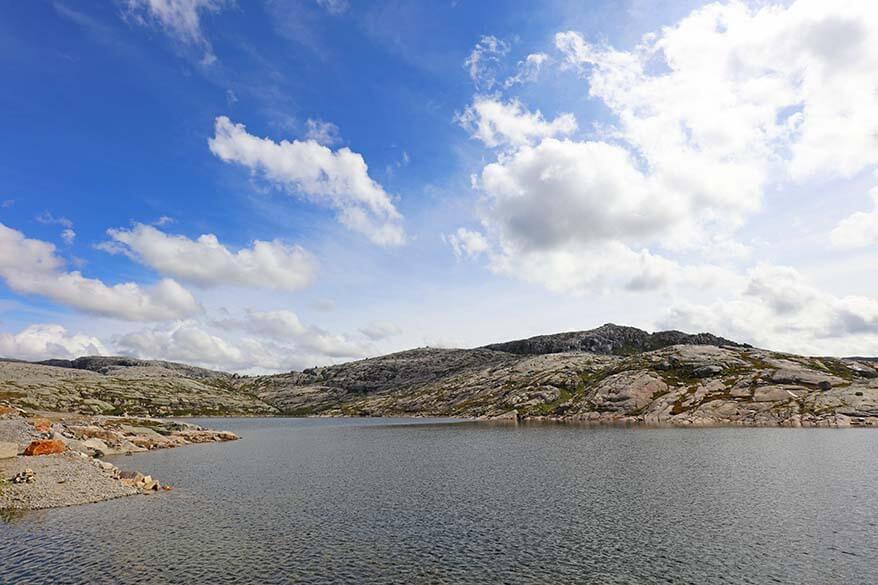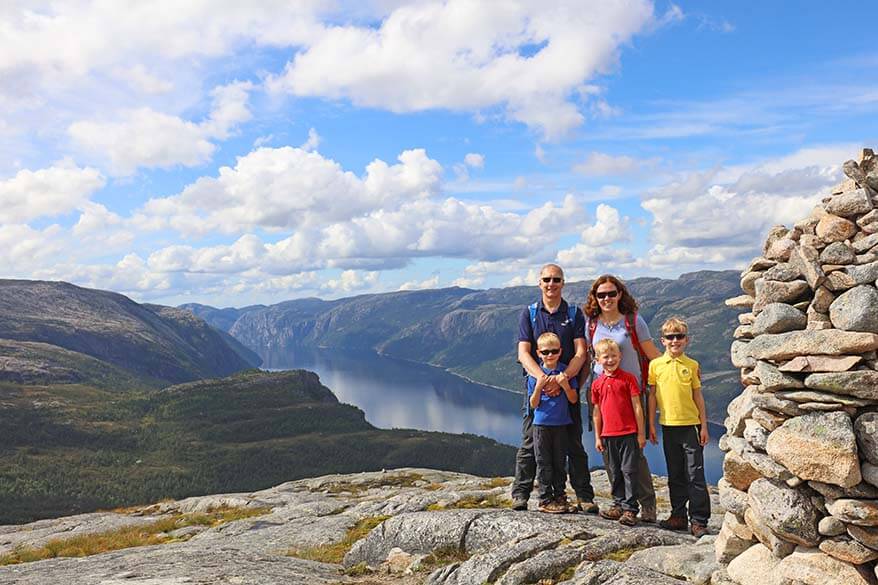 Back to Florli via an alternative trail
In addition to taking the staircase down (not recommended), there are two alternative routes to get back down to Florli: Store Runden (4hrs) and Rallarstien (3 hours). They are both well marked.
We took the shorter route. See below.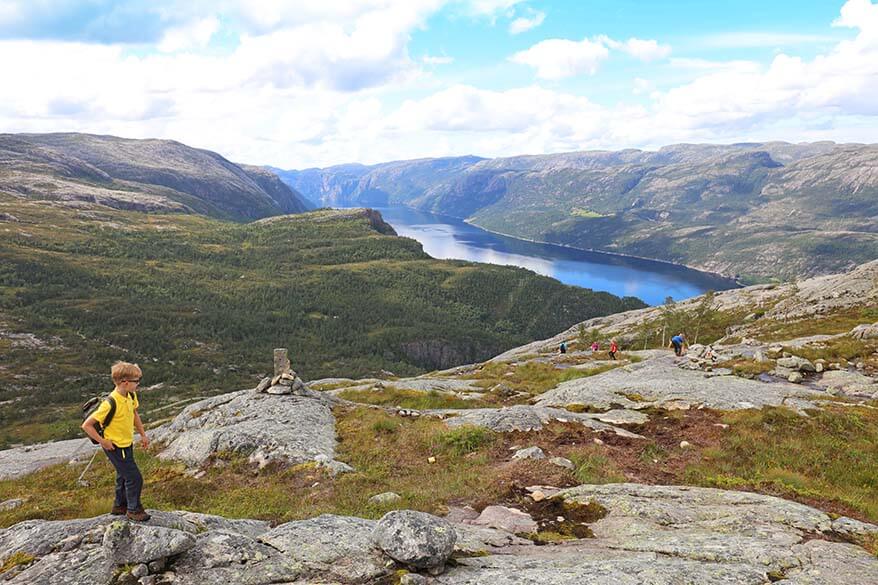 The scenery is very different on this path than it is on the staircase.
You will pass mountain rivers and a lush forest. It's more like a regular mountain hike that we are used to. Except – it's extremely muddy after the rain. So you definitely need good hiking shoes, and hiking poles would be useful too.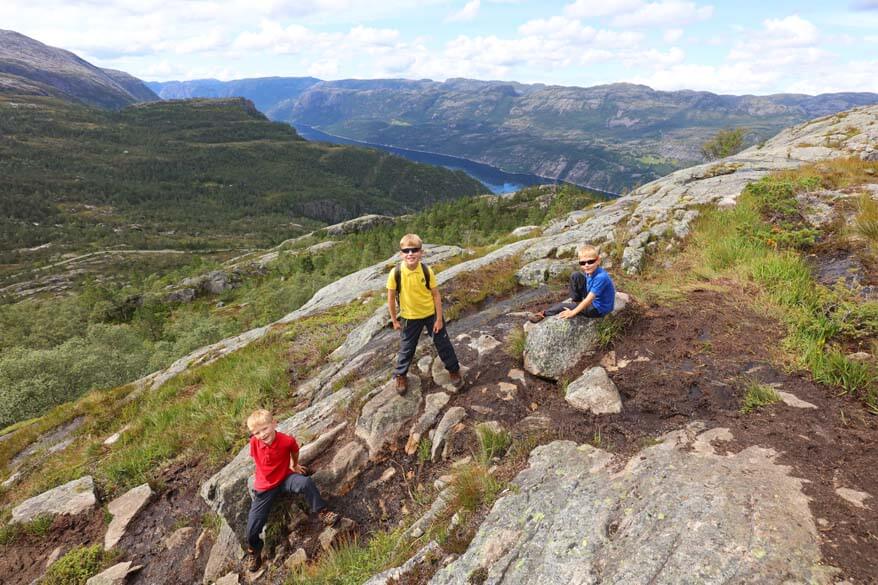 The descent follows the hundred-year-old path that was once used by the people, The Rallarer, who were employed to build the pipeline and the other infrastructure around the Florli Power Plant.
The Rallarer were unprivileged men doing the most physically demanding jobs. They would carry their own weight worth of load on their backs.
When you see the infrastructure they had built more than 100 years ago, you cannot help but admire the human persistence and determination.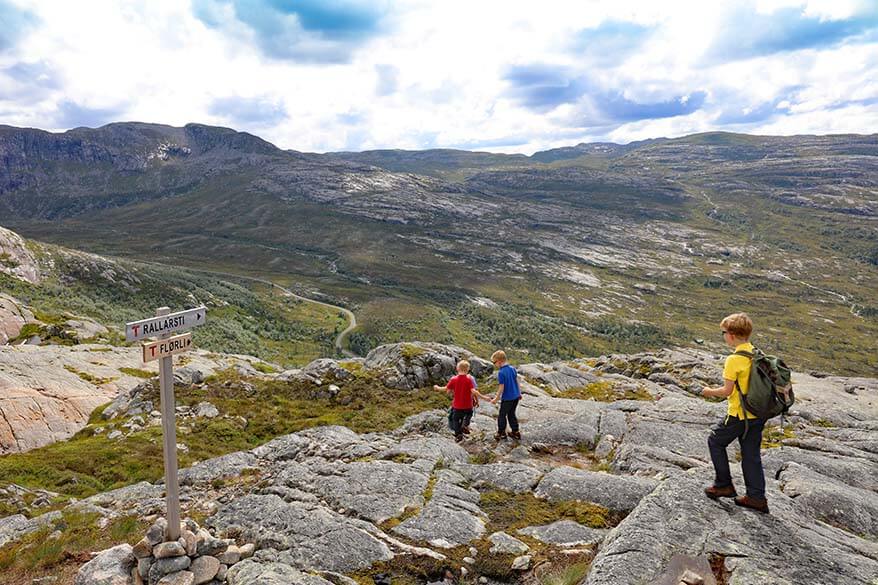 The descent to Florli took us about 2,5 hours. Kids were stopping every couple of meters to build dams in the mountain streams.
On top of that, it was a blueberry season and there were berries all over the forest. They just loved picking them and we all ate hands full of blueberries that day.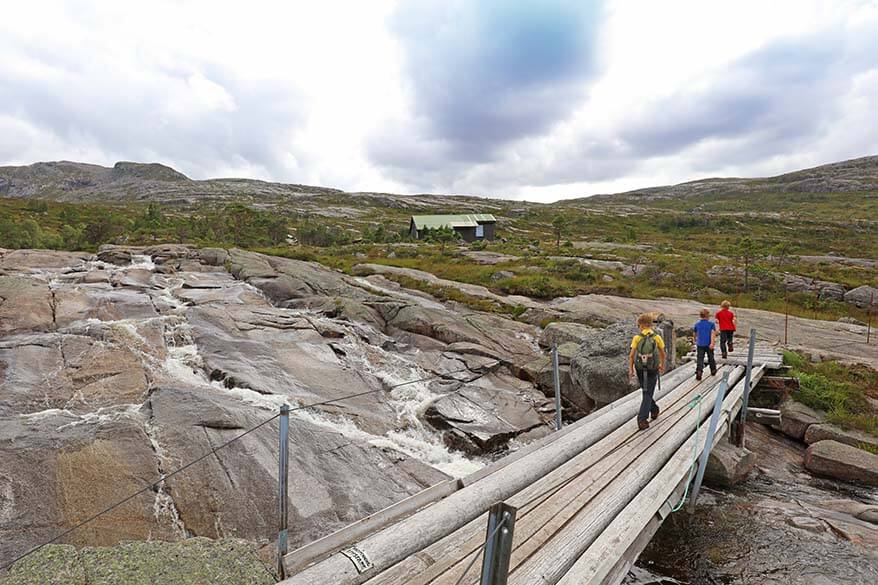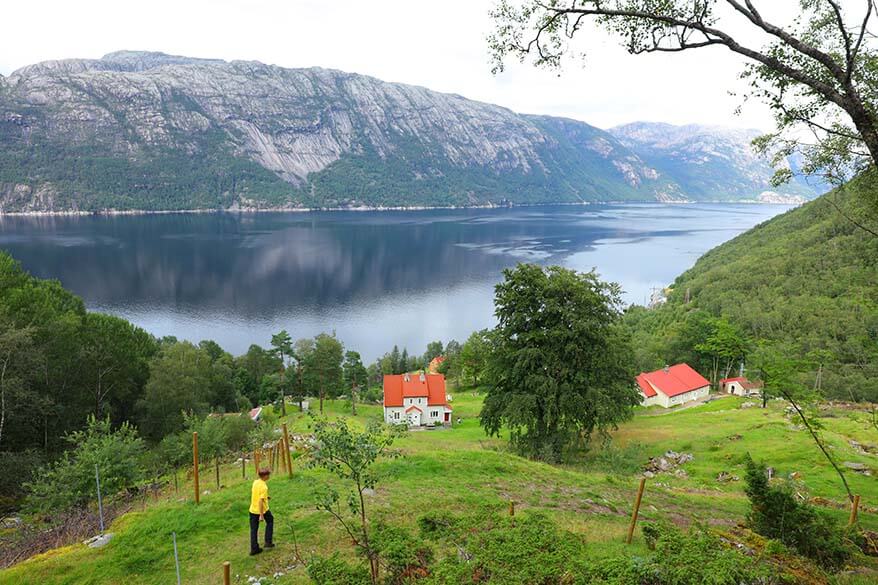 What to do in Florli
Once back in Florli, you have to wait for the next ferry in order to get back to Stavanger.
There are only several ferries a day and ours was at 6.45 PM. We had a few hours left when we reached the village, so we decided to pay a short visit to the old power plant.
Afterwards, we had dinner at the small cafe in Florli. The food is really good and surprisingly affordable for Norwegian standards. And since you don't get to town before 9 PM, it's probably a good idea to have dinner in Florli anyway.
The café and the hostel is run by Hessel, a friendly Dutchman, who's been living in Florli for a few years now. He said he couldn't imagine a better place to live!
If you have more time, ask Hessel about other things you can do in Florli. Possibilities include a hot tub (pack your swimwear), rod fishing, or kayaking. If you do the Florli 4444 hike real fast, you may have more time left for all these activities than we did.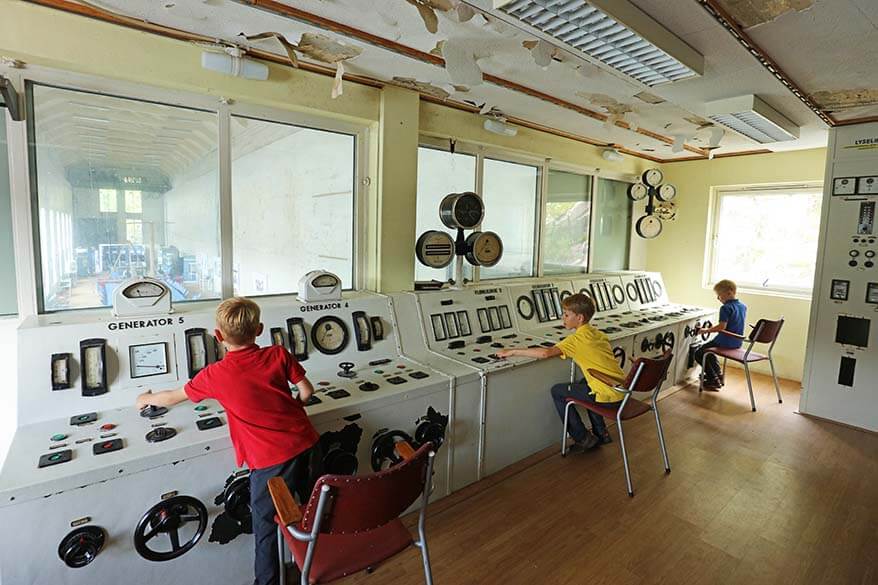 Lysefjord
Florli is located deep inside the Lysefjord. So in addition to the Florli 4444 hike, you also get to admire the incredible scenery of the fjord twice – in the morning, and then again in the evening.
We were very lucky with the weather the day we went to Florli. It definitely made up for the bad weather we had on the Lysefjord – Pulpit Rock cruise the day before.
The boat that brings you to Florli is a car ferry though, so it's not the same as the cruise in terms of stops and commentary. But the scenery is incredible either way!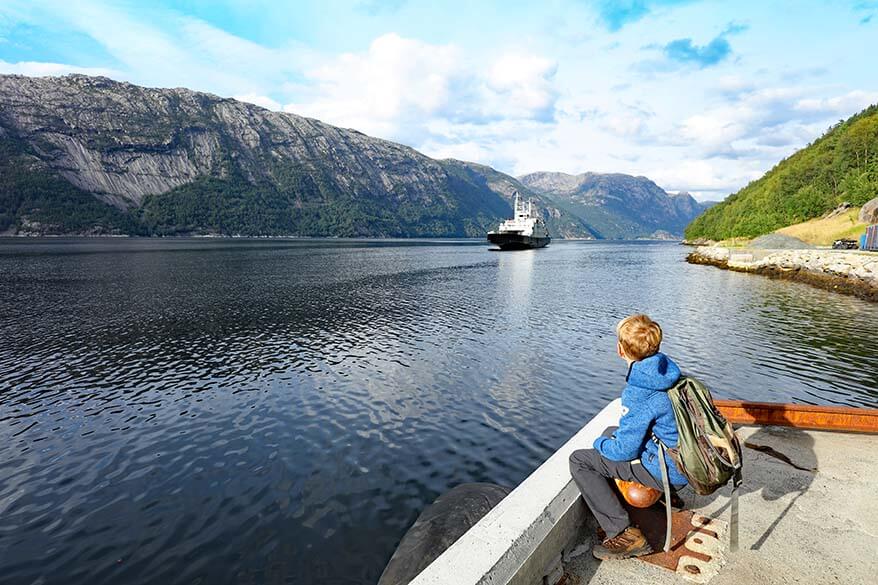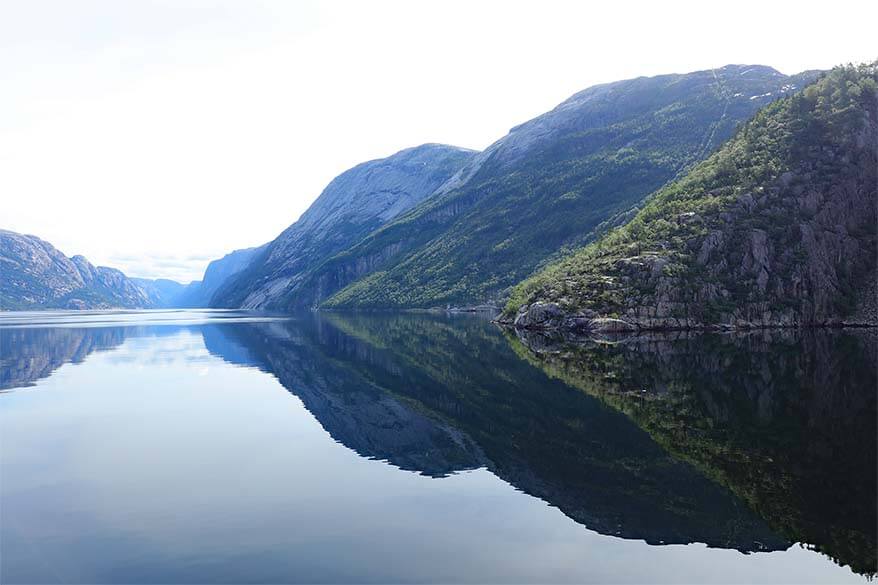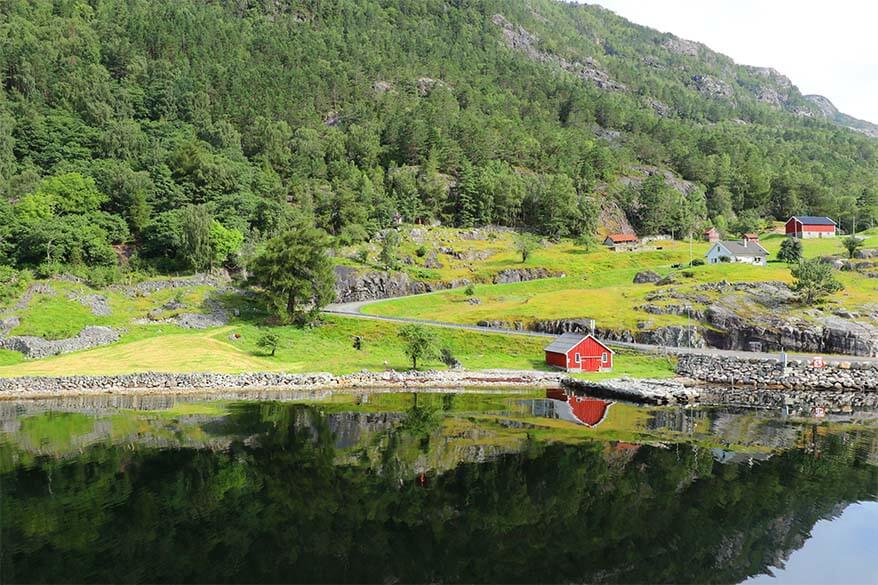 Florli Stairs – who is this hike for?
Florli 4444 is one of the most challenging hikes we ever did. But it's also one of the most special, memorable experiences ever. We are not experienced hikers, and we are in no way in fantastic physical shape, yet we did it. It's not a long walk distance-wise; the biggest challenge is continuous climbing.
Our three kids (6, 6, and 8 years old at that time) had no difficulty with the stairs, or with the steep hike down. In fact, they did it so well, that it made us realize that from now on kid-friendly hike means that we can probably do it. The kids can do any hike by now.
We met a few other families on Florli 4444 staircase. There were many kids of all ages, there were older couples too. Everyone (except our kids and our guide) went rather slow and stopped a lot. And everyone who I saw start the hike, made it to the top.
As I said, before, it's not a hike for those with a fear of heights.
Practical Info
Florli4444 requires a full day trip from Stavanger. We started our day at 8.30 AM with a pick-up from our hotel. We were back in town around 9 PM. It's a long day, but you spend quite some time on the boat, so you have plenty of time to relax.
Good to know: You cannot do this hike in one day if you don't have a car, since the ferry to Florli doesn't depart from Stavanger. You need to take a ferry from Lauvvik, about 45min drive from town. Public transport connections just don't work out, so if you want to do this using public transport, then it's best to plan to spend a night in Florli.
We did the Florli 4444 hike with Geir from Lysefjorden Adventure and had an amazing day. He took care of all arrangements and we didn't have to worry about which boat to take from which harbor, or which trail to follow. Sometimes it's nice to give yourself a break and just enjoy the trip without having to deal with the practical side of planning.
There was one more reason why we were glad to have a guide on the Florli 4444 hike. Our kids were ahead of us on the stairs the whole time, but we didn't have to worry because Geir was with them. He's great with kids and won their hearts by packing some Norwegian chocolate to share with them on the hike.
Geir is an excellent guide who knows the region like the back of his hand. He organizes a variety of private hiking day trips from Stavanger, including the iconic hikes to Preikestolen, Kjerag, and Florli 4444 amongst others. If you are looking for a guided hiking trip from Stavanger, Geir is the perfect person to help you find the most suitable trip. You can also book trips with him via the GetYourGuide website.
Disclaimer: This experience was sponsored by Region Stavanger and we were guests of Lysefjorden Adventure, but all opinions are as always our own.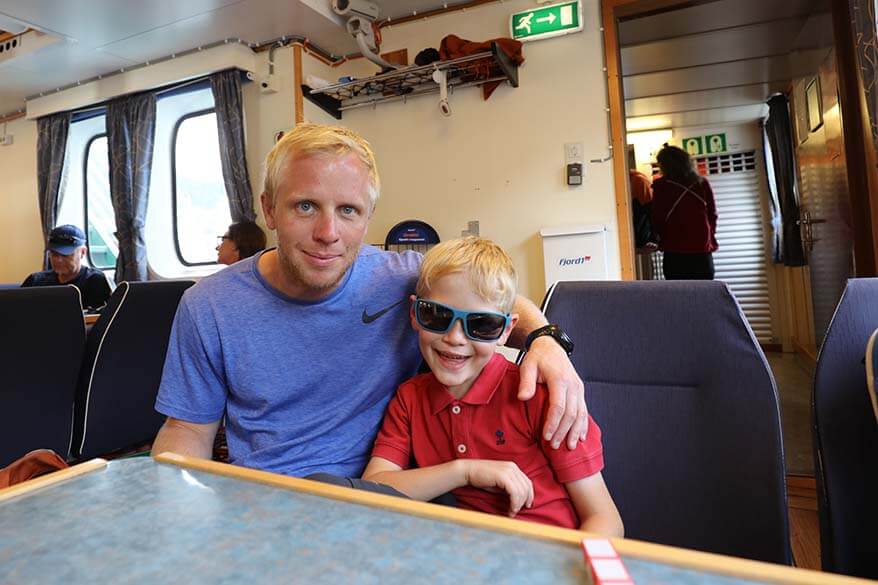 What to pack for Florli 4444
Hiking shoes are a must.
Hiking poles might be nice to have on the descent.
Wear comfortable sports clothing in layers and pack a rain jacket.
Carry sun protection in summer.
Take a picnic and some snacks for the hike.
Carry a reusable water bottle.
Pack swimwear if you would like to use a hot tub in Florli after the hike.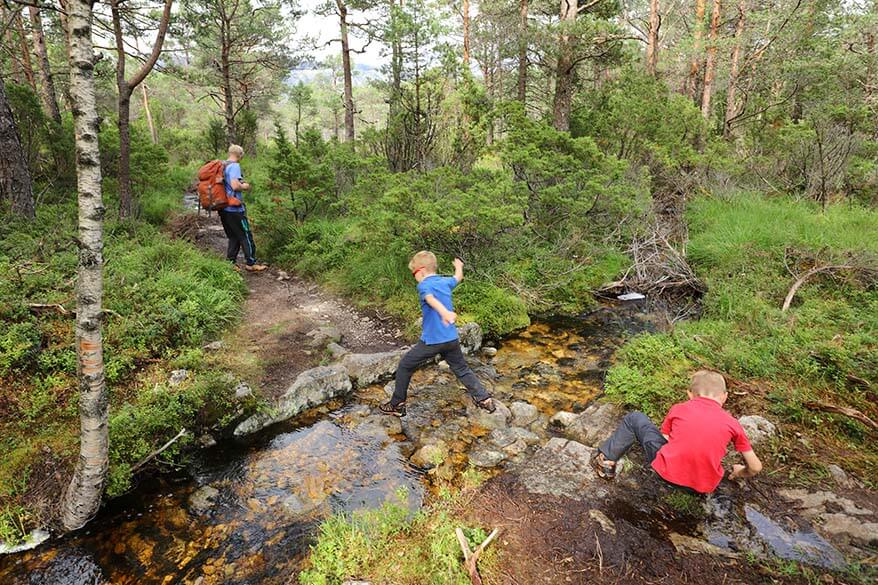 So, this is our guide to hiking Florli 4444 staircase in Norway.
We were the only foreign tourists on the Florli 4444 that day. As I said before, it seems that locals rather keep this place to themselves. So if you are looking to escape the crowds and do one of the most epic hikes of Norway, I cannot recommend Florli 4444 highly enough.
READ ALSO: Norway Itinerary – 2 weeks road trip along the most beautiful fjords
For more tips for visiting Norway, please check our Norway travel guide. It contains an overview of all our destination guides and travel tips for a variety of different places in Norway. It will help you plan an unforgettable trip of your own. Take a look!
If you enjoyed reading this post, please share it. Are you on Pinterest? Pin this image!