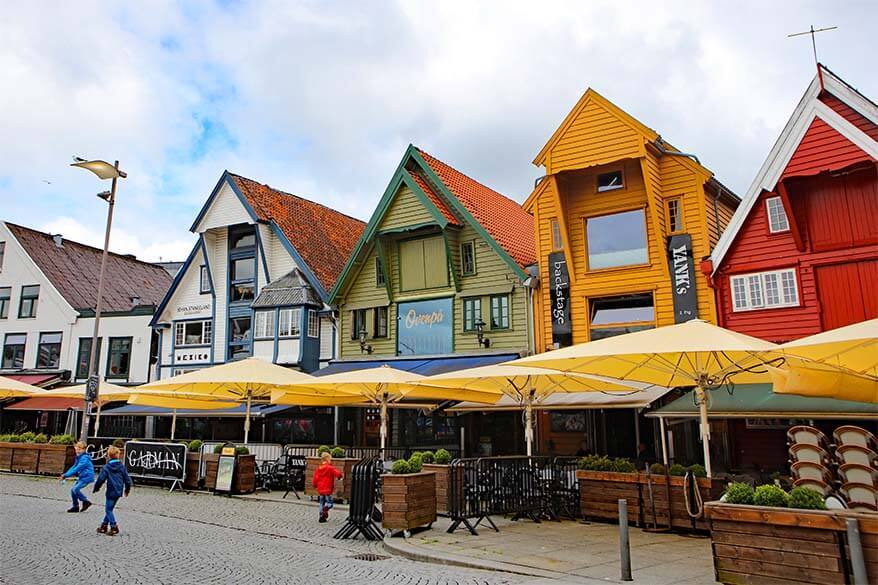 If you are traveling to Stavanger, Norway, for the first time, you are probably wondering what are the must-see attractions in town and what are the best things to do nearby. We spent three unforgettable days here and in this post I am sharing some of the best things to do in Stavanger and best day trips from Stavanger that you really shouldn't miss.
This is not a complete list of Stavanger attractions. This beautiful region has so much more to offer than that, but if you want to see the main highlights, then look no further. These are the top places to see and things to do in Stavanger.
This list starts with the best things to do in Stavanger town. Further down, you can find the best excursions and day trips from Stavanger. Whether you are visiting Stavanger for a day when cruising Norway or are here for a few days, this article is all you need for your first visit. Find out!
TIP: At the bottom of the post I also included some itinerary ideas on how to spend one, two, three, or four days in Stavanger. You can also find some practical tips and recommendations on the best hotels in Stavanger.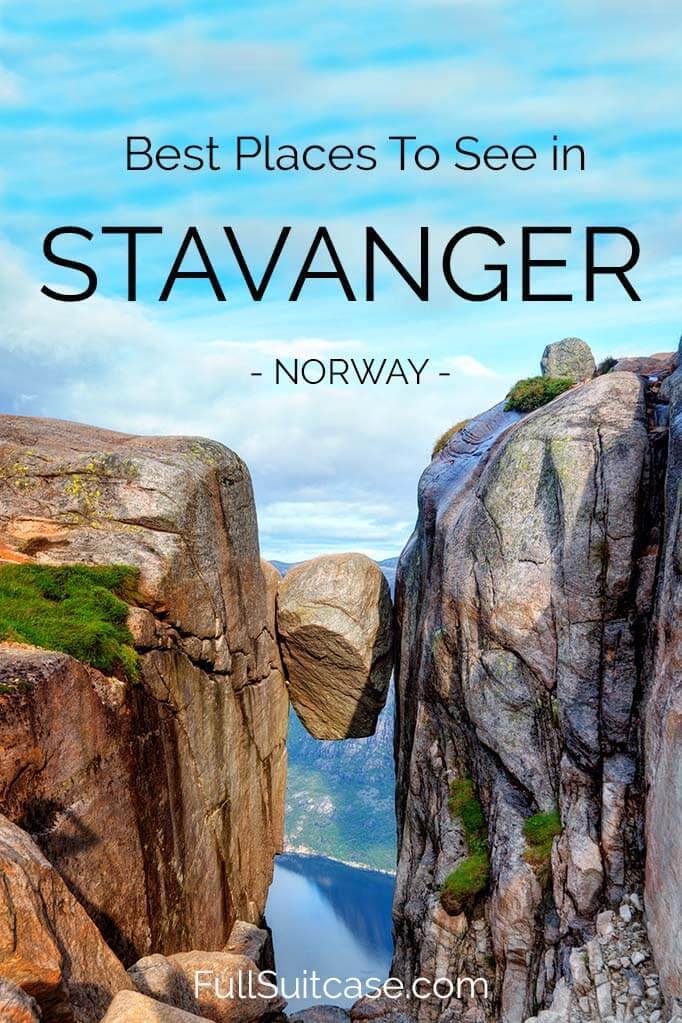 Stavanger was the first stop during our Norwegian road trip and we couldn't have chosen a better place to fall in love with Norway.
Stavanger really has it all – a beautiful old town with lots of history and cozy atmosphere, quirky museums (that prove that museums can be fun for all), and stunning nature with jaw-dropping landscapes within such an easy reach from town…
Without further ado, here are our absolute favorite things to do in Stavanger:
Gamle Stavanger
Gamle Stavanger (Old Stavanger) is a small historic area with beautifully restored wooden buildings dating from the turn of the 18th-19th century. If you only have a couple of hours in Stavanger, then this is one place you really don't want to miss.
This protected area was originally home to the workers of the sardine canning industry. More than 170 houses have been beautifully restored and a visit to this historic quarter with its white wooden houses, colorful flowers, and well-kept little gardens is a real treat for the eye.
Strolling through the narrow cobbled streets with the old-fashioned street lanterns and empty benches feels like stepping back in time and you'd almost forget that people live here today… If you want to have an authentic feel of old Norway, then Gamle Stavanger is probably one of the best places to experience this.
Practical information: Gamle Stavanger is located to the West of the old harbor Vagen, just a few minutes walking distance from the Strandkaien cruise ship terminal (see the map).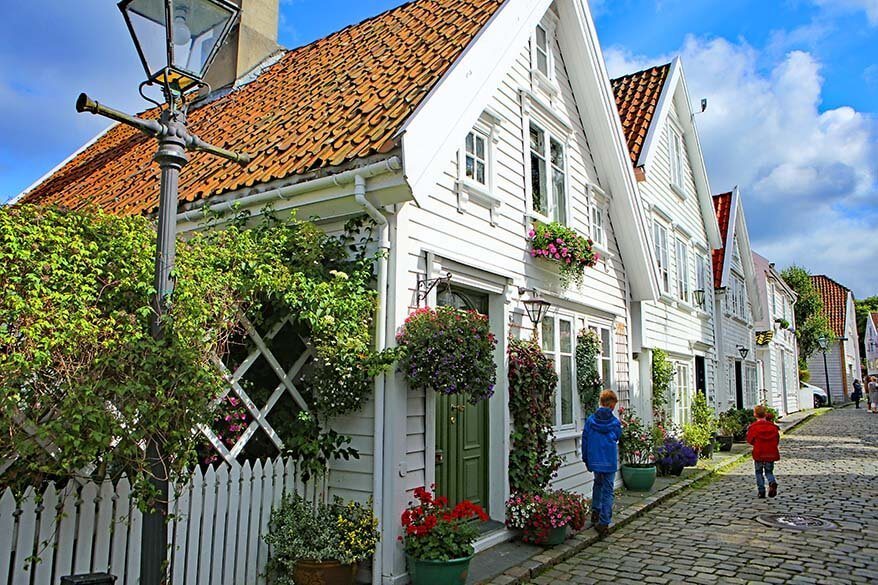 The Norwegian Canning Museum
If you visit just one museum in Stavanger, make it The Norwegian Canning Museum. You'll never look at a can of fish with the same eyes again!
All kidding aside, visiting this historic museum located in an old canning factory in the earlier mentioned Gamle Stavanger area is the best hour you can spend in Stavanger.
Not only do you get to know the importance of the canning industry, learn how a factory worked, or see thousands of incredibly creative labels that even the best marketing gurus can learn from. On top of that, this museum is really hands-on with lots of fun activities that you can try for yourself. You can thread sardines, lay them in cans, and on a certain days you can even taste some smoked sardines… Fun for kids and adults alike!
I really feel that you'd be missing a big deal if you don't pay a visit to this unique museum when visiting Stavanger. Even if you have just half an hour to spare, take a look inside. You won't be disappointed.
Practical information: You can find all the practical information on the Norwegian Canning Museum website.
LEARN MORE: What to Expect at the Norwegian Canning Museum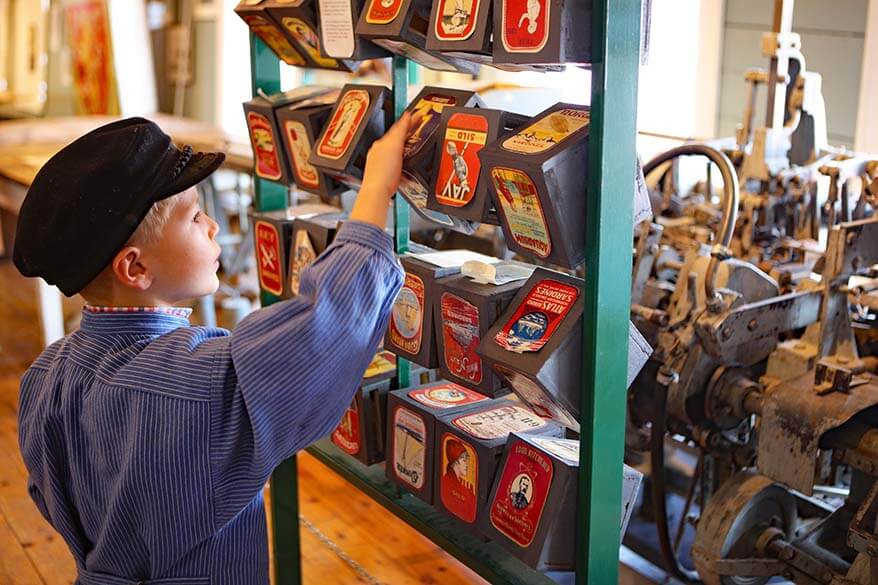 Norwegian Petroleum Museum
You can't really miss the Norwegian Petroleum Museum in Stavanger. Built as a replica of an oil platform, its very special architectural design will catch your eye immediately. But there is so much more to this museum than its impressive exterior!
There is a lot to see and do in this museum, often chosen as the best museum of Stavanger by guidebooks and travelers alike.
Not only can you learn everything about oil, you will also get a better understanding about the importance of the petroleum industry in Norway. It turned the country that was once on the brink of poverty into one of the most wealthy countries in the world.
There are models of oil platforms and ships, rigs with emergency slides, and even an escape room where you can experience what it would be like to try to evacuate from a burning rig. Children will love this museum as well. There is a question and answer trail to follow, lots of hands-on experiences, and a themed playground where the kids can put on a helmet and a uniform and build their own oil platform.
Practical information: You can find more information and opening times on the official website of the Norwegian Petroleum Museum. Count at least an hour or even two for a visit.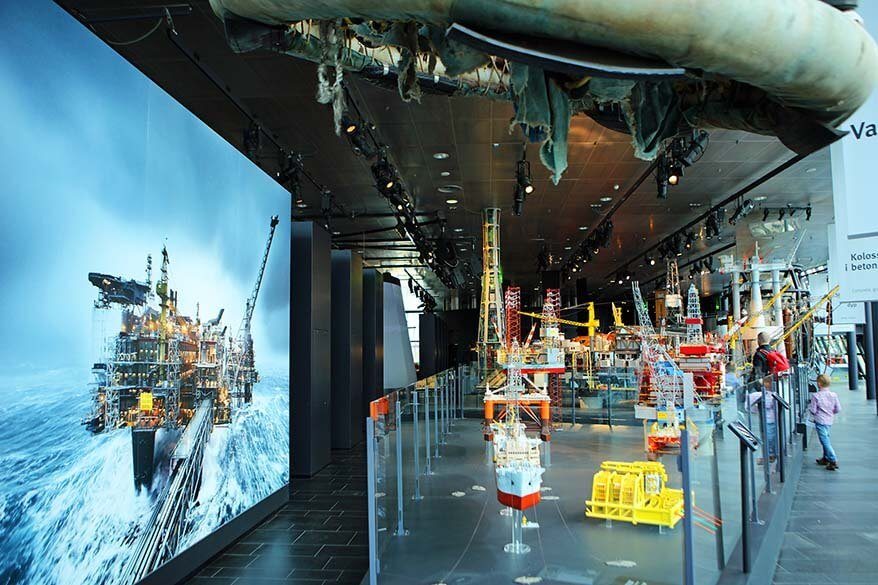 Which museum to visit in Stavanger? Stavanger is not such a big town, but it has so many museums that you could easily spend a week doing nothing else, but visiting them.
If you have just an hour or two in Stavanger, I recommend visiting Gamle Stavanger and the Norwegian Canning Museum. If you have 2-4 hours in Stavanger, visit the Norwegian Petroleum museum as well.
These two museums couldn't be more different, but I feel that you need to see both to get a better understanding of Norway as a country. If you have more time in Stavanger and want to visit even more museums, you can find the complete selection here.
Stavanger Town Center, Domkirke, and Breiavatnet
Stavanger town center is not very big, so I suggest that you go for a short walk and see some of the main highlights in town.
One of the landmarks you shouldn't miss in Stavanger is its medieval cathedral – Domkirke. It has been recently restored and is one of the best-kept old churches of Norway. It's also the only cathedral in Norway that has been continuously used since the 1300s.
Breiavatnet is a small lake with a fountain located in the middle of Byparken park in the center of Stavanger. It's just a stone's throw away from the old town and the cathedral and is a nice place for a relaxing stroll.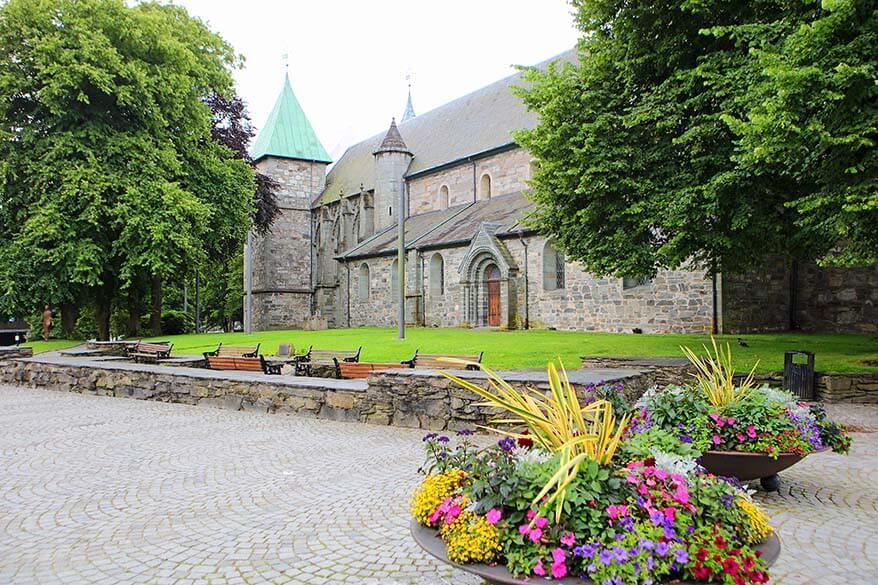 Lysefjord Cruise
Lysefjord is one of the most beautiful fjords of Norway and one of the main highlights that attracts hundreds of thousands of visitors to Stavanger every year.
Sail deep into the fjord and admire the sheer walls around you, with the most famous of them – The Pulpit Rock – rising over 600 m above the fjord. You'll pass some tiny islands, caves, and waterfalls. It's a sight to behold…
There are several ways to experience the Lysefjord. Probably the easiest and the most popular is by taking a boat tour. There are regular ferries connecting various little towns along the fjord, but it's much easier (and not more expensive) to just take a Lysefjord cruise from Stavanger.
We visited Lysefjord twice. Once on a rainy day when we did the Lysefjord cruise in combination with the Pulpit Rock hike, and then on a sunny day when we sailed all the way to Florli and climbed the world's longest wooden staircase – Florli 4444. Needless to say, you'll have much nicer views if you visit the Lysefjord on a sunny day, but it's still an impressive trip even if it rains.
Practical information: Lysefjord cruise can be done the whole year. It starts in Strandkaien in Stavanger city center and takes about 3 hours. You can find more information about the fjord cruise here. If you also want to hike to Pulpit Rock, you can book a tour that combines both.
TIP: Lysefjord cruise is the most popular trip in Stavanger, so book early, especially when cruise ships are in town.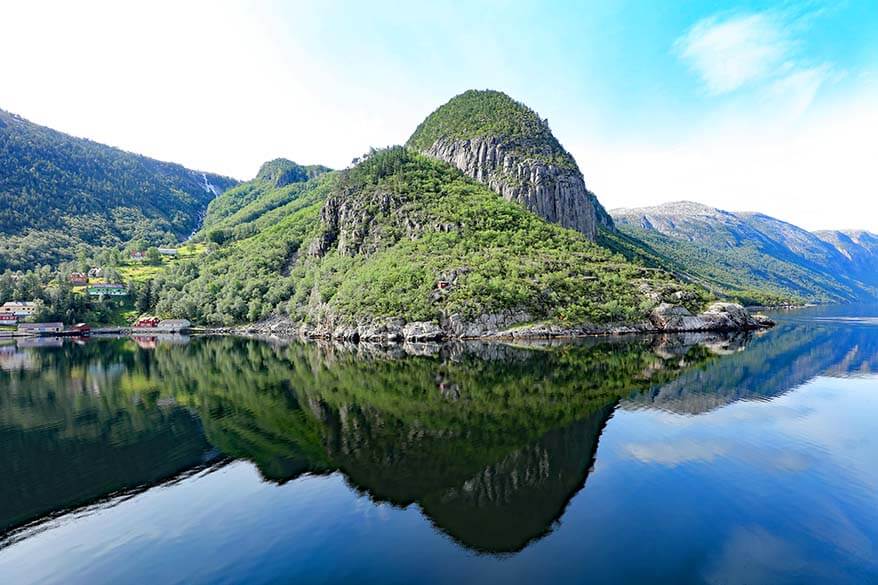 The Pulpit Rock Hike
Preikestolen, or The Pulpit Rock, is one of the most popular hikes in Norway. Many people come to Stavanger just to hike to Pulpit Rock. Even Tom Cruise was at Pulpit Rock. You can see him hanging by a thread on the Preikestolen in Mission Impossible: Fallout movie.
The purpose of this post is to show you that there is so much more to see and do in Stavanger than just the Lysefjord and the Pulpit Rock hike. At the same time, you really don't want to miss these two main highlights that Stavanger is famous for.
So if you are fit enough for a moderate 4-hour hike, don't miss Pulpit Rock! It's an unforgettable experience and will definitely be one of the highlights of your trip to Norway.
Practical information: Below, you can find a link to an article about our experience hiking to Pulpit Rock (we did this hike with 3 young kids). In that article, you can find all the practical information for the hike as well. Count at least 6-7 hours for the hike including transportation to and from Stavanger.
LEARN MORE: Preikestolen Hike
TIP: If you find the logistics too complicated or rather not go on your own, there are local guides that can guide you to Pulpit Rock as well. One of the biggest advantages of going with a guide is that you can start the hike much earlier before the crowds arrive (e.g. the sunrise hike).
If you don't feel like getting up in the middle of the night, but still want a guided tour, check this highly-rated guided Preikestolen hike tour that also includes a canoe experience.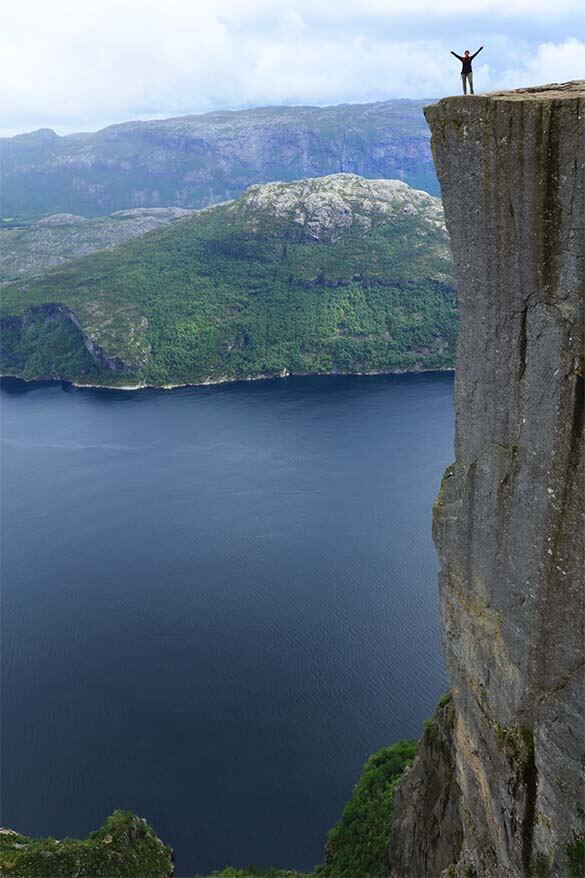 Flørli 4444
If you like outdoor activities and are looking for a more unique experience in Stavanger, then I can highly recommend climbing the world's longest staircase – Florli 4444.
A beautiful boat trip deep into the Lysefjord is followed by a strenuous steep climb with some of the most spectacular views you can imagine. Florli 4444 can be done as a day trip from Stavanger, yet you'll find very few tourists here.
It's a true hidden gem, but don't wait till the rest of the world finds out! Visiting Florli and climbing this staircase was the most unique and memorable experience from our trip to Norway.
Practical information: Via the link below, you can read about our experience hiking Florli 4444. In this post, you can also find all the practical information and logistics. You'll need a whole day to visit Florli from Stavanger and do the Florli 4444 hike.
LEARN MORE: Hiking Florli 4444 Stairs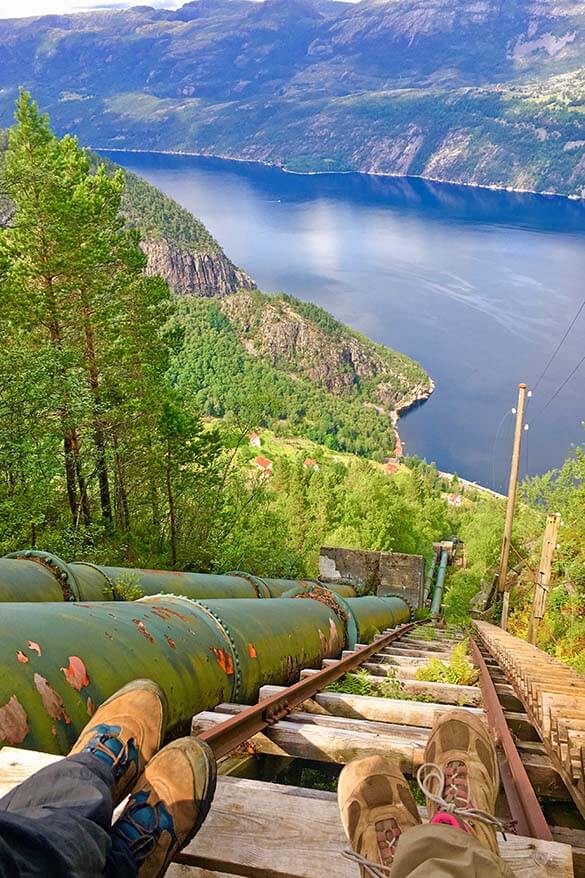 Kjeragbolten Hike
Despite the fact that it's quite far from town and not the easiest place to get to, Kjerag is a really popular day trip from Stavanger. With its 1084m, it's the highest mountain in the area that not many people hiked to in the past.
It's very probable that you've seen a picture of a round rock stuck in the mountain crevice, often with a person standing on top of the rock. Being able to take an epic picture like that is the reason why Kjerag has become more and more popular in recent years. It seems that the Instagram-factor of the Kjeragbolten is too big to resist and so more and more tourists come to Stavanger in order to hike to the Kjeragbolten.
Kjeragbolten is a strenuous hike of almost 10 km that takes about 6 hours to complete. It's the most challenging of the three most popular hikes near Stavanger mentioned in this post and can only be done in summer. Actually, it can be done off-season as well, but you shouldn't attempt that without an experienced local guide.
Practical information: You can find all the practical information for hiking to Kjerag here. If you don't have a car and find it too complicated to attempt to get to Kjerag by public transport, you can best book a guided summer hike from Stavanger (I know the guide because we did the Florli4444 hike with him and he's really good).
The biggest advantage of going with a guide is that you can beat the crowds by going very early in the morning and you don't have to worry about renting a car, parking, or researching where to hike.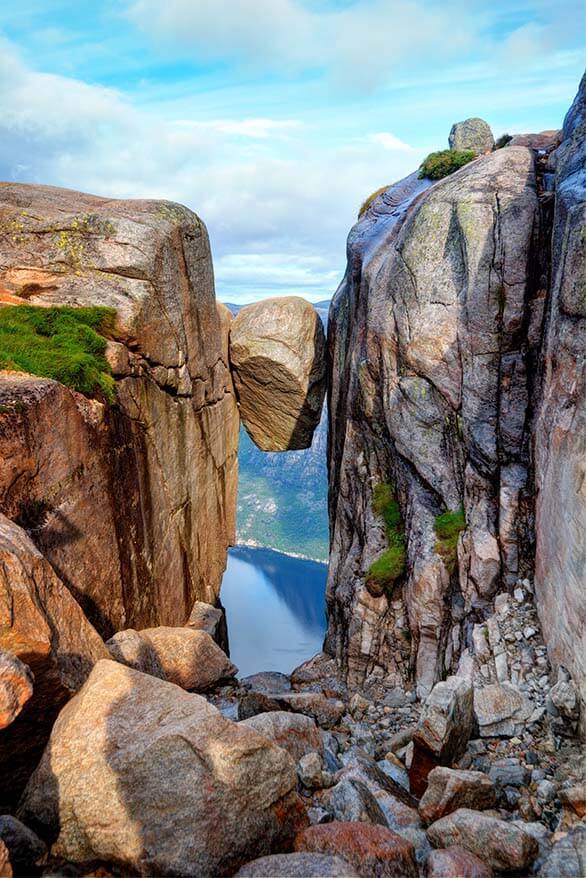 Best Things to Do in Stavanger – Suggested Itinerary for 1 to 4 Days
If you have just one day in Stavanger, I suggest to take Lysefjord cruise and then visit the town and the two museums mentioned above.
If you have two days in Stavanger, you could do Lysefjord cruise and the Pulpit Rock hike one day and then visit the town and the museums on the other day.
If you have three days in Stavanger, follow the same 2-day itinerary as above and then add either Florli 4444 or Kjerag, ideally not hiking two consecutive days.
You can do all of the things described in this post if you have four days in Stavanger. However, please consider that each of the hikes (Pulpit Rock, Kjeragbolten, and Florli 4444) are quite hard. You can do the Pulpit Rock hike one day and one of the other hikes the following day, but I wouldn't suggest hiking three days in a row. In that case, you probably best start with either Kjerag or Florli, then take a quiet day and spend it in town, then do another long hike on day 3, and leave the Pulpit Rock for the last day, because it's the least challenging hike of the three.
TIP: If you want to discover Stavanger like a local, I recommend this highly-rated private walking tour with a local guide.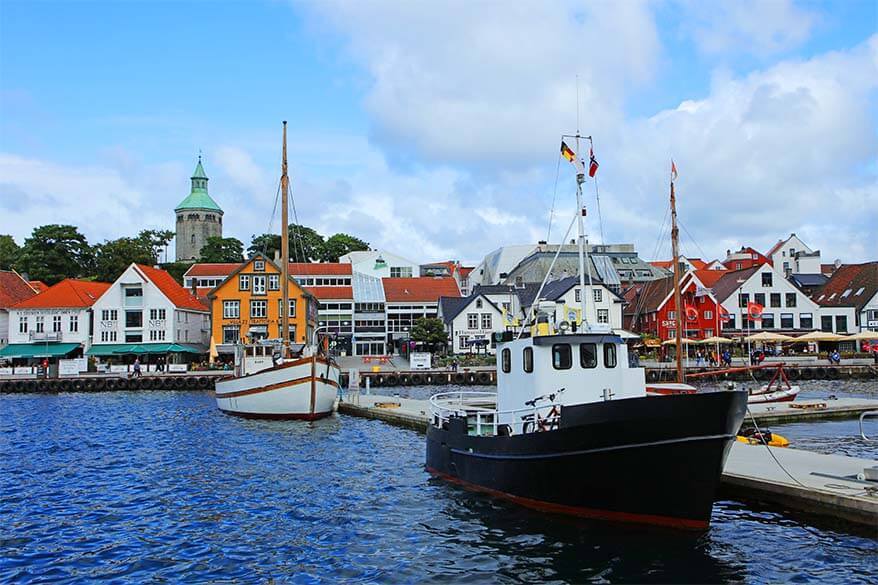 Where to Stay – Best Hotels in Stavanger for Sightseeing
Stavanger is a big town with plenty of accommodation options. It's also one of the most affordable places to stay in Norway, so good news if you are planning to spend a few days here.
The best places to stay in Stavanger for sightseeing are close to the old town, where you can easily walk to all the main attractions, bus station, and also to the ferries for your day trips.
Here are some of the best hotels in Stavanger based on the location and customer reviews:
For more information and accommodation options for all budgets, please check our complete guide to Stavanger hotels.
TIP: Using the map below, you can compare hotels, apartments, and short-term rental accommodations in Stavanger. Simply insert your travel dates and group size, and you'll see the best deals for your stay. Check it out!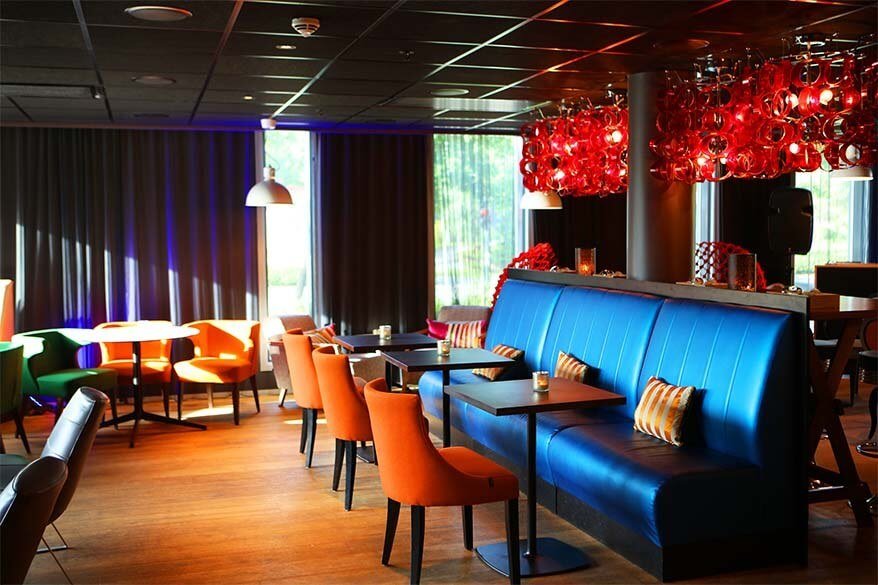 So, this is our guide to the best places to see and things to do in Stavanger. I hope it will help you plan your trip and make the best of your time in this beautiful area in Southwestern Norway.
If you have any questions, feel free to leave a reply below and I'll do my best to help. Have you been to Stavanger? Let us know your favorite things to do in town.
More tips for your trip to Stavanger:
If you found this post useful, don't forget to bookmark it and share it with your friends. Are you on Pinterest? Pin this image!