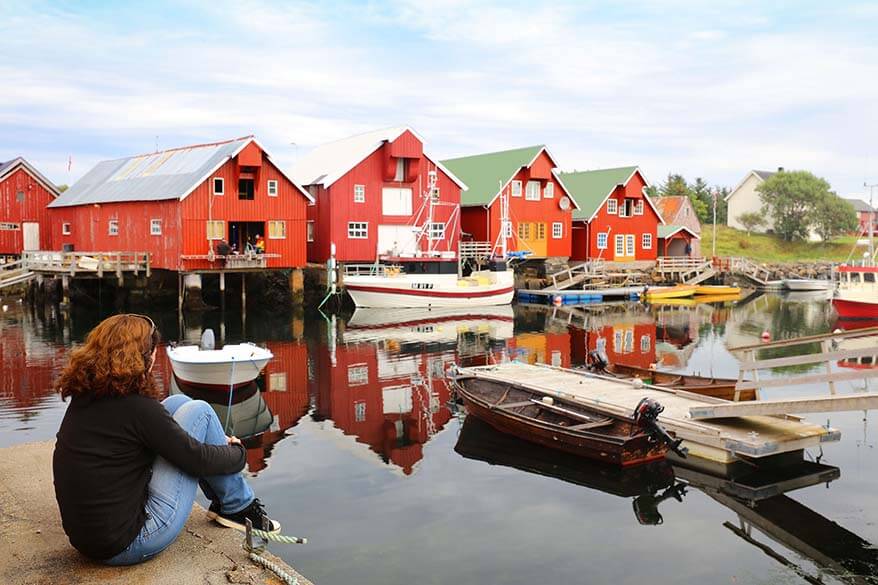 Packing for any trip to the Nordics somehow always stresses me out. Packing for an active summer vacation in Norway is simply not as straightforward as packing for a beach destination.
So when we had to pack our bags for the two-week road trip in Norway in August, I was wondering what to wear in Norway in summer and how to pack light, yet be ready for all types of weather.
As we kept checking the ever-changing weather forecast, we realized that we would need clothes for pretty much all seasons for this summer trip to Norway. There was rain with temperatures of 6-12°C (42-54F) in one place and sunshine with temperatures over 24°C (75F) in another…
So here is a complete packing list for Norway in summer based on our experience. You may get lucky and you'll have warm and sunny weather the whole time in Norway in summer, but I wouldn't count on it too much. It's better to travel well prepared so that you can enjoy everything that Norway has to offer no matter the weather. Find out!
Good to know: This is not a packing guide for fashionista's looking for a cool Scandinavian look for their summer trip to Norway. This is a packing list for active travelers who plan to explore Norway beyond Oslo, see the fjords, visit the charming towns and villages, and do some hiking.
If you are visiting Norway on a cruise, this packing list will work as well, but you may want to pack a few nice outfits for dinner.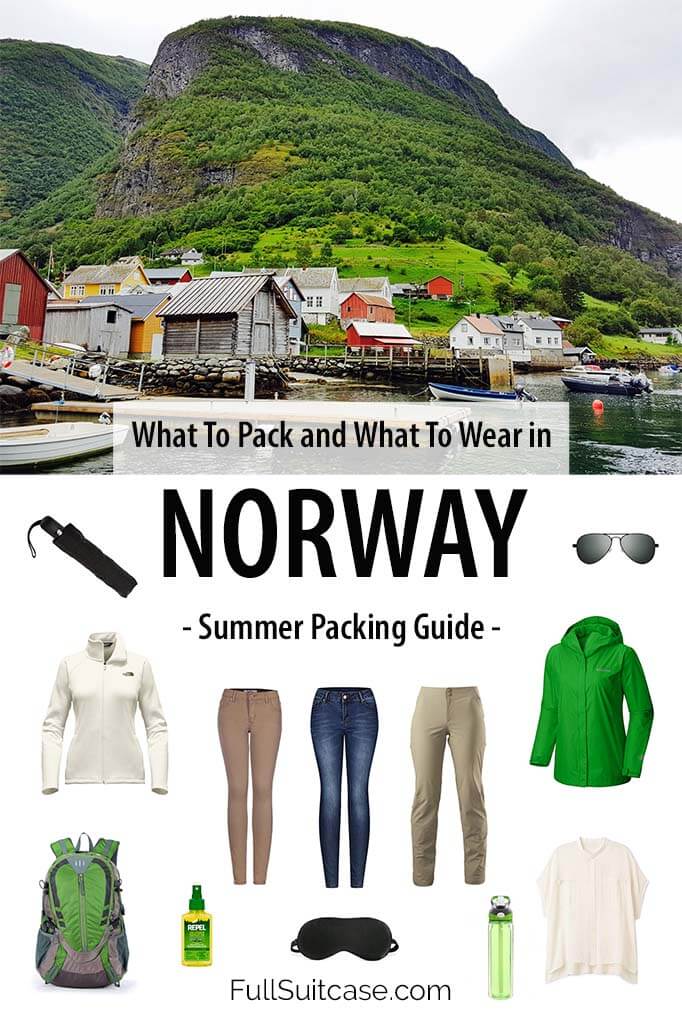 What to Wear in Norway in Summer
Here are just a few items of clothing that you really should consider packing for Norway in summer months (June, July, and August)
1. Layers of t-shirts and sweaters. The best way to travel light and be prepared for all kinds of weather in Norway is to layer your clothes. We had several days, especially along the fjords in Flam and when hiking to the Pulpit Rock, when we started out with 3 layers, went to 1, and then back to 3 or even 4 again.
This is what we packed: t-shirts, several light tops with long sleeves, a light fleece jacket, and a warm fleece hoodie. We also took a few simple shirts and blouses to wear at dinner.
2. Rain jacket. Make sure you always have a rain jacket with you in Norway, because sometimes the rain comes completely unexpected and in no time you can get soaking wet.
Before our trip, we were wondering whether a light rain jacket would be sufficient or if we needed a warmer insulated jacket in summer months. Despite the rain and the wind and rather cold temperatures, we were ok with the light jackets (sometimes in combination with two fleece sweaters underneath).
This is what we packed: we each have a light Vaude Escape rain jacket (also for kids). These are our favorite rain jackets and we have been using them on every trip for the last 6 years. As the kids grow out of one, we immediately buy a new one. They're worth every cent.
3. Jeans, shorts, and hiking pants. Depending on what you plan to see and do in Norway, you should pack some smart pants or jeans and hiking pants for outdoor activities. I'd definitely take shorts because when the sun is shining it feels really hot, even though the temperatures are not as high.
This is what we packed: casual pants, jeans, and hiking pants. We never actually needed shorts because we were extremely unlucky with the weather (it was an exceptionally bad couple of weeks, the locals told us). But I'd definitely pack them – normally, Norwegian summers are warm enough to wear shorts.
4. Sneakers and waterproof hiking shoes. What kind of shoes to pack for Norway depends highly on what you plan to do. In general, light sneakers or walking shoes are best for sightseeing. However, if you plan to go hiking, you really need good hiking boots.
Most hiking trails (Pulpit Rock, Florli 4444, etc.) are very wet, so ideally you wear waterproof hiking boots. I don't think you really need sandals in Norway, but water shoes might come in handy if you are planning to go kayaking and the tour company doesn't provide them (which they probably will).
We never really missed rain boots in Norway, but we sure were glad we had waterproof hiking shoes.
This is what we packed: one pair of light walking shoes for everyday use and one pair of waterproof hiking boots each for hiking. These hiking boots are our favorites!
5. Buff. Mainland Norway is not as cold in summer as e.g. Iceland or the Norwegian archipelago of Svalbard. So normally you don't really need gloves, shawls, and winter hats. However, a buff is extremely handy to have and we did use it quite a few times during the trip, especially during fjord cruises.
This is what we packed: BUFF original.
6. Sun hat and sunglasses. Sun can be really harsh in Norway in summer so don't forget sun protection. Those few moments when it was sunny during our trip, it felt really warm.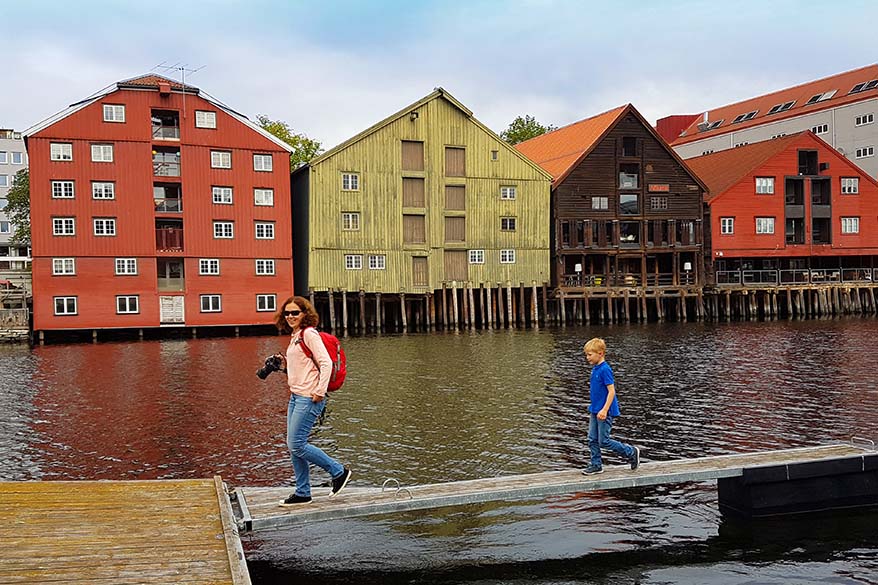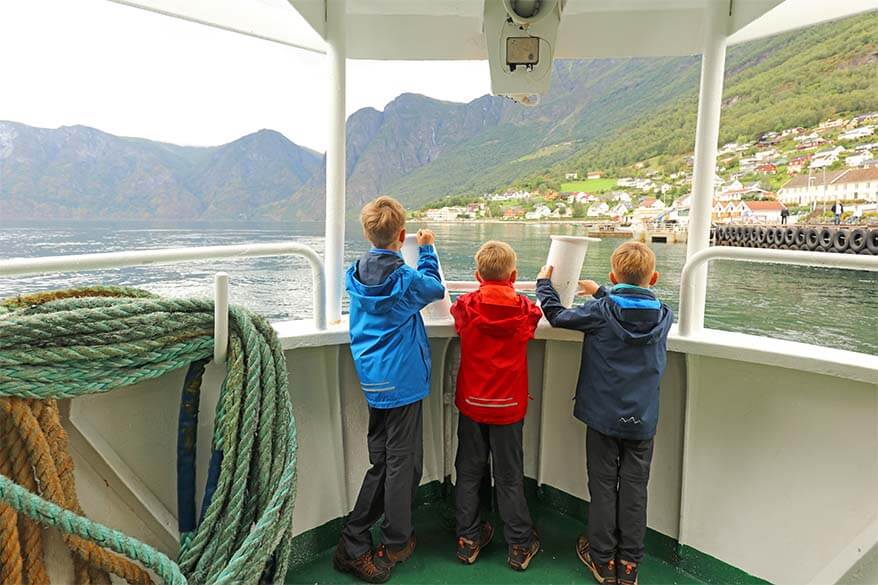 What to Pack for Norway in Summer
These are the travel essentials that will make your Norway summer trip more comfortable.
1. Sleep mask. If there is one thing you have to take to the Nordics in summer, it's a sleep mask. It might be less important in August, but it's a must in May, June, and the beginning of July. The days are endless and the midnight sun makes it impossible to sleep, especially because many accommodations don't have black-out curtains.
2. Swimsuit and a quick-drying towel. There are many places where you could swim in Norway (weather permitting), so it's always handy to have your swimwear with you. A quick-drying travel towel is nice to have too.
3. Day backpack. A light day backpack is very handy in order to carry all those extra layers of clothes you may or may not need during the day. Don't forget the rain cover – we used it quite a few times.
4. Reusable water bottle. Tap water is safe to drink in Norway, so don't forget to pack a reusable water bottle. Not only is it good for the environment, but it will save you quite some money as well.
5. European electrical adapter. Just as the majority of continental Europe, Norway has 220-volt electricity and uses type C/E/F electricity plugs.
6. Mosquito spray. I read that Scandinavia is a real mosquito paradise in summer. We encountered some mosquitoes in Norway, but nothing really significant (I guess it highly depends on where exactly you go and how the weather is). In any case, it's a good idea to pack a good mosquito spray when visiting Norway in summer months.
7. Sunscreen lotion. As I said, even if it's not very warm, the sun can be really harsh in Norway in summer, so a good sunscreen lotion with a high SPF factor is a must.
8. Face lotion and lip balm. We have a Facebook travel group for traveling to Iceland and Scandinavian countries and every time somebody asks what people wish they packed to the Nordics, people mention face lotion, moisturizing cream, and a good lip balm. The air is very dry in the Nordics and moisturizers are really essential in any season.
9. Portable charger (power bank). Portable charger has become a real must-have travel necessity for us. Also in Norway, we used it daily. We use our smartphones all the time (as GPS with Google Maps, as a camera, video camera, etc.) and they are usually empty long before we reach our hotel for the night.
10. Camera gear. Unless you use your smartphone for pictures, don't forget your camera gear, including extra batteries and plenty of good memory cards. Everything is so expensive in Norway, so better bring all you need from home.
LEARN MORE: How Expensive is Norway (with Price Examples)
11. Umbrella. Usually, we never pack an umbrella when traveling, but we could have definitely used one a few times in Norway. If you have a good rain jacket and plan to stay outside the cities most of the time, then you don't really need an umbrella. But in town (and especially one like Bergen where it rains 230 days a year) a good windproof travel umbrella can be really useful.
12. Hiking poles. If you are planning on doing lots of hiking in Norway, hiking poles might be good to have. Most popular hiking trails are quite strenuous with lots of steep descents and trekking poles make it so much easier on your knees. We own these lightweight collapsable trekking poles. They're so compact and easy to pack that we now pack them for all trips where we plan to do any hiking. If you are only planning to use them on a few occasions you may want to check out this budget alternative.
So, these are our tips for what to wear and what to pack when traveling to Norway in summer. If you are planning a trip, you may want to check our other articles for many different destinations in Norway. Take a look below!
More tips for Norway:
If you found this post useful, don't forget to bookmark it and share it with your friends. Are you on Pinterest? Pin these images!