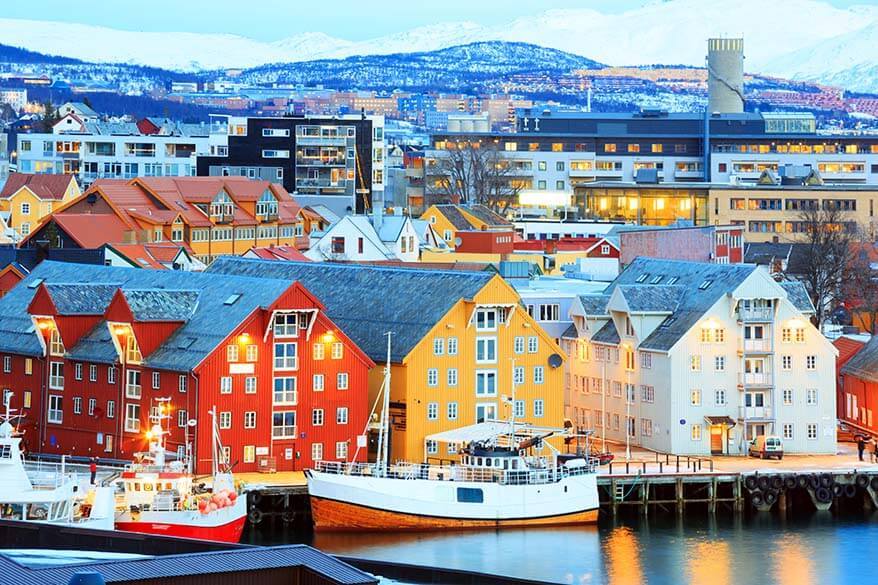 Thinking of visiting Tromsø in winter but not sure how much time you need or how to plan your time? Or maybe you are wondering if a Tromso weekend is a good idea in winter? This Tromso itinerary should help you decide and plan your own perfect winter trip. Find out!
Tromso is a real winter wonderland that has so much to offer! From snowcapped mountains and incredible winter landscapes to bucket-list-worthy winter activities like reindeer or dog sledding… Tromso is also one of the best places to see the Northern Lights in the world…
So if you are wondering if Tromso is a good winter destination, yes, it absolutely is!
In our previous article, you can read about all the amazing things that you can do in Tromso in winter. But since so many of our readers asked how to plan their time and itinerary suggestions, I decided that it was time to also share my Tromso winter itinerary with you.
This activity-packed Tromso itinerary allows you to experience the very best of Norway's winter wonderland in just three days. It is also perfect for those looking for ideas for a long weekend break in Norway in winter. At the bottom of this article, you can also find practical tips for planning your winter trip to Tromso. I tried to cover all the FAQs that we get from our readers.
But first – our itinerary for 3 days or a long winter weekend in Tromso. Take a look!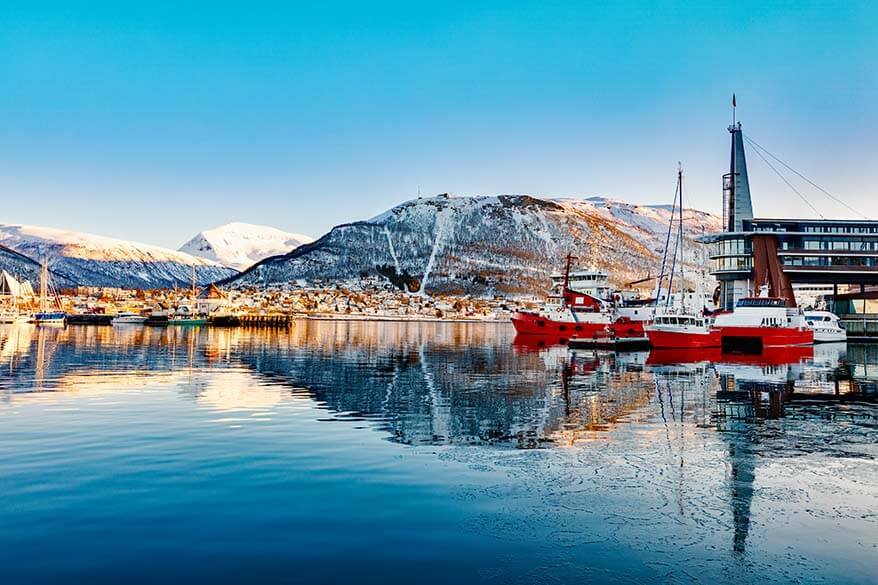 Here's how your Tromso itinerary in winter could look like:
Day 1
Polar Fjord Cruise – Town & Polar Museum – Reindeer Sledding
Polar Fjord Cruise
I started my 3-day Tromso trip with a fjord cruise on the first day. This cruise is one of the best things to do in Tromso at any time of the year, and so also in winter. It starts at 10 AM and takes about 5 hours.
This is one of the best ways to experience the stunning fjords around Tromso. The scenery is simply stunning and you might get to see dolphins, seals, various seabirds and also eagles. In season (+- November to February), Tromso is also a great place to see whales.
We had really dreadful weather this day, but the tour was still very enjoyable. I would definitely do it when in Tromso, no matter the weather.
Good to know: This cruise includes fishing and – subsequentially – fresh fish soup for lunch. Small snacks and light drinks are also included, as are warm thermal overalls. It's a family-friendly activity and suitable for all ages.
TIP: These cruises take place on a relatively small boat. Since they are extremely popular, they often sell out at least a few days in advance. So make sure to book in time! You can check availability, read customer reviews, and book this fjord cruise here.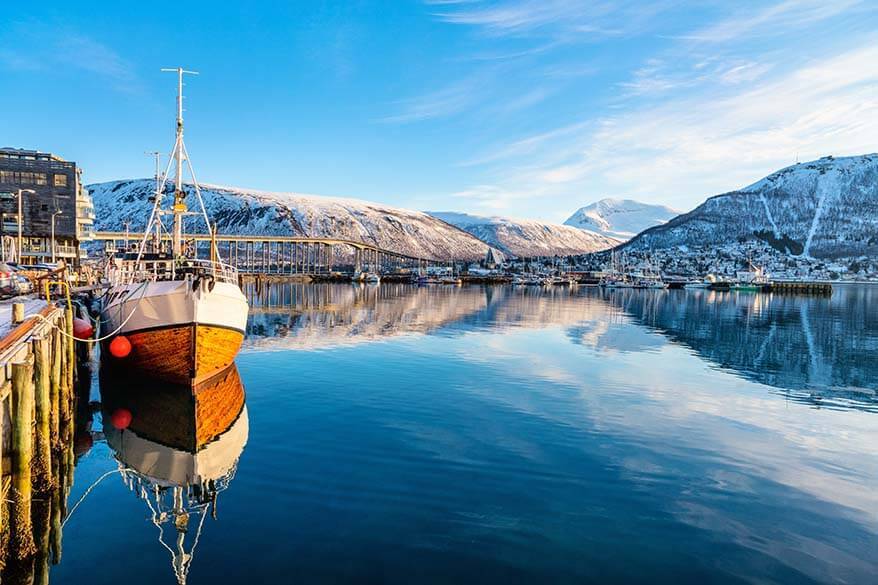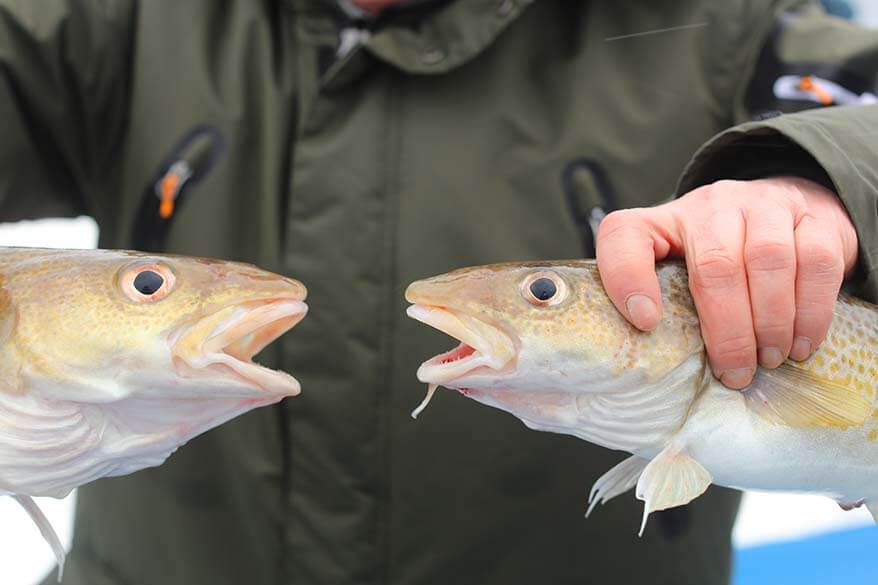 Tromso Town
Upon return in town, I had a bit less than 3 hours before my evening tour. During that time, I walked around the old town, visited the Tromso Library, saw Tromsø Cathedral, as well as the Cathedral of Our Lady.
If you want to, you can also go shopping or find a cozy restaurant or cafe.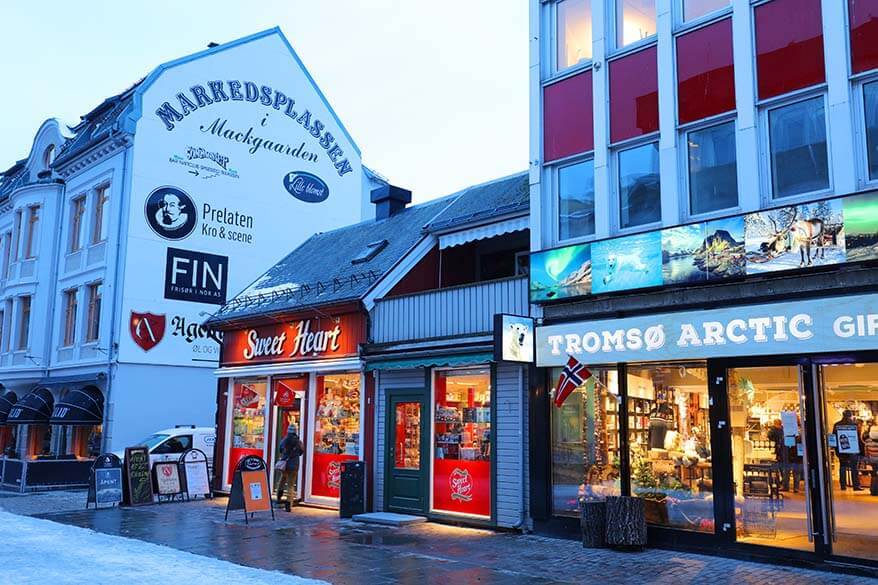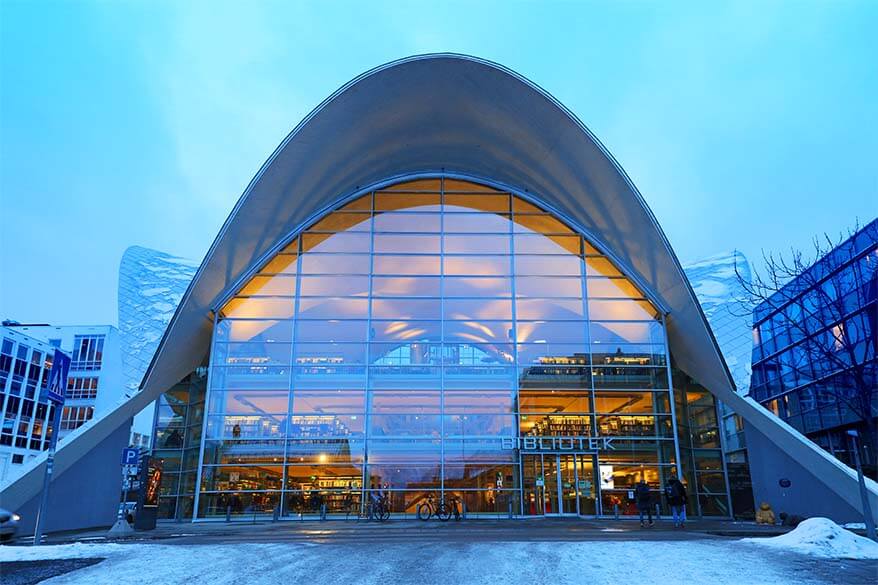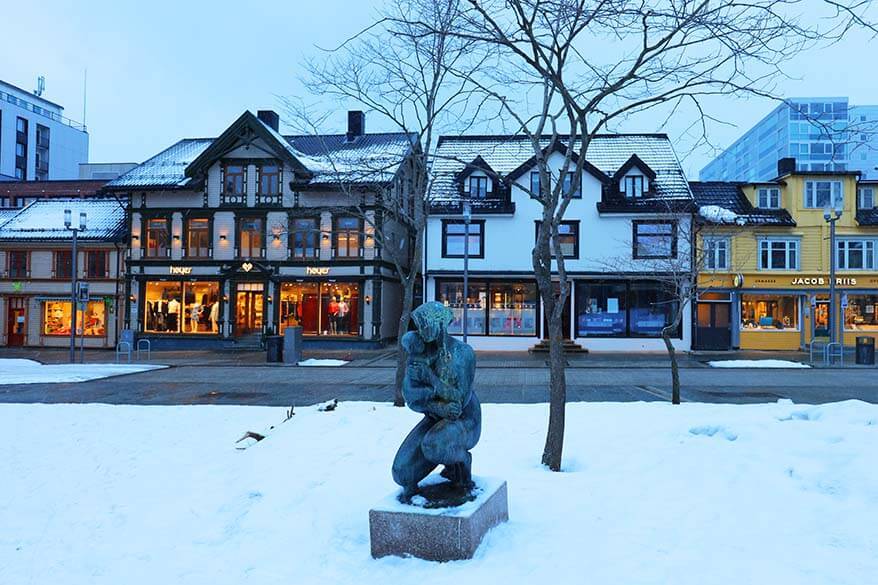 Tromso Harbor & Polar Museum
Then I walked back to Tromso Harbor to visit one of the most interesting museums in town, The Polar Museum (Polarmuseet i Tromsø).
The Polar Museum is quite small, but it's extremely interesting and eye-opening. It gives a good insight into polar expeditions, life in the Arctic regions, but also on the sad and devastating impact that humans have had on Arctic wildlife…
If you visit just one museum in Tromso, make it this one!
Practical Information: Museum is open daily, in winter it's open from 11 AM to 5 PM.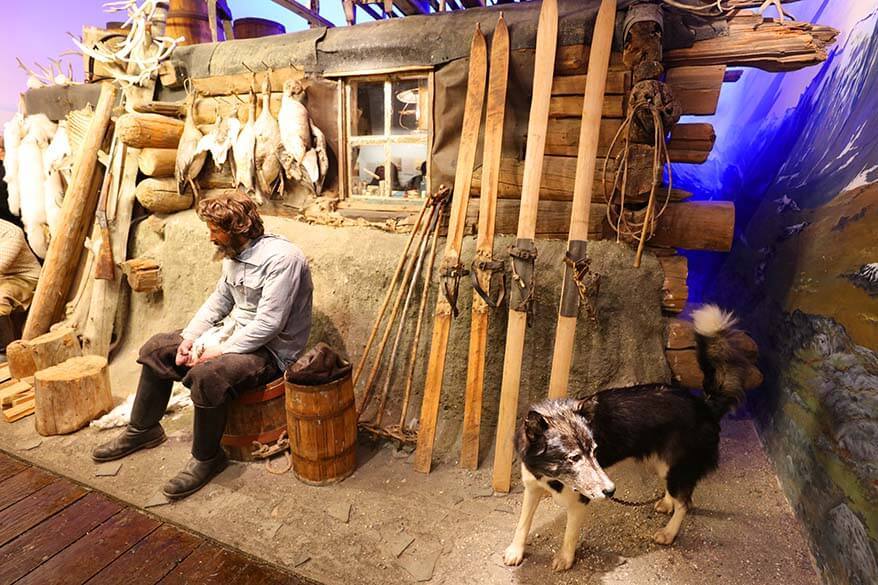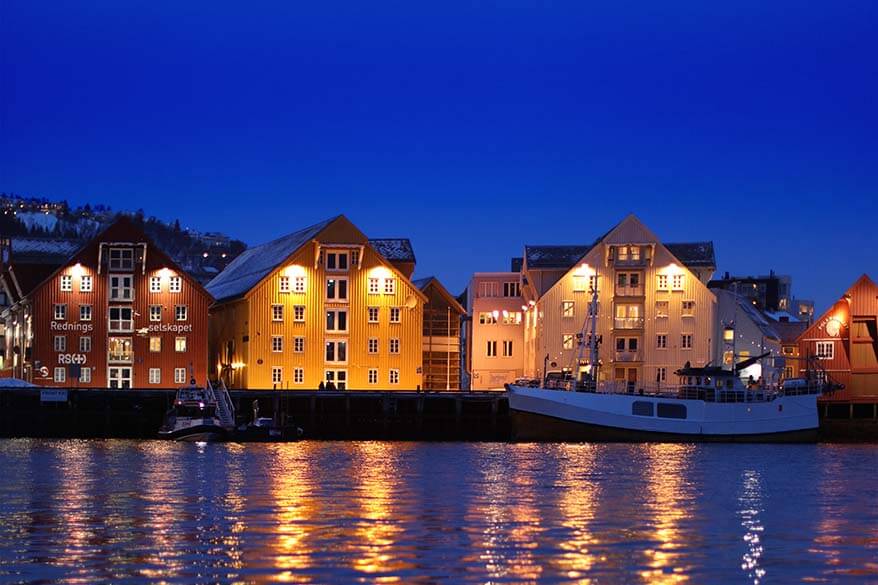 Night Reindeer Sledding
The last excursion of my first day in Tromso was a night reindeer sledding tour outside of town. Pick-up time was 6 PM, which gave me just enough time to get back to the hotel and add a couple of layers of clothing for the night tour.
Reindeer sledding with traditional Sámi sleds is a real bucket-list experience that you can only do in this part of the world. Furthermore, if you are lucky, you might also see the Northern Lights. Our local guide said that they see them most nights, but it was cloudy and even snowing on the night I was there, so no auroras for me.
But that really didn't matter at all. Meeting the Sami people, getting to know their culture, cuddling the reindeer, and riding the sleds was an unforgettable experience in itself. This tour also included a warm meal and warm drinks.
Good to know: This is a family-friendly experience that kids will enjoy as well. Thermal overalls for all sizes are provided. The tour lasts about 5 hours, so you'll be back in Tromso at around 11 PM.
TIP: Just as all the winter tours in Tromso, this is a very popular excursion. You can check availability and book it here.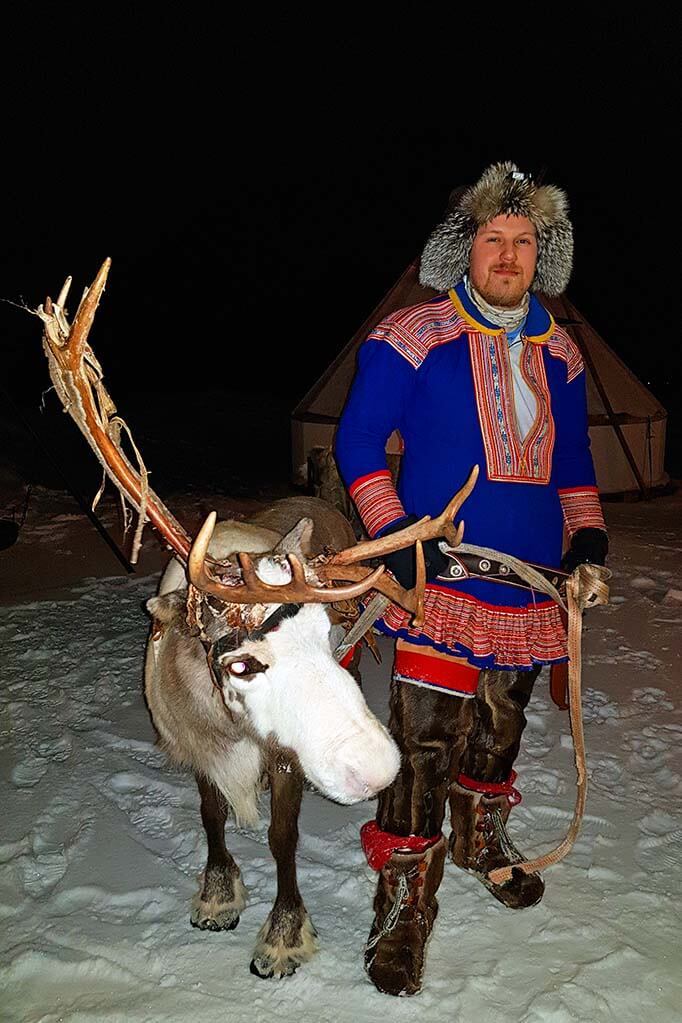 Day 2
Tromso Ice Domes – Polaria or Beer Tour – Northern Lights Tour
Tromso Ice Domes
Tromso Ice Domes is an ice hotel, ice bar, and so much more. Located in the stunning surroundings about 95 km outside of Tromso, it's a place that you also best visit with a tour that includes transfer from Tromso town.
The 1,5 hrs drive is worth it in itself and the scenery is really beautiful during the entire ride. Furthermore, the ice hotel is a real masterpiece created at the beginning of every winter and always somewhat different than the previous year.
Good to know: The tour starts at 10.30 AM, and takes about 5 hours in total. Lunch is not included, but you can have lunch at the ice restaurant. There is enough time foreseen for that.
TIP: If you are feeling really adventurous, you can opt to spend a night at the ice hotel at Tromso Ice Domes. You can check availability and book your stay here. It includes transfers from/to Tromso. This is not a cheap experience, however, in addition to a stay at an ice hotel, it also includes dog sledding experience, guided snowshoeing and northern lights trip with dinner cooked over an open fire while (hopefully) watching auroras. Other meals during your stay are also included.
Alternative: Instead of just visiting the Tromso Ice Domes, you can opt for a tour that also includes snowmobiling. It's a great way to experience the stunning landscapes of the beautiful mountain valley where the ice hotel is located. The only difference is that this tour starts earlier in the morning (usually around 8.30 AM), so you'll be back in town at the same time as with the regular tour.
LEARN MORE: Complete Guide to Visiting Tromso Ice Domes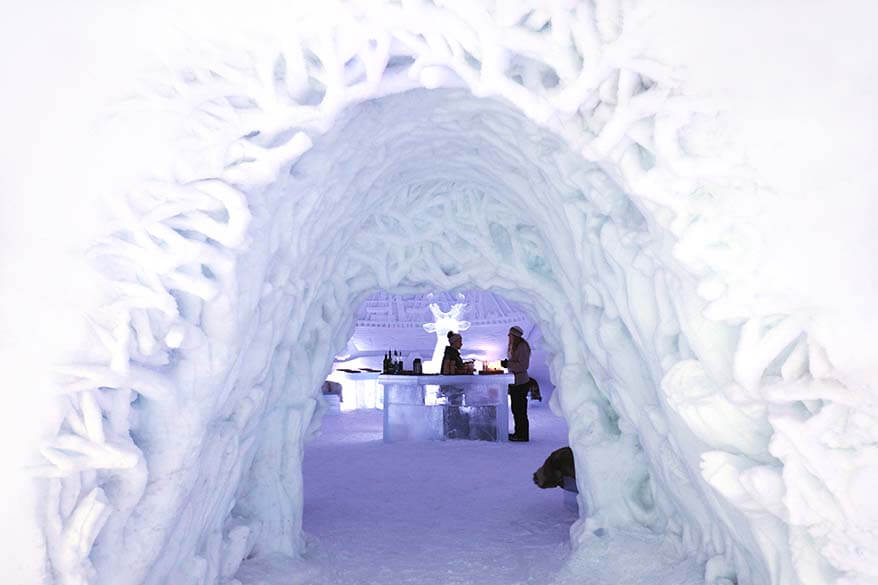 Polaria
I visited Tromso Ice Domes as a day trip and so I was back in town in the afternoon. My next stop was Polaria.
Polaria is the world's northernmost aquarium. It's a rather small aquarium and while it's nice to see, I wouldn't consider it an absolute must. However, it's a good place to spend an hour or so when it's cold and dark outside, and it's especially fun for families with kids.
There are several aquariums inside with lots of educational emphasis and activities for the children. The main attraction is the feeding of the bearded seals. They also show short educational films; one about Svalbard and also one about the Northern Lights.
Practical Information: Polaria is open daily from 10 AM to 6 PM in winter. You can find more info on their website.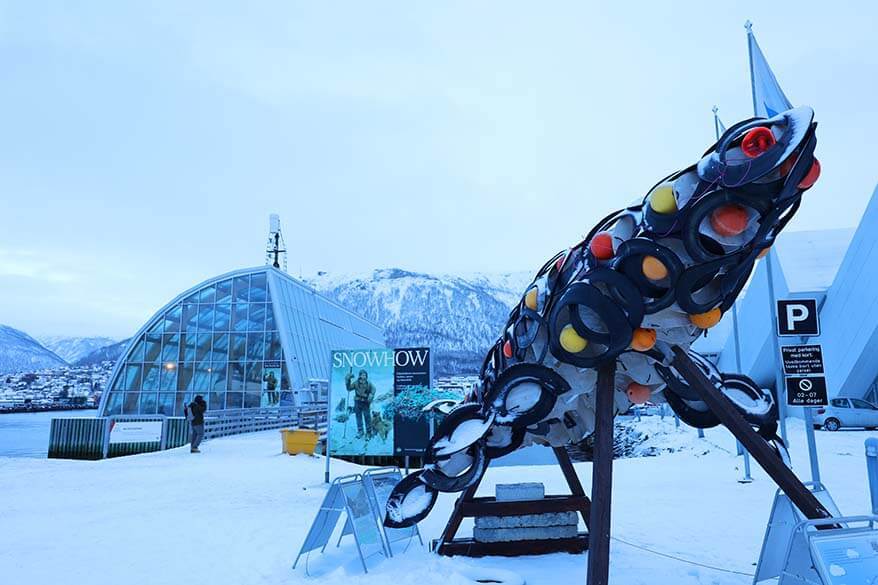 or… Beer Tour
If you are not interested in visiting an aquarium, you may want to visit the nearby Mack brewery. It's the world's northernmost brewery and they run frequent tours. You can also just visit the oldest pub in Tromso – Mack's brewpub Ølhallen.
Alternatively, you can also join the Tromso Beer Safari, but it's a 3-hr tour that starts probably just too early to be able to make it if you do it on the same day as Tromso Ice Domes.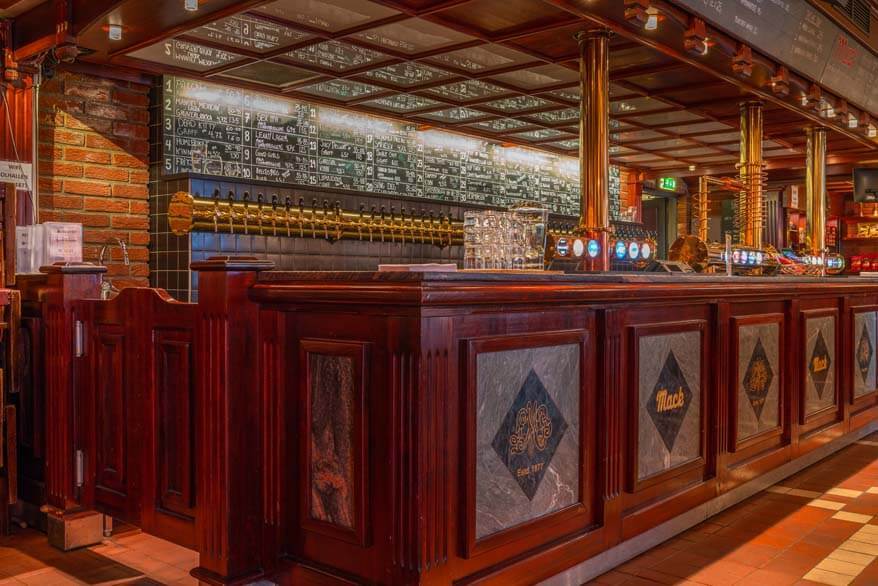 Northern Lights Tour
In the evening, I took a small-group aurora tour that started at 7 PM/ Alternatively, you can also opt for a Northern Lights and Husky experience.
If you rather go earlier in the evening (and come back earlier), take a look at this highly-rated small group aurora tour that starts at 5.30 PM.
TIP: Make sure you get an early dinner in town before going on the Northern Lights excursion. Even the tours that have dinner included, usually just serve warm soup, some cookies, and warm drinks. It's delicious, but if all you eat each day is warm soup on every tour you take, you'll probably want something else and a bit more filling for a change.
LEARN MORE: Northern Lights in Tromso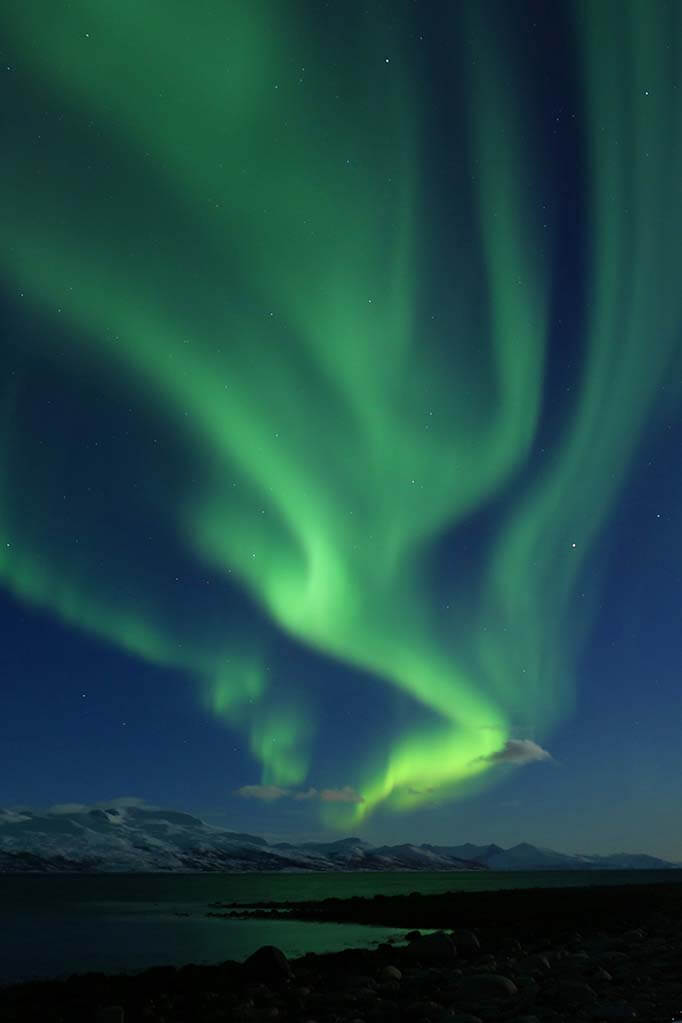 Day 3
Dog Sledding – Arctic Cathedral – Fjellheisen Cable Car & Hiking – Northern Lights Tour
Husky Sledding
I saved the best for the last day and went dog sledding. What an unbelievable experience. If you take just one tour in Tromso, make it dog sledding. It's so much fun!
Various departure times are possible for the daytime dog sledding. Most tours start somewhere in between 8 AM and 1 PM. I recommend that you go early in the morning so that you still have enough daylight time left for the best view of Tromso (see further).
TIP: Dog sledding tours are extremely popular and they sell out fast. You can either book a dog sled ride or a dog sled drive. In both cases, the tour is exactly the same and includes lunch, but if you book the 'drive' option, you'll be actually mushing the sled yourself (vs. just sitting in a sled). If the above tour isn't available, try this self-drive tour instead (no lunch is included, just some cake).
LEARN MORE: Dog Sledding in Tromso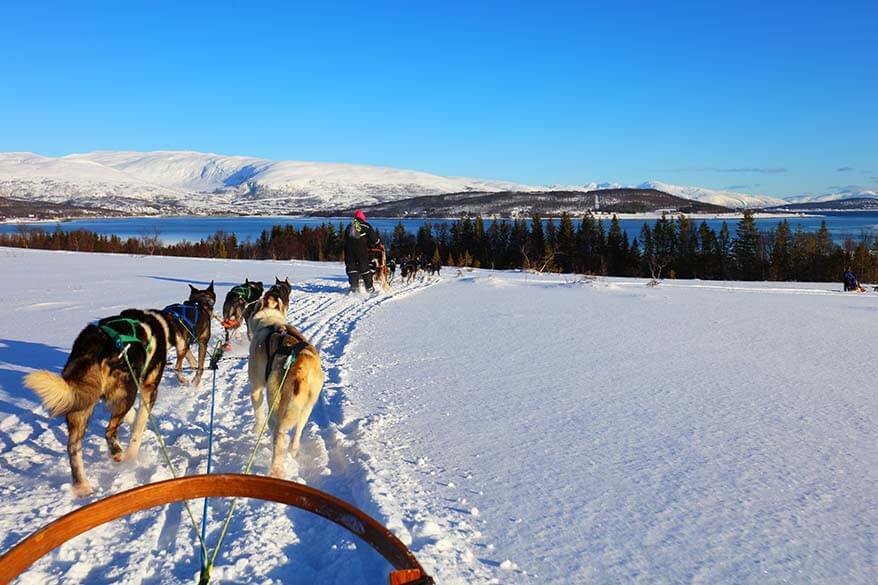 Arctic Cathedral
I returned to town early in the afternoon and set to explore the eastern part of Tromso (on the other side of the bridge). My first stop was the Arctic Cathedral. It's an impressive modernistic triangle structure that you'll see from town. It's as impressive on the inside as it is on the inside and well worth a stop.
TIP: Sometimes, there are also nice concerts inside this beautiful church. So you may want to check the calendar to see if there is anything planned for your travel dates.
Practical information: Arctic Cathedral is open daily. In winter, it's open from 1 PM to 6 PM. You can check the opening times here. Entrance costs 50 NOK.
Getting there: you can either take bus #26 from town, take a taxi, or walk over the bridge. Since buses were running very infrequently when I visited, I walked there and also to Fjellheisen cable car (see further). The 1,5km walk from Polar Museum to Arctic Cathedral takes about 20-25 minutes. From there, it's an additional 1km (15 min) to the cable car.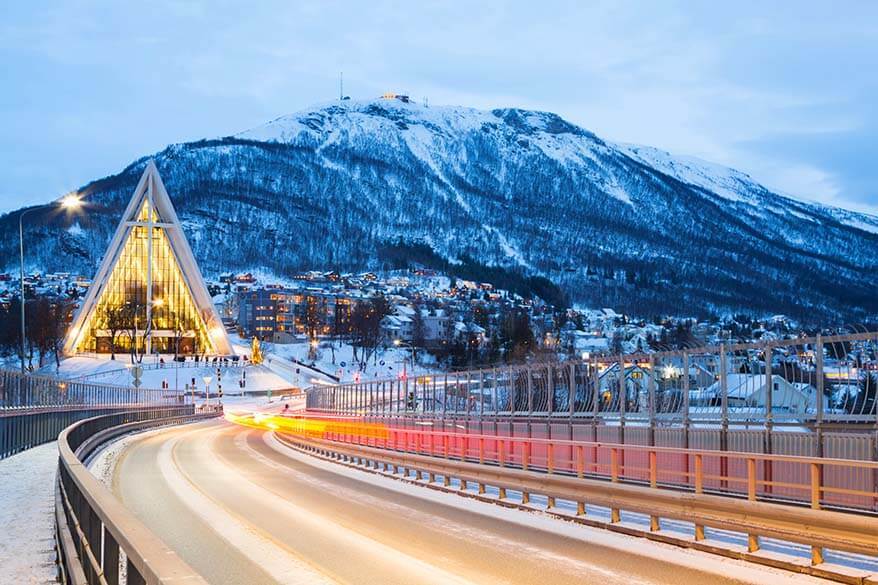 Fjellheisen Cable Car
Going on top of the mountain by Fjellheisen Cable Car is a must when in Tromso. The views from the top are UNBELIEVABLE! There are also lots of hiking paths on top and even in winter, you can make some beautiful walks there.
If you have some extra time, I highly recommend a short hike in the direction of Steinbohytta. Here is another viewpoint with even more spectacular views. It's not an easy walk and I spent about an hour going there and back, but it's really worth it! There is a lot of snow in winter and you need good winter boots (hiking poles and crampons would help a lot).
Practical information: Cable car runs every half an hour and, in general, is open daily between 10 AM and 11 PM (more info here). A return ticket costs about 25 EUR per person. You get a 5% discount if you book the tickets online in advance, but you can also just get them there. Student and family discounts are available. For information on how to get there, please see the 'Arctic Cathedral' section above.
TIP: Keep an eye on the weather forecast and do this excursion on the day when the weather is best. While you can visit Tromso museums in any weather, the views are obviously better when there are not too many clouds.
Good to know: This is also a very good place to go hunting for auroras in Tromso, especially when aurora activity is high and city lights in the distance don't disturb too much. You can just go on the mountain by yourself or join this popular (but quite pricey) tour.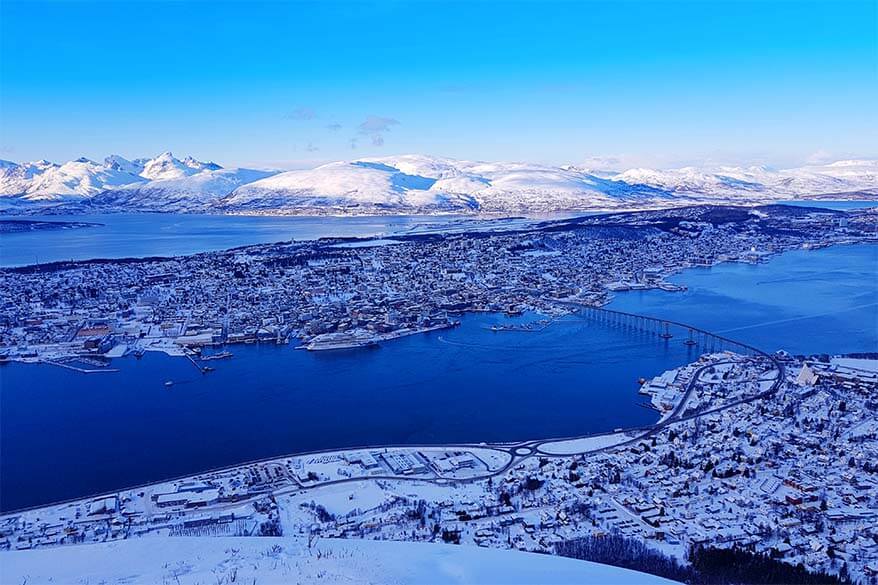 Northern Lights Tour
On my last night in Tromso, I went on one more aurora tour outside the city. For more information, please check the day 2 itinerary above.
If you are visiting Tromso in winter with the goal of seeing the Northern Lights, you will increase your chances by going aurora hunting every evening, just as I did.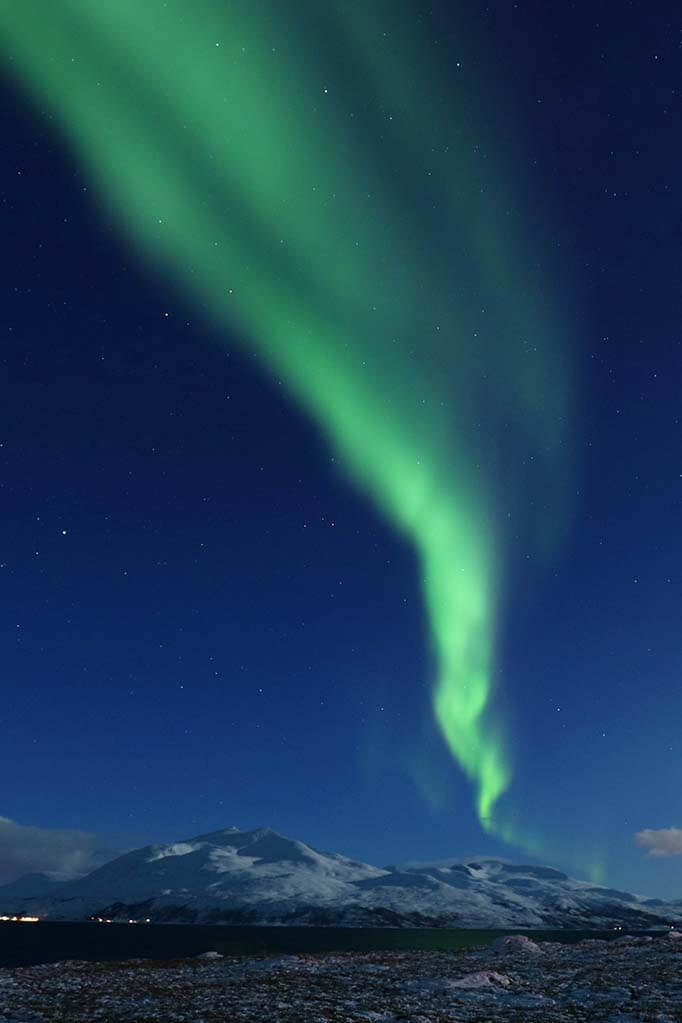 Planning Tromso Winter Trip: FAQs
Below, you can find some practical advice for planning your winter trip to Tromso.
How Much Time Do You Need in Tromso in Winter?
As you can see from the above itinerary, 3 full days (4 nights) are really the minimum time you should plan when visiting Tromso in the winter season. And those three days will be packed!
If you want to take it easy and explore Tromso at a somewhat slower pace, or if you are visiting Tromso in December or January when the daylight hours are really limited, you may want to spend a week in Tromso.
Good to know: This itinerary is completely based on my personal visit to Tromso at the beginning of March. The days were getting longer already and it was possible to do quite a lot every day. You may want to check Tromso daylight hours to see how much light you can expect in the period when you're visiting. Just keep in mind that not all 'daylight' hours are equal. When it's a cloudy day, it might stay quite grim and darkish for a long time, even on the sunny days, the first and last 'light' hours are more like twilight.
TIP: Plan your outdoor activities during the daylight hours and spend the long dark evenings exploring Tromso town. At night, go hunting for auroras outside of town.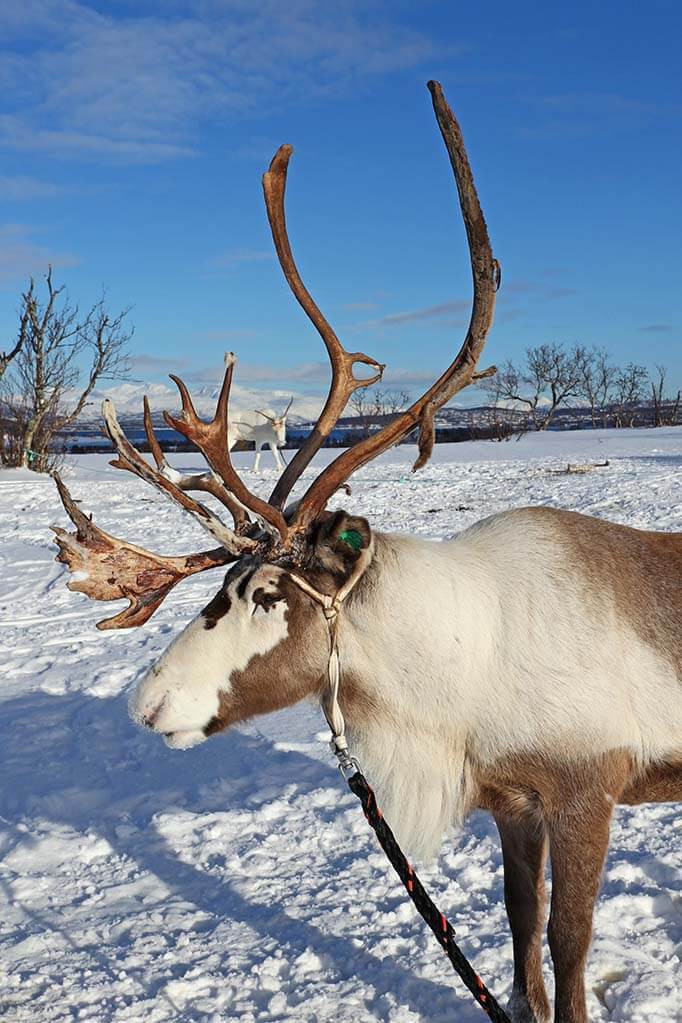 Where to Stay for this Tromso Itinerary
I recommend staying in the city center. That way you are close to shops, restaurants, and also to all the tour transfers. I stayed at a nice mid-range hotel Thon Hotel Polar.
Here you can find our complete guide to Tromso hotels and accommodations.
TIP: If you are looking for a very special experience, you may want to spend 1 night at the Tromso Ice Domes (for more information, please see the day 2 itinerary above). Alternatively, check the Camp North Tour – it's another unique place to spend one night near Tromso in winter.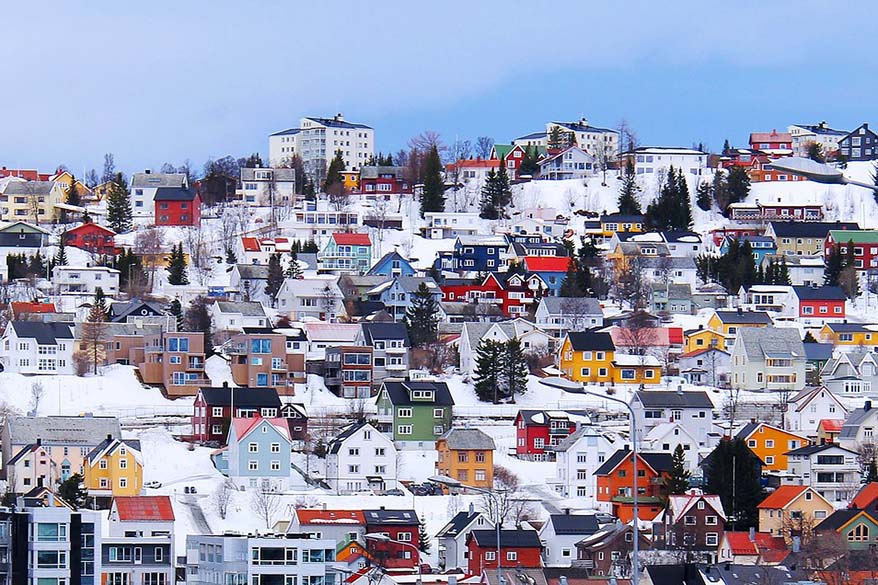 Do You Need a Car in Tromso in Winter?
No, you don't need to rent a car in Tromso in winter. Since most winter activities in Tromso are organized tours that you cannot do on your own anyway, you'll have transfers included. If you stay in Tromso center, you can easily walk everywhere. All tour transfers depart from the hotels by the harbor.
Renting a car wouldn't make any of the tours any cheaper and I'd only do it if you prefer to go looking for auroras on your own. However, car rental is so expensive in Norway (you can check prices and find the best deals here), that it's not really worth to rent a car just for that unless you're traveling with a big group.
If you decide to rent a car, please only do that if you're used to driving on ice. The roads in Northern Norway in winter resemble an ice skating rink…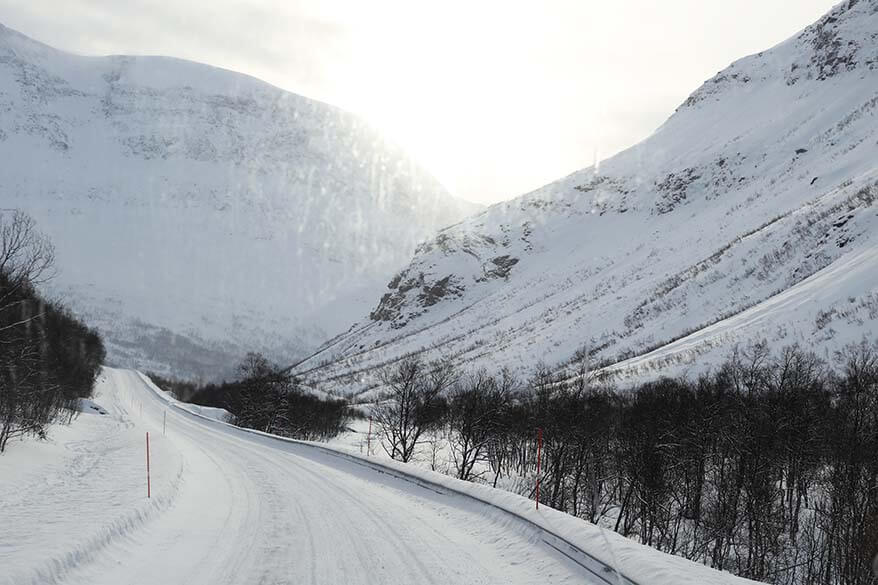 How to Get to Tromso from the Airport
Tromso Airport is serviced by several public buses and it's an extremely easy and convenient way to get from the airport to the city center. Alternatively, you can take a taxi, just note that taxis in Norway are really expensive. Here you can find more information about Tromso airport transportation options.
How to Get Around in Tromso
If you are staying in Tromso city center, you can easily walk everywhere. The town center is very compact and everything is within a short walking distance. For longer distances, e.g. to get to Fjellheisen cable car, you can take a public bus or a taxi.
TIP: Pack traction cleats or stablicers when visiting Tromso in winter. Pavements and streets can be very icy.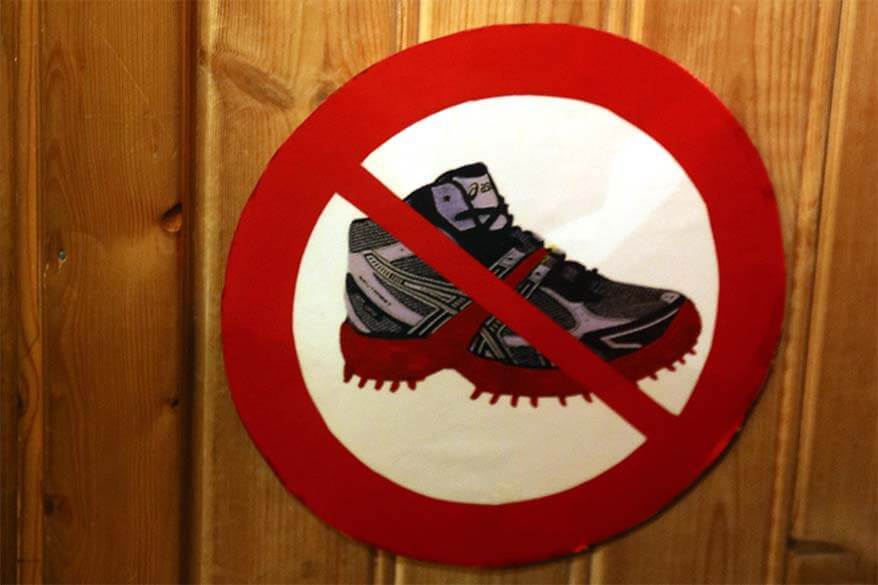 What to Wear in Tromso in Winter
You'll need warm winter clothing when visiting Tromso in the winter months. While in town you might be fine with light winter shoes and jeans, you'll want to wear warm windproof winter clothing for outdoor activities.
Most tour companies provide warm thermal overalls and some also provide winter boots and gloves, but it's not really enough. You have to wear warm thermal underwear and your own warm winter pants and jackets if you want to enjoy the outdoors.
LEARN MORE: What to Wear in Norway in Winter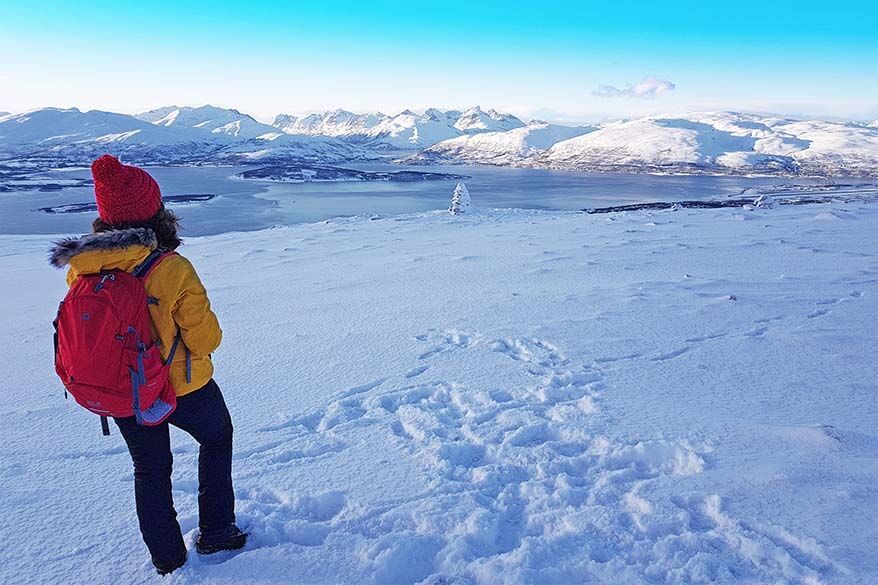 So, this is my Tromso itinerary for activity-packed 3 days. You can use this itinerary to plan a long weekend in Tromso in winter, but you can also adjust it and make it a longer and more relaxing trip.
In addition to all the attractions and activities mentioned above, Tromso has a lot more to offer. If you have more time, you can go winter hiking, snowshoeing, skiing, or join one of the popular snowmobile tours, etc.
TIP: If you have a few more days to spare and are looking for an even more unforgettable winter trip, you can take a short flight from Tromso to Svalbard. Just 1050 km from the North Pole, Svalbard is a bucket-list destination where you can experience a real Arctic winter wonderland.
LEARN MORE: Svalbard in Winter
Planning a winter trip to Tromso and have any questions? Feel free to leave a reply below!
More tips for your trip to Tromsø in winter:
If you found this post useful, don't forget to bookmark it and share it with your friends. Are you on Pinterest? Pin these images!