Are you thinking of visiting Nida in Lithuania, but not sure if it's worth it and what to expect? This guide features a selection of the best things to do in Nida (+ map), as well as the best places to stay and practical tips for your visit. Find out!
Nida is a true hidden gem of Lithuania, located on the Curonian Spit, a narrow piece of land perched between the Baltic Sea and the Curonian Lagoon (Kuršių marios). It also borders the Russian province of Kaliningrad and is pretty much as far as you can go west in Lithuania.
Getting here is a long trip from the capital city of Vilnius and many people are wondering whether it's even worth visiting. Spoiler alert – it absolutely is!
TIP: If you stumbled upon this article because you are visiting Lithuania on a Baltic cruise and have one day in Klaipėda, I highly recommend visiting Nida and the Curonian Spit. You can easily get here with this highly-rated private day tour from Klaipeda.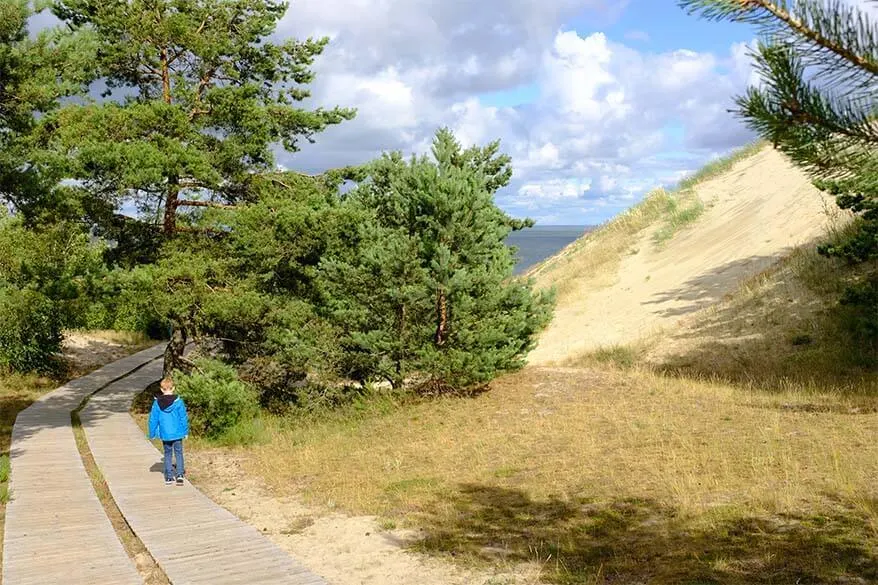 Why Visit Nida
Nida is one of the nicest towns in Lithuania, but it's not (yet) widely known abroad. With colorful fishermen's houses, pine forests, and some of Europe's tallest sand dunes surrounding the town, Nida is extremely picturesque.
It's also a popular vacation destination that comes to life in summer. Vacationers from Lithuania, as well as foreign countries, come here to enjoy the beaches, the untouched nature, and the quiet relaxed atmosphere that is hard to find in most other coastal areas…
Even in the summer, Nida never feels crowded or overly busy. If you come here in the low season, you'll have this amazing place all to yourselves.
Surrounded by beautiful nature, Nida is a paradise for those who enjoy long walks or relaxing bike rides. It's proximity to the sea also means that you'll find good food, with traditional smoked fish and other Lithuanian delicacies on the menu of cozy local restaurants.
I spent many summer holidays in Nida as a child and it has always remained one of my absolute favorite places in Lithuania. Recently, we re-visited Nida with our kids and so I thought it was high time for me to write about this beautiful place and share it with our readers.
I hope that this guide will inspire you to visit Nida on the Curonian Spit and explore more of Lithuania.
READ ALSO: Complete Guide to the Curonian Spit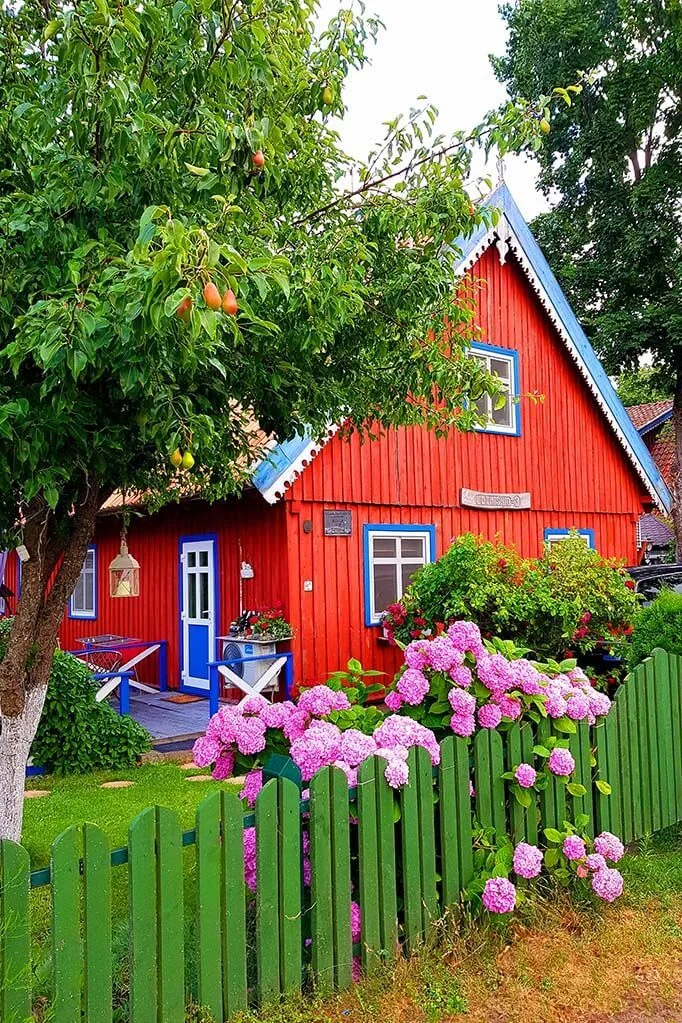 19 Best Things to Do in Nida
While most Lithuanians come here for the Nida beach, as an international visitor, you'll probably not travel that far just to put your feet in the water… So in this guide, we cover all the best things to do in Nida.
Good to know: Please note that this guide does not cover other attractions of the Curonian Spit and is solely focused on Nida and its immediate surroundings.
These are the best places to see and things to do in Nida:
1. Parnidis Dune
Curonian Spit National Park and UNESCO World Heritage Site is best known for its impressive sand dunes, the highest drifting dunes in Europe. Parnidis dune (Parnidžio kopa) in Nida is the only place in the Curonian Spit National Park where drifting dunes still remain. Massive deforestation in the 16th century triggered this process. Over the centuries, the drifting dunes have buried different settlements of the Curonian Spit under the sand. Due to the strong westerly winds, these traveling dunes move about 0,5-1 meter eastwards every year.
Interesting to know: It is believed that the name 'Parnidis' comes from the drifting dunes that 'crossed Nida' (per Nida = Parnidis) burying various settlements underneath the sand.
The views from the top of Parnidis Dune are simply amazing! White sand dunes stretch for several kilometers, as far as the eye can see. In the past, we used to go walking in the dunes, and it's an amazing experience. If you do that, be careful to not go too far or you'll be crossing the Russian border.
No matter when or for how long you visit Nida, Parnidis Dune is not to be missed.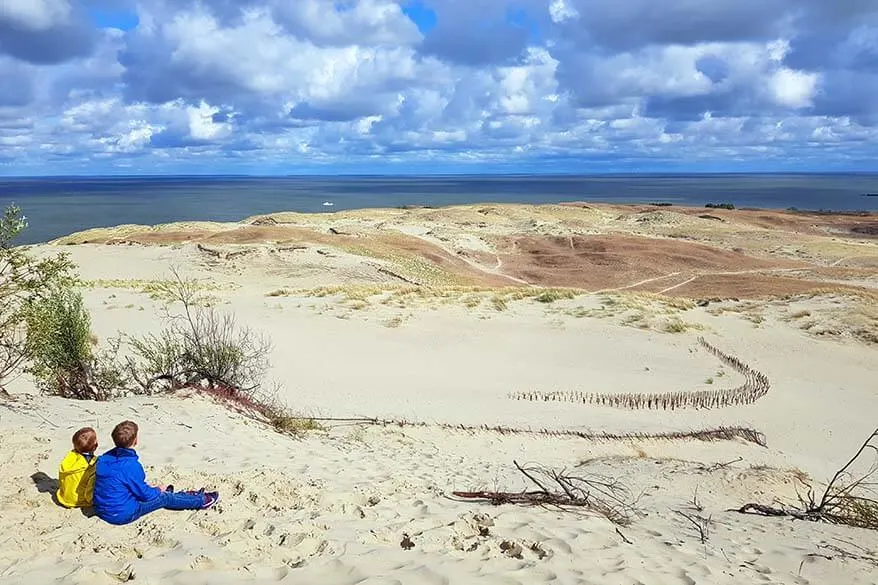 Practical information: Parnidis Dune is located just outside of town and you can easily walk there from Nida. Just follow the pedestrian waterfront promenade south, passing the minigolf and the water sports school. This path is called the Parnidis Cognitive Path (more info further below).
Continue for another +-10 minutes in the direction of the dunes and you'll see a high wooden staircase on your right. It looks steep but takes just a couple of minutes. This is the shortest and most scenic route to Parnidis Dune. You can also drive up there by car or by bike, but you'd be missing a really nice walk (and parking on top is very limited).
We were told that there is now a small fee charged to visit Parnidis Dune. However, we walked there in the evening for sunset and never saw any signs that would confirm this. In any case, even if there is a fee to visit, it will be minimal, and it's well worth it.
2. Parnidis Dune Sundial
On top of Parnidis Dune, you'll find a large sundial. It was built in 1995 but then destroyed by a storm a couple of years later.
Restored in 2011, this huge outdoor sun clock and calendar looks like a big monument. But if you look closer, you'll see that it's actually a clock. If it's sunny and you're good at reading sundials, you can try to read the local time on it.
With the Curonian Lagoon on one side and the Baltic Sea on the other, this is also one of very few places in Lithuania where you can see both – sunrise and sunset in the water from the same spot.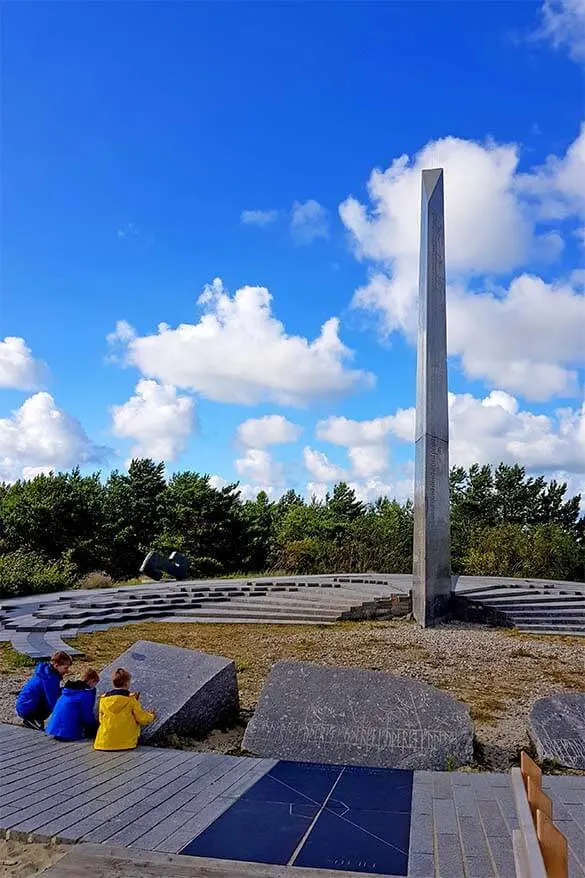 3. Parnidis Cognitive Path
Parnidis Cognitive Path (Parnidžio pažintinis takas) starts at the southern end of Nida town and, as mentioned above, is the most scenic way to go to Parnidis Dune. It passes Parnidis Dune and continues further, ending along the main street leading to Nida town center. If you want to, you can also turn back after visiting Parnidis Dune and the Sundial and go back via the same way. This part has the nicest landscapes and the walk will be shorter this way.
Along this self-guided walking path, you'll find various informational panels in Lithuanian as well as in English. These panels give you more information about the Curonian Spit, the wandering dunes, as well as the surrounding landscapes.
Practical information: If you choose to walk the entire Parnidis Cognitive Path, you should know that it's 1,7km long (+ the distance to get to the starting point and back from the ending point). The highest point is 52m, at Parnidis Dune. In the picture below, you can see the map of this walk. It's really simple to follow and you can't really go wrong.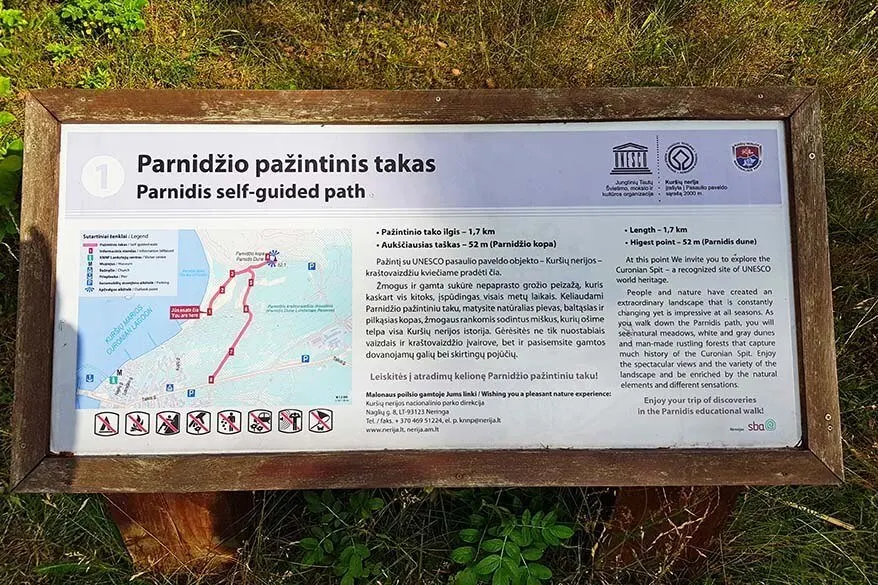 4. Nida Beach
One of the main reasons why people come to the Curonian Spit is its white sand dunes and pristine beaches. While the town of Nida itself is located on the Curonian Lagoon and not by the sea, there are some really nice beaches just 2 km from the town center.
The Lithuanian seaside is very different from what you see in most southern European countries. You won't find any highrise buildings along the beaches in Nida (or any residential buildings for that matter). Pine forests, sand dunes, a beach, and the sea – it's as good as it gets.
In high season, you'll find some restaurants, food stalls and beach equipment rentals along the coast. But if you come here on a rainy summer day or in the low season, it's really all about nature.
TIP: As you walk along the coast in the morning after the storm, look out for some pieces of amber that often wash ashore here. Nida Beach is also amazing at sunset.
Practical information: There are wide walkways and bicycle paths connecting Nida town to the beaches and most people just walk there. Otherwise, taking a bike is probably the best way to get to Nida beach. Paid car parking is also available with several designated areas along the main road, but it can get really packed in summer when the weather is good.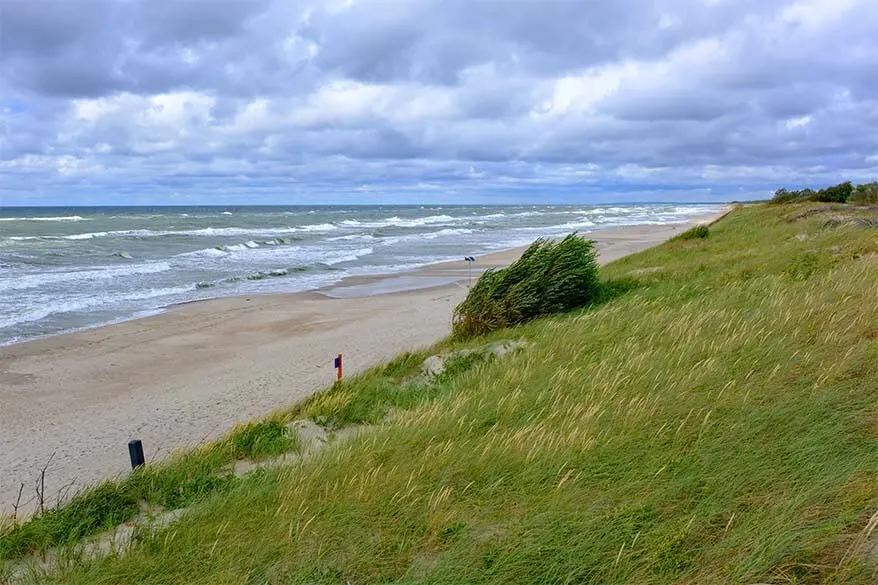 5. Colorful Fishermen's Houses
One of the nicest things to do in Nida is to just wand around the old part of town and watch the colorful fishermen's houses. Dating from the end of the 19th – beginning of the 20th century, these picturesque little houses are only found in this part of Lithuania.
To me, these historic buildings are the true charm of Nida and I truly hope that they'll be preserved for future generations. It's what makes Nida so charming and unique.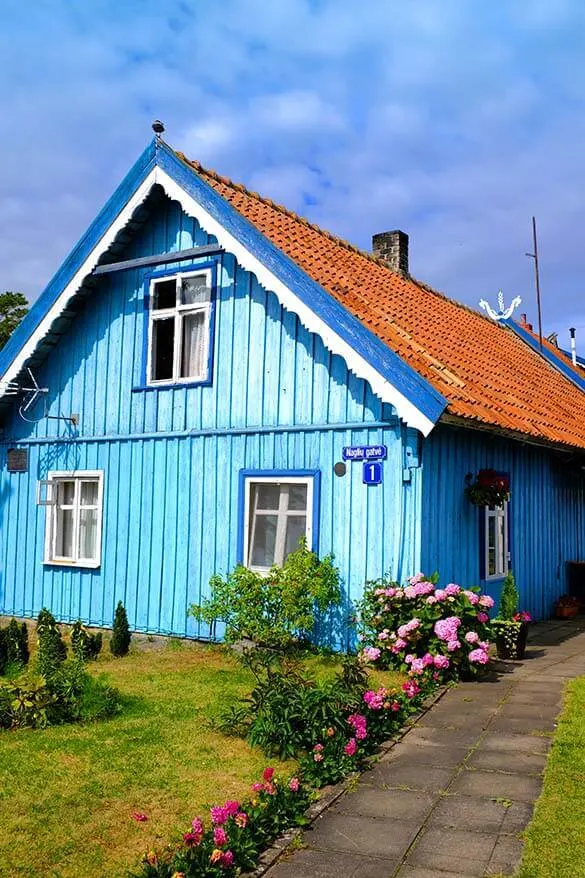 6. Nida Fisherman's Ethnographic Homestead
Located inside the traditional fisherman's house from 1927, this is probably the best museum in Nida. That being said, it's also just a tiny museum with original furniture and household equipment, but its exposition has been totally renewed in 2017 and it's quite well done.
The idea is to give visitors a feeling of the place where the time stood still. It's as if you're a visitor back in time, visiting the house that is full of life and bustle of its inhabitants.
The entrance fee is very low (1 EUR at the moment of writing) and it's well worth 15-30 minutes of your time.
TIP: If you are planning to visit all three main museums in Nida mentioned in this article, you can get a combi-ticket for just 3,80 EUR for adults and 1,5 EUR for children.
Practical information: The museum is open daily from 10 AM to 6 PM from June to August. In the low season, it's open from Tuesday to Saturday from 10 AM to 5 PM.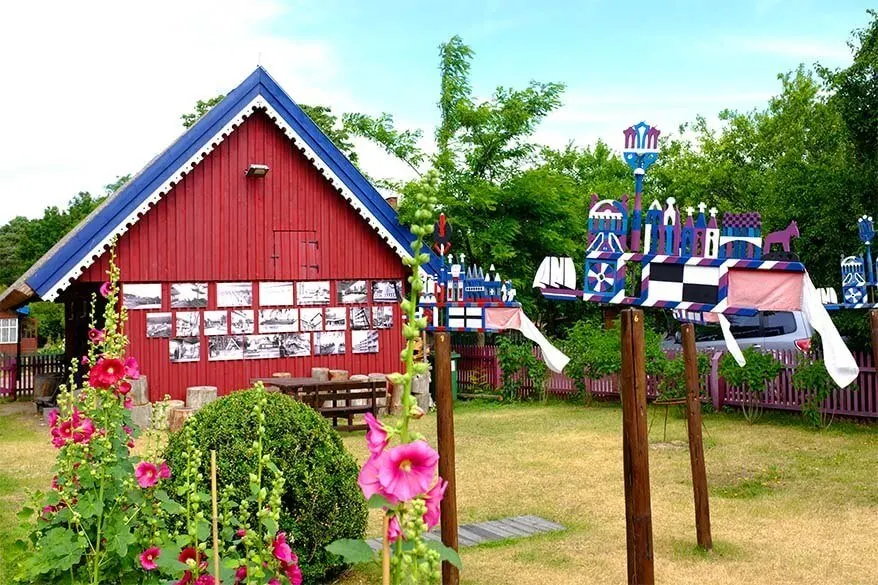 7. Thomas Mann Museum
German writer and 1929 Nobel Prize in Literature laureate Thomas Mann used to spend his summers in Nida. His summer house has been turned into a museum and is considered a must-see place in Nida.
Informational panels inside the museum are in Lithuanian, German and English. However, some other information and the digital stand is only in Lithuanian and German. Inside, you can also see a short movie about the Curonian Spit.
I have somewhat mixed feelings about this museum. The walk to the house is really nice and so are the views from the house. The house itself is charming, but the museum is really tiny and – unless you're into literature or a big fan of Thomas Mann – might be quite boring. It might be something nice to do if you find yourself in Nida on a cold rainy day, but otherwise, I'd probably skip the visit.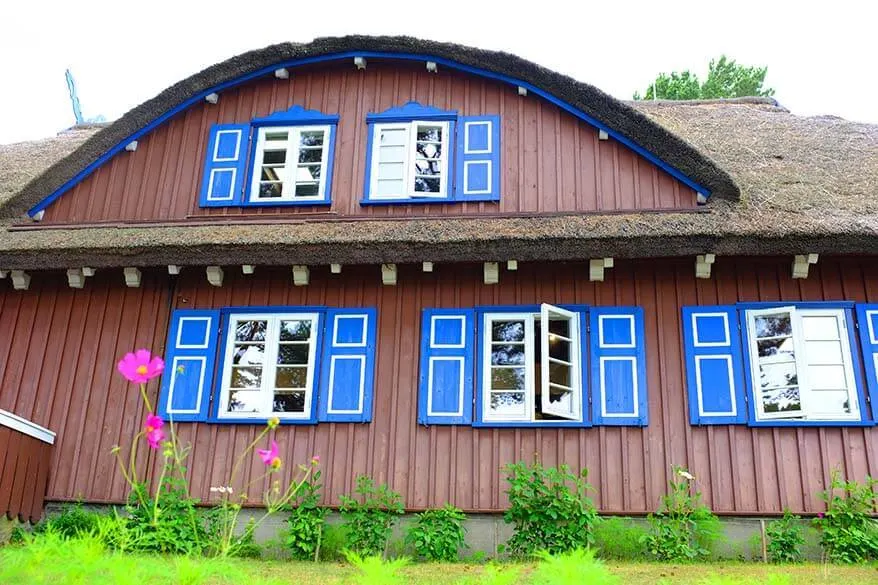 The reviews on the internet are really mixed too – some people love it, while others say it's not worth your time. So I'll leave it up to you to decide. But, as a minimum, make sure to walk up to the house and see the surroundings. The hill on which the house is built was loved by the artists of the 19th-20th centuries, and the view from here became known as the 'Italian View'.
Practical information: The museum is open daily from 10 AM to 6 PM from May to October. During low season, it's open from Tuesday to Saturday from 10 AM to 5 PM. More info here.
Good to know: One week in July (usually around mid-July), the International Thomas Mann Festival is being held with various concerts and performances throughout the town.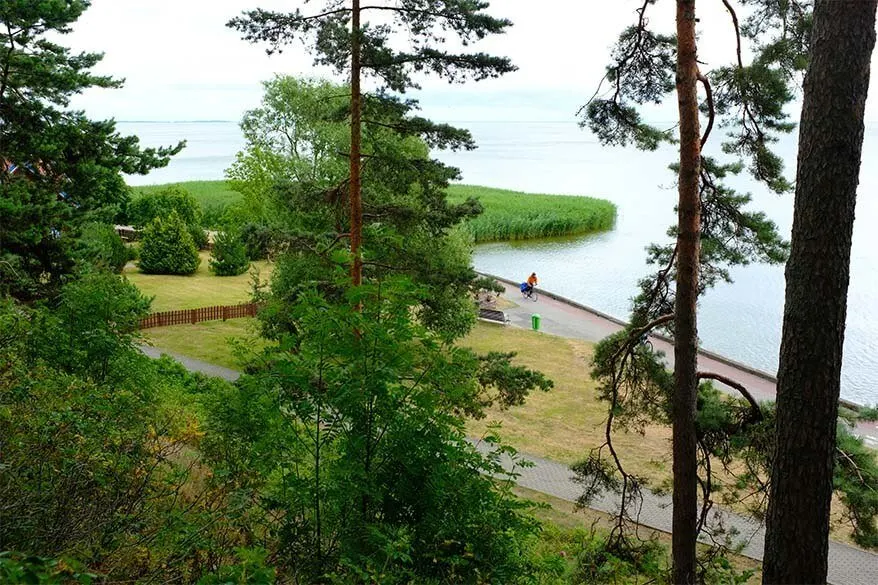 8. Nida Lighthouse
Have you ever seen a lighthouse that's located in the center of town rather than at a coast? Well, this is your chance! The 29,3 meter tall Nida Lighthouse is set on the 51 meters high Urbo Hill and is visible from over 40km distance. It can be seen from both – the Curonian Lagoon as well as the Baltic Sea.
You cannot visit the lighthouse inside or climb to the top, but it's a nice picturesque lighthouse to see. Urbo Hill was the first dune on the Curonian Spit to be planted with trees and it's now a forest. The lighthouse is surrounded by trees and therefore you cannot see the sea or the lagoon when standing at the foot of the lighthouse.
Practical information: Nida lighthouse can be reached on foot or by bike. It's just a short walk from the town center. There are lots of walkways in the surrounding forest.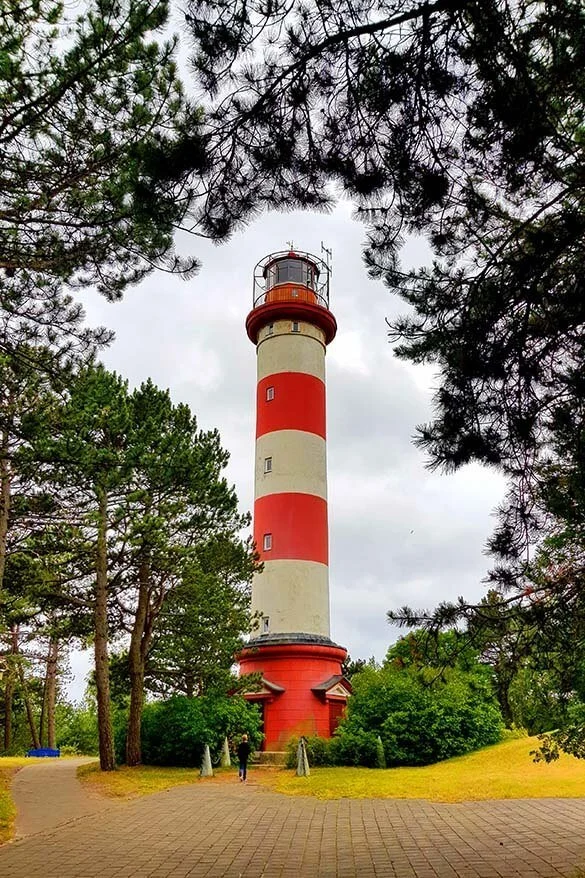 9. 'Highlight' Tower
If you like observation towers, you may want to walk further in the direction of the sea, after visiting the lighthouse. Soon you'll see a wooden viewing tower, called Nidos apžvalgos bokštas 'HIGHLIGHT'.
It's a small wooden tower with a fixed ladder and a viewing platform on top. It's not that tall at all, but because it's located quite high on the hill and peaks just above the trees, you can see the sea from it.
Our kids loved climbing this tower and the views from the top were ok, but if you're less adventurous, you'll be glad to know that it's not really must-do in Nida. The views from Parnidis Dune are a thousand times better.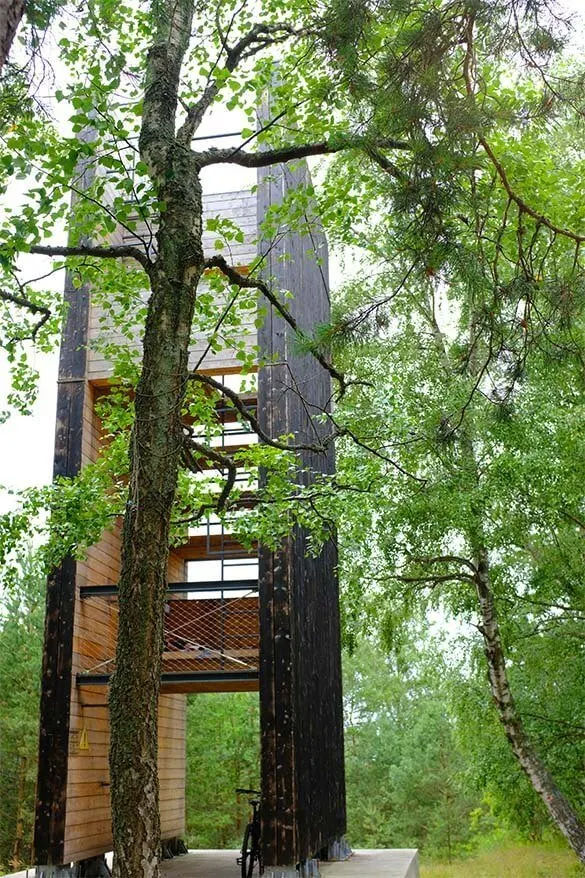 10. Promenade of Nida
Nida is a town that is best explored on foot or by bike. A beautiful waterfront promenade along the Curonian Lagoon stretches throughout the entire town and it's a great place for long walks.
Along the route, you'll find some nice traditional houses, several restaurants, playgrounds, and also several places where you can rent a boat or a water bike.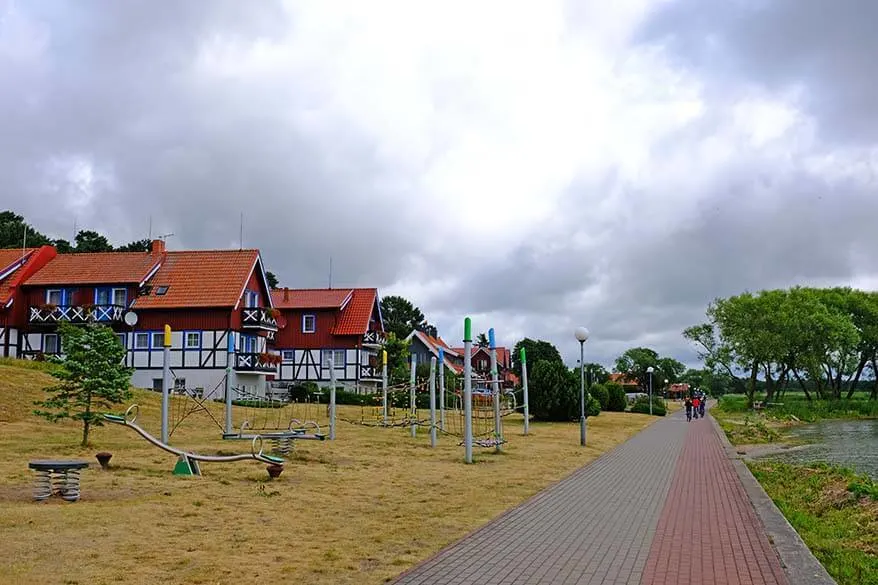 11. Explore Nida by Bike
One of the best things to do in Nida if you have at least half a day is renting a bike. With bicycle paths crisscrossing the entire town and the Curonian Spit, cycling is one of the best ways to explore the area.
You can ride around the town, bike to Parnidis Dune, bike to the sea, or to one of the nearby villages. We asked the local tourism office for the best suggestion and they told us to bike to Vecekrugo Dune (Vecekrugo kopa). See further below.
Practical information: There are several bike rental places in Nida. Prices are very reasonable and you can find bikes for the entire family. Helmets and bicycle locks are usually available – just ask. E-steps are also available for hire.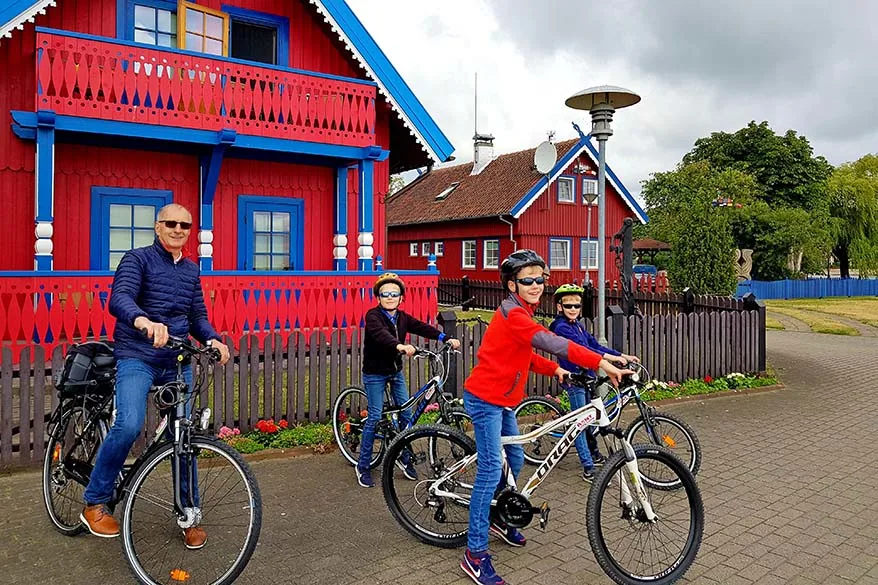 12. Vecekrugo Dune
Vecekrugo Dune (Vecekrugo kopa) is a true hidden gem of the Curonian Spit. It's one of the little-known dunes that is located about 8 kilometers north of Nida.
There are two wooden viewing platforms on top of the dune and the views are simply stunning. Since this place isn't easily accessible from the main road, there are hardly any people around. It's a beautiful and relaxing place and you could bring a picnic and turn it into a really nice excursion from Nida.
Practical information: The best way to visit Vecekrugo Dune is by bike. From Nida, follow the waterfront promenade northwards, past the Thomas Mann museum. Continue along the signposted bike path through the beautiful forests in the direction of Preila. After a while, you'll see wooden signs pointing to 'Vecekrugo kopa'. This last stretch of the road isn't paved and goes uphill, which was somewhat of a challenge for our kids, but we all made it.
The bike ride from Nida to the top of the dune with three young kids took us a bit less than an hour. If you bike fast, you can probably get there in 30-40 minutes.
TIP: If you didn't bring a picnic and feel like exploring more, continue to the nearby town Preila. It's a nice little village and there are several local restaurants where you can have lunch or some drinks.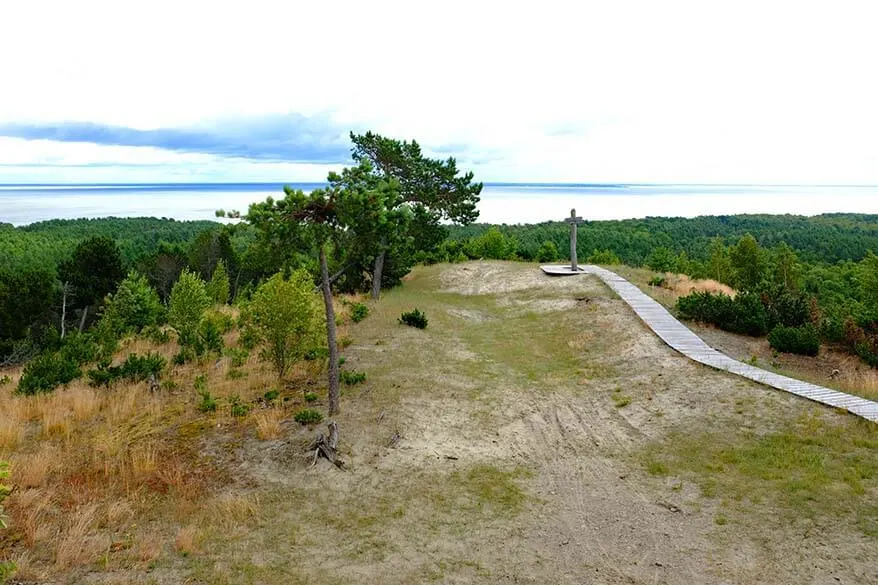 13. Boat Tours
If you are visiting Nida in summer, a nice thing to do is take a boat trip on the Curonian Lagoon. The most popular trip is to Ventė Cape (Ventės Ragas), but there are also shorter boat trips to see the Dead Dunes or the sunset trip just along the coast to see the nearby sand dunes from the water. Fishing trips are also available.
Ventė Cape is located at the delta of the biggest river of Lithuania, Nemunas, and is known as a place with thousands of migrating birds. The longer, day tours, stop at Mingės village, which they call the 'Venice of Lithuania', and include a 1-hr bus trip to Vente Cape itself. They end the tour with the traditional fish soup cooked on the fire outdoors.
In principle you don't have to book anything in advance – just walk to the harbor in Nida and see which tours run that day. It might be useful to check the evening in advance or early in the morning, especially if you want to take a longer trip or if your schedule is tight.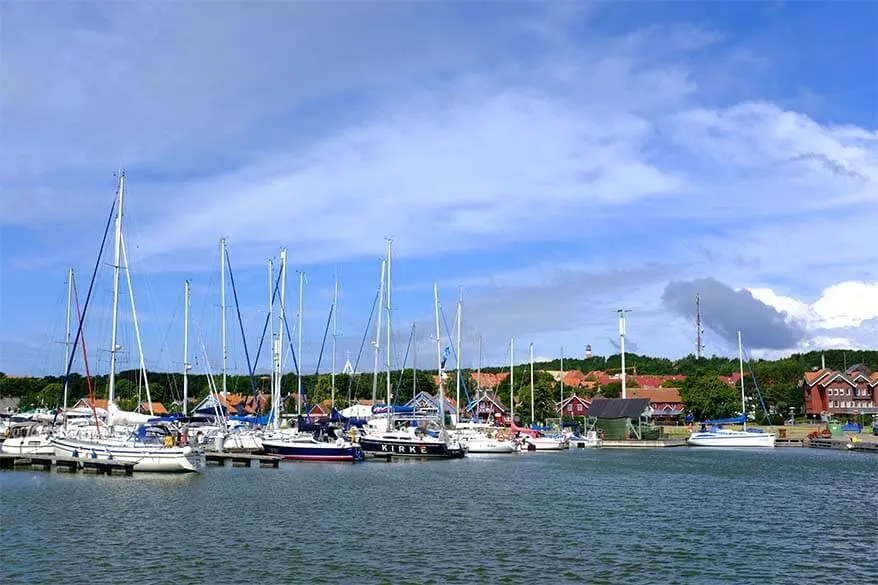 14. Curonian Spit History Museum
Founded in Soviet times and set inside a building of the previous Evangelical Lutheran church, the history of this museum is somewhat complicated. It has been moved to a new building and the new exhibition is focussed on the traditions and trades of the Curonian Spit.
Inside, you'll find traditional fishing gear, boat models, but also unique archeological finds dating from the Stone Age.
Practical information: The museum is open daily from 10 AM to 6 PM from June to August. During the low season, it's open from Tuesday to Saturday from 10 AM to 5 PM.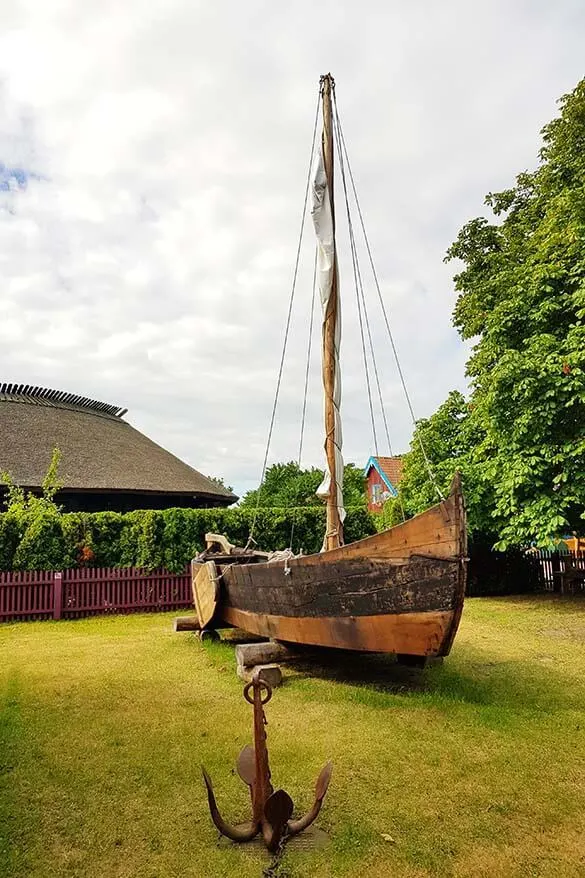 15. Amber Gallery – Museum
This is a privately-owned amber museum and shop. Located in an old fisher's hut, it started as an amber shop some 30 years ago. They now have a unique amber collection of hundreds of pieces of amber. The largest piece of amber in the collection (and the biggest piece of Amber in Lithuania) weighs over 3,8 kg.
The museum is really small and it's actually more a shop than a museum. Nonetheless, it's a good place to learn about the history of the Baltic amber. Sometimes they organize workshops and for a small fee, you can join a guided tour.
This is also a good place if you want to buy some high-quality unique amber jewelry made by artists (so not comparable to the amber that you'll see in the souvenir shops and market stalls all around Lithuania). Because of that, the prices are quite steep, however.
Practical information: The gallery is open daily between 9 AM and 10 PM from June to August and between 10 AM and 7 PM in April, May, September, and October.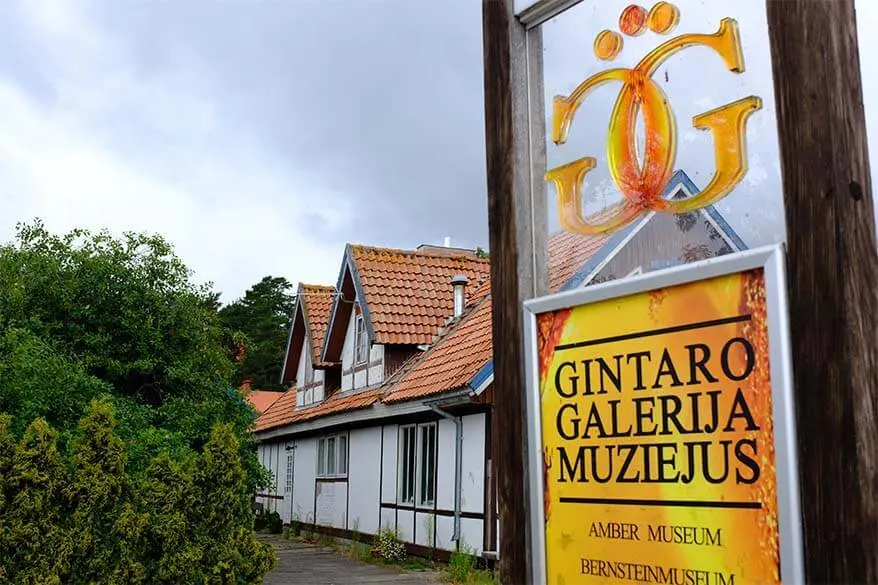 16. Smoked Fish
No trip to Nida would be complete without tasting some of the freshly smoked fish, a specialty of the region. Fish has been the main food on the Curonian Spit for centuries and smoked fish was a delicacy, often served for special occasions.
You'll see many places in Nida selling smoked fish (Rūkyta žuvis or Rūkytos žuvys (pl.)). Various sorts of fish are available, with the most popular choices being smoked eel, smoked bream, or smoked bass.
You can buy smoked fish directly from the local smokehouses, at the market, or taste it at the local restaurants.
READ ALSO: Lithuanian Food (best local dishes to try in Lithuania)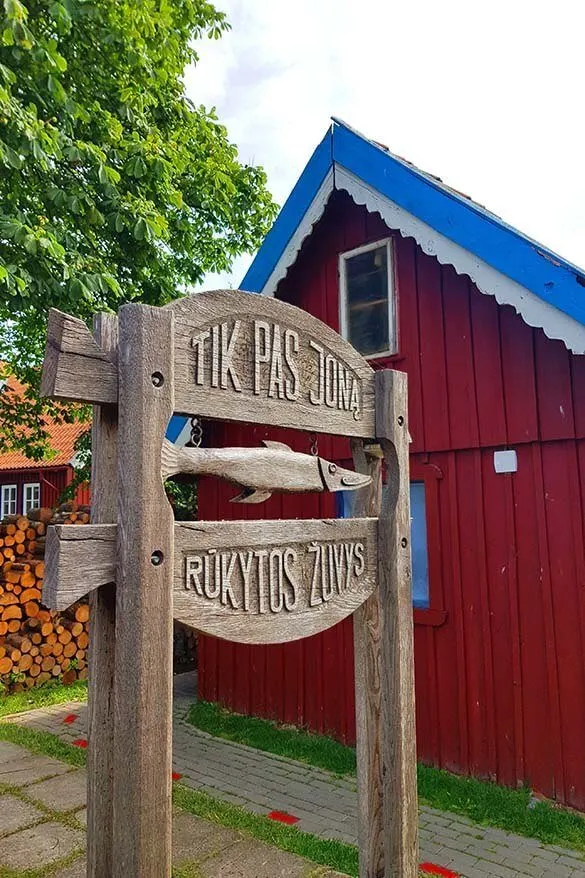 17. Local Souvenirs
Just as most seaside resorts, Nida is a good place to find some traditional Lithuanian souvenirs. There are several small shops in the town center and when the weather is good, they display their merchandise outdoors, so that it almost looks like a little market.
The most popular souvenirs include amber, wool products (from socks to blankets and everything in between), but also all kinds of wood crafts and similar.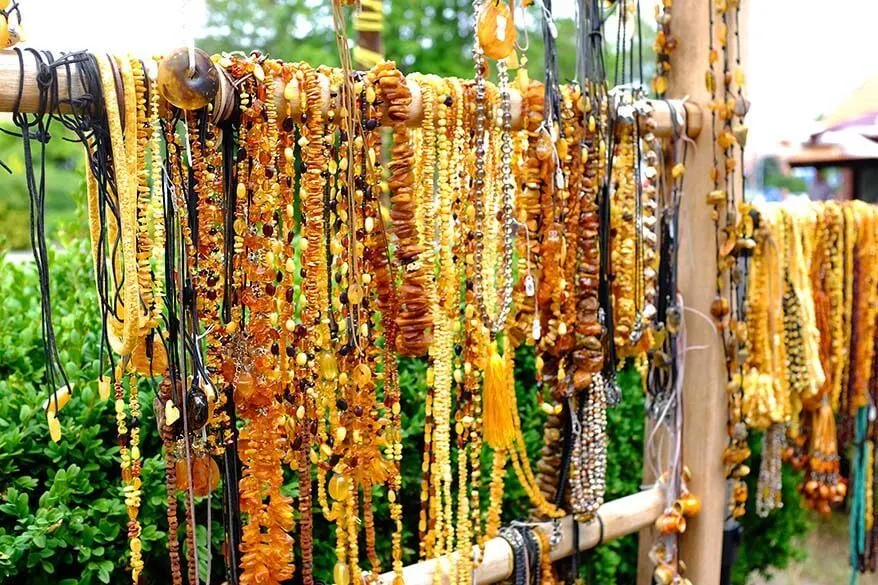 18. Mini-golf and Playgrounds
If you are visiting Nida with kids, you'll be happy to know that there are several nice outdoor playgrounds in town.
There is also a mini-golf in Nida. Since it was located just next to our hotel, our kids spent quite a few hours playing there every evening. I'm not sure if it's open in the low season, however.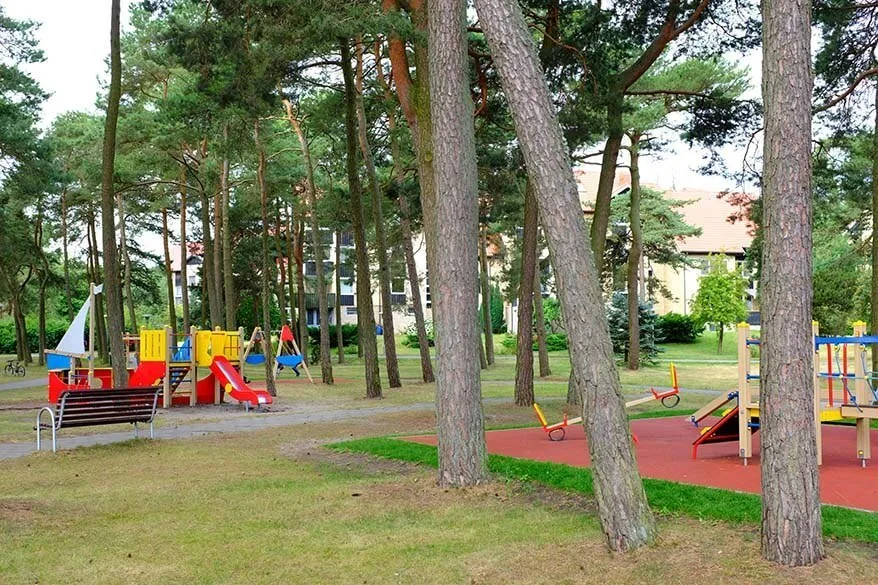 19. Water Sports & Other Activities
If you are visiting Nida in the summer, you can also practice all kinds of watersports. Boat and water bike rentals are also available. It's best to inquire at your hotel or at the local tourist office in town. You'll likely just see places renting equipment along the Curonian Lagoon too.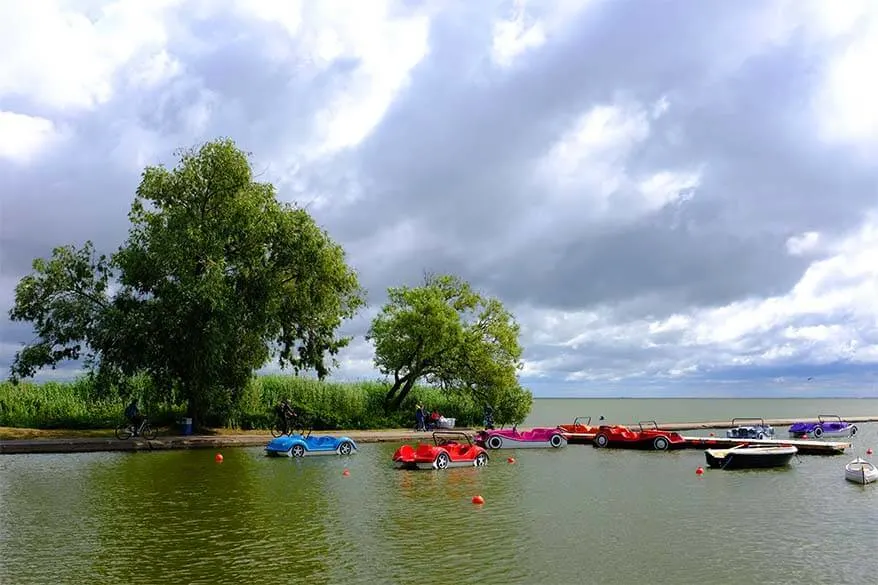 Map of the Best Things to Do in Nida
Nida is small and you can easily find your way around, but to make it a bit easier, I created this map indicating all the places of interest mentioned in this article.
How to use this map: Use your computer mouse (or fingers) to zoom in or out. Click on the icons to get more information about each place. Click the arrow on the top left corner for the index. Click the star next to the map's title to add it to your Google Maps account. To view the saved map on your smartphone or PC, open Google Maps, click the menu and go to 'Your Places'/'Maps'. If you want to print the map or see it in a bigger window, click on 'View larger map' in the top right corner.
How to Get to Nida
As I mentioned, Nida is pretty much as far as you can get in Lithuania, if coming from the capital city. Driving distance from Vilnius to Nida is 360km and you should count on a 4.5 – 6 hrs drive, depending on the ferry availability.
First, you'll need to get to Klaipėda, about 310 km drive from Vilnius. This stretch is all on a highway and takes 3 – 3,5 hrs. Avoid summer weekends, especially Friday afternoons as it can get really busy on the way to the coast.
Since the Curonian Spit is surrounded by water and there is no bridge to the mainland of Lithuania, you'll need to take a car ferry (Smiltynes ​​Ferry, New Ferry) from Klaipėda. Ferries run frequently the whole year round and the ride takes just 2 minutes. In high season, you might have to wait for the next available ferry, but it shouldn't be much longer than 30-45 minutes.
At the moment, a ferry ticket for regular car costs 12,30 EUR (it's a return ticket, so make sure to keep it for your way back). You can buy the ticket at a small booth right before you enter the ferry. Credit cards are accepted.
Once on the other side of the Curonian Lagoon, it's another 50 km drive to get to Nida. The road is good, but quite narrow and most areas have 50-70 km/h speed limits (and radar controls are frequent). You should count 1 hour for this beautiful drive through the forests.
One last thing. A few kilometers after exiting the ferry, you'll be entering the Curonian Spit National Park. At the moment of writing, the entrance fee for the car is just 5 EUR in the low season, and 30 EUR in between 20th of June and 20th of August. Credit cards are accepted.
TIP: If you're traveling in the Baltics and crossing Lithuania anyway, you may want to plan a stop at the Hill of Crosses. It's not exactly on the way to Nida, but it wouldn't be a very big detour (about 100km, +-1 hr drive extra) and it's a really nice place to add to your Lithuania itinerary.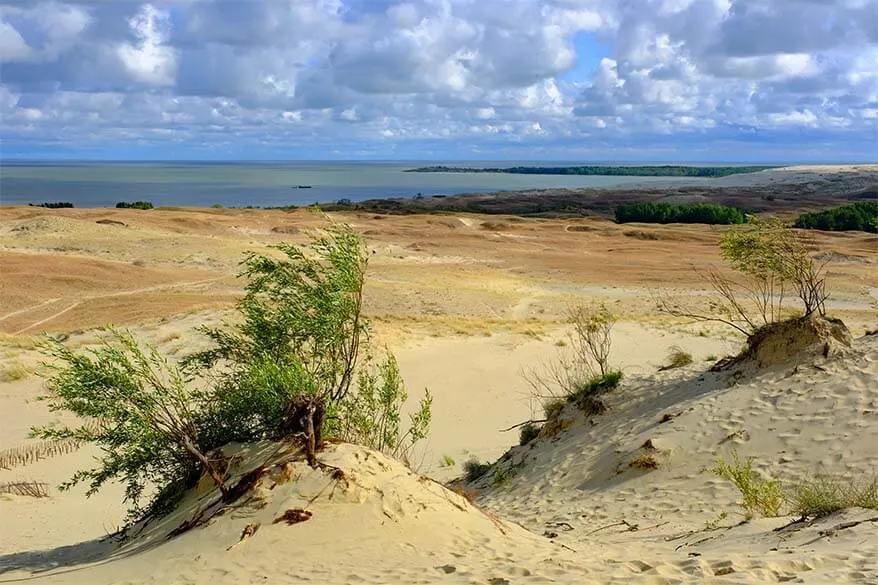 Nida Tour
If you don't have a car, you can also get to Nida by taking an organized tour. Here you can find some of the best options.
Getting Around in Nida
Nida is best explored on foot or by bike. E-steps are also popular. In high season, there are also restrictions as to when you're not allowed to drive in the town center (there are signs clearly indicating this, as you enter the town). So once you get to your hotel, leave the car there. You really don't need it in Nida.
How Much Time do You Need in Nida
While you can see the main highlights of Nida in just a day, I recommend that you plan at least 3-4 days to explore the Curonian Spit. If you are visiting in the summer and you like beaches, you could easily spend a week here.
TIP: Nida is the best town to stay on the Curonian Spit. Not only it's the biggest and the most beautiful town on the Curonian Spit, but it has the best accommodation options, most activities, and lots of restaurants. No matter in which season you are traveling, Nida is the best place to stay for exploring the Curonian Spit as a tourist.
Where to Stay in Nida
Nida is a small town and most accommodations are privately-owned guesthouses or apartments. If you are traveling in the summer, it's essential to book your Nida accommodation as early as possible.
We stayed at a small hotel Nidos Seklyčia and it was probably the best hotel in town. However, it's now gone (yep, demolished due to some bureaucratic reason)…
Some other popular choices are hotel Nidus, apartments Nidos Namai, and self-catering apartments, studios, and lofts Parnidžio Kopa. On Booking.com you can find the full selection of all available Nida accommodations (TIP: book well in advance, especially in summer!).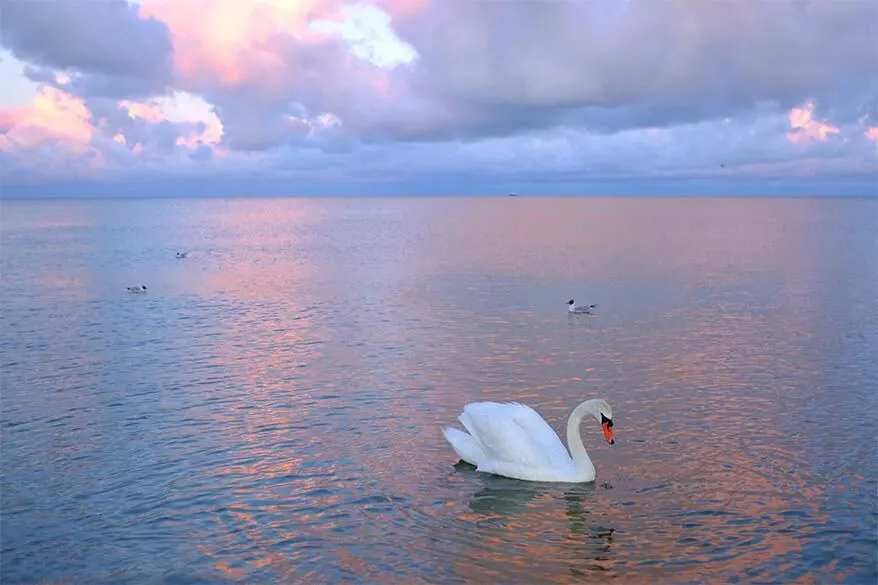 Nida FAQ
How do you get to Nida?
The best way to get to Nida is by car, or you can also take a bus from Klaipeda. Either way, you will have to take a car ferry between Klaipeda to Smiltyne. If you come by car, you'll also have to pay a fee to enter the National Park where the town of Nida is located.
How far is Nida from Klaipeda?
Nida is located about 50 km south of Klaipeda. Because you first have to take a ferry and because there are strict speed limits on the Curonian Spit, it takes at least 1,5 hours to get to Nida from Klaipeda.
Can you visit Nida as a day trip from Vilnius or Kaunas?
The distance between Vilnius and Nida is about 360 km one way and it takes at least 4.5 hours. So while theoretically possible, we would never recommend visiting Nida as a day trip from Vilnius. And while Kaunas is 100km closer, it's still not a good idea to drive that far for a day. You can, however, easily visit Nida as a day trip from Klaipeda.
How much time do you need in Nida?
You can see the main highlights of Nida town in half a day to a day. However, there is more to see and do on the Curonian Spit than just Nida town, so we recommend planning at least 3-4 days in the area. If you also like to visit beaches in summer, you can easily spend a week here.
When is the best time to visit Nida?
You can visit Nida the whole year round, but the best time to visit is in summer, between May and September. That's when the weather is best and everything is open. Nida is never really crowded (unless there are some very special events). However, it can get quite busy on the weekends in summer, especially when the weather is nice.
So, this is our guide to one of the nicest hidden gems of Lithuania. I hope that it will inspire you to visit this charming little town in one of the most beautiful untouched parts of Europe.
READ ALSO: Best Things to Do in Lithuania
Planning to visit Nida and have any additional questions? Want to share your own travel experience? Leave a reply below!
If you found this post helpful, don't forget to bookmark it and share it with your friends. Are you on Pinterest? Pin this image!