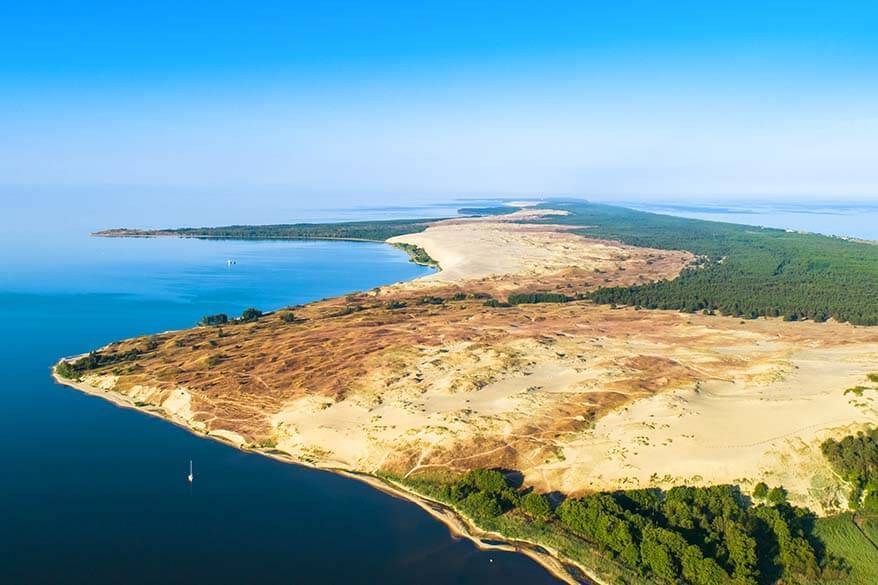 Thinking of visiting the Curonian Spit in Lithuania, but not sure what to expect? In this guide, we cover the best things to do on the Curonian Spit (LT: Kuršių Nerija), as well as practical information for your first visit to this beautiful corner of Lithuania. To help you plan your visit, we also included a map indicating all the best places to see. Find out!
Curonian Spit is a 98km-long piece of land perched between the Curonian Lagoon in the east and the Baltic Sea in the west. It's covered with pine forests and sand dunes. At its narrowest point, the land is just 400 meters wide; the widest stretch is about 4km. From the highest dunes, you could see the sunrise over the Curonian Lagoon and the sunset over the Baltic Sea.
About half of this area belongs to Lithuania, while the other half stretches south to the Province of Kaliningrad that belongs to Russia. Almost the entire Lithuanian side is a protected nature reserve, Curonian Spit National Park. It's also a UNESCO World Heritage Site.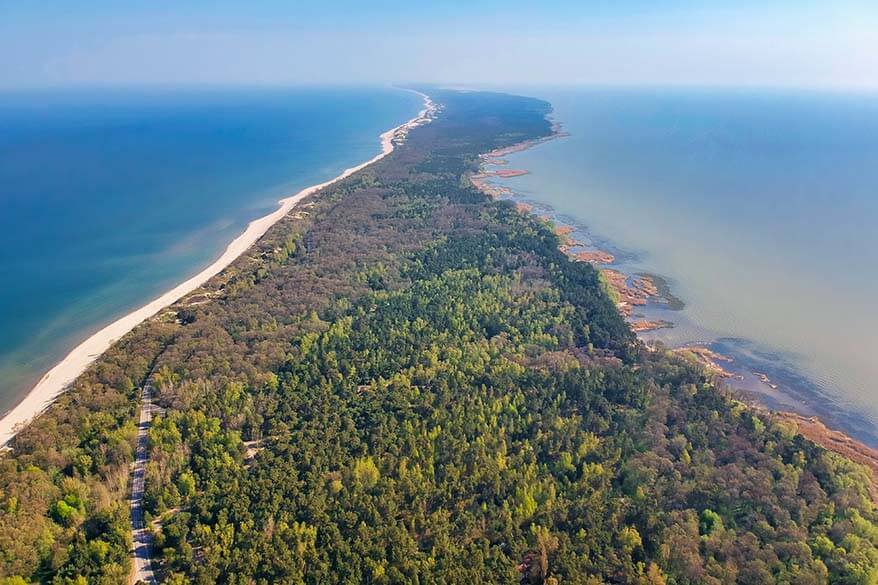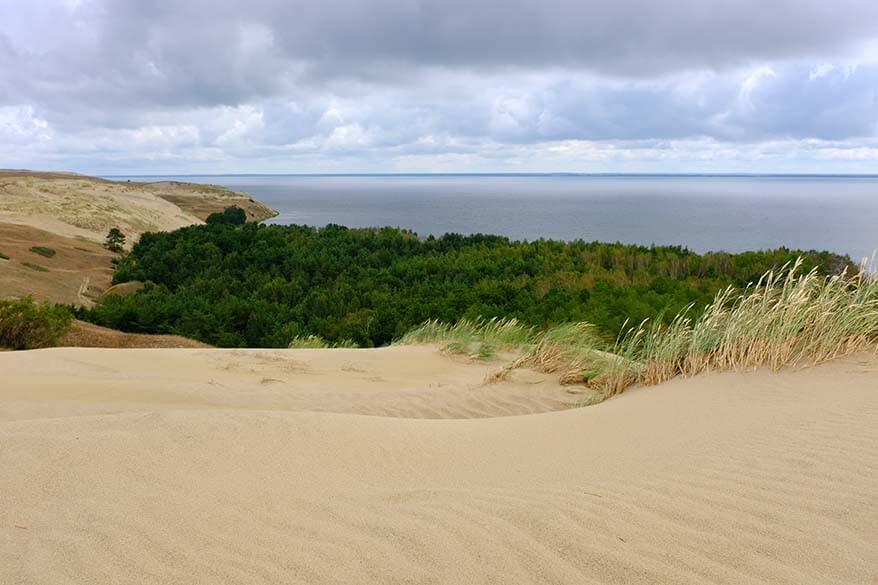 Having spent many summers here as a child, I might be biased. But to me, Curonian Spit is the most beautiful part of Lithuania and in the entire Baltic region. It's also one of the most unique places in Europe where you can still find pristine, untouched nature.
Endless pine tree forests, vast landscapes of impressive sand dunes, beautiful beaches, and picturesque fishermen's villages will make you think that you stepped into a real-life painting. It sometimes feels like a place where time stood still, especially if you visit in the lower season. Further below, you can read more about what there is to see and do on the Lithuanian side of the Curonian Spit. Find out!
How to Use This Map: Use your computer mouse (or fingers) to zoom in or out. Click on the icons to get more information about each place. Click the arrow on the left top corner for the index. Click the star next to the title of the map to add this map to your Google Maps account. To view the saved map on your smartphone or PC, open Google Maps, click the menu button, and go to 'Your Places'/'Maps'.
Best things to do on the Curonian Spit:
1. Nida
Nida is the biggest of the five towns of the Curonian Spit. It's also the nicest town with a great atmosphere. So if you visit just one town on the Curonian Spit, make it Nida!
With colorful fishermen's houses, the old part of town is very pretty. Its location is also very picturesque, with the Curonian Lagoon on one side, pine tree forest all around, and some of the highest dunes of the Curonian Spit towering right next to the town.
The main highlights in Nida include the Parnidis Dune and its solar clock (see below), the Thomas Mann house-museum, Nida Fisherman's Ethnographic Homestead, and the Amber Gallery. Don't miss the old part of town with colorful fishermen's houses and the waterfront promenade along the Curonian Lagoon!
In Nida, you'll also find several playgrounds for kids, minigolf, pedal boats, etc. In other words, it's easy to find fun activities for the whole family.
READ MORE: Best Things to Do in Nida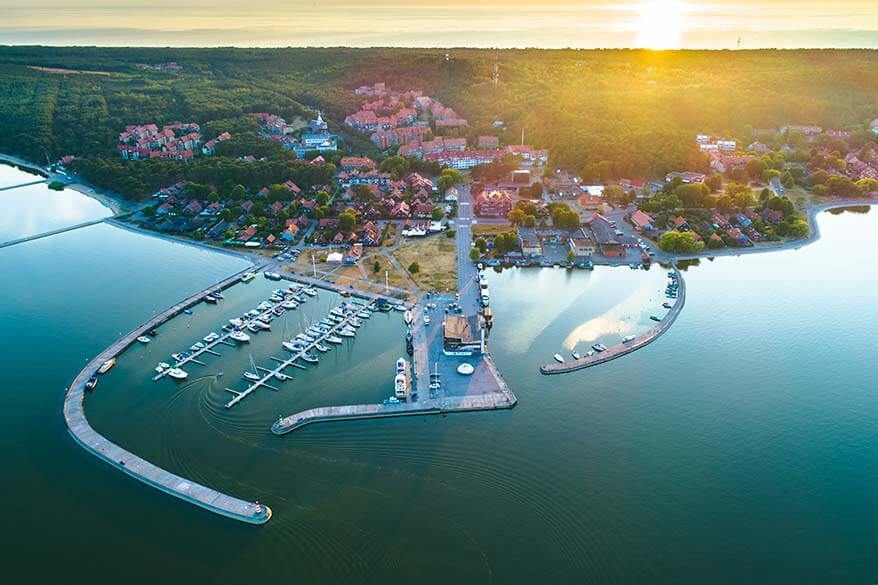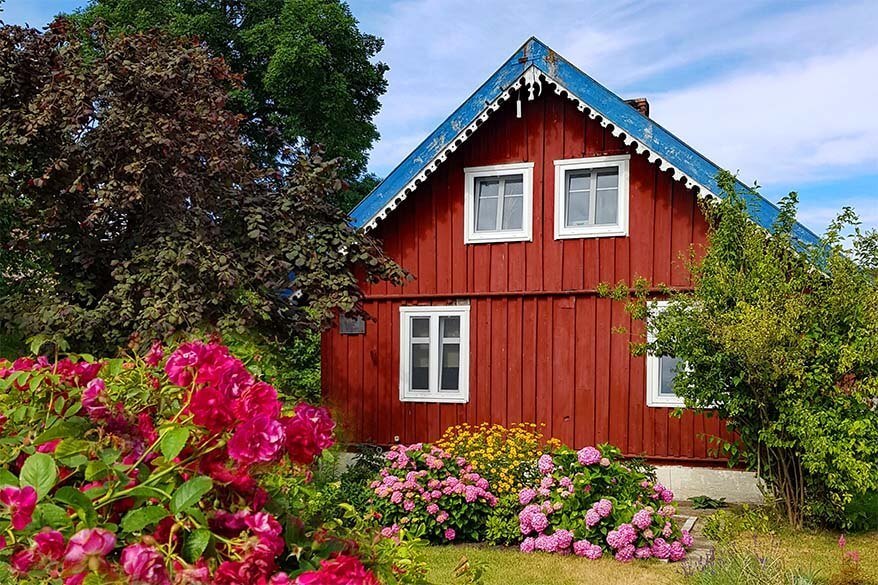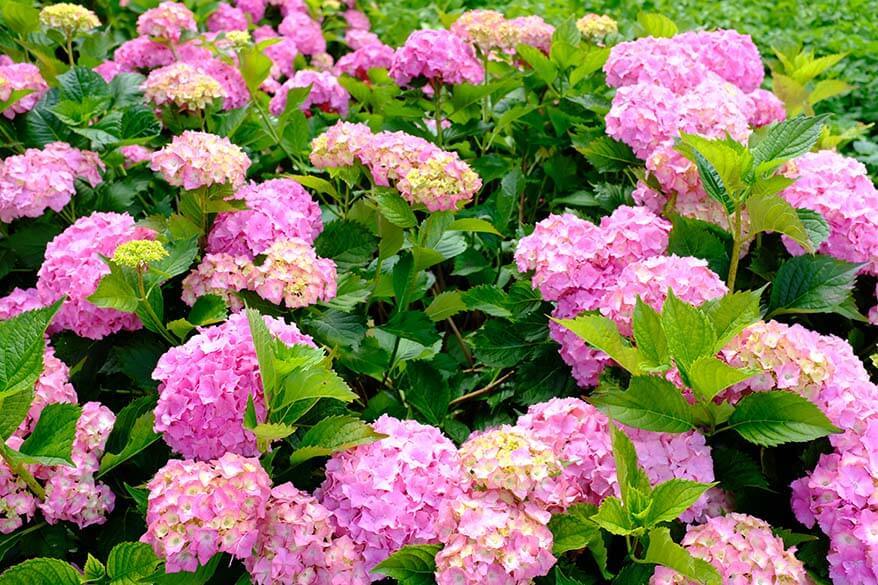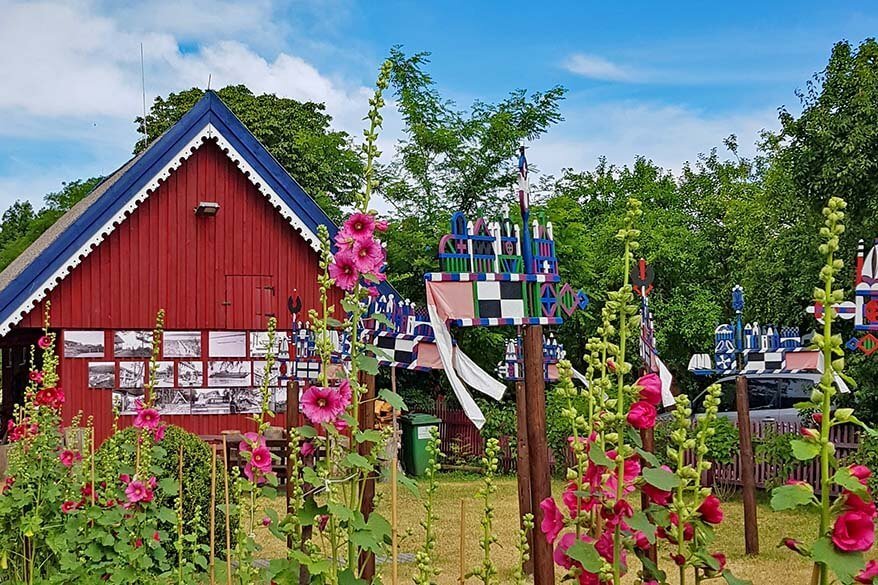 2. Parnidis Dune & Sundial
With its 52 meters, Parnidžio Dune is one of Europe's highest shifting dunes. The views from the top of the hill are simply amazing! The scenery is stunning as you are surrounded by endless white sand dunes on one side and pine forests on the other. Furthermore, you can see both, the Curonian Lagoon and the Baltic Sea from here.
No matter when you visit – at sunrise or at sunset, or in the middle of the day – the landscape is some of the best of the entire Curonian Spit. Don't miss!
On top of Parnidis Dune, there are also a couple of statues and a big sundial. If it's sunny, see if you can try to figure out how it works. I'm never good at these things, but it can sure keep you or your kids busy for a while.
TIP: If you are staying in Nida, try to come here early in the morning or at sunset (my favorite time). Since it's one of the most popular places to see on the Curonian Spit, it tends to be quite busy during the day (in summer).
How to visit: You can reach Parnidzio Dune by car, but the best way to get here is by taking the Parnidis Cognitive Path from Nida. For more information, please check our guide to Nida mentioned above.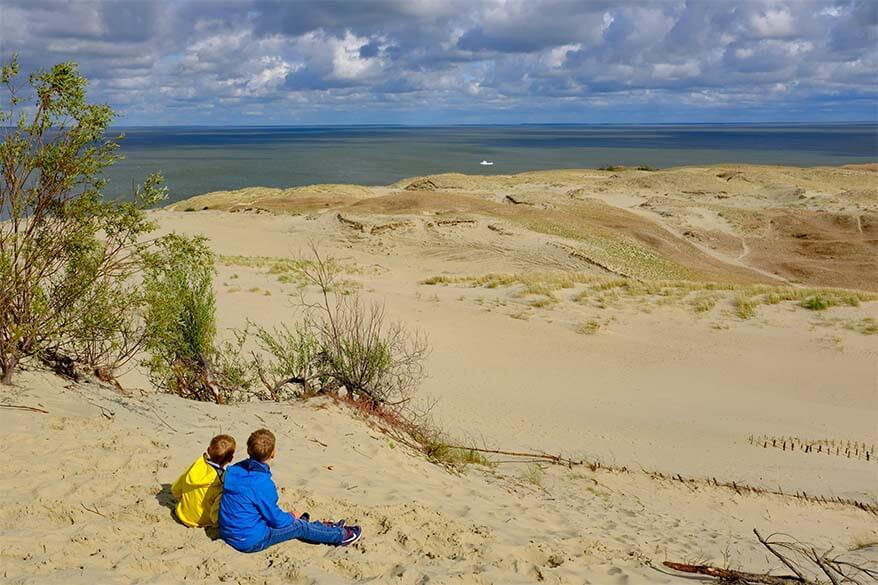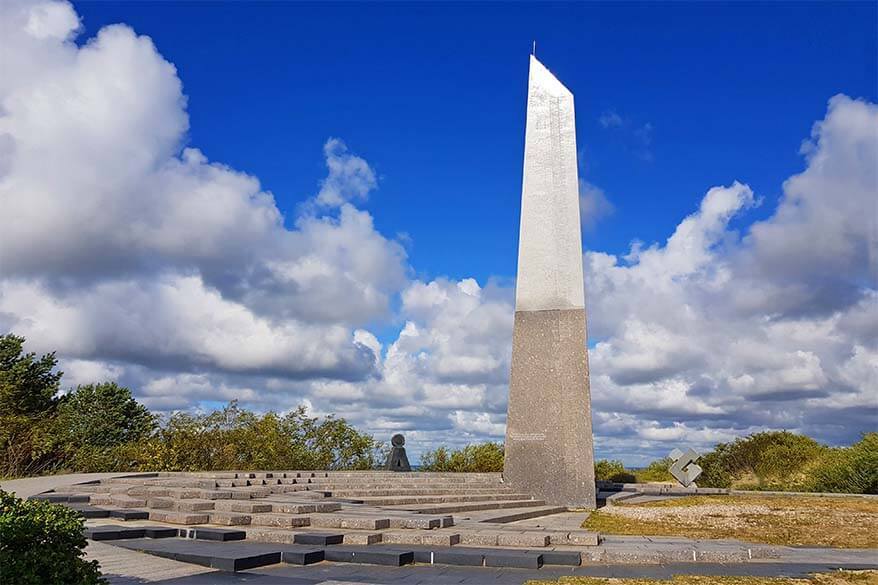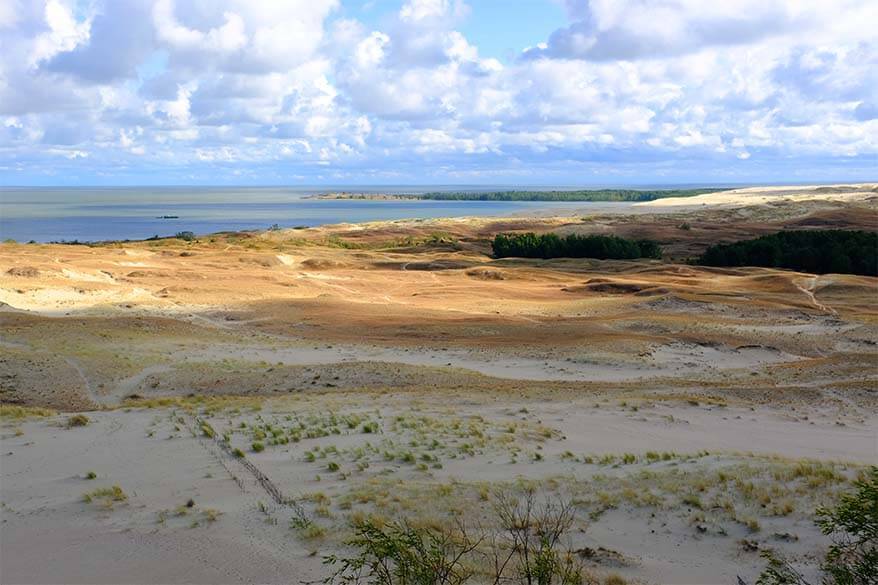 3. Nagliai Nature Reserve
The biggest attraction of the Curonian Spit is its dunes and another great place to see the dunes is the Nagliai Nature Reserve. Located right next to the main road between Juodkrante and Pervalaka towns, this place should also be included in any Curonian Spit itinerary.
Lithuanians call these dunes the Grey Dunes (Pilkosios Kopos) or the Dead Dunes (Mirusios Kopos), but if you look for them on the map, you'll find this place mentioned as the Cognitive Trail in Nagliai Nature Reserve.
Nagliai Nature Reserve is huge, but the biggest part of it is protected and you are not allowed to just walk where you please anymore. The best way to explore this area is by taking a wooden boardwalk, followed by a short climb on the dune.
The boardwalk is about 300 meters long and is accessible for everyone (so also wheelchairs and strollers). However, for the best views, you'll have to take a short walk on the sand. Where the boardwalk stops, you can continue further and climb up a dune for stunning views of the surroundings. Please be respectful to nature and follow the signs. They clearly indicate where you are allowed to walk.
How to visit: You can only come here by car or with a tour. The place is popular with groups and the small car parking next to the road tends to fill up quickly. So ideally, you come here in the morning or in the late afternoon. In high season, you have to pay a small fee to enter the nature reserve. It was 2 EUR when we visited. Count 30-60 minutes for a visit.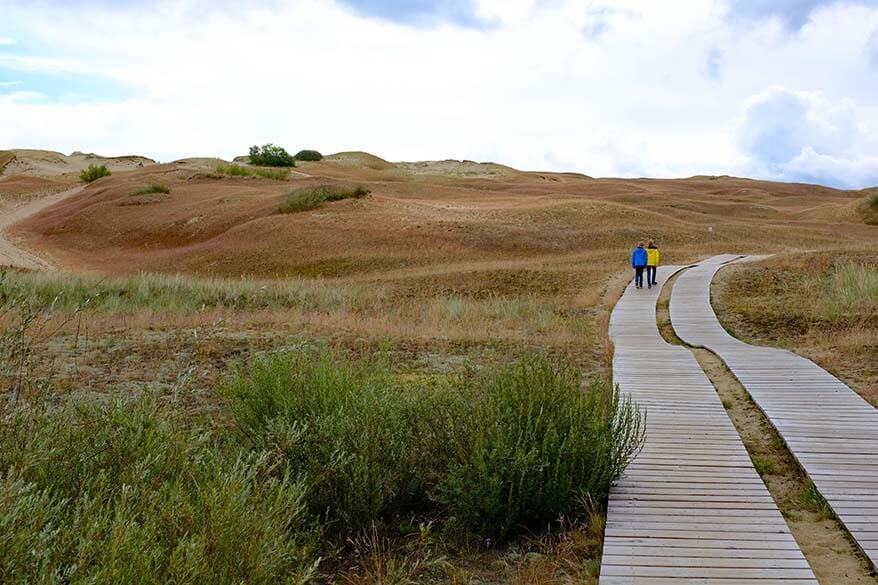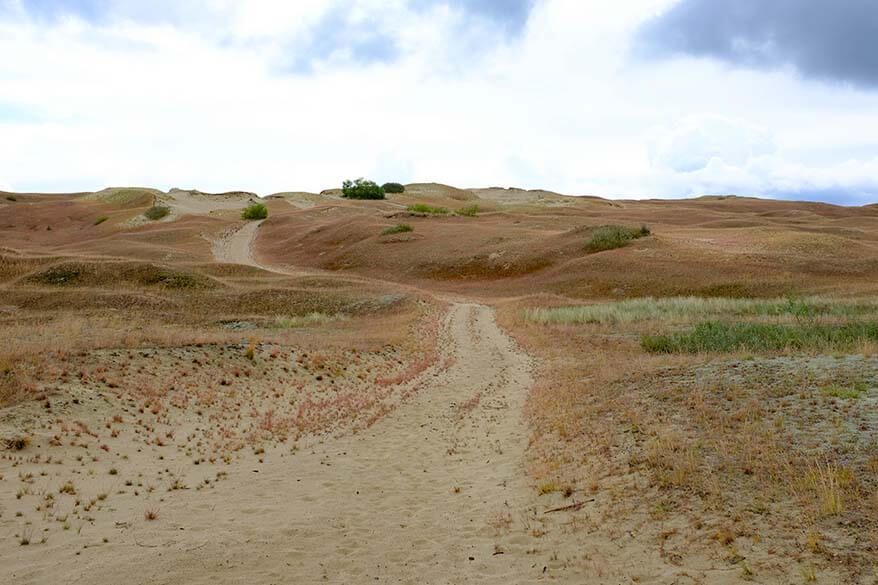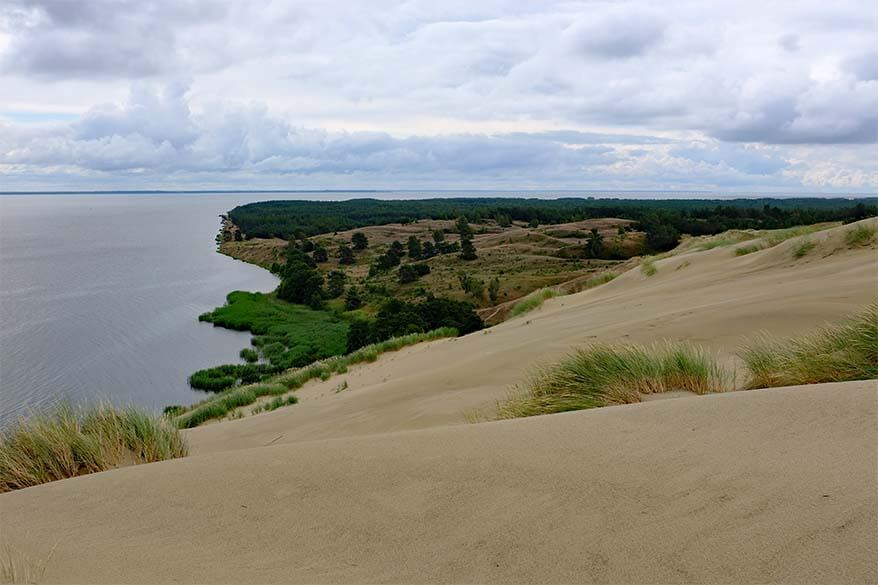 4. Juodkrantė
Juodkrantė is the second biggest town on the Curonian Spit. Popular with Lithuanians who choose to spend their summer vacations here, it's however just a quick stop for most foreigners…
Most people come here only for the Hill of Witches (see further below for more info). However, if you have some time to spare, I think you'll enjoy a walk along the beautiful promenade along the Curonian Lagoon. You can take a peek at the outdoor Stone Sculpture Park or the small Amber Bay north of town. In summer, there is usually also a nice outdoor exhibition of sand sculptures.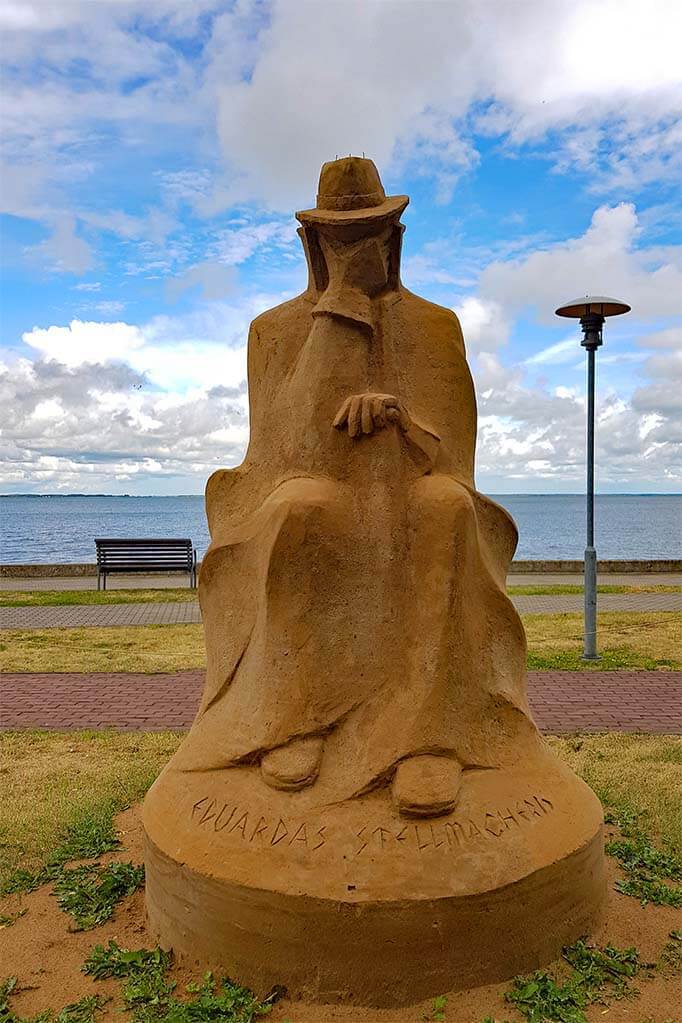 A nice local place to visit in Juodkrante is the Sound Catcher (LT: Garsų Gaudyklė), a wooden sculpture that's designed to catch the sounds of the forest. You can sit or lie inside it and listen to the sounds of nature. It's a fun place if you have an hour to spare, especially if visiting the Curonian Spit with kids. However, the starting point of the walk is extremely poorly indicated.
The trailhead of this short and easy walk (15-20 min) can be found behind the cemetery in the northern part of Juodkrante (see map). There are some information panels and, if you find the starting point, the rest should be straightforward… It's definitely not a must though, but something nice to do if you have lots of time.
Since Juodkarnte town is quite stretched out in length, a nice way to explore it is by renting a bike or an e-step. There are also several playgrounds for the children and also a few nice local restaurants and cafes.
How to visit: Park your car at one of the official parking lots along the main road and explore the town on foot or by bike. You don't need much time here at all, it really depends on your interests and your itinerary. We spent half a day in Juodkrante (including lunch, a visit to the Hill of Witches, and a walk to the Sound Catcher). But you can also just spend half an hour here, visit the Hill of Witches, and move on.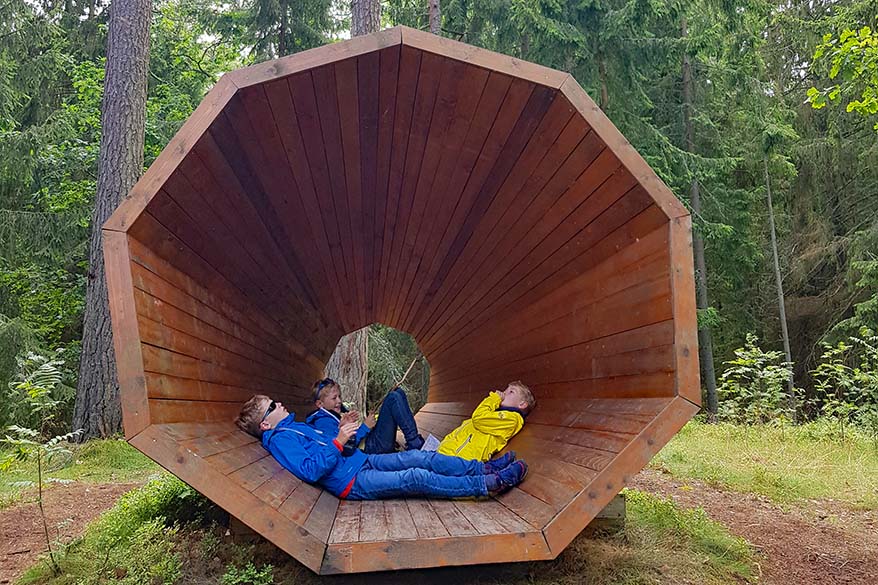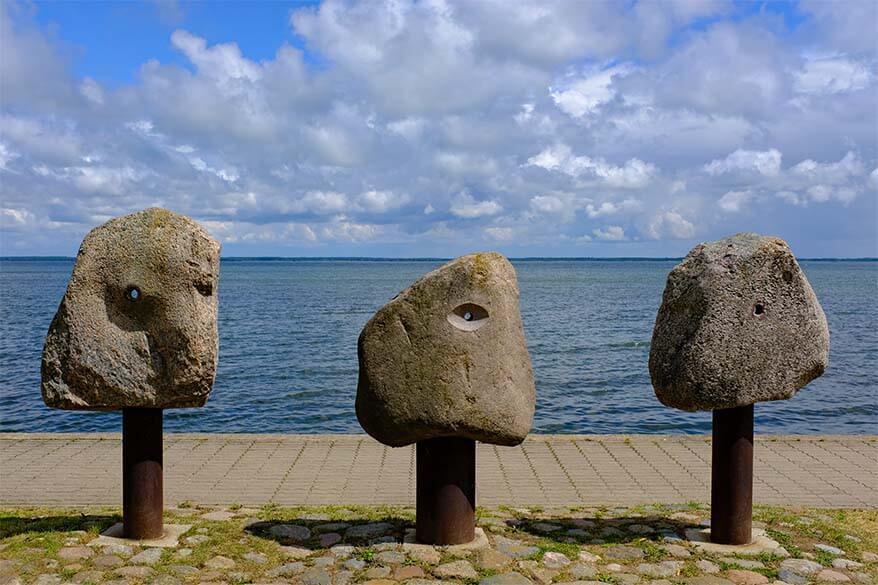 5. Hill of Witches
The Hill of Witches (LT: Raganų kalnas) is the most popular place to visit in Juodkrantė. It's a sort of an outdoor gallery, a folk art sculpture park. Opened in 1979, it started out as a sort of creative camp for local craftsmen, it now contains over 80 pieces of art.
As you walk through the forest, you pass various wooden sculptures that portray Lithuanian fairytale characters. Most sculptures depict witches and devils, but there are also some demons and dragons.
The devilish theme of the sculptures is not a coincidence. There are lots of folk stories and legends connected to this hill. According to some legends, witches and devils used to organize parties here long before people did.
Set in a beautiful forest, the Hill of Witches always felt like a magical place to me as a child. Now, many years later, I take my own kids there when we visit the Curonian Spit. It's not a huge landmark, but a very unique place that I think definitely deserves a visit. It's just so typically Lithuanian and I haven't seen anything similar to it anywhere else in the world.
How to visit: The Hill of Witches is always open and you can visit free of charge. Count 20-40 minutes for a visit. There is a small car parking area with souvenir shops and bathroom facilities right next to the Hill of Witches. If it's busy, we usually leave the car in the bigger car parking across the street. On the map above, I indicated the main entrance. Start at the statue of a three-toothed witch with fish earrings (see the picture below). From there, just follow the loop walk and you'll automatically come back to the parking area.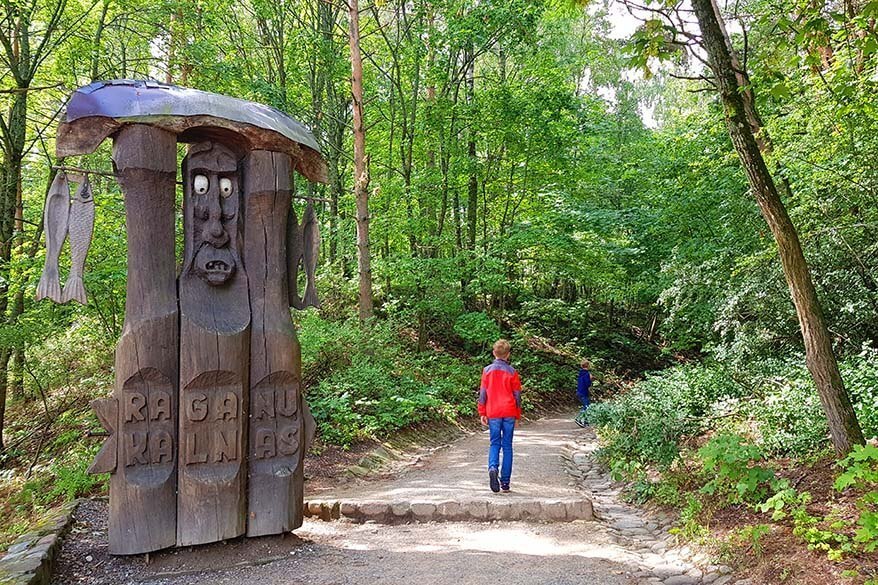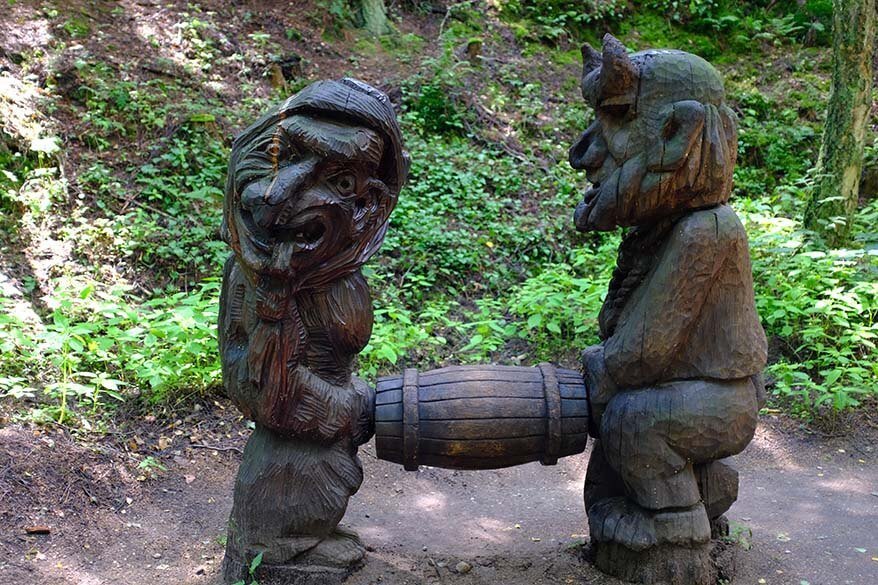 6. Lithuanian Sea Museum
Lithuanian Sea Museum is the only place on this list that is located outside the Curonian Spit National Park. This means that you don't have to pay the National Park fee if you're only visiting the Sea Museum. At the same time, I can't imagine any international tourist visiting the Curonian Spit only for this.
The Lithuanian Sea Museum is probably the most popular attraction of the Curonian Spit. They have a nice selection of marine animals, big aquariums, an aquarium tunnel, and also a dolphin show and a seal show.
The museum is located at an old historic fort. On-site, there are also several old fishing vessels on display. In addition, you can visit the fishermen's house-museum. It's is a nice place to see if you want to get a better idea of what life was like for people in this area at the beginning of the 20th century. This part of the exhibition is free of charge. So even if you are not interested in fish, penguins, and dolphins, you may want to at least visit the fisherman's homestead.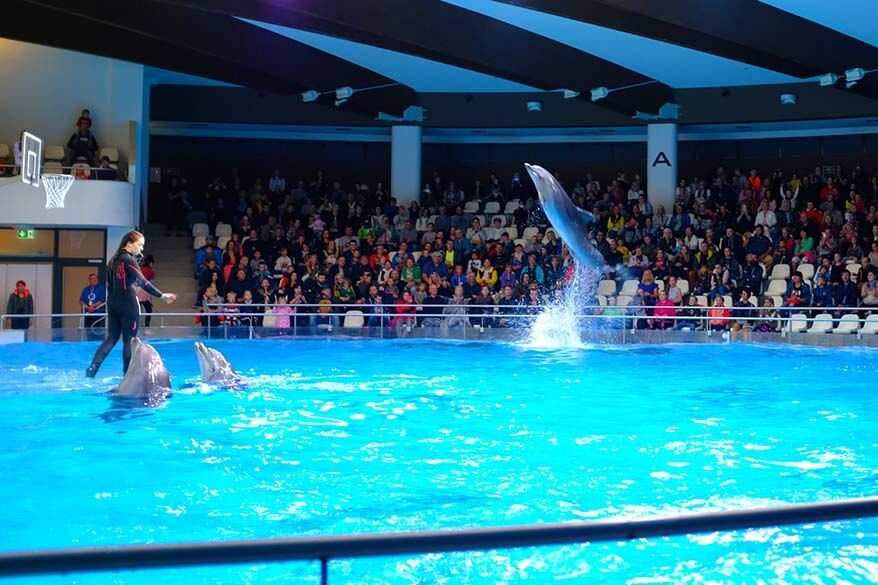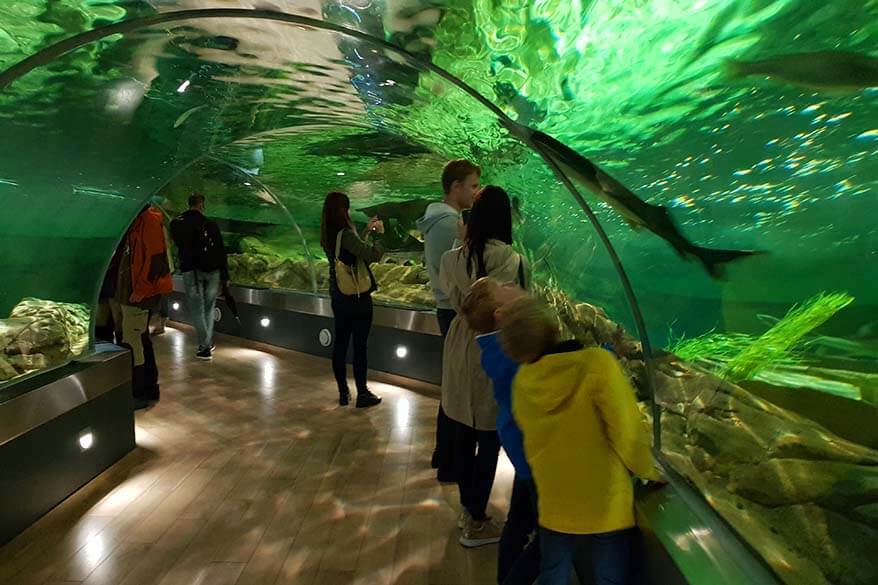 The Sea Museum is a great place to visit if you are traveling with kids. Otherwise, I'd only include it in your itinerary if you have at least 3 days in this area or if the weather isn't great. If you are looking for something nice to do in the Curonian Spit when it rains, you'll be glad to hear that most exhibitions at the Sea Museum, as well as the dolphin show, are located indoors.
If you are planning to visit the Sea Museum and see both shows (dolphins and sea lions) as well as the aquariums, you should count at least 3-4 hours for your visit. But you can easily spend the biggest part of the day here.
How to visit: Lithuanian Sea Museum can be reached by Smiltynės Ferry from Klaipėda town center or by the 'New Car Ferry' south of town. You can drive almost up to the museum by car. However, in high season, the tiny parking area and the road leading to it quickly fills up. It's easier to park your car at the bigger parking area next to the pedestrian ferry, about a kilometer before the museum. You can then walk (15-20 min), take a tourist train, or hire a horse-drawn carriage to the museum. For opening times and other info, check the official website of the Sea Museum.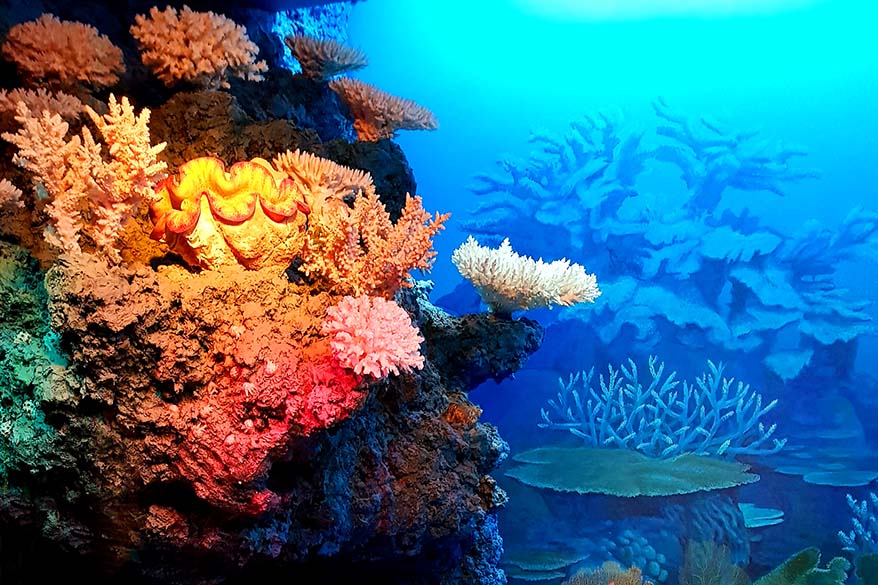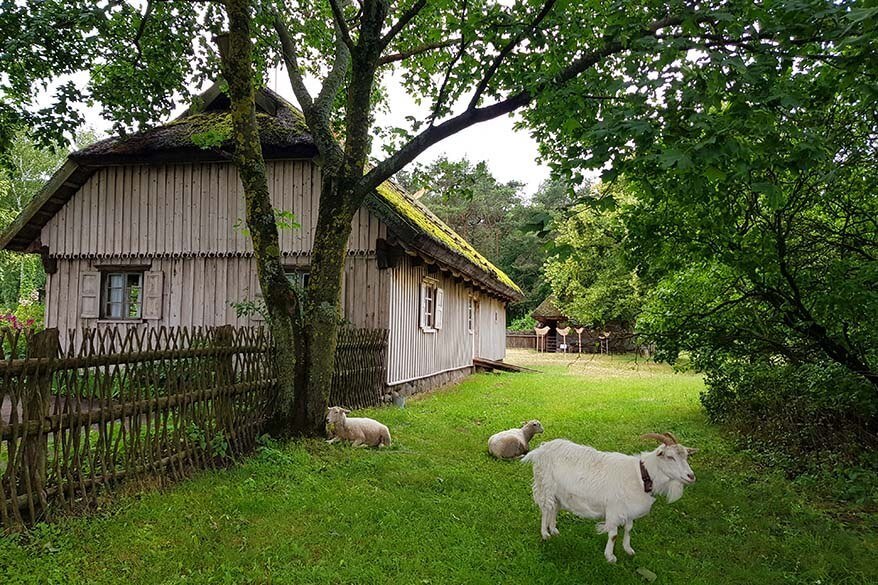 7. Beaches & Water Sports
The Curonian Spit is known for its long untouched beaches of white sand and pine trees… When the weather is sunny and warm, beaches around bigger towns tend to get quite busy. But it's nothing compared to Spain or France… If you don't mind walking a bit further, chances are you'll have the whole beach all to yourselves. If you come on a cold windy summer day or off-season, you'll probably be here all alone. Magical!
My favorite time to visit the beaches of the Curonian Spit is around sunset off-season or on a cold summer day. Take a warm sweater and a jacket and go for a walk, searching for amber along the way. Small pieces are often washed ashore after a storm and it's always so much fun to find amber… If you're traveling with kids, this is a great way to keep them busy for several hours.
If you are visiting the Curonian Spit in summer, you'll find boat rentals and possibilities for water sports as well.
How to visit: At most places, the beach isn't that easily accessible. However, there are well-indicated access points near all the towns of the Curonian Spit. There are a few places where you can drive quite close to the beach, but the car parking areas are small and fill up quickly. Often, you have to walk at least 5-10 minutes from the nearest car park, sometimes even a bit longer. Most people usually just leave the car at their accommodation and walk or bike to the beach from the town where they are staying.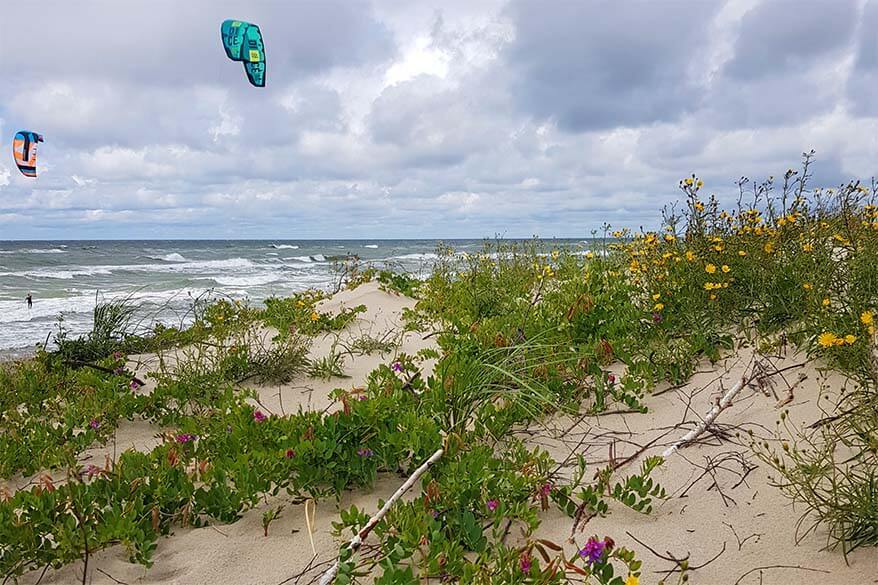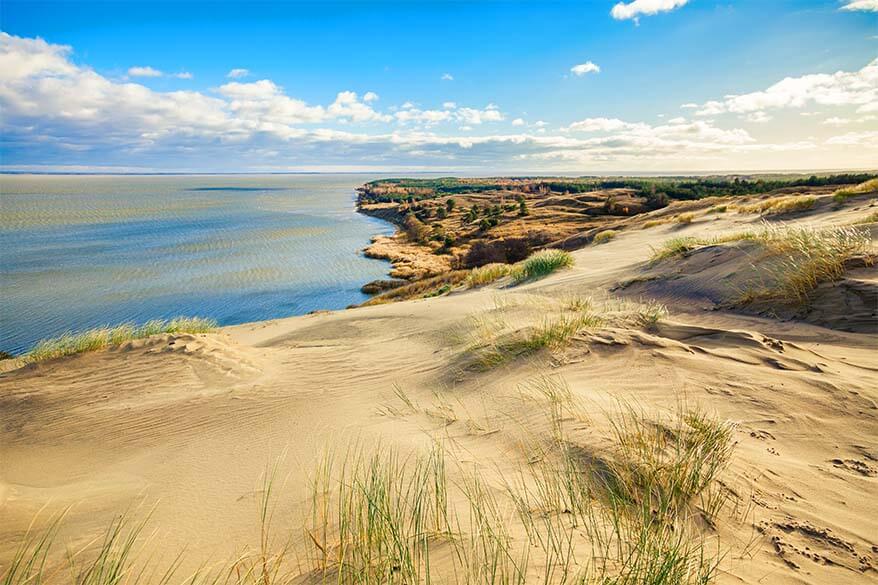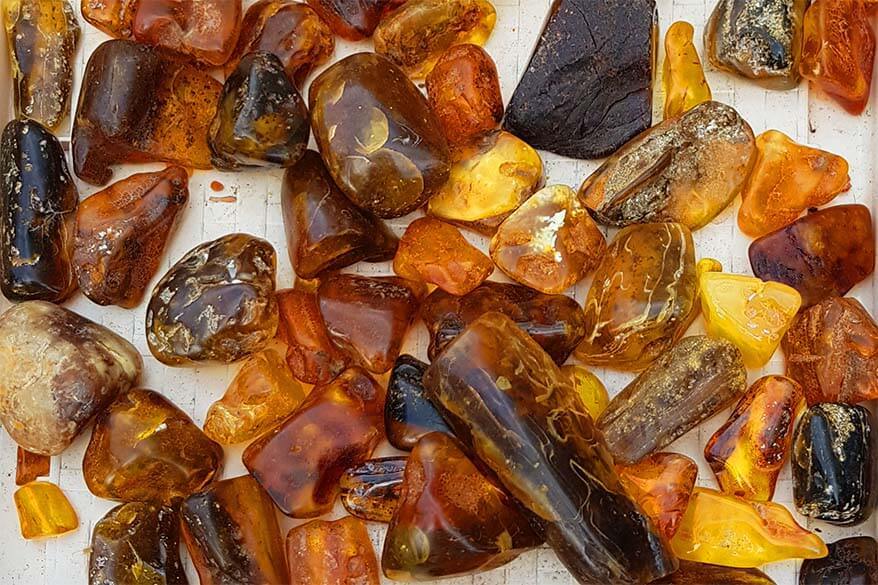 8. Bicycling
Undoubtedly, the best way to explore the Curonian Spit is by bike. With well-maintained and mostly flat bike paths crisscrossing the entire Curonian Spit, biking is one of the best things to do on the Peninsula!
There is a 52-km long bike path that stretches through the entire Lithuanian part of the Curonian Spit. It connects all the five towns and passes some stunning scenery. Biking is a great way to explore smaller villages such as Pervalka or Preila.
Good to know: There are several places where you can rent bikes and e-scooters in Nida and in Juodkrante. It's easy to find bikes for the whole family and helmets are usually also available. If you are not sure where to go, just ask at a local tourist information center for a map and some suggestions. Or you can just set off and explore the area on your own. It's quite impossible to get lost at this narrow peninsula. In our above-mentioned guide to Nida, you can read about a nice short bike trip that we recommend (Nida – Vecekrugo Dune – Preila).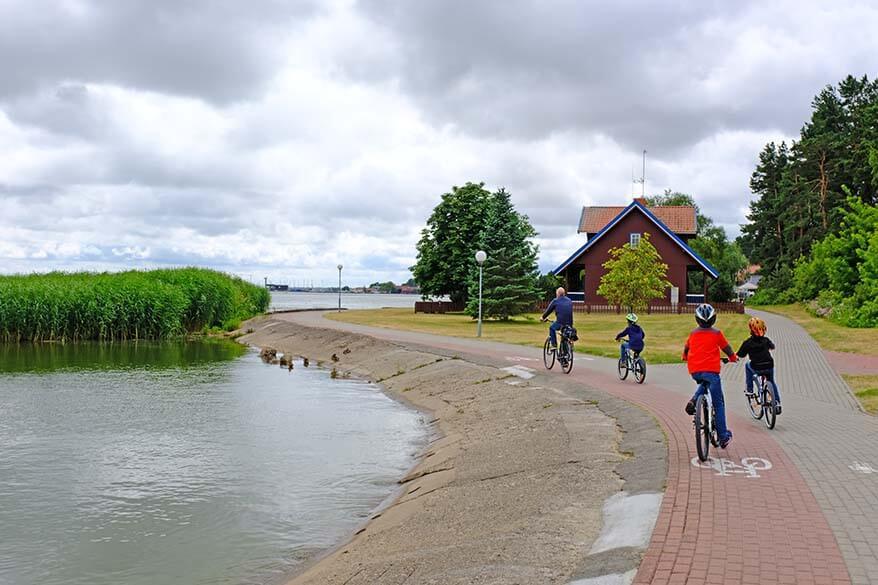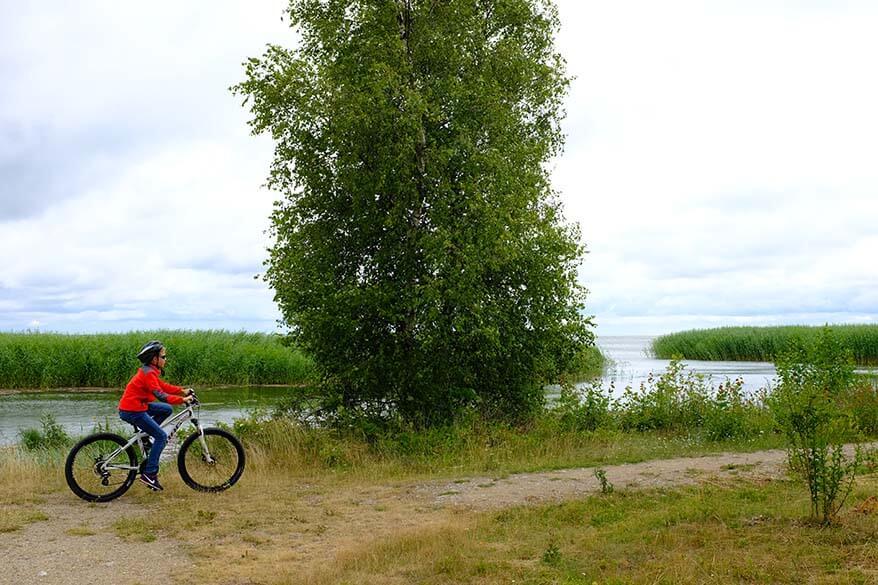 9. Sailing and Boat Trips
In summer, you can take various boat trips in the area. Most of them depart from Nida. The most popular day trip is to Ventė Cape (LT: Ventės Ragas), located on the other side of the Curonian Lagoon, at the delta of Nemunas, the biggest river of Lithuania. It's a popular place to see migrating birds.
Longer tours also stop at Mingės village, aka the 'Venice of Lithuania', and include a 1-hr bus trip to Vente Cape itself, followed by traditional fish soup lunch or dinner.
There are also shorter boat trips available from Nida – along the coast to see the sand dunes from the water. Fishing trips are also possible.
Good to know: Even in high season, it's usually possible to join boat tours on the day itself. If you're interested in doing this, go to the harbor in Nida and see which tours run that day. If you absolutely want to book a boat trip or if your schedule isn't flexible, it might be a good idea to check availability the evening before or early in the morning.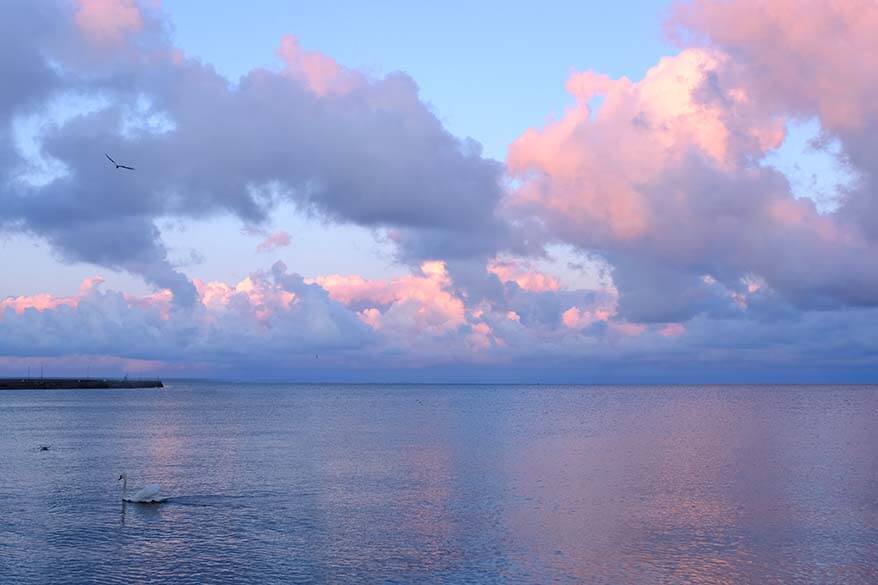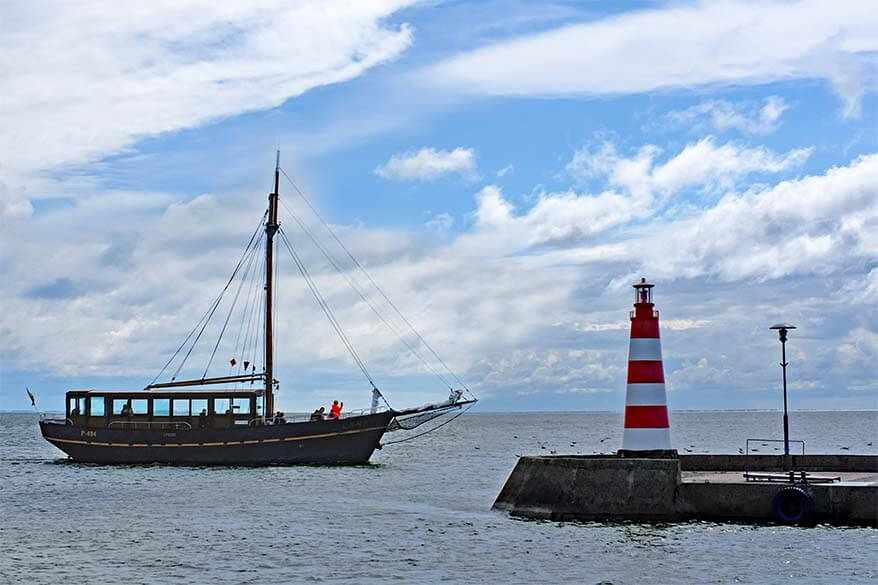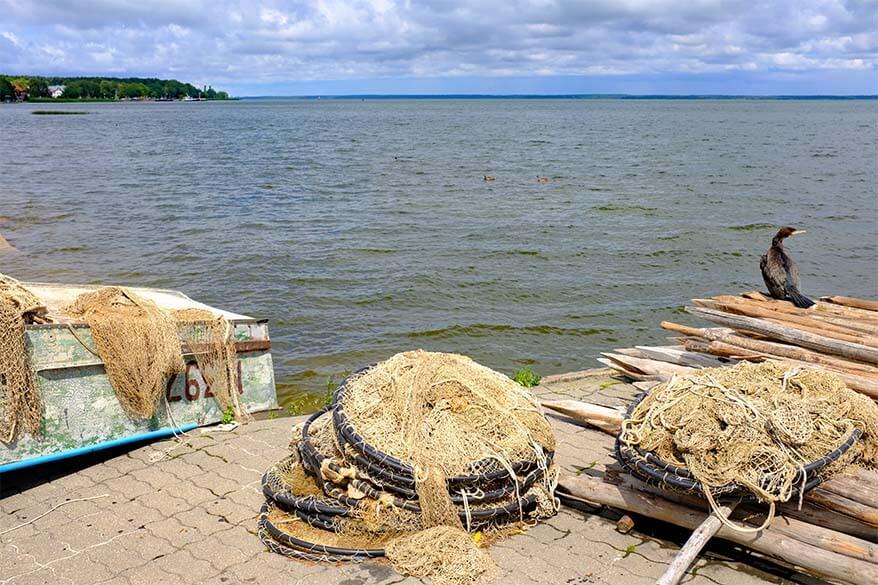 10. Preila & Pervalka
Pervalka and Preila are two smaller towns on the Curonian Spit. While nice to see, there aren't really any major landmarks here. Just a couple of traditional fishermen's houses, a (very) few restaurants, and for the rest, mainly vacation accommodation.
Both places are really low-key and even in the summer season, it's usually quiet here. The atmosphere is nice and it gives you a good idea of what the Curonian Spit is really about. But I wouldn't turn your itinerary around in order to visit these villages, especially if you are short on time.
However, as already mentioned before, if you rent a bike, you can make a nice day trip exploring the area and visiting one or both of these villages.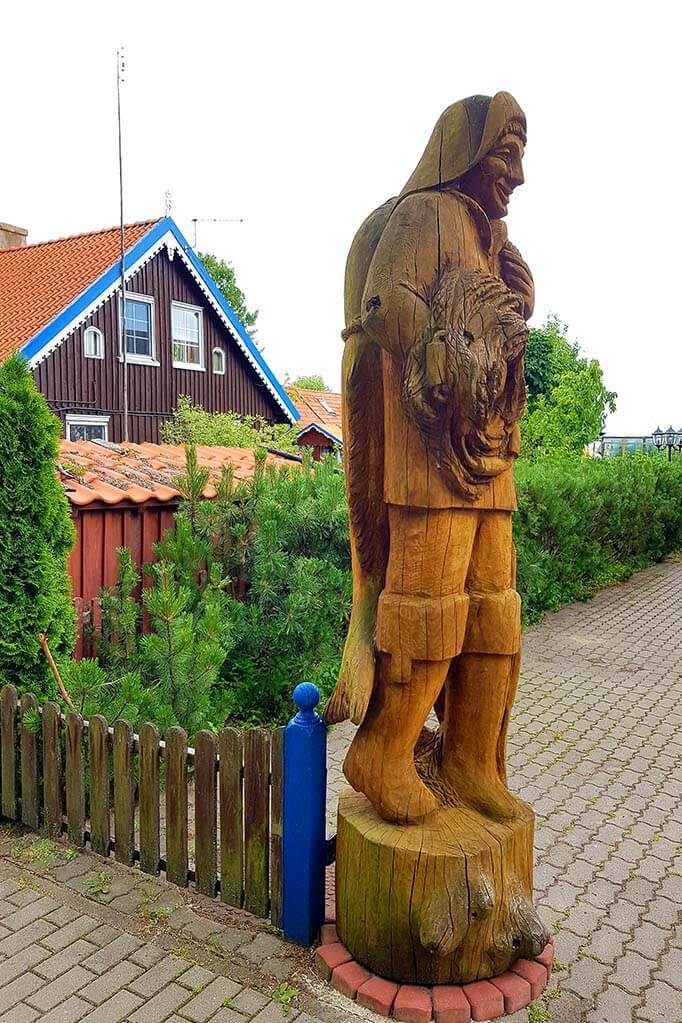 11. Local Food, Amber & More
To me, travel is not just about the places or the main landmarks, but also about the food, the smells, the atmosphere, the stories, and the people…
Once you explore all the beautiful places of the Curonian Spit, don't forget to also taste some of the local food, visit a local gallery or museum, or check out some typical Lithuanian souvenirs. Also, take your time to walk around the little towns and look around. There are so many beautiful old buildings, colorful fishermen's houses, and unique wooden sculptures that are typical to this region…
One of the specialties of the Curonian Spit is smoked fish. No trip here would be complete without tasting it. There are many places selling smoked fish in Nida and in Juodkrante. Look for signs of 'Rūkyta žuvis' or 'Rūkytos žuvys' or simply ask locals for the best spots. Some restaurants in the area also have smoked fish on the menu.
Amber is also a popular product that's typical to Lithuania and particularly to this region. Most souvenir shops have all kinds of amber products – from simple jewelry to more sophisticated pieces of art. If you are interested to learn more about amber, you can also visit the Amber Gallery – Museum in Nida.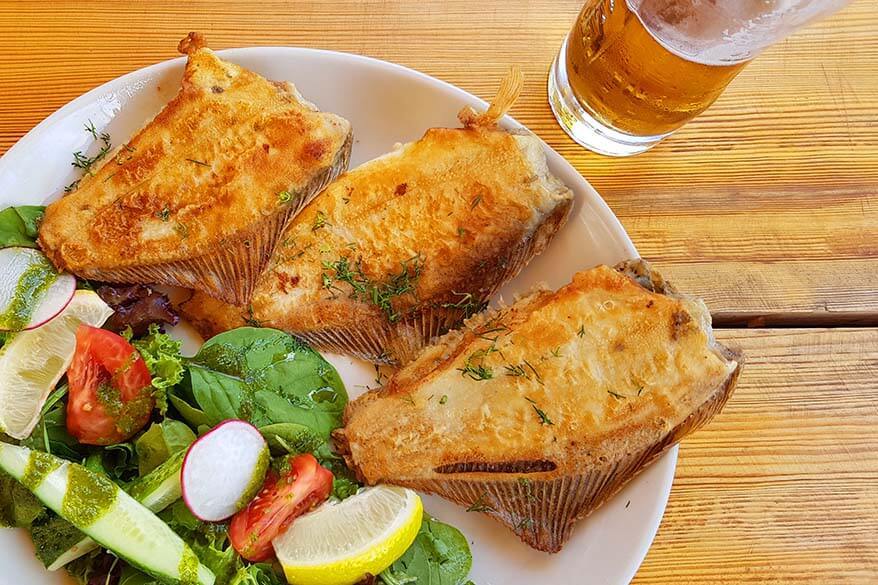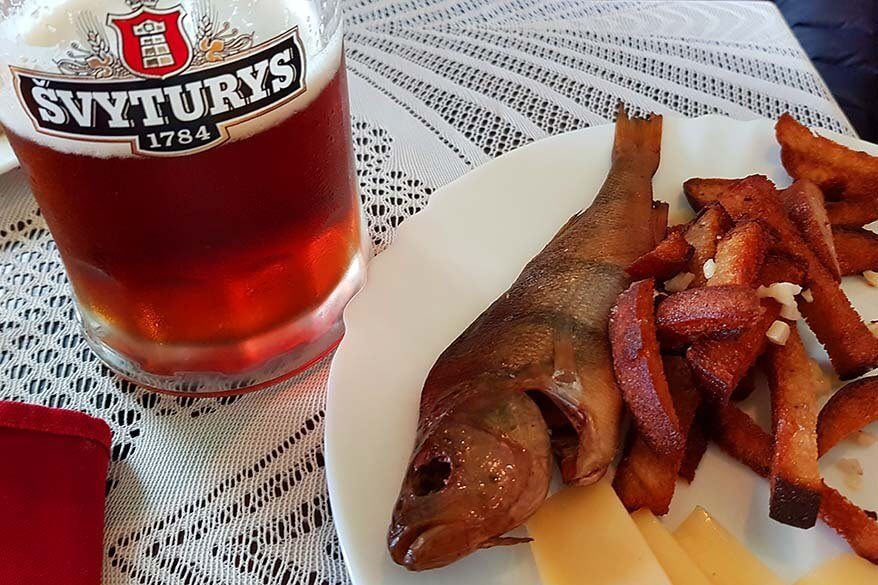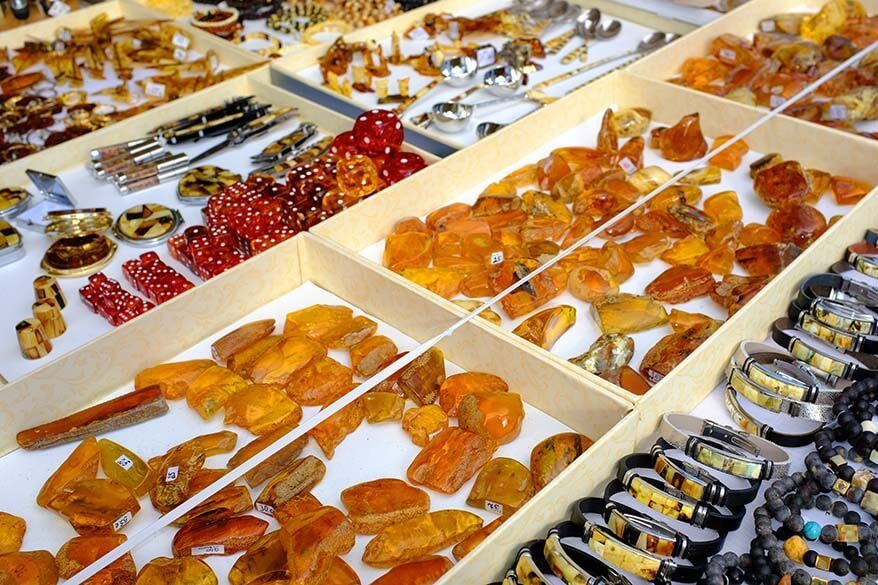 Practical Information
How much time do you need to visit the Curonian Spit?
While you can see the main highlights of the Curonian Spit in one day (see below), we recommend at least 2-3 days for this area. If you are visiting in summer and like to spend some time at the beach, you may want to stay a bit longer.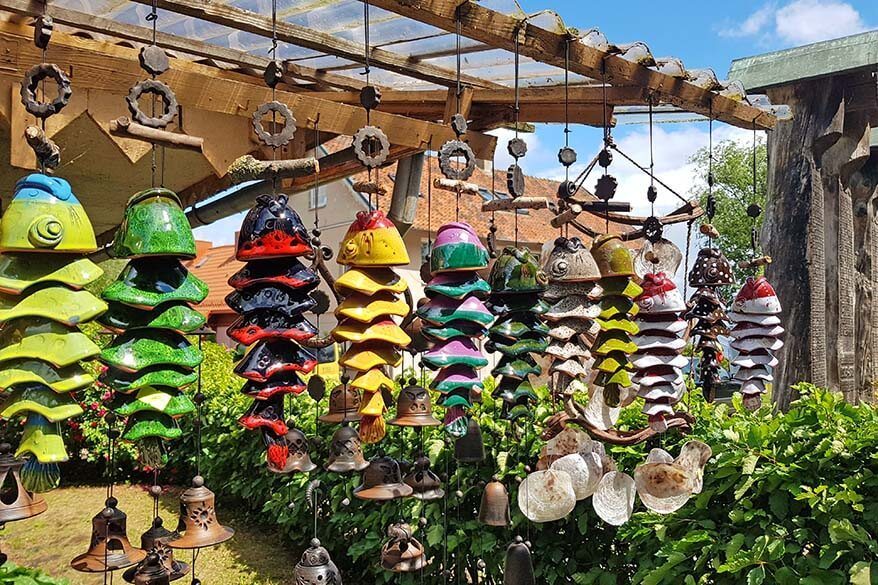 How to get to the Curonian Spit
Curonian Spit can be reached by car ferry from Klaipėda (see the map above for the exact location of the New Smiltynes ​​Ferry). The ferry ride takes just a few minutes and ferries run frequently the whole year round. On a busy summer weekend, you may have to wait a bit longer, but in general, it's a pretty smooth process. You don't even have to get out of your car.
You can't reserve the ferry and just get a ticket upon arrival. Credit cards are accepted. At the moment of writing, Smiltyne Ferry price is 12.30 EUR for a return ticket for a car including up to 8 passengers. Here you can find up-to-date pricing info and timetable for the ferry. When traveling by car, it's best to take the so-called New Ferry. Make sure to keep your ticket in the car as you'll need it when leaving the Curonian Spit.
Good to know: There is an entrance fee for the Curonian Spit National Park. At the moment, it costs 30 EUR to enter the Curonian Spit NP by car in high season (20/6 – 20/8). In the low season, the fee is just 5 EUR. You can pay by cash or by credit card. You only pay once for the entire stay, unless you leave the National Park.
Pretty much the entire peninsula is part of the Curonian Spit National Park, including the towns. Only the Sea Museum is located outside the park. If you decide to visit it during your stay, you can use the same ticket to re-enter the National Park without an extra fee. For that, you'll need to show your original entry ticket (bought no longer than 5 days before) and your Sea Museum ticket for that day. You can also visit the Sea Museum on the day of arrival or departure, so so you don't have to leave/re-enter the National Park.
If you don't have a car, there are also buses that connect all the biggest towns of the peninsula to each other and also to the mainland. You can also use local buses or hire a bike to explore the Curonian Spit.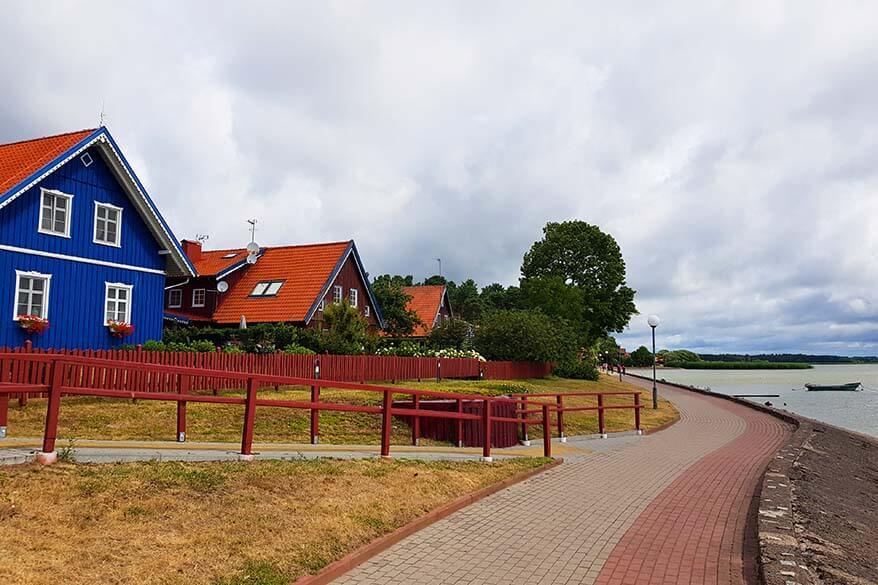 Curonian Spit day trip from Klaipėda
If you are short on time, it's possible to see the highlights of the Curonian Spit in one day. Also as a day trip from Klaipėda.
If you have a car, you can do it on your own (see suggested itinerary below). Alternatively, you can book this highly-rated private tour.
One day in the Curonian Spit – suggested itinerary:
Ferry from Klaipeda (start early)
Dead Dunes at the Nagliai Nature Reserve
Parnidis Dune in Nida
Lunch in Nida
Explore Nida town: walk around in the old part of town and see colorful fishermen's houses. Visit Thomas Mann House and/or the Amber Galery and/or Nida Fisherman's Ethnographic Homestead. Or simply walk on the waterfront promenade or rent a bike.
Hill of Witches in Juodkrante
Ferry back to Klaipeda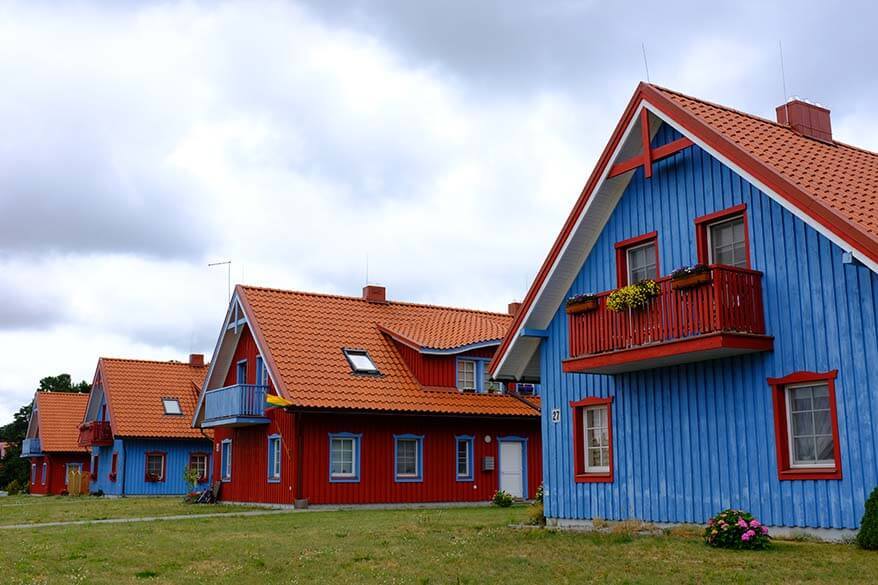 Where to stay
Nida is by far the best place to stay for exploring the Curonian Spit. It has the best facilities and the biggest choice of accommodations. We stayed at a small hotel Nidos Seklyčia and I would stay there again. On Booking.com you can find the best deals for Nida accommodations.
Alternatively, using the map below, you can compare hotels, B&Bs, and short-term rentals in Nida. Simply insert your travel dates and group size, and you'll see the best deals for your stay. Check it out!
If you are planning to visit the Curonian Spit for just one day, then it's probably better to stay in Klaipeda. You can easily make a day trip from there with a private tour or by car.
READ ALSO: Best Things to Do in Lithuania
If you found this post useful, don't forget to bookmark it and share it with your friends. Are you on Pinterest? Pin these images!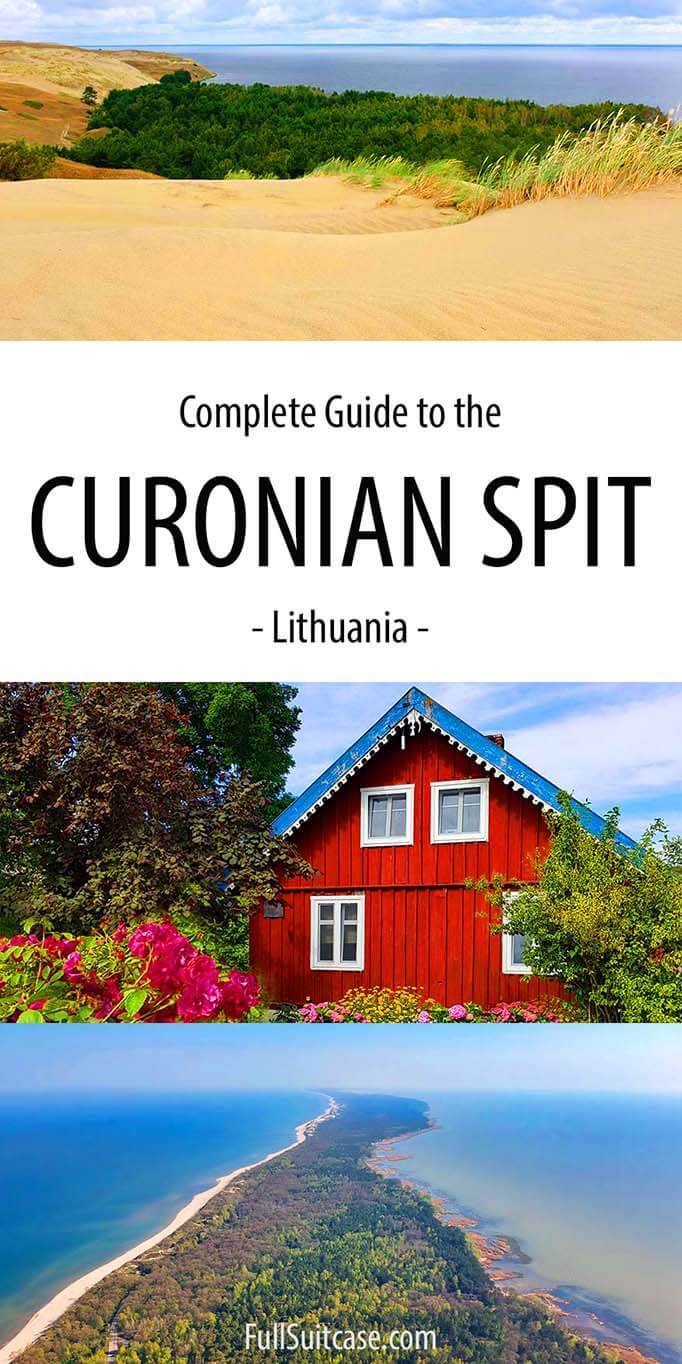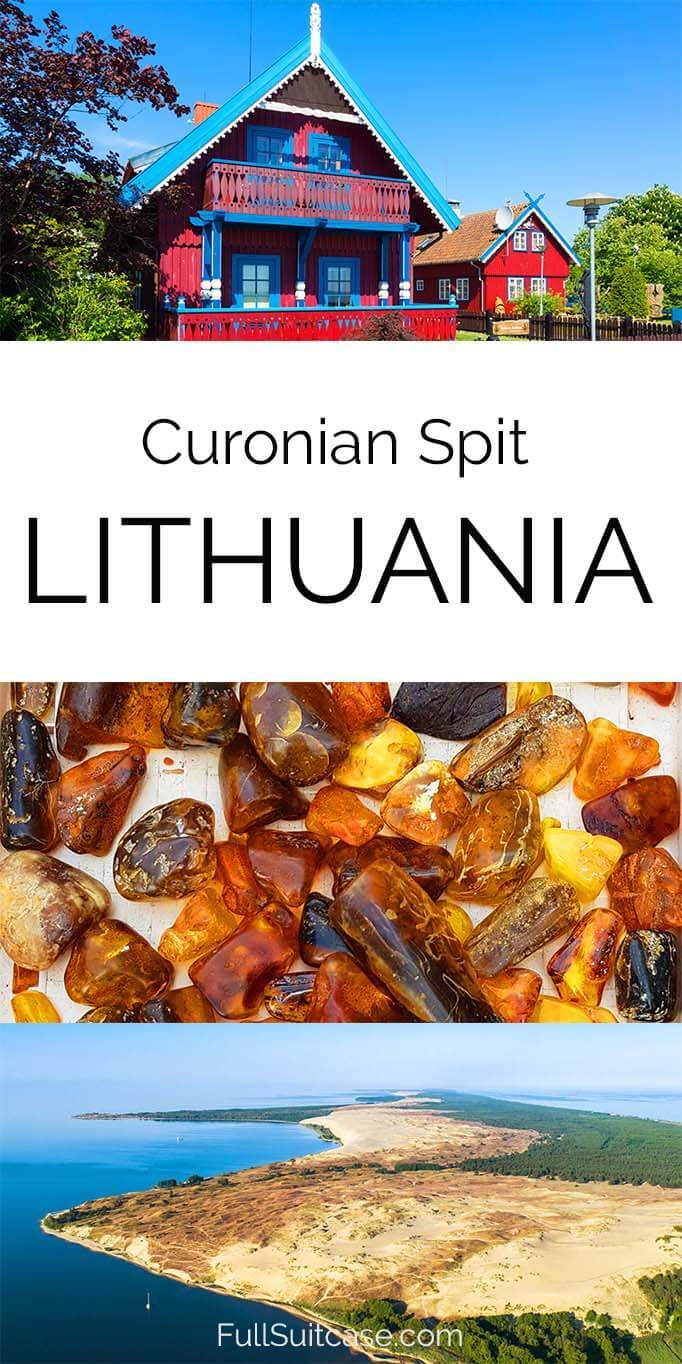 Image credits: Jurga/FullSuitcase.com// Giedrius Akelis/Shutterstock.com// Anita_Bonita/Depositphotos.com// sabbra_cadabra/Depositphotos.com