Visiting Blackpool, UK, and wondering what there is to see and do beyond its beaches? In this guide, we share all the main sights and things to do in Blackpool, coupled with insider tips and useful info for your visit. Find out!
The Victorian seaside town of Blackpool in Lancashire in the northwest of England is one of the most popular destinations for family holidays in the UK. If you are planning to visit and wondering what there is to see and do in Blackpool, then read on. In this article, we share top recommendations for the very best things to do in Blackpool. Find out!
Good to know: This article is written by our UK writer Christine who lives in Blackpool and knows the city and the area extremely well. In addition to all the top sights and Blackpool attractions, she also shares interesting facts, local's insights, and practical tips for visiting each place.
Tourism in Blackpool began to boom from the mid-1800s onwards when the construction of a railway followed by several piers made this seaside town a star attraction for elite visitors. Blackpool continued to flourish, with holiday accommodations and attractions added year after year. Today, the city is bright and bustling – full of energy and with an emphasis on fun.
No matter what you want to do, you will find somewhere in Blackpool to do it! From peaceful walks along vast sandy beaches to the most popular tourist attractions and entertainment, or mingling with the crowds along the historic Promenade, Blackpool has it all!
This guide includes all the main Blackpool attractions, along with some lesser-known ones that are worth a visit if you have the time. As you'll see, there is enough to keep you occupied in Blackpool for a visit of a week or even more. To help you decide where to go, we list the main, must-see attractions first. So if you are only in Blackpool for a few days, these are the ones you absolutely should see!
Good to know: To make it easier to get your bearings, we also created a map indicating all the best places to visit in Blackpool – see below. For each sight and activity, we also include some useful info and insider tips to help you make the most of your vacation in Blackpool. Read on!
These are the best things to do in Blackpool:
1. Blackpool Tower
Check out the most unique landmark of Blackpool!
Located in the heart of Blackpool town on the main promenade is the iconic Blackpool Tower, one of Britain's most famous landmarks. At 518 feet (158 m) tall, it was Britain's tallest manmade structure at its time of opening in 1894, with a striking design inspired by the Eiffel Tower.
By day, Blackpool Tower is home to an entertainment complex with five main attractions. And at night it is beautifully illuminated by 25,000 LED lights. Visible for miles around, these lights are usually used for decorative purposes, but the Tower is sometimes lit in particular colors to support good causes, show solidarity on important issues, or mourn a tragedy.
The five attractions housed within the tower are the Blackpool Tower Eye, the Blackpool Tower Dungeon, the Tower Ballroom, the Tower Circus, and the Fifth Floor.
You can buy different combinations of tickets to visit some or all of these attractions. See the official website of Blackpool Tower for more information. In addition to these main attractions, there is also a restaurant and mini-golf. Below, you can read more about some of the main experiences.
PRO TIP: If you are planning to visit several of Blackpool's top attractions, consider the Pick'N' MIX PASS. It allows you to choose your own combination out of 8 top sights in Blackpool at a much lower price than paying for each separately (in fact, depending on the sights you choose, you can save over 50%!). This pass is available for 1, 2, or 7 days.
Good to know: The attractions that are covered with this pass include The Blackpool Tower Eye, The Blackpool Tower Circus, The Blackpool Tower Ballroom, The Blackpool Tower Dungeon, SEA LIFE Blackpool, Madame Tussauds Blackpool, Peter RabbitTM : Explore and Play and The Gruffalo & Friends Clubhouse.
Here are the main attractions inside the Blackpool Tower:
The Blackpool Tower Eye
The Blackpool Tower Eye experience starts with a visit to the 4D cinema to learn all about the history of the Tower and the town. You then take a lift 380 feet up to the top of the tower, where you can enjoy awesome and expansive views across England's northwest, across the Irish Sea, and right up to the Lake District.
If the weather is clear, you can even see the Isle of Man! If you're brave enough, you can then step out onto the SkyWalk – a 5cm thick glass viewing platform – and look down on the crowds enjoying a stroll along the promenade. Whilst up there, be sure to stop for a cocktail at the Sky High Cocktail bar – Bar 380.
The Blackpool Tower Dungeon
The Blackpool Tower Dungeon is a walk-through experience with live actors, special effects, stages, and scenes through which you can learn about England's gruesome history.
Although somewhat educational, the Dungeon is designed to be scarily funny (but do be aware that younger children may find some parts a little TOO scary!). There is also a drop ride at the end of your visit.
The Blackpool Tower Ballroom
If scary dungeons are not your thing, then why not enjoy a sedate afternoon tea and dancing at the Blackpool Tower Ballroom.
This historic ballroom – used annually to film a special episode of England's TV show Strictly Come Dancing – is jaw-droppingly beautiful inside. It has a Wurlitzer organ, a sprung dance floor, gorgeous architecture, and magnificent crystal chandeliers.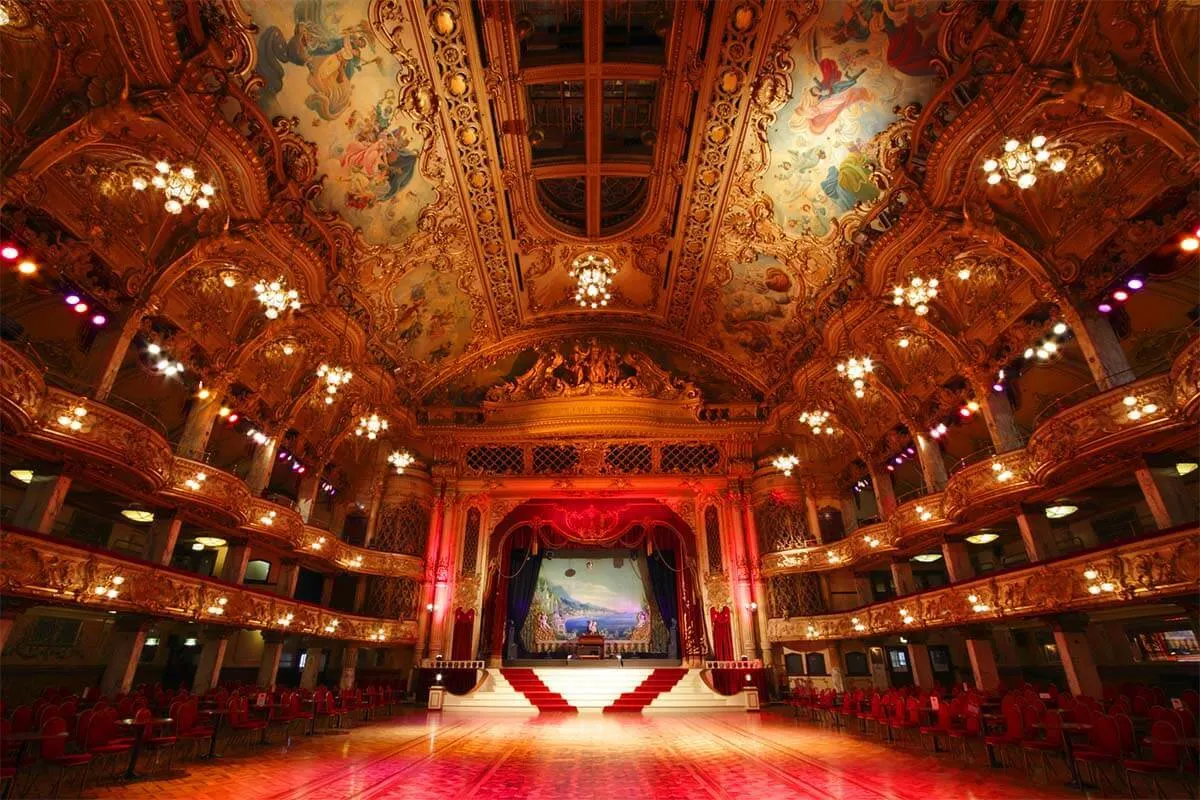 The Blackpool Tower Circus
Offering lots of fun for all the family is Blackpool Tower Circus, which is housed at the base of the Tower. Blackpool's longest-running show and the oldest permanent circus arena in the world, the attraction opened in 1894 and features acts from all over the world.
During the acts, you can also admire the framework of the Tower's interior all around you, and some of the top row seats give you a unique, birds-eye view of the ring.
The Fifth Floor
Last but not least is the Fifth Floor, a relatively new family bar with a circus-themed arcade and Blackpool's only 8K Virtual Reality Rollercoaster. There is also free, family-friendly live entertainment every weekend.
TIP: Blackpool Tower and its attractions are almost always busy, so it is a good idea to book ahead. Try to pick a clear day for the best views for the Tower Eye experience. As already mentioned, consider the Pick'N' MIX PASS as it's the best way to save money if you plan to visit several of the top sights in Blackpool.
Good to know: The lifts that take you to the top of the tower are small and usually filled to capacity, so they can feel a little claustrophobic. On the other hand, they are partly made from glass and if you are lucky enough to be standing on that side, there are some great views as you ascend!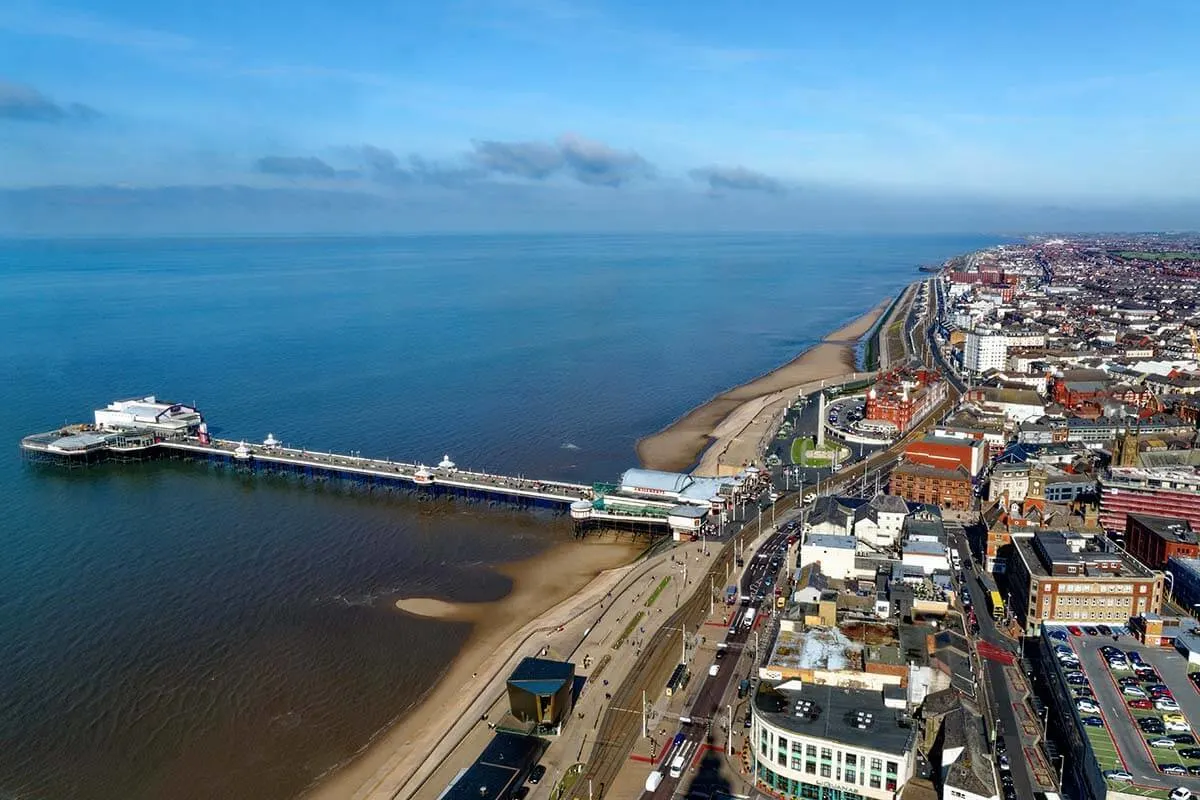 2. Blackpool's Piers
Take a walk on Blackpool's Victorian Piers!
Blackpool has three Victorian piers along its coastline – North Pier, Central Pier, and South Pier – with the length of promenade between the North and South Piers known as the Golden Mile.
Each pier is different from the others, so if you have time, it's fun to visit them all! It takes 35 minutes to walk the Golden Mile (plus the time you'll spend on the piers) so you can fit all three into one afternoon!
The North Pier is the oldest of the three. First opened in 1893, it has Grade II listed status. The most popular pier with young families, it features a Helter-Skelter and a Venetian Carousel, along with family-friendly bars.
Central Pier is home to the Big Wheel, which has become one of Blackpool's iconic landmarks and provides awesome views of the Fylde Coast at the top. There are also lots of fairground rides and games to enjoy, food outlets selling funfair favorites like candy floss, and the highest number of arcades of all 3 piers.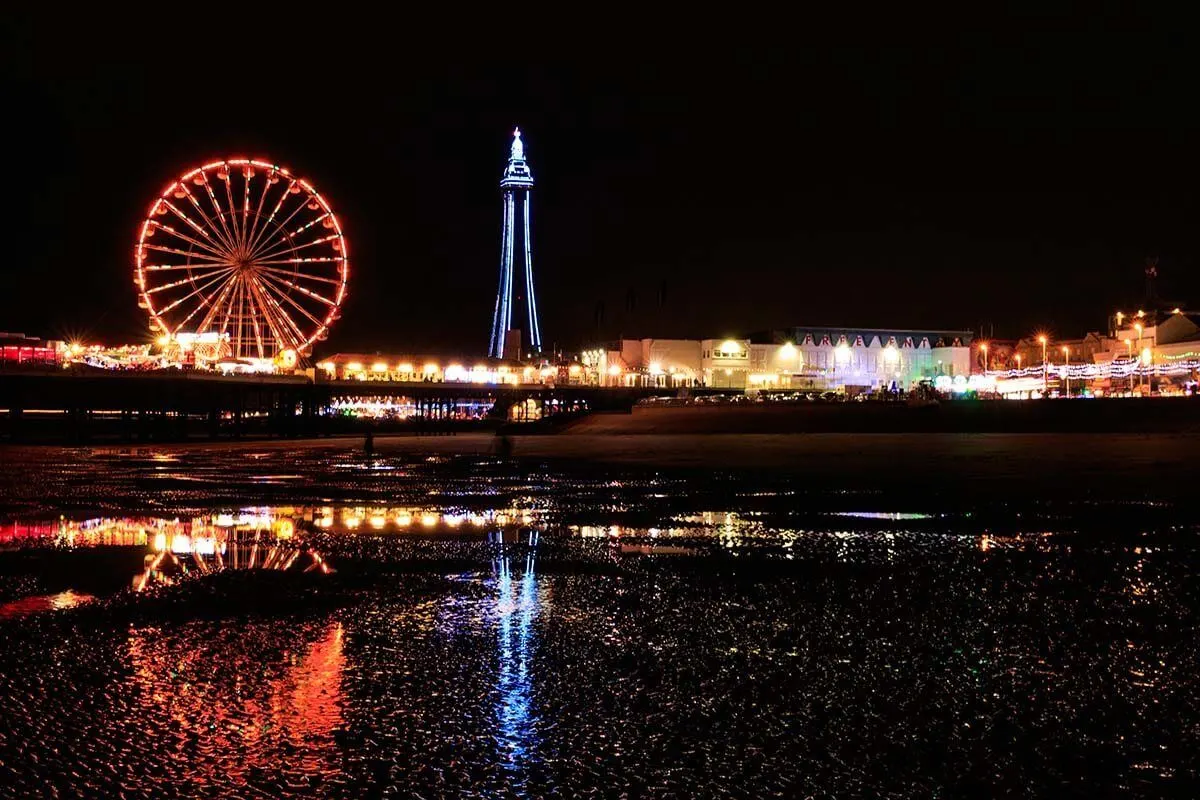 Whilst South Pier has a fun family bar called the Laughing Donkey that provides free, live entertainment, its chief attraction is the Adrenalin Zone. Designed for extreme thrillseekers, it includes rides such as the SkyCoaster, Skyscreamer, and Reverse Bungee… all of which are just as scary as they sound!
TIP: The ends of the piers are the ideal spots to take a look back and take great photos of the town. Wait for the golden hour – just before sunset – for the best shots.
Good to know: If you plan to visit Blackpool in late autumn or early winter, keep an eye out for the starlings that roost under North Pier. Thousands of these birds regularly provide stunning displays called murmurations, where they swoop, dive and circle through the air around the pier. It's a breathtaking sight!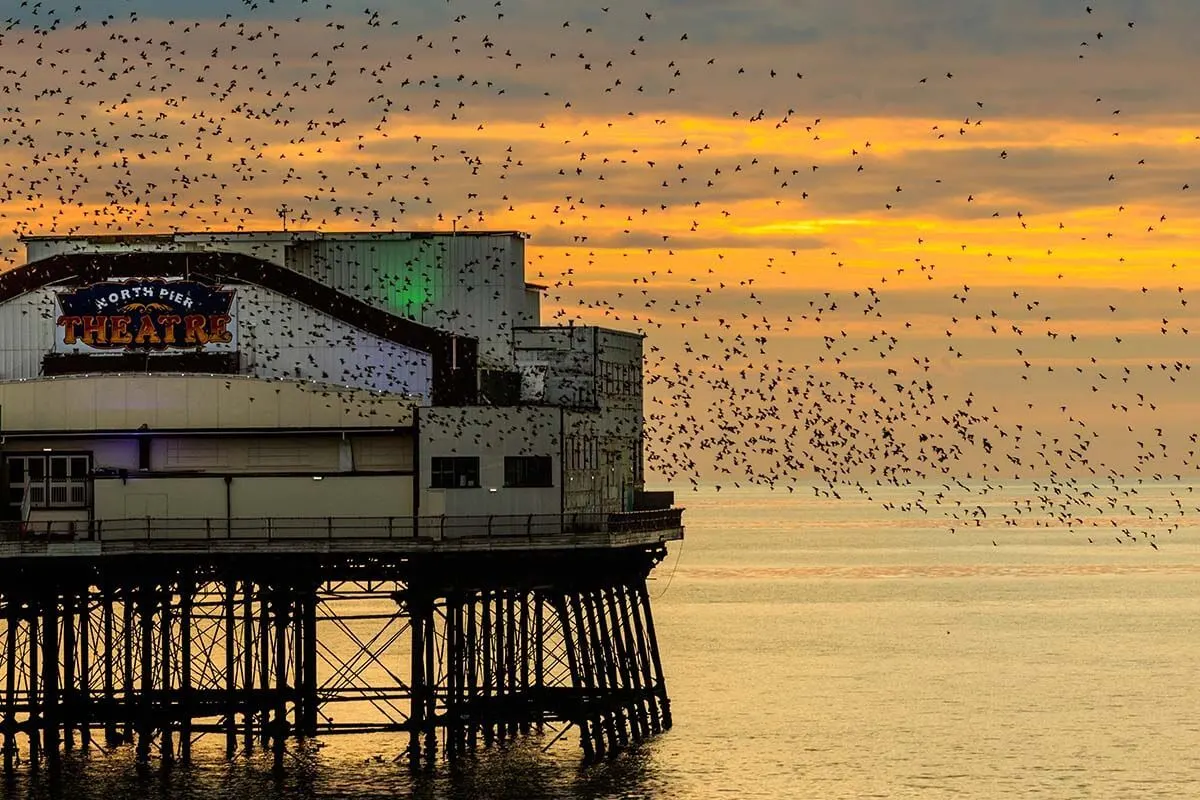 3. Blackpool Promenade
Stroll along the Victorian Promenade & enjoy unique Blackpool attractions!
Almost all of Blackpool's attractions and events centre around its Victorian promenade which is packed with visitors and locals day and night. It is divided into 3 main areas – North Shore, Central, and South Shore.
North Shore – running from the North Pier to Bispham – is the quieter and more historic section, which has changed very little since Victorian times. The bulk of the town's attractions are located in the Central area, extending into South Shore.
One of the highlights of the Promenade is the Comedy Carpet, a tribute to Blackpool's strong history of performance and entertainment. You can find it on the headland in front of Blackpool Tower. This 2200m² artwork is made up of thousands of granite letters embedded in concrete, featuring the jokes, songs, and catchphrases of thousands of comedians and entertainers past and present.
As you walk south from South Pier, look out for the Promenade Show. Described as an 'outdoor art gallery', the Show is made up of 10 unique art installations. These include the world's largest dance hall mirror ball which slowly rotates and is covered in 47,000 mirrors. It makes a striking sight on a sunny day!
Another highlight is the High Tide Organ – a series of organ pipes attached to the sea wall that is 'played' by the swell of water that forces air up them during high tide.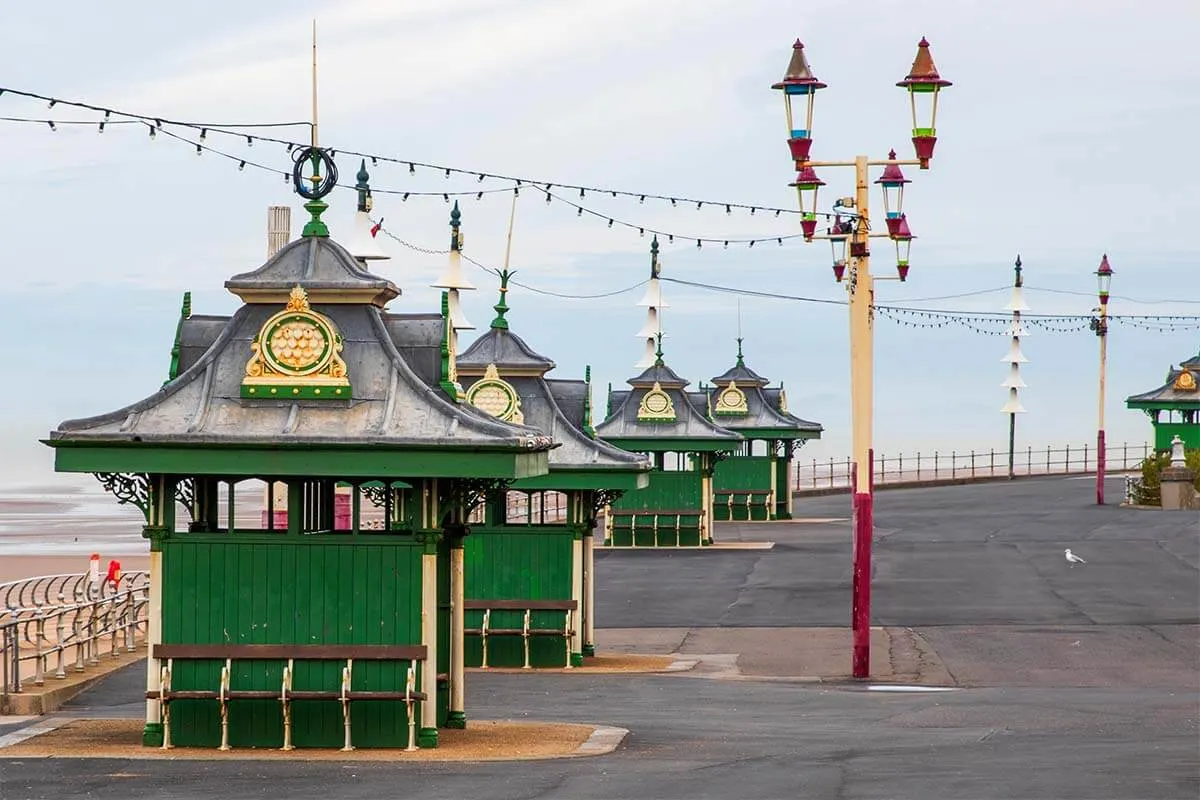 If you don't feel like joining the crowds, you can enjoy the views along the Promenade by taking a horse and carriage ride instead. In fact, if you have a budding princess in the family, there are even some pink fairytale horse-drawn carriages available to hire!
Alternatively, book a ticket for the Heritage Trams and ride aboard a beautiful, historic tram that could be anywhere from 50 to 100 years old. You can choose between the tickets for the North & Pier or for the Promenade. They are rather cheap, so you could easily do both (and definitely if you have a few days in Blackpool).
Good to know: If you are planning to visit in the summer, check the dates for the annual Blackpool Air Show, which usually takes place at the beginning of August. This free event runs over several consecutive days and you can watch everything from jets to bi-planes flying overhead. On one of the days, you will even be treated to a show by the world-famous Red Arrows!
If you're visiting in autumn, don't miss the World Fireworks Championships, when teams from all over the world put on amazing displays of pyrotechnics and music. This free event usually takes place every Friday evening throughout September.
TIP: Watch out for Blackpool's seagulls when walking along the Promenade. They are very bold and will think nothing of swooping down to grab your lunch straight from your hands!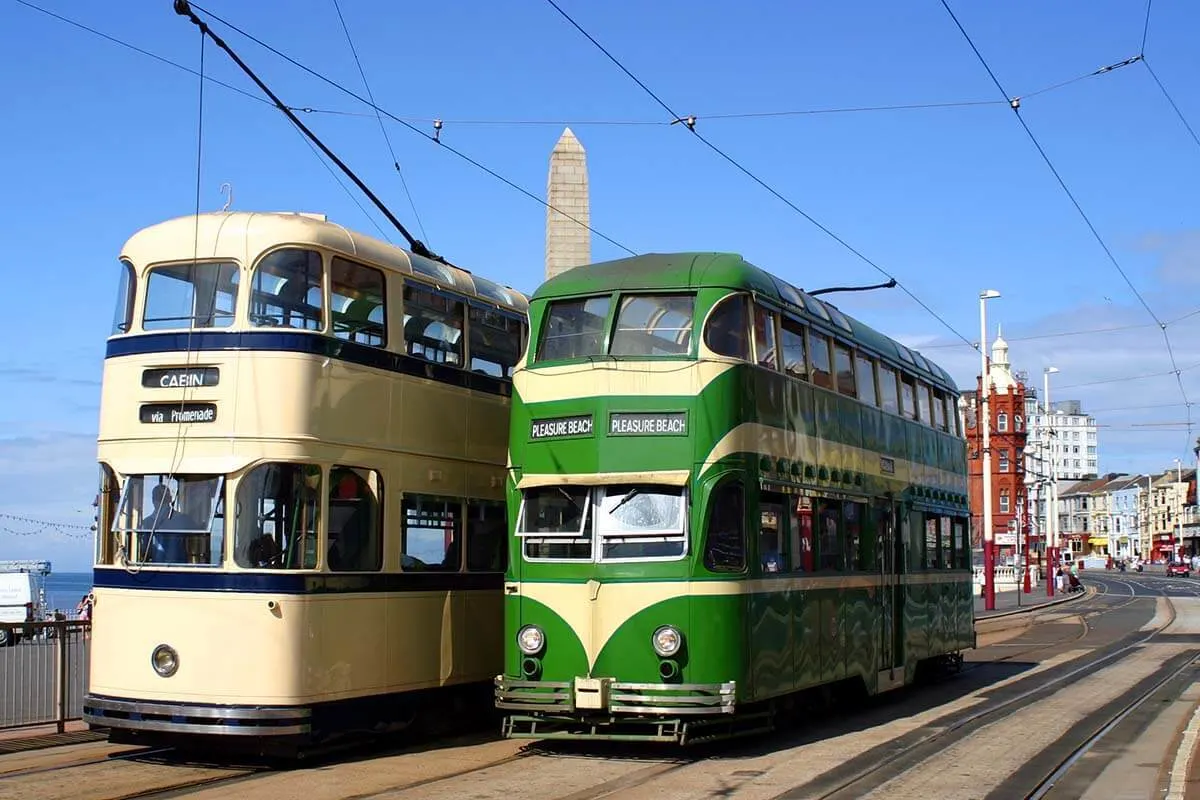 4. Madame Tussauds, SEA LIFE, Ripley's…
Check out the most popular tourist attractions and fun family activities along the Promenade!
In addition to the 'uniquely Blackpool' things to do mentioned above, there are also so many other fun activities and tourist attractions along the Promenade. You won't know what to choose first!
It's here that you'll also find some of the most popular indoor attractions in Blackpool like Madame Tussauds wax museum and SEA LIFE aquarium.
Also along the Promenade, but further from the town centre, you can also find Ripley's Believe It or Not!, a fascinating museum of oddities! These are all great things to do in Blackpool when it rains, and also if visiting during the colder season.
Some other popular things to see and do along the Blackpool Promenade include two go-karting tracks (one at South Shore and one at Bispham) and countless amusement arcades. You can spend a few hours or several days here and never get bored.
Good to know: SEA LIFE and Madame Tussauds are also among the attractions that are covered with the Pick'N' MIX PASS.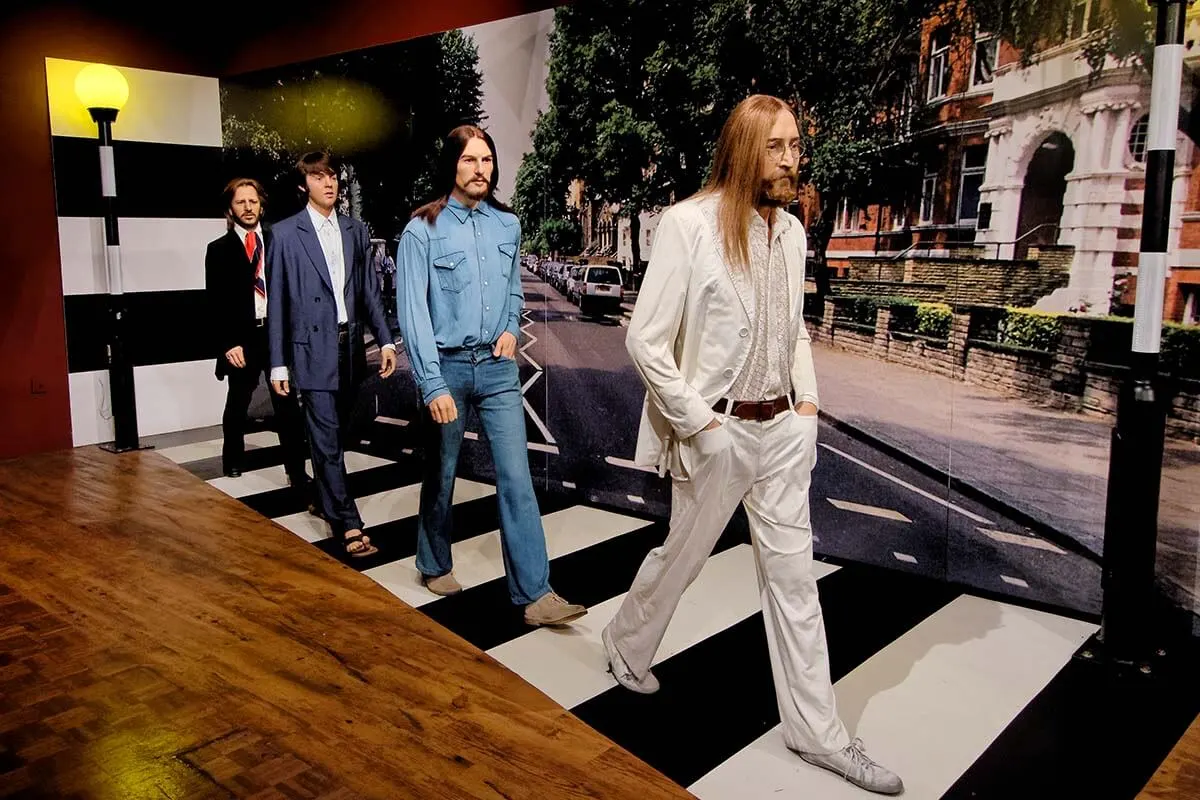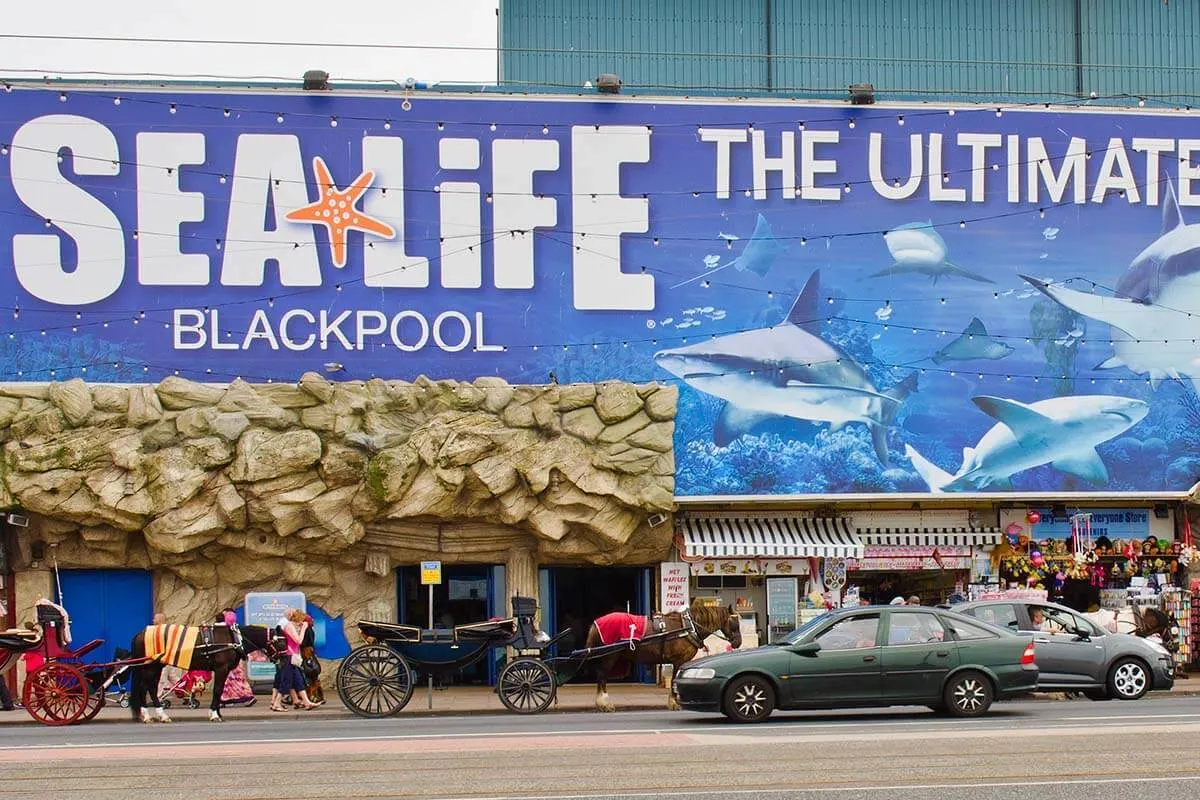 5. Blackpool Pleasure Beach
Enjoy family fun at Blackpool's record-breaking amusement park!
Blackpool Pleasure Beach is an old-school amusement park, founded in 1896. It's home to the tallest and steepest rollercoaster in the UK – the aptly named Big One. The views from the top are breathtaking – and so is the speed at which you plummet down the first descent!
Located on the South Promenade, Blackpool Pleasure Beach is the most densely populated park in the world in terms of ride space. Rides are built under and around each other, so you don't need to walk far in order to experience them all! It is suitable for the whole family, with a mixture of white-knuckle and traditional rides, along with Nickelodeon Land which is devoted to children.
The Pleasure Beach has more wooden rollercoasters than any other UK park and also features Europe's oldest ride – Sir Hiram Maxim's Captive Flying Machine – which was opened in 1904. After riding the Machine, you pass through a gift shop on your way out.
Be sure to look for a glass window that allows you to see the huge, original mechanism that powers the machine. There, you'll also find some fascinating black-and-white photos of the very first people to ride it.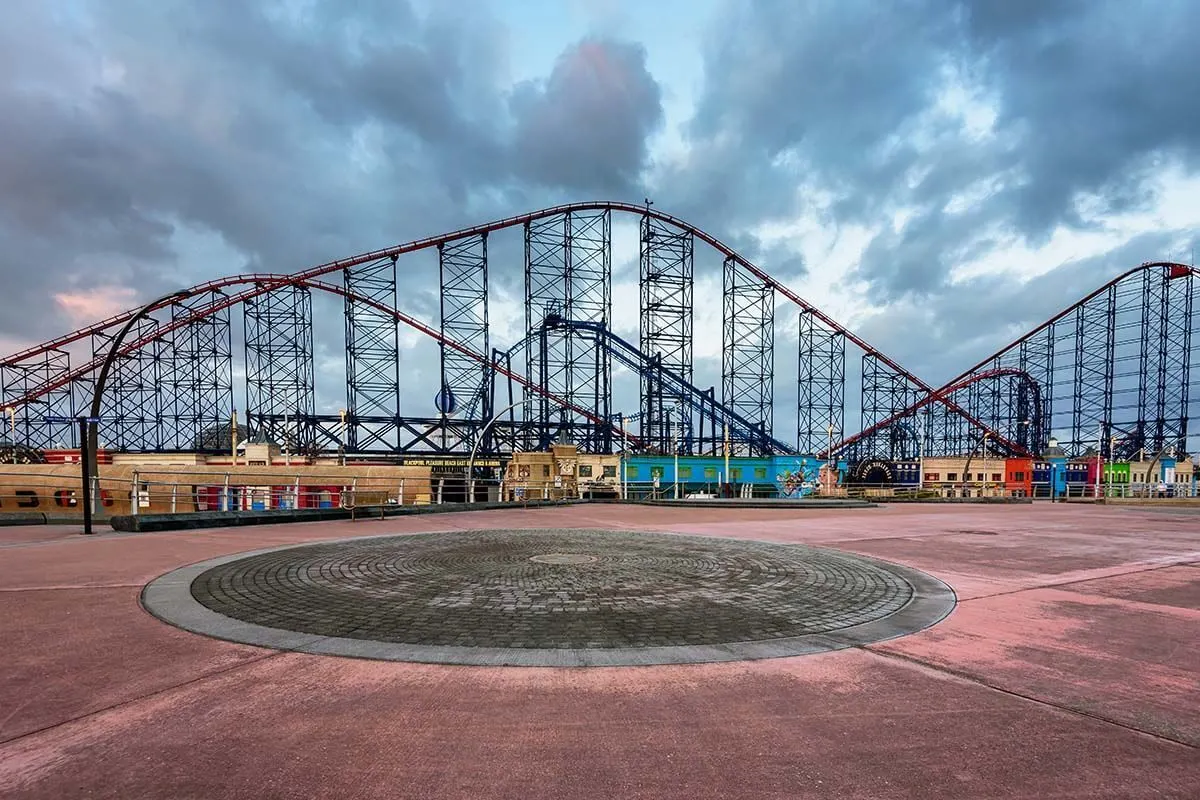 Good to know: A wristband purchased on entry allows you unlimited access to rides all day. Because the park tends to be very busy during holidays and weekends and the queues are long, there is also a Speedy Pass available to buy. This holds your place in the queue (allowing you to use other rides) and then notifies you when it's your turn to ride.
Alternatively, you can choose to stay at one of the Pleasure Beach's hotels – the Big Blue Hotel or the Boulevard Hotel – where packages are available that include tickets for entry.
TIP: Be sure to take a ride on Valhalla, one of the largest indoor rides in the world and an unforgettable experience. This ride – and a few others – involve getting wet, so bring a lightweight waterproof in your backpack. Plastic ponchos are available in the park but are very expensive!
TIP: Be sure to check the Pleasure Beach website before your visit, as there are sometimes special events such as Late Night Riding, fireworks, or themed evenings for occasions like Halloween.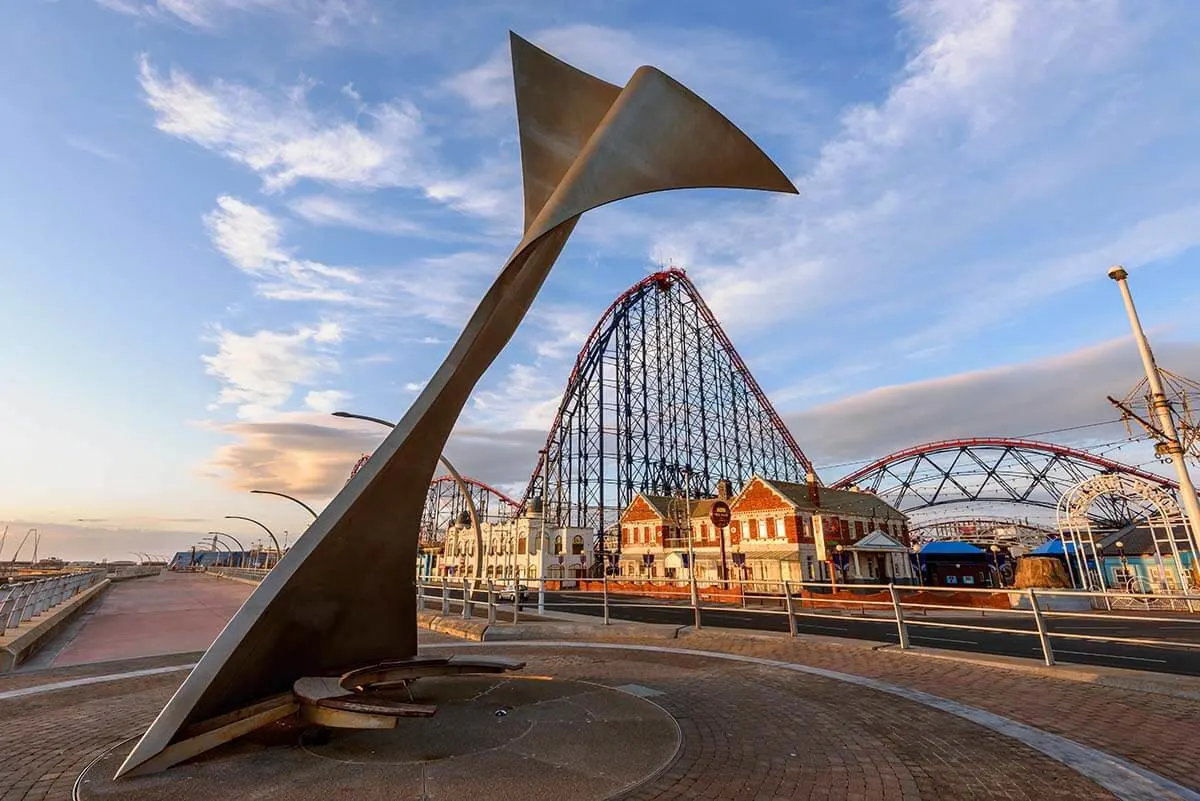 6. Blackpool Beach
Spend a day at the beach (just watch the tide!)
One of the UK's best beach resorts, Blackpool boasts an amazing 7 miles of clean, flat sand. When the sun is shining, the beach is perfect for everything from building sandcastles or paddling, to sunbathing and family games.
On Central Beach you will see Blackpool's iconic donkeys, patiently waiting to give rides to children. This is a tradition dating back to Victorian times, and the donkeys today still have Victorian names, which are displayed on their bridles. They are well cared for, with strict rules about the weight they are allowed to carry.
As you walk north, the area of the beach beyond the North Pier becomes much quieter. It's a popular place for dog walkers (dogs are banned from the main beach between May and September).
Good to know: There are no sunbeds or chairs to rent on the beach, so you will either need to bring your own or take a towel to sit on.
TIP: Be sure to check the times of the tides before visiting to avoid any disappointment. At high tide, the water comes all the way up to the promenade and the beach virtually disappears!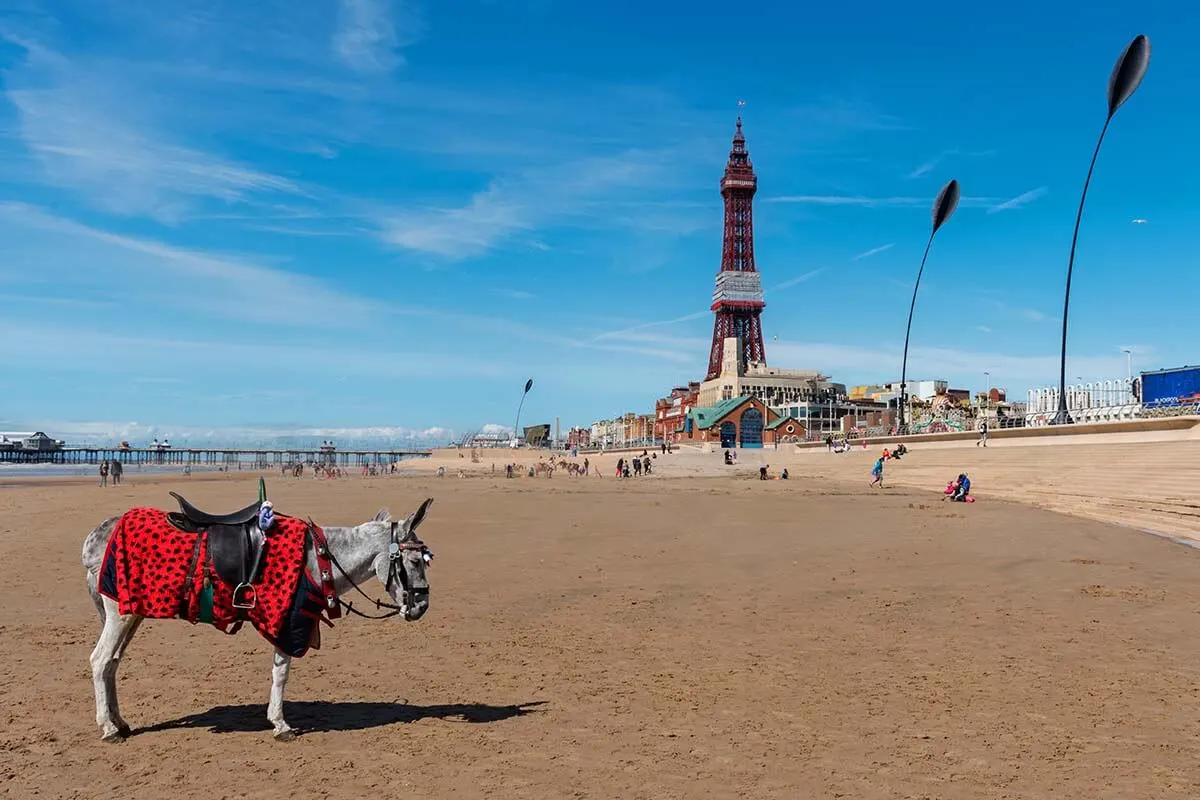 7. Blackpool Illuminations
Enjoy the greatest free light show on earth!
The world-famous Blackpool Illuminations were first displayed in 1879 and started out as just eight carbon arc lamps. The display was then repeated every autumn and has evolved over time to the jaw-dropping spectacle it is today – just over 6 miles of lights and animated tableaux that run along the Promenade, from Starr Gate in the south to Bispham in the north.
This beautiful and vivid display uses over one million bulbs. It is lit every night – usually from late August until early November – meaning that Blackpool has a longer tourist season than most British seaside towns.
The Illuminations – known locally as 'The Lights' – are best viewed from one of the specially illuminated trams that run only when the display is lit. Departing on a regular basis from a loop near the Pleasure Beach, they run all the way to where the lights end at Bispham, then bring you all the way back.
There are also several stops on the return portion so you can get off earlier if you want to. If you need more flexibility, the regular trams continue to run throughout the Illuminations too.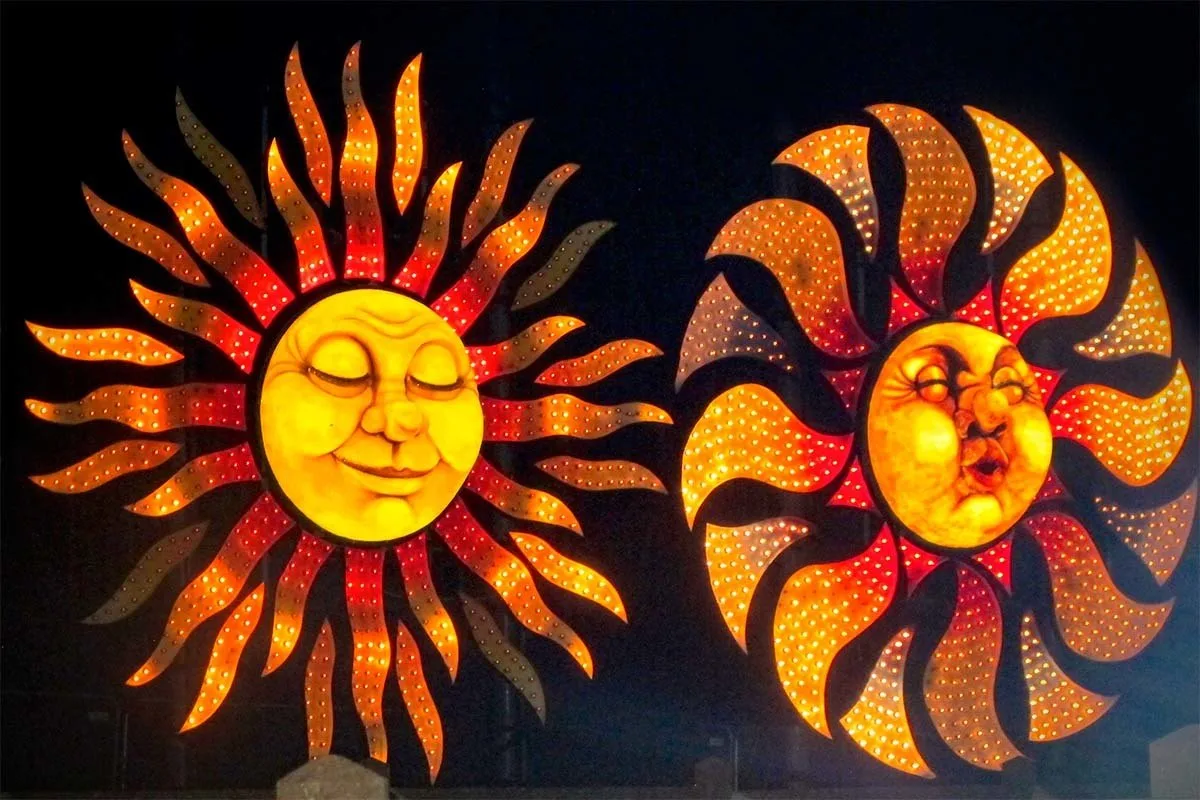 You can also drive along the Promenade to view the Illuminations but be prepared for the route to be VERY busy, especially at weekends. You will see various points along the route to make a roadside donation towards keeping the lights running.
But one of the best ways to experience the Illuminations is to stroll along the Promenade and enjoy them at your leisure. Preferably, as the locals do, with a warming box of fish and chips from one of the many outlets along the route.
The Lightpool Festival is usually held in conjunction with the Illuminations and you can enjoy live, free, light-based performances and art installations throughout the town, along with impressive 3D projections onto the front of the Blackpool Tower. Here you can find more information and dates for these events.
TIP: If you opt to drive through the Illuminations at the weekend instead of midweek, go from north to south as the traffic is always a little lighter in that direction.
Fun fact: British children who forget to switch off their lights at home are often warned "Turn those lights off – it's like the Blackpool Illuminations in here!".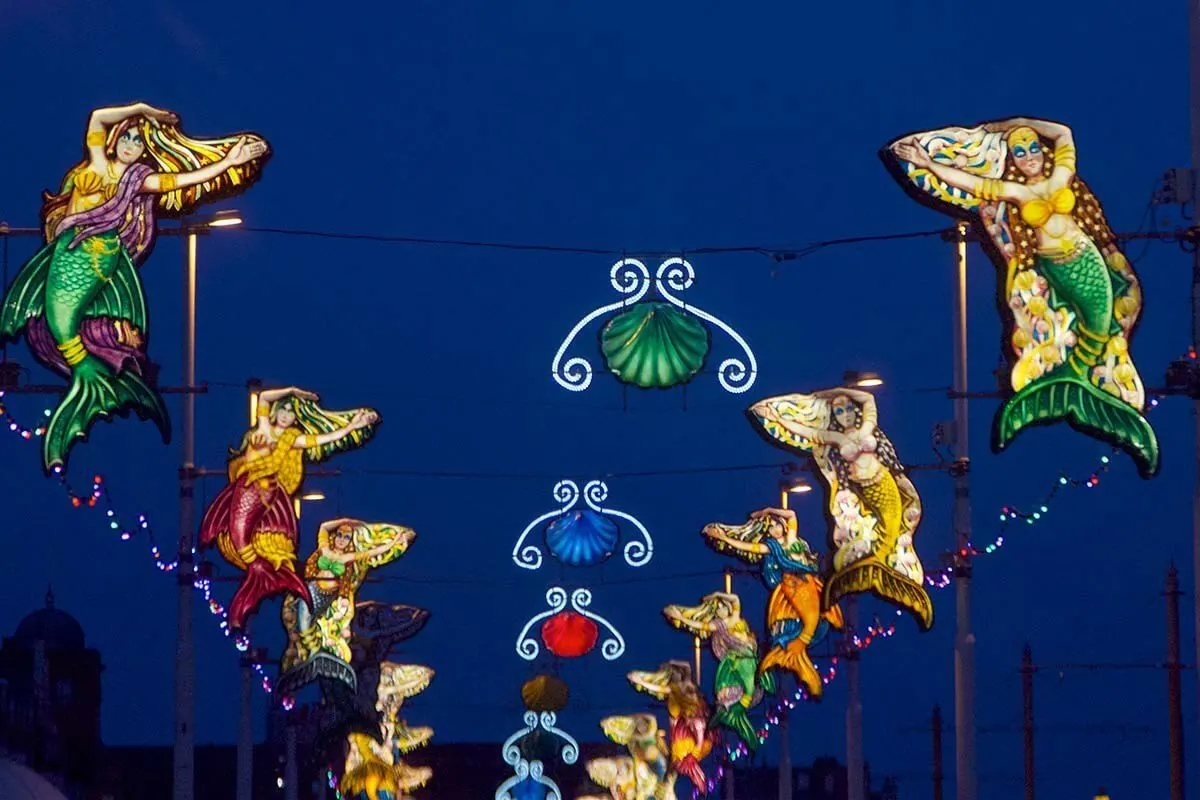 8. Sandcastle Waterpark
Splash, swim, and slide at the Sandcastle Waterpark!
Most visitors to Blackpool look forward to a swim in the sea, but sometimes the British weather doesn't oblige. So it's good to know that the Sandcastle Waterpark – located on the seafront at South Beach – is open all summer long, so no one goes home disappointed. This waterpark is also open on selected dates in the winter.
Stepping into the Sandcastle – the largest indoor waterpark in the UK – is like stepping into another climate entirely! Warmed to a tropical 84°F (29°C), it is the perfect place to jump into a swimsuit and enjoy some (or all) of the 18 thrilling rides! Everyone is taken care of, with water cannons and mini chutes for the little ones, to white knuckle rides for older kids and adults in the Hyperzone. Here you'll find the Master Blaster – the longest indoor roller coaster waterslide in the world!
You don't have to slide, of course, and there are is a wave pool in addition to the rides, along with plenty of other areas to simply sit and relax. Adults (18 years+) can take advantage of the spa and there is a cafe serving drinks, hot meals, and snacks.
Good to know: One of the hassles with visiting a waterpark can be knowing what to do with your wallet! The Sandcastle uses a handy Cashless Splashcash Wristband system, where you buy a wristband, load it with as much cash as you choose, then use it to buy food and drinks during your visit. Any amount leftover on your wristband is refunded. For more info and opening times, please see their website.
TIP: If you are accompanying children to the waterpark and wish to spectate only, this is allowed (although you will still need to buy a full-price ticket). But remember that the waterpark is heated to tropical temperatures… so dress accordingly!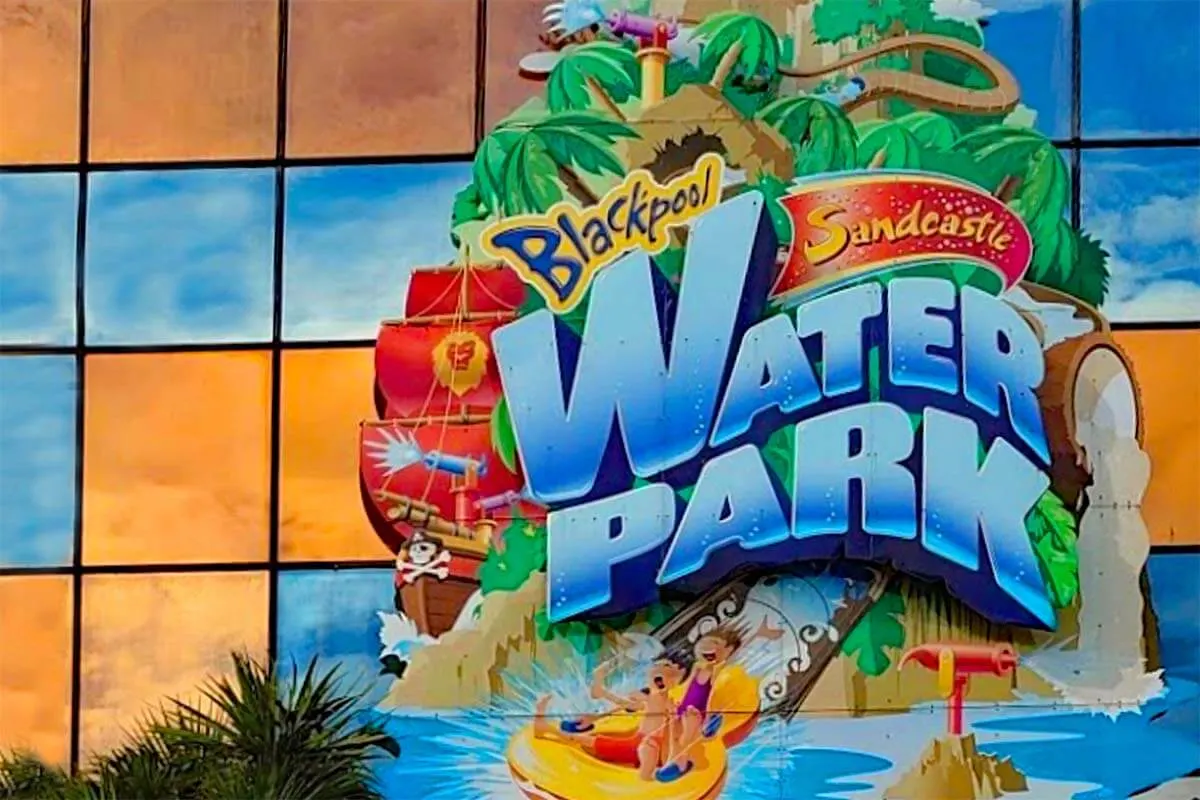 9. Stanley Park
Relax and unwind in the UK's best park!
Blackpool's beautiful Stanley Park is on the Register of Historic Parks and Gardens of special historic interest in England and is Grade II listed. It attracts 2 million visitors every year and was recently voted the UK's best park for the second time in 3 years. When you visit, it is easy to see why!
Covering a sprawling 390 acres, this park has it all and you can easily spend a day enjoying everything it has to offer.
If your interest is horticulture, you will appreciate the variety of plant life throughout the park, particularly the stunning flowerbeds in the Italian Garden, which also has a lovely marble fountain. In the eastern area of the park is a beautiful boating lake with ornamental bridges, home to ducks, swans, and other waterfowl. In the warmer months, you can hire a boat or a pedalo, listen to the birds singing, and simply enjoy the sunshine!
After enjoying the woodland walks around the lake, head to the south of the park, where you will find lots of fun facilities for children, including a large, well-equipped playground, trampolines, a putting green, and a BMX track. There is also a thrilling high ropes course available, for which you need to get tickets in advance. The course is designed for all the family, with low ropes for the wary, or for younger children
There is some interesting architecture to see at the park too. One of the highlights is the Cocker Clock Tower with its two bronze lion-head drinking fountains. There is also a bandstand surrounded by an amphitheater, where you can sit in the summer months and sometimes be lucky enough to catch a live performance. Snacks are available at the beautiful Art Deco Cafe – look out for the two Medici lion statues guarding its steps!
Good to know: Stanley Park is free to visit although some activities involve an additional fee. If you forget to bring some food for the birds, you can buy birdseed from the kiosk next to the lake.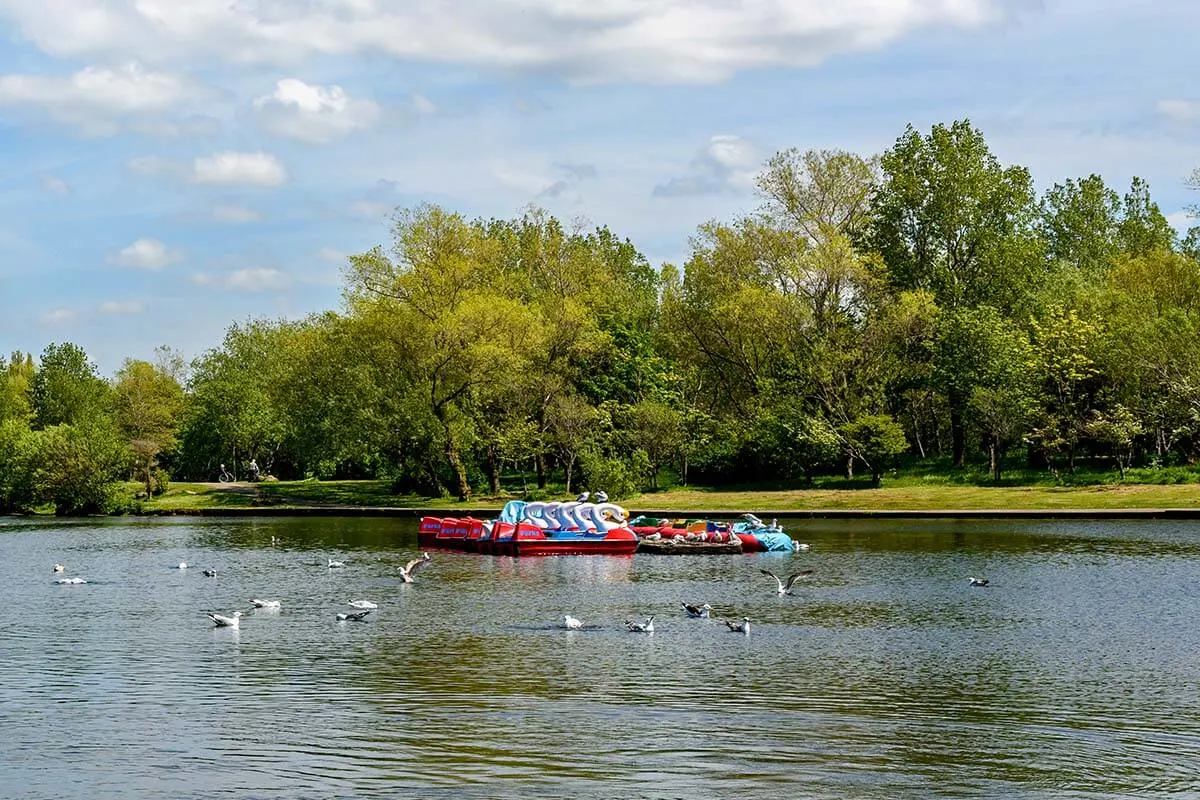 10. Blackpool Model Village & Gardens
Feel like a giant at the miniature Blackpool Model Village!
Blackpool Model Village and Gardens is another one of the more unique things to do in Blackpool for those who have more time or are looking to escape from the hustle and bustle of the seaside promenade.
Located adjacent to Stanley Park, this is a charming family attraction that is especially suitable for families with younger children. Although adults will enjoy it just as much!
Here you can see models of hundreds of village scenes and their residents, including a Cornish fishing village, a Tudor settlement, and even a Scottish castle! Railway enthusiasts will love the model railway as well. In addition, there is even a working railway that runs through the main village – and everyone can take a ride. The entire attraction is nestled within 2 1/2 acres of beautifully landscaped gardens and you are provided with a map and quiz to ensure you don't miss a thing!
Good to know: Blackpool Model Village & Gardens are open daily in all seasons except winter. For more practical information and up-to-date opening hours, please see their website.
TIP: If you are visiting Blackpool with young kids, you may also want to check out the Blackpool: Peter Rabbit ™ Explore and Play (it's located at Madame Tussauds).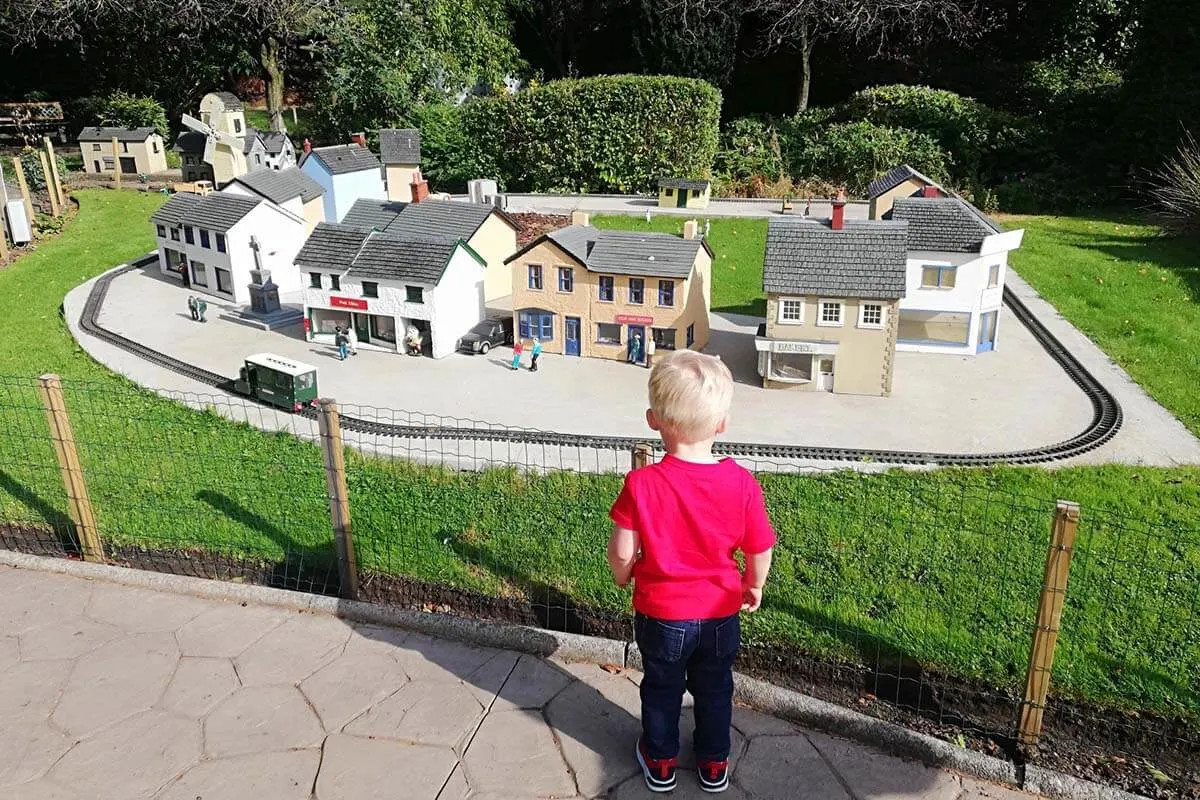 11. Blackpool Zoo
Get up close with the animals at the award-winning Blackpool Zoo!
Recipient of multiple awards, Blackpool Zoo makes an excellent day out for the entire family. It's also one of the best things to do in Blackpool all year round.
The zoo is home to more than 1300 animals, including big cats, elephants, wolves, giraffes, and orang-utans – and it is the only zoo in the northwest with a gorilla house! Set across 37 acres of British parkland, it is almost entirely flat and fully wheelchair accessible.
Good to know: There is an excellent soft play centre – The Playbarn – located within the zoo grounds. It is not part of the zoo and you do not need to buy a ticket for the zoo in order to visit the Playbarn (although you will need a separate ticket for the Playbarn itself).
Info: Open daily except for Christmas Day, the zoo has its own cafe and coffee shop, or you are welcome to bring a picnic to enjoy on the grounds. For up-to-date opening hours and other practical info, please check their website.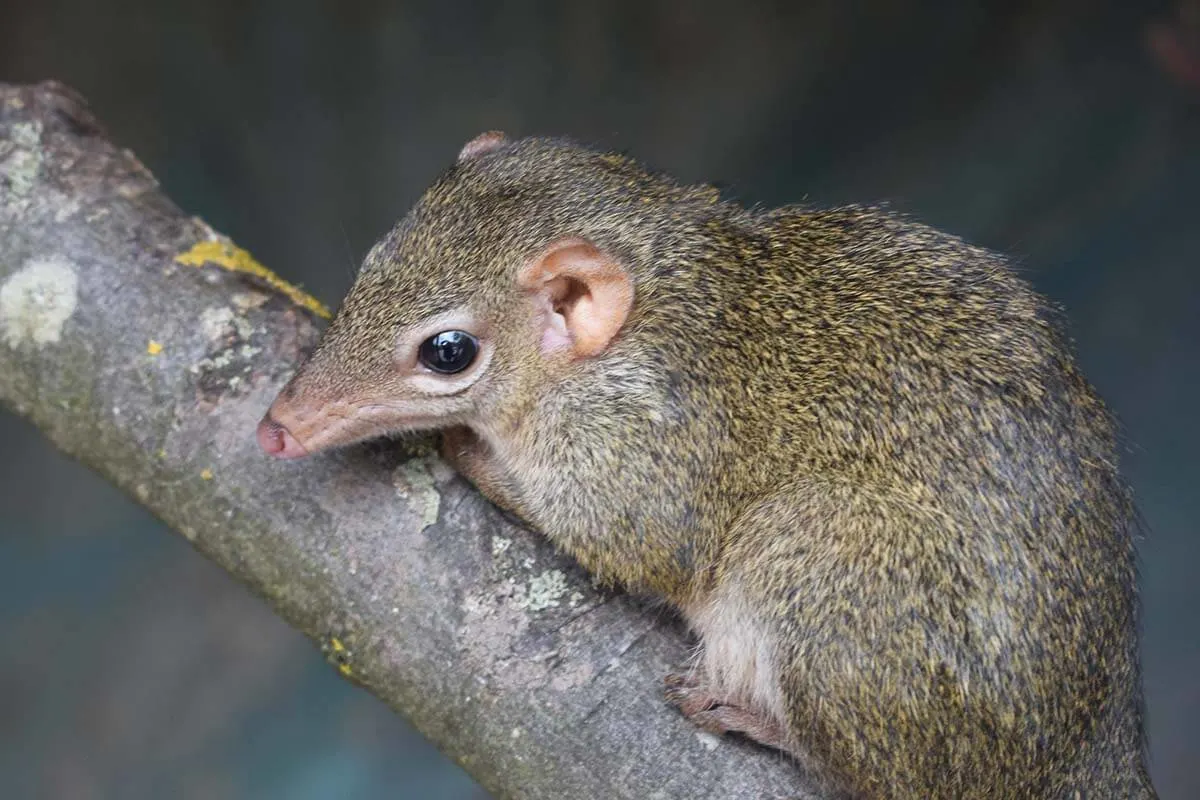 12. Concerts & Shows
Enjoy Blackpool's lively cultural scene!
No matter when you visit, there's always so much to going on in Blackpool! If you are in town for a few days, be sure to check if there are any performances, concerts, or shows planned.
Blackpool is home to two historic entertainment venues – the Grand Theatre and the Winter Gardens (incorporating the Opera House). They are all located in the centre of town just steps from the Promenade.
Opened in 1894, the Grand Theatre was designed to be the "prettiest theatre in the land". Its cantilever design supports its four tiers without too many pillars, giving the audience a much clearer view of the stage. Taking in a show at "the glorious Grand" gives you the perfect opportunity to admire the stunning architecture, which includes a Baroque ceiling, cherubs, and gilded plasterwork.
The Winter Gardens is one of Europe's largest entertainment venues and includes a theatre and ballroom. It was opened in 1878 and is now a Grade II listed building, playing host to a variety of different festivals, exhibitions, shows, and competitions each year. Even if you don't want to see a show, be sure to pop in for afternoon tea at the Mazzei Café, then take a look around the building to appreciate its beautiful architectural detail.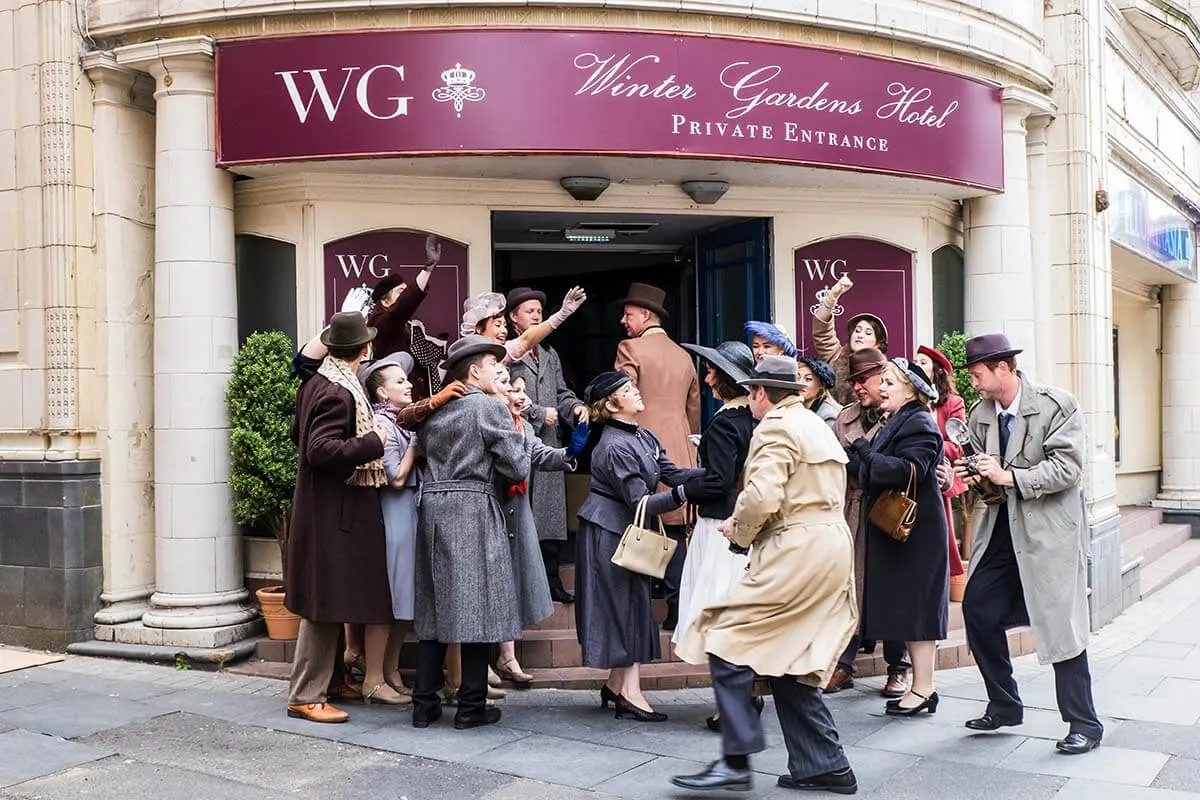 13. Marton Mere Nature Reserve
Get away from it all and enjoy nature!
Although it may feel a million miles away from Blackpool's bustling Promenade, the beautiful and tranquil nature reserve at Marton Mere is just a 20-minute drive from the town centre.
A lovely place for all the family to visit, the reserve is free to enter and open all year round. The terrain is flat and features open water habitats, reed beds, and grassland. With an extensive bird population, the reserve is also recognized as a Site of Special Scientific Interest.
It is very easy to while away a sunny afternoon following the designated footpaths and trying to spot the wildlife prevalent in the area. You might be lucky to see otters, herons, bats, or otters, plus many dragonflies and butterflies.
Practical information: Although Marton Mere is close to town, the bus route is a little cumbersome and it is much quicker and easier to travel there by car or by taxi.
TIP: Wear good shoes or boots as the reserve can be muddy and take along your own drinks and snacks, as there is no cafe.
14. Grundy Art Gallery
Visit the exhibitions at Grundy Art Gallery.
The Grundy Art Gallery is something of a hidden gem in Blackpool, although it is located only steps from the Promenade.
Featuring a variety of exhibitions and artwork from established and emerging artists, it also displays historically important artwork loaned from important UK institutions. Blackpool has a very strong cultural history and a lively pop culture, which the gallery sets out to explore in whole new ways, making it the leading visual arts centre in the northwest.
Good to know: The Gallery is free to visit (although contributions are always welcome) and is open all year round. For more info, please see their website.
15. Boot Sales
Bag a bargain at the boot sales!
Despite the name, no boots are sold at these markets!
Instead, a boot sale is similar to a flea market and traders sell their goods from the backs (boots) of their car, usually on an open field. The boot sale is something of a British institution and makes a great morning out. In addition to being able to pick up all sorts of interesting bargains and antiques, you will often find a variety of catering outlets and quite often a bouncy castle for children.
There are two major boot sales in Blackpool that are held every weekend during spring and summer, weather permitting. The Whyndyke Farm Car Boot Sale – located just off junction 4 of the M55 motorway – takes place every Sunday morning. The largest boot sale, however, is held at Norcross Lane, just a 10-minute drive from the Promenade. It is open every Saturday, Sunday, and Bank Holiday Monday morning from March to the end of October.
TIP: Boot sales open from around 7 am and it's a good idea to get there early before all the best bargains are snapped up!
16. Blackpool's Funniest Night Out
Enjoy an evening at one of Blackpool's premiere live comedy clubs!
Strictly for the grown-ups, the Comedy Station Comedy Club – located opposite one of the entrances to the Blackpool Tower – is one of Blackpool's top-rated venues for evening entertainment.
With a mixture of up-and-coming comedians from the British comedy circuit and more established comics from stage and TV, this is guaranteed to be a fun night!
Practical info: The club has a full bar and is open on Friday, Saturday, and Sunday evenings all year round. For performance times, tickets, and customer reviews, please see here.
So, this is our guide to the very best things to do in Blackpool. As you can see, there's truly something for everyone, for any kind of weather and every season.
Of course, there is more to see and do in Blackpool (and there are many great places to visit near Blackpool). But if you are looking for the 'must-sees', top sights and attractions in Blackpool, this list should give you plenty of ideas to fill a few weeks…
TIP: If you are planning a trip to Blackpool and are looking for information on the best places to stay, be sure to also read our guide to the best Blackpool hotels, B&Bs, and self-catering accommodations. It contains all the best options for every budget. Check it out!
Have a great time in Blackpool!
READ ALSO: Visiting Blackpool: Tips & Useful Info
More travel inspiration and information for all over the UK:
If you found this post helpful, don't forget to bookmark it and share it with your friends. Are you on Pinterest? Pin this image!