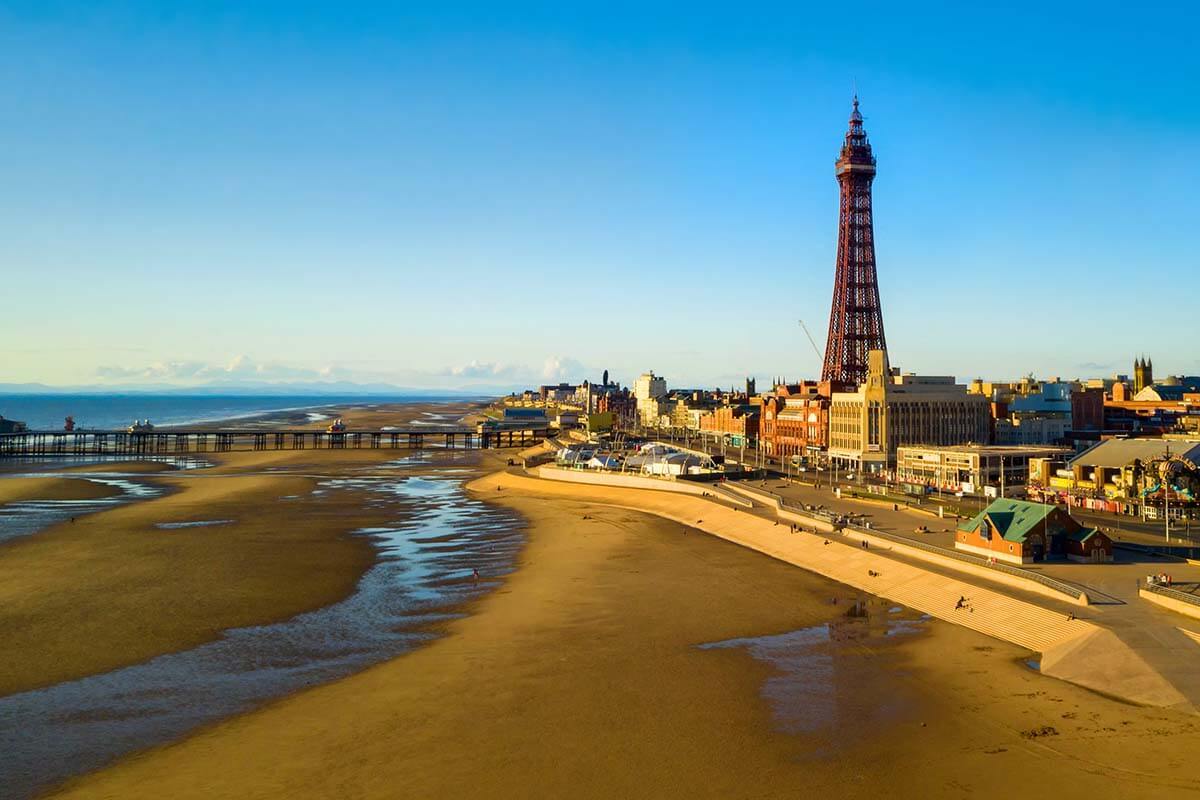 Planning a vacation in Blackpool, UK, and wondering where it's best to stay in Blackpool? In this guide, you can find local's advice and tips for the best Blackpool hotels, B&Bs, and self-catering accommodations for your stay.
In addition, we also include a nice alternative place to stay just near Blackpool and the best hotels there. Take a look!
Where to Stay in Blackpool
One of the UK's most popular tourist destinations, the seaside town of Blackpool is packed with fun things to do and see from morning until way into the night! Unusually, though, almost all of its attractions are in one place – and that's along the 1.6 mile stretch of its main Promenade, popularly known as the Golden Mile.
For that reason, the most popular place to stay in Blackpool is either along – or very close to – the Promenade. This area offers easy access to all the main Blackpool attractions, beaches, and you can also enjoy great sea views. Furthermore, you are in the heart of the hustle and bustle of the city with plenty of restaurants nearby.
So in this guide to the best places to stay in Blackpool, we list some of the best accommodations close to the Promenade (or the Golden Mile). Whether you prefer to stay in a traditional hotel, a bed and breakfast inn, or self-catering accommodation, you'll find all the best options here.
In addition, we also include some great places to stay just outside Blackpool if you prefer to escape to somewhere more peaceful at the end of a fun-filled day. Read on for our selection of the best lodging in Blackpool!
TIP: For more insider tips and info, you may also want to check this first-timer's guide to visiting Blackpool!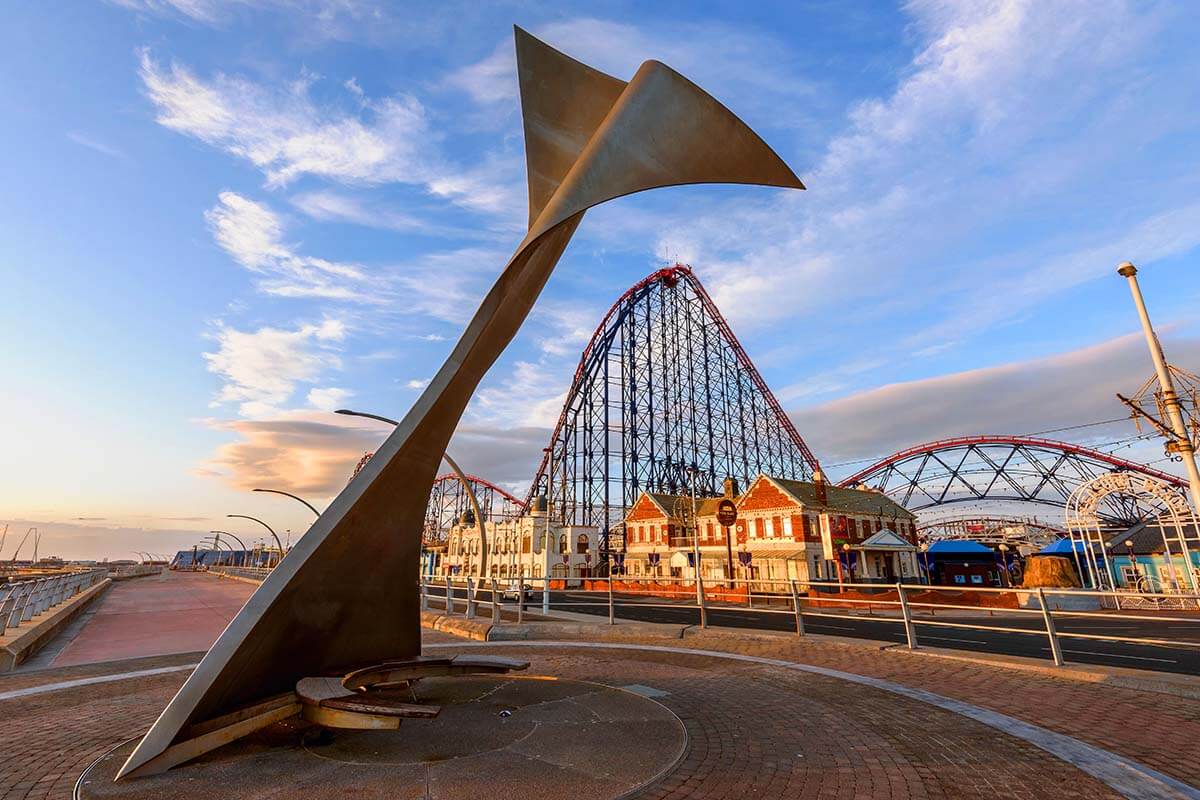 Best places to stay in Blackpool – OVERVIEW
Good to know: In our selections below, we list the hotels based on the price (from high to low), but that's not always easy and so much depends on your group size and the time of the year when you travel.
So the price indication is just meant to compare the hotels, but be sure to check actual prices and availability for your travel dates. Sometimes more luxurious properties have some special deals available too, especially if you are traveling to Blackpool in the lower season.
Best Blackpool Hotels
There are so many hotels in Blackpool that it would be impossible to list even a small part of them. But to help you choose the best lodging for your vacation, we feature only the very best options for various budgets and different locations in town.
Each of the hotels listed below offers something that makes it stand out from the rest – location, facilities, charm, or an excellent price/quality.
Here are some of the best hotels in Blackpool:
Boulevard Hotel (£££+)
Boulevard Hotel is a relatively new 5-star luxury hotel immediately adjacent to the Pleasure Beach amusement park. This is one of the top areas to stay on vacation in Blackpool, and not just for families!
This hotel sits right on the seafront and is within walking distance to many attractions in southern Blackpool, including Pleasure Beach, South Pier, Sandcastle Waterpark, Globe Theater, and many more. It's also a wonderful choice for a romantic getaway in Blackpool, with sea views, an excellent restaurant, and a perfect location for long walks by the sea.
The hotel offers regular, executive, and family rooms or suites with views of either the amusement park or the beach. When staying here, you also have the option of getting special tickets to the Pleasure Beach, which allows you to enter the Park via a private entrance for the first 90 minutes.
Good to know: This hotel has private parking, £15 per day at the time of writing. Some room types (bigger family rooms) have a minimum stay requirement in certain periods.
The Big Blue Hotel (£££)
The bright and cheerful 4-star Big Blue Hotel sits right on the Pleasure Beach itself, with some rooms offering patio doors that open onto the Park and give you unbelievable views of the thrill-seekers enjoying the rides!
The modern, beautifully appointed rooms (including family rooms and suites) are well sound-proofed so you can relax throughout the day, and packages including entry to the Park are available. Also this hotel offers private parking, at £15/day.
Our recommendation: This 4* hotel offers an excellent price-quality ratio at one of the best locations to stay for holidays in Blackpool! It's one of the top picks in town and also our personal recommendation as one of the best hotels in Blackpool.
Imperial Hotel Blackpool (££+)
Imperial Hotel Blackpool is a historic 4-star hotel located on the quieter North Shore of Blackpool, about 10 minutes walk from the North Pier. The location of this hotel is much quieter than many other hotels by the Promenade, but still excellent for exploring Blackpool. It's within walking distance to the North Pier and Blackpool Tower, and coastal trams and buses stop just nearby.
Dating back to 1867, this beautiful Victorian-style hotel gives you a glimpse into Blackpool's past. This hotel is well known for its high-ceilinged bar with Victorian features that has served many British Prime Ministers over the years.
Imperial Hotel offers a selection of traditionally furnished rooms, including family rooms, sea view rooms, and also suites. It's one of the most popular hotels in Blackpool. Paid parking is available.
If you are looking to stay at a more charming, historic hotel in Blackpool, you really can't go wrong with the Imperial.
Village Hotel Blackpool (££+)
Village Hotel Blackpool is more of a resort-style hotel, located about 10-15 minutes drive from Blackpool Promenade. Here, you can escape to the tranquility of 230 acres of parkland and lakes, with great facilities including outdoor- and indoor swimming pools, wellness, and a beautifully tended Championship golf course.
Located outside the city, this resort is almost immediately adjacent to Blackpool Zoo and just across the road from the award-winning Stanley Park.
Good to know: You'll need a car for visiting most of the Blackpool attractions if staying here. The good news is that the hotel has a large car parking area, but also here, they charge a small daily fee for the parking.
Good to know: This hotel is a great choice for a more relaxing vacation in Blackpool, further away from all the hustle and the bustle. And while it's not the best value for your money in town, you pay for the unique location and all the facilities that most other Blackpool hotels don't have. If you are looking for a hotel with a swimming pool, this is really the best choice in town!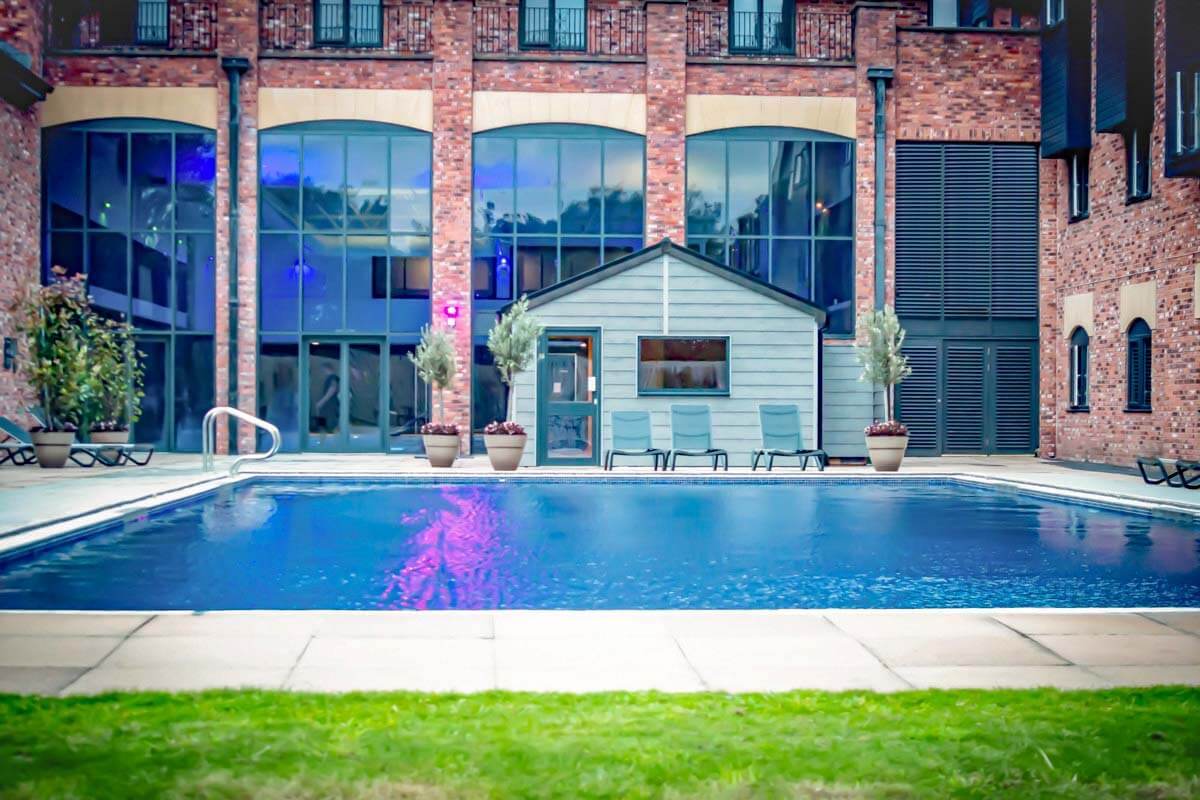 Ruskin Hotel (££)
Ruskin Hotel is one of the best price-quality 3-star hotels in the city center of Blackpool. This hotel has an excellent location, right in the very heart of the town and close to all the main attractions.
It's a more simple, traditional city hotel, with a friendly atmosphere, amazing hospitality, and free, nightly entertainment. They also have a very good bar and an excellent restaurant.
A stay here offers excellent value in the mid-range budget. It's a good choice for those who are looking for a mid-budget stay in the heart of town and close to everything. The only downside is that parking here is a bit more expensive than at most other hotels, but if you are arriving by train, the railway station is just 10-15 minutes walking distance from the hotel.
The Lawton (£+)
The Lawton is a very popular lower-budget 3-star hotel in Blackpool city center, just a bit outside of the busiest areas, but still within short walking distance to the main attractions.
This is a rather basic, traditional hotel. It offers simple, comfortable rooms for all group sizes, including big families. It also has a private parking area (for a small extra fee). Delicious breakfast is available and there's also a bar. For dinner, there are many restaurants within a short walking distance from the hotel.
The Sandringham Court Hotel & Legends Sports Bar (£)
The Sandringham Court Hotel is a great choice for those looking for a budget hotel in Blackpool. If you are looking for a simple no-thrills hotel with private bathrooms and good location, this popular hotel is one of the best-rated low-budget accommodations in Blackpool.
They offer simple, clean rooms with private bathrooms, and family rooms for 4 people are available as well. Good breakfast is included in most room rates and there's a good bar and reasonably-priced restaurant at the hotel as well.
Best B&Bs in Blackpool
In addition to the hotels, there are also many smaller, quaint bed and breakfast accommodations in Blackpool. Here are just some of the best options for all budgets:
Number One South Beach (£££)
Number One South Beach is a 5-star boutique accommodation close to the southern end of the Blackpool Promenade. It's a small, luxury hotel with stylishly decorated rooms with whirlpool baths, luxury linen, and sea views.
If you are looking for a luxurious romantic B&B stay in Blackpool, definitely check it out!
Good to know: Although a bit outside of the busiest areas, the location of this hotel is excellent for sightseeing, and there is also free parking available.
The Redstone Guesthouse (££)
The Redstone Guesthouse is a very nice B&B with some of the best ratings in town. It's located in a more residential area, just a stone's throw from the sandy beach. Set in between Central and South Pier, you can either walk to all the main sights in 10-20 minutes or take a coastal tram.
This small accommodation offers an amazing homemade breakfast and delicious cakes. Free street parking can be a bit challenging to find, but the accommodation can usually help you arrange parking nearby, for a small fee.
The Carlton (£+)
The Carlton is a small guest house in Blackpool town center, with fabulous customer ratings. It has an excellent central location, just a few minutes walk from Blackpool Tower and very close to the Winter Gardens.
This B&B offers 15 cozy rooms that are simply but immaculately furnished. It provides a great breakfast and thoughtful, homely touches throughout. Plus all rooms feature smart TV's so you can enjoy your favorite movies at the end of a busy day.
Good to know: This is an excellent value B&B in Blackpool. Just keep in mind that they do require a 2-night minimum stay in some periods.
Hornby Villa (£)
Hornby Villa 4* B&B is a nice and very highly-rated bed and breakfast in a quiet area of Blackpool town center. It's just 5-10 minutes walk from the main attractions, and Blackpool Tower is about 10 minutes walk.
Specializing in relaxing breaks for couples and families only, this traditional B&B offers some of the best value for your money in the lower-mid budget range. There are plenty of homely touches to make you feel comfortable, and guests love the homemade preserves served at breakfast.
Good to know: This guest house has a minimum stay of 2-3 nights requirement in some periods. Private parking is available for a small fee, but you have to reserve in advance.
Adelaide Lodge (£)
Adelaide Lodge is an exceptionally highly rated lower-budget B&B in Blackpool town center. It's located just near the Winter Garden and 5 minutes walk from the Blackpool Tower.
If you are looking for a good value accommodation with a homey feel, a hearty breakfast, and a very central location, this B&B is a perfect choice. They have no private parking, but there's a public car parking garage just across the road.
Best Self Catering Accommodations in Blackpool
Blackpool also has a big variety of self-catering accommodations. From small holiday apartments and studios for 2 to bigger apartments suited for bigger families, there are truly too many options to mention.
Here's just a small selection of some of the best (and well-located) self-catering apartments in Blackpool:
Granada Apartments
Granada Apartments Queens Promenade and Granada Apartments at Pleasure Beach are one-, two-, and three-bedroom apartments with great facilities and fantastic customer ratings. These apartments are a great choice for a longer vacation in Blackpool, and especially for bigger families or groups of friends.
The immaculate and well-equipped Granada Apartments are modern, spacious, and well-equipped. Some apartments sleep up to 12 people.
The Queens Promenade apartments are located at the far north side of town and close to Red Bank Road, home to some of Blackpool's best restaurants. Some apartments offer stunning sea views.
The Pleasure Beach apartments have an excellent location right next to some of the best family attractions such as Pleasure Beach amusement park or Sandcastle Waterpark.
Albert Luxury Hottub & Jacuzzi Apartments
Albert Luxury Hottub & Jacuzzi Apartments are modern apartments located just behind the Promenade and a short walking distance from Blackpool Tower.
All apartments have a spa bath, a living room, a bedroom, a well-equipped kitchen, and smart TV. Deluxe apartments also include a private garden with a hot tub, table, and chairs. There's also free, on-road parking right outside. You can comfortably stay here with 4 and even up to 6 people.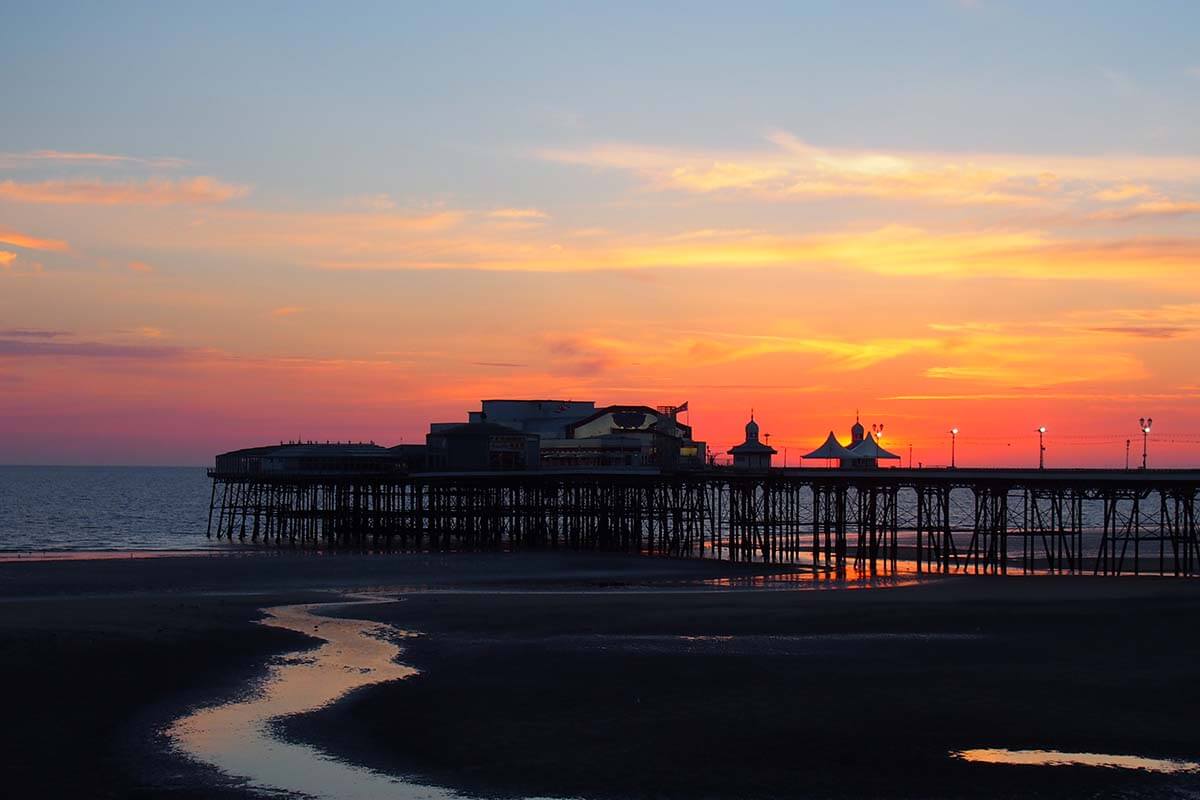 Best Places to Stay in Lytham St. Anne's
The two scenic towns of St. Anne's and Lytham sit side by side just along the coast from Blackpool and are known collectively as Lytham St. Anne's. If you want to enjoy the fun and excitement of Blackpool by day – but would prefer somewhere a little quieter to retire to at night – a stay here would be ideal!
Not only do both towns give you easy access to Blackpool, the surrounding countryside, and the best places to visit near Blackpool, but they also have lots to offer in their own right, with picturesque coastlines, historic buildings, and areas of natural beauty to explore.
Because it's quieter here than in Blackpool, you can often get better value for your money as well.
Here are some of the best hotels in Lytham St. Anne's:
Clifton Arms Hotel (££+)
Clifton Arms Hotel is a gorgeous 4-star hotel that combines the benefits of old-fashioned service with a recently refurbished interior and exterior, and a new sun terrace.
Just 15 minutes from Blackpool's South Shore, this hotel enjoys an ideal location, right in the heart of Lytham town and directly on the seafront. They also have free car parking available.
Glendower Hotel BW Signature Collection (££)
Glendower Hotel right at the beachfront is the best-rated hotel in St. Anne's. Located in a beautiful Victorian building, the hotel is nicely refurbished with a cozy, stylish, and modern interior. They also have a very nice brasserie and bar with classic British food.
The location of the hotel is excellent, overlooking sand dunes and the sea. It's just 10 minutes drive from either Blackpool Pleasure Beac or Lytham, and a short walk from St. Anne's Pier and Beach. Parking is available as well. This is one of the best rated amazing-value 3-star hotels in the area.
The Queens Hotel (£+)
The Queens Hotel is another great choice for a vacation in Blackpool area. With a beachfront location in the heart of Lytham Green, this hotel occupies a Victorian Grade II listed building and offers stunning views of Lytham Windmill and across the Ribble Estuary.
All rooms are decorated in a very unique style and are very cozy. The hotel also has its very own family-run community-led pub and restaurant, with a beautiful beer garden.
Innkeeper's Collection Lytham St Annes (£)
Innkeeper's Collection is one of the best price-quality hotels in the town center of Lytham. It's a beautiful 4-star hotel in a traditional-style building, with modern cozy rooms, a nice restaurant, and a bar.
The only drawback is that you have to look for parking in the nearby streets, so it can be a hit or a miss. But apart from that – staying here offers an amazing value! Hundreds of fantastic customer reviews confirm that this is one of the best choices in the area.
Sweet Suites Lytham (self-catering apartments)
If you prefer to stay in a self-catering apartment in this area, check out Sweet Suites Lytham. Located 500 yards from St. Anne's beach, these beautiful, serviced self-catering apartments are stylishly decorated, with fully equipped kitchenettes. Larger apartments can sleep up to 6 people and they offer free private parking.
Son this is our guide to the best Blackpool hotels and places to stay in and near town. Hope that this helps you find the perfect accommodation for your vacation!
If you are planning a trip to Blackpool, you may want to check out our other guides to the city and the area. Written by a Blackpool-local, they are filled with useful information and practical tips that will help you plan a more memorable stay. Take a look below!
If you found this post useful, don't forget to bookmark it and share it with your friends. Are you on Pinterest? Pin this image!