One of the highlights of any trip to Namibia is without a doubt a visit to Etosha National Park. The park is so big, however, that you will quickly face the same question as we did: how much time do you need and what is the best place to stay in Etosha.
In this guide, we share some tips on where to stay in Etosha National Park and the best area to stay nearby.
How Much Time do You Need to Visit Etosha National Park
How much time you need to visit Etosha will depend on your interests and the time you have. If seeing African animals is the main reason for your visit, you will obviously want to spend more time in Etosha than somebody who does a standard 2-week road trip covering all the main landmarks of Namibia.
An absolute minimum time you need in Etosha is, in my opinion, two days. Ideally, you spend 3-4 days in Etosha or even more.
We spent 4 nights and 4 days in Etosha on our 27-day long Namibian trip (here you can find our complete Namibia trip itinerary) and it was the right amount of time for us. We could have stayed longer as – obviously – there is no way to see the whole park in such a short time. On the other hand, we saw plenty of wildlife in Etosha during that time and it didn't feel like we were missing something when we left.
And while Etosha was not the only place we visited in order to see wildlife in Namibia, it was definitely the best one.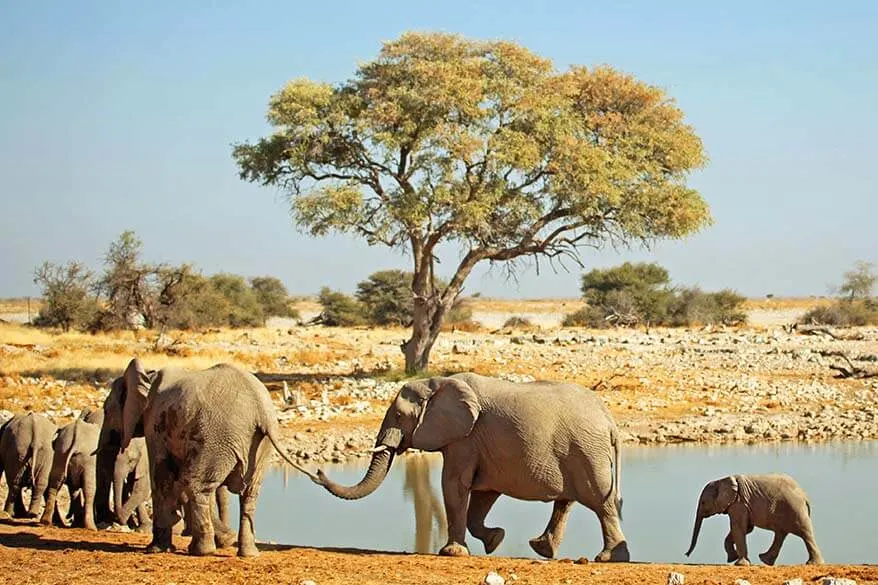 Where to Stay in Etosha
There are many different options when it comes to accommodation in and around Etosha National Park. It can be difficult to choose… Obviously, I cannot comment on all of them, but I will tell you about the lodges we stayed at, why we chose each particular place, our experience, and our recommendation for your trip to Etosha.
We stayed at three different lodges in Etosha. Two of them are inside the National Park and are state-owned: Dolomite Camp on the Western Side of Etosha and Okaukuejo Camp in the middle of the park. We also stayed at the beautiful privately-owned Mushara Lodge at the Eastern entrance of the park.
We chose each of the places for a different reason. Dolomite Camp because – at the time we booked – staying there was the only way to see the Western part of the park. Okaukuejo – for its famous waterhole. Mushara Lodge – for the luxury. If I were to go back, I'd do it differently – read further.
Review of Dolomite Camp in Etosha
Dolomite camp is beautifully located on top of the hill on the Western side of Etosha National Park. It's a nice place with a pool, two restaurants, a bar, and lovely tented rooms. The food at the restaurant is good, but the service is totally inadequate. It's a state-ran place and you feel it in every detail.
There is one serious drawback to the place – it's a total logistic disaster. It's one of those places where design comes before customer experience.
Upon arrival, you leave your car at the bottom of the hill from where you are completely reliant on 2(!) golf carts for everything you and 50 other guests do. Whether to go to your room, to the restaurant, or to the reception – you need to use a golf cart every time. I already mentioned that there are just two carts and over 50 guests + staff that all also use these golf carts for getting around.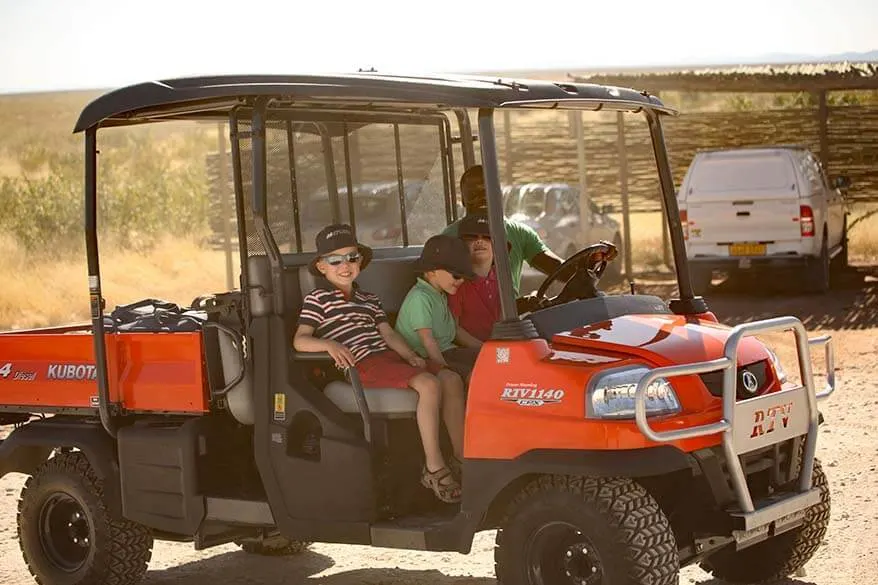 Depending on where your room is located, you might need to walk for 15-20 minutes to the reception area where all the facilities are located. On top of that, the place is not fenced and in principle, you are not allowed to walk alone in the evening. We ended up doing just that – we walked to our room after dinner as one of the two cars didn't show up after more than 20 minutes waiting, and the driver of the second car was nowhere to be found.
Checking out in the morning was a complete nightmare too because everyone was leaving at around the same time. We ended up waiting for almost an hour for a car to pick up our baggage. I will spare you more details, but if you want to keep your sanity and good mood, this is really not the best place to stay in Etosha.
Our experience at the Dolomite Camp was not the best one, and based on it, I would not recommend staying there.
On top of that, the Western Side of the park is not that impressive and you don't see much wildlife because of the dense vegetation. AND Western part of Etosha is now open to everyone, so you don't have to stay at the Dolomite Camp in order to see it.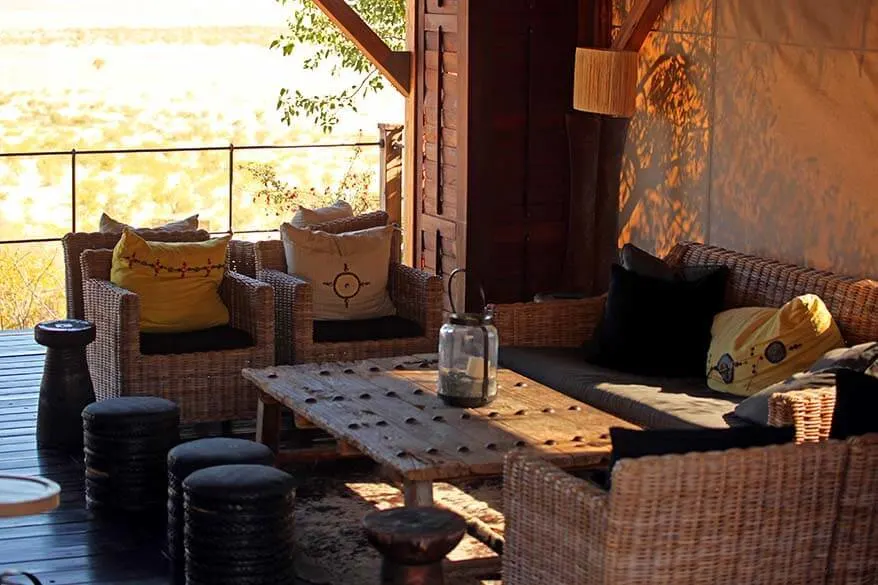 Review of Okaukuejo Camp in Etosha
Our second hotel – Okaukuejo camp – was the least luxurious of the three, but if I were to go back to Etosha, it would be for this place.
It's a National Park camp with all the facilities you need, but it's still a government-managed camp and not a luxury hotel. There is a small shop, a restaurant, a petrol station (which usually has petrol – make sure to tank whenever possible), and various types of accommodation including camping facilities.
If you have a possibility to book premium waterhole chalets, don't hesitate. Especially the big ones, with a balcony on the first floor. We booked our trip almost a year in advance and none of the waterhole chalets were available. But you might have more luck, depending on your flexibility and the time you travel. Waterhole chalets are also the only ones that can accommodate a big family.
We had two separate rooms for the five of us and our rooms were less than a minute walk from the waterhole. The accommodation was ok, but it was very simple and basic. To us, the room didn't really matter that much, because we traveled to Etosha for the experience. But we also loved the private luxury lodges where we stayed at in other places – it's also an experience in itself… Anyway, back to Okaukuejo…
There are two main reasons why Okaukuejo is the best place to stay in Etosha:
Okaukuejo has the best waterhole in the whole of Etosha and you can literally spend day and night watching animals like you do on National Geographic or the Discovery Chanel.
If you stay at Okaukuejo, you are inside the park, so you can see the animals at sunrise and at sunset without having to worry about the opening hours of the park gates.
You can inquire about the Okaukuejo accommodation here – official NWR website. But you should know that this place fills up more than a year in advance…
Good to know: You don't have to stay at Okaukuejo in order to see the animals at the waterhole. But you will be sorry if you don't stay here at least one night. I heard many disappointed people telling others how they regretted having to leave and not being able to stay for the sunset.
TIP: If you prefer more comfortable accommodations, maybe you could just book one night at Okaukuejo for the experience and spend the other nights at the beautiful and more luxurious lodges just outside the park. Further below, you can find some best alternative suggestions for a place to stay, but first, I want to tell you more about Okaukuejo.
What's so special about Okaukuejo waterhole
There is no better way to tell you what makes Okaukejo so special than sharing some of our experience…
You wake up in the morning and rush to the waterhole just before the sun rises. Sky colors light pink and you stand there all alone. Except, you are not alone…
All of a sudden you see three lions drinking at the waterhole and you realize they have been there all the time. How is it possible you haven't seen them before?! And why in the world did you leave your tripod in the room?!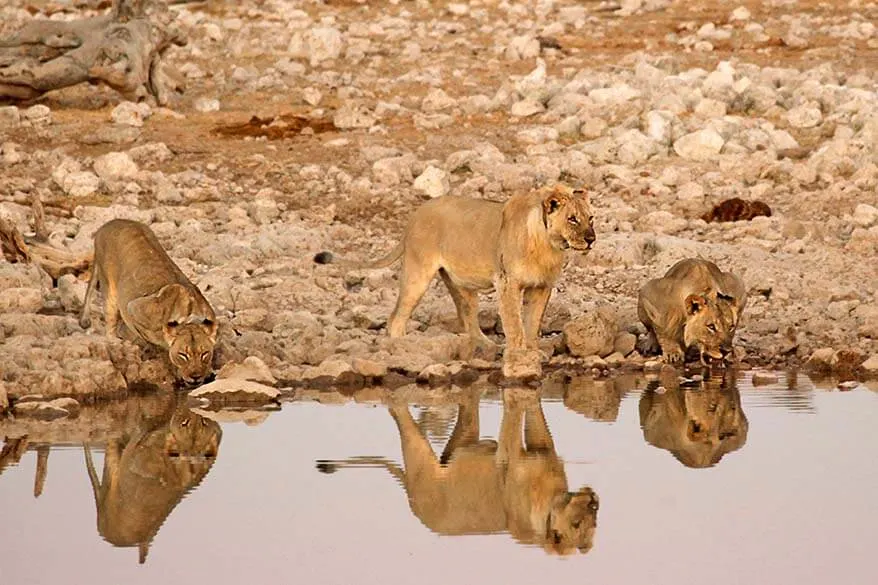 The rest of the day you sit on one of the many benches surrounding the waterhole watching the never-ending parade of wild animals. You don't have to spend hours in a car on bumpy roads. You just sit there and let the animals come to you.
We saw herds of zebras, around 30 elephants, but also countless antelopes, giraffes, and many other animals.
I don't know if there is any other place in the world where you can see so many wild animals in such a safe, comfortable, and effortless way. That's why Okaukuejo is simply the best place to watch safari animals in Etosha. Needless to say that it's a perfect place for families with young children to see the African animals up close.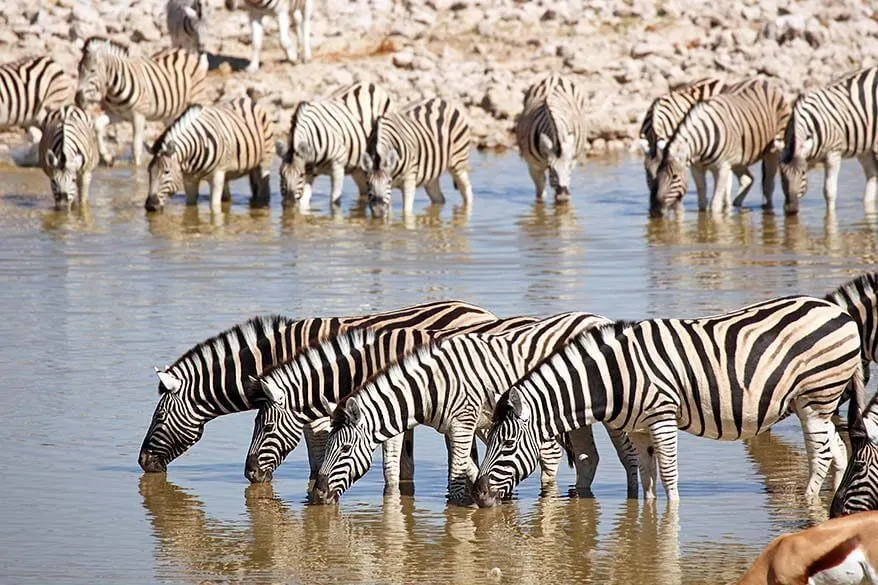 After dinner, you go and check the waterhole one last time before going to bed. A herd of elephants is back again, but there are three new visitors as well – Black Rhinos seem to prefer the dark hours.
Don't feel like going to bed just yet? Bring a warm blanket or a sleeping bag and join the other travelers who choose to spend the whole night at the waterhole. It's lit, so no worries if you don't have night-vision binoculars.
We didn't stay at the waterhole the whole night, but any time we visited, it was always full of action and never the same…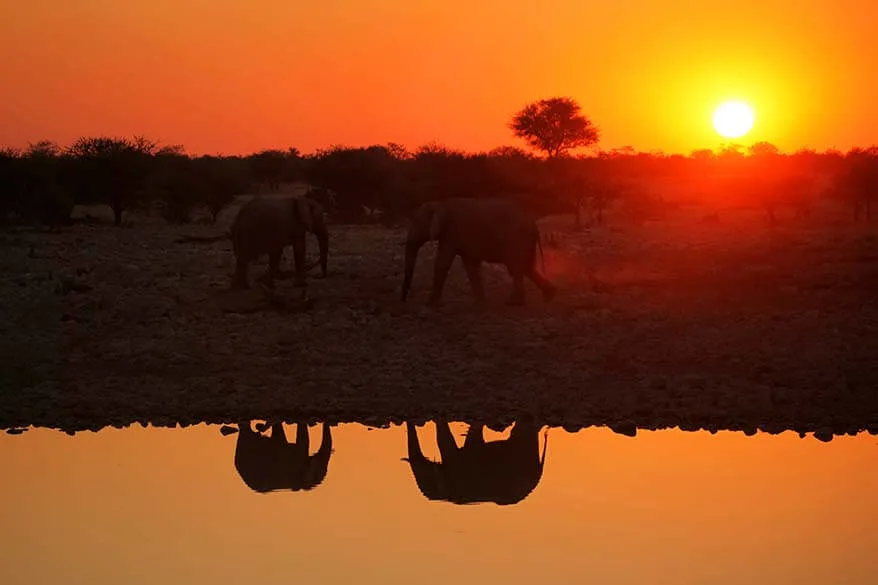 Review of Mushara Lodge
The last place we stayed at in Etosha was the luxurious Mushara Lodge, located at the Eastern Side of the park. Mushara is located just outside the park gates (8 km from the Von Lindequist Gate) and they offer multiple Etosha safari tours for their guests throughout the day. Of course, you can also just go and explore the park on your own.
We didn't see to their budget-friendlier accommodation Mushara Bush Camp so I cannot comment on it, but the lodge was just beautiful. We had a family house with a cozy living room, two bedrooms and two bathrooms, and it felt like a home away from home. It's not cheap, though, but it's totally worth it – everything about this place is a 5-star experience.
If you are looking for a more comfortable, luxury place to stay in Etosha and a place that's run by a family and not state employees, I can definitely recommend Mushara Lodge. But there are also many other comparable accommodation options near Etosha – see below.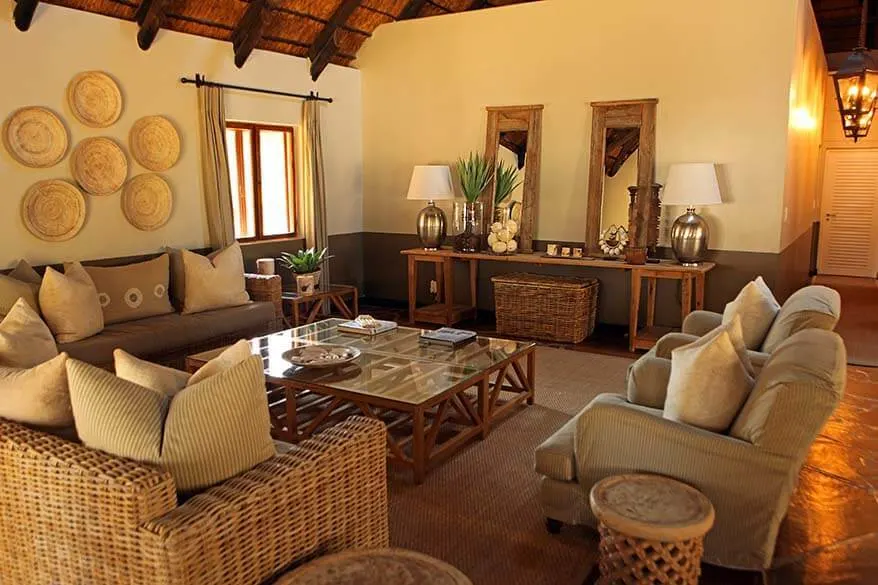 Conclusion & More Great Places to Stay in Etosha
Stay at the Okaukuejo Camp for the best animal-viewing experience or at one of the private lodges outside the park for the luxury. Ideally, you should combine the two: spend 1-2 nights in Okaukuejo and at 2-3 nights at one of the luxury lodges near Etosha.
It's a very different experience, but no visit to Africa would be complete without staying at a really nice luxury lodge.
Most of our best memories from Africa are related to one or the other really special lodge we stayed at. Take my word for it, it's worth the money.
If you are looking for a place to stay near Etosha, the lodges just outside of Okaukuejo gate are probably the best price/quality Etosha accommodation with an excellent location. Staying here means that you can easily visit Okaukuejo waterhole, from the moment the park gate opens at sunrise till it closes at sunset.
Here are some highly-rated and most-recommended luxury lodges close to Okaukuejo:
TIP: Using the map below, you can search for the best deals for lodges and accommodations just outside of Etosha NP and a short drive from Okaukuejo. Simply insert your travel dates and group size, and you'll see what's available for your stay. Check it out!
If you are looking for a place to stay at the Eastern entrance of Etosha, close to the earlier mentioned Mushara Lodge, Mokuti Etosha Lodge is also a wonderful alternative.
Good to know: Namibia lodging is scarce and quality accommodation in and near Etosha is very scarce. So make sure to book your Etosha lodge as soon as you know your travel dates.
More information for traveling to Namibia:
If you found this post helpful, don't forget to bookmark it and share it with your friends. Are you on Pinterest? Pin this image!