Thinking of visiting Nambia with kids but are not sure what to expect and if it's even a good idea? This article should give you a good idea of what it's like to visit Namibia with children and help you decide if it's the right destination for your family. Find out!
Spoiler alert – you can easily explore Namibia with kids and it's a wonderful destination for a family trip. In this post, you can read why – in my opinion – Namibia is the best country for a family trip to Africa.
When most people think about family travel, they usually picture happy smiling faces at a theme park, kids playing on a beach or diving in the swimming pool… More adventurous families go hiking or take the kids camping… A family road trip to Africa is not the most obvious choice and many families don't even consider it. But yes, you can travel to Africa with your family! And yes, it's an incredible experience! Find out!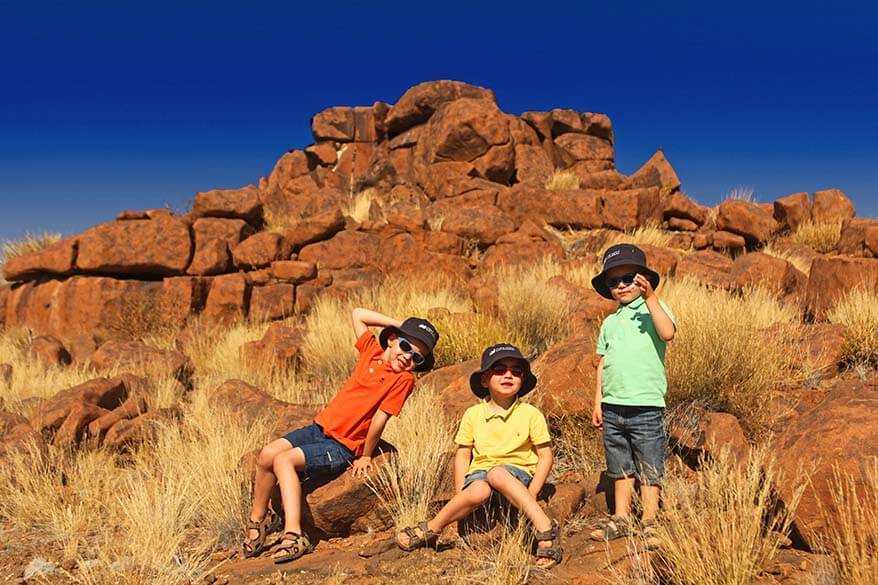 Africa is big, and – as everywhere else in the world – there are enormous differences between different countries. While it's probably not a good idea to take your kids to Congo or Nigeria, you can easily travel to Namibia, South Africa, Botswana, Tanzania, Kenya, and many other African countries.
TIP: If you are not sure where to go, you should know that South Africa and Namibia are probably the best and the easiest countries to visit in Africa with kids.
Good to know: We took our kids to Africa twice: once to South Africa, and once to Namibia. Both are wonderful destinations and both are perfect for a family trip. Namibia is not only the best African country for a family trip, but it's also one of the nicest places you will ever travel to. South Africa is a very close second (when it comes to family travel). If interested, here you can read more about our South African adventure with toddlers.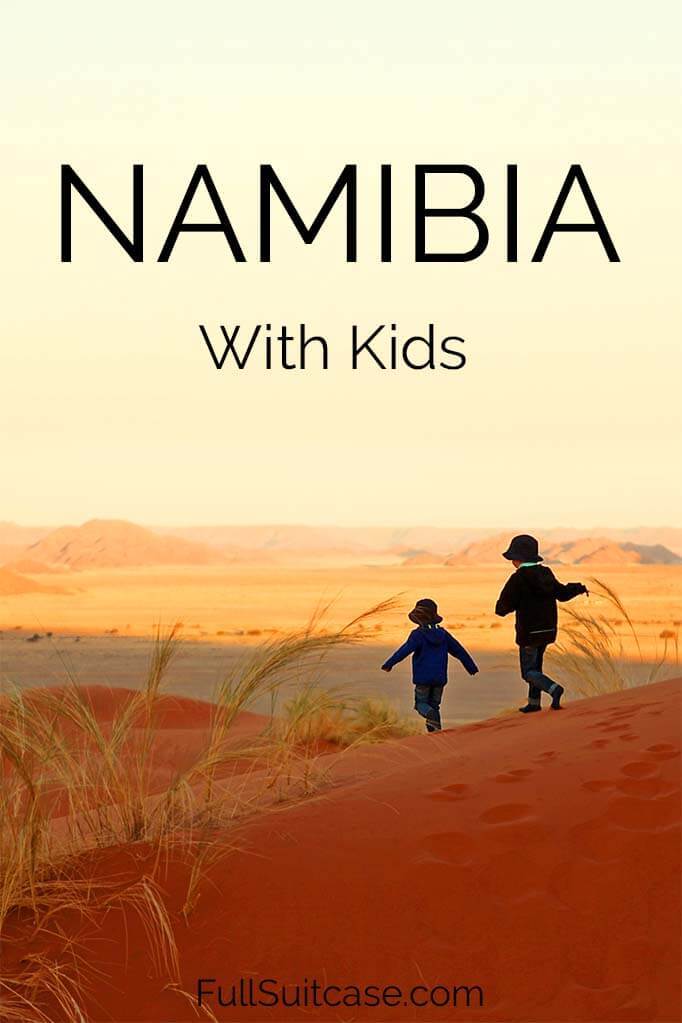 13 great reasons why Namibia is the best country for a family trip to Africa:
1. Namibia is one of the safest countries in Africa
You really don't have to worry much about safety when traveling to Namibia with kids. Well, not more than anywhere else in the world.
Of course, you have to use your common sense just as you would do anywhere else. Don't travel at night (this is mainly because of the gravel roads and wild animals), watch out for pickpockets in Windhoek, don't leave valuables in the car, stay in the car when driving through Etosha or other parks with dangerous animals, and be very careful on the road.
In fact, driving on gravel roads is probably the biggest danger tourists face in Namibia. Car rental companies even give you a short introduction course about driving in Namibia, and it's really helpful. Drive carefully, enjoy the scenery, and you will be just fine.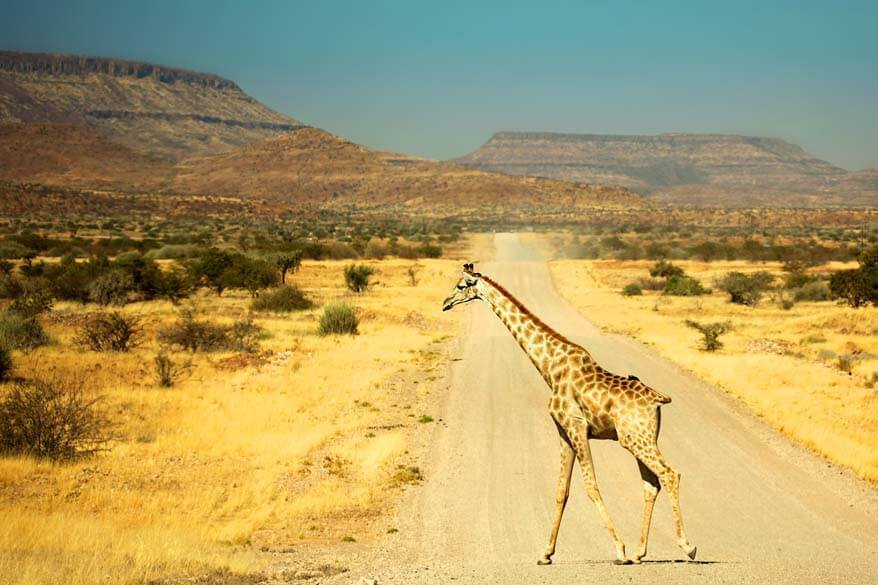 2. There is no malaria in the tourist areas and no yellow fever in Namibia
You need to take malaria pills and get a vaccination against yellow fever if you travel to most African countries. Not so in Namibia (generally).
If you don't travel North of Etosha (to Caprivi strip), you don't have to worry about malaria. Theoretically, there is a chance of malaria mosquitos being active in Etosha during the rain season, but if you travel in the dry cooler months (as most tourists and families with school-going kids do), you really don't need malaria pills.
Of course, the situation might change, so make sure to check for any updates before planning your trip. But as long as I have known, Namibia tourist areas are pretty much malaria-free.
TIP: We use the website of the Institute of Tropical Medicine in Belgium to check for the most up-to-date travel medical advice. If you are not sure, always consult with your own doctor.
Overall, there are not many flies or mosquitos in Namibia, and certainly not in the dry season. Nothing compared to Tanzania or Australia's Red Centre…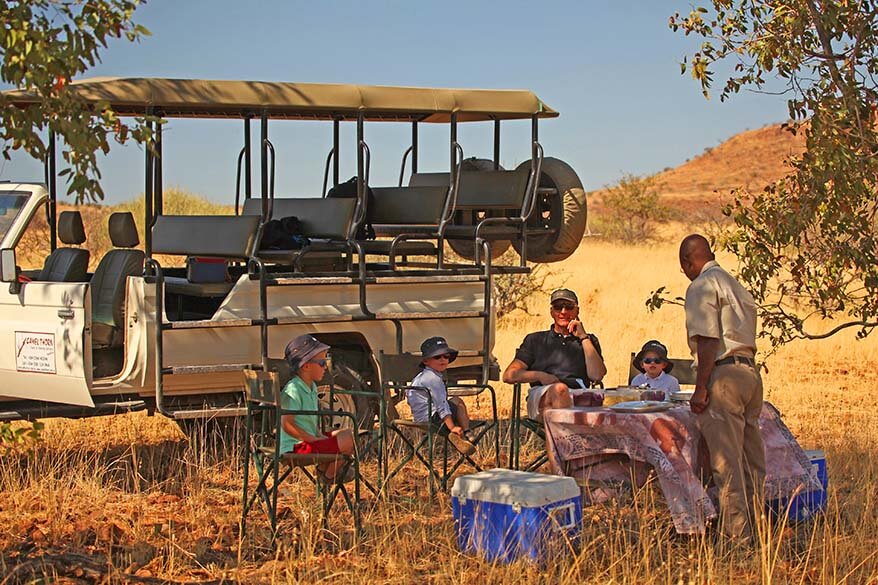 3. Namibia has lots of wildlife and beautiful nature
Seeing safari animals is probably the main reason why most people travel to Africa. You will not be disappointed as there is plenty of wildlife in Namibia. You will see it daily, often just next to the road. Abundant wildlife will be a big hit with kids of any age!
Etosha National Park is, of course, the best place to see wild African animals in Namibia, but there are many private nature reserves as well. Some of them have animals that you will not find in Etosha, like hippos or crocodiles.
But Namibia has more than that! Seal colony with hundreds of thousands of seals – check. Thousands of wild flamingos – check. Dolphins – check. Whales – check. Pangolin, aardvark, meerkat… The list is endless. You will surely see at least a few animals that you have never seen before. Needless to say that children of any age will love it!
There is more to Namibia than just safari animals. Namibia has beautiful nature like Fish River Canyon and Sossusvlei red sand dunes, to name just a few.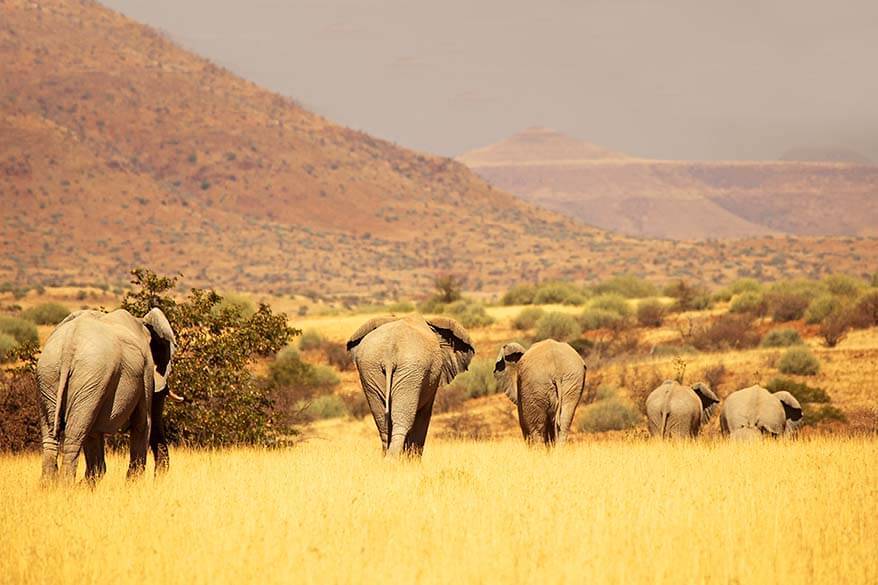 4. Summer school holiday (July and August) is the perfect time to travel to Namibia
If you have school-going children as we do, you probably face the same problems as most families. You find a beautiful place you want to travel to, but it's just too hot, too cold, too wet… to visit in the summer months. Christmas/ New Year vacation is too busy and too expensive, and the rest of the holidays are too short…
Namibia, however, can be perfectly visited in July and August. Namibian winter is a dry cold season which means pleasant daytime temperatures. Animal viewing is also at its best in dry months as water is scarce and animals gather around water holes.
Also, daytime temperatures in July or August are really pleasant and not too hot for exploring. It was tough enough to climb sand dunes of Sossusvlei with kids; I can't imagine doing it at 35°C temperatures…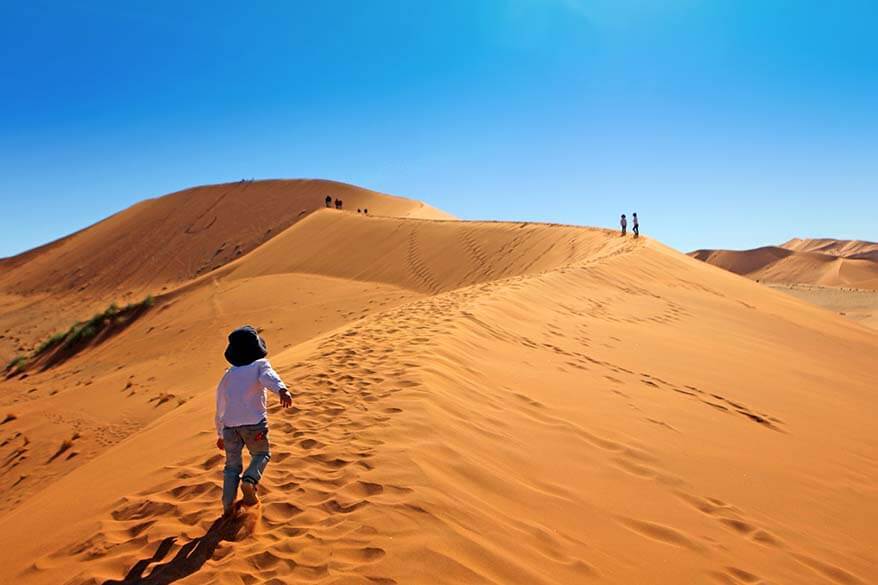 5. Namibia has plenty to keep your kids interested and entertained
One of the biggest challenges on any family trip is keeping the kids entertained. Namibia has plenty of variation when it comes to places to see and things to do.
Make sure to prepare a good Namibia trip itinerary so that each day has a good mix of action, adventure, but also flexible free time. I can guarantee that neither you nor your kids will get bored. We spent four weeks in Namibia and every day was more exciting than the previous one.
LEARN MORE: Best Things to Do in Namibia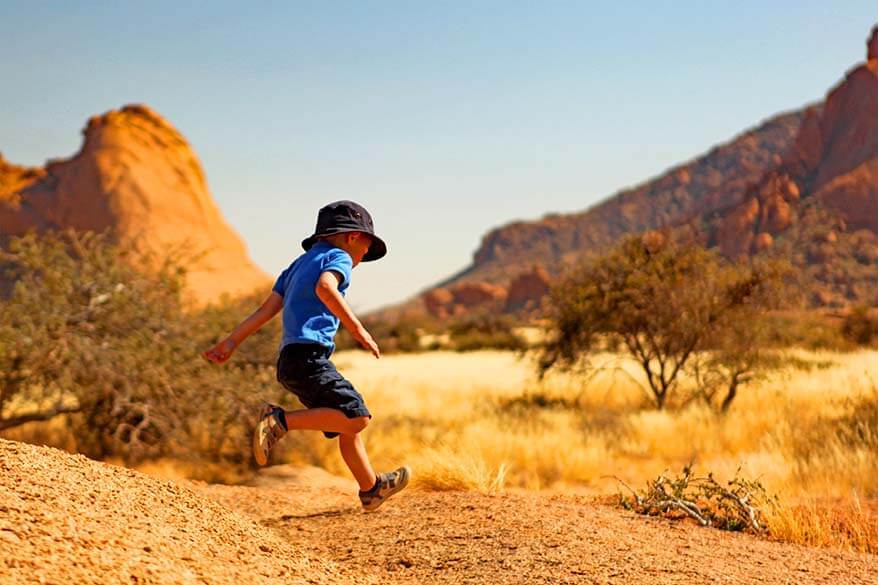 6. The whole family will love African sundowners
What do most people like most about Namibia? Landscapes, animals, red sand dunes? Absolutely! But the people I talked to, all smiled when they remembered Namibian sundowners.
For those of you who have never been to Africa before, a sundowner is a sunset experience in style – with snacks and drinks and beautiful views. Most hotels and lodges organize sundowners every evening, and they are quite affordable in Namibia (and young children are often free).
It's a pretty standard 'formula' which looks something like this. You take a short safari ride in the late afternoon looking for animals. An hour or two later, the ride ends at a beautiful location, usually high on the hill. From there you can watch the most spectacular African sunsets while sipping a drink and chatting with fellow travelers. Some lodges have sundowner walks and, depending on the location, they can be just spectacular.
On foot or by car, a sundowner is something you just have to do in Namibia. Our family loved them: kids – for the ride in the jeep and for the snacks, my husband – for not having to drive for a change (and for the drinks), and I couldn't get enough of the amazing African sunsets.
We went on many sundowners during our trip to Namibia and it's some of the best memories of our vacation.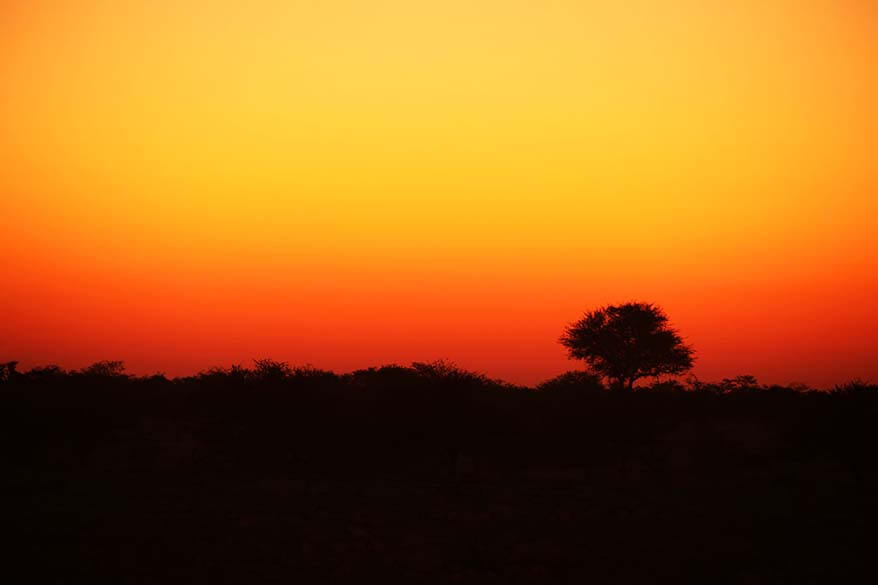 7. Namibians speak English, but you also get plenty of chances to interact with other cultures and languages
English is the official language in Namibia. Even though it's a native language to less than 1% of the population, it is used everywhere.
Many local tribes living in rural Namibia don't speak English, but people are extremely friendly and willing to interact. One of the advantages of traveling is that you get to know so many different cultures, habits, and see how people live in different parts of the world.
If you are willing, you can find plenty of such opportunities in Namibia. Himba, San, Damara people – these are just a few examples of different ethnic groups you can meet here.
LEARN MORE: Indigenous Tribes of Namibia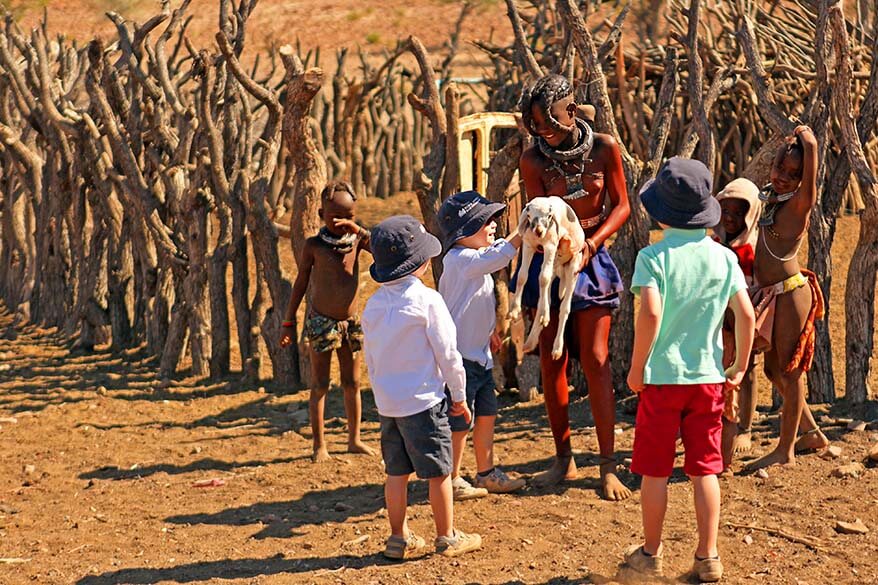 8. Food is very good and safe in Namibia
I cannot think of one bad experience related to food in Namibia. The food is absolutely delicious anywhere you go.
Most of the food in the lodges was very European. Just instead of beef or pork, you would find antelope steaks and similar. Also, all the lodges we stayed at made an effort to prepare special meals for the children.
Now that I think of it, one of our younger boys got a bit sick after a week in Namibia. It was also over the next day and nobody else experienced any stomach problems. But travelers' diarrhea is not something you can avoid completely anywhere in the world.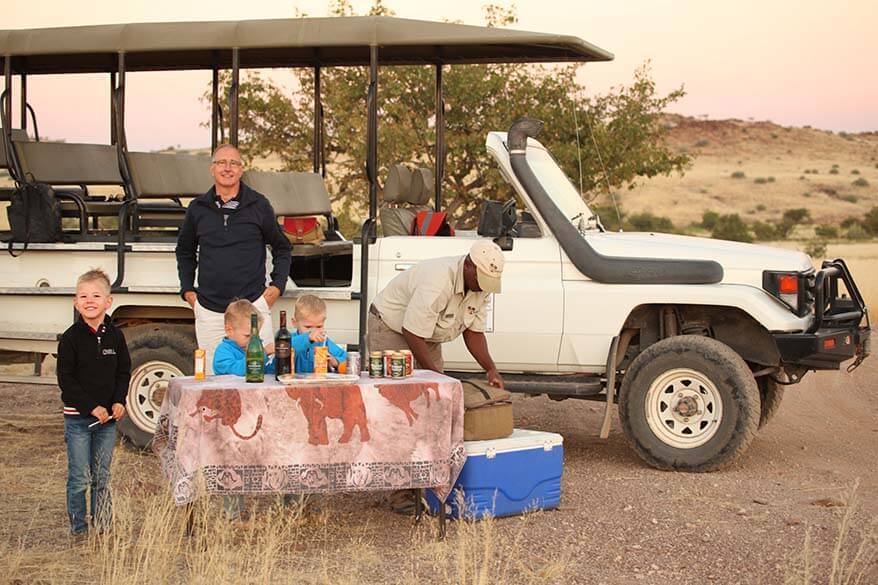 9. Quality of accommodations is very high in Namibia
You really don't have to worry about the quality of accommodation in Namibia. Depending on your budget, you can find the finest luxury lodges, simple hotels, or camping facilities, but in general, it's way better than you would expect.
It still amazes me how well-equipped and luxurious most lodges are, especially if you take into account that they are often literally in the middle of nowhere.
When traveling to Namibia with kids, your biggest challenge will be finding family rooms. Some lodges have them, some don't, some only have a few. The earlier you book your family trip to Namibia, the more possibilities you have.
Many families also choose to rent a car with a tent on the roof, but camping is not really our thing, so I cannot comment about camping in Namibia with kids.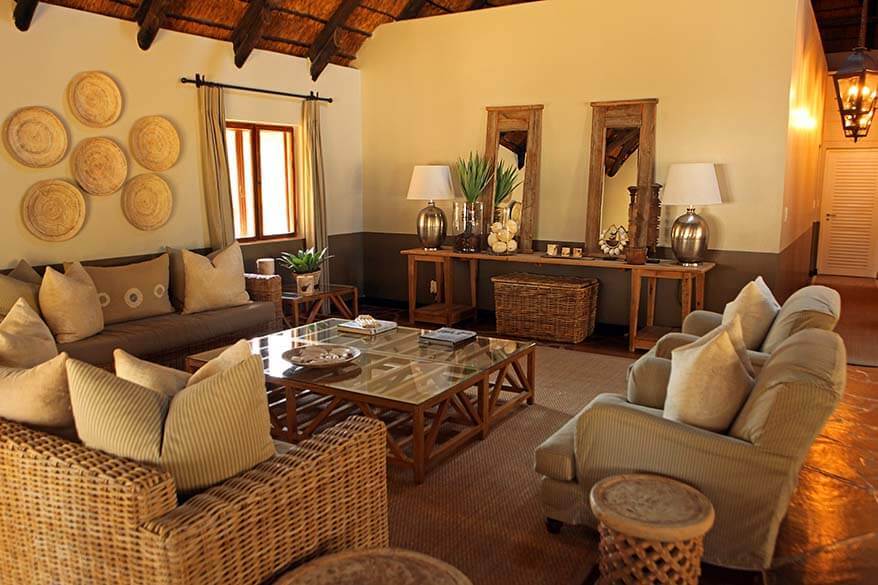 10. Namibia is not very expensive
Namibia is not a very expensive destination, although – as everywhere else – a lot depends on the choice of accommodation. The biggest cost is the flight and car rental. Unless you decide to fly around the country instead of driving, of course. That is also possible, but taking an airplane instead of a car is indeed quite expensive.
Food and activities are relatively cheap in Namibia.
The Namibian currency is fixed to the South African Rand, which is quite weak for years already, and so you get more value for your money.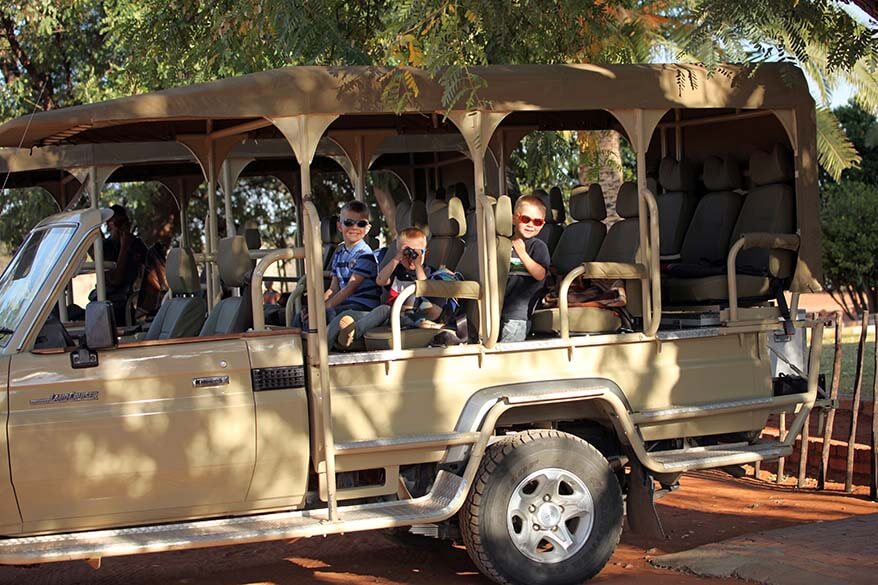 11. Namibia has the same time zone as Europe and is closer than you think
The fact that Namibia is in the same time zone as Eastern Europe is a big advantage to European travelers. And especially to the families who are traveling to Namibia with young children.
But even if you travel from the US, Namibia is closer than many people think. You can take direct flights from Europe to Namibia in just 10 hours.
We boarded the plane in Frankfurt, Germany, in the evening and landed in Windhoek early the next morning. It takes a bit longer from the US, because there is no direct flight and you have to change planes in South Africa, but it's totally worth it.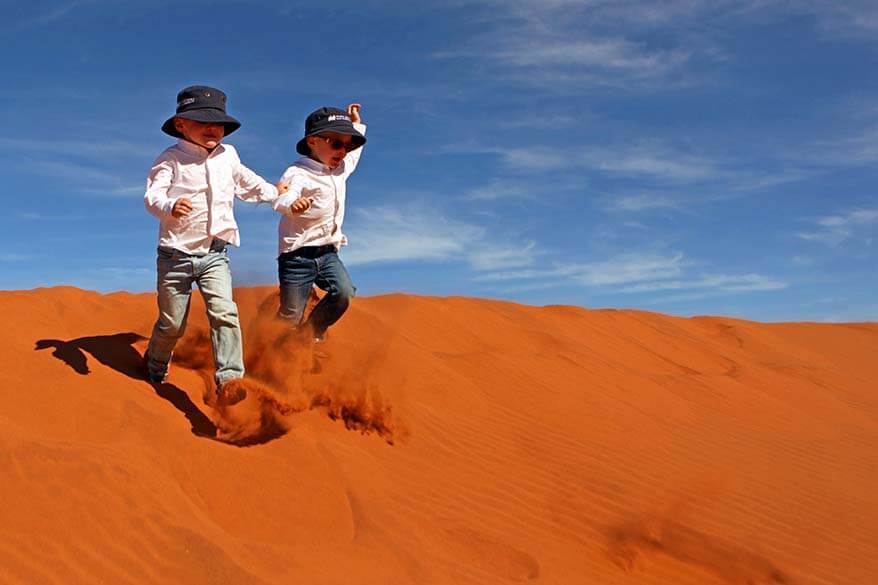 12. There are no crowds in Namibia
There are just a couple of million people living in Namibia and when you see how big the country is, you'll realize that it's very thinly populated. Tourism is mostly concentrated around several areas and even then, it's never really busy. The rest of the country is empty.
You can drive for several hours and not meet anyone… This may be a negative aspect to some, but to me, it's what makes Namibia so special. And safe.
The only negative side to this is the fact that doctors and hospitals can be several hours driving distance away, depending on where you are.
It's a good idea to take a small first-aid kit and any medicine you think you might need on the road. Especially when traveling with kids.
LEARN MORE: What to Pack for Namibia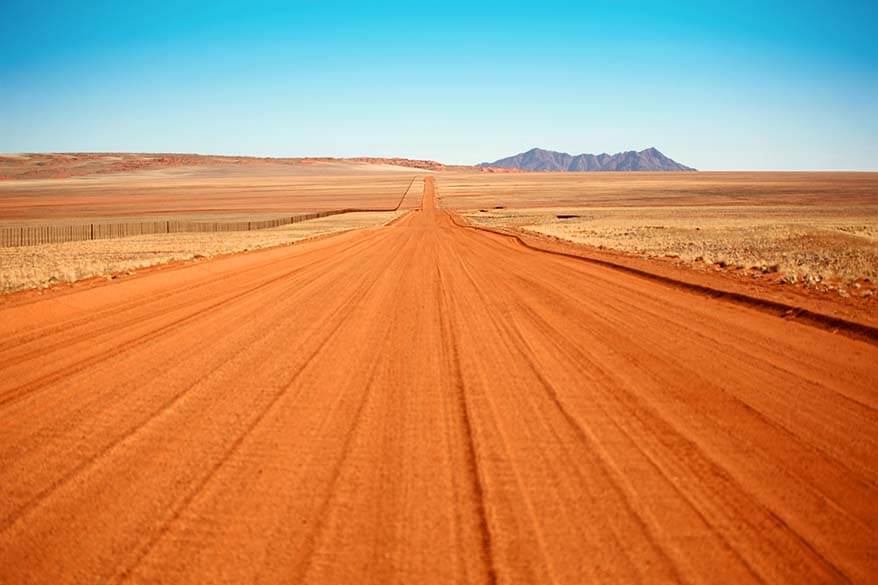 13. Namibian roads are reasonably good so you can travel individually
Namibia can be visited individually and a road trip is the best way to explore the country.
Even though there are only a few tar roads in Namibia, the quality of the main gravel roads is usually very good. You just have to rent the right car (4×4), adjust the driving speed accordingly, plan your trip well, and it's totally doable.
LEARN MORE: Namibia Travel Tips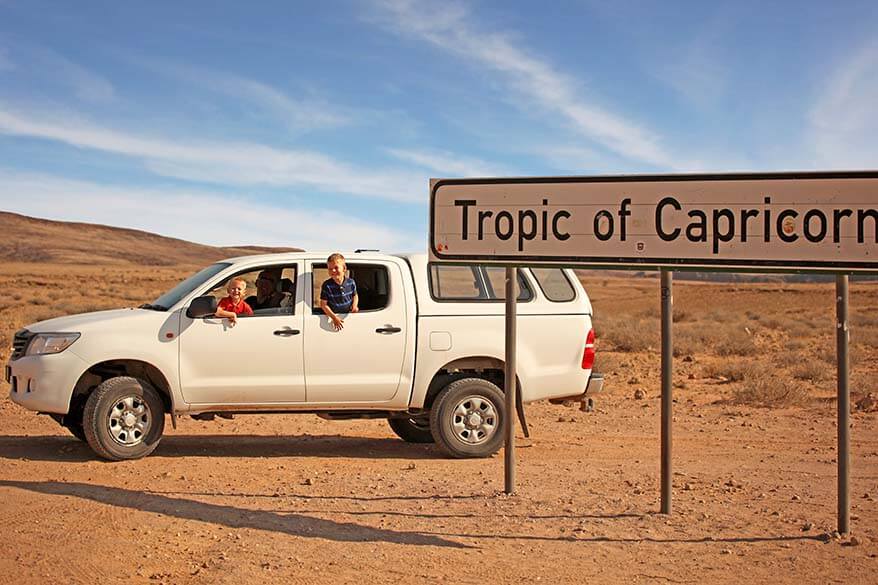 If you don't feel comfortable traveling to Namibia with kids on your own, you can always join an organized small-group tour. However, it's really simple to organize a self-drive trip and plan your own bucket-list family vacation in Africa.
So, these are just a few good reasons why Namibia is a perfect destination for families with children. If you are still hesitant or have any questions about traveling to Namibia with kids, feel free to leave a reply below.
If you dream of visiting Africa, Namibia is truly one of the best places to start, also for families with children. You'll love it!
More information for traveling to Namibia:
If you found this post useful, don't forget to bookmark it and share it with your friends. Are you on Pinterest? Pin this image!