One of the highlights of an African trip is the possibility to meet the people of the indigenous tribes of Africa. When we were preparing our Namibia trip itinerary, we knew that we would want to meet the people from at least a few of the many local indigenous tribes in Namibia.
However, it was not very easy to find detailed information about where to see the Himba tribe, Damara, Herero, or San people in Namibia.
We all want to try and avoid the feeling of visiting a human zoo, yet we long to get to know other cultures and learn more about the habits of people whose lifestyle is so very different from ours. So in this article, I want to share our experience visiting the indigenous Namibian tribes.
Good to know: If you have something against nudity, you shouldn't read this article further. In that case, I also urge you not to visit the indigenous tribes of Africa, as there is really no way around it. This is who those people are and how they live. For this article about the Namibia tribes, I tried to select pictures without too much nakedness in them, but it was not always possible.
Overview of the indigenous tribes we visited in Namibia: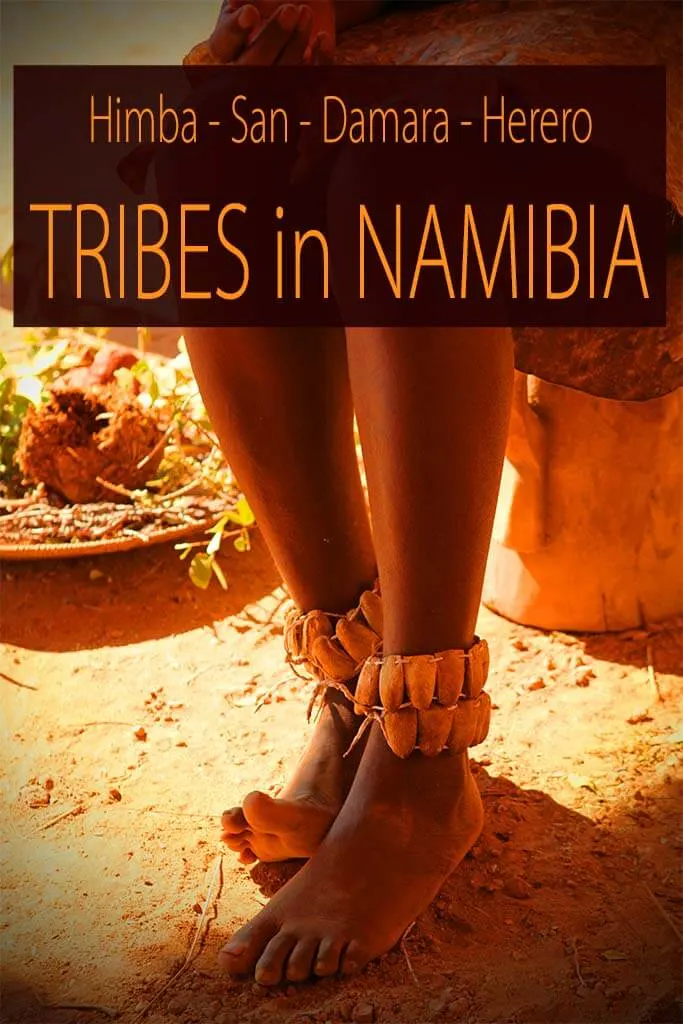 Himba Tribe
The Himba are semi-nomadic indigenous people living mainly in the Damaraland region in Northern Namibia.
Himba tribe managed to avoid too much outside influence and preserve the traditional lifestyle. It's the only people from the indigenous tribes we visited in Namibia who really still live the way their ancestors did centuries ago. They do not put up a show for the tourists. Well, at least not the Himba people we visited.
If you see a travel brochure with pictures from Namibia, the chances are high that you'll see pictures of the Himba. But how and where to find Himba tribes in Namibia? Read on!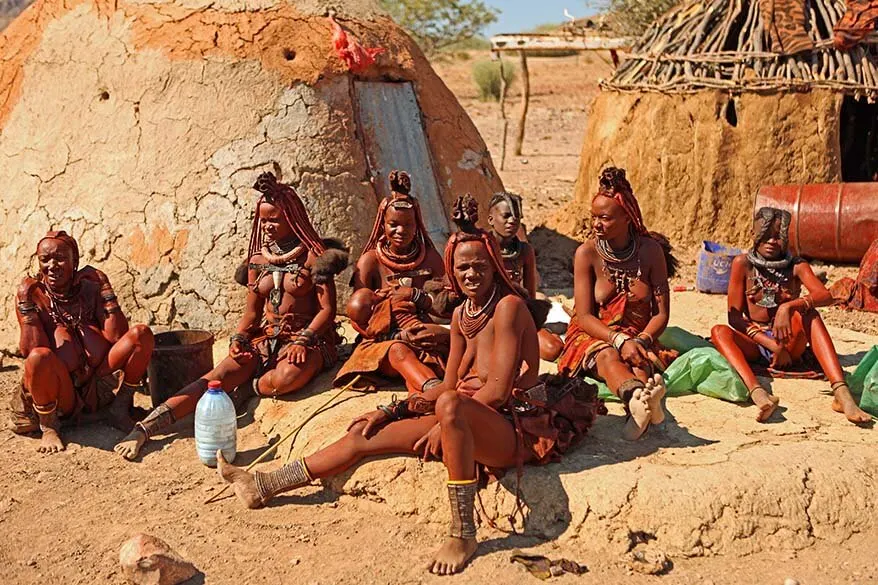 Where to see Himba people in Namibia
When preparing for our Namibia trip, we read about a Himba orphanage, Otijkandero Orphan Village, that one could visit on the way from Twyfelfontein to Etosha National Park (somewhere between Kamanjab and Outjo). But this was not really the authentic experience we were looking for.
I also read that one could take a day trip to visit the Himba North of Palmwag, but the reviews were talking about a long day trip of 10 hours on bumpy roads, so this option wasn't for us either.
If you read more about our trip to Namibia, then you know that we were traveling in Namibia with three young kids, so long day trips with not much to see were out of the question for us.
And then there was an option to see Himbas that our travel agent proposed to book for us, but it was such an expensive day trip that we didn't even look into it further.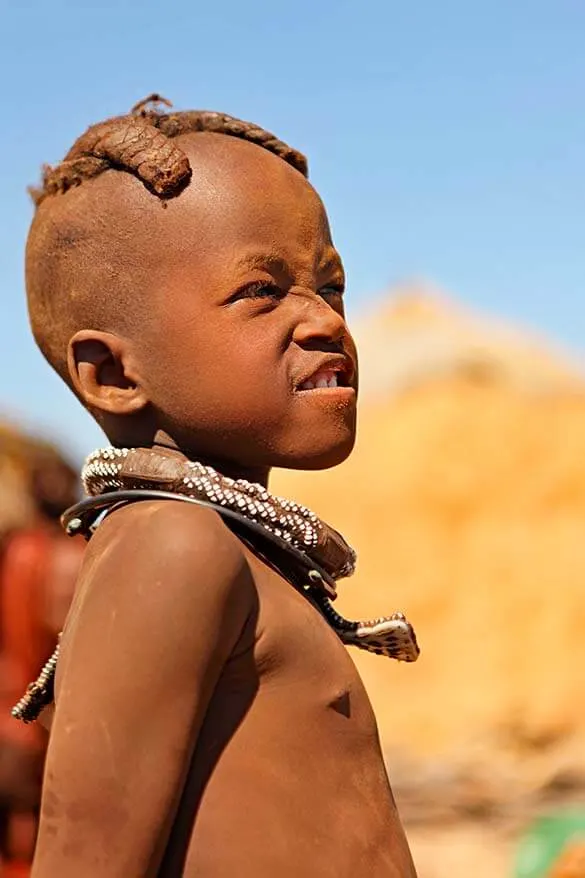 So where to find an authentic Himba tribe in Namibia?
We were staying in Palmwag for a couple of days, and we knew that there are a lot of guided safari rides and also Himba tours available from there. As I said before, we thought that a long day trip of over 10 hours was the only option to see the Himbas near Palmwag.
But upon arrival at the Palmwag Lodge, we found out that there was a Himba village nearby and that the lodge was organizing a day tour that included a visit to the Himbas North of Palmwag.
It appears that the Himba village was not that far at all. Furthermore, the road to get there was a regular gravel road like anywhere else in Namibia. In addition, the day tour was more about safari and visiting the Himba village and did not involve that much driving and spending endless hours in the car. So after talking to the guides, we decided to give it a try and booked this day trip.
I don't remember the exact price of the tour anymore, but I know that it was 1/4th of the price of the Himba tour that travel agents wanted to sell to us. On top of that, the kids under 6 were free of charge, so we would need to pay for 2 adults only.
Later on, they came back on this and said that we should pay a bit more because we had three kids under 6 and there was nobody else going on the same tour that day. And so if we wanted to do it and have the whole jeep to ourselves, we had to pay an additional price of one child. It was still more than worth it.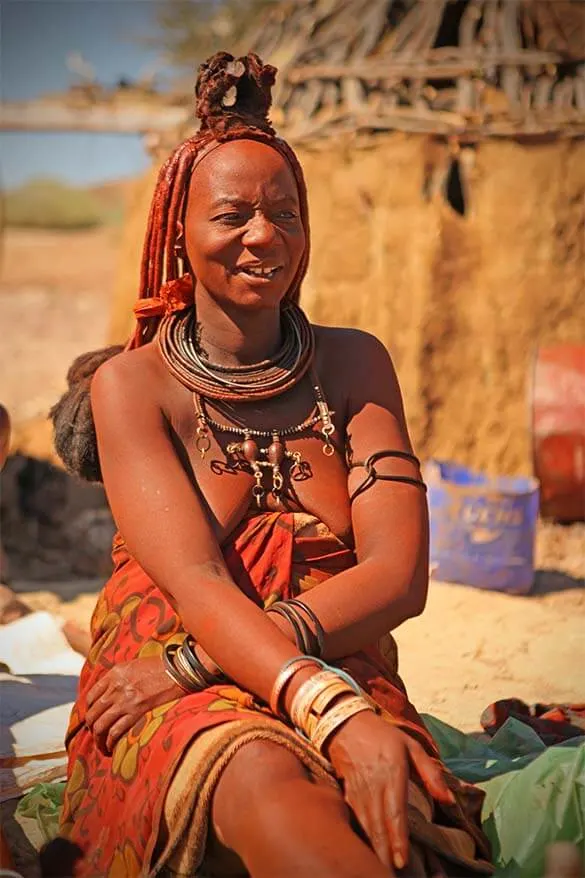 Visiting Himba and Damaraland safari day trip with kids
Our day started with a guided Damaraland safari morning tour, followed by a visit to the Himba village, more safari, lunch, and then again safari drive till sunset. We started at 7 AM and were back around 5-6 PM. We had an amazing day.
Yes, it was a lot of time spent sitting in the car, but we were mainly looking for safari animals along the way. Also, before our Namibian trip, we bought binoculars for all three of our kids so they were very engaged in looking for animals every time we went on a safari ride. We saw a lot of wildlife which helped to keep the kids entertained.
Looking for more tips? Check our post with all kinds of practical information and tips for your first safari.
We spent about an hour at the Himba village, followed by some serious off-road driving over the dry river bed and a very bumpy savannah following a herd of desert elephants.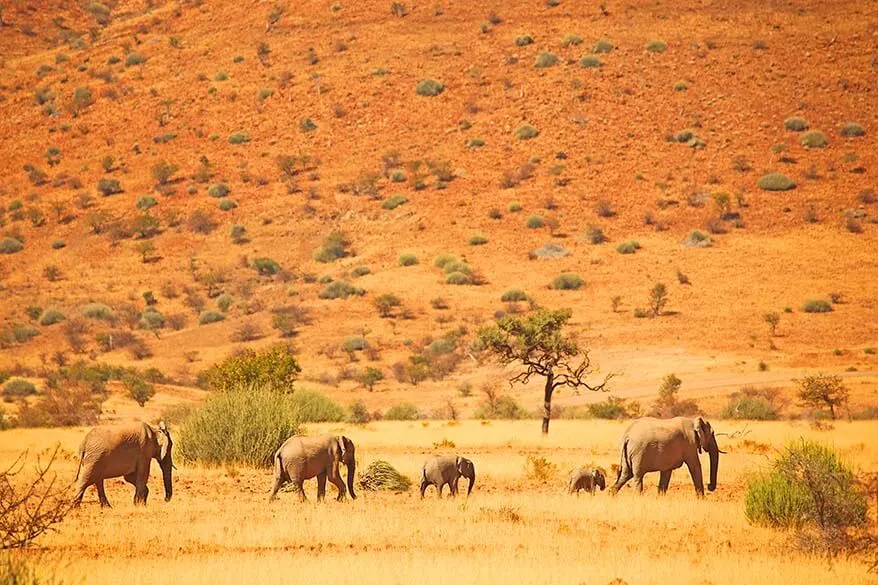 We then had one of the most memorable meals that you can only have in Africa: a picnic lunch in the savannah while watching the elephants from a safe distance.
In the afternoon we continued looking for animals, and the day was over before we knew it. Our kids of 3, 3, and 5 years handled this day tour extremely well. Although the kids were a bit too wild and too enthusiastic with the goats of the Himba… But luckily the Himba people were super understanding, patient, and friendly with our kids.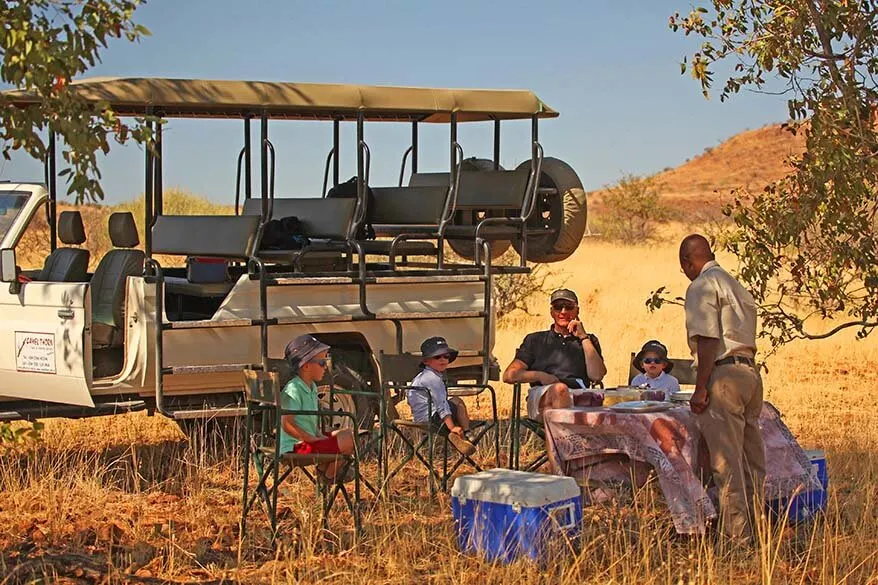 Our visit to the Himba tribe in Damaraland
The Himba village that we visited was more of a family farm. The family consisted of a man, his mom (the father was dead), his three wives, and their 27 (yes, you read it right!) children.
We understood that every 'village' is actually just one family's home. And since the Himbas are semi-nomadic, they move and build new 'villages' every time.
The Himba clans are led by the eldest man, sons live with their father's family and the daughters move to live with their husband when they get married.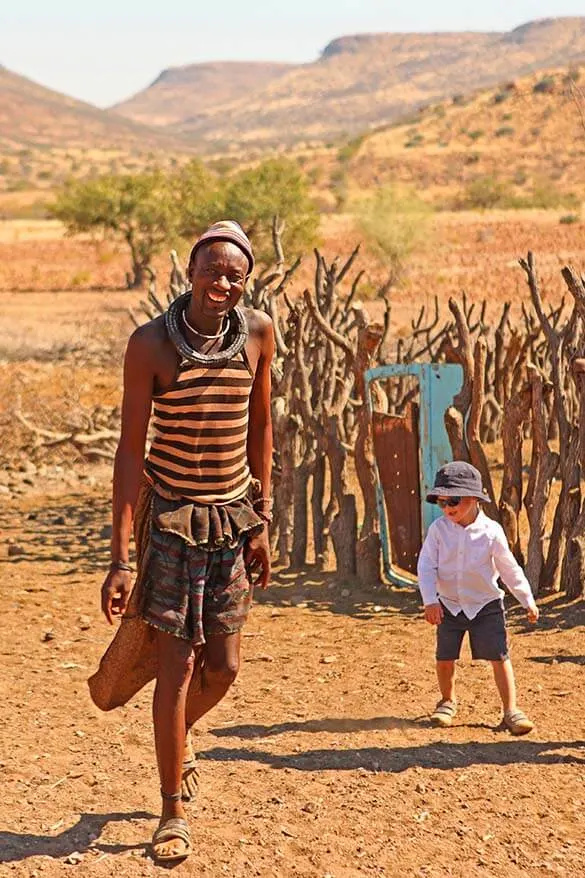 The Himba village itself was not more than a collection of tiny mud huts, a fireplace in the middle where everyone seemed to be hanging around the whole day, and a small fenced area for the goats and the chicken.
We were told that they had more cattle a bit further away, but we didn't see it. That's pretty much all they have, and all that counts.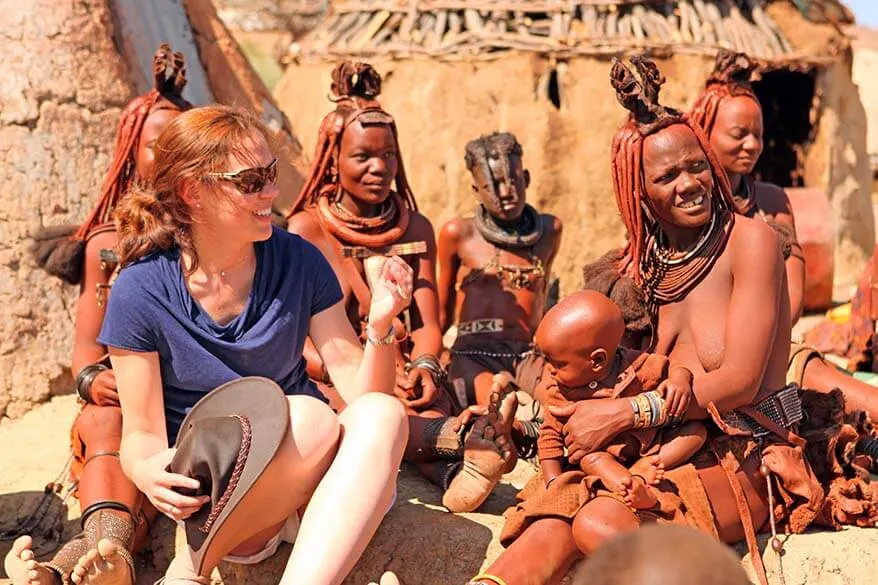 The Himba women were all dressed in traditional clothing and most attention seems to be given to the jewelry and the hair.
Hairstyle and jewelry are very important for the Himba. It indicates the age and social status of each person within the community.
The hair of the women is covered in red mud and they also use some kind of a red substance to protect their skin from the sun.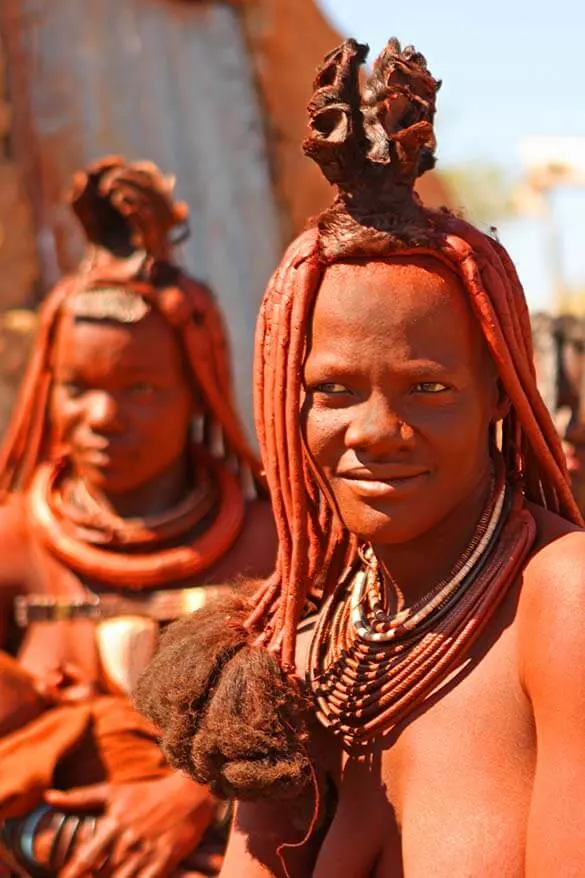 The visit to the Himbas was very relaxed. Our driver/guide was very familiar with the family and helped us all communicate. Afterwards we found out that he also came from the Himba tribe.
The Himba people were extremely friendly, their kids showed our kids some goats and chicken, and they had just about as many questions for us as we had for them.
It really felt like a very genuine visit to a very special family.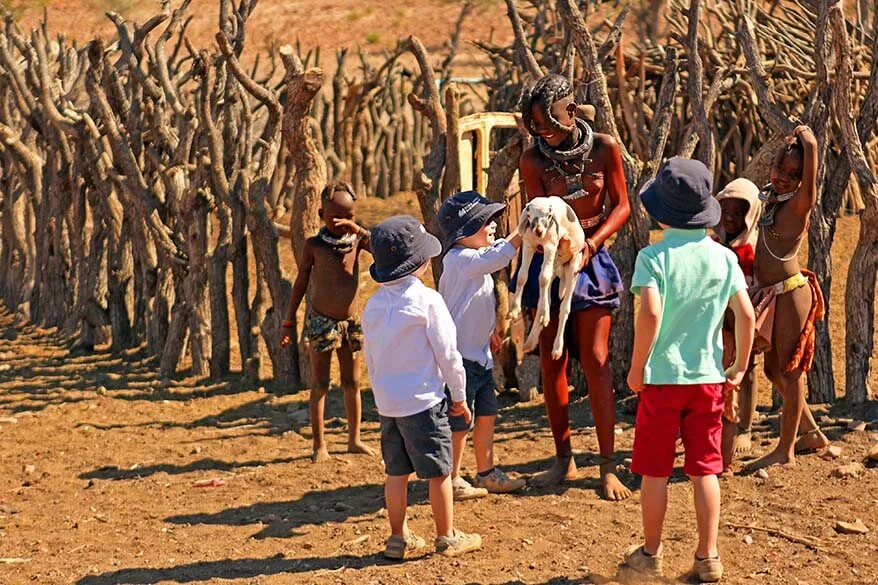 Of course, we were expected to buy some hand-made souvenirs they presented to us at the end of the visit, which we did. That's probably the only source of income that the family had, apart from some cattle which serves more as a way to feed the family.
So if you are visiting any indigenous tribes in Africa, think of how you can support them without giving charity. People really appreciate it if you genuinely like a hand-made souvenir that they or their kids made.
If you are looking for unique gifts to bring home, this is a great opportunity to get something truly special!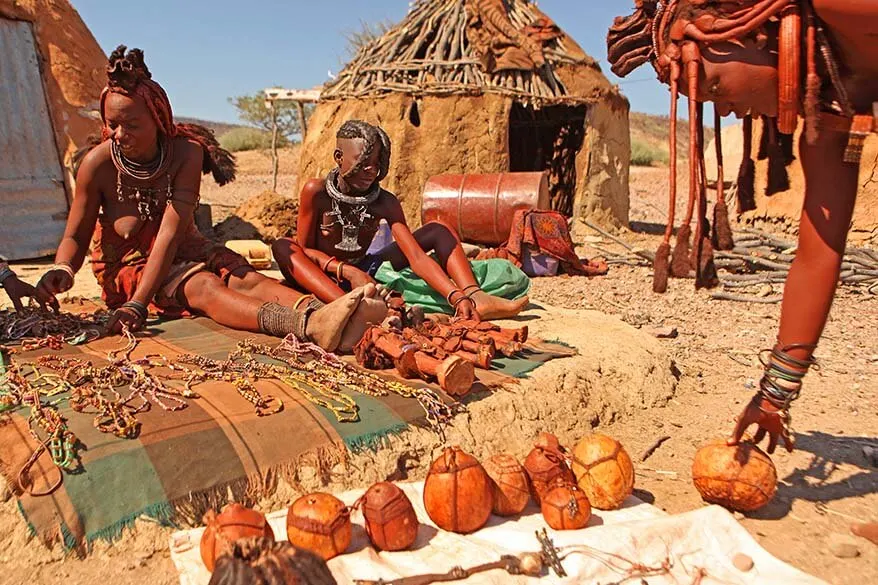 Can you still see the Himba near Palmwag?
Since Himba are nomadic people, it can very well be that the village we visited is long gone by now. Or maybe there are many other new villages to be visited nearby…
TIP: If you want to be sure you can see Himba North of Palmwag, you best contact the Palmwag Lodge in advance for more up-to-date information. Alternatively, try some other lodges in the area too. It can very well be that they also offer similar day trips.
I can recommend the beautiful Grootberg Lodge. It's not that far from Palmwag and has similar day trip possibilities, but it's a much nicer lodge and it's better managed.
Alternatively, check out the Etendeka Mountain Camp – it's a beautiful tented accommodation in the same area as the two lodges I mentioned before, and it has really amazing reviews.
Visiting Etosha National Park as well? Check our guide to the best places to stay in Etosha National Park.
Meeting the Damara people in Namibia
The Damara is one of the oldest tribes in Namibia with a quite significant population of about 100,000 people (+-9% of the Namibian population).
However, their culture and habits haven't been preserved very well and they seem to be much more adapted to the more modern lifestyle than the Himbas.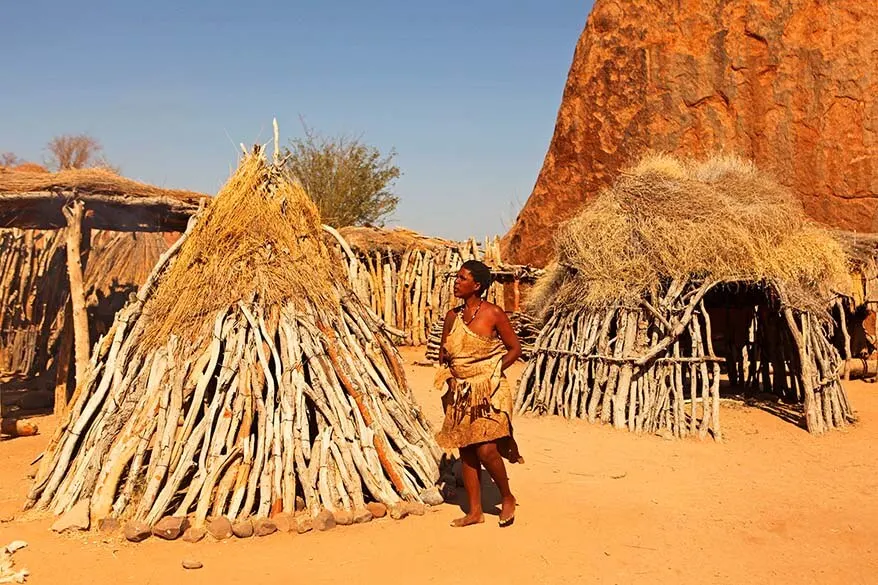 Damara Living Museum near Twyfelfontein
One of the few places to experience the traditional Damara culture is the Damara Living Museum near Twyfelfontein. It's an open-air museum with a staff of some 30 people who come to work here every day showing tourists how the Damara life used to be in the past.
You have two options for a visit at the Damara living museum, both with an obligatory guide: the village tour or the combination of the village and the bush tour.
We opted for the village tour since most reviews we found on the Internet said that the bush tour was not really worth the time or the money.
The 'village' is a small collection of traditional huts and workplaces, each specializing in one aspect of the traditional Damara lifestyle. The guide takes you from one place to another and you can see how the Damara people make jewelry, clothing, how they start a fire using only sand and some dry sticks…
We also met the 'medicine' expert who explained about all kinds of plants they use for cure. At the end of the visit, we could see a little show. It was a performance of an old Damara folk tale with lots of dancing and singing. Very impressive!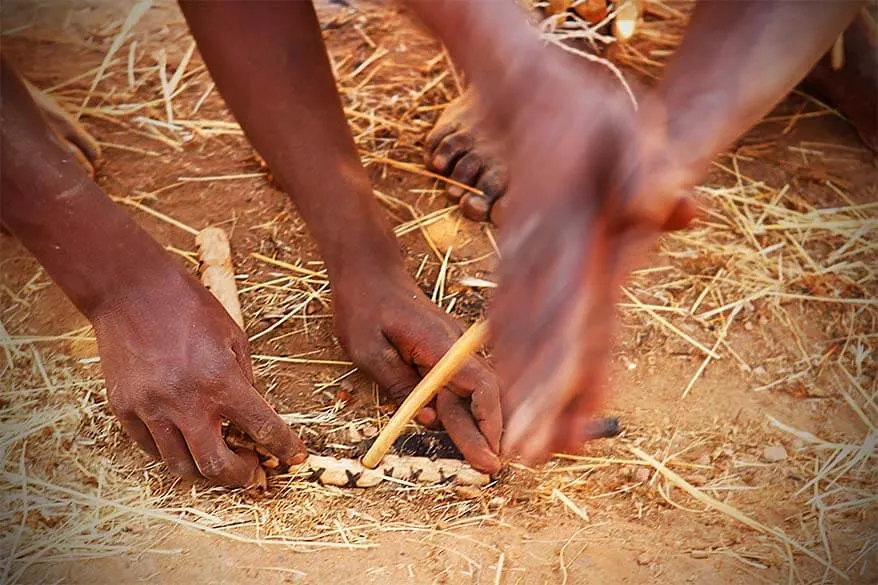 It was a very informative visit and it was nice to see how the life of Damara used to be, but it wasn't comparable to visiting a real living village like the one of the Himbas.
The Damara people we met were also very distant, not friendly at all, and you could see that this was just their job with a single purpose of making money from tourists.
If only they had done their best to at least pretend they liked what they were doing, it might have been a much more enjoyable experience. Or maybe they just had a really bad day…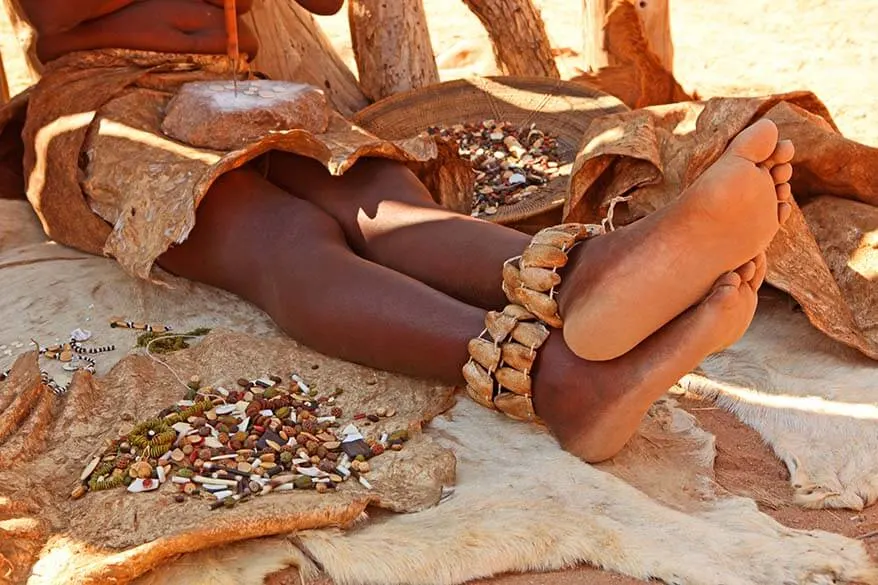 The 'living museum' concept apparently has become a big business in Namibia.
They already have six different museums, all in Northern Namibia, where you can get acquainted with all kinds of different Namibian tribes: Ju/'Hoansi-San, also the little hunters of San, Mafwe, Mbunza, Damara, and Ovahimba.
You can find more information for your visit to one of the living museums on their official website.
READ ALSO: Best Places to Visit in Namibia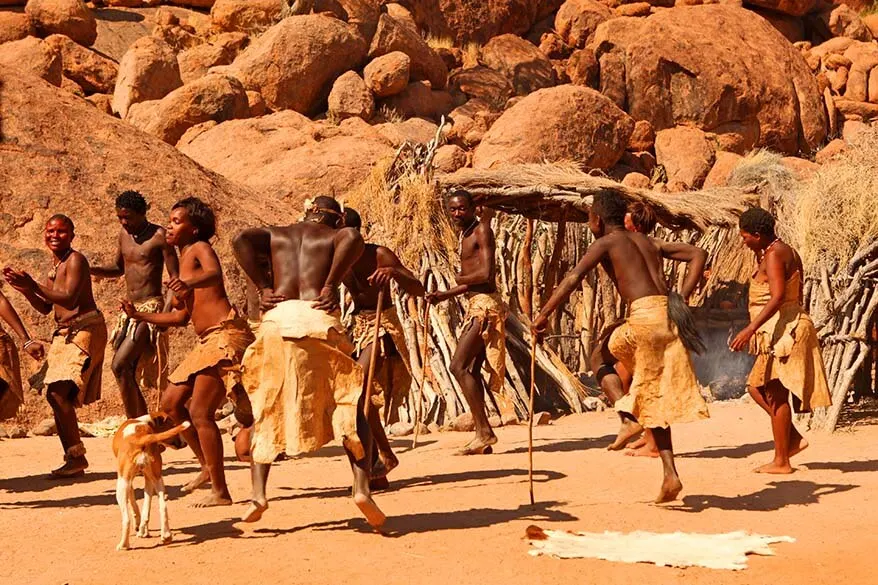 Bushmen – San people in Namibia
The San people, more often referred to as Bushmen, are one of the oldest indigenous hunter tribes in Southern Africa. They live in South Africa, Namibia, Botswana, Angola, Zambia, and other neighboring countries.
The San have long switched to farming now, but a lot of their traditional lifestyle appears to still be preserved. Bushmen still lead nomadic life and live without any modern comforts.
Most San settlements were a bit out of the way on our Namibian trip, so we didn't really plan to see the Bushmen in Namibia. But then the opportunity presented itself, and so the San were the third indigenous tribe we visited in Namibia.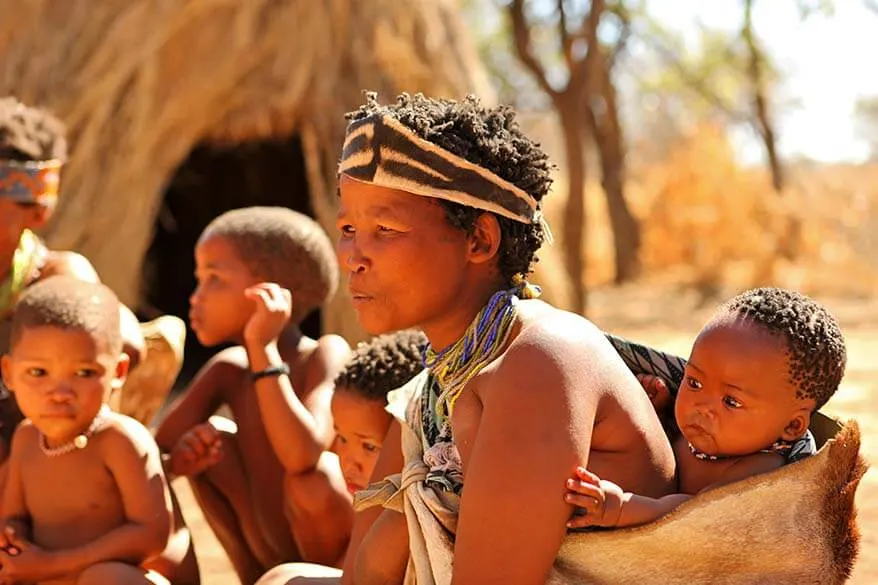 Visiting the San village at Erindi Private Game Reserve
Update: One of our readers let us know that the San people have left Erindi and moved back to their homeland. So it's no longer possible to meet San people here.
Erindi Private Game reserve was one of the favorite stops on our Namibia trip. They have the most beautiful terrace overlooking a very active waterhole with hippos, crocodiles, elephants, and many other wild animals. It's almost as good for wildlife viewing as Okaukuejo in Etosha National Park, but way more luxurious.
We didn't know in advance that there are several San families living at Erindi. We came here for the lodge and for the fantastic game drives they offer in their huge private game reserve.
The short trip to the San Village is just one of the many activities you can do at the Erindi Private Game Reserve, and – according to their website – it's only offered to their overnight guests.
We really enjoyed this short visit. It was nice to meet a community with so many children. I read that the San children are not expected to contribute to the community, so they have a really nice childhood with lots of time to play, explore, and learn from the elders of the tribe.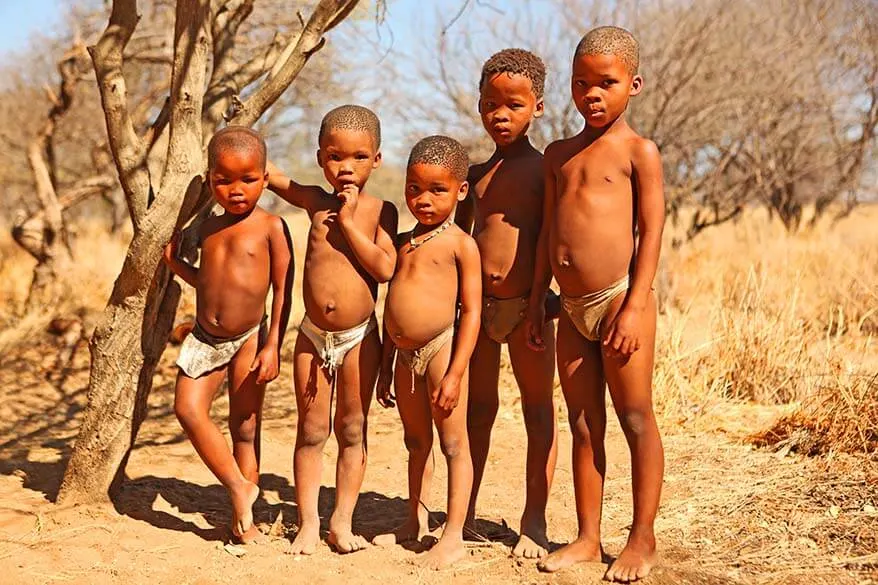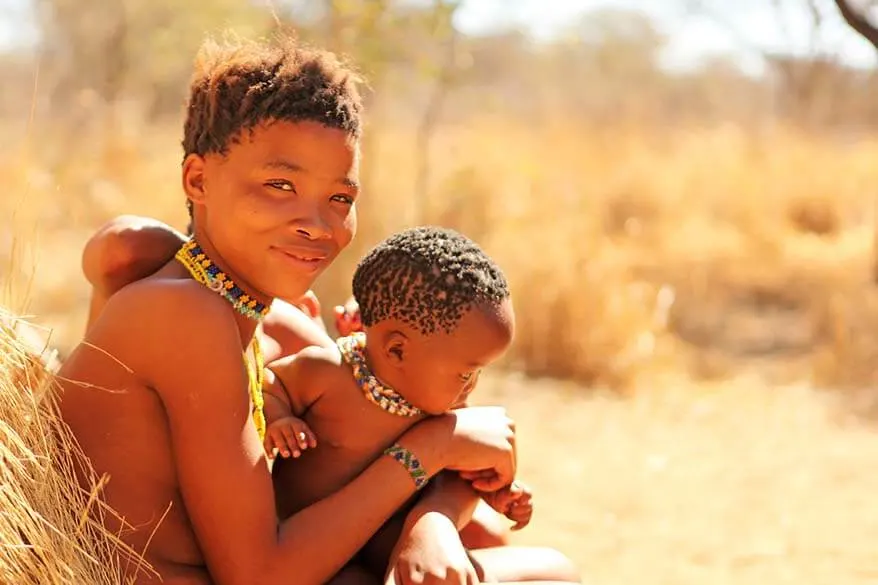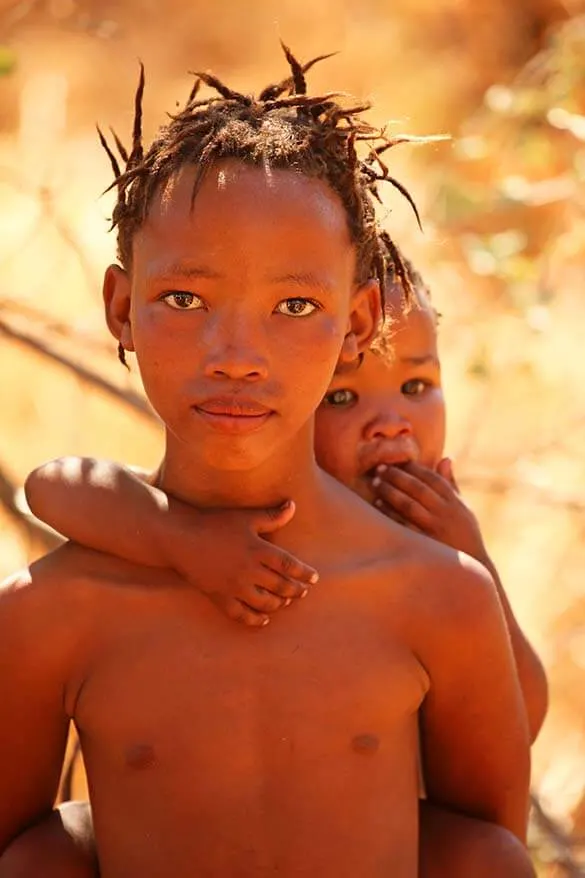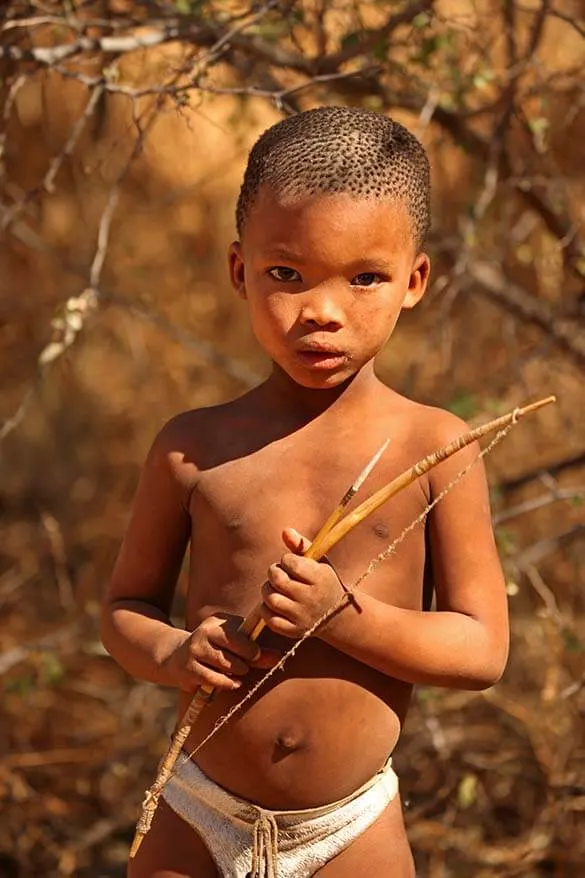 The Bushmen also had a 'medicine man' who explained about the plants they use when someone gets sick. They also made fire without the use of matches, just like the Damara people did. They showed us how they used to hunt and how they teach children to read the signs and follow wildlife.
While it was a real community showing their daily life to us, it still felt to be much more tailored for tourists than the Himba visit. It was also not a real village where they live, just a place they come to every day, in collaboration with the reserve and their financial support.
On the other hand, the people were really friendly and we really enjoyed getting acquainted with yet another African tribe and their culture.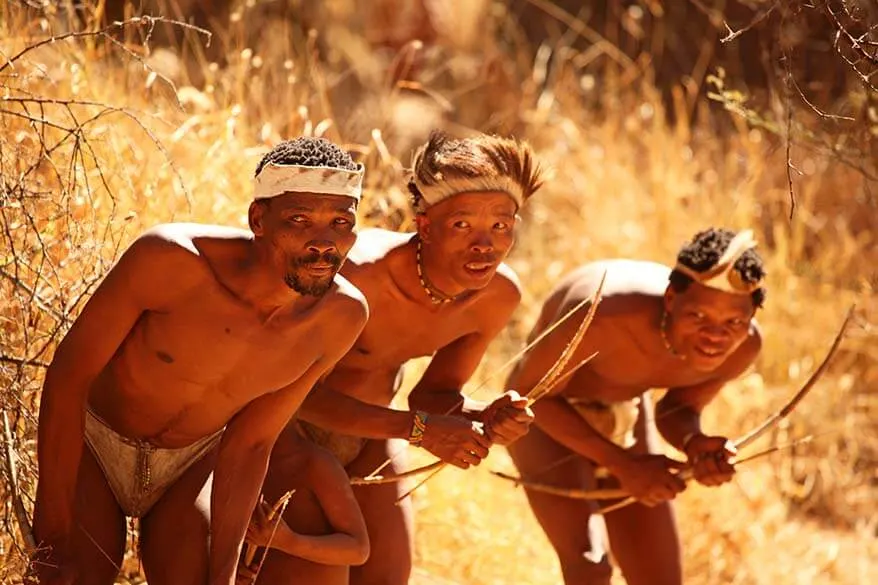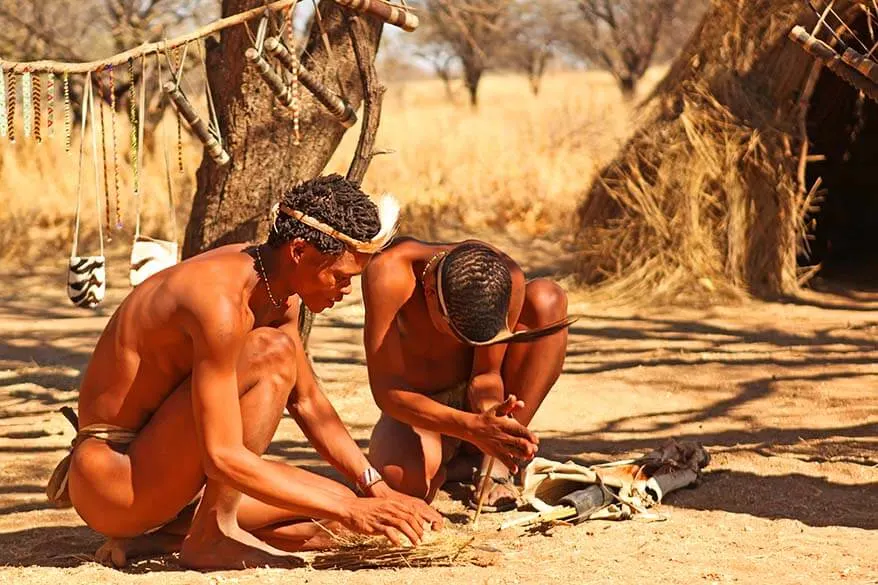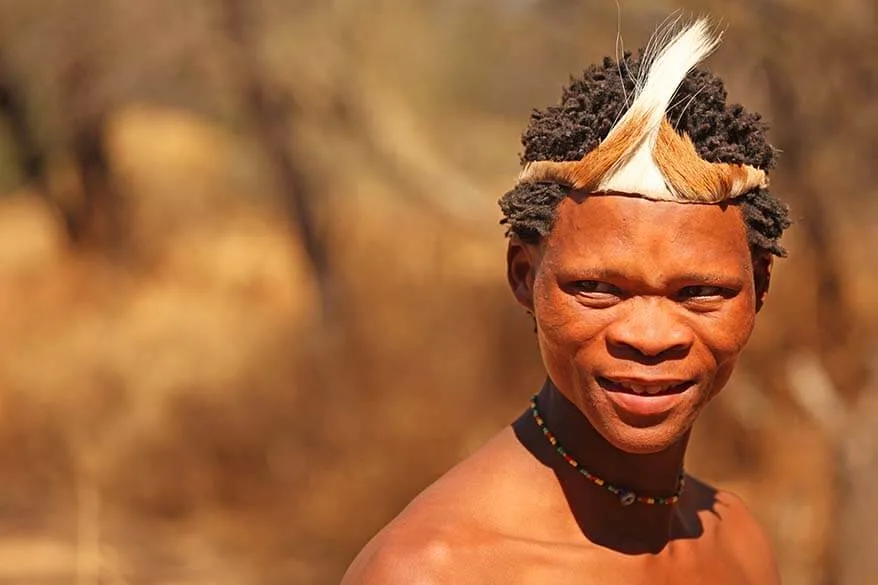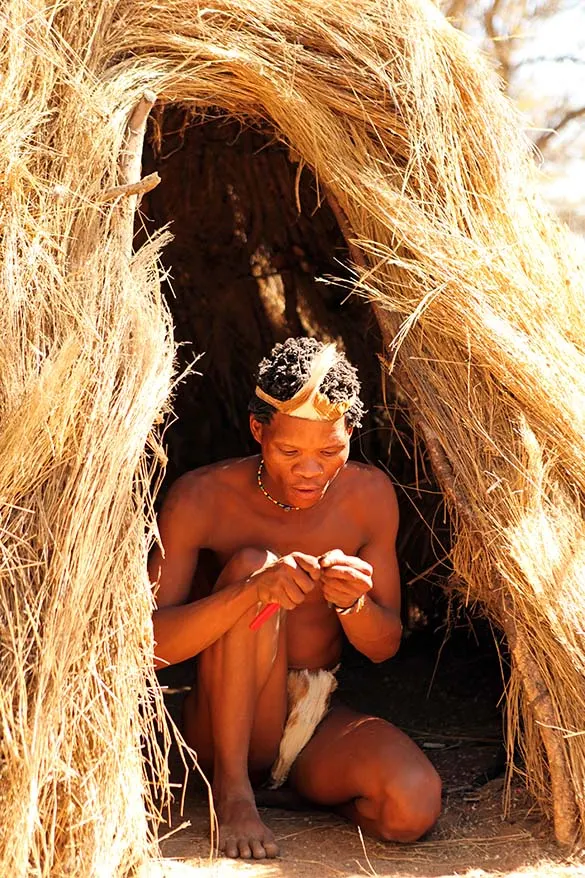 Herero tribe in Namibia
We hadn't planned to visit the Herero people in Namibia, but we saw many Herero villages and people while driving on the road from Swakopmund to Twyfelfontein.
The Herero people stand out from the other tribes because of their colonial-style clothing. This tribe also seemed to be the proudest of all the Namibia people we met on our trip.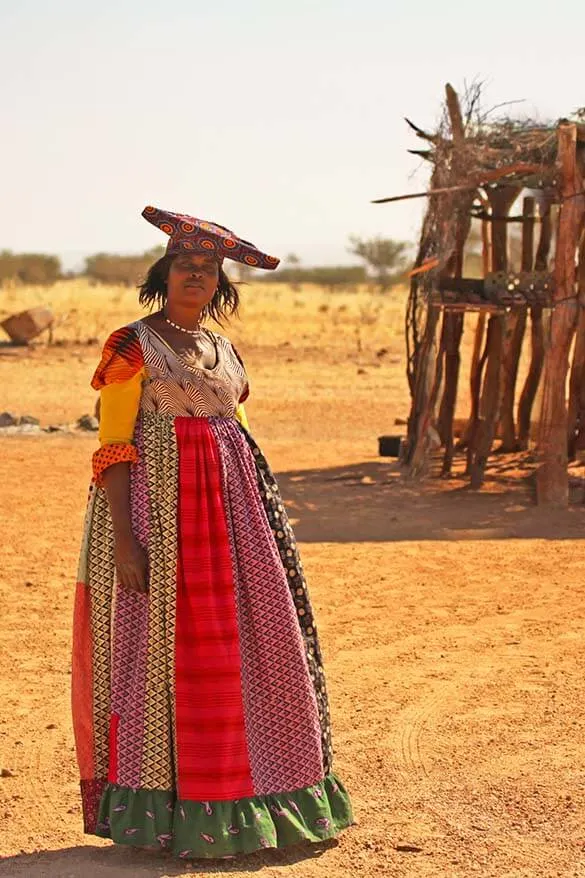 In search of indigenous tribes in Namibia – our tips
If you are looking for a simple way to see the indigenous tribes in Namibia, then the Damara living museum is probably one of the easiest accessible places to do this. It's very close to the Twyfelfontein UNESCO site which many tourists visit anyway, and it can easily be combined. If you are road-tripping through Northern Namibia, then the other living museums might be a good option as well.
If, however, you are looking for a more authentic experience, you should consider visiting a real Himba or Damara village. My best advice would be to contact the lodges to the West of Etosha National Park (see above – the Himba section – for suggestions). Ask them what the possibilities are.
For a truly authentic experience, you can also try to just stop at one of the Herero villages you'll pass on your way. However, I honestly don't know how those people would react or how you'd communicate with them without a translator…
If you want to visit Namibia, meet local people, and see the beautiful landscapes and wildlife, but don't know where to start, you may want to visit Namibia with an organized tour.
Have you been to Namibia and visited Himba, San, Damara, or another indigenous tribe? Please share your experience and location by leaving a comment under this article. You'll help other travelers looking for a similar experience.
READ ALSO: Namibia Travel Tips
If you found this post useful, don't forget to bookmark it and share it with your friends. Are you on Pinterest? Pin these images!