Wondering what to see and do in Manchester, England? In this guide, we share top sights to see and the most popular tourist attractions in Manchester. This list will help you cover all the musts and make the most of your visit. Find out!
Manchester is a vibrant and multicultural city in the northwest of England UK. It's a city of innovation and industry, with a fascinating past and a warm and welcoming atmosphere. Whatever your interests – from history to pop culture and everything in between – you will find lots of things to see and do in Manchester, along with endless opportunities to discover just what makes this proud and progressive city tick!
In this article, we include the very BEST places to see and things to do if you are visiting Manchester for the first time. All these Manchester attractions are ideal for the whole family and some are totally free to visit!
To help you plan your visit and get a better idea of where everything is located, we also created a map of the main sights of Manchester. You can find it at the bottom of this article, together with our suggestions on where to stay for sightseeing.
Good to know: Quite a few museums and landmarks in Manchester are closed on Mondays and Tuesdays, so keep this in mind when planning your visit. However, there are also other places that are open daily. So – no matter when you visit – you'll find plenty to see and do in Manchester. But if you want to visit a specific place, be sure to check the opening times!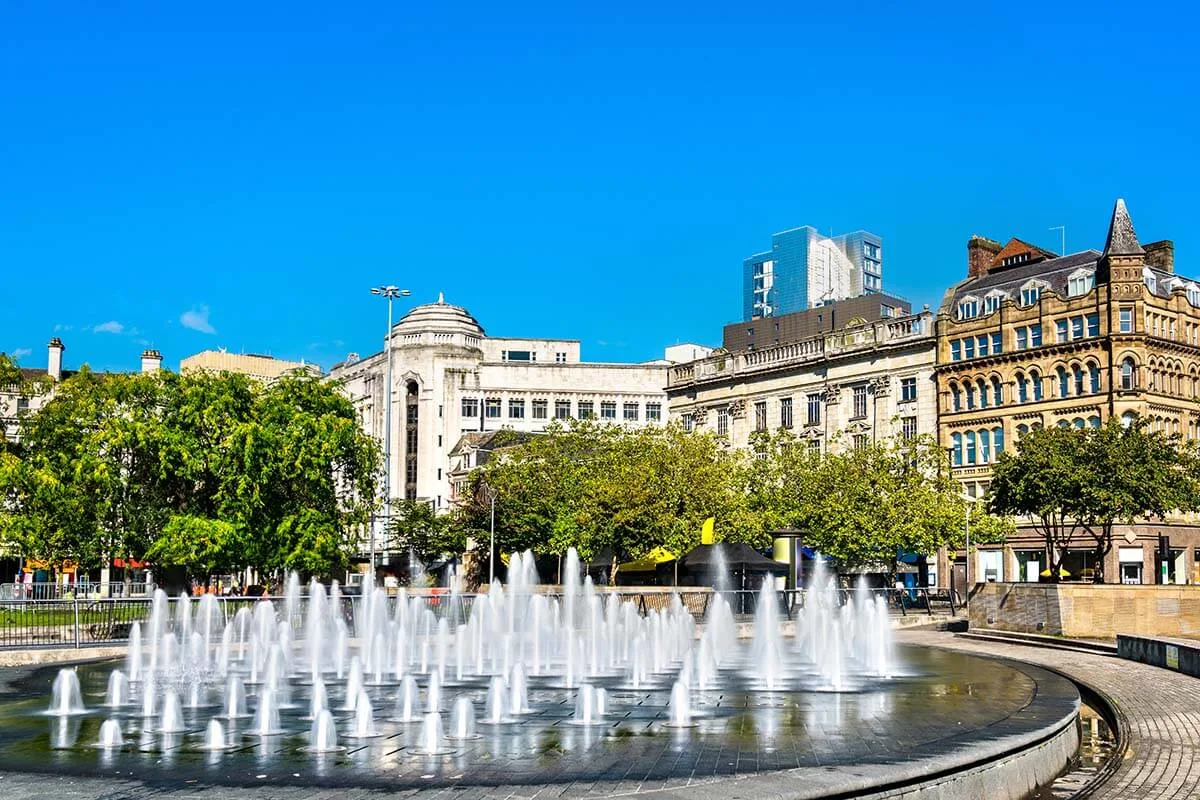 Good to know: You'll see that 3 out of 15 places on our list are related to football (soccer), with two of them at the very top of the list of the most popular Manchester attractions. This is because Mancunians (residents of Manchester) are fiercely devoted to their football and no trip to Manchester would be complete without visiting at least one of these landmarks…
Manchester is one of three cities in the UK that has two professional clubs, Manchester City F.C. and Manchester United F.C. As you can imagine, the rivalry between them is pretty big, particularly since both are in the Premier League.
If you have an interest in football, you really must take a tour of one of the stadiums during your visit to Manchester, plus see the National Football Museum! And even if you are not a fan, be sure to visit at least one of the three 'football attractions'!
These are some of the best sights to see and things to do in Manchester:
1. Manchester United Museum & Old Trafford Stadium
The success of Manchester United football club (founded in 1878) is legendary and its 'brand' is instantly recognized right across the world. This makes a visit to the club's home at Old Trafford an unmissable experience. It's one of the most interesting things to do in Manchester, for footy fans and non-fans alike!
A behind-the-scenes stadium tour allows you to walk through the famous players' tunnel – where the likes of David Beckham and Ronaldo have walked before you – and take a look in their dressing rooms. You can also sit in the manager's seat in the dugout, see the press room, and visit the VIP room.
The museum takes a closer look at the history of the club, with trophy displays, a tribute to former player George Best, displays of the kit throughout the years, and a virtual chat with Sir Alex Ferguson, possibly the team's greatest manager.
It's possible to skip the stadium tour and just visit the museum at a lower price. But few people choose to pass up an opportunity to see firsthand one of the most successful football clubs in the world. We highly recommend doing the full tour!
If people visit just one 'football landmark' in Manchester, they usually opt for this one, but the Etihad Stadium (Manchester City) is just as special (see below). So – unless you are a fan of one or the other – just see which one fits your itinerary best and visit at least one of them.
Good to know: Be sure to check the dates when you can visit the stadium! It has some more 'black-out' dates than the Etihad Stadium tour.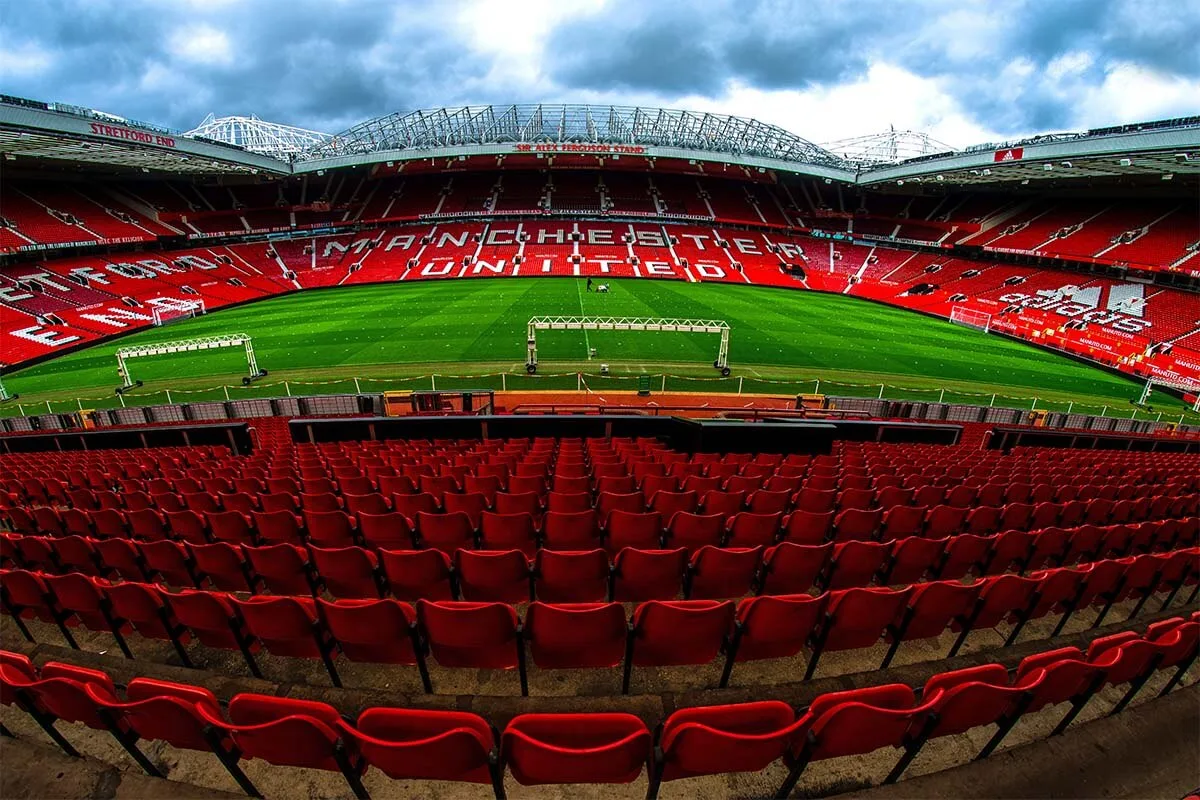 2. Etihad Stadium: Manchester City
Etihad Stadium is home to Manchester City football club. Founded in 1880, this is the younger of the two Manchester clubs. And whilst it has always been somewhat in the shadows of Manchester United, the recent signing of several world-class players has really seen a change to its fortunes!
The current name of the stadium comes from its sponsor – Etihad Airways. It is an impressive venue with place for 53,400 people. A few years ago, Etihad Stadium has also been named the best stadium in the world.
Sitting to the east of the city center, Manchester City stadium is a fascinating place to visit! A stadium tour gives you a real insight into how life as a professional footballer must feel to the players. You get to walk down the glass players' tunnel out onto the pitch, see inside the changing rooms and view the trophy display. You can even have a virtual chat in the press room with Pep Guardiola, the club's current manager, and take home a photograph of the occasion.
An audio-visual show has recently been added to the lineup which makes the Etihad Stadium tour one of the most immersive in Premier League football. The staff here is also extremely friendly, and the guides that do the tours do an excellent job!
Good to know: The Etihad Stadium tour is available daily, all year round, with just a few exceptions. You can check availability and book a tour here.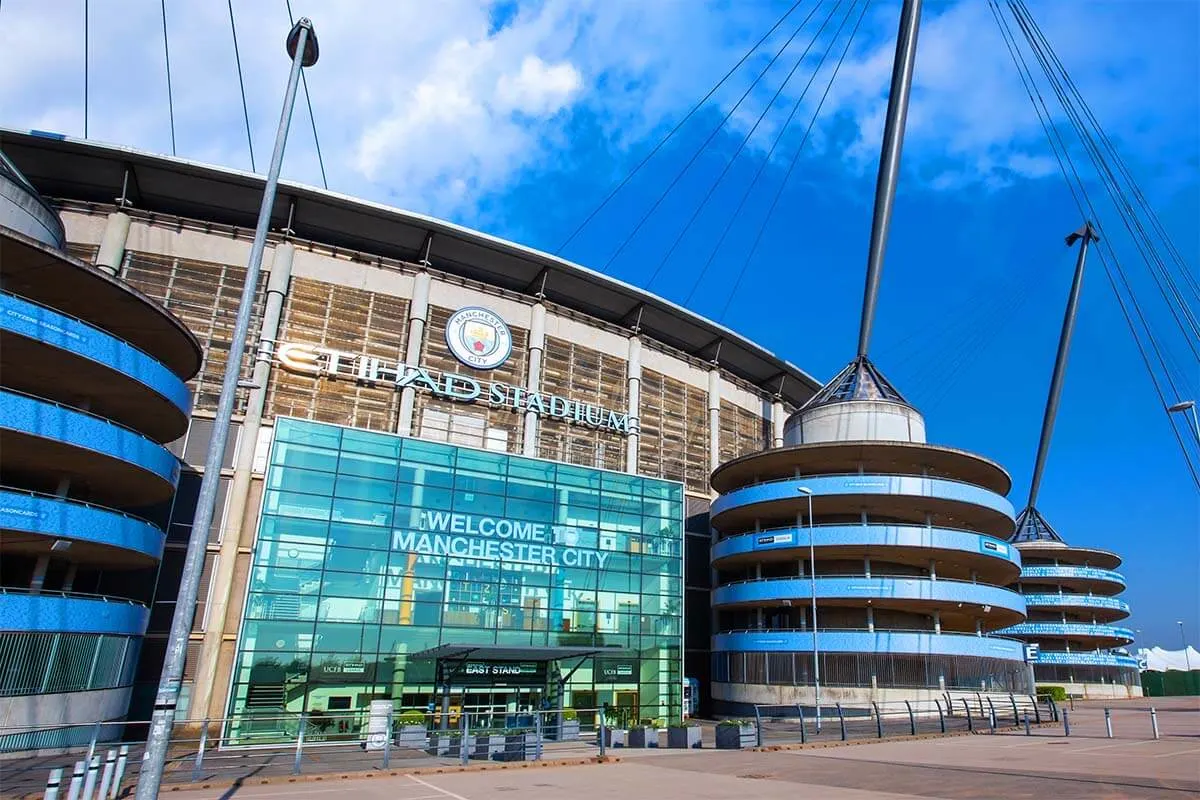 3. John Rylands Library
Located in a late-Victorian neo-Gothic building on Deansgate in the city center, John Rylands Library looks almost nothing like a typical library (apart from its bookshelves, of course!).
Instead, stepping through its doors feels like walking into a beautiful cathedral, with soaring vaulted ceilings and stunning high windows.
Commissioned in 1889, John Rylands Library has a fascinating history. It was one of the first buildings in Manchester to have electric lighting. It also had a very advanced heating and ventilation system for its time, designed to protect its books from the soot and pollutants of industrial Manchester.
Despite its beauty and historic significance, this is still very much a working library and – in 1972 – became a part of the University of Manchester. It contains some of the most important manuscripts and books ever written, including the oldest known piece of the New Testament and the 1476 William Caxton edition of Chaucer's Canterbury Tales. It is also one of five National Research Libraries in the UK.
John Rylands Library is completely free to visit and everyone is welcome to read, study or simply admire the architecture. Be sure to check out the original Victorian toilets – unchanged since 1900 – and take the main staircase up to the Historic Reading Room, which gives you lovely views of the Entrance Hall below you and the Lantern Gallery up above.
Good to know: The library is open from 10 AM to 5 PM, from Wednesday to Saturday. For more information, check their website.
4. City Center & Walking Tours
There are lots of interesting places to see in Manchester city center. Too many to mention here. So one of the best things to do in Manchester is simply walk around the center. Check out Piccadilly Gardens, Chinatown, Royal Exchange Theatre, Albert Hall with City Hall, etc.
TIP: One of the best ways to explore the main sights of Manchester city center is by taking a walking tour with a local. It's a great way to see the main sights, but also some lesser-known places and get to know the real Manchester in just a couple of hours.
There are various options, so pick one that best suits your interests. Here are some of the most popular walking tours in Manchester, and each very different:
Afternoon tour of the main highlights. This small-group tour takes about 2.5 hours and covers the main landmarks in the city center. You'll see Manchester Cathedral, St. Peter's Square, Royal Exchange Theatre, Piccadilly Gardens, Chinatown, Vimto Sculpture, and learn more about the history of Manchester.
Rock & Goal walking tour. This is the most popular walking tour in Manchester (and very affordable too!). It's not your traditional landmarks tour. Instead, it focuses on the lesser-known places in Manchester and you get to learn some quirky facts about the city. You also visit some filming locations of various films and TV series, see street art, etc. It's a great introduction to real Manchester, beyond the main tourist attractions!
Food tour. This highly-rated food tour is another great way to explore Manchester a bit deeper. Not only do you learn more about the city, but you also get to taste some delicious local food.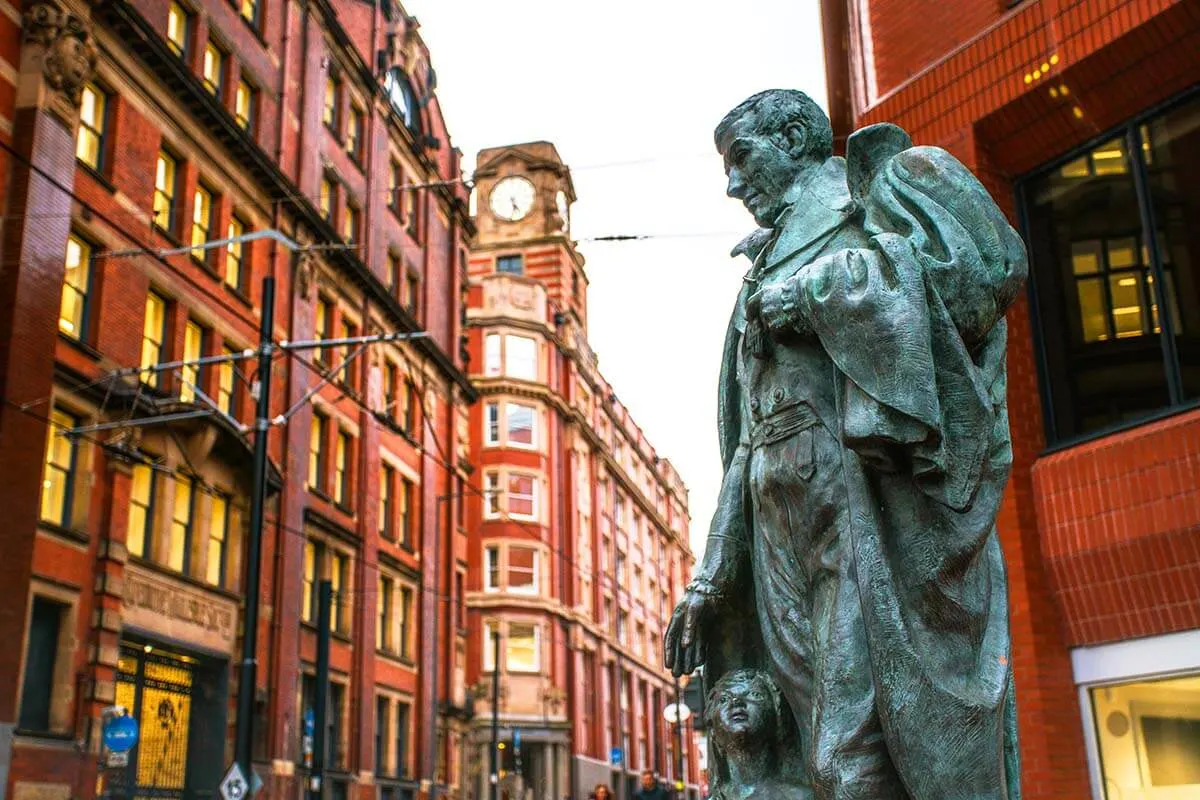 5. Manchester Cathedral
With 600 years of history, Manchester Cathedral is one of the must-sees in the city. It's the main church of the Anglican Diocese of Manchester, and quite impressive from the outside. But it's the interior of the Cathedral that you absolutely must add to your Manchester bucket list!
Located on Victoria Street in the heart of the city, Manchester Cathedral is like an oasis in the busy town center. The peace and tranquility you experience on entering make quite a contrast with the hustle and bustle of Manchester's lively streets. This is a great place to take a break and just enjoy the beautiful neo-Gothic architecture.
Whilst Manchester Cathedral is much smaller than the likes of Canterbury or Lincoln, it has some stunning features. Its stained glass windows are extraordinarily beautiful and it has some of the north of England's very best late-medieval woodwork, with a very ornate ceiling. It's also believed to have the widest nave of any English cathedral.
TIP: Do check the cathedral website before your visit to see what events are planned. You may be lucky to catch anything from an orchestral performance to a ballet during your visit. There are also some lovely craft markets held here at Christmas.
Good to know: You can visit Manchester Cathedral 7 days a week and admission is free. Although it is important to remember that this is a working church and there are daily services that may limit the areas you can visit. Also, some parts of the cathedral are occasionally used for private events (a recent gin festival, for example, which might seem surprising for such a venue!). So do check that it is fully open on the day you plan to visit.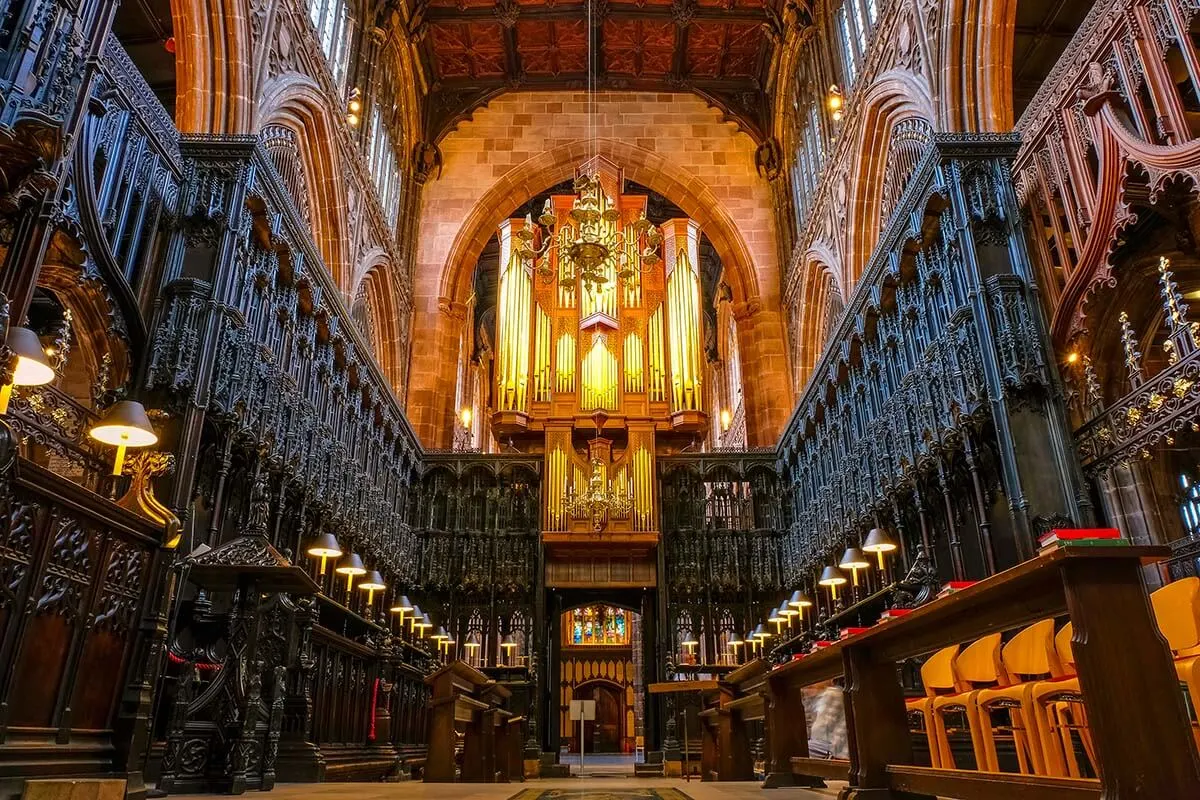 6. Science and Industry Museum
The Science and Industry Museum is the most popular museum in Manchester.
The focus of this fun and fascinating museum is Manchester's industrial history. It brings the past beautifully – and sometimes noisily – to life. Step into the Textiles Gallery and you are instantly transported back to when the city was the international center of the world's cotton industry. As the noise of the vintage, steam-powered machines thunders around you, you can get a real sense of just how difficult the cotton factories were to work in.
The 'Experiment' gallery, meanwhile, is filled with interesting and interactive exhibits designed to make science fun and engaging. This section is especially popular with children!
There is also a big emphasis on transport at this museum. Indeed, it was built on the site of the Manchester terminus of the world's first purpose-built passenger railway. You can still see the world's oldest surviving passenger railway station – and its first railway goods warehouse – here today!
Steam enthusiasts will love some of the colorful and historic engines on display in the railway warehouse just across the cobbled yard from the main building.
Located in the city center, the museum is free to enter, although donations are welcome and there is sometimes a charge to enter the temporary exhibitions.
Good to know: The museum is open daily except for a few public holidays around Christmas – New Year. For more information, check their website.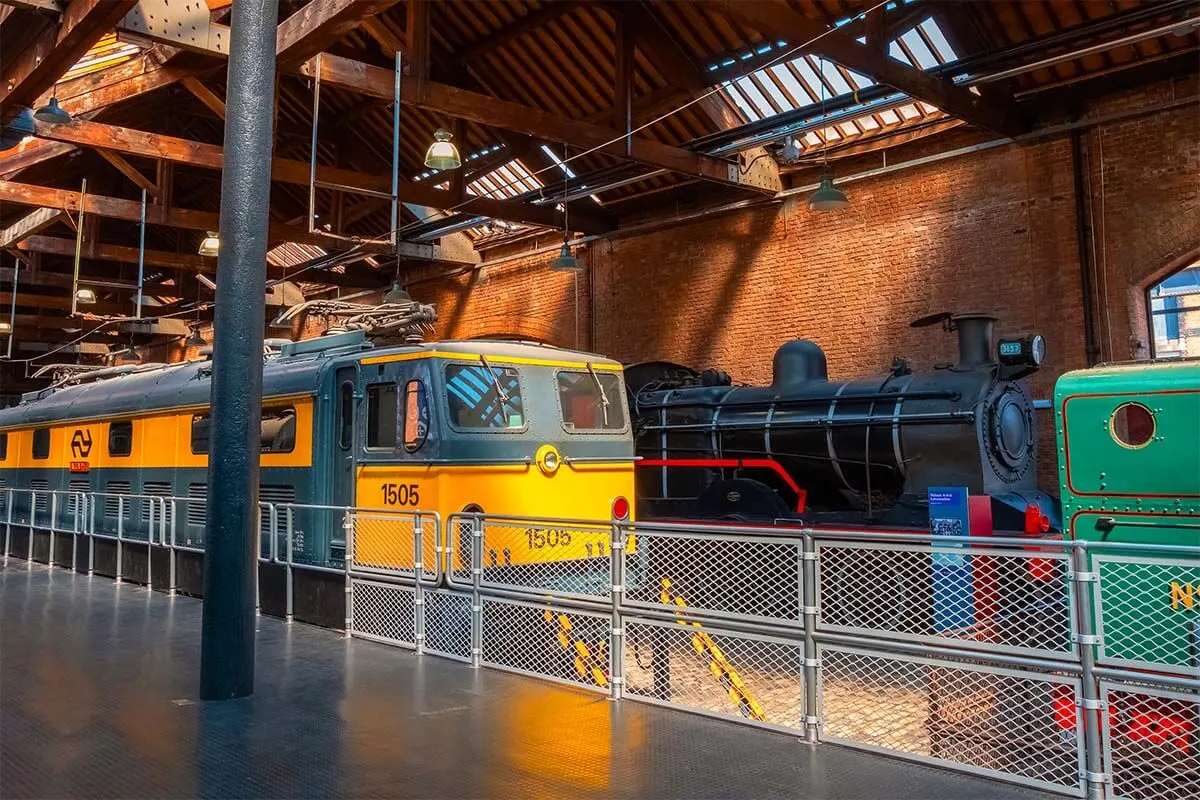 TIP: The Science and Industry Museum is located in the Castlefield neighborhood. If you want to explore the more local side of Manchester, check it out!
With its cobbled streets, canals, and bridges, this old industrial area is especially nice to visit in summer. Here you will find lots of nice restaurants overlooking canals, live music performances, etc.
7. National Football Museum
Back to the football theme… Next on the list of places to visit in Manchester is the National Football Museum. It's the world's largest museum devoted solely to this sport and its history.
Whether you are a fan of the game or not, it's truly fascinating to see how football grew to become one of the best-loved sports in the world. There are a variety of exhibits that examine the game's culture and its social history.
There is so much to see here! From famous trophies and kits to plenty of fun interactive games for children and adults, too. Be sure to try some interactive challenges such as Penalty Shootout.
Exhibits are not just limited to Premier League teams either – lots of different teams are included and both women's and men's football are well represented.
Don't miss the Match Of The Day Commentary Challenge, where you can try commentating on the action as you see it, or following the autocue. Either way, you'll find it's not quite as easy as the professionals make it look!
Good to know: The National Football Museum is open daily. You can see the availability and book entrance tickets here.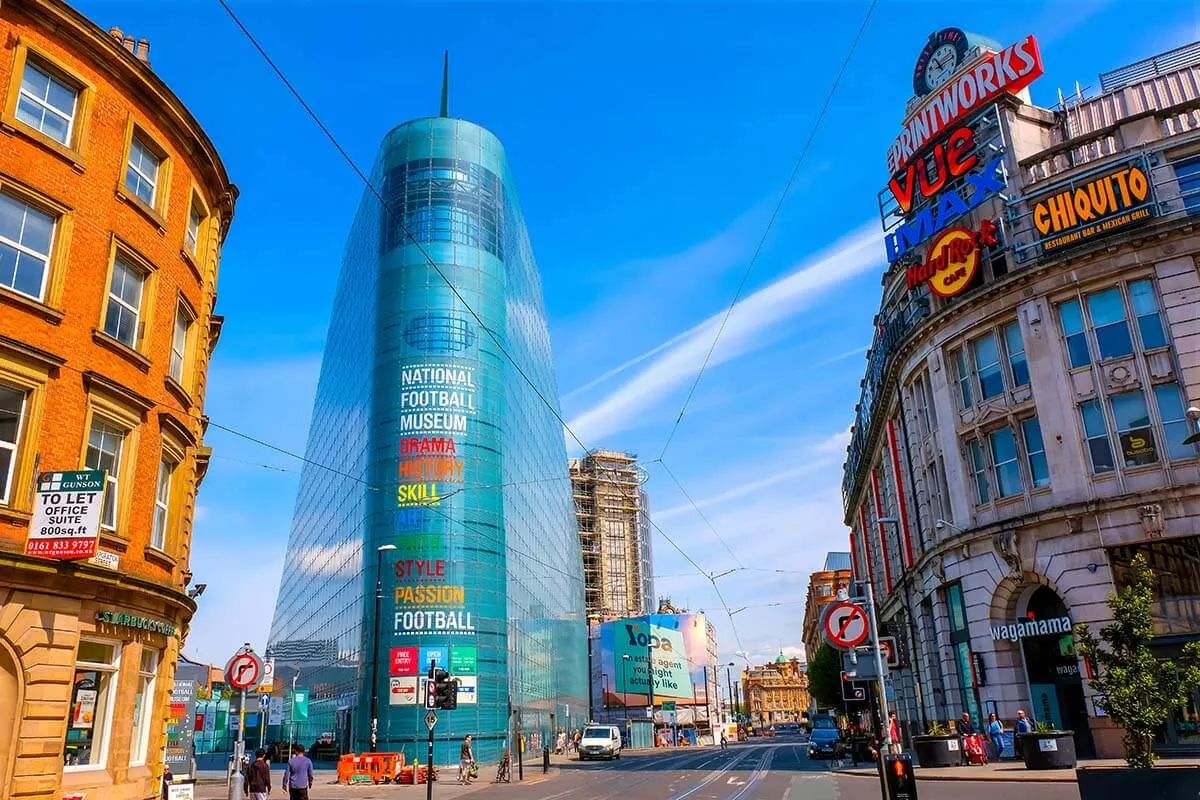 8. Manchester River Cruises & Boat Trips
River cruises are a great way to see Manchester from a whole new perspective. You can enjoy the onboard commentary as you take in sights like the Victoria & Albert Hotel, George Stephenson's 1830 Railway bridge, and the studios of BBC TV.
Whilst it's nice to sit and enjoy the view from the top deck, the unpredictable British weather means that you may prefer to look out from the totally enclosed lower deck instead. There is a small bar for refreshments and you will learn a lot about Manchester's history from the very informative commentary.
The cruises range in length and there are different options depending on the time of the year. The most popular are the 1- or 2-hour city center cruises that usually only run between April and September. In addition – in the summer season – there are also half-day trips to Ellesmere Port in Cheshire (that involve a return journey by coach).
These sightseeing cruises originate from Salford Quays, Manchester's unique waterfront destination located 15 minutes by tram from the city center.
TIP: Be sure to set aside some time for a walk around the Quays before or after your river cruise. This is a fun and lively area, with lots of eateries, bars, places to visit, and sporting activities on offer.
There are also other boat trips in Manchester, such as canal cruises, cruises with shows or music performances, etc. No matter which ones you choose, it's a nice way to see a different side of the city.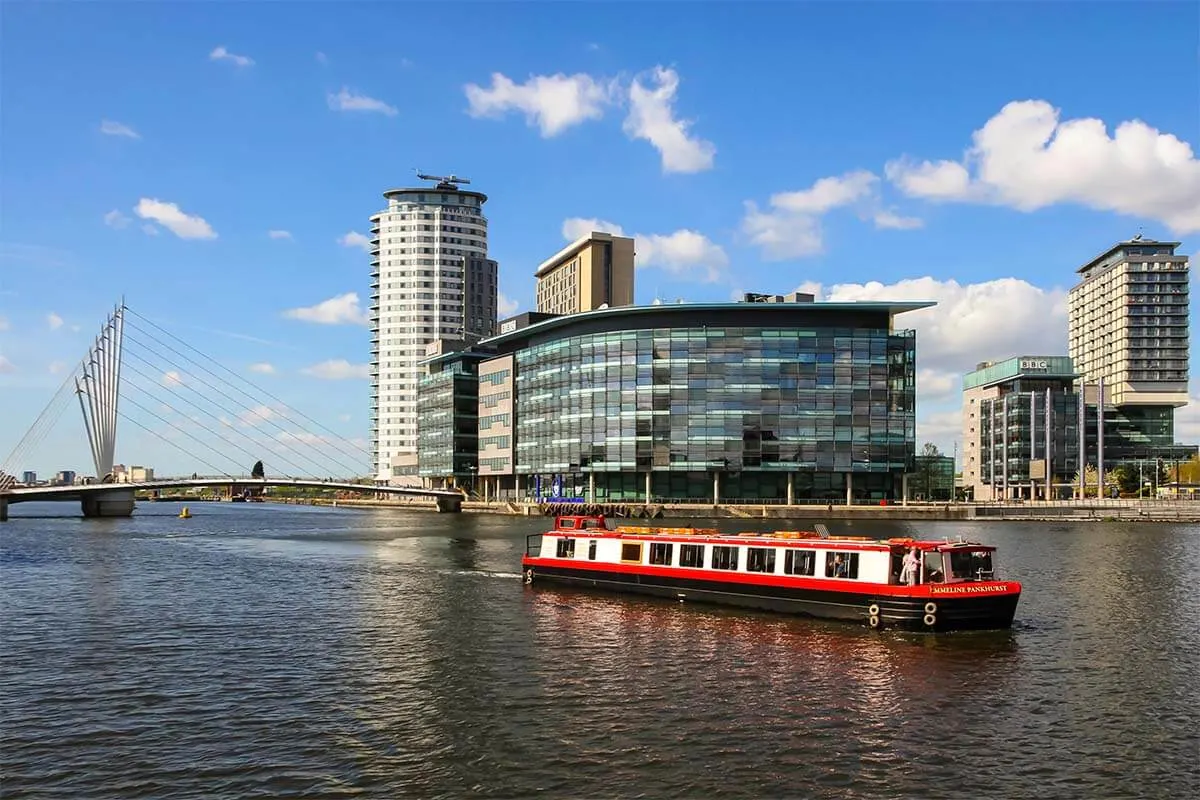 9. Imperial War Museum North
Imperial War Museum North is one of five branches of the Imperial War Museums and the first to be located in the north of England. It's housed in a quirky, eye-catching building designed to represent a shattered globe, and is symbolically built on a bomb site.
There are more than 2,000 objects on display charting conflict throughout the years. You'll see weaponry from WWI right up to twisted steelwork salvaged from the wreckage of New York's World Trade Centre.
But the appeal of this museum doesn't just lie in its exhibits. What makes it so fascinating – to adults and children alike – is the unique way that the stories of ordinary people who lived through these experiences are told.
The 360° cinematic Big Picture Shows are totally immersive. The images and voices of the victims of war surround you, making the stories feel more real than anything you can read in a textbook.
The museum feels somewhat disorientating and confusing to navigate, but this was a deliberate architectural technique used by its designer to help visitors experience – to a small extent – war's unsettling nature.
Good to know: The museum is open daily from 10 AM to 5 PM. It's free to enter and located at The Quays. For more practical info, see the official website.
10. Manchester Art Gallery
Located right in the middle of the city, Manchester Art Gallery has thousands of world-class exhibits. You can easily spend a few hours here enjoying everything on offer.
The Grade I listed building housing the Gallery is an exceptional piece of architecture in itself. Designed in the beautiful Greek Ionic style, it now also has a glass walkway connecting it to a modern extension.
Manchester Art Gallery is especially famous for its Pre-Raphaelite pieces and other works by 19th-century British artists. But you will find plenty of fascinating works spanning centuries and continents.
The decorative arts collections are particularly interesting, containing pieces that demonstrate the techniques used from ancient civilizations right up to the modern day. There is an ever-changing rotation of temporary exhibitions too. There are also numerous interactive exhibits and workshops for children to enjoy.
Good to know: Manchester Art Gallery is completely free to visit, although donations are always very welcome. The museum is open from 10 AM to 5 PM, from Tuesday to Sunday. More info on their website.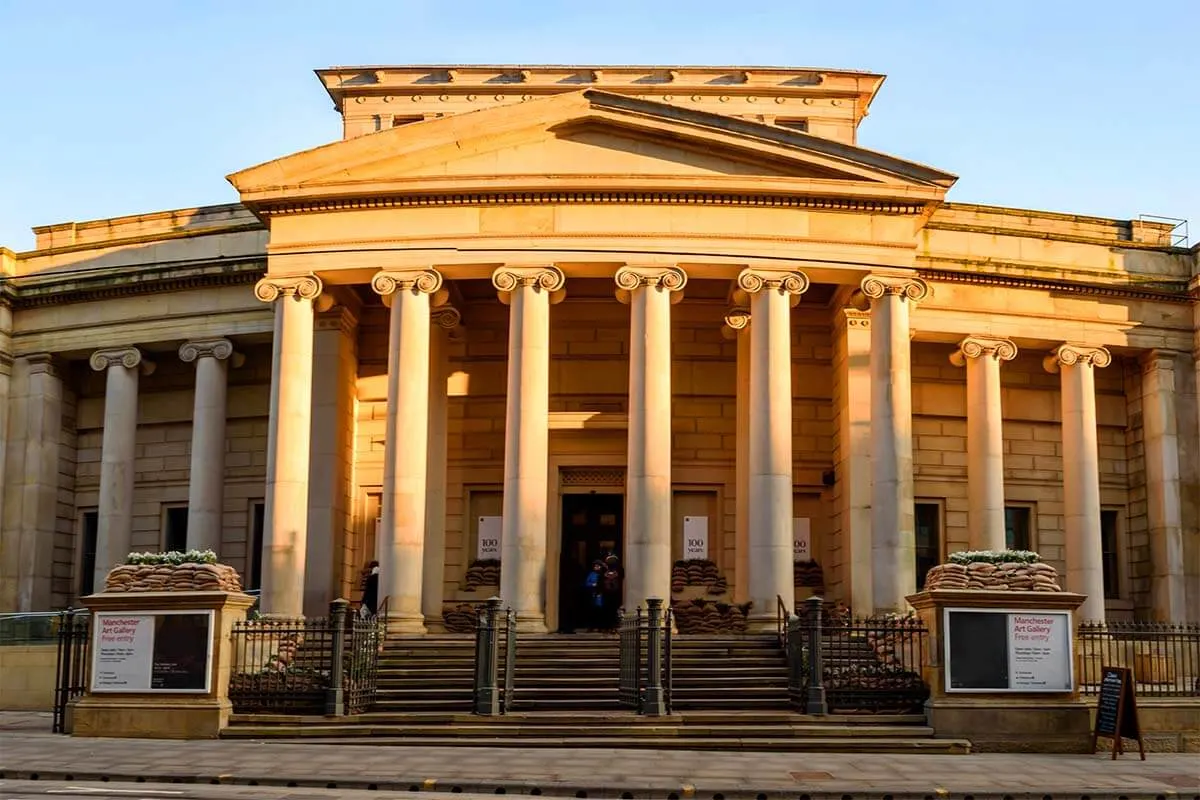 11. People's History Museum
People's History Museum doesn't always make it to the list of 'must see' attractions in Manchester. But it is so thought-provoking and interesting that it is definitely worth including in your itinerary.
It tells the story of the development of democracy in Britain and explores the concepts that affect us all, such as social justice, cooperation within society, equality, and more. Whilst the subject matter may sound a little stiff – and possibly unappealing to children – the reality is quite the opposite!
Ideas are presented in ways that are fun, engaging, and interactive. You will learn the truth about historical events – some of which may seem a little different from the way they were presented at school – and celebrate those whose radical ideas were ahead of their times. The exhibits encourage you to think critically and are excellent for opening up some very interesting family conversations!
You can easily spend a few hours here and entry is free, although donations are always welcome.
Good to know: The museum is open from 10 AM to 5 PM, every day except Tuesdays and some public holidays. More info on their site.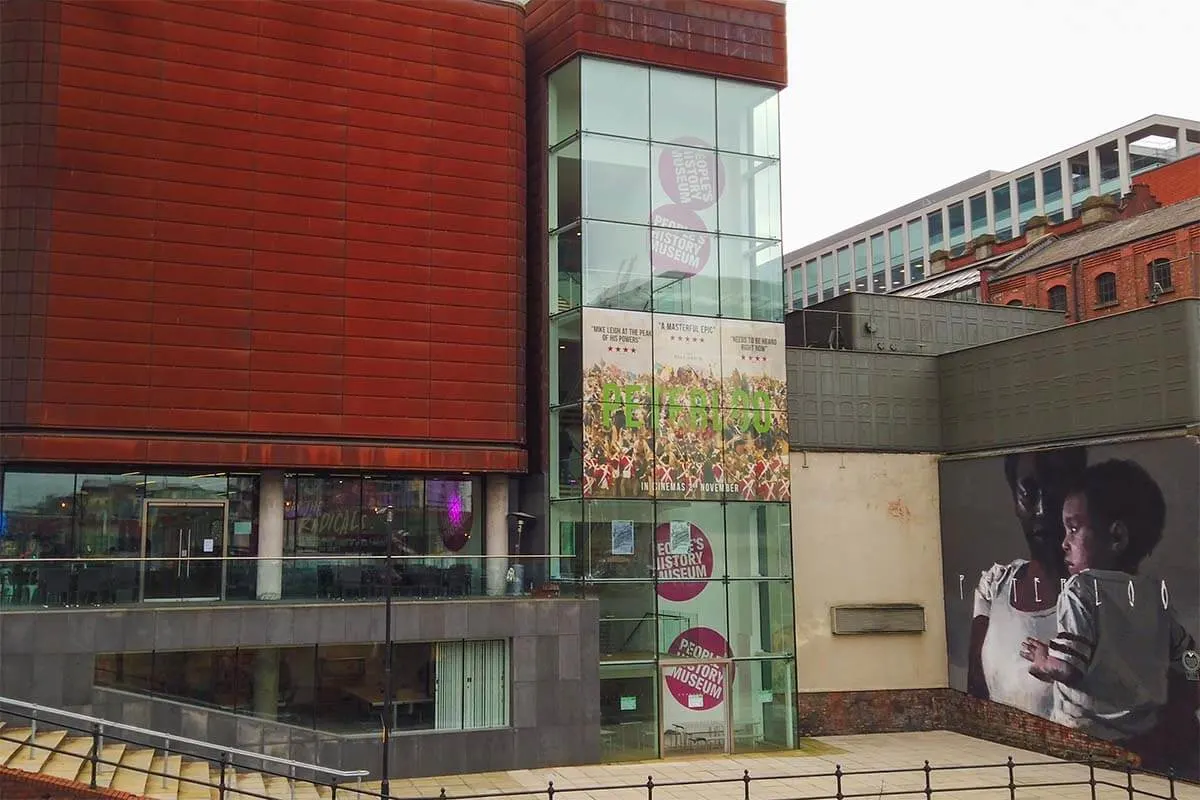 12. Manchester Museum
Manchester Museum is another very interesting museum in the city. It's focused on natural history, with displays of dinosaurs and mummies. It also has a huge collection of ancient Egyptian art and everyday objects that give you a glimpse into how ordinary people lived in those days.
This museum has been recently renovated and has reopened with lots of new things to see. In addition to over 4.5 million artifacts in its permanent collections, the museum also hosts some very interesting temporary exhibitions.
Good to know: The museum is free to visit, but you need tickets for certain exhibitions. In that case, it's also best to book them in advance since the museum gets very busy, especially on weekends and public holidays. The museum is open daily except on Mondays. For more information, see their website.
13. The Trafford Centre & Fun Activities Nearby
The Trafford Centre is one of the UK's most popular malls. It's luxuriously decorated with marble and gold fittings, plus palm trees and statues at every turn. Be sure to look upwards as you shop, as the glass-domed roof to the center is quite spectacular.
This area combines great shopping with a big range of fun leisure activities in Manchester. Here, you'll find an ODEON cinema, SEA LIFE Manchester, LEGOLAND Discovery Centre, Laser Quest, outdoor adventure park Trafford Treetop Adventures, and more.
There are also more than 60 restaurants to enjoy, with the dining area designed to look like the interior of a cruise ship and a dramatic, sweeping staircase worthy of the Titanic!
Good to know: The Trafford Centre is located outside the main city center, but can be reached by tram in less than 30 minutes.
TIP: If you are looking for even more fun things to do in Manchester, this area is the place to be! Just across the road from the Trafford Centre, you'll find indoor skiing and snowboarding at Chill Factorᵉ, skydiving at iFLY Indoor Skydiving Manchester, a miniature golf course at Dino Falls Adventure Golf, and an indoor playground Play Factore.
You could easily spend an entire day (or a few) in this area alone, especially if visiting Manchester with kids or teens!
14. Hop-on Hop-off Bus
Manchester is a big city and while the city center is best explored on foot, some of its main tourist attractions are quite spread out. So if you want to see the best of Manchester in a somewhat relaxing way, taking a hop-on-hop-off bus is a good way to do it.
It's a comfortable way to get around but is also a nice activity in itself. In addition to providing transportation between Manchester's main sights and attractions, it also includes a commentary allowing you to learn more about the city.
Good to know: There are 15 stops at all the main points of interest in Manchester and you can hop on or off wherever it best suits you. The hop-on-hop-off bus ticket is valid for 2 days and offers excellent value for the price. It's not comparable to the prices you pay in London and other major cities.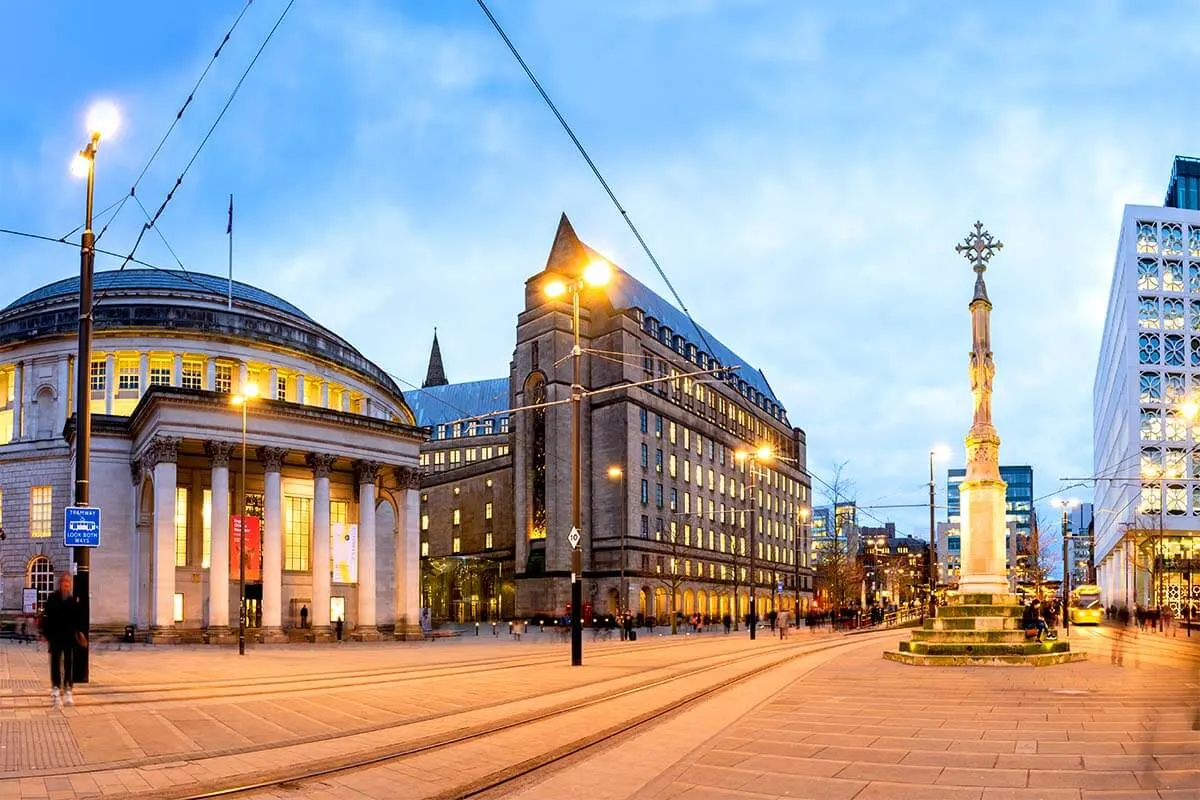 15. Take a Day Trip to the Lake District (or other National Parks nearby)
In addition to all the interesting places to see and things to do in Manchester, definitely consider a day trip to the famous Lake District as well! Especially if you are visiting northwestern England for the first time and want to make the most of your trip!
Located just about 1.5 hrs drive from the city, Lake District National Park makes a perfect excursion from Manchester. Here, you can see some of the best scenery around Windermere, the largest lake in England, visit charming villages, and quaint picturesque towns.
The easiest way to do this (and make the most of your time) is by joining one of the organized tours. That way, you are sure to see the best spots and the most beautiful scenery, without having to arrange or plan much.
TIP: Lake District is just one of the many nice places you can visit in this part of the UK. There are also excursions to the Peak District, Yorkshire Dales National Park, or Snowdonia National Park in North Whales.
Also the popular seaside resort Blackpool is just an hour away from Manchester and can be easily visited as a day trip as well.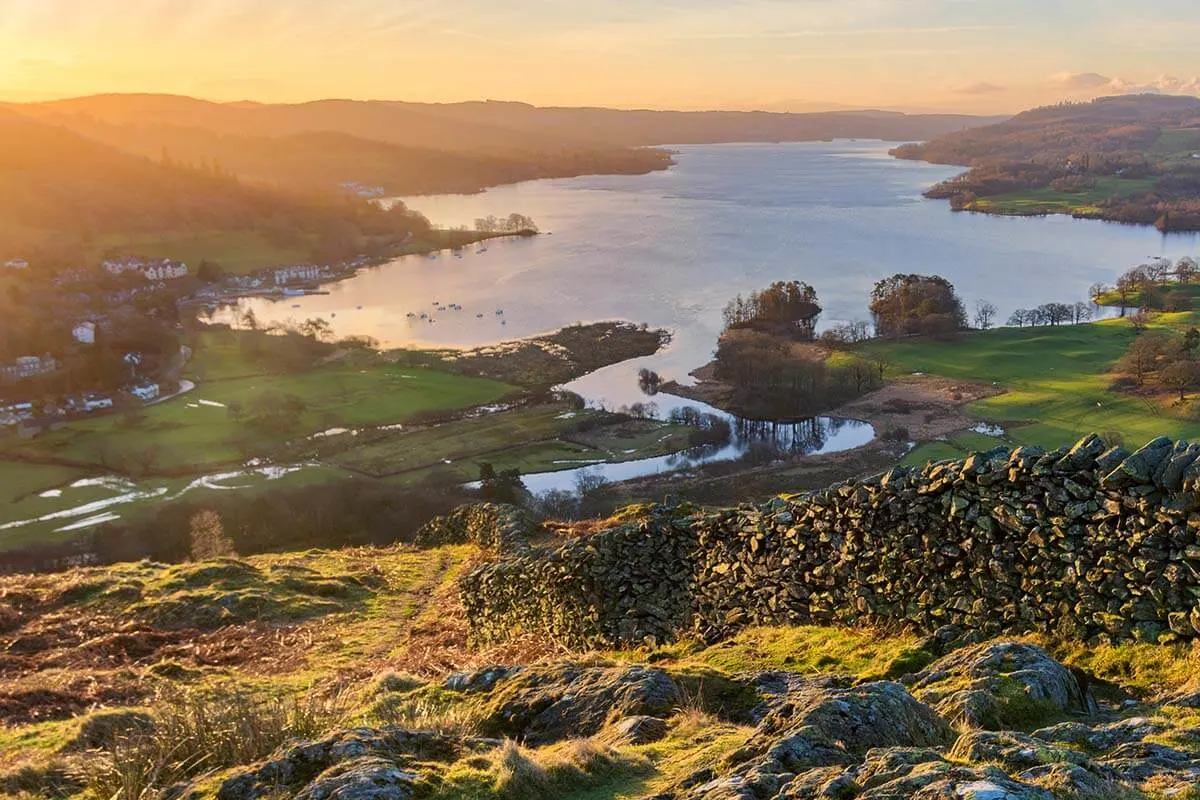 Map of Manchester Attractions
As promised, here is a map of the best places to see in Manchester mentioned in this guide.
How to use this map: Use your computer mouse (or fingers) to zoom in or out. Click on the icons to get more information about each place. Click the arrow on the top left corner for the index. Click the star next to the map's title to add it to your Google Maps account. To view the saved map on your smartphone or PC, open Google Maps, click the menu and go to 'Your Places'/'Maps'. If you want to print the map or see it in a bigger window, click on 'View larger map' in the top right corner.
Where to Stay for Sightseeing in Manchester
In general, the best places to stay in Manchester depend very much on your personal taste and what you are planning to do:
The city center gives you easy access to almost everything and is great for shopping.
If vibrant nightlife is more important to you, you'll probably prefer the Northern Quarter.
The Salford Quays/Old Trafford area tends to be much quieter at night, but is a good base for the stadium and shopping.
Since this guide is focused on sightseeing, we recommend staying in the city center. Here are some of the best-rated hotels in this area for all budgets:
In addition, there are some things to consider when booking a stay in Manchester:
First, Manchester hosts a lot of festivals – Picnic in the Park, Parklife, and Manchester Pride to name but a few. It's worth checking ahead to see if any of these are taking place when you visit. If so, the hotel prices in the city center are likely to be higher than usual and you might prefer to stay on the outskirts instead. The good thing is that the transport links in and around Manchester are excellent, so no matter where you stay, you can quickly be back in the heart of the action.
Second, consider the impact of football on accommodation costs. When there is a game at the Etihad Stadium, the rates go up in the hotels close to it – so look for accommodation in The Quays area. But when Manchester United is playing at Old Trafford, the best deals are to be found to the north or east of the city (including the Northern Quarter, Piccadilly, and Ancoats.
TIP: Using the map below, you can find the best deals for accommodations in Manchester. Simply insert your travel dates and group size, and you'll see what's available for your stay. Check it out!
So, this is our guide to some of the best attractions and most interesting things to do in Manchester, UK.
I hope that this has helped you decide on the things that you really want to see and do during your stay in Manchester, or perhaps inspired you to return for another visit!
TIP: If you are coming to Manchester for just a short visit and wondering how to plan your time, take a look at our suggested Manchester itinerary for 1 day. It will give you a better idea of what can be done with little time and how to best approach it. Check it out via the link below.
LEARN MORE: One Day in Manchester: What to See & Itinerary
UK Travel Inspiration:
London:
Liverpool:
Yorkshire:
Cornwall:
Blackpool:
Scotland:
…For more travel inspiration for these and other destinations, take a look at our UK travel guide.
If you like cities and want to explore more of Great Britain, be sure to also check our guide to some of the most beautiful cities in the UK for some more inspiration.
If you found this post useful, don't forget to bookmark it and share it with your friends. Are you on Pinterest? Pin these images!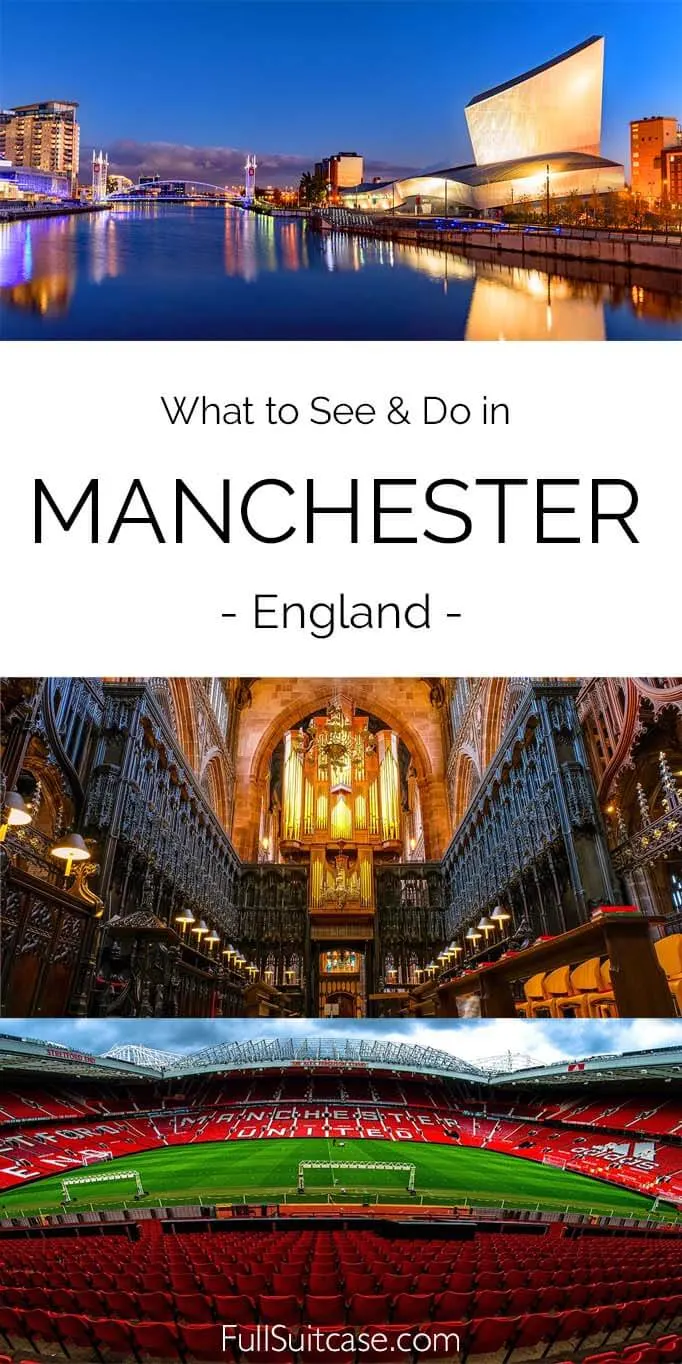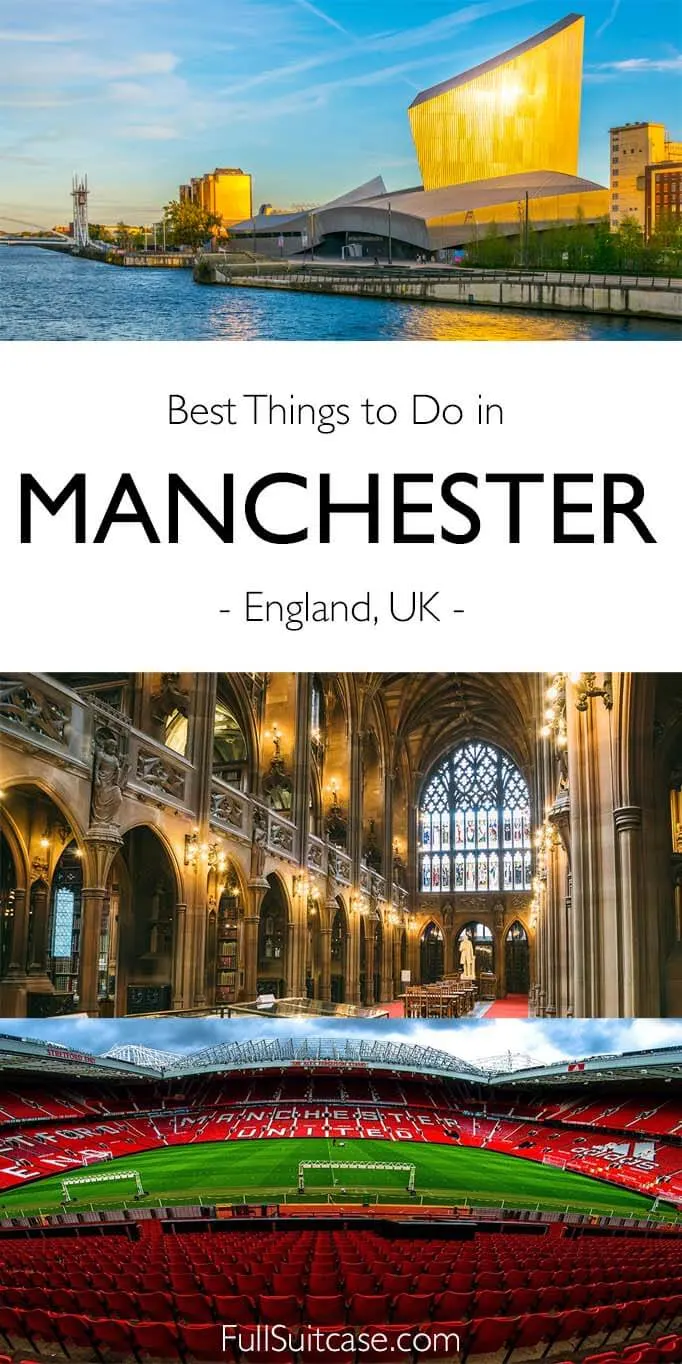 Image credits: bhidethescene/Depositphotos.com// cowardlion/Depositphotos.com// andyb1126/Depositphotos.com// 4kclips/Depositphotos.com// sakhanphotography/Depositphotos.com// Flydragonfly/Depositphotos.com// Debu55y/Depositphotos.com//