Are you planning a trip to the Italian Dolomites and wondering where exactly to go and what to see? In this guide, we cover some of the nicest places and the very best things to do in the Dolomites that are worth a trip even if you are traveling from the other side of the world. We also share our experience-based tips and suggestions that will help you plan a bucket list trip and enjoy the best that the Dolomites have to offer. Find out!
The Italian Dolomites have some of the most beautiful mountain scenery you can imagine. Stunning scenic roads and dazzling mountain passes, thousands of kilometers of hiking trails, picturesque mountain lakes, and countless charming towns and villages dotting the region…
However, with so many beautiful places in the Dolomites, it can get really overwhelming just trying to figure out where to go and what to see. Especially if this is your first visit and you want to see the very best in a limited time…
We had the same question before our first trip to the region – what are the most beautiful places in the Italian Dolomites that you really shouldn't miss? And, since we travel with kids, we also had to make sure that these places would be relatively EASY TO VISIT.
We have been to the Dolomites several times and spent about three weeks exploring the region. In all that time, we haven't come across one place that we didn't love… But in this guide, I only share our absolute favorite places, top things to do in the Italian Dolomites that deserve a visit the most – the ultimate Dolomites bucket list.
TIP: To help you plan your trip, we also created a map indicating all the best places of the Dolomites mentioned in this article. You can also save this map to your phone and use it during the trip.
How to use this map: Use your computer mouse (or fingers) to zoom in or out. Click on the icons to get more information about each place. Click the arrow on the top left corner for the index. Click the star next to the map's title to add it to your Google Maps account. To view the saved map on your smartphone or PC, open Google Maps, click the menu and go to 'Your Places'/'Maps'. If you want to print the map or see it in a bigger window, click on 'View larger map' in the top right corner.
Good to know: Most of the places on this list are very easy to visit and only a few of them require hiking. Furthermore, all the hikes mentioned here are easy to moderate and we have done them all with our three kids.
Please keep in mind that this is a summer guide, from May-June to September-October! If you visit Dolomites in winter, you'll still be able to see some of these beautiful places, but it will be a very different experience and you'll have to do more research to see what's open and how to get there.
Note on place names: There are three different languages spoken in the Dolomites: Italian, German, and Ladin (an ancient Rhaeto-Roman language). Therefore, many place names in the region have several different names. In this article, we use the names that are most commonly known among international tourists. In addition, we include the other names as well, so that you know that e.g. Lago di Braies is the same place as Pragser Wildsee and Tre Cime is the same as Drei Zinnen, etc.
And now that you know all the practicalities, scroll down for our ultimate Dolomites bucket list!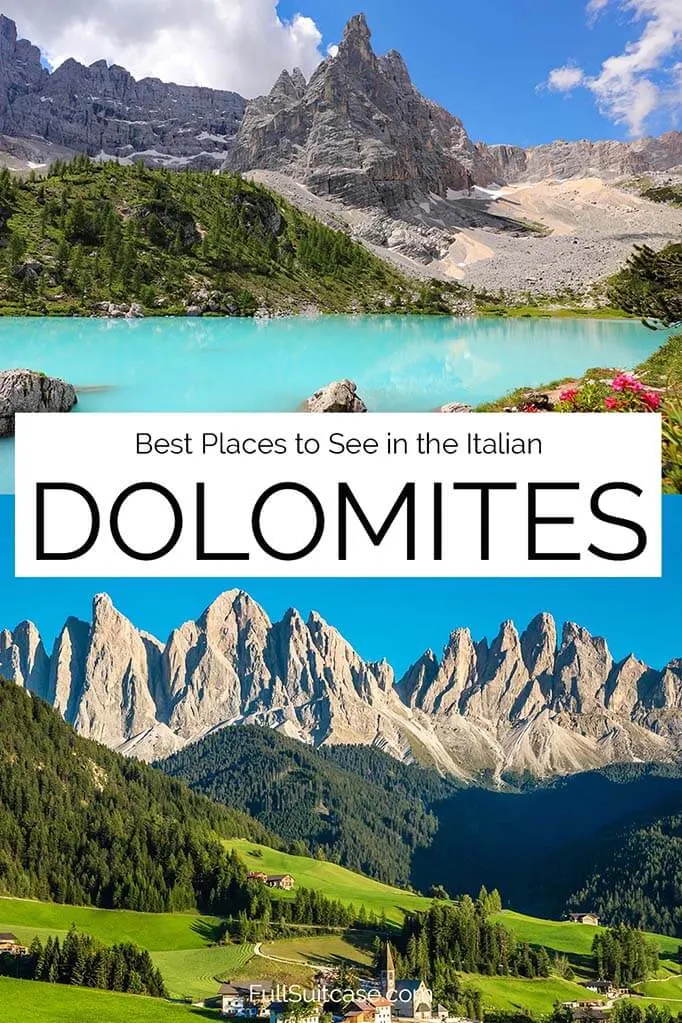 These are some of the very best places to see and things to do in the Dolomites:
1. Tre Cime di Lavaredo
Tre Cime di Lavaredo (aka Drei Zinnen) are the three iconic mountain peaks, the unmistakable symbol of the Dolomites. If there's one place that everybody considers a must-see in the Dolomites, it's definitely Tre Cime!
Hiking the Tre Cime di Lavaredo trail is by far the best way to enjoy the jaw-dropping scenery of the area. However, if the entire 10km loop around the base of these three peaks is too challenging for you, you can also just opt to walk the first part of the trail, to Forcella Lavaredo.
This hike to Forcella Lavaredo is easy at first, with a short climb to the viewpoint and it takes just 20-30 minutes one way. It offers some fantastic views from the start and a short climb is rewarded with a nice side view of the Tre Cime peaks.
LEARN MORE: Tre Cime di Lavaredo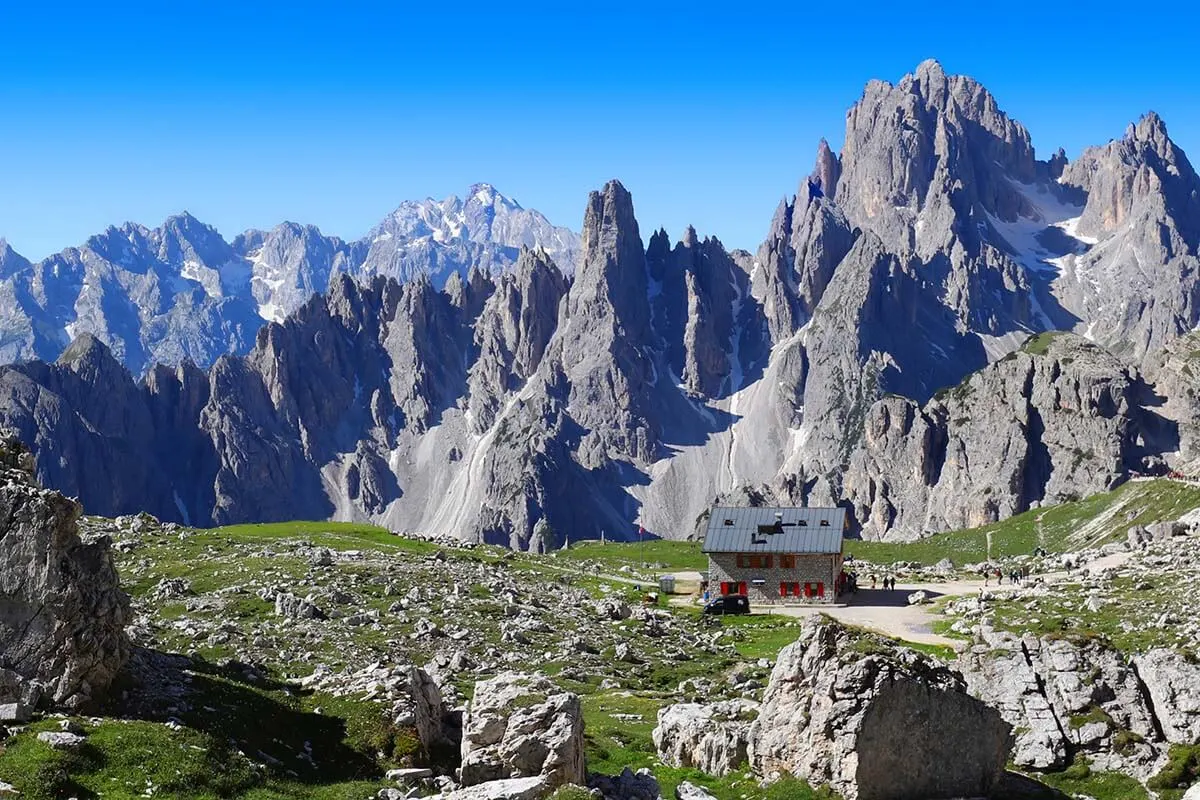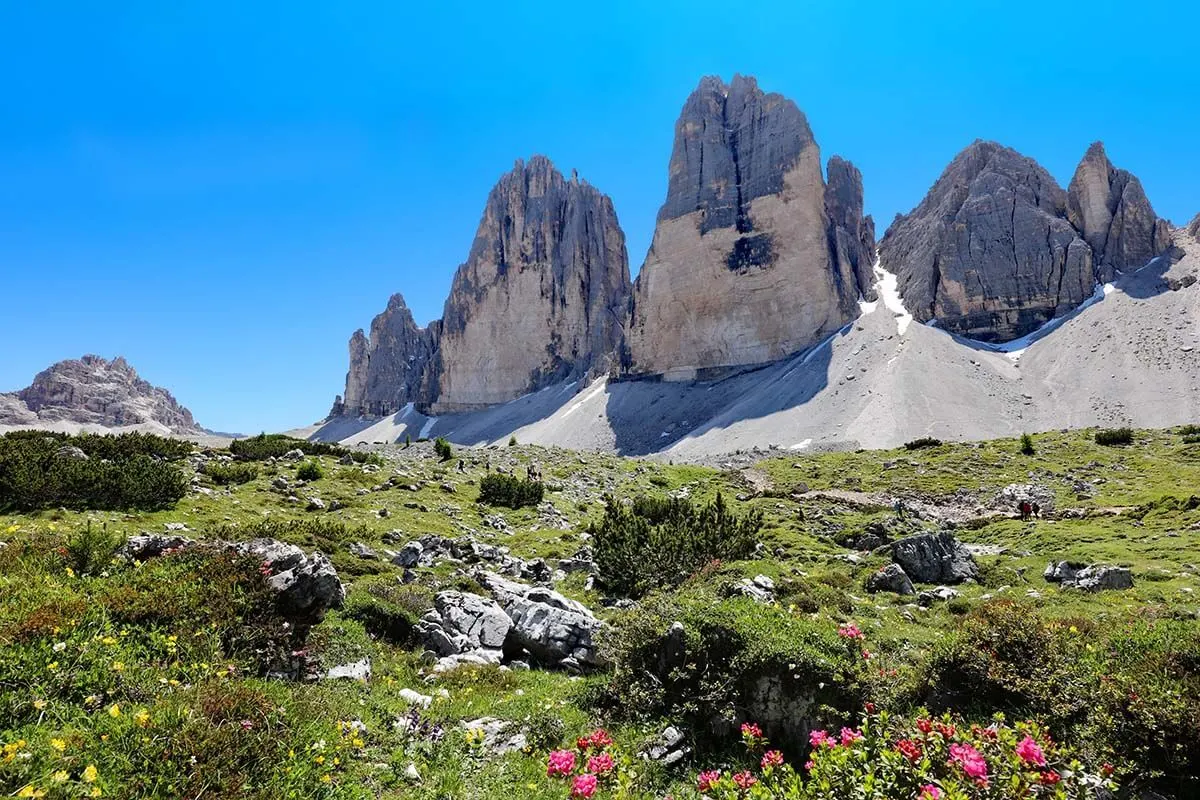 2. Lago di Braies
Another must-see place in the Dolomites is Lago di Braies (aka Pragser Wildsee). It's one of the most beautiful mountain lakes in Italy, maybe even in Europe.
Located at the end of the Prags Valley, Lake Braies is surrounded by tall mountain peaks that make the scenery here picture-perfect. In summer, you can rent a boat and enjoy the beautiful views from the water. If you feel like, you can also take a short and easy loop hike, or even go swimming in the ice-cold waters of this glacier-fed lake.
The good thing is that Lago di Braies is easy to reach and you don't have to walk far from the car in order to enjoy the best views. However, this is also the reason why it's one of the most popular Dolomites landmarks, attracting big crowds of locals and tourists alike.
LEARN MORE: Lago di Braies
TIP: Also the nearby Lago Di Dobbiaco is very picturesque, but it's not as well known to tourists and is mostly visited by locals. Check it out if you're looking for some lesser-known hidden gems of the Dolomites – it's easy to visit and only takes a few minutes.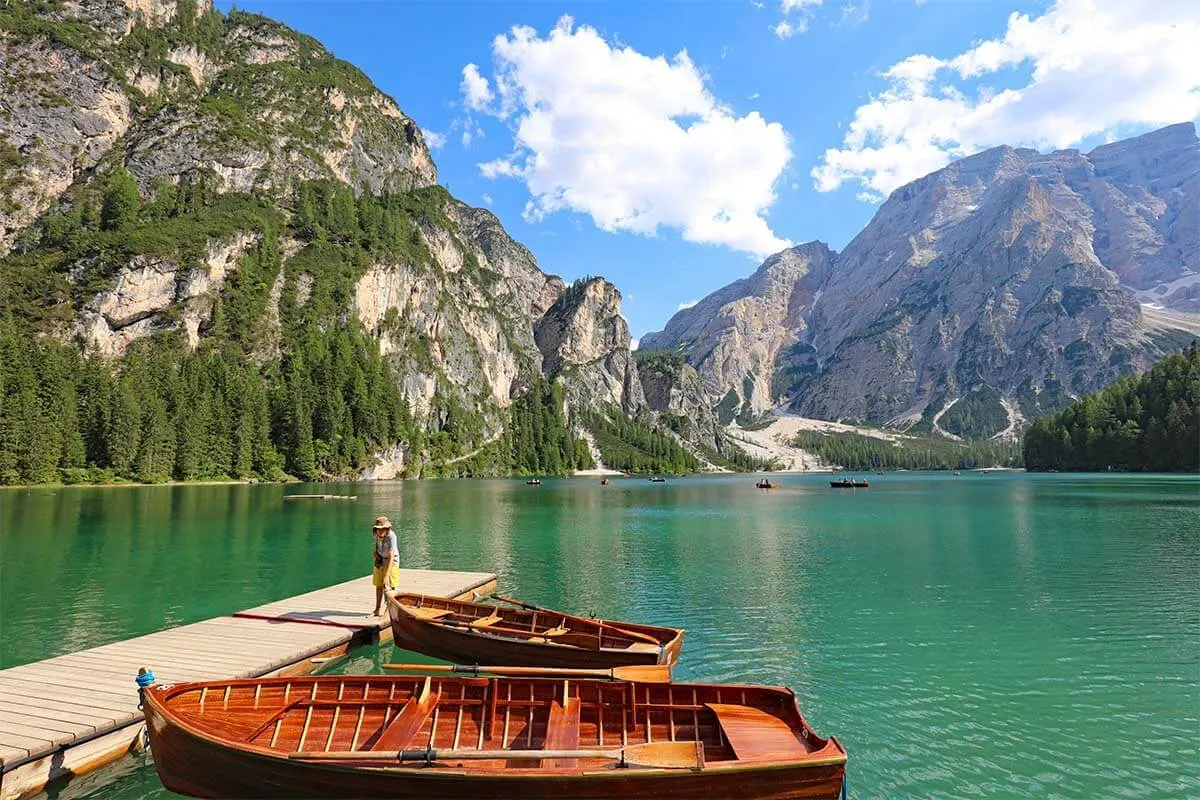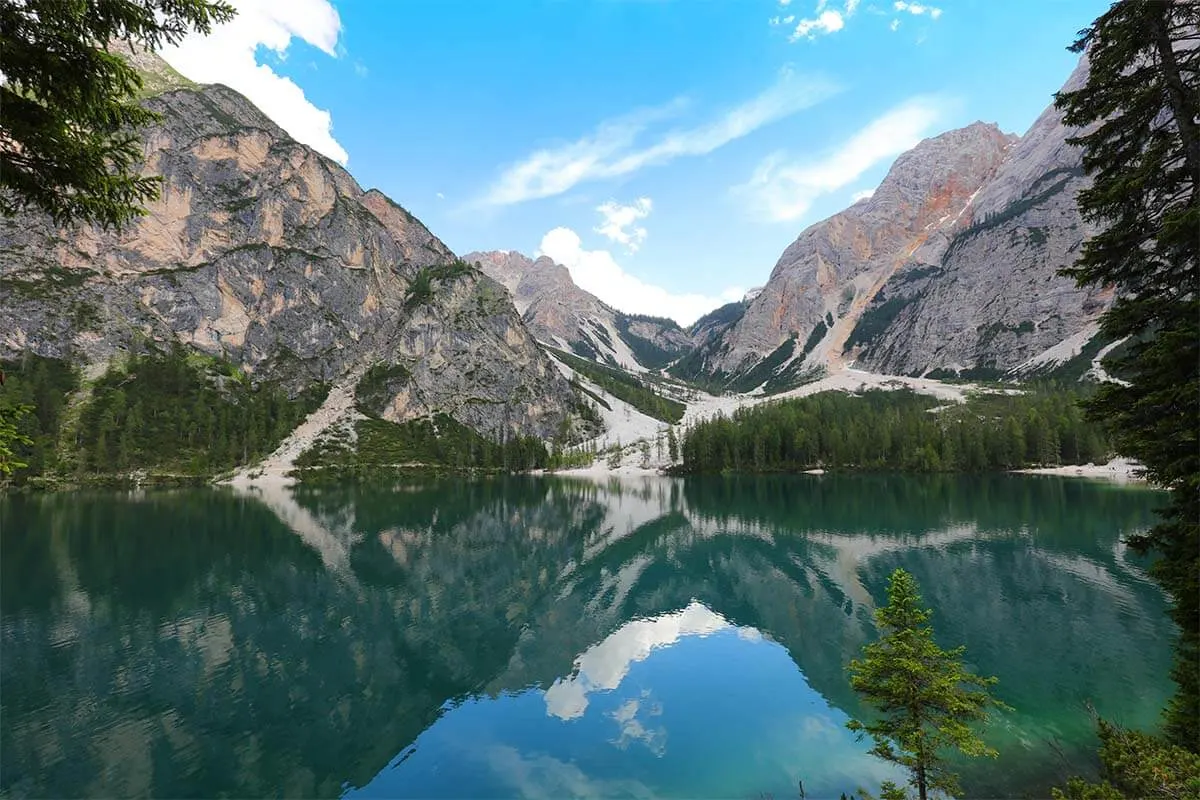 3. Val Gardena
Val Gardena is one of the best-known regions of the Italian Dolomites, and the place to be in summer and in winter. Val Gardena is home to three main towns – Selva, Santa Cristina, and Ortisei, that serve as a base for exploring the surrounding mountains. This area is extremely popular for skiing in winter. But also in summer, there's so much to see and do in Val Gardena!
It's not easy to mention just one or two highlights at Val Gardena since the entire area is absolutely stunning. The best thing to do when visiting in summer is to take one of the cable cars to the mountains and do some hiking. But also if you don't hike, you can just find a seat with a view at one of the mountain restaurants and enjoy some phenomenal landscapes the easy way.
Some of the most beautiful scenery of Val Gardena can be found at Seceda (see also the featured image on top of this article – the one with the cute donkeys). The best way to visit is by taking the Ortisei – Furnes- Seceda cable car from Ortisei town and then (easy) hiking in the direction of Santa Christina. Or you can simply enjoy the area by exploring some shorter trails on top of the mountain and then taking the cable car back to the village.
We also loved the views in the area around Dantercepies – Jimmy's Hutte that can be reached by cable car from Selva village or from Alta Badia. If you are looking for a longer hike in this area, check out the Rifugio Puez hike. It's quite long, but the views are well worth it.
Another very popular place is Alpe di Siusi (aka Seiser Alm), Europe's largest high-altitude Alpine meadow. There are some easy hikes here and this area is also popular with families.
LEARN MORE ABOUT SOME OF THESE PLACES: Best Hikes in the Dolomites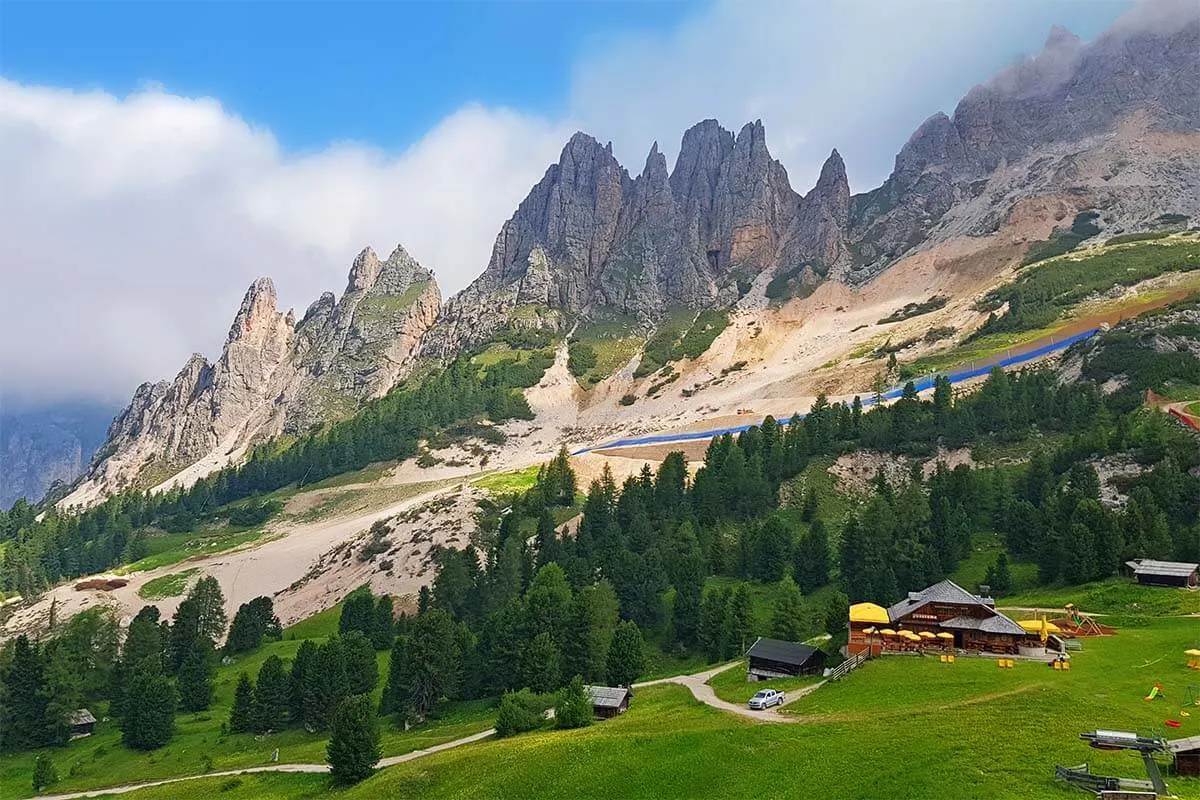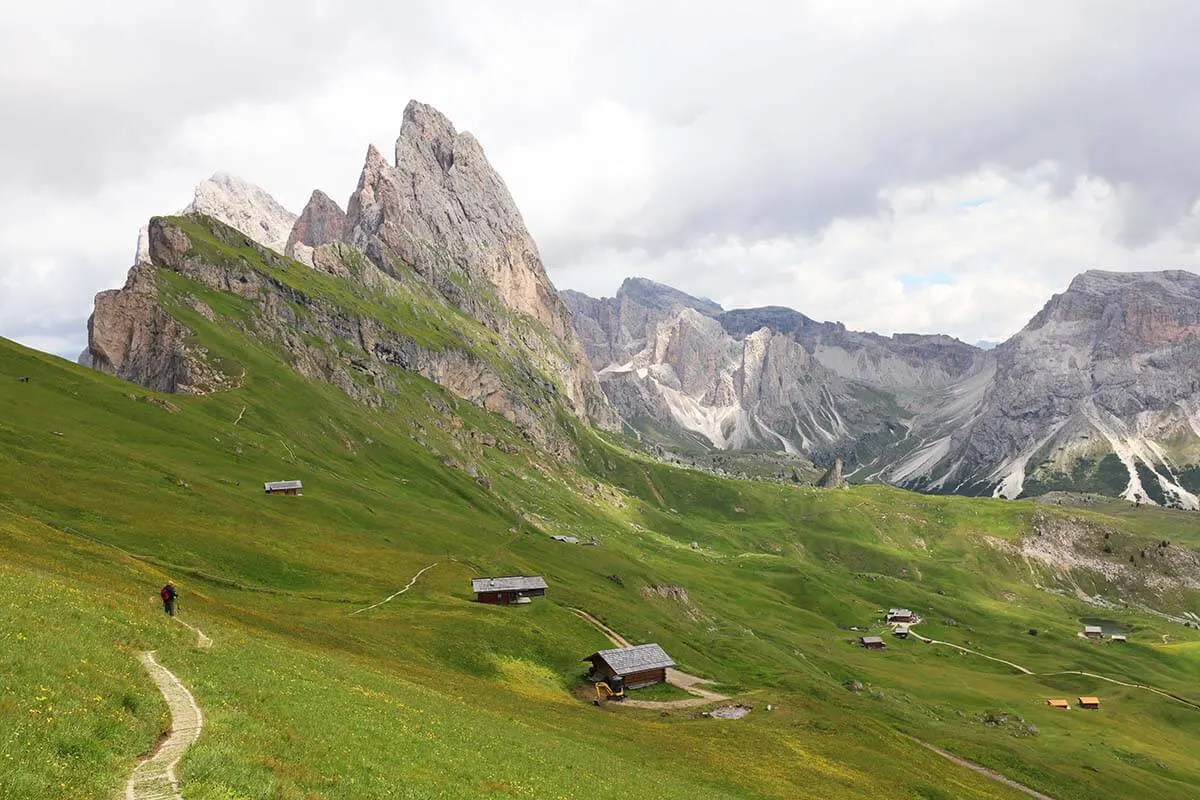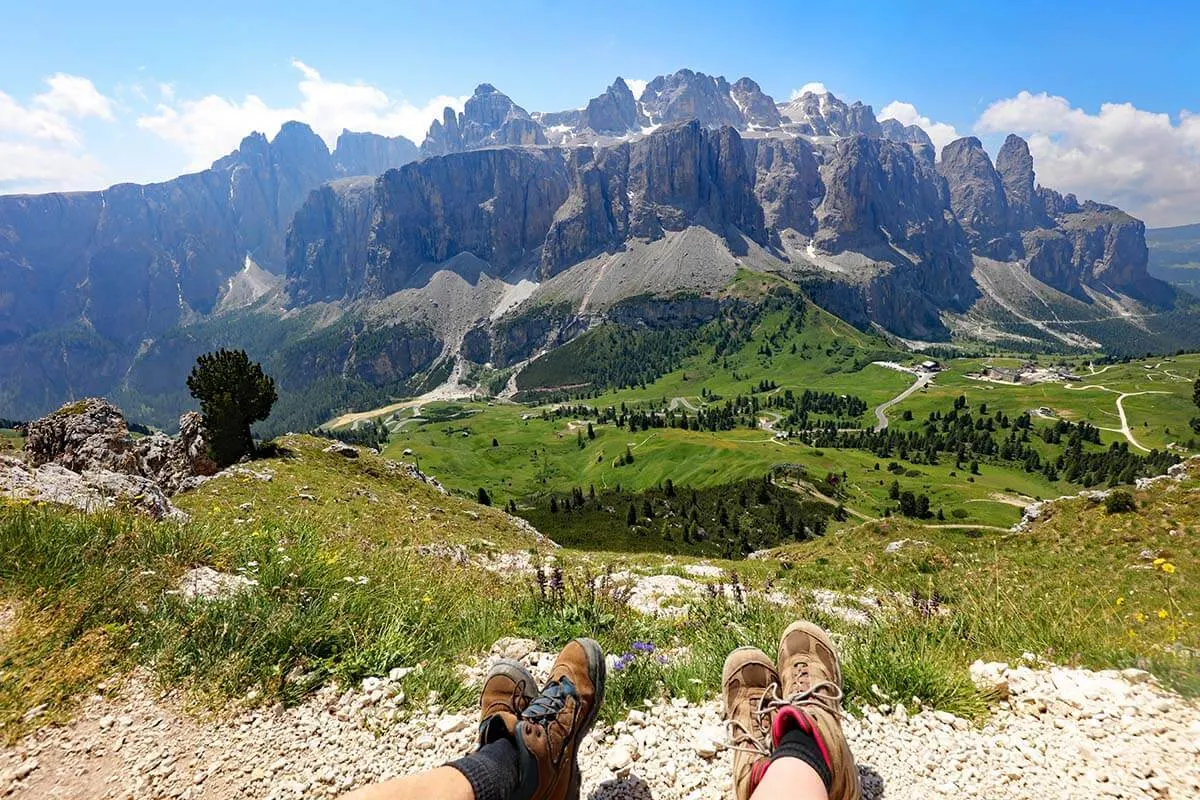 4. Val di Funes
Val di Funes (aka Villnöß) is a mountain valley known for the most iconic postcard view of the Dolomites – the little church of St. Magdalena against the impressive backdrop of the Puez-Odle massif.
If you want to take the same picture as in all those famous photographs, it's quite easy to get to this viewpoint (also indicated it on our map above). You can get there by driving or on foot from St. Magdalena village. The road here is really narrow, however, and you can't park at the viewpoint, so it's easier to leave your car in the village and walk up there.
Another highlight of the Villnöss Valley are the stunning mountains of the Puez-Odle natural park and the picture-perfect mountain huts. The nicest mountain hut with the most beautiful view is Geisler Alm and there are a few others.
You can reach Geisler Alm by taking a short hike from one of the car parks in the area. However, we recommend that you take a slightly longer route by hiking the Adolf Munkel Trail. It's an easy circular hike of about 3 hours in total, and the views are absolutely amazing! You can read all about this hike in our Dolomites hiking guide.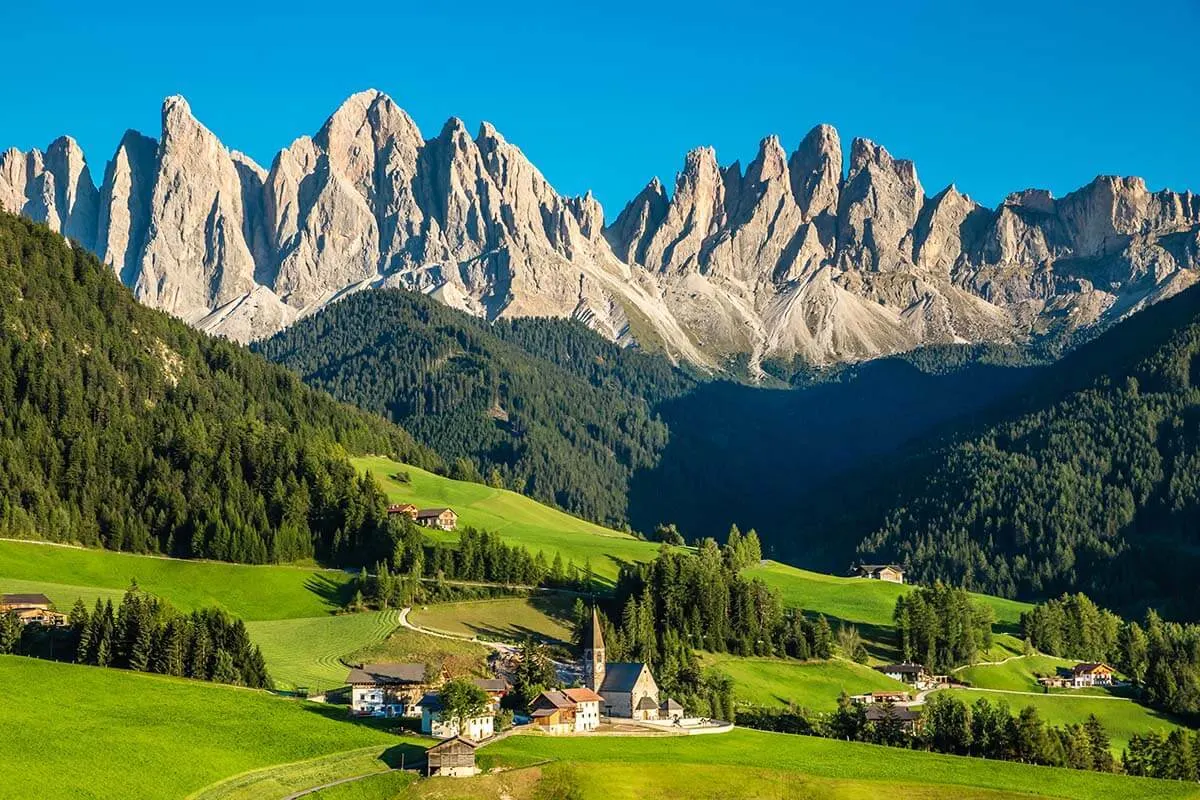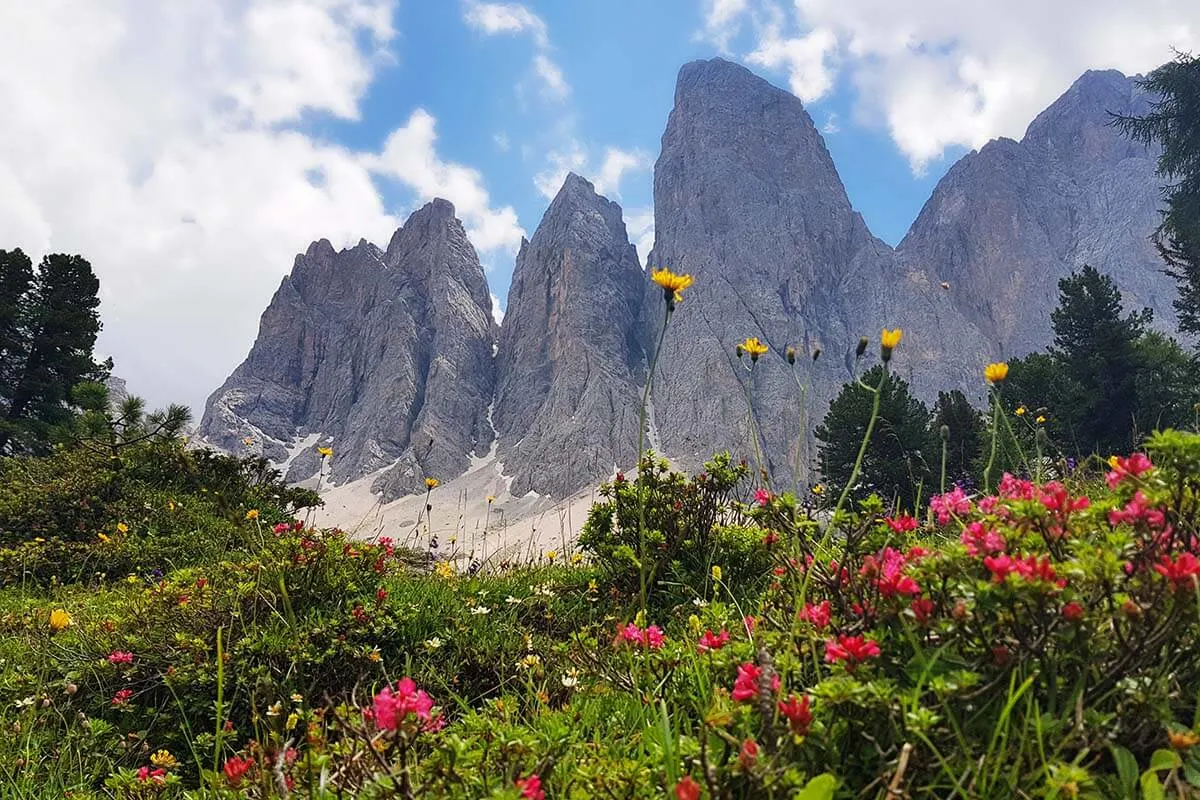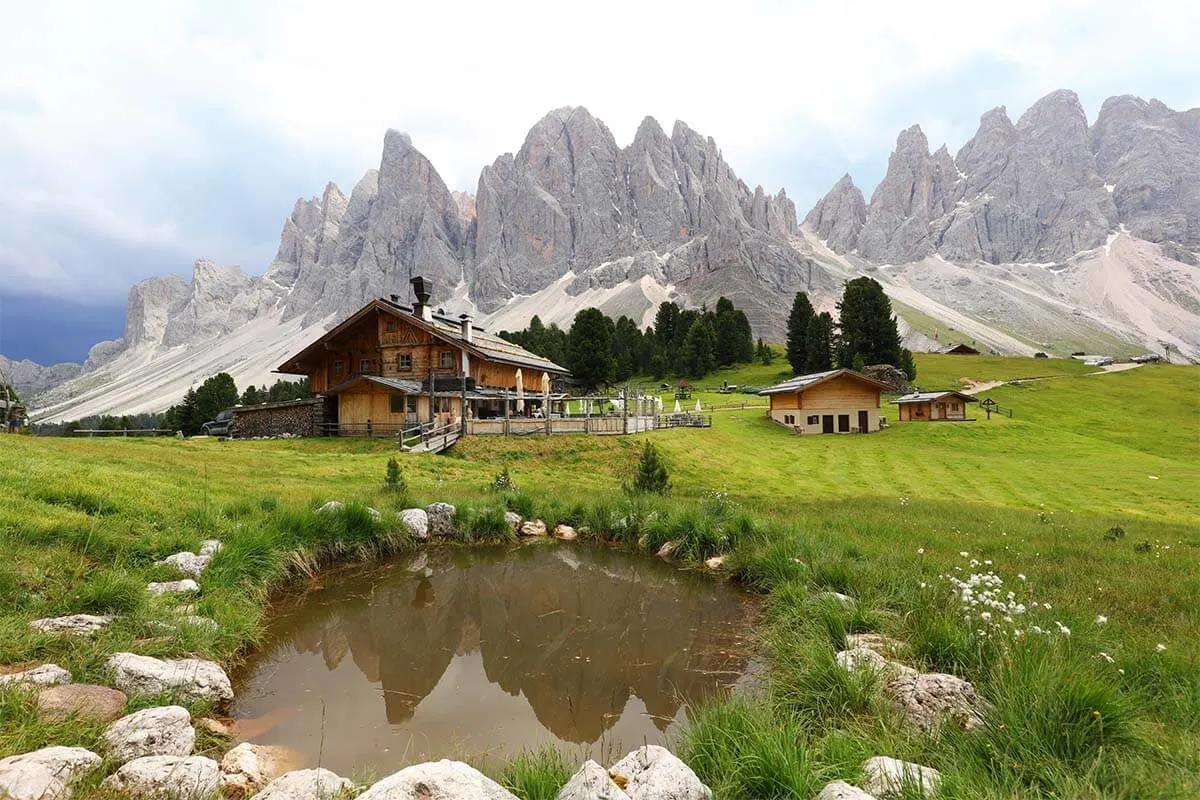 5. Lago di Sorapis
Lake Sorapis is another stunning mountain lake and definitely deserves a mention on any list of the best places in the Dolomites. This lake and the surrounding scenery is totally different than the landscapes at Lago di Braies, but many people would argue that it's even more beautiful.
The glacial waters of Lago di Sorapis have a very distinctive milky-blue color that looks too beautiful to be real. If you visit on a sunny day, the color of the lake is absolutely incredible. Add to that the colorful wildflowers, deep blue sky, surrounding mountains with a distinctive pinnacle called God's Finger, and you feel like you stepped into a real-life painting!
However, there's just one tiny issue and that is that Lago di Sorapis is not as easy to visit as most other beautiful places in the Dolomites. So you'll only be able to see this lake if you hike. Furthermore, it's not an easy walk in the park, but a moderate 2-hour uphill hike with some challenging sections that involve stairs, ladders, and narrow passages with metal chains for support.
Having said all this, don't get discouraged – it's a hike most people should be able to do (and we did it with our three kids). You simply should know what to expect and take your time so that you can truly enjoy it (count 4-5 hours for the entire hike).
LEARN MORE: Lago di Sorapis Hike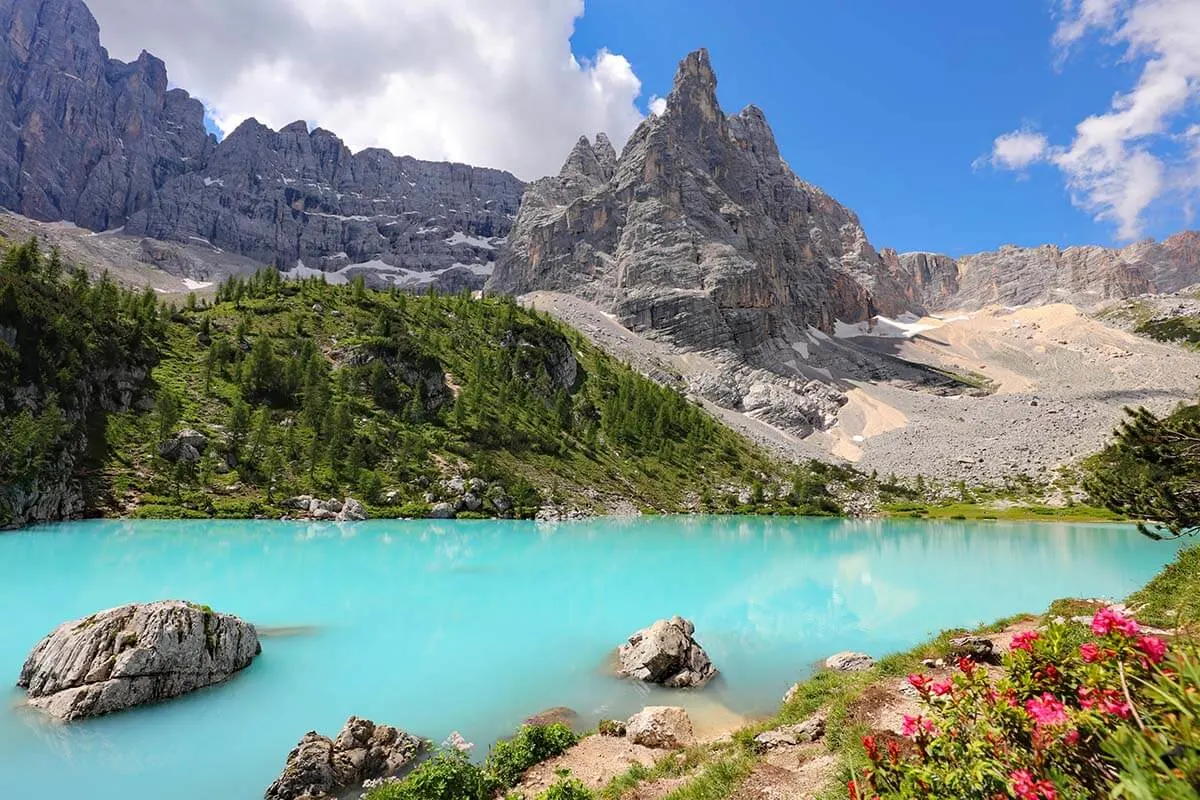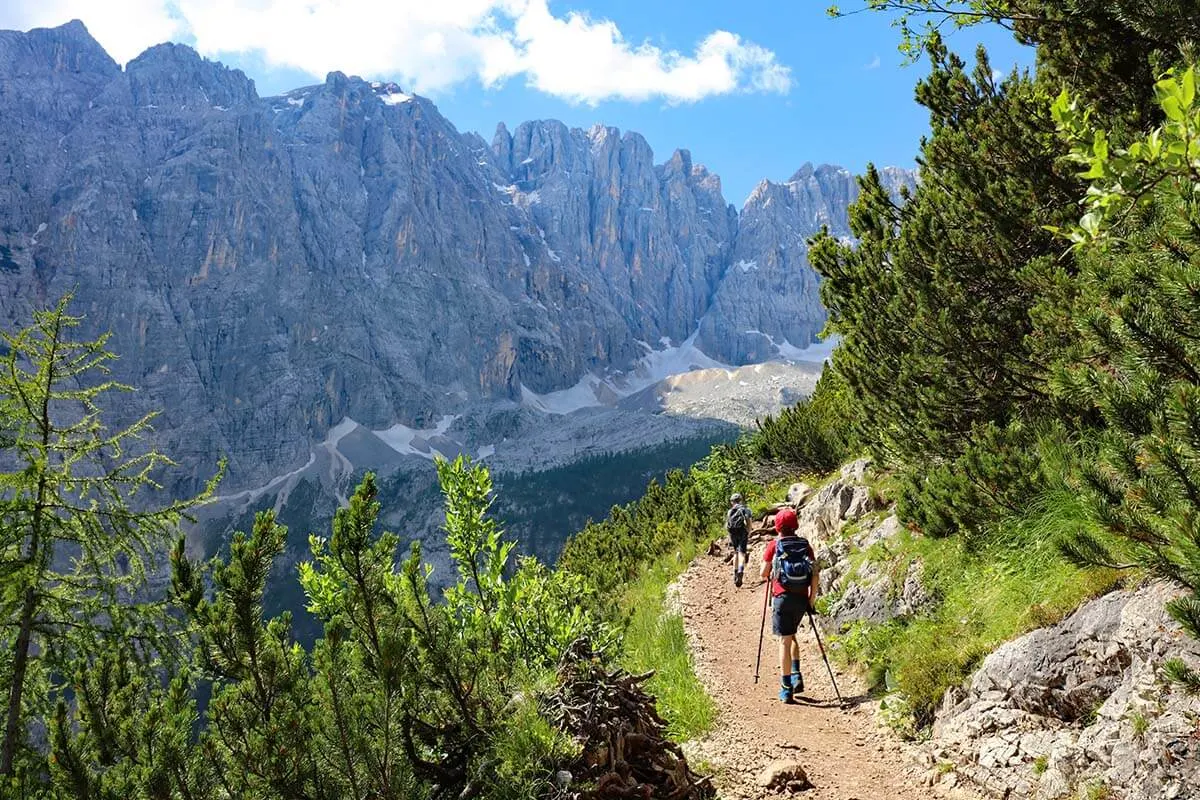 6. Marmolada
No list of the Dolomites best places would be complete without mentioning the highest mountain in the region, Marmolada. Also known as the Queen of the Dolomites, Marmolada is a very unique place where you will not only find some of the best far views over the Dolomite mountains but also fascinating Great War history.
With 3,265 m (10,712 ft) height, Marmolada offers incredible 360° views of the entire Dolomites region and you can even see as far as the mountains of Austrian Tyrol. In addition, you can visit the Museum Marmolada Great War 3000m, a WWI fortress (at 3km height!), and Grotto of the Madonna. For the more adventurous, there are also a couple of via ferratas and other activities here.
Despite its altitude, Marmolada is very easy to visit by taking a series of cable cars, and it doesn't take longer than a few hours. So if you find yourself in the heart of the Dolomites region and are looking for something nice to do, definitely check it out!
Good to know: Because of the altitude, there's always snow at Marmolada. Be sure to take a sweater and a rain jacket with you – even if it's very warm in the valley.
LEARN MORE: How to Visit Marmolada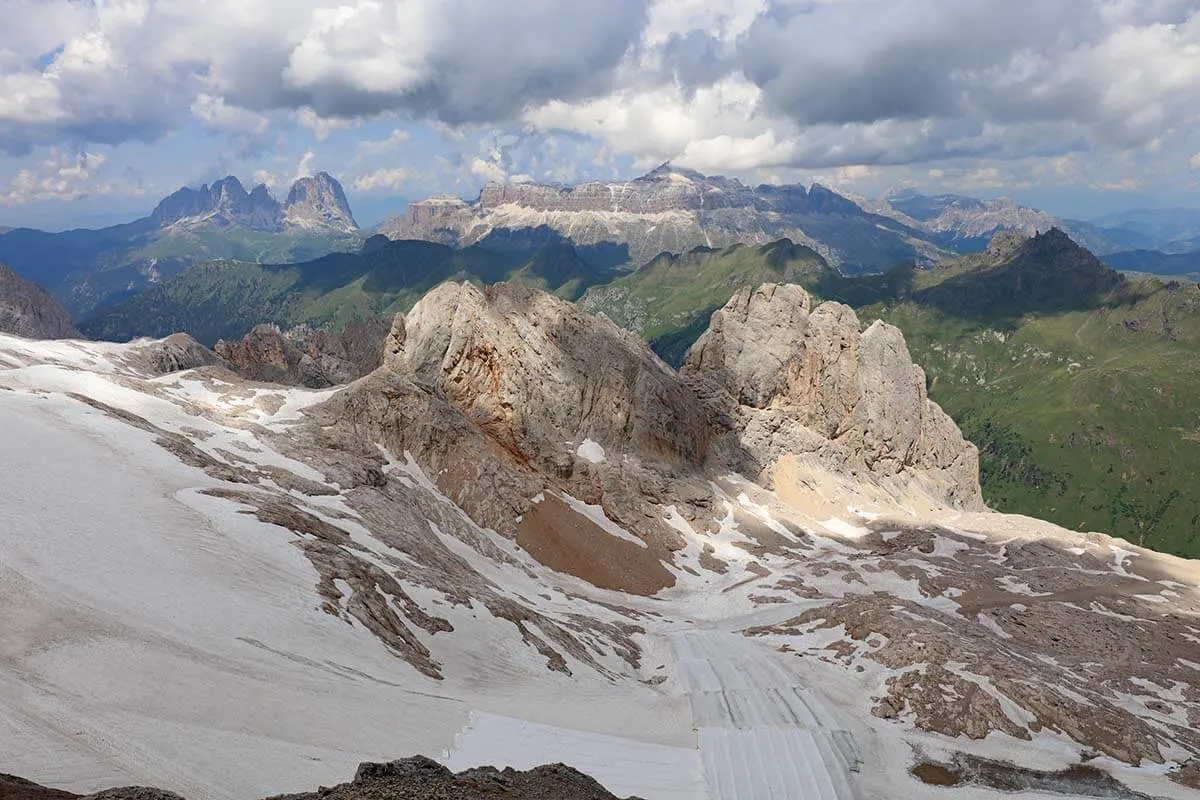 7. Passo Gardena
Passo Gardena (aka Grödner Joch) is an absolutely beautiful mountain pass and one of the must-drive roads in the Dolomites. The first time we visited the region, we reached Val Gardena via this mountain pass at around sunset. What a scenery, what a landscape! It was love at first sight!
Since then, we have driven this pass multiple times, in different weather, and it remains one of my personal favorite scenic drives in the Dolomites.
Gardena Pass isn't nearly as difficult to negotiate as most other mountain passes in the region, it's usually not as busy, and the landscapes are breathtaking. Furthermore, it's the quickest route between Val Gardena and Lago di Braies – two of the most popular places in the Dolomites. So even if you only have limited time in the region and have to be very selective about where to go, I highly recommend driving the Gardena Pass.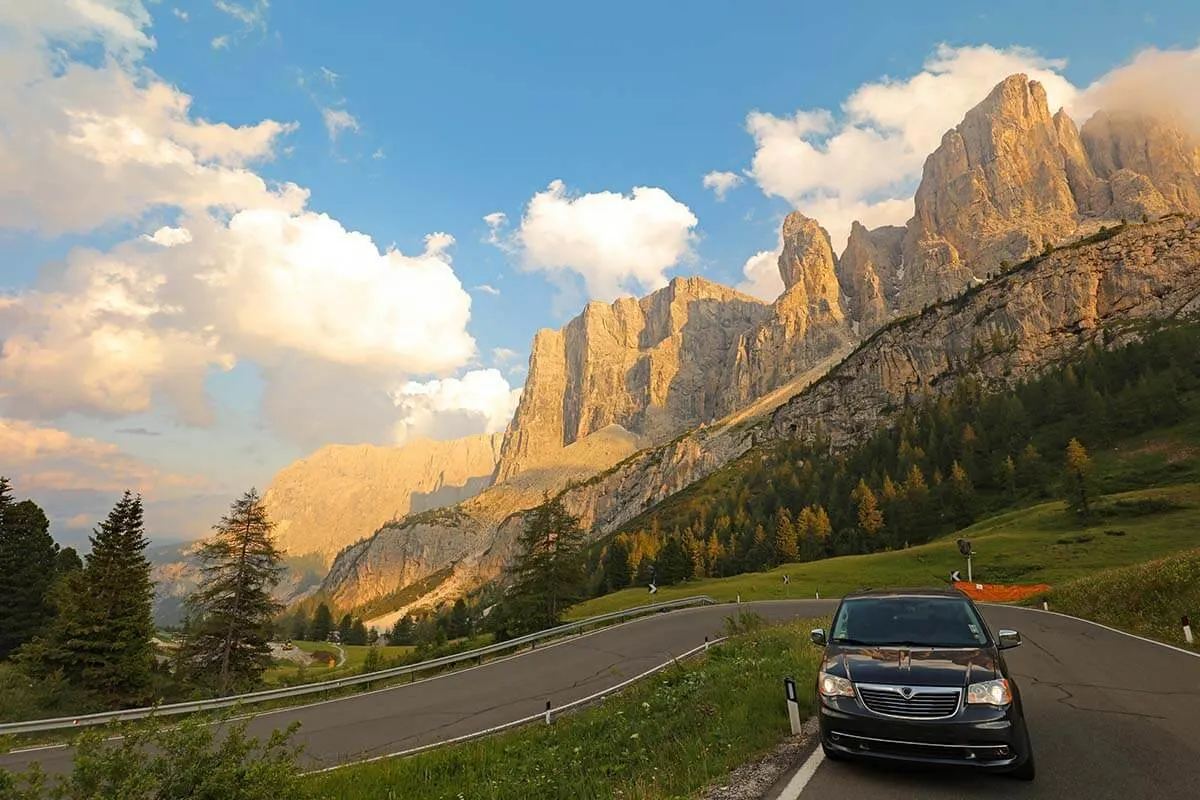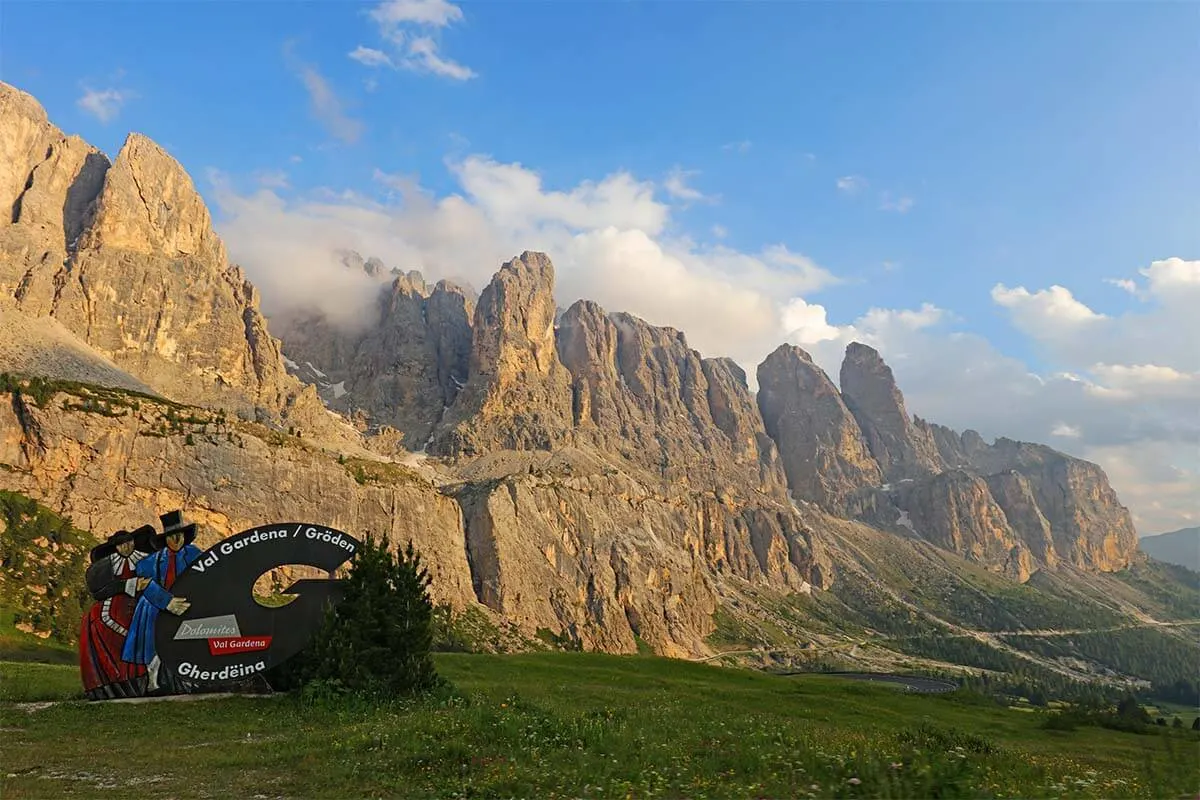 8. Passo Pordoi & Piz Boè
With 2,239 m (7,346 ft) altitude, Passo Pordoi is the highest road in the Dolomites. With its 28 hairpin bends, this is one of the roads that will definitely make your head turn! The roads in this part of the Dolomites are absolutely insane and driving here is an experience in itself. It's not the best road to take if you are just passing by and are in a hurry….
Probably the most touristy of all the mountain passes in the Dolomites, Passo Pordoi is more than just a road with nice scenery. It's one of the most popular Dolomites destinations, with many people coming here to enjoy the views from Forcella Pordoi and hike to the nearby Piz Boè.
With 3,152 m (10,341 ft), Piz Boè is one of the highest mountain peaks that you can hike to in the Dolomites. It's quite a serious climb if you start at Passo Pordoi, but you can also take Sass Pordoi cable car for the biggest part of the journey. It will still be a serious uphill walk and there are some exposed sections and ladders, but it's doable for most people, and that's what makes it quite popular.
Good to know: Wear good hiking shoes and layers of clothing. A rain jacket and a sweater are a must when hiking at this altitude. If you can, visit on a sunny day, and definitely avoid stormy afternoons!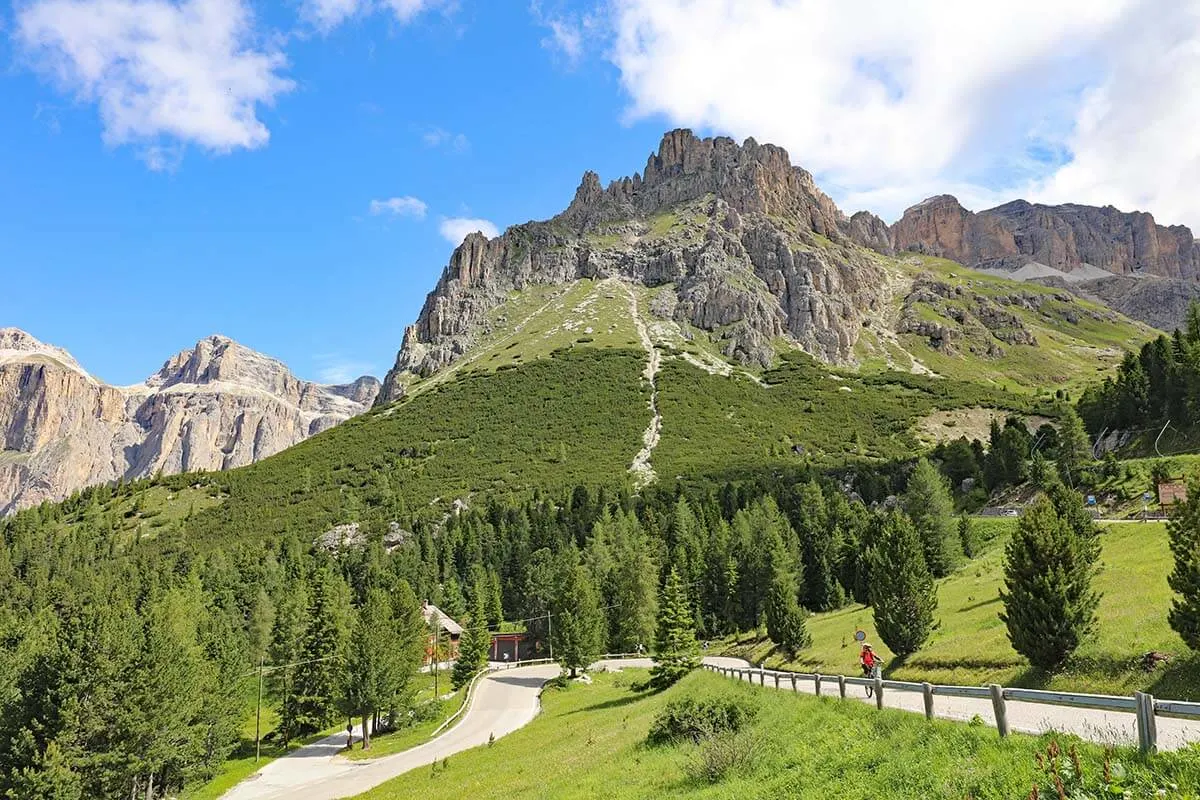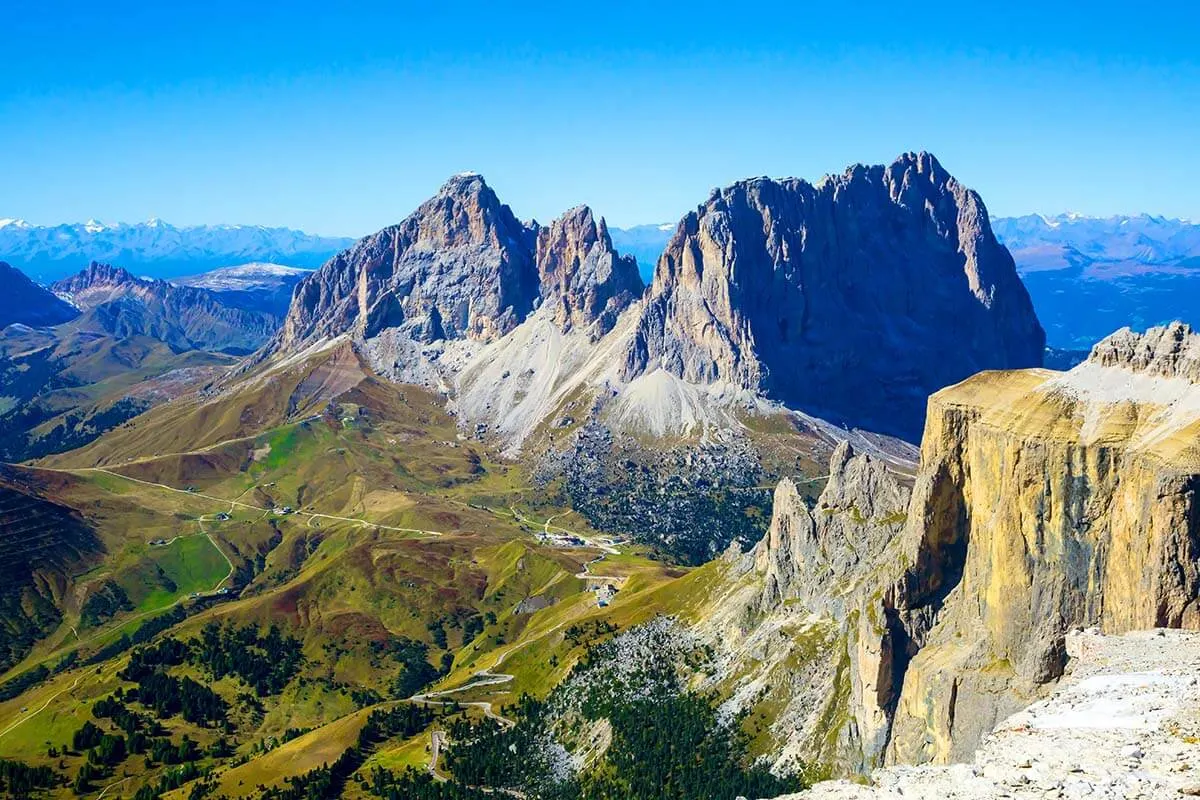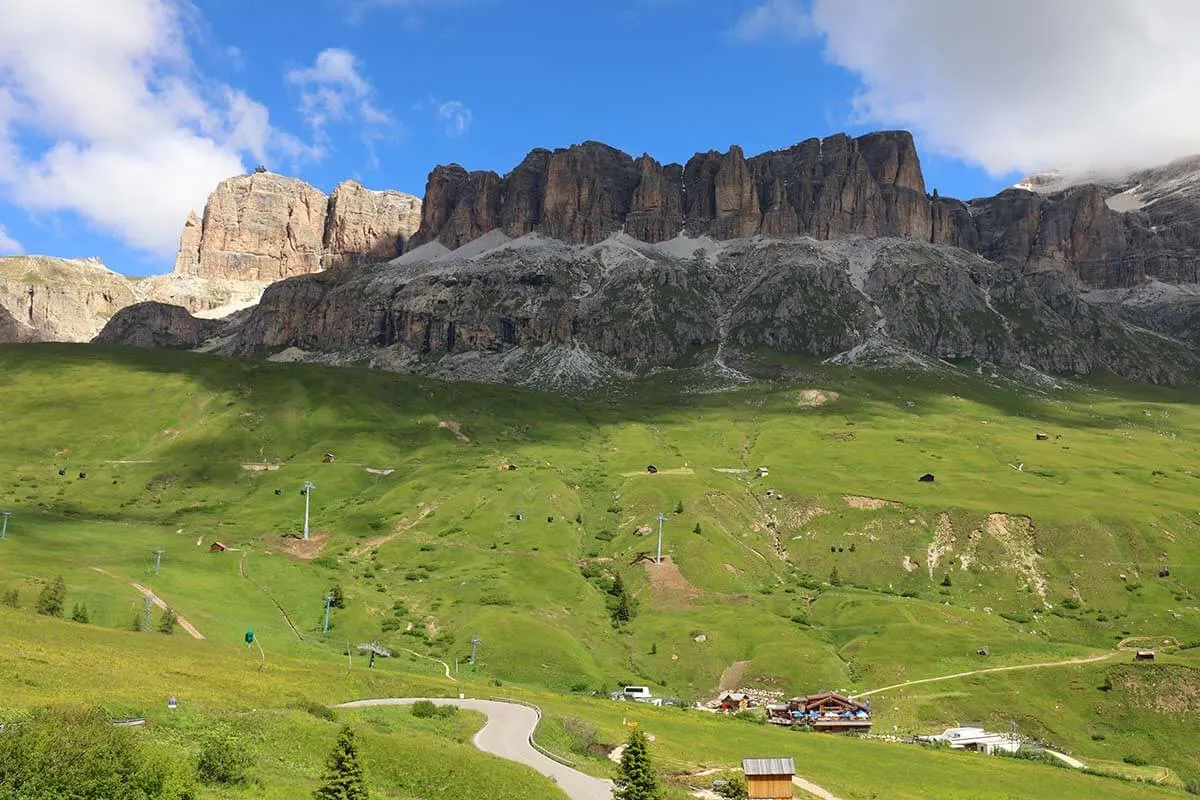 9. Passo Giau
Giau Pass is just one of the many stunning mountain passes in the Dolomites. Be prepared for some sharp hairpin turns when driving here, but it's well worth it. The scenery around Passo Giau is extraordinary!
But what makes a visit here really worthwhile is the beautiful landscapes at the pass itself and the fact that you don't even have to walk far from the car to see some jaw-dropping scenery. One of the best views – see the picture below – can be found right at the main car park/ bus stop at Passo di Giau.
If you do hike, there are some fantastic hikes that start here. Some of the best options are hiking north in the direction of Falzarego Pass / Cinque Torri or to the east in the direction of Lago Federa/ Cortina d'Ampezzo (more about these places further below).
We did this hike from Passo di Giau to Lago Federa, but even if you just opt to walk a small part of any trail and back, the scenery is amazing and it will be well worth it.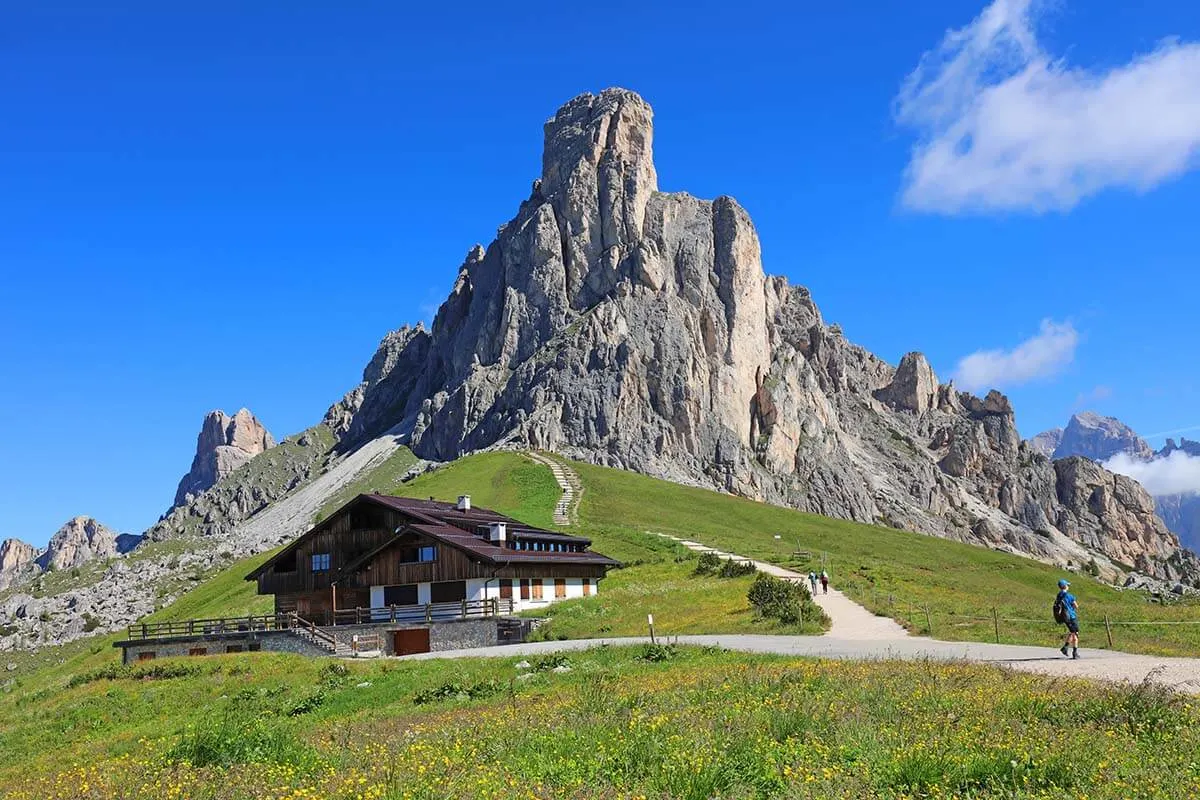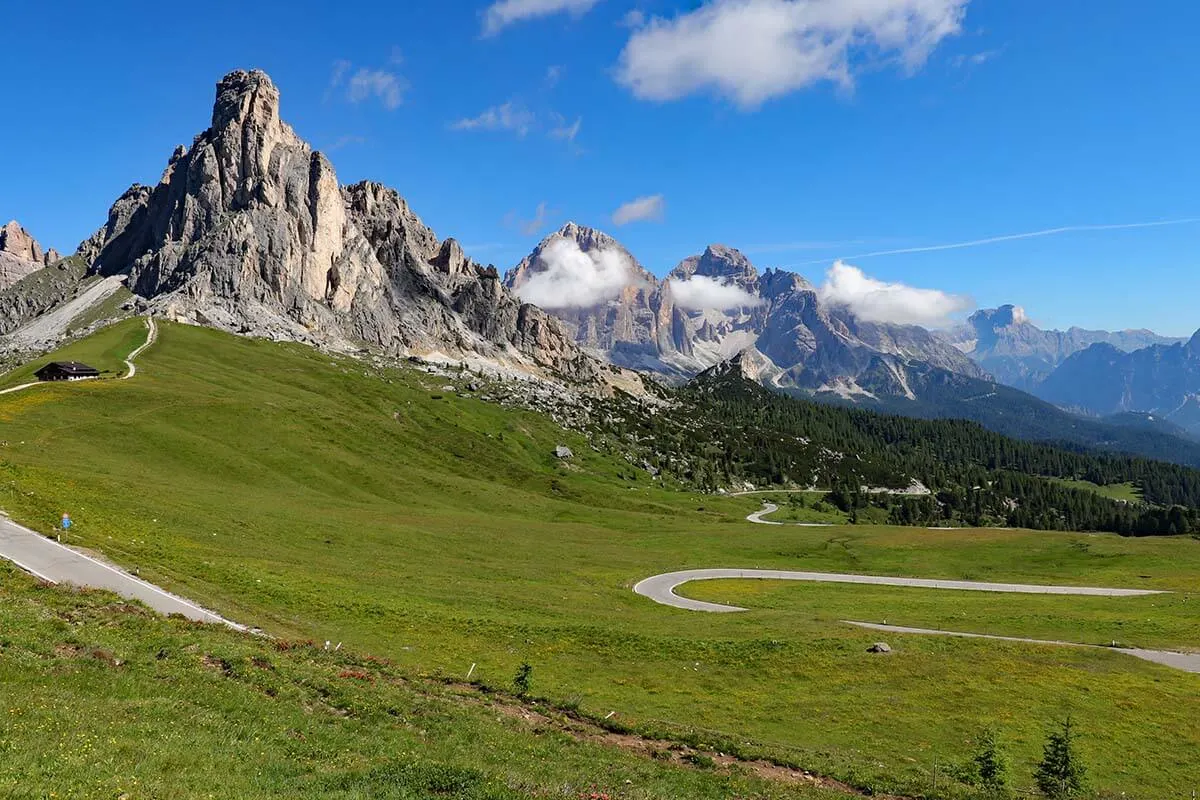 10. Cortina d'Ampezzo
Cortina d'Ampezzo is probably the most popular mountain resort of the Italian Dolomites (the other place is the earlier-mentioned Val Gardena). Cortina is a small town surrounded by some of the best mountain scenery and offering easy access to some of the most beautiful places in the region.
Cortina is one of the most popular places to stay in the Dolomites, with countless hotels, holiday homes, shops, and restaurants. It's also one of the most expensive places and you won't find many locals staying here. That being said, the location is great for sightseeing and various day trips, without spending hours and hours in the car, and we found it worth the price.
The majority of Cortina d'Ampezzo attractions are actually not in town but in the surrounding mountains. However, the town itself is worth checking out as well – even if just for a leisurely stroll through the main pedestrian street, some (window) shopping, or a nice dinner in the evening. We recently spent more than a week in Cortina and we loved the atmosphere in town in the evenings. We heard that Cortina really comes to life in winter – it's one of the most popular places for skiing in the Dolomites.
Good to know: There are several cable cars in town that bring you to different sides of the mountains from Cortina. If you don't have much time and/or don't hike, this might be a great way to see some of the nicest mountain scenery in the area. The best views can be found at the top of Tondi di Faloria and also Tofana di Mezzo.
TIP: Families with kids or teens will love Parco Avventura, the adventure park with some fun and challenging routes in the trees. We spent quite some time here and – as far as our kids are concerned – this is one of the absolute best things to do in the Dolomites! 🙂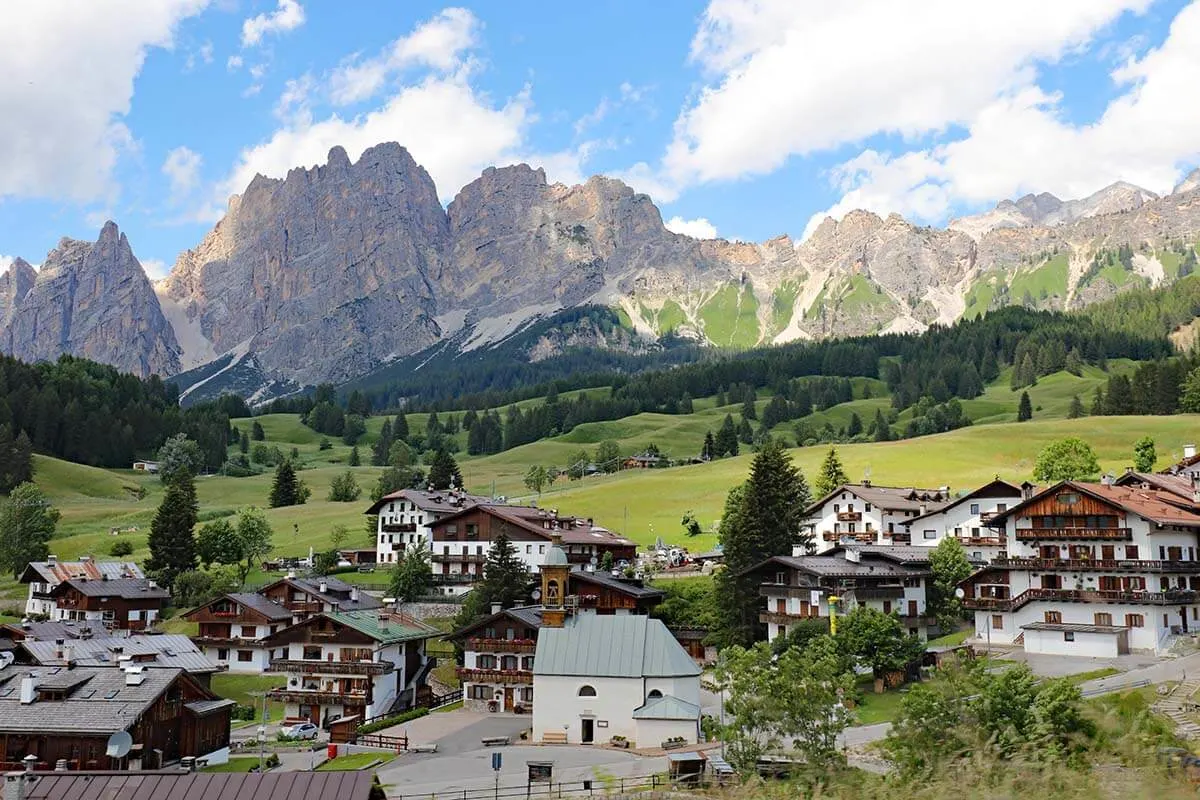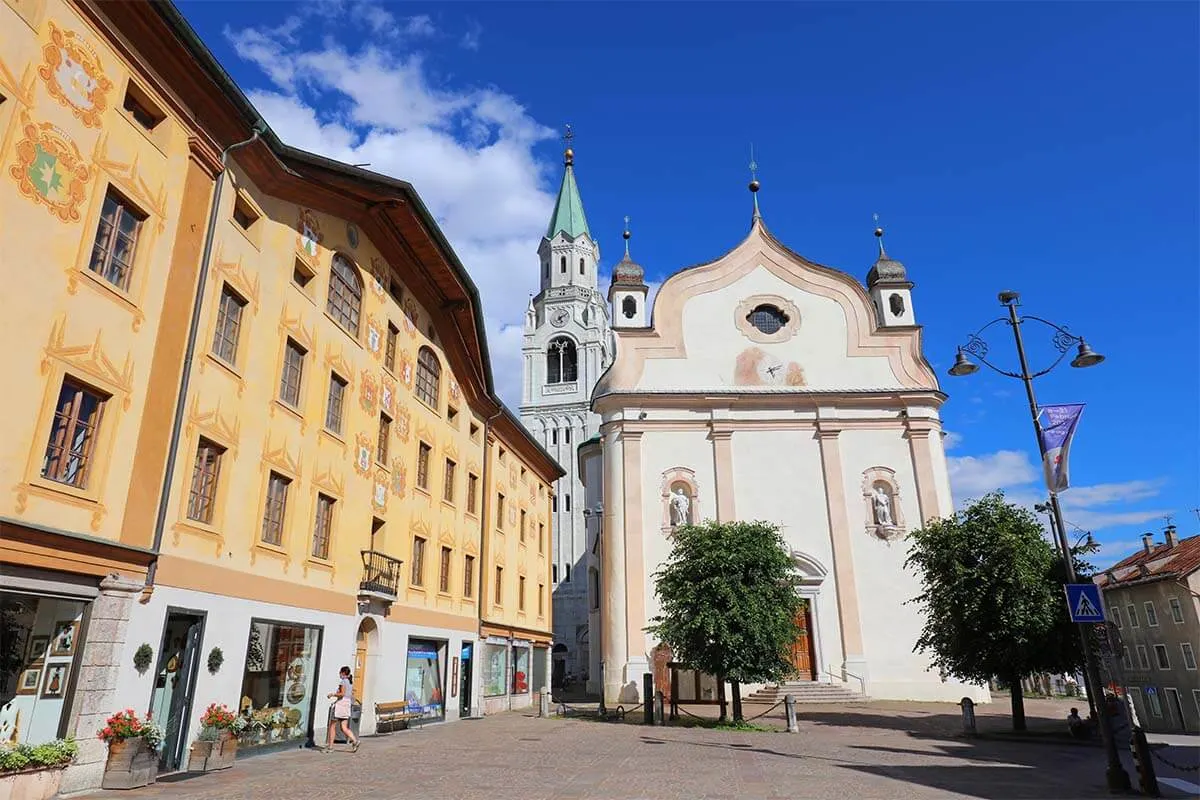 11. Cinque Torri
Cinque Torri (aka the Five Towers) is another popular mountain destination that you'll often see mentioned among the best places to see in the Dolomites. But nobody tells you what it's really about…
When researching information for our trips, we saw many pictures of the 5 towers and some recommendations to visit. But while it looked very beautiful, it just didn't seem to have that 'extra' something that would make it worth visiting more than the other popular Dolomites destinations. And who has the time for all these places anyway… So we never made it here during our first trip.
However, on our second visit, we were staying in the nearby Cortina for a longer time, and so one day we decided to check it out. And we were so glad we did – Cinque Torri is so much more than its famous towers that you see in all the pictures! The scenery is absolutely AMAZING here with jaw-dropping views that will leave you speechless. In addition, there is a sort of an open-air museum, where you can walk through a series of restored WWI trenches and bunkers, which makes this place even more interesting and well worth visiting.
I'm not really a history fan, but this unique combination of war history and some of the most beautiful mountain scenery you can imagine, makes Cinque Torri one of my personal favorite places in the Dolomites! It's also very easy and simple to visit, with minimal hiking if you don't want to, but also plenty of hiking possibilities if you do have some extra time and energy. Highly recommended!
LEARN MORE: How to Visit Cinque Torri + Best Short Hike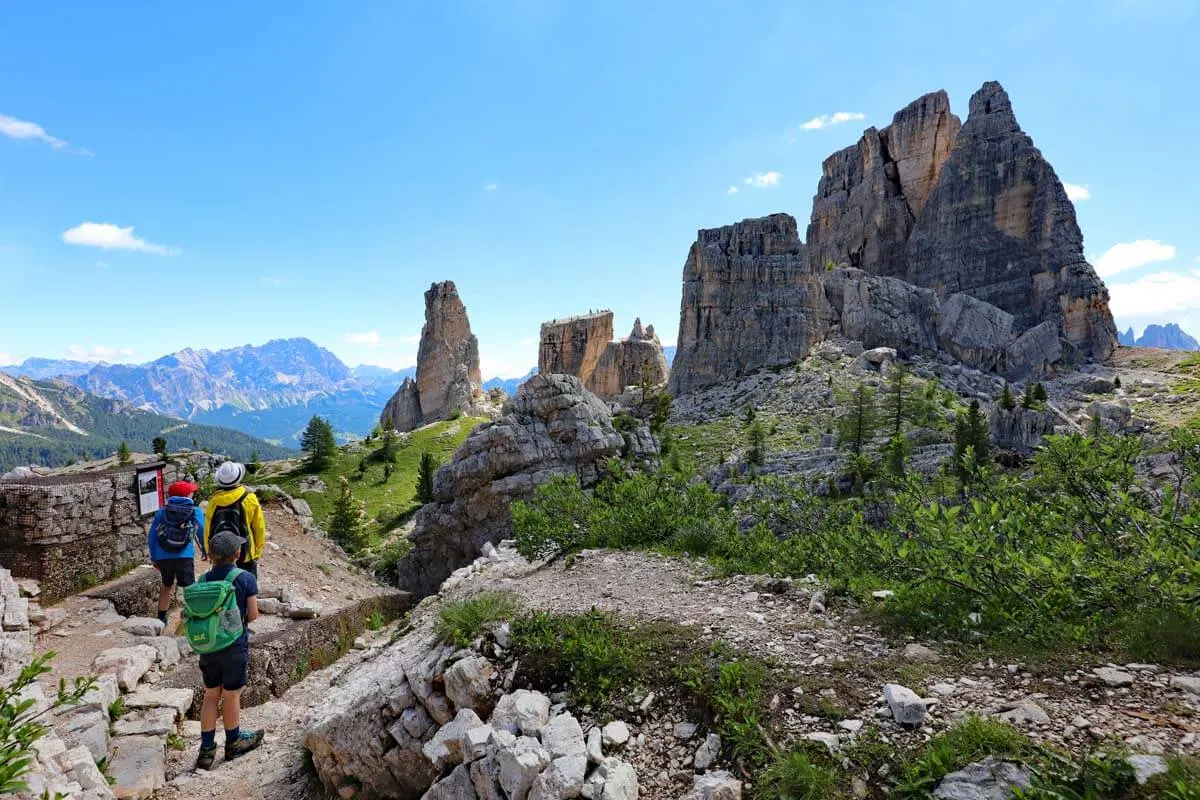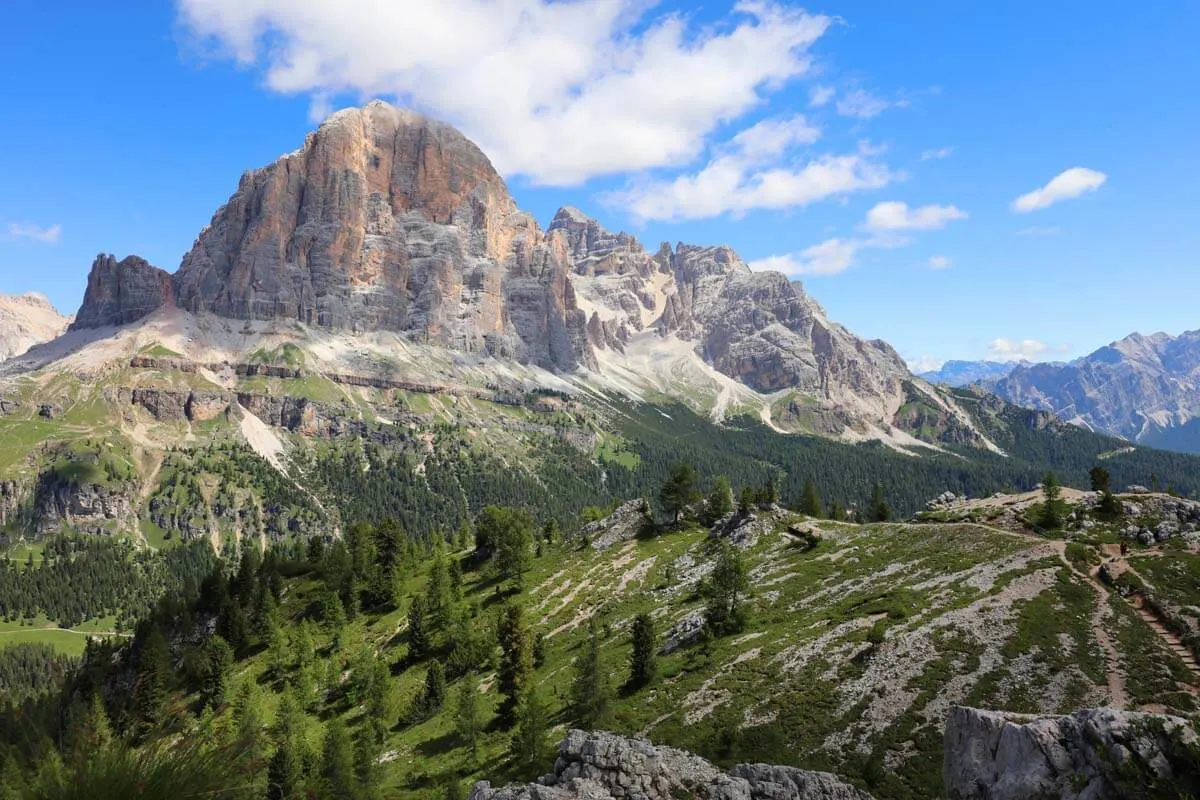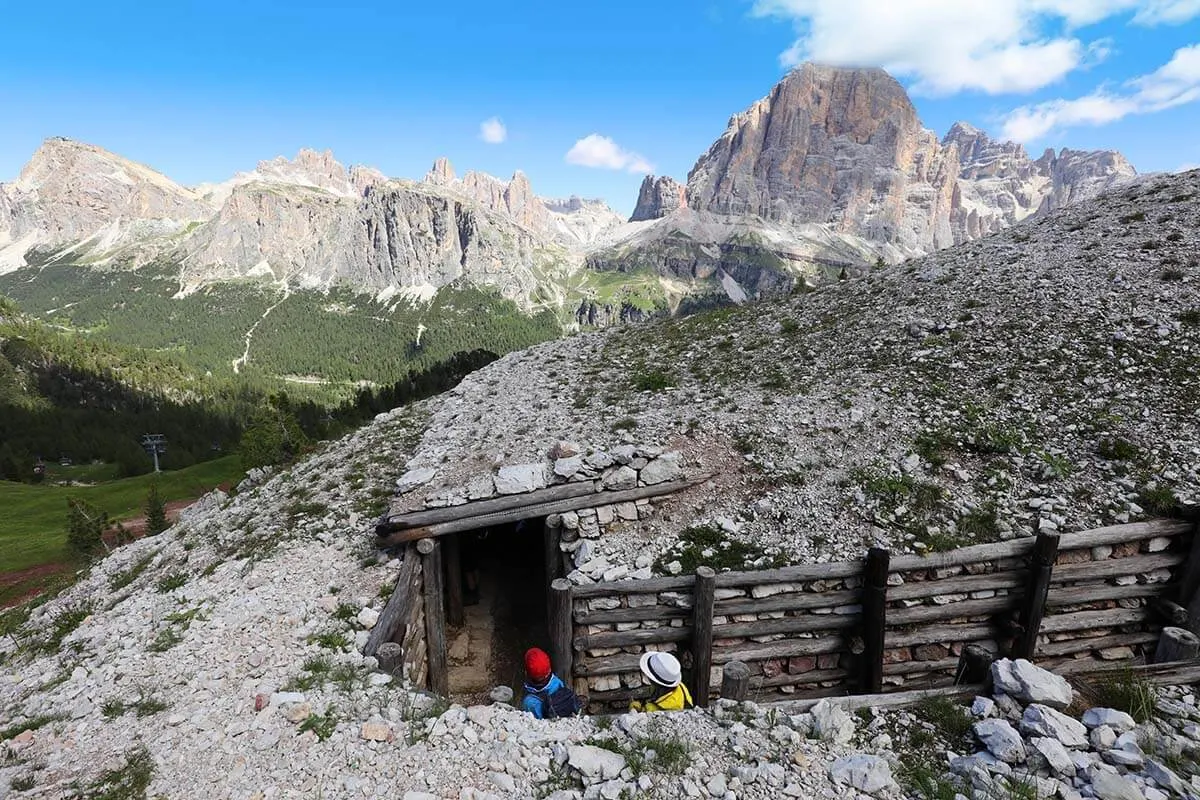 12. Passo di Falzarego / Mt Lagazuoi / Forte Tre Sassi
Falzarego Pass is another special place that is well worth visiting in the Dolomites. Also here, you'll find some of the most beautiful mountain scenery, but also WWI history. So whether you are into nature and hiking, war sites and history, or both – it's well worth coming here.
There are several places you can visit at Falzarego Pass and many ways to do it. The easiest to visit is the Forte Tre Sassi Museum which is located just next to the road, between Falzarego Pass and Armentarola. It's open from mid – June to the end of September and is a great place to learn more about the gruels of the Great War and the history of the Italian Dolomites. For more information, please see the museum website.
Another popular place to visit are the Lagazuoi tunnels. You can reach them by taking a cable car from Passo di Falzarego and then hiking on top. Be sure to bring a flashlight! There are various hiking routes here.
Also if you don't care about war sites, you can just come here for the scenery. The views from and around Rifugio Lagazuoi (at the top of the cable car) are unbelievable! You can also hike to Lago di Lagazuoi, and there are many more hikes here.
TIP: If you are looking for a short easy hike in this area, consider Lago di Limides.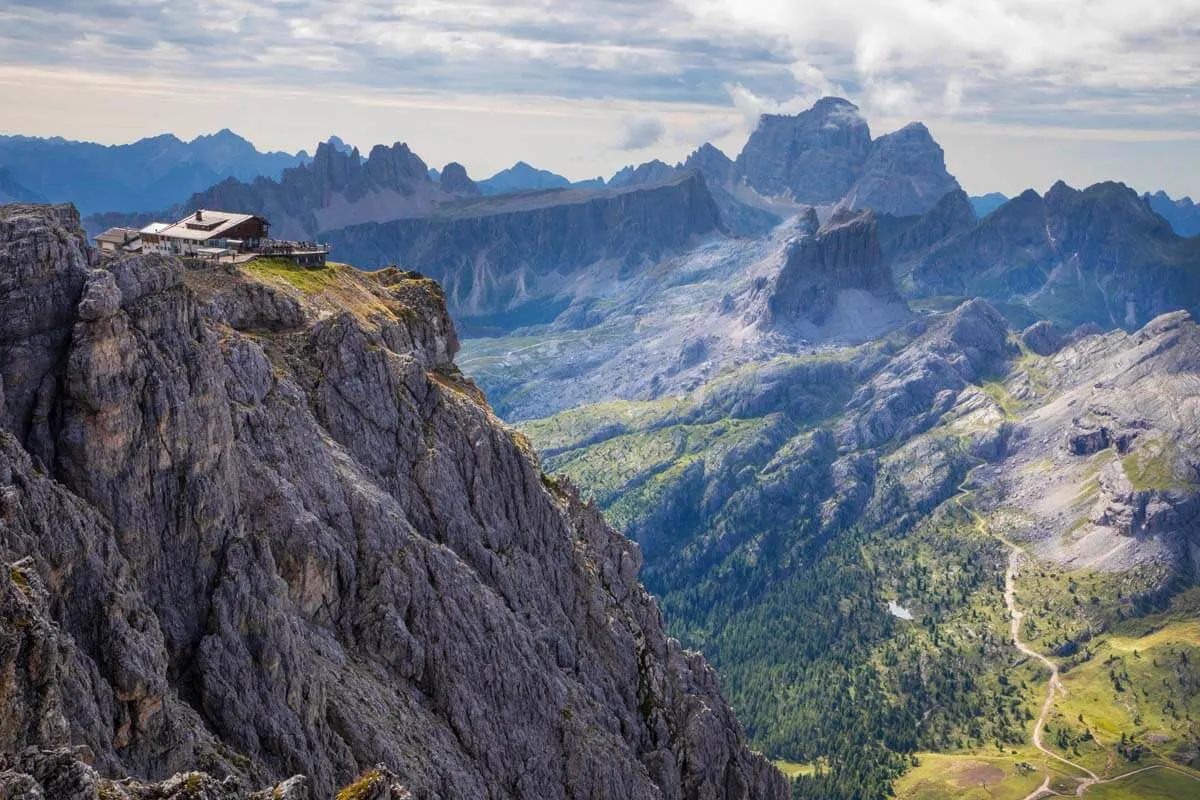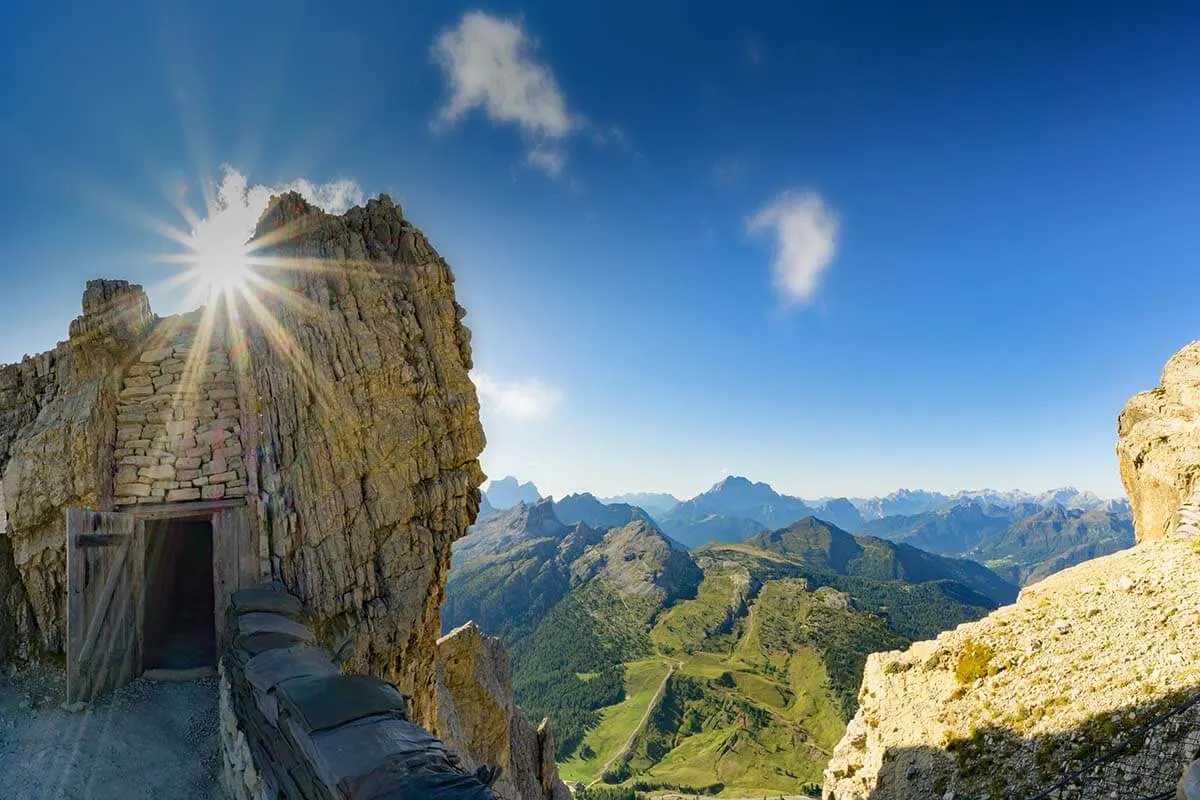 13. Lago di Misurina
Lake Misurina is one of the most beautiful lakes of the Dolomites and it's also a place that you can easily visit when touring the region. The scenery here is wonderful and the views are great in any direction. When there is little wind, you also have beautiful reflections on the lake – picture-perfect!
In summer, you can walk all around the lake (count about 45 minutes if you do the entire loop), but there is also a nice boardwalk where you can just explore one side of the lake. You can also rent paddle boats at Lake Misurina. There are several hotels, restaurants, and a very good supermarket here as well.
Located just next to the road and very close to the famous Tre Cime di Lavaredo, there is really no excuse not to stop at Lake Misurina. And while you won't be alone here, every time we visited, it was unbelievably quiet here comparing to Tre Cime… Furthermore, Lake Misurina is also one of the nicest places in the Dolomites that you can visit at any time of the year.
TIP: This would be a great place to stay for a night or two. Not only can you easily get to Tre Cime di Lavaredo from here (and beat the crowds by going very early in the morning), but it's also a beautiful place to be in the evening when all the day tourists have left. Check out the iconic Grand Hotel Misurina (it's like sleeping inside a postcard!). Hotel Sorapiss and Hotel Miralago are also located here (overlooking the postcard-view) and offer good value for the price/location.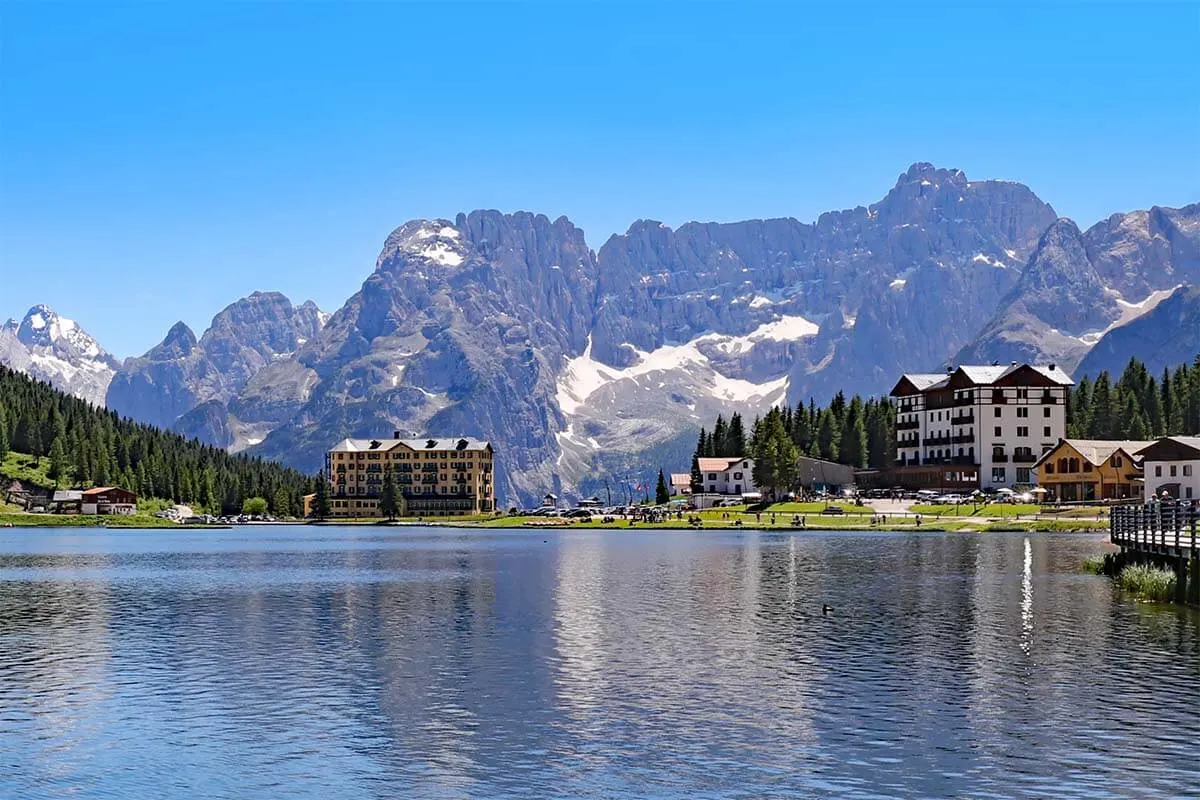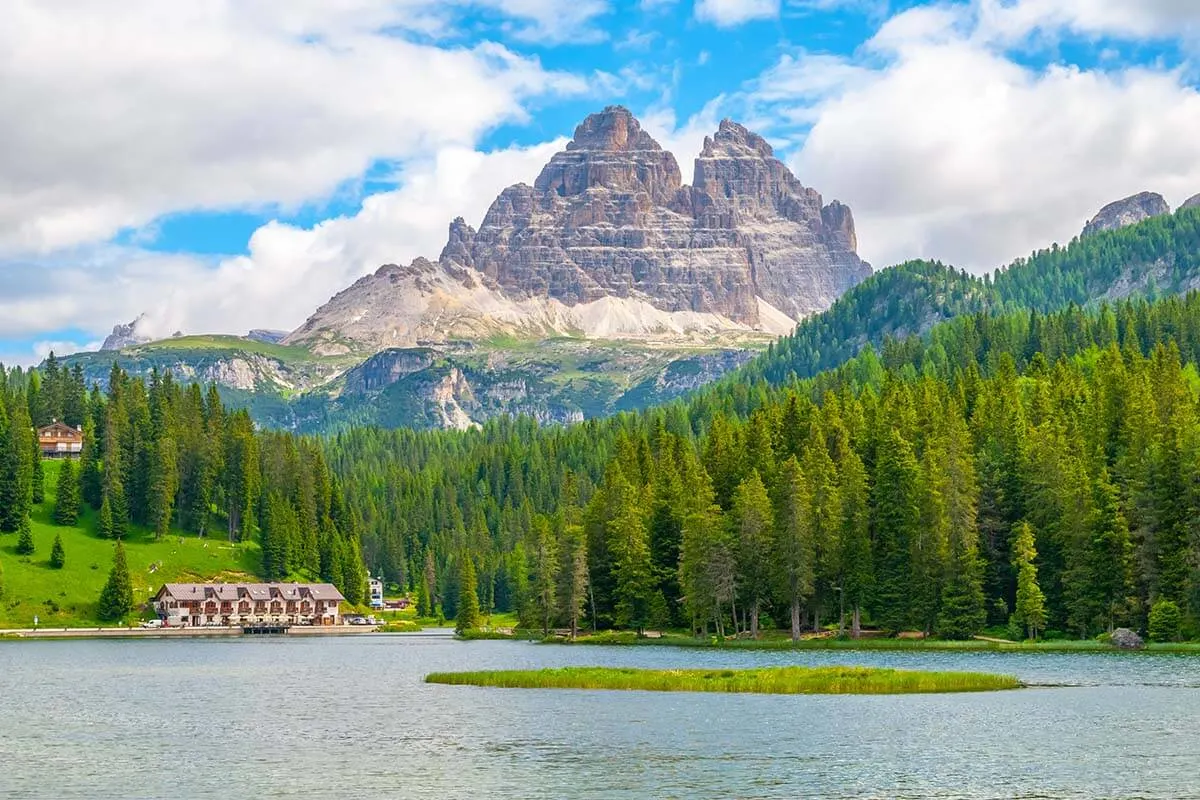 14. Passo Sella
Passo Sella is a mountain pass that connects Val Gardena with Val di Fassa (Canazei town) and is another of the must-do scenic drives in the Dolomites. Here, you have great views over the Sella group, Sasso Lungo, and Marmolada.
This road is very popular with cyclists and motorbikes, furthermore, there are lots of local and tour buses, camper vans, and cars… Let's just say, you won't be able to drive fast here most of the time. But this gives you plenty of time to enjoy the scenery (if not for the driver, then at least for the passengers).
There are lots of gondolas here and countless hiking trails. Sella Pass is also the perfect starting point if you want to explore the area around the famous Sassolungo (aka Langkofel) peaks.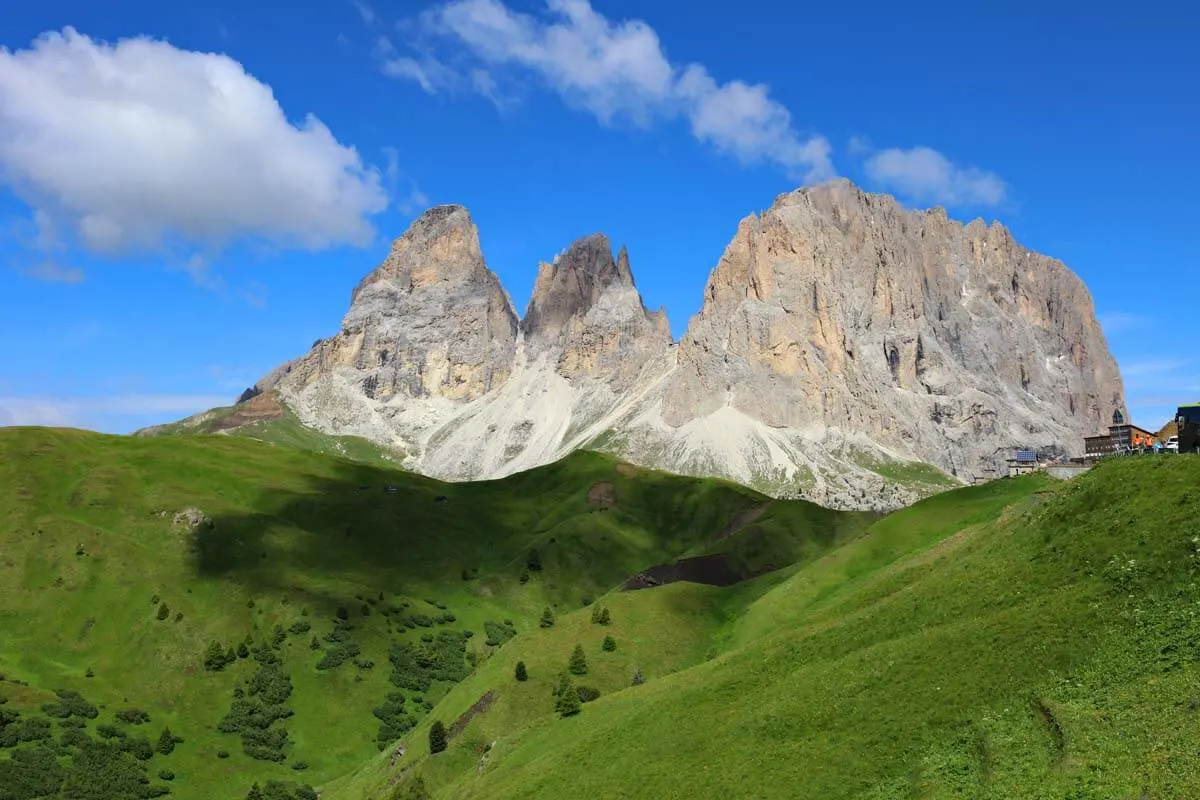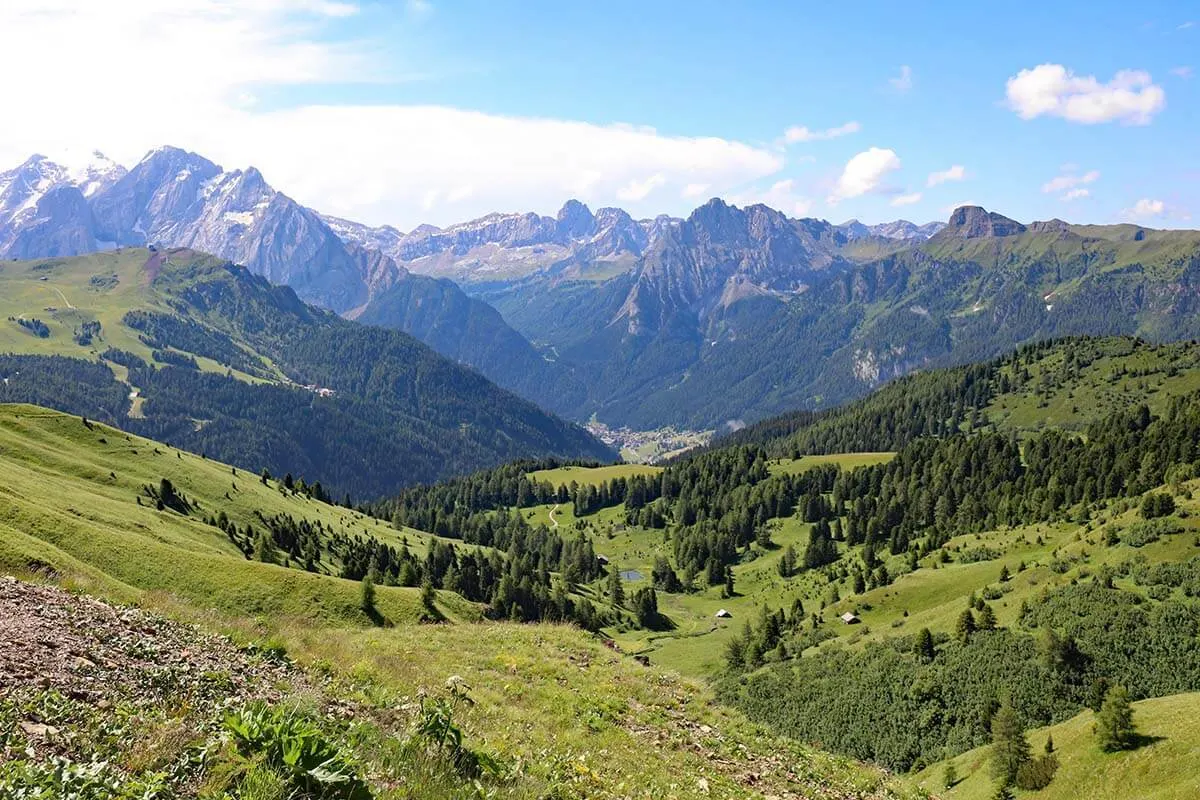 15. Lago di Carezza
If you are looking for fantastic views with little effort, check out the tiny mountain lake Lago di Carezza (aka Karersee or Lake of Caress). It's one of the most picturesque lakes in the Italian Dolomites, and also one of the easiest to visit, so well worth a quick stop if you find yourself in this part of the Dolomites.
Because this lake is located right next to the road, has easy parking, and it only takes about 30 minutes to walk all around it (if you choose to), it's a very popular spot attracting lots of people. For the best experience, visit here early in the morning – that's also when the reflections are usually at their best.
Good to know: Swimming is not allowed in Lago di Carezza.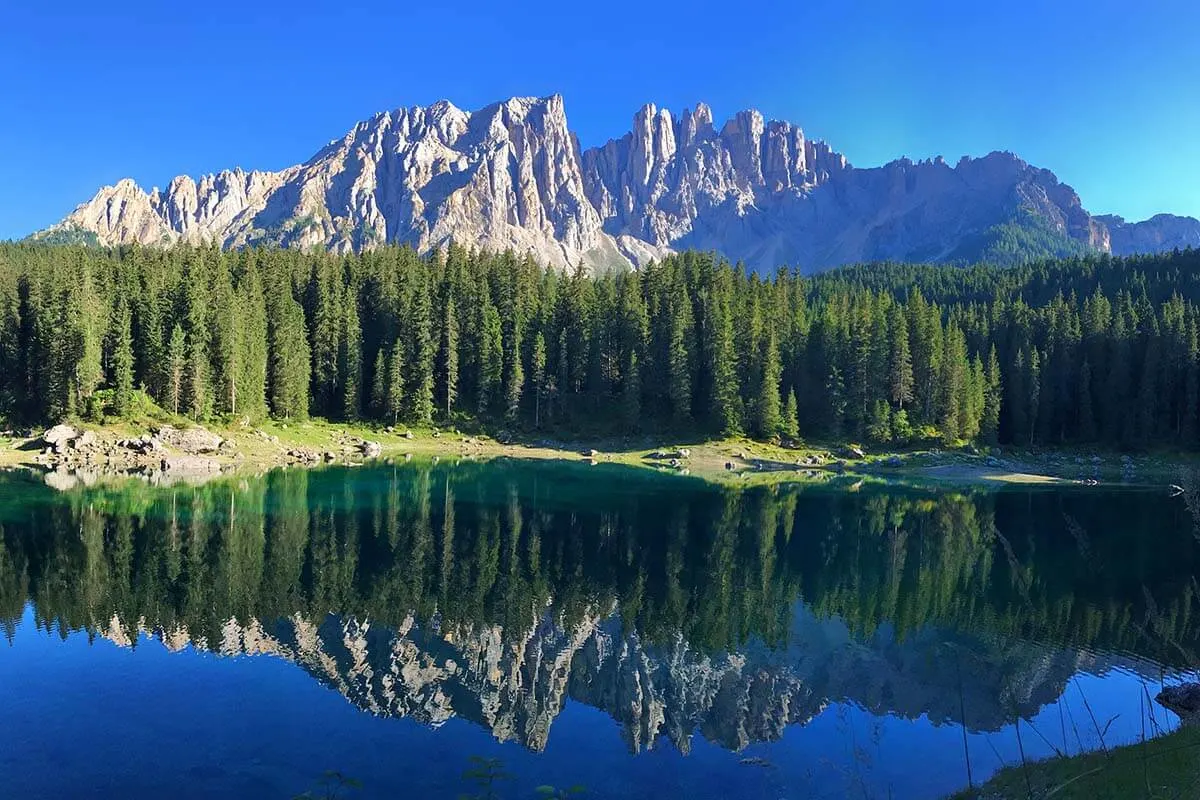 16. Lago di Federa
If you just can't get enough of the beautiful mountain lakes in the Dolomites, you may also want to check out Lago di Federa. Located between Cortina and Falzarego Pass, this tiny lake is also a very popular place to visit in this part of the Dolomites.
I have to say, however, that this is one of those places that look better in the pictures than in reality. Furthermore, it's not an easy visit as you can only get here by hiking… So I was a bit hesitant whether to include it in this list of the best places to see in the Dolomites or not…
The reason I decided to mention it is because of the amazing scenery of the area. So if you can visit Lago di Federa in combination with Forcella Ambrizola and also the area around Forcella Giau – Passo Giau, then it's absolutely worth it!
However, if you are short on time and have to be more selective with how many places you can squeeze into your itinerary, then I wouldn't come here just for this lake. The earlier-mentioned Lake Misurina, Lake Carezza, Lake Limides, and also Lake Dobbiaco are so much easier and simpler to visit and – in my opinion – are worth your time more.
If you decide to visit here, check out our guide to the amazingly beautiful hike we did in the Lago di Federa area! It's a wonderful hike, not too busy, and well worth it if you are looking to do something a bit less touristy than most other places mentioned on this list.
LEARN MORE: Lago di Federa Hike from Passo Giau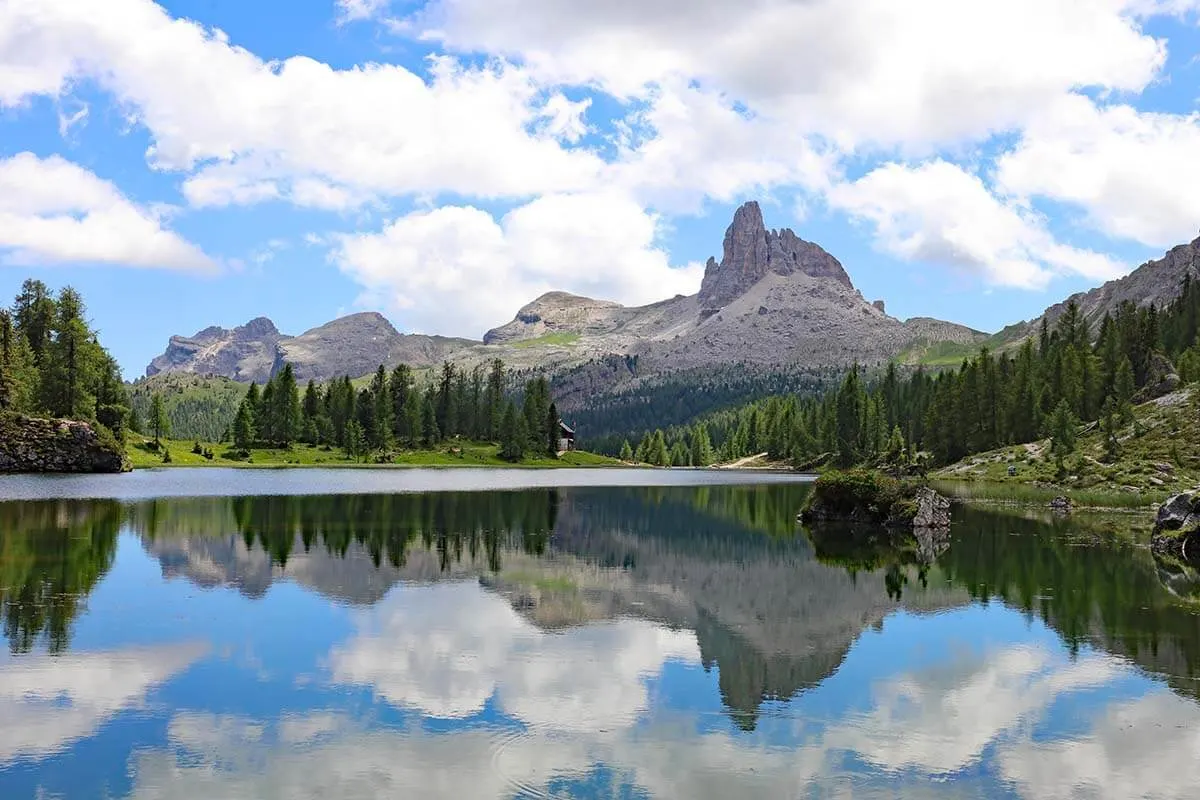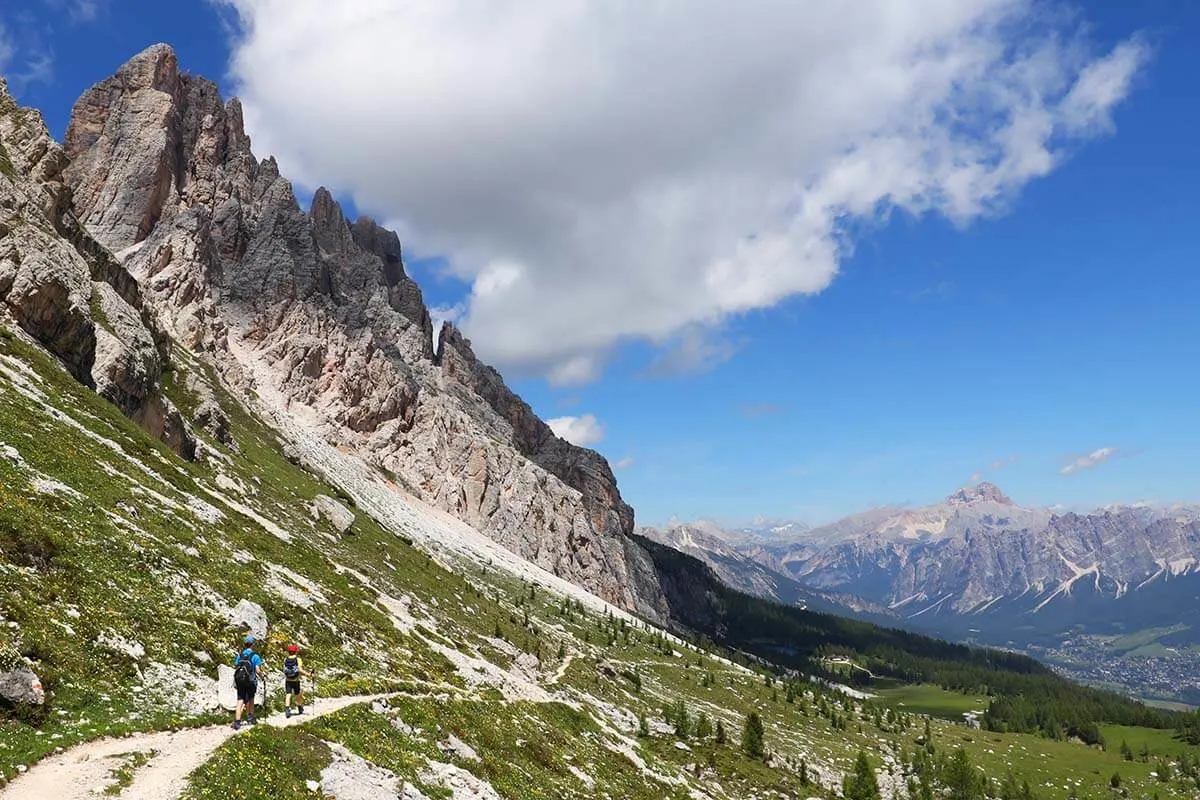 So, this is our selection of some of the best things to do in the Dolomites, Italy. And no, this is in no way a complete guide to ALL the best places in the Italian Dolomites – you would need several months for that… For starters, you may want to also read our guide to the most beautiful lakes in the Dolomites.
But if you are visiting the Dolomites for the first time and want to experience the very best that this stunning region has to offer, then this list should give you a good idea of where to go and what's worth your time the most.
TIP: If you are wondering how to best plan a trip covering as many of these places as possible, please see our Dolomites itinerary suggestions. It contains sample itineraries for any trip from 1 day up to a week and more. Check it out!
Below, you can also find some frequently asked questions for planning your visit to the Dolomites. Check it out!
Dolomites FAQ
Where exactly are the Dolomites?
The Dolomites is a very big mountain region in Northern Italy stretching through three Italian regions: Veneto, Trentino-Alto Adige (South Tyrol), and Friuli Venezia Giulia. The Dolomites region is about 2 hours drive north of Venice or from Lake Garda, and about 1.5 hours south of Innsbruck (Austria).
How to get to the Dolomites in Italy?
The easiest way to get to the Dolomites is by car or by arranging a private shuttle. Some areas also have good connections by public transport, but it really depends on where exactly you are traveling to/from. You can also visit the Dolomites with an organized tour from various locations including Venice, Lake Garda, or Bolzano.
Do you need a car in the Dolomites?
To make the most of a trip to the Dolomites, you'll definitely need a car. While in high season there are buses between some of the major tourist areas in the Dolomites, they usually only run a few times a day and aren't always very reliable. So if you want to explore the Dolomites to the fullest, it's best to visit by car. You can easily rent a car at any bigger city or airport and car hire prices are very reasonable in Italy.
How much time do you need in the Dolomites?
While you can visit some of the nicest places in the Dolomites in one or two days, you should really plan at least 5-6 days if you want to explore the region somewhat deeper. This will allow you to quickly see most of the Dolomites best places mentioned in this list and do a few of the best hikes. If you want to drive all the scenic roads, do all the hikes, and visit all the places mentioned in this article, you'll need at least 2 weeks and they will be packed. My advice is not to try to see 'everything', but to choose a few places and take your time to enjoy the scenery!
What is the best time to visit the Dolomites in Italy?
The best time to visit the Dolomites depends on your interests. Summer months are best for hiking, amazing scenery, and to be able to access all the best places in the mountains. Whereas winter is a wonderful time for skiing and other winter activities. The shoulder season (Oct-Nov and April-beginning of May) is probably the least good time to visit Italian Dolomites.
Which airport is closest to the Dolomites?
There are many airports where you can fly to for the Dolomites. The closest airports are Venice Treviso, Venice Marco Polo, or Bolzano regional airport. Also Innsbruck airport (Austria) is a good option and even Milan or Munich (Germany) can be good options with good intercontinental connections as well.
What's the best place to stay in the Dolomites?
The best place to stay in the Dolomites depends a lot on what you want to see. If you want to visit all the best places in Dolomites, I highly recommend that you stay at a few different locations for a few days each as that will save you a lot of driving. Staying in Val Gardena or Cortina d'Ampezzo are the best options for exploring the Dolomites. Don't get fooled by seemingly close distances! The roads here are crazy (and busy), so it's really not ideal to stay in one place if you want to see all the best places in the Dolomites.
LEARN MORE: Where to Stay in the Dolomites
More inspiration for visiting Italy:
VENICE:
ROME:
… for more travel inspiration and info on a big variety of popular destinations in Italy, please see our Italy travel guide.
If you found this post useful, don't forget to bookmark it and share it with your friends. Are you on Pinterest? Pin these images!