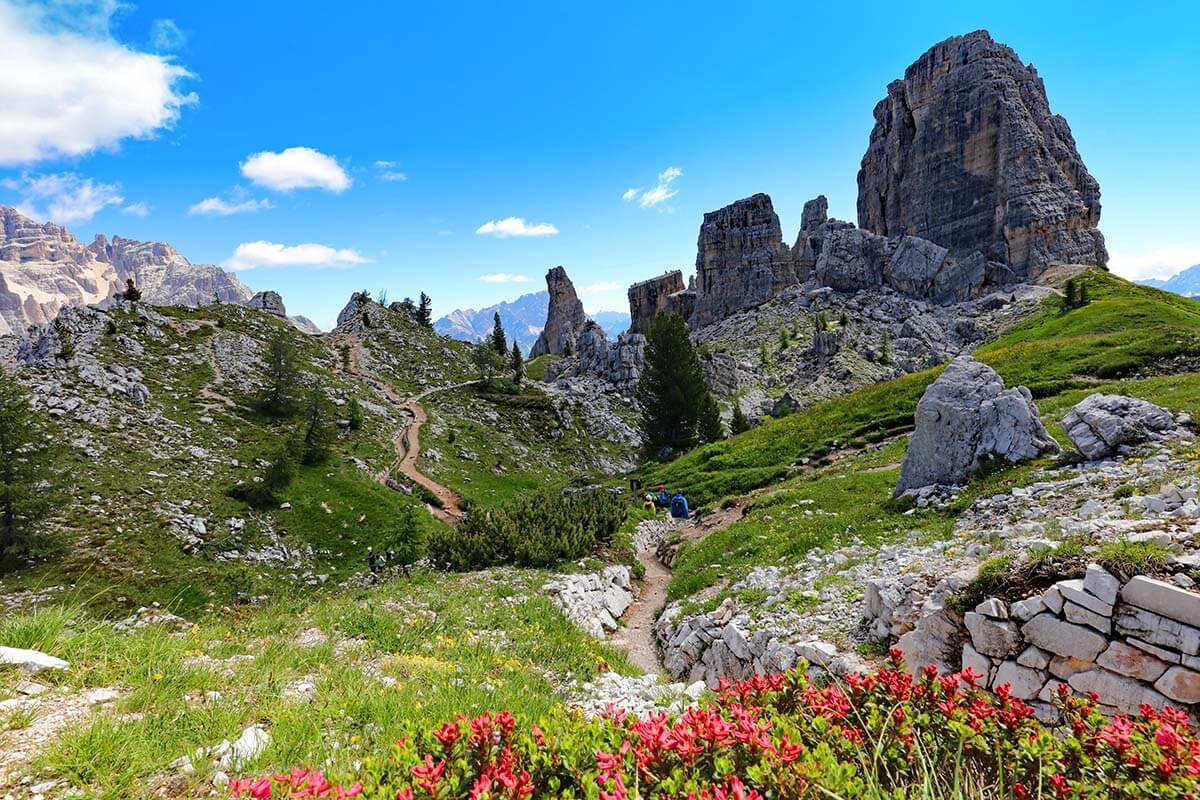 When researching the best hikes in the Dolomites, I kept on stumbling on one name – Cinque Torri (5 Towers). However, I never found any detailed explanation on how exactly to visit, what there is to see and do at Cinque Torri in summer, or which hike has the nicest views… So on our recent vacation in the Italian Dolomites, we decided to just drive there and check it out.
It turns out that the Cinque Torri area is extremely simple to visit. Furthermore, it's so beautiful that it certainly deserves to be included in any Dolomites itinerary. And finally, this area truly has something for everybody!
Cinque Torri offers effortless access to the most spectacular scenery, easy hikes with jaw-dropping views, and also lots of history dating from the Great War. If you are really adventurous, you can also go rock climbing at Cinque Torri. To put it simply, this is a place that will truly appeal to everyone.
In this article, you can find practical information for visiting this area and suggestions for the best hikes at Cinque Torri. Find out!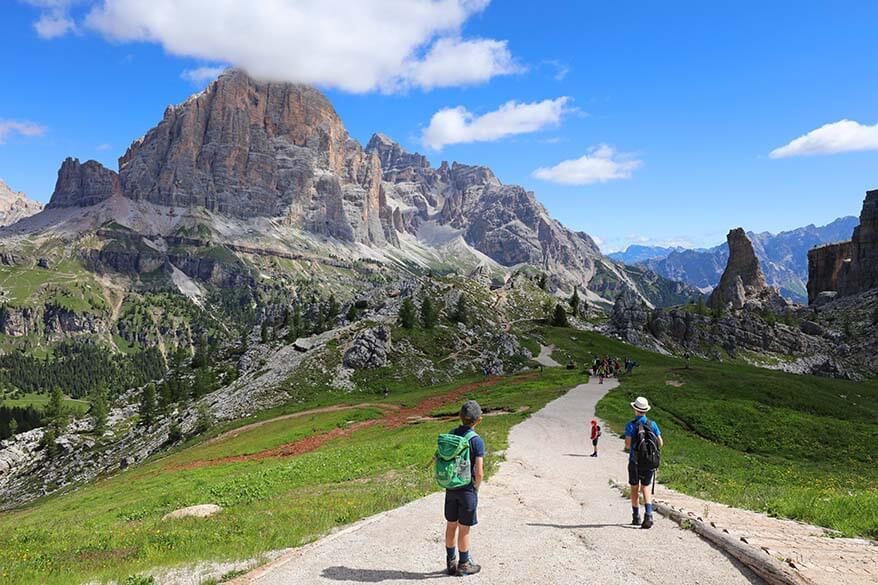 Why Visit Cinque Torri
With so many stunning places to see in the Dolomites, what makes Cinque Torri special, you may wonder. There are two main reasons to come here. First, the most beautiful (and easily accessible) views. And second, the Great War history and Museum of The Great War (Museo Della Grande Guerra).
At Cinque Torri, you can visit the restored WWI trenches, hiding places, and learn more about the significance of this region during the war. Part of the Cinque Torri loop hike is an open-air museum with informational panels and outdoor exhibits related to WWI. It's not your usual museum visit, but a very special experience that combines hiking, landscapes, and history in a very unique way.
When you come to this area on a beautiful summer's day, it's hard to imagine that such a beautiful area has witnessed such dark chapters of European history… But that's also what makes the Cinque Torri hike unique and this area well worth visiting!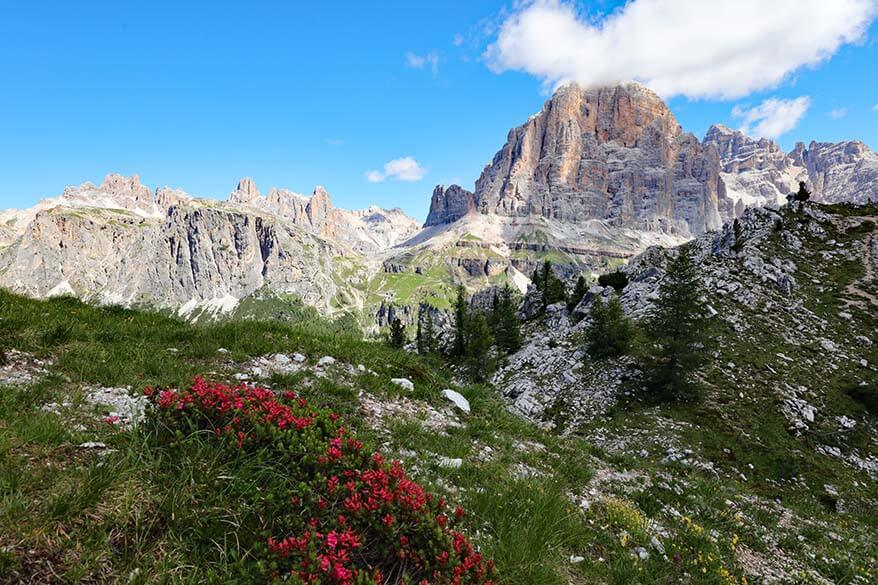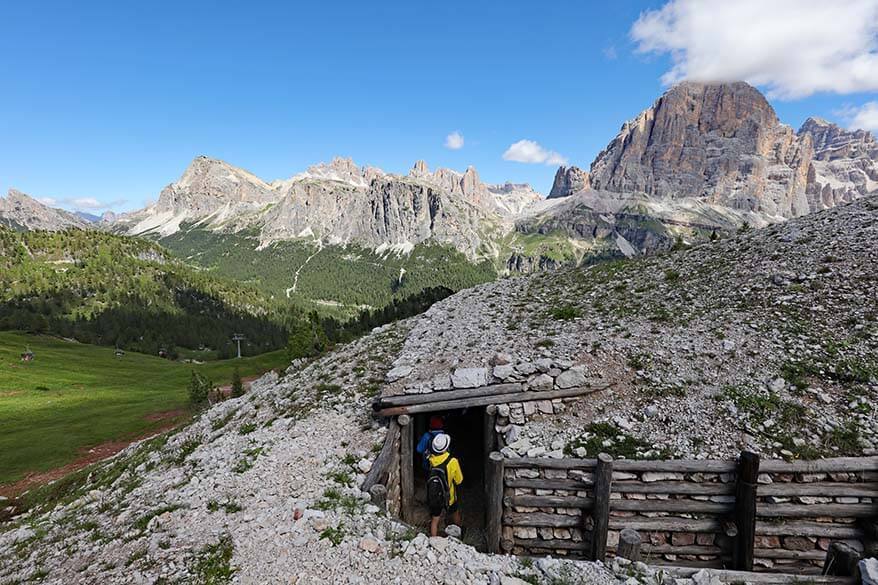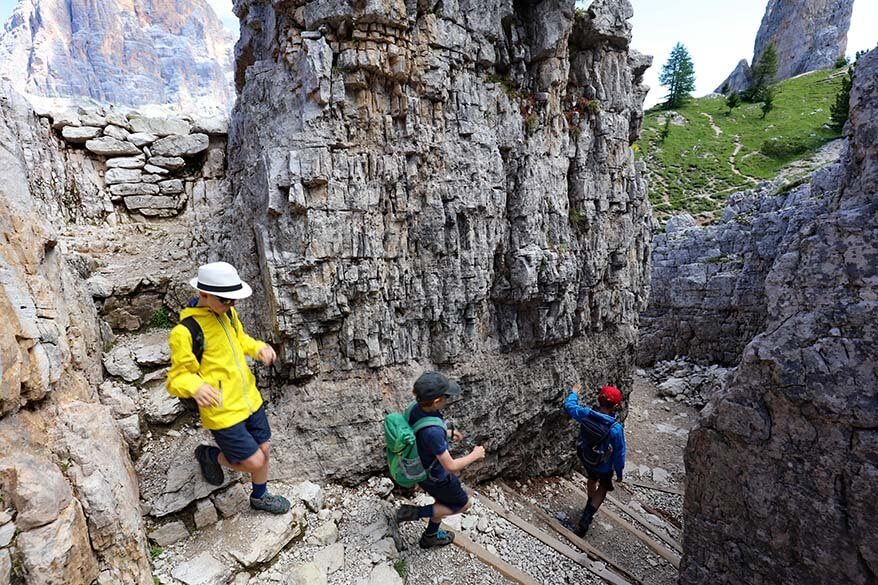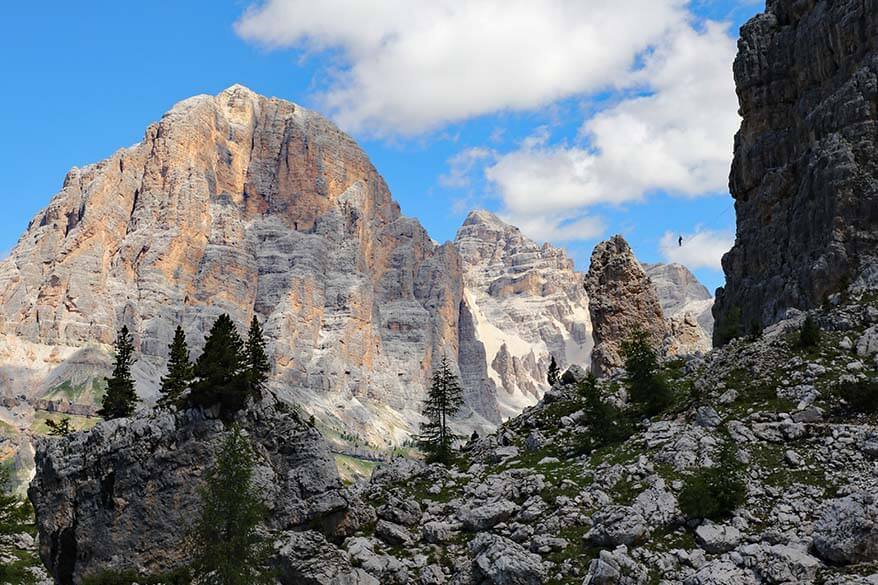 Getting to Cinque Torri
As I was researching Cinque Torri hiking information, I found bits and pieces of information about so many different Cinque Torri hikes. The more I read, the less I knew which hike to take. And we had no time to try them all and I'm sure neither will you…
Indeed, there are countless hiking trails in this area and you can hike up to Cinque Torri from Falzarego Pass, from Giau Pass, from Cinque Torri parking area, and from many other nearby places (Ru Curto, Rifugio Col Gallina, etc., etc.)…
In the end, we didn't do any of these hikes and took a cable car (see below). However, if you want to hike all the way up, below you can also find some tips for the shortest hike up to Cinque Torri. Read on!
By cable car
Instead of hiking to Cinque Torri, we decided to hike at Cinque Torri. So we drove to the bottom station of the Cinque Torri cable car and took a cable car up to Rifugio Scoiattoli, where you can find the nicest hiking trails of this area.
Taking a cable car is by far the easiest and the quickest way to get to Cinque Torri.
Good to know: Cinque Torri parking is about 3.5km east of Falzarego Pass and buses stop here too (see map).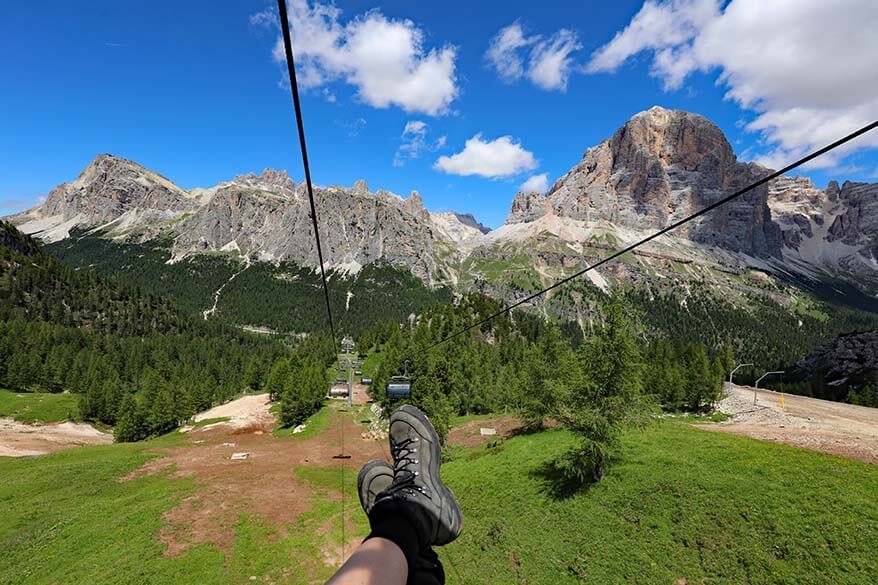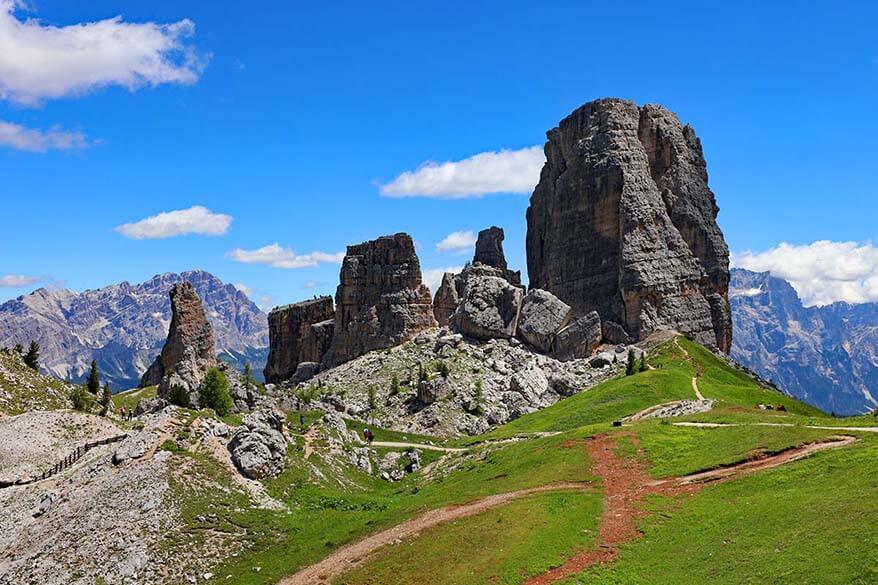 On foot
One of the shortest hikes to reach Cinque Torri is that from the bottom station of the Cinque Torri cable car. However, it's quite a steep climb (from about 1.900m to 2.250m).
As we were sitting in the cable car and enjoying the views around us, we saw lots of people slowly climbing this steep path up to Cinque Torri. This hike didn't look worth it at all. For a big part, it follows the ski slopes (this area is very popular for skiing in winter) and there isn't even much vegetation…
There is nothing that you see on that trail that you can't see from the cable car (the best views are up on the mountain anyway). Furthermore, you save about an hour each way by taking the cable car. For us, this was totally worth the 17.50 EUR for a round-trip ticket.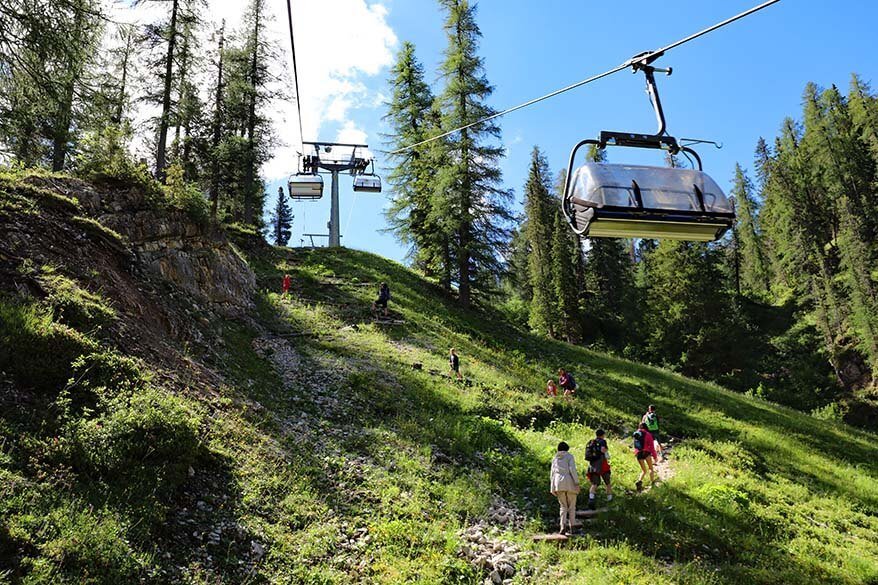 By car
Afterward, we found out that you can also drive up to the nearby Rifugio 5 Torri by car (see map). That would be the best of both worlds – no climbing up the steep hill and money saved for a cable car.
However, we ourselves didn't drive this road so I cannot comment on its accessibility or parking options. But we saw lots of cars parked at the mountain hut, so it's definitely possible to drive here by car.
Good to know: The circular hike around the Cinque Torri towers (described below) passes just above this mountain hut, so you can easily join the trail starting from here.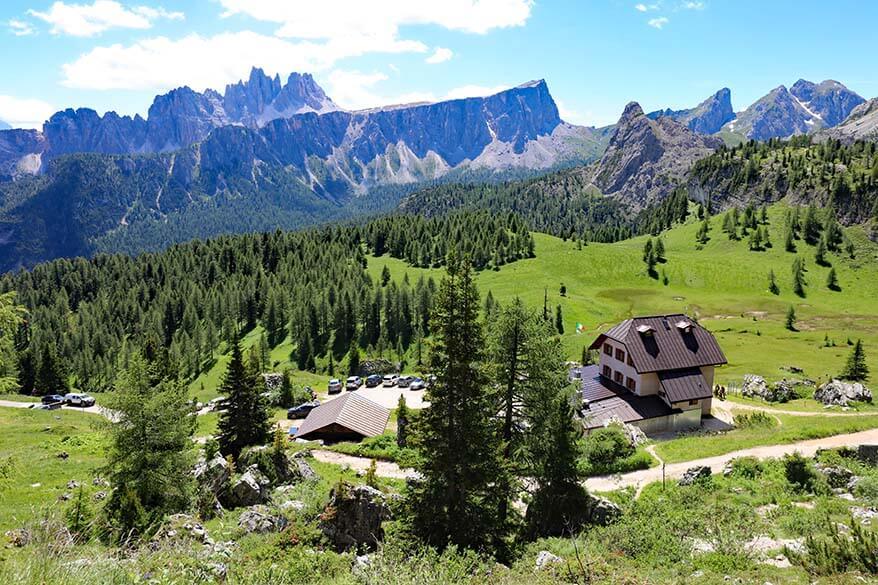 Hiking at Cinque Torri – Which Trail to Choose
In addition to all the trails leading to Cinque Torri, there are also lots of hiking trails at Cinque Torri itself (more info about it below). But if you visit this area and do just one hike, you absolutely have to hike the Cinque Torri loop trail (Giro delle Torri).
Cinque Torri loop is a circular hike starting and ending at Rifugio Scoiattoli (where the cable car arrives). It passes the WWI sites, goes around the 5 towers, past Rifugio Cinque Torri, and back to the starting point. It's indicated in red on our map below. This is the hike that we did and is the hike described further in this article.
As you exit the cable car, turn left and you'll see signs for the Great War Cinque Torri hiking trail. I indicated it in yellow on my map below. This trail can be done on its own (turning back before the 5 towers) and it's much shorter than the entire loop.
This is a good option for history lovers who don't want to hike far. You'll see most of the WWI sites and some great scenery. However, if you are fit enough and have a bit more time, I suggest that you hike around the towers as well. The views on the other side of the towers are very different and it's absolutely worth doing the entire loop.
Good to know: According to my GPS tracking app, the Cinque Torri loop hike is just 2km long. The elevation gain is about 120 m. The sign at the start indicated that this hike takes 2 hours. However, our hiking time was 45 minutes, not counting the stops. If you take it very easy and read information panels alsong the way, you can do this entire hike in a very relaxed way in 1-1.5 hours. You'd probably have to read every single panel in order to stretch it to 2 hours…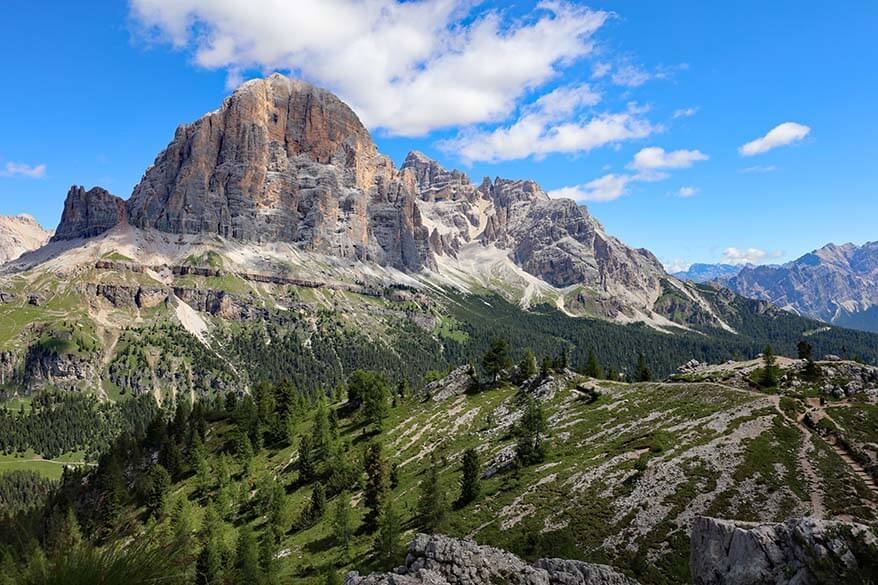 Cinque Torri Loop Hike Overview & Map
Starting point: Rifugio Scoiattoli (you can get here by cable car or hiking) or Rifugio 5 Torri (you can get here by car)
End: Same as the starting point (circular hike)
Distance: 2 km (1.25 mi)
Time: 1-1.5 hrs
Elevation gain: 120 m (393 ft)
Difficulty: Easy, with a few moderate sections
Facilities: Restaurants and bathrooms at Rifugio Scoiattoli and Rifugio 5 Torri
Accessible by public transport: Yes, take a bus that connects Cortina d'Ampezzo to Passo di Falzarego
Entrance fee: Free, except for the cable car (optional)
Hiking season: May/June to September/October.
Cinque Torri Loop & Museum of The Great War
As you start the Cinque Torri hike at the cable car, you'll find lots of informational panels and a map with an overview of the entire trail. When you walk along the Great War trail, you'll find the same map several times again. Every time it shows exactly where you are, so it's very easy to follow.
Good to know: Not all parts of this hiking trail are easy. There are some steeper sections and some rocky paths. But because it's so short and there is little elevation gain, it feels like an easy hike.
Furthermore, as already mentioned, if you don't want to hike the entire loop around the towers, you can opt for a shorter version that turns back just before the towers (a mini-loop indicated in yellow in our map above).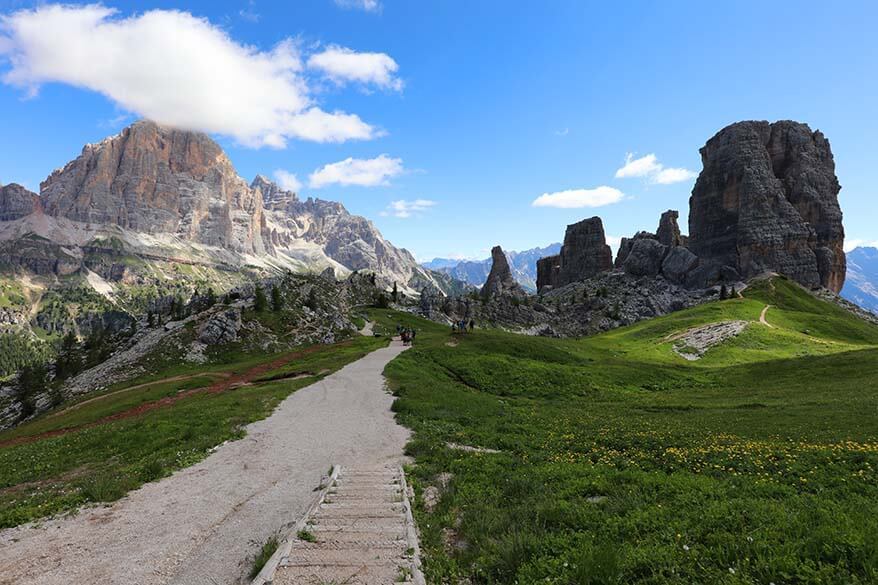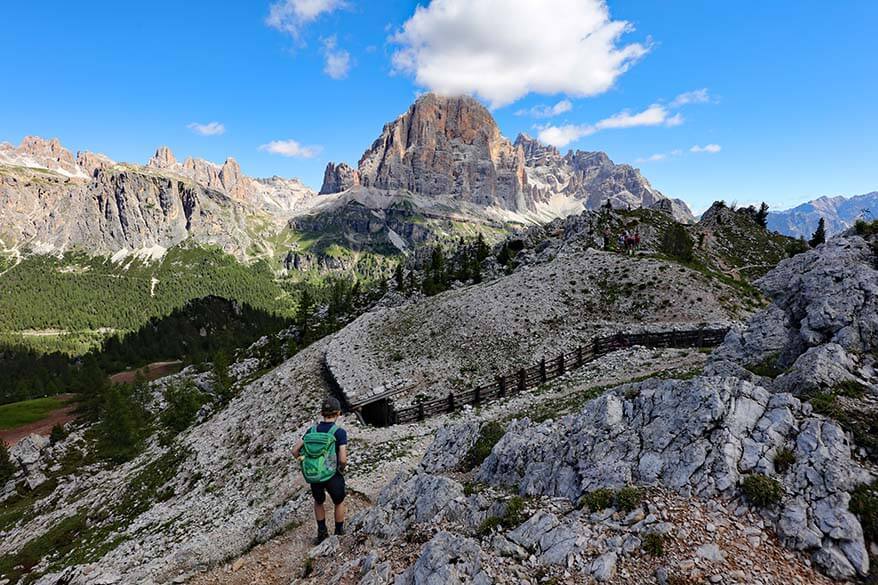 First, you pass lots of WWI sites at the so-called (open-air free) Museum of The Great War. You'll walk inside the trenches and hiding places that have been restored just as they were in the war.
Some exhibits are very true-to-life. As you hike and explore this area, you get a much better idea of how tough the war was so high in the mountains.
Along the first part of the trail, there are also lots of informational panels. So you can also learn a lot about WWI and the battles that took place in the Dolomites.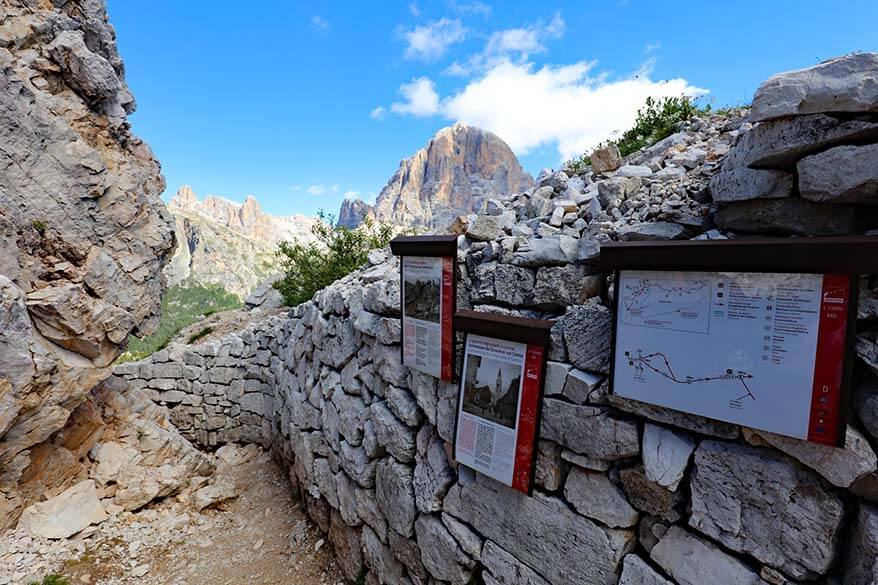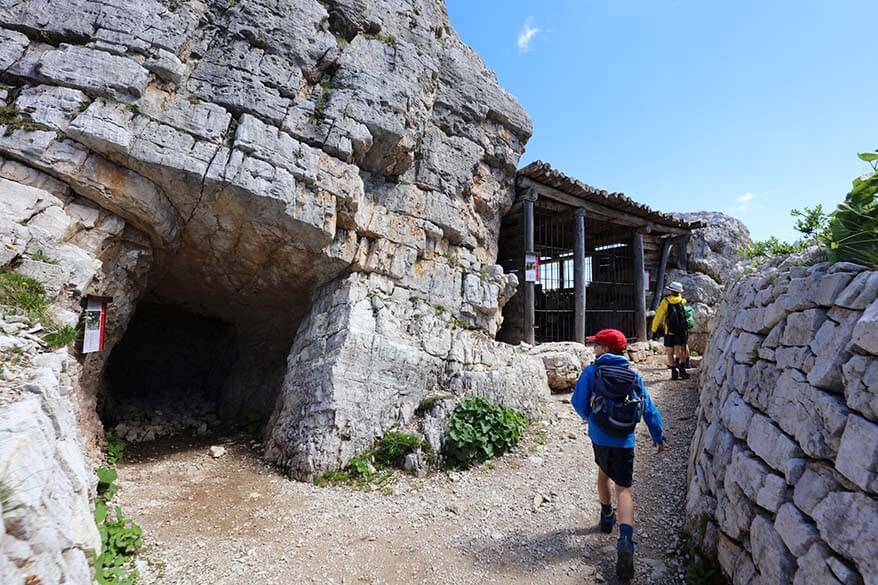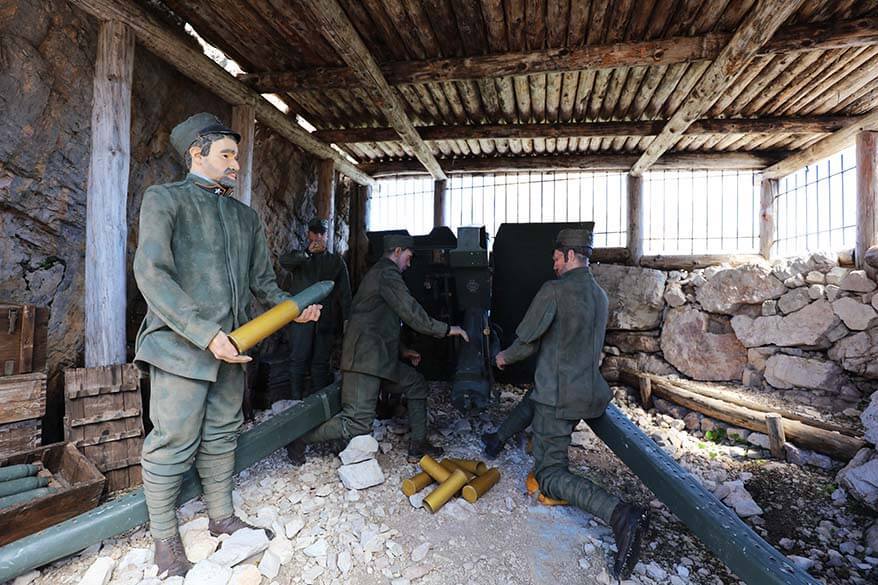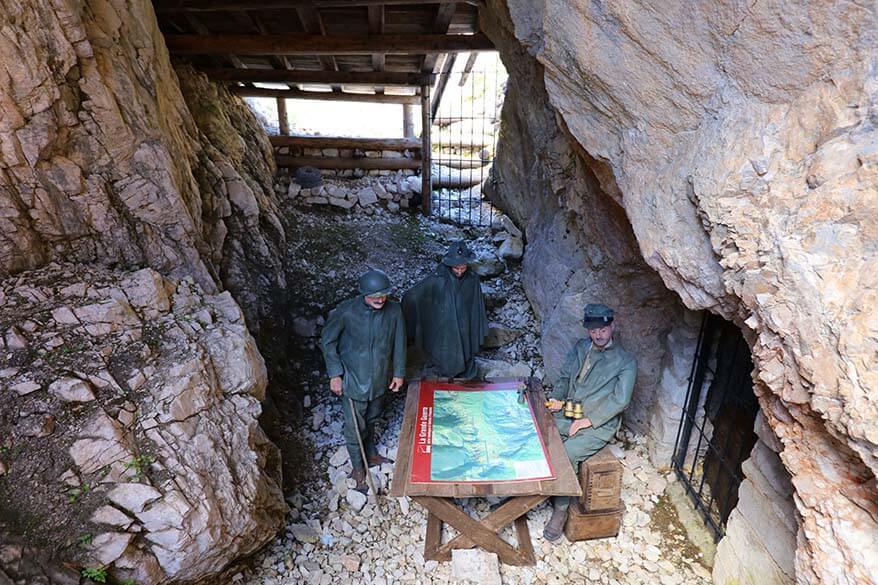 After you pass all the WWI sites, informational panels and maps disappear. The rest of the hike isn't really indicated well. Still, it's not difficult to find your way – all you have to do is walk around the 5 towers.
So keep an eye on the towers, make sure that they are always on your right side, and you'll quickly find the circular trail around them.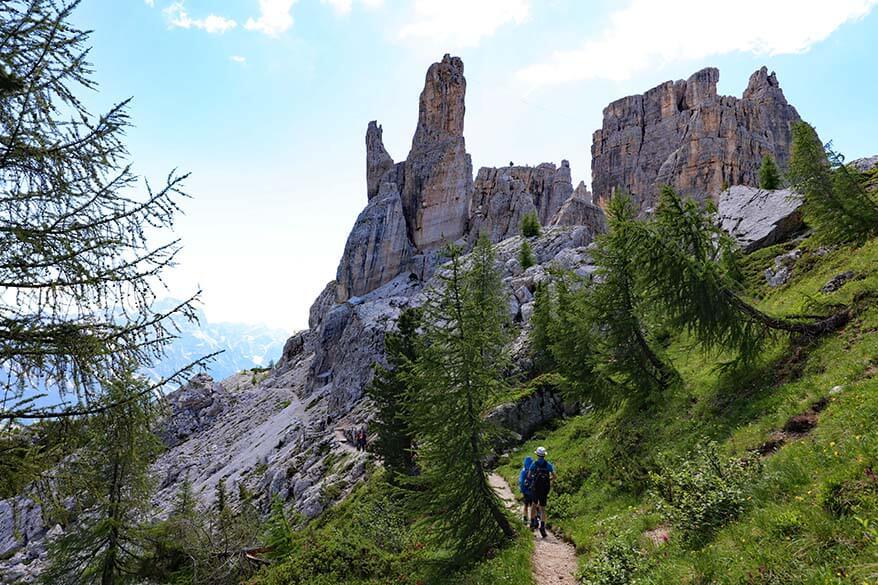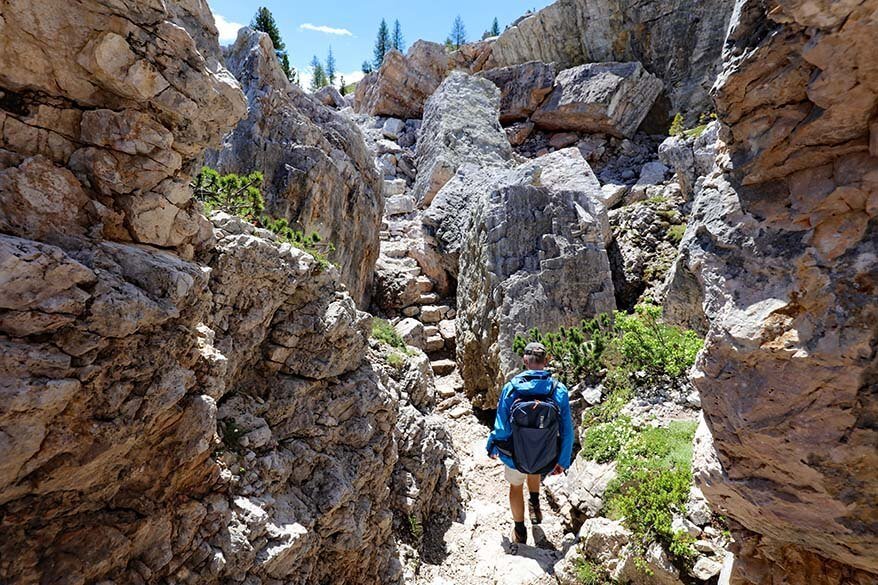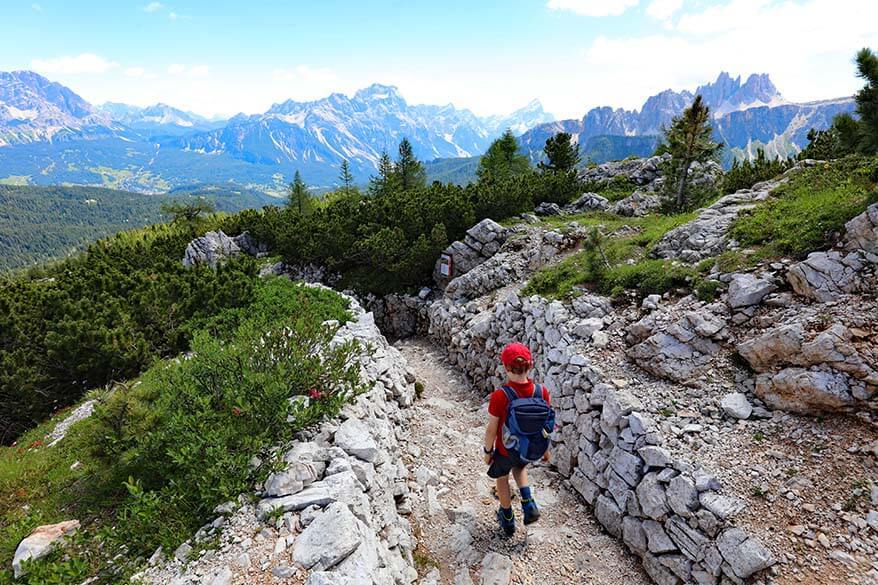 As you turn around the far corner, you'll see Rifugio 5 Torri below. You don't have to go down to this mountain hut, just follow the 'Giro delle Torri' signs and you'll be back at the cable car in another 5-10 minutes.
If you drive to Rifugio 5 Torri by car, you'll have to climb up in the direction of the five towers and then join the hiking trail to the left in the direction of Rifugio Scoiattoli.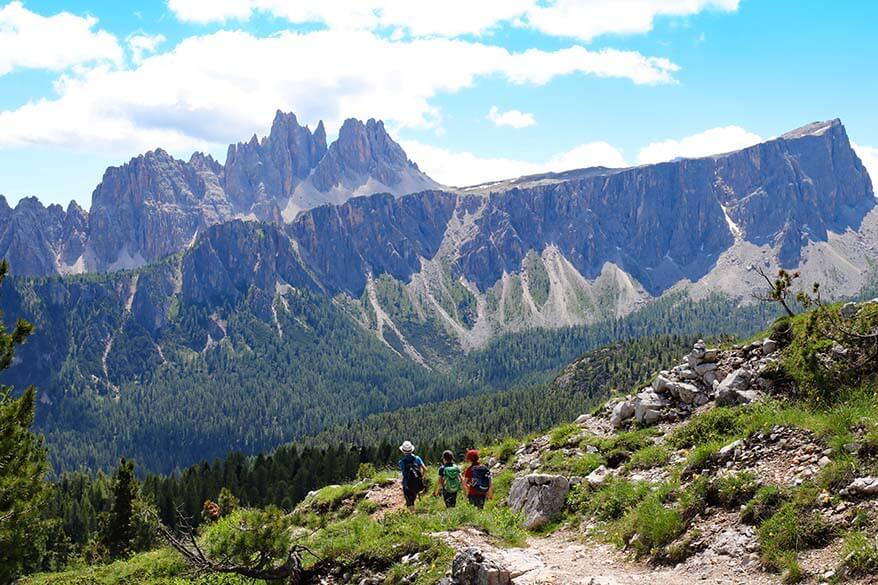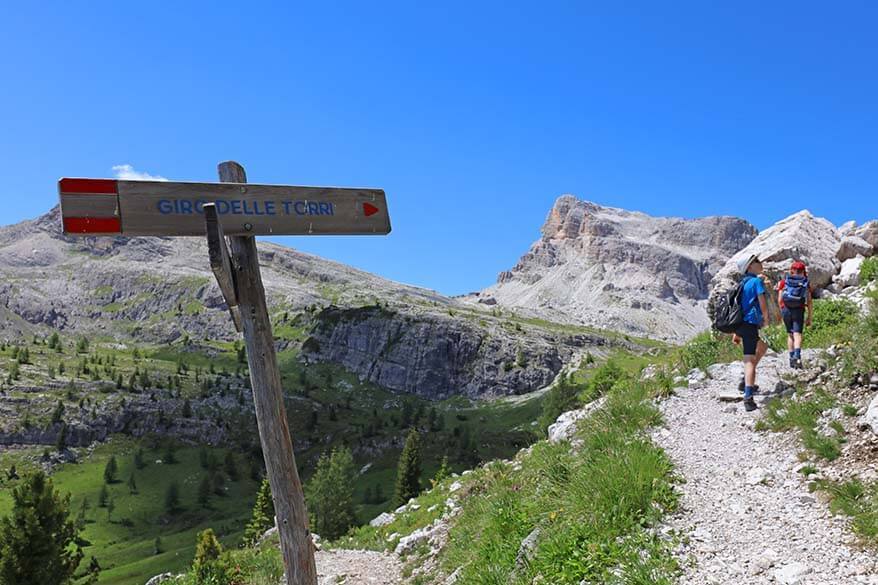 Additional Hiking Suggestions
If you feel that the short loop around the Cinque Torri is not challenging enough and you want to hike a bit more, you can continue to the nearby Rifugio Averau (2.416 m). The path to the mountain hut is clearly visible from Rifugio Scoiattoli (2.255 m) and cannot be missed. Just hike uphill with the cable car behind you. The hike from Rifugio Scoiattoli to Rifugio Averau takes about 30 minutes one way.
If you want to hike yet a bit more and don't mind even more uphill climbing, you can hike from Rifugio Averau to Rifugio Nuvolau (2.575 m). Simply continue uphill along trail no. 439.
Needless to say, you can also hike back down to the car parking after hiking the Cinque Torri loop. Just remember that 350 meters of altitude difference is not easy to do downhill either, especially if it's wet.
TIP: If you are visiting this area without a car, you have many more hiking options as you don't have to return to the same starting point. In that case, you could start your hike at Passo Giau and end at Cinque Torri. Or start at Passo di Falzarego, hike to Lago di Limides, from there to Rifugio Averau, and then down to Cinque Torri.
Just make sure to check that buses actually run that day, or look-up a phone number of a local taxi company so that they can pick you up wherever you end your hike.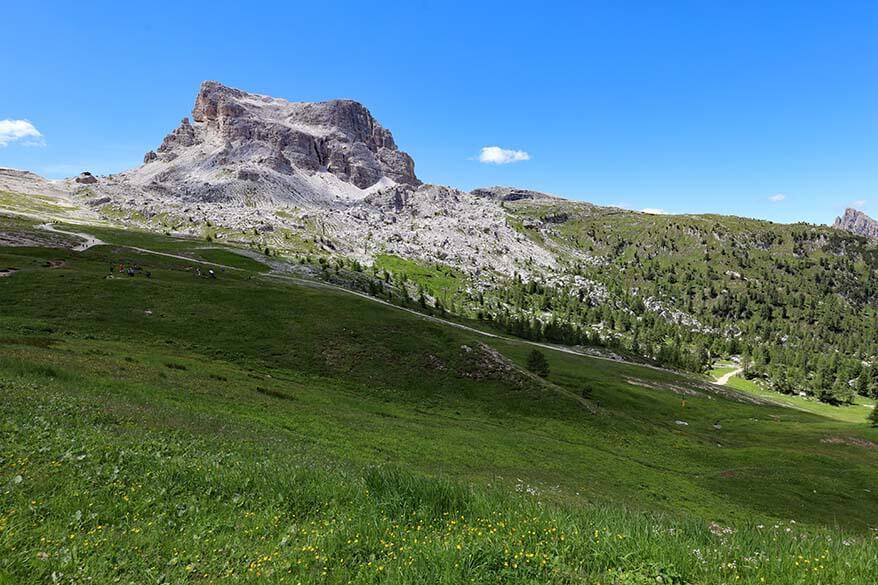 How Much Time Do You Need
If you only visit Cinque Torri and hike the entire loop, you can see everything in about 1.5-2 hours. If you only hike the Great War trail at Cinque Torri, you can probably visit this area in just 1 hour. This makes 5 Torri a great stop for those who are just passing by and don't much time, but want to see the very best places in this part of the Dolomites.
Hiking to the two mountain huts mentioned above and back to Cinque Torri will add at least 2 hours hiking time to your day. So count at least 4 hours for the Cinque Torri loop plus Rifugio Averau and Rifugio Nuvolau. Add time for lunch and the photo stops, and this will make the Cinque Torri area a great day trip destination in itself.
Our experience: We only hiked the Cinque Torri loop and didn't climb uphill to the other mountain huts. Including the cable car ride up and down the mountain, the hike around the 5 towers, lots of photo stops at the WWI sites, and even a picnic, we spent just 2 hours and 20 minutes visiting the Cinque Torri.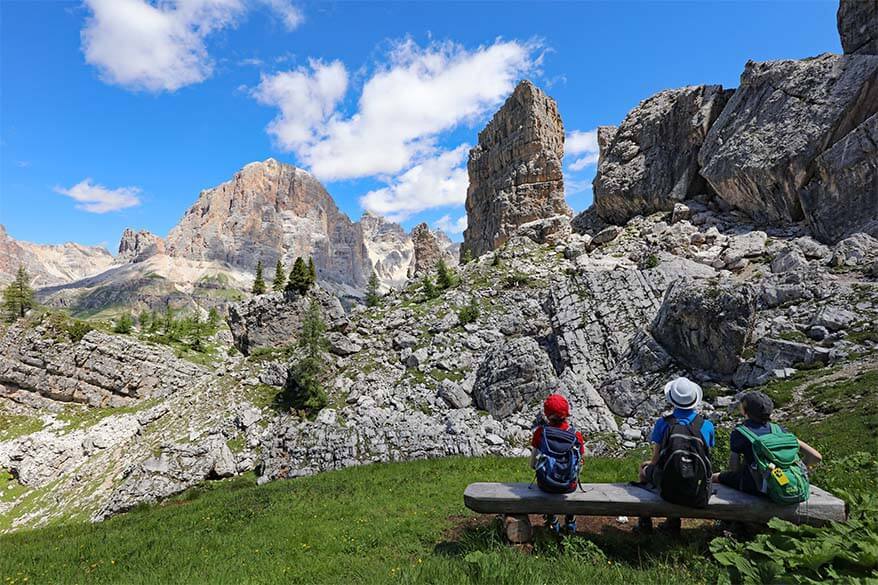 Cinque Torri with Kids
If you are wondering whether you can visit 5 Torri with kids, yes, definitely! Our children particularly loved the Great War exhibits along the hiking trail. It makes this beautiful hike even more special and interesting for the whole family. It's also a great playful way to learn some history. Something they'll remember much better than dry stories in their school books.
Easy access by cable car makes it really simple to get to the Cinque Torri area. Once on top, you can choose from several hiking trails that are suitable for your family.
If you are visiting with young children, you can simply opt to do the shorter loop. Kids from about 5 years old, should be able to hike the entire circular trail around the towers. There are bathrooms and restaurants at Rifugio Scoiattoli and also at Rifugio 5 Torri.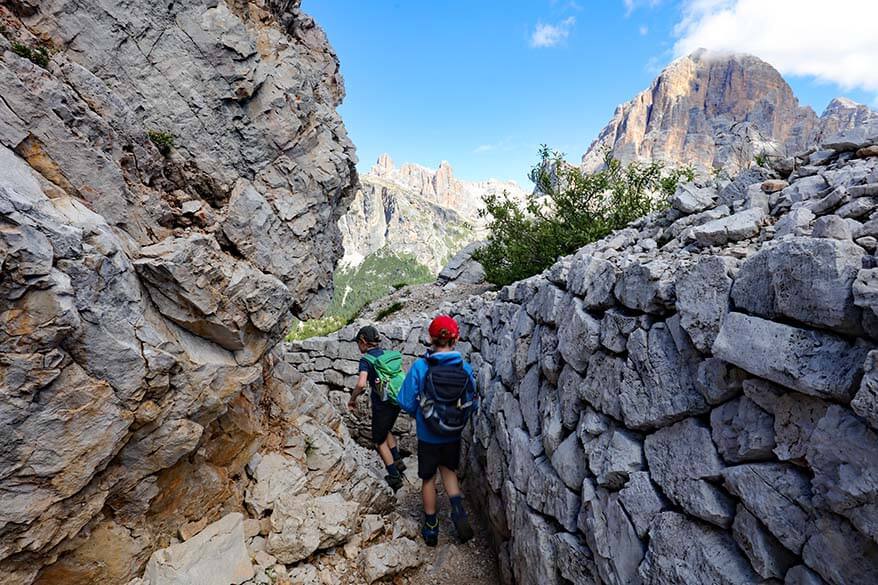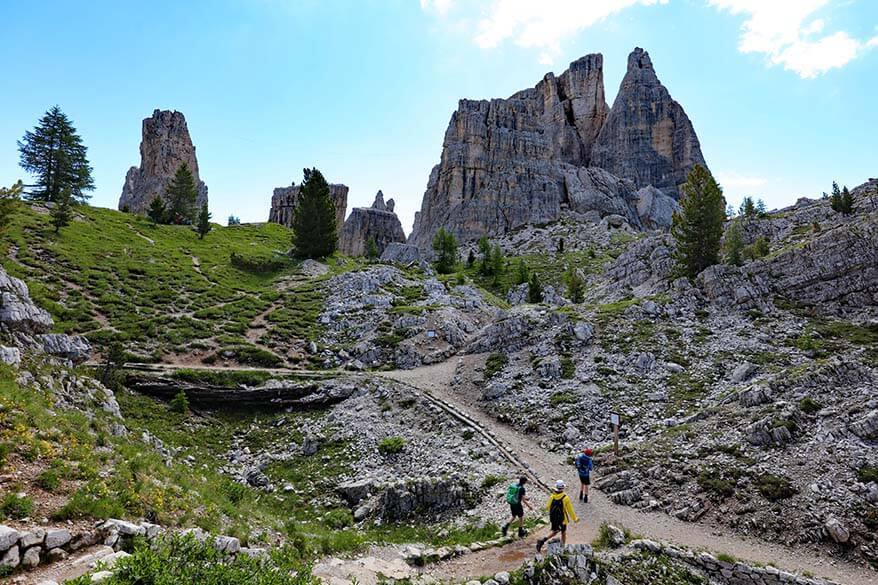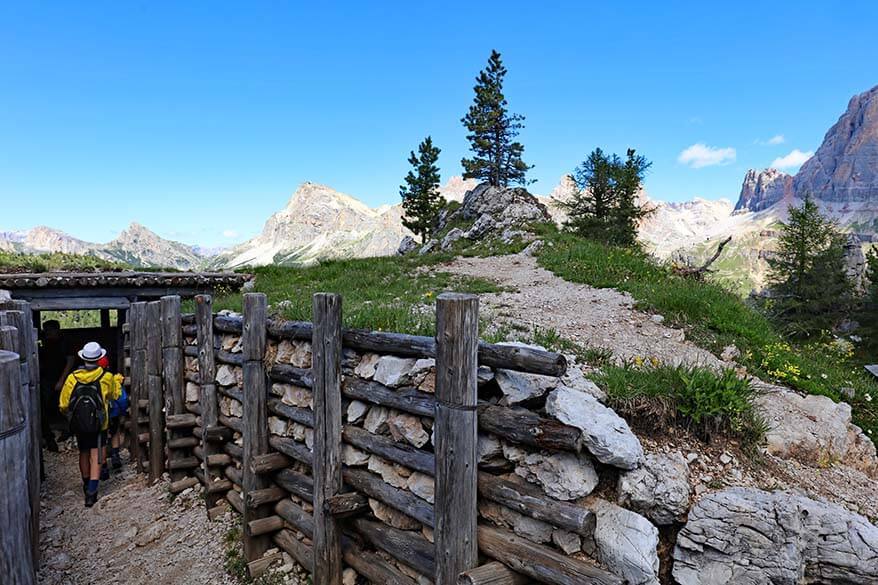 So, this is our guide to hiking at Cinque Torri near Cortina d'Ampezzo – Passo Falzarego in the Italian Dolomites. If you have any questions, feel free to leave a reply below and I'll try to help.
If you are looking for more hiking suggestions near Cortina d'Ampezzo, make sure to also check our guides to Tre Cime hike, Lago di Sorapis hike, and Lago Federa hike. For more ideas for the Dolomites, take a look at our compilation of the best hikes via the link below.
LEARN MORE: Best Hikes in the Dolomites
TIP: If you are looking for some nice places to visit in the Dolomites that don't require (much) hiking, check out two of the most beautiful lakes of the area – Lago di Braies and Lago di Dobbiaco. They are both easy to reach and well worth a visit! Also the picturesque Lake Limides is easy to reach and requires just a very short hike.
LEARN MORE: Best Lakes in the Dolomites
Another really nice place to see that doesn't require any hiking at all is Marmolada, aka the Queen of the Dolomites. With 3,265m altitude, this is one of the highest peaks and the highest viewing platform in the Dolomites. The views are stunning and you can easily get there by cable car.
TIP: If you are planning a trip to the Dolomites and are not sure how to best plan your time, check our Dolomites itinerary suggestions for any trip, from 1 to 10 days and more.
If you are traveling to Italy and are looking for more travel guides filled with inspiration and practical tips, make sure to check our Italy travel guide. It contains an overview with links to many articles about some of the most beautiful travel destinations in Italy. So make sure to check it out and bookmark it for later!
If you found this post useful, don't forget to bookmark it and share it with your friends. Are you on Pinterest? Pin these images!