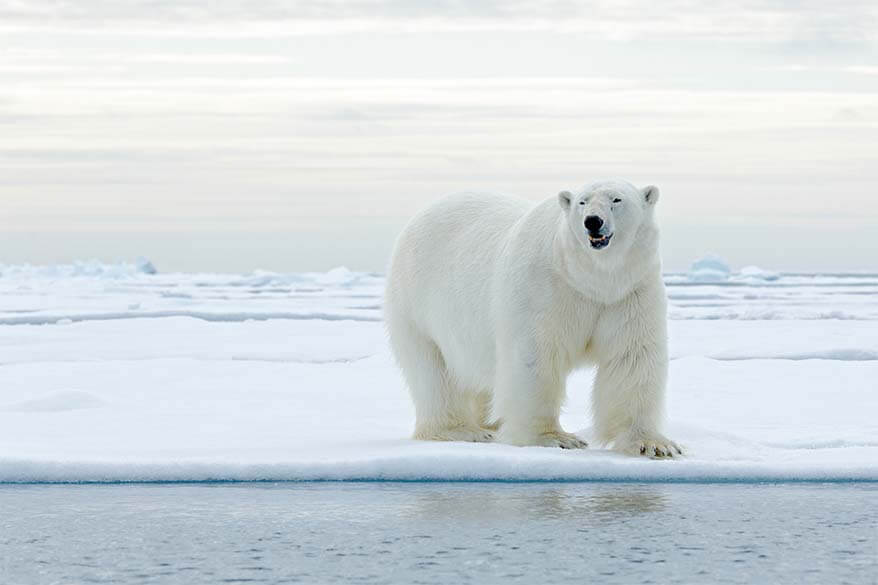 Are you thinking of visiting Svalbard, but are not sure what to expect and how to plan your trip? In this article, you can find all the essential tips and information that you may want to know when traveling to Svalbard for the first time.
Why visit, interesting facts, how to get there, what to see and do, where to stay, how expensive is it, packing tips, and more. Find out!
Svalbard Travel Guide – OVERVIEW
Why Visit Svalbard
Located just over 1050 km (652 miles) from the North Pole, Svalbard is the world's northernmost place that you can easily visit. If you like unique places, majestic endless landscapes, untouched nature, and once-in-a-lifetime experiences, but prefer places that are not overrun with tourists, are simple to plan a trip to, and easy to visit on your own, then Svalbard might just be the destination for you.
Incredible scenery, amazing wildlife, majestic mountains, impressive glaciers, beautiful fjords, and unique towns – these are just a few reasons to visit Svalbard.
If you come here in summer, you can experience the midnight sun and endless days. If you travel here in winter, you'll experience polar night, northern lights, and frozen landscapes that will take your breath away. There is one thing common throughout all the seasons, however, and that's the unparalleled offer of amazing outdoor adventures.
While there is plenty on offer for the most adventurous, Svalbard is an ideal destination for those of us who prefer soft adventures. Here, lots of bucket-list-worthy experiences await, in combination with all the modern facilities, comfortable hotels, and great restaurants. A trip to Svalbard is exciting, it's different, but it's also really simple and easy to plan.
Towns & Places
To avoid confusion, I want to clarify some of the names that you'll hear most often when visiting Svalbard.
Svalbard
Svalbard is an island archipelago that consists of many islands. Svalbard is located between mainland Norway and the North Pole and used to be a no man's land. The Svalbard Treaty, signed in 1920, recognizes the sovereignty of Norway over Svalbard.
Norwegian law applies in Svalbard, but there are some special rules and stipulations. Basically, any country that has signed the treaty, might come and do business in Svalbard. It's also a visa-free zone and people from all over the world can live and work here without any special visa.
Spitsbergen
The largest island of Svalbard is Spitsbergen, where most tourists visit. Other bigger islands are Nordaustlandet, Edgeøya, and Barentsøya.
In the past, Svalbard used to be known as Spitsbergen. Even today, many people, tours, and even travel guides refer to Svalbard as Spitsbergen.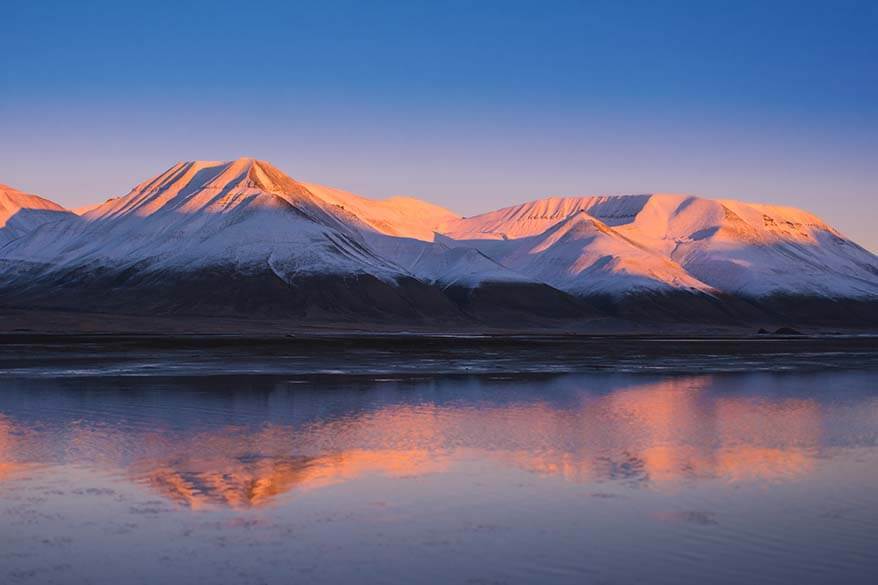 Longyearbyen
Longyearbyen is the largest settlement in Svalbard. About 2,400 people of over 50 different nationalities live here. That's the town where you'll find an international airport, most hotels, restaurants, and shops. This is where most tourists stay when they visit Svalbard.
Barentsburg
Barentsburg is the second-largest settlement of Svalbard. It's has a Russian-Ukranian community of over 400 people. There is a hotel and a restaurant in town, but most people just visit it as a day trip from Longyearbyen.
Pyramiden
Pyramiden is a real ghost town. It's an old Russian coal mining community that used to be home to over 1,000 people. The town has been abandoned at the end of the 20th century and a trip there is like going back in time, back to the USSR… Nowadays, most people visit Pyramiden as a day trip from Longyearbyen, but there is also a hotel there. If you go here, you'll need cash as no credit cards are accepted.
Ny-Ålesund
Ny-Ålesund is the world's northernmost settlement. It's not really a town, but a scientific research center with scientists from several different countries living and working there.
There are about 40 people living there year-round. In summer, the population often grows to about 120. Ny-Ålesund has its own airport (Hamnerabben), harbor, a small café, the world's northernmost post office, and a souvenir shop. It can be visited as a day trip from Longyearbyen – usually in summer, by boat.
There are also several other smaller settlements in Svalbard. Most of them are old abandoned mining communities or serve as scientific research stations and aren't often visited by tourists.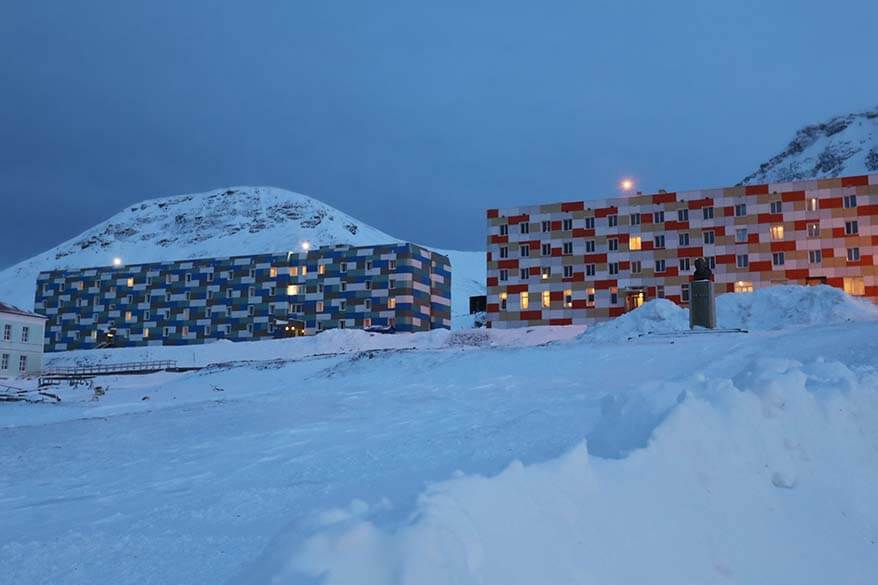 Interesting Facts
With a surface of over 61,000 km2 (23,550 sq mi), Svalbard is about twice the size of Belgium. Glaciers cover about 60% of Svalbard's landmasses, barren stone – 27%, and just 13% is vegetation.
Based on the earlier mentioned Svalbard Treaty, you don't need a visa to live and work in Svalbard. Norwegian law is applied here, but people cannot be discriminated against based on their nationality in any way.
Svalbard is not part of Schengen and you always need a passport when traveling to Svalbard. Even the EU citizens who can normally travel to Norway using just their European ID card, need a travel passport for Svalbard.
Longyearbyen is the world's northernmost town. It is closer to the North Pole (1,338 km – 831 miles) than it is to Olso (2,313 km – 1,437 miles).
In Longyearbyen, midnight sun lasts from 20 April until 23 August, and polar night lasts from 26 October to 15 February. Still, not the entire period of the polar night is completely dark. I visited at the beginning of February and there was some light from about 9 AM to 3.30 PM.
They say that you can't be born or die in Svalbard, but it's not entirely true. Pregnant women have to travel to the mainland (usually Tromso) about 3 weeks before their due date and give birth there. However, in case of emergency, Svalbard hospital will, of course, help deliver the baby.
It's now forbidden to be buried on Svalbard (due to permafrost). However, it's allowed to have your remains cremated and buried in Svalbard if you lived here for a long time and made important contributions to the community. All other people have to be buried elsewhere.
Svalbard is one of the few easily accessible places in the world where you can see daytime auroras (during the polar night when it's pitch dark during the day).
Because Svalbard is so high in the North, it's located above the Aurora Oval (or Aurora Belt). So if auroras aren't very strong, you usually have to look for them in the southern direction.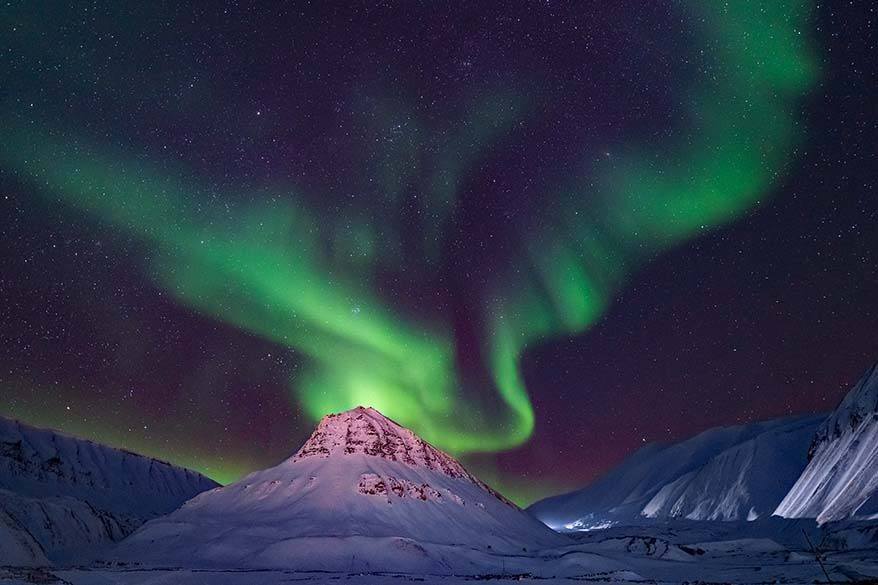 There are more polar bears in Svalbard than people and it's illegal to leave town without carrying a gun and knowing how to use it. It is also illegal to kill bears, unless absolutely unavoidable. Chances of running into a polar bear in town or on one of the tours aren't big, but it does happen.
It's an old custom not to lock your house in Svalbard. That way, if a bear shows up in town, people can always find a place to hide.
There are no street names in Svalbard. There are also just about 40 km (25 miles) of paved roads.
They say that there are more snowmobiles in Svalbard than people. In winter, it's the main means of transportation for the locals.
It's obligatory to take off your shoes in most places in Svalbard – hotels, offices, museums, the church… The shops don't have this rule and most restaurants either. Places that oblige you to take off the shoes, always offer slippers. This tradition is said to date back to the times of the coal mines in order to prevent coal dust inside. But since it's also a common custom in Iceland, I think it has more to do with the mud and the snow on your shoes than with anything else.
Cats are forbidden in Svalbard in order to protect birds. From what I understood, there are still some cats that live here, but – in principle – no new ones are allowed.
There is a dog hotel just outside of Longeayrbyen, where people who live in apartments, can keep their dogs. Most huskies and sled dogs aren't used to living inside and they would also be too warm.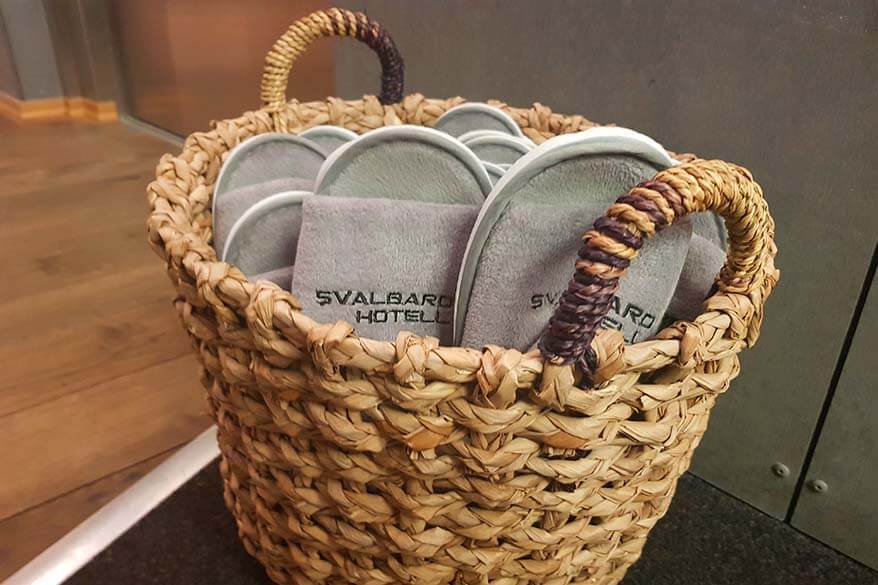 How to Get to Svalbard
Svalbard is not as far or inaccessible as it might look at first sight. It's actually really easy to get to. The only difficulty might be flight schedules, meaning that you'll need to plan a layover in Oslo or Tromso. It was the case for me and I had to spend a night at a hotel in Oslo airport twice – on my way there and on the way back.
The easiest way to get to Svalbard is by plane. There are regular flights to Oslo and also to Tromso, with FlySAS or Norwegian. It takes just 3 hours to get to Svalbard from Oslo and less than 2 hours from Tromso.
In summer, you can also visit Svalbard by cruise ship. There are actually quite some amazing trips – here you can find a big selection of Svalbard cruises.
Good to know: Even though you don't need a visa to visit Svalbard, you might need one for a stopover in Norway. So – depending on your nationality – make sure to check what the requirements are. As already mentioned, you always need a passport for Svalbard (even EU citizens) and they check it several times before you even board your flight.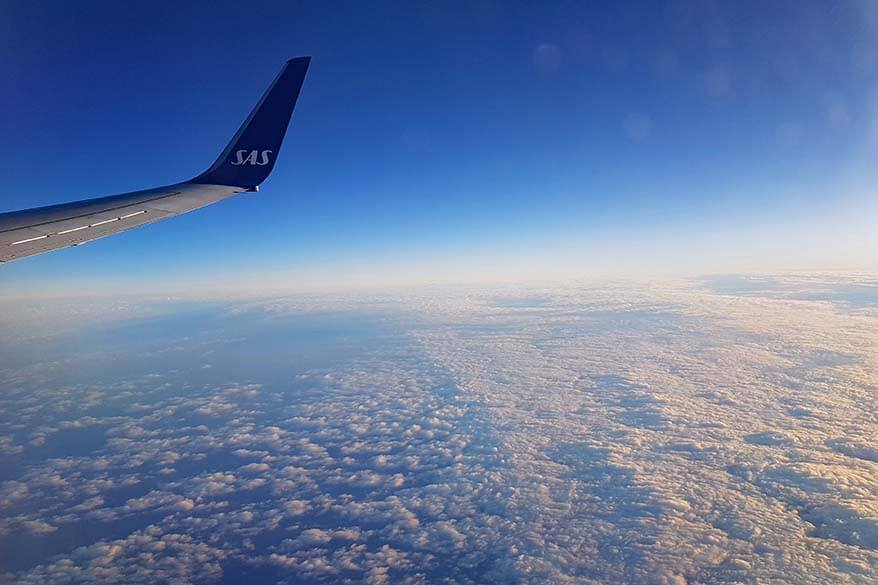 Is Svalbard Safe?
With almost non-existing crime, Svalbard is a very safe place to travel. The biggest danger is wandering out of Longyearbyen on your own and getting lost or running into a polar bear.
Svalbard is a place you have to visit with local guides. Summer or winter – there are plenty of tours available and you have to take them. Going out on your own is very dangerous and it's not allowed. Not only because of the polar bears, but also because of the rapidly-changing weather with incredibly strong winds and the mist that can come up out of nowhere… So while you can rent a rifle in Svalbard, it's really not a good idea to explore outdoors on your own.
Another potential danger is slipping on ice in winter. I wore spikes on my shoes and it was a big help. You don't absolutely need them, but it sure helps if you are planning to walk around a lot. Walking to the church and back was particularly slippery because it's quite steep there.
Good to know: Longyearbyen has a hospital.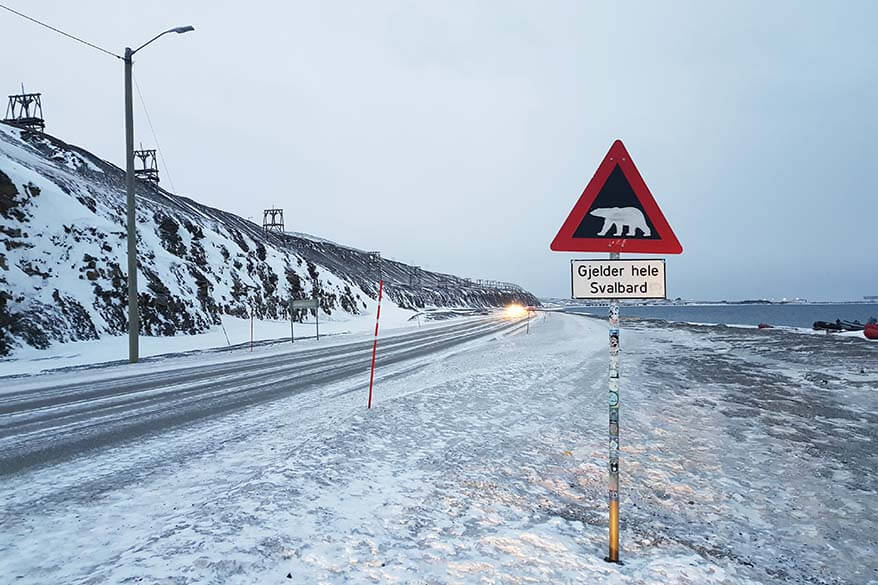 Getting Around
You can rent a car in Longyearbyen, but there is really not much you can do with it (see above). In town, you can walk everywhere. And there are also taxis available.
From the airport, you can take a bus to Longyearbyen. This airport bus runs before and after every flight and stops at all the bigger hotels in town. Here you can find more information about Svalbard Flybus.
There are also private airport transfers available, but they are quite expensive compared to the bus (currently 75 NOK – 7,5 EUR for adults; with discounts for students and kids).
When you take tours, they'll usually pick you up at your hotel or at one of the hotels nearby.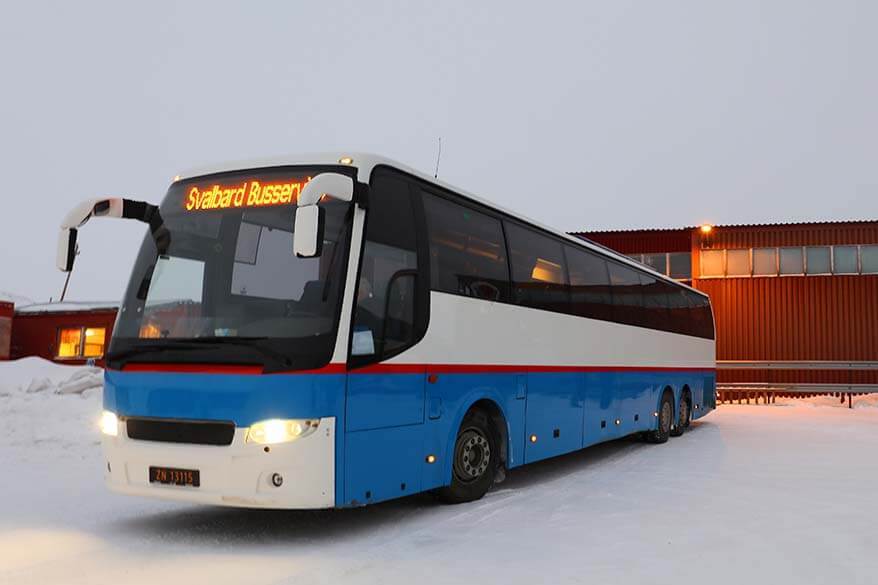 Best Time to Visit Svalbard
I always thought that the best time to visit Svalbard was in summer, but after my recent trip in February, I'm convinced that every season and each month has its charms. The best time to visit Svalbard depends on what you want to experience. If you can, it's a place that you should visit at least several times – during the dark polar night and also in the light warmer season…
Here's a short overview of what you can expect:
October, November, December, and January are the darkest winter months. Visit for polar night, northern lights, outdoor activities in the moonlight, ice caves, and lots of local events and celebrations.
February is the blue season and one of the most beautiful times to be in Svalbard for the gorgeous blue light. There is no sun at the beginning of the month yet, but it's light for about 6-7 hours and that light is dazzling. It's a great time to experience the best that Svalbard has to offer in winter.
LEARN MORE: Svalbard in February
March and April are the sunny winter months. There is more light and so you can embark on longer day trips and excursions with dog sleds or snowmobiles. The nights in March are still dark enough to see auroras.
May is a bit of a shoulder month. It can still be very cold, but the days are endless and you can see and do a lot. Some winter activities are still available (for example, you can go snowmobiling on a glacier), but boat trips are also starting to run and so you can experience summer activities as well. You can also see the walrus already.
June, July, and the first half of August are the busiest months to travel to Svalbard. The days are long and everything is much easier accessible. It's the best time to come for wildlife, boat tours, kayaking, and hiking. It's also the most expensive time to travel and it's essential to book everything in advance.
End August, September, beginning of October is a bit of a shoulder season and a very good time to visit Svalbard too. You can experience pretty much everything as in summer, but with fewer people and somewhat lower prices. From about half September, you might also see the Northern Lights.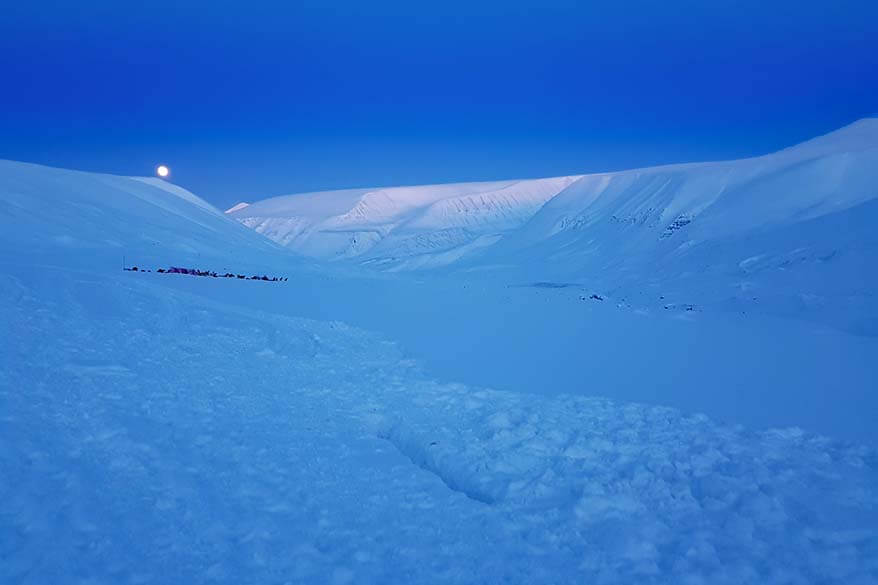 Svalbard Weather
In summer, you can expect temperatures around 0-10°C (32-50°F), whereas in winter it can get as cold as -30°C (-22°F). Keep in mind that it might feel much colder because of the windchill factor.
The warmest month in Svalbard is July, with temperatures around 5°C (40°F), and the coldest month is February with an average temperature of -15°C (5°F).
In summer temperatures don't fluctuate that much, but the weather is much more unpredictable in winter. To give you an idea, just before I arrived in Svalbard in February, they had temperatures of -25°C to -32°C (-13 to -26°F), but just a few days later when I was there, it was just -6°C to -10°C (14 to 21°F).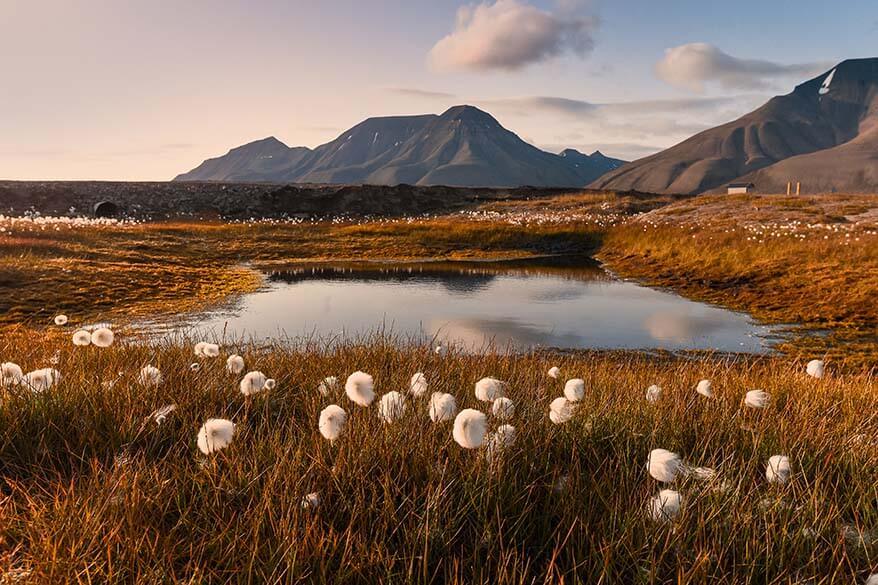 Packing
Locals say that Svalbard only has two seasons – winter (October to May) and summer (June to September). However, if you read information about Svalbard weather above, you already know that 'summer' is a relative term. Our Belgian winters are warmer than summers in Svalbard…
So no matter when you travel to Svalbard, make sure to pack really warm, waterproof and windproof clothing. Layers and quality materials are the two keywords to remember.
LEARN MORE: What to pack for Svalbard in winter (October to May)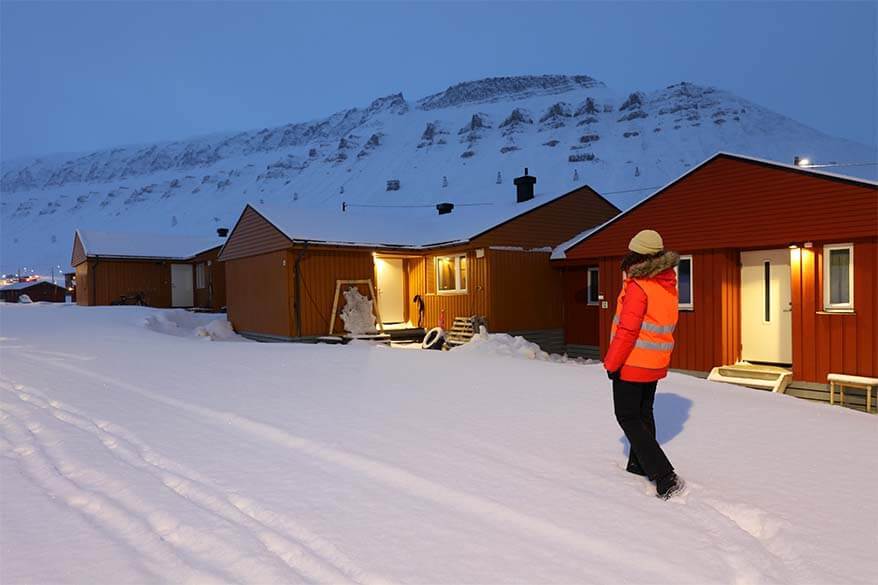 Things to Do in Svalbard
No matter when you visit, there is a lot to see and do in Svalbard. While some things can be done year-round, some other activities are season-related.
Below is a short overview per season, but keep in mind that some tours run in the shoulder season as well. So for example, most boat tours run in summer, but some start already in March, etc.
Because there is so much to see and do in Svalbard and because some tours only run in certain periods, it's important to do some research for your travel dates. I recommend that you check the Visit Svalbard website, where all available tours are listed. You can filter the search for your travel dates, interest, as well as difficulty level and choose tours that interest you the most.
Year-round Activities
Longyearbyen: museums, art gallery, brewery, shopping, and dining
Boat trips (except in the darkest winter months)
Hiking
Fat tire biking
ATV-tours
Wellness
Wildlife photography (not in the darkest months)
Visit Barentsburg or Pyramiden (not in the darkest months)
Summer Activities
Kayaking
Fishing
Wildlife viewing – walrus, polar bear
Dog 'sledding' on wheels
Winter Activities
LEARN MORE: Best Things to Do in Svalbard in Winter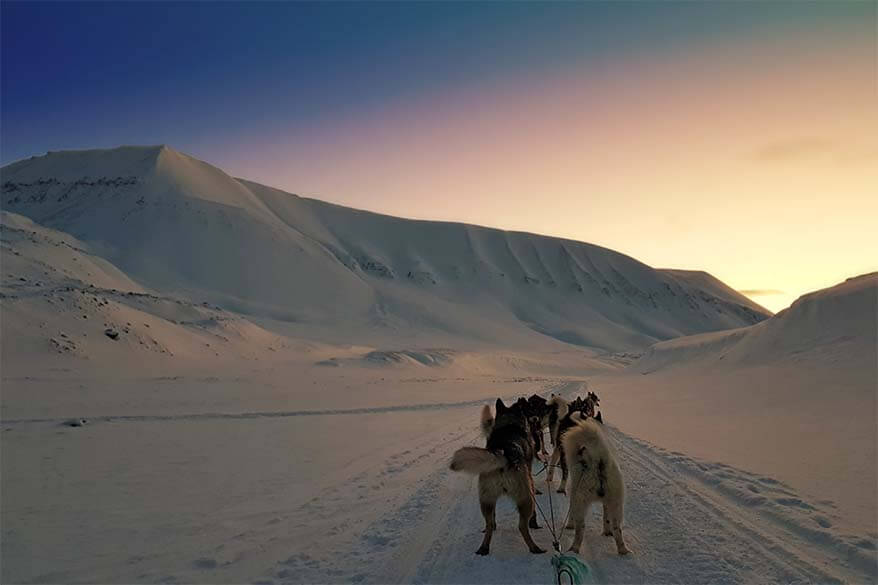 How to See Wildlife
Svalbard is a great place to see some incredible wildlife that you can only find close to the North Pole: polar bears, walrus, Arctic Fox, Svalbard reindeer, but also whales and some bird species.
The best time to see wildlife in Svalbard is in the summer months and the best way to do it is by joining wildlife viewing boat trips. That's the least intrusive way to enjoy wildlife without bringing people or animals in danger.
Svalbard Reindeer
Svalbard reindeer is a unique reindeer species that can only be found here. They are much smaller, thicker, and have shorter legs than other reindeer – qualities they need in order to survive the harsh Arctic winters.
Since they have no natural predators in Svalbard, they are not afraid of anything or anyone and roam freely all over Svalbard. The reindeer are easy to spot in any season. That's also one of the few animals that you can expect to see when visiting Svalbard in winter.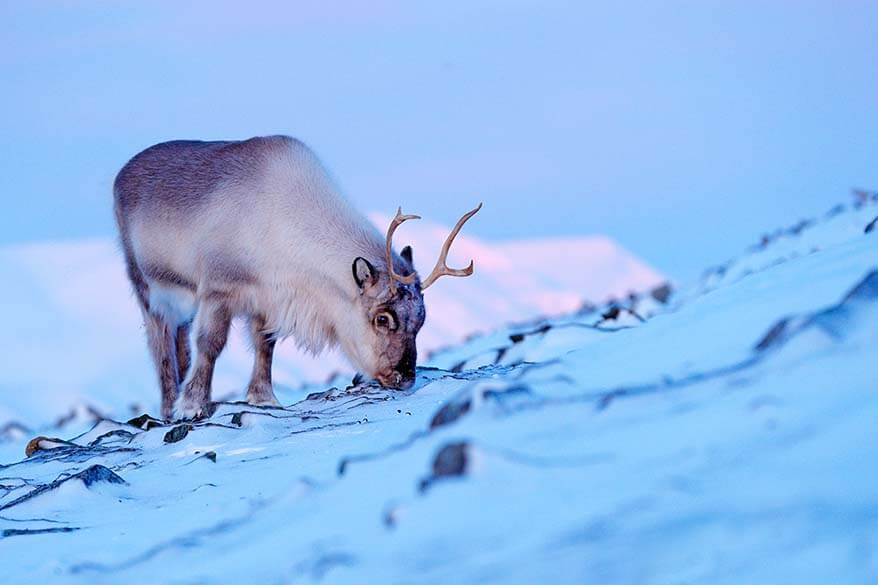 Polar Bears
Polar bears are an endangered species, protected by Norwegian law. This means that there are no polar bear safaris in Svalbard. That being said, the bears are free to roam anywhere and so you never know when and if you'll see one.
The chances of seeing polar bears in Svalbard without going on a boat tour aren't as high, but it does happen. Polar bears don't hibernate in winter and so, in principle, they can also be seen in all seasons.
In winter, polar bears can be found throughout the entire Svalbard. In summer, the bears usually follow the sea ice and migrate north-eastwards. If you really want to see a polar bear in Svalbard, it's probably best to visit Svalbard in the warm season and book a multi-day boat expedition. They go to the more remote areas that aren't easily reachable by taking day trips and allow you to watch polar bears from the safety of the boat and without bothering them.
Polar bears are huge and they attack without warning. Therefore, safety should always be your number one priority. No tour guide will ever put people in danger just so that you can attempt to take a picture of a bear. If there's a bear spotted anywhere near town or people, every effort is made to avoid encounters and the bear is usually chased away by a helicopter.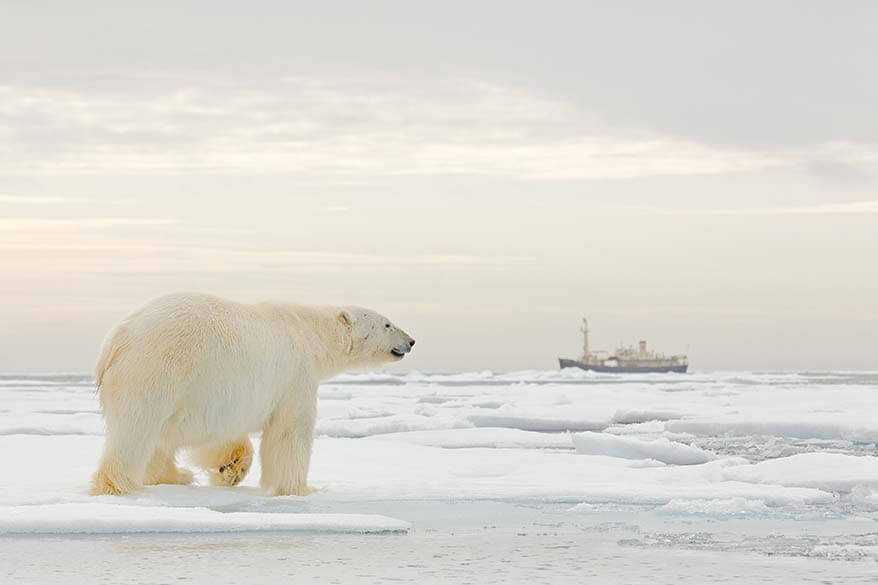 Walrus
Walrus is another species of wildlife that can be found in Svalbard. They usually live in big groups. In summer, they come closer to shore and the best time to see walrus in Svalbard is from May to mid-August.
There are boat trips available from Longyearbyen that focus on walrus viewing. Since they have to travel to the more remote areas where walrus is known to be found, these boat trips usually take an entire day.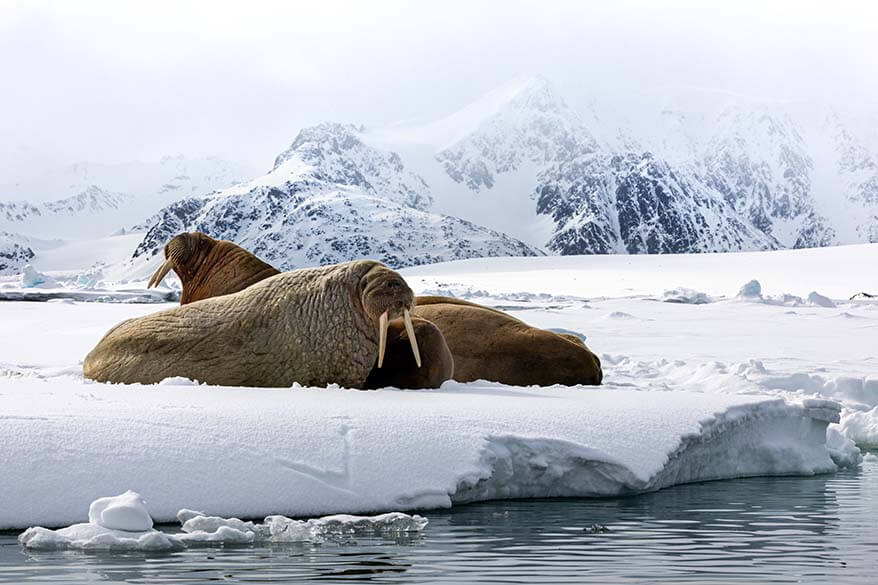 How Much Time Do You Need in Svalbard
If your budget allows it, I suggest planning at least 4 days for Svalbard. This will give you enough time to see Longyearbyen, visit the museums, do the coal mine tour, and also join a few day tours, outdoor activities, or longer excursions to Barentsburg or Pyramiden.
If you can stay for 5-7 days, you'll be able to do a big variety of tours and get a much better idea of what Svalbard is about.
If you visit for just 2-3 days, you'll probably leave feeling that you missed too much. I really think that Svalbard deserves a longer trip, no matter in which season you travel.
TIP: If you have the time and the money, you may want to consider the multi-day boat cruises in Svalbard. That's a great way to experience the archipelago and see lots of wildlife. Note that this is only possible in summer.
My experience: I visited Svalbard in February and stayed for 4 nights. Because I arrived at around noon and left in the afternoon, I had 3 full days and 2 half days in Svalbard. This was sufficient for a winter trip, but it was really intense. I was so tired after full-day snowmobiling and dog sledding trips that I couldn't force myself to stay awake and go looking for auroras at night… So if you want to take it easier, I really recommend staying a bit longer.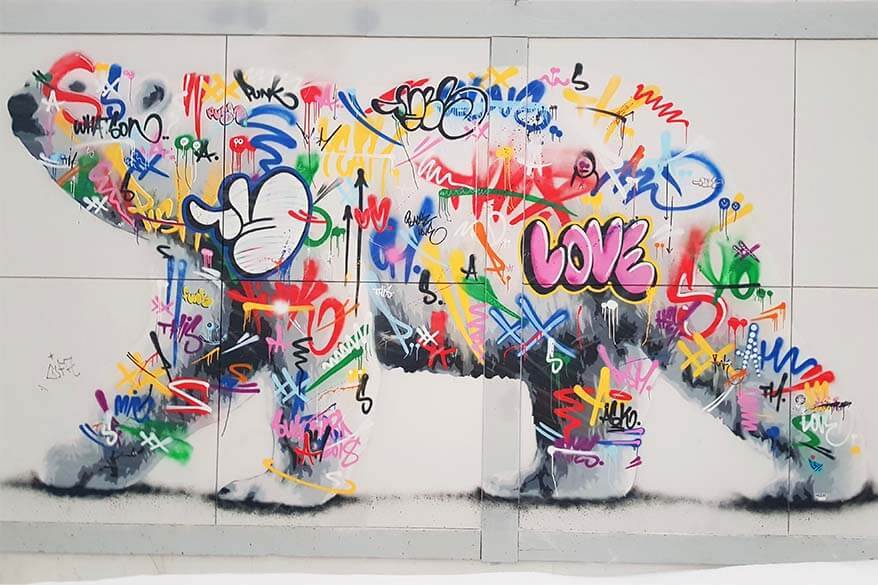 Where to Stay
The main town where most people stay during their entire visit to Svalbard is Longyearbyen. There are several accommodation options in town:
Lower mid-range: Mary-Ann's Polarrigg – a quirky place within a short walking distance to the town center.
Higher budget: Funken Lodge – a beautiful hotel, some 15 min walk to the town center. Svalbard Hotell Lodge – centrally located hotel with 1- and 2-bedroom apartments.
There is also a hotel in Barentsburg, a hostel in Barentsburg, and also a hotel in Pyramiden, but staying there would require a bit more planning.
LEARN MORE: Complete Guide to Svalbard Hotels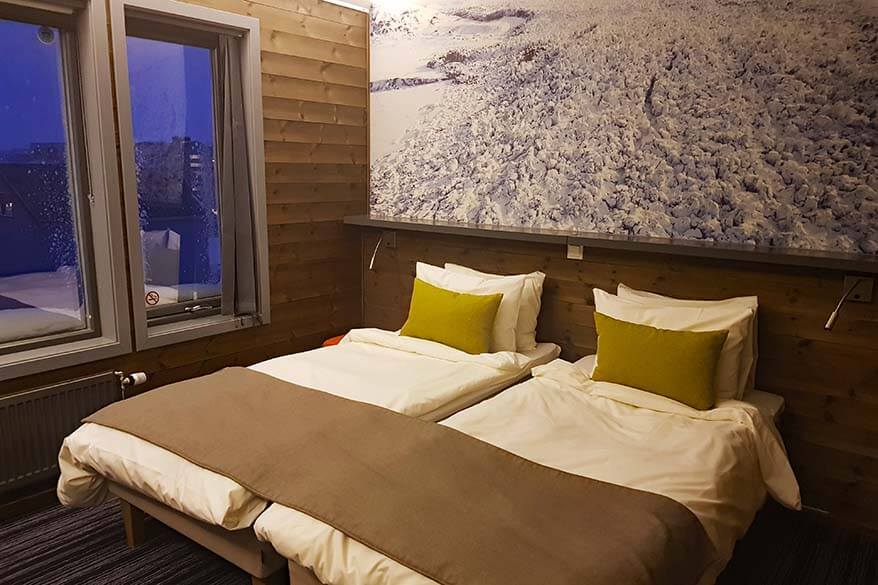 Where to Eat
There are so many restaurants and cafés in Longyearbyen that you really have nothing to worry about when it comes to where or what to eat.
My favorite places for dinner were Kroa restaurant in Longyearbyen town center and the Coal Miner's Bar and Grill (about 2 km from town center). Excellent food, cozy atmosphere, and reasonable prices.
Other good restaurants in Longyearbyen are hotel restaurants. You can dine at most hotel restaurants even if you are not staying there. Check out Restaurant Polfareren at the Svalbard Hotell, Funken Restaurant at the Funken Lodge, Barentz Gastropub inside the Radisson Hotel, and Vinterhagen Restaurant & Peisen Bar (Winter Garden) at Mary-Ann's Polarrigg.
Gruvelageret and Huset Svalbard are considered some of the best restaurants in town – places for fine dining with a higher price tag.
For lunch, check out Fruene Café that's located inside the shopping center (Lompen Senteret) or Rabalder Cafe & Bakery at the library and cultural center (Kulturhuset Longyearbyen). Both are excellent choices and very popular among the locals.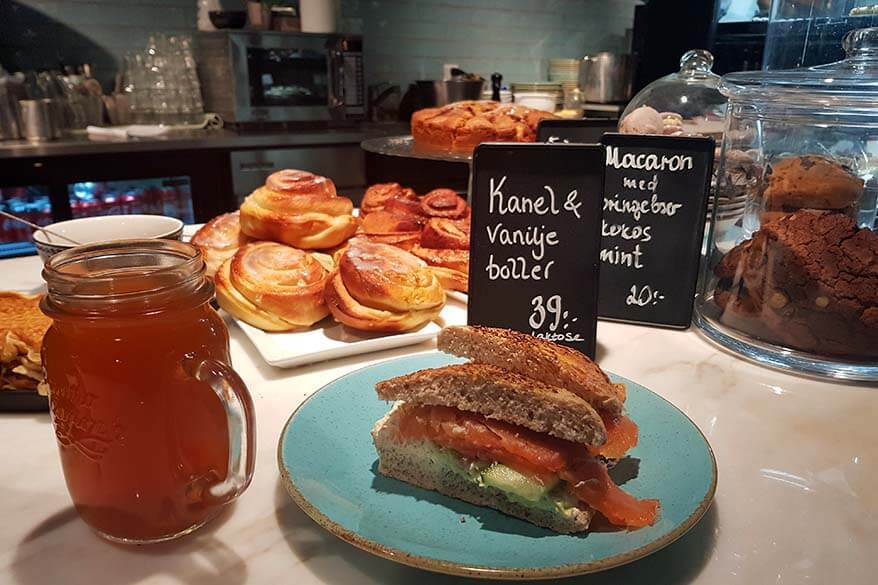 Shopping & Supermarket
There are lots of different shops in Svalbard. Most of them sell clothing, such as wool sweaters, but also all kinds of outdoor clothing and gear, and also souvenirs.
There is one big supermarket in town, Svalbardbutikken. It's the place to be for food and drinks and you can find everything here – from fresh fruit to fresh-baked bread to dairy products, and also alcoholic beverages.
Since this supermarket serves as the main shop for local residents as well, you can find pretty much everything here, not just food. From household appliances to souvenirs, but also photography gear, linen, etc. So if you forgot to pack something, this is the place to be.
The supermarket is open daily, but on the weekends, opening hours are shorter than on weekdays.
Longyearbyen town also has a pharmacy.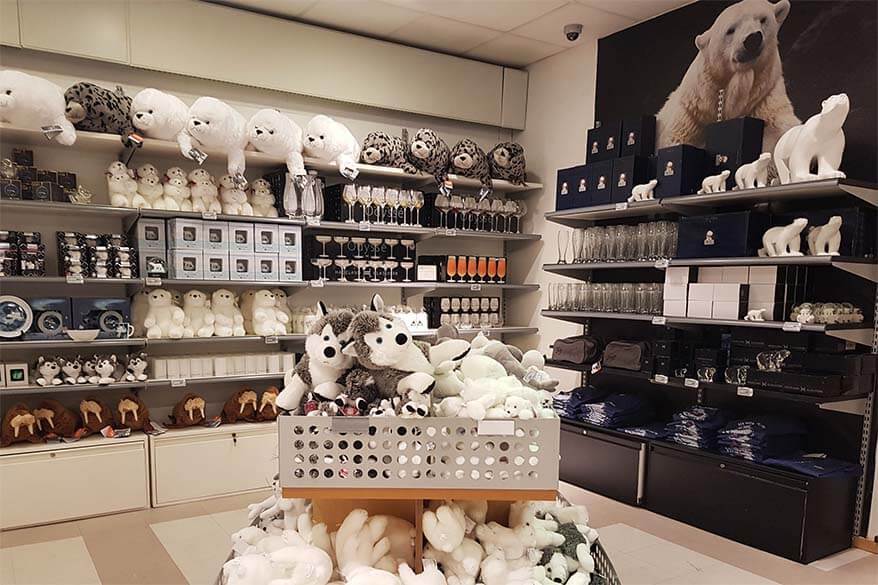 Money Matters & Travel Cost
Svalbard is part of Norway, so the currency used is Norwegian Krone (NOK). That being said, you don't really need cash in Svalbard and can simply use credit cards everywhere. Except in Pyramiden, where you will have to pay cash. From what I saw, most places in Barentsburg accept credit cards, but it might be useful to have some cash there too.
TIP: If you are traveling from outside of Europe, make sure that you have a credit card with a chip and a 4-digit pin. You'll need that type of card everywhere in Europe. Ideally, you take Visa or Master Card as these cards are accepted everywhere. If you don't have the right credit card, check out this selection of the best American credit cards for travel. I recommend choosing a card with no foreign transaction fees.
One of the first questions I got from our readers about my trip to Svalbard was how expensive is it. However, this is also the most difficult question to answer. So much depends on the season when you're traveling, how long in advance you book, and obviously on your choices (accommodation, restaurants, tours). Nevertheless, below is a short overview that should give you at least an idea of what to expect.
As you can imagine, Svalbard is not a cheap destination. The biggest costs are your flights, hotels, and tours.
Flights. That depends so much on when you're flying and from where. My return flights from Belgium to Svalbard in February were about 400 EUR.
Hotels. Expect to pay about 200-250 EUR for a night at a good hotel in Longyearbyen (2 people, breakfast included). The cheapest hostel accommodation will cost at least 80 EUR for 2 people per night.
Tours. This is what will make your trip to Svalbard really expensive because you can't explore much on your own and always have to take tours. Count around 100-250 EUR per person per day.
Food. Food prices are somewhat lower in Svalbard than in mainland Norway. Expect to pay about 15-25 EUR for the main course at dinner.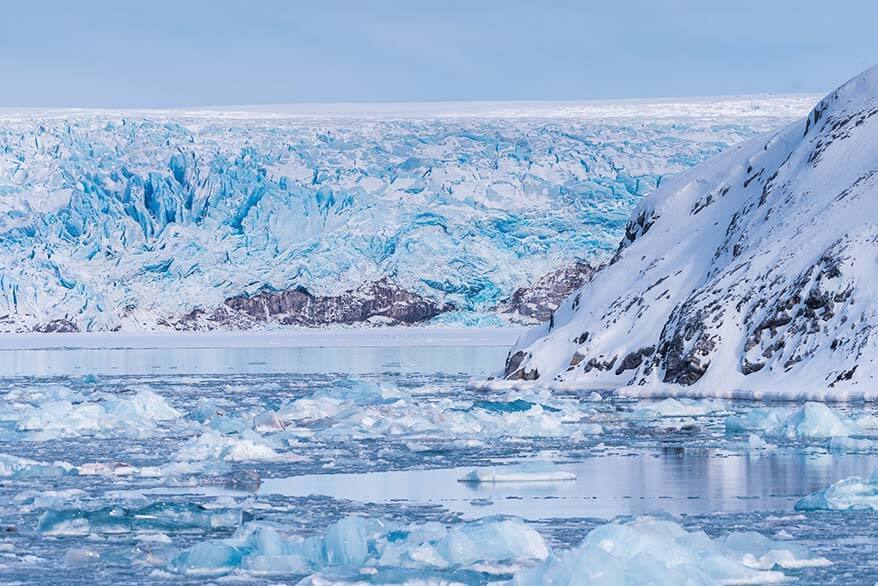 WiFi and Roaming Charges
You'll be glad to know that Longyearbyen hotels provide free WiFi.
Furthermore, Svalbard uses the Norwegian cell phone network, which means that European roaming tariff regulations apply here as well. For me, it meant that I could use my Belgian SIM card just as I would at home or anywhere else in the EU, without any extra charges.
So, this is our travel guide with tips for visiting Svalbard. I hope that this article helped you form a better idea of what it's like to visit Svalbard and what to expect. If you have any questions, leave a reply below.
If Svalbard is part of a longer trip to Norway, please check our Norway travel guide for more destination guides and practical information.
More tips for your trip to Svalbard:
If you found this post useful, don't forget to bookmark it and share it with your friends. Are you on Pinterest? Pin this image!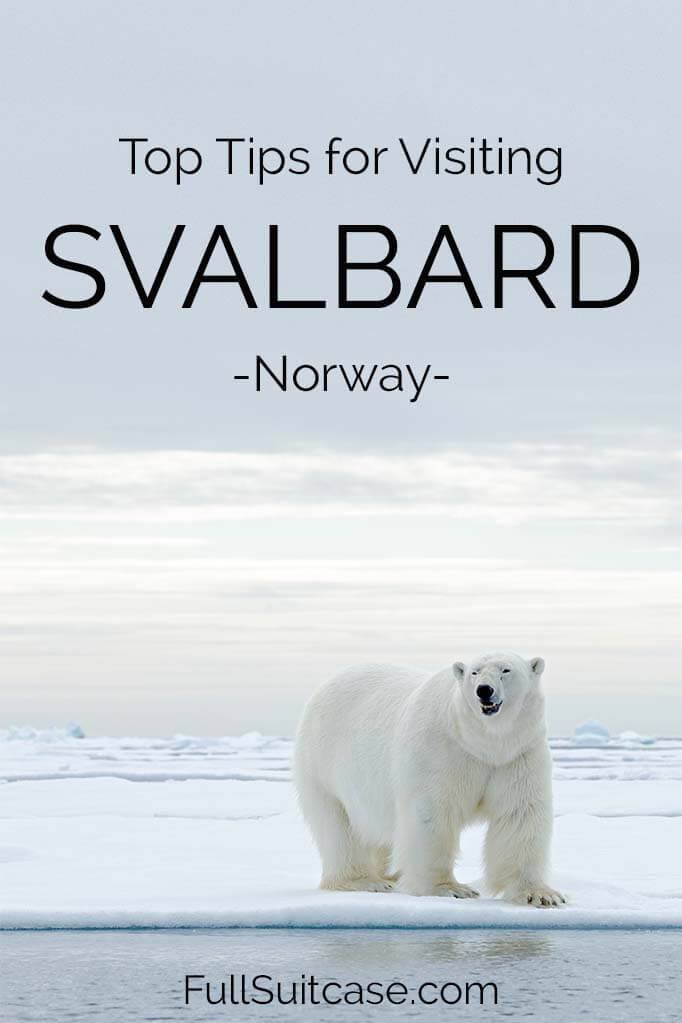 Image credits: personal collection and Depositphotos.com