The Lofoten Islands in Northern Norway are among the most picturesque places on the planet. If stunning landscapes and jaw-dropping images on social media or in the travel brochures have also inspired you to visit Lofoten, you may find yourself overwhelmed trying to plan a trip here.
How to get to Lofoten? When to visit? How long and where to stay? What to see and how to make the most of your trip if the weather doesn't cooperate?
In this guide, we share some useful tips and information that we wished we had known before visiting Lofoten Islands for the first time. These insights are based on our personal experience and include many details you may not have thought of.
I hope that this guide will give you a better idea of what to expect when visiting Lofoten and will help you plan a truly unforgettable trip. Take a look!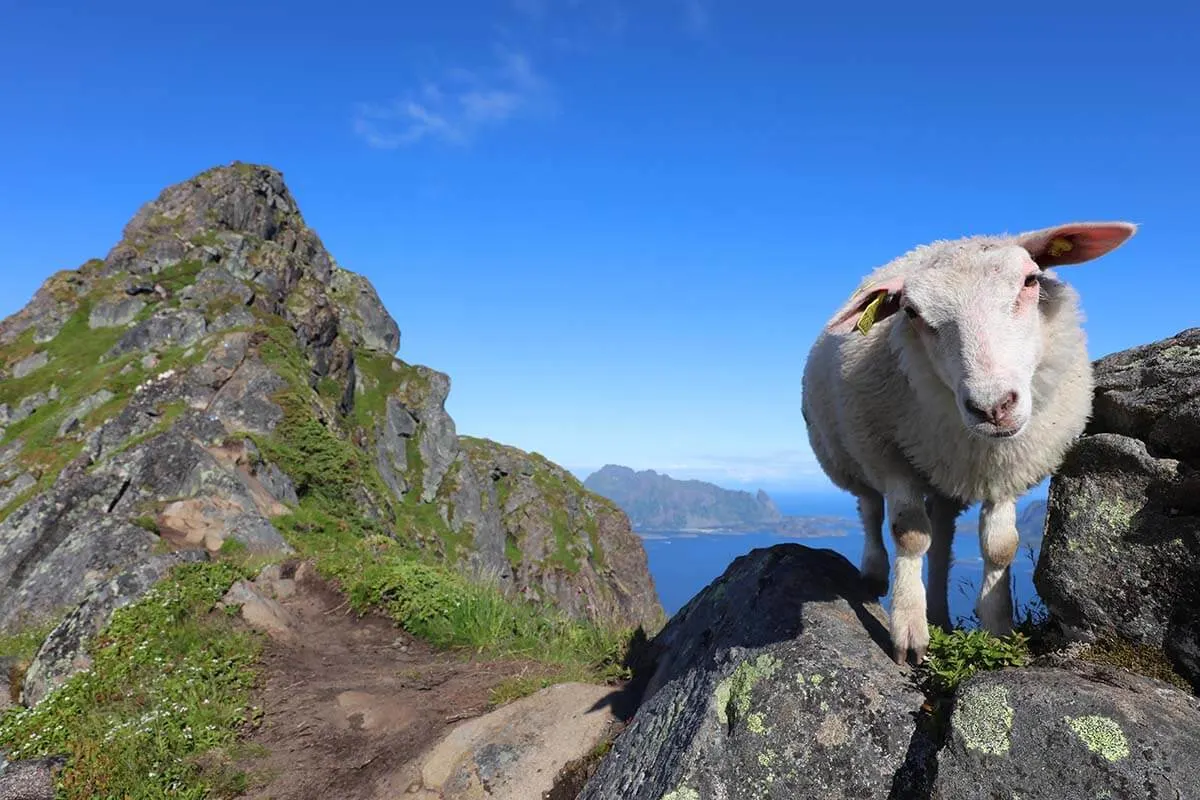 Lofoten travel tips and things to know when planning your first visit:
1. Decide when to visit
One of the first things to decide when planning to visit Lofoten is WHEN to visit. Just like most places in the Nordics, visiting Lofoten Islands in winter or in summer is a completely different experience. Here are some examples and things to consider:
If you are looking for endless daylight and midnight sun, visit Lofoten in June – July. The sun never sets during this time of the year and you can see and do a lot in a short time. However, this is also the busiest and the most expensive time to travel to Lofoten.
The best time to visit Lofoten for the Northern Lights is between September and March.
The best time for hiking in Lofoten is between June and September. The rest of the year, you can expect to find snow on the trails, but – with proper equipment – some hikes are possible in the winter as well. Just be sure to do your research because even in the summer, hiking in Lofoten is often really challenging.
If you want to see whales (the best place for that is Andenes in the nearby Vesteralen), some of the best months are between November and March. Although certain species are around in the summer as well.
So choose your travel dates depending on what you want to experience, but remember that Lofoten is primarily a nature destination and nothing in nature is guaranteed. Further below, you'll find some Lofoten travel tips that should help you make the most of your trip no matter the weather. But first, some more practical information.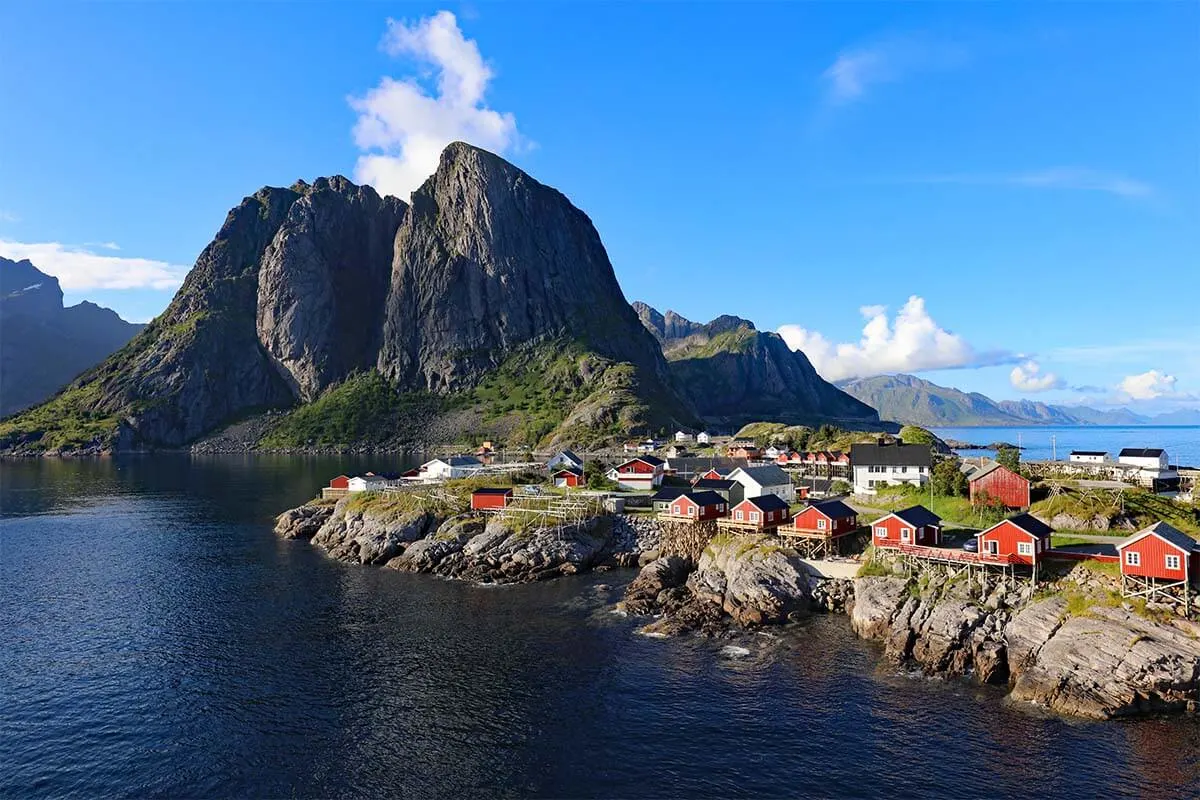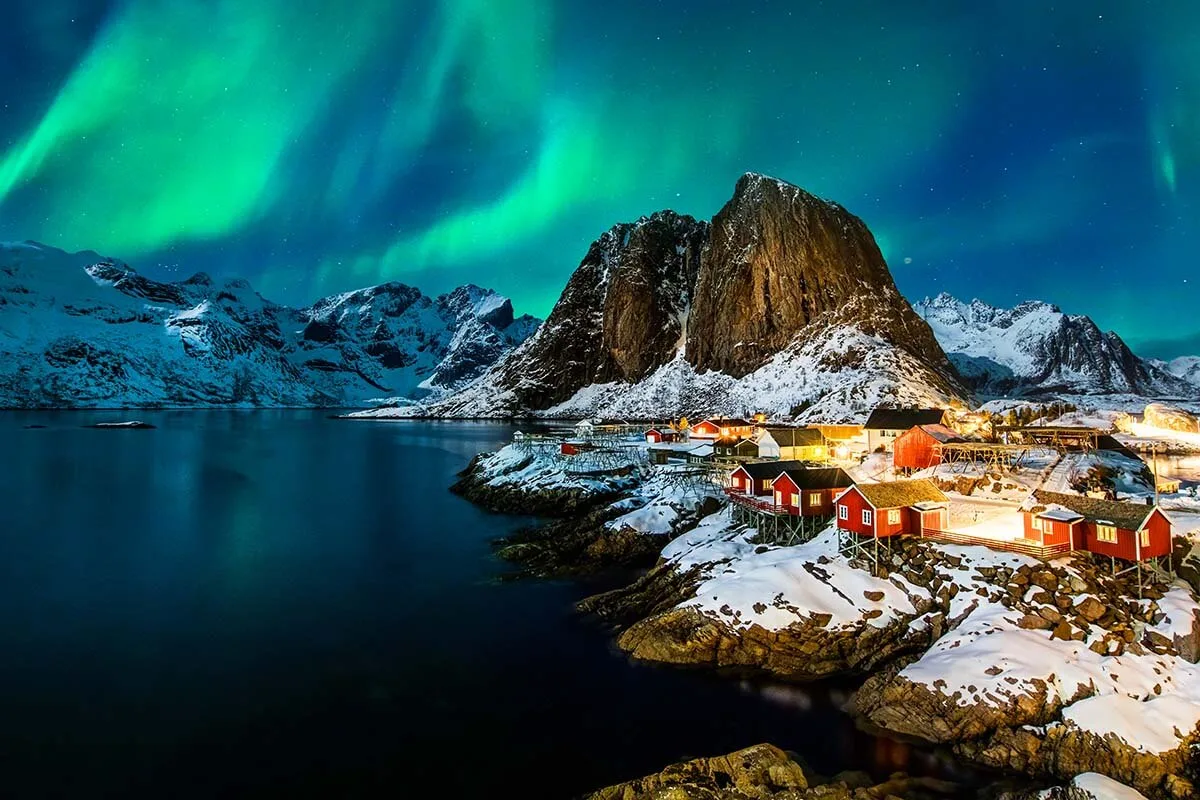 2. Figure out how to get to Lofoten and how to travel around
One of the most asked questions for people considering a trip to the Lofoten Islands is how to get there. In all honesty, there are countless possibilities, and it's easier to visit Lofoten than it might look at first sight.
Good to know: Lofoten islands are best visited by car or campervan, but good public transport connections make it possible to travel here without a car as well. See below for more information on getting to Lofoten and traveling around.
Here are the best ways to get to Lofoten:
By plane
If you are coming from far, the best way to visit Lofoten is by flying to one of the airports in the area and renting a car (or you can take public buses).
There are two airports on the Lofoten islands themselves: Leknes (LKN) and Svolvær (SVJ). However, these are small airports with very few (and rather local) flights. So getting here from abroad will require quite a few flight changes. Not even to mention that renting a car from these airports will be quite expensive.
The best bigger airports near Lofoten are Harstad/Narvik airport in Evenes (EVE) and Bodø airport (BOO), both with direct flights from Oslo, but – especially in summer – also directly from some other European cities. Evenes airport is about 165 km (102 miles) – 2.5 hours drive from Svolvær, the main town of Lofoten Islands. Whereas the car- and passenger ferry from Bodø to Moskenes (south end of Lofoten) takes about 3.5 hours.
The main advantage of flying into Evenes airport over Bodø is that you don't need to worry about ferry schedules or rough seas and can just drive to Lofoten. This is the option that we chose. If you want to make a round trip and don't mind starting and ending at different airports, you could start in Evenes and end in Bodø or vice versa.
It's also possible to fly to Tromsø (TOS) and make a road trip that includes Lofoten from there. However, Tromsø is much further away from Lofoten and only makes sense if you plan to visit other places in northern Norway as part of the same trip as well.
TIP: For car rental for visiting Lofoten, we highly recommend you check the RentalCars website. We planned and rebooked our Lofoten trip three times and every time, we found the best deals through this website. We rented a car from Evenes airport and returned it there too, but one-way fees were quite reasonable, so it's easy to plan a self-drive trip that best suits your needs.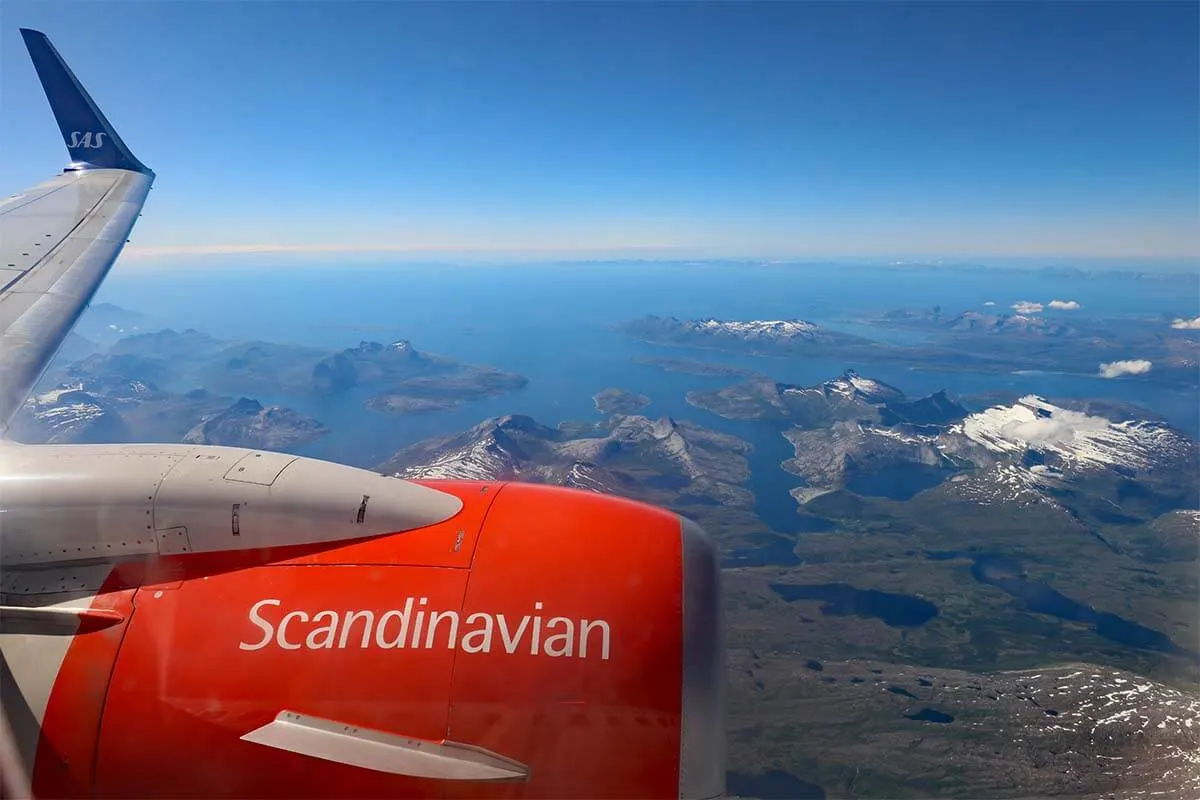 By car, motorbike, or camper
If you live in Europe, you may decide to simply drive to Lofoten from your home country. While I don't recommend this to anyone who is short on time, it can be a fun experience if you are on a longer road trip and want to experience more of Norway.
We saw lots of cars from Sweden and Finland in Lofoten. There were also many campervans with license plates from Germany, Switzerland, and the Netherlands. On a few occasions, we even saw people who drove to Lofoten all the way from Italy or Spain. And we even saw motorbikes from various European countries…
So yes, it's possible to drive to Lofoten Islands. Just keep in mind that driving on the winding narrow roads through Norway requires a lot of time (it's rare you can drive faster than 60-70 km/h, often even slower).
If you are driving to Lofoten, one of the easiest ways to get to the islands is by ferry from Bodø. For this ferry and especially if traveling in the high season, it's best to reserve your tickets well in advance. You check the ferry schedule and book your trip on the official website of Torghatten Nord.
Good to know: A nice way to get to Lofoten with your own vehicle from southern Norway is by taking your car on one of the Hurtigruten coastal ferries from e.g. Bergen to Svolvaer. It's not cheap, but you get to experience some amazing scenery along the way without having to spend 2 full days in a car. However, this is something you'll have to plan and book even longer in advance.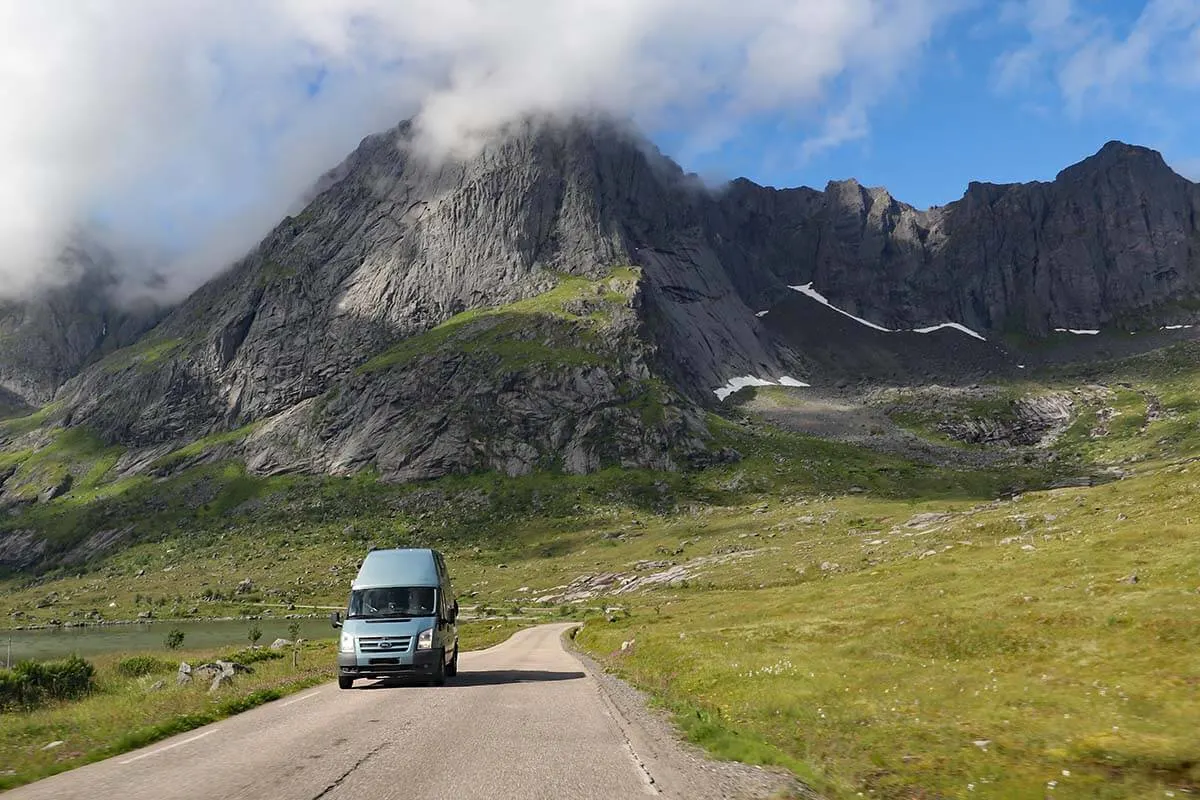 Without a car
It's also possible to visit Lofoten without a car. You can take a boat, travel by bus, by bike, or even get around by hitchhiking.
There are buses from e.g. Evenes airport to Svolvaer or Kabelvag (see the official airport buses website), and bus connections on the Lofoten islands themselves are also quite good (see this website for more info). You can also take a ferry from Bodo, and you'll find public buses waiting for passengers once you get to Lofoten.
You can also get to Lofoten by boat. Many cruise companies that visit Norway make a stop in Lofoten for a day, or you can also arrive in Lofoten by the coastal Hurtigruten ferry and stay for a few days before continuing your trip further north or south.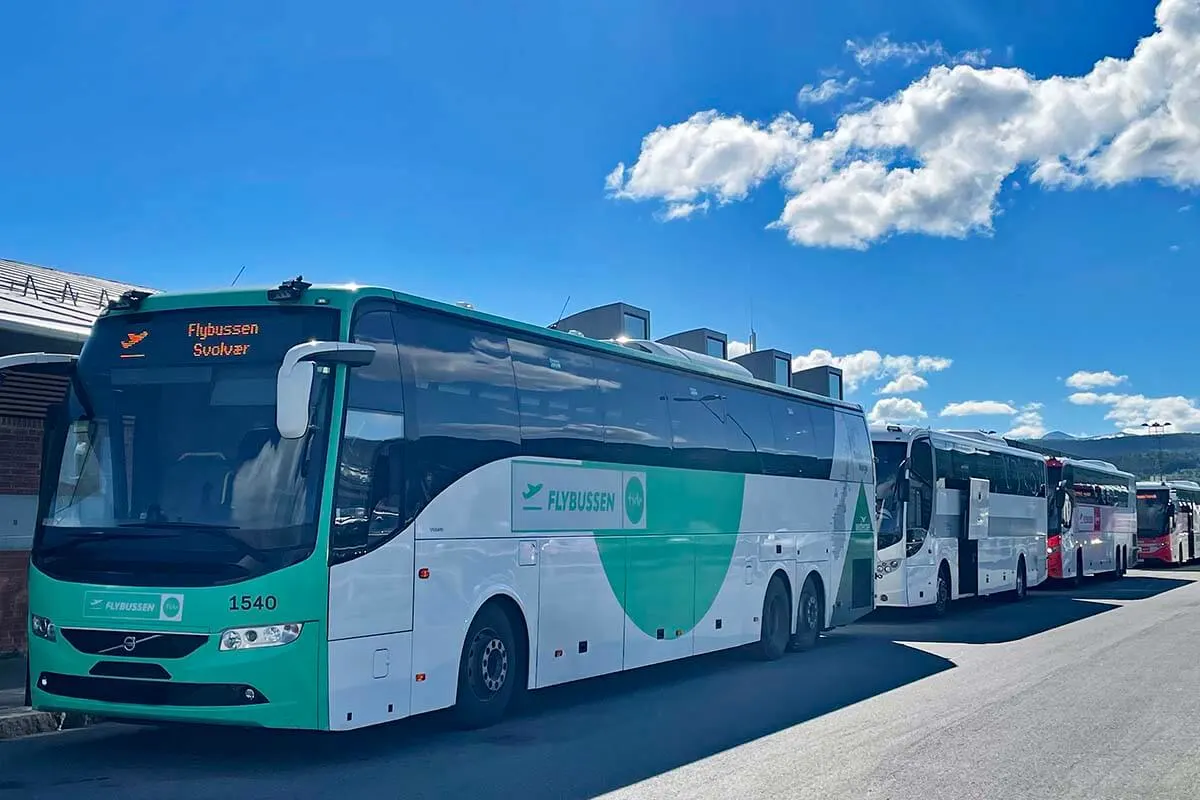 It's also possible to hitch-hike your way through Lofoten and we saw at least a few hitchhikers every day. It will be easier to do this if you are alone or with just 2 people and don't have too much luggage.
We also saw many people traveling on the Lofoten islands by bike, often with a tent and all the necessary equipment secured on the bike. It looks like a fun way to visit Lofoten in the summer and when the weather is nice, but it sure didn't look fun on the rainy days… Either way, I have no personal experience with this, but it's definitely possible.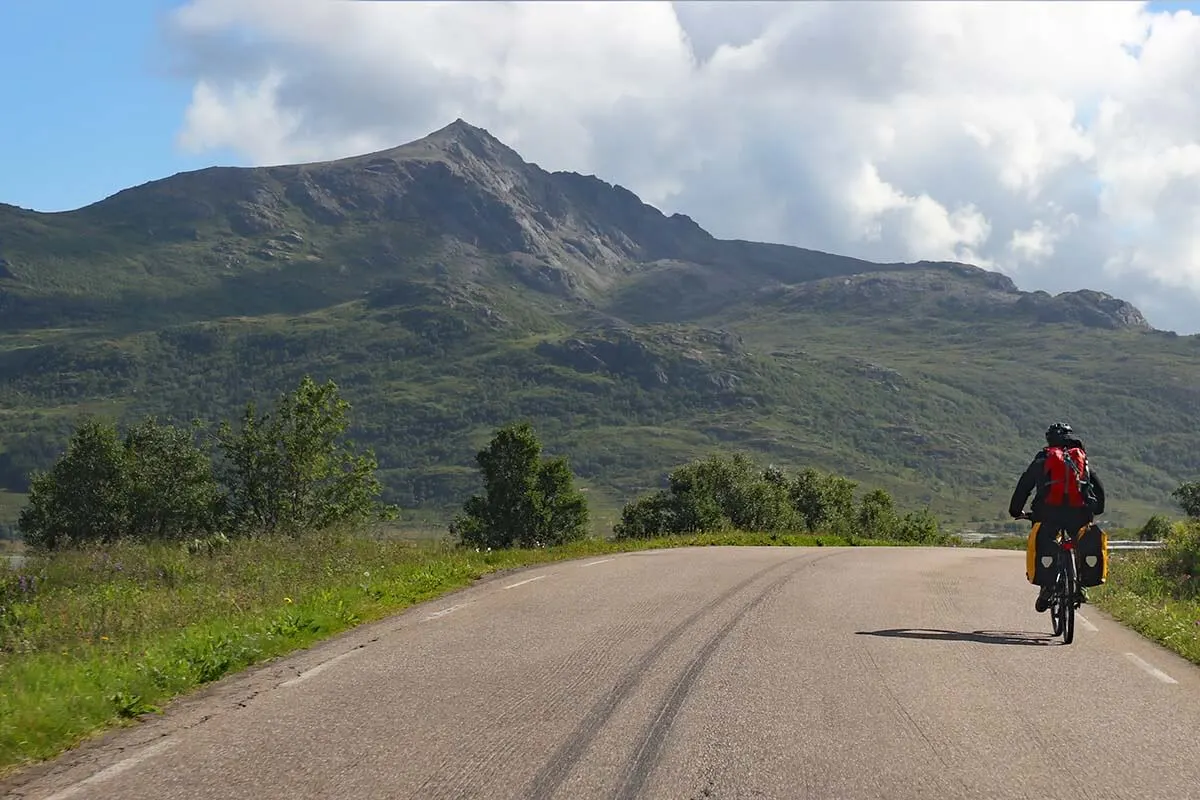 3. Stay longer
Lofoten is a nature destination that is best appreciated when the weather is nice and you can actually see the amazing landscapes. If you only have 1-3 days in Lofoten and it's cloudy and rainy all the time, you won't be able to enjoy the most beautiful sceneries or see the Midnight Sun or the Northern Lights.
So no matter when you travel to Lofoten, the best way to be sure that you can experience the best that the region has to offer is to stay longer.
Staying longer gives you a bit more flexibility on how to fill your days depending on the weather you get. Of course, you might get very lucky and have the most amazing weather when visiting Lofoten for just 2 days or have really bad luck with rain and clouds for 7 days in a row, but spending more time in the region will always give you more chances to see and do everything that you want to.
Also, if you have more time, you can enjoy a bigger variety of activities and explore Lofoten deeper (e.g. you can go kayaking, take a day trip to Værøy island, a boat tour to Trollfjord, or a scenic Reinefjorden cruise where you can also visit a remote beach before taking the next boat back).
You'll also enjoy your trip so much more if you have time for some unplanned stops and unexpected discoveries. It's nice to take a walk on a beautiful beach or visit a charming fishermen's village rather than take a picture, tick a box, and say you've been there…
Also, while time-wise it can be possible to combine a few popular hikes in a day, most of the best hikes in Lofoten are so steep that you'll get exhausted if you do several of them without giving yourself enough time to recover in between.
So if you can, try to plan more time in Lofoten – you won't regret it.
READ ALSO: Best Things to Do in Lofoten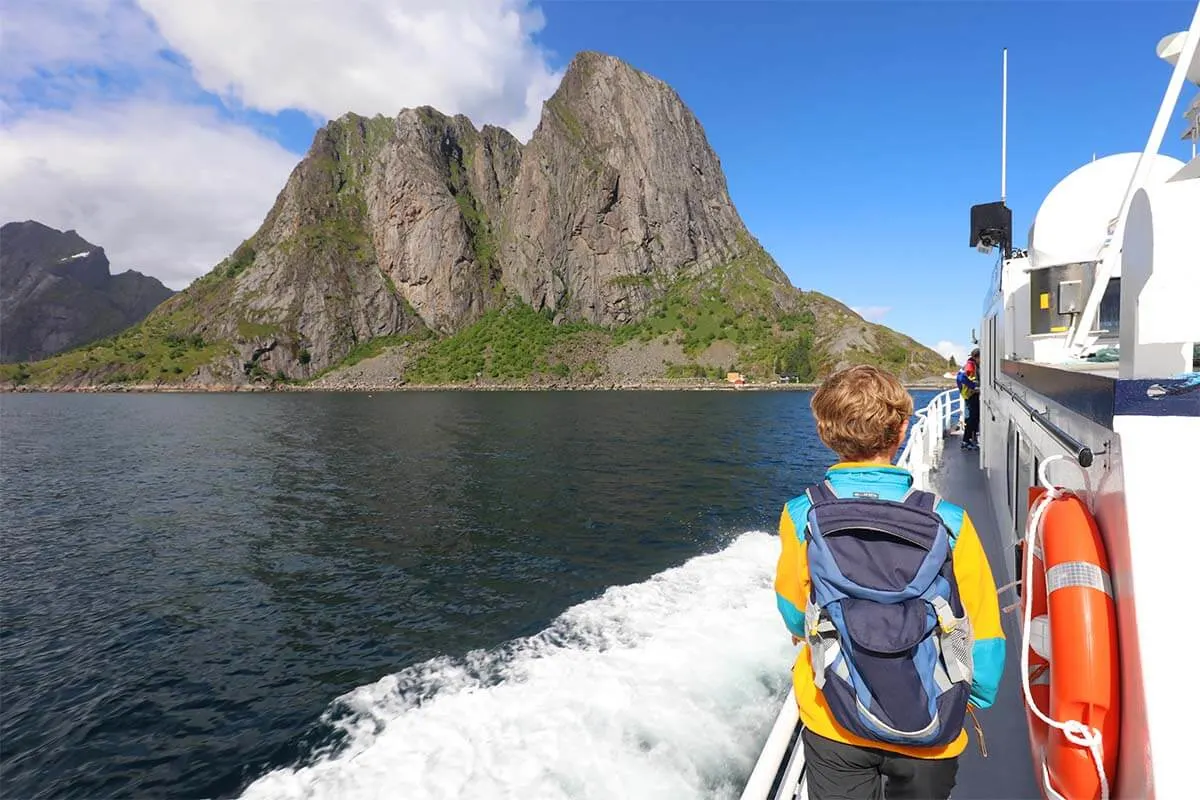 4. Research what to see and do (also in bad weather)
Lofoten Islands cover a rather big area with lots of things to see and do. There are countless amazing hikes, beaches, and viewpoints. In addition, you'll find quite a few museums and some other indoor activities which are great for when the weather doesn't cooperate. And there are also various (boat) tours and excursions that can bring you to places you wouldn't be able to visit otherwise.
So if you want to make the most of your trip to Lofoten, be sure to do some research in advance!
You don't have to plan an exact itinerary for each day (especially if you have more time in the region and are more flexible), but it sure helps to have a good idea of which places you absolutely want to see.
It's also useful to have a list of places to visit when it rains or when it's dark and cold (if traveling in the winter season).
Preparing an approximate plan for each day (and prebooking the things you absolutely want to do) will help you maximize your time and avoid disappointments. However, you always have to stay flexible – see further for more info.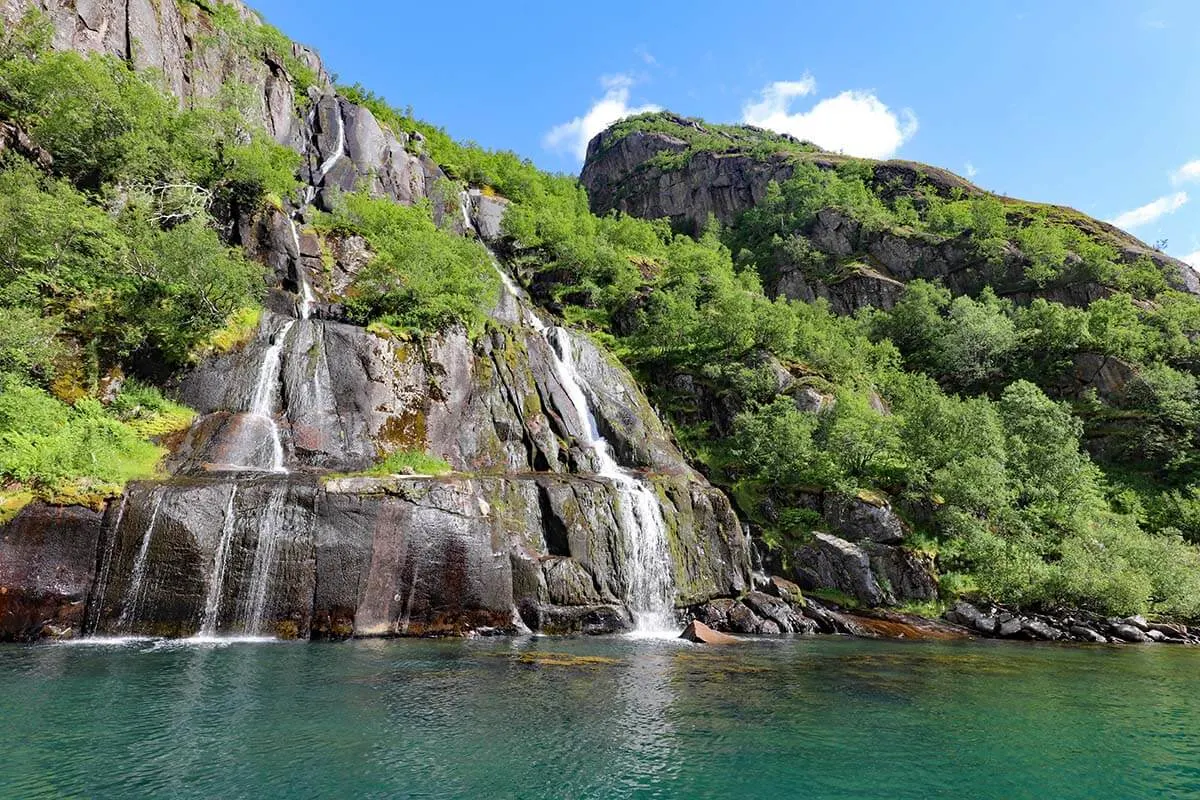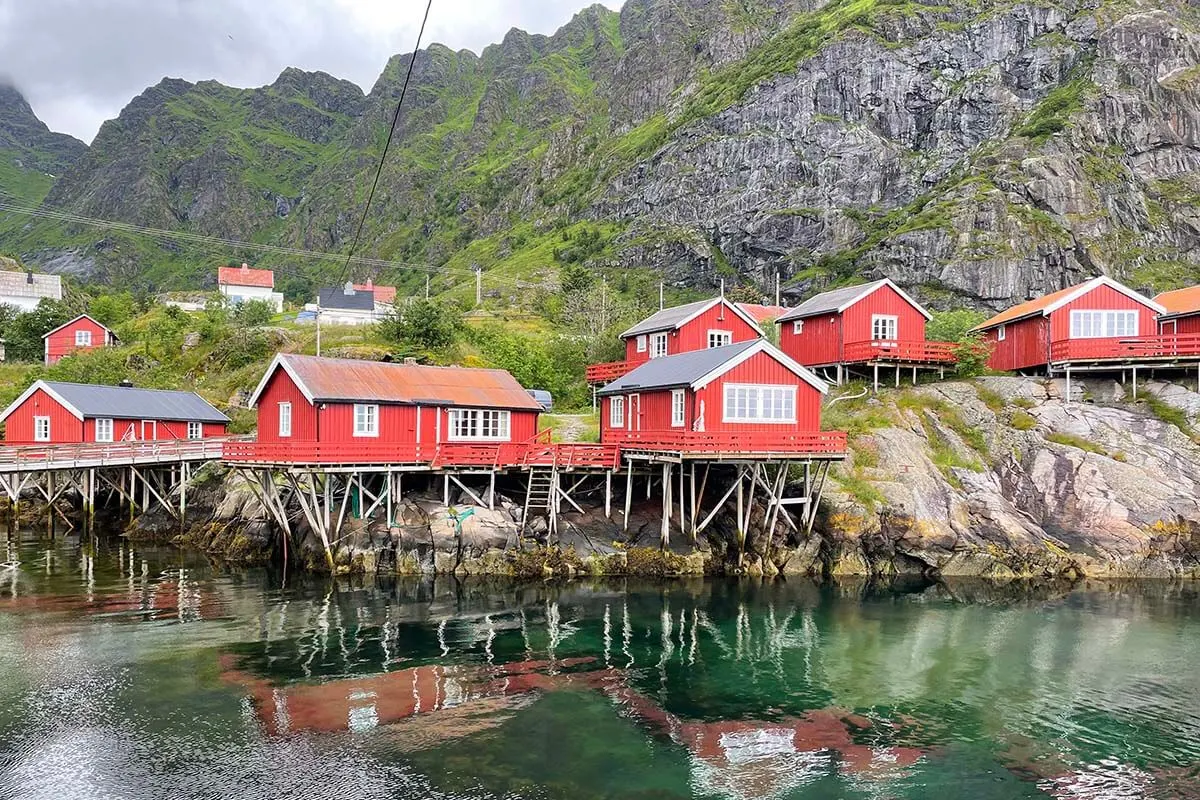 5. Book in advance
Lofoten is one of the most beautiful nature destinations in the world. So it won't come as a surprise that it's extremely popular. Furthermore, the majority of visitors travel to Lofoten in the summer months, meaning that everything in the peak season is in high demand.
So if you are traveling to Lofoten in the high season (June – September) and want to keep the costs down and be able to experience the best that this beautiful region has to offer, it's a good idea to book things in advance.
One of the very first things you should decide on is how you'll travel around. If you need to rent a car or a motorhome, book it as soon as you can. The availability of rental cars/ campers is limited and the demand is high, so this is one of the very first things to secure when traveling in Lofoten.
TIP: For years already, we use the Rental Cars website for all our car rentals all over the world. We also found the best deals via them for our car hire in Lofoten. Due to the pandemics, we planned and rearranged our trip three times, and on each occasion, they had the very best car rental deals available. And when we had to cancel our trips, we got all the money back without any issues.
Once you have your rental car, you should book your accommodations. The more in advance you book, the more options you have. This usually means better quality accommodation and better prices. We booked all our hotels/rorbuer cabins via Booking.com – it's simple to find exactly what you are looking for, compare prices, or cancel if needed.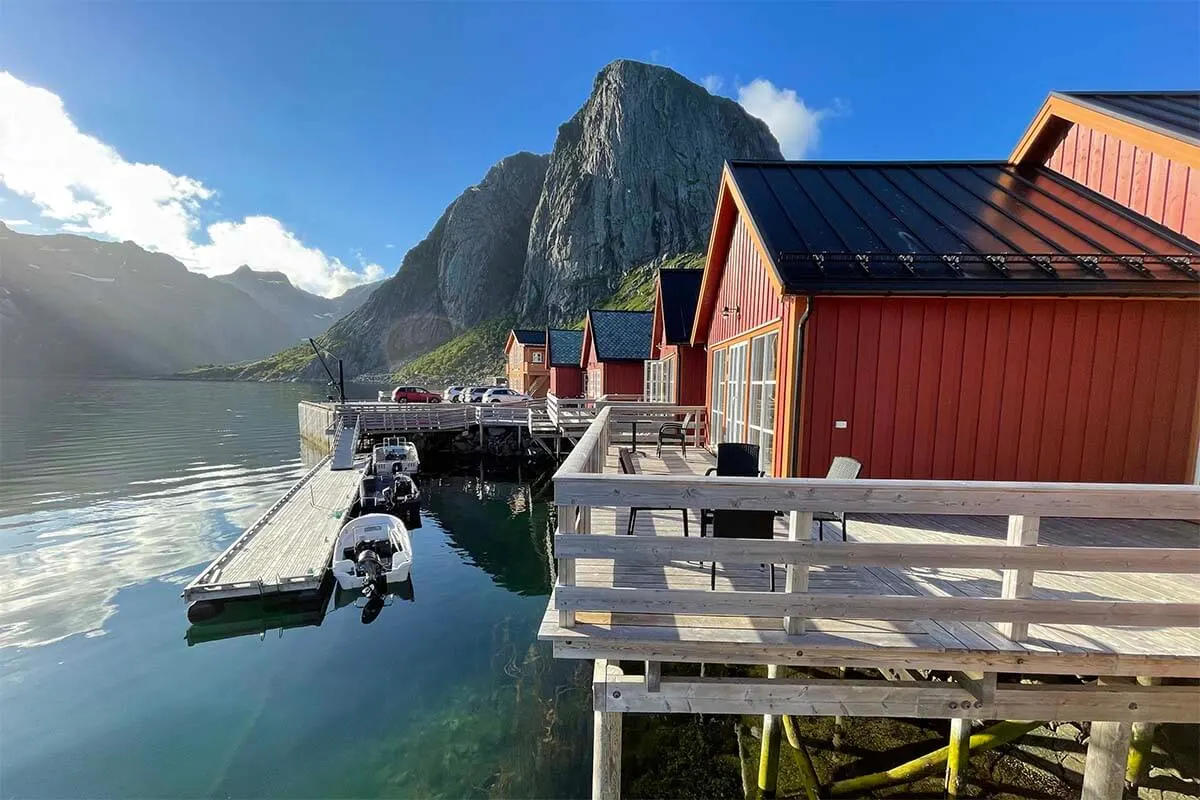 If you are planning on doing any (boat) tours in Lofoten, it's also a good idea to prebook them. You don't absolutely have to do it months in advance – a week or a few days should be sufficient for most tours. However, if your travel dates are fixed and you aren't really flexible, you can just as well book tours in advance too.
We used the Get Your Guide website for all our tour bookings in Lofoten and prebooked all the excursions we planned to do in advance (we booked this RIB tour to Trollfjord near Svolvaer, this scenic cruise near Reine, and this sightseeing cruise to Vaeroy island).
Since they offer free cancelation up to 24 hours before the tour, you keep complete flexibility. If you see that the weather isn't going to be great and want to cancel the tour, you can do that. Or you can try and reschedule your tour to another day if there is availability (this is what we did for one of the tours).
You can also find some tours on Viator. For example, they have more options for kayaking tours in Lofoten.
Also restaurants can get fully booked up in Lofoten in the summer, especially on the weekends. You don't have to reserve weeks in advance, but it's always a good idea to reserve a table a day upfront. On quite a few occasions, we saw people being turned away at various restaurants in Lofoten since they were fully booked for the evening.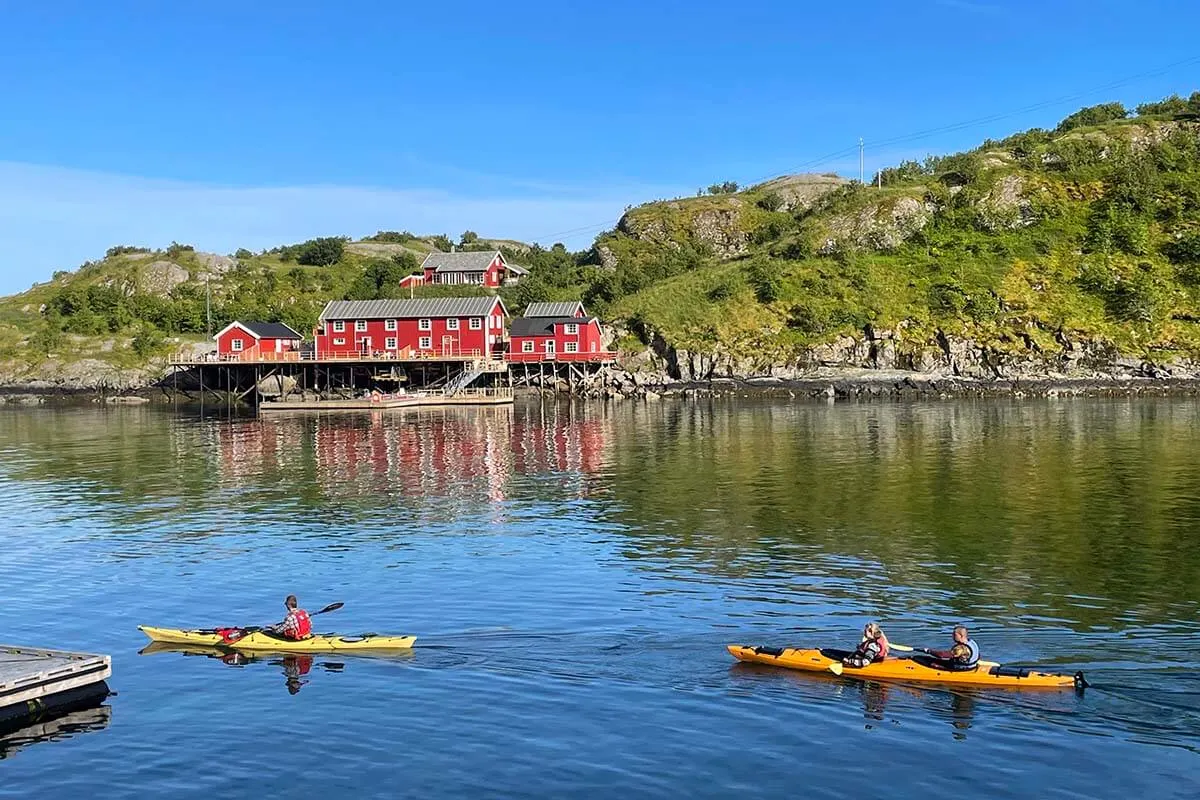 6. Choose the location of your accommodation wisely
Depending on how much time you have in Lofoten and what you want to see and do, you may want to stay at one central location or stay at 2 or even 3 different places. Each approach has its advantages and disadvantages.
Staying in one – central – location makes your trip planning easier. You can just book one accommodation and don't have to pack and unpack every day. It also gives you the flexibility to decide which parts of Lofoten you visit each day. Depending on the weather, you can then adjust your travel plans. However, this also means that you'll have to travel further every day. And even if the distances aren't big, this means that you'll spend a few extra hours in a car each day.
Good to know: One of the best centrally located areas to stay in Lofoten is Leknes. It's about halfway between Svolvaer and Reine. The town of Leknes itself isn't very charming, but there are lots of really nice places to stay nearby. We stayed in Lofoten Basecamp – they have some of the most beautiful rorbuer cabins near Leknes.
If you want to minimize the driving time and maybe even leave your car at your accommodation on a few occasions, you may want to stay in a few different areas in Lofoten. If you just choose two places, make it Svolvaer and Reine areas. If you have more time, opt for three different accommodations – one in the Svolvaer area, one near Leknes, and one near Reine.
Our experience: We had more than a week in Lofoten and stayed in three different areas, always in the traditional-style rorbuer cabins. We stayed in Lofoten Basecamp near Leknes for 3 nights, in Reinefjorden Sjøhus near Reine for 3 nights, and Svinøya Rorbuer in Svolvaer for 2 nights. This allowed us to minimize the driving and spend more time exploring each area deeper. We also took several boat tours and since the harbor was within easy walking distance from our accommodation, we didn't have to use our car or look for parking on those days.
READ ALSO: Where to Stay in Lofoten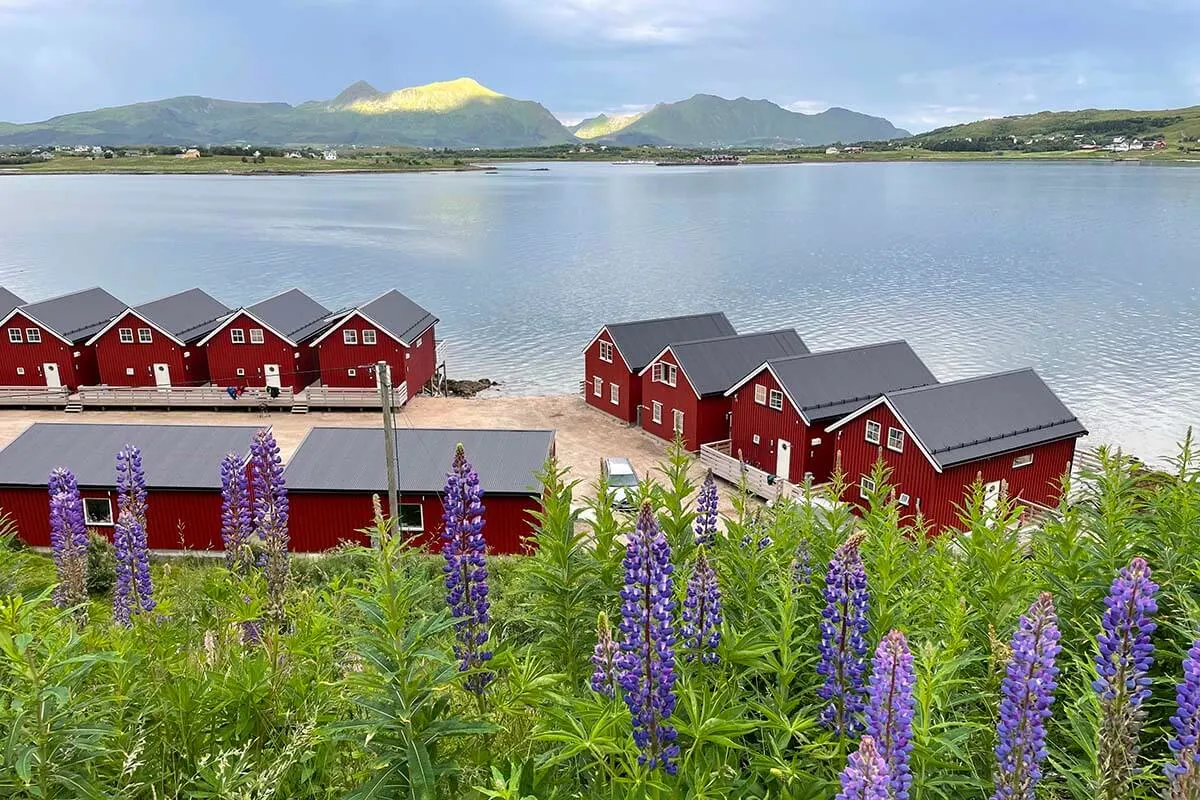 7. Keep your plans flexible
As already mentioned, Lofoten is primarily a nature destination and so much of what you'll be able to see and do will depend on the weather. So while it's very useful to have an approximate itinerary, you should also prepare for the fact that mother nature might have different plans than you do.
So keep your plans flexible and adjust them based on the weather forecast.
If the weather is really nice and there are no clouds, don't just assume that it will stay like that. Take the advantage of the weather and do the hike(s) that you absolutely want to do first!
If heavy rain is in the forecast, don't go climbing mountains. Not only you won't see anything, but it's also dangerous. If you have a boat trip booked and the weather doesn't look great, see if you can change the dates of the tour. In the meantime, visit a few villages and museums, or take a walk along the coast where the views are usually not obstructed by the clouds.
Our experience: We were constantly changing our travel plans when visiting Lofoten. When the sun came out after a rainy morning, we drove more than an hour extra just to do the hike that was high on our list, even though it was in our plans for a few days later.
When it was cloudy and rainy, we postponed our sightseeing cruise by a day. And when it was pouring the whole day, we visited towns and museums, booked a table at a nice restaurant, and spent the rest of the day reading books… This brings us to yet another tip – see below.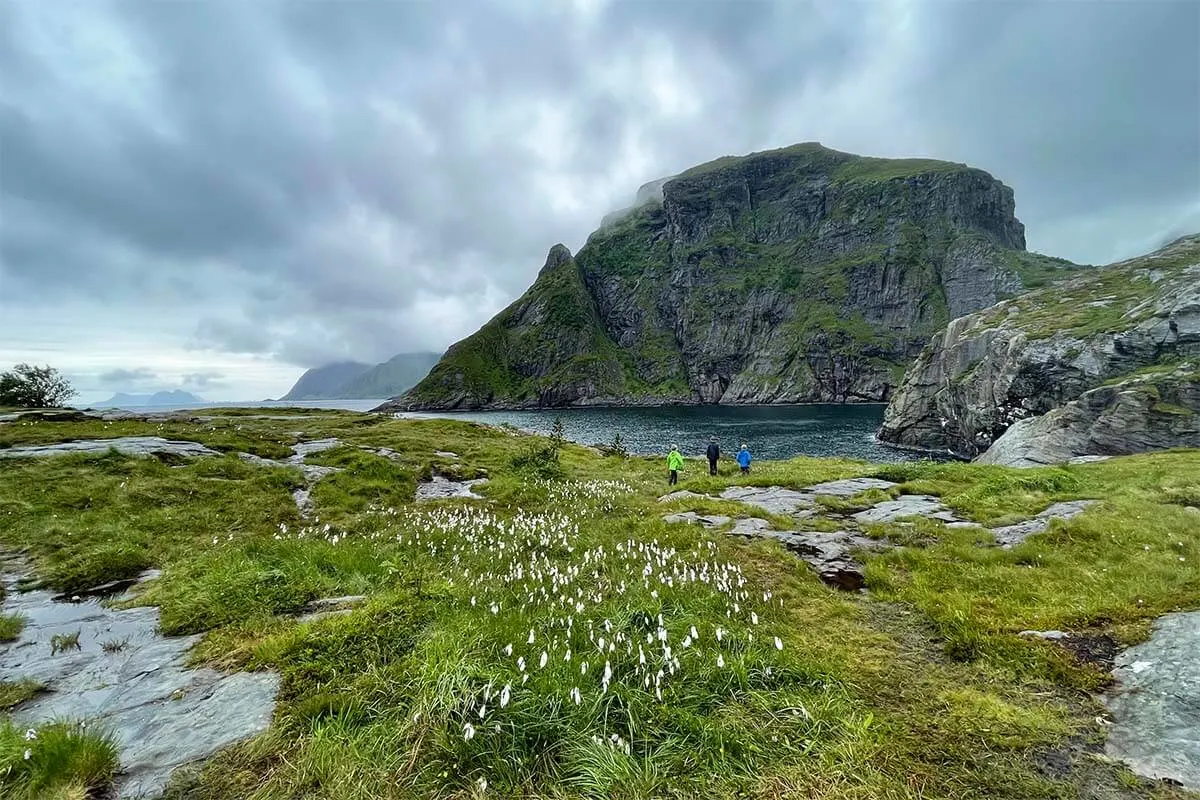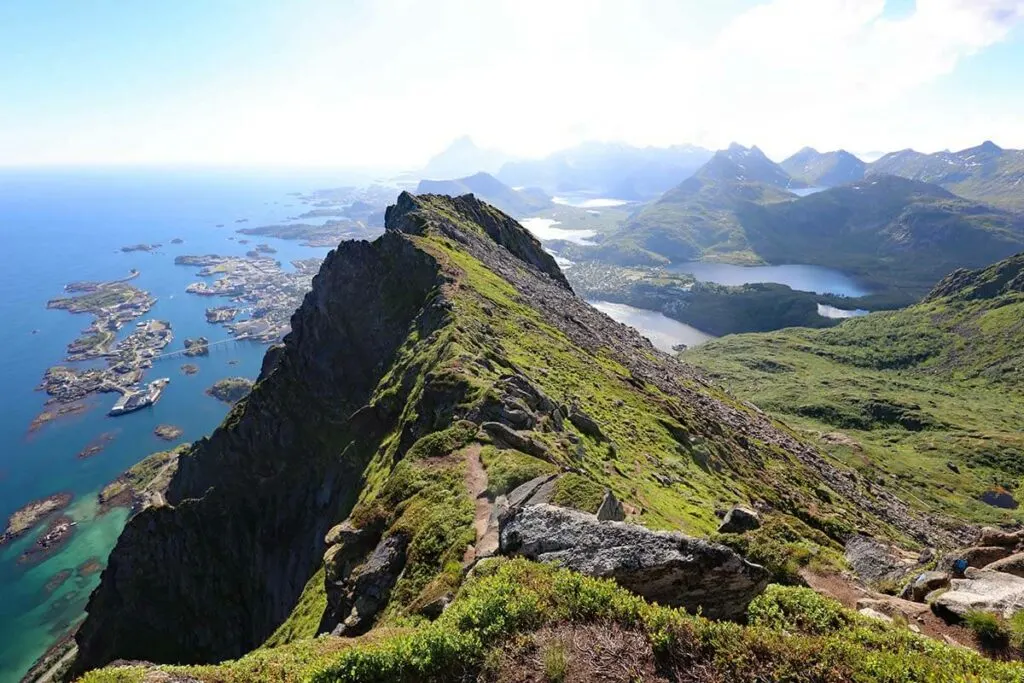 8. Stay in a nice and spacious accommodation
If you can afford it, book some really nice and spacious accommodations in Lofoten. You'll be glad you did if the weather is bad and you are stuck inside for hours or maybe even days…
I saw a lot of people complain about being stuck in a tiny hotel room in Lofoten in a rain. Many hotel rooms hardly have enough space for a bed. So the only alternative in bad weather is hanging around in the hotel lobby or (expensive) restaurants.
We had to spend quite some time indoors during our visit to Lofoten, and I've heard the same story over and over again from many other travelers. Sometimes it rains so hard that all you want to is a cozy place where you can enjoy some quiet downtime. And it's so much nicer if you actually have space to move around or a small kitchen to make a cup of tea or even dinner.
Ideally, you also book a place with a nice (open) view. In winter, you might be able to see the Northern Lights straight from your room, and in summer – you can enjoy beautiful views from your room at any time of day or night. And even if the weather is great (fingers crossed for you!), your trip experience will be incomparably better anyway.
TIP: For the best and the most authentic experience in Lofoten, stay at rorbuer-style cabins on stilts. However, keep in mind that the traditional fishermen's cabins are usually quite small and dark. Luckily, there are now many modern versions that have the same charm, but with much more space and bigger windows to enjoy the views.
Our favorite accommodations in Lofoten were Lofoten Basecamp (Leknes area) and Reinefjorden Sjøhus (Reine area). Both had lots of space for our big family, large windows and nice outdoor terraces, and lovely views. Lofoten Basecamp also has a beautiful sauna – perfect for bad-weather days. These accommodations made the rainy days so much more bearable.
READ ALSO: Best Rorbuer in Lofoten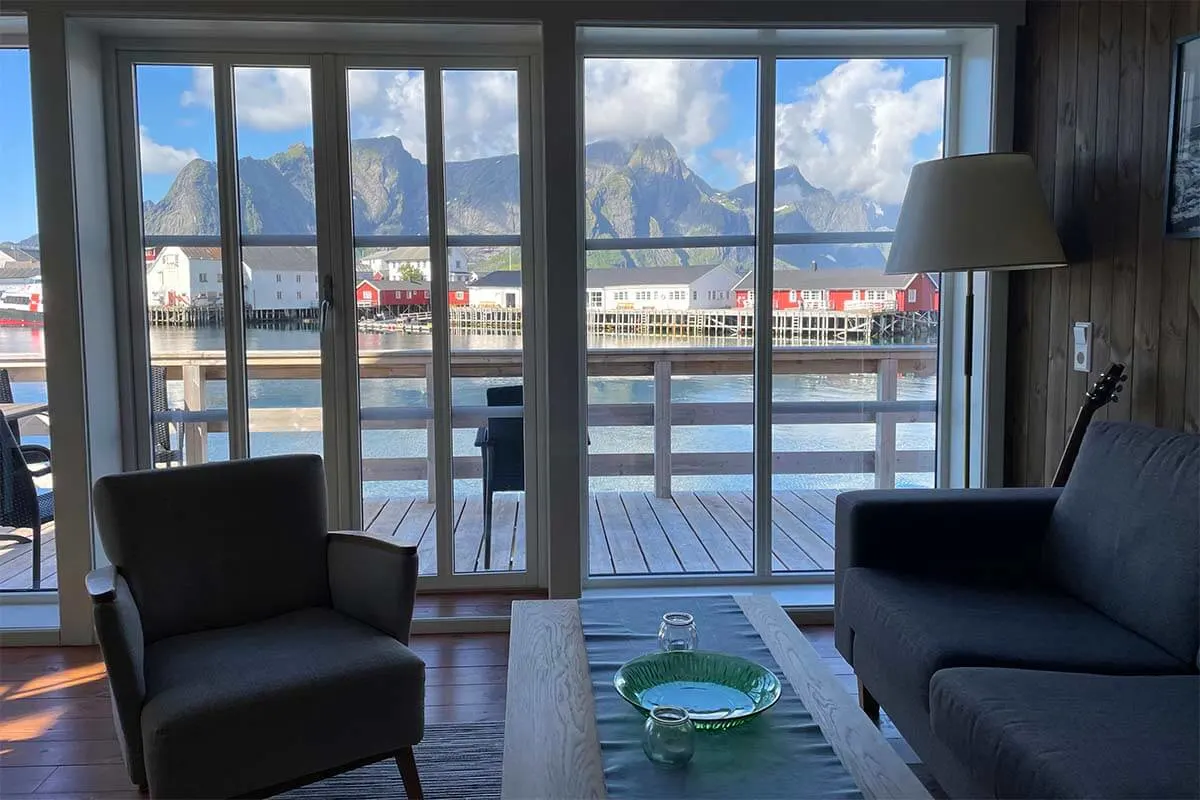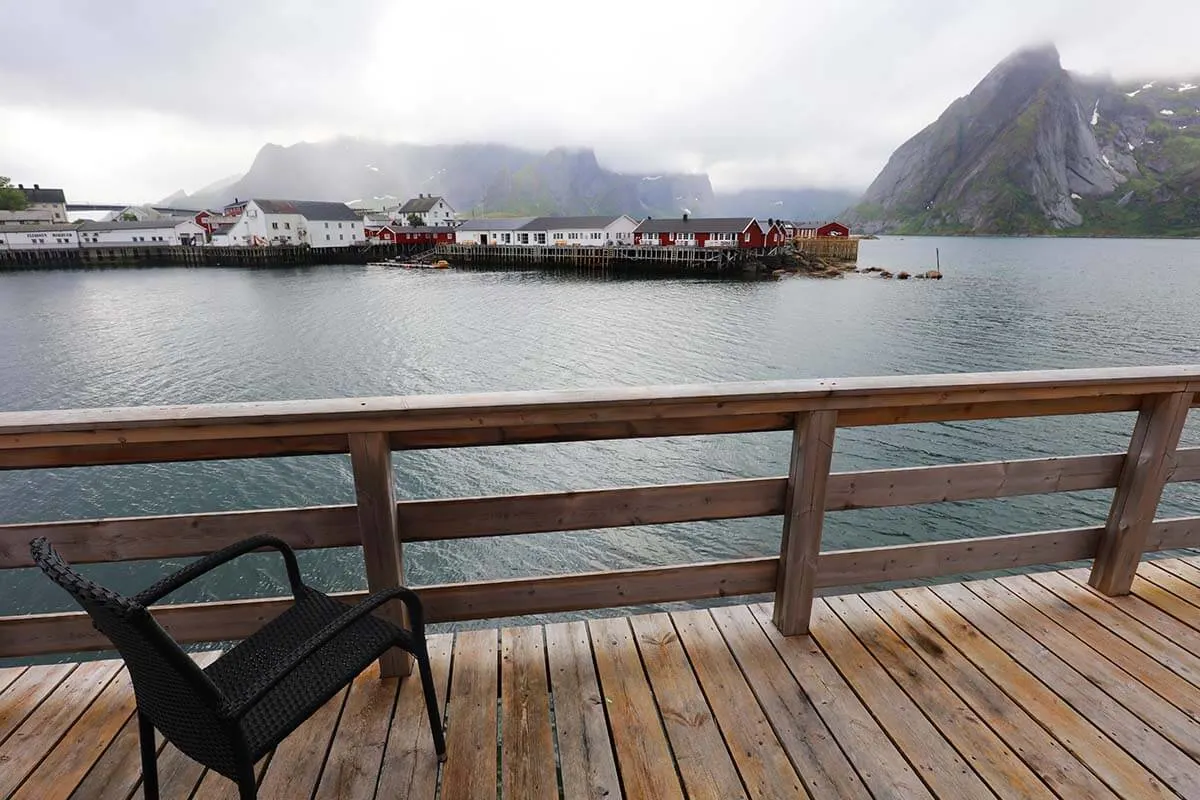 9. You may want to take some cash, but you'll mostly use cards
Normally, you hardly need any cash when visiting Nordic countries, and it's also the case in Lofoten. Many places don't even accept cash, and even in the most remote areas, they take cards or other electronic payments.
We had read that it helps to have some cash when traveling in Lofoten to pay for bathrooms and parking. So we got about 2,000 NOK (+-200 euros) for a 2-week Northern Norway trip.
In those two weeks, there was just one place in Lofoten – bathrooms in Vindstad – where they had an honesty box and asked to pay 20 NOK per person for the use of the facilities. They also accepted Vipps payments, which is Norway's mobile payment app (like Apple Pay or Google Pay). But unless you live in Norway, you won't be able to set it up.
So in two weeks, we only used cash once. And only because there was nobody there at that moment – otherwise, it was possible to pay by card as well.
TIP: If you take some cash at an ATM, you'll usually get rather big notes (we got 200 NOK notes). Ideally, you exchange them for the smaller notes by buying something small at a supermarket and paying in cash. Otherwise, having a big note is pretty much the same as having no cash. If you need cash in Lofoten, it will always be for small amounts.
READ ALSO: How Expensive is Norway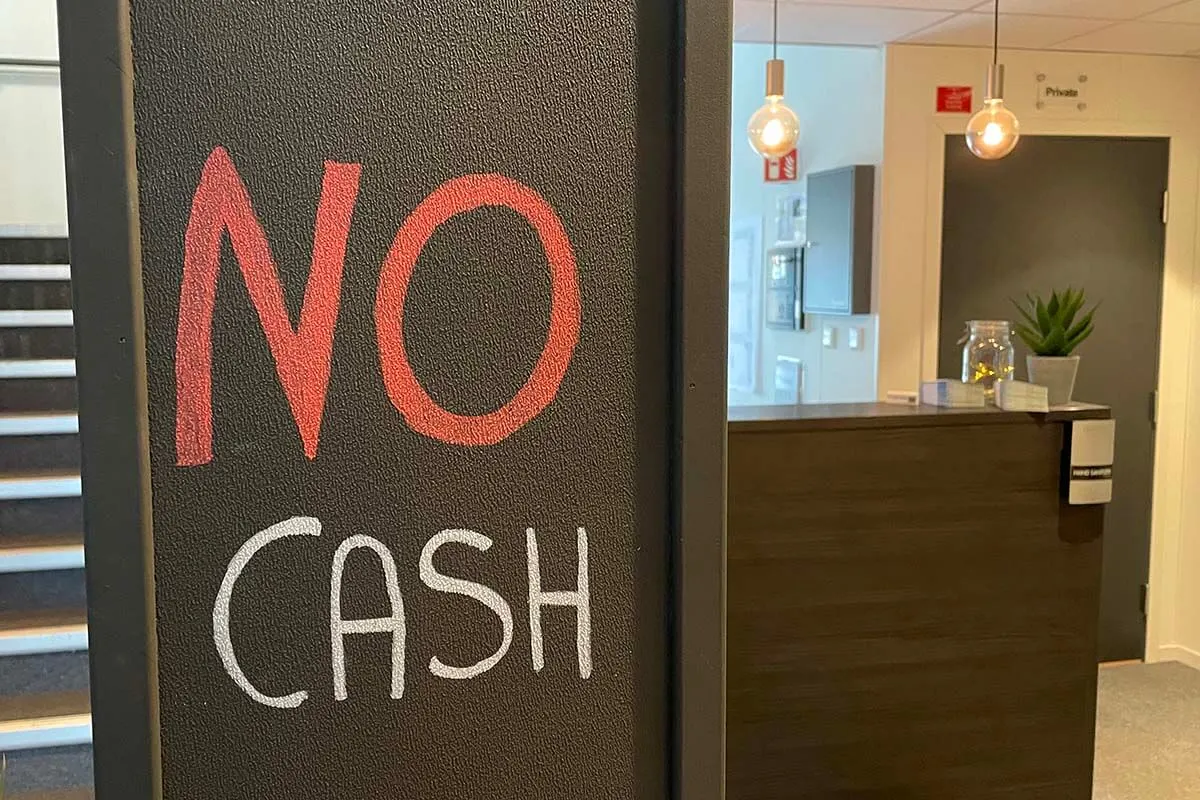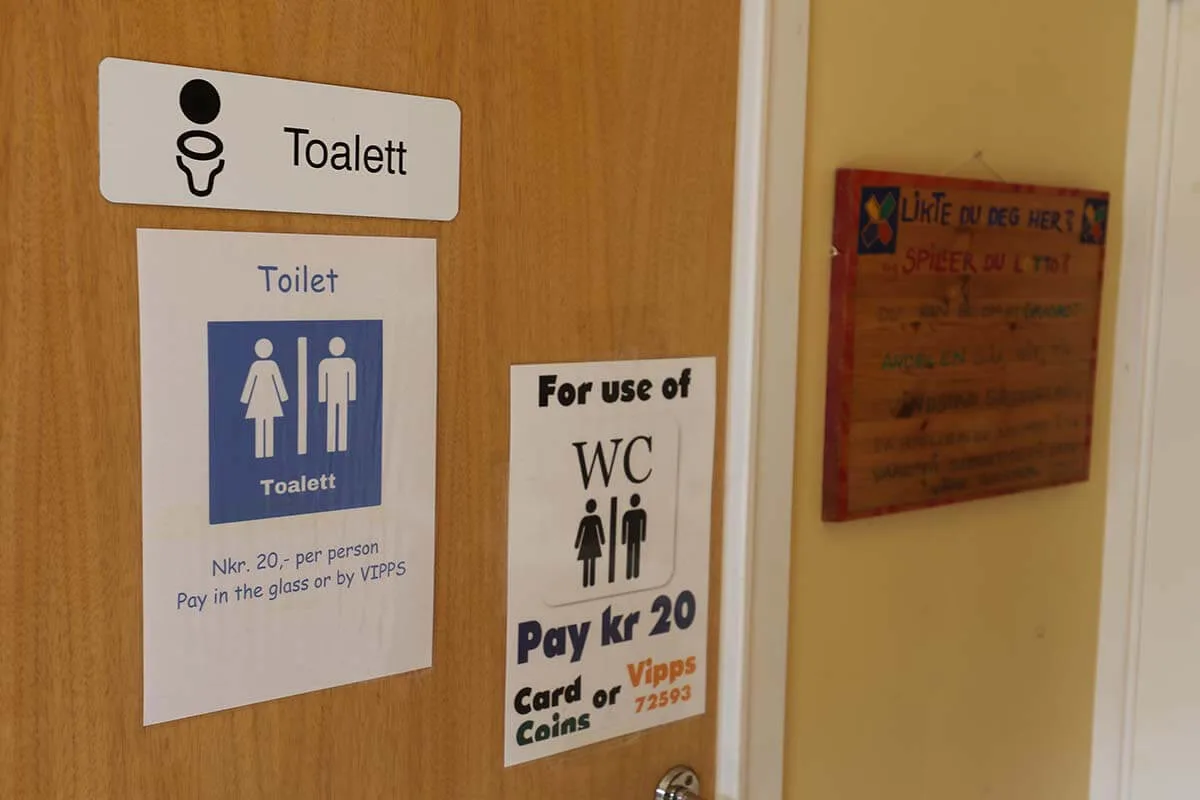 10. Dress for all types of weather
Since you can never predict the weather in Lofoten, be sure that you are prepared for everything. Normally, you won't need winter coats in the summer, but a waterproof and windproof jacket is essential in any season. Just as sturdy waterproof hiking boots.
Unless you get exceptionally lucky and experience a heat wave during your visit, normal temperatures in Lofoten in summer are around 10-15°C (50-60°F). So be sure to pack a warm sweater, long pants, light gloves, and a buff. If you are camping and planning on spending lots of time outdoors, you may even want to consider a warmer jacket and a warm hat.
But it can happen that it's really warm in Lofoten in the summer too. And on those occasions, you'll be just fine in t-shirts and shorts, and may even want to go for a swim in the sea. We found that a sun hat is also a must when it's sunny.
So if you are visiting Lofoten in the summer months, be sure to prepare for pretty much any weather with temperatures anywhere between 10 and 30 °C (50-86°F). Then adjust as needed (think layers). If you are just going for a few days, check the weather forecast before you leave and pack accordingly. We found that the yr.no website/app was the most accurate for the weather forecast.
If you are visiting Lofoten in winter, you'll need a really warm winter jacket, wool socks, warm winter pants, and good winter boots.
Our experience: We visited Lofoten in July and we had all kinds of weather during our stay. From miserable rainy days and temperatures of just 9°C (48°F) to blue skies and sun with temperatures over 23°C (74°F) (and it felt really hot on those days, especially when hiking). We packed – and used – gloves, buffs, warm sweaters, but also shorts, t-shirts, and sun hats.
For more information on what to pack for Lofoten, see our detailed packing guides via the links below.
LEARN MORE: What to Pack for Norway in Summer & What to Pack for Norway in Winter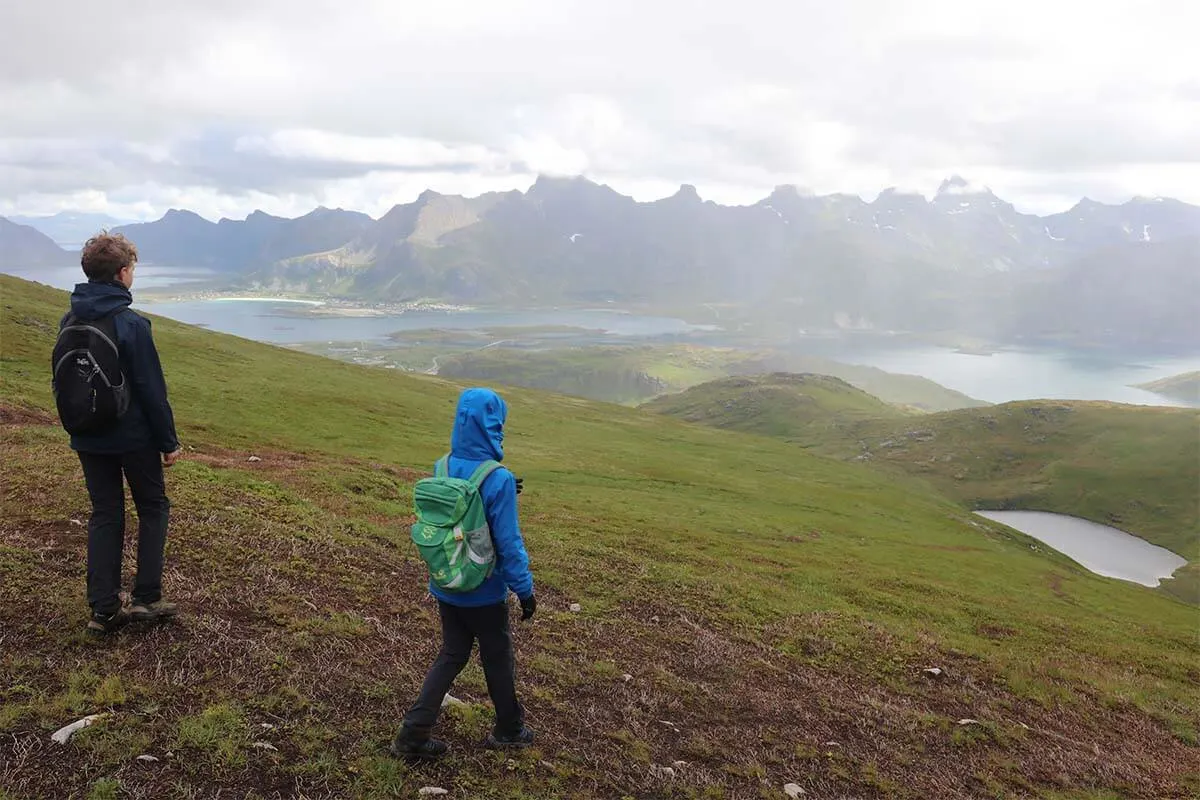 11. Visiting Lofoten in summer? Pack a sleeping mask and earplugs!
If you are visiting Lofoten Islands in the early summer (May – July), you should be prepared for long days and endless daylight.
And while it's fun to be able to experience the Midnight Sun or go sightseeing or even hiking in the middle of the night, endless days can confuse your brain and leave you exhausted. So it's essential to get a good night's sleep, at least once in a while!
Since most hotels and accommodations in the Nordics aren't equipped with blackout curtains, the best way to ensure that you get some rest is to use sleeping masks.
Take my word for it – we learned it the hard way when we first visited Iceland in June years ago. Since then, sleeping masks are always in our luggage when traveling to the Nordic countries in the summer and we use them on every trip. Also in Lofoten, we used our sleeping masks almost every single night.
There are lots of good sleep masks available, so choose the ones that suit you best. I recommend choosing sleep masks that are made of soft, breathable, and washable materials.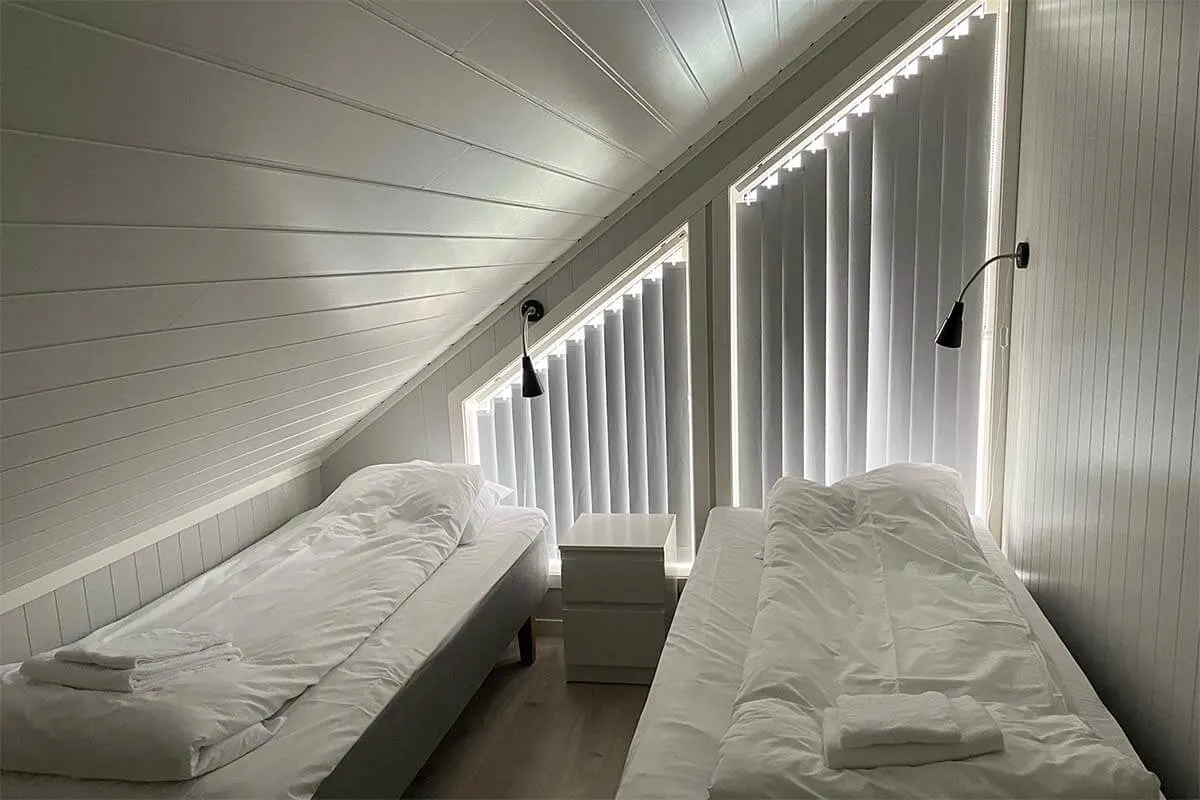 There is one more thing that I haven't seen mentioned anywhere about traveling to Lofoten in summer – the noise of the seagulls.
These birds are everywhere in Northern Norway and they are really loud. And since the sun never sets in Lofoten in the summer, they seem to never sleep either…
During the day, it didn't bother us much, but they are just as loud at night (at least during the midnight sun season when it doesn't get dark). So if you like to sleep with the windows open, you may want to pack earplugs for sleeping.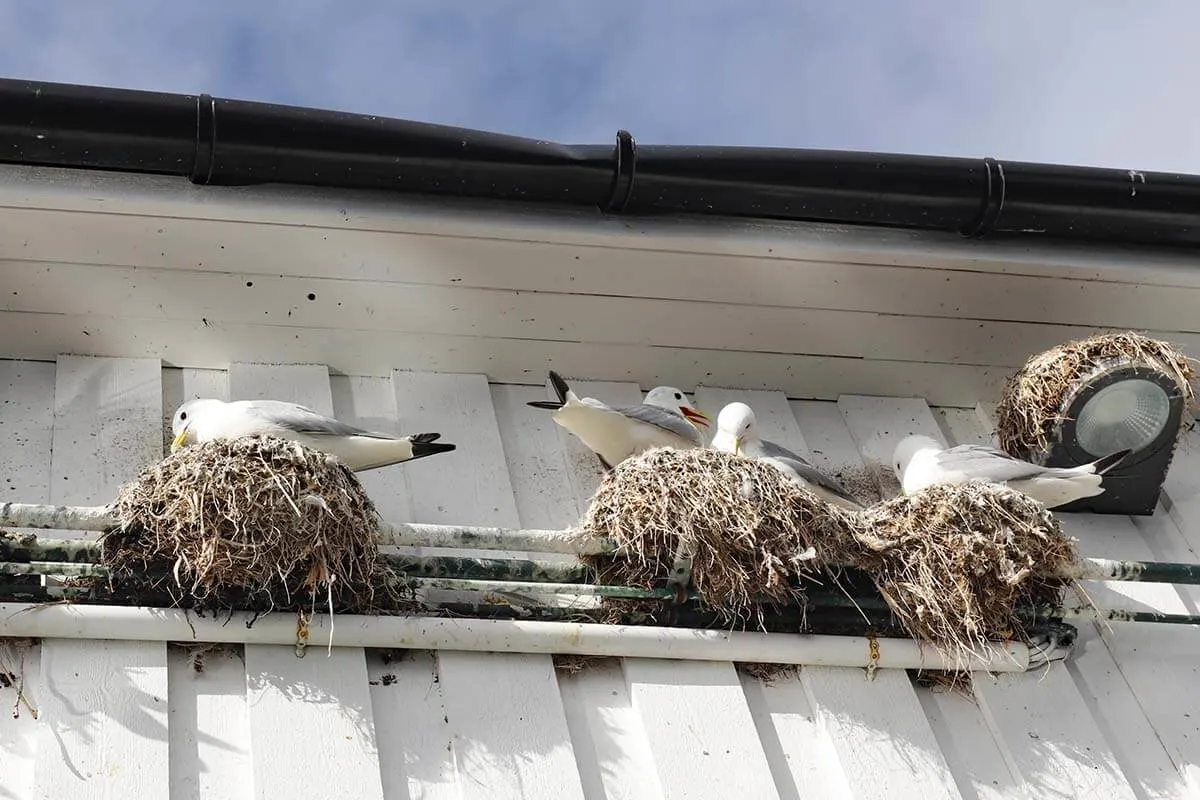 12. Traveling to Lofoten in winter? Pack traction cleats or crampons!
Arctic winters can be really cold, and it snows a lot too. And while some main roads are cleared once in a while, most pavements and walkways in towns are usually covered by snow and ice in the winter.
The locals are used to this and simply wear crampons/ traction cleats over their shoes. This is the best way to avoid falling or breaking something during your holiday.
You don't absolutely need big and heavy crampons for regular activities when visiting Lofoten in winter, but you may want to pack them if you plan on doing some winter hiking.
As a minimum, get some light traction cleats and take them with you everywhere you go. You can easily slip them over your shoes when needed and quickly take them off too. It can be a real life-saver in Northern Norway in the winter.
Needless to say, good winter boots are a must too! If you wonder what kind of shoes to wear in Lofoten in winter, check out our guide below.
LEARN MORE: Best Winter Boots for Travel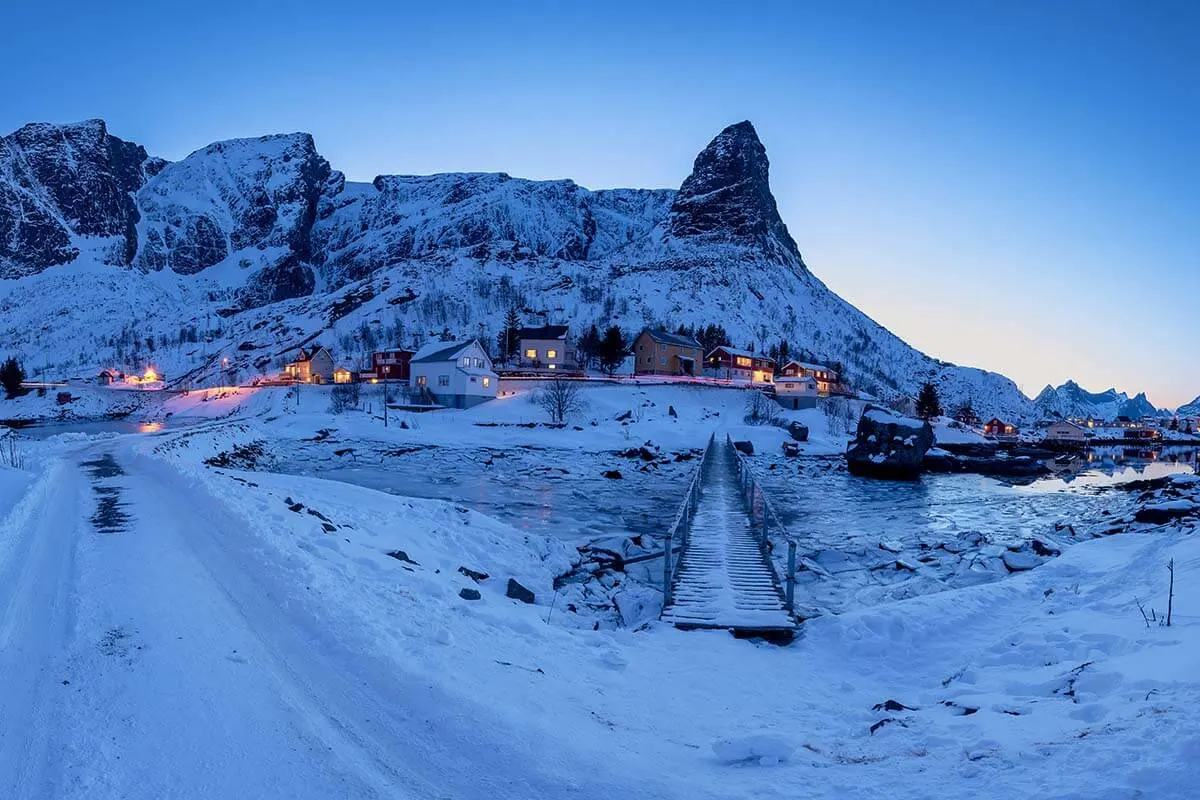 13. Traveling on a budget? Pack a tent and go camping.
Norway is one of the best places to go camping since the rules are very flexible. So if you are visiting Lofoten on a budget, pack a tent and sleeping bags, and take advantage of the most beautiful setting you can imagine.
You'll find some campgrounds in Lofoten, but if you don't need access to electricity or water, you can easily set up your tent on a beautiful beach or even in the mountains. Just be sure to always clean up when you leave. The rule is quite simple – don't take anything you didn't bring and don't leave anything behind.
Good to know: You'll need a good quality waterproof tent for camping in Lofoten and be sure that your sleeping bag is warm enough. Even in the summer, it can get really cold.
TIP: Also with camping in Lofoten, you may want to keep some flexibility and have a backup plan in case the weather doesn't cooperate. Although not many and not really cheap, there are some budget-friendlier accommodations in Lofoten too, such as Lofoten Å HI hostel or Sandvika Camping.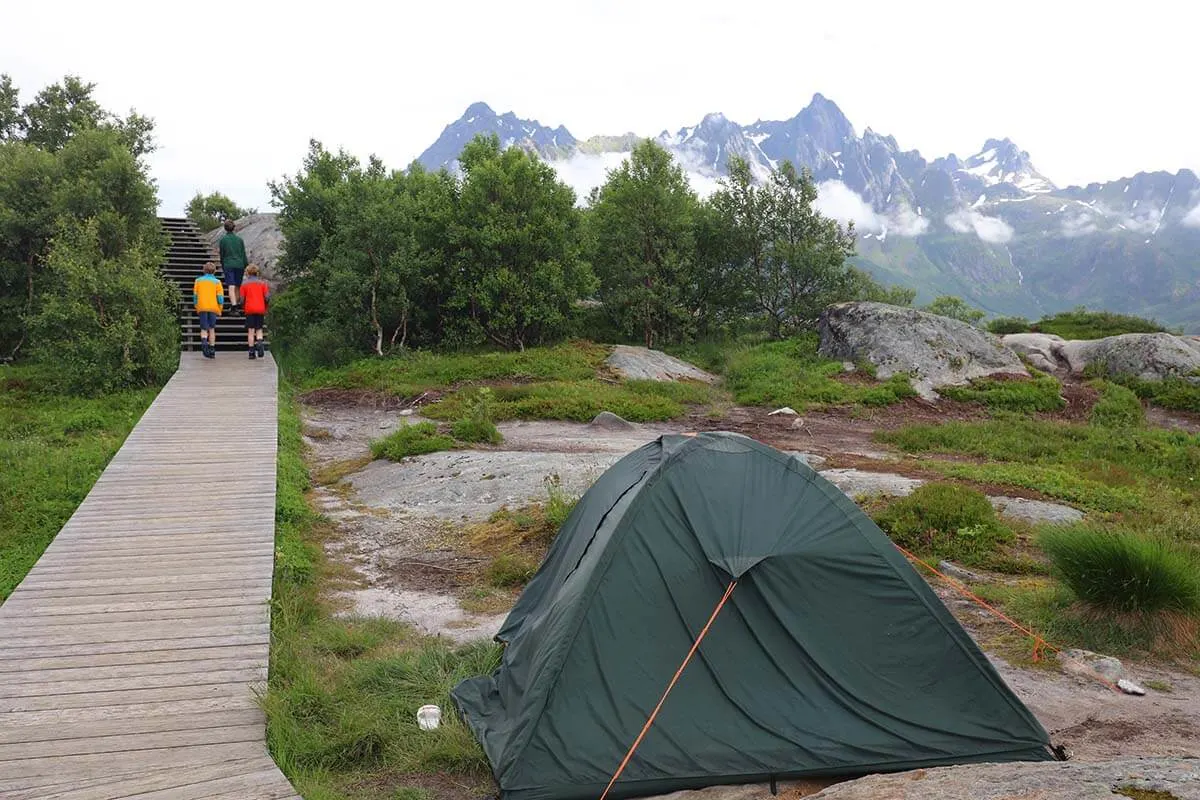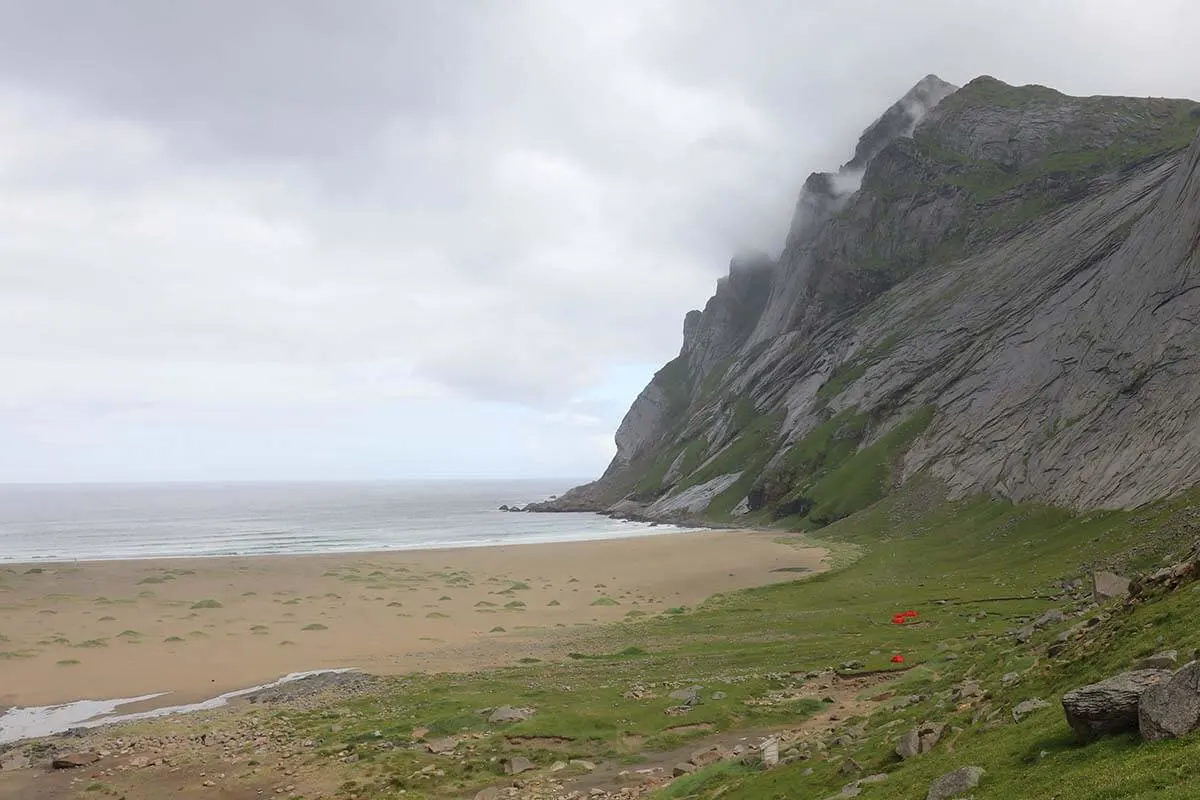 14. Planning to go hiking? Get in shape before your trip!
Pretty much all the most beautiful hikes in Lofoten involve a lot of uphill climbing. And while 400-600 meters (1,300 – 2,000 ft) elevation might not look much compared to many other hikes you might have done before, hiking in Lofoten is often very steep. Often, the hikes are short in distance, but you are climbing pretty much during an entire hike.
For example, if you want to hike to Reinebrigen, be prepared to do around 1,600 Sherpa stairs non-stop. A popular Ryten hike involves a 2-hour climb, with very few 'flatter' sections. Also the famous Djevelporten-Floya hike near Svolvaer is a constant climb with a combination of Sherpa stairs and steep muddy uphill sections where you often need to use your hands too.
So if you are planning on tackling some of the most beautiful hikes in Lofoten, you better start training before your trip. We are avid hikers and have hiked all over the world, but I can't remember any other place that would even compare to Lofoten in terms of how steep the hikes are.
Good to know: Sturdy waterproof hiking shoes are essential for hiking in Lofoten. We also found the hiking poles indispensable, unless you are young and very fit as our kids (whom we often compare to mountain goats)…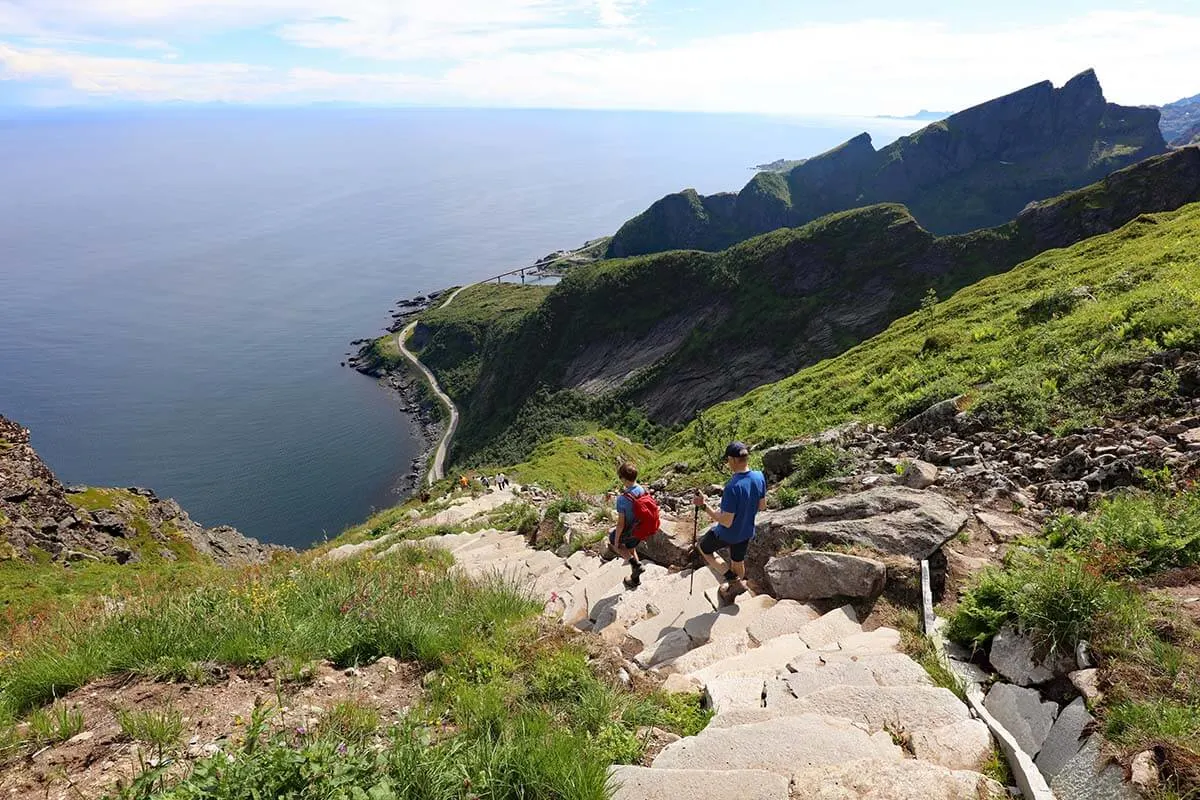 15. Visiting Lofoten by car? Install the EasyPark app!
Many places in Lofoten nowadays have paid car parking areas. Usually, you can pay by credit card, but you have to know in advance how long you'll be staying (and thus end up paying too much, just to be on the safe side).
The most commonly used app for paying for parking in Lofoten seems to be EasyPark. Install it on your phone before the trip so that you can easily pay for parking everywhere in Lofoten.
TIP: If you are visiting Lofoten by car, always be sure to double-check if your accommodations have (free) parking. It's not an issue in most areas, but the costs can quickly add up if you stay in towns.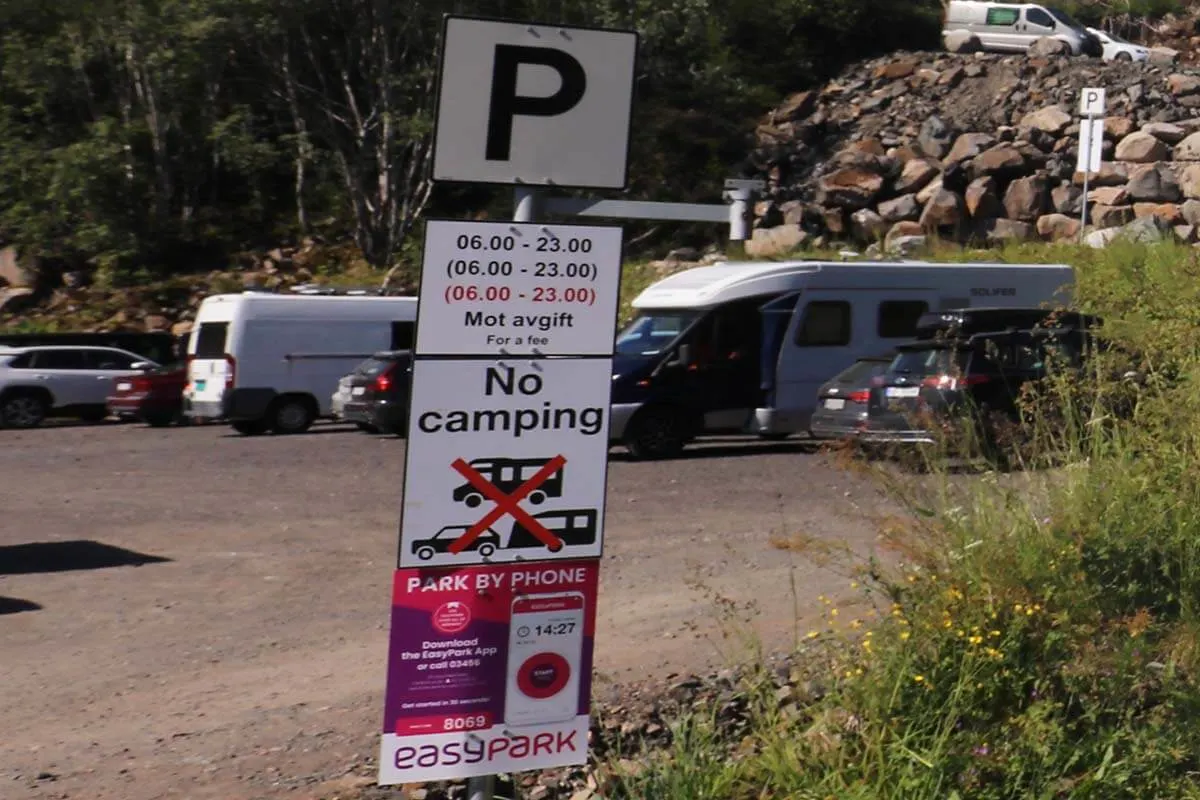 16. Get a bit off the beaten path
Just as everywhere in the world, also in Lofoten all first-time visitors go to the same places. Of course, you'll want to see the most famous viewpoints and visit the nicest villages – they are popular for a good reason. But the most famous places and hikes can get so busy that it's sometimes difficult to see the authentic side of Loften islands or even appreciate what you are seeing.
So remember that the Lofoten islands are big and there is so much more to see than Reine, Å, or Nusfjord, and many more amazing hikes to do than Reinebringen or Ryten.
So while you should absolutely see 'the musts', try to visit a few lesser-known places too. Take a detour from the main road, visit a small village, go for a walk on a remote beach, or take a less popular hike.
Even if your time is limited, try to get a bit off the main tourist trails – it will make your trip to Lofoten so much more memorable!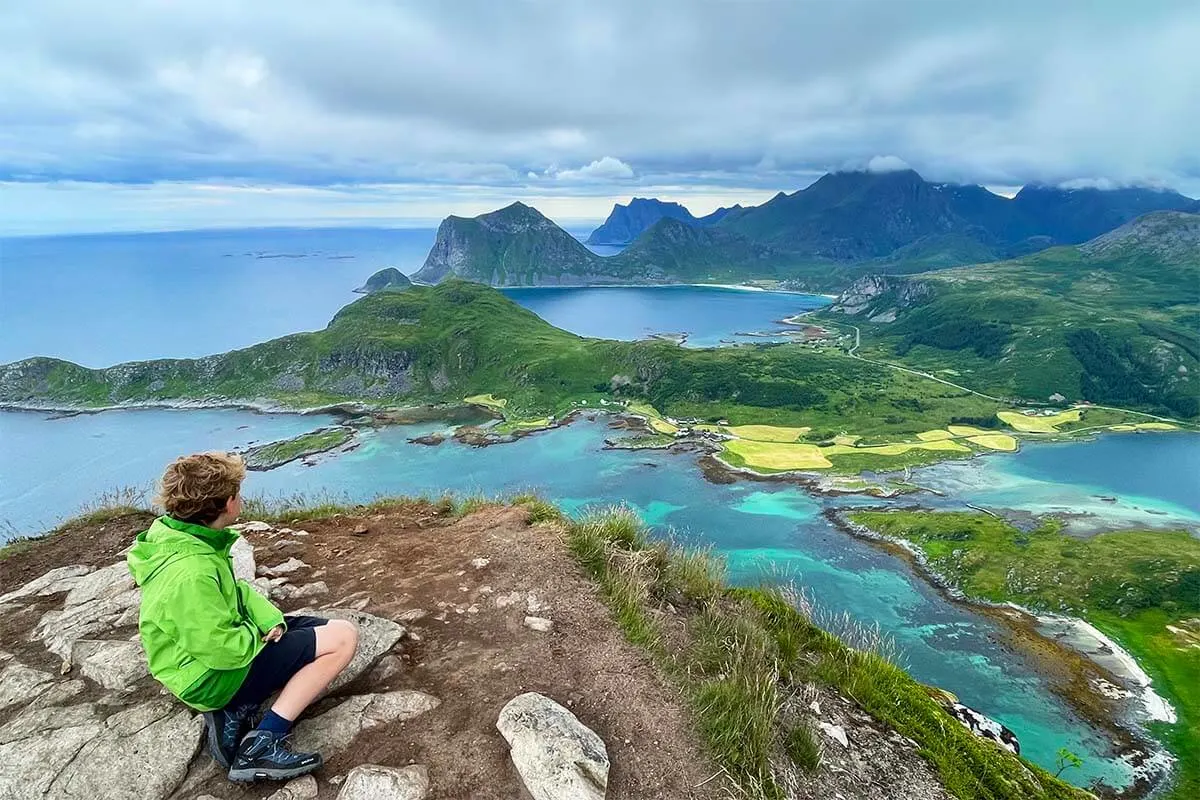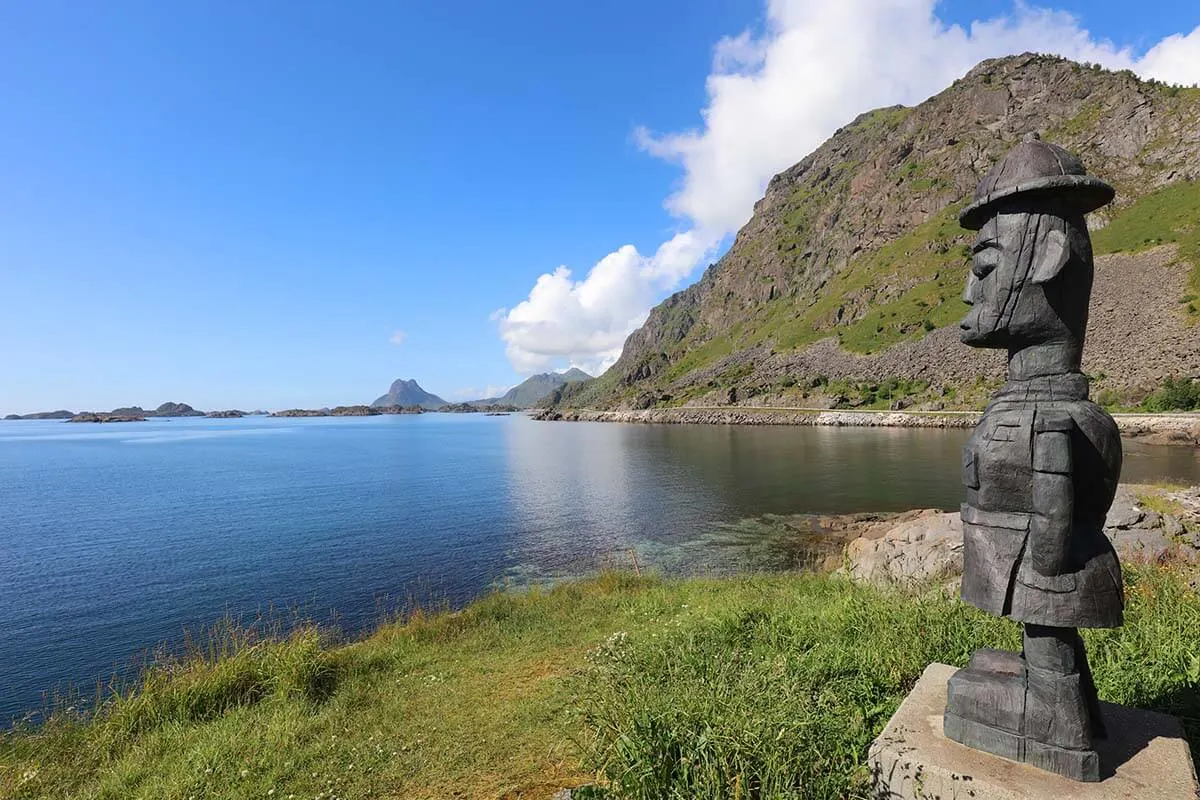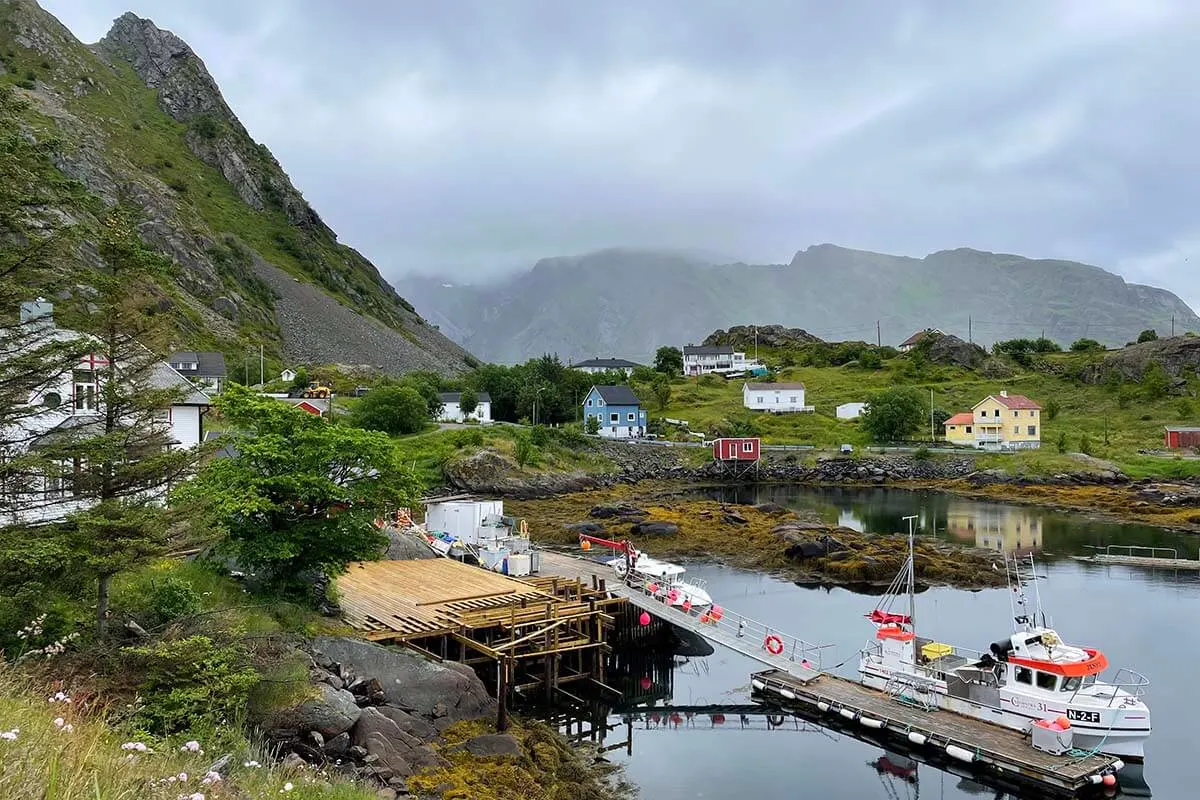 So, these are some of our travel tips for your first visit to Lofoten. Research and plan in advance, be flexible, and be sure to take the advantage of the weather whenever you can.
Have a great trip to Lofoten!
More travel inspiration for Norway:
Southwest Norway:
Tromso & Northern Norway:
Svalbard:
For more destinations, see our Norway travel guide.
If you found this post useful, don't forget to bookmark it and share it with your friends. Are you on Pinterest? Pin these images!