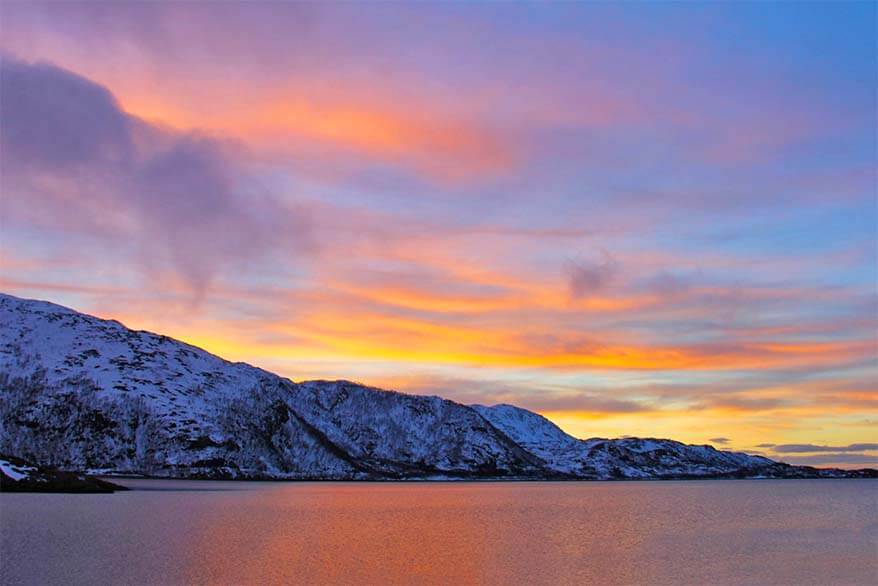 Tromso is one of Northern Norway's top destinations offering a wide variety of activities. Whether you come in summer or in winter, by plane, by car, or with a Norwegian cruise, there is always so much to see and do.
However, if you do some research, you'll quickly realize that most of the best Tromso activities can only be done with an organized tour. After all, you can't go whale watching or dog sledding on your own…
But what are the best tours in Tromso?
To make your trip planning easier, I researched tens of Tromso tours and excursions and hand-picked some of the best guided tours and day trips in Tromso.
Some tours are only available in winter, some can be done in any season. From whale watching or fishing to reindeer- and dog sledding, Tromso is a fantastic place to tick many unforgettable experiences from your bucket list. The choice is yours to make. Find out!
Good to know: As you will see in the article below, where available, I recommend booking Tromso tours via the GetYourGuide website. They have the best prices on the market, unparalleled customer service, and the most flexible cancelation policy. It's a must these days!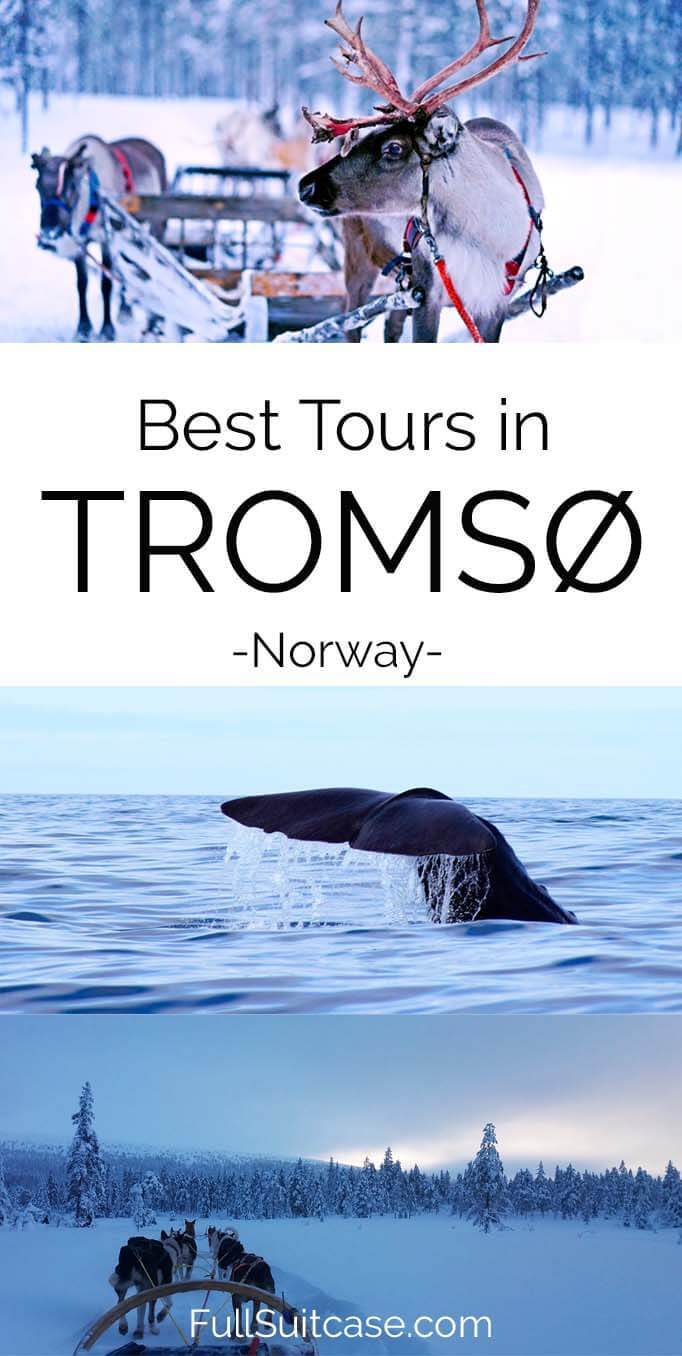 These are the best Tromso tours:
Fjord cruise
There is probably no better way to explore the magnificent mountain scenery around Tromso than by taking a fjord cruise. Depending on the season, you might get to see some marine wildlife or try fishing as well.
I went on a fjord cruise on a really cold and windy grey winter day, yet it was still amazing. If you are interested, you can read about this and other great things to do in Tromso in winter. But if you're wondering whether it's worth it, all I can say is that everyone on our boat was very enthusiastic about the trip.
Here are some of the best fjord cruises, whale watching trips, and other boat trips in Tromso: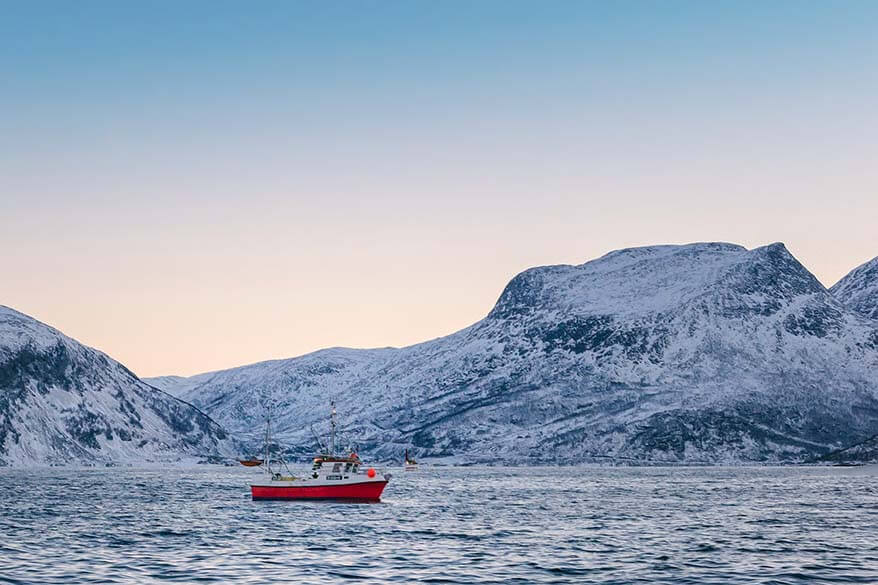 Northern Light tours
The most popular winter excursions in Tromso are without a doubt the Northern Lights tours.
I am always a bit hesitant to suggest to book a tour for something that you can see for free. However, there are many reasons to consider taking a Northern Lights tour in Tromso.
First, the Northern Light tours bring you to a place where the chances to see auroras are highest for that specific night. Second, you don't need to rent a car and drive in the dark on the icy roads. Third, you can benefit from the knowledge and experience of the guides, who will often also give you aurora photography tips. And finally, if you book a small group tour, you also get a warm suit as well as a really nice bonfire experience.
For more information and to get a better idea of what to expect from the Northern Lights tours in Tromso, you can read my personal experience and practical tips for chasing Northern Lights in Tromso.
Here are some of the best Northern Lights tours in Tromso: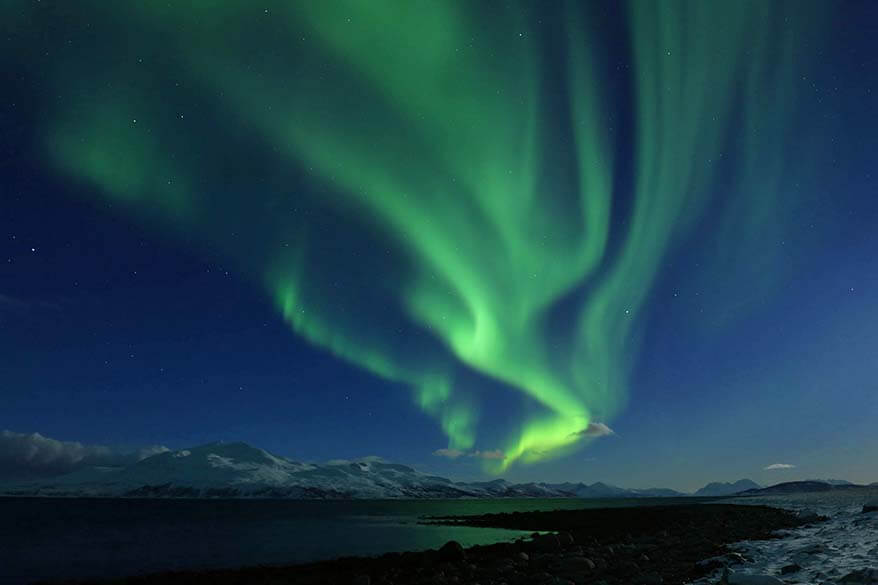 Dog sledding
My personal favorite tour in Tromso in winter is husky sledding. It was a real bucket list item for me and it didn't disappoint.
If you book just one tour in Tromso in winter, make it dog sledding! Note that dog sledding tours are only available in winter, from November till early April. Here you can find some of the best-rated dog sledding tours in Tromso.
I did this self-drive husky sled tour and highly recommend the experience and the location!
If you are really budget-conscious, here is the cheapest highly-rated dog sledding tour in Tromso. The price difference isn't big though – husky sledding is an expensive activity.
If you are interested to know more about husky sledding, here you can read all about my personal experience and tips for dog sledding in Tromso.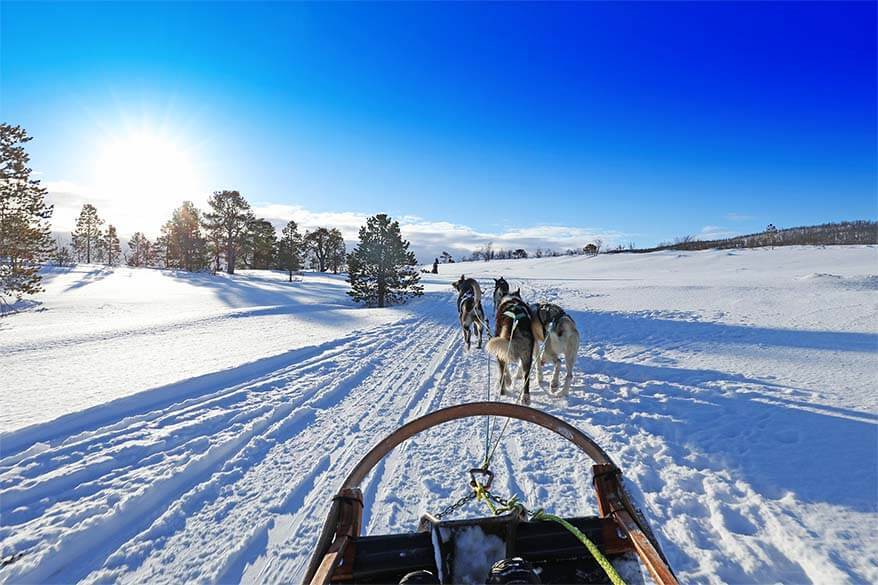 Reindeer sledding and Sami culture tours
Another bucket-list item for many people traveling to Northern Norway is seeing reindeer.
Northern Norway, as well as Finland, is home to the Sami tribe and reindeer are an indispensable part of their culture. Therefore the area around Tromso is a perfect place to see them.
There are many possibilities to see or feed reindeer, as well as do some reindeer sledding in Tromso. Note that the tours that involve reindeer sledding only run in winter (usually from around mid November till mid April).
Here are some reindeer sledding tour options near Tromso:
TIP: Reindeer sledding vs. dog sledding. If you are not sure which tour to choose, reindeer sledding or dog sledding, and don't have the time or the budget for both, I recommend dog sledding. They are both very different experiences, but dog sledding goes much faster and takes much longer.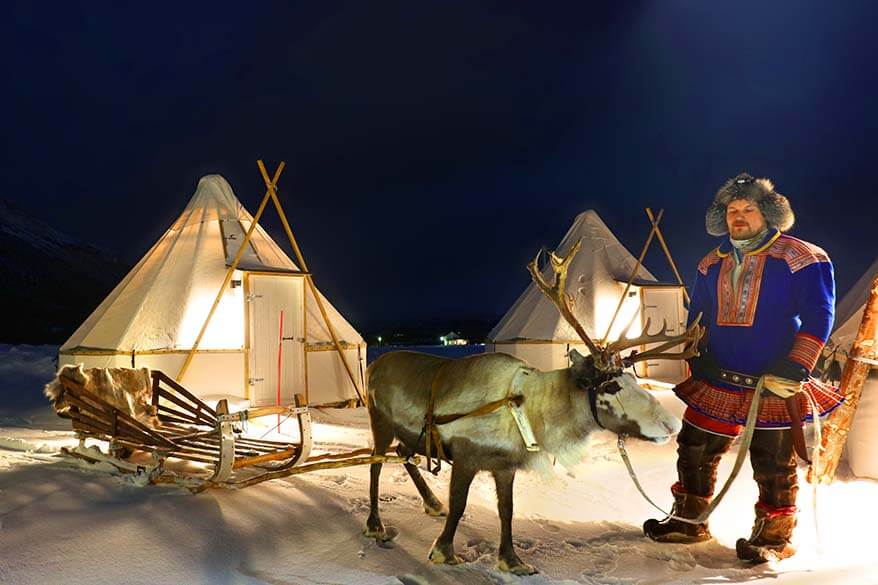 Tromso town tours
All the tours mentioned above start and end in Tromso, but they are all located outside the city. If you want to explore the town a bit more, consider these excursions.
TIP: For more ideas on what to do in Tromso town, please check our post on the best things to see and do in Tromso in winter. Among others, it contains the entire section of the main Tromso attractions.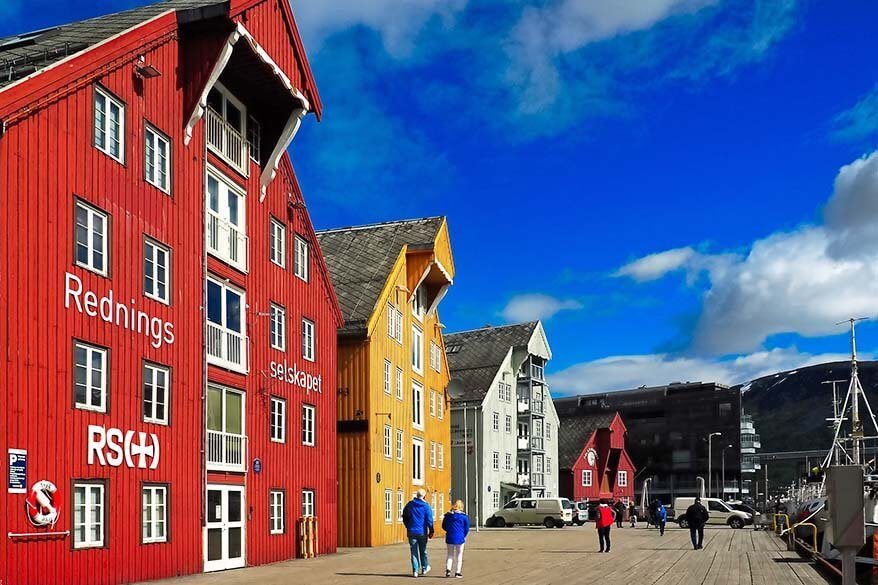 Other suggested tours in Tromso
The excursions I described above are the most popular tours in Tromso. If you are looking for the most memorable experiences, then look no further – seeing the Northern Lights, reindeer or dog sledding, as well as fjord cruise, are the main options to consider when visiting Tromso.
There are of course many more tours and day trips, so if you are looking for more ideas, read on.
Here are some other tours that you can do in Tromso: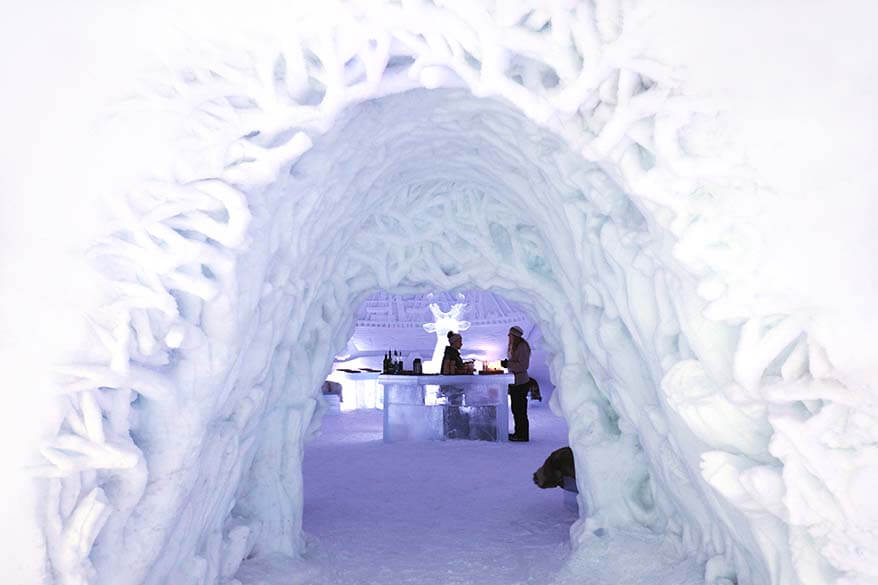 So, this is my selection of the best Tromso tours. Once again, this is just a small part of all the excursions that are available in Tromso. I hand-picked these tours based on reviews, best date availability, and the easiness of booking (and cancelation).
You can also just go to Tromso's visitor center upon arrival and try to book some tours directly. However, my experience in visiting the city shows that many tours get sold out. Small group Northern Lights tours are extremely popular, just as dog sledding.
TIP: Book your Tromso tours online in advance! This gives you a possibility to compare offerings and prices, read the reviews, and to make sure that you can do the tours you want, rather than risk them being fully booked. You don't necessarily have to book Tromso tours months in advance, but if your travel dates are fixed, you might as well do.
Most of the tours we suggest in this post can be canceled up to 24 hours in advance, so you have nothing to lose. As a minimum, I would try to book the tours you really want to do at least two weeks upfront, especially the Northern Lights tours and dog sledding tours in winter.
Hope this helps you to plan your trip to Tromso and tick some amazing activities off your bucket list.
TIP: If you are visiting Tromso in winter but are not sure how to plan your trip, please check our suggested itinerary for 3 days in Tromso in winter.
Do you have any questions? Don't hesitate to leave a reply below and I'll do my best to help.
More tips for your trip to Tromsø:
If you found this post useful, don't forget to bookmark it and share it with your friends. Are you on Pinterest? Pin this image!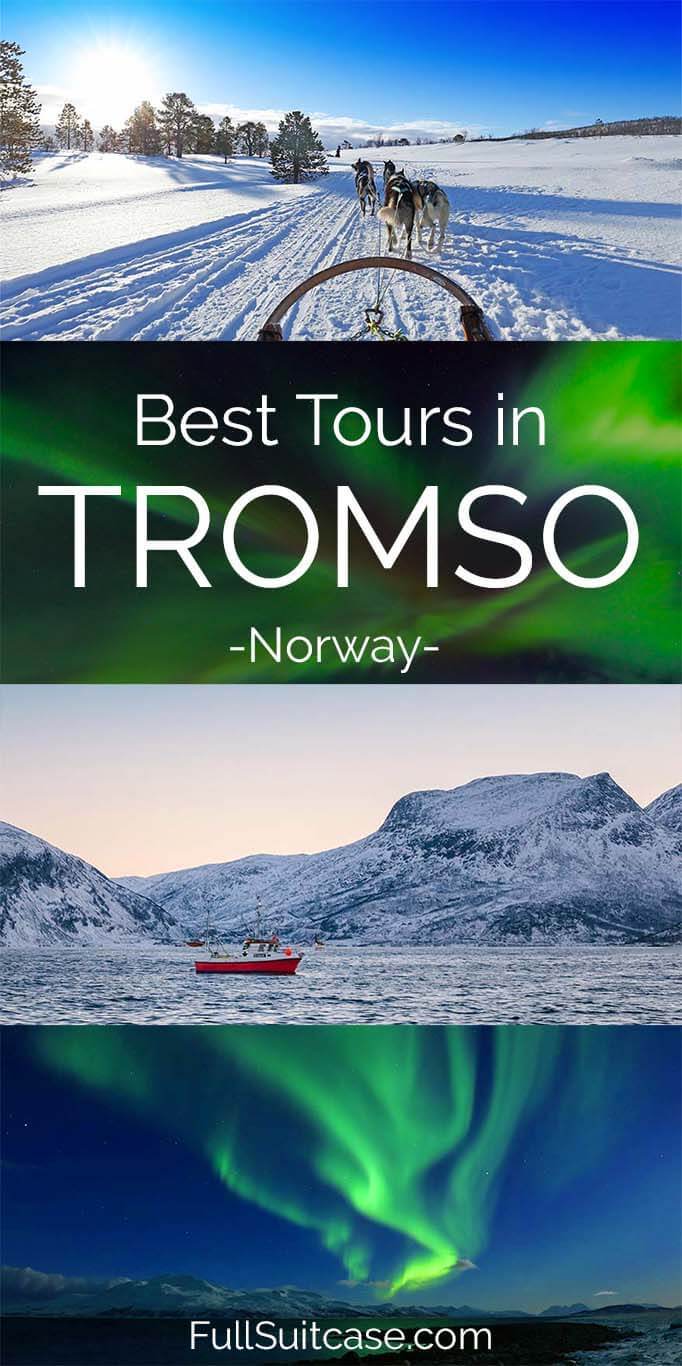 Featured image by Sharon Ang via Pixabay