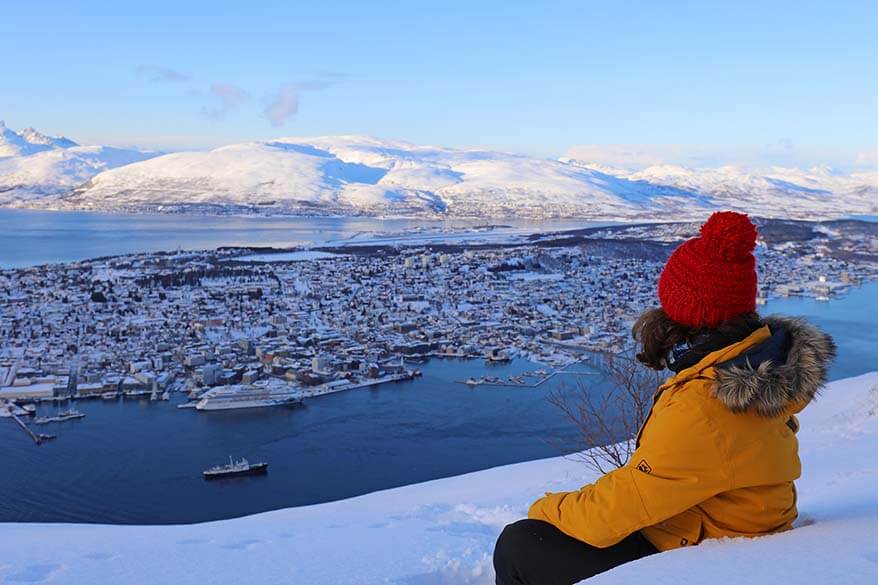 You are going where? People told me I was out of my mind when I said I was going to the Arctic and visiting Tromsø (Norway) in winter. Just a few days and many pictures and stories on social media later, those same people ask me for tips to make a winter trip like this of their own…
If you are also thinking of visiting Tromso in winter and wondering what to expect, then read on! In this article, I share the very best things to do in Tromso in winter and my experience-based tips for your visit. Find out!
Tromsø is a place that captures your heart. It's a place with many faces and many stories. If you come in summer, you'll discover that the sun never sets here; and in winter there is a long Polar Night, Northern Lights, and so, so much more…
Recently more and more people discover Tromso in winter and go home with an unforgettable story of their own.
I visited Tromso in cooperation with Visit Tromsø and Innovation Norway. They helped to arrange this amazing winter trip for me so that I could tell my own Tromso story to our readers. It's a destination I long wanted to visit and I hope this will inspire you to discover it for yourselves too.
One thing I am certain of is that you will have the time of your life in Tromso and no matter how much time you'll spend there, you'll want to go back again.
In this post, I want to share the best things to do Tromsø in winter. With so many bucket list activities like dog sledding, aurora hunting, reindeer sledding, and many more, Tromso is one of the most incredible winter destinations I've ever visited.
At the same time, I want to show you that there's more to Tromso than just winter activities. With trendy cafes and world-class restaurants, quirky museums, modern architecture, and a very active nightlife Tromso is bustling with life. It's a true gem of Northern Norway just waiting to be discovered. Find out!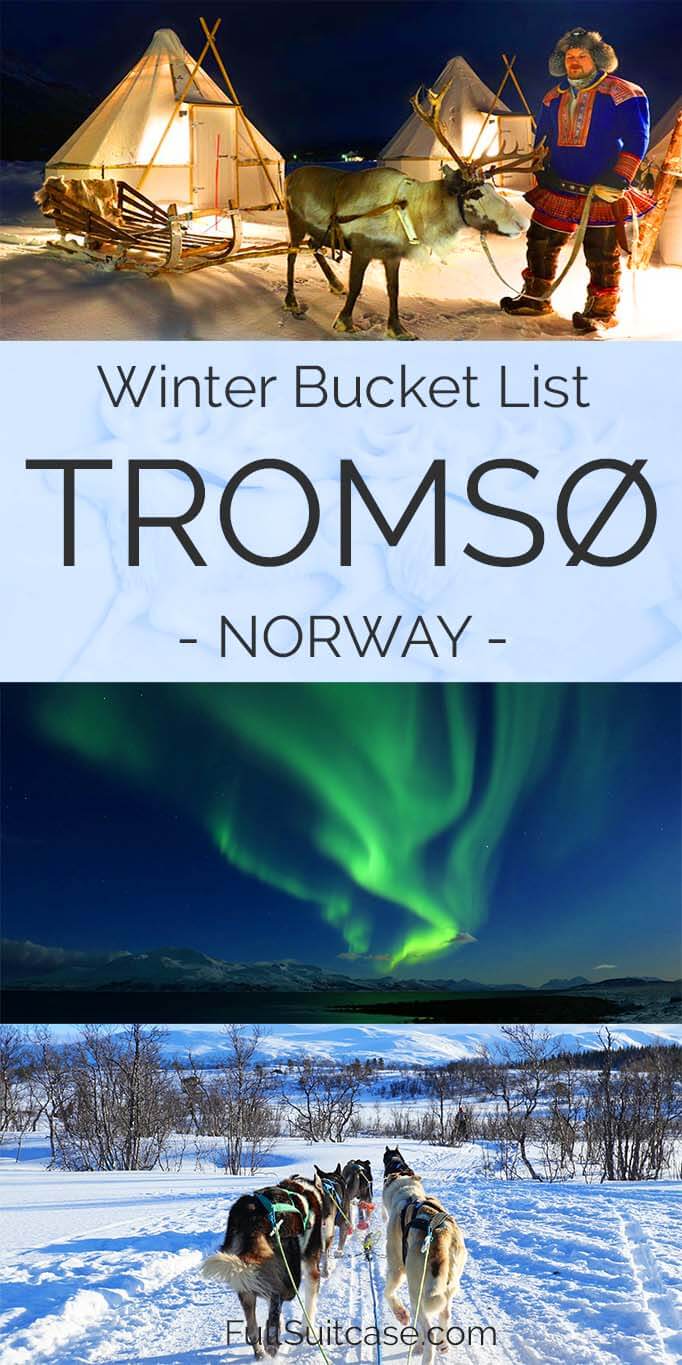 These are the best things to do in Tromso in winter:
Dog sledding – a must in Tromso in winter
If you have time for just one winter activity in Tromso, make it dog sledding. You're in for a thrilling ride and an experience of a lifetime! I can't imagine a better way to experience the Arctic winter landscapes than this, and I can't wait to go back and do this again, next time with kids.
From the moment you first meet the huskies, you'll be amazed at how enthusiastic the dogs are and how much they enjoy running. You can choose to drive the sled or just sit and enjoy the ride. If you drive, it usually means that you switch with another person half-way. So you get to experience both – the thrill of steering the dog-pulled sled, as well as the relaxing ride sitting in the sled and absorbing the scenery.
I highly recommend you go for both – sledding as well as driving. And while I heard some people say that it's a challenge to drive the sled, I found it extremely easy and enjoyable. The dogs are so well trained that they do the job for you. In my case, the dogs were so happy to run that pretty much the only thing I had to do is push on the break once in a while to stop them from overtaking the others.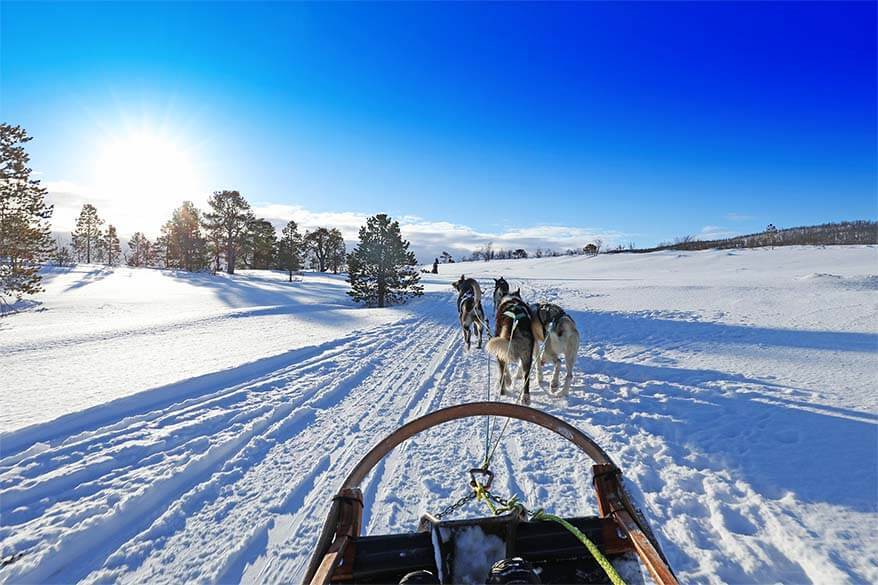 There are several places where you can go dog sledding near Tromso. I went with Tromsø Villmarkssenter and loved every minute of it. The drive from town was so scenic, the guides and the dogs – super friendly, and the location where dog sledding takes place is simply spectacular… Highly recommended!
You can book a self-drive dog sledding tour or one where you just sit in a sled and enjoy the ride. For kids under 16, this is the only option available. For the rest these tours are identical.
TIP: Book a self-drive dog sledding tour – it's really fun to try it yourself.
For more detailed information, check our post about husky sledding in Tromso via the link below. It should answer all your questions.
LEARN MORE: Dog Sledding in Tromso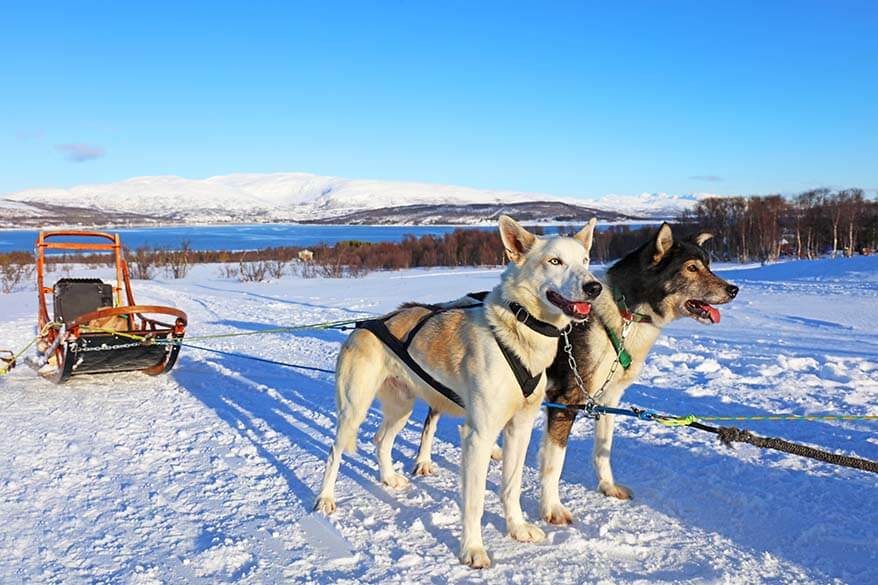 Northern Lights
Most people I met in Tromso told me that the main reason for the trip was seeing the Northern Lights. Good choice! Tromso is without a doubt one of the best places to see the northern lights in the world.
I once visited Iceland in winter and was lucky to have good weather and see the auroras there too. But generally speaking, the weather is much more stable in Tromso and therefore your chances of seeing the auroras are much higher.
As you may already know, you need several factors in order to see the auroras, and dark clear skies are a must. It's still a gamble, of course, and you need to go looking for them instead of just staying in town hoping for a nice show despite the light pollution in town…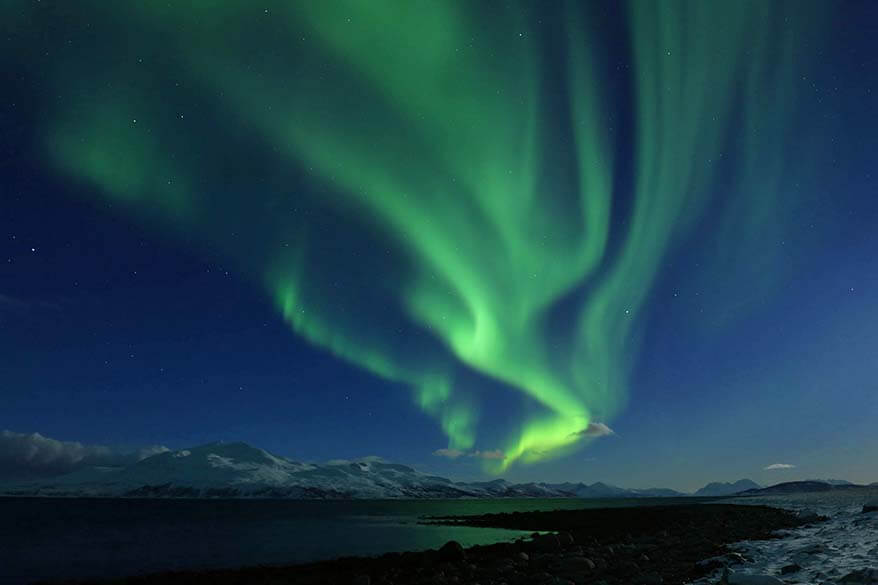 I took two different aurora hunting tours in Tromso. One was a small group tour and the other was a big bus tour with Northern Shots. Both very different and both have their advantages and disadvantages.
There are many companies organizing aurora tours in Tromso so the choice is yours to make. Just remember to book in advance as many tours (especially small group tours) sell out very quickly. Here is one of the best-rated small group aurora tours in Tromso. If you want to take this one, you'll have to be quick – it was fully booked during my entire stay.
LEARN MORE: Practical tips and information for watching the Northern Lights in Tromso
TIP: Aurora tours in Tromso aren't cheap and it's never guaranteed that you'll see them on any specific night. If your primary focus of the trip is to see the Northern Lights, then you may consider buying a 7-day unlimited aurora chase pass with Northern Shots and go every night that you are in town (or at least on every night with no clouds).
The price of such a pass is about the same as two separate tours, so if you go more than twice, it's really worth it. And if you see the auroras once, you'll just get addicted and won't mind chasing them again and again.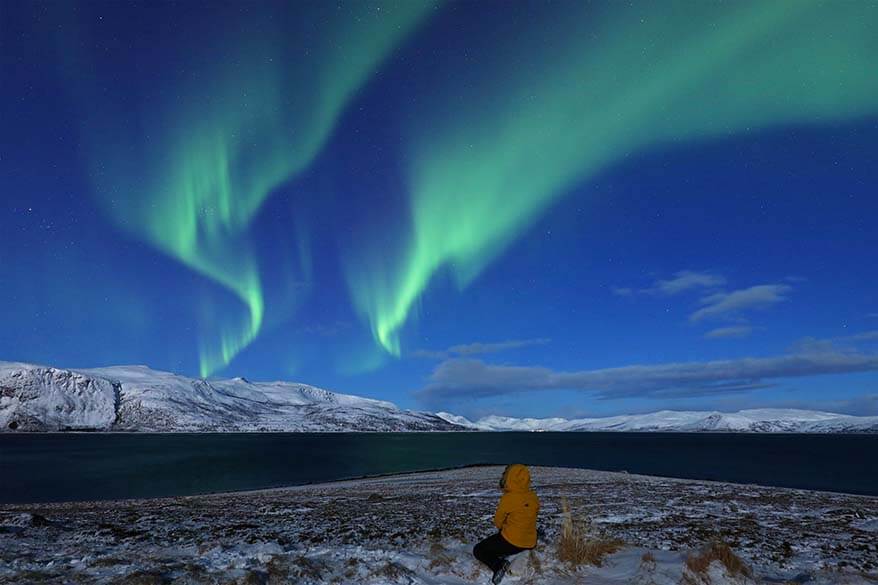 Tromso's best view – Fjellheisen cable car
No trip to Tromso would be complete without a ride on the Tromso cable car, Fjellheisen.
Fjellheisen cable car is Tromso's most popular tourist destination and it's easy to see why. Panoramic views over the city surrounded by islands, fjords, and mountains are simply phenomenal! In summer it's an ideal place to see the Midnight Sun, and in winter you may even get lucky and spot the Northern Lights.
TIP: If you have an hour to spare, make sure to go for a short hike in the direction of Steinbohytta. There is another viewpoint, a bit higher, from where you can see even more spectacular views. It's not an easy walk, however, and especially in winter you need good winter boots (hiking poles and crampons would make it even more enjoyable), but it's so worth it!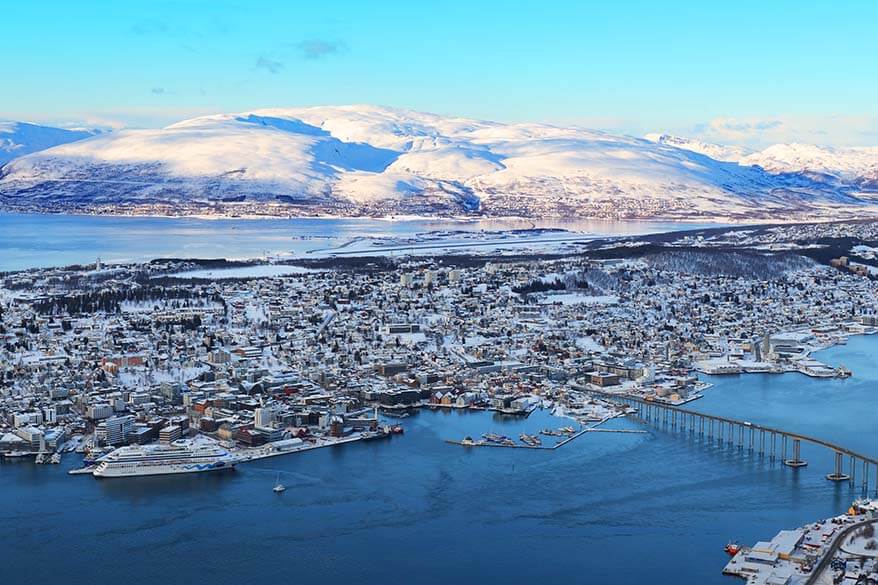 Fjord cruise
One of the most popular day trips in Tromso is a fjord cruise. In season (+- November to February) you can expect to see whales. But even if you come outside the season, a fjord cruise is a really nice day trip from Tromso. The scenery is beautiful, and if you are lucky you can see dolphins, seals, or eagles.
There is also a possibility to fish from the boat. At the end of the trip, they serve a freshly made soup with the catch of the day.
I went on a Polar Fjord Cruise with Polar Adventures on a cold, windy, and snowy winter day. Despite that, it was still a really fun trip. Warmly dressed in a thermal suit provided on the boat, I spent hours on deck enjoying the views, fishing, and trying to spot some wildlife. If this trip was so enjoyable even in such bad weather, it can only be better in other conditions. Recommended.
TIP: Dress warm and in winter use the free overalls provided by the tour company.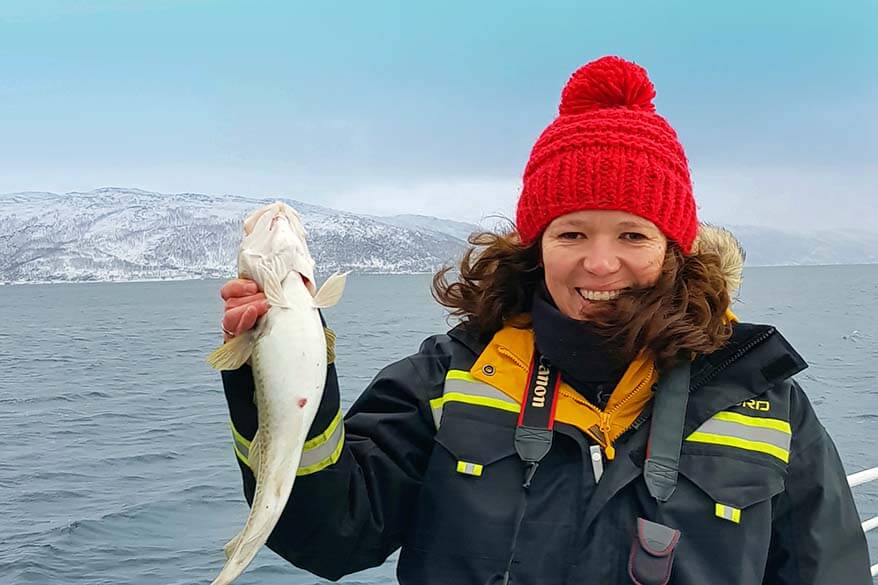 Reindeer sledding
Have you ever decided to take a trip based on pictures? I've been following Visit Tromso Instagram account for a while and it was their cute reindeer pictures that convinced me to visit the place. I knew that there's so much more to Tromso than the reindeer, but I just had to see them! And then there was this little girl's dream of riding in a reindeer-pulled sled…
If reindeer sledding is on your bucket list too, then you'll be happy to know that you can do this in Tromso as well. It's a really family-friendly experience as the sleds don't go that fast and you can enjoy the scenery, cuddle the animals, and learn a bit about the Sami people and their culture.
I went on an evening reindeer tour and was happy to find that the actual sledding took longer than I expected. It was snowing so there were no Northern Lights that night, but the auroras would have just been the cherry on the cake. What a unique experience – reindeer sledding in a beautiful winter landscape, followed by a warm meal and some Sami stories at the end.
TIP: There are many options when it comes to reindeer sledding in Tromso – during the day, as well as in the evening, as I did. Some rides are longer, some shorter, or you can meet the reindeer without booking the ride… So do your research and find a tour that meets your dream. If I were to go back with the family, I would opt for a daytime reindeer sledding experience. I think the kids would enjoy it more during the day. On the other hand, if you get to see the Northern Lights, it would be magical…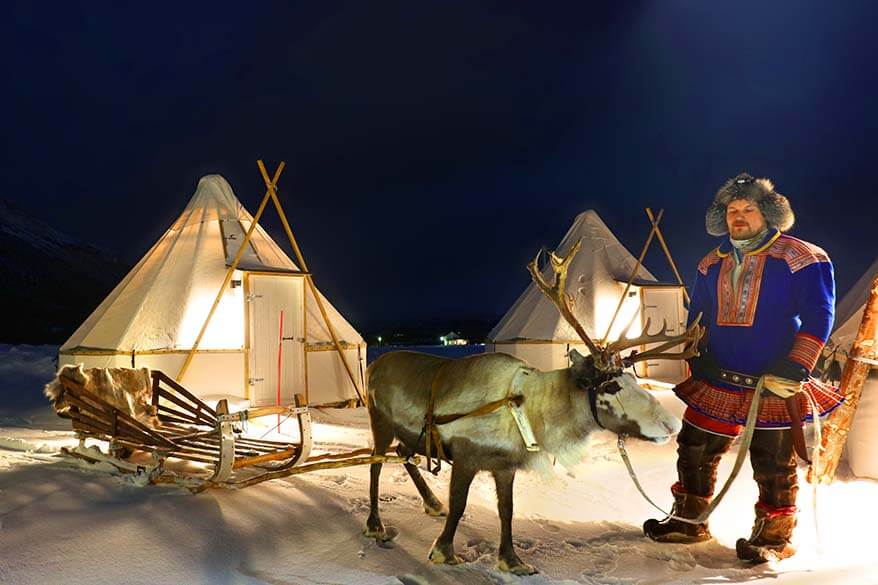 Tromso Ice Domes – The Ice Hotel of Tromsø
If you want to visit an igloo complete with an ice bar, ice cinema, ice restaurant, and an ice hotel, then don't miss Tromso Ice Domes in winter. The beautiful location in the heart of the Arctic wilderness, as well as some incredible world-class ice art, turns this place into a real winter wonderland.
Tromso Ice Domes were first opened in the winter 2017/2018 and following the big success, the project is now expanded under the new name – The Ice Hotel of Tromso.
If your budget allows it and you want to experience something unique, you can opt to spend a night there. But you can also just visit the Ice Domes on a half-day excursion from Tromso. It's also possible to visit the Ice Domes and go on a snowmobile ride in the beautiful surroundings.
Via the link below, you can find more information for visiting Tromso Ice Domes. Take a look – it's a real winter wonderland (lots of pictures and a short video included)!
LEARN MORE: Tromso Ice Domes
TIP: If your budget allows it, opt to spend a night in an ice hotel. It must be an unforgettable experience.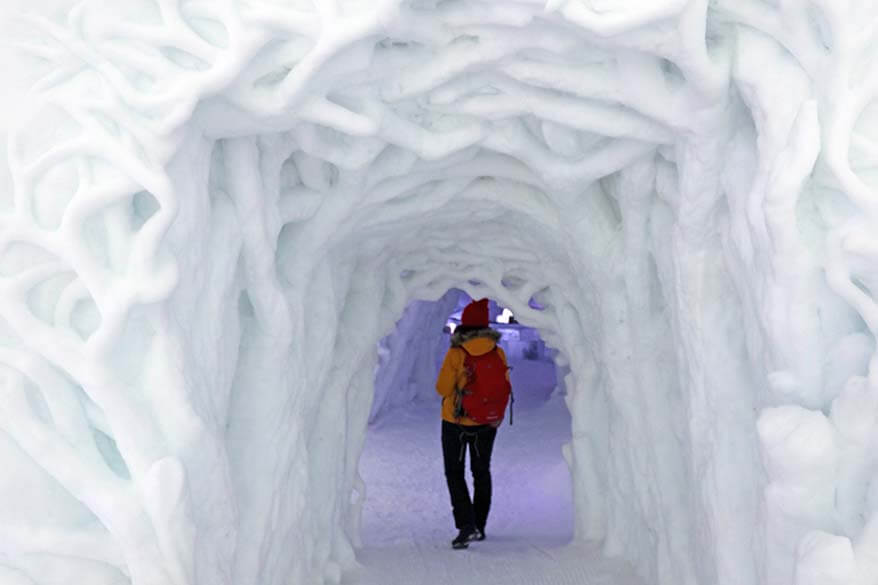 Tromso museums and other attractions
For a rather small town, Tromso has quite a big variety of interesting attractions and museums. From the world's northernmost University, Brewery, Cathedral or a Glass Blowing Studio to some interesting museums, art galleries, and also an aquarium.
Tromso also has a really nice waterfront area – Tromso Harbor, and if you like shopping don't miss the main shopping street – Storgata.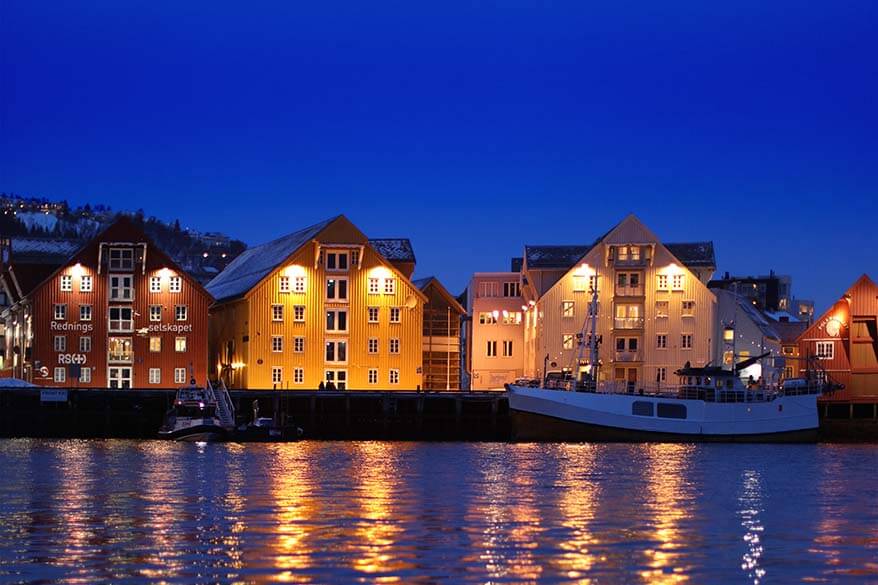 As you can probably see from all the activities I described above, my three days in Tromso were packed, so I only had the time to visit just a few places in town.
The first one that my travel guide recommended as must-see in Tromso was the Polar Museum. I see that it's also been selected as one of Norway's top-10 museums by Trip Advisor, so if you visit just one museum in Tromso, make it this one.
The Polar Museum has an interesting and a very eye-opening exhibition about the first polar expeditions, as well as hunting and trapping in the Polar regions. It's difficult to stay indifferent to the stories, especially when you realize what people did to the Arctic wildlife: hunting of whales, seals, hundreds of polar bears… But it's a big part of the region's history, a part of our history as a human race too. And so I strongly recommend visiting this museum when in Tromso.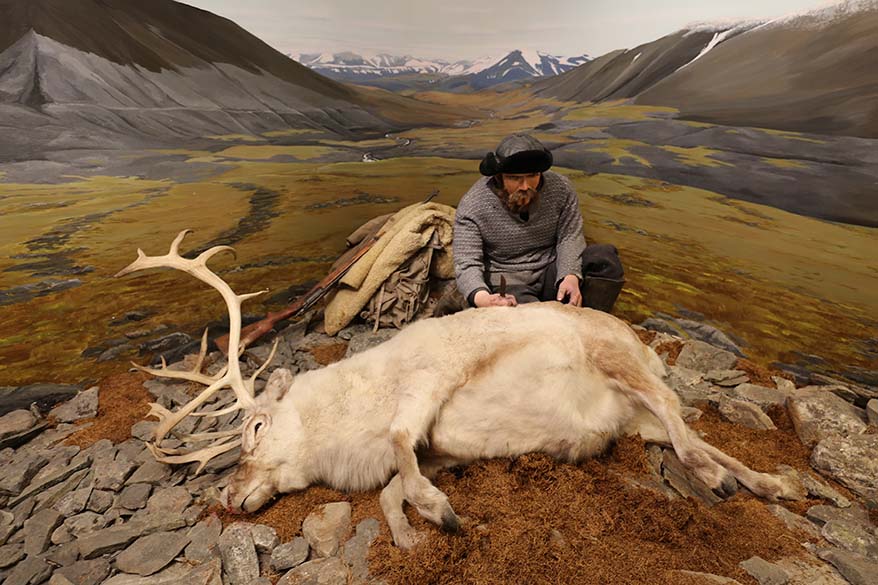 The Arctic experience center Polaria is a nice place to visit if you are in Tromso with the family. The main attraction of Polaria is the bearded seals, so try to be there at the feeding time (12h30 and 15h30 in winter and 12h30 and 15h00 in summer).
There are some smaller aquariums and you can also watch two beautiful movies – one about Svalbard, and one about the Northern Lights. It's not a very big place and exposition is limited, but if you are visiting Tromso with kids, it might be worth checking out.
Just next to Polaria you can visit MS Polstjerna – a historical Seal hunting vessel. There is also a statue to Helmer Hanssen – Norwegian polar explorer who was one of the first people to reach the South Pole in 1911. And if you like colorful street art, you'll find it in the same area too.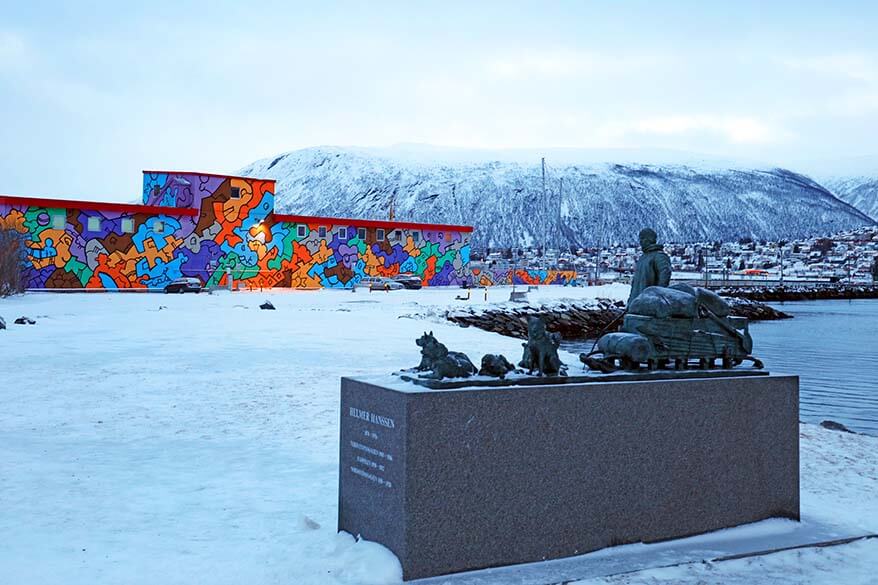 Tromso Arctic Cathedral is one of the most recognizable and iconic buildings in town. Located not too far from the Tromso cable car, it's a nice stop if you are walking there from the city center. Sometimes they have concerts there, so check it out when in town.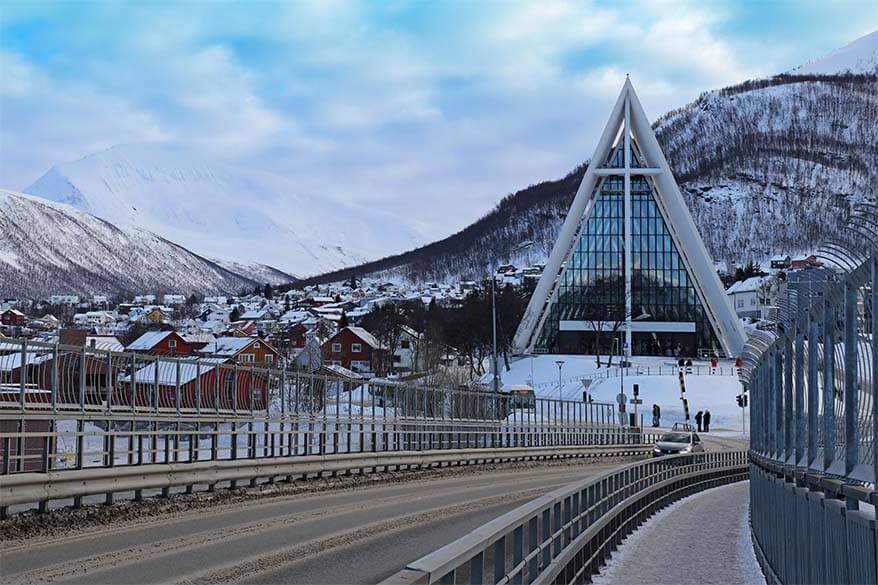 Tromso Public Library is another sample of modern architecture that you can't miss in town. It's worth a short visit and is a nice place to warm up on a cold winter day.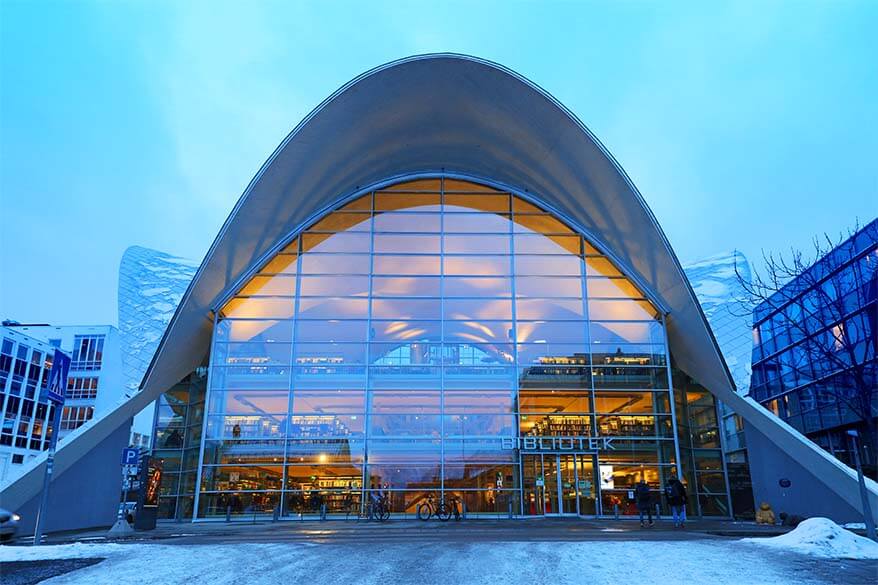 Where to eat in Tromso
If there's one thing you don't have to worry about in Tromso, it's finding a good place to eat. From trendy coffee shops and bistros to cozy little restaurants serving local specialties, to big seafood restaurants and international fast-food chains – Tromso has it all.
Below you can find some restaurant recommendations I received from the locals:
TIP: Try the famous fish gratin at Emma's and a very Instagrammable coffee at Riso's.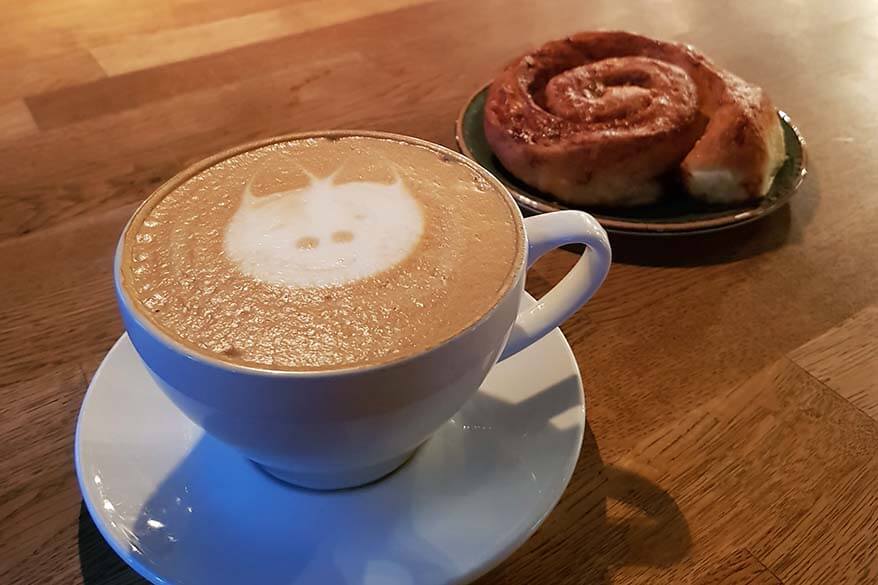 Where to stay
Tromso city center is small, so if you choose one of the most centrally located hotels, you don't need to rent a car in Tromso at all. You can walk to all of the attractions in town, take a bus to the airport or to the cable car, and all the organized tours and excursions have a pick-up in the old town center.
Here you can find our complete guide for where to stay in Tromso. Alternatively, see some hand-picked suggestions below.
Here are some suggestions of the best-located hotels in Tromso:
Good to know: If you are visiting Tromso in winter, make sure to book your accommodation (and tours) in advance. Especially February and the beginning of March are extremely popular months with lots of visitors.
TIP: Using the map below, you can also compare hotels and short-term rental accommodations in Tromso. Simply insert your travel dates and group size, and you'll see the best deals for your stay. Check it out!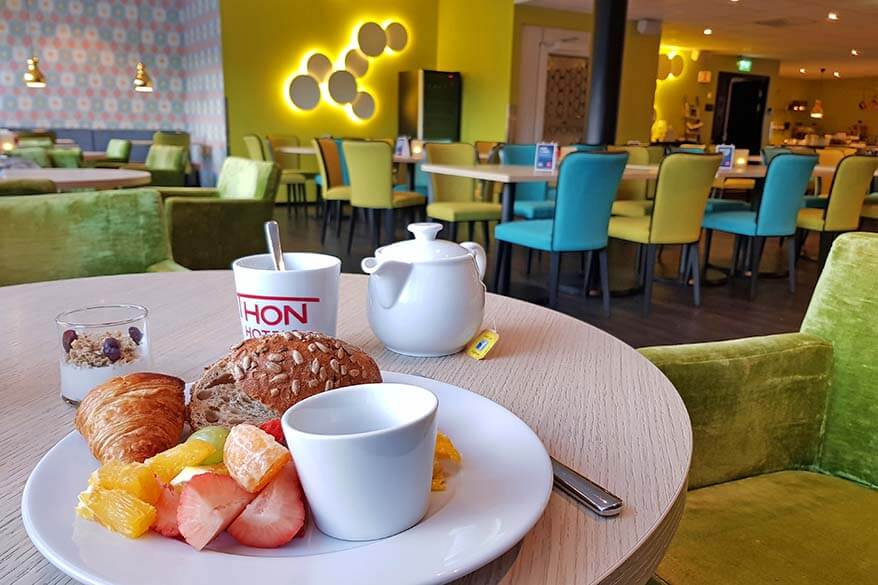 Practical information for visiting Tromso in winter
Visit Tromso in September through mid-April for the Northern Lights, November to January for the whales, December – January for the Polar Night, or in February – March for more daylight for your winter activities.
Book your trip (hotels, tours) in advance.
You can rent a car in Tromso and explore the area individually (keep in mind that the roads are covered in ice), but all tours provide pick-up and drop-off in the city center, so the car is not a must.
Dress in layers with lots of wool. Good winter boots are a must. Most outdoor activities (dog sledding, reindeer sledding, polar fjord cruise, small-group aurora tours, etc) provide warm overalls, some companies even provide boots, gloves, etc. So no need to worry about getting cold in Tromso, even if the temperatures are really low in winter. Here you can read more about what to pack for Norway in winter.
I spent 3 days/4 nights discovering the best that Tromso has to offer and my days and nights were packed with activities. If you want to see and do the same things that I did, consider spending at least 5-6 days in Tromso. It will be a much more relaxing and enjoyable trip. And – if you have more time in Tromso – your chances of seeing auroras are also bigger because you have more evenings when you can go aurora hunting.
LEARN MORE: Tromso Itinerary in Winter
Tromso in Winter FAQ
Here are some popular questions about visiting Tromso in winter that our readers asked in the past:
What is there to do in Tromso in winter?
The best things to do in Tromso in winter are dog sledding, watching the Northern Lights, reindeer sledding, visiting Tromso Ice Domes, and a polar boat cruise. Also Fjellheisen cable car and museums in the city center are perfect winter activities.
Is it worth visiting Tromso in winter?
Yes, absolutely! Tromso is one of the most magical winter destinations in the world. A winter trip to Tromso is worthy of any bucket-list!
Can you drive in Tromso in winter?
Yes, you can explore Tromso and the area in winter by car. However, most winter activities require an organized tour anyway and so renting a car is not necessary.
When can you see the Northern Lights in Tromso?
You can see the Northern Lights in Tromso between September and March.
Can you see the Northern Lights in Tromso city?
Yes, it's possible to see the Northern Lights in Tromso city. If the auroras are strong enough, you can see them everywhere. For a better chance, head to the darker areas outside the city center. If you want to maximize your chances, however, it's better to take an organized Northern Lights tour that looks for the best location on that particular night.
How cold does it get in Tromso in winter?
Average winter temperatures in Tromso are between -1 and -5 °C (22-30°F). That being said, you can also experience much colder temperatures of -10 to -15°C (5-14°F). Some areas outside the city and further from the sea can experience temperatures of -20°C (-4°F) and colder.
Is it always dark in Tromso in winter?
No, it's not always dark in Tromso in winter. While the days are indeed very short in Tromso in December and January, there are always at least a few hours of some twilight. In February, there are already 5-8 hours of daylight.
More tips for your trip to Tromsø in winter:
YOU MAY ALSO LIKE: Svalbard in Winter
If you found travel inspiration in this post, don't forget to bookmark it for future reference and share it with your friends. Are you on Pinterest? Pin these images!