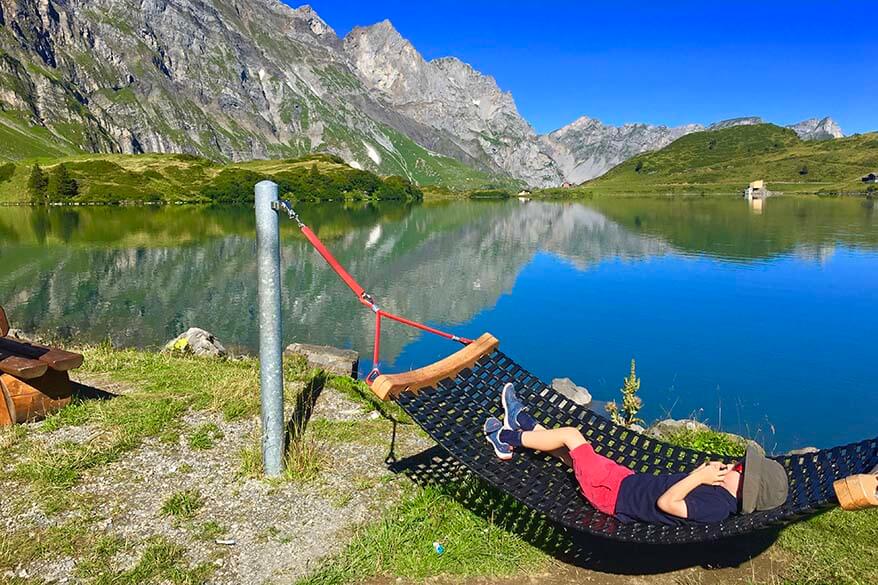 If you follow our blog for a while, you probably know that we love nature destinations, and especially mountains. And while we hardly ever travel to the same place twice, there is one (just one) destination that we visited multiple times over the last few years. In fact, we go back at least once a year. It's Trübsee in Engelberg in Switzerland.
We first discovered Trübsee during ski holidays in winter. We loved the location of Alpine Lodge Trübsee and its proximity to Mount Titlis so much that we went back there several times – in summer, and in winter.
In my previous posts I talked about our winter experiences and skiing in Engelberg, today I want to share 12 great reasons to visit Trübsee in summer. Take a look!
Disclosure: This post is published in cooperation with Alpine Lodge Trübsee, but as always all opinions are our own. It's easy to recommend a place we love so much!
1. Trübsee is one of the loveliest mountain lakes in Europe
Trübsee lake is one of the loveliest mountain lakes. You don't have to take my word for it, take a look at what the Michelin Green Guide has to say.
There is just something about its location and its peaceful setting that will make you linger on the shores of the lake quite a bit longer than expected.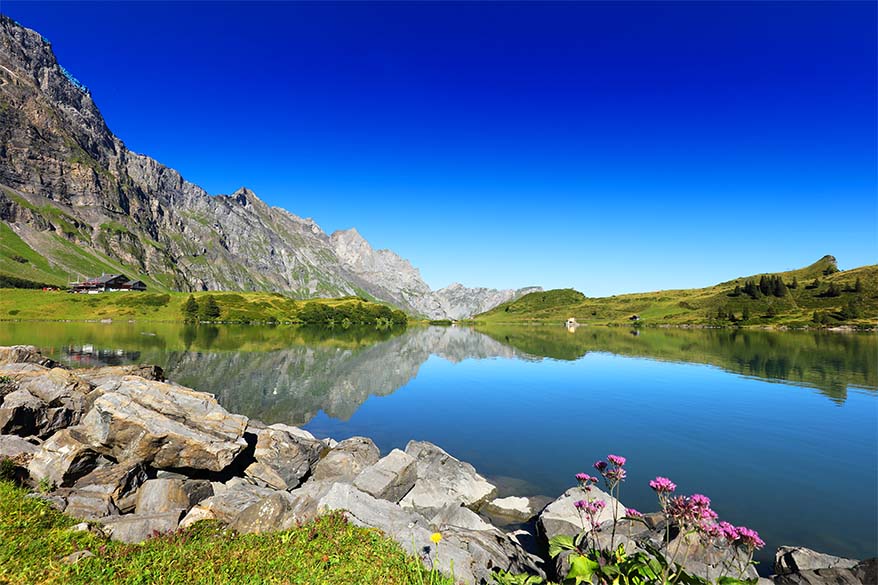 2. Alpine Lodge Trübsee (Berghotel Trübsee) has the best location in Engelberg
There are few things in life better than waking up with a splendid view of the mountains every morning.
The best part of every day of each stay at Alpine Lodge Trübsee is when I open the curtains in the morning. That view! It gives me a true vacation feeling and puts a smile on my face for the rest of the day.
And while you don't have to stay at the Alpine Lodge in order to see the lake or to take part in any of the activities I describe below, to me the location of this hotel is what makes the whole experience so much more special.
I can't imagine a better-located hotel to explore the Trübsee/Titlis area, in summer or in winter.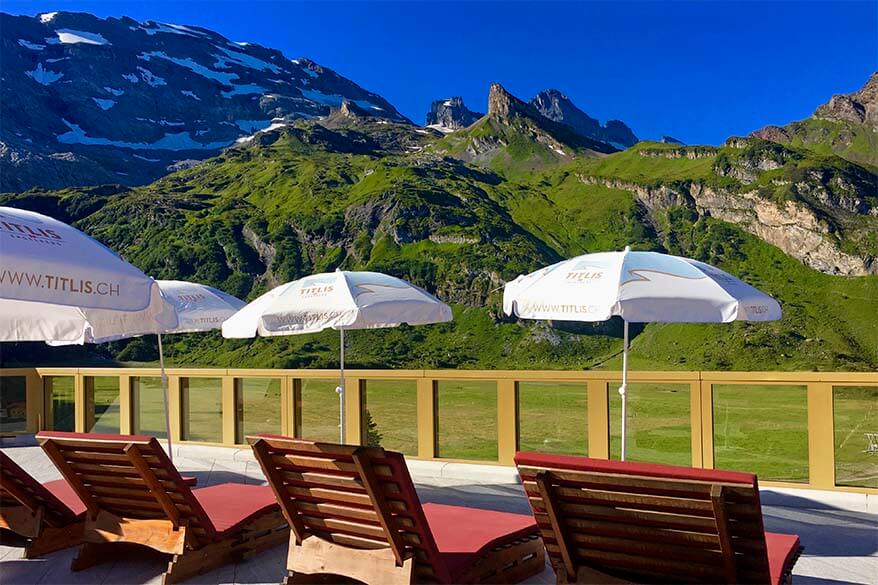 3. Enjoy the beautiful Trübsee Lake on a rowing boat
I asked my kids what they liked most about staying at Trübsee in summer, and they all unanimously said the rowing boats.
There are several rowing boats available for hire at the lake, and it's something we do every evening. While during the day there are always many tourists in the area, late in the afternoon they are all gone and you can have the boats and the lake pretty much all to yourselves.
When the gondola stops running for the day, the only people on the mountain are the guests of the hotel. It's such an incredible feeling and just another reason why we love staying at Alpine Lodge Trübsee so much.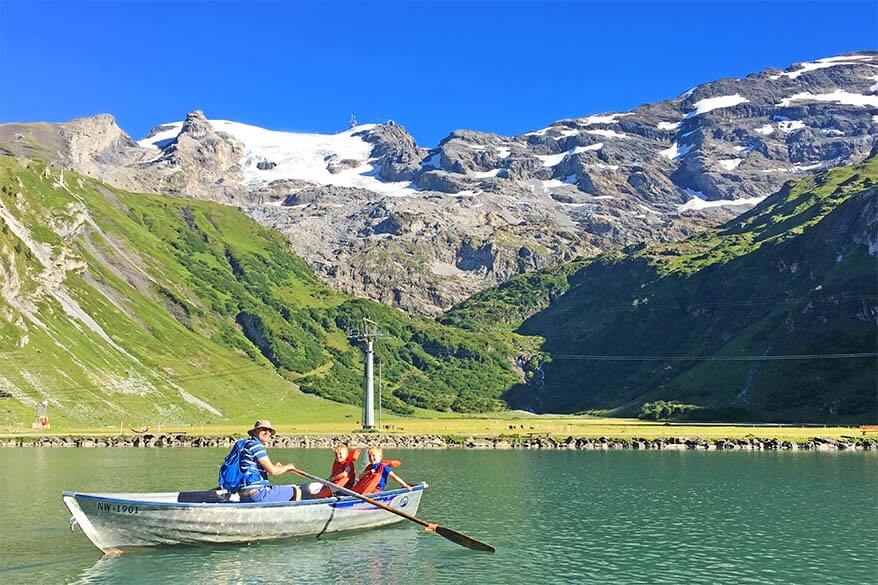 4. Beautiful family-friendly hikes in the area
The Trübsee lake loop is a very scenic easy walk for the whole family. There is a playground, various barbecue areas, and it can even be done with a stroller (note that some parts require good tires).
In addition, one of the most beautiful hiking trails of Engelberg area – The Four Lakes Trail – starts at Trübsee as well. It's a long hike so plan an extra day for it, but it's really really worth it! Check this post for more inspiration and practical details: Four Lakes Hike in Engelberg Switzerland.
The guests of Alpine Lodge Trübsee can opt for the summer hiking package that (among other things) includes unlimited use the following cable cars and hiking trails: Fürenalp, Engelberg-Brunni and Engelberg-Trübsee-Jochpass-Engstlen.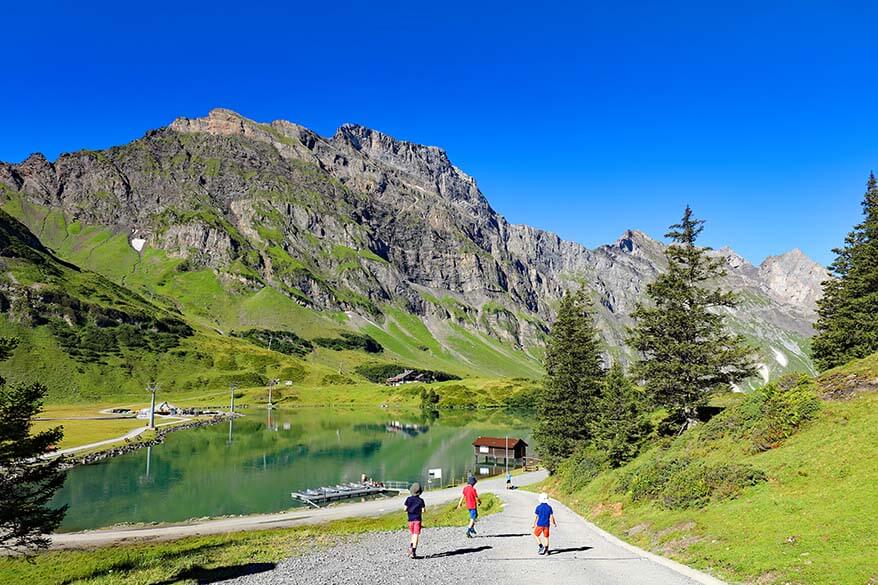 5. Easy access to Mount Titlis
Mount Titlis is probably one of the most popular mountain destinations in Switzerland. And rightly so. The area is simply spectacular, the views – phenomenal, and there is so much to do on top of Mount Titlis.
You can visit the glacier cave, walk on Europe's highest suspension bridge, or go snow tubing (even in summer)! All these activities, except for the Ice Flyer chairlift, are included in the Mount Titlis ticket.
Trübsee is located half-way on the mountain, between Engelberg and Mount Titlis. This means that people staying here have some advantage to visit Mount Titlis during the less busy times, before or after the big groups of day tourists.
On top of that, guests of Alpine Lodge Trübsee get a discount of 10% (or even 50%, in combination with hiking package) for the ticket to the top of Mount Titlis.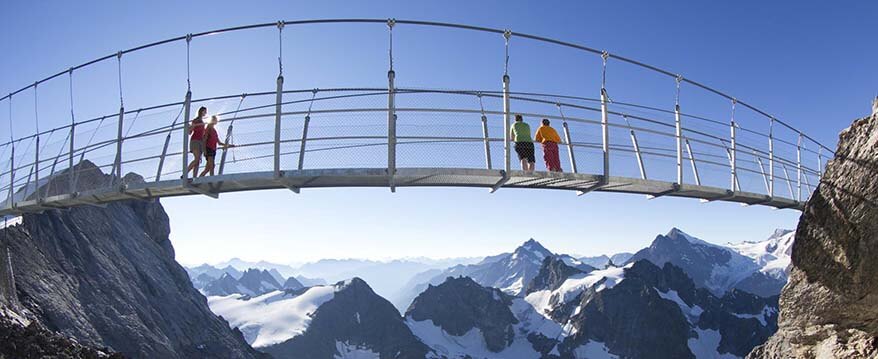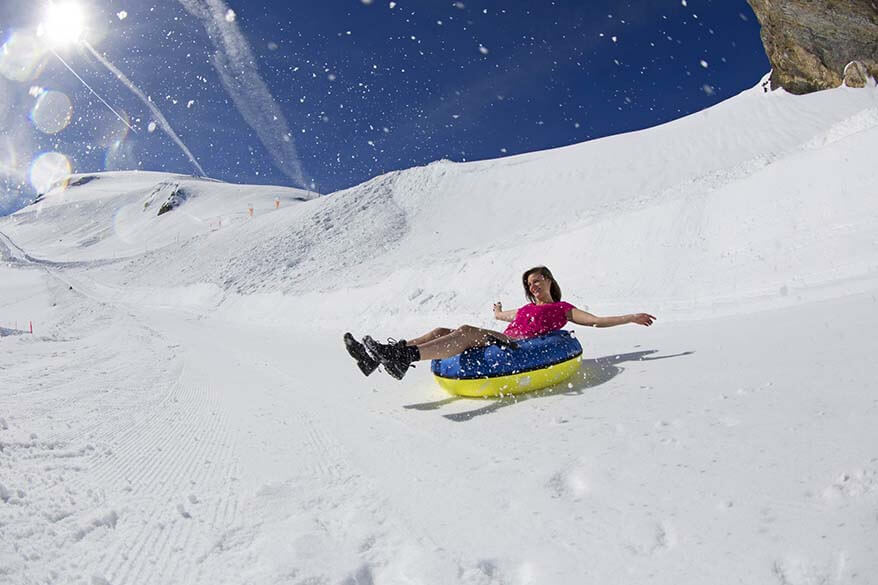 6. Titlis Adventure Park
The Titlis Adventure Park is not to be missed if visiting Trübsee in summer! Take a leap of faith and jump 3, 4, or 6 meters from the BagJump Tower onto the airbag.
Kids from 8 years are allowed on the 3-meter platform, older kids can go even higher. The best part? This activity is also free, so you can practice your skills as much as you want to. Note that Titlis Adventure Park is expanding, and it's possible that some activities will have a fee in the future.
One of the latest additions is the Trübsee Flyer Zipline that starts behind the Alpine Lodge. At the moment of writing, a ride here costs 12 CHF.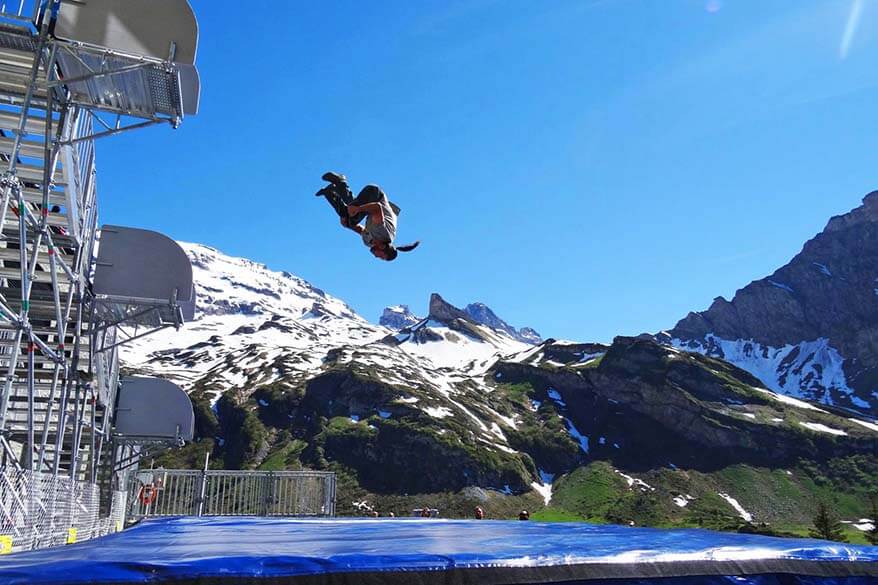 7. Many family-friendly activities at Trübsee Alpine Lodge
Families with young children will find plenty of ways to keep the kids busy at Trübsee Alpine Lodge in summer.
There is a trampoline and summer curling on the terrace. In addition, there will soon be a new bouncy castle as well.
Hotel guests can also use a small playroom or request children's movies at the cinema. We spent many relaxing evenings at the restaurant of the hotel while the kids were watching movies or playing in the playroom.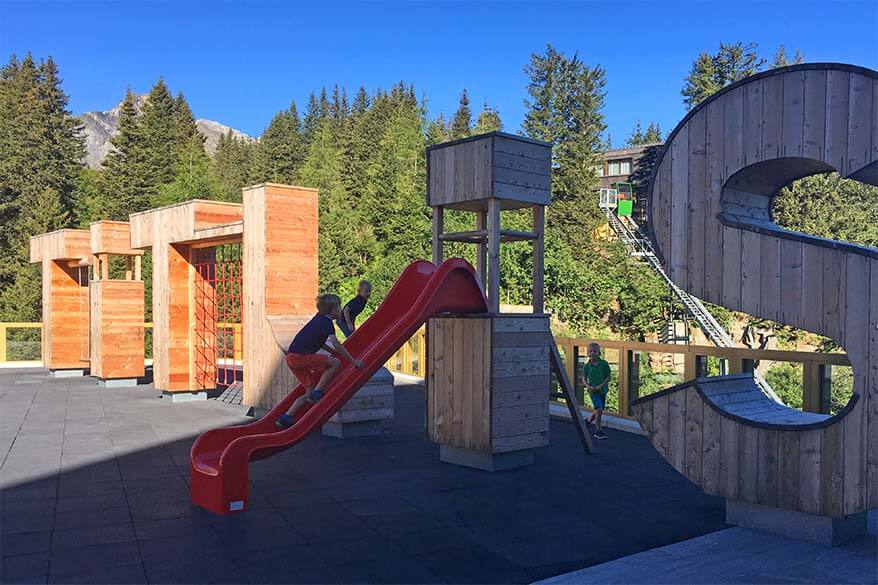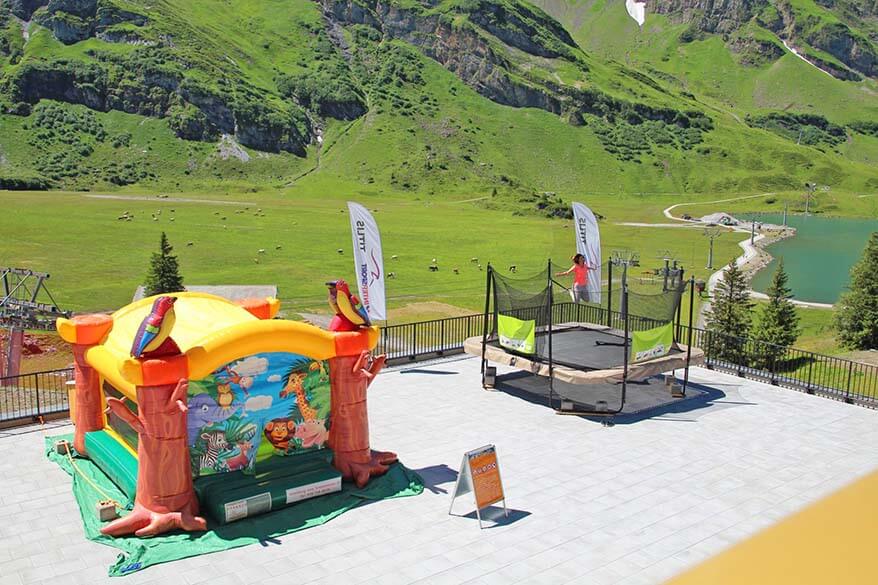 8. Mountain biking and scooter bikes
There are several mountain biking possibilities at Trübsee. There is also a new 'flow' trail for bikes with natural obstacles like waves, banked curve etc. coming soon. For families, there is a 3,5km scooter bike trail as well.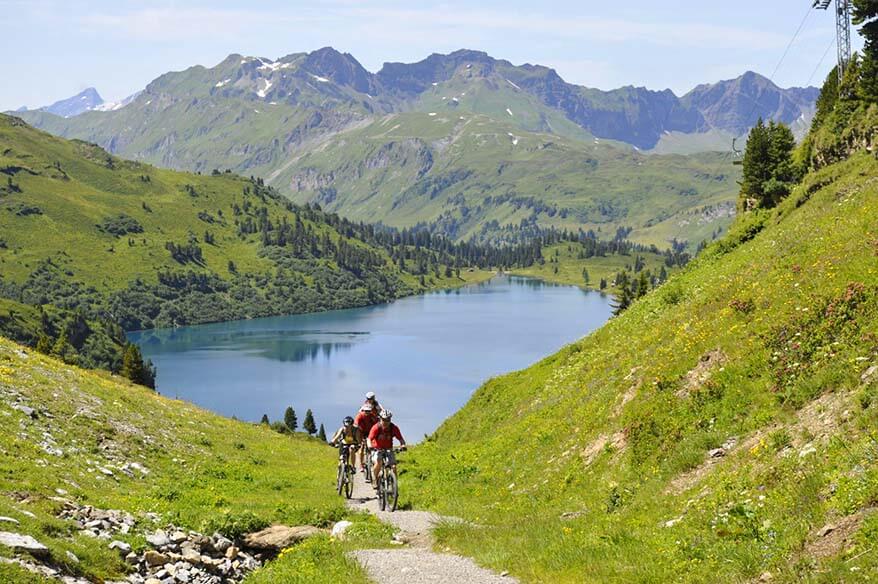 9. Bungee jumping or zip-lining
For the more adventurous, there is a 140-meter bungee jump out of the cable car Angel Eyes. This activity is only available every two weeks on Thursdays.
Update: It looks like at the moment of the latest update, this activity is not available. So if this is something you really want to do, you may have to check for the latest situation. Instead, there is now a new zipline experience for thrill-seekers.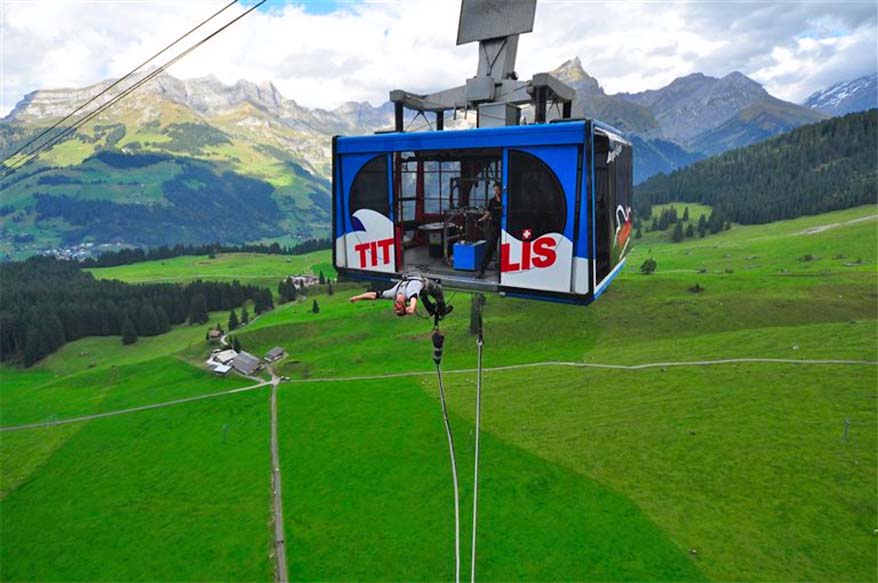 10. Candlelight dinner at 3,020 meters
Only available on set days, candlelight dinner on top of Mount Titlis is an unforgettable experience. Check the official Mount Titlis website for the dates and plan and book in advance!
11. Trübsee Active Day
On certain days in summer, Trübsee Alpine Lodge offers its guests a wide variety of other adventurous outdoor activities. They can experience the BagJump, Flying Fox, kayaking, slackline, trampoline, pump track, summer curling, and a lot more.
Please check the events calendar on the official website for the dates.
12. Even more great reasons to stay at Trübsee in summer
In addition to all of the above, I want to tell you several more reasons why we love staying at Alpine Lodge Trübsee in summer.
First, Alpine Lodge Trübsee is very affordable for Swiss standards. And you can take advantage of so many extra's included in the price of the stay, that it's one of the best price/quality hotels you can find in the Swiss mountains.
On top of that, the hotel has a big variety of rooms, including family rooms for up to 5 people (and if you have three kids, as we do, you know how difficult it is to find affordable rooms for 5).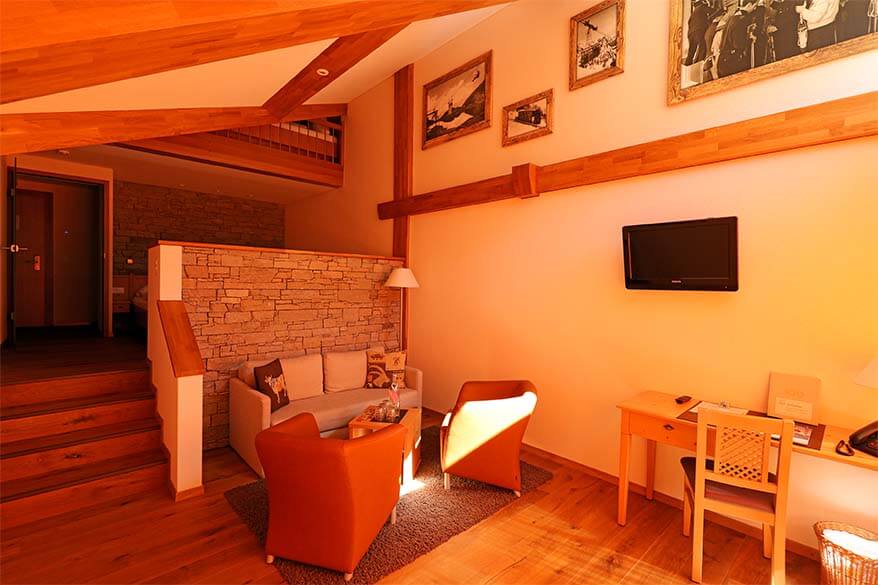 The half-board package includes an amazing breakfast with (among many other things) really good coffee and fresh bread, 4-course dinner, and special kids menu. In addition to the self-service restaurant, the Trübsee Bar Lounge is now open in summer as well. And if all of that is not enough, the staff of the hotel is so friendly that they immediately make you feel at home.
We first came to Alpine Lodge Trübsee a couple of years ago for its location, we fell in love with the place and keep returning ever since. Summer or winter – if you are looking for an unforgettable vacation in the Swiss mountains, I cannot recommend Trübsee highly enough.
You can also check reviews, availability, and book your stay at this hotel on Booking.com.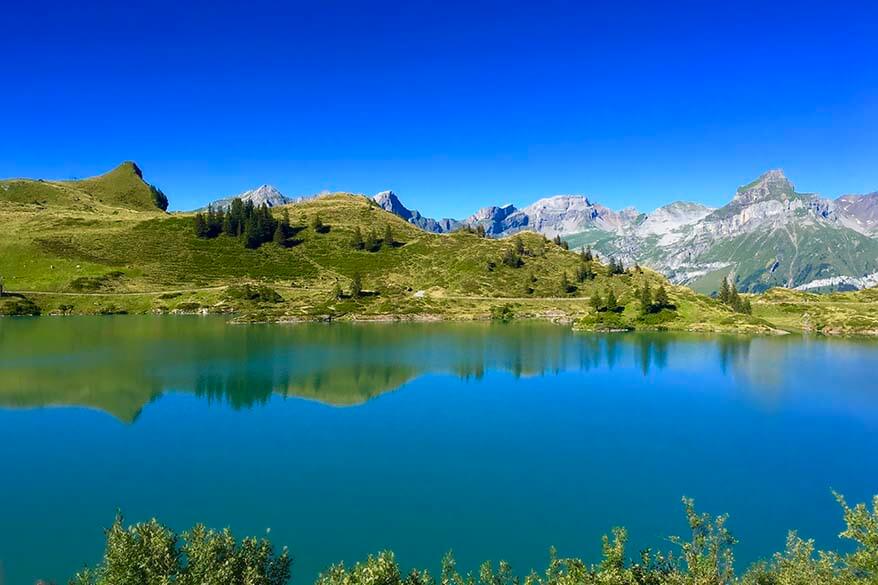 If you are looking for more travel inspiration for visiting Switzerland, please check our other articles as well! We visit Switzerland twice a year, every year, and absolutely love it. On the blog, we feature some of our absolute favorite destinations. Take a look below!
If you found this post useful, don't forget to bookmark it and share it with your friends. Are you on Pinterest? Pin this image!