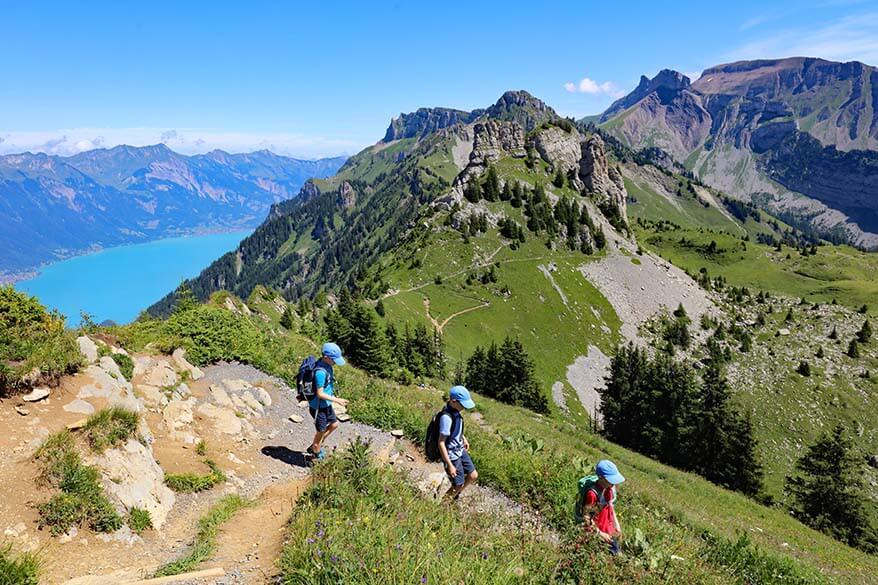 Thinking of hiking at Schynige Platte in Switzerland, but not sure which hike has the best views or is the most suitable for you? In this guide, we highlight the 4 most popular Schynige Platte hikes: Daube viewpoint hike, Oberberghorn Panorama Trail, the extended version of this hike – Louchernhorn Panorama Trail, and also the most strenuous hike in the area – the Schynige Platte to First hike.
Read on to learn more about each of these hikes, which one to choose and why!
Just for the sake of clarity – there are more hiking possibilities at Schynige Platte than mentioned here. You can also opt for one of the shorter trails around the Botanical Garden. However, you'd be missing the best views of the area. So instead of listing all possibilities, we focus on the nicest, most beautiful hikes that make a trip to Schynige Platte truly unforgettable.
No matter which of these four hikes you choose, the Schynige Platte area is simply stunning and well worth a day trip. The good news is that one of the shortest and the easiest of the hikes we selected – Oberberghorn Panorama Hike – gives you access to some of the best views in the area.
Below, you can find the Schynige Platte hiking map indicating all the hikes mentioned in this article. Further down, you can find detail information for each trail. And finally, at the bottom of the post, you can also find some practical information for hiking in this area. Read on!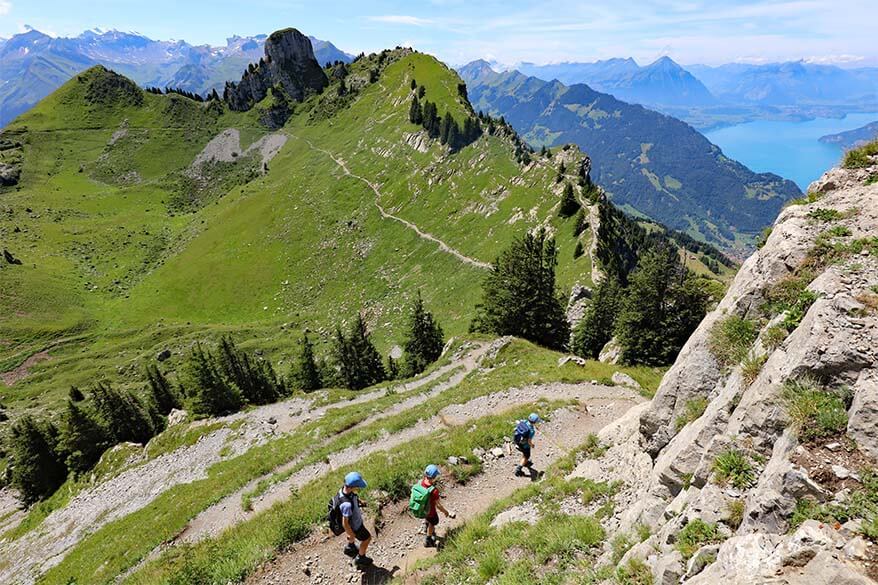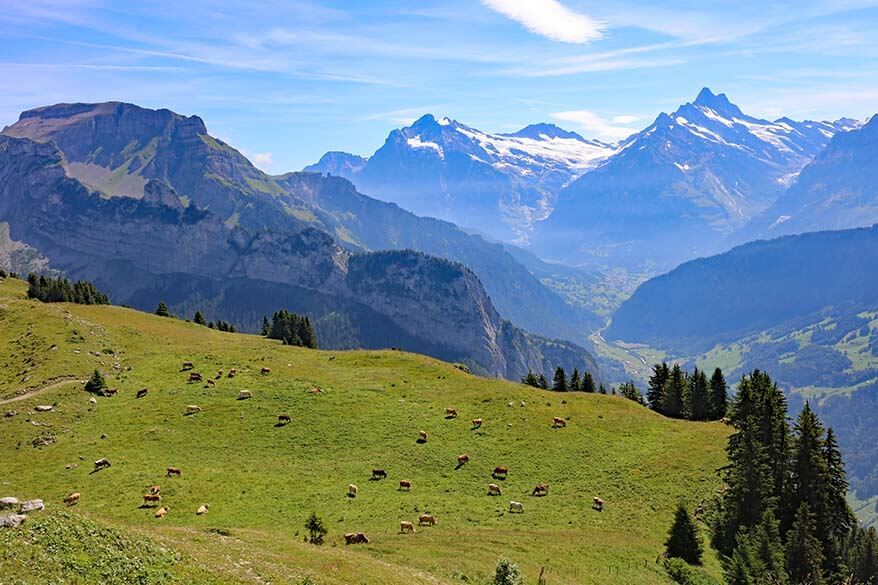 Map of Schynige Platte Hikes
To give you a better idea of where the hiking trails at Schynige Platte are located, we created this map indicating all four hikes mentioned in this article.
Good to know: Please note that the hikes listed here actually overlap – so hike 2 is a longer version of hike 1, and hike 3 is a longer version of hike 2. The first three hikes listed here start and end in Schynige Platte.
The last hike is a bit different – it's not a circular hike. Furthermore, if you take the shortest route, you'll not be passing the places covered by the other hikes. But you can take a detour and cover the same trail along the way if you choose to. More info further below.
You can click on the map to see the bigger version and print it out if you like.
Without further ado, here are the best hikes at Schynige Platte:
1. Daube Viewpoint Hike
Schynige Platte – Daube – Schynige Platte
Daube viewpoint is probably the most popular hiking trail at Schynige Platte. It's the shortest of the Schynige Platte hikes that give you access to some of the best views in the area. This hike starts at Schynige Platte and brings you to the Daube viewpoint.
You can start the hike at the Schynige Platte hotel restaurant, above the summit train station. Alternatively, you can hike to Daube after visiting the Alpine Garden. It's a circular hike and you can do it in any direction, but I think it's nicer to hike clockwise – that way you have splendid views in front of you most of the time.
We hiked several paths of the Alpine Garden first, then walked back in the direction of the hotel, where we joined the hiking trail to Daube viewpoint. This part of the trail is going uphill and follows the mountain ridge giving you yet another angle and good views of the wide surroundings. The scenery here is really nice, but it's just the beginning…
Once you reach the Daube viewpoint, you have great 360° views of the entire wide area. However, the nicest scenery is actually a bit further in the direction of Oberberghorn, so I really recommend that you do the longer version of this hike – see further below.
TIP: Daube viewpoint is a very popular picnic spot. If you bring a picnic for this hike, this might be a good place for it (although it can get really busy around noon).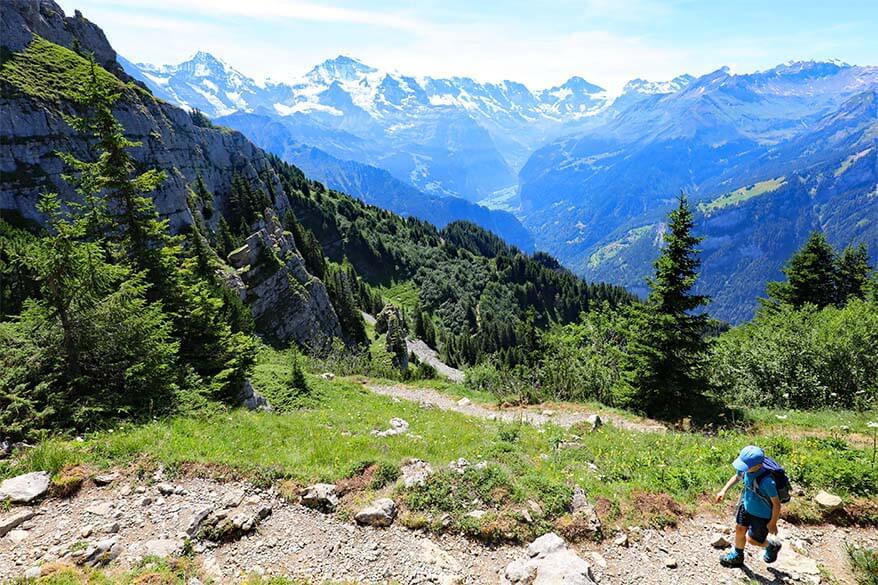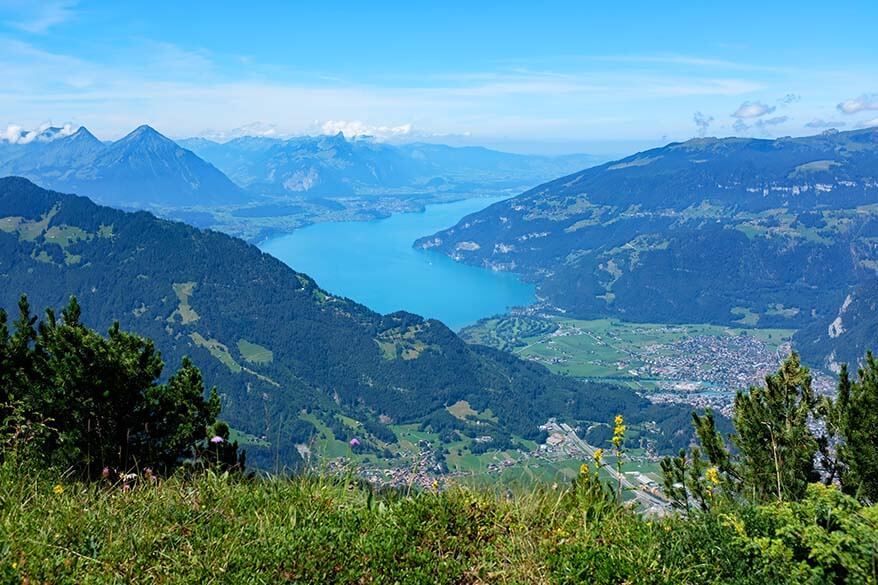 Practical Information
Difficulty level: Easy
Length and duration: 2,4km, 50min (realistically 1h – 1h15)
Ascent/ descent: 150m/ 150m
The times and the distances listed here are for the entire hike.
This hike is relatively easy, despite the climb. It's something most people in regular physical condition can do and we saw many families with young kids hiking here and also older people. If you have some hiking experience, you can do it. As for the children, I think, most kids age 5 or older should be able to do this hike as well, but it depends on their previous experience, of course.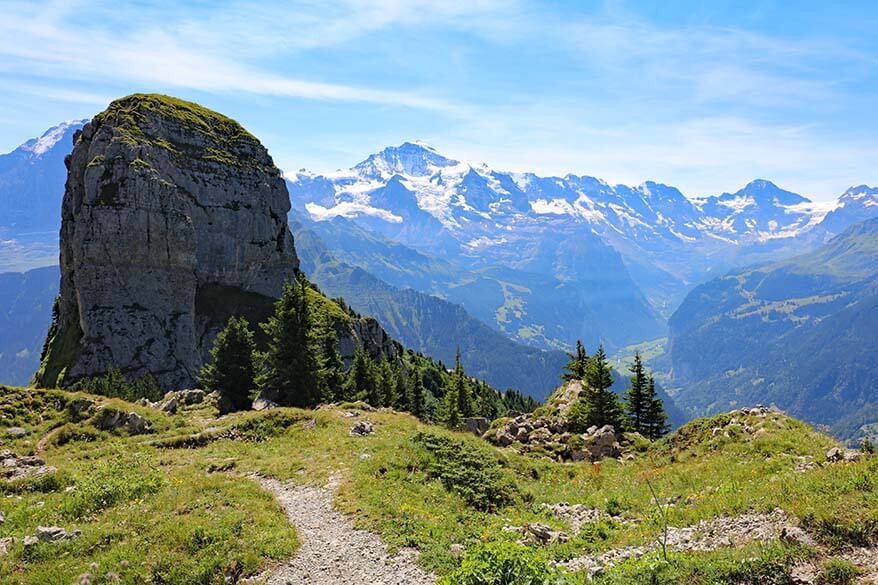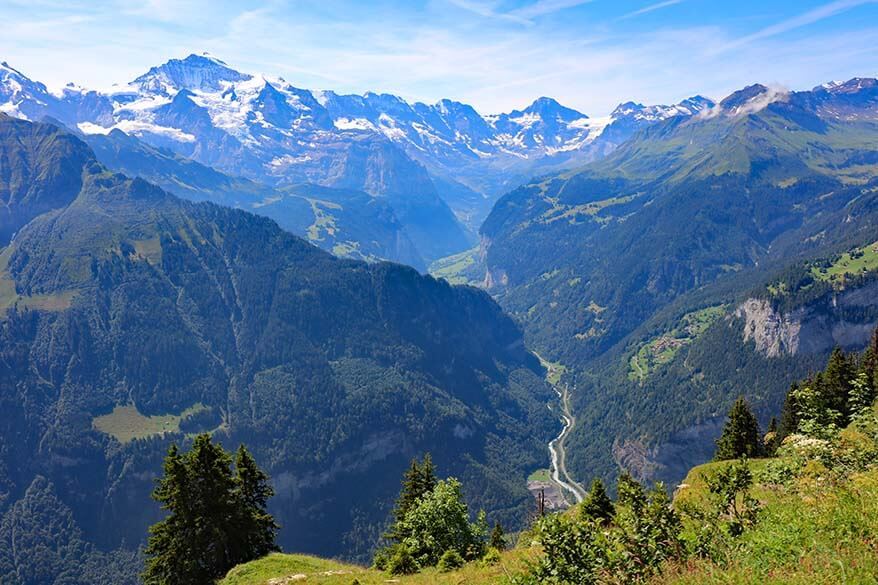 2. Oberberghorn Panorama Trail
Schynige Platte – Daube – Oberberghorn – Schynige Platte
Oberberghorn Panorama Hike is the longer version of the Daube viewpoint hike. This is by far the best Schynige Platte hike with the most amazing views!
If you already hike in the area and take the trouble to walk to Daube, don't stop there! The hardest part of the hike is actually the climb to the Daube viewpoint. From what I saw, many people just turn around here and go back. However, the hike gets much easier after Daube and the views along the way to Oberberghorn are extraordinary. It's this next part that really makes the hike worthwhile, so don't miss it!
The trail from Daube to Oberberghorn takes you along a mountain ridge with incredible 360° views all around you. With the colorful lakes of Interlaken on one side, the snow-capped mountains of the Jungfrau Region on the other side, and idyllic alpine pastures right under your feet, this is one of the most scenic hikes in entire Switzerland!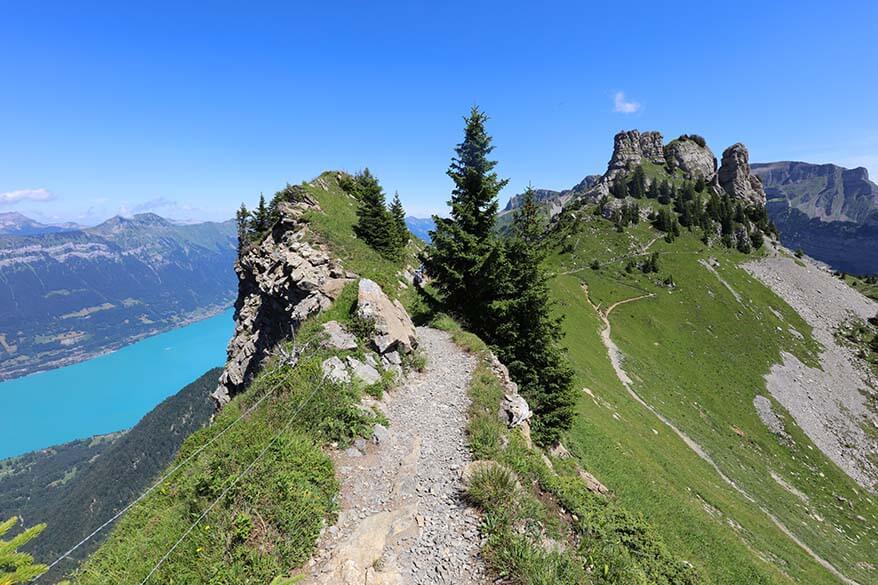 Once you reach Oberberghorn, make sure to climb up to the viewpoint itself. You'll need to negotiate a short steep ascent and a steep wooden staircase, but it's really worth it. The views here are the best in the entire area!
Our kids age 8-10 did this hike without any trouble and we met several other families with somewhat younger kids as well. Even if you don't feel confident climbing to Oberberghorn, it's still worth doing this hike.
You can turn back at Oberberghorn or hike further to Loucherhorn (see further below). Don't feel bad for returning to Schynige Platte at this point, because you had the best views of the area with the least effort. The hike from Oberberghorn back to Schynige Platte is a relaxing downhill hike that has great mountain views all the time.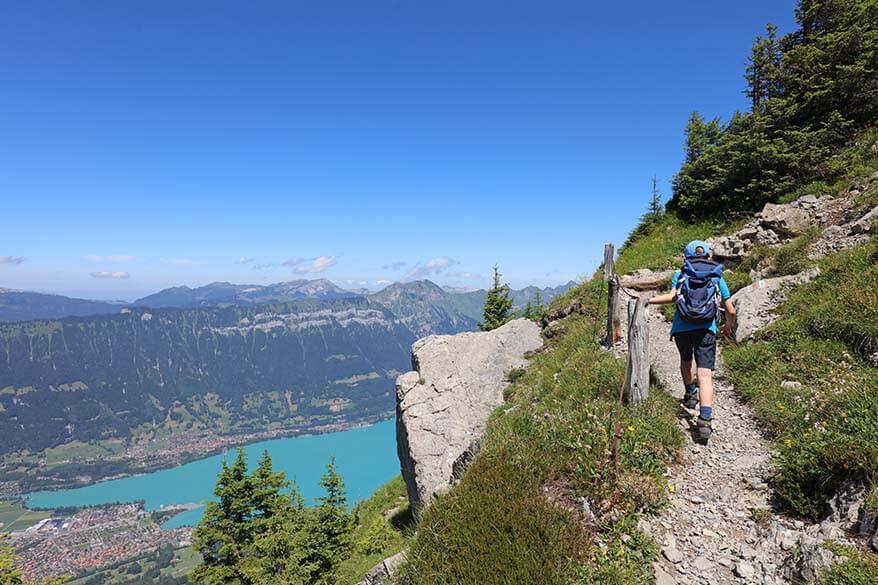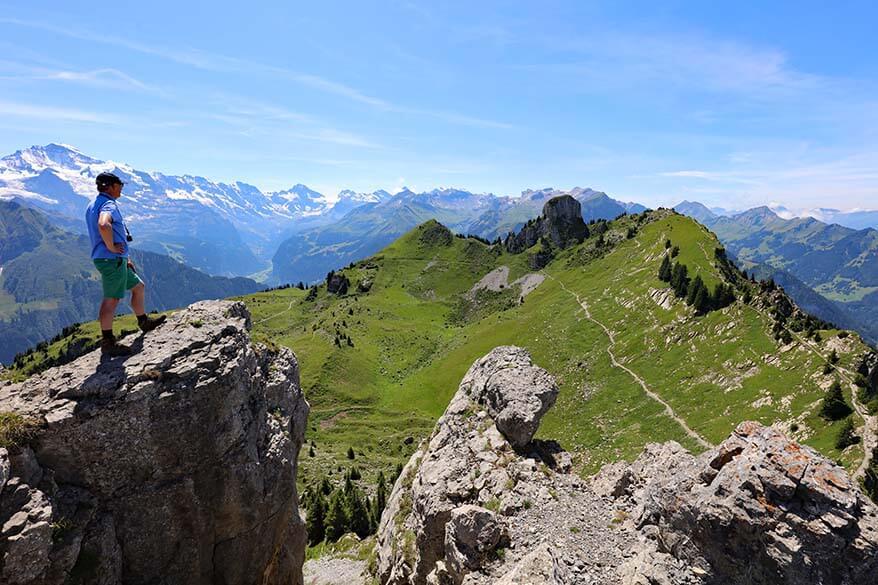 Practical Information
Difficulty level: Easy/ Moderate
Length and duration: 3km, 1h15 (realistically, with photo stops, 2h)
Ascent/ descent: 180m/ 180m
The times and the distances listed here are for the entire hike.
This circular hike starts at Schynige Platte and goes to Oberberghorn. You can choose in which direction you hike, but it seems to me that it's best to hike to Daube viewpoint first and hike to Oberberghorn from there. We did the hike in this direction and the views were great the whole time.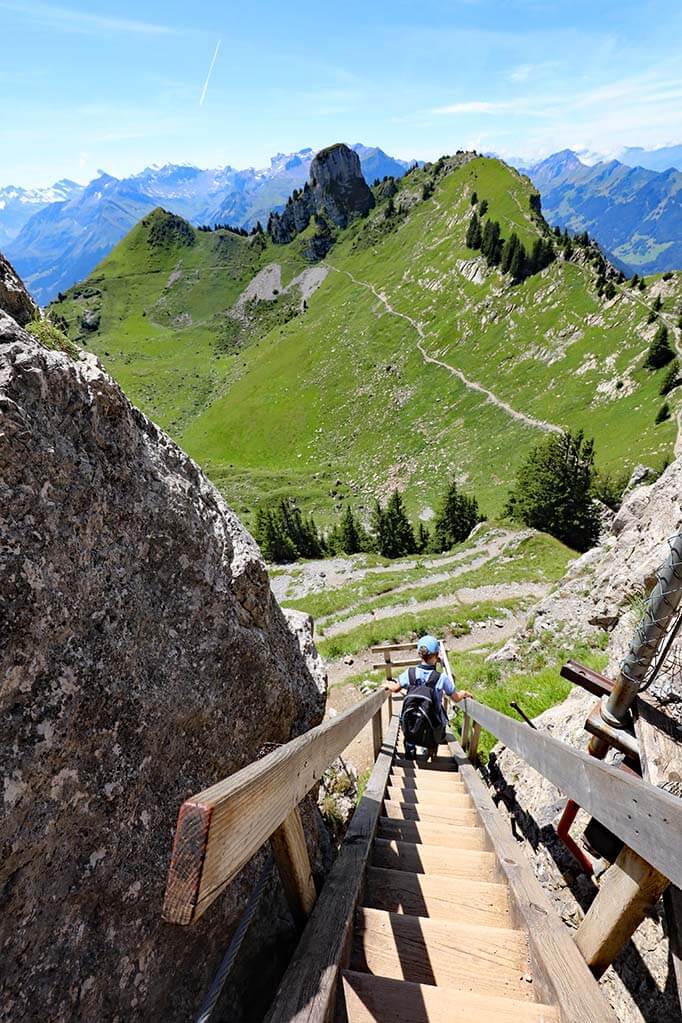 3. Loucherhorn Panorama Trail
Schynige Platte – Daube – Oberberghorn – Loucherhorn – Schynige Platte
This hike is the continuation of the previous hike (see above). After Oberberghorn, you can choose to continue to hike to Loucherhorn. This will add another 3km and at least an hour to your total hiking time.
This is a nice hiking trail, but I'm not sure if it's worth hiking further. The very best views are between Daube and Oberberghorn.
However, the scenery is really beautiful, there are very few people on this stretch, and so if you have the time and like to hike a bit more, you can definitely consider hiking to Loucherhorn. From there, join the path to your right that goes back to Schynige Platte. This trail is located much lower and you'll be surrounded by the green alpine scenery and probably also some Swiss cows along the way.
Practical Information
Difficulty level: Moderate
Length and duration: 6,1km, 2,5h (realistically 3-3,5h)
Ascent/ descent: 350m/ 350m
The times and the distances listed here are for the entire hike.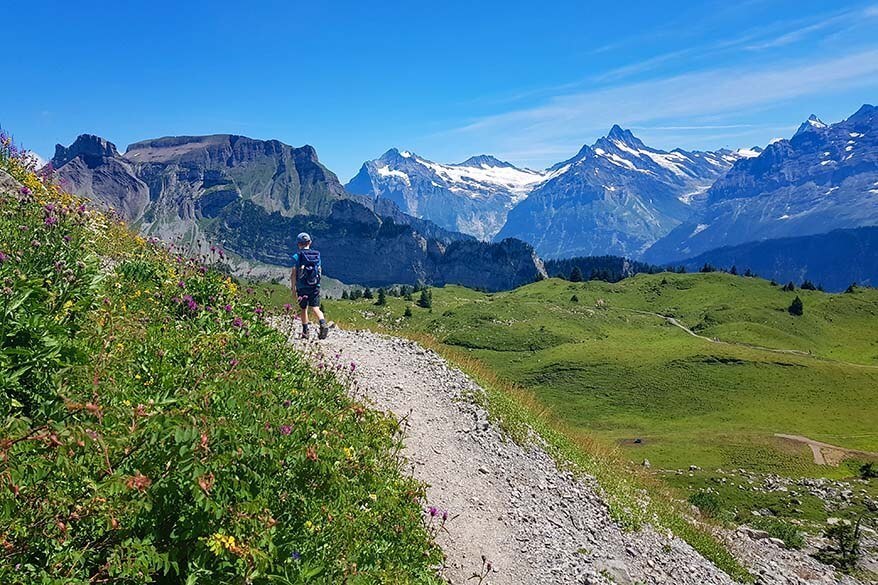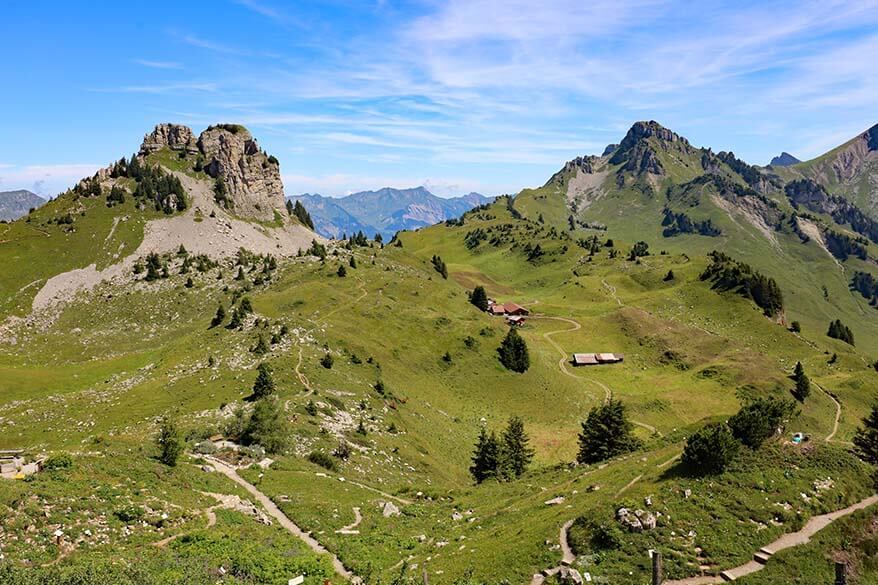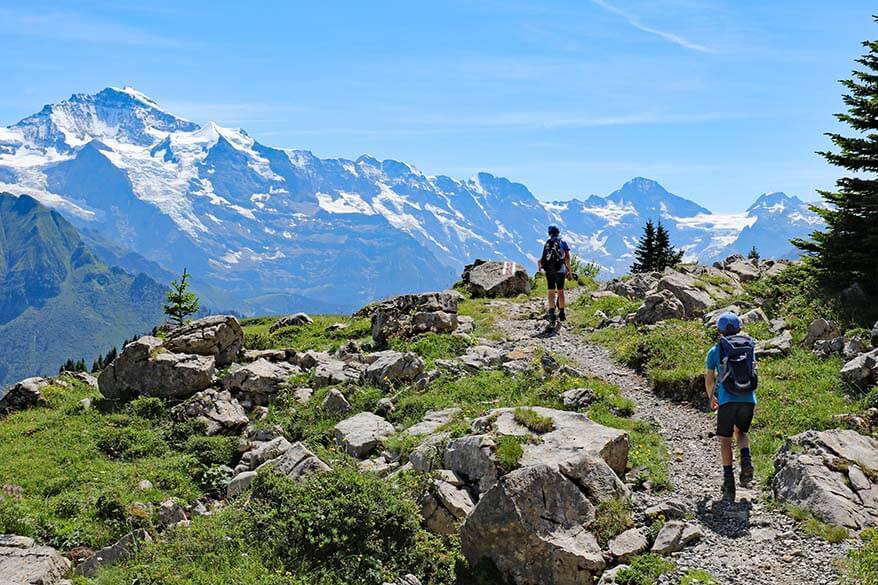 4. Schynige Platte to First Hike
Schynige Platte – Faulhorn – First
Probably the most beautiful, but also the most challenging hike you can do in this area is the hike from Schynige Platte to First, via Faulhorn. This long hike is only for experienced hikers and takes an entire day.
You can do this hike in either direction – starting in Grindelwald-First or in Schynige Platte. If you are starting from Schynige Platte, you have 970m ascent and 770m descent. Therefore, most people choose to start in First (Grindelwald) and hike in the other direction – that way the climb up is slightly shorter and less strenuous.
The most impressive views of this hike are those from Faulhorn (alt. 2,681m / 8,796ft). From there, you can see a spectacular panorama over the region of Berner Oberland. On a clear day, you can see First, Mönch, and Breithorn, Lake Thun and Lake Brienz, Interlaken, and even the peaks of Mt Pilatus and Rigi.
TIP: Note that if you hike directly towards First (or the shortest trail from First to Schynige Platte), you'll actually miss the Panorama Trail. And that would be a pity because it has the most amazing views, maybe even better than the rest of the long hike. So take a small detour via Daube and Oberberghorn and don't miss the best views in the area. Just keep in mind that it will make your hike even longer!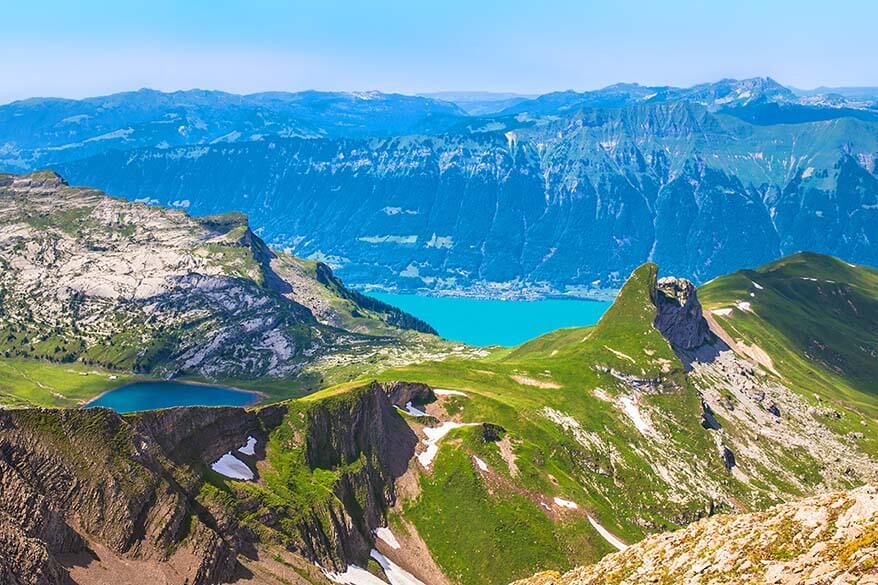 Practical Information
Difficulty level: Moderate/ Difficult
Length and duration: 16km, 6h10 (realistically 7-8h)
Ascent/ descent (if starting from Schynige Platte): 970m/ 770m
Good to know: This is a really long hike of at least 7 hours counting just a few short stops along the way (longer if you stop more). Furthermore, you'll need to take a train between Wilderwil and Schynige Platte and also a cable car between Grindelwald and First, so you have to keep an eye on the train/ cable car schedule. A general rule in summer is that gondolas/trains run from +- 8 AM to +- 6 PM.
Important: If you are planning to do this hike, take one of the first trains/cable cars in the morning and start as early as possible! It's not a good idea to count on the very last train or gondola, so make sure that you reach the end point of your hike in time! Do not attempt this hike if there is a chance for rain or thunderstorms. Good hiking boots are essential for this hike and I would definitely recommend hiking poles as well.
Tickets: A special hiking ticket is available that includes both – Schynige Platte train as well as the First cable car. You can find more information and book your ticket here. Or – if staying in the region longer – get a Jungfrau Travel Card that includes all these rides.
Travel well prepared, pack a picnic and plenty of water. There are a few restaurants along the way, including several mountain huts and Berghotel Faulhorn. However, keep in mind that any stops will make your hike even longer.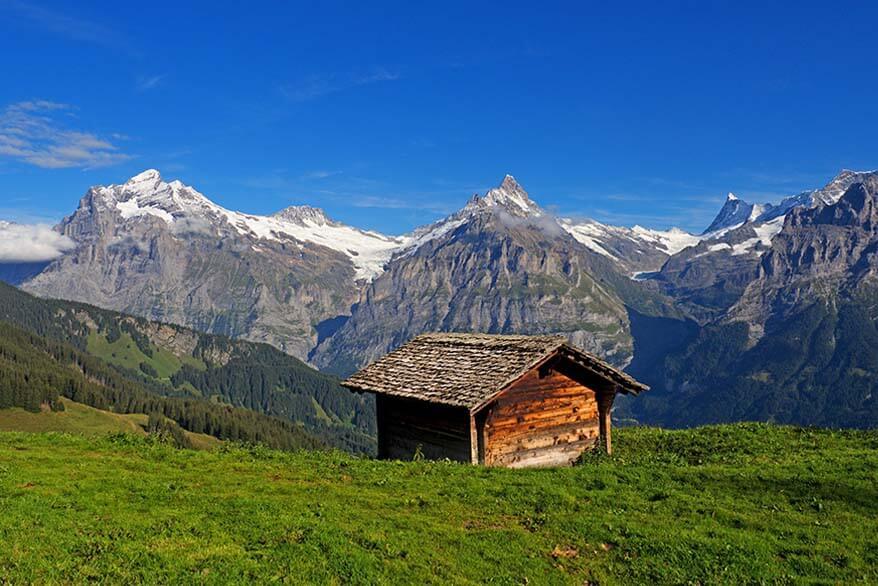 Alternative for Schynige Platte – First Hike
We didn't do Schynige Platte – Faulhorn – First hike because it was just too long and too strenuous to attempt with our kids. Also, we have hiked to Faulhorn before, pre-kids, and still remember the pain in our knees from the steep hike down.
What we did this time is hiking at the two ends of this trail – the Panorama Trail starting from Schynige Platte and the First – Bachalpsee hike starting from Grindelwald.
This is an easy way to see some of the most amazing scenery of this area without having to do the steep climb to Faulhorn or make any special travel arrangements. It does, however, require two separate days, but makes for a much more relaxing vacation.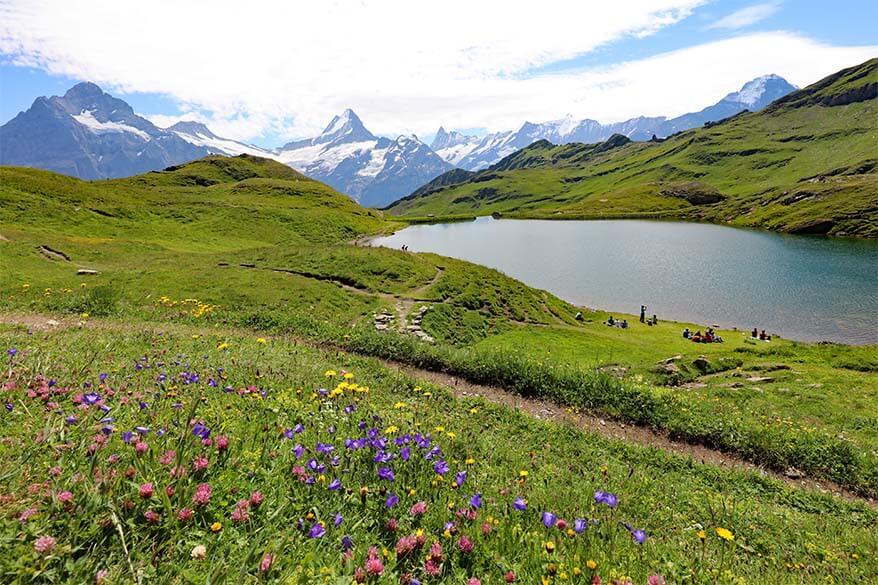 Practical Information
When to go. Hiking at Schynige Platte is only possible in the summer season, from the end of May to mid-October.
What to pack. You need really good hiking shoes with ankle support for any of these trails. Hiking poles are also good to have if you have weaker knees. Even the shortest hikes have some steeper sections that require a bit more caution. If you are curious about what hiking gear we use, my husband and I both have these hiking boots and these lightweight foldable hiking poles. Sun protection, drinking water, and a rain jacket are a must as well.
Planning tip. Keep in mind that indicated hiking times in Switzerland are hiking times. So if they say that a hike takes 1,5 hours, it's purely hiking time if you walk at a good pace the entire time. You should always count more time for all the photo stops you'll want to take. Add even more time for a picnic, bathroom stops, etc.
Getting there. Schynige Platte can be reached by train from Wilderswil. It takes almost an hour one way. In summer, the trains run from around 8 AM to 6 PM (when we visited, the first train left Wilderswil at 7.25 AM and the last train left Schynige Platte at 5.53 PM). For more practical information about getting to Schynige Platte, tickets, etc. please consult our guide to visiting Schynige Platte. It also contains more information about everything else that you can see and do at Schynige Platte, in addition to hiking. Check it out!
More tips for your trip to this part of Switzerland:
If you found this post useful, don't forget to bookmark it and share it with your friends. Are you on Pinterest? Pin these images!