Bachalpsee, or Lake Bachalp, is a very picturesque mountain lake in Switzerland. Located within a short walking distance from Grindelwald-First gondola station, it will come as no surprise that Bachalpsee Lake is one of the most popular places to visit in Grindelwald. And rightly so – the area is stunning and the Bachalpsee hike is one of the easiest mountain trails with the most rewarding views in the Jungfrau Region.
If you are wondering whether Bachalpsee is worth a visit, how to get there, or are looking for information about the Bachalpsee hike, read on!
In this guide, you can find all the info that you need in order to plan your visit to Bachalpsee Lake. In addition, we share suggestions for the best hikes near Bachalpsee that will make your visit even more memorable. Find out!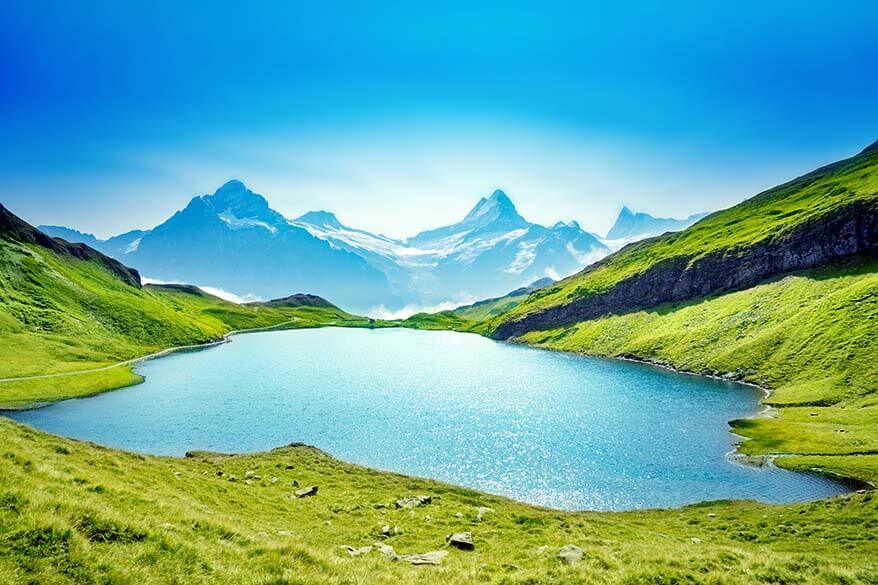 Why Visit Bachalpsee
Bachalpsee is one of Switzerland's most beautiful mountain lakes. Located at 2,265m (7,431 ft) altitude and surrounded by green pastures and colorful wildflowers, this lake also has the most incredible backdrop of snow-capped mountains of the Jungfrau Region.
The views here are stunning and ever-changing. We have been to Bachalpsee several times and the lake is never the same.
When the water is still and the sky is blue, you can see the reflections of the distant mountain peaks in the blue waters of this glacial lake. The peaks of the Wetterhorn, Schreckhorn, and Finsteraarhorn are on the other side of the valley but – reflected in the lake – they seem to be just nearby. An optical illusion makes it look like you could almost touch them… It's picture-perfect!
If you come here on a beautiful day like that, you'll understand why Bachalpsee Lake is called 'the blue gem'. But even if you come on a less sunny day, Bachalpsee will still impress you. It's really worth a short hike!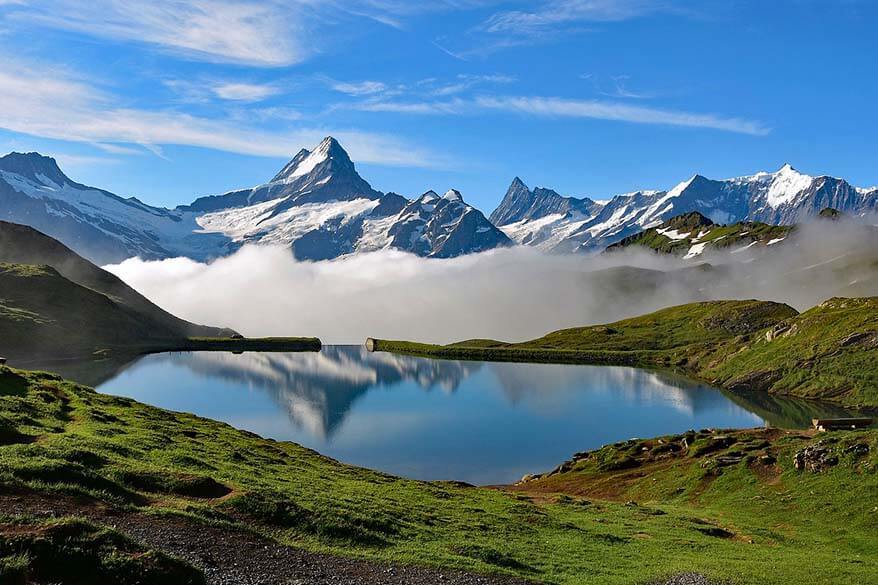 How to Get to Bachalpsee
The easiest way to get to Bachalpsee is by taking a cable car from Grindelwald to First and then hike a 1-hour easy trail to Lake Bachalpsee (more info below).
The cable car ride from Grindelwald Firstbahn Gondola Station to First takes 25 minutes. It passes mid-stations of Bort and Schreckfeld, but for Bachalpsee, you have to remain seated till you reach First.
This is an extremely scenic gondola ride with fantastic views in all directions. So sit down and enjoy phenomenal views of the surroundings!
If you are extremely fit and have lots of time, you could also hike from Grindelwald to First, but it's a strenuous hike that will take you at least half a day. It's not a hike I'd recommend – there are so many better ways to spend your time in this beautiful part of Switzerland!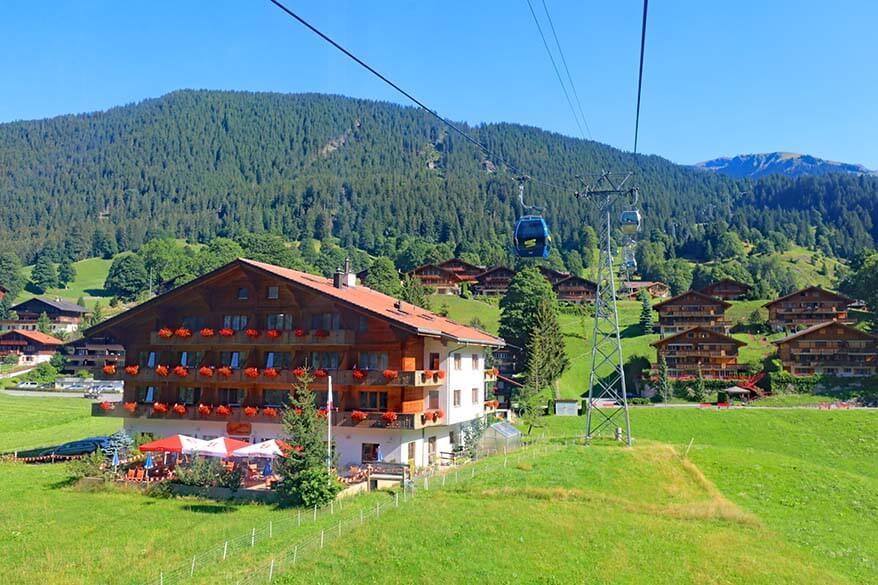 Practical Information for Grindelwald – First Cable Car
Gondolas from Grindelwald to First run non-stop during the entire day. In summer, they run from 8 AM to 6 PM. Even on a busy day, it's unlikely that you'll have to wait for a gondola longer than a few minutes, but the queues at the ticket office can be long, so it's best to get your tickets online in advance or use one of the ticket machines.
At the moment of writing, Grindelwald – First round trip gondola ticket costs 64 CHF (about 60 EUR) per person, with discounts available for Swiss Pass and Eurail/Interrail pass holders. Kids pay half the price; kids under 6 travel free of charge. You can book your tickets here.
We used the Jungfrau Travel Pass during our visit – it's a multi-day ticket that includes all the gondola and train rides in the area. However, it only makes sense if you are staying in the region for at least 3 days or longer.
Good to know: You can disembark at the intermediate gondola stations. At Schreckfeld, you'll find First Glider and Mountain Carts. At Bort – Trottibike, and at First – Bagjump and First Flyer. Don't miss these fun activities! Combination tickets including one or several of the First-Grindelwald attractions are also available; it's a better deal than paying for everything individually.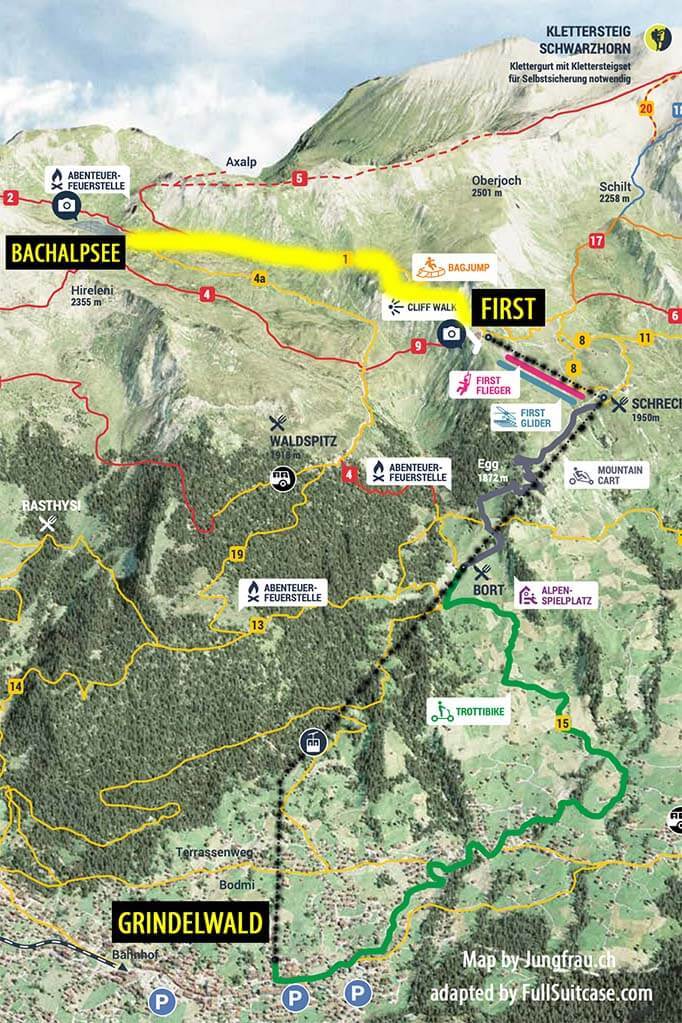 Hiking to Bachalpsee from Grindelwald-First
Despite the fact that Bachalpsee is located at 2,265m (7,431 ft) above sea level, the Bachalpsee hike is actually quite short and easy. That's because you start at Grindelwald-First (2,168m – 7,112 ft) that can be reached by cable car from Grindelwald (see above).
The Bachalpsee hike starts at First; the well-signposted path can be found to the left side after you exit the gondola. Bachalpsee hike is indicated as #1 on the Grindelwald hiking map (see above).
Follow the signs for Bachalpsee and you'll walk past First Cliff Walk. Make sure to take a short detour and visit this cliffside attraction! The views here are stunning and it's really worth it.
READ MORE: First Cliff Walk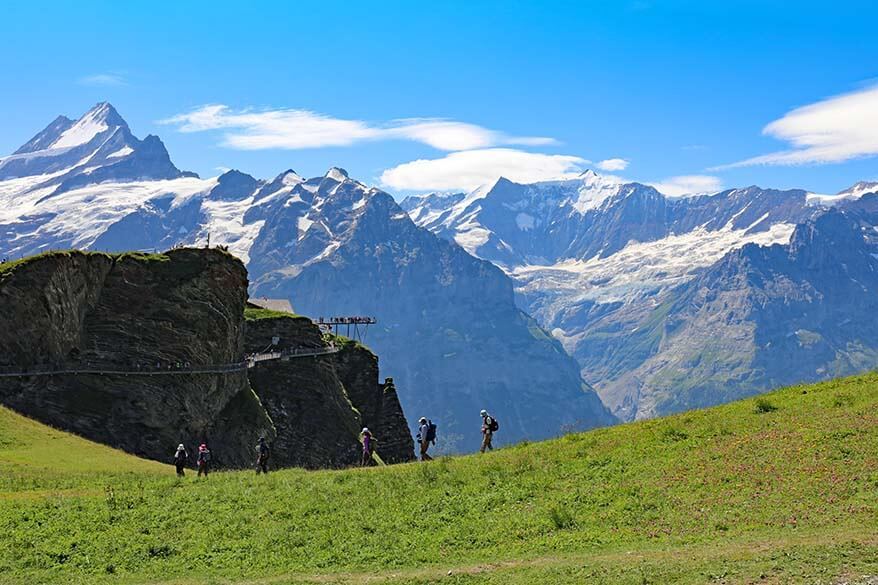 After visiting the Cliff Walk, continue west on a wide, highly-trafficked gravel path towards Bachalpsee/ Faulhorn. The first part of the hike is a bit steep, till you reach the Gummihütte. From then on, it's almost flat and the rest of the hike is really easy.
Since we were at Grindelwald-First the whole morning (there are lots of activities to do here), it was lunchtime by the time we started hiking to Bachalpsee. So we paused along the way and had a picnic with the most amazing views. It's little things like these that often make the best vacation memories…
READ MORE: Things to Do in Grindelwald-First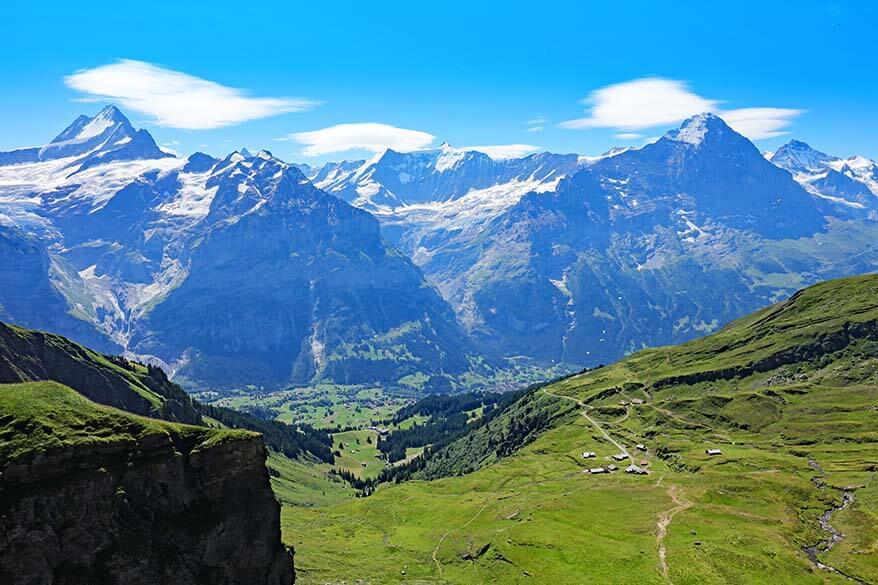 During the entire hike, you are surrounded by mountain meadows with alpine flowers and nice views. You'll likely run into a couple of Swiss cows as well. Just remember to keep your distance, especially if they have young calves.
The Bachalpsee hike is the busiest hiking trail we have come across in entire Switzerland. If you come in summer, there are always many people walking here. But don't let this offset you. The crowds disperse somewhat by the lake and completely disappear if you decide to do any of the longer hikes beyond it (more info below).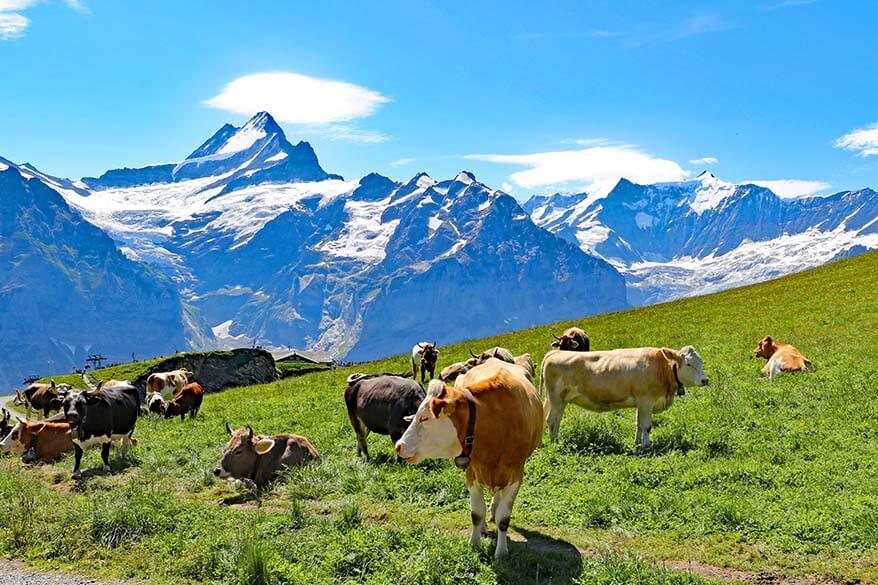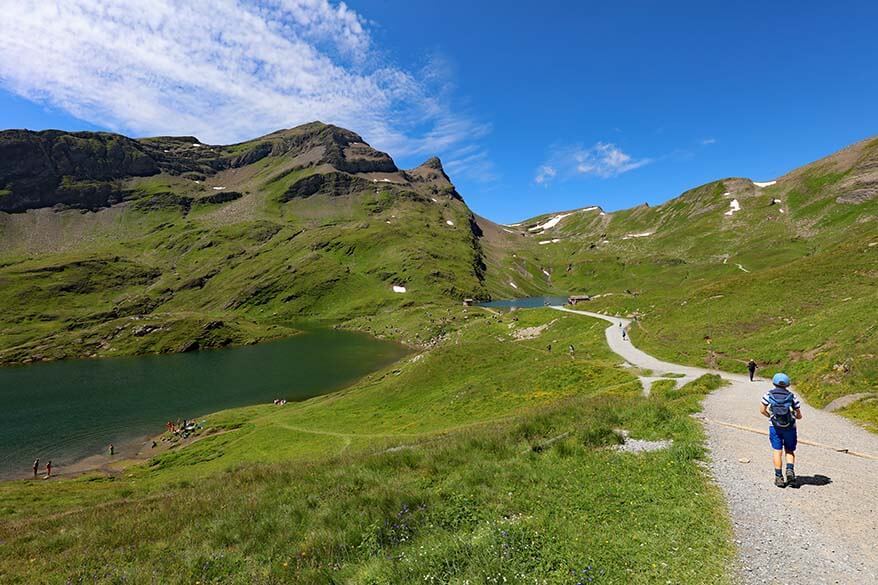 Bachalpsee Hike Practical Info
Distance: 5.88 km (2.94 km one way)
Time: 55 minutes each way (2 hours total)
Difficulty: easy
Ascent/ descent: 188 m/ 188 m
Gear: Hiking boots recommended.
Hiking season: End of May to mid-October.
Bachalpsee in winter: In winter, the lake is frozen, but you can still visit it. During the ski season (approx. December to mid-March), you can take a gondola to First, from where you can reach the lake via a signposted winter walking trail.
Good to know: The indicated hiking times in Switzerland are exactly that – hiking times, not taking into account any stops. So you should plan 3-4 hours for your visit to Lake Bachalpsee, including photo stops and some time at the lake. It's such a scenic area and it would be a pity to rush through the hike without taking the time to enjoy the amazing scenery around you!
Bachalpsee Lake
Once you reach Bachalpsee, you'll find a beautiful lake surrounded by green meadows and stunning views. The lake is idyllic and if you stay here for a longer time, you'll see how the water changes all the time, and with it – the reflections and the view.
Bachalpsee is actually a lake with two parts – one higher and one lower – and I strongly suggest you take a walk around both of them. The best views are at the far end of the lower lake – it's here that you can see amazing mountain reflections (if the water is calm).
Despite this being one of the most popular hikes in the area, it's easy to find a spot to enjoy the lake and the surroundings without the crowds. Just walk to the far end of the higher lake and you'll be completely alone. If you are here around lunchtime, Bachalpsee is a great place for a picnic as well.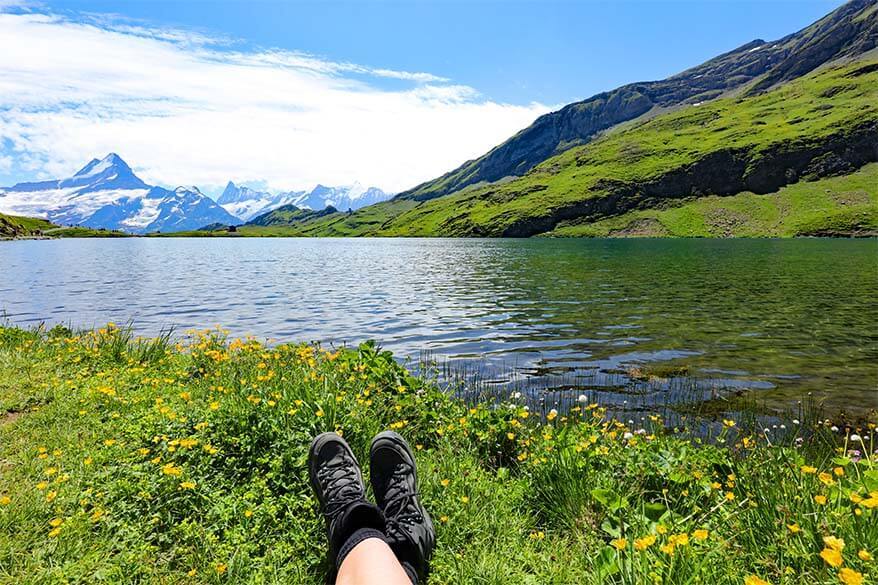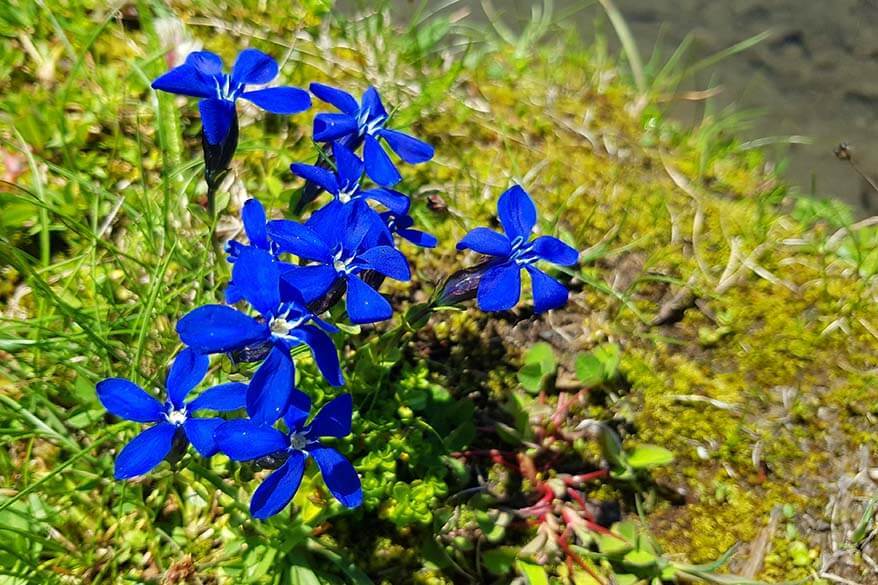 There are no restaurants or shops at Bachalpsee, not even a café. If you don't have your own picnic, you can have lunch at a restaurant in First – just keep in mind the hiking times when planning your lunch break. There are bathroom facilities at Bachalpsee, but they are limited and it can get very busy here.
You can go swimming in Bachalpsee Lake and some people attempt this in summer. The water of this glacial lake is freezing cold and even on a warm summer day, swimming here is really not for everyone.
Most people jump into the lake and are out in no time, but we also saw one who kept on swimming up and down the lake for at least 15 minutes. So I guess it all depends on the person. I'd say, dip your toes in the lake and keep it at that. Swimming in mountain lakes at this altitude is really not what you'd call a relaxing swim.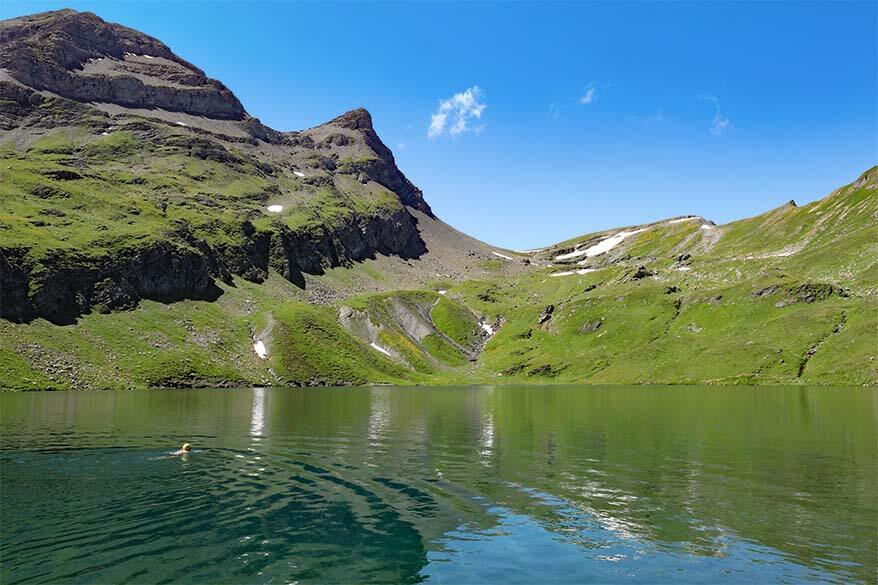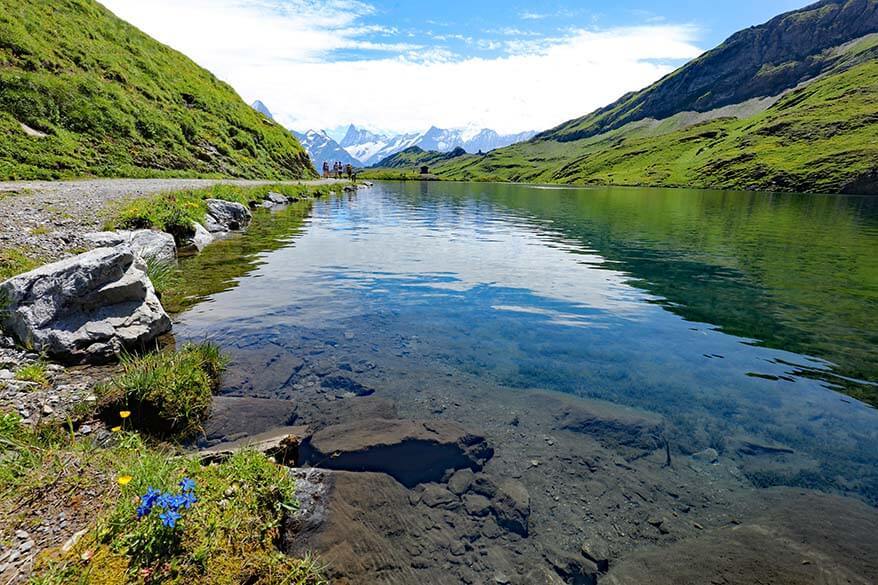 Bachalpsee with Kids
Bachalpsee Lake is a great destination for families with kids. The hike is not too long, not too strenuous, and can be done even with younger kids. I would say that most kids from about 4 years should be able to do this hike on their own.
If you have a sturdy stroller with big rubber wheels, you could potentially even hike to Bachalpsee with a stroller. On the other hand, the path is quite rough in some places and the first part of the hike is really steep. Do not attempt this hike with a stroller with small wheels.
On the way to Bachalpsee, you can admire the beautiful scenery, colorful flowers, and quite likely meet some cows with their huge bells that kids will love. Once at the lake, there is plenty of space to run around and play. The fact that there are bathroom facilities at both ends of the trail makes it easier as well.
Pack a picnic and spend a couple of hours at the lake. Bachalpsee Lake is a very nice day trip in the Grindelwald area with children of any age!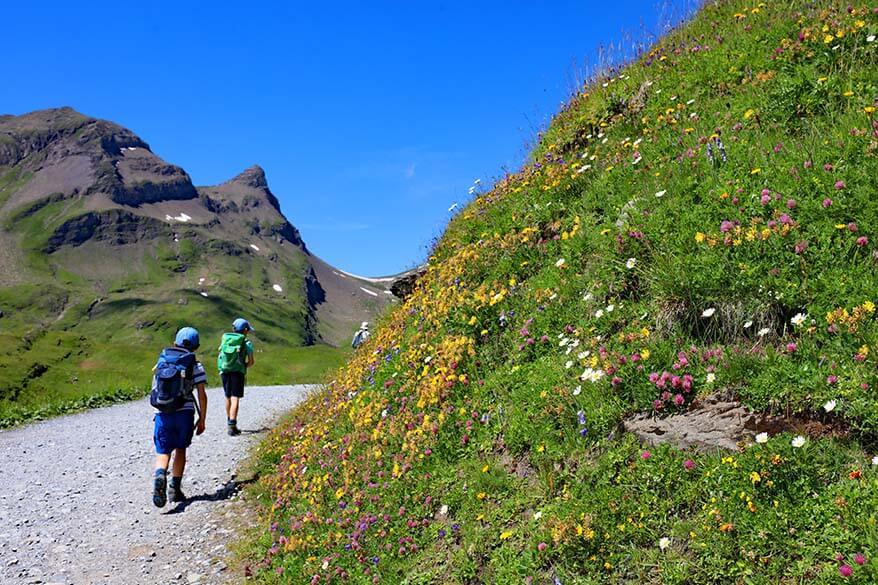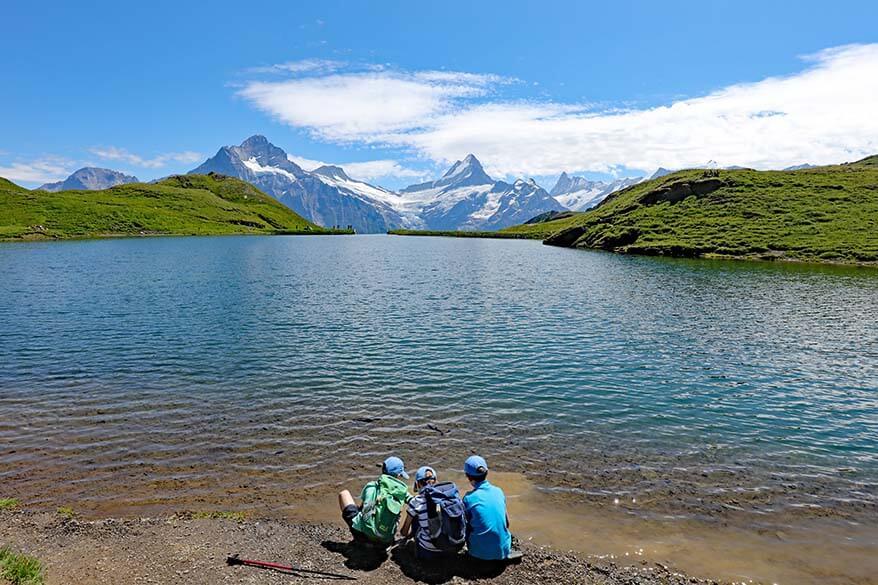 Best Time to Visit
The hiking season in Grindelwald starts at the end of May and lasts till mid-October. At the beginning of the season, you may still have some snow in this area, but the Bachalpsee hike is relatively easy and should be possible in any conditions. As mentioned before, you can even walk here in winter.
The best time to visit Bachalpsee lake is early in the morning on a sunny day. There are not too many tourists in the morning and mountain reflections are at their best. End of August – beginning of September is a great time to visit if you want to avoid the peak season, but I think that every season has its charms.
If you come during the day, between 10 AM and 4 PM, it will likely be very busy. Especially in summer. Furthermore, the sun will be right in front of you, taking away the best views, and making it more difficult to take nice pictures. That being said, the last time we visited, we were here during the day in the peak season. It was very busy and there were no reflections on the lake, still, it was a very enjoyable visit and the views were amazing.
Late afternoon is also a good time to visit Bachalpsee, but you have to keep an eye on the gondola schedules and make sure you can get back to Grindelwald in time.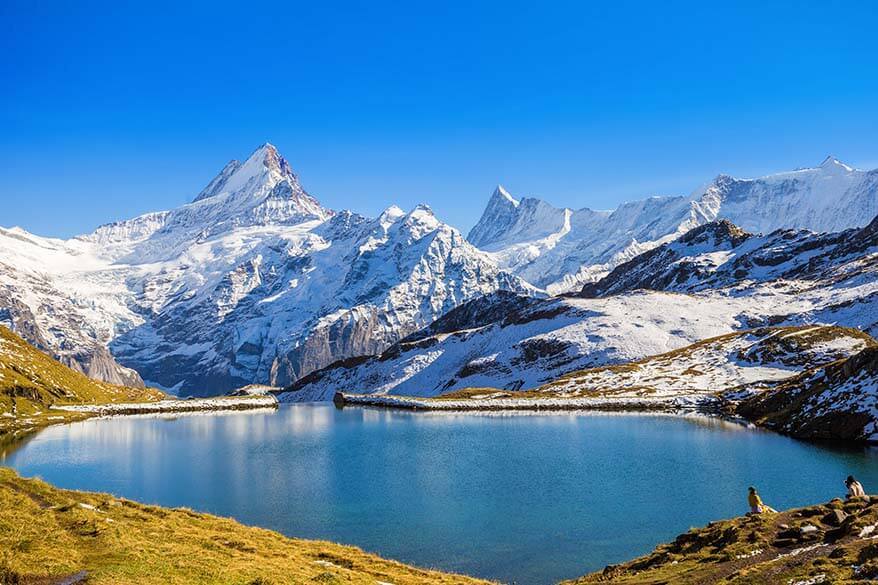 Best Hikes Near Bachalpsee
First-Bachalpsee hike might be the most popular hike in the area, but it's definitely not the only one. From Bachalpsee, you can choose to return back to First the same way you came, or you can choose one of the alternative trails.
Below, you can see the hiking map of the entire Grindelwald area.
These are the best alternative hikes from Bachalpsee, instead of taking the same way back to First (more info below):
Faulhorn Trail (#2): First – Bachalpsee – Faulhorn – Bussalp: 4 hrs
Flower Trail (#4): First – Bachalpsee – Waldspitz – Bort: 2,5 hrs
First – Schynige Platte (#2+#62): First – Bachalpsee – Faulhorn – Schynige Platte: 6-7hrs
The most popular option is the hike to Faulhorn mountain (hiking trail #2 on the hiking map of Grindelwald). From Faulhorn, you can walk down to Bussalp, where you can take a bus back to Grindelwald. The Bachalpsee – Faulhorn hike is a strenuous uphill climb that takes you from 2,265m to 2,681m in about 1,5 hours. The views are really good, but having done this hike once, I'm just not sure if it's really worth the effort…
An even more challenging option is the First-Schynige Platte hike via Faulhorn (hiking trail #2 followed by #62 on the map). Keep in mind that this hike requires a whole long day. This is a very strenuous hike and not for everyone. Here you can find more info about First-Schynige Platte hike.
The easiest scenic option is to take one of the hiking trails from Bachalpsee to Bussalp or Bort. These are much more relaxing, downhill trails with great views of the Eiger and other mountains of the Jungfrau Region. There are many options – see the map, but not all of them are equally scenic.
Last time we visited Grindelwald, we asked for recommendations from a local guide and they told us that the Flower Trail (#4 on the map) was one of the most beautiful hikes in this area. So we decided to give it a try and it was so beautiful! Amazing scenery, alpine meadows, mountain streams, flowers, Swiss cows and snow-peaked mountains in front of us all the time… And – we were almost alone on this trail. We loved it!
This trail takes you from Bachalpsee to Bort in about an hour and a half, and there you can then take a cable car back to Grindelwald.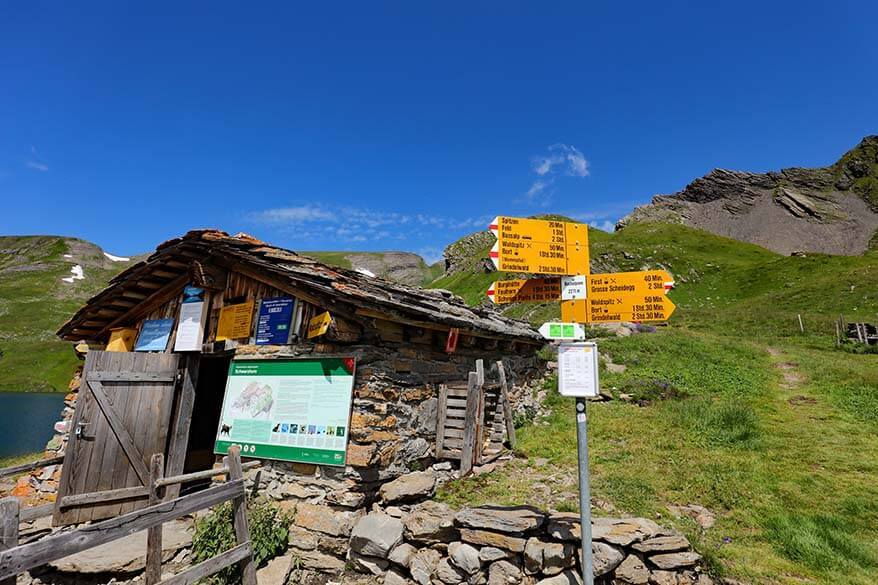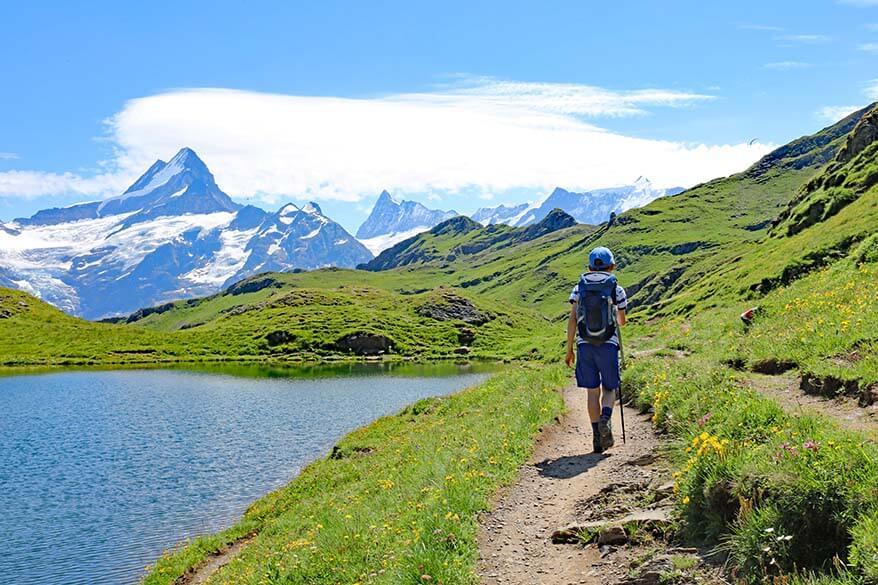 FAQ
How do I get to Bachalpsee?
The most common and the quickest way to reach Bachalpsee Lake is by taking a cable car from Grindelwald to First and then walking to the lake from there. The hike is easy, there is little altitude change, and takes about 1 hour.
How long is the Bachalpsee lake hike?
Bachalpsee hike is an easy hike of a bit less than 3 km one way (6 km/ almost 4 miles in total). It takes about 1 hour each way, plus the time at the lake, so count at least 3 hours to visit Bachalpsee lake from Grindelwald-First.
Can you walk from Grindelwald to First?
Yes, if you are fit and don't mind a strenuous climb, you can hike from Grindelwald to First. This will save you money for the cable car, but the altitude gain is over 1,200 m (4,000 ft) and the hike is 8.7km (5.5 miles) one way. You'll probably need at least 3 hours just to get there. So unless you have more time than money, it's really not worth hiking from Grindelwald all the way to First.
Can you walk to Bachalpsee in winter?
Yes, it's possible to hike to Bachalpsee lake in winter. You will need sturdy winter boots with a good grip and it's a good idea to take hiking poles as well. Also in winter, it takes about 1 hour to walk from Grindelwald-First cable car station to Bachalpsee.
Is Bachalpsee wheelchair accessible?
No, you cannot get to Bachalpsee with a wheelchair. Even though the hike is easy, it's a mountain trail with gravel and some steeper sections. It's not wheelchair accessible.
Can you swim in Bachalpsee lake?
Yes, you can swim at Bachalpsee lake. However, even on a very warm day in the heart of the summer, water temperatures of this mountain lake will be freezing cold. That being said, every time we visited Bachalpsee in summer, we always saw people swimming in the lake.
So, this is our guide to visiting Bachalpsee Lake near Grindelwald in the Jungfrau Region in central Switzerland. I hope that it inspired you to visit this pretty alpine lake and also to explore this beautiful area deeper.
If you are looking for more information for visiting the Jungfrau Region, please check our other guides below:
READ ALSO: Top Things To Do in Zermatt
If you found this post useful, don't forget to bookmark it and share it with your friends. Are you on Pinterest? Pin this image!