Riffelsee Lake Trail (aka 'Riffelseeweg' or Zermatt trail nr. 21) between Rotenboden and Riffelberg is an easy short hike with some of the best views in Zermatt, Switzerland. Best known for the picture-perfect reflections of the Matterhorn on the Riffelsee Lake, this hike actually has a lot more to offer than that!
If you are looking to explore some of the most spectacular scenery around Zermatt without too much effort, Riffelsee Lake Trail is one of the best hikes to do consider! This is an easy, family-friendly hike, with some of the most rewarding landscapes and countless photo opportunities.
What to expect: The scenery during the entire hike is amazing, with the Matterhorn and countless other mountain peaks around you. In addition to Riffelsee Lake, you'll also pass another small lake that's just as picturesque as Riffelsee and where you can see some beautiful Matterhorn reflections as well. In addition, this area is a good place to see sheep, marmots, and also ibex.
Below, you can find all the practical information for hiking Riffelseeweg and see some pictures that will give you a better idea of what to expect.
We also include our top tips for the best times to do this hike, spotting wildlife, and where to find the most beautiful photo spots along the way. Find out!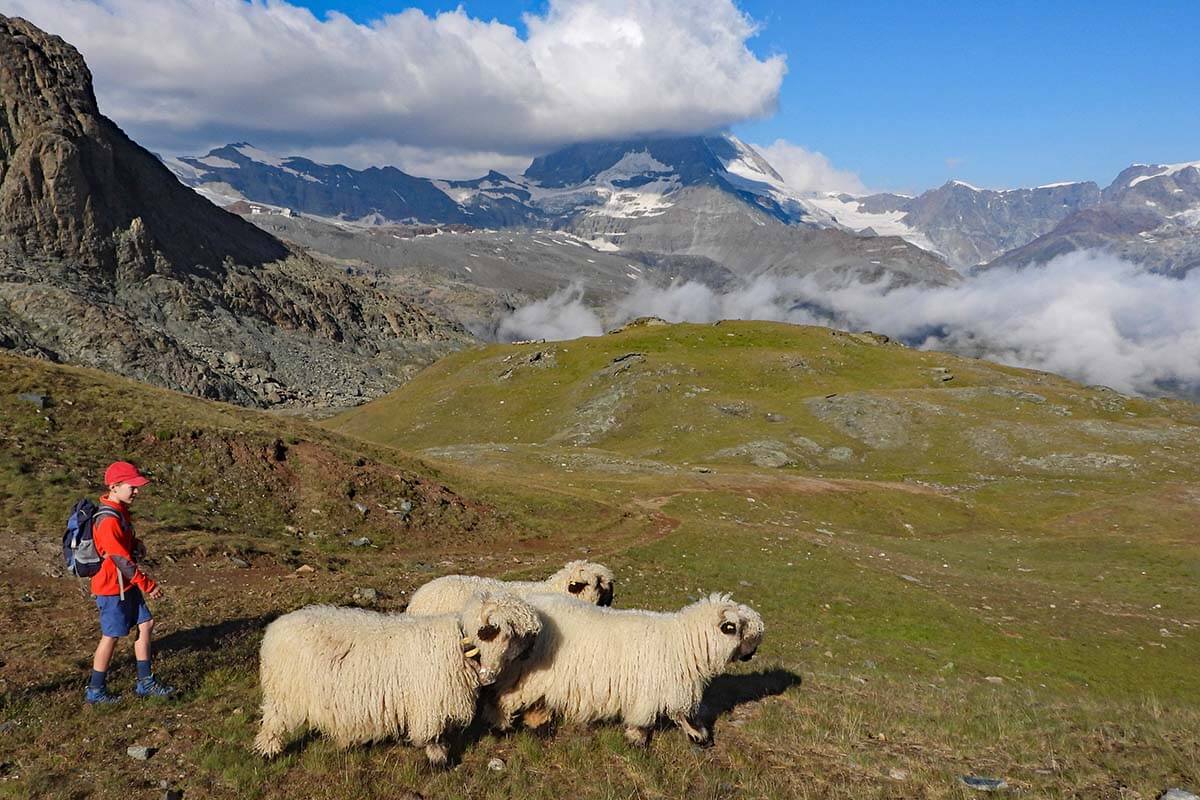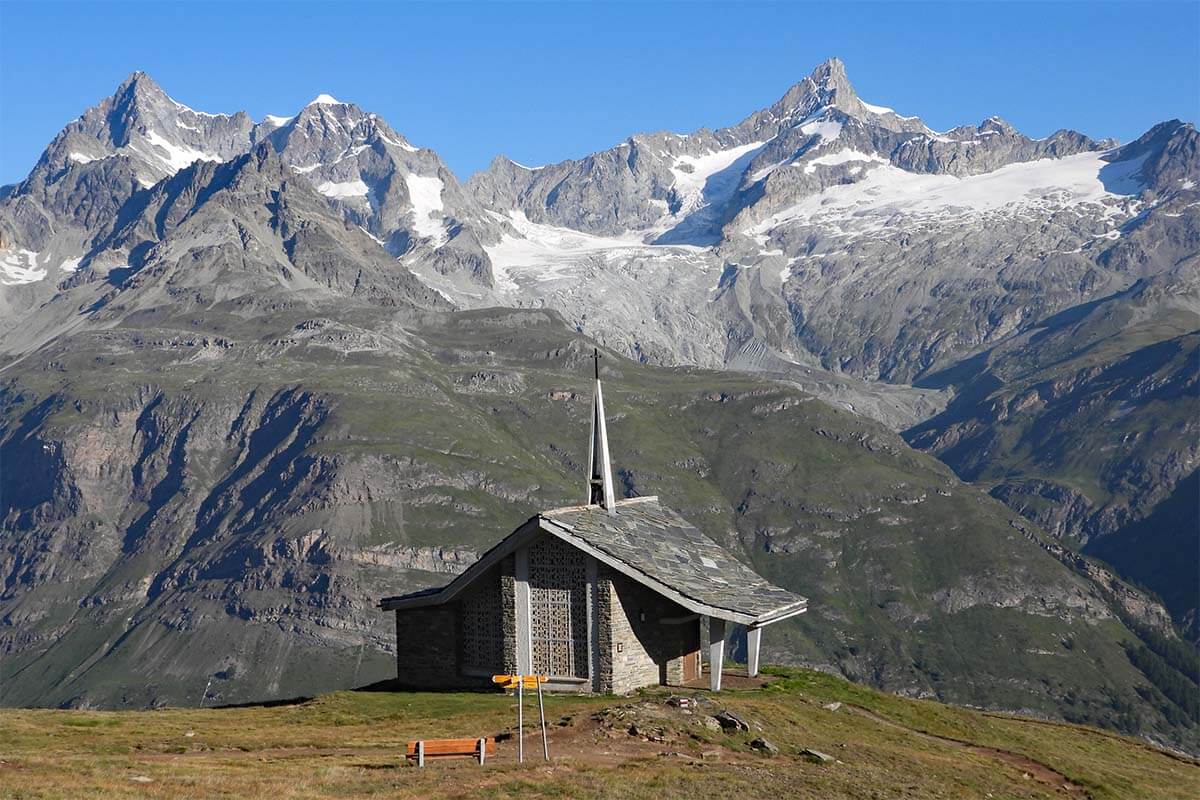 Riffelsee Lake Trail from Rotenboden to Riffelberg – Hike Overview & Map:
Distance: 3 km (1.86 miles).
Hiking time: 1 hour if going downhill. Add 10-15 minutes if you are doing this hike in the opposite direction.
Difficulty: Easy.
Elevation difference: Ascent 53 m/ descent 289 m.
Starting point: Rotenboden (2,815 m) – the second-last train station before Gornergrat. You'll need a train ticket to get here. We recommend getting a day ticket for the Gornergrat Railway and exporing Gornergrat and the area around it to the fullest.
End point: Riffelberg (2,582 m) – accessible by the same train, one station lower.
Official trail: 'Riffelseeweg' – hike nr. 21.
Season: July to October.
Facilities: There are restaurants/ bathroom facilities at the end of the hike, at Riffelberg.
Equipment/clothing: Good hiking shoes, sun protection, and a bottle of water are a must. On a colder day, pack a wind- and waterproof layer.
Good to know: Some websites describe Riffelsee Lake Trail as a 1-mile loop, but that is not correct. The official Riffelsee Lake Trail is a linear and not a circular hike of 1.86 miles (3 km) that starts at Rotenboden and ends at Riffelberg. We indicated this hike in green on the map below.
You can also simply walk to Riffelsee Lake from Rotenboden and back and there are so many 'trails' that I guess you could make some kind of a loop as well. But if you have an hour to spare, just follow this route – it's well worth it.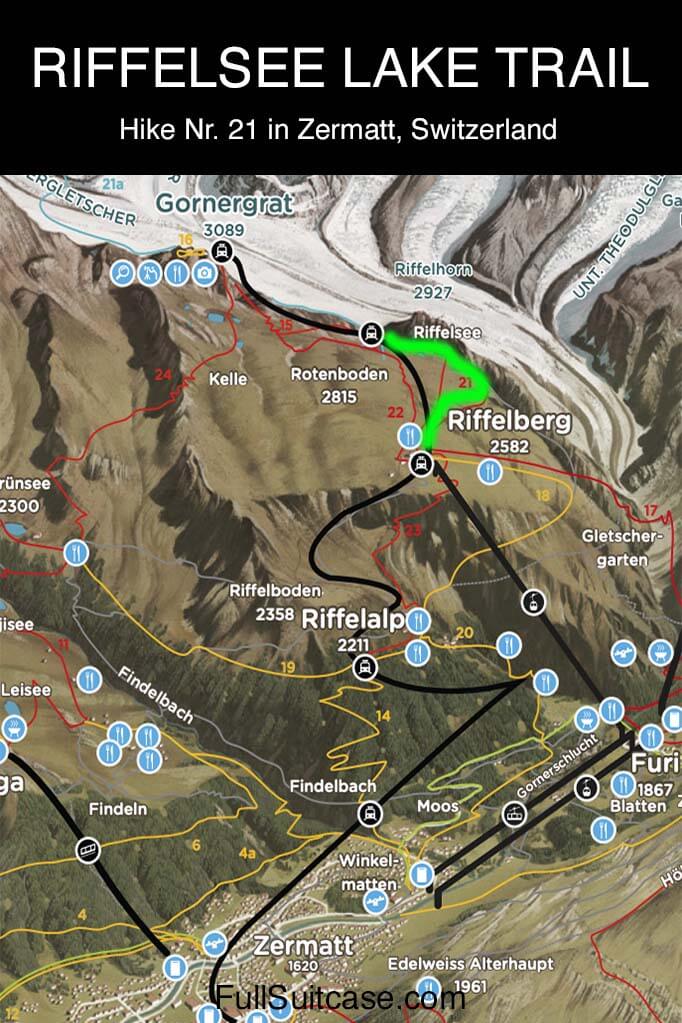 TIP: If you want to see the most beautiful reflections at Riffelsee, come here early in the morning. Late evening could be nice too, just be sure not to miss the last train.
PHOTO TIP: Bring a wide-angle lens for the landscapes and a telelens for the wildlife and some unique angles of the mountains. If you don't want to miss any photo opportunities, it's easier if you have a camera with a lens that gives you all ranges – from wide to tele.
I took my Nikon Coolpix P1000 (zoom range from 24- 3000mm) and it was perfect for everything – from Matterhorn reflections to wildlife close-ups.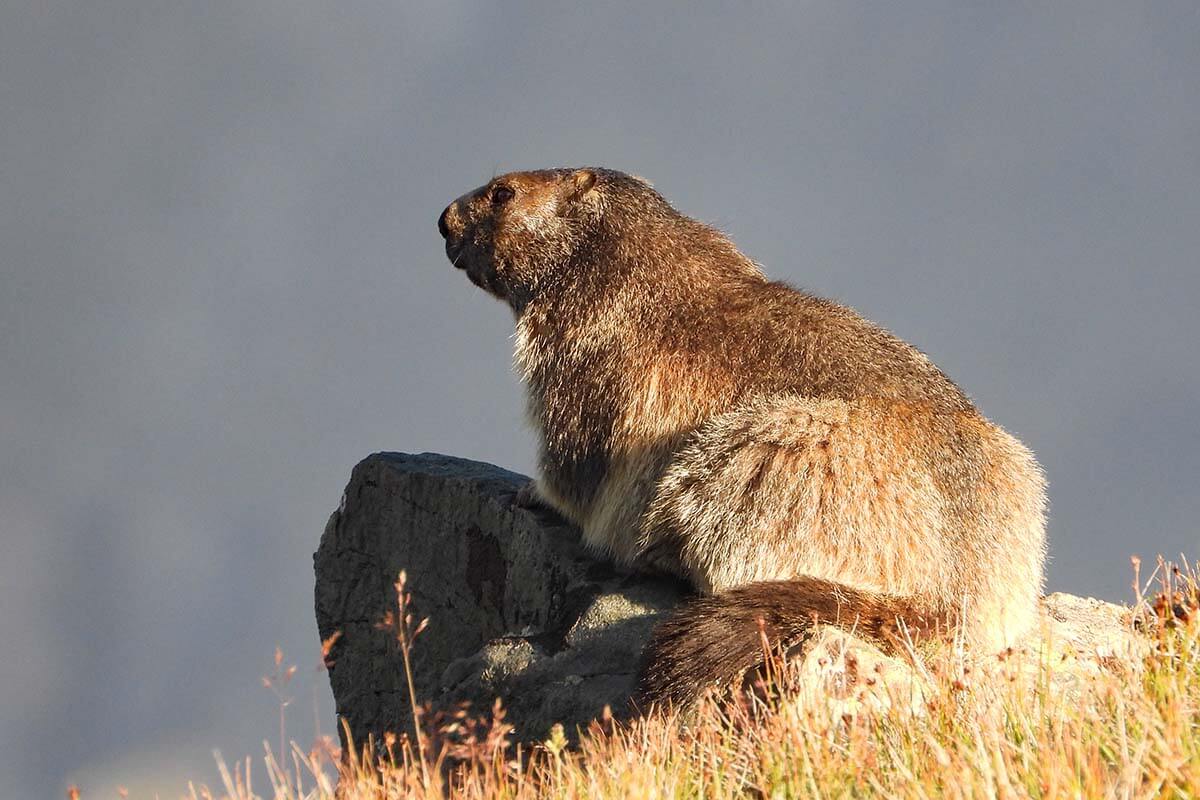 Hike Description & Photos
As already mentioned, Riffelsee Lake Trail gives you easy access to some of the best scenery around Zermatt. And you don't have to walk far in order to experience it!
From the moment you arrive at Rotenboden train station (and already before that, on the train), you are surrounded by some beautiful scenery. One of the first photo stops can be found right as you exit the train – a bench overlooking the nearby glacier.
When we visited, there were also TOBLERONE letters where you could take a nice picture with the Matterhorn in the background as well (and make some publicity for this world-famous Swiss chocolate)…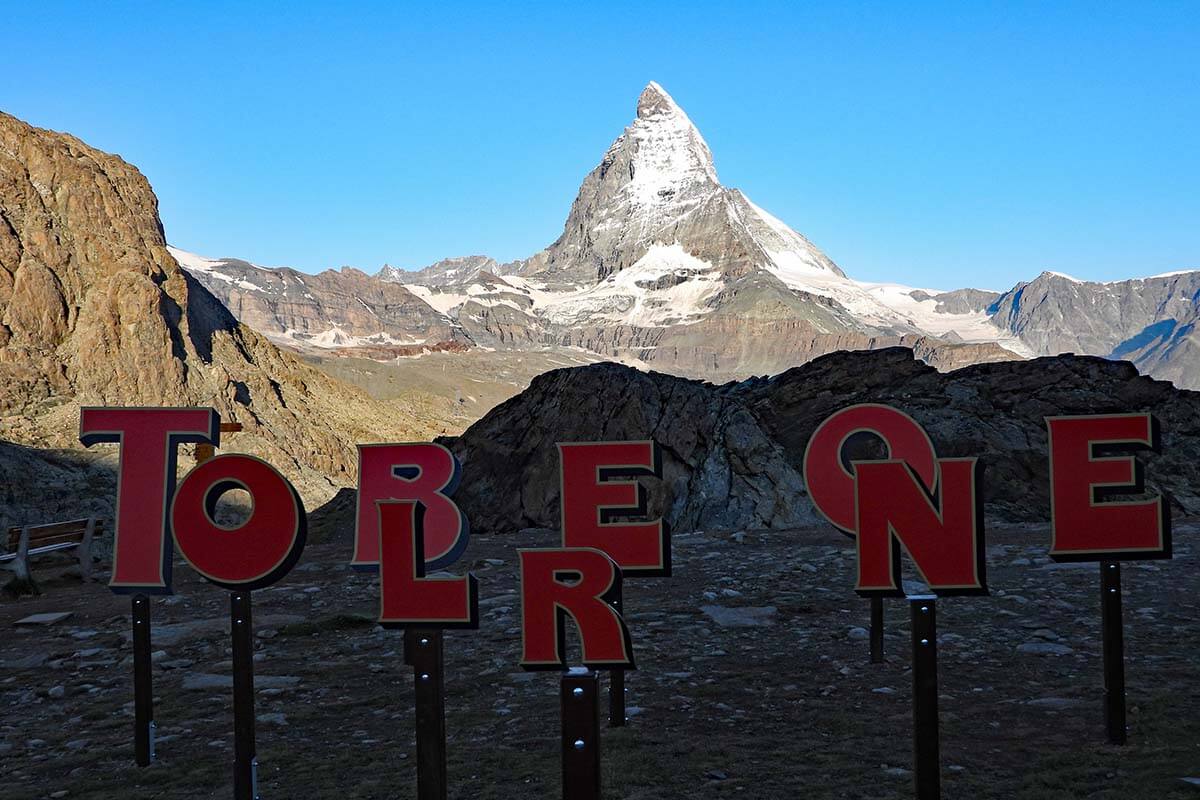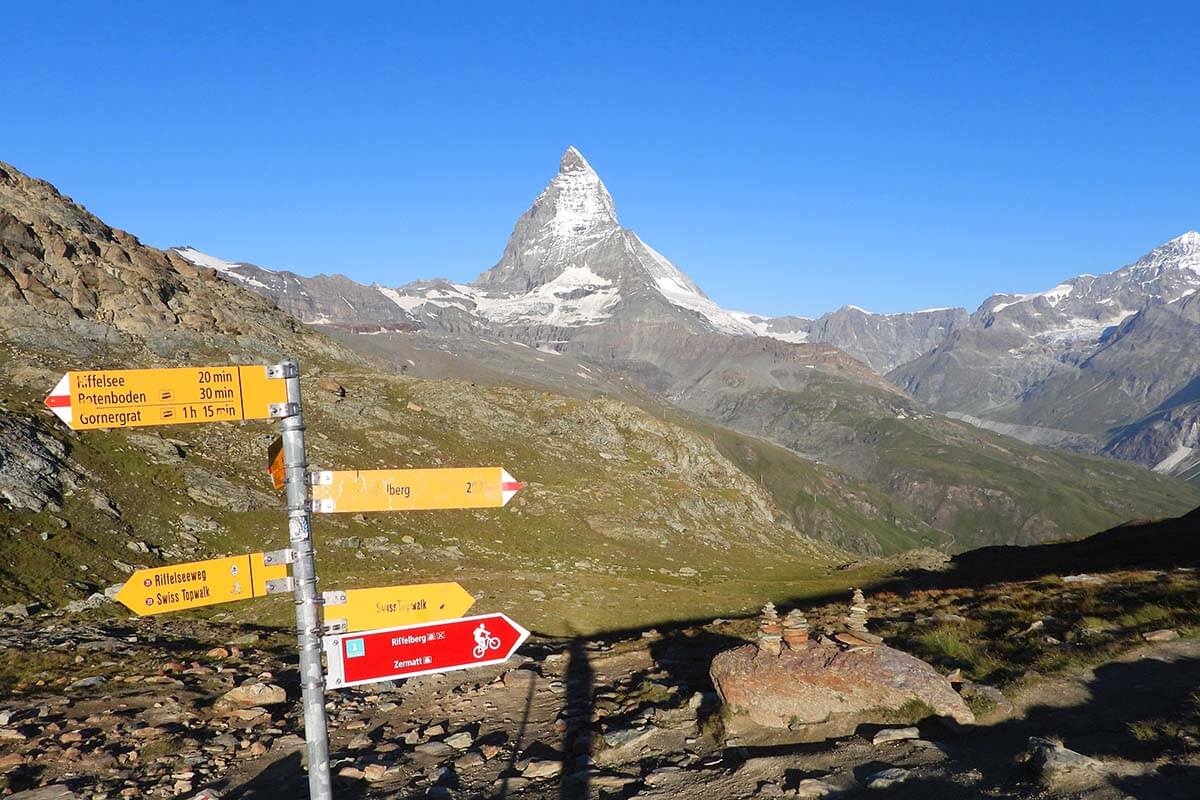 From Rotenboden, follow the trail indicated as 'Riffelseeweg'. It goes a bit to the left at first, whereas the shortest trail to Riffelberg goes to the right, and you don't want to miss the most impressive place of this hike, Riffelsee!
Very soon, you'll Riffelsee Lake and you'll reach the lake in less than 5 minutes – it's really just near Rotenboden train station. When the conditions are right, you can see the most stunning reflections of the Matterhorn at Riffelsee. This is one of the most photographed postcard views of the Matterhorn.
However, please note that the best time for reflections is early in the morning or late in the evening. If you do this hike during the day, the water of the lake will usually not be calm enough for reflections.
LEARN MORE: Tips for Visiting Riffelsee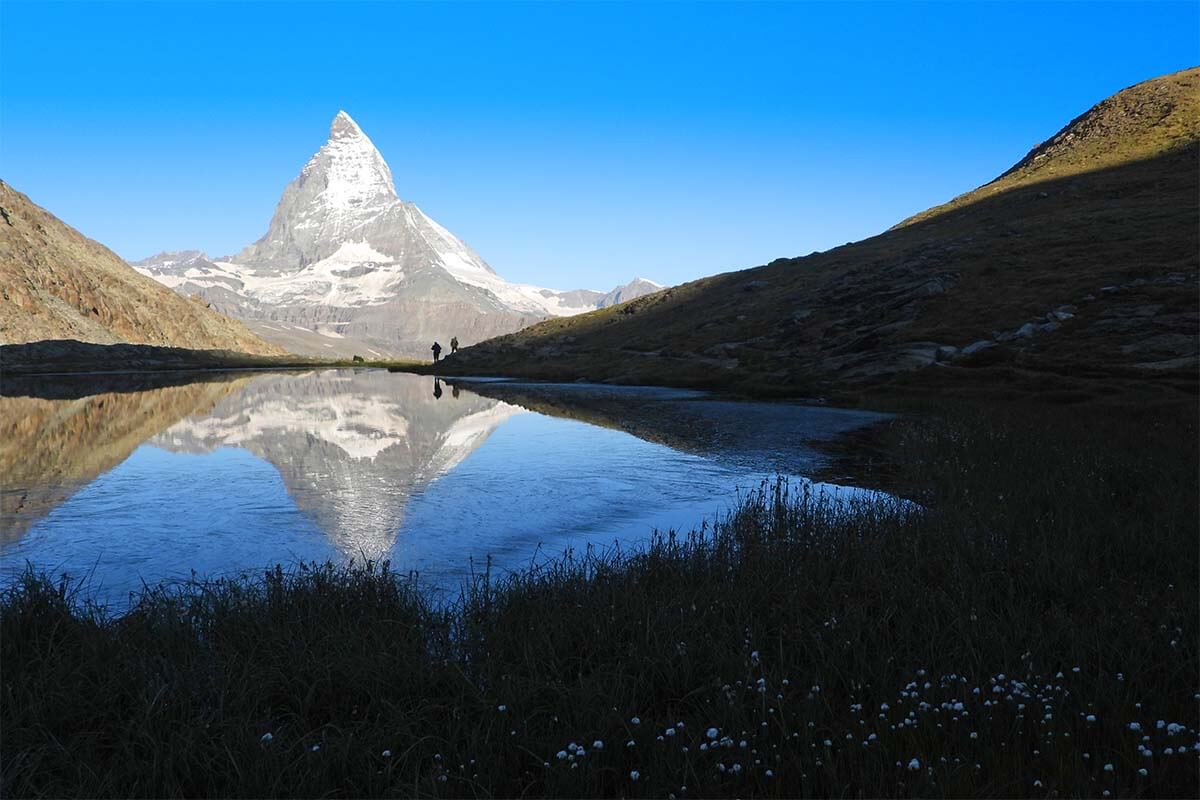 After taking a gazillion pictures of Riffelsee, continue to the other side of the lake. There are paths on both sides and it doesn't really matter that much which one you choose.
Once you get to the other side of the lake, be sure to look back! The views in the other direction are nice as well, and you can see some nice reflections of the Monte Rosa Massif in the lake as well.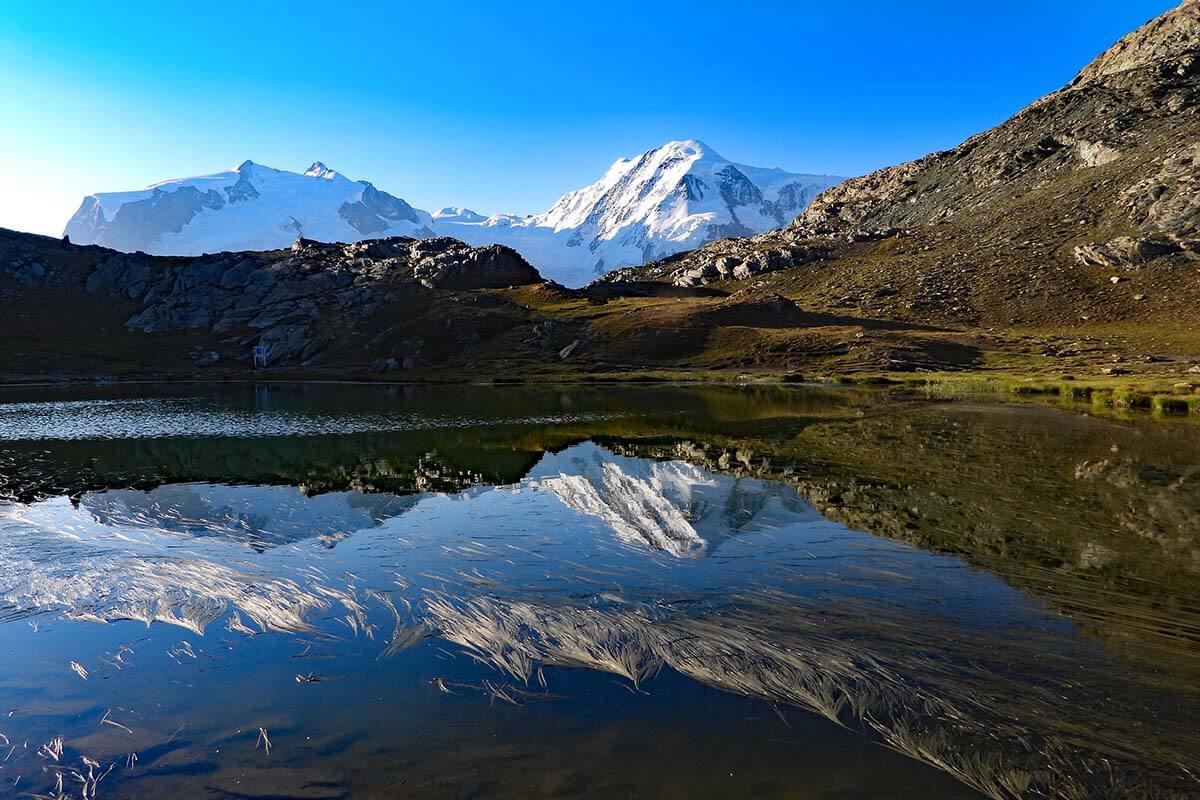 Hiking further in the direction of Riffelberg, you will soon come across another tiny mountain lake. It doesn't have a name and I haven't read about it anywhere before our visit. Yet, it's just as picturesque and worth seeing as Riffelsee!
This lake is located just a few minutes walk from Riffelse, but only few people seem to come here. If you are hiking at Riffelsee early morning, you'll likely be completely alone at this lake. While Riffelsee is widely known and is extremely popular and busy, its smaller neighbor seems to be overlooked by most visitors. But now that you know about this hidden gem just near Riffelsee, be sure to check it out!
You can also just hike to this lake and back to Rotenboden train station if you don't have time for the entire hike on the trail nr. 21 described here.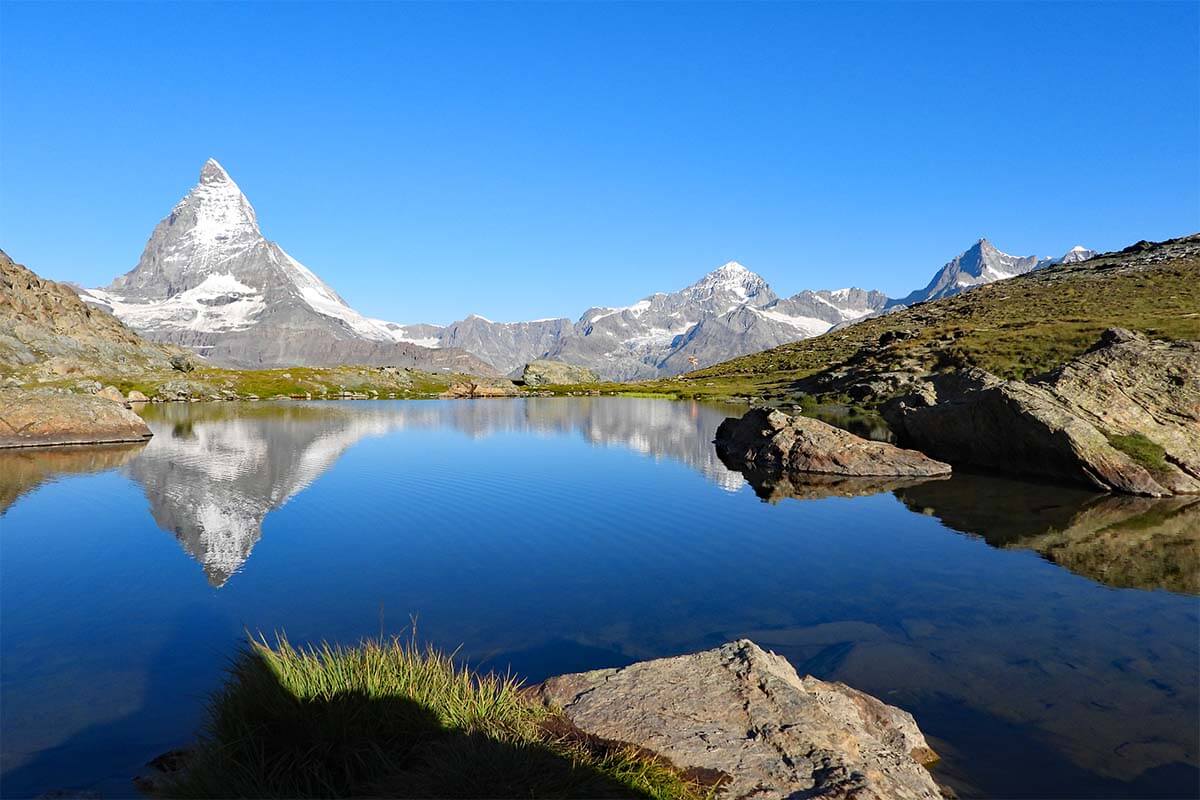 Afterwards, the hike continues in the direction of Riffelberg and you have several options and trails to choose from. Some of them will be a bit longer than others, but all are just as nice. The shortest trails are the ones going to the right, but it's really just a few minutes difference in total time.
At this altitude, you are surrounded by really nice Alpine scenery. It's much more green here than at the beginning of the hike and you'll also see more flowers along the way as well.
The Matterhorn and other snow-capped mountain peaks are right in front of you here, giving you plenty of amazing photo opportunities from various angles.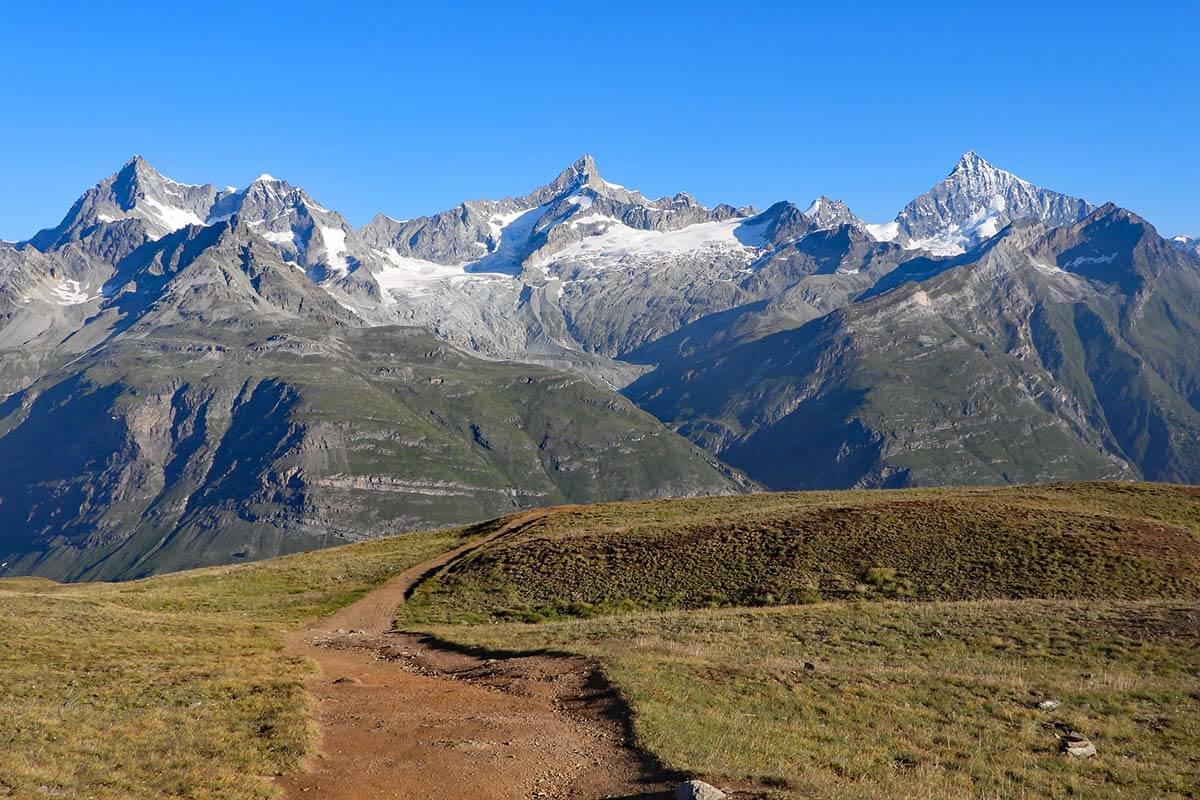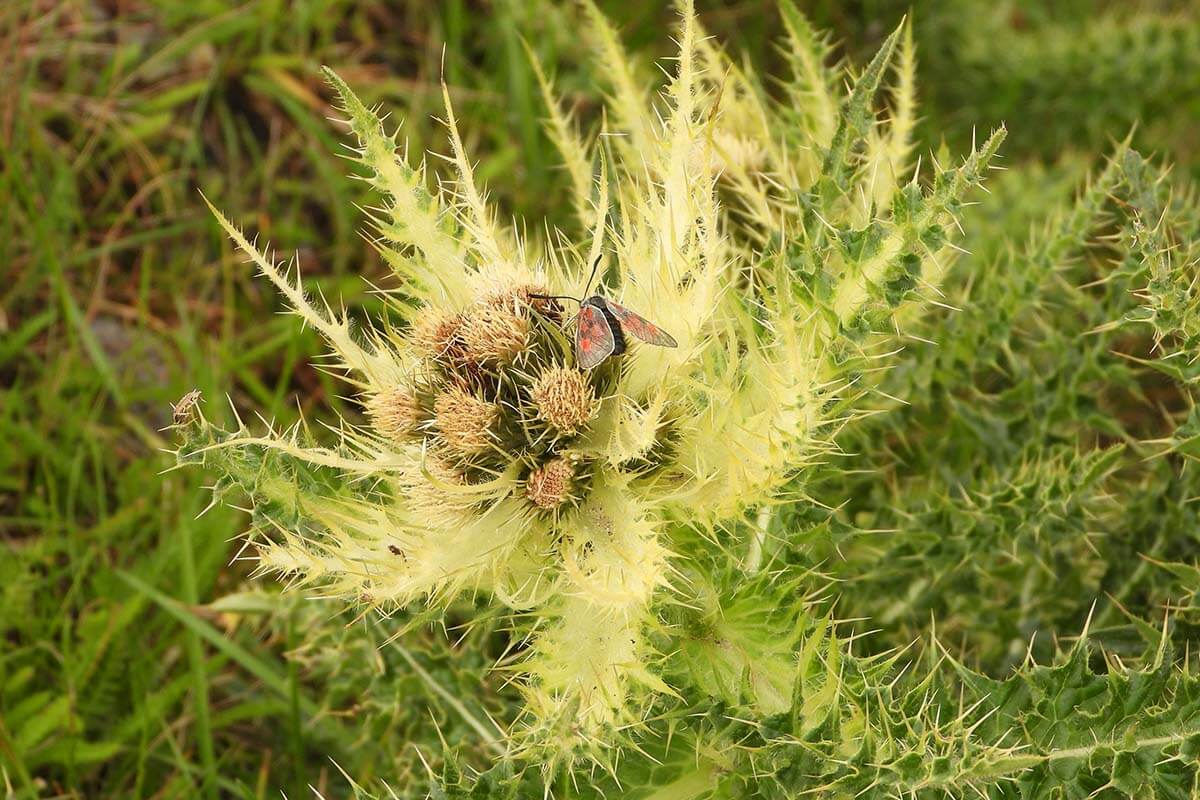 If you are lucky, you may run into some blacknose sheep here. It's a special local breed, originating from the Valais region, and they are really cute. Sometimes, you may also be able to spot ibex in this area.
At this altitude, you can also see quite some marmots – it's full of them along the Riffelsee – Riffelberg hike, especially around Riffelberg. If you look closely, you'll see little holes in the grass where marmots live.
However, they are quite shy, and so the best time to see marmots is when there are not too many people around – early morning is perfect for that! Marmots like to sit at higher spots or on the rocks, from where they have good view of the area – and that's what makes it quite easy to spot them as well. However…
We saw lots of marmots when hiking between Riffelsee and Riffelberg, but taking pictures of them is really not easy. Often, you can only observe marmots from far. The moment they see you approach, they will quickly disappear under the ground and won't come out again. We tried waiting for them at the place where we saw the whole group, but even after sitting still there for 15-20 minutes, not one marmot showed up.
As already mentioned, if you want to try to take pictures of marmots, you'll need a really good telelens and lots of luck. Or you may get lucky and see them closer to you and be able to snap a quick picture, but I wouldn't count on that too much.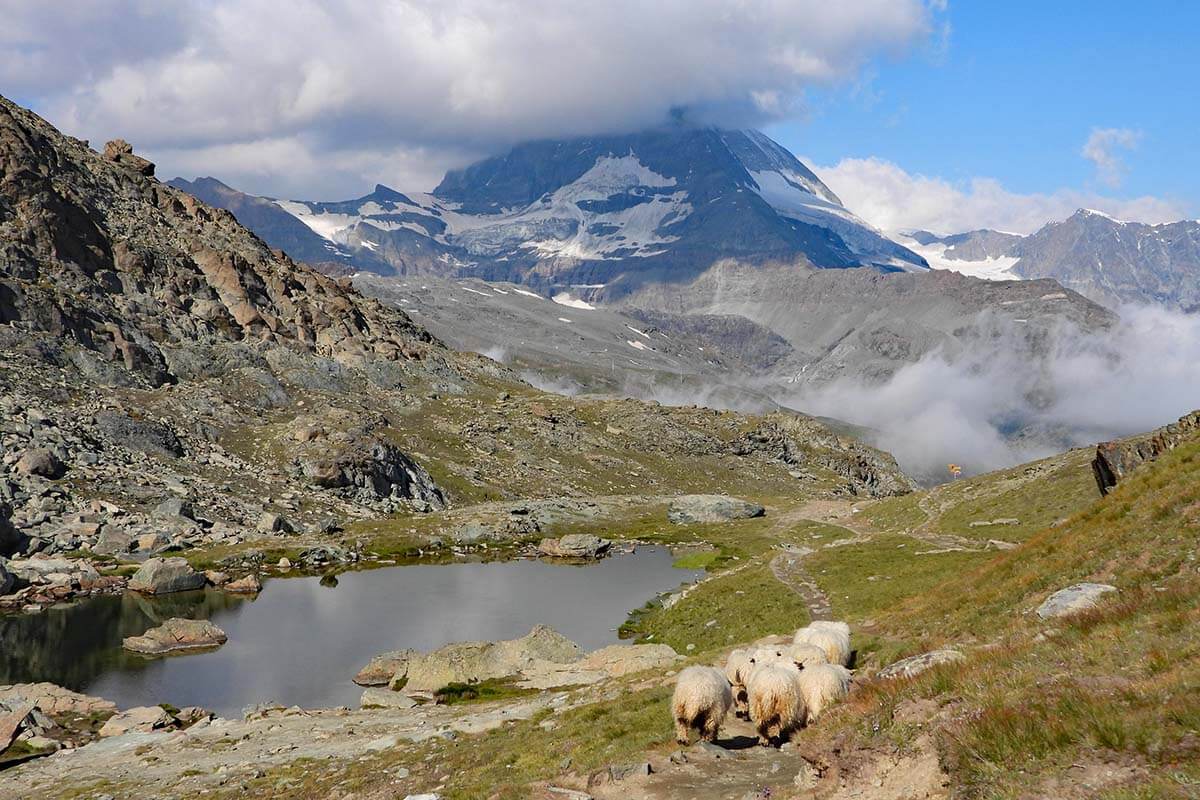 Just before you reach Riffelberg, you'll see a small chapel to the left of the train station and the hotel. Depending on which trail you took, you might pass it anyway, and otherwise, it's well worth a short detour.
Bruder Klaus Chapel has a distinctive shape that corresponds to that of the Weisshorn peak. It's really picturesque, and is, therefore, a popular place for weddings. The chapel is normally closed to visitors, however. If you want to see its interior and a beautiful 14-15th century painting, you'll have to ask for a key at the reception of Hotel Riffelberg.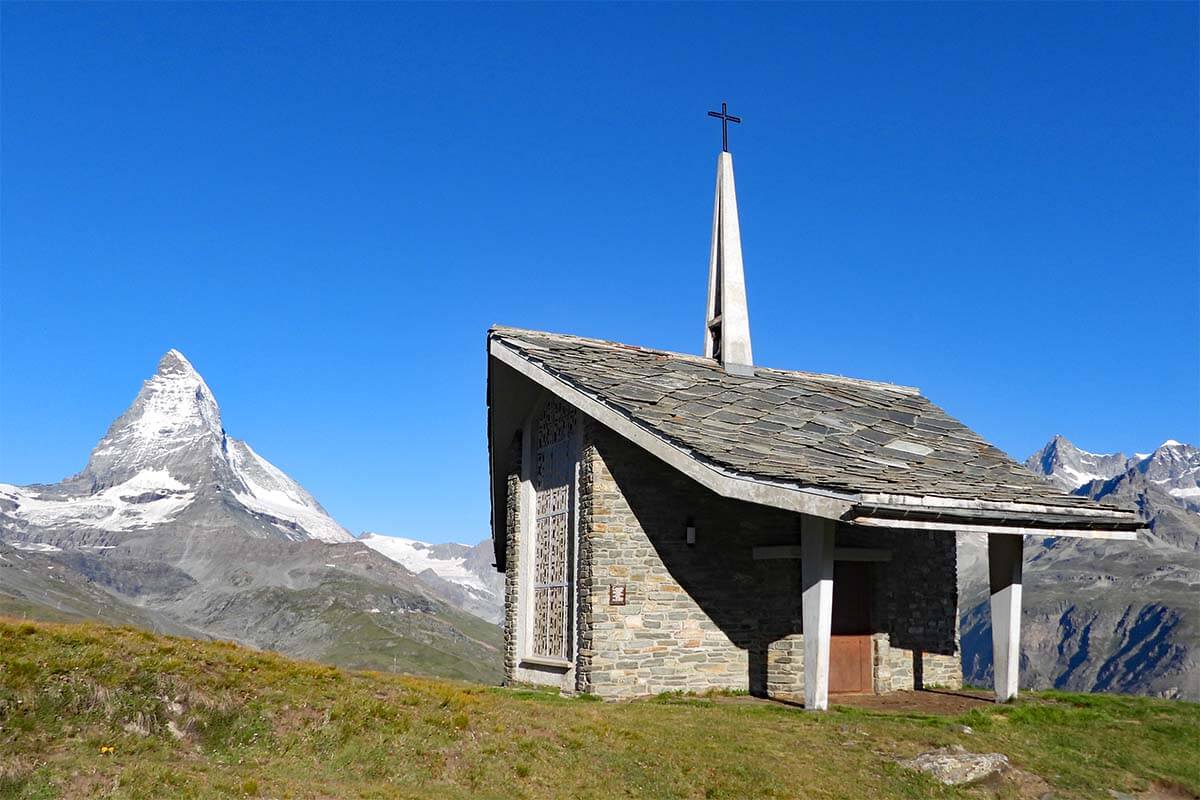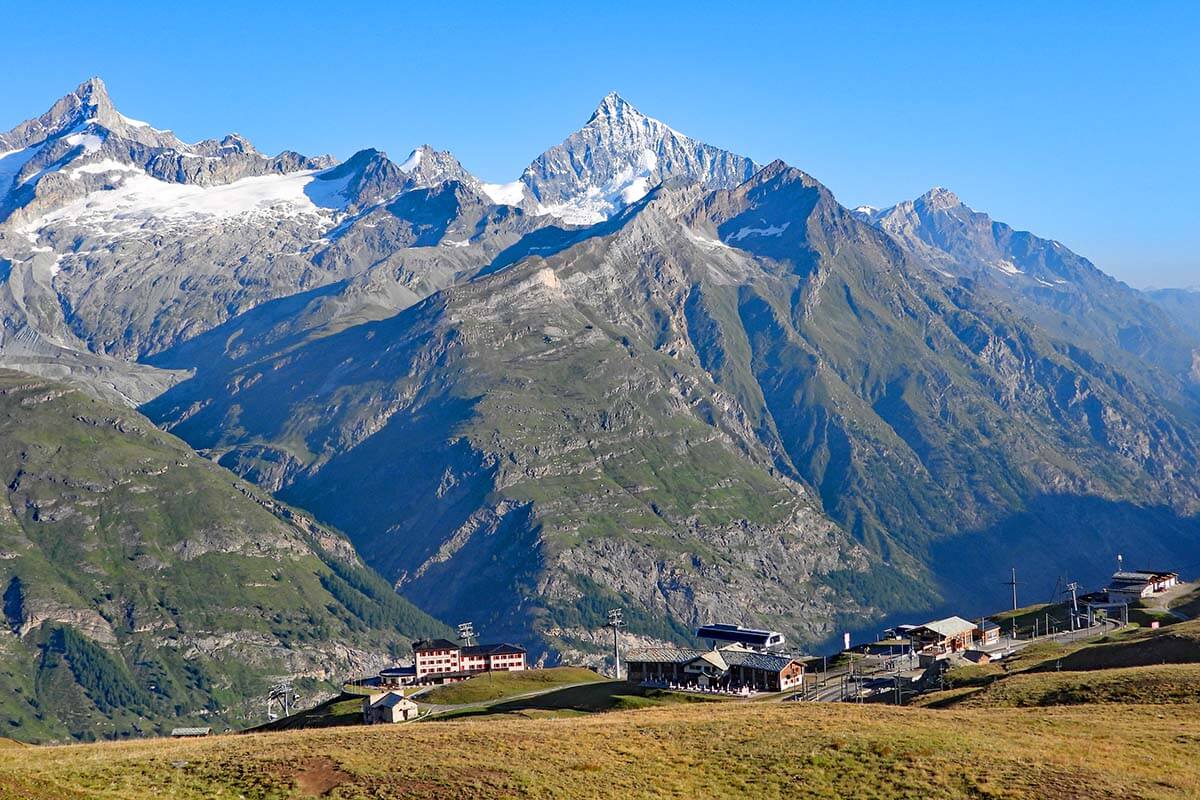 After visiting the chapel, walk to Riffelberg. Here, you'll find a hotel with a restaurant and other facilities.
From Riffelberg, you can take a train down to Zermatt or up to Gornergrat, a cable car to Furi, or continue hiking on one of the many hiking trails in the area.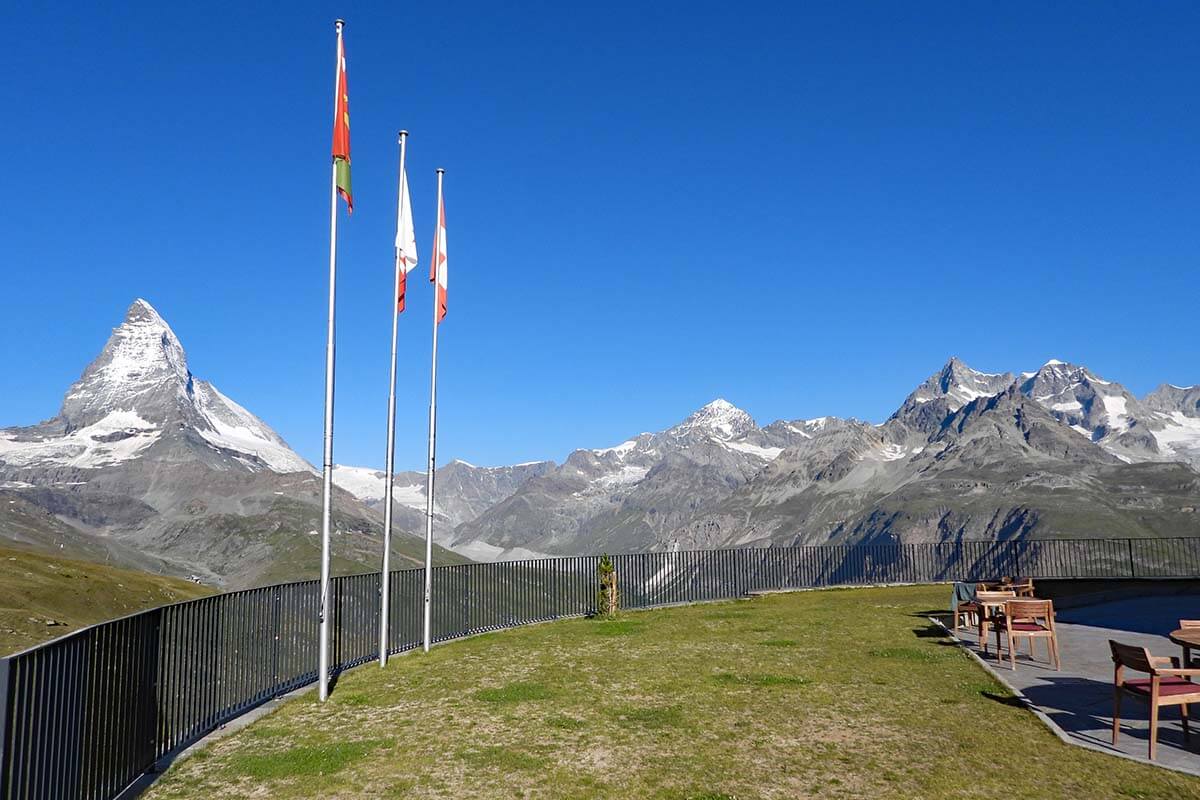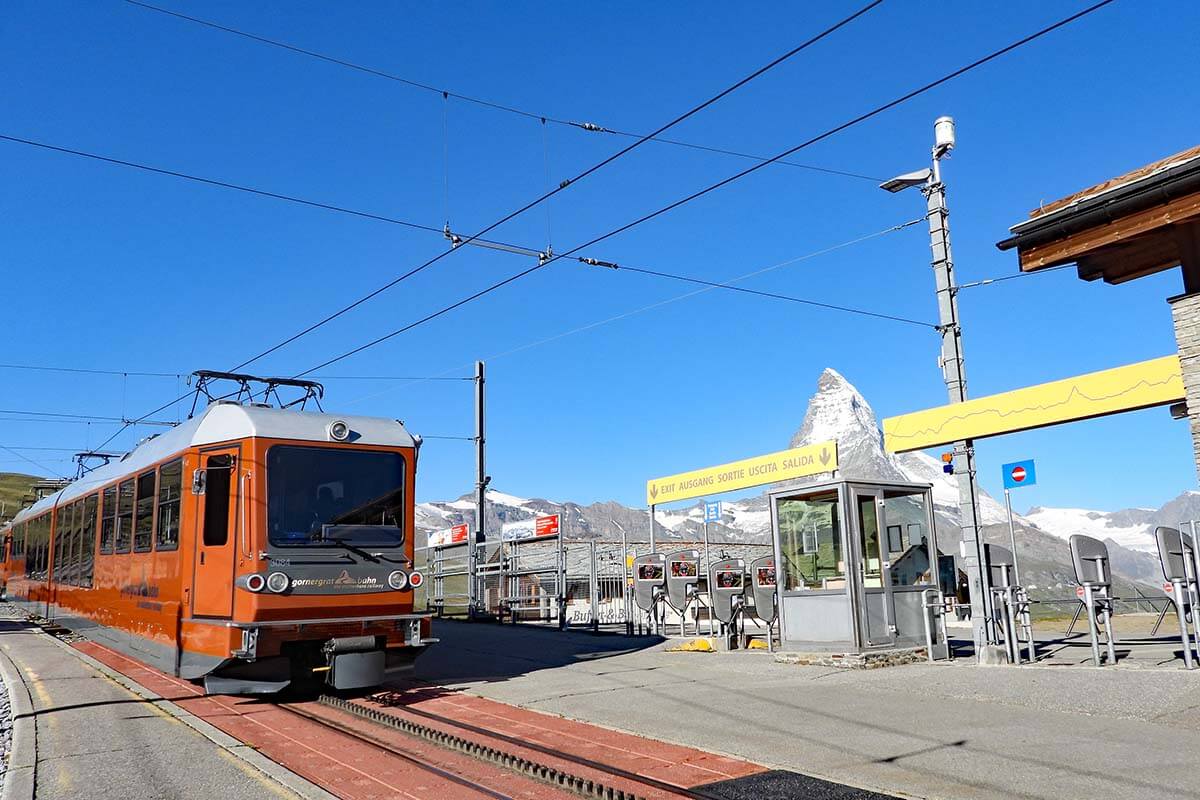 Extra hiking tip
You can easily extend this hike by starting at Gornergrat instead of Rotenboden. So you'd hike from Gornergrat to Riffelsee (trail nr. 15) and from there directly down to Riffelberg (trail nr. 21).
This will add 2 km and 40 minutes to your hike, so the two hikes together would be about 5 km (3 mi), 1h40 in total.
Gornergrat Scenic Trail is one of the most beautiful hikes in Zermatt, the scenery is amazing, and it's well worth it if you have the time. You can find more information about this hike via the link below.
LEARN MORE: Gornergrat Hike to Riffelsee & Rotenboden
Rotenboden – Riffelberg Hike with Kids
Riffelsee Lake Trail from Rotenboden to Riffelberg via Riffelsee is an easy hike that can be easily be done with children from about 4 years. Almost the entire hike is downhill and there are no rocky or steep sections. It's really one of the easiest and most rewarding family-friendly hikes you can do in Zermatt.
We were lucky to see some black-nosed sheep or marmots along this trail, and so this hike quickly became our kids' favorite among all the hikes we did in Zermatt.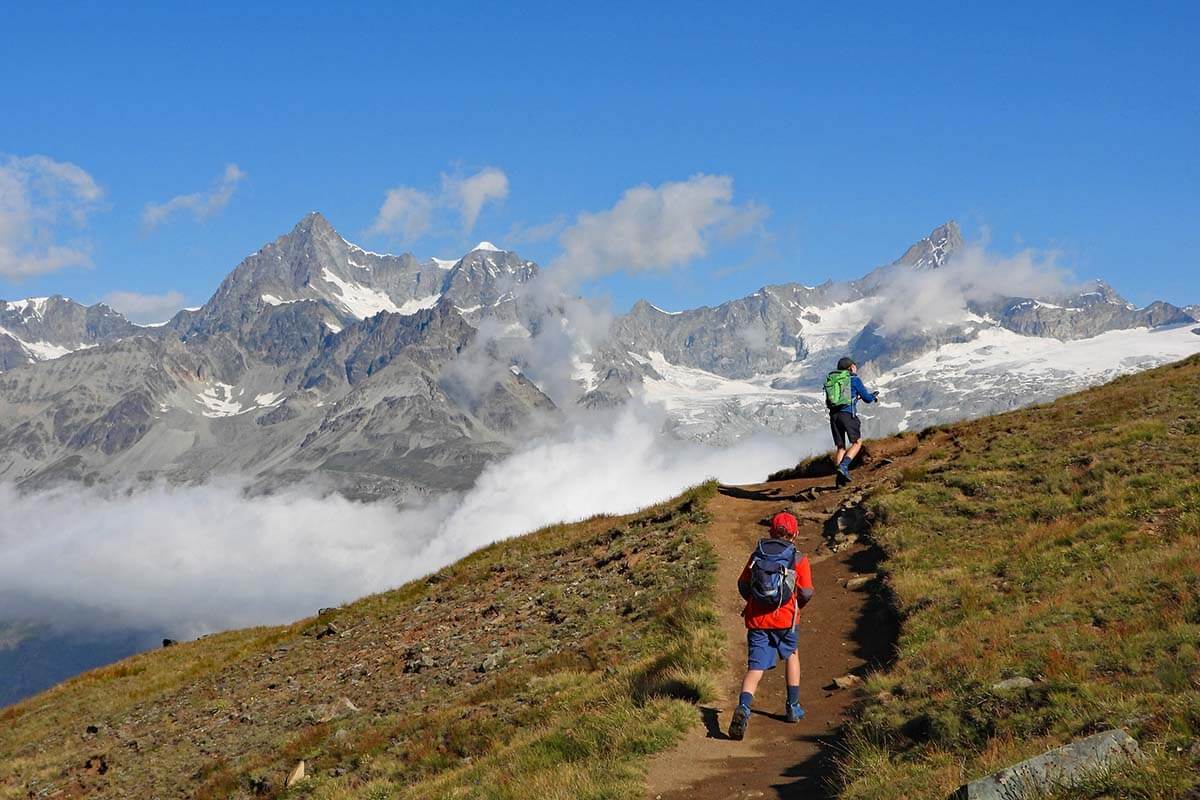 So, this is our short guide to the Rotenboden – Riffelsee – Riffelberg hike. It's such a short, easy, and picturesque hike that I wouldn't hesitate to recommend it even if your time in Zermatt is limited and you have to be quite picky in where you spend your time. It's well worth it!
If you plan well, you can also do this hike, in combination with all the 'must-see' places on a day trip in Zermatt.
And talking about places and activities that are worth your time the most, be sure to also check our guide to the very best things to do in Zermatt. It includes all the musts, but also a few lesser-known places, true hidden gems that will make your visit so much more memorable. Take a look!
Have a great time in Zermatt!
READ ALSO:
* Matterhorn Glacier Trail (one of the best hikes in Zermatt)
* Randa Suspension Bridge Hike (walk over the longest suspension bridge in the Alps)
Some of our favorite hikes in the other parts of Switzerland:
If you found this post useful, don't forget to bookmark it and share it with your friends. Are you on Pinterest? Pin this image!