Are you considering going skiing in Engelberg, Switzerland, but are not sure what to expect? How are the slopes? Is there snow certainty? Where to stay? What else to do in Engelberg in winter? Is Engelberg good for beginners? And whether Engelbers is a good ski resort for families with kids… This article should answer all your Engelberg skiing questions!
Engelberg has been one of our two favorite places to ski in Switzerland for several years (in case you wonder, Wengen in the Jungfrau Region is the other one).
Normally, we hardly ever travel to the same place more than once, but when it comes to skiing, we love to return to familiar places. Also because we ski with kids and it's just so much more relaxing when you know exactly what to expect…
If you have never been to Engelberg in winter and are looking to get a better idea of what skiing in Engelberg is like, then this article is for you. We share our experience, favorite pistes, and useful tips for your first ski vacation in Engelberg. Find out!
READ ALSO: Skiing in Wengen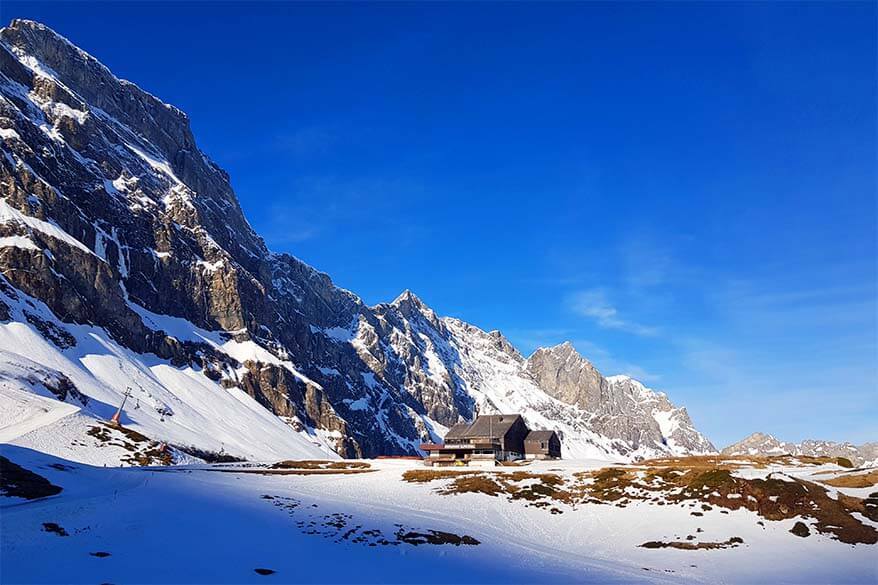 Engelberg Ski Area
Engelberg ski area is really nice and it's one of the reasons why we like skiing here so much. With 82 km of ski runs for all difficulty levels, it's big enough to offer plenty of variety, but not too big that it takes you half a day to return to where you started.
You may want to know that Engelberg actually has two main ski areas – Titlis and Brunni. They also mention the Bannalp ski area but it's not even clear to me where it's located and it's even smaller.
Brunni ski area is really small, more meant for beginners and families with very young kids. We have never skied there, so I can't comment on the slopes there.
In this article, we'll mostly focus on skiing in Titlis Area. It's the main ski area in Engelberg where the majority of ski slopes and lifts are located. We always ski here.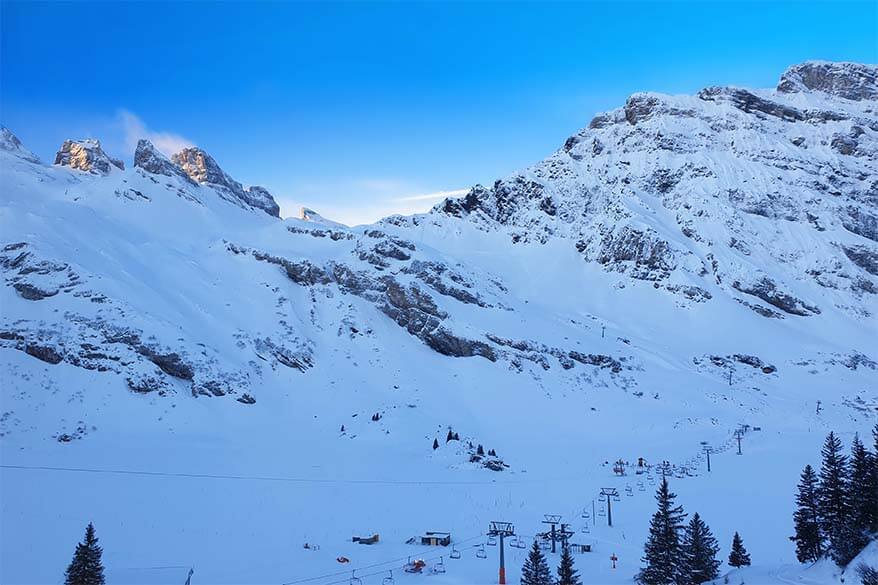 Altitude & Snow Certainty
Engelberg Titlis ski area is set at an altitude between 1,050 and 3,020 meters (3,450-10,000 ft). The majority of Engelberg ski runs are located at 1800 m (6,000 ft) altitude or higher, which means guaranteed snow pretty much during the entire winter season (December to April). On top of the glacier, at Mt Titlis, you can normally ski from October to May.
They also have lots of snow cannons (for snowmaking), but I've only seen them in use on the lower slopes. It's hardly ever needed higher on the mountain, unless in the beginning or at the end of the ski season.
It's good to have the certainty that there will actually be enough snow to ski even during a very warm winter. Especially for those among us who aren't flexible with travel dates and have to book our ski holidays many months in advance.
Once in a while, it happens that the lower slopes between Trübsee and Engelberg are closed or aren't in the best condition due to lack of snow. But we have never experienced snow shortage on the higher slopes.
Also, no matter how warm it is, they usually try to keep at least one of the runs to Engelberg open as well (with the help of snow canons). That way you can ski back to the village if you really want to. And if the lower slopes are closed, you just ski on the upper ones and take a gondola back to town.
If you are looking for the current situation, here you can find webcams for all the main areas in Engelberg.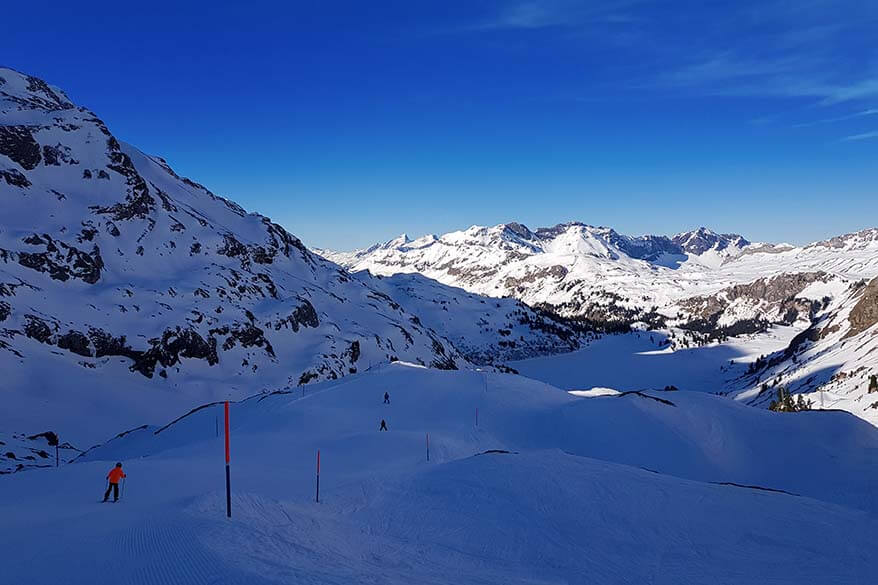 Ski Slopes
The big majority of ski slopes in Engelberg ski resort are red, with just a few blue slopes and a couple of black runs. There are a few beginner slopes, but at the Titlis area, the choice is very limited (more info further below).
If you are not familiar with the Swiss ski slopes color system, here is what it means:
Green – The easiest ski slopes for complete beginners. They are usually very flat, often following mountain roads that are used for cars in summer. There are no green pistes in Engelberg.
Blue – Easy downhill runs for beginners who can already ski at least a little.
Red – Intermediate downhill runs. For confident advanced skiers.
Black – Difficult and very steep runs, often icy and bumpy. For expert skiers who like an extra challenge.
Yellow or orange – These are usually semi-official downhill runs that aren't being monitored or cleaned. Only for the most experienced skiers and not to be done when the avalanche risk is high.
Purple – These slopes are for Alpine sledding. So much fun!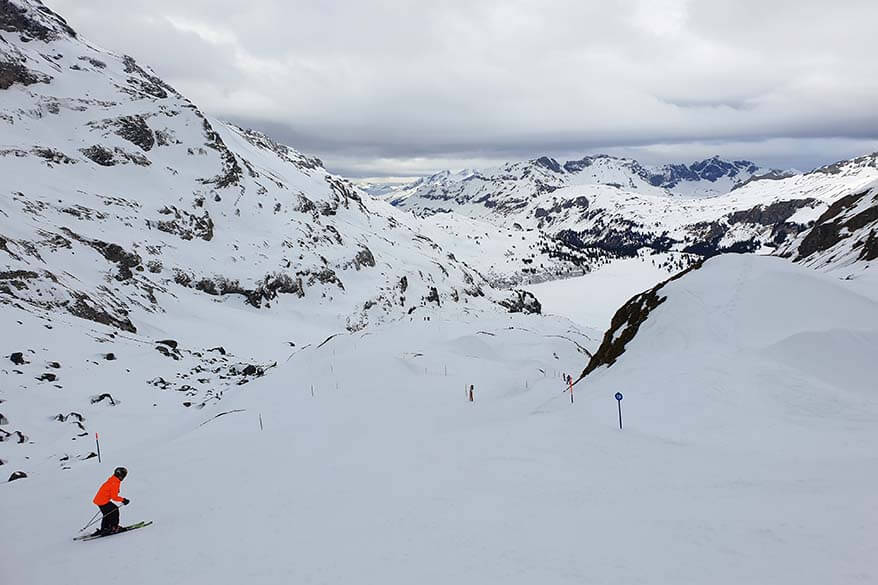 Skiing in Engelberg with Kids
As already said, the majority of slopes in Engelberg are red and therefore not suitable for beginners. In fact, some of those red slopes are so steep that they would be classified as black in any other country…
However, the majority of red slopes in Engelberg are also extremely wide. So wide that it doesn't even matter how steep they are, because you can choose to take very big turns and make it as easy or as difficult for yourself as you want to.
When we took our kids skiing in Engelberg for the first time, we were a bit worried about how they'd handle the red slopes. But even at the age of 4-6 and with very little skiing experience the previous winter, they did just great.
Every year we see many young kids skiing on the blue and red pistes in Engelberg. Most ski schools come to ski at Jochpass. However, if your kids are just starting to ski for the very first time, you'll have to let them start at the beginner ski areas Yeti or Klostermatte at the Brunni ski area in Engelberg (more info below).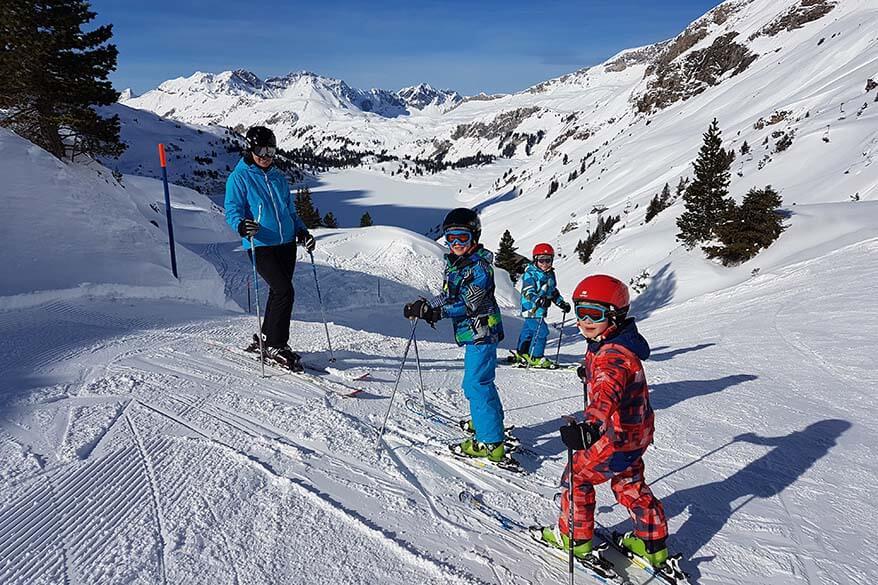 Beginner Ski Areas in Engelberg
There are several places where complete beginners can start to learn to ski in Engelberg. Since recently, there is a small exercise area at Trübsee Snow Park, just next to Trübsee cable car. However, this is a really tiny hill that is ok for the very first steps on the skis, but not more.
All the other beginner areas are down in Engelberg and so not at the Titlis ski area.
One of the best places for beginners is Yeti-Park Ristis. It's located at the mountain restaurant Ristis in the Brunni ski area in Engelberg. Because it's higher on the mountain, it also has the most snow certainty of all the beginner areas.
Another good place is Klostermatte, at the bottom of the Engelberg-Brunni lift. There are some beginner slopes and a kids' area with moving carpets here. This is a great place for kids to learn to ski if there's enough snow.
And finally, there is Gerschnialp – a small ski area that you can see from the gondola on the way to the Trübsee/ Titlis ski area. Gerschnialp can be reached by funicular from Engelberg and has several beginner slopes and anchor-lifts. They also have separate (cheaper) ski passes available. This is a good place for beginners, but it's located lower on the mountain and so it happens that there isn't enough snow at Gerschnialp.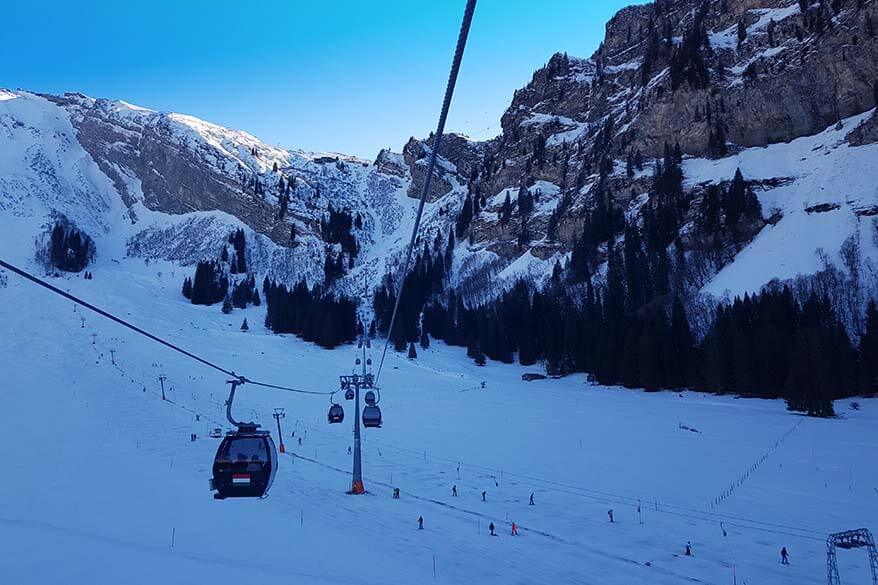 Our Favorite Ski Slopes + Map
As already said, the best area for skiing in Engleberg is the Titlis ski area (see the ski map below or click here to see a full map of the entire area).
Titlis ski area in Engelberg can be reached by gondola from Engelberg town. You can either exit at Trübsee and connect to the Jochpass ski area, or stay on the gondola till Stand, and ski between Stand and Trübsee.
It's also possible to ski at Mt Titlis itself, but since Mt Titlis Rotair cable car is always busy with day tourists, we never took our skis up to Mt Titlis.
Here is the map of the Titlis ski area and below you can read more about the best ski slopes in Engelberg. Read on!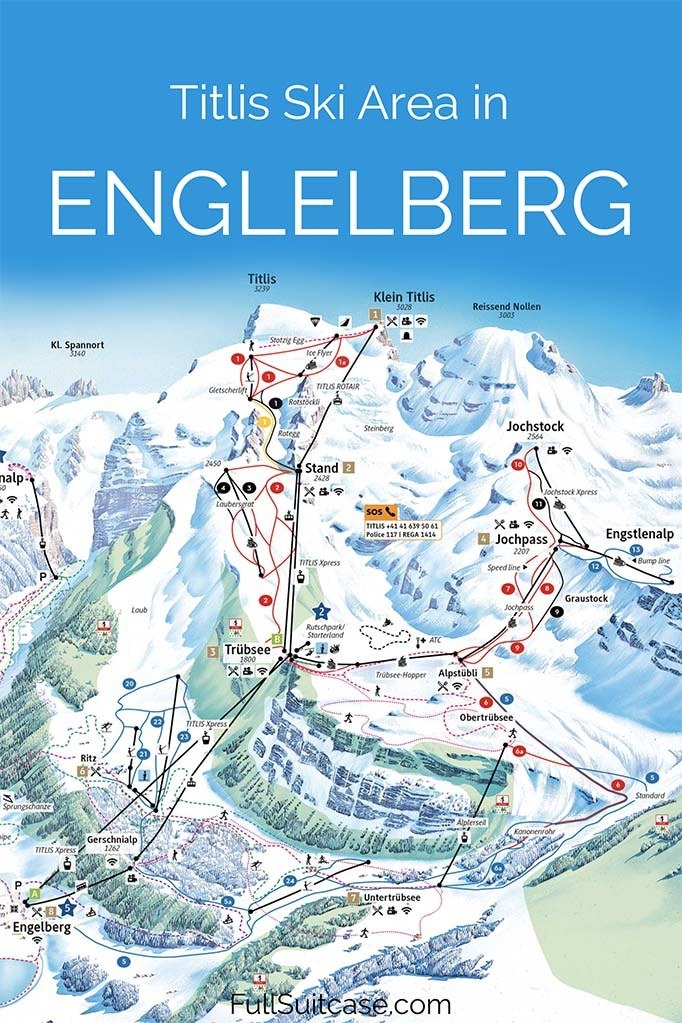 Jochpass
Our absolute favorite area to ski in Engelberg is Jochpass, where you can find a big variety of blue and red runs. Since recently, there is a new 6-person chairlift at the blue runs and this area has become more popular with ski schools than ever before.
The blue pistes #12 and #13 from Jochpass to Engstlenalp are perfect for beginners who are confident on the skis but don't feel confident enough for the red runs yet. Our kids love these slopes.
Red runs #8 and #10 are challenging and fun for advanced skiers. At the same time, they are also wide enough to be manageable for intermediate skiers and families with children.
Our kids' favorite is the 'speed line' next to slope #8. It's a small separate section with a speed camera where you can see how fast you're going. Our day of skiing in Engelberg isn't complete if they haven't done this run at least once.
From Jochpass, via Alpstübli, you can also ski all the way down to Engelberg via slopes #5 or #6. #5 is a less steep blue run; #6 is a somewhat steeper red run. If there isn't enough snow, some parts of the blue #5 run get closed, but it rarely happens that they close both pistes. This is the most popular run for those who stop skiing for the day and want to head back to Engelberg. It's very nice and quiet here during the day but can get really busy in the afternoon.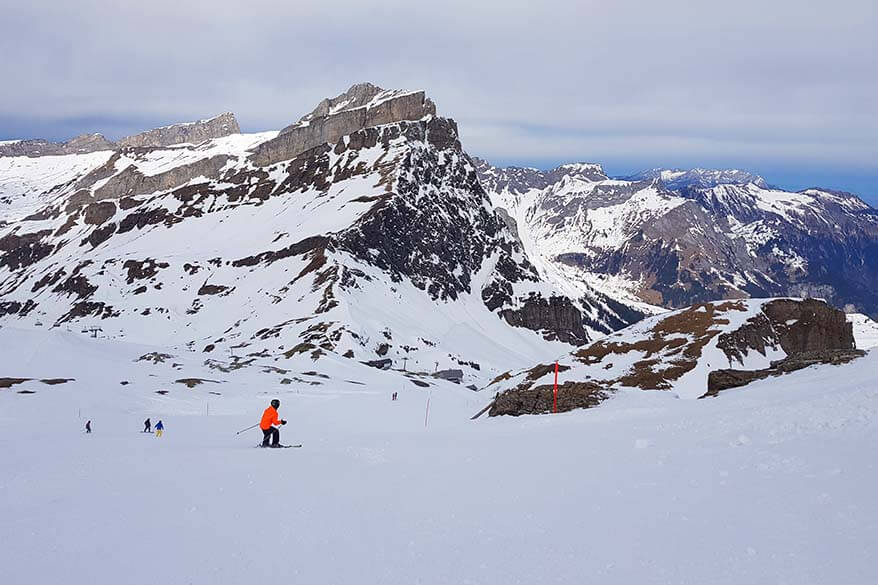 Stand
Another really nice place to ski is the Stand area, just above Trübsee. There are some excellent red slopes here (several variations of piste #2) and there are also a few really steep black runs.
All the pistes here are also very wide and I really like to ski here. It's challenging and fun, but without being too difficult. Most of the time, it's also very quiet at Stand and you can have the slopes all to yourself.
However, our kids find most of these runs a bit too steep and they prefer the Jochpass area. But if it wasn't for the kids, I think I'd be skiing here most of the time.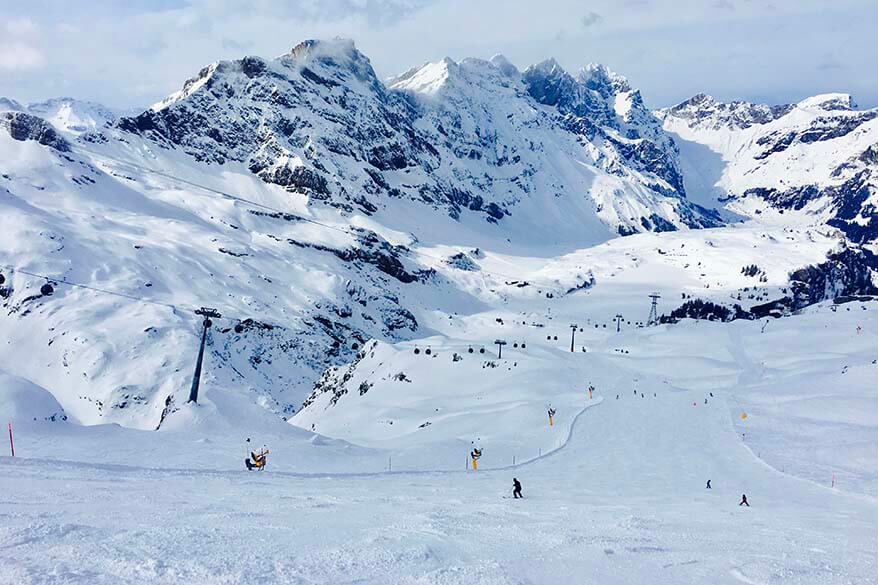 Cross-country Skiing
There are several nice pistes for cross-country skiing in Engelberg as well. Since most of them are located lower on the mountain, however, it sometimes happens that some of them aren't open.
The last time we were in Engelberg, I saw people cross-country skiing at Trübsee lake. But that run isn't indicated as an official cross-country piste on the map.
On the website of Engelberg tourism, you can find up-to-date information with all the cross-country skiing tracks in Engelberg.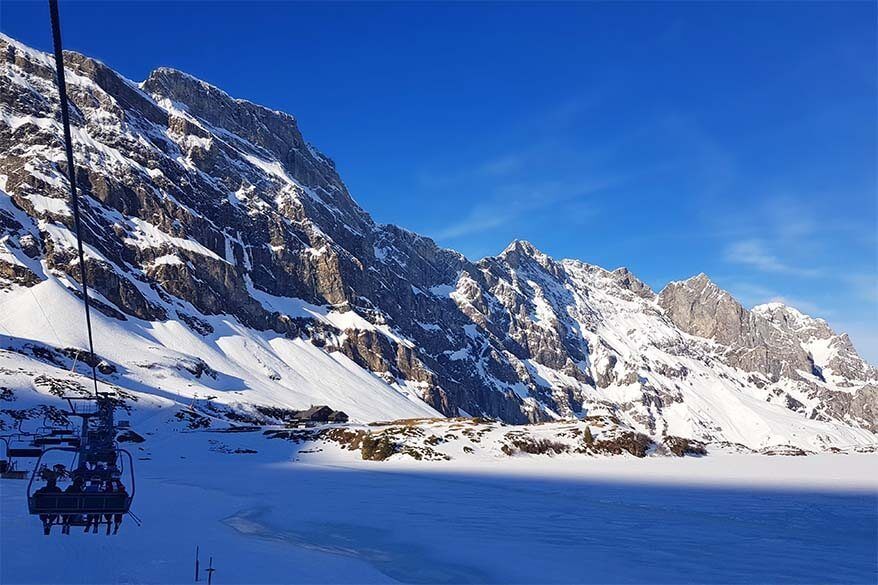 Other Winter Activities in Engelberg
In addition to skiing, there are quite a few more things that you can do in Engelberg in winter.
At Trübsee mountain station, you'll also find a snow park where you can go sledding. It's included in your ski pass and you can spend as much time here as you like. Our kids come here every day after skiing – it's their apres-ski. In the past, snow tubing was available here, but now they are using that part of the slope for beginner skiers.
There are also other winter activities at Trübsee, such as snowmobiling and also zip-lining, available for an additional fee. There is also a small ice skating rink, located near Berghotel Trübsee.
There are also several Alpine sledding runs in Engelberg. One between Brunni and Ristis (1,9km), one at Fürenalp (1km), and also from Gerschnialp to Engelberg (3,4km).
Winter hiking and snowshoeing are also popular winter activities.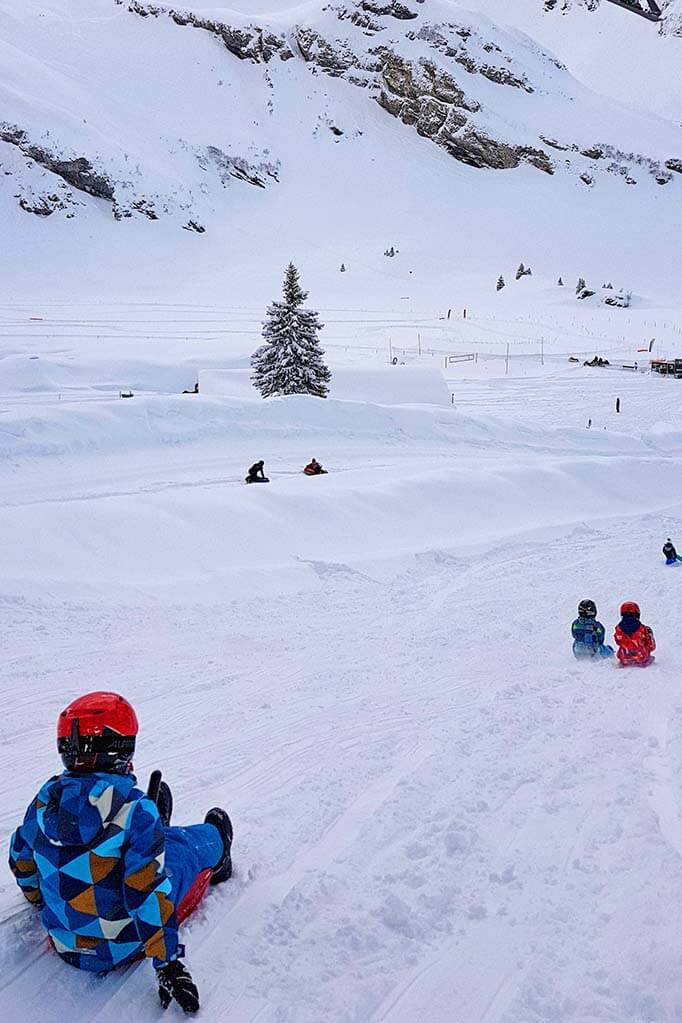 Crowds
Mount Titlis attracts lots of day tourists. And also skiers who are staying in Engelberg town have to get on the mountain first thing in the morning. So the gondolas from Engelberg can get really busy in the morning, especially around 9.30-10 AM.
But as far as skiing goes, once everyone spreads out in various ski areas, it never feels crowded here. It rarely happens that we have to wait for a ski lift for longer than 5 minutes, anywhere in Engelberg. Most of the time, you can just ski right to the chairlifts.
This is not the case at all the lifts and all the time, but it's so easy to find an alternative ski slope or another lift if one particular run becomes too busy for whatever reason.
We always ski in Engelberg during the high season when many European countries have school holidays and we find skiing in Engelberg really pleasant and not too busy. If you come skiing here outside those periods, it will be completely quiet. A dream resort to ski!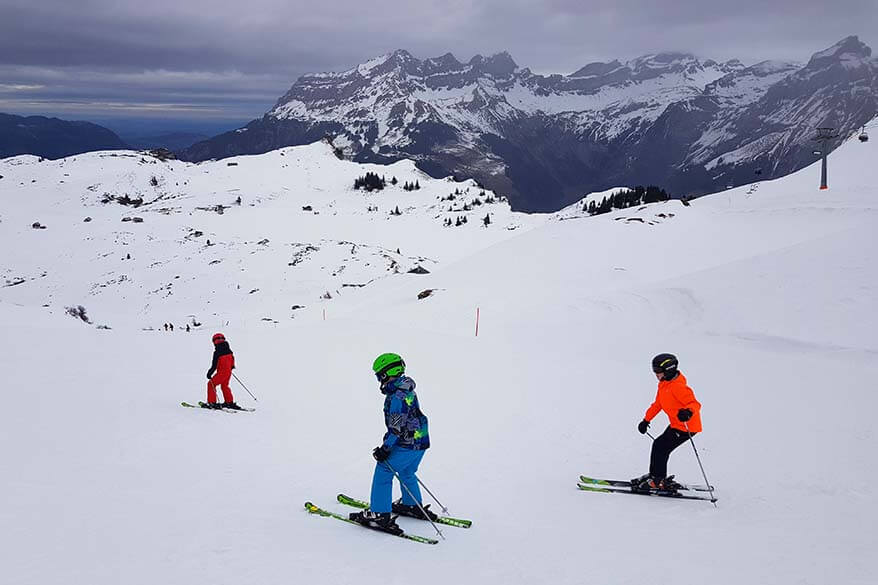 Facilities
Facilities at the Engelberg ski area are generally very good.
Gondolas and chairlifts are modern and they are constantly upgrading and renewing everything. The latest addition is the 6-person chairlift between Engstlenalp and Jochpass is so comfortable that you won't want to get out. And it has heated seats. Other chairlifts aren't that luxurious, but really nothing to complain about.
There are lots of restaurants scattered all around the ski area. From self-service restaurants to fine a-la-carte dining and several bars, there's plenty of choice for everyone. There are also free bathroom facilities at all the main gondola stations and restaurants.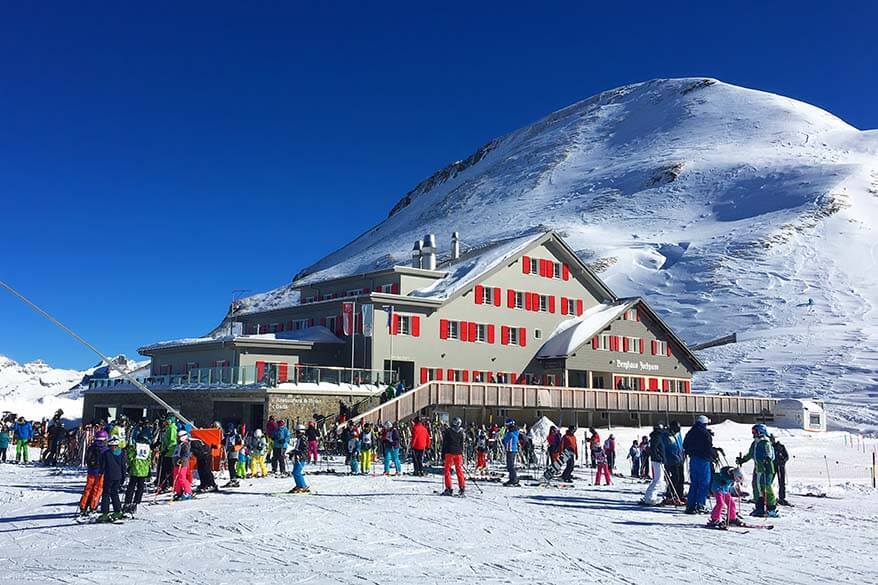 Skipass Price
At the moment of writing, online prices for a one-day ski pass for Mt Titlis ski area in Engelberg start at 65 CHF for adults and 26 CHF for kids (age 6-15).
A ski pass for 5 days costs 260 CHF for adults and 104 CHF for kids. Children under 6 ski free of charge. Here you can find up-to-date information and pricing.
Good to know: It's a bit cheaper to buy your ski passes online.
Engelberg ski pass price is very comparable to that of the other bigger ski resorts in Switzerland. There is one big difference though. Your Engelberg ski pass includes Mt Titlis cable car and the Ice Flyer (value 104 CHF). So take advantage of it and make sure to visit Mt Titlis when skiing in Engelberg!
LEARN MORE: Why and How to Visit Mt Titlis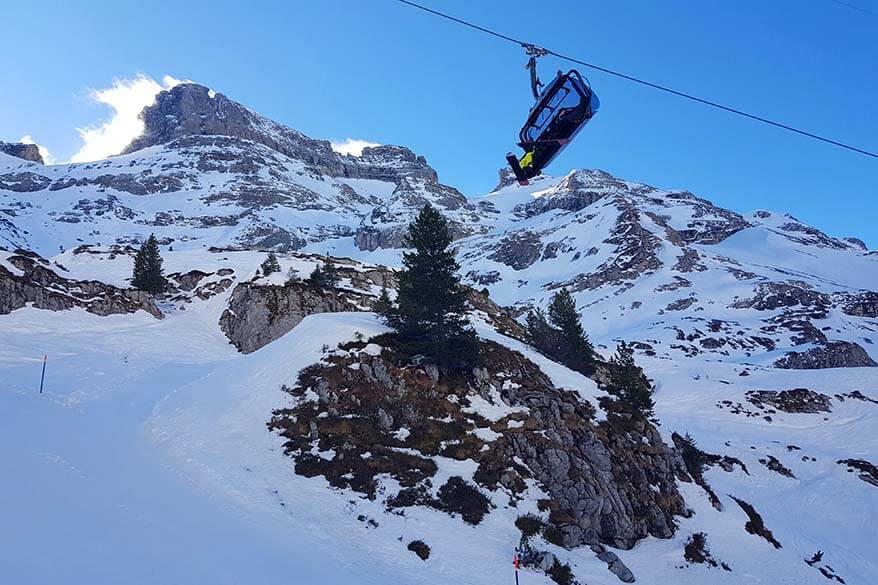 Where to Stay
There are many hotels and other accommodation options in Engelberg.
If you are planning to ski at the Brunni/ Klostermatte ski area, Hotel Hahnenblick is located closest to the ski lifts there. Berglodge Ristis is located on the mountain itself, directly on the slopes, and can only be reached by cable car. It's more of a budget accommodation with just a few rooms that have private bathrooms; the rest of the rooms have shared bathroom facilities. Customer reviews are great though and it's a really nice choice if you want to ski in the Brunni area.
If you are planning to ski at the Titlis ski area, Hotel Cathrin has a great location very close to the ski lifts. It's a good-value 3-star hotel with excellent reviews.
Other hotels within a short walking distance to Titlis gondola are H+ Hotel Sonnwendhof Engelberg, Hotel Espen, and Ski Lodge Engelberg. There are also quite some apartments very close to the lifts (see on the map – gondola station is at the very bottom of this map).
TIP: Using the map below, you can compare hotels, apartments, and short-term rental accommodations in Engelberg. Simply insert your travel dates and group size, and you'll see the best deals for your stay. This map compares all the most popular lodging websites and shows the one with the best price for each accommodation. Check it out!
Where we stay: If you are looking for a hotel on the slopes, we recommend Berghotel Trübsee. However, keep in mind that it's located on the mountain and can only be reached by gondola (that stops running at 4.30 PM). We love staying here, but if you are looking for après–ski and want to have more flexibility, then you are better off staying in Engelberg town.
LEARN MORE: Berghotel Trübsee Review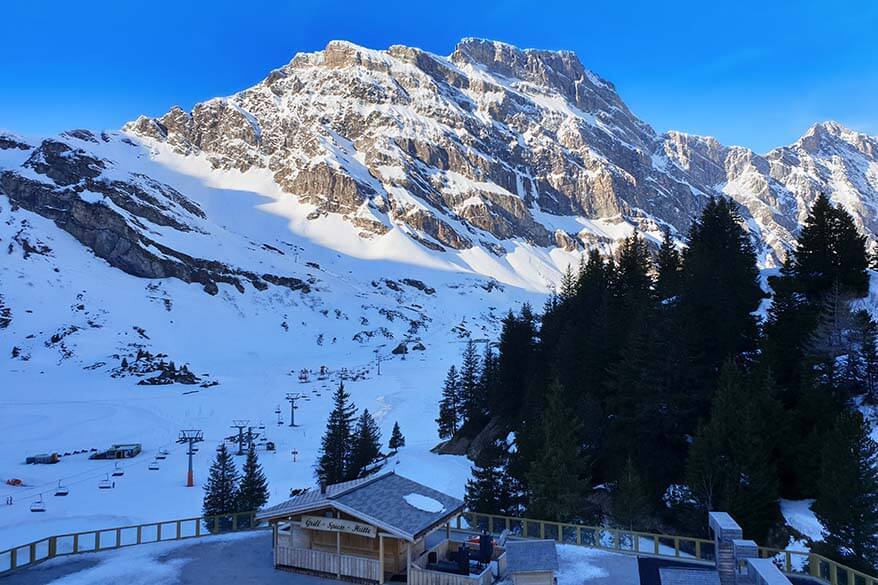 So, this is our guide for skiing in Engelberg. Planning a winter vacation in Engelberg and have a question? Leave a reply below!
READ ALSO: Jungfraujoch or Mt Titlis – Which is Better?
More tips for your trip to Switzerland:
If you found this post useful, don't forget to bookmark it and share it with your friends. Are you on Pinterest? Pin this image!