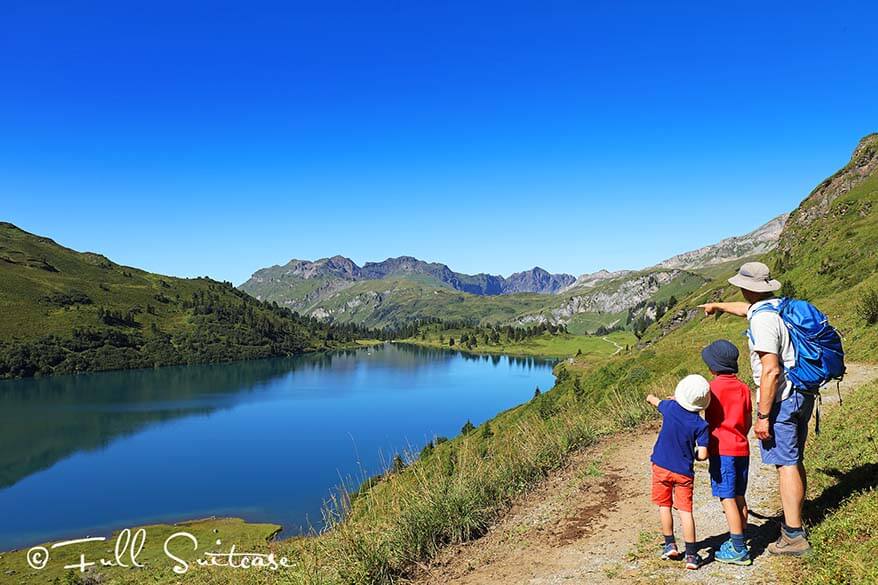 Switzerland is our favorite mountain destination and one of the places we often go to is Engelberg. It's home to the famous mountain destination Mount Titlis and a great place for skiing in winter and hiking in summer.
In this article, you can read about the most beautiful hike in Engelberg, the so-called Engelberg 4 Lake Hike.
If you are looking for a really beautiful day hike in the mountains near Engelberg, you cannot go wrong with this trail. The scenery is incredibly beautiful and, despite the long distance, the hike is not too difficult and can also be done by families with kids. Find out!
READ ALSO: Trübsee in Summer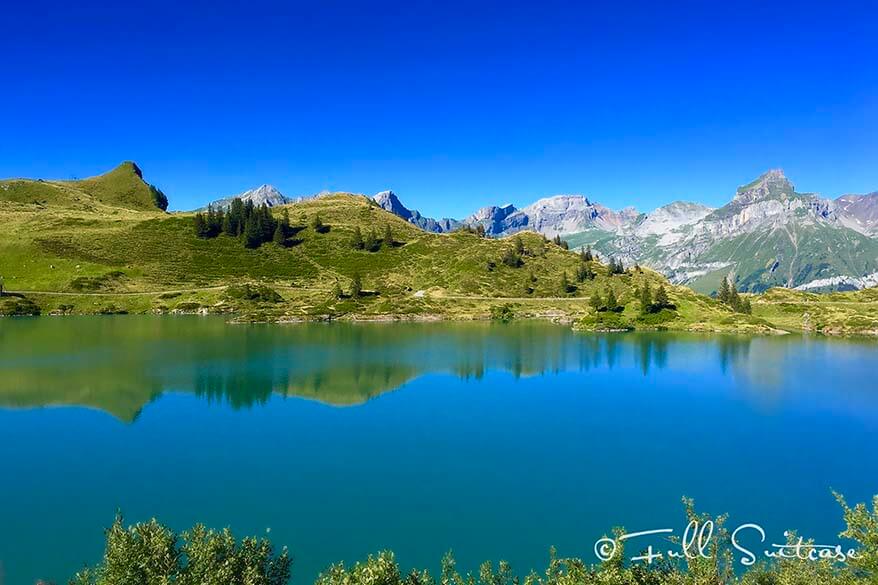 4 Lakes Hike in Engelberg: Overview & Map
We were told that the 4 Lakes Hike was one of the most beautiful hikes in Engelberg and that we should definitely give it a try. However, the entire walk is 21km long and would require a minimum of 7 hours of easy to moderate hiking to complete. * Note that you can shorten the hike by taking several cable cars – more info below.
At first, I thought all those people were out of their minds to suggest a walk like that for a family with young kids… But since we got the same advice from at least three different local sources, we decided to give it a try. After all, we could always decide to turn back…
The Four Lakes hike starts at Trübsee lake in Engelberg, passes the lakes of Engstlensee and Tannensee, and ends at the biggest of the Four lakes – the Melchsee.
The nice thing is that you can 'shorten' this hike by taking a couple of cable cars and you can also stop at Engstenalp if you find that it's too far. And – if you decide to do the complete walk – you can take a tourist train for the last part as well (between Tannalp and Melchsee). So the 4 Lake Hike is doable with kids too.
Further below, you can read all the details about this hike. And here is also a map of the entire trail.
Trübsee to Jochpass
We started our walk at Trübsee. We were staying on the mountain, at BergHotel Trübsee, so we could just start hiking straight from the hotel. If you are staying in Engelberg town, you will need to take a cable car to Trübsee first.
There are two options to walk around the Trübsee lake. We took the short route on the left side and it turned out to be a good choice in the morning. The sun was behind us and we could see the perfect mountain reflections on the lake.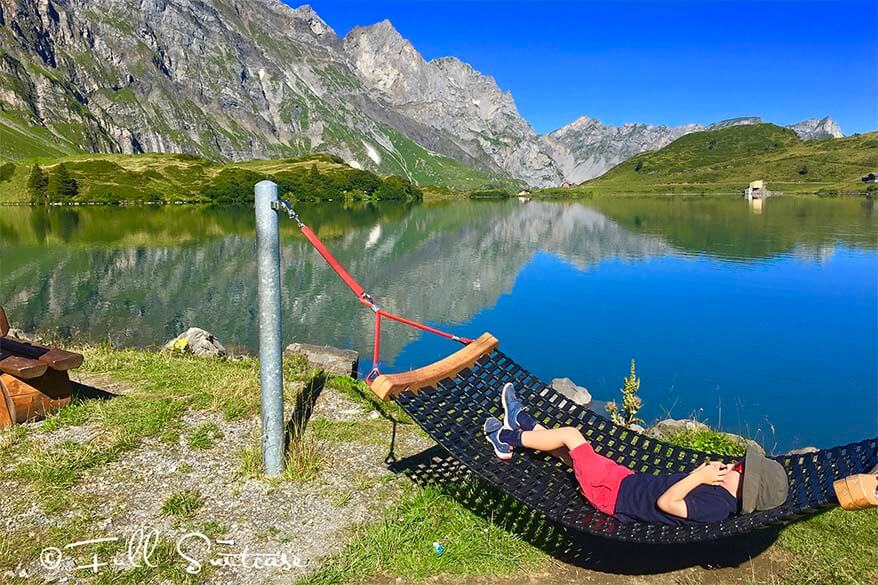 We started rather slowly. The reflections on the lake were absolutely stunning and who would be able to resist a short rest in the hammock with such a view!
Afterwards, we continued to the cable car on the other side of the lake and in no time we were on our way to Jochpass.
It's a steep mountain and it would take at least an hour and a half of serious climbing to reach the top at Jochpass. So I recommend taking the cable car for this part and definitely if you plan on doing the whole Four Lakes hike with kids. The views are the same and you can save your energy for later (you'll need it).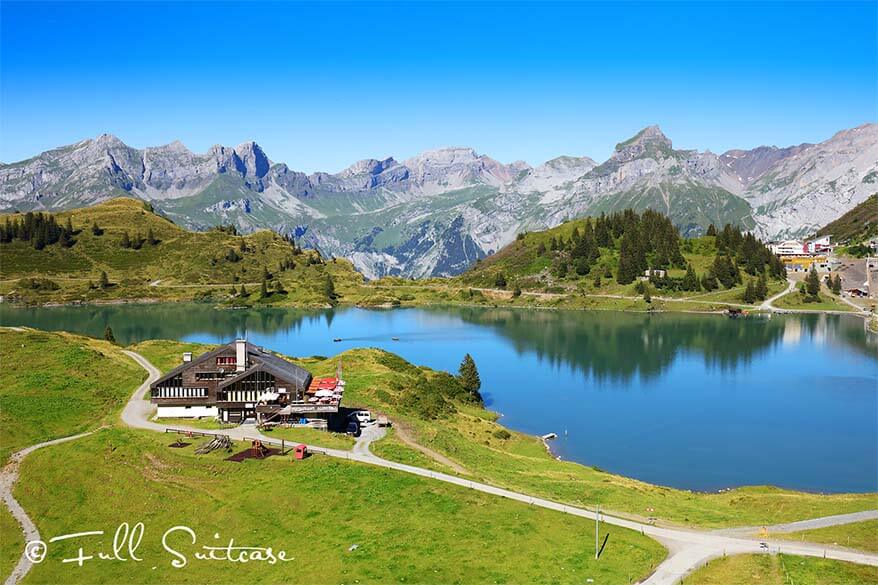 We were familiar with the area since we often go skiing here in the winter. Needless to say, it all looked very different in summer. The ski slopes were full of grazing cows and we discovered a lake or two we never knew existed…
At Jochpass, there is a hotel-restaurant and a tiny little lake with beautiful reflections and hundreds of tadpoles. We stopped to absorb the views. In the meantime, the boys saw the fish in the water and were trying to catch them with bare hands. We had to promise them to bring the fishing nets next time we come to Switzerland…
This is just one of the restaurants you'll come across on this hike. There are also bathroom facilities at Jochpass, so it's a good place for a short break. Just don't spend too much time here because your hike has just started and there's still a long distance to cover!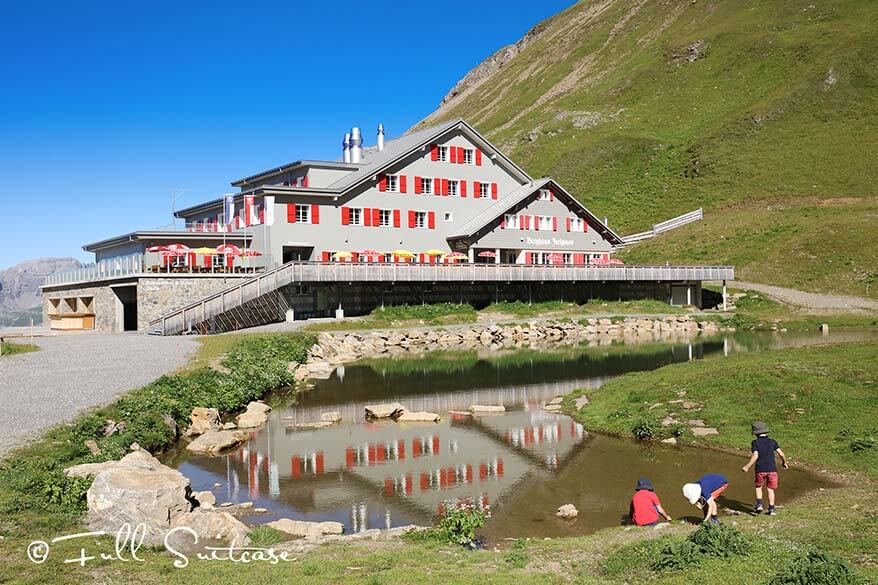 Jochpass – Engstlensee – Engstlenalp
At Jochpass, we decided to take a second cable car to the valley towards the Engstlen Lake. This would have been a nice hike down the hill. But with young kids, this saved us at least an hour and we could enjoy the beautiful scenery just the same.
You get some stunning views on this side of the mountain with an emerald-blue lake – Engstelnsee – below.
Please note that the picture of the cable car dates from a few years ago when we first hiked in Engleberg. These old chairs have now been replaced by the very comfortable 6-p chairlifts.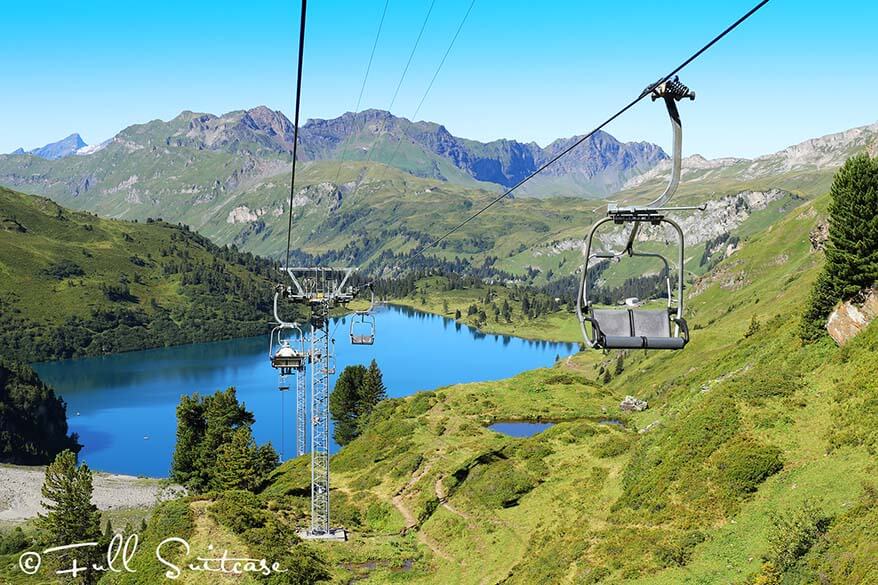 After leaving the cable car, we hiked towards the lake. In our opinion, Engstelnsee is the most beautiful lake of the entire Four Lakes Hike.
There are no more cable cars further on this hike! The rest of the Four Lakes hike has to be done on foot.
Good to know: If you don't like to hike much, you can also opt to stop at Engtelnsee and either take a bus down from Engstlenalp or get back the same way you came.
We were all really fit and confident that we could reach the third lake and so we continued further in the direction of Engstlenalp. We hiked along the side of the lake enjoying stunning views of the snow-capped mountains in the distance.
The kids were really determined to catch some fish. I hardly just turned away to take some pictures and they were already 'fishing'. As expected, they ended up with wet and muddy shoes and no fish. What was supposed to be a short photo stop, turned out longer than we planned. We had to scrape the mud of the kids' shoes and wash them before we could continue further.
After another 10-15 minutes, we reached a charming old hotel at Engstelnalp. The restaurant terrace looked very inviting, but it was not even noon yet, so we decided to continue further.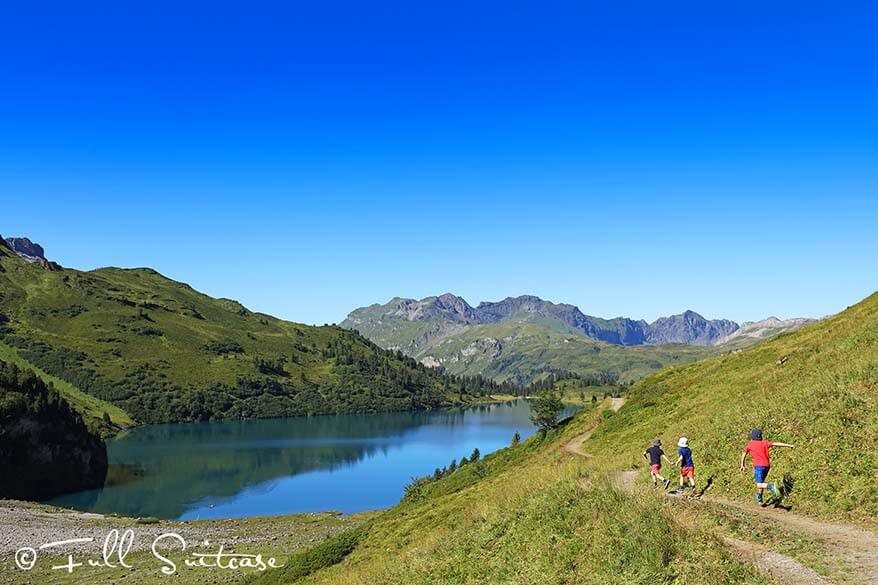 Engstlenalp – Tannalp
The hike between Engstlenalp and Tannalp is the longest stretch of the Four Lakes trail. First, we passed a small village with tiny wooden houses decorated with cowbells and milk cans. There were tens, maybe even hundreds of cows with Swiss cowbells in all shapes and sizes ringing all around us.
If there is a paradise for cows, then it has to be here at Engstlenalp. We saw no people – only cows, amidst the most beautiful mountain landscape.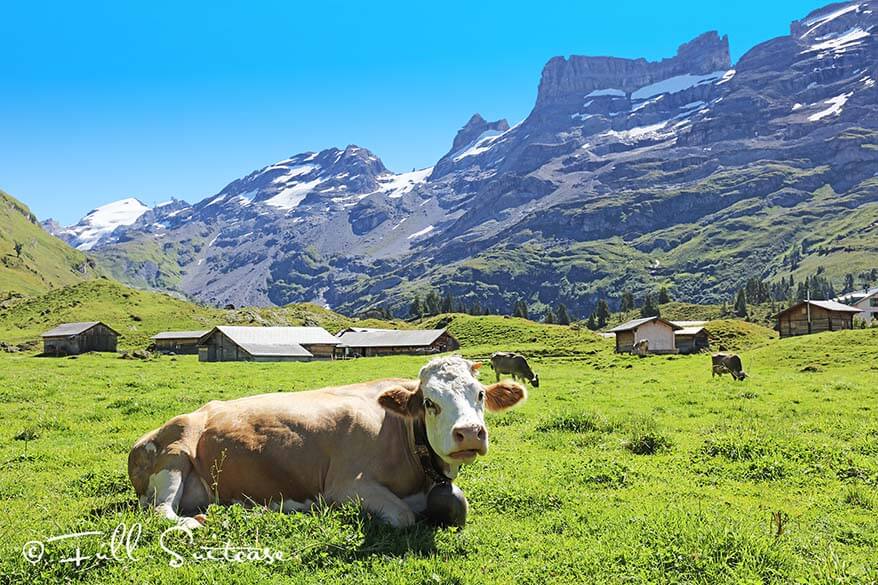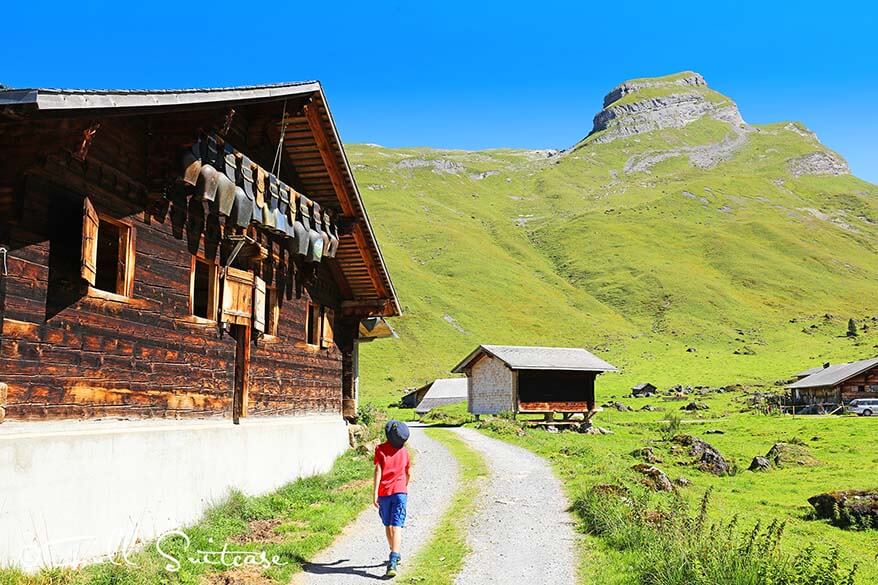 At first, the path was flat, but soon it started to climb. This is definitely the most strenuous part of the Four Lakes hike. The path is narrow and it's very steep, – not ideal for families with young kids. Our boys did well, but we tried to stay on the mountainside and as far from the edge as possible.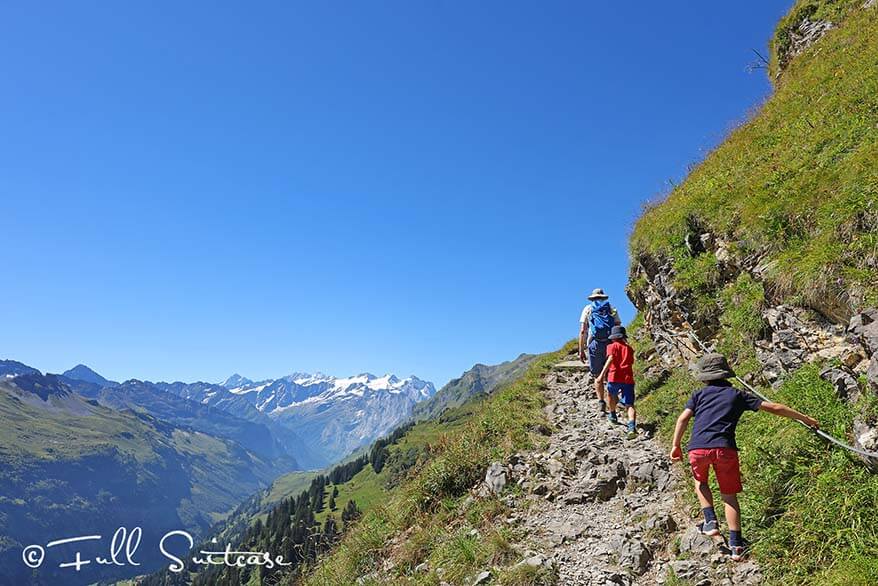 The path took us along the ridge of the mountain and around it to another minuscule village, Tannalp. The sign said it's only 45 minutes' walk from Engstelnalp to Tannalp, but it took us more than an hour. It was hot, the path was narrow and steep, and we stopped often to catch our breath and absorb the views.
Hiking time indications are not really generous in Switzerland. They always indicate pure hiking time at a steady pace and without any stops. So keep this in mind!
We were planning to have a picnic lunch at the Tannalp lake. It was further than we thought and the kids started to complain that they were getting hungry… But then we reached the Tannalp village and they quickly forgot about the hunger when they saw two little goats by the road. The goats seemed to like the attention and they followed us through the village as we continued towards the lake.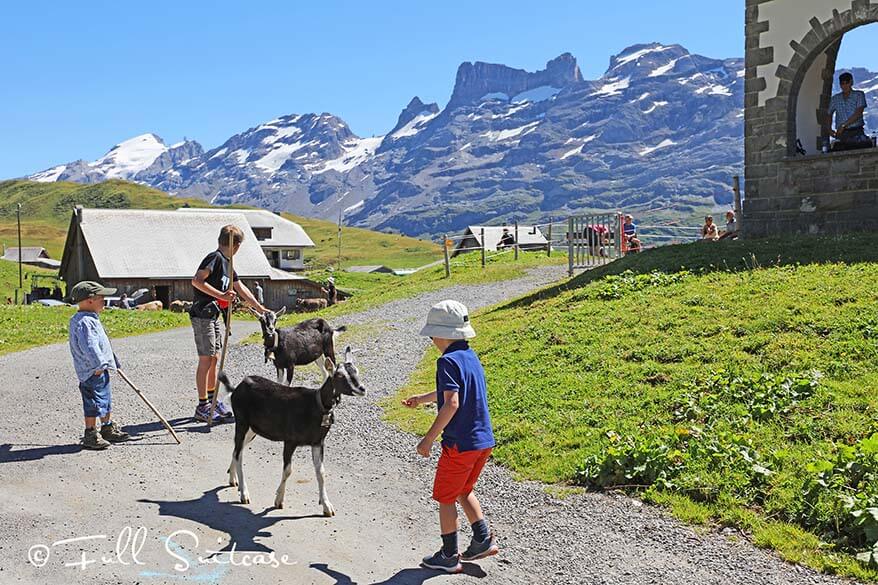 All of a sudden, the sound of the cowbells got increasingly louder and we found ourselves in the middle of a herd of cows that were being brought to a new grazing location. There were cows all around us!
It was fun to watch and it's just so Swiss – the mountains around us, the cows, the sound of the cowbells… This spectacle alone was worth the strenuous hike!
After another 10 minutes, we finally reached the third lake of the 4 Lake Hike – Tannensee.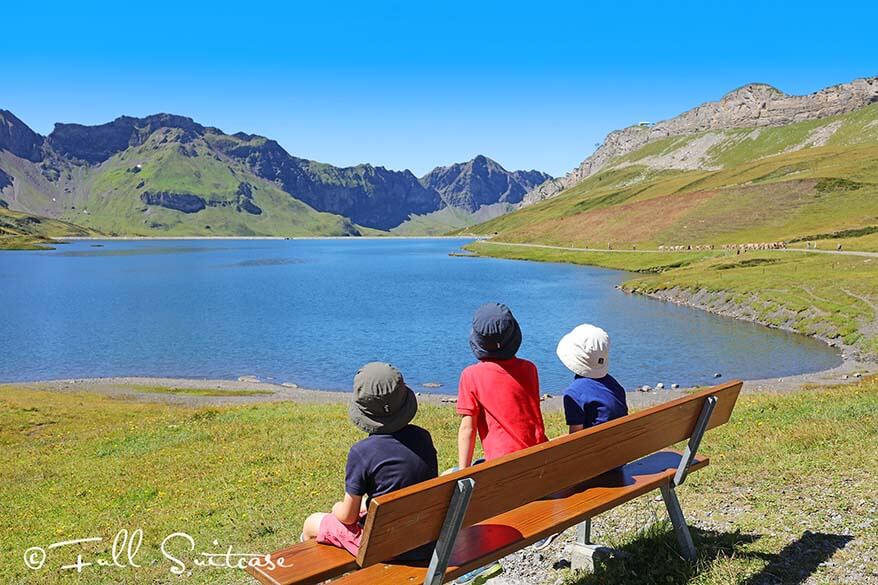 Lunchtime. Finally! We had some picnic lunch with us and we ate it by the lake.
The Tannen Lake might not be as spectacular as the previous two, but it's a bit more kid-friendly and has a little 'beach'. We even saw a family swimming here.
Our boys took off their shoes and went toe-dipping. They were trying to catch some fish… again. And again they went in too deep and this time their shorts got soaking wet. It could have been worse if it was a colder day. But it was really warm and the wet clothes kept them cool for the rest of the walk.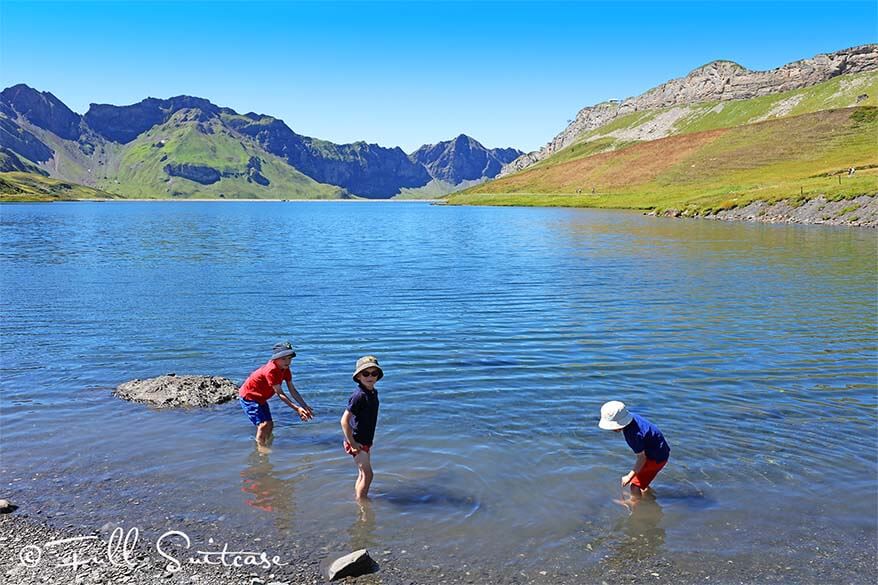 Tannensee – Melchsee
The last part of the Four Lakes Hike is between Tannensee and Melchsee. It's at least another hour hiking. Alternatively, you can take a little tourist 'train' that runs between these two lakes.
We decided not to continue to Melchsee lake because we had to get back to our hotel in time before the cable cars would stop running. This meant hiking back the same way we came and so our hike became much longer than it would be if we would have stopped at Melchsee.
Melchsee is on the other side of the mountains from Engelberg. So if you choose to walk all the way till the end, you'll have to take a bus in order to get back to Engelberg. There are only a couple of busses a day and it takes 2+ hours driving time to get back to the starting point.
Since we were staying at Trübsee mountain hotel that is only reachable by cable car (last ride at 5 pm in summer), we knew that the bus was not really an option for us. So we went back the same way as we came, hoping to catch the cable car to Jochpass and Trübsee before it stopped for the day.
If you plan on taking a bus, make sure to check the schedule in advance. The good thing about Switzerland is that buses actually drive according to schedule and so you can count on it.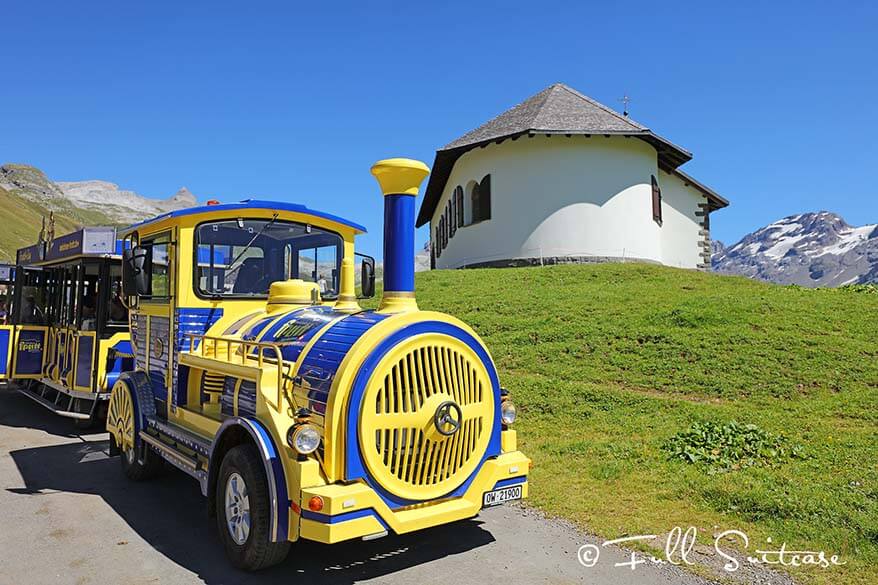 Tannensee – Engstlenalp – Jochpass – Trübsee
The walk back from Tannensee to Engstlenalp was much easier as it's downhill all the time.
In fact, we reached Engstlenalp hotel so quickly that we had plenty of time to take a break and enjoy an ice cream on the terrace of the hotel that we had passed in the morning. And since we came past the cow village again, we couldn't resist another picture.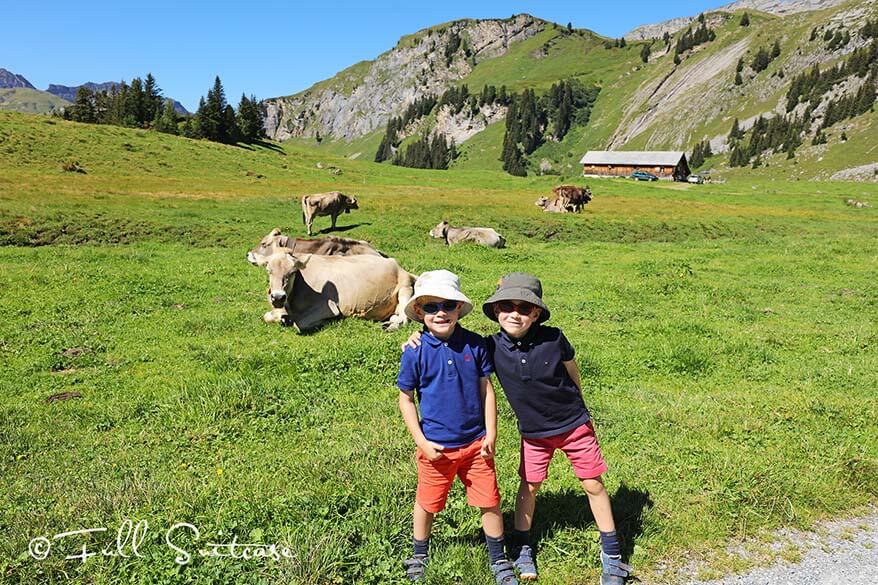 This break gave us enough energy for the last short but a rather steep climb from Engstlenalp to the cable car. None of us said much – these last meters were really tiring. But soon enough we were sitting in the cable car on our way up to Jochpass.
At Jochpass, we took another cable car down to Trübsee.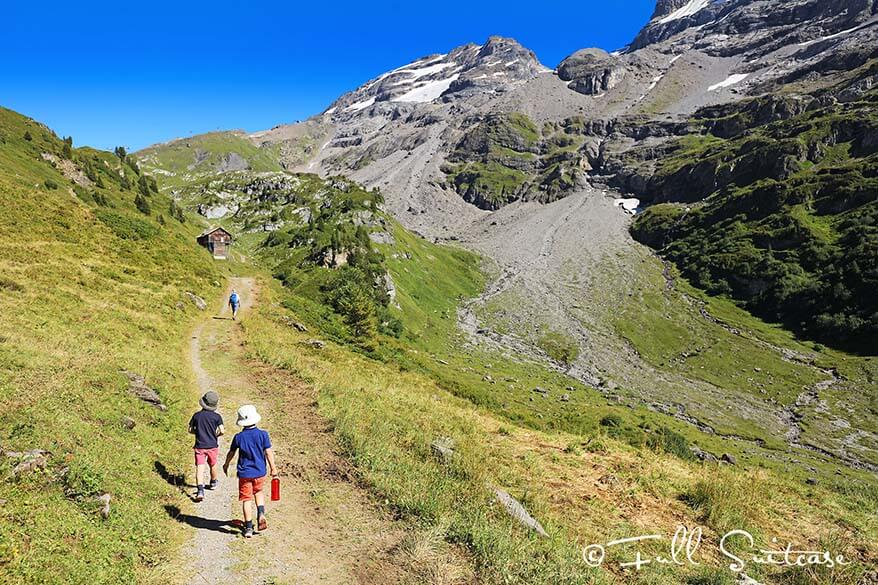 Hiking around Trübsee Lake
Back at Trübsee Lake, we decided to take the longer route back to the hotel – the part we skipped this morning. This is a family-friendly walk and there are several play areas and all kinds of tasks to keep the kids busy as you hike.
In fact, most families with young kids only come to hike around Trübsee as it's such an easy and picturesque hike.
I don't know where the kids get their energy, but all of a sudden all three boys were reborn again. They were running around, pumping water, building dams… In the meantime, we installed ourselves in the hammocks next to the play area. It was good to be able to rest our legs after a long hike.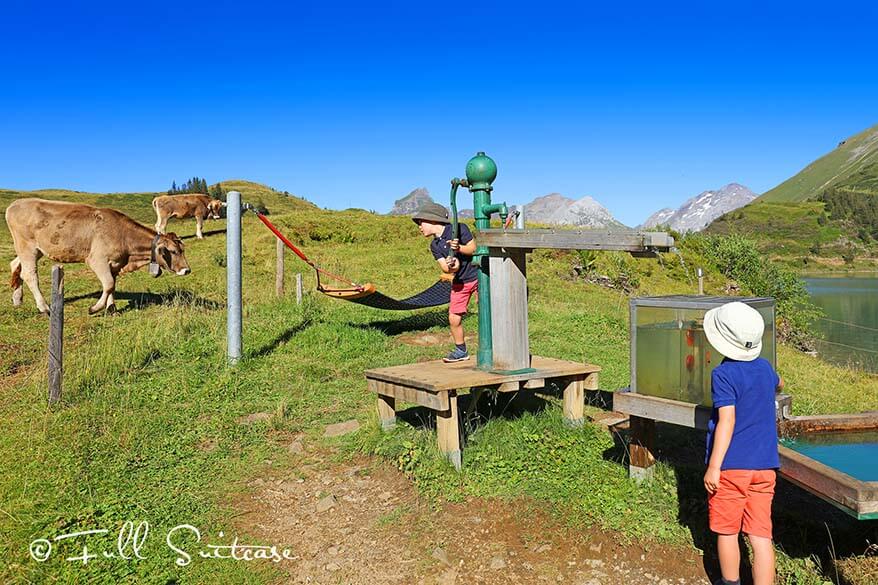 The hike around Trübsee Lake is an easy short walk (3,5km – 1,5hrs). It's a round trip around the entire lake and is suitable for families with young children. You could even do it with a stroller. Just note that the path is gravel for the biggest part, so the bigger the wheels, the easier it will be.
If you are planning on doing this walk, check with the Engelberg Tourism Information first (they are down in Engelberg village). They have a little activity booklet that the kids can 'mark' along the way and then get a little present afterwards.
I don't know how it works for sure, but we saw a woman running around the lake with 4 of these books in her hands and marking them at every play area. No idea where her kids were, but apparently she found the presents worth the effort… We did this walk without knowing about any special incentives and found it worthwhile by itself. The kids really loved all the playgrounds along the lake.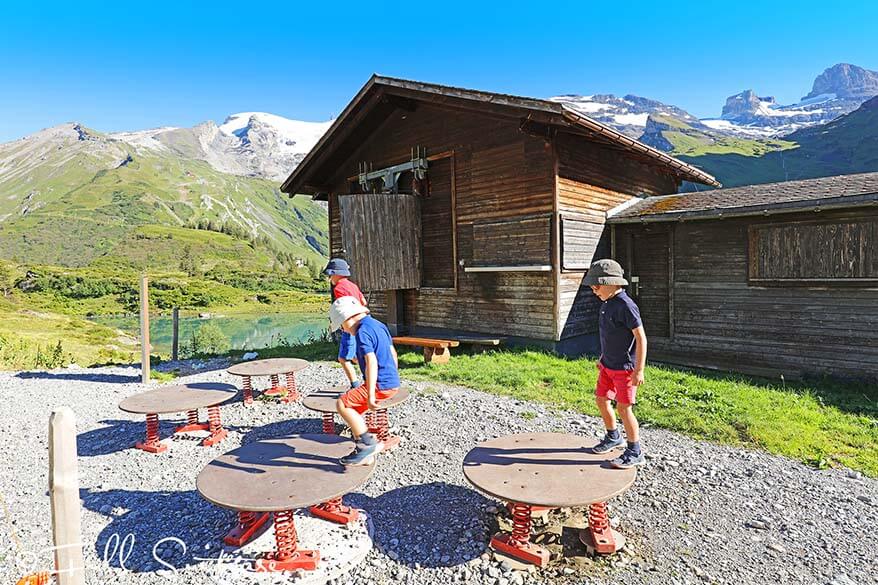 Trübsee rowing boats
We had been hiking for more than 6 hours by the time we reached our hotel. But the kids decided that they were not tired yet. And so we went for a boat ride on Trübsee lake.
There are a couple of boats available for use at the lake (not just for the hotel guests). We loved going there in the evening after the cable car had stopped for the day and all the day tourists had left.
That's a big advantage of staying at hotel Trübsee on the mountain rather than in the village. In the evening, the whole place is yours (and a few other hotel guests, of course).
Four Lakes Trail Practical Info
It's difficult for me to give you a good indication of distance and hiking time for this hike as so much depends on your choices. Do you take a cable car up to Jochpass and from there down to Engstlensee? Do you walk around Trübsee Lake or take the shortest trail? Do you take a tourist train from Tannensee to Melchsee or hike there? Or maybe you turn around and do this hike both ways as we did… So many options that will greatly influence how much time you need.
In any case, start early and count at least 4-7 hours for this hike from start to finish, not including the transportation before and after the hike.
The Four Lakes hike starts at Trübsee, Engelberg. You need to take a cable car from Engelberg to Trübsee. You can also start at Melchsee-Frutt and walk in the other direction.
I advise buying a ticket for Jochpass cable car as it's a steep climb up. We also took the cable car to Engstlensee to shorten the hike for the kids. If you are planning on doing more hiking in the area, a hiker's pass might be a more economic choice.
As I said, the whole Four Lakes Trail is 21km. But you can shorten it by taking cable cars and/or a little train. We did the Four Lakes hike with three kids of 5, 5, and 7 years old and hiked 15.4 km. We hiked about 6 hours following the hike as described above (so including cable cars, photo stops, picnic, and ice cream stop at the hotel Engstlensee). Our kids could do this hike without any problems.
There are restaurants and bathroom facilities at the following locations: Trübsee (both sides of the lake), Jochpass, Engstlenalp, Tannalp, and Melchsee – Frutt.
The walk ends at Melchsee from where you can take the cable car to Stöckalp and a bus back to Engelberg (or vice versa). Note that there are only very few busses, so inform in advance at the tourist office.
Take lots of drinking water for this hike. It can get really hot in summer and there is hardly any shadow. Ideally, carry a reusable water bottle that you can fill up in the restaurants along the way.
Sturdy walking shoes, a sun hat, and sunscreen are a must.
READ ALSO: Complete Guide to Visiting Mount Titlis
More tips for your trip to Switzerland:
Some of our favorite hikes in Switzerland:
If you found this post useful, don't forget to bookmark it and share it with your friends. Are you on Pinterest? Pin this image!