Are you thinking of visiting Interlaken in Switzerland and wondering how to plan your Interlaken day trip? Or maybe you're looking for suggestions on what to see and do in Interlaken in one day or a sample Interlaken 1 day itinerary?
This article features all the nicest places you can visit near Interlaken and will give you a good idea of how to spend a day in Interlaken. Find out!
TIP: If you only have one day for Interlaken and don't know where to start or don't feel like planning everything, there are also nice day tours that you can consider instead. The most popular tours depart either from Zurich or from Lucerne and visit Interlaken and Grindelwald on the same day.
Visiting Interlaken – OVERVIEW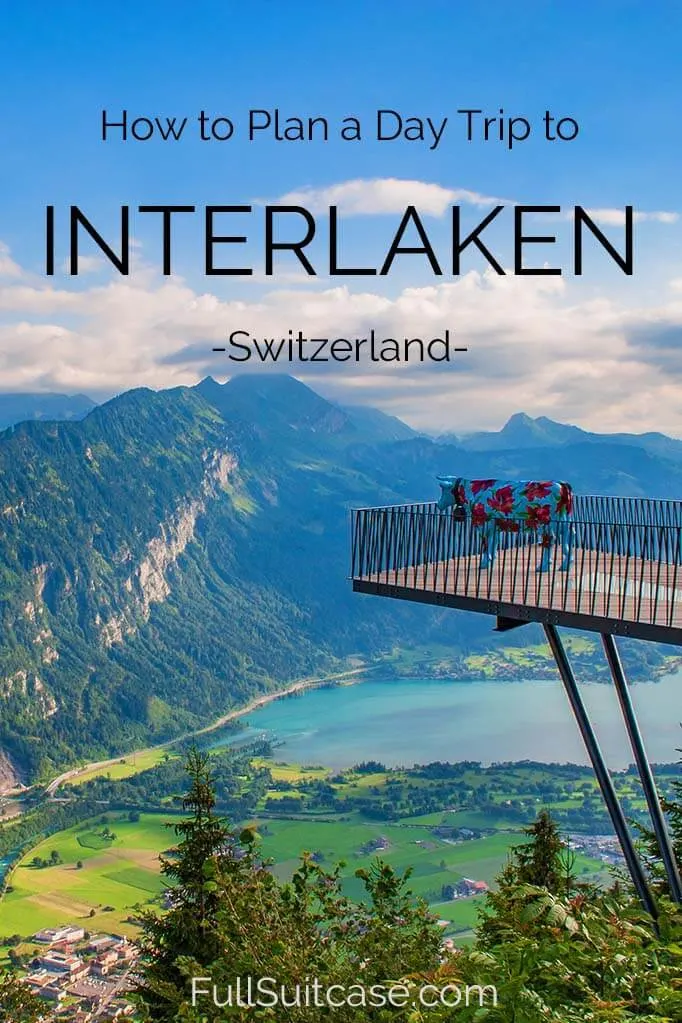 What to Know Before You Visit Interlaken
The first thing you may want to know when planning to visit Interlaken is that the town itself isn't big. You can easily see all there is to see in Interlaken town in just an hour or so.
The second thing you should know is that Interlaken – just as the name suggests – is located between two amazingly beautiful lakes. These lakes and the proximity to many natural landmarks offer countless sightseeing options when visiting Interlaken… However, it might get really overwhelming trying to decide where to go. Especially if you only have one day in Interlaken…
There is so much to see and do in the Interlaken area that you could create many different itineraries. And I'm not even talking about visiting Lauterbrunnen, Wengen, Grindelwald, or Jungfraujoch… This article focuses solely on visiting Interlaken town and the lakes, but if you have at least one day extra, I highly recommend visiting the nearby Jungfraujoch, Top of Europe as well.
We spent a wonderful day in Interlaken this summer. Below, you can read about our experience when visiting Interlaken and how we planned our Interlaken 1 day itinerary.
Further below you can also find the best alternative suggestions for a one day itinerary in Interlaken. As you will see, there is a lot to choose from!
At the bottom of this post, you can find a map and practical information for planning your visit to Interlaken.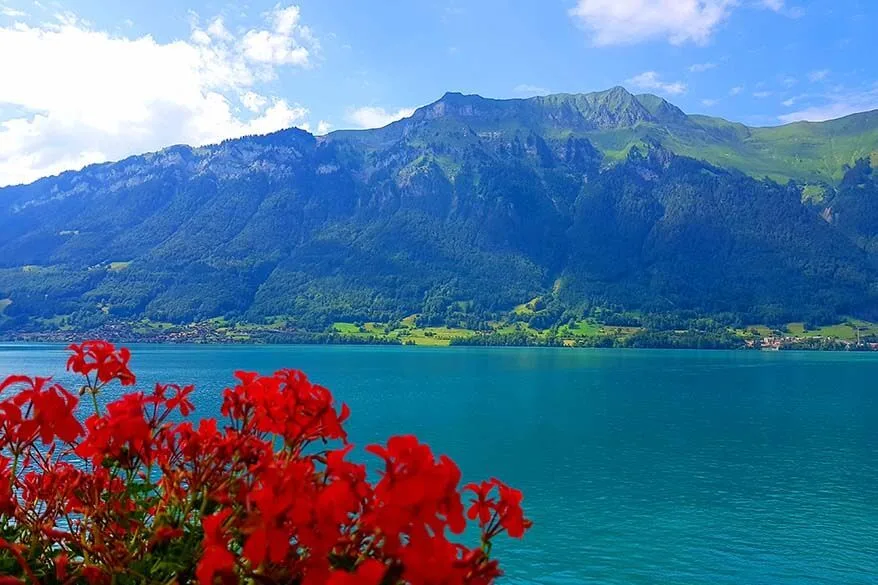 Lake Brienz vs. Lake Thun (Brienzersee or Thunersee)
When researching what to see and where to go in Interlaken, you'll find the two lakes – Brienzersee and Thunersee – mentioned all the time. It's because a boat trip on one of the two lakes is an absolute must-do in Interlaken! Since the lakes are big and have more sightseeing options than you could possibly see in a day, you'll have to decide which of the two lakes – Lake Brienz or Lake Thun – you will want to see.
Good to know: It is also possible to tour both lakes on the same day. While I don't think it's a good idea to try to see it all in a very short time, I understand that some people want to make the absolute most out of their Interlaken day trip. So if you really want to see the two lakes in one day, you can. In that case, I recommend that you start as early as possible and plan just one or two stops along the route.
There are regular boat trips on both lakes and they both have something different to offer. If you decide to visit just one lake, it might be hard to choose which one to explore. Here's some info that might help you decide.
Round trip on the Brienzersee is about 2,5 hours, whereas round trip on the Thunersee, is about 3,5 – 4 hours, depending on the boat. You can choose to hop off and hop back on the boat at every stop along the way.
Boats for Brienzersee depart at Interlaken Ost, just near the Interlaken railway station. Harder Kulm funicular is also located just nearby. Whereas boats for Thunersee depart from Interlaken West, on the other side of town.
Both lakes can be visited the whole year-round, but in winter, there are just very few boat rides. For example, in December, Brienzersee boats only run on Sundays, whereas Thunersee has just one daily departure (two on Sundays).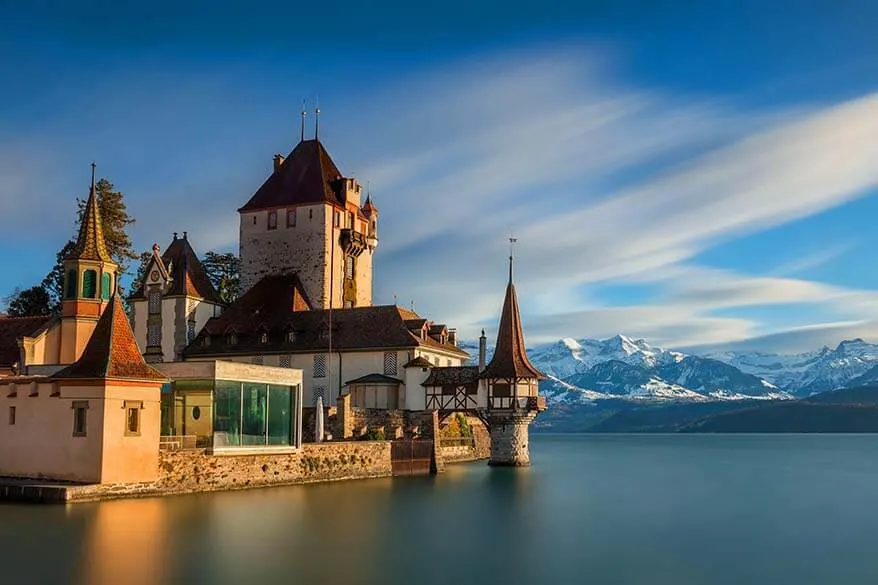 We were told that a boat ride on Thunersee is a bit more varied than on Brienzersee and there is more to see. It's mostly known for its castles: Schloss Oberhofen, Schloss Hünegg, Schloss Thun, Schloss Schadau, and Schloss Spiez.
You can visit (some of) the castles by hopping off and back on the Thunersee boat, but keep in mind that you'll probably need the whole day for this and will be able to visit two or maybe three castles.
Brienzersee is a bit smaller and there are fewer attractions along the way. However, it's really beautiful and more tranquil. It also has the amazing Giessbach Waterfall that's well worth a visit.
Lake Thun is still on our bucket list, but for our Interlaken day trip this time, we opted to explore Lake Brienz. Since we visited Interlaken for just one day and wanted to see the town, visit Harder Kulm, and tour one of the lakes, this looked like a more relaxing option. And it was – we had an amazing day in Interlaken area. Further below, you can read about our experience.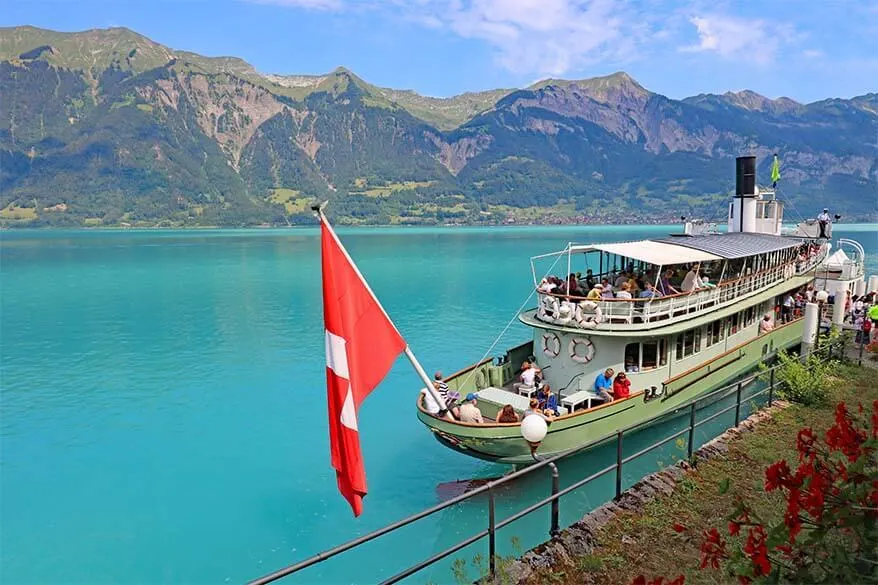 Interlaken Day Trip – Our Experience & One Day Itinerary
If you are looking for a nice way to spend a day in Interlaken, then I can really recommend a combination of visiting the town, touring one of the lakes, the villages, and enjoying the views from Harder Kulm.
I have to admit that we didn't know how to best spend one day in Interlaken and so we asked local guides for the best recommendations. The trip we ended up doing in Interlaken was recommended to us by two different people and it turned out to be a great choice. The scenery along Lake Brienz is amazing and this itinerary has lots of variation.
Below you can find our detailed one day Interlaken itinerary that includes visiting Harder Kulm – Top of Interlaken, a boat trip on Lake Brienz (Brienzersee), a visit to the beautiful Giessbach Waterfalls, an easy lakeshore hike to the very picturesque village Iseltwald, and Interlaken town itself. Read on to find out how to see it all in one (relaxing) day.
This is a relatively easy Interlaken day trip that starts and ends in Interlaken town center. Further below, you can find some tips for alternative Interlaken itineraries that also start and end in Interlaken. Take a look!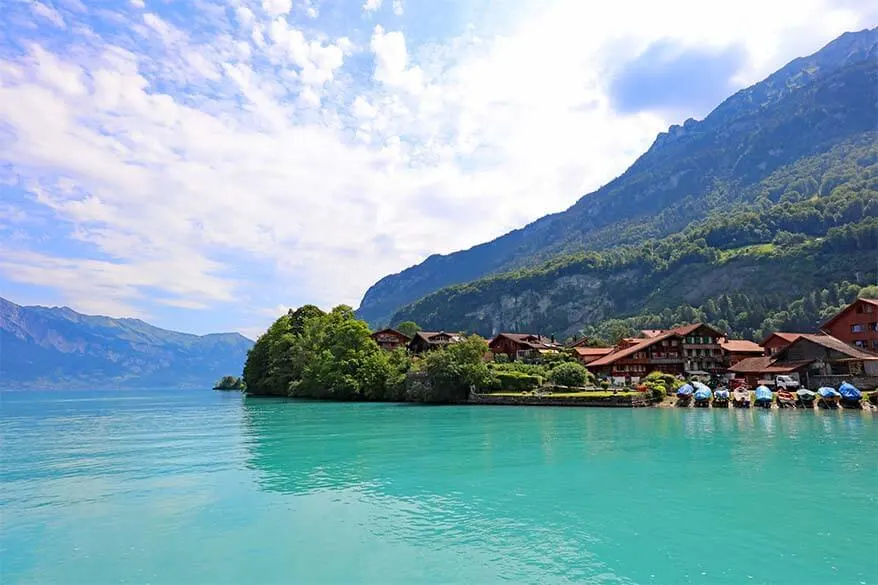 Harder Kulm – Top of Interlaken
We started our day in Interlaken with a short ride on a steep funicular to Harder Kulm. This is one of the most popular Interlaken attractions. In my opinion, visiting Harder Kulm is one of the best things to do in Interlaken!
Harder Kulm is a viewpoint at 1,321 m height overlooking the towns of Interlaken and Unterseen and the two lakes of Interlaken – Thunersee and Brienzersee. The view is amazing and well worth visiting.
No matter how much time you have in Interlaken, make sure to go up to Harder Kulm!
Because it's one of the best things to do in Interlaken and because it's so easy to visit, Harder Kulm can get extremely busy. Especially if you come here in summer. We visited at 10 am on a weekday in August and it was already quite lively at the top…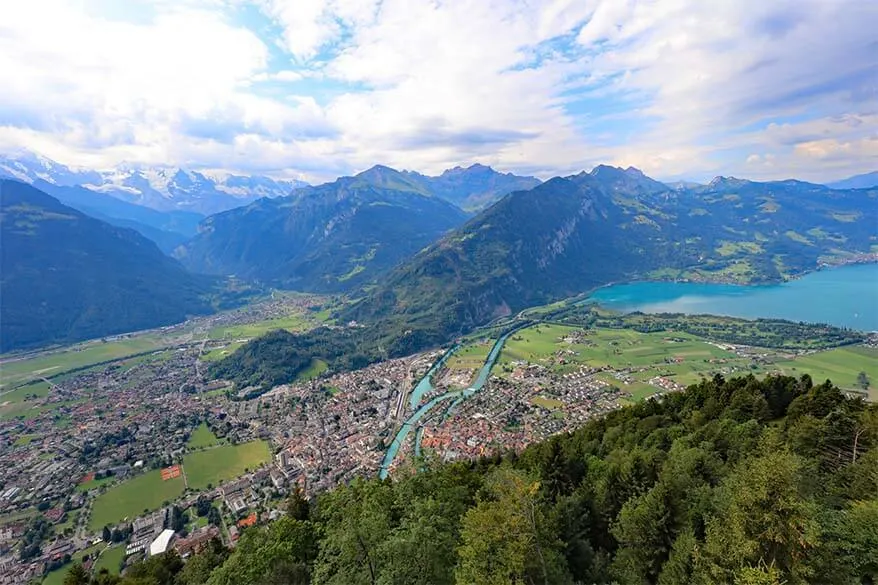 On top of the mountain, there is a souvenir shop and a restaurant with a beautiful terrace. Phenomenal views included. This is a very popular place for sunset, but if you want the views without the crowds, it's best to come early in the morning.
Practical info: Harder Kulm can be best reached by the funicular that's located across the river, just near the railway station in the center of Interlaken. The funicular ride takes 10 minutes with departures every 30 minutes… It's only operating from approximately mid-April till mid-December. In season, you can book your tickets for this funicular here.
You could also hike to Harder Kulm. It's a short hike of just 4km (2,5 miles), but it's very steep. It takes about 2.5-3 hours one way. You can choose to ride the funicular one way and hike back, but that would take you a good part of the day.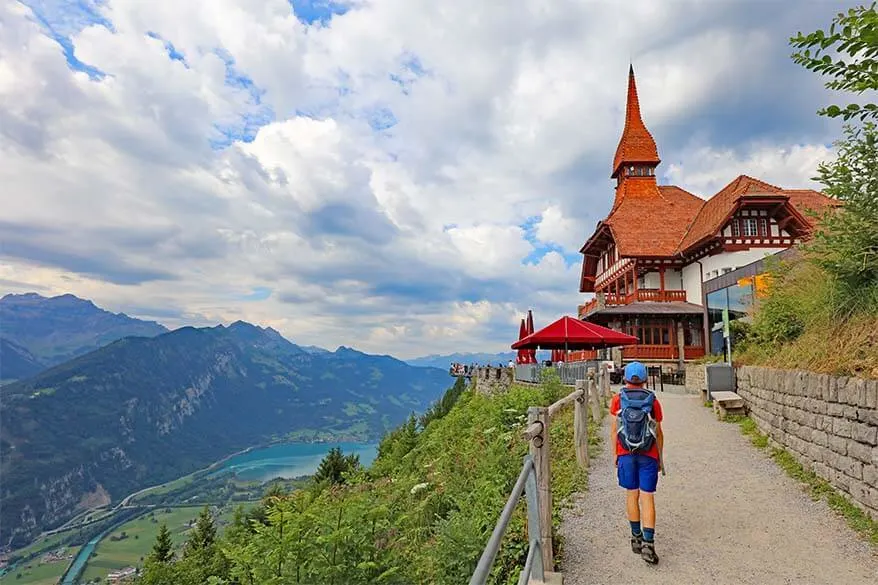 Boat ride on Lake Brienz
A boat trip on Lake Brienz is a nice experience in itself – the azure blue water and the surrounding mountains are a treat for the eye. Colorful picturesque villages along the lake make the scenery complete.
Accidentally, the boat we took was a historic paddle steamer. It goes a bit slower than the modern boats, but it's an experience in itself. It was fun to see that some passengers were even dressed in Belle Époque-style clothing…
Below you can read about the places along the lake which we chose to include in our Interlaken one day itinerary after visiting Harder Kulm. Take a look!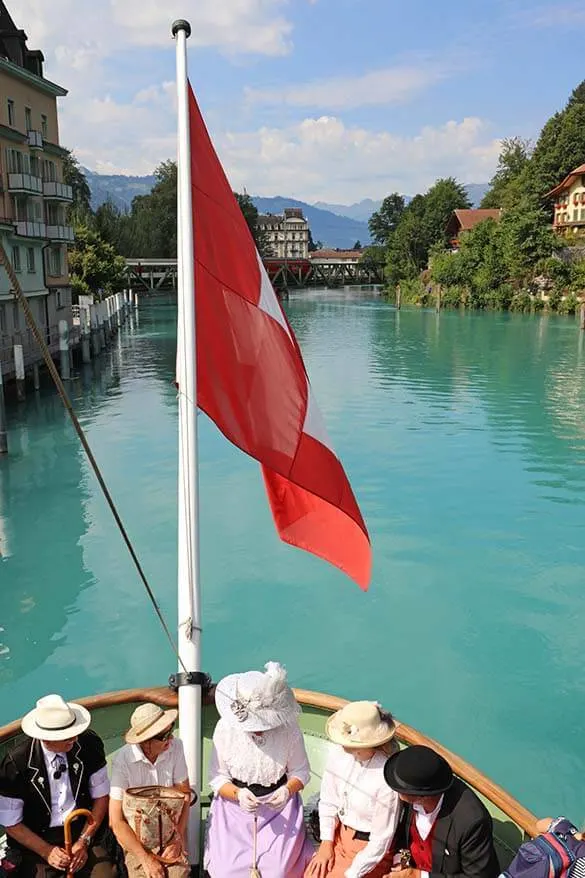 Giessbach Waterfalls
Following advice from the locals, we took a boat from Interlaken to Giessbach where we disembarked. This part of the journey takes approximately 1 hour.
Giessbach is just a tiny place by the lake, there isn't even a village here, just the beautiful historic Grandhotel Giessbach with a restaurant. You can have lunch on the terrace of the hotel or have a picnic on a beautiful lawn next to the hotel, as most people do.
When you arrive in Giessbach by boat, you're at the lake level which is much lower than the hotel or the waterfall. The easiest way to get to the top is to take a steep funicular. A ride on this historic Giessbach funicular is an attraction in itself! Kids loved it and it saved us a steep walk uphill.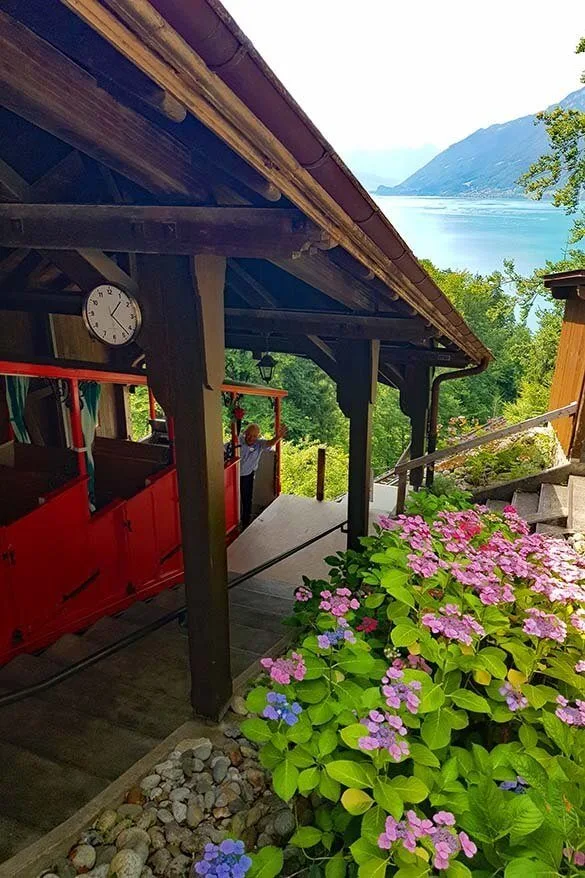 The main reason to visit Giessbach is the famous Giessbach waterfalls. It's a really impressive waterfall, one of the best ones I've seen in Switzerland, that tumbles down in 14 stages till it reaches the lake below.
My pictures don't do it justice because the sun made it impossible to get a really good shot of all the waterfalls at once, so you'll just have to take my word for it. Giessbach waterfalls are really beautiful!
It is also possible to walk behind the Giessbach waterfall and that makes a visit even more special! Prepare to get a bit wet – no big deal, just a refreshing splash of water on a warm summer day.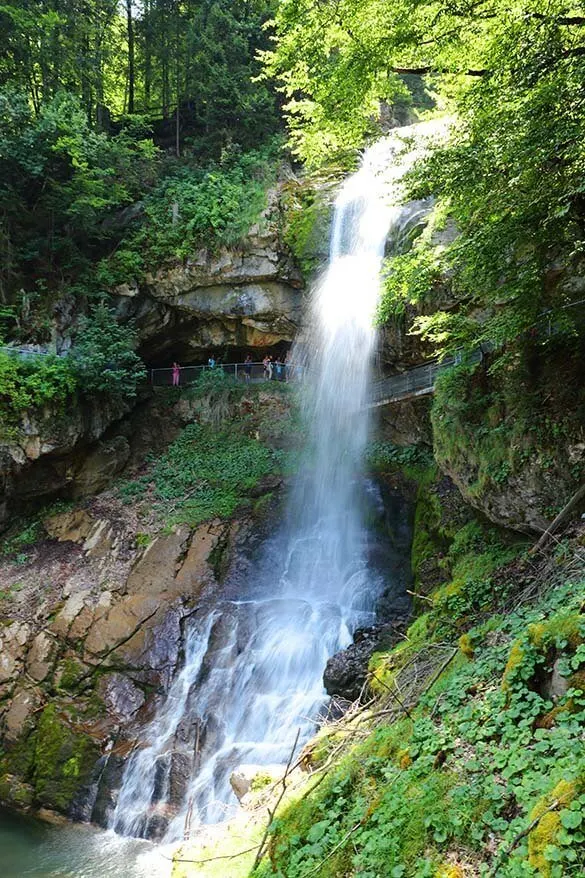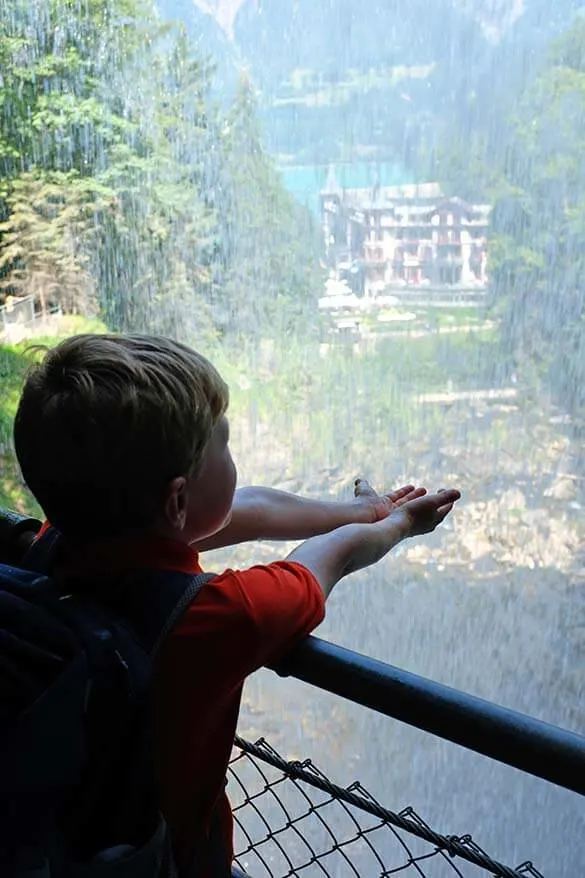 Unless you go hiking in the area, you don't need more than 30-45 minutes to visit Giessbach, maybe a bit longer if you also have lunch there.
Afterwards, you have several options. You can take a boat to Brienz, take a boat back to Interlaken, or to one of the smaller towns along the lake (more suggestions below).
We opted for yet another option and walked to the nearby village Iseltwald, following the scenic hiking path along the shore of the lake. From there we would take a boat back to Interlaken. Read on!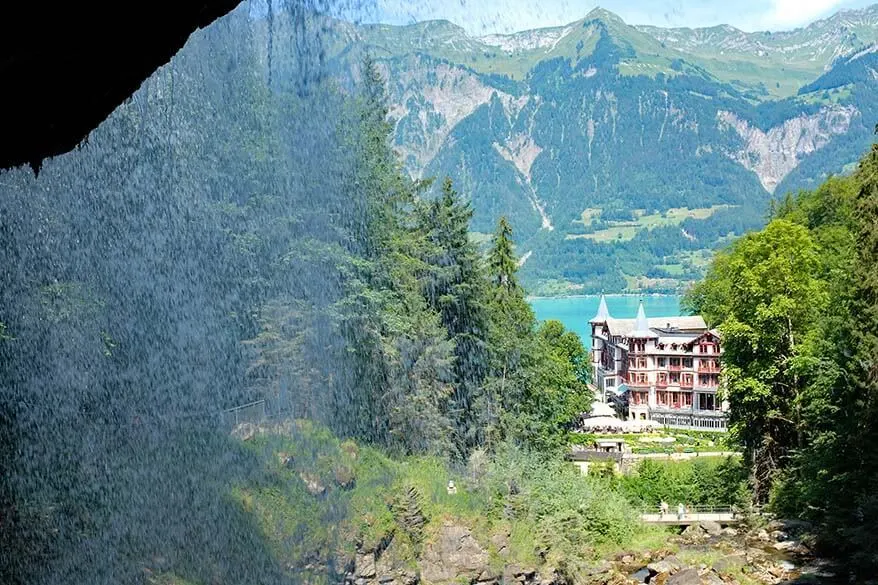 Giessbach to Iseltwald – Lakeshore Trail
There are several hiking paths connecting Giessbach with Iseltwald. The shortest, the easiest, and the most scenic one is the trail that follows the shore of the lake (so not the one higher up the hill that goes through the forest). It should take you 45-60 minutes to walk between the two places.
Now, I have to be honest with you, the lakeshore trail between Giessbach and Iseltwald is a really nice walk, but it's not comparable to any other amazing hiking trails in the nearby mountains. So it's something that is nice to do if you have an hour or two to spare when visiting Interlaken, but it's definitely not a must if you are short on time.
The first part of this hike is quite boring, actually, but then about halfway, it gets really beautiful. The hiking trail follows a stunning coastline with the azure blue lake on one side and impressive rock formations on the other side. The closer you get to Iseltwald, the better the scenery… Take a look at the pictures below!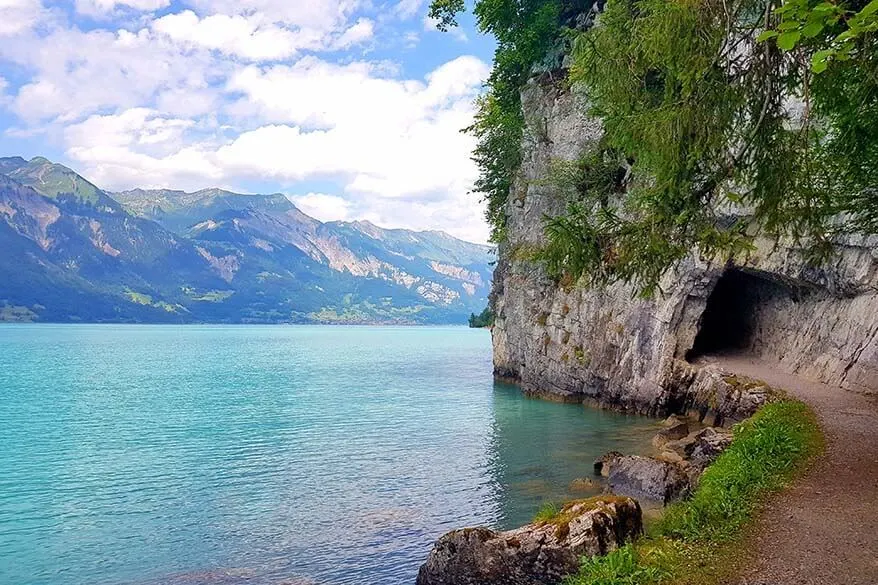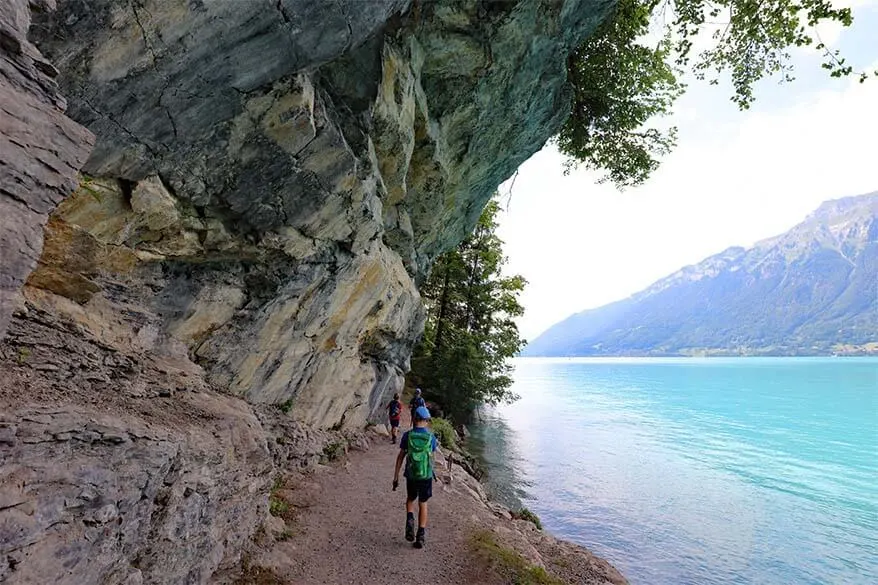 Iseltwald
Iseltwald itself is a very picturesque village. In summer and weather permitting, you can go swimming in the lake, rent a boat or a kayak, and spend at least half a day just enjoying the 'beach'.
We made this day trip to Interlaken at the beginning of August, but it wasn't really swimming weather that day. Our kids took a quick dip in the water and quickly came out. Swimming at the mountain lakes in Switzerland is really only doable with air temperatures of at least 25° C and lots of sunshine…
Because of this short swim, we missed our boat from Iseltwald to Interlaken. This meant that we had about an hour extra in the village. Luckily, Iseltwald is not the worst place to be stuck in for a few hours, that's for sure. We found a beautiful restaurant terrace near the harbor and enjoyed some drinks and ice cream. When the next boat came, we didn't feel like leaving…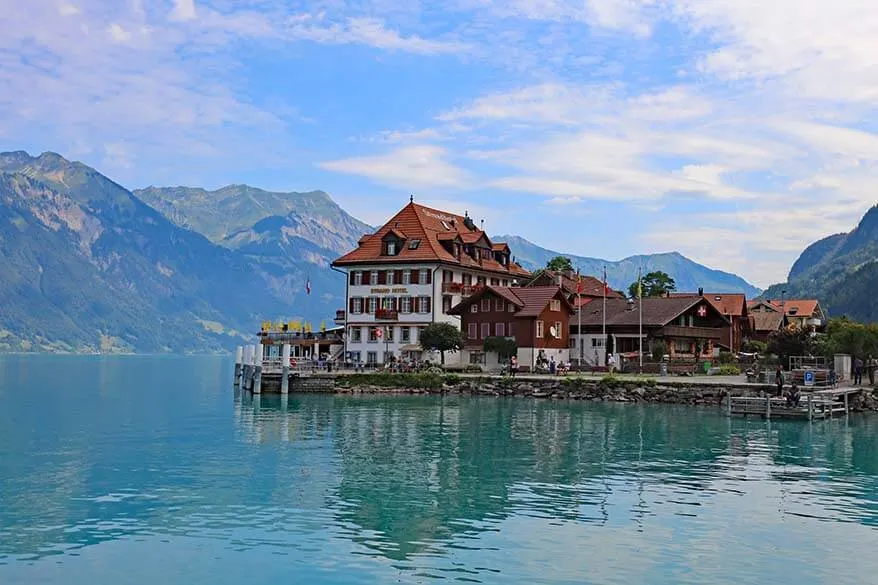 From Iseltwald, it takes about 35-45 minutes to get back to Interlaken, depending on which boat you take. In summer, there are boats running every hour during the day.
We have been to the Interlaken area so many times in the past but never heard of Iseltwald or Giessbach before.
I'm really glad that this time we took some time to explore these places. They are both really nice, so typically Swiss, and have little crowds. In any case, not much compared to the busy Interlaken town itself or the nearby towns of the Jungfrau region…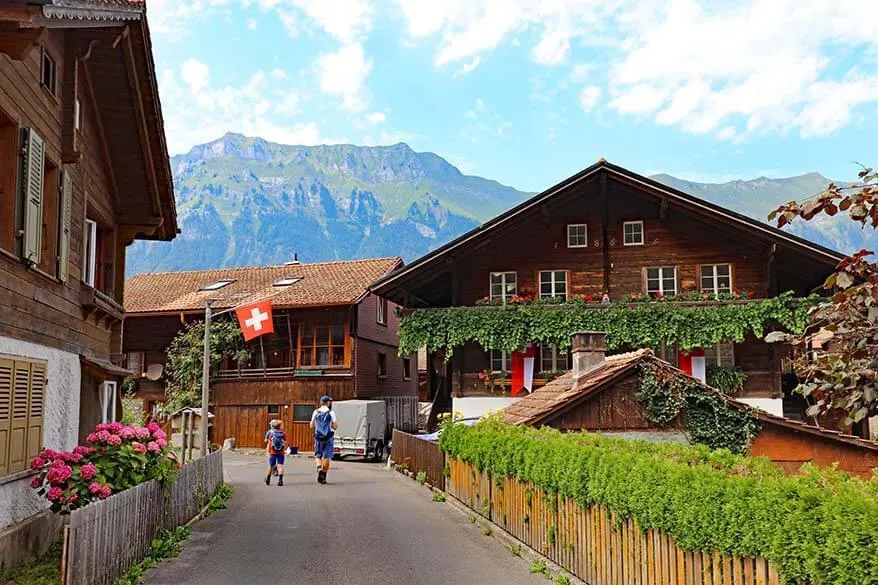 Interlaken
There isn't that much to do in Interlaken town itself, but it's a very pleasant place. Beautiful buildings, grand hotels built over a century ago, busy little streets lined with shops and restaurants, flowers everywhere, and horse-pulled carriages with tourists… This is what you can expect to find in Interlaken.
We decided to take a walk in town, have a drink, and just take it easy. It was the perfect way to end our day in the Interlaken area. Afterwards, we took a train back to our hotel in Wengen.
So, this is how our Interlaken day trip looked like. Below you can find some alternative recommendations for things you could do when visiting Interlaken. Further below, you can find four different Interlaken one day itinerary suggestions. Read on!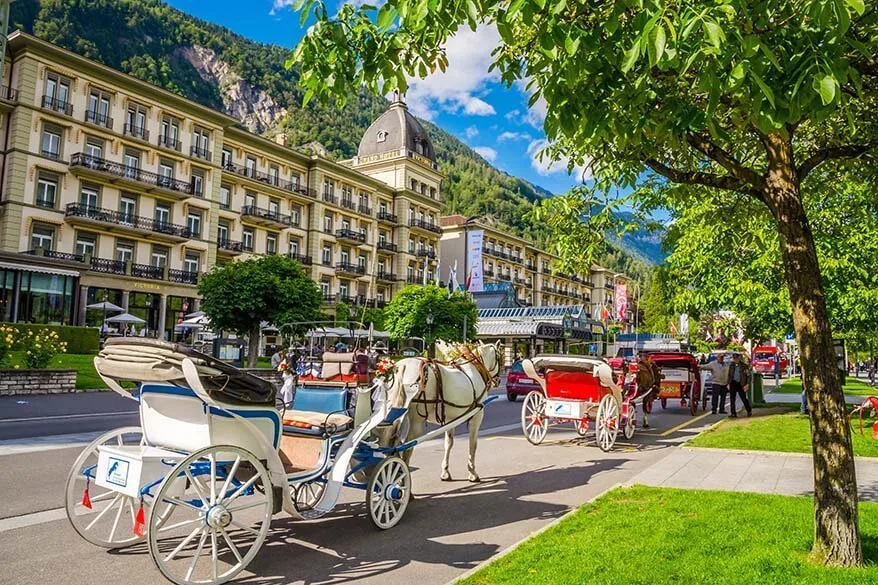 Alternative Sightseeing Options for Visiting Interlaken
As already mentioned, there are so many different ways to spend your day in Interlaken. Below are a few alternative suggestions for you.
Interlaken – Lake Brienz – Giessbach – Brienz
If you are not keen to go hiking or swimming in the lake, we have an alternative suggestion for your day from Interlaken.
In the morning, follow our trip itinerary up to Giessbach. After you visit the waterfall, get back down to the lake and take the next boat to Brienz. That way you can see the entire lake and also pay a visit to Brienz town.
If you take a boat all the way to Brienz, it will take you about 1,5 hours to get back to Interlaken. This would be another good option for your Interlaken day trip.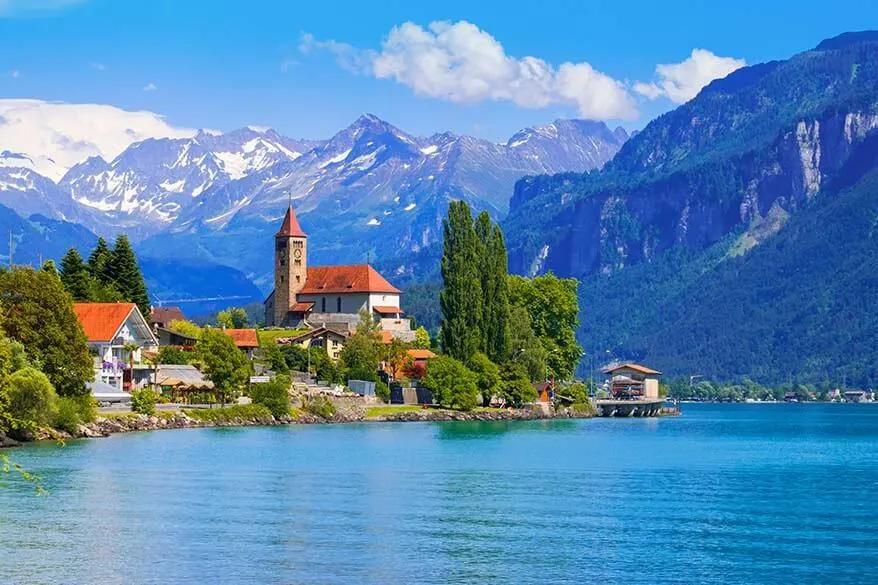 Lake Brienz – Giessbach – Interlaken – Thunersee
First, follow the same itinerary and visit Harder Kulm in the morning. Then take a boat on Lake Brienz and visit the waterfalls (same as above).
Then afterwards, take a boat from Giessbach back to Interlaken. Have lunch on the boat (to save time) and then take a boat trip on Thunersee in the afternoon.
If you want to see both lakes, I advise to start your day in Interlaken as early as possible and take the very first boat in the morning. Otherwise, just pick one stop on each lake and maybe don't travel the entire length.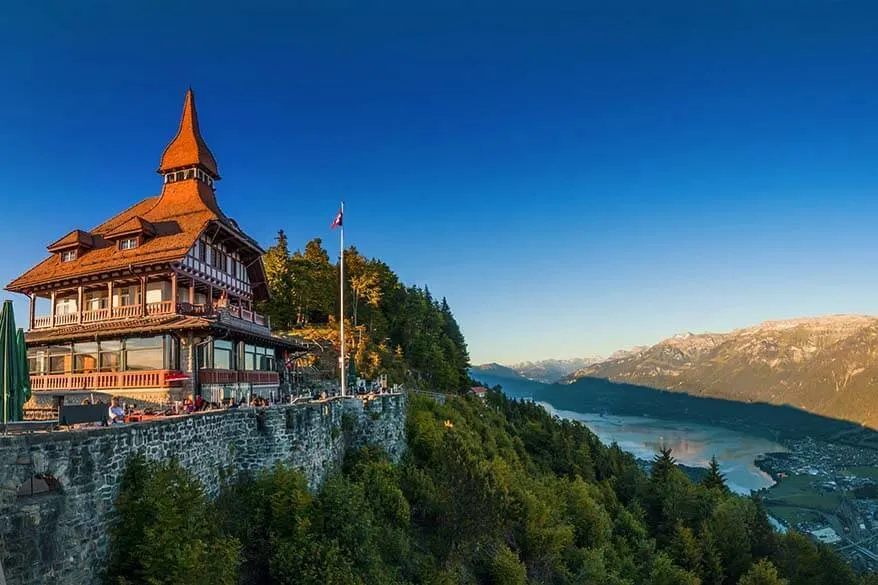 Interlaken – Thunersee
Thunersee is the second one of the two lakes of Interlaken. Just like at Brienzersee, there are also boat tours on Thunersee. In addition, there is a beach area close to the hotel Neuhaus in Unterseen as well. In summer, it's a busy place…
Just as with Brienzersee, you could spend the whole day just exploring Lake Thun. There are some really nice castles along the shores of Thunersee: Oberhofen Castle, Hünegg Castle, Thun Castle, Schadau Castle, and Spiez Castle. If you take a boat, you can hop off and back on and visit several of these castles along the way.
Thun town is also a very nice place to visit if you have more time…
Good to know: If you decide to visit Thun, you should know that it's also possible to return to Interlaken (or wherever you're staying at) by train. This is a faster option than the boat.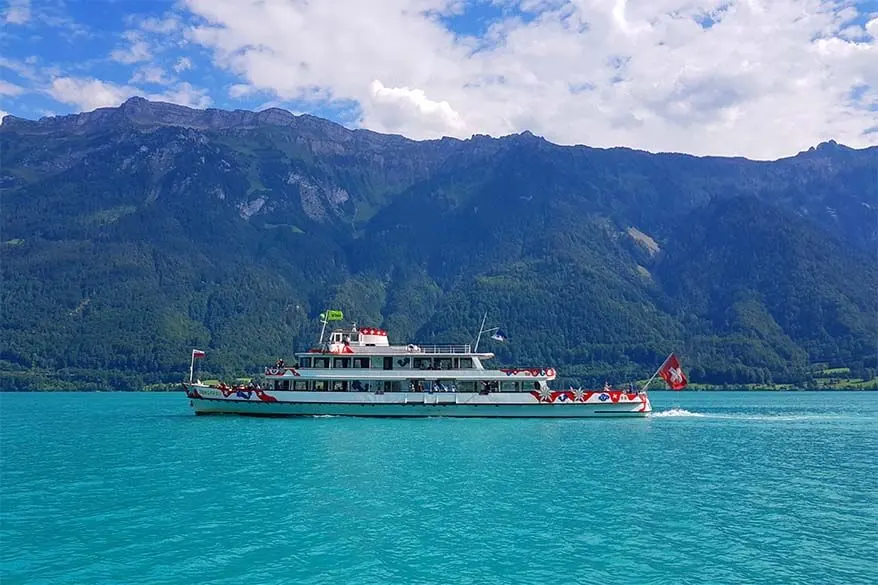 Interlaken 1 Day Itinerary Suggestions
As you can see, there are countless ways to plan a day in Interlaken. To make it easier for you to plan your own day trip to Interlaken, I created some sample itineraries based on the suggestions above.
Pick any of these itineraries and you'll have a great day in Interlaken area. Alternatively, use this for inspiration and create your own unique Interlaken day trip.
To not complicate things even more, all my suggested itineraries for one day in Interlaken start and end in Interlaken town. Take a look!
Option 1: Harder Kulm – Giessbach – Iseltwald – Interlaken (our itinerary)
10 AM Harder Kulm
11.07 AM Boat from Interlaken to Giessbach (Brienzersee)
Visit Giessbach waterfall and have lunch in Giessbach
Hike from Giessbach to Iseltwald
Swim in Iseltwald
4.08 PM Boat from Iseltwald to Interlaken
Interlaken town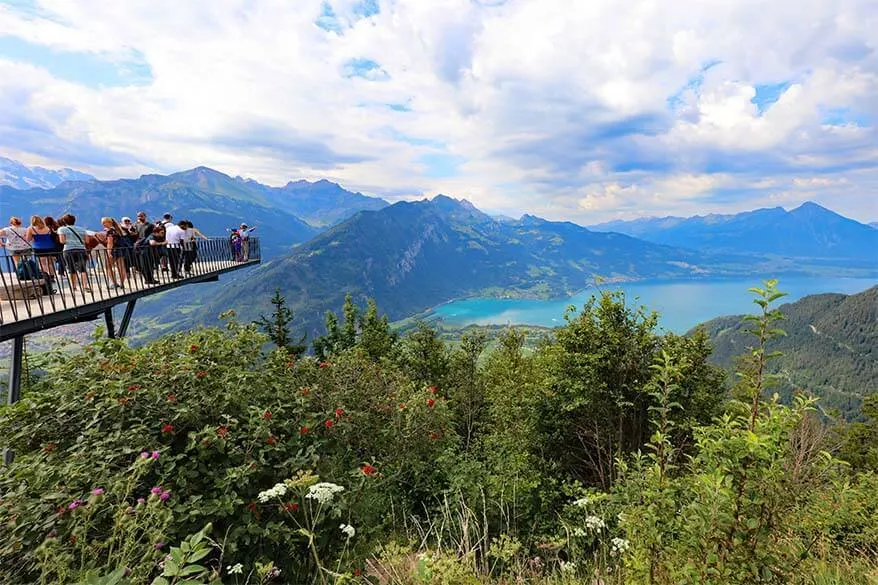 Option 2: Harder Kulm – Giessbach – Brienz – Interlaken
Harder Kulm (or leave it for in the evening)
Boat from Interlaken to Giessbach
Visit Giessbach waterfall
Boat from Giessbach to Brienz
Visit Brienz
Boat from Brienz to Interlaken
Interlaken town
Option 3: Brienzersee – Thunersee – Harder Kulm – Interlaken
Boat trip on Brienzersee without any stops
Lunch on the boat or in Interlaken
Boat trip on Thunersee with 1 stop
Harder Kulm
Interlaken
Option 4: Brienzersee – Giessbach – Thunersee – Harder Kulm – Interlaken
Boat from Interlaken to Giessbach
Visit Giessbach waterfall
Boat from Giessbach to Interlaken
Boat trip on Thunersee
Interlaken and Harder Kulm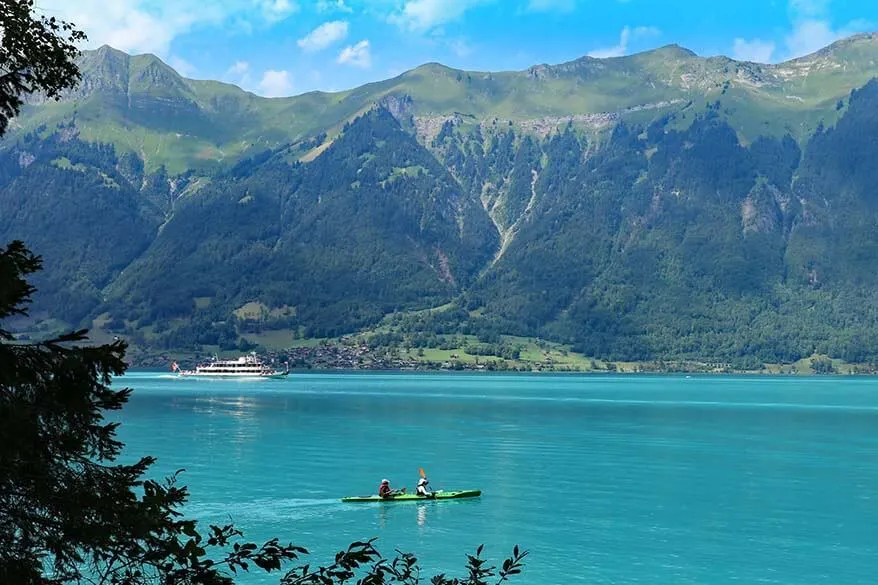 Map of Interlaken Area
To help you get a better idea of where all these places are located, I created this map indicating all the places in the Interlaken area mentioned in this article. Take a look below.
How to use this map: Use your computer mouse (or fingers) to zoom in or out. Click on the icons to get more information about each place. Click the arrow on the top left corner for the index. Click the star next to the map's title to add it to your Google Maps account. To view the saved map on your smartphone or PC, open Google Maps, click the menu and go to 'Your Places'/'Maps'. If you want to print the map or see it in a bigger window, click on 'View larger map' in the top right corner.
Where to Stay
Interlaken has many nice hotels and other accommodation options. If you are looking for a really nice place to stay in town, one of the best luxury hotels is the historic Victoria Jungfrau Grand Hotel & Spa.
Here are some of the best-rated Interlaken hotels for all budgets:
$$$$ The HEY HOTEL.
$$$ Hotel Interlaken.
$$ Hotel Lötschberg.
TIP: Using the map below, you can compare hotels, apartments, and short-term rental accommodations in Interlaken. Simply insert your travel dates and group size, and you'll see what's available for your stay. Check it out!
Practical Information for Visiting Interlaken
Tickets: If you have a Jungfrau Travel Pass of 5 days or more, boat tickets for both lakes, as well as Harder Kulm funicular fees are included. Since we were staying in the region longer, we bought this pass; it's an amazing value and saves you so much money if doing lots of sightseeing.
Discounts: There are discounts available for the holders of the Swiss Travel Pass and several others. Kids under 6 years old travel for free. For kids between 6 and 16, I really recommend getting Junior Travelcard.
Harder Kulm: Funicular only runs from mid-April till the end of November. If you don't have a Travel Pass and you need tickets, you can normally get them on the spot. If you want to get tickets in advance, you can also book them here. Booking in advance might save you a long wait if there's a queue at the ticket desk.
When to visit: Interlaken is a year-round destination and you can see most places in any season. However, there is much more to see and do if you come between April and November.
Boats in the low season: There are many more boats in summer than in winter, so make sure to check the schedules when planning your visit. The high season is from the end of June till the beginning of September, shoulder season is June and September to mid-October. In the low season, there are daily boats on Thunersee, but not on Brienzersee.
READ ALSO: Swiss Travel Pass: Complete Guide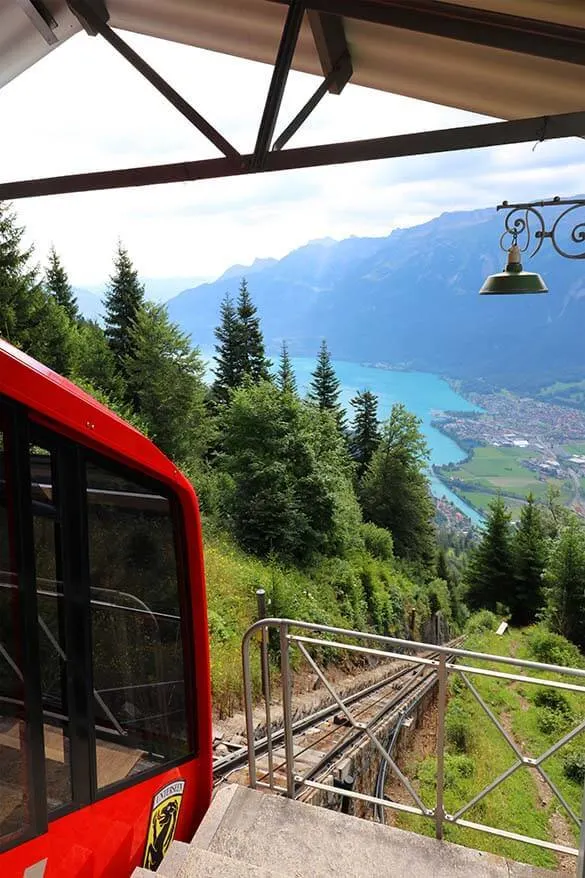 So, this is our guide to visiting Interlaken and the best way to plan your own perfect Interlaken day tour. I hope that you find this guide useful and that it will help you make the most of your trip to this beautiful part of Switzerland.
If you have any questions about visiting Interlaken that have not been covered in this article, don't hesitate to leave a reply below and I'll try to help.
TIP: If you have one more day in Interlaken area in the summer season, don't miss Schynige Platte! It's one of the most beautiful and somewhat lesser-known mountain destinations in Switzerland, and just a short trip from Interlaken. Check it out!
FAQ
Is one day enough for Interlaken?
Interlaken town is quite small and the biggest attraction that you have to see here is Harder Kulm which can be reached via the funicular. So you can easily visit Interlaken town center and Harder Kulm in 2-3 hours. So, one day is enough to see in Interlaken and also take a boat trip on one of the lakes.
How many days do you need in Interlaken area?
There is so much to see and do near Interlaken that you can easily spend a week or even two weeks here and never get bored. However, as a minimum, try to plan 3 days in the area: 1 day for Interlaken town and one of the lakes, 1 day for a trip to Jungfraujoch in combination with Wengen and Lauterbrunnen, and 1 day for visiting Grindelwald and the Grindelwald-First area.
What is the best time to visit Interlaken?
The best time to visit Interlaken is during the summer, from mid-May to September. That's when everything is open and accessible in the mountains and the temperatures are pleasant for all the outdoor activities that this area has to offer.
Is Interlaken worth visiting?
Interlaken is a charming town, but what makes it special and worth visiting is its spectacular location and the stunning mountain scenery of the surrounding Bernese Oberland region. So while the town itself is worth an hour or two of your time, the real reason to visit Interlaken are the lakes and the mountains around it.
How do you travel around Interlaken?
Interlaken town can easily be explored on foot or by bike. The two lakes of Interlaken are best explored by boat. The nearby mountain resorts of the Jungfrau Region can easily be accessed by train or by car, and once you are in the mountains, you can also go hiking!
Is Interlaken a good place to stay?
Interlaken is centrally located for visiting many places in central Switzerland. It's easy to get to by car and it also has excellent railway connections. So yes, depending on what you are planning to see in the area, Interlaken can be a good place to stay for exploring the Berner Oberland region.
READ ALSO: Best Things to Do in Lucerne
More tips for your trip to Switzerland:
If you found this post helpful, don't forget to bookmark it and share it with your friends. Are you on Pinterest? Pin this image!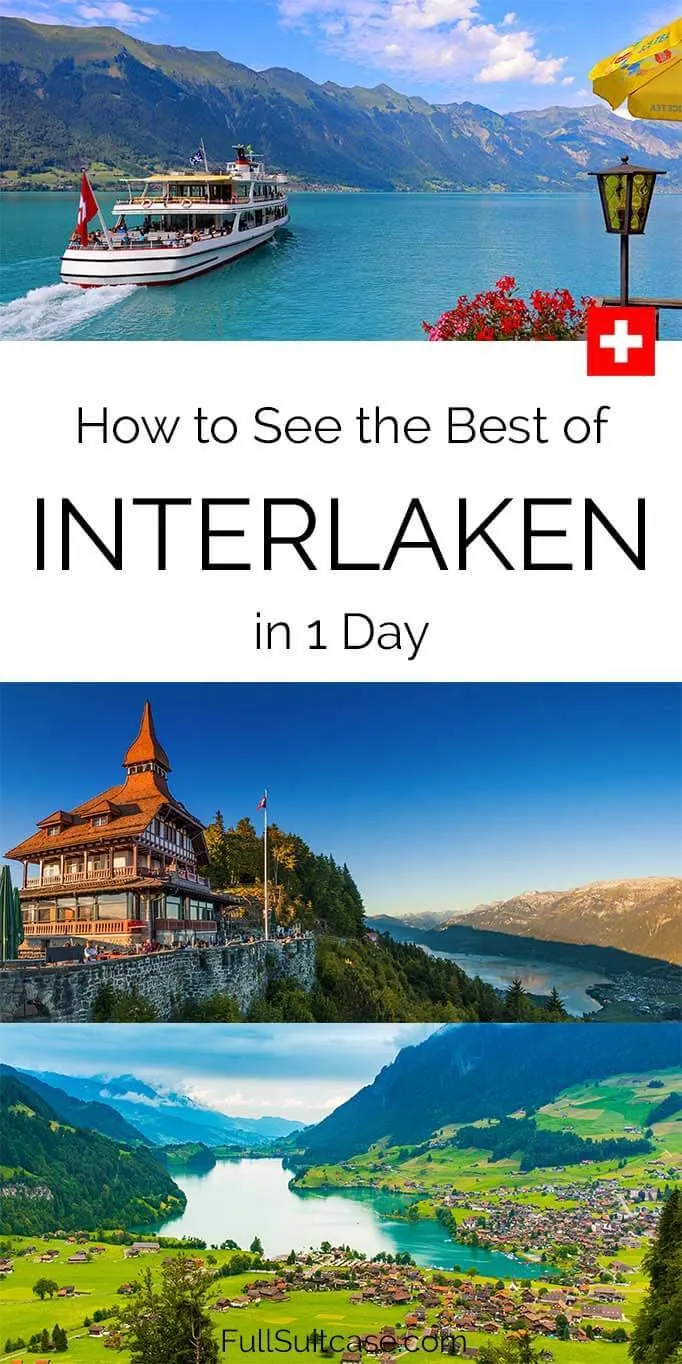 Some of our favorite hikes in Switzerland: