Thinking of hiking the Matterhorn Glacier Trail in Zermatt, Switzerland, and wondering what to expect? This guide will give you a good idea of what this hike is like and whether it's worth it. We also include a map, practical info, and lots of pictures of the trail. Take a look!
Matterhorn Glacier Trail (Zermatt hike nr. 26) is one of the absolute best hikes you can do in Zermatt. So if you are wondering if it's worth it, yes, absolutely!
However, it's also quite a long hike with a few somewhat steeper and more challenging sections. Furthermore, you are hiking at a very high altitude, so you should only do this hike when the weather is really good.
And finally, there is so much to see and do in Zermatt that you may have to be very selective on where you spend your time… This is not the best hike to do if you have never been to the area and only have one day in Zermatt (in that case, we recommend the Gornergrat Scenic Trail which is a much shorter hike).
But if you have at least two days in Zermatt and are visiting in summer, then I highly recommend including the Matterhorn Glacier hike in your itinerary!
I hope that our experience-based tips and information in this article will help you decide if the Matterhorn Glacier Trail is something for you. And if you decide not to do the entire hike, we have some tips and advice on how to see some of the best scenery in a shorter time and without too much effort. Find out!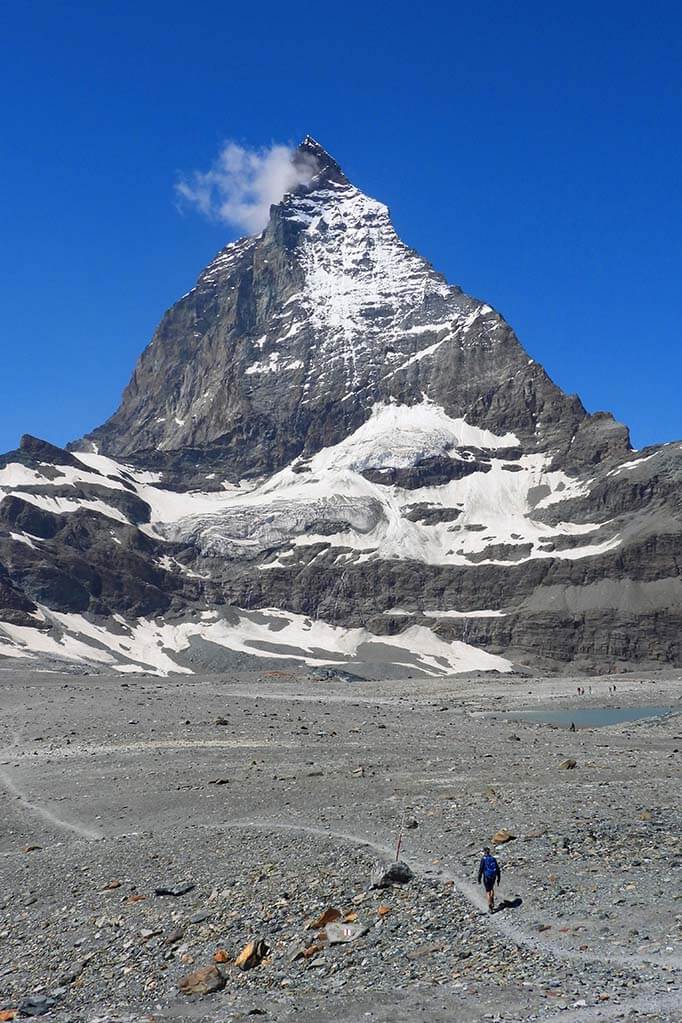 Matterhorn Glacier Trail – Hike Nr. 26 Overview:
Official trail info: hike nr. 26.
Season: June to September.
Start: Trockener Steg at 2,939 m (9,642 ft). It's accessible by cable car between Zermatt and Matterhorn Glacier Paradise.
End: Schwarzsee at 2,583 m (8,474 ft). It's accessible by the same cable car, just one station lower.
Distance: 6.6 km (4.1 miles).
Hiking time: 2-2.5 hours if going downhill. Add at least half an hour if you are doing this hike in the opposite direction.
Difficulty: Medium.
Elevation change: Ascent 174 m/ descent 515m.
Facilities: There are restaurants/ bathrooms at the beginning and at the end of the hike. There are no mountain huts in between.
Good to know: Good hiking shoes, a sweater, wind- and waterproof layer, sun protection, and a bottle of water are a must. Hiking poles are nice to have.
TIP: If you want to go for a swim at Schwarzsee at the end of the hike, be sure to pack a small travel towel and your swimwear.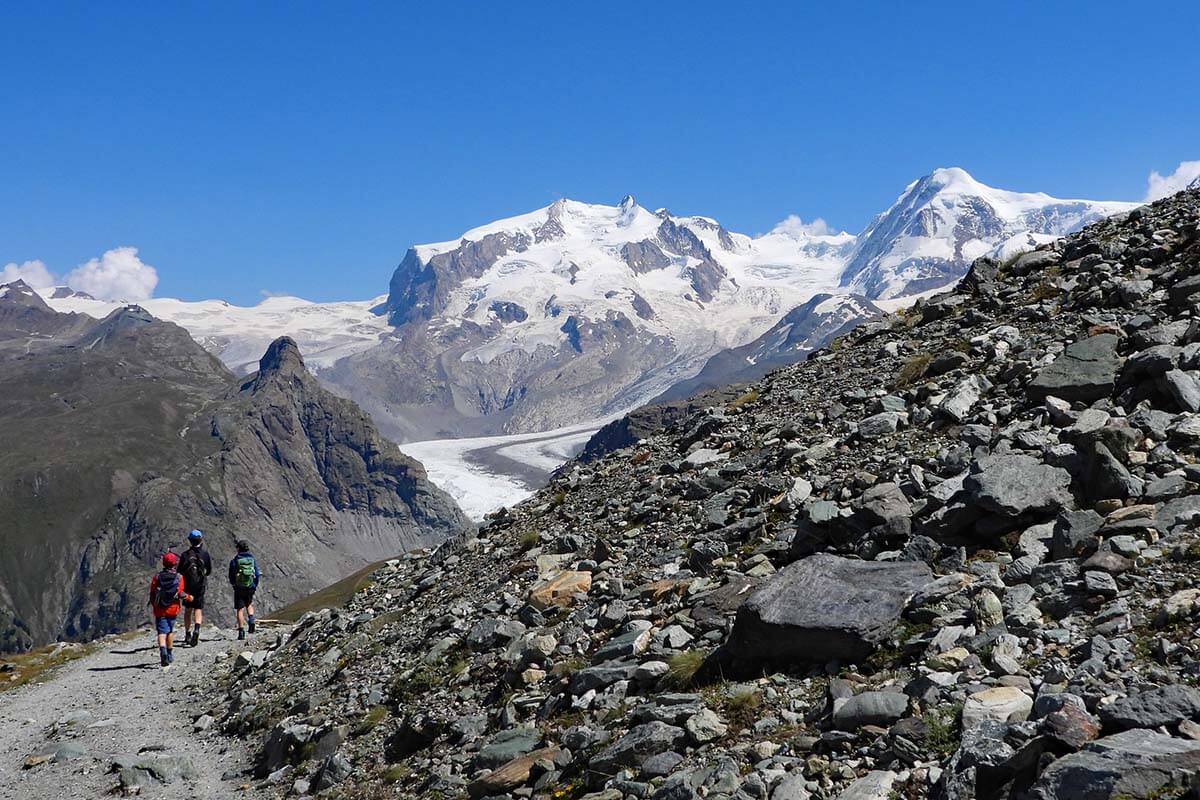 How to Get to the Matterhorn Glacier Trail + Hike Map
Getting to the starting point of the Matterhorn Glacier Trail is very easy. From Zermatt, take a cable car to Matterhorn Glacier Paradise, and disembark at Trockener Steg.
However, day tickets for this area are so expensive that we recommend visiting the Matterhorn Glacier Paradise first thing in the morning, and then doing this hike on your way back down. Make the best use of your ticket! In summer, cable cars from Zermatt start running at 8 AM and the last descent from Schwarzsee is usually at around 4.30 PM.
If you are only interested in doing this one hike, you can also just buy a ticket from Zermatt to Trockener See and back from Schwarzsee, but it would be a pity to miss the Matterhorn Glacier Paradise – it's one of the 'musts' in Zermatt.
Below, you can see the map of this hiking trail from Trockener Steg to Schwarzsee. We indicated the Matterhorn Glacier Trail (hike nr. 26) in green and the possible detour to Hörnlihütte (hike nr. 27) in purple. More info about these hiking trails is further below.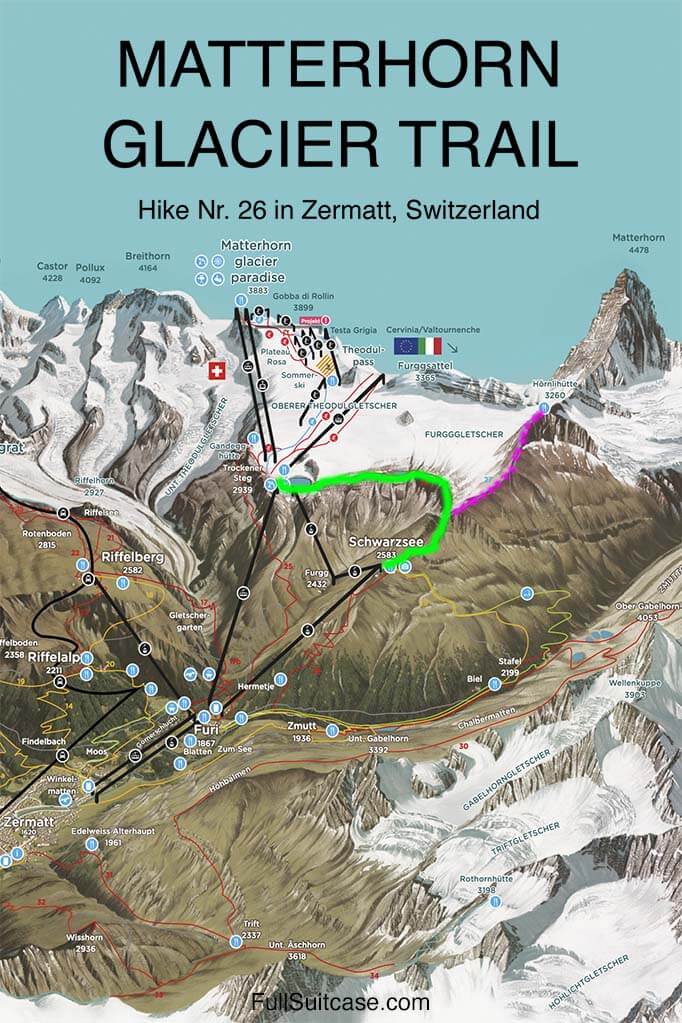 What to Expect & Is It Worth It
Matterhorn Glacier Trail takes you really close to the Matterhorn – pretty much as close as you can get to this iconic mountain without actually climbing it. And – if you have an entire day for this hike – you could also take a detour to Hörnli hut (Hörnlihütte), which is the starting point of most climbing expeditions to the Matterhorn.
But it's not just the proximity to the Matterhorn that makes the Matterhorn Glacier Trail so special. This hike takes you to places that were covered by retreating glaciers not that long ago. Theodul and Furgg Glaciers have retreated more than 3 km over the last 150 years, and this hike follows the glacier tongues of these two glaciers, so the scenery here is really unique. You can also see the glaciers very close to you and experience the power of the melting water.
If you are interested to learn more about the area and the glaciers, you'll also find multiple informational panels along the way. All the info is provided in several different languages, including English.
The views during the entire hike are spectacular. And even though the landscape at this elevation is quite barren, the colors and the many little lakes formed by the glacial meltwater make the scenery really unique and picturesque. If you hike early in the morning, when the water is usually calm, you'll likely see reflections of the Matterhorn on the lakes.
At the end of the hike, you are surrounded by green Alpine scenery, flowers, and can also enjoy a swim in the cold waters of Schwarzsee lake.
Is Matterhorn Glacier Trail worth it? Matterhorn Glacier hike truly has it all. Its proximity to the glaciers and the Matterhorn and variation in scenery makes it one of the most unique hikes you can do in Zermatt. So yes, if the weather is nice and you have about 3 hours to spare, it's absolutely worth it!
It's definitely in our top-3 of all the hikes we did in the Zermatt area, together with the spectacular hike nr. 15 at Gornergrat and hike nr. 21 at Riffelsee (both much easier and shorter than the Matterhorn Glacier Trail, but not really comparable in terms of scenery).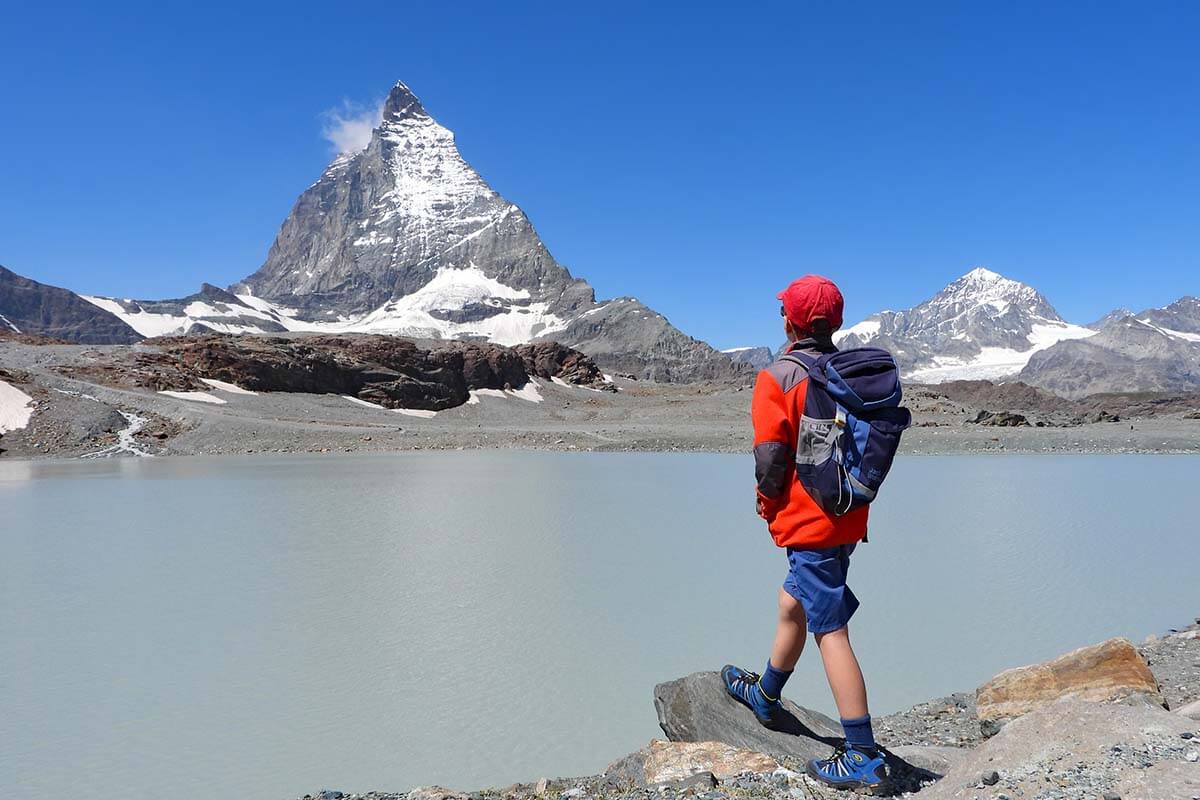 Know Before You Go
Matterhorn glacier trail starts at Trockener Steg cable car station, goes via Hirli, and ends in Schwarzsee. If you do the hike in this direction, you'll be hiking downhill most of the time. However, there is also one somewhat steeper ascent just before you reach Hörnlibahn (a chairlift station that's only open in winter), and then a very steep descent just before you get to Schwarzsee.
All in all, the Matterhorn Glacier Trail hike isn't difficult, but the high altitude and rocky terrain make it a bit more challenging than it looks at first sight. Furthermore, the trail goes high above the treeline and you are quite exposed to the elements. When it's sunny, be sure to pack sun protection. And on windy days, be prepared that it can get quite cold because of the nearby glacier.
I wouldn't do this hike on a cloudy or rainy day. Not only is it going to be more challenging, but you won't see much either. And if there's a chance of thunderstorms, it can also be dangerous. So it's best to do this hike when the weather is really nice and there are few clouds – that way you can appreciate the scenery much better.
If you have hiking poles, I'd definitely pack them as well. The last part of the hike is really steep and hiking poles will make the descent to Schwarzsee so much easier. We have these light and foldable hiking poles. They are so small that they even fit in a small kids' backpack, so we always pack them with us. We used them at the end of the Matterhorn Glacier Trail as well.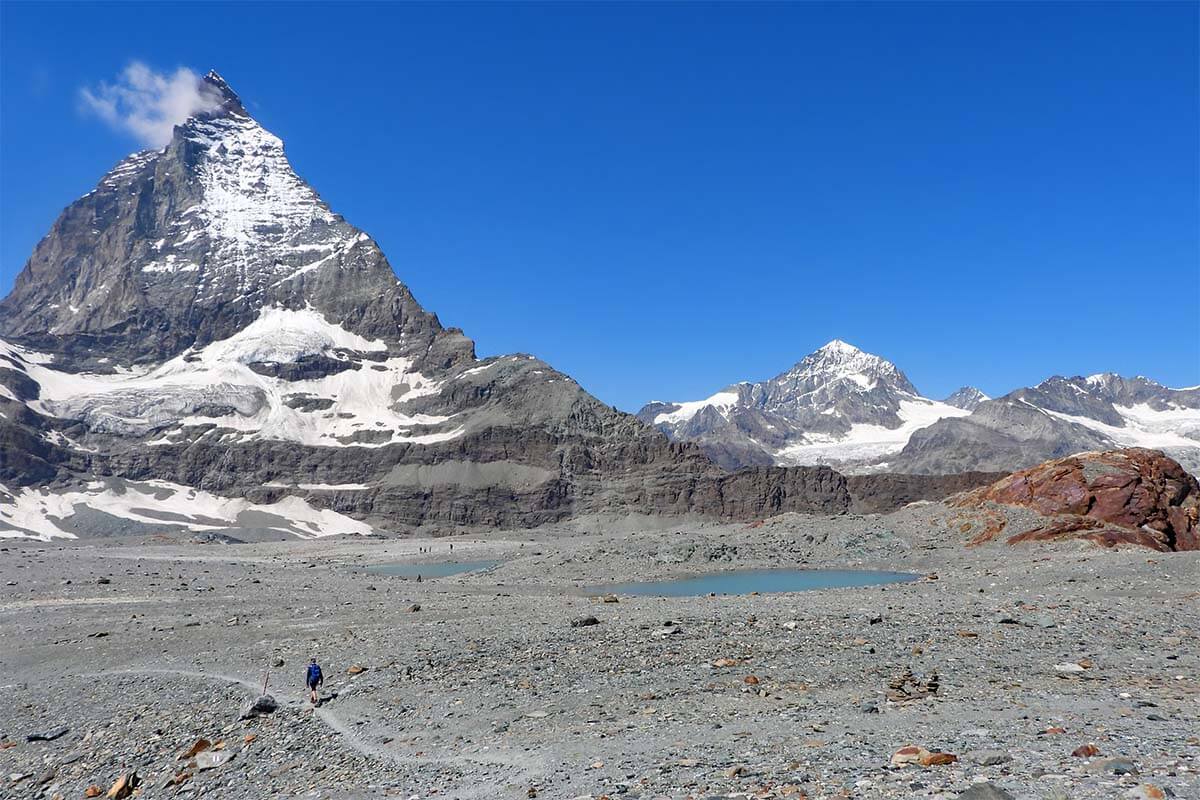 Hike Description & Photos
Matterhorn Glacier Trail starts at Trockener Steg cable car station. You'll see a lake close to the cable car – walk in that direction and you'll soon see hiking signs. The hike is well indicated as 'Matterhorn Glacier Trail' and you really can't go wrong.
Walk on the right side of the lake to the other side. Once at the far end of the lake, turn left in the direction of the Matterhorn.
Soon, you'll cross a really powerful stream flowing from the glacier. Don't worry, there's a small bridge so you can safely get to the other side. But do take a moment to stop on the bridge – the power of the meltwater running from the lake is immense!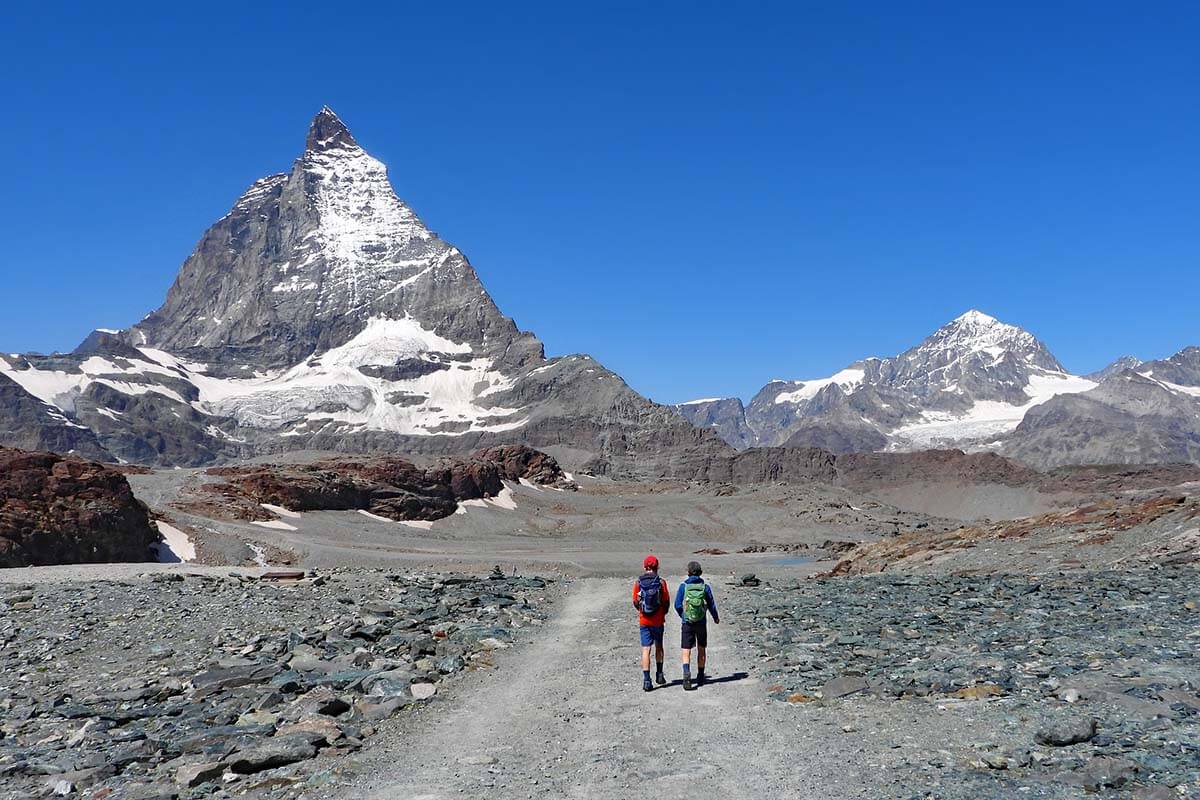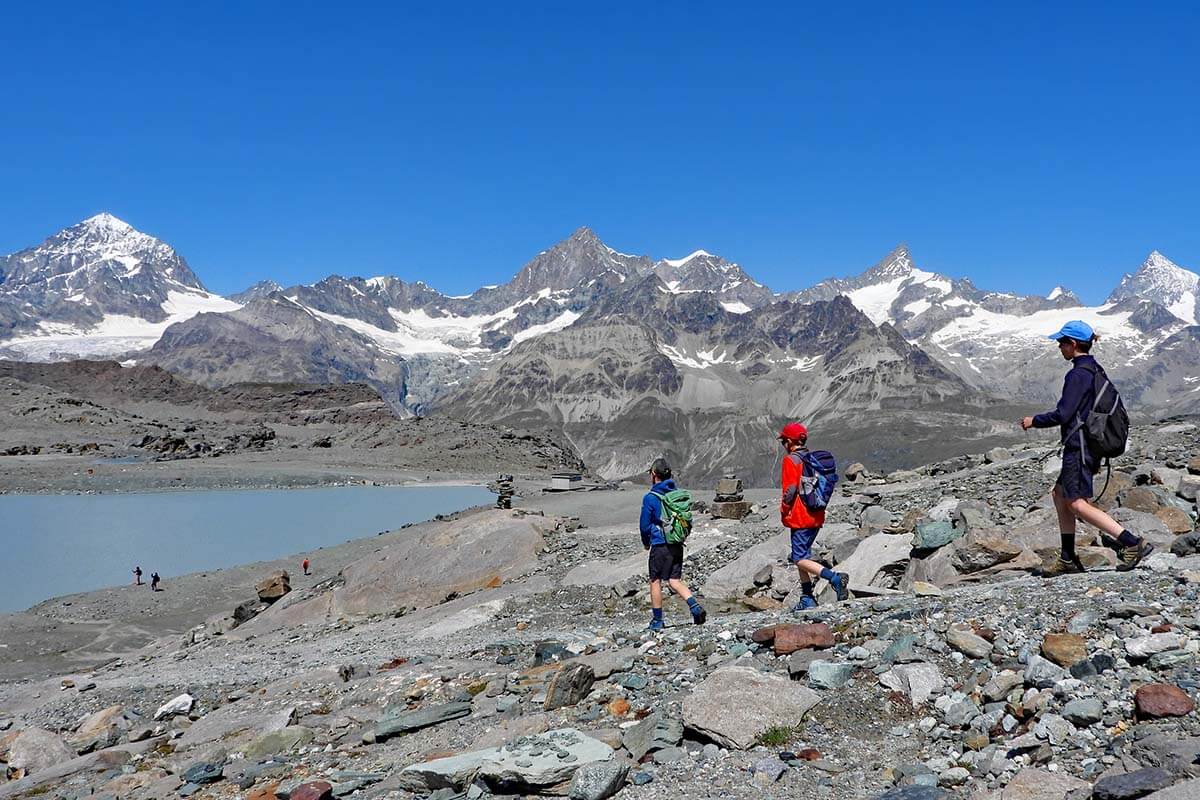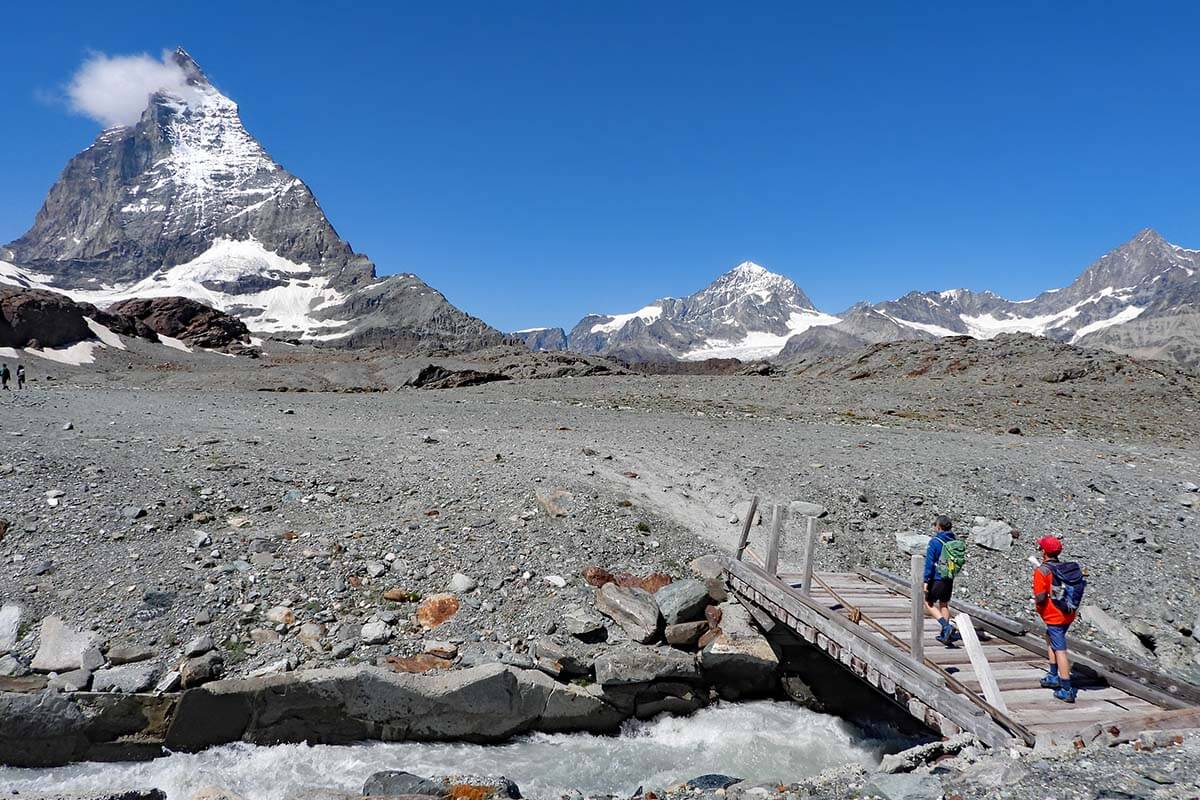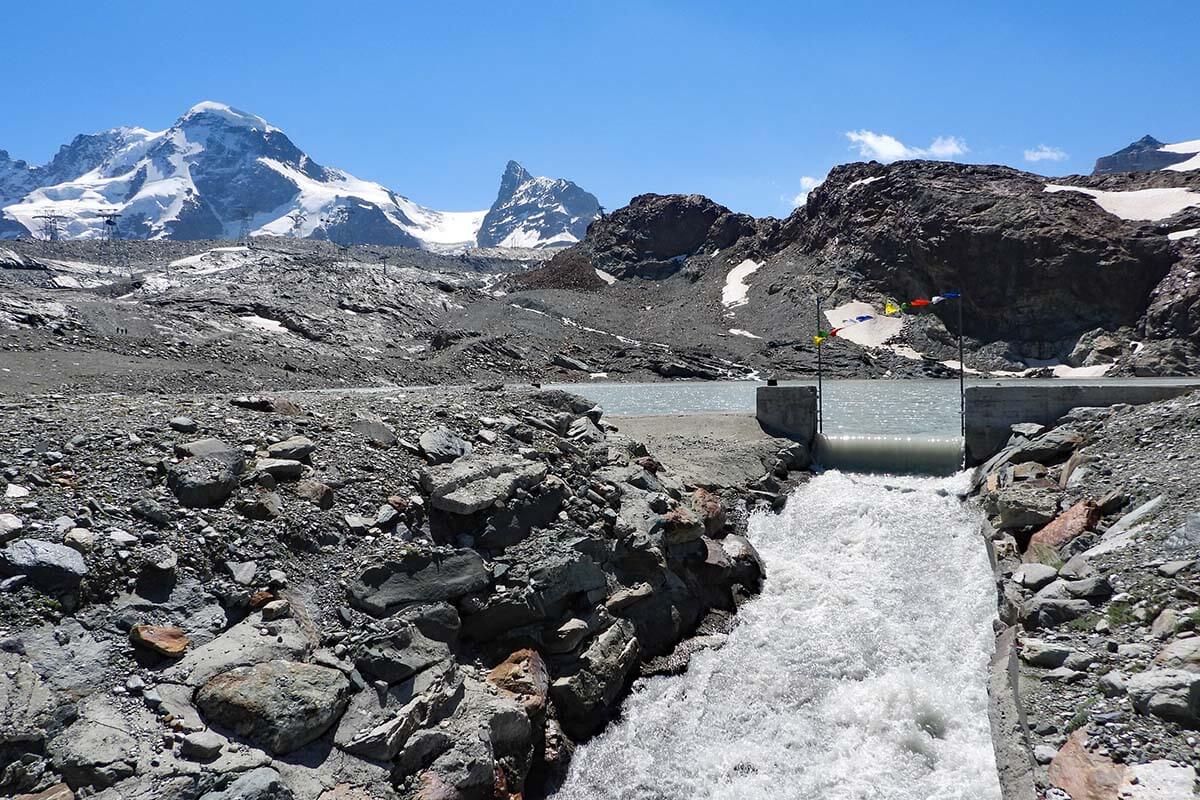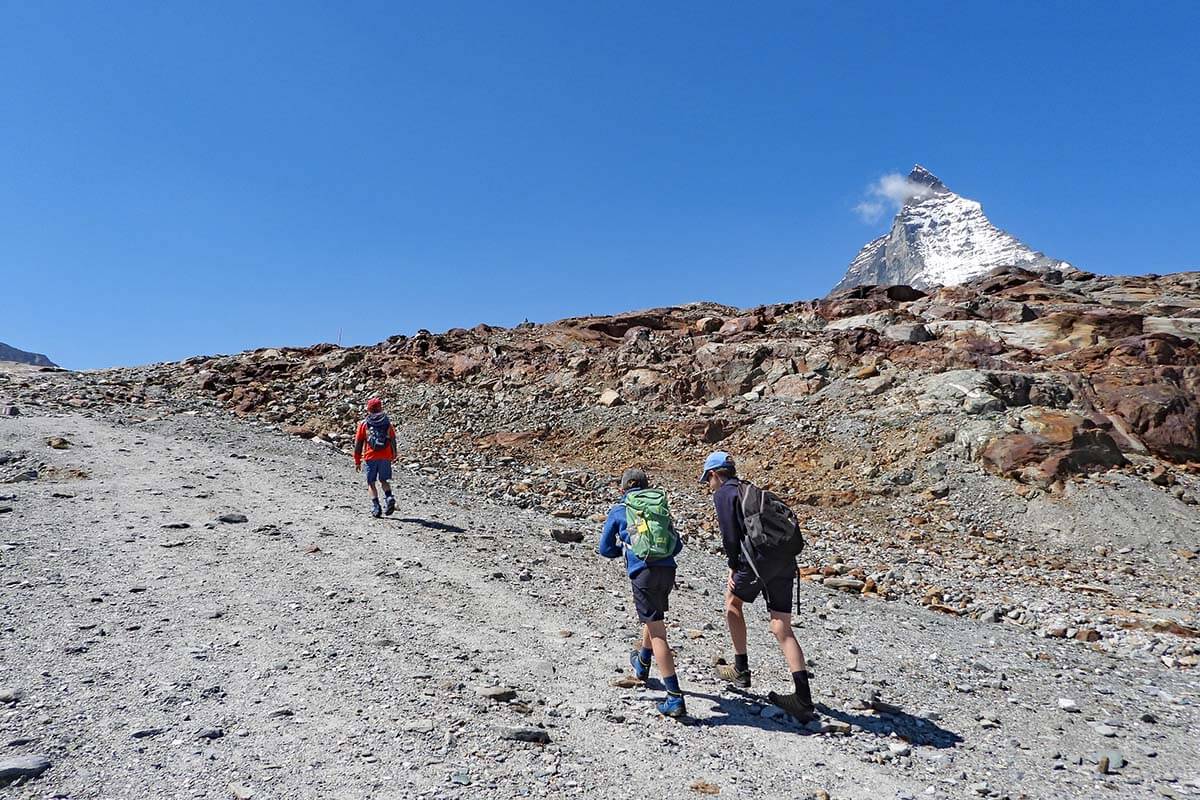 The trail then takes you to the area that was covered by the retreating glacier not that long ago.
There are quite a few smaller lakes here and the colors are magnificent too. On a sunny day, the rocks are strikingly red-orange and it makes for some beautiful pictures.
You can sometimes see really nice reflections of the Matterhorn in the lake of the Theodul Glacier. However, just as with most other places, the best time for calm water and perfect reflections is early in the morning. There were no reflections to be seen when we hiked here in the early afternoon.
Important! If you find any historical artifacts in this area, you are required to bring them to a local tourism office so that they can be passed on to the archaeologists.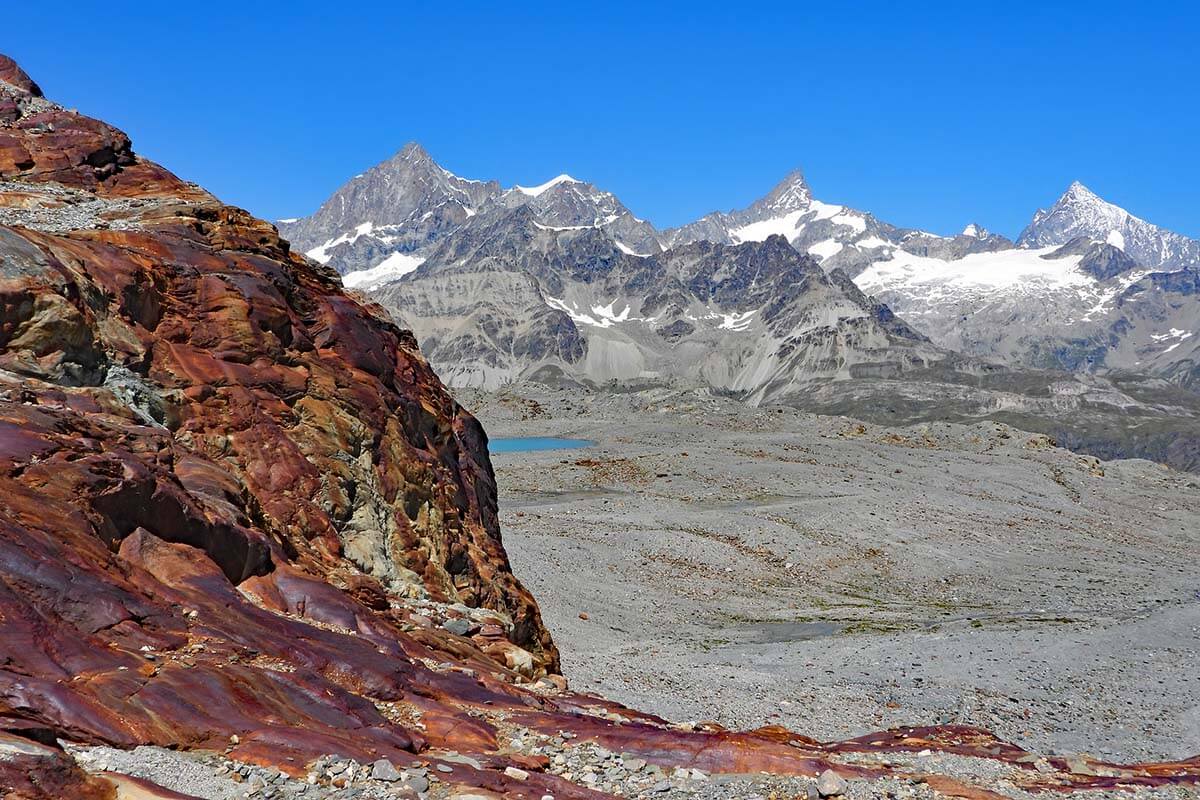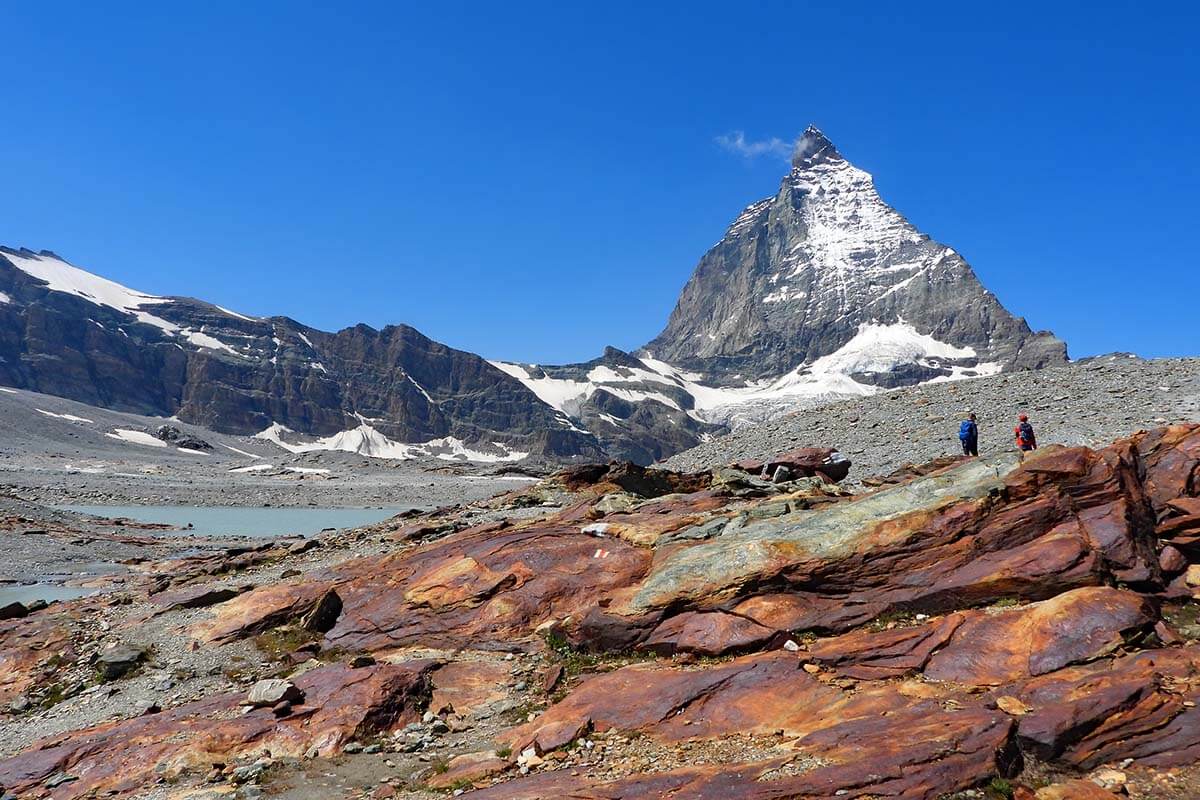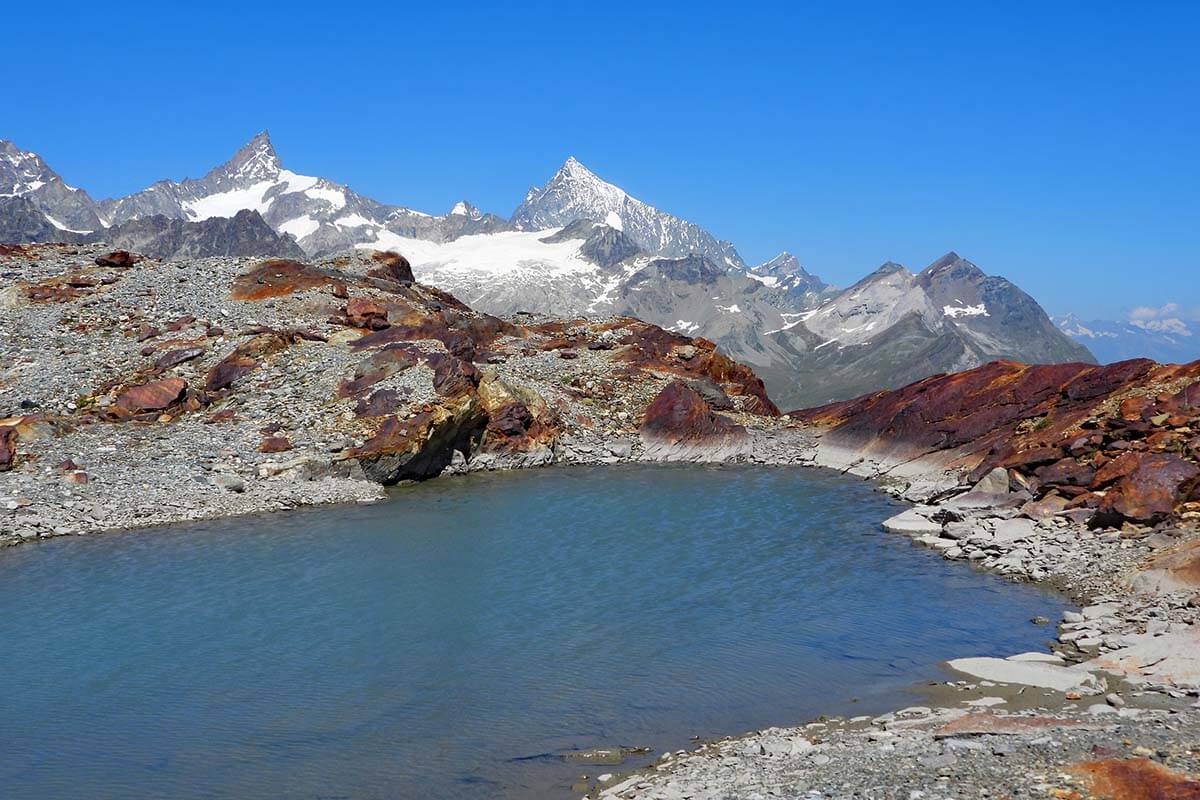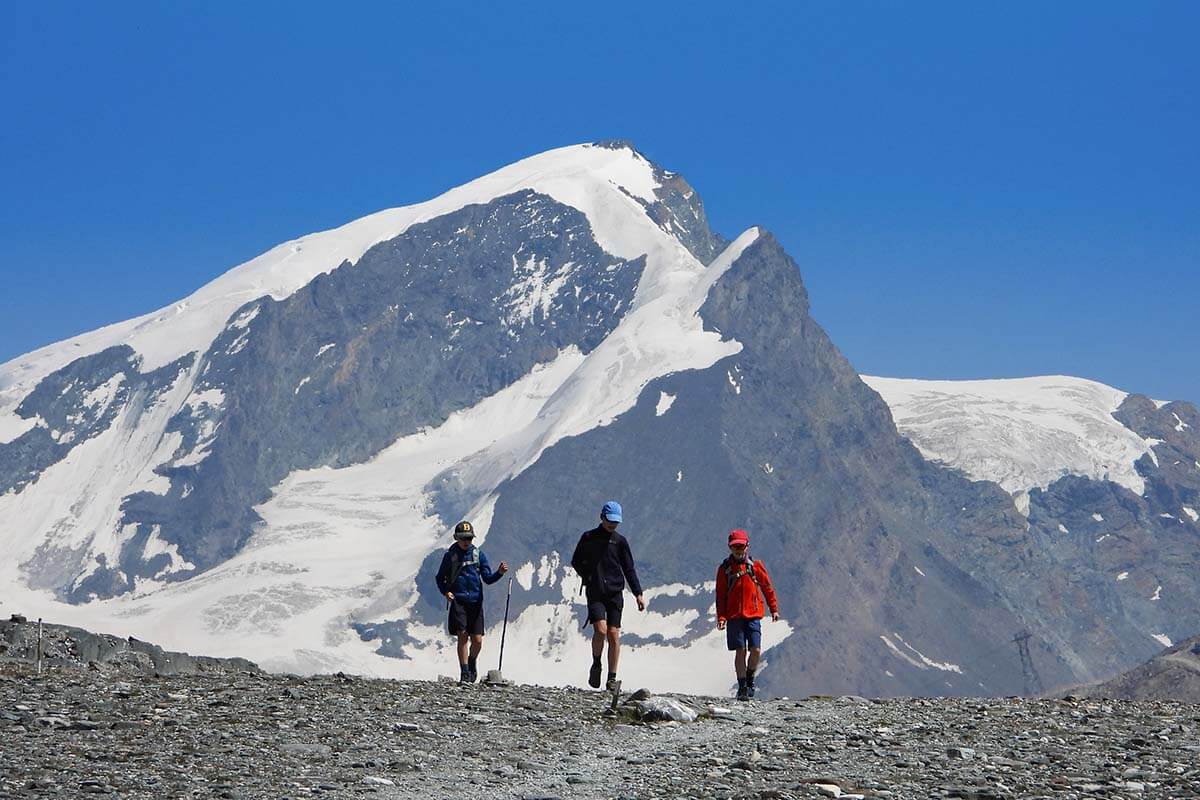 You then hike further to the left in the direction of the Matterhorn. Sometimes, there is no clear path, but you'll see plenty of white-and-red markings on the stones, making it really easy to follow the trail.
After a while, the trail turns right and you start walking away from the Matterhorn. This is probably the least interesting part of the trail as the (far) views are somewhat obstructed here. But you are walking next to the river and it's still quite nice.
Soon, you cross a metal bridge and start hiking uphill. This part is a bit steep, but it's just a short climb of 5-10 minutes, so nothing to worry about.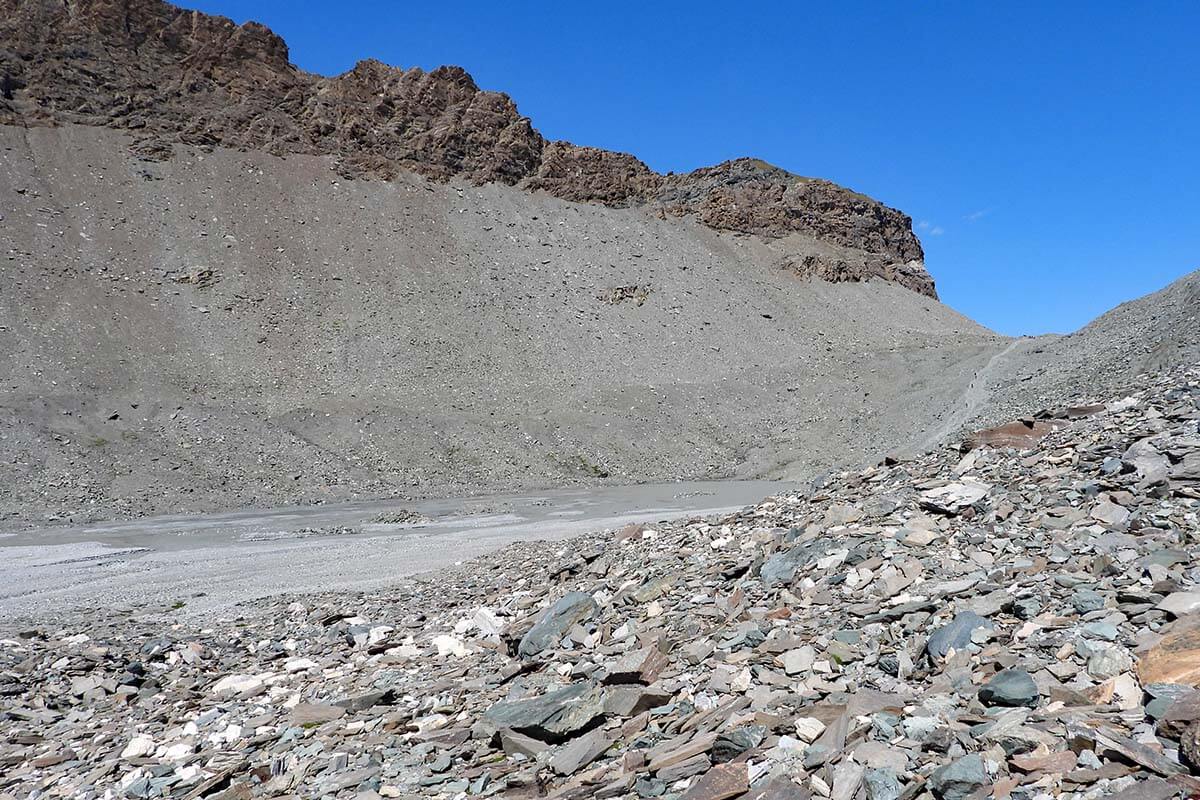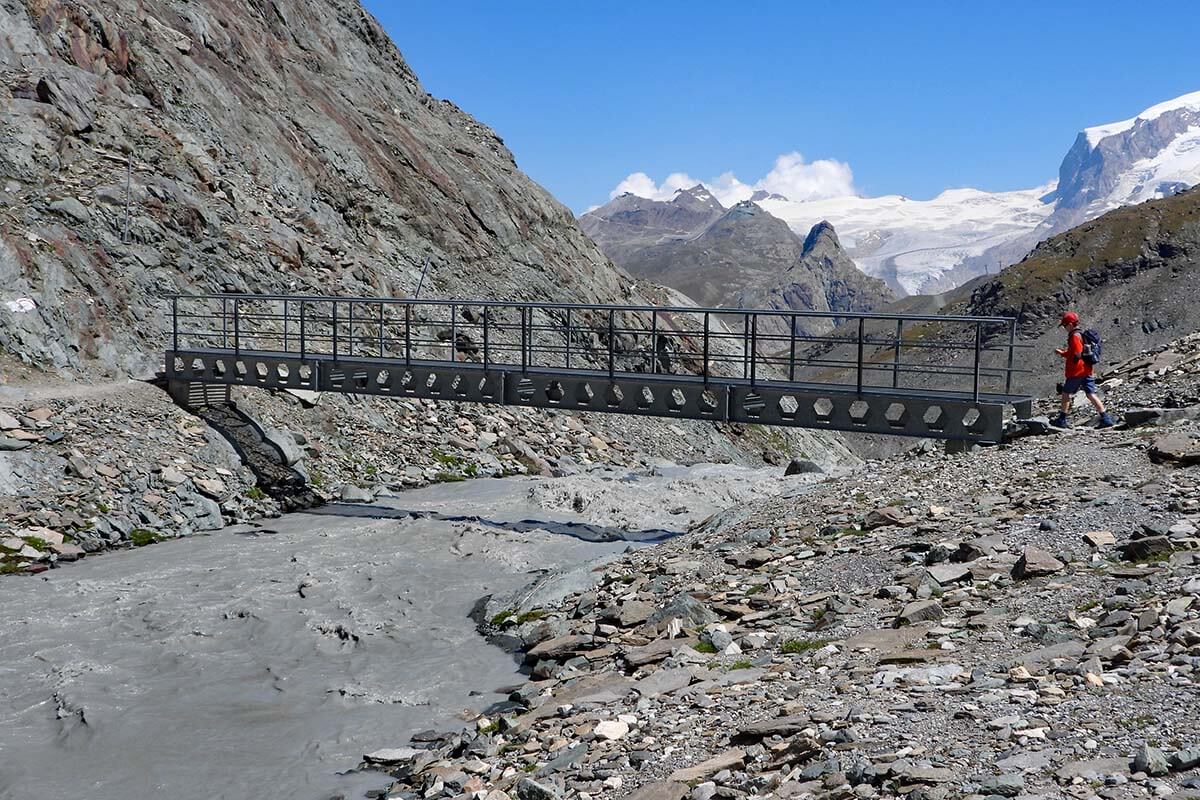 Once you reach the top of the hill, the path splits. Here, you could turn left and hike to Hörnlihütte (hike nr. 27 – more info below) or continue to Schwarzsee.
At this point, you realize that Schwarzsee is still nowhere to be seen. In fact, it's quite a steep downhill hike of about 30 minutes before you finally reach the lake. The scenery here is much greener already, and the views are really nice, so don't rush through this last part. If you brought hiking poles, you'll definitely want to use them for the last descent.
Once you reach Schwarzsee, you can go for a swim at the lake, visit the chapel, or take a picture with the ZERMATT sign and the Matterhorn.
'Maria zum Schnee' chapel (Our Lady of the Snows) is a popular place for the Matterhorn climbers to pray/thank God before/after their climb to the Matterhorn.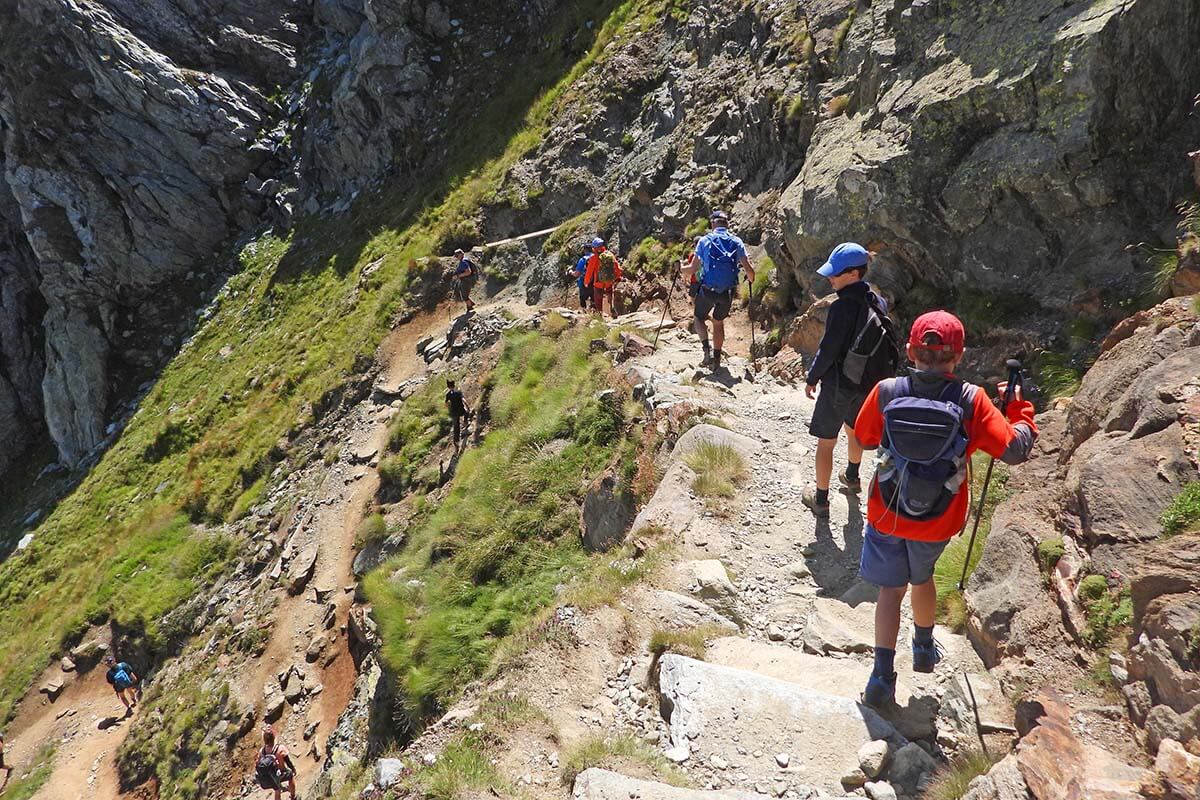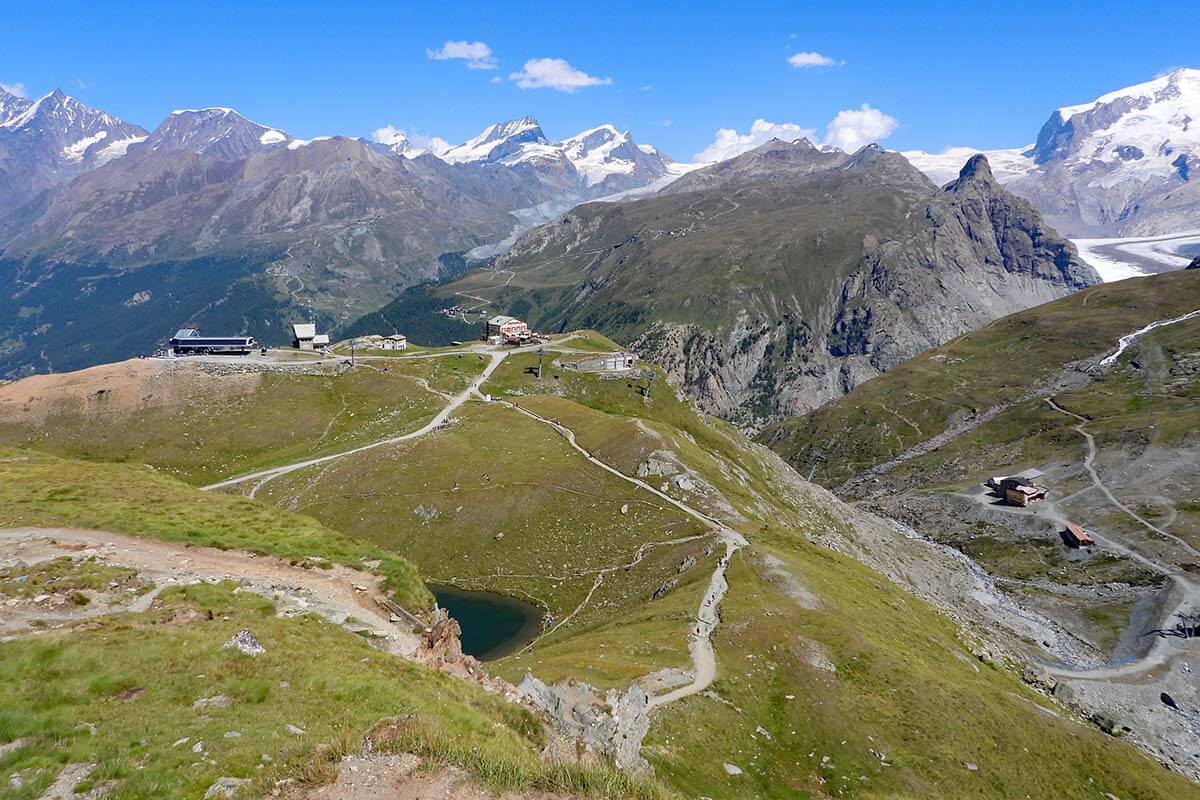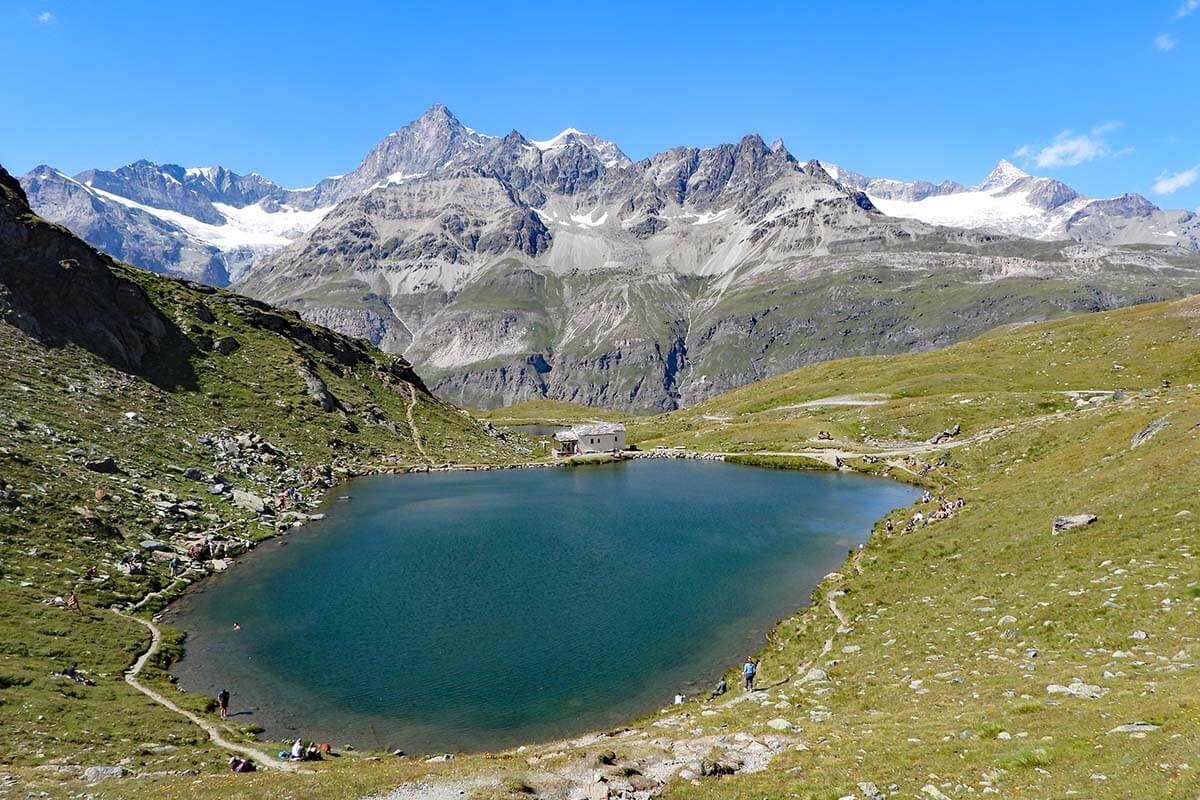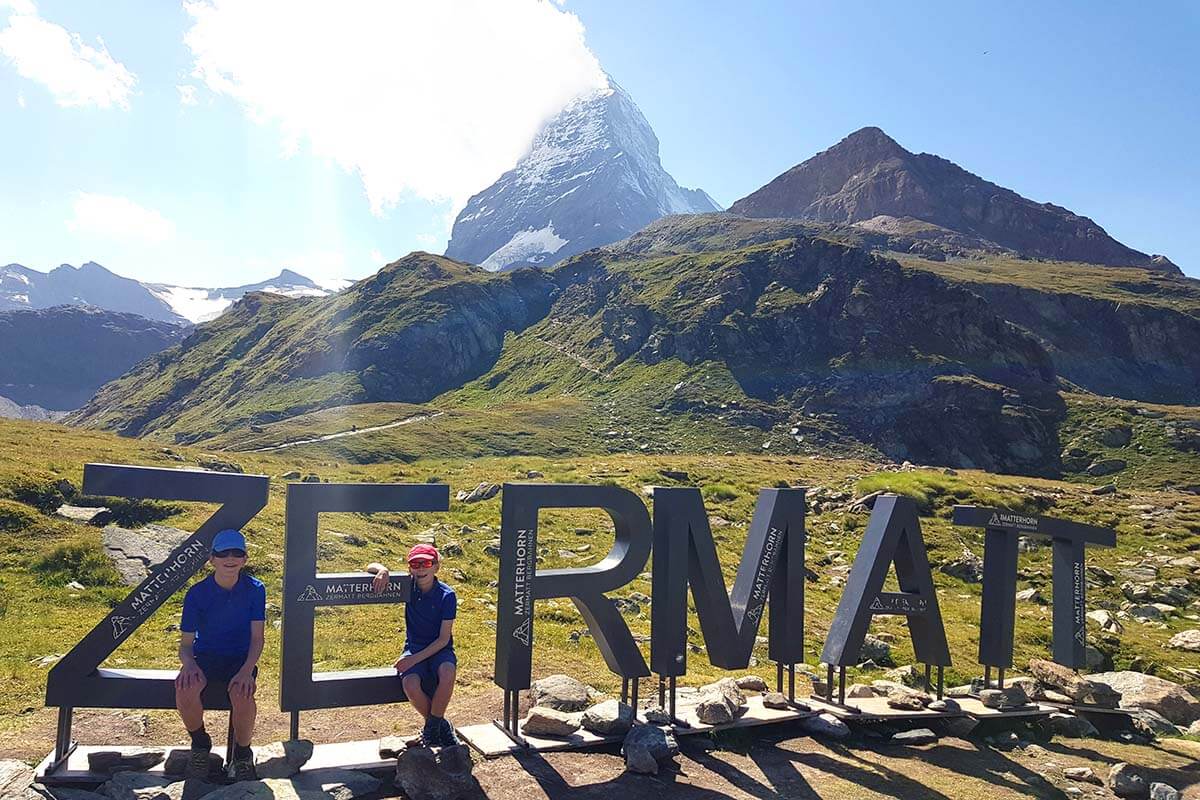 There's also a mountain hut with a restaurant near the Schwarzsee cable car station, where you can stop for some refreshments before heading down to Zermatt. We love stopping for drinks and local specialties when we hike anywhere in the Alps, and the views of the Matterhorn from the terrace of the Schwarzsee restaurant were great, so we stopped here as well.
However, the unfriendly service and seriously overpriced drinks (even for Zermatt standards) make me really hesitant to recommend this place.
Now that I checked reviews on Google Maps, I see that we are not the only ones who had this feeling… So maybe skip it and head to another restaurant in Furi or so. There are plenty of better choices in Zermatt.
TIP: If you feel like hiking more, you could continue down to Furi from Schwarzsee (hike nr. 28 – Larch Trail). It takes about 1h45 though. We took the cable car, so I can't comment on this hike. I think it's nice if you have plenty of time, but it's definitely not one of the musts.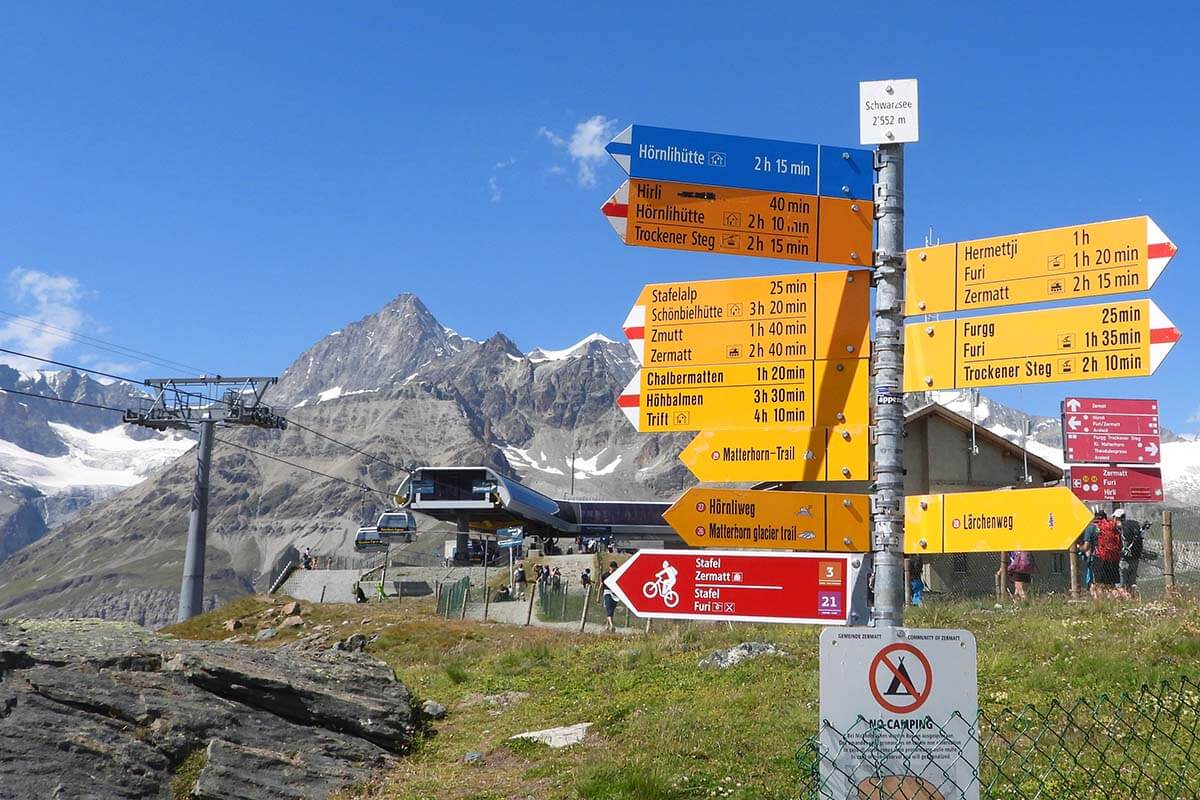 How to Best Plan Your Time
If you can, plan an entire day for visiting this area. Get the day ticket and visit the Matterhorn Glacier Paradise first thing in the morning. On the way there, you can upgrade your ticket for the Crystal Ride. Crystal Ride is a glass-bottomed gondola with incredible views of the glacier under your feet – one of the absolute highlights! At the top, don't miss the viewing platform and the Ice Palace.
Afterwards, take the gondola one station down and disembark at Trockener Steg where the Matterhorn Glacier Trail starts. Do the hike, counting at least 2 hours of pure hiking time for it (realistically 2.5-3 hours if you stop for a picnic too). We recommend packing a picnic because there are no restaurants along the hike (only in the beginning and at the end) and you'll likely be right in the middle of the hike at around lunchtime.
After the hike, you can take the cable car from Schwarzsee to Zermatt, or stop at Furi along the way.
If you still have some energy and time, at Furi, you can do a circular loop to the nearby suspension bridge and Glacier Garden, and/or hike to Zermatt via the picturesque village Zmutt. Or you can just head straight to Zermatt and visit some of the attractions in town. See our suggestions in this guide to the best of Zermatt.
TIP: Further below, you can find more information about an alternative hike – a detour to Hörnlihutte – and how to plan your time if you decide to do this hike. But first, some info for those who find the Matterhorn Glacier Trail too long or too challenging…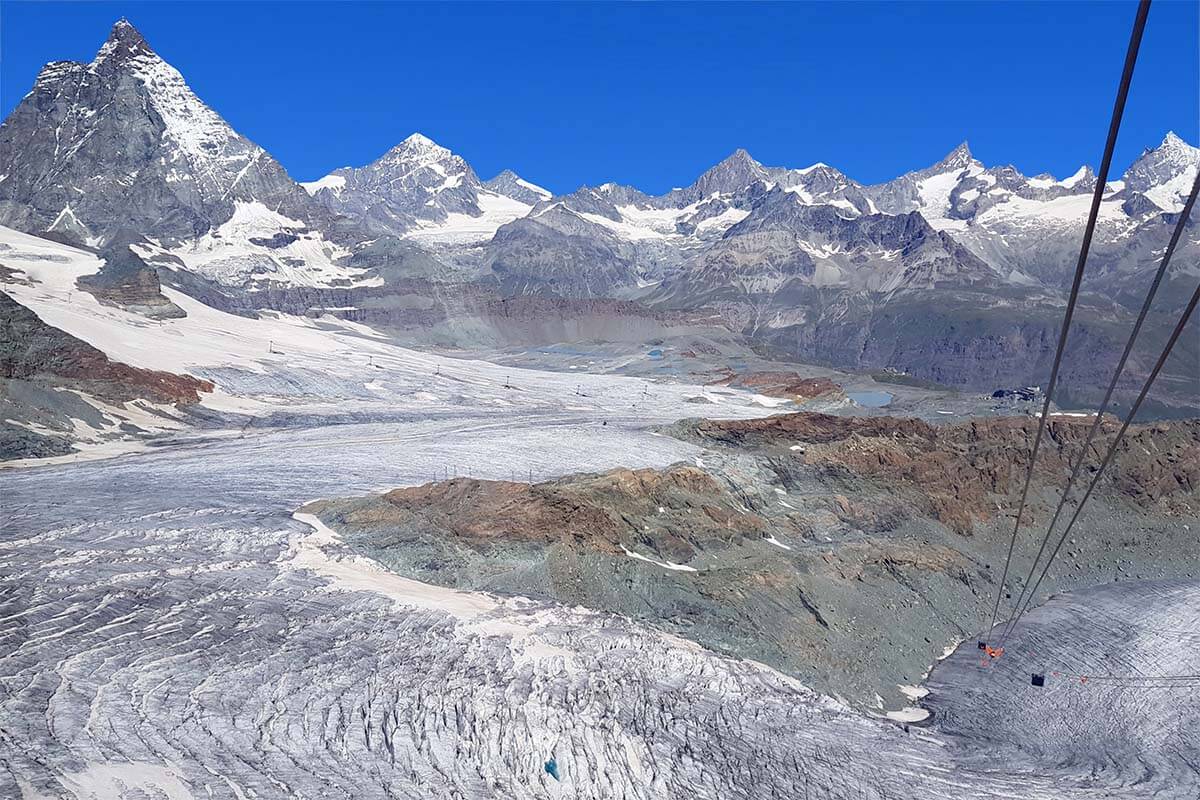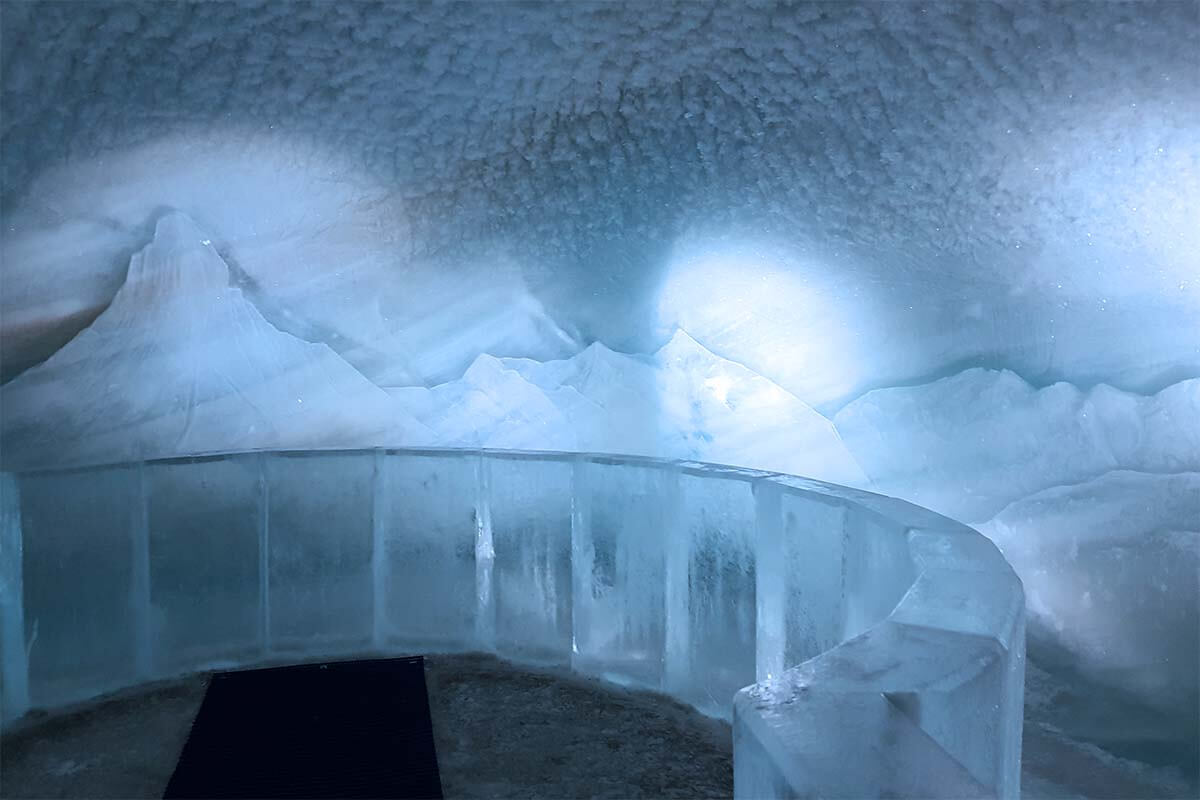 How to See Some of the Best Views without Hiking the entire Matterhorn Glacier Trail
If you don't have the time to do the Matterhorn Glacier Trail, but still want to enjoy some of the best views, you could just do the first part of the hike at Trockener Steg and then visit Schwarzsee by cable car.
At Trockener Steg, go to the lake and you'll be able to experience some of the best scenery just a short walk from the cable car. Time permitting, you could also walk to the far end of the lake and over the bridge towards the glacier. But some of the best views here would require at least another 10-15 minutes hike in one direction. It is worth it though if you want to see the landscape left by a retreating glacier.
You can then return back to the cable car the same way you came and head to Schwarzsee.
At Schwarzsee, you can also easily walk to the lake from the cable car in about 5 minutes. On the way, you'll pass the ZERMATT sign with the Matterhorn behind it – it's a nice photo stop and you can even take a free picture using the camera there (and download it online afterwards).
On sunny days in summer, many people come to swim at Schwarzsee, so it's usually quite busy here.
TIP: If you'd like to see the best views and possible reflections at Schwarzsee, I recommend coming here early in the morning, before doing anything else. That's also when the light is best for photos with the Matterhorn from this angle.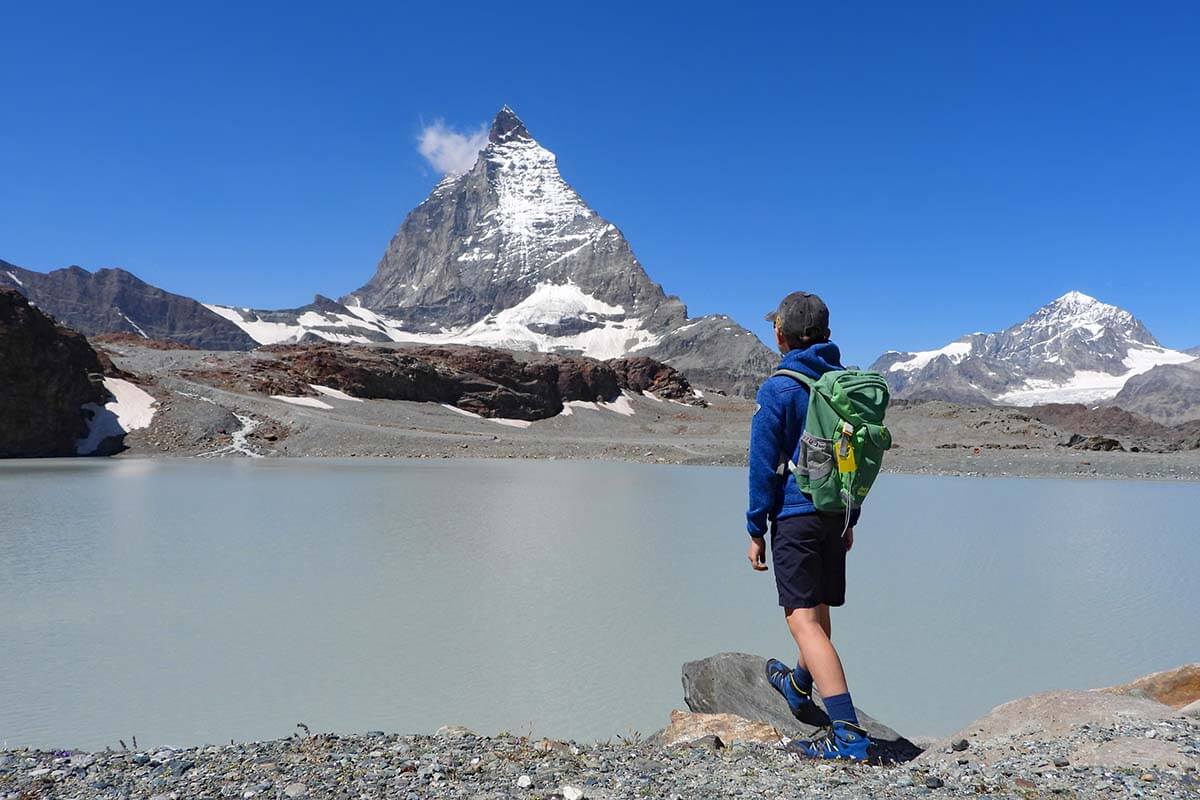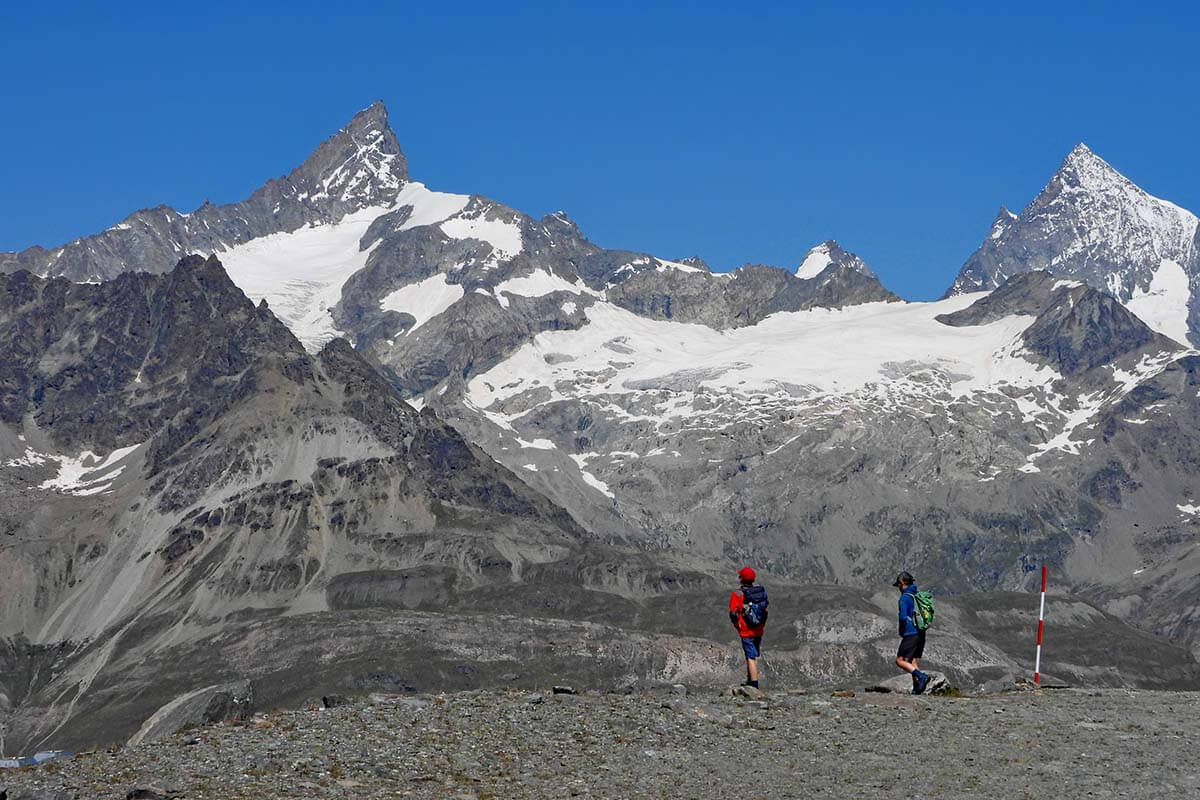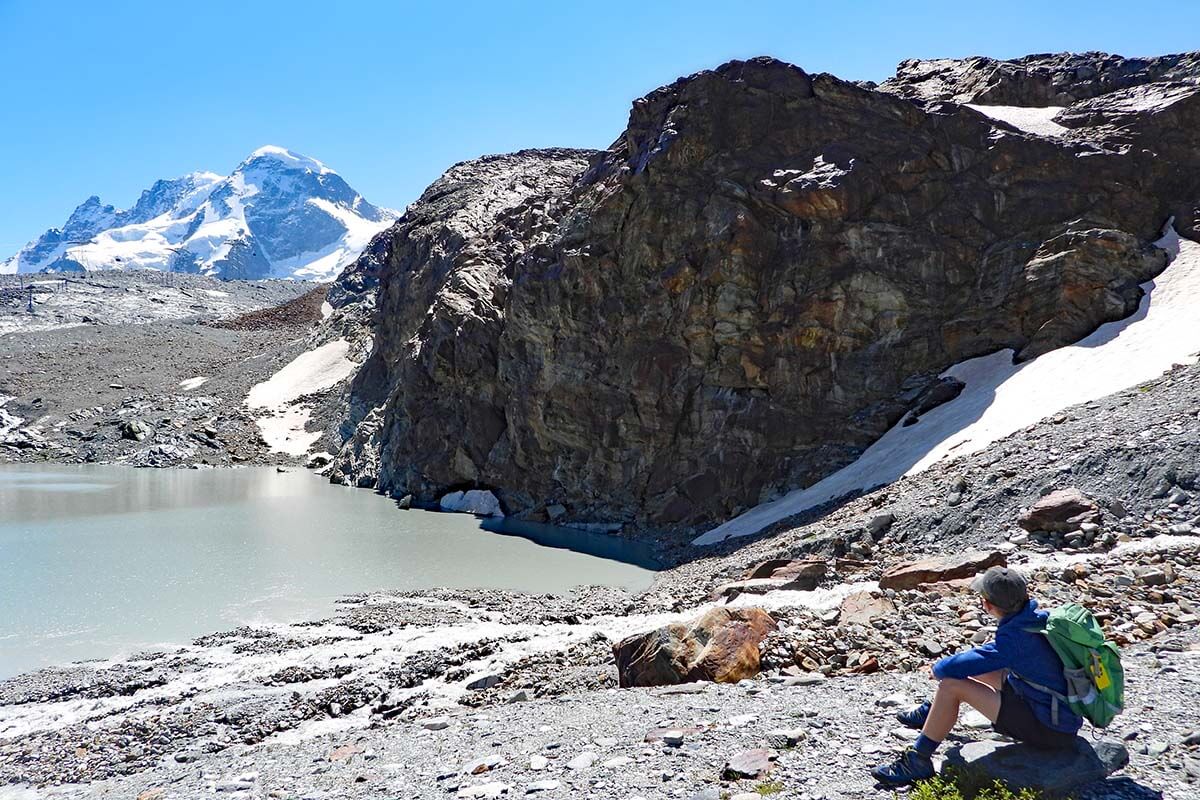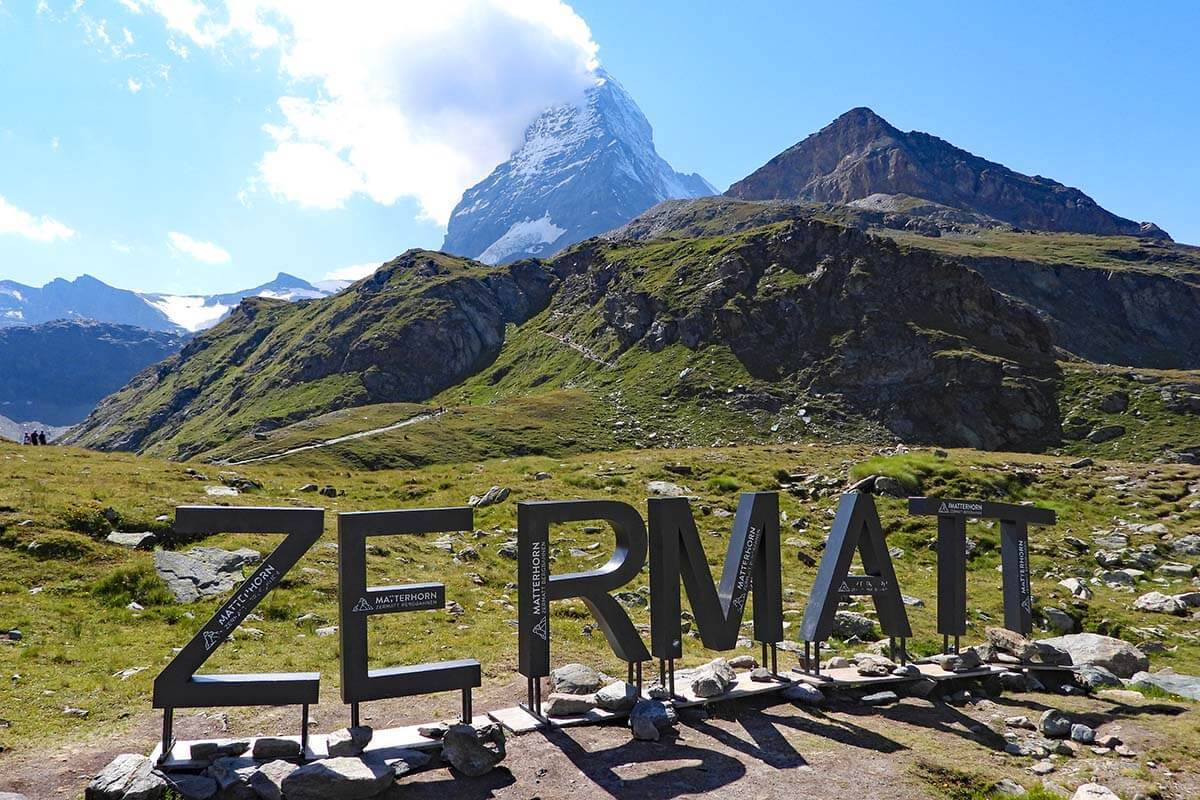 Detour to Hörnlihütte
Hornli Hut (Hörnlihütte) is a mountain hut that's located on the mountain ridge in the direction of the Matterhorn. It's where climbers spend the night before climbing the Matterhorn peak itself. If you want to get as close to the Matterhorn as possible without climbing the peak, this is the place to be.
The shortest trail to Hörnlihutte is Hörnliweg (trail nr. 27), it starts at Schwarzsee, and takes about 2.5 hours one way. However, if you are hiking the Matterhorn Glacier Trail, a part of these two hikes overlap, so you could take a detour on Hornliweg before you reach Schwarzsee. From that point, it's only about 1.5 hours to Hornlihutte since you are already much higher and closer to it.
So if you want to combine Matterhorn Glacier Trail (hike 26 – green on our map above) with Hornliweg (hike 27 9 purple on our map), it's very well possible. However, be sure to start very early in the morning and foresee enough time for this hike. Or you can also spend a night at Hornli Hut, but you'd have to reserve that in advance.
It will take you at least 1.5 hours to get from Trockener Steg to the intersection of the Hornliweg. From there, it's another 1.5 hours of uphill hiking to Hornlihutte. So at least 3 hours one way. After that, you still have to get back to Schwarzsee, which is at least 2 hours from Hornlihutte. So all in all, doing these two hikes together would result in at least 5 hours of hiking time. This is not counting the time for any photo stops, a picnic, or time to enjoy the scenery.
We didn't know about the Hornlihutte hike in advance and didn't plan for it. We first quietly visited the Matterhorn Glacier Paradise, had a picnic at Trockner Steg, and took our time taking too many pictures along the Matterhorn Glacier Trail… So by the time we got to the point where the trail splits, it was already early afternoon. Going to Hornli Hut and then back to Schwarzsee would have meant that we would have missed the last cable car from Schwarzsee to Zermatt.
So if you want to do these two hikes together (and enjoy the scenery), I would advise planning an entire day for it with nothing else planned in the morning. So go to Trockner Steg with one of the first gondolas and start hiking.
If you absolutely want to visit the Matterhorn Glacier Paradise, do these two hikes, and still catch one of the last gondolas to Zermatt, it should be possible too. But you'll have to plan really well, won't be able to spend much time lingering at the Matterhorn Glacier Paradise, and have to hike really fast. In that case, start as early as you can and take the first gondola up.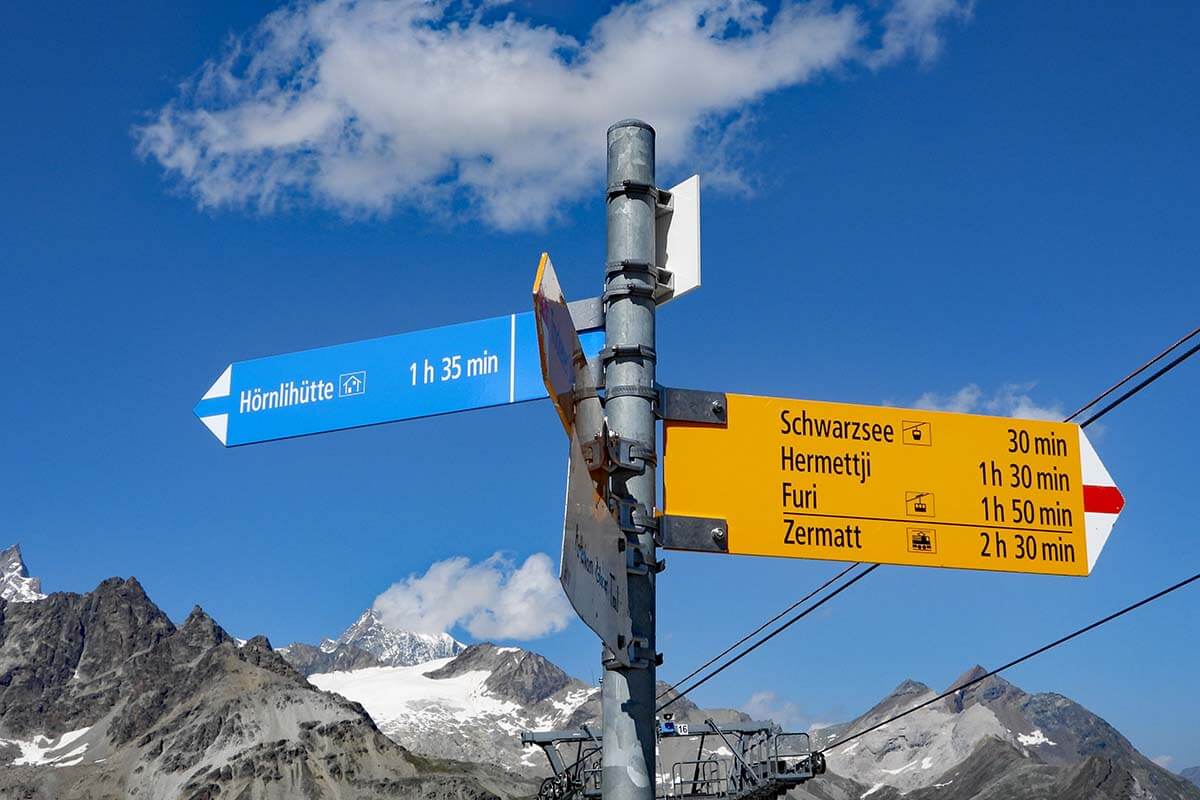 Matterhorn Glacier Trail with Kids
And finally, I want to add some additional info for families who are thinking of hiking the Matterhorn Glacier Trail with kids but are not sure what to expect.
We hiked the Matterhorn Glacier Trail with our three children, age between 10 and 12, and they had no issues with this hike whatsoever. In fact, they were so fascinated with all the special stones and rocks along the way that they didn't complain about the hike once (and this doesn't happen often 😉).
That being said, it's quite a long hike, there are no facilities or places to shelter along the way, so I'd only recommend doing it in very good weather and only with kids who have some hiking experience. They have to be able to handle a 2-2.5 hour hike on rocky terrain, a few ascents, and a steep descent.
All in all, I think that Matterhorn Glacier Trail is suitable for families with children from about 7-8 years. If your kids are really good hikers, the weather is really nice, and you have plenty of time, you could probably do it with somewhat younger kids as well.
TIP: Be sure to pack plenty of water, a picnic, and some delicious snacks to keep the kids going and motivated along the way.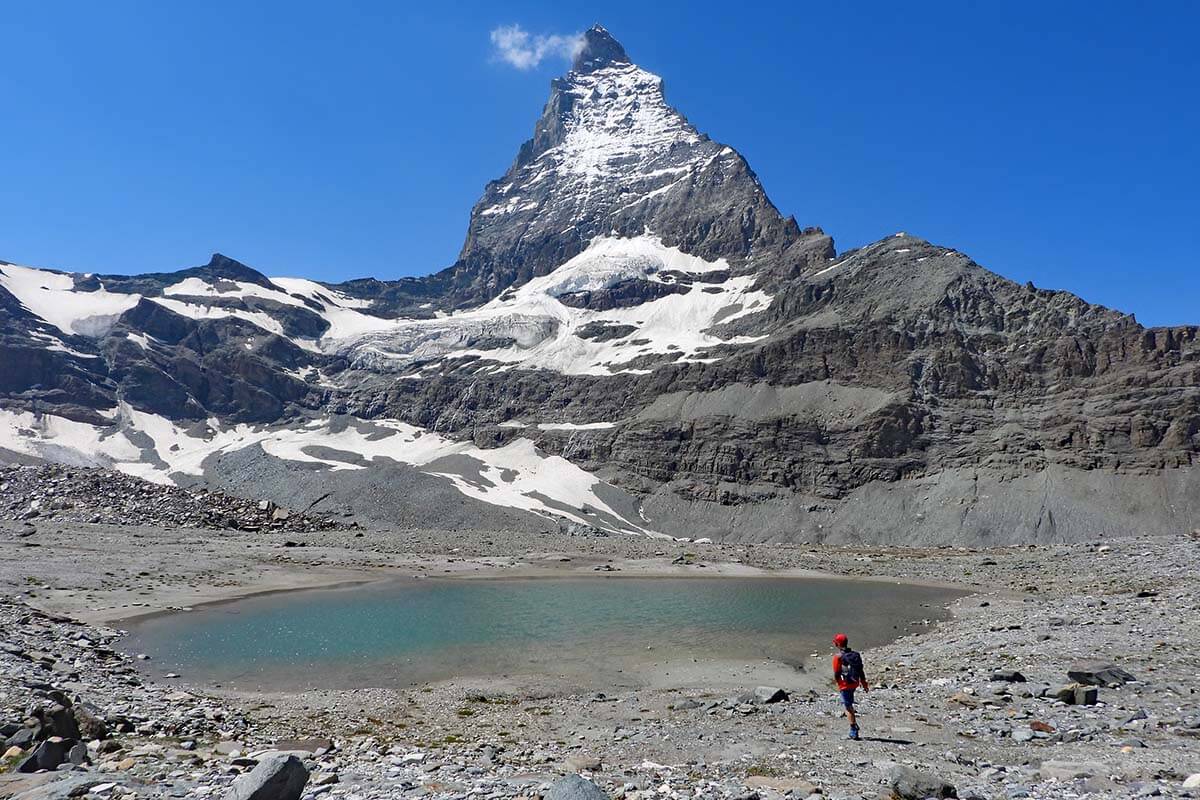 So, this is our guide to hiking the Matterhorn Glacier Trail in Zermatt. I hope that it gives you a better idea of what this hike is like, what to expect, and how to best plan your time.
Have a great time and enjoy the beautiful and unique scenery along this trail!
TIP: Talking about some of the best scenery in Zermatt, be sure not to miss Riffelsee Lake – one of the most photographed places in Zermatt. It's located near Gornergrat and is really easy to visit. Check it out!
READ ALSO: Best Things to Do in Zermatt & How to See the Best of Zermatt in 1 Day
More inspiration for hiking in Switzerland:
Some of our favorite places in Switzerland:
If you found this post useful, don't forget to bookmark it and share it with your friends. Are you on Pinterest? Pin these images!