Pulpit Rock (Preikestolen in Norwegian), is one of the most iconic hikes of Norway, together with Kjerag, Trolltunga, and the less known epic Florli 4444 stairs hike.
Preikestolen is really spectacular and relatively easy to reach, so it will come as no surprise that the Preikestolen hike is the most popular hike in Norway!
When preparing our Norway trip itinerary and researching the best hikes of Norway, I quickly learned that not all of these hikes are family-friendly. However, the Pulpit Rock hike is not nearly as difficult as all the other popular hikes in Norway. And yes, it's even possible to hike to Pulpit Rock with children!
That being said, Preikestolen is not the easiest hike. So in this article, we share our experience hiking to Pulpit Rock so that you know what to expect.
Also, we hiked to Pulpit Rock with kids, and so we share our observations and tips for families as well.
At the bottom of the article, you can also find practical information for getting to Pulpit Rock. This information is updated after all the recent roads/tunnels/boat changes in the area. Find out!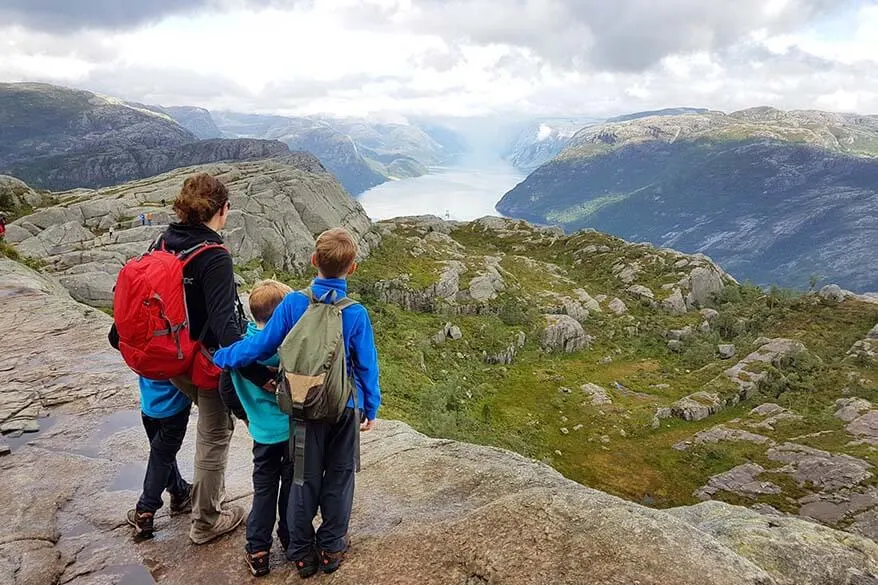 Preikestolen hike overview
Difficulty: Pulpit Rock hike is a moderate hike.
Distance: Pulpit Rock is 4 km from the trailhead and you go back the same way. So the total distance is almost 8 km (5 miles).
How long does it take: Based on the official info, it should take about 4 hours to complete the Pulpit Rock hike: 2 hours each way. This estimate is quite correct if you are hiking at a leisurely pace. Experienced hikers will probably reach Pulpit Rock in 1-1,5 hrs and will need less than 3 hours in total, not counting the time at the top.
Our experience: We hiked with children and the hike to the Pulpit Rock took us just a bit under 2 hours, whereas the hike back down – 1,5 hrs.
The Pulpit Rock hike itself is just as challenging (or as easy, if you wish) going up as it is going down. We made quite many photo stops on the way up, which is the main reason why it took us longer on the way up.
We spent about an hour at the top, where we had lunch. There was also a short line for the best photo spot; I think we waited about 10-15 minutes.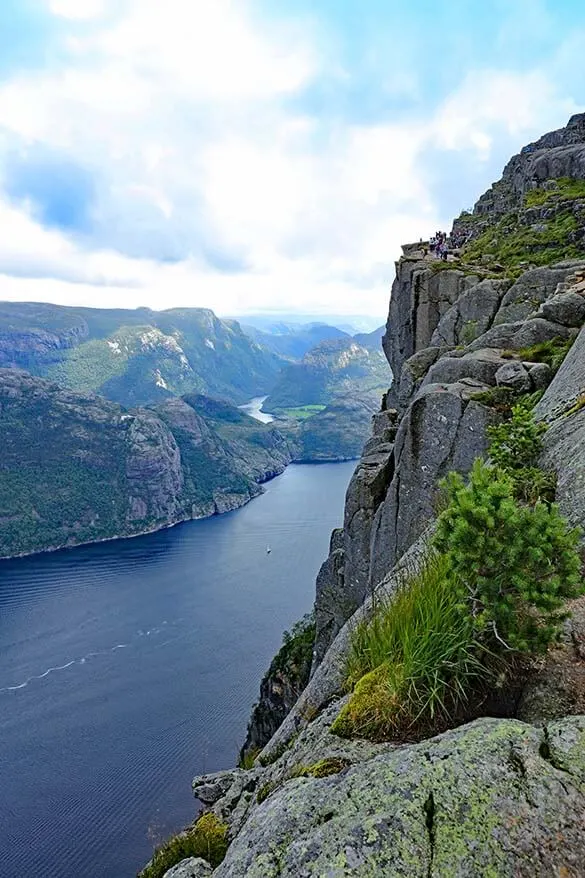 Can you hike to Pulpit Rock with kids?
Before our trip, I read many reviews about hiking to Pulpit Rock. Some said it's an easy hike, the others – that they seriously underestimated it and that it was much more difficult than expected. That's exactly what it is – it's all about expectations.
If you and your kids are used to hiking in the mountains, then yes, you can hike to Pulpit Rock with kids. However, if you have young kids who have never hiked before, then this hike is probably not the best place to start.
We hiked to Preikestolen with our three kids: 6-year-old twins and an 8-year-old and they all managed just fine.
Our kids didn't have any difficulties hiking to Pulpit Rock at all. In fact, we constantly had to ask them to wait for us. I would say that any child 5 years and up and with some hiking experience can do the Pulpit Rock hike.
I would be a bit hesitant to take younger kids to Pulpit Rock unless they are really good hikers. Or if you have just one child and are prepared to carry them when they get too tired, then you can probably also attempt this hike with younger kids too.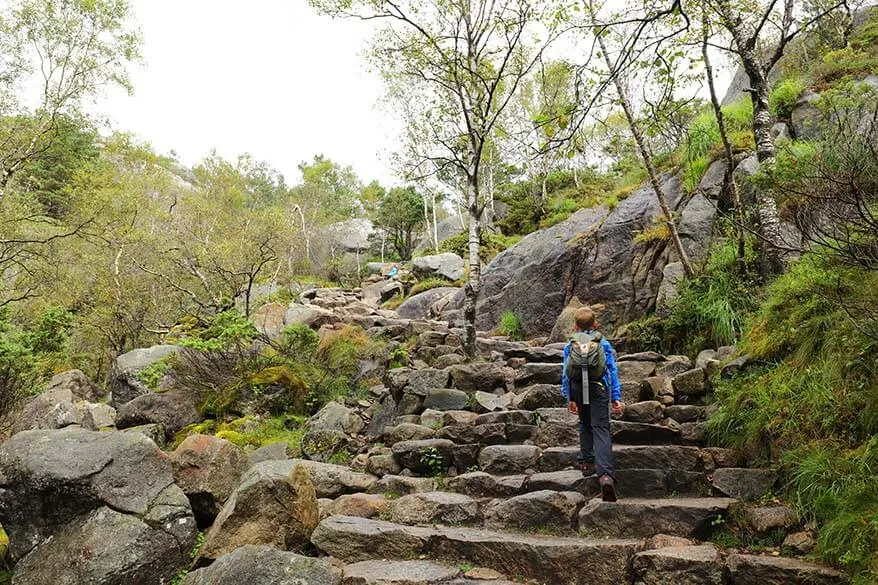 What to expect
With a total elevation of over 330 meters (1100 ft), the Pulpit Rock hike is not an easy walk in the park as some people make it sound.
There are several steep descents and climbs along the way, and it can also be quite wet, muddy, and slippery.
If you are well prepared, wear proper hiking shoes, and have some hiking experience, then it's a very enjoyable moderate hike with beautiful scenery along the way and phenomenal views at the end.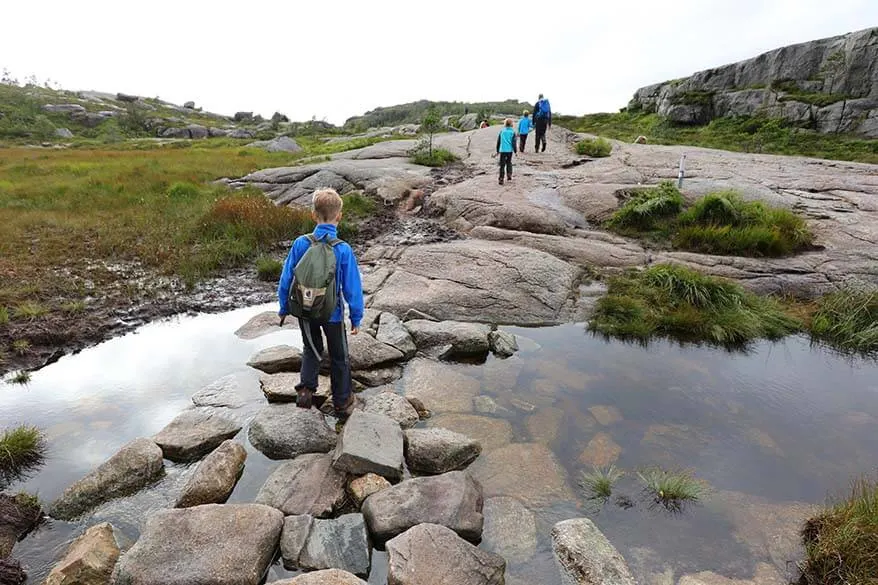 At the Pulpit Rock itself
As already said, we reached Pulpit Rock after about two hours hiking. Spectacular views over the Lysefjord and a bigger concentration of people were the first signs that we were getting close.
And then there it was – the most impressive viewing platform we have ever stood on. It was quite busy on and around the rock, but it didn't ruin the experience.
The location was so beautiful that we decided to have a picnic here and spend some time just admiring the views. There were quite some people on the Pulpit Rock, all taking the obligatory pictures standing or sitting on the edge.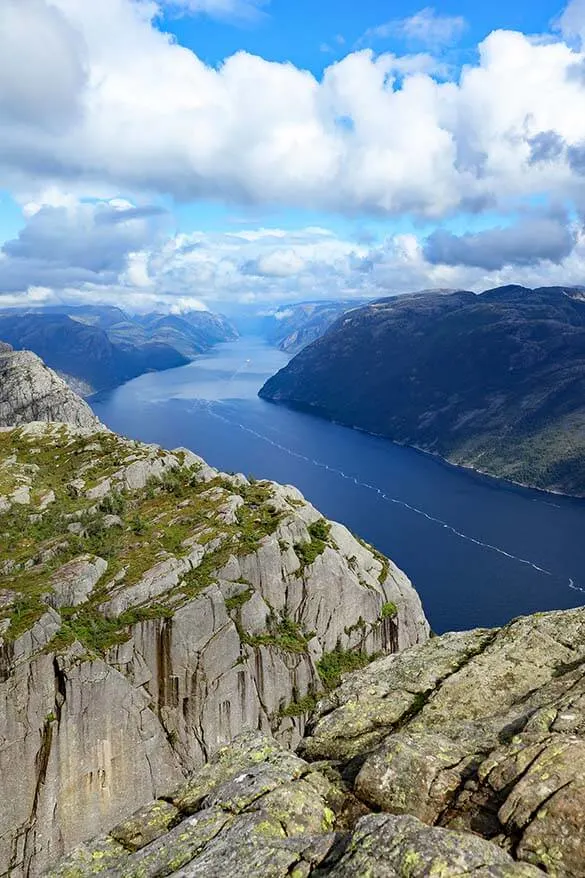 Is it safe on the Pulpit Rock?
Yes, it's safe on the Pulpit Rock. It's a very wide rock with plenty of space to walk around and enjoy the views. Just don't go sitting or jumping at the edge, of course!
When we first saw it from a distance, we were a bit hesitant if we would go on the Pulpit Rock with kids. But once we came closer and saw how wide it actually was, we decided to give it a go and even take a picture 'on the edge' as well.
There was a short queue of about ten people waiting to take a picture. While I stood in the queue with the kids, my husband looked for the best spot to take a picture from. I can tell you that it definitely looks scarier watching from the side than it feels when you are on the rock itself.
But maybe that's exactly why it's also dangerous…
My husband said he got quite a few grey hairs watching people do all crazy things for pictures on the edge of the Pulpit Rock – just take a look at the person sitting on the edge in the picture below.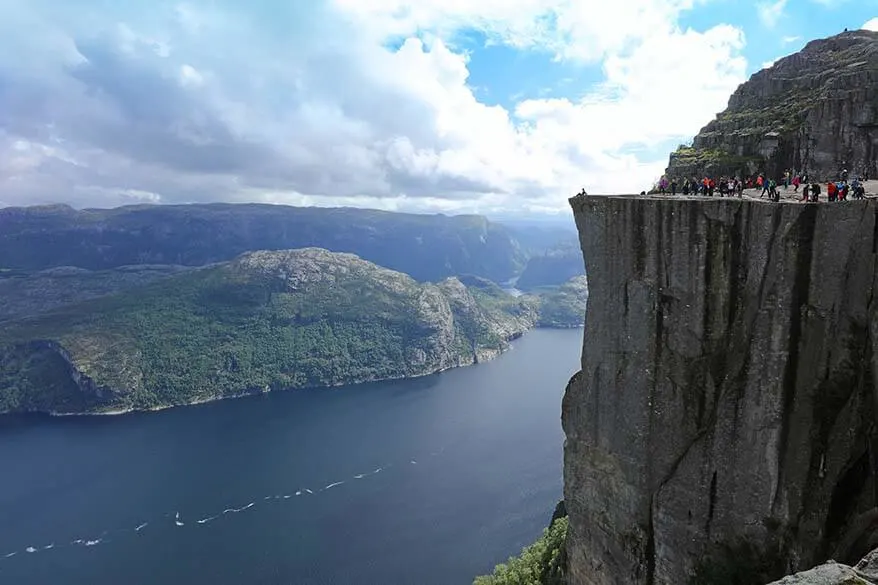 After the hike, we looked it up on the Internet, and apparently, there have been quite some deaths at the Pulpit Rock.
Always because people were being extremely reckless, jumping around, or going too close to the edge…
So be careful, don't do any stupid things, and stay safe! And watch your kids, not just on the Pulpit Rock itself. The path towards it is also rather close to the ravine.
But yes, if you are cautious and don't look for trouble or do stupid things, then Pulpit Rock is perfectly safe, also with kids.
We didn't sit on the edge with our feet hanging over the cliff, we didn't jump… We stayed several meters from all sides and here is the beautiful picture we got to keep as a memory from this unforgettable day.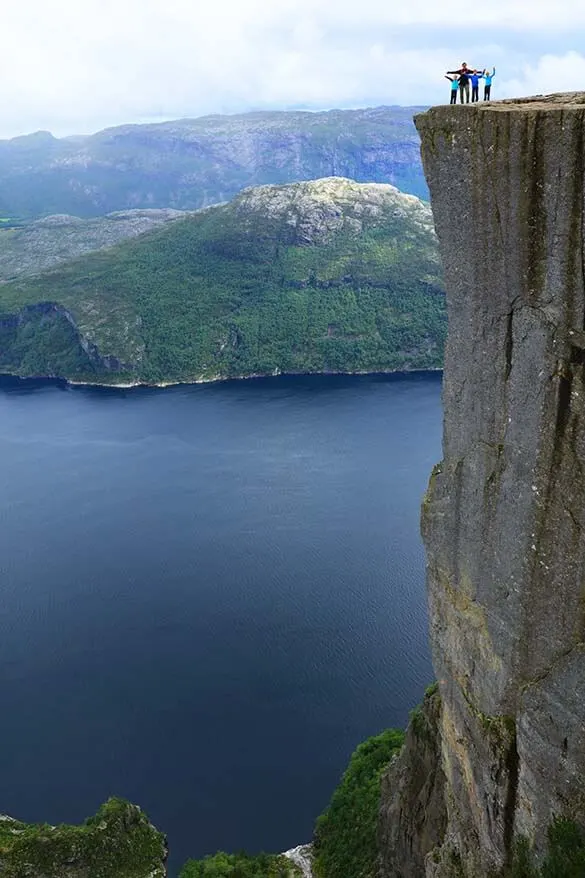 Where to stay for Preikestolen hike
The closest accommodation, right at the Pulpit Rock trailhead, is Preikestolen Base Camp. Or you can go glamping at the Hikers' Camp. Both these places offer breakfast and there's also a restaurant for lunch or dinner. If you want to hike to Pulpit Rock early in the morning or at sunset, staying here is the best option.
The best bigger town to stay in for visiting Pulpit Rock is Stavanger. There are many hotels and lodging options in Stavanger, lots to see and do, and many nice restaurants as well.
Good to know: You can easily visit Pulpit Rock from Stavanger as a day trip, especially now that the new tunnel makes it really simple to drive there with your own car. More info – below.
How to get to Pulpit Rock
Below, you can find an updated information for getting to Preikestolen. A lot has changed in the Stavanger with the opening of a new sub-sea tunnel. Find out!
Good to know: Pulpit Rock hike starts at Preikestolen Fjellstue – Preikestolen Base Camp. Here is how to get there:
By public transport
There are several ways to get from Stavanger to Pulpit Rock trailhead.
In the past, the best and the cheapest way to get to Pulpit Rock from Stavanger used to be taking a ferry to Tau, followed by a bus that brings you to the Pulpit Rock trailhead. This is not the case anymore!
Since the opening of the new tunnel between Stavanger and Tau at the beginning of 2020, you can now simply take a bus from Stavanger to the Pulpit Rock trailhead.
In high season, the GoFjords bus company operates on this route.
Another option is to do the Pulpit Rock hike in combination with the Lysefjord cruise. That's what we did when we visited. You can read about our day trip here: Lysefjord cruise and Pulpit Rock hike from Stavanger in one day. Or you can simply book a tour that combines the two (Lysefjord cruise and Pulpit Rock hike).
In the low season, you can travel by local bus no. 100 to Jørpeland (see the regional bus route planner here). From Jørpeland, you can continue to Pulpit Rock trailhead by taxi-bus from Pelles Reiser (must be pre-booked!). In all honesty, if you are traveling in the low season and don't have a car, then it's much easier to simply book a guided tour – more info below.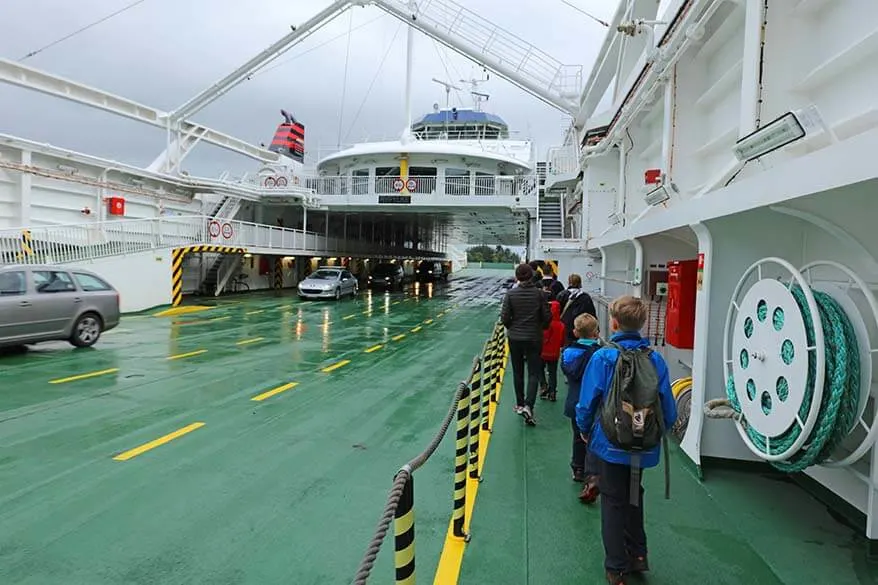 By car
The same story here – in the past, you could take a car ferry from Stavanger to Tau and from there, drive to the Pulpit Rock trailhead. This is not the case anymore!
Nowadays, the best way to get from Stavanger to Pulpit Rock by car is simply by taking the new Ryfast Tunnel, aka Ryfylke Tunnel. This sub-sea tunnel connects Stavanger to the island of Hundvåg and from there to the other side of the fjord, where it emerges just south of the village of Tau in the Strand municipality. It's the world's longest sub-sea road tunnel.
You should know that the Ryfylke Tunnel has tolls. At the moment of the last update, it's about 150 NOK (+-15 EUR) for a private passenger vehicle. This fee is one-way, so if you drive to Pulpit Rock and back, you'll have to pay this twice.
There are also parking fees to consider! At the moment, it costs 250 NOK (+-25 EUR) to park a car at the Pulpit Rock trailhead. The fee is even higher for campers.
So consider all of this when deciding if you really want to drive to Preikestolen trailhead by car. Public transport or a tour might be a better option.
With a guided tour
By far the easiest and the most relaxing way to hike to Pulpit Rock is going with a guide. Local guides will pick you up from your hotel in Stavanger, will bring you to the trailhead, guide you through the hike, and drive you back to the city after that. There are special sunrise tours available, autumn and winter hikes, etc.
Of course, this costs more than going on your own. But if you find all the practicalities too overwhelming and just want to enjoy your day without having to worry about anything, it might be worth it.
TIP: If you are planning to hike Pulpit Rock in the lower season (and definitely if you want to go in winter!), then I recommend going with a guide. Here you can find all the best options for guided hikes.
Practical information for hiking to Pulpit Rock
Here is some more useful information that you should know when planning to hike to Pulpit Rock.
How much time do you need?
The Pulpit Rock hike itself takes about 4 hours, but you will want to spend some time on the top as well. Also, the bus from Stavanger takes almost an hour one way, and there are very few buses every day, giving you little flexibility.
So you'll need the whole day for visiting Pulpit Rock from Stavanger.
As I said before, it is also possible to do both – the Pulpit Rock and the Lysefjord cruise in one day.
Best time to visit
Although it's possible to hike to Pulpit Rock the whole year round, the best time to visit is in summer (June to September). That's when the weather is best and the trail is not too wet. However, that's also the busiest time of the year. For the best experience, you may want to come very early in the morning or stay later in the afternoon!
We visited Pulpit Rock in August and the trail was still quite wet. So if you are hiking here in the low season, make sure to wear very good waterproof hiking boots!
What to wear and what to pack
Pack sturdy hiking shoes and always carry a sweater and a rain jacket. The weather changes rapidly and it's also quite windy at the top.
We started our hike with four layers of clothes, during the hike we reduced it to one, and then gradually went back to three layers. The weather was changing all the time!
Hiking poles are not absolutely necessary for the Pulpit Rock hike, but if you have them, definitely pack them. It's quite steep going down so it would help a lot, especially for your knees.
Facilities
There are facilities at the Preikestolen Base Camp at the Pulpit Rock trailhead. There is a restaurant and bathroom facilities and you can also refill your water bottles here.
Once you start the hike, there are no facilities at all. So make sure to use the bathroom before you leave and that you have enough drinking water with you. Also, pack some snacks or a picnic lunch.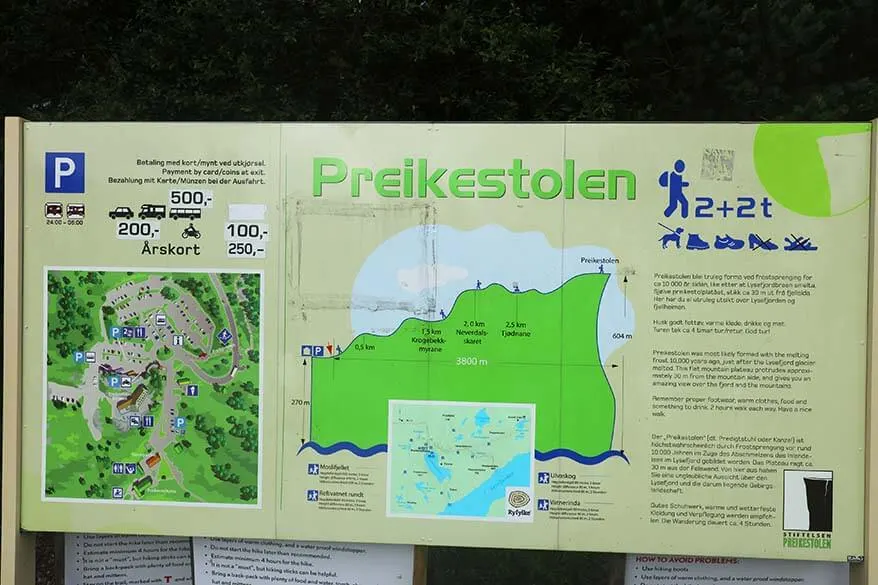 So, this is our guide to hiking to Pulpit Rock. I hope that it answered all your questions. If you have a question that hasn't been covered in this article, feel free to leave a reply and we'll try to help.
For more information about visiting the Stavanger area, please also check our guide to the best things to do in Stavanger. It contains all the 'musts' for your first visit and useful tips to help you make the most of your trip! Take a look!
If you found this post useful, don't forget to bookmark it and share it with your friends. Are you on Pinterest? Pin these images!