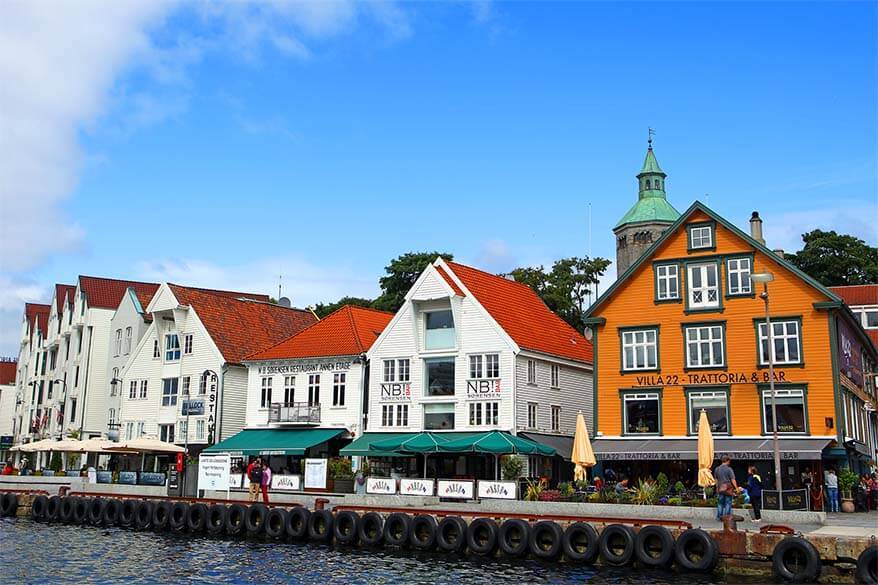 Are you traveling to Stavanger in Norway and wondering where to stay in Stavanger and what the best Stavanger hotels are? In this article, we cover all the best options for places to stay in Stavanger city center. Why only in the center and where exactly? Find out!
Stavanger is a city of contrasts and there is so much to see and do in Stavanger. From the old town (Gamle Stavanger), with its cobblestone lanes and beautifully preserved settlement of 18th- and 19th-century protected wooden houses… to its lively and metropolitan cultural scene and modern museums… to sights of stunning natural beauty, such as Preikestolen – once described by Lonely Planet as 'the world's most breathtaking viewing platform'.
Fortunately, Stavanger also happens to be one of Norway's most affordable places to stay. This is good news because, with so much to see and do in the city, you'll probably want to spend at least 3-4 days here. However, there are not that many hotels in Stavanger, so for the best location and prices, it's essential to book in advance.
In this article, we listed the best places to stay in the center of Stavanger, giving you easy access to the old town and also to the city's attractions, most of which you can reach on foot.
To make it easier for you to find the accommodation that meets your needs, we've divided the best Stavanger hotels into categories, to suit a range of budgets. In addition, we included some self-catering options. Find out!
Stavanger Hotels – OVERVIEW
Where to Stay in Stavanger?
When looking for Stavanger hotels, stay in the city center, close to the old town. Stavanger city is quite spread-out, but most of the main tourist sights are located within a short walking distance from each other in the center of town. It's also an ideal location from which to explore nearby areas, with the bus station and ferries close at hand.
Staying in the city center means that you don't have to rent a car. That in itself will save you lots of money, not even to mention the costs for parking, ferries, and toll roads. Some Stavanger hotels have an airport shuttle option that you can choose when booking, otherwise, you can just take a very convenient airport bus.
You don't need a car in Stavanger city, you don't need it in order to see the Lysefjord, and you don't absolutely need it to visit the Pulpit Rock either. Here you can find more information on how to get to and how to hike to Pulpit Rock.
TIP: If you want to hike to Kjerag, you may want to hire a car for just a day. However, hiring a local guide with transport might be a much better option (and if you are just one or two people – not more expensive). I recommend this Kjerag tour – the guide is one of the best ones we ever had (we hiked to Florli4444 with him).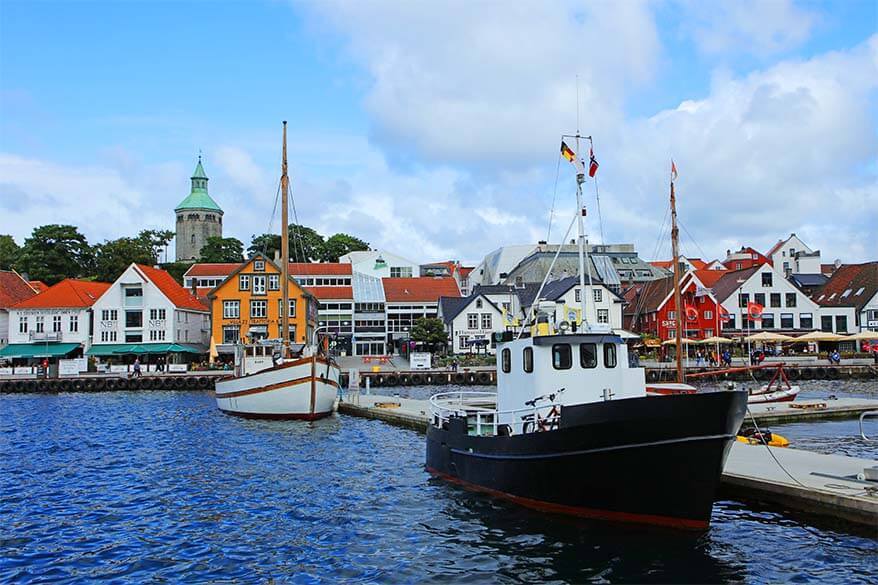 Good to know! We recommend booking your Stavanger accommodations via Booking.com because it's just simply the easiest-to-use and the best hotel booking site out there. They offer the best prices and booking conditions. It's the site where we book 99% of our hotels when traveling.
For those of you who like staying at private short-term rental apartments, there are also quite some VRBO accommodations in Stavanger.
TIP: Using the map below, you can easily compare hotels, apartments, and private vacation accommodations in Stavanger. Simply insert your travel dates and group size, and you'll see the best deals for your stay. Check it out!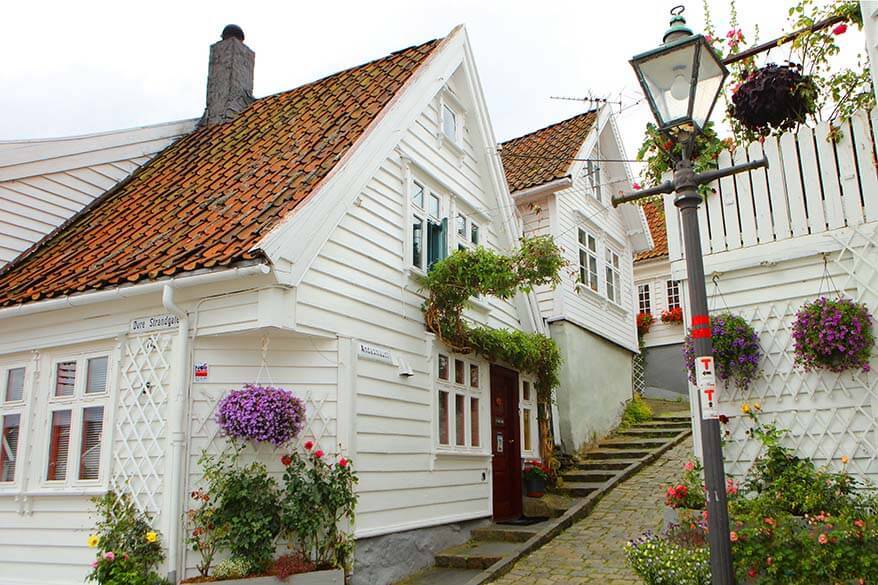 Best Hotels in Stavanger
Let's start with the very best Stavanger hotels. The hotels in this category are perfect for those looking for more of a luxurious stay in Stavanger. They are all ideally located for enjoying all that the old town and city have to offer and have excellent customer ratings. Take a look!
These are the best hotels in Stavanger city center:
Thon Hotel Stavanger
Thon Hotel Stavanger is a 4-star hotel in the heart of Stavanger with exceptional ratings. Rated 9.4 (!) by over 1000 guests on Booking.com, it's probably one of the very best options for a Stavanger city break. The hotel has a perfect location, just minutes from the main harbor in the Old Town, 5 min. walk from Stavanger bus station and with easy access to the airport via a shuttle bus that runs to/from the front door.
A magnificent continental breakfast and evening meal (!) are included in the price. Knowing how expensive Norway is, that in itself is worth a lot of money. In addition, there are many pleasant little 'extras' available on request at no additional charge, including coffee, tea, fruits, nuts, newspapers or bottled water. There is also a fitness center, but I suggest that you just go hiking instead.
Thon Hotel Stavanger is also conveniently located for shopping and sightseeing. Yet, despite its proximity to all that this lively city has to offer, the Thon Hotel is a quiet and comfortable choice. There are no family rooms available at this hotel, making it ideal for couples looking for a more intimate atmosphere.
Clarion Collection Hotel Skagen Brygge
Clarion Collection Hotel Skagen Brygge has a typical Norwegian architecture and a perfect harbor-side location, in the heart of the city center. It's located at the main and very picturesque harbor (where – understandably – cruise ships dock as well) and just a short walk away from the beautiful old town.
Most rooms in this 4-star hotel have wonderful views of Vågen Fjord, but if a cruise ship is in town, you might be looking at it during the day…
Apart from its incredible location, this hotel is one of the best price-quality accommodations in Stavanger, because continental breakfast and evening buffet are included in most rates. Make sure to try the soup – the guests are raving about it.
In addition, you can also enjoy free tea and coffee throughout the day, with free waffles also being served at certain times. The hotel features single, double, and triple rooms. You can also rent a bicycle directly at the hotel, which is a lovely way to explore the area.
Radisson Blu Atlantic Hotel
Radisson Blu Atlantic Hotel is another excellent 4-star hotel and one of the top picks in Stavanger. Overlooking Breiavatnet Lake and park, this big modern hotel is located a bit outside the old town, just a stone's throw away from the main areas of interest.
It's also one of the closest hotels to the bus station. The airport shuttle bus stops just outside the hotel, with the airport just a 20-minute drive away.
Because this hotel is one of the tallest buildings in town, you can enjoy great views of the city, the fjord, and the surrounding mountains. Facilities include a free sauna and a gym (also with great views), as well as tea and coffee making facilities in every room.
This is a great hotel for families, with a range of family rooms and suites available. Buffet breakfast is quite expensive if booked separately, so make sure to choose a rate that includes breakfast already.
Eilert Smith Hotel
Eilert Smith Hotel is a boutique 4-star hotel and is by far the most expensive hotel in Stavanger. It's also one of the newest hotels in town, opened in April 2019. This luxury hotel featuring spacious suites already attracted some excellent reviews (which is what you'd expect of a hotel in this price category).
Offering high-end, boutique accommodation, it's a small and intimate hotel with exceptional attention to detail. There are a range of individually and uniquely designed rooms and suites available, each with a separate seating area. Continental breakfast is included in the price.
Located in the residential area in the city center, close to the Norwegian Petroleum Museum, it's within a short walking distance to the main attractions. However, it's not as conveniently located for the airport shuttle as most other hotels in this top-5 selection.
This hotel features rooms for one or two people and a very good restaurant. It's an excellent choice for couples or business travelers looking for a luxury hotel in Stavanger.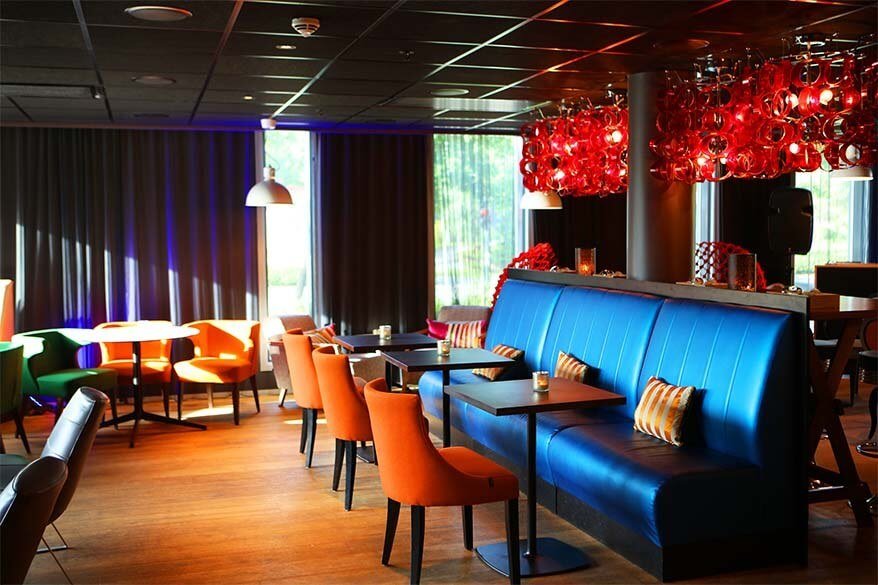 Best Mid-Range Budget Hotels in Stavanger
In addition to the somewhat more luxurious Stavanger hotels mentioned above, there are some excellent mid-range hotels that are just as nice, have an excellent location, and an even better price-quality ratio. So if you are looking for the best price-quality accommodation in Stavanger, check our selection below!
We have chosen these hotels based on the excellent value for money that they offer. All these hotels have great reviews from previous guests and allow you to stay in a perfect location at the best prices.
Scandic Stavanger City
Scandic Stavanger City is a modern 4-star hotel located in a quiet part of the harbor area. It's a bit further away from the city center, but still within walking distance to everything, and the airport shuttle stops just in front of it.
This hotel has excellent value, bright, modern rooms (big family rooms are also available) and includes a healthy breakfast, with vegan and organic choices.
We stayed here when we visited Stavanger. At that time, it was by far the best price-quality central Stavanger hotel for a big family. It offers great value for couples too.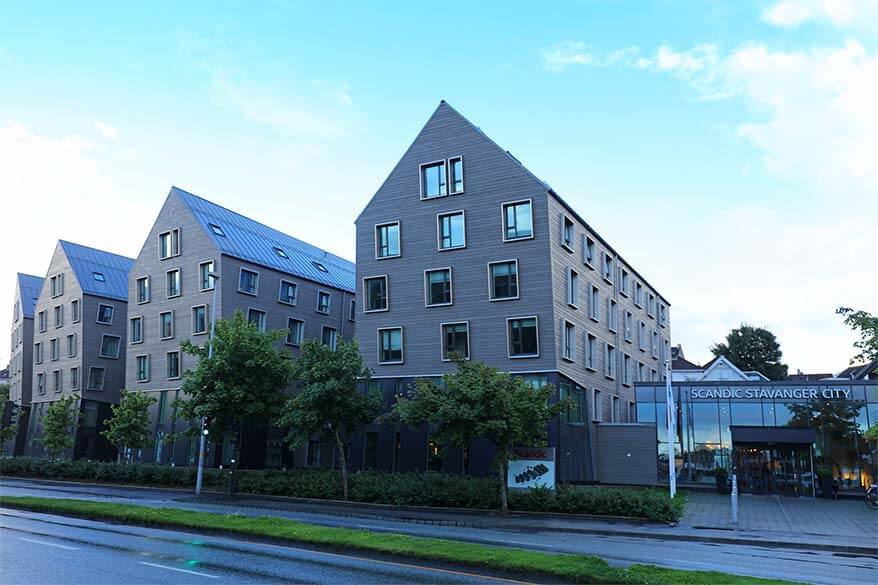 Thon Hotel Maritim
Thon Maritim is a modern eco-friendly 4-star hotel right across from the picturesque Byparken. Located just a bit outside the city center, it's still within walking distance to everything.
Offering suites and rooms for up to 3 people, it serves a superb breakfast and has a free gym on the top floor. Complimentary coffee, soda water and croissants are served in the lounge area throughout the day.
Scandic Royal Stavanger
Scandic Royal Stavanger is a great 4-star Stavanger hotel for families. Not just because it's one of a few hotels offering big family rooms, but mainly because of its indoor swimming pool. Spa facilities and a hot tub are also available and continental breakfast is included.
Located a bit further away from the city center, it's still within walking distance to everything and quite close to the bus station.
Best Western Havly Hotell
Best Western Havly Hotell is a small and friendly modern 3-star hotel located in the residential area in the heart of the city center. Ideal for shopping and sightseeing, it's very close to the main harbor of Stavanger.
The cost of your room includes a buffet breakfast and free hot drinks are available around the clock. Single and double rooms are available.
Scandic Stavanger Park
With spacious family rooms (and the largest standard rooms in the city), the Scandic Stavanger Park is ideal for families with children. It offers on-site activities in summer and a playground.
This hotel offers excellent value for money. The cost of your room includes a free continental breakfast, for which the hotel won the "Twinings Best Breakfast Award".
Located further away from the city center than any other hotel in this selection, it's quite close to the bus station and still within walking distance to the main attractions and the harbor.
Comfort Hotel Square
Comfort Hotel Square is another good price-quality 4-star hotel in Stavanger. This modern, minimalistic-style hotel offers simple rooms for singles or couples. Buffet breakfast is included and there is a free gym.
It's somewhat further away from the Stavanger harbor/ old town area than the other hotels, but still within walking distance to everything in the city center.
Victoria Hotel
Victoria Hotel is one of the oldest and best-located hotels in Stavanger. Its waterfront setting and historic, Victorian architecture make this 4-star hotel a popular choice among visitors to Stavanger.
The rooms are spacious and comfortable, with a full English breakfast included. There are no family rooms available, making this charming hotel more suited to couples and solo travelers.
Good to know: This hotel is currently not available for bookings beyond December 2019. Maybe they are planning some serious renovations, in addition to the refurbishments on a floor-by-floor basis that have been going on for a while… The reviews have been very mixed too, so let's hope that the refurbished hotel will do justice to its history and name.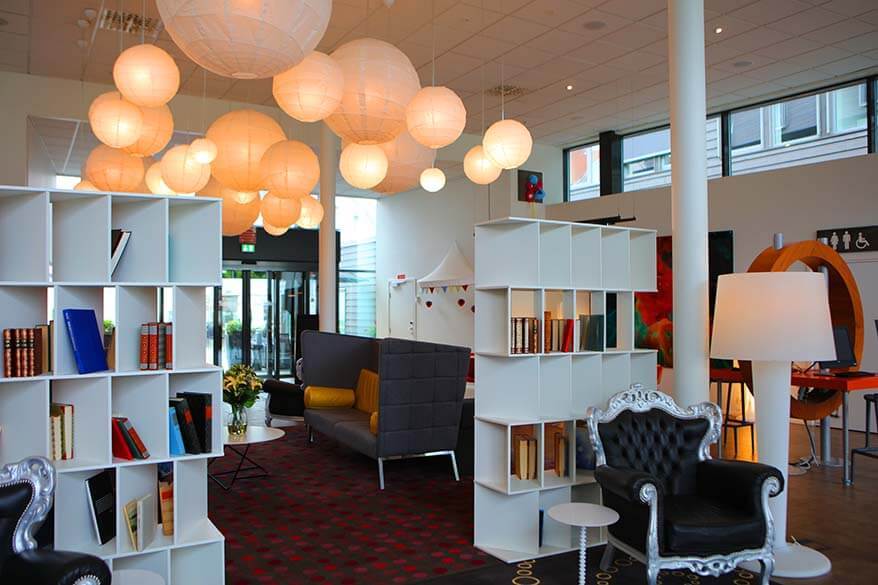 Best Budget Hotels & Hostels in Stavanger
As already said, Stavanger accommodation is already quite affordable compared to most other places in Norway. However, if you are looking for even cheaper hotel options, you should know that there is not a great deal of low-cost accommodation within the center of Stavanger.
We found just two budget hotels and one hostel in Stavanger center with good reviews- see below. If you are traveling on a budget, I encourage you to take a look at the self-catering apartments listed further below as well.
A good budget hotel in Stavanger is Stavanger Bed & Breakfast. This highly-rated but very simple hotel offers single and double rooms with rates starting from 50 EUR (breakfast is an additional small charge). However, it's located a bit further away from everything and some rooms have shared bathrooms.
Another budget(-ish) option is the Comfort Hotel Stavanger. It's a modern hotel with a good location and buffet breakfast is included in the rate. However, customer reviews aren't great, and the price is just a bit lower than most of the excellent mid-range accommodations listed above.
Beds of Stavanger is a hostel with a fantastic location and superb reviews. Starting at +-45 EUR per night for a bed only, it's one of the cheapest options if you are traveling solo.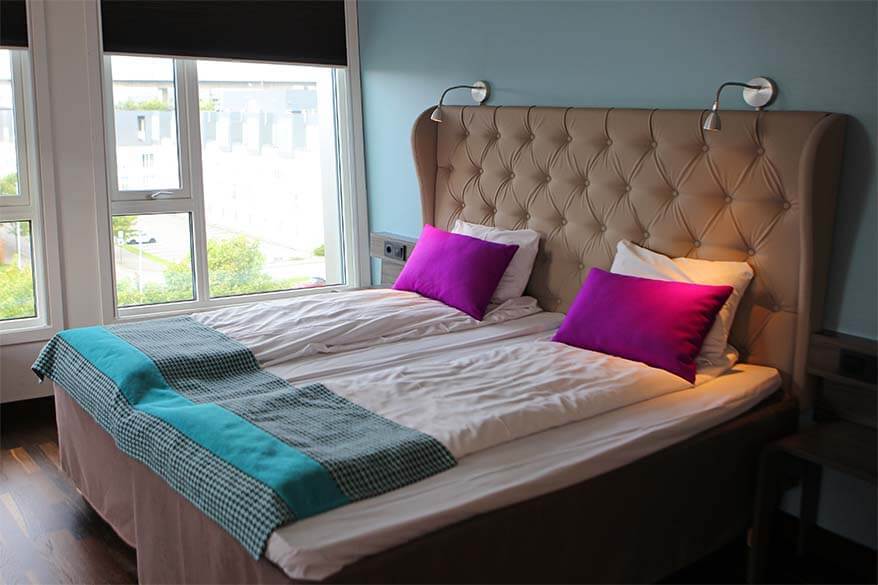 Best Self-Catering Accommodation in Stavanger
Choosing a fully equipped apartment for your stay in Stavanger gives you a lot of flexibility, in particular, if you travel with children. Being able to cook is a great way to save money, but also allows you to try your hand at preparing a traditional Norwegian meal with local ingredients.
Below, you can find our selection of some of the best self-catering apartments in Stavanger city center. Keep in mind that staying at self-catering apartments isn't always cheaper than staying at the mid-budget hotels that often include breakfast at about the same price. It becomes more interesting financially if you travel with more than 2 people.
One of the best self-catering apartments is the Stavanger Housing Hotel, especially if you are visiting with a big family or a group of friends. It's called a hotel and offers towels, linen, and free toiletries, but the reception is only open from 6 AM to 11 PM and there is no restaurant on-site. This hotel has excellent reviews and offers fully-equipped apartments with one or two bedrooms for up to 6 people. Location is good and if you're visiting Stavanger with a big family – price/quality is unbeatable.
Cozee Central Apartments is a highly-rated small studio apartment for up to 2 people. It offers a comfortable stay at a very good location at an excellent price.
Home Again Apartments Nygata 16 offers beautiful modern 1-bedroom apartments in the city center. Location and facilities are excellent and there are hundreds of superb customer reviews. If you are a couple that prefers the comfort of a self-catering apartment to a hotel, this is a great choice in Stavanger.
Home Again Apartments Nygata 1 offers several luxury self-catering apartments located in the very heart of Stavanger city center. There are several different apartments for up to 4 people. They include a kitchenette with a washing machine and free wifi. Pets are allowed on request, at no extra charge.
Sea Story by Frogner House is another well-located self-catering apartment with great customer reviews. For two people only, but it's possible to request extra beds/cots for children.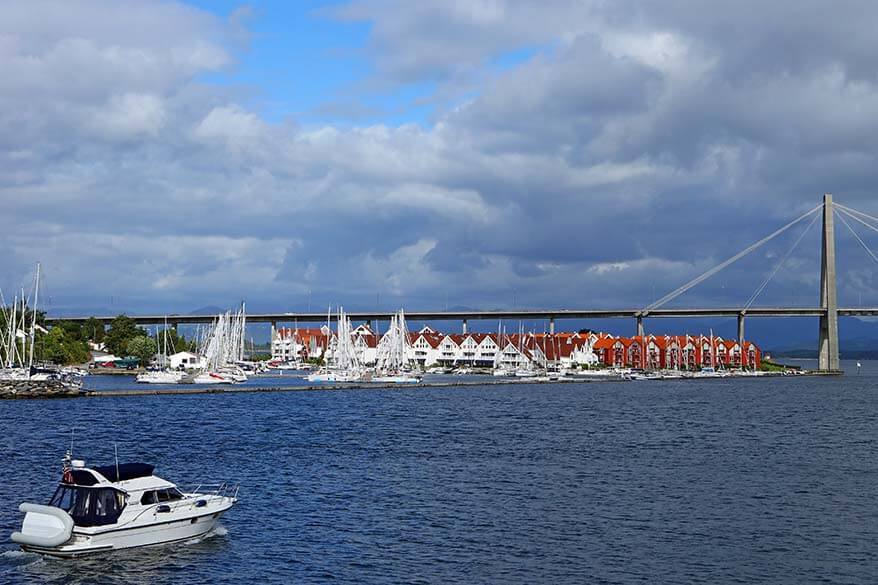 So, this is our guide to the best hotels and accommodations in Stavanger. Hope that it helped you find the best option for your trip. Via the links below, you can find more information and tips for visiting Stavanger. Check it out!
More tips for your trip to Stavanger:
If you found this post useful, don't forget to bookmark it and share it with your friends. Are you on Pinterest? Pin these images!